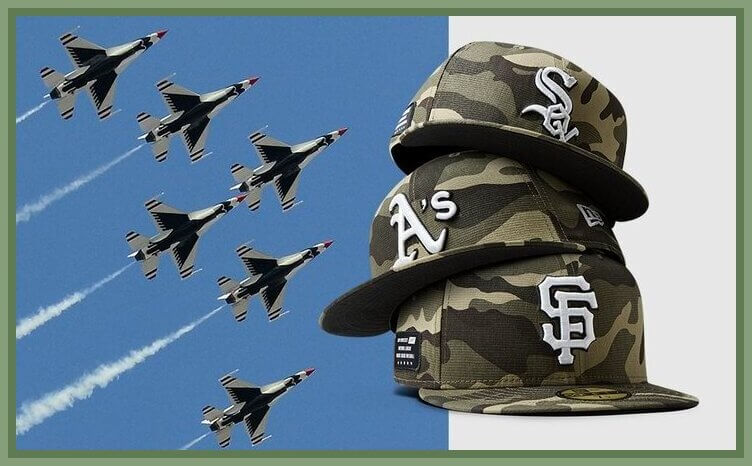 By Phil Hecken
Follow @PhilHecken

Good Saturday morning, Uni Watchers, and please let me be the first to wish you a Happy Armed Forces Day! According to MLB, it's actually "Armed Forces Weekend," so I hope all of you who have returned to in-person working all have a nice long weekend. I'm pretty sure this weekend is also the unofficial start of summer too. No? And please let me know if anyone else wishes you a Happy Armed Forces Day today. It's such an important holiday!
Of course I kid. But let me also add that my grandfather was gassed by the Germans in the Great War, my dad served in Korea, and both my uncles were in the service (one in the Navy and one in the Air Force). I can tell you the date of D-Day, V-E Day, V-J Day, of course the end of WWI (which we do actually recognize with a federal holiday), and a few other assorted important dates in the military history of the United States. But if you had asked me recently the date of Armed Forces Day (it's actually today), I'd have been hard pressed to give you that particular date (it's actually a moveable date). And I'm pretty sure that most Americans couldn't tell you the date either. Because it's not really a big deal.
Except to MLB. And only since 2019. Prior to that year, I'm pretty sure not too many folks involved in baseball could have told you what month Armed Forces Day even was, much less the specific date. So why are we "celebrating" Armed Forces Day with a three-day camo-cap and olive/tan sock extravaganza? Two words: Memorial Day.
It's not that MLB doesn't love camo — hell, a bunch of MLB teams love camo (including the Mets, Padres, Reds, and Pirates). And for several years, MLB decided to make Memorial Day the official camo day for all teams. There was only one problem — MLB was incredibly tone deaf to the true spirit of Memorial Day (a solemn day to remember those who perished defending America), and NOT to glorify the military. That all changed (thanks to people like Paul, among others) who fought to STOP the fellating of the Military on a holiday on which that was completely inappropriate. So, in 2019, MLB refocused its camo-fatuation on Armed Forces "weekend" and gave us a much more appropriate treatment for Memorial Day itself. The simple poppy patch (and separate cap patch) replaced the camo-fest that had defined baseball on Memorial Day weekend.
But there was still the great need to bust out the camo, so MLB searched for a different day weekend to peddle camo, and lo and behold, the incredibly important Armed Forces weekend was born. After all, what better way to honor our soldiers, airmen, space men, and seamen than with camo right? Right! Did I mention the caps are for retail sale (socks too, which we'll get to in a minute)? After all, what good is all the goodwill Armed Forces weekend generates without some way to show-and-sell, er, show and tell about it.
So, yesterday, today (which is actually Armed Forces Day — celebrated on the third Saturday in May, if you didn't know) and tomorrow, teams will wear camo caps and olive/tan socks, with umps wearing camo caps, and some catchers adopting beige/tan/olive gear. It's not quite the pink fest that Mother's Day is, but it's also going to be worn for three full days.
I wasn't sure of the origins of Armed Forces Day, but as far as holidays(?) go, it's actually somewhat recent. According to Wikipedia,
First observed on 20 May 1950, the day was created on 31 August 1949, to honor Americans serving in the five U.S. military branches – the U.S. Army, U.S. Navy, U.S. Marine Corps, U.S. Air Force and U.S. Coast Guard – following the consolidation of the military services in the U.S. Department of Defense. It was intended to replace the separate Army, Navy, Air Force, Marine Corps and Coast Guard Days, but the separate days are still observed, especially within the respective services.
So, for 2021, each team wore (last night) a camo cap and Stance socks that don't quite go with the cap.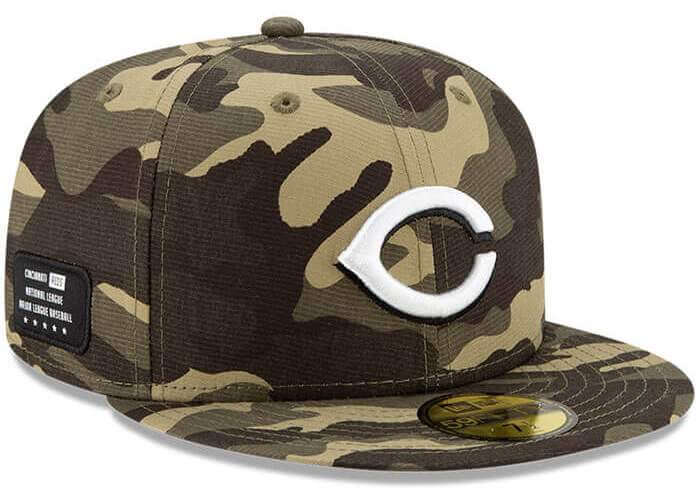 As always, neither element matched anything to do with the team color scheme (isn't camo supposed to blend in rather than stand out?).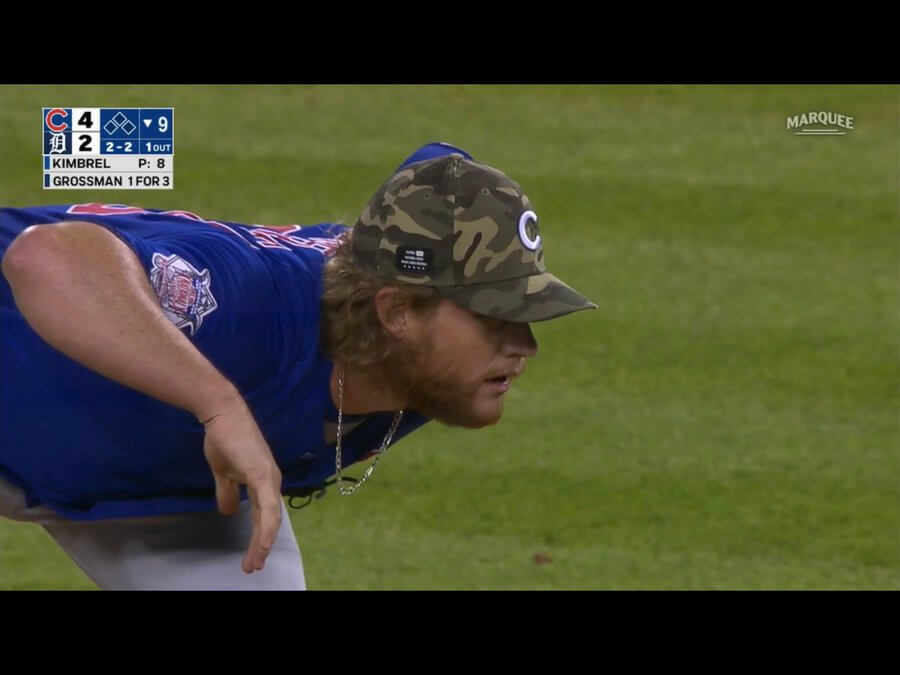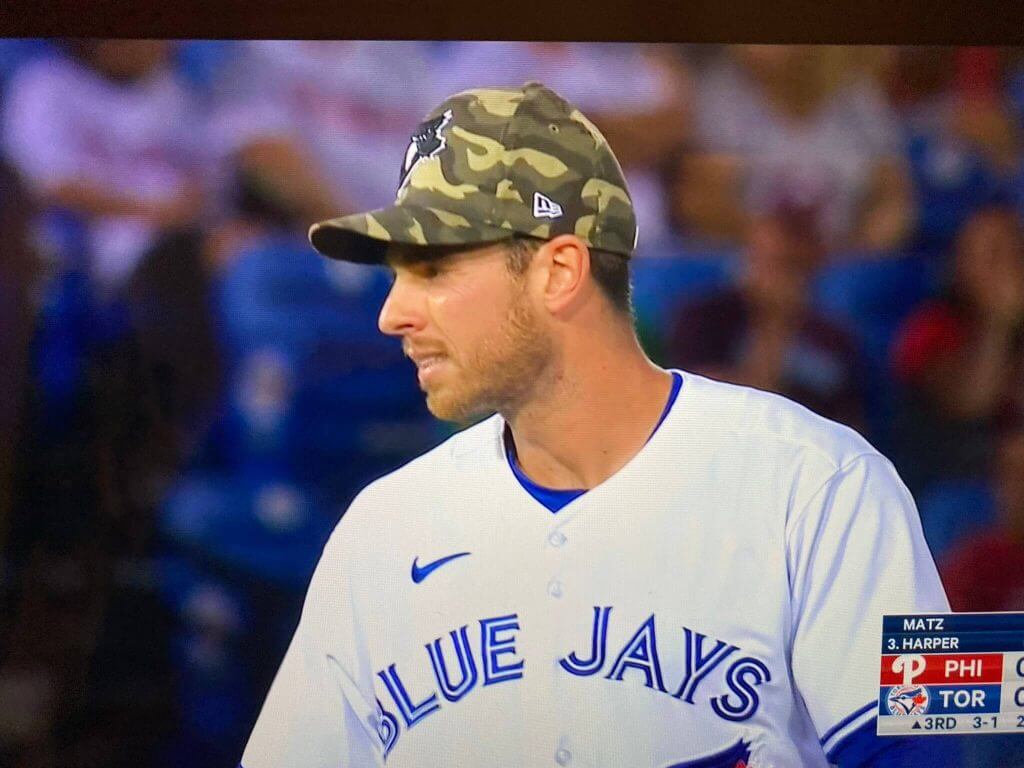 For those who chose to wear high cuffs, the socks actually had more of a "blending" effect than the cap — and for those teams wearing gray pants, the socks almost looked as though they weren't even being shown…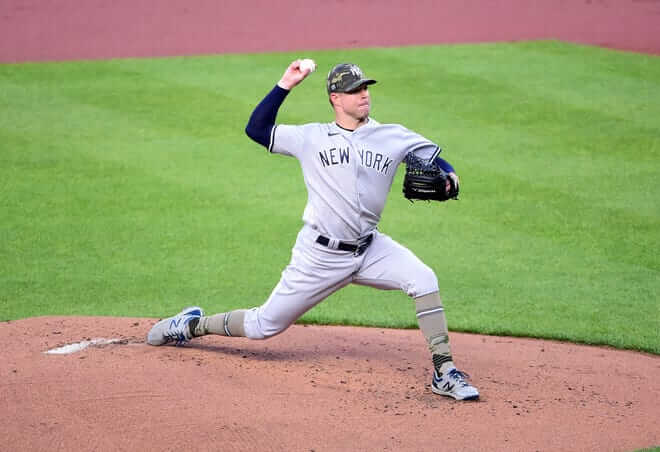 …compare that to a gray-pants player who didn't go high-cuffed (but wore camo cleats):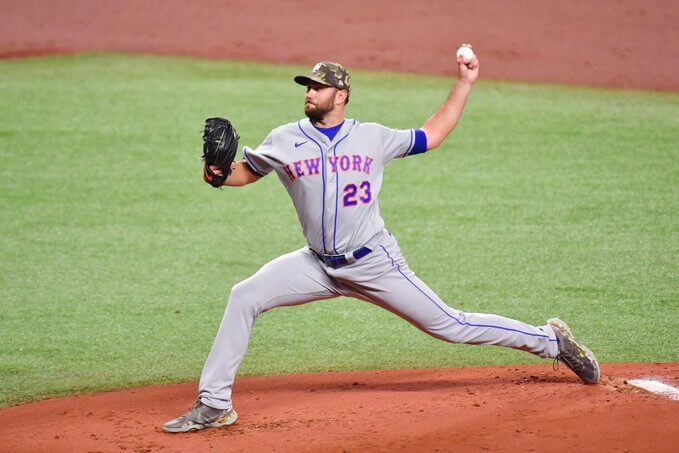 Some catchers did choose to wear gear that "matched" the camo caps/olive-tan socks…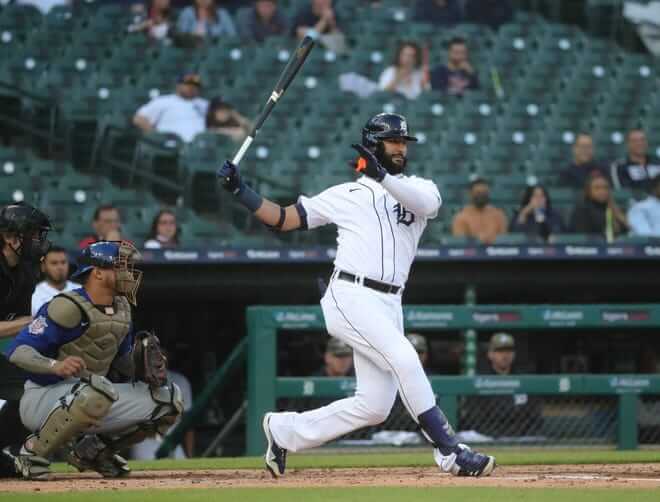 …but since almost no catchers go high-cuffed, and, like batters, wore their regular helmets, this looked mismatched as well.
Our pal Chris Creamer, who had the scoop on the Armed Forces Weekend look, came up with the following graphic showing the patches each cap has (5 stars for USA-based teams, 4 Maple Leaves for the Canadian-based club):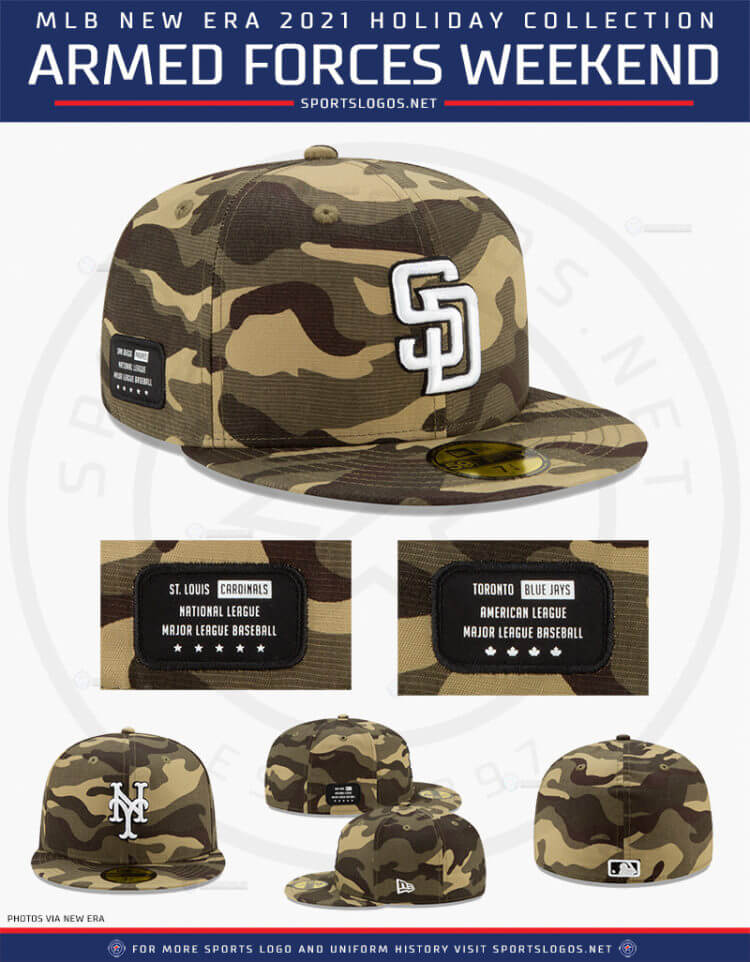 It's not quite the same cap patch worn in 2019. But the five stars representing the five U.S. military branches remained in 2021. But there's even a problem with that. On December 20, 2019, the US added a sixth branch of the Armed Forces (Space Force) — so, at least technically, the cap should bear six stars instead of five, right? I'm not 100% sure on the protocol here, so the five stars may still be correct, but if a sixth star should be added, then MLB has dropped the ball here, much like they did when they screwed up the Independence Day caps back in 2018. If anyone out there knows whether five or six stars is correct, please let us know in the comments below. It'd be a shame if MLB botched this one too.
With today actually being the third Saturday in May (and the actual Armed Forces Day), all teams will for today only add a special patch to the left breast of the uniform, noting that today is, in fact, Armed Forces Day: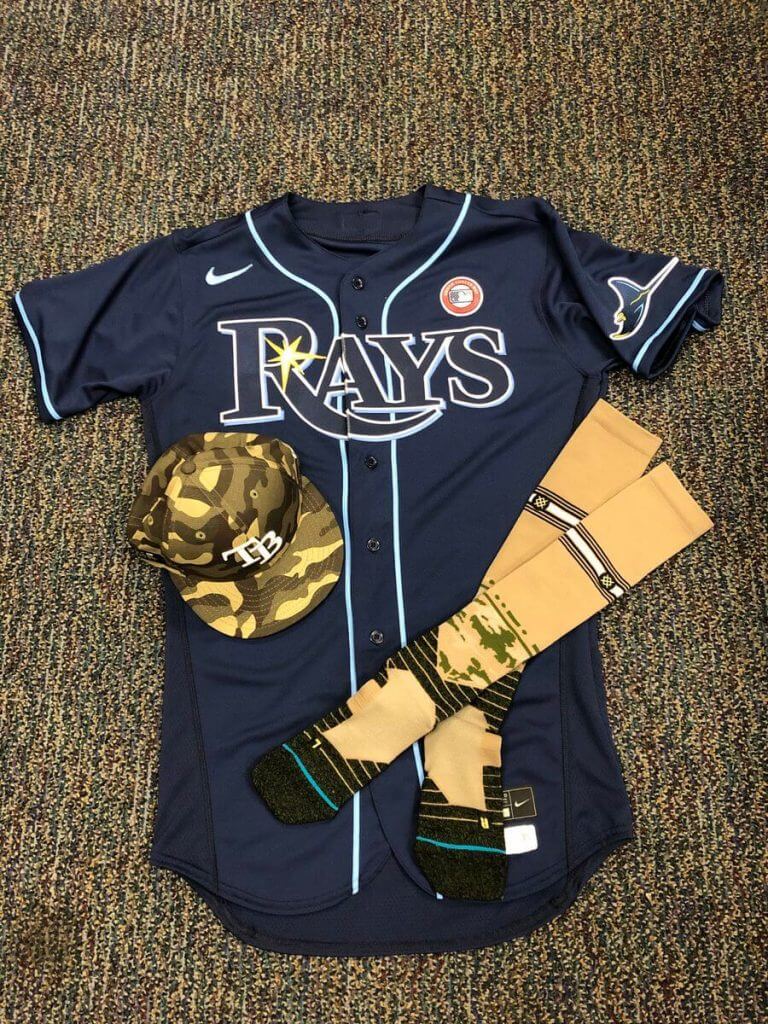 Unfortunately, that's the best view I can find of the patch — but it looks to be the same one worn in 2019.
So, if you weren't up to speed on Armed Forces weekend — hopefully now you are. MLB certainly won't let us forget ever again.
Happy Armed Forces Day!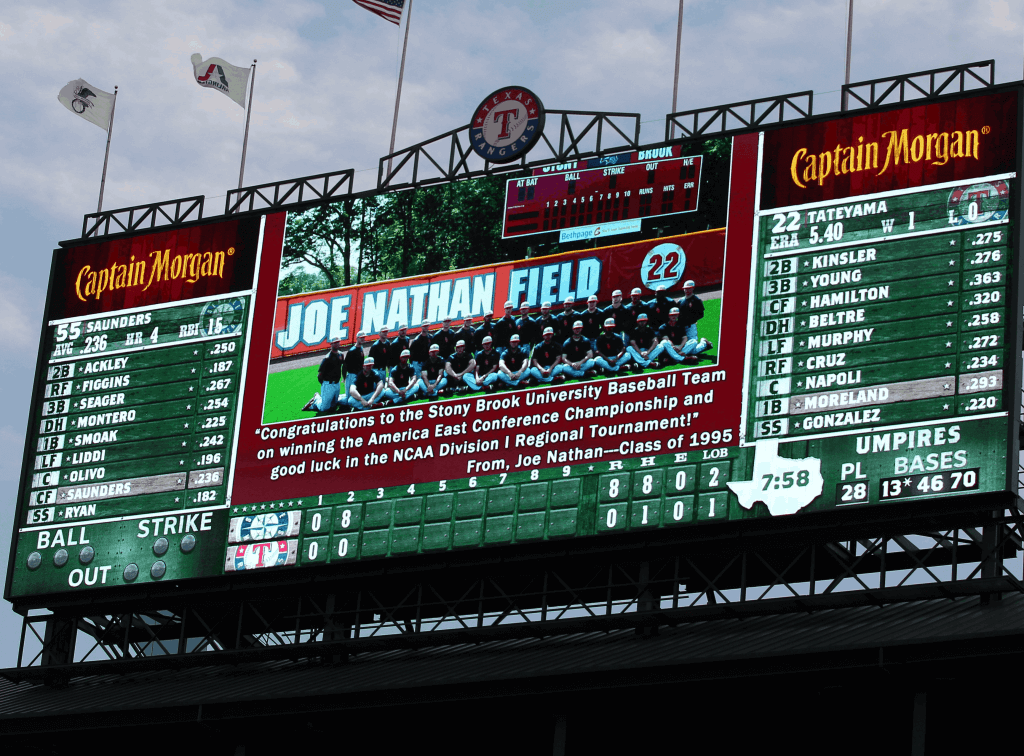 Guess The Game…
from the scoreboard
Today's scoreboard comes from George Howard Skub.
The premise of the game (GTGFTS) is simple: I'll post a scoreboard and you guys simply identify the game depicted. In the past, I don't know if I've ever completely stumped you (some are easier than others).
Here's the Scoreboard. In the comments below, try to identify the game (date & location, as well as final score). If anything noteworthy occurred during the game, please add that in (and if you were AT the game, well bonus points for you!):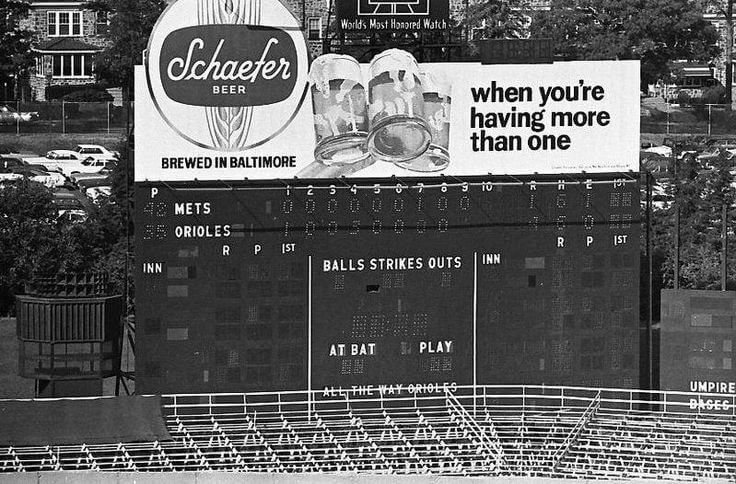 Please continue sending these in! You're welcome to send me any scoreboard photos (with answers please), and I'll keep running them.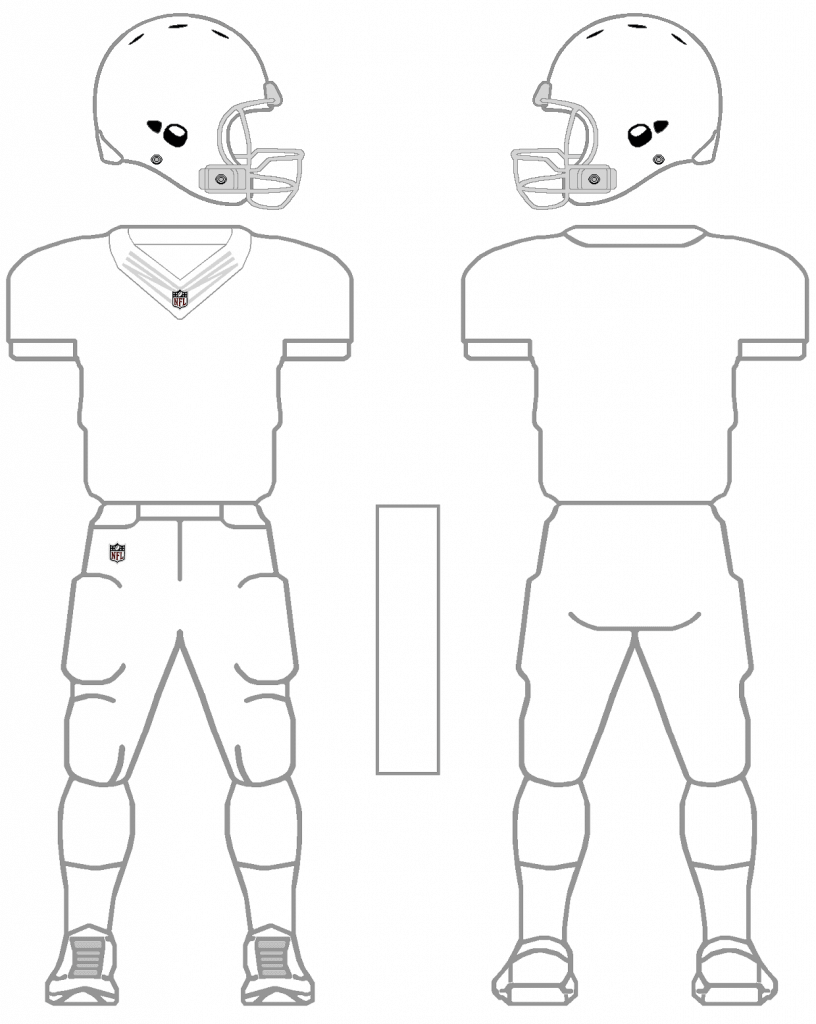 Uni Concepts & Tweaks
Time for more Uni Tweaks from the UW readership.
I hope you guys like this feature and will want to continue to submit your concepts and tweaks to me. If you do, Shoot me an E-mail (Phil (dot) Hecken (at) gmail (dot) com).
• • •
Today's concept comes from Dan Bodurtha:
He writes…
Hello,

Another Minnesota concept. This time it's a "City Edition" based on the state bird, the Common Loon. The back of the uniform would transition to black with white spots.

Hope you enjoy!

Thanks,
Dan Bodurtha
And here is his concept: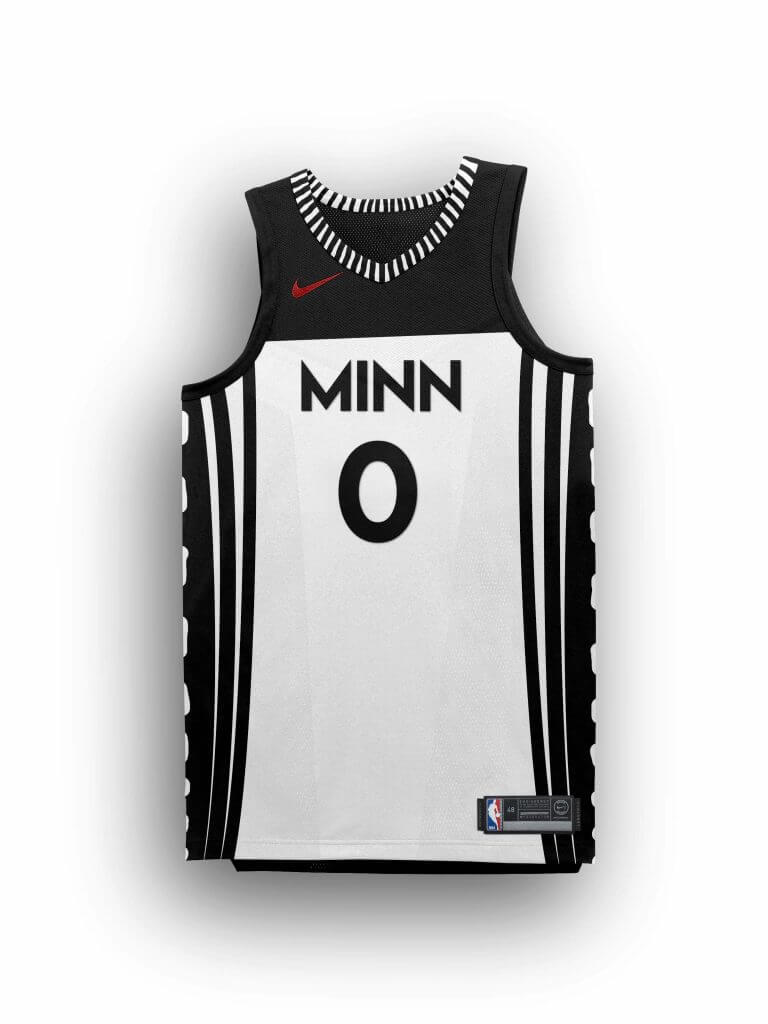 • • • • •
OK readers (and concepters). If you have some tweaks or concepts, shoot 'em my way with a brief description of your creation and I'll run 'em here.


Fit For The King?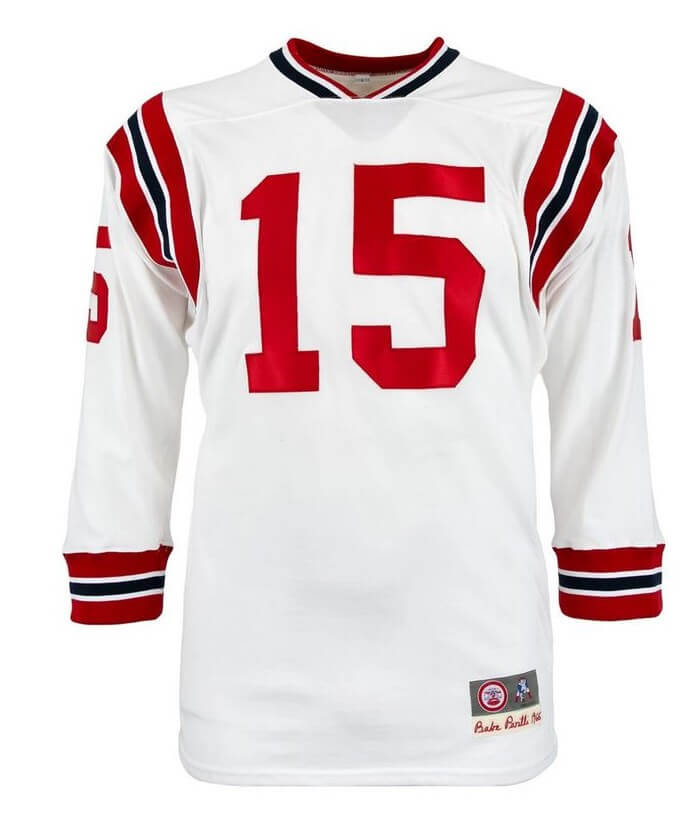 What you see above is one of the newest releases from the great Ebbets Field Flannels, and it's a 1966 Boston Patriots jersey. Beauty, ain't it?
UW reader, and my pal, Jimmy Corcoran (son of QB "King" Corcoran), saw that jersey, and it brought back some memories for him. I'll let him take it from here:
Phil,

Did you see the new Patriots jersey Ebbets just came out with? They did an amazing job on this. But I think they made a mistake Phil, isn't this a King Corcoran 1968 jersey? he did play two games for the Patriots that season and lost both of them😄 Actually when the Patriots signed him he asked for 15 because he wore it at Maryland. They gave him a used Parilli jersey and he was mad he didn't get a new one?
Jimmy included the following photos of his dad from that season, and indeed the jersey looks very much like the one King was wearing in 1968 (with shorter sleeves, obviously):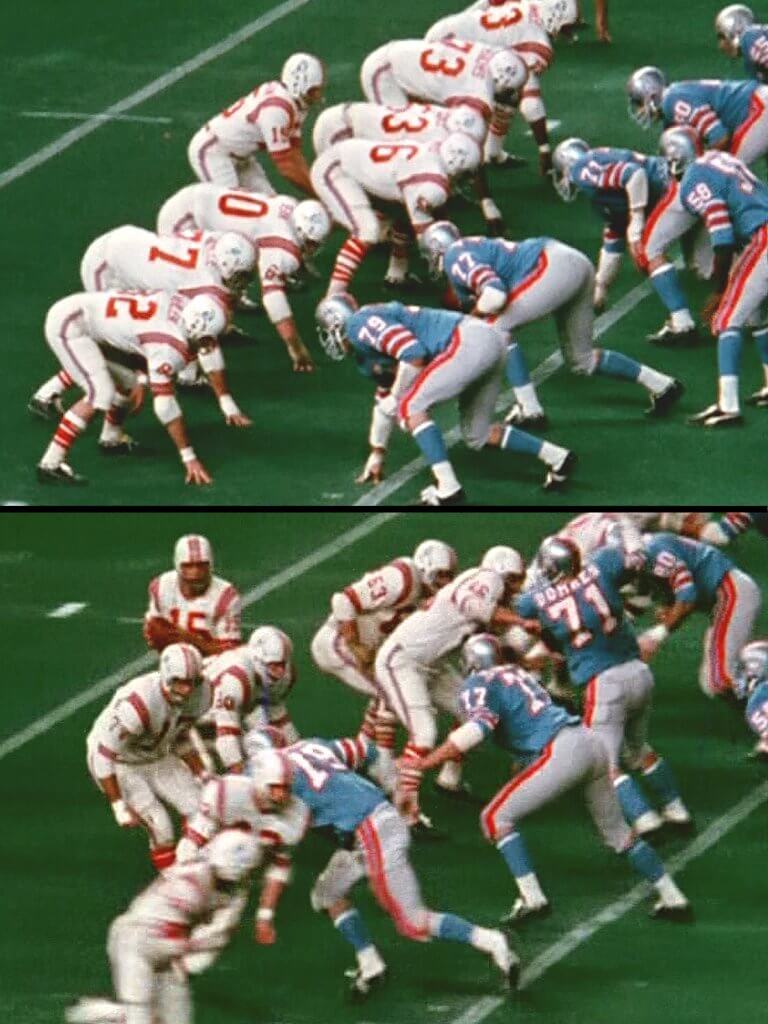 He also appeared in a game wearing the gorgeous red jersey worn by the Pats that season: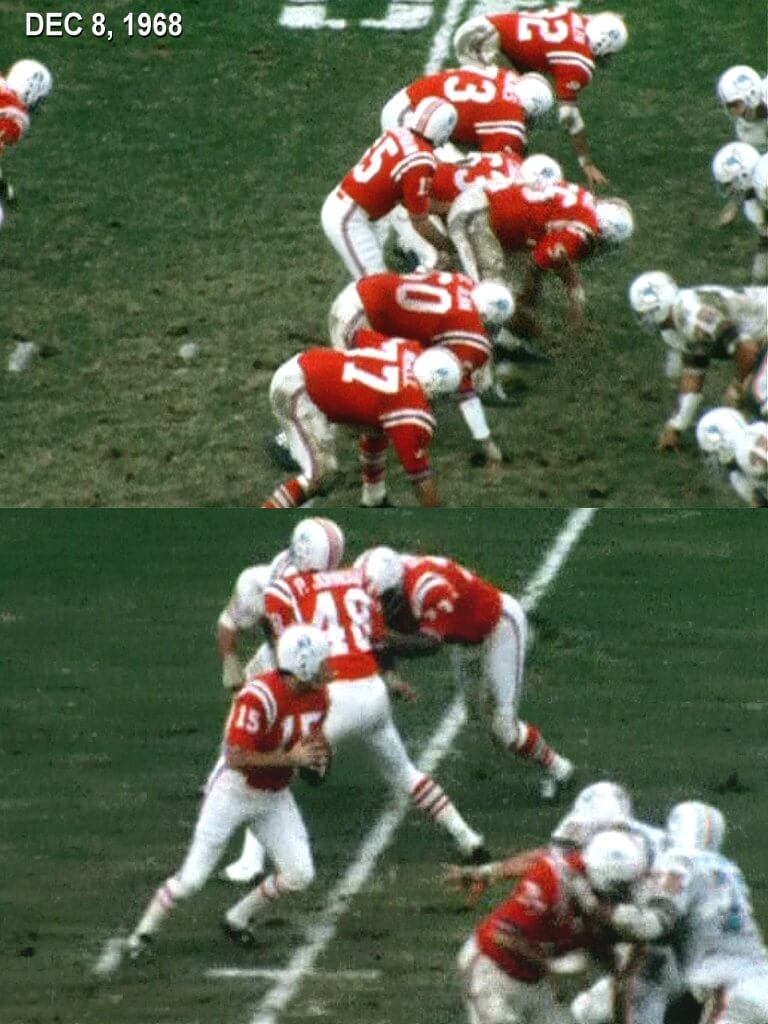 He closed with this:
This picture of me is from 2010, this was one of the prop jerseys that NFL Films used for a movie about my father. Boy, after seeing Ebbets Field Flannels Patriots jersey, I'm glad I sold this one, yikes! not even close!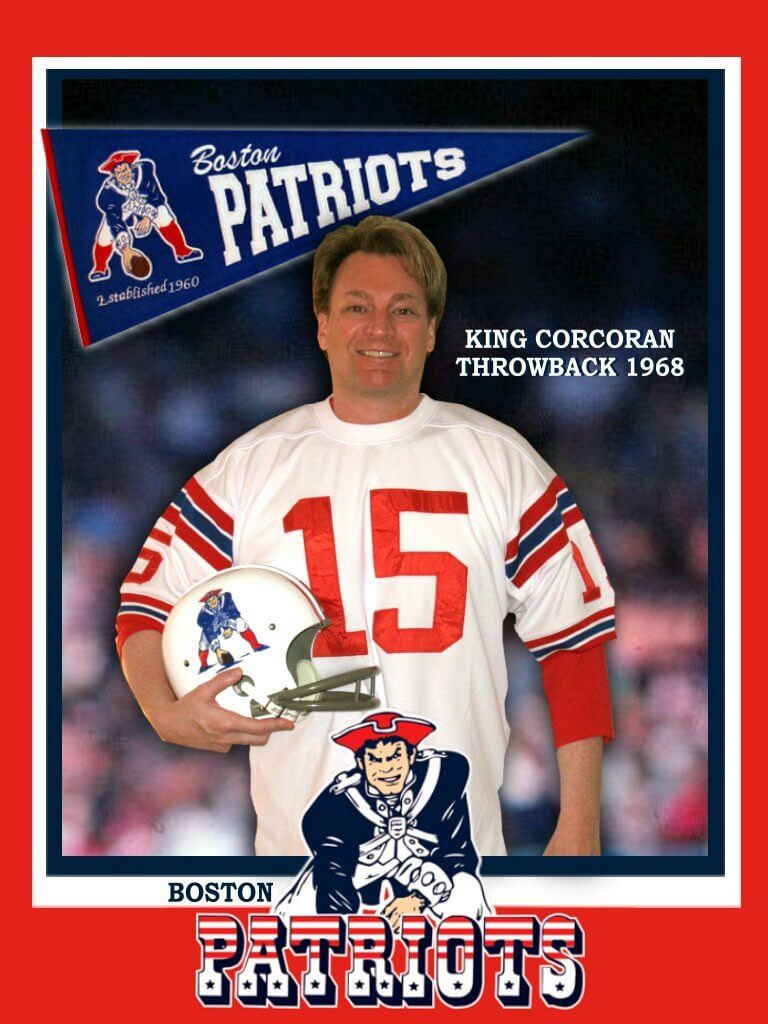 Just goes to show you the quality of the craftsmanship that goes into EFF products!
Thanks for sharing, Jimmy!
And I know Jimmer Vilk will have something to say about those Oilers unis…


More HOVG Cribs: Tim Jenkins
I've featured video a couple times on here from pal Shawn Anderson, who runs the Hall of Very Good website, and which has a "cribs" spinoff, as it were. These highlight sports memorabilia collections. Words cannot sufficiently explain the collection below. It's just mind boggling — Tim resides in the Northwest and while he has an incredible amount of Pilots and Mariners memorabilia, it goes way way WAY beyond that. While it's mostly baseball related, there are other sports featured as well. It's probably more of a museum than some museums, and possibly the most impressive collection I've ever seen. He's got everything from caps and pennants to bobbleheads, baseball cards, collectors items galore, and more. If you're into this sort of thing, then this is for you. You will be blown away…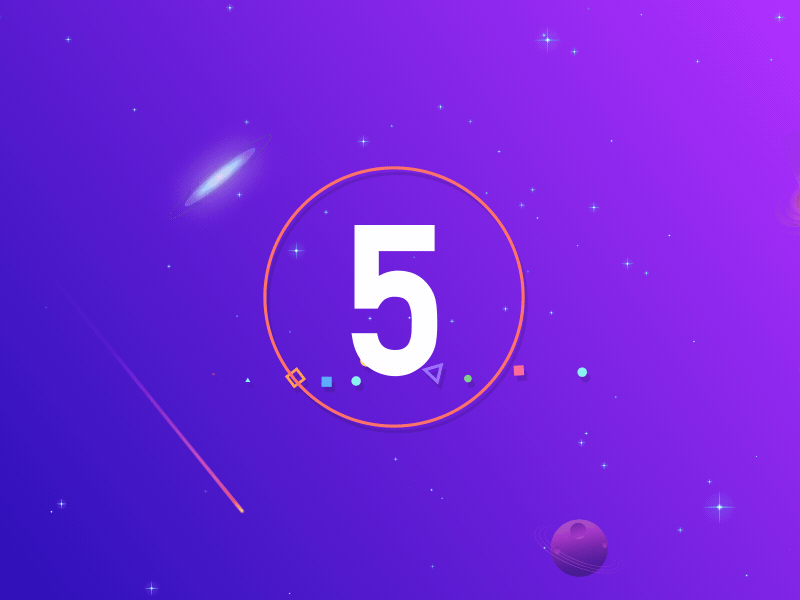 Purp Walk reminder: Paul here. May 17 — that's Monday, two days from now — is the (15th!) anniversary of the very first post on this blog. By longstanding tradition, that means it will also be Purple Amnesty Day. A few things about that:
• Monday's post will go live at (or about) midnight Eastern on Sunday night. It will include some special purple-centric content.
• As soon as the post goes live, the usual ban on purple-inclusive Uni Watch membership card orders will be lifted for 24 hours, so get those Vikings, Ravens, Rockies, and LSU orders ready!
• The post will include links where you'll be able to order this year's Purp Walk merchandise items. Those too will be available for 24 hours.
It'll be excruciatingly loathsome! See you then.
Now back to Phil.


The Ticker
By Anthony Emerson


Baseball News: We may have seen this before, but just in case, here's an advertisement featuring Luis Tiant in a pullover Yankees jersey, that of course was never worn on-field (from Steven Dodell). … The Athletic ranked each MLB team's primary cap (from Nicklaus Wallmeyer). … The Atlantic League's Southern Maryland Blue Crabs will wear these "Healthcare Heroes" unis during Opening Weekend (from Timmy Donahue). … The American Association's Gary SouthShore RailCats will wear these…interesting jerseys on May 31 (thanks, Phil). … Looks like Yadi Molina changed gear (from camo to "regular" catchers gear) between innings last night (from JL and Eric Spoonmore).

NFL News: KC has revealed their rookie uni numbers (from David Streeter).
.
.

NBA News: New Heat C Ömer Yurtseven will wear No. 77 (from Etienne Catalan). … The Washington Mystics have announced their jersey schedule for this season (thanks, Phil).

Soccer News: Paris Saint-Germain have unveiled some pretty nice new home kits. Note that PSG's kits are now carrying the Jordan logo, not Nike (from multiple readers). … Arsenal's away kits have been unveiled (from multiple readers). … Italian side Parma have a special Black Lives Matter kit that will be worn for their next home game (from multiple readers). … Ligue 1's Olympique de Marseille have unveiled their new home kits (from multiple readers). … German club Borussia Mönchengladbach have revealed their new home kits (from multiple readers). … Tottenham's kit man put together an auction of over 100 shirts, including all the Premier League and EFL clubs and some from other sports, to raise money for charity and in memory of his father (from our own Jamie Rathjen). … New kits for FC BATE Borisov of Belarus (from Ed Żelaski). … Also from Ed: 2.Bundesliga side FC St. Pauli has unveiled their new road kits, which will make its on-field debut tomorrow. Instead of an advert, the kit will have the slogan "Kein Fussball den Faschisten" or "No Football for Fascists." St. Pauli is world famous for their left-wing and antifascist club culture. … Former MMA fighter Connor McGregor shared an old photo of himself in a semblance of a Manchester United kit as a kid. "We hadn't got the money for the real jersey and kit but that was never going to stop me!" he tweeted (from Artimus Naugin). … Some branding experts have thoughts on the Crew's controversial new look (from Kary Klismet).

Grab Bag: Great Britain's field hockey team has added two patches, one an NHS patch similar to the Premier League one, and the other the logo of the Stick it to Racism initiative (thanks, Jamie). … Gaming chat service Discord has updated its logo and colors (from @Bobb_O). … The Royal Canadian Mounted Police's highway division in British Columbia has rebranded as the BC Highway Patrol (from Wade Heidt). … The Pensacola, Fl., Police Department has decided to remove the Confederate flag from their patch (from Kary Klismet). … The logo for Rep. Alexandria Ocasio-Cortez's first congressional campaign has served as an inspiration (NYT link) for other political logos throughout the country, and indeed the world (from our own Brinke Guthrie and Jason Criss). … New logo for Middlesex College (from Timmy Donahue).


Uni Tweet of the Day
Great look at the one-year wonder "Blue Jays" logo for the Phillies:
An press photo of the proposed new Phillies uniform had they incorporated the Blue Jays name officially. Either that or this is a very rare online concept from the design community of 1948 #phillies @ToddRadom pic.twitter.com/gfSbDjDNXf

— Phanatic (@19802008CHAMPS) May 14, 2021


And finally… that's all for today. I hope everyone has had a good week! Have a great Saturday (and once again, Happy Armed Forces Day!), and I'll catch you back here tomorrow.
Peace,
PH