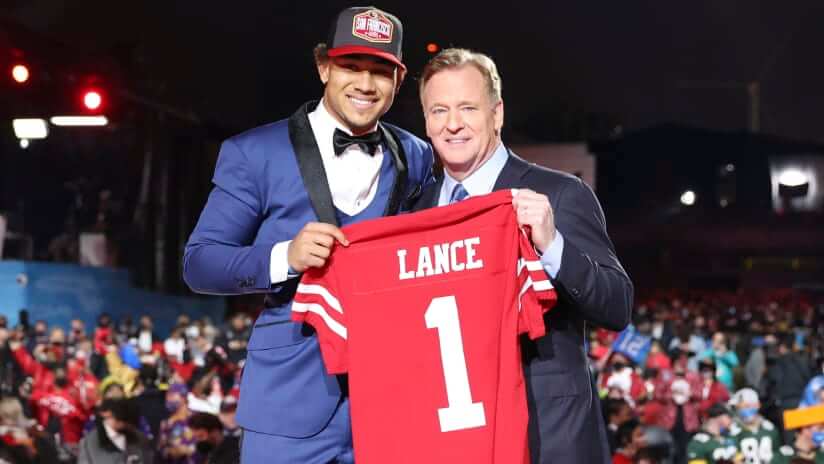 From a uniform perspective, the most notable thing about last night's NFL draft proceedings is what didn't happen. I thought for sure that the Browns' throwback jersey (which we know is in the works) and/or the 49ers' throwback jersey (which we strongly suspect is in the works) would be revealed at some point yesterday, but that wasn't the case. Niners first-rounder Trey Lance posed with the team's regular home jersey (as shown above), and Browns top pick Greg Newsome II wasn't even at the event.
I'm a little disappointed that these two throwback designs remain under wraps. But in a sports world where so much seems scripted and rehearsed, it's a bit refreshing to a have a situation where they're keeping us guessing.
A few other notes from the draft:
• Speaking of the Browns, super-fan Pumpkin Head was on hand, and let's give him credit for wearing the team's socks exactly how they should be worn: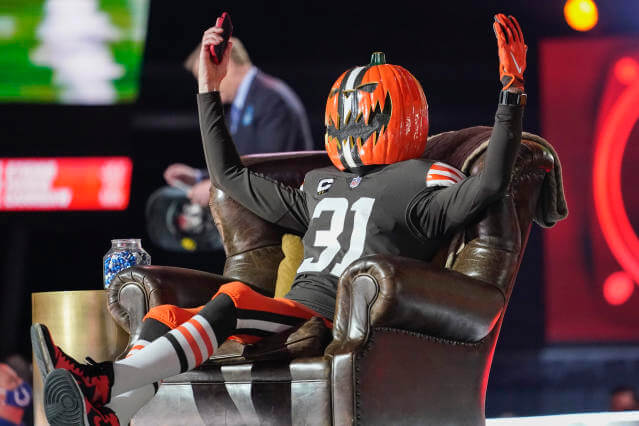 • Many readers noticed that the Cowboys' draft room had two helmets on hand — the standard silver design and the white helmet that they used to wear for throwback games before the one-shell rule went into effect: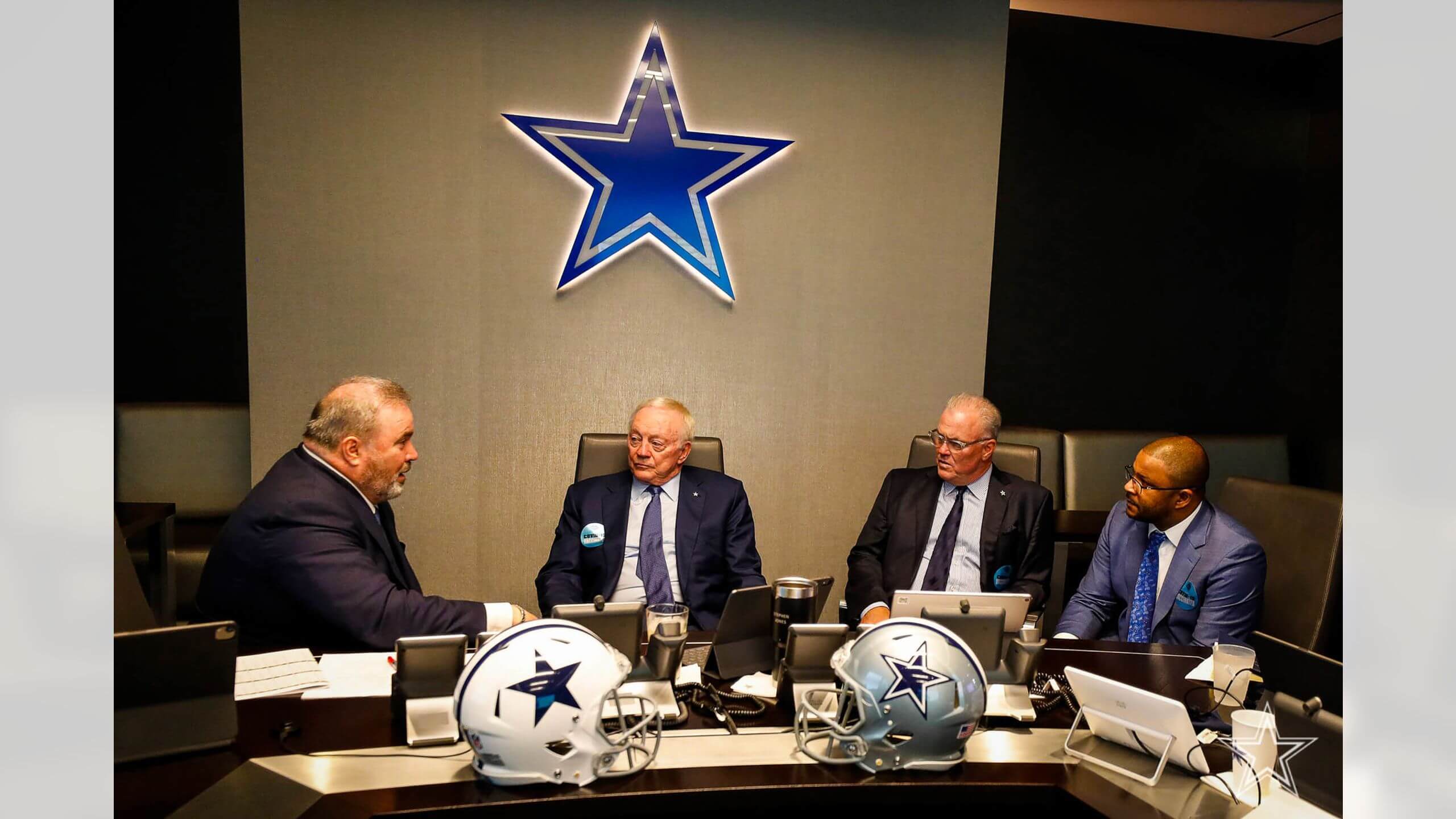 Is this a(nother) hint that the one-shell rule may soon be lifted? Too soon to say, but it's definitely an interesting detail.
Update: Reader/commenter Clint Richardson says the Cowboys have included the white helmet in their draft room display for many years (and he's right, as you can see in this 2019 article), so it turns out that we shouldn't read anything into the white helmet's appearance last night.
• Meanwhile, over in the Bills' suite, they displayed a helmet with a grey facemask, even though the team announced earlier this month that they're switching to white facemasks: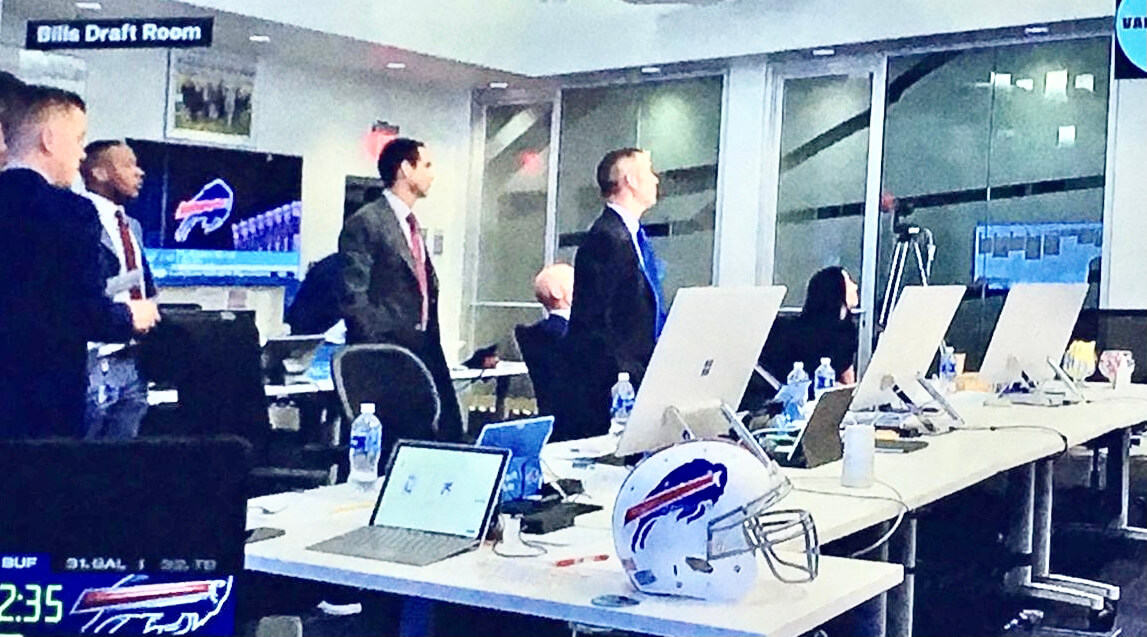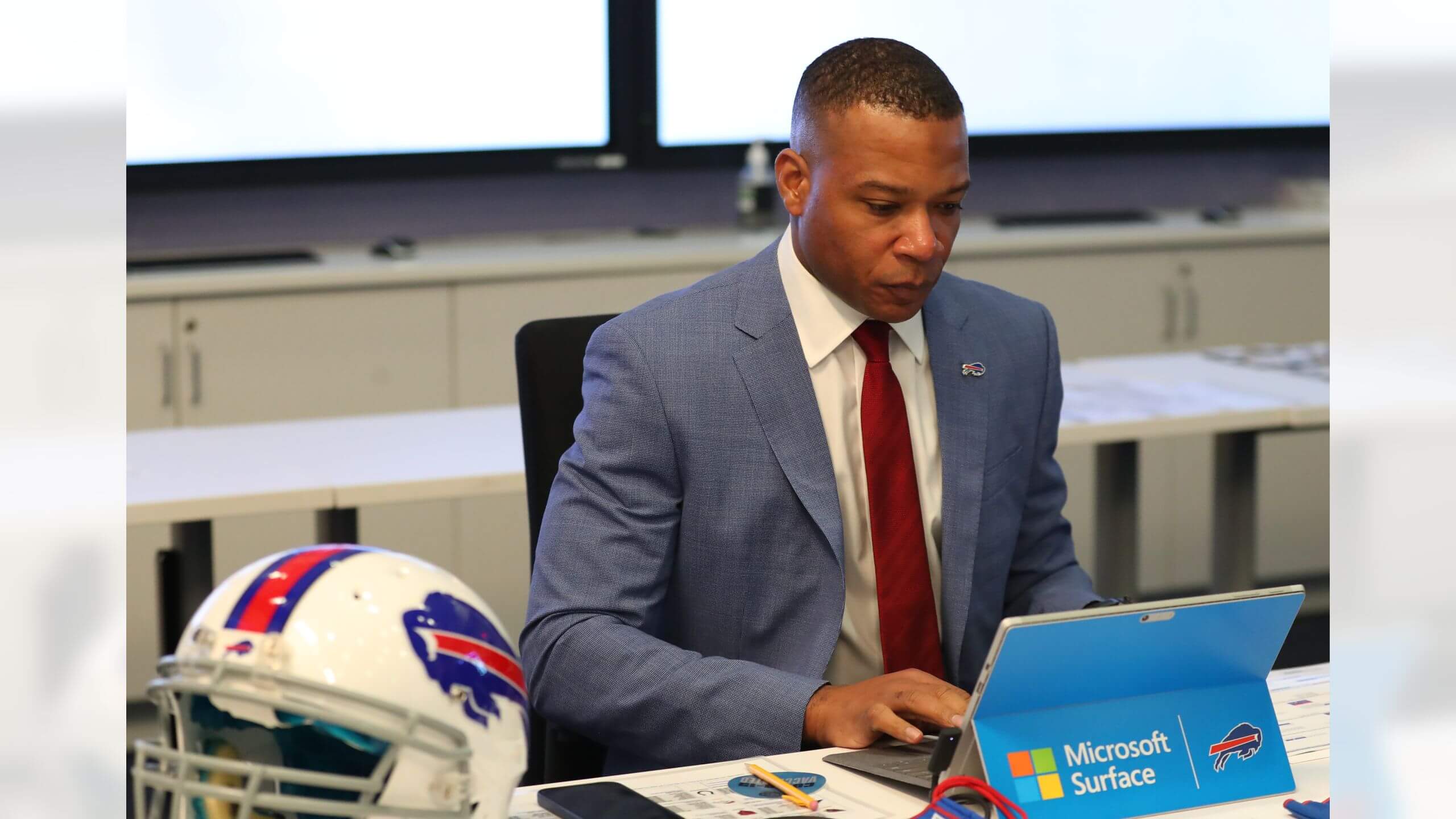 • ESPN Photoshopped Bengals first-round pick Ja'marr Chase into the team's now-obsolete uniform, which he'll never wear:
Chase 🤝 Burrow

The former LSU QB-WR duo is linking back up with the Bengals 🐅 #NFLDraft pic.twitter.com/Q0OcEUGHHG

— ESPN (@espn) April 30, 2021
• Speaking of Chase, he says he wants to wear No. 1. Somewhat incredibly, he'd be the first Bengal ever to wear that number!
• A few uni combos we've never seen before appeared on mannequins. First, a Falcons mannequin was decked out in a black jersey with red pants: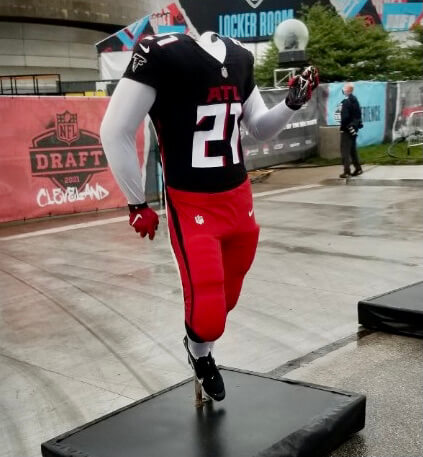 If those red pants don't look familiar, it's because the team didn't wear them in 2020. They were included in the uni unveiling, however, so maybe they'll make their on-field debut this season.
• Meanwhile, in a potentially major development, a Patriots mannequin was shown wearing grey pants: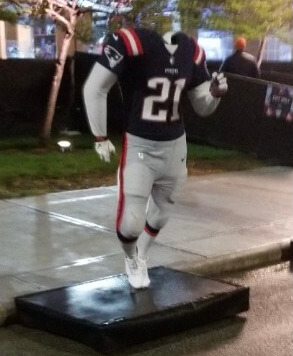 As you may recall from previous Uni Watch reports, the team considered having grey pants as part of its current uni set, and a collector even managed to score a set of the grey prototype pants, but the grey britches were not included as part of the team's official uni set last season. Is that going to change for 2021? Hope so, since the navy/grey look is sooooo much better than mono-navy. Hard to know how seriously to take that mannequin, though, since it also has the team's old number font!
• The Bears announced that first-round pick Justin Fields — a quarterback — will wear No. 1. He joins the small but growing fraternity of QBs who've worn that number.
• At least two first-round picks — DeVonta Smith of the Eagles and Najee Harris of the Steelers — immediately began hawking personal merch in their new team colors:
#FlyEaglesFly 🦅 check out my just released fan gear, can't wait to get to work! #gobirds https://t.co/EXRlxB0tMH pic.twitter.com/ZffMRXgPOq

— DeVonta Smith (@DeVontaSmith_6) April 30, 2021
#SteelerNation GET YO MERCH https://t.co/Wa8A8syKti pic.twitter.com/sRomjYZtgM

— Najee Harris (@ohthatsNajee22) April 30, 2021
(My thanks to John Dankosky, Sam McKinley, Trayton Miller, David Slivka, Jonathan Sluss, John Stark, and Phil for their contributions to this section.)
• • • • •
• • • • •
Sweet 16: Uni Watch girl mascot Caitlin turns 16 today — that's about 78 in human years. Lots of cat toys and catnip in store for her today!
I know I say this every year, but you'd never guess how old Caitlin is, because she's still the same frisky little biscuit she's always been. For proof, check out the video shown above, which was shot yesterday afternoon. Granted, her vertical leap isn't quite what it once was, but she's still plenty playful and aggressive. Awwwww, li'l killer.
Here's hoping your pets bring you as much joy, and for at least as long, as Caitlin does for me. She's the best!
• • • • •
• • • • •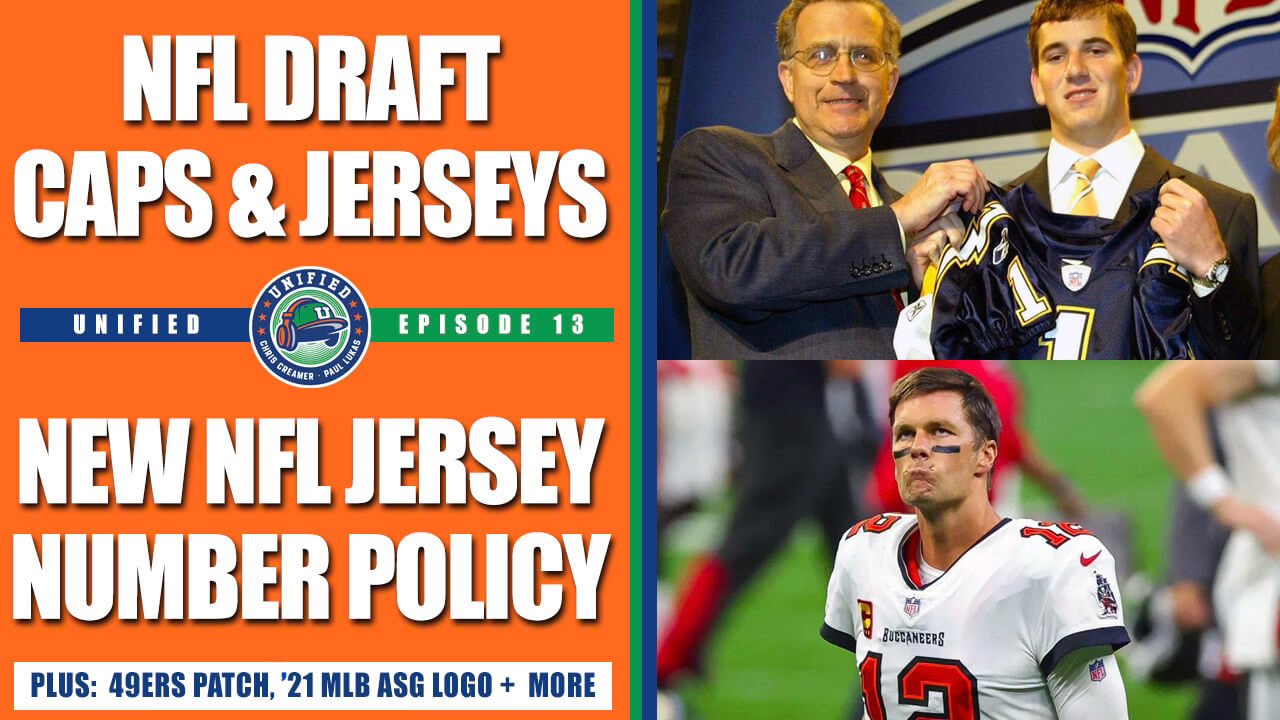 Podcast reminder: With the NFL Draft taking place this week, Chris and I have an (almost) all-NFL episode, including discussions of why Tom Brady doesn't like the league's new uni-numbering rules, the 49ers' new 75th-anniversary patch, and the role of jerseys and caps at the draft. Plus the Question of the Week and more.
As always, you can listen to us on Google, Stitcher, TuneIn, and Spotify (but not Apple, because their app is currently messed up for a lot of creators, including us — grrrr), or just use the player below:
The show notes for this episode, which include photos of many of the things we discussed, are here. Those photos (and some additional ones) also appear in the video version of the episode, which you can see here:
Please consider supporting this episode's advertisers, Streaker Sports (get 20% off any order with checkout code UNIFIED), Homefield Apparel (15% off with checkout code UNIFIED), and AcedOut (20% off with checkout code UNIFIED).
Enjoy the episode, and thanks for listening.
• • • • •
• • • • •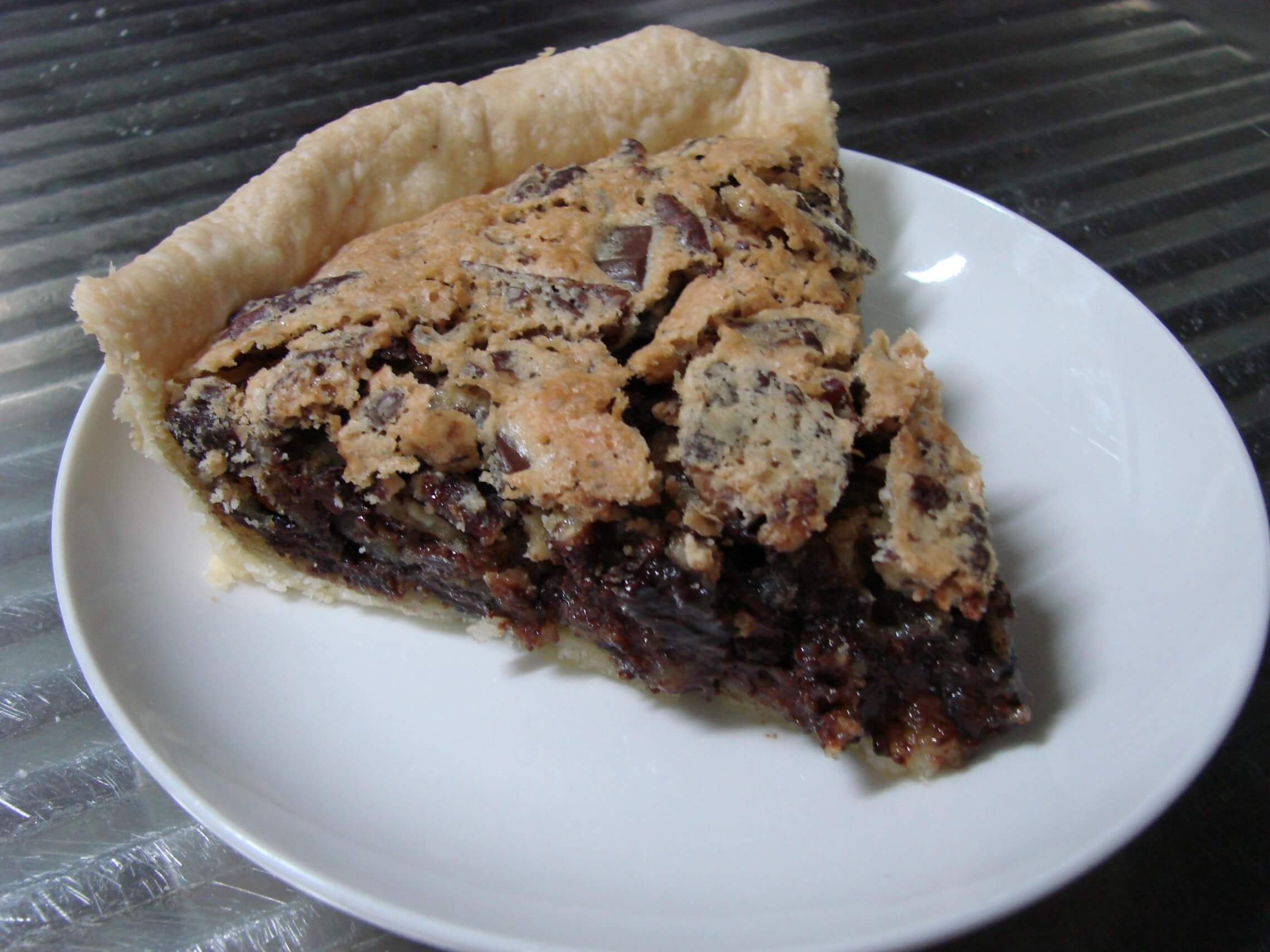 Culinary Corner: Tomorrow is the first Saturday of May. That means it's time for the Kentucky Derby, and that means I'll be making the dish I always make for for Derby day: a derby pie. (And this year I can even call it that without fear of trademark litigation.) Here's how to make it:
1. If you know how to make pie crust, make some dough and position it in a 9-inch pie pan; if you don't know how or just can't be bothered, a frozen 9-inch pie shell is fine.
2. Set your oven to 350 degrees. While it's heating up, get a big mixing bowl and beat together four eggs, a cup of light corn syrup, 3/4 cup of light brown sugar. and 1/3 cup of melted butter. Then add 3 tablespoons of decent bourbon (or maybe a smidge more than that, if you're so inclined), a tablespoon of vanilla extract, a tablespoon of flour, 6 ounces of chocolate chips, and a cup of chopped walnuts.
3. Mix all of that together, pour it into the pie dough or frozen shell, and pop it into the oven for an hour. It'll puff up high like a soufflé, but it'll settle back down while it cools, which you should allow it to do for an hour or so.
That's it! If you like, you can also make this amazing bourbon sauce, but that's definitely verging on lily-gilding territory.
You're welcome!
• • • • •
• • • • •
The Ticker
By Anthony Emerson


Baseball News: The Mariners continue to have NOB kerning issues on their navy alternate jerseys (from multiple readers). … The St. Paul Saints, new Triple-A affiliates of the Twins, have unveiled their new unis (from multiple readers). … Here's a rundown of the new MiLB team and ballpark names for this coming season (from Kary Klismet and our own Brinke Guthrie). … New caps for the American Association's Cleburne Railroaders.

NFL News: Wednesday's piece about facemasks noted Eric Dickerson's seemingly custom facemask. But reader Brice Wallace sent in this photo of a player at his high school wearing the same facemask in 1978. Hmmm. … Bills WR Emmanuel Sanders is taking advantage of the new numbering rules by switching to No. 1 (thanks, Brinke). … Robert Hendricks discovered an awesome mid-'90s NFL clipboard at Goodwill. Judging by the Eagles, Buccaneers, Ravens, Broncos and Oilers logos, I'm guessing this was produced in 1997. … During Kings of Leon's NFL Draft performance, drummer Nathan Followill was wearing golf gloves (from Travis Cuomo).

Hockey News: Canucks rookie F Kole Lind will become the first player in team history to wear No. 78 (from Wade Heidt). … Also from Wade: Panthers G Spencer Knight debuted a new mask last night. … One more from Wade: On Wednesday night, the Kings wore warm-up jerseys that will be auctioned off to support the Kings Care Foundation. … Still more from Wade: During Ryan Miller's retirement press conference, the Ducks put up a backdrop featuring the logos of every NHL team he played for, plus his college and national team logos. The Ducks logos were highlighted, but it's pretty surprising to see a team acknowledge their nominal rivals like this. … Last night the Caps wore GI Joke warm-ups, but with a camo pattern so dark it's basically impossible to tell (from our own Jamie Rathjen). … UConn's Board of Trustees have given their seal of approval to a new hockey arena (from Kary Klismet). … Oh man, check out the gorgeous artwork on this cover of a Belgian program for a 1959 Bruins/Rangers exhibition game, one of 23 games the two teams played throughout Europe in 1959 (thanks, Brinke).

Soccer News: German third tier side Dynamo Dresden are moving to Umbro in the new season (from Ed Żelaski). … As Norwich City prepares to return to the Premier League, they've added a new costumed mascot called "Captain Canary" (from Kary Klismet). … Like the Baseball Hall of Fame, the new Premier League Hall of Fame will give really unattractive jerseys to new inductees (from @texastrev).

Grab Bag: Following up on an item from a few days ago, the AFL has decreed that Port Adelaide cannot wear their "prison bar" heritage guernsey due to similarities with Collingwood's guernsey (from Kenn Tomasch). … Ferrari F1 driver Charles Leclerc has a new helmet for this weekend's Portuguese Grand Prix (from Jeremy Brahm). … The New York Times has an article on the fashion waves Vice President Harris and Dr. Jill Biden are making (from Tom Turner). … The rest of these are all from Kary Klismet: Falmouth (Me.) High, a stone's throw from where your friendly Friday/Saturday Ticker-er is located, has decided to drop their "Yachtsmen" team name. … The Brown Daily Herald has a tremendous article on the history of athletic uniforms at the university, but unfortunately only one photo is included in the piece. … New logo for Prince George, British Columbia. … New mascot for Tulsa Welding School.
• • • • •
• • • • •
• • • • •
Speaking of birthdays, Uni Watch team member Lloyd Alaban, who produces the Tickers that run on Wednesdays, is celebrating another trip around the sun today. Enjoy your special day, Lloyd!
And that's a wrap for this NFL-themed week. I have some really good MLB stuff planned for next week — until then, stay well, enjoy Phil's weekend content, and I'll see you back here on Monday. — Paul