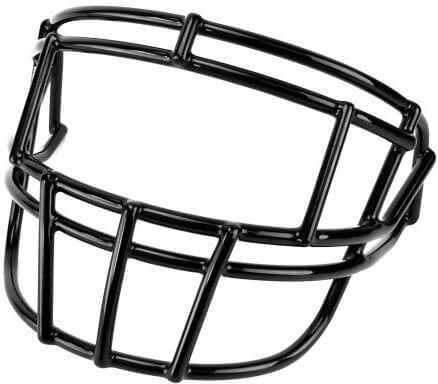 With the NFL draft coming up tomorrow night, I've been trying to feature football-related content this week. On Monday we had a deep analysis of the 49ers' 75th-anniversary patch, and yesterday we had an interview with an investment manager who was instrumental in getting the Washington Football Team to change its name.
Today we have a guest entry from reader Bud Parks, who's going to school us on the ins and outs of football facemasks. You probably know that there are different mask styles out there, but do you know what they're called, or how they were developed? Read on — Bud has all the info.
A Primer on Football Facemask Basics
By Bud Parks
Paul has published a series of entries about how various Uni Watch readers first Got It™. For me, football facemasks were definitely my introduction to the world of uniform minutiae. It was something that could help distinguish one player from another, like a jersey number, but also had a function and could serve different purposes depending on the style.
As a facemask-obsessed kid, I assumed that choosing your mask was one of the most important decisions a player could make. Since it went right in front of your face, it was the main way your persona was presented. I also then assumed that if a player switched masks, that was done with the utmost thought and consideration. But when I brought these topics up with my friends and parents, I was surprised by the blank stares I received in response. They said they had never bothered to notice the variety in facemask styles.
With that in mind, here's a look at some of the basic modern facemask styles. It's by no means meant to be a comprehensive look at football facemasks (especially since so many masks are now unique to specific helmet models, not to mention all the custom masks players design for themselves these days), but it addresses most of the basic designs, using the terminology by which they're known in the industry.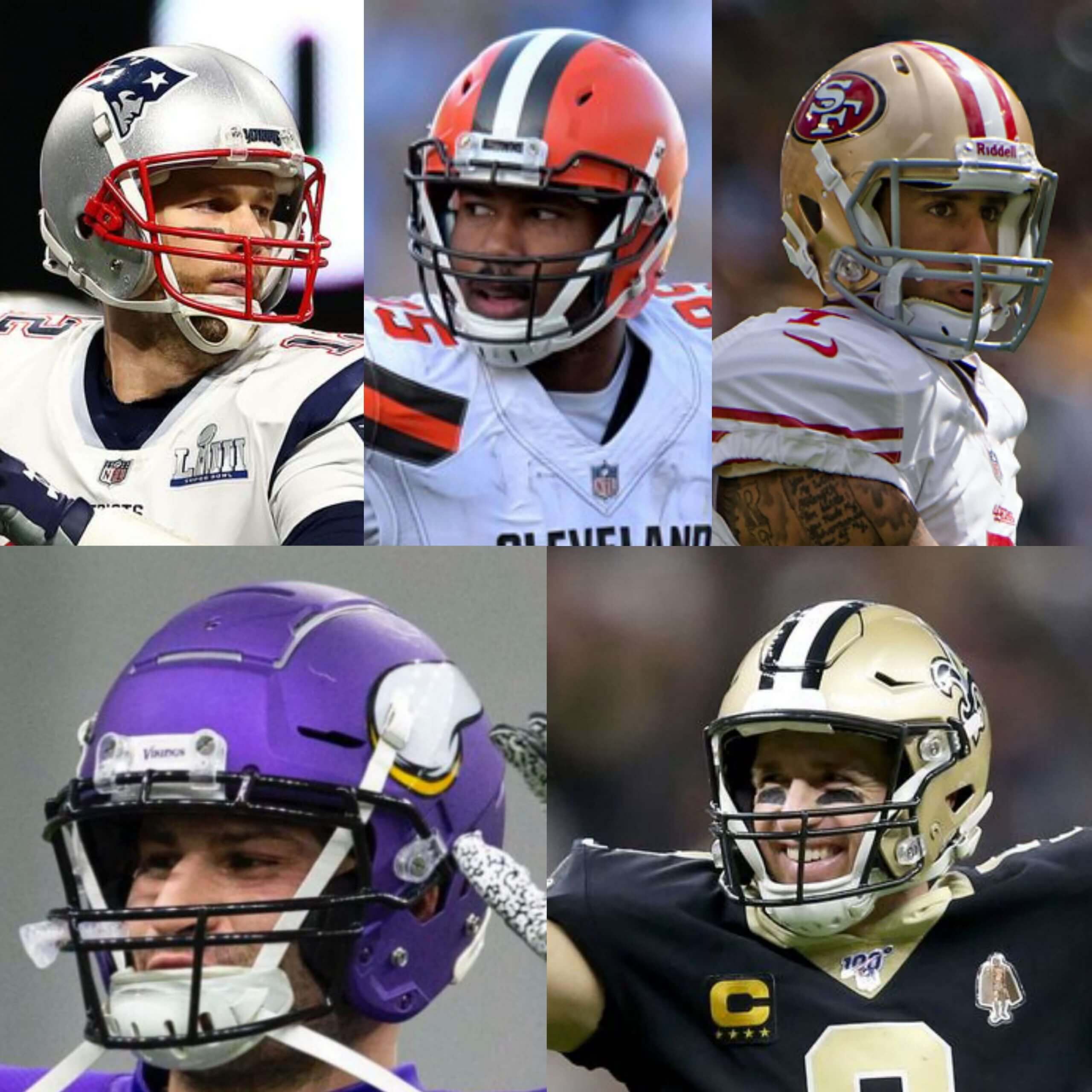 OPO (Oral Protection Only)

This is what many people consider to be the "default" look for masks. It serves as the starting point or foundation for most major facemask designs. Did you know it was called OPO? Now you do! It features two bars wrapping horizontally around the nose: the top bar (which will henceforth be known as the "home" bar in the rest of this article) and another roughly one inch below it.
Fun fact: Riddell actually tried to retire this style officially with their release of the Speedflex helmet. But after Colts quarterback Andrew Luck placed a custom OPO order after switching from his Revo Speed to the Speedflex, it became popular enough among NFL quarterbacks that Riddell gave it an official designation, rather than just calling it a "custom mask."
OPO-2

This style offers the same protections and field of vision as the standard OPO, but with a third vertical bar added down the center of the mask.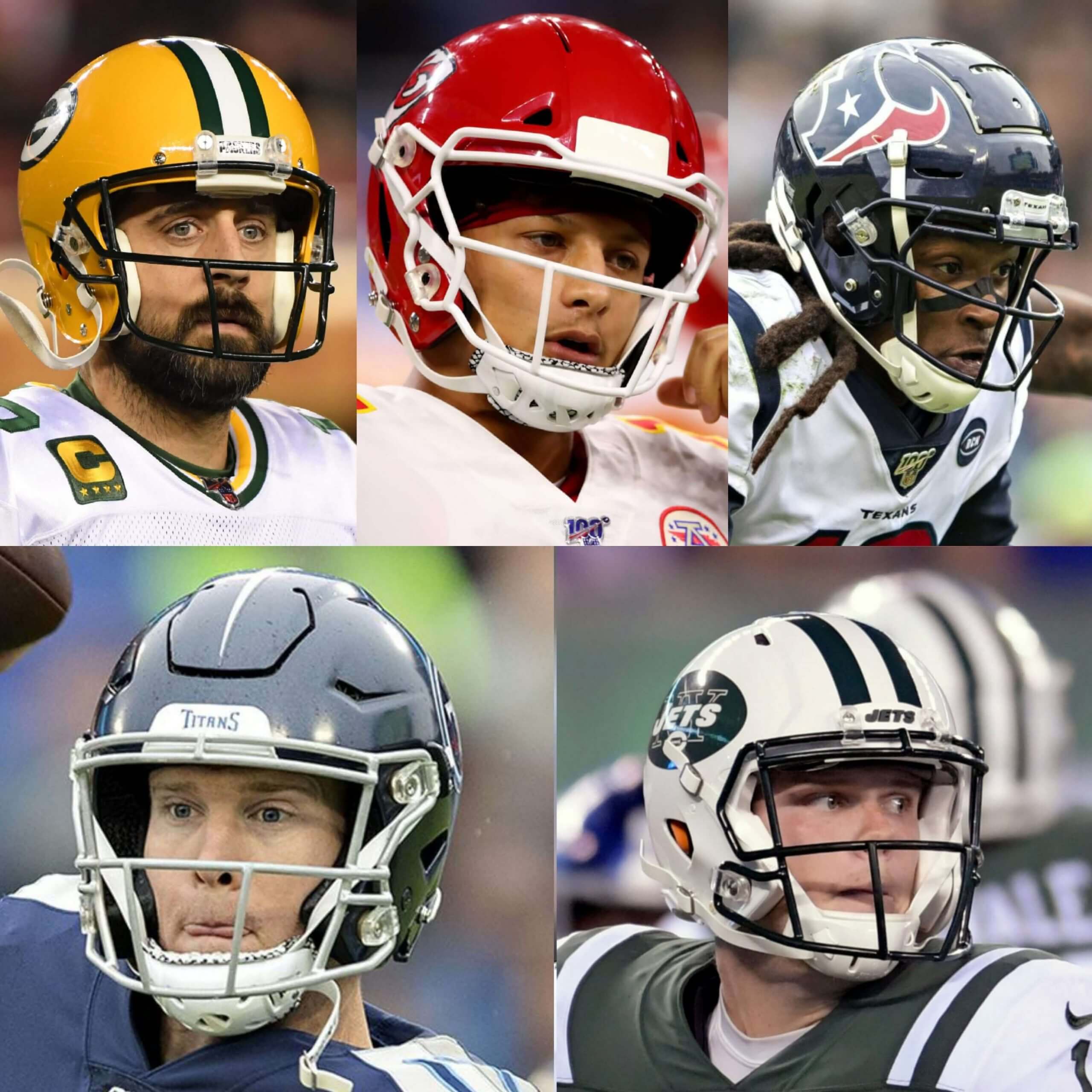 OPO-SW (Oral Protection Only — Single Wire)

Currently the most popular look among QBs and other skill positions, this style takes the standard OPO look and omits the extra bar below the home bar. Some models will begin the extra bar but cut it off at the start of the vertical sidebars.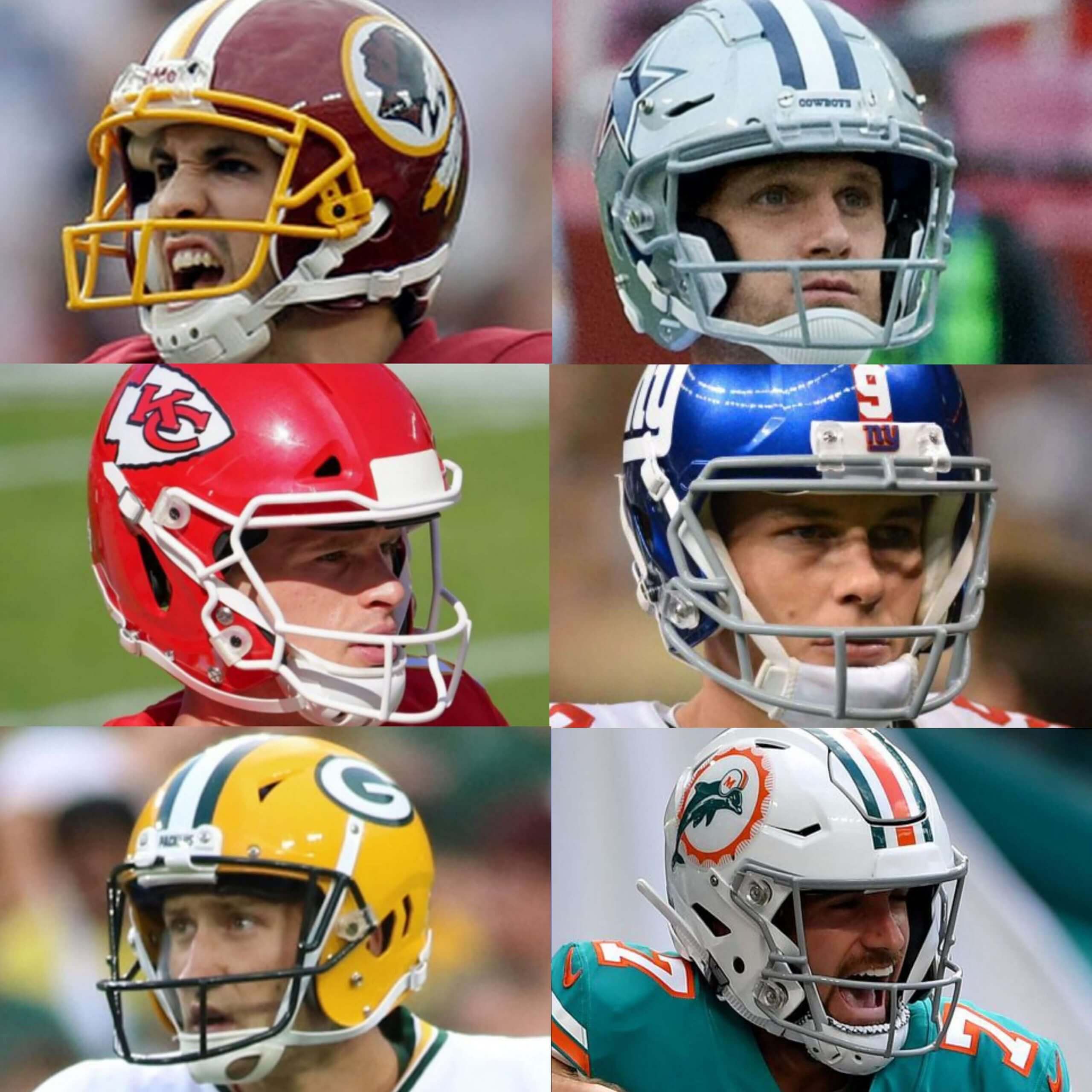 KOP (Kicker-Only Protection)

Sacrificing protection in return for an expanded field of vision, this style takes the OPO mask and actually removes the home bar, keeping the lower bar, so it's the inverse of the OPO-SW variation. Punters and kickers notwithstanding, this mask is generally considered inadvisable from a safety standpoint, unless you can augment the protection through the use of a visor.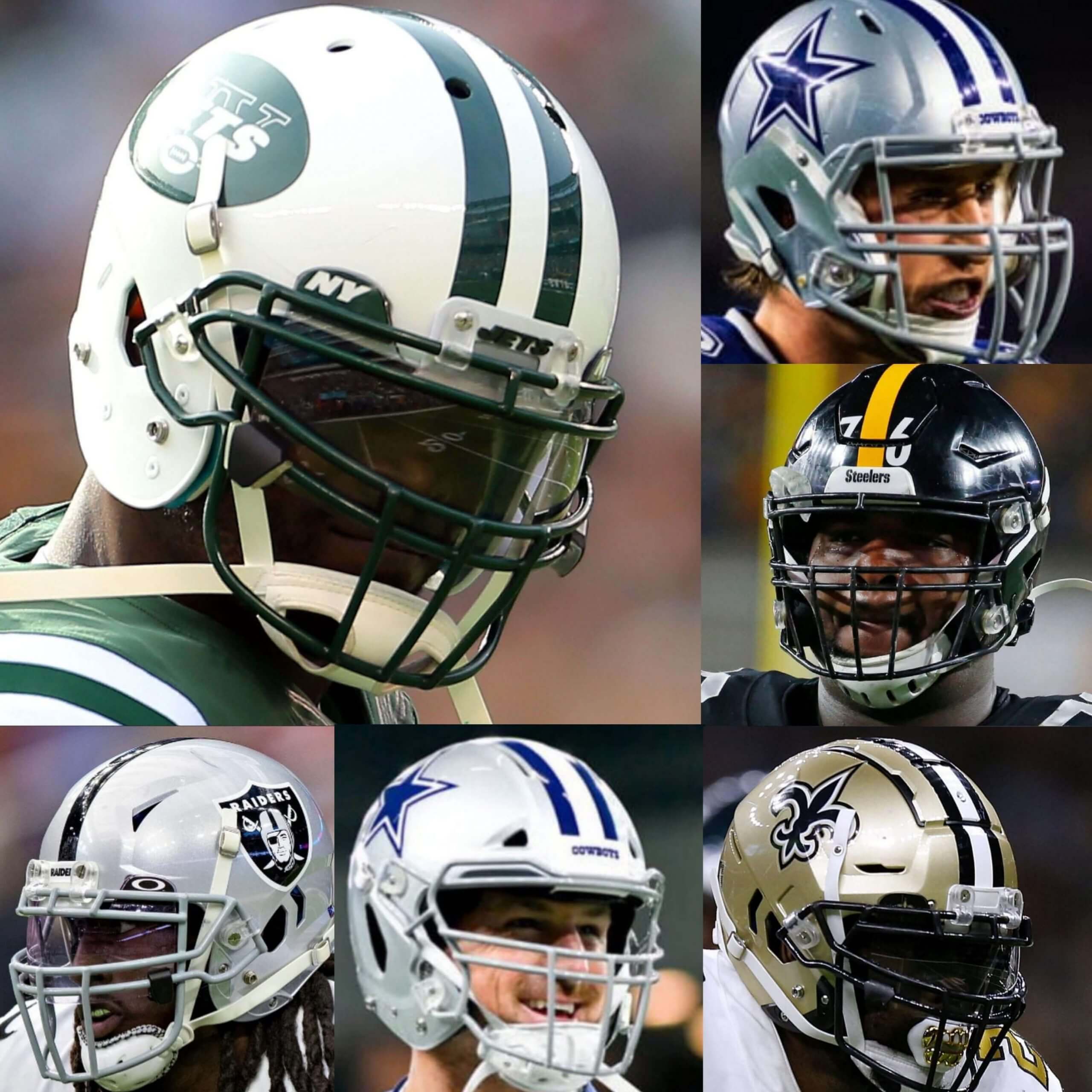 OPO-DW (Oral Protection — Double Wire)

A style that looks very similar to the OPO-2 (and is confusingly named to boot), this style actually puts its second horizontal bar across the nose ABOVE the home bar rather than below, offering a little more facial protection. The trade-off? A slightly more restricted field of vision.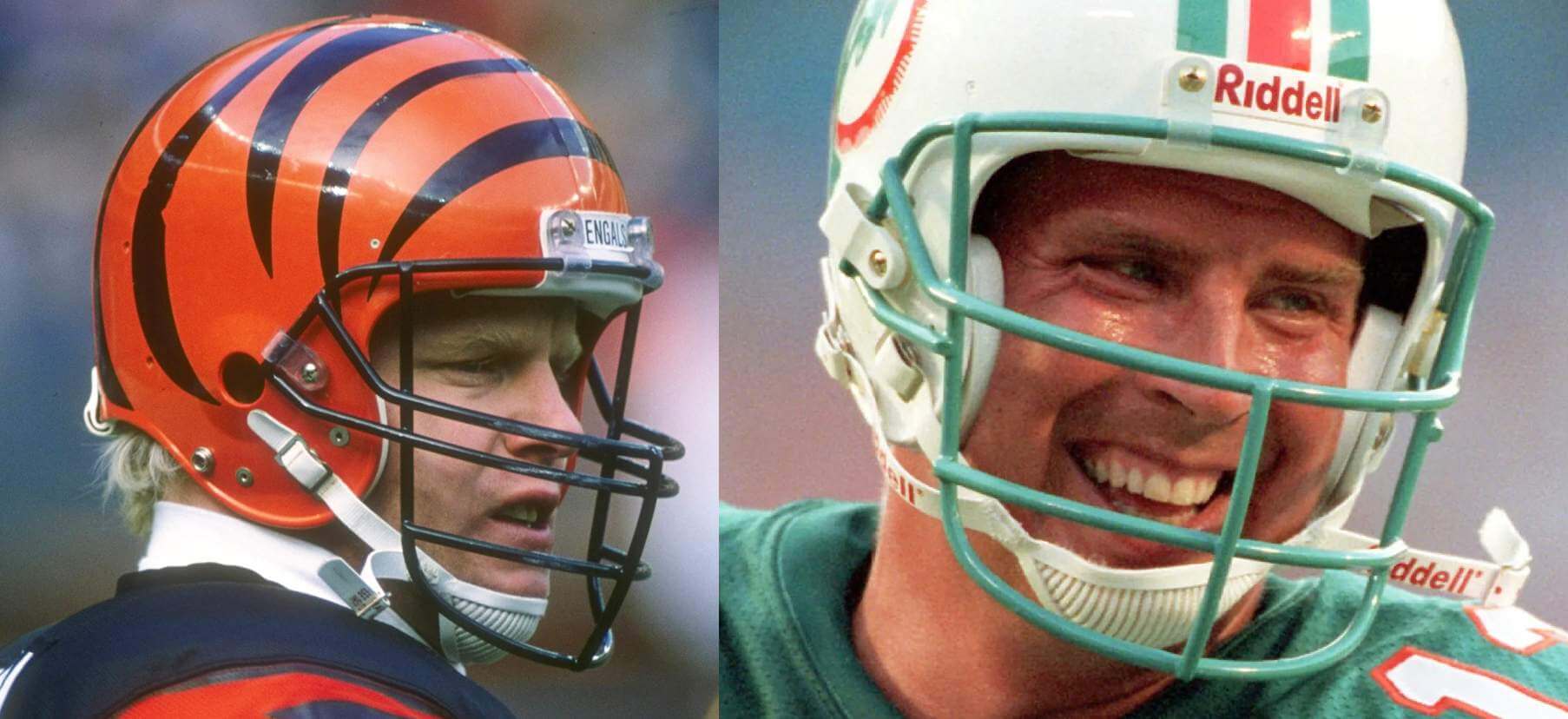 JOP (Jaw and Oral Protection)

The bread and butter of a great number of pocket passers from the 1980s and '90s (and a few scramblers as well), this style offers the same vision profile as the standard OPO masks, but with some added jaw protection. Once available in both standard and single-wire versions, it is now largely extinct, as hardly any of the newer model helmets offer a variant of it that isn't a custom order.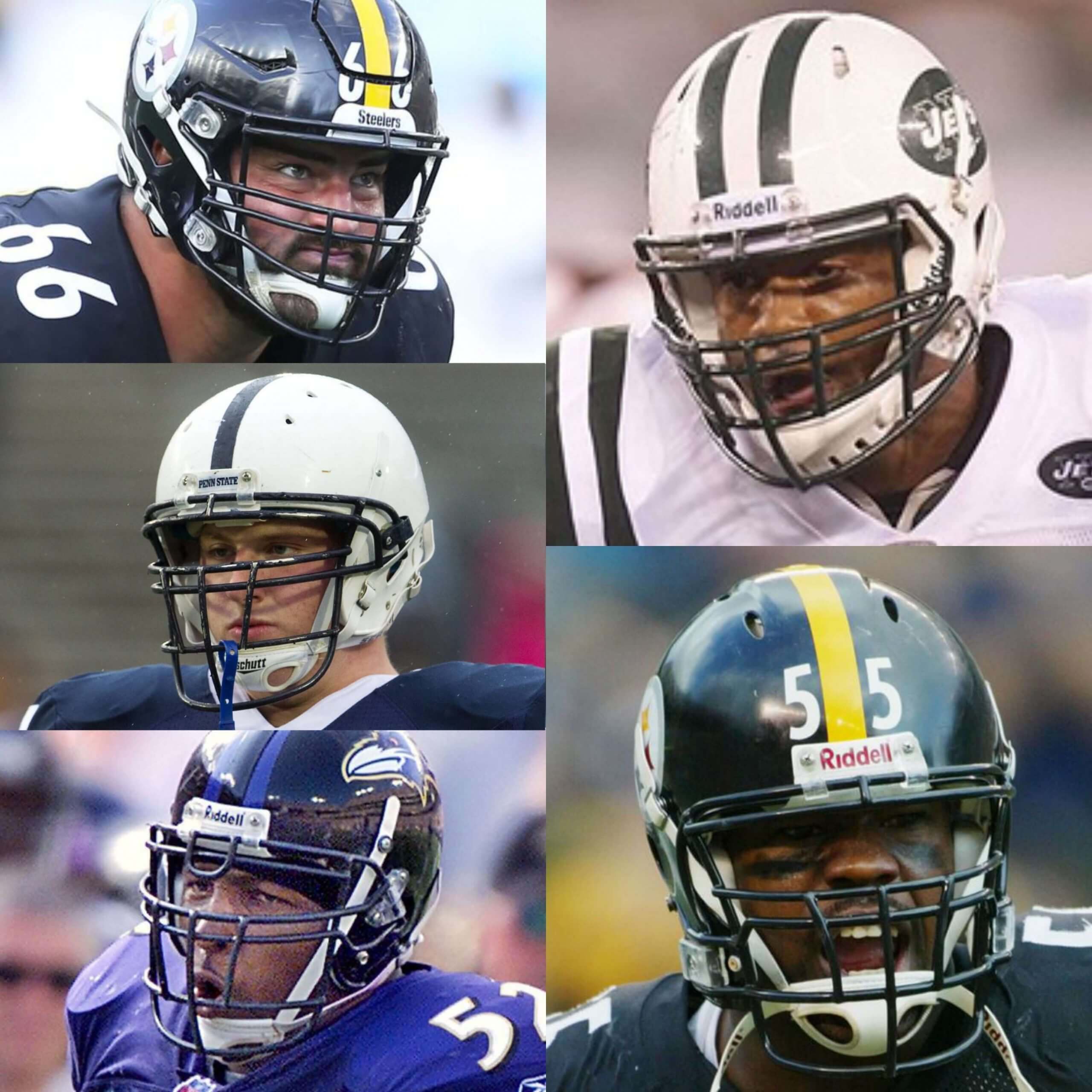 JOP-DW (Jaw and Oral Protection — Double Wire)

A longtime favorite of linemen and long-ago favorite of linebackers, this style combines the facial protection of the OPO-DW (with the horizontal bar above the home bar) and the jaw protection of the JOP.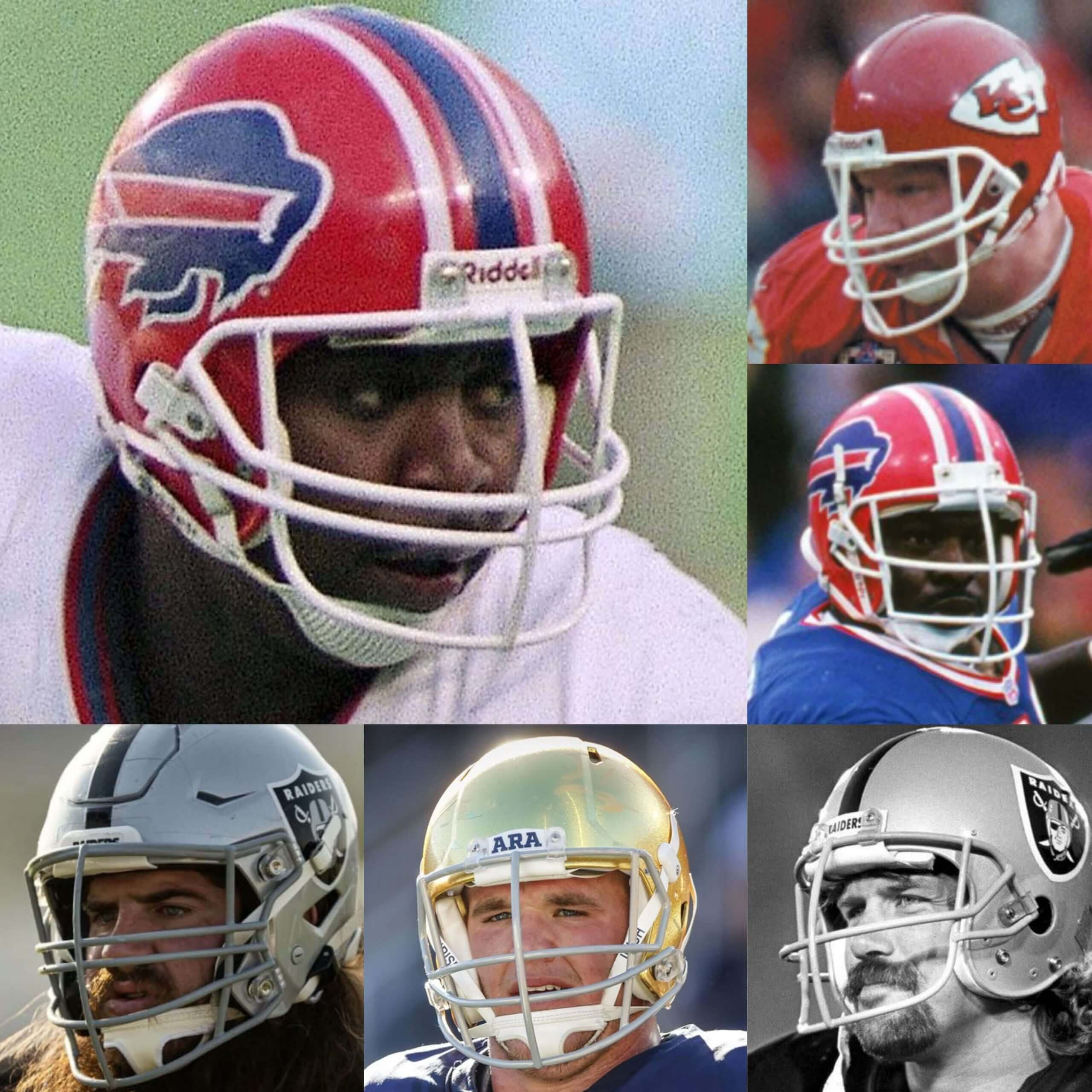 NOPO/NJOP (Nose/Jaw and Oral Protection)

Another style that's largely disappeared these days save for a few custom requests, these masks come with a single vertical bar right down the middle providing some extra protection for the nose and the eyes. It came in all possible combos of both a single-wire variant and the extra jaw protection of the JOP.
Fun Fact: Washington Football Team defensive lineman Jonathan Allen wears a more protective NJOP-DW variant. He switched to it two seasons ago specifically to have an old-school look.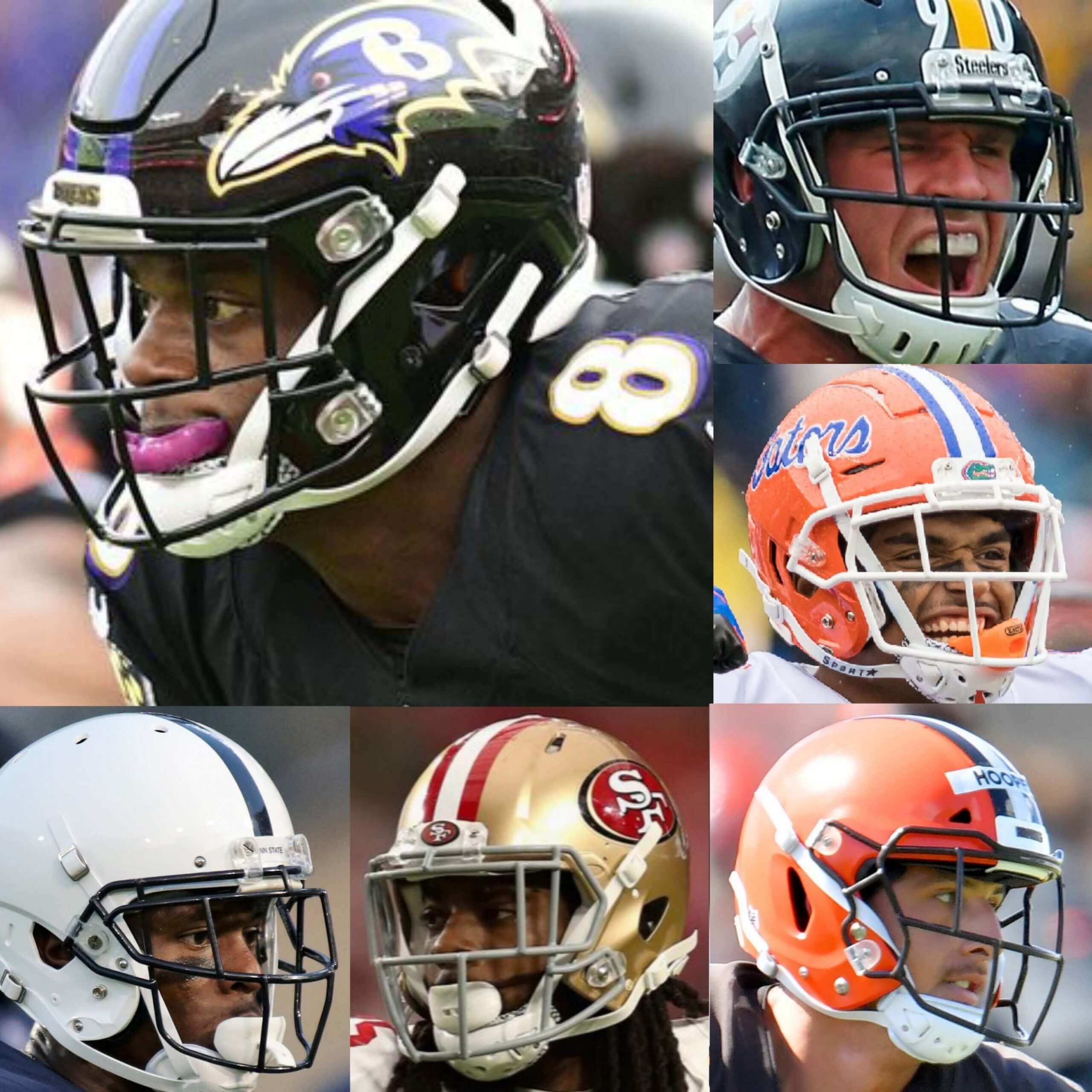 EGOP (Eyeglass and Oral Protection)

This started out as a custom mask for Eric Dickerson (to help give some extra protection for his Rec-Specs). But it became so popular in the 1990s due to another NFL star that many players simply know it colloquially as the Deion. A version of this mask with extra jaw protection also existed for a time.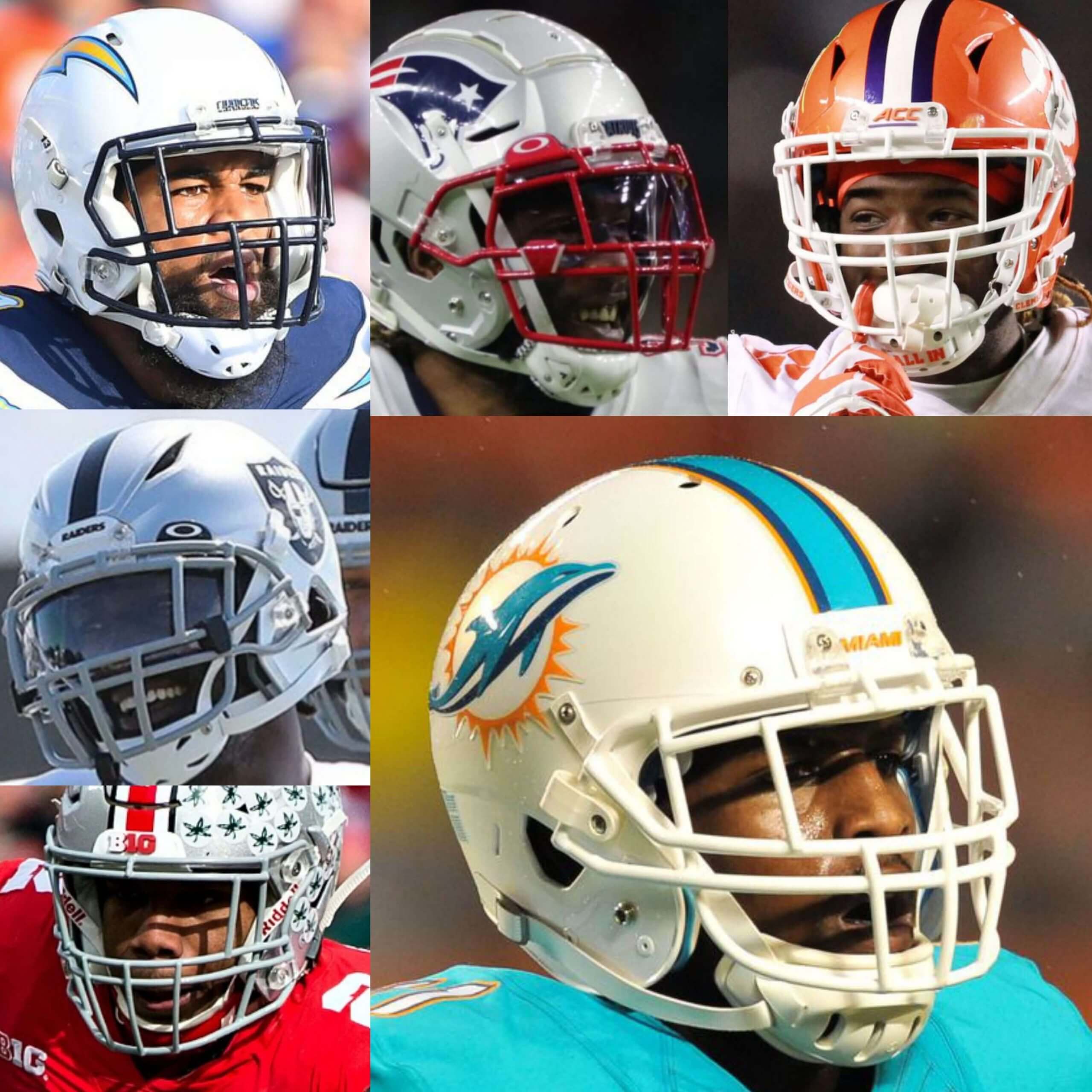 EGOP-2

First introduced in the early 2000s, this style is similar to the EGOP, but adds a lower bar below the home bar and an extra vertical bar down the center.
There's more — a lot more — but that should be enough to give you a basic working knowledge of contemporary mask style. Big thanks to @helmetstalker on Twitter/Instagram for research and fact-checking assistance.
———
Paul here. How much of that stuff did you know? I knew very little of it — a good reminder that there are endless sub-niches within the uni-verse.
• • • • •
• • • • •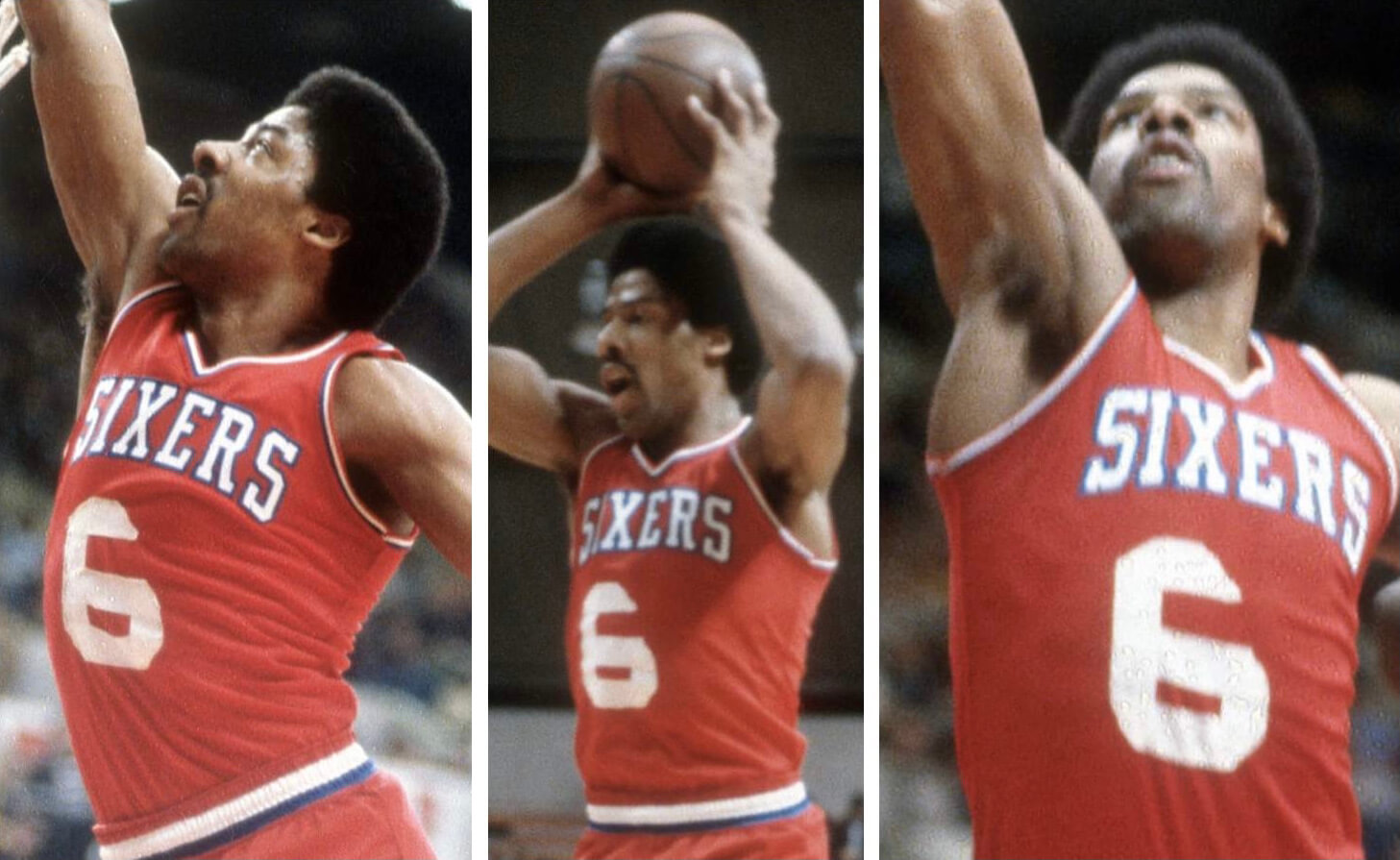 Click to enlarge
Tape job: Check out these shots of Dr. J wearing a jersey that appears to have a makeshift "6" fashioned out of athletic tape. They're all from a game against the Nets, circa 1980, but I don't know the exact date.
There's a Twitter account devoted to Dr. J, called @DrJStuff, so I got in touch with the guy who runs it, Greg Faragher, and asked if he knew the backstory. "I've seen those photos but can only assume that they had to customize a blank at the last minute," he said. "Funny thing is, I've never found a photo showing the back of the jersey. But I've seen some footage from that game, and the back is no better." He provided a screen shot to show what he meant. It's blurry, but you can get the idea: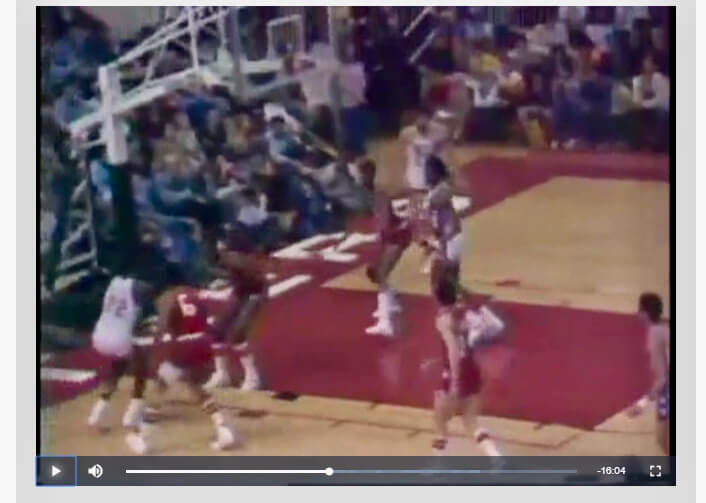 Greg also informed me that one of the photos from that game was used on a book cover! Check this out: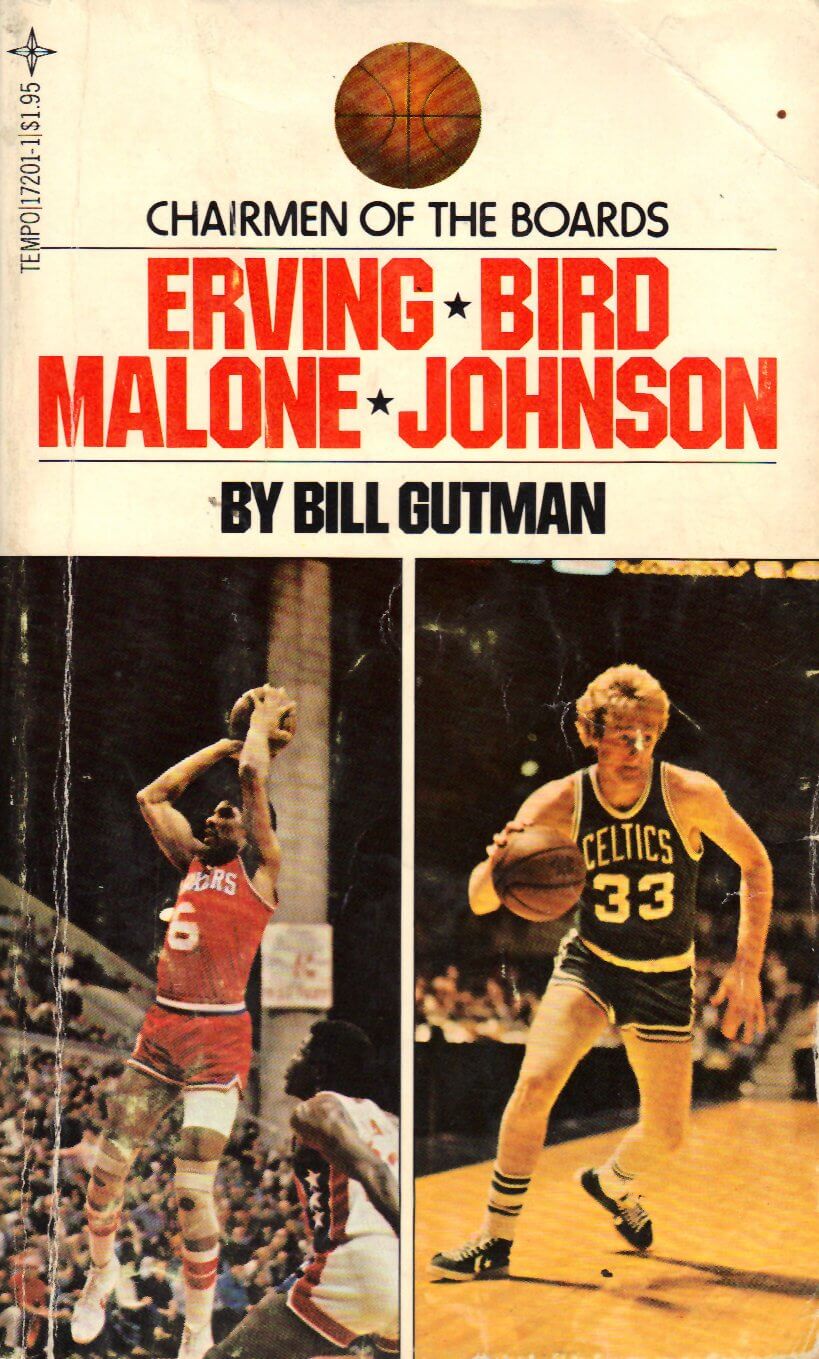 Out of all the Dr. J pics they could have chosen, how did they decide on that one?
(Big thanks to Phill Stroman for bringing this one to my attention.)
• • • • •
• • • • •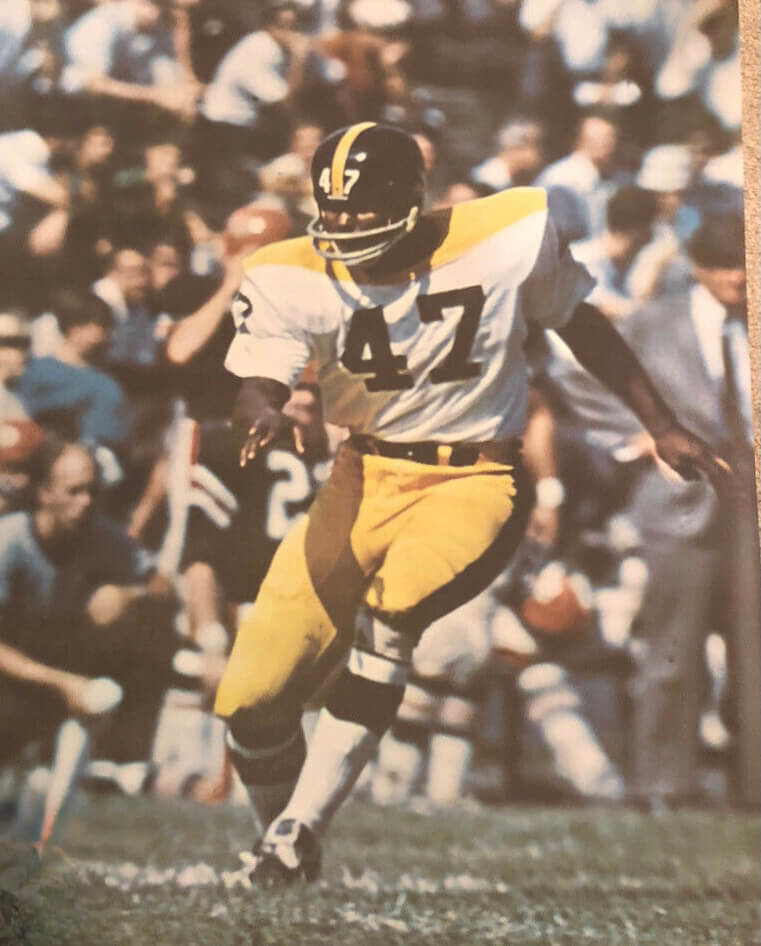 Click to enlarge
Too good for the Ticker: This photo of Steelers defensive back Marv Woodson comes from a poster that I spotted on eBay. Gorgeous shot, no? Man, I love the Batman uniforms — really wish they'd revive them as a throwback. Such a sharp-looking design!
• • • • •
• • • • •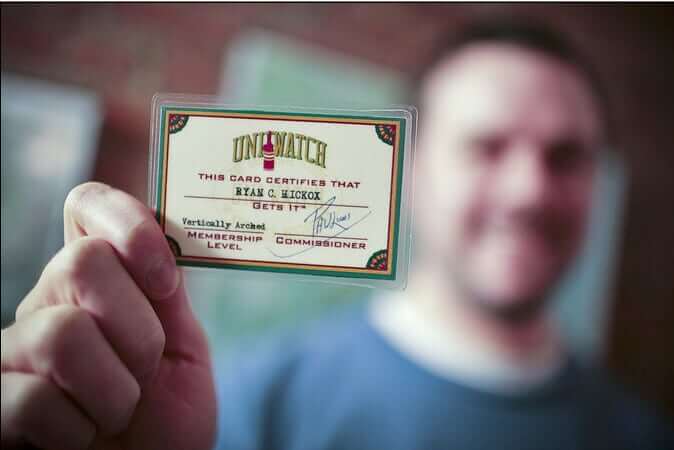 ITEM! Another membership raffle: A longtime reader/supporter who prefers to remain anonymous has generously donated funds for two memberships to be raffled off, so that's what we're going to do today.
This will be a one-day raffle. No entry restrictions. To enter, send an email to the raffle in-box by 8pm Eastern tonight. On entry per person. I'll announce the two winners tomorrow. Good luck!
• • • • •
• • • • •
The Ticker
By Lloyd Alaban

Baseball News: Dodgers P Trevor Bauer, who won the 2020 Cy Young Award while pitching for the Reds, was presented with the CYA trophy/plaque prior to last night's game. Since the Reds were the opposing team, several of his former Cincy teammates joined him for the presentation. … Bauer has also been supporting former Reds teammate Nick Castellanos, who was suspended for his role in a recent Reds/Cardinals on-field brawl, by wearing Castellanos-themed cleats (from Bill Fenbers). … Orioles P Jay Flaa has a Bible verse cited on his glove (from Marcus Hall). … The Trois-Rivières Aigles and the Québec Capitales of the Frontier League are merging for this season under the "Équipe Québec" moniker (from @Dante_X). …  The Wisconsin Timber Rattlers will have six alternate jerseys this season (from Chris Vandeyacht). … The Pensacola Blue Wahoos will debut a Pensacola Crabzillas alternate identity, inspired by a gargantuan sandwich (from Benjamin Hill). … NESN used SNY's feed for the Red Sox/Mets game yesterday. NESN's score bug was overlaid on SNY's scorebug (from @Finerific). … Georgia P Nolan Crisp had his stirrups on backwards last night (from Timmy Donahue). … Also from Timmy: New advertiser for the Visalia Rawhide's home stadium. … The Yankees Photoshopped newly acquired P Wandy Peralta into a Yanks uni but left his beard intact, even though the team has a strict no-beards policy (from Nicklaus Wallmeyer). … The Dodgers presented a World Series ring to one of their clubbies (from Lee Wilds). … MLB's "Players Weeekend" gimmick is now being used by Florida State softball (from @VictoryCB). … A Red Sox fan who stopped wearing their Curt Schilling replica jersey for political reasons has found a fun way to modify the jersey (from our own Anthony Emerson).

Hockey News: Looks like the spouses and partners of Lightning players received championship necklaces with the same design as the team's championship rings (from Ryan Cotter). … Montreal Canadiens F Cole Caufield got pranked by his teammates who stole his helmet, forcing him to start pregame warm-ups without his bucket (from our own Phil Hecken).

Basketball News: Montreal's expansion team in the Canadian Elite Basketball League is looking for public suggestions for the team name, colors, logo, and mascot (from Wade Heidt). … Etienne Catalan has the latest NBA uniform number updates.

Soccer News: Tons of shirt leaks from big European clubs (from our own Phil Hecken). … Leicester City's women's team, who just won the English second tier, will become the latest team to play at their men's team's stadium for the first time (from our own Jamie Rathjen). … Also from Jamie: The NWSL's Washington Spirit's captain's armband was cherry blossom-themed yesterday. "I'm not sure if this was a one-time thing or not," says Jamie.

Grab Bag: There was a Ticker item on Sunday about some of the female German participants at the European Artistic Gymnastics Championships in Basel wearing full-length bodysuits, which prompted a question in the comments along the lines of whether they had to wear the normal leotards or whether that was a choice. Turns out they are required to be that short, but there is an exception for religious reasons (from our own Jamie Rathjen). … Aussie rules football team Port Adelaide is waiting for the AFL to decide whether the team will be permitted to wear a heritage jersey commonly known as the "prison bar" design (from Shawn Hairston).
• • • • •
• • • • •
• • • • •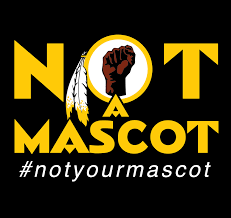 A reminder: I'll be participating in an online panel discussion about Native imagery in Connecticut sports today from 10am-noon Eastern. You can register to view the event here. If you can't watch live, the video of the event will be archived for later viewing. I'll post that link once it's available. — Paul