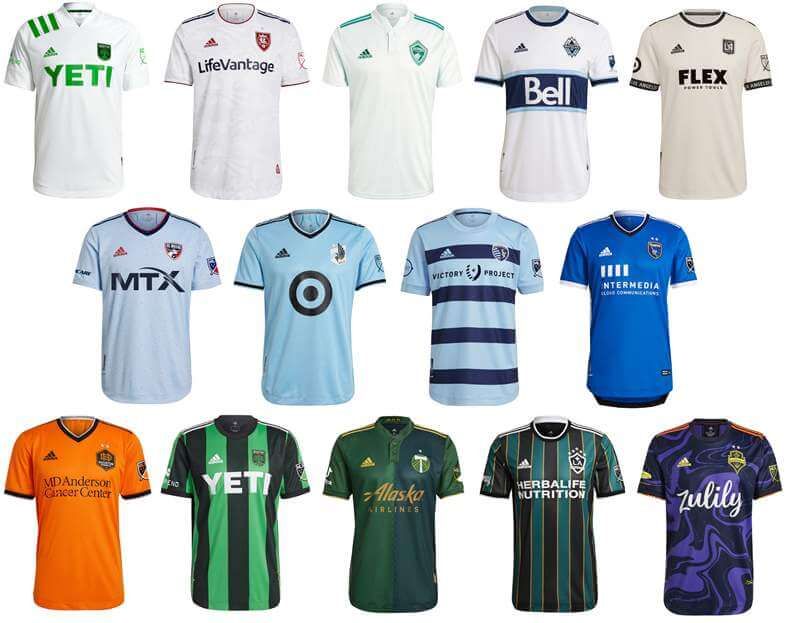 By Phil Hecken, with Kyle Evans & CJ Fleck
Follow @PhilHecken

Good Sunday Morning — hope everyone had a good Saturday. I'm back today with Kyle Evans and CJ Fleck, who are bringing you their annual MLS uniform preview, which we've broken down by conference. Yesterday, the lads tackled the Eastern Conference, which you can check out here, and today they'll preview the new kit tops for the Western Conference. Let's get started!
• • • • •
2021 MLS Uni Preview — Western Conference
by Kyle Evans & CJ Fleck
Thanks Phil! We're glad to be back to preview yet another MLS season which kicked off Friday night. Here's the basics: the league is now up to 27 teams with the addition of expansion Austin FC this season (with Charlotte joining next year and St. Louis in 2023), Austin and the two Ohio teams (Columbus Crew and FC Cincinnati) will open brand-new stadiums this season, Columbus are the defending MLS Cup champions, and the Philadelphia Union are the defending Supporters' Shield winners.
In terms of the uniforms, the biggest news is that MLS is bringing back third kits for the first time in 5 years…well sort of. Third kits disappeared due to lack of sales and their return is contingent on jersey sales and as a result of meeting a quota, Atlanta will be the only team with a third kit this season. Sleeve advertisements return for the second season and as always, the uniforms are (for the most part) on a 2-year rotation with teams alternating new kit reveals between their primary and secondary options each season.
__________
Western Conference
Austin FC
Primary: Thick black and green vertical stripes
Secondary: White with green accents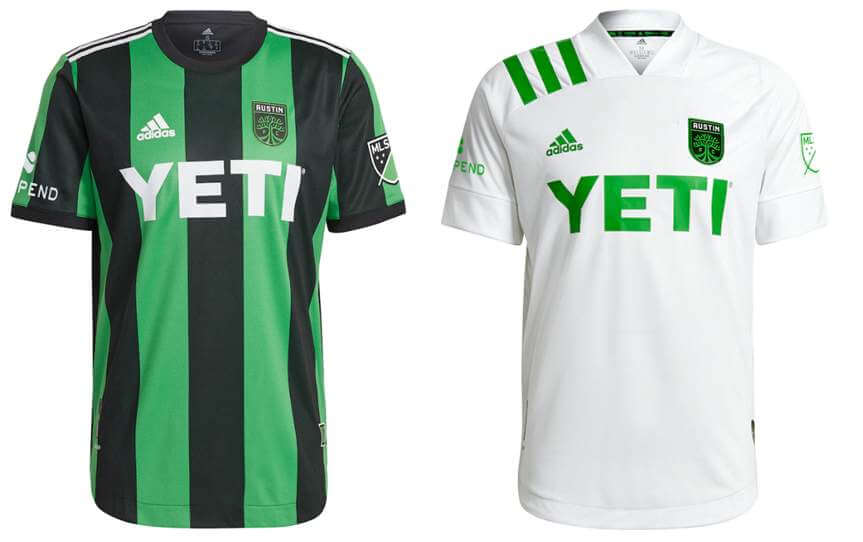 Kyle: It's obviously important for an expansion club to establish their visual identity right away and I really like the black and green stripes (despite the Atlanta resemblance).
CJ: Green Atlanta and a boring white change kit. Pass.
__________
Colorado Rapids (secondary)
Very light green with green accents and sublimated topography lines of Colorado mountains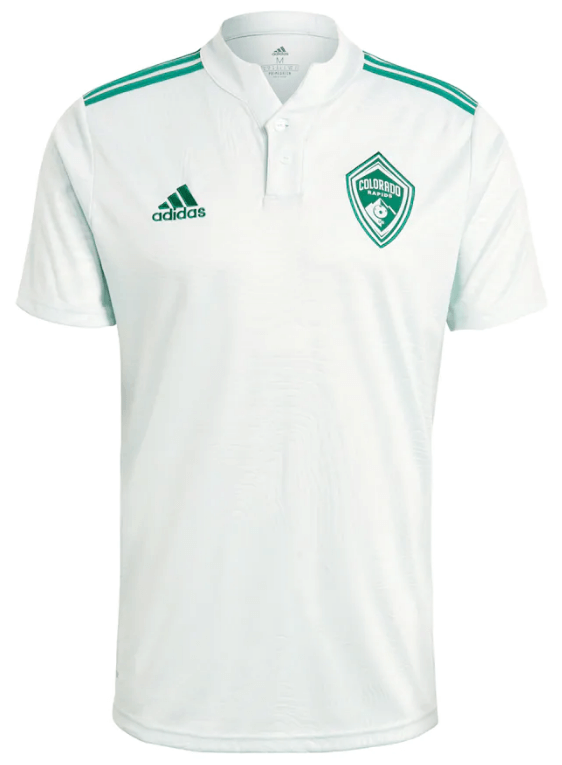 Kyle: Nice light throwback reference to the green used by the team back in the 90s and early 2000s. And another mini collar!
CJ: Love me some collars but can't make up for the overly basic white template design.
__________
FC Dallas (secondary)
Powder blue with red and blue "sprinkles" (Texas flag) on jersey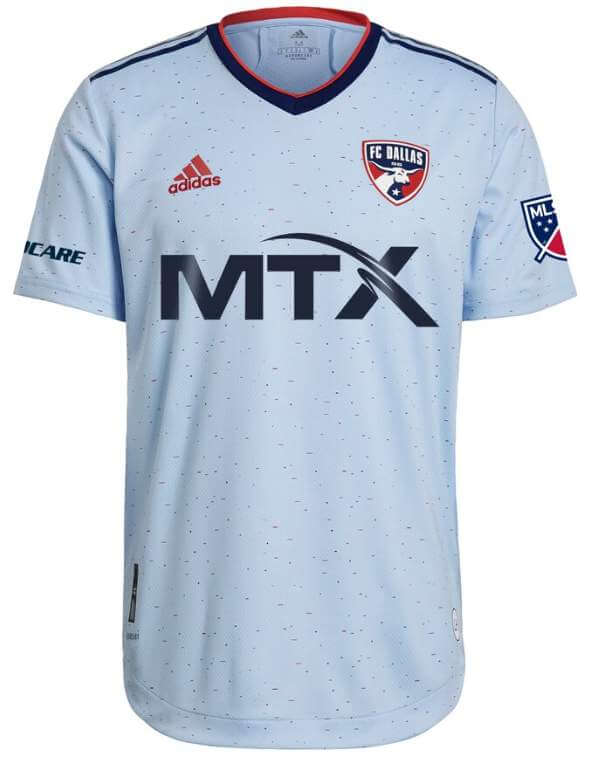 Kyle: For me secondary kits are the place to play with new colors and designs and in that spirit the powder blue works.
CJ: Points for originality! I like it.
__________
Houston Dynamo FC (primary)
Orange with black accents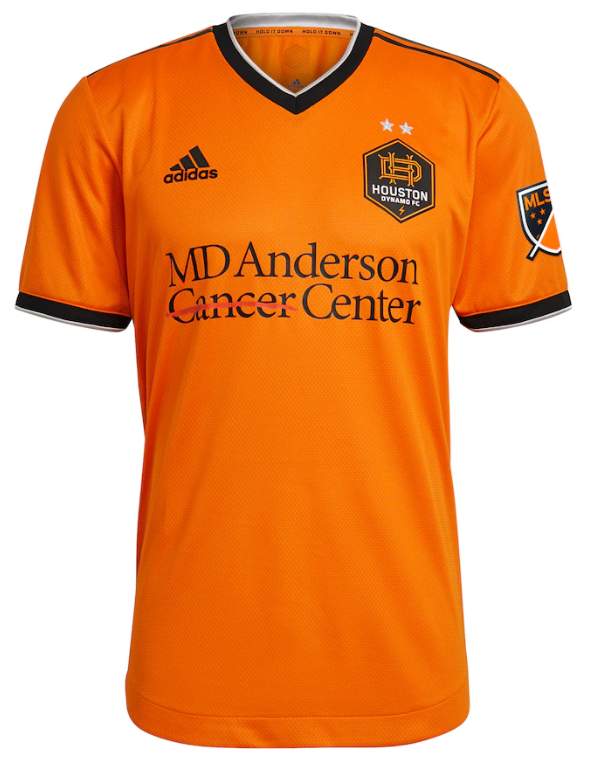 Note: The Dynamo added "FC" to their official name and have a new crest to go along with it.
Kyle: A nice simpler look that seems to match their new crest.
CJ: I miss the chevrons, but they own the orange look in MLS. Logo is a wash for me.
__________
Los Angeles FC (secondary)
Light beige with city name on black sleeve stripe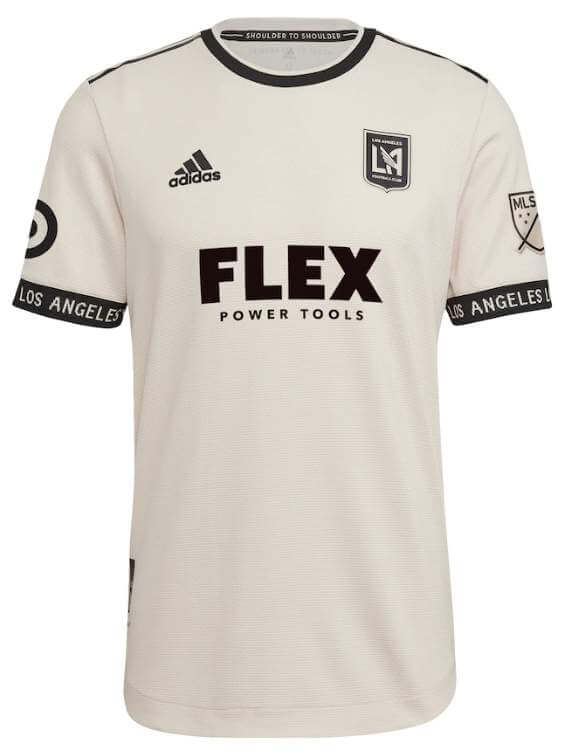 Kyle: I really like the color as it's unique and matches their logo, but I don't like the way my eyes are drawn to the "Los Angeles" on the sleeves.
CJ: I get the training top vibe from the sleeves, I agree with Kyle here.
__________
Los Angeles Galaxy (secondary)
Throwback-inspired (1997) black and teal vertical stripes separated by thin gold stripes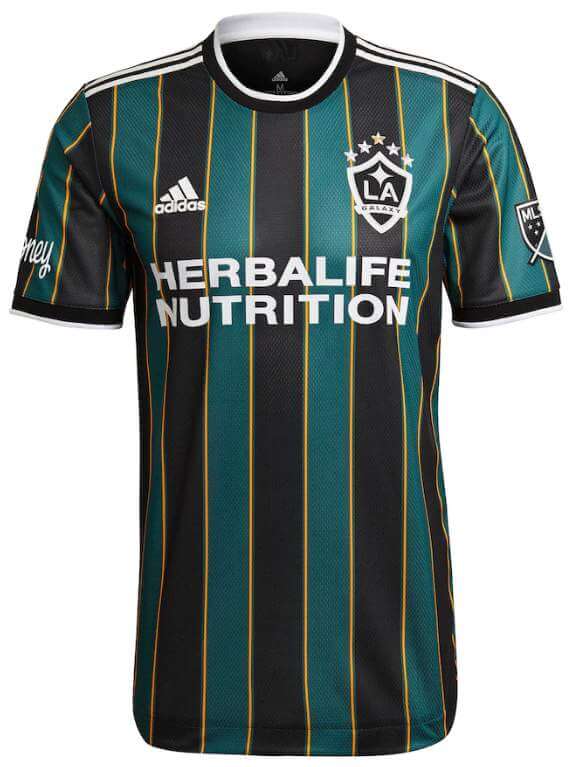 Kyle: Wow this is a home run (or should I say hat trick?) for me, I love the modern take on a retro design.
CJ: Acknowledging the past in MLS? More please.
__________
Minnesota United (secondary)
Sky blue with black accents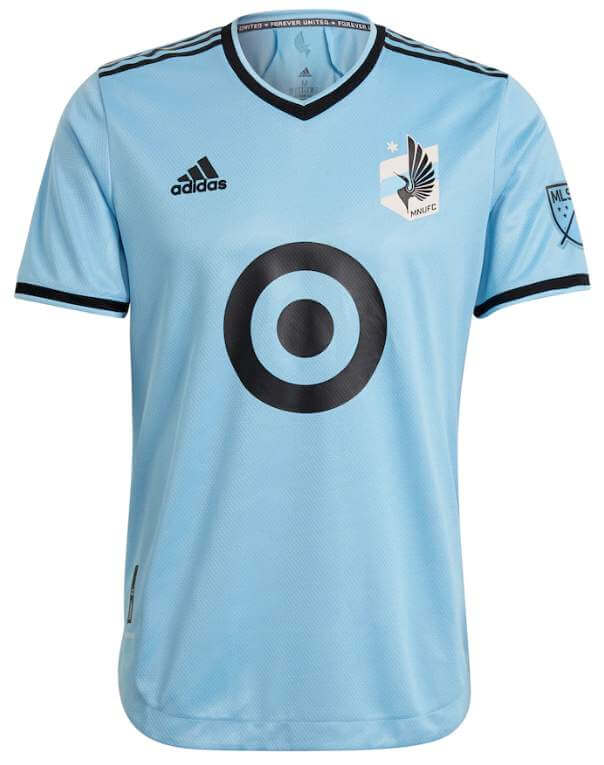 Kyle: Yes! I've been calling for a sky blue jersey for Minnesota and I'm glad to see it's finally in their rotation.
CJ: While this does make for a lot of light blue designs in the league, their usages will be different, so I'm okay with it.
__________
Portland Timbers (primary)
Green and dark green "halves" design with buttons and a collar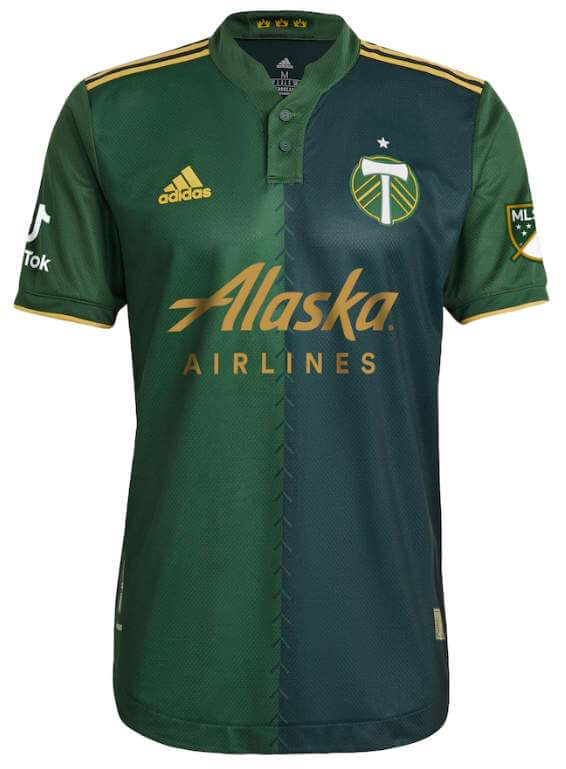 Kyle: Solid execution on a classic soccer design.
CJ: Portland can't seem to go wrong on their designs, year after year.
__________
Real Salt Lake (secondary)
White with a sublimated pattern of a mixture of team identity elements (lion head, stadium, etc.)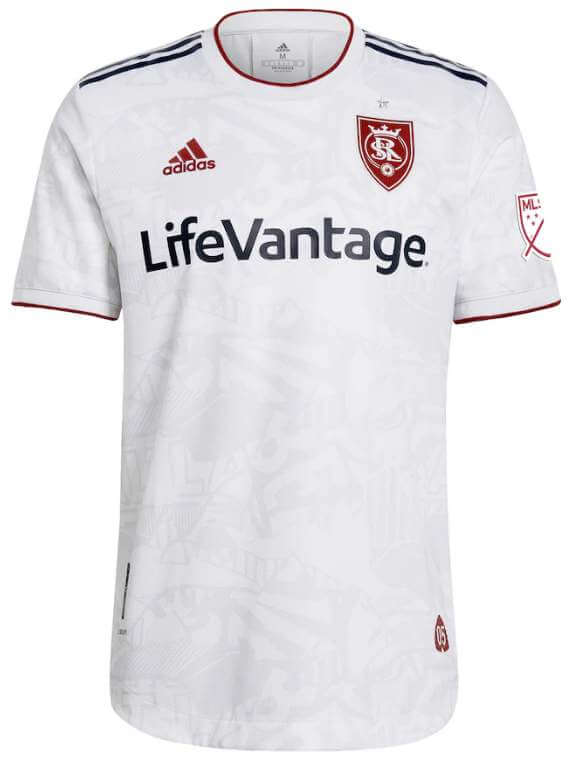 Kyle: I'll pass on the random background elements but it's refreshing that there's not an overabundance of basic white kits this year.
CJ: Another white with sublimation. Got it.
__________
San Jose Earthquakes (primary)
Blue with black and white accents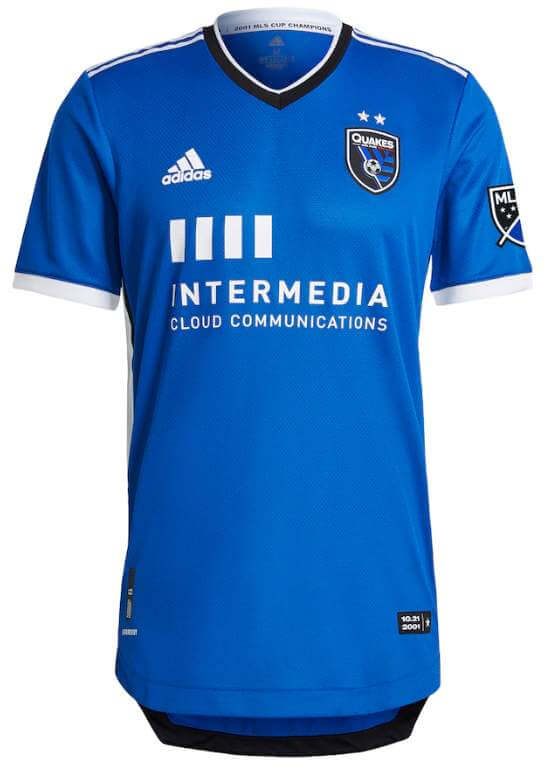 Kyle: This certainly works, but I feel like something's missing?
CJ: You know exactly what's missing, Kyle? A nice collar.
__________
Seattle Sounders (secondary)
Jimi Hendrix-inspired purple "psychedelic" pattern with yellow and orange accents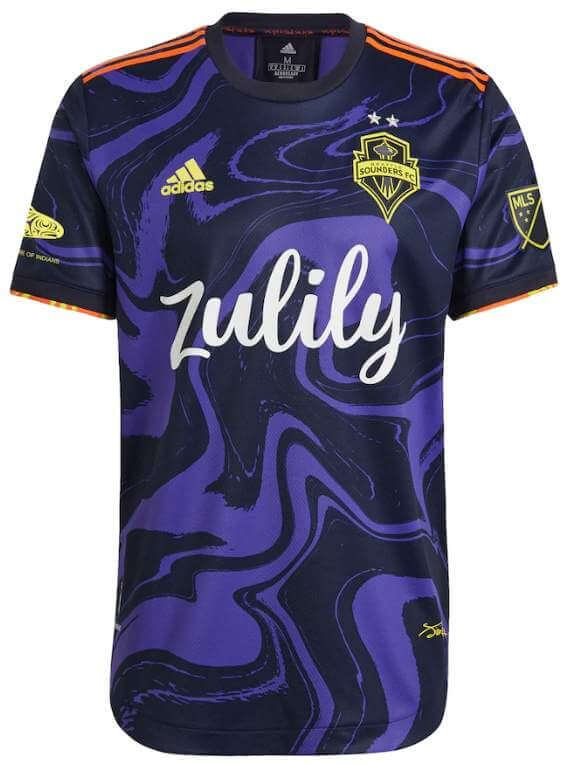 Kyle: Easily the most unique of this year's designs. I'm sold on the narrative and I'm coming around on the design.
CJ: Can't wait to see this on the field. Oddball, but trying things is welcome after so many dire kits in the past.
__________
Sporting Kansas City (primary)
Light blue with navy blue "hoops"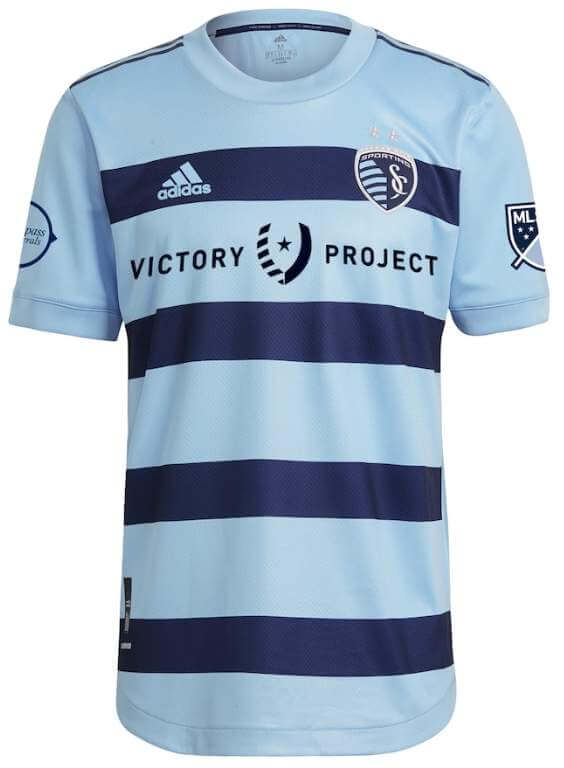 Kyle: Love this particular hoops look for SKC as they continue to be one of the best looking teams in the league.
CJ: There's something off about the hoops for me, not sure what exactly. But, it looks good, and Kyle is correct about SKC in general.
__________
Vancouver Whitecaps (primary)
Effectively a continuation of their current primary jersey inspired by 1979 NASL championship team; white with thick navy horizontal stripe and thin sky blue stripes, collar removed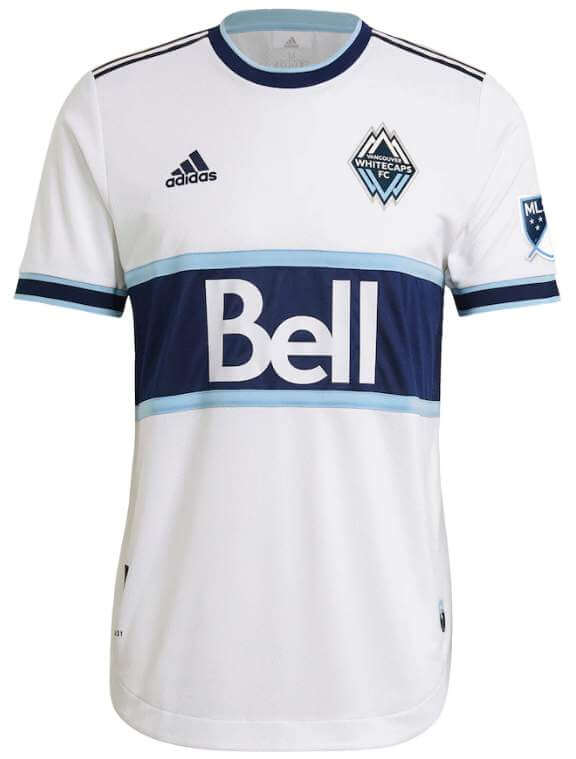 Kyle: If it's not broke, don't fix it. A beautiful jersey.
CJ: Elegant and classic. A wonderful choice.
• • • • •
Thanks, guys! Another great set of reviews. Looking forward to doing this again soon.


Ladies and Gentlemen…
…Your Boston Yellow Sox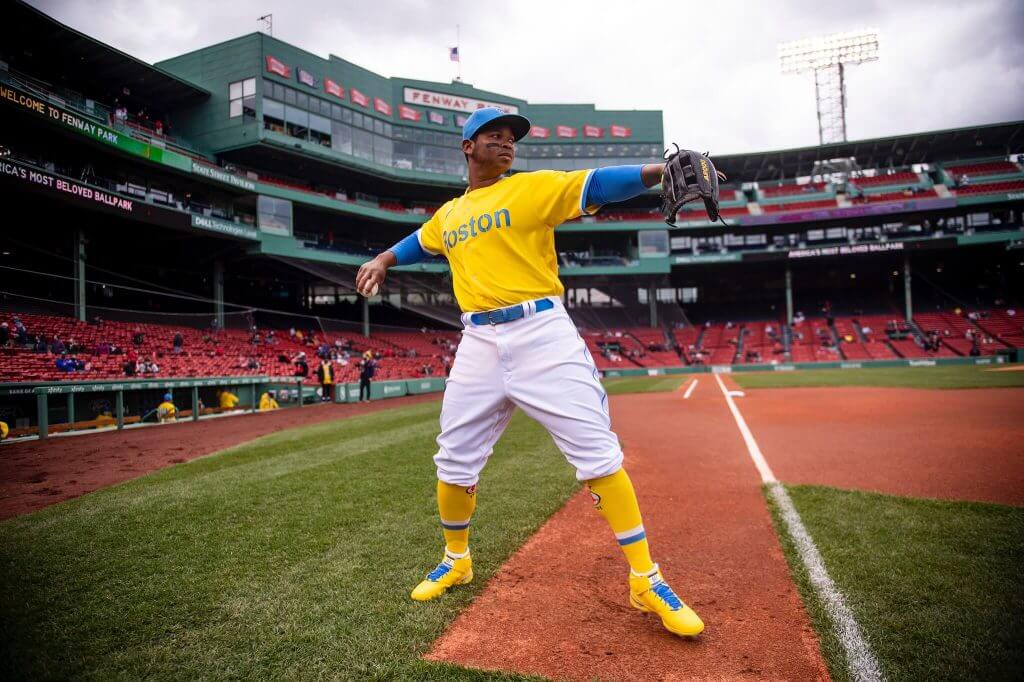 The Boston Red Yellow Sox broke out their "City Connect" uniforms yesterday (they'll also wear them again today). We knew well in advance what the unis would look like (Paul had an excellent run down a few days ago, so please read that for the uni details). One thing we didn't know however, at least based on promo pics, was how the team would handle the hosiery. Now we know.
We also hadn't yet gotten a really clear shot of the rear uni number treatment. Again, now we have:
First off, in a vacuum, this is a really nice looking uniform.
I love the combination of light blue (yes, there is definitely a UCLA vibe there) and yellow. It looks like a baseball uniform, albeit in colors we don't normally see on a diamond. I'm not in love with the "BOSTON" font (but of course that's a nod to the finish line of the Marathon), but I dig pretty much everything else about it. Not everyone went high cuffed (showing off those gorgeous yellow socks), and Marwin Gonzalez immediately pine-tarred up his helmet…
… but it really worked well as a uniform. The powder blue caps paired beautifully with the blue sleeves and pants stripes, so the two pastel(ish) colors worked well together.
Lots of players wore "matching" (or at least complementary) cleats, and the team of course had powder blue helmets and belts, so everything synched up nicely. Even catcher Kevin Plawecki had matching gear:
Now, while I love this as a uniform, I'm not as keen that Nike is taking us down this road of creating a "city specific" uni for every team. However, if they keep it to just a couple games per team per season, and dump the ridiculous "Players Weekend" softball tops (and those gadawful black/white unis they wore in 2019) and replace those with the "City Connect" uni, then I'll take it. And anything is better than those TATC jerseys worn a couple decades ago. We know there are six more of these City Connect uniforms coming — if they're all as good as the Red Yellow Sox one, it might be a concept I can get behind. I just fear we are possibly heading down an NBA-type uniform road — and I don't think anyone wants that. But let's see how this all plays out. So far…so good.
You can see lots more game photos here.


Still Nothin'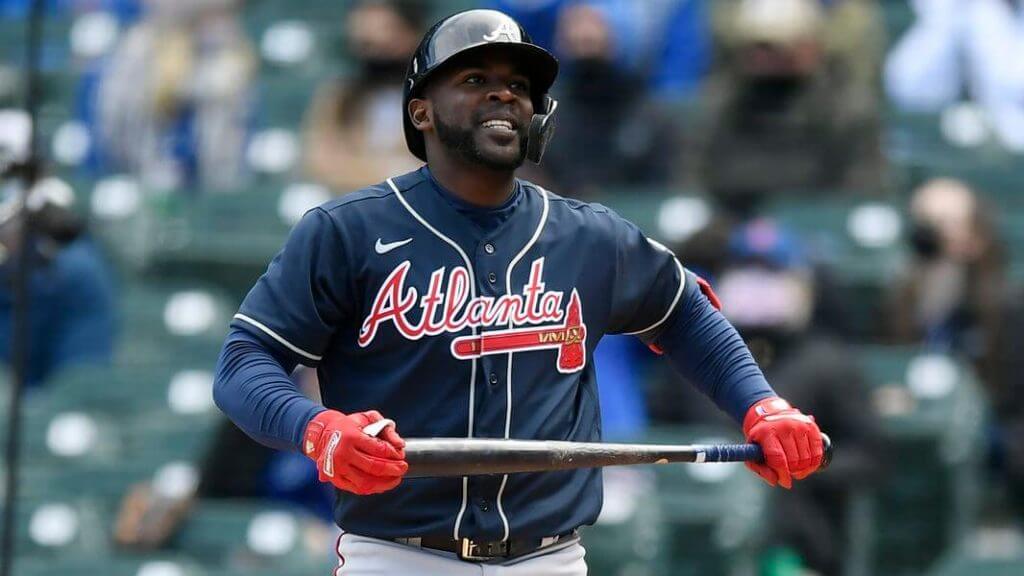 I don't know that we can say 100% for sure that the answer to the "will they or won't they" (add memorial sleeve patches for Henry Aaron and Phil Niekro) is "they won't," but yesterday Atlanta wore their blue alternate jerseys, and the right sleeve (which had at one time contained the All-Star Game patch) remains vacant. There was no patch covering the old ASG patch (as we'd seen before on their road grays), so I think we have our answer.
I don't always agree 100% with Paul, but he nailed it:
Atlanta still going with the Aaron/Niekro rear-cap memorials. Right sleeve now blank (no ASG patch, of course, and also no cover-up). So there will apparently be no sleeve memorials. Surprising and disappointing.

cc: @PhilHecken pic.twitter.com/r3F9n07pcm

— Paul Lukas (@UniWatch) April 17, 2021
I, too, am both surprised and disappointed the team apparently won't add memorial patches to the sleeve. Do better, Atlanta. You still have time.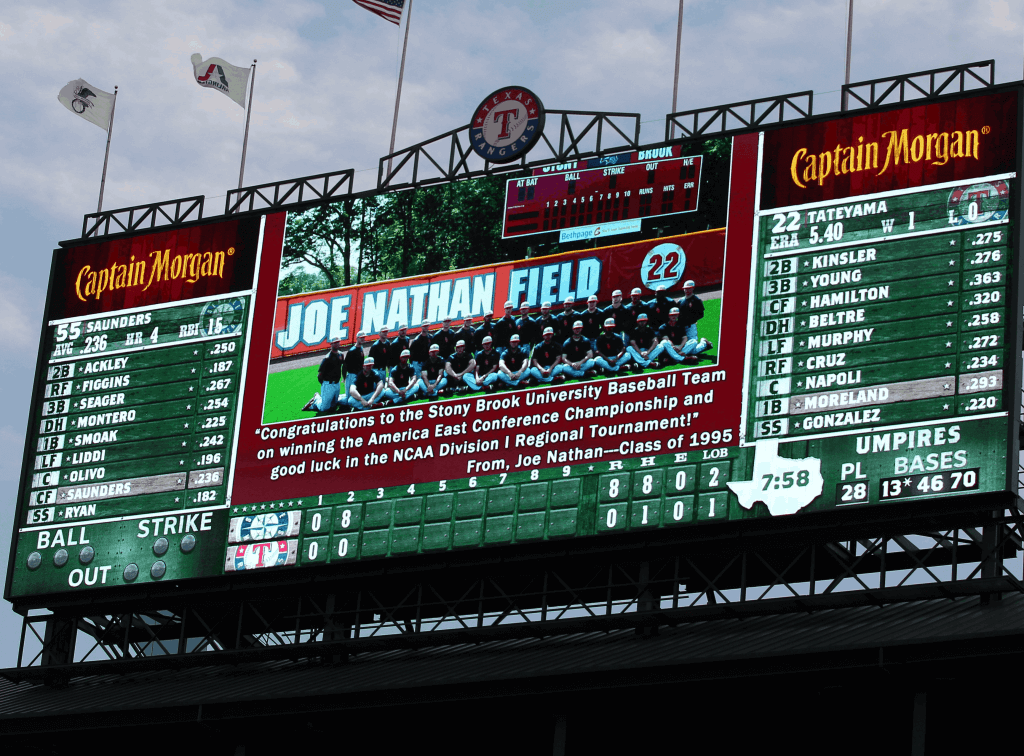 Guess The Game…
from the scoreboard
Today's scoreboard comes from Alex Cheremeteff.
The premise of the game (GTGFTS) is simple: I'll post a scoreboard and you guys simply identify the game depicted. In the past, I don't know if I've ever completely stumped you (some are easier than others).
Here's the Scoreboard. In the comments below, try to identify the game (date & location, as well as final score). If anything noteworthy occurred during the game, please add that in (and if you were AT the game, well bonus points for you!):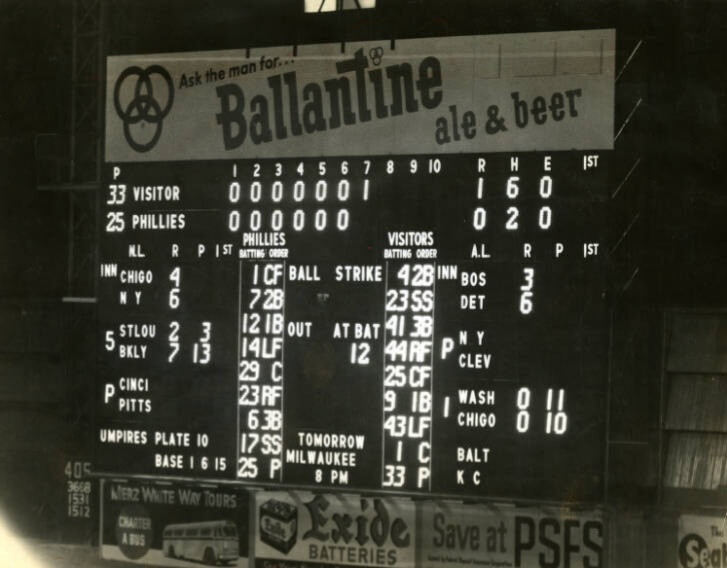 Please continue sending these in! You're welcome to send me any scoreboard photos (with answers please), and I'll keep running them.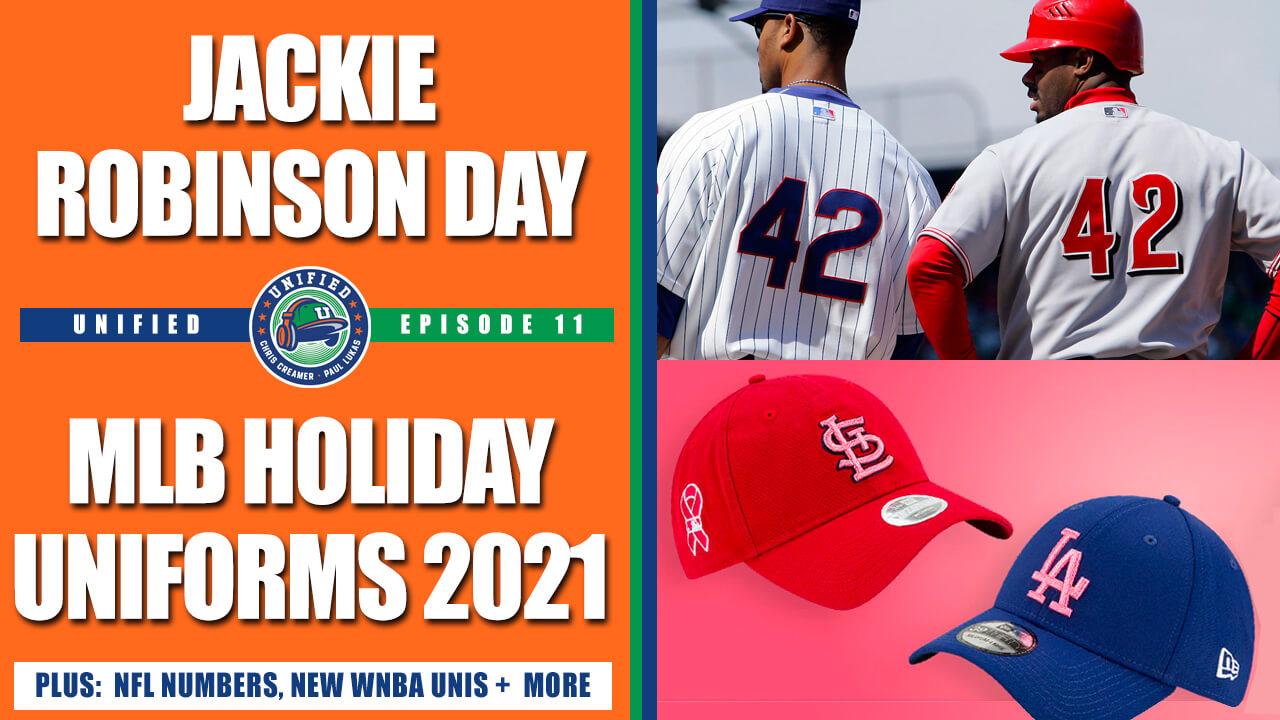 Podcast reminder: Paul here. In case you missed it, Chris Creamer and I discussed a bunch of things for this week's episode of Unified, including:
• MLB's new holiday caps
• The history of Jackie Robinson Day, and how it should be handled going forward
• The proposed changes to the NFL's uni number rules
• The new WNBA uniforms
• The ongoing saga of the Braves, the MLB All-Star Game, and all the related issues
• Our favorite uniforms from fictitious teams in movies
As always, you can listen to us on Apple, Google, Stitcher, TuneIn, and Spotify, or just use the player below:
The show notes for this episode, which include photos of many of the things we discussed, are available at the podcast's newly redesigned website. Those photos (and some additional ones) also appear in the video version of the episode, which you can see here:
We have great deals from this episode's advertisers: Streaker Sports (get 20% off any order with checkout code UNIFIED), Ebbets Field Flannels (10% off, except on NFL items, with checkout code UNIFIED), and Homefield Apparel (15% off with checkout code UNIFIED).
Enjoy the episode, and thanks for listening.


Uni Watch News Ticker
By Phil

Baseball News: "This is the first time I've noticed that the Marlins home white pants have two different piping down the sides," writes Michael Rodriguez. "The right leg doesn't have the "Caliente Red." I don't think I remember this from last season." I did some quick looking and something is definitely up — perhaps they have two different pairs of pants (see the stripe on the player in the bandana). You can also see what looks like a different stripe pattern on Don Mattingly (center of photo). Anyone know more? … Check out this classic uni moment at Wrigley Field yesterday in 1987 (from Bruce Menard). … Also from BSmile — footage of the opening of Shea Stadium, which occurred on April 17, 1964. … In case you missed it, here's what NC Dinos (Korean Championship) championship rings look like (from Dan Kurtz). … Last night, Mets Pitcher Joey Lucchesi wore a white belt while the rest of the team wore the standard blue (from Keith Olbermann). … Although the Red Sox wore special unis yesterday, they had their batboy in a regular road uni for the White Sox (good spot by Kenny Kaplan). During the pandemic, home teams have been "supplying" bat boys for the road teams, outfitted in the home team's road uniform. … ICYMI: The Kansas City Monarchs, an independent baseball team with the American Association of Professional Baseball previously known as the T-Bones before forming a partnership with the Negro Leagues Baseball Museum earlier this year, have unveiled their inaugural uniforms under their new name (from Kary Klismet).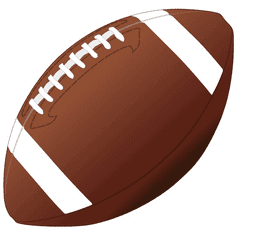 Football News: Ohio State has revealed its Big Ten championship rings (from Kary Klismet). … Also from Kary: Durango (Colo.) High School has unveiled its rings for winning the Class 3A state championship last fall. … And one more from Kary: Alabama has moved a 7-ton elephant sculpture from another part of campus and given it a new home in front of Bryant-Denney Stadium.

Hockey News: The Elliot Lake Wildcats took a leave of absence from the Junior A NOJHL for 2020-21. The team announced when they return for 2021-22, they will be known as the Elliot Lake Red Wings. The new logo features a 3D version of the Winged Wheel (from Wade Heidt). … Also from Wade, The Utica Comets president Robert Esche registered "Utica Devils" as a trademark with the U.S. government's Trademark and Patent Office earlier this month. He adds, "This is leading to speculation that Utica will no longer be the affiliate of the Vancouver Canucks. Saturday morning, it was indicated by the Binghampton Devils that the parent New Jersey Devils will be moving their AHL team to a new city next season." … More from Wade: the Arizona Coyotes will wear special jerseys to honor 9-year-old Leighton Accardo who passed away in Nov. Leighton being inducted in Coyotes' Ring of Honor. … In what should probably come as no surprise, NHL jersey advertising could begin as early as 2022-23 season. … Whoa. Check out what looks like Quebec Nordiques (inspired?) breakfast cereal (from Jeff Bryniarski).

Soccer News: Both Minnesota United FC and the Seattle Sounders wore black armbands during their game in Seattle on Friday night. The armbands were worn to honor and acknowledge the death of Daunte Wright (from Wade Heidt). … The Richmond Kickers will have a new jersey advertiser (from TMuss). … Scott Rogers saw this "Distracting, somewhat confusing blue-v-blue in the Chelsea vs Man City FA Cup semifinal match (yester)day." … Argentine legend Diego Maradona's debut World Cup jersey is up for sale, if you have some extra scratch lying around.

Grab Bag: Reader Ron Ruelle writes, "CNN had an article about the dress code for royal funerals (yester)day. Somewhat uni-related, maybe?" … Syracuse Men's Lacrosse wore throwbacks yesterday (from Jakob Fox). Here's another look (from Michael MPH). … Black uniforms to go with chrome helmets for UNC who were playing Syracuse in men's lax (from James Beattie). … Here's a cool story about an artist who has painted the shields on thousands of firefighter helmets across the country (from Kary Klismet). … Here's another one from Kary who writes, "I appreciate this clear-eyed piece about the history of corporate names sports venues in South Florida."


And finally… that'll do it for this weekend. Big thanks (again) to Kyle and CJ for the MLS Uni Previews the past two days. Great stuff, lads.
Everyone stay safe and have a great week, and I'll catch you back here again next Saturday.
Uni Tweet of the Day…
I don't know who needs this, but here is my nephew and his besties in baseball uniforms pic.twitter.com/iOQV7kKexc

— Jose Rene ATC,LAT (@J_ruiz5) April 17, 2021
Peace,
PH