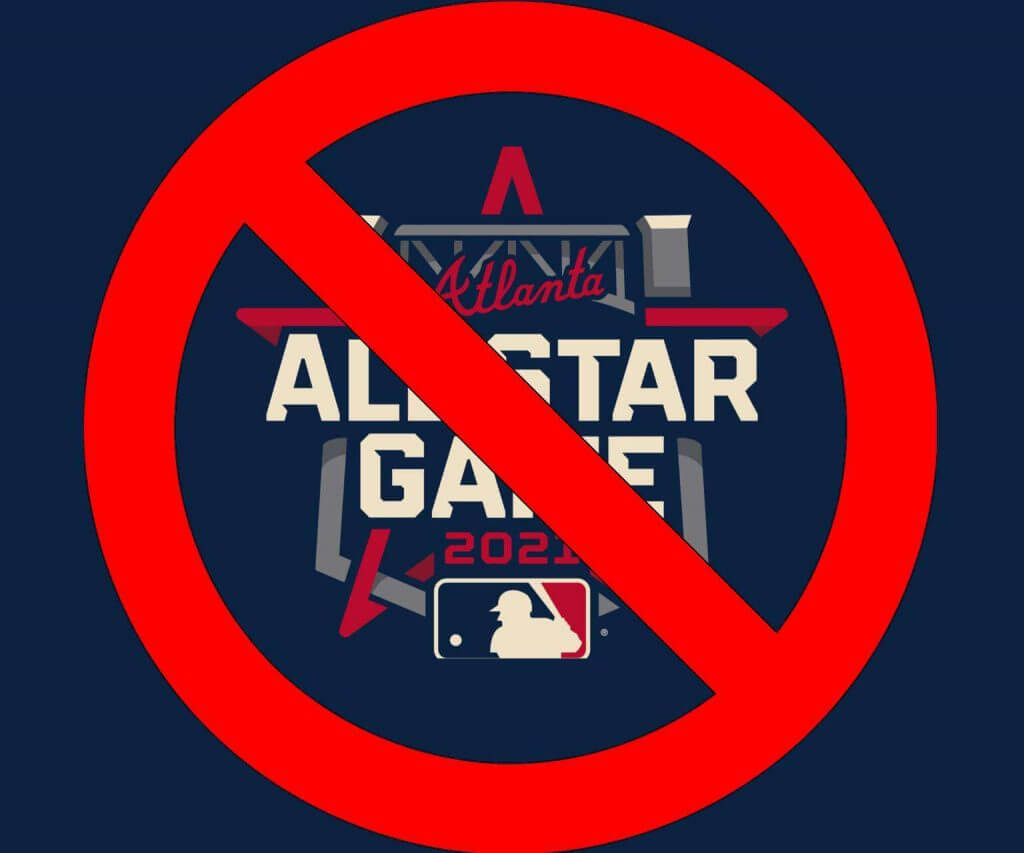 By Phil Hecken
Follow @PhilHecken

Good morning, Uni Watchers. As always, I hope everyone is staying healthy and doing well otherwise.
As I'm sure you've heard by now, we had some major MLB news yesterday, when MLB announced it was moving the 2021 All-Star Game and 2021 draft out of Atlanta, in response to a new Georgia voting law. MLB Commissioner Rob Manfred stated, "Over the last week, we have engaged in thoughtful conversations with Clubs, former and current players, the Players Association, and The Players Alliance, among others, to listen to their views. I have decided that the best way to demonstrate our values as a sport is by relocating this year's All-Star Game and MLB Draft." Additionally, Major League Baseball "fundamentally supports voting rights for all Americans and opposes restrictions to the ballot box."
While MLB's decision may seem hasty, it was not the first business to object to the new law and around two dozen companies have issued public statements criticizing Georgia's new voting restrictions. So far, MLB's decision to move the ASG and draft may have the most immediate impact. Atlanta immediately reacted to the decision with this statement:
The Braves statement regarding the moving of the MLB All-Star Game: pic.twitter.com/0Iapm3eIre

— Atlanta Braves (@Braves) April 2, 2021
I'm sure many of you have (strong) opinions about this decision, and that's perfectly fine, but for today, we're going to center the discussion on how this affects the Atlanta uniforms, which will obviously be going under some alterations in light of the loss of the ASG. Let's keep the comments to the unis, please.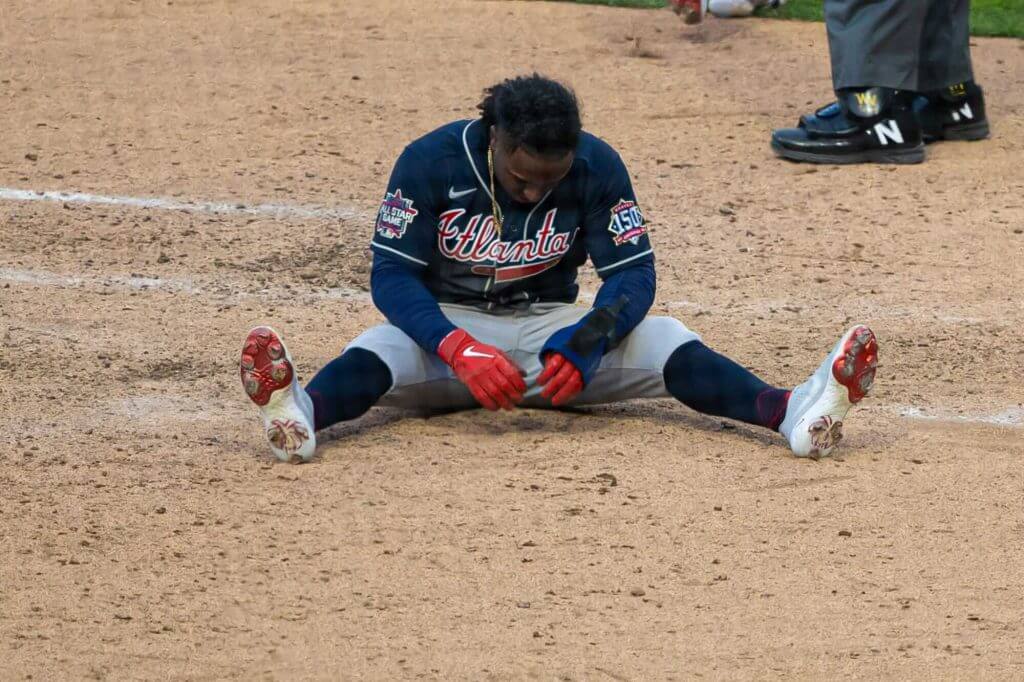 As you can see, the team began the season on Thursday with two sleeve patches: the right sleeve contained the All Star Game patch, while the left sleeve features the 150th Anniversary patch. With the loss of this year's All Star Game, obviously that patch will be removed at some point. As Paul noted in his 2021 MLB Uniform Preview, "A serious patch-o-rama situation is looming in Atlanta," leaving the team with little room to memorialize Henry Aaron and Phil Niekro on their sleeves, as most teams do. To begin the season, the team decided to honor those two legends by subtly adding their uni numbers to the back of their cap:
This season, we tip our caps #For44 and #ForKnucksie 💙❤️ pic.twitter.com/CIAqoqh3jH

— Atlanta Braves (@Braves) March 31, 2021
With the likely upcoming ASG patch removal, that will free up space on the sleeve if the team chooses to memorialize Knucksie and the Hammer in the more traditional manner. Of course, the team could keep the cap memorials and add sleeve patches — or not.
As of Friday night, when I wrote this, Atlanta hadn't made any official announcements of any uniform alterations. The team had an off-day yesterday, and will resume their series with the Phillies today, when we may get our first indications of how they will handle the situation.
Allow me to, as Paul often does, try to anticipate your questions.
The game against the Phillies starts at 4:00 pm. Would that be enough time to remove the ASG patch?
Of course. The question is whether or not they will want to before the game. The team wore their blue alternates on Thursday. Depending on whether they wear their regular gray road jerseys or the blue tops again, there aren't that many jerseys with patches that would need to be removed. They might also just leave the patches in place.
If they're not removed today, what about for their next series?
Again, time isn't (or shouldn't be) a problem, at least in terms of removing the ASG patch. Whether or not the team decides to add player memorial patches to the sleeve is another matter.
Does the team have to remove the ASG patch?
I don't think they are required to, but it would seem very odd to keep it there. Of course, the team could decide to leave the patch in place as a form of protest. As you can see from their statement (above), the team seemed somewhat blindsided by MLB's decision.
What about the cap? Doesn't the cap have the ASG patch too?
Yes. On the right side of the cap they have a smaller, similar patch. I would think these will also be removed.
What about all the retail jerseys and caps? Will those have the patches removed?
That's not really UW's biggest concern, since this don't involve the on-field product, but it's a fair question. Obviously there are jerseys/caps bearing the patches already on sale. If the team removes them from their caps/unis, I would imagine the retail product would follow a similar protocol. It's hard to imagine they'd recall any stock already shipped out, but any new items may not have the patches. One could probably safely say the caps/jerseys already in circulation will become "collectible."
What about the ASG jerseys and caps? Don't the host teams usually have specially designed (and host-themed) gear?
Fortunately, the ASG itself won't be affected. Players wear their normal home and road unis for the game. But the Home Run Derby and assorted other events do have special jerseys and caps. MLB hasn't unveiled those yet, so it remains to be seen what will happen with those. They could design new ASG gear for the new host city/team (which has not yet been announced) or they could wear whatever Atlanta-themed jerseys/caps were already in the pipeline. A similar situation existed in the NBA this year when teams wore the Indiana Pacers-inspired uniforms, despite the game being moved from Indianapolis to (somewhat ironically) Atlanta.
Isn't this unprecedented? Can MLB just up and move the game like this and with the game only a few months away?
It's rare, but not unprecedented, to move a game out of a state in response to State law. In 1991, the NFL moved the Super Bowl from Arizona after voters in that state failed to make Martin Luther King Jr. Day a paid holiday. That Super Bowl would have been played in 1993. Also, in 2016, the NBA moved its 2017 All Star Game from Charlotte "because of the league's objection to the state's House Bill 2, which limits anti-discrimination protections for lesbian, gay, bisexual and transgender people in the state." In both instances, those states reversed their decisions and were awarded future Super Bowls and All Star Games. While both moves were done with a longer lead-time than the current situation, the efforts sparked change at the State level which rectified the leagues' objections.
Atlanta and Philly resume their series today. We'll see what, if any, uni-modifications have been done at that time. If the team keeps the patches on the jersey and cap, that doesn't mean they will remain there for the remainder of the season, so we'll keep following this story as it develops. If they're gone, then the jersey with ASG patch will be a one-game wonder.
Once again, you may have strong opinions on the situation — but PLEASE keep the comments today to the uni aspect. Thanks!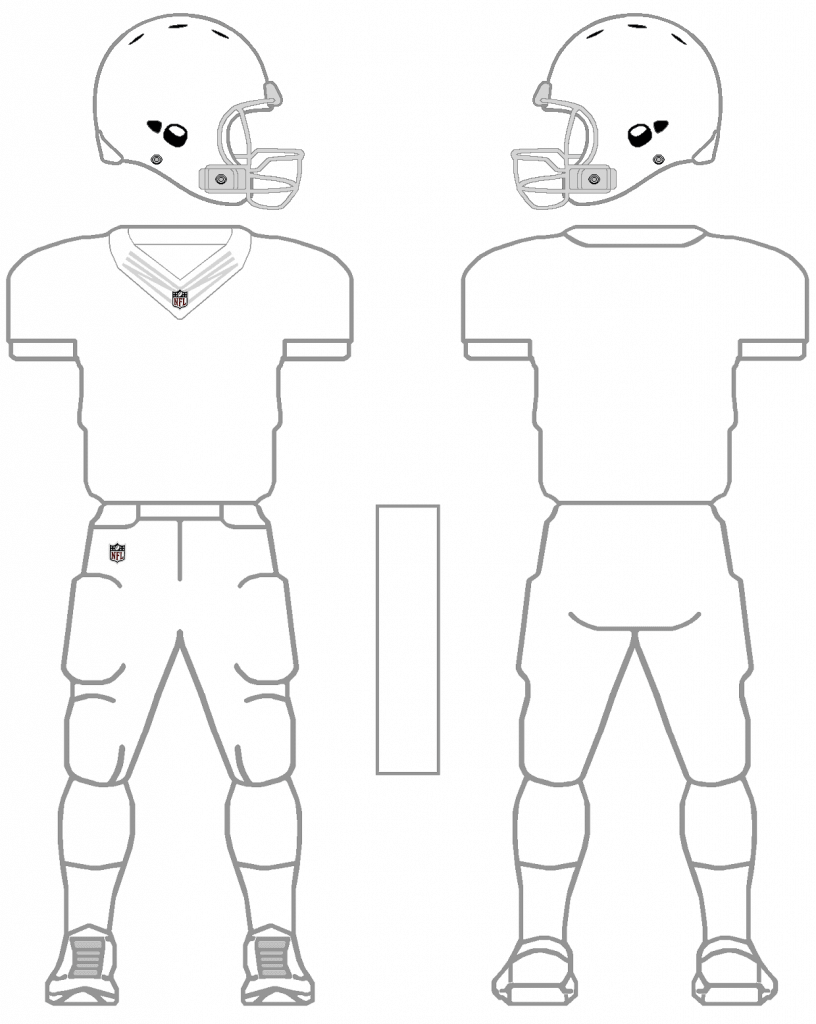 Uni Concepts & Tweaks
Time for more Uni Tweaks from the UW readership.
I hope you guys like this feature and will want to continue to submit your concepts and tweaks to me. If you do, Shoot me an E-mail (Phil (dot) Hecken (at) gmail (dot) com).
• • •
Today's concepts come from Walter Helfer, who has some proposals for MLB "City" Uniforms.
He writes…
Dear Phil,

Attached please find two pages of proposals for baseball "City Uniforms". The purpose of this undertaking was to strip the grey road uniforms down and find beauty in plainness. No two-color numbers, no sleeve patches, sparing use of piping. In all cases, I made an effort to plumb a team's history for graphics. For the Cardinals, I addressed the expectation fans could be disappointed to see a jersey with no birds on the bat, so they get ONLY the birds & bat. Sock treatment is based on a Uni Watch discussion from a few years back. Hats have contrasting eyelets and squatchees just because I love playing with hats. Perhaps a plainer cap is called for, but I simply felt creative.

All the Best,

-Walter
And here are his designs: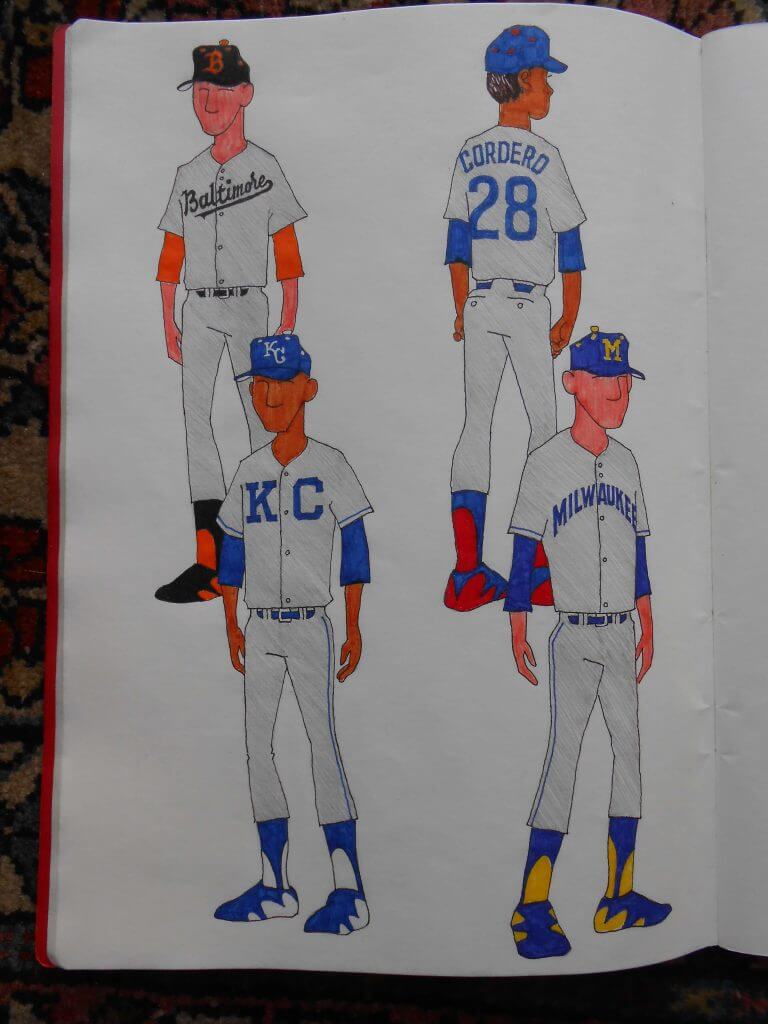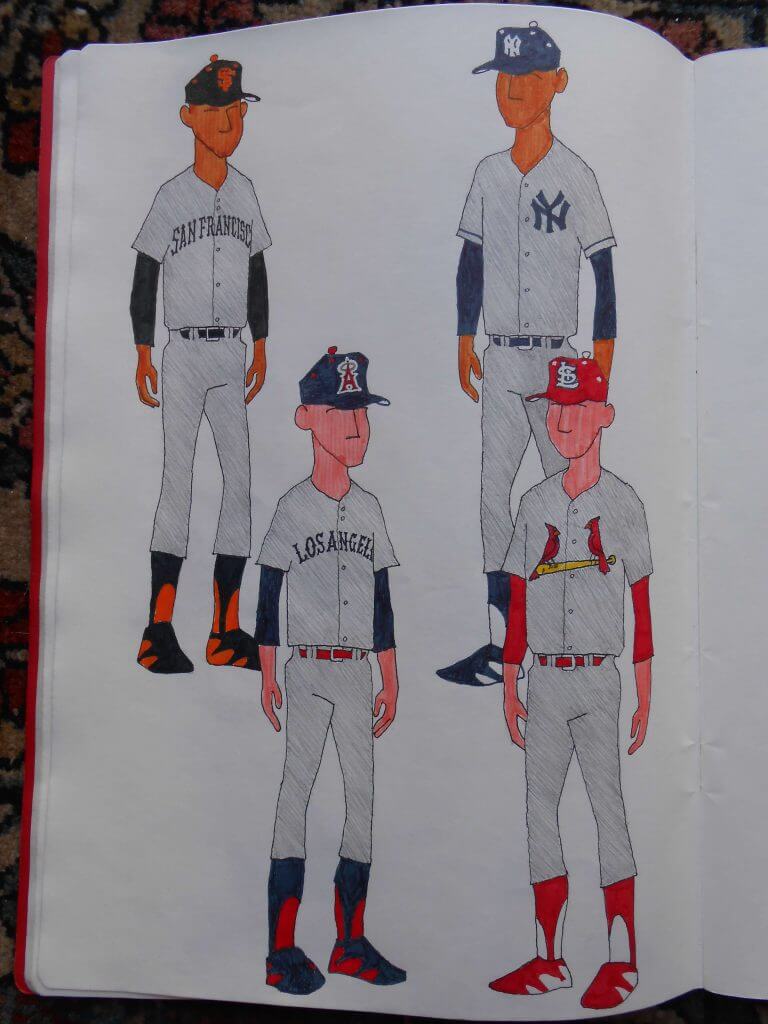 • • •
Thanks Walt!
OK readers (and concepters). If you have some tweaks or concepts, shoot 'em my way with a brief description of your creation and I'll run 'em here.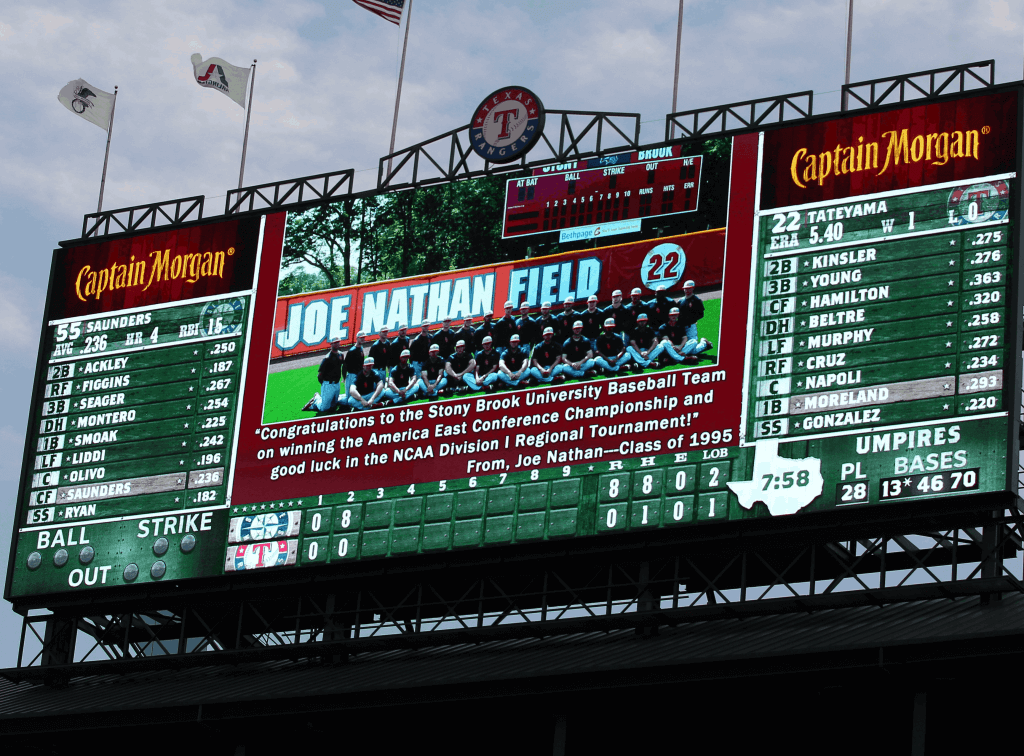 Guess The Game…
from the scoreboard
Today's scoreboard comes from Jimmer Vilk.
The premise of the game (GTGFTS) is simple: I'll post a scoreboard and you guys simply identify the game depicted. In the past, I don't know if I've ever completely stumped you (some are easier than others).
Here's the Scoreboard. In the comments below, try to identify the game (date & location, as well as final score). If anything noteworthy occurred during the game, please add that in (and if you were AT the game, well bonus points for you!):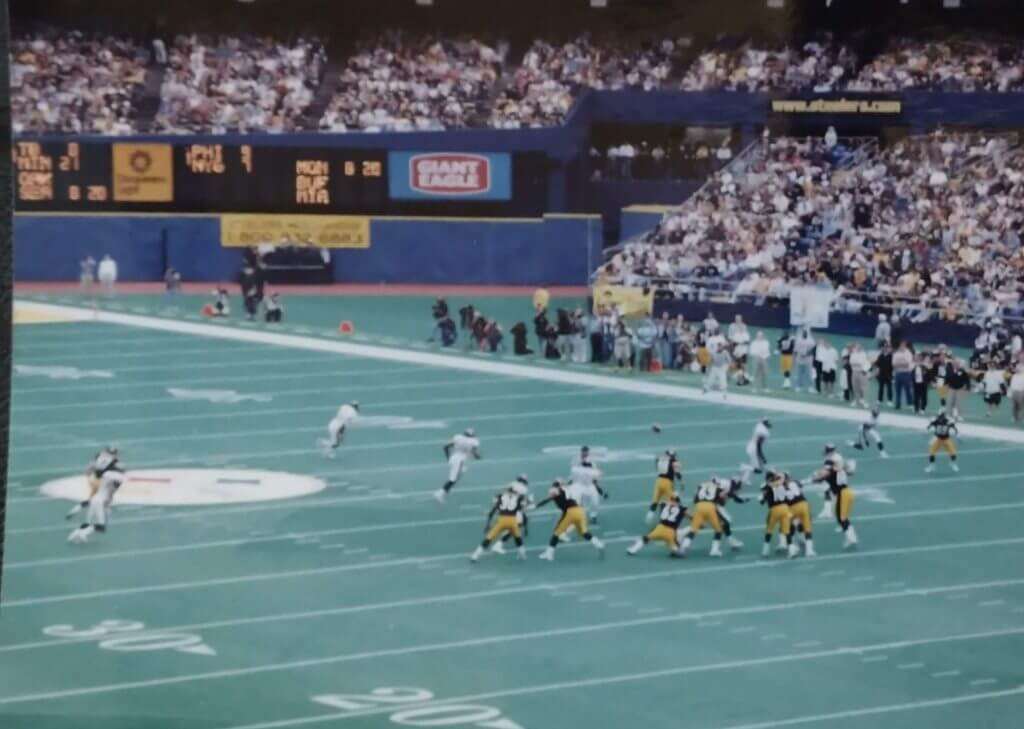 Please continue sending these in! You're welcome to send me any scoreboard photos (with answers please), and I'll keep running them.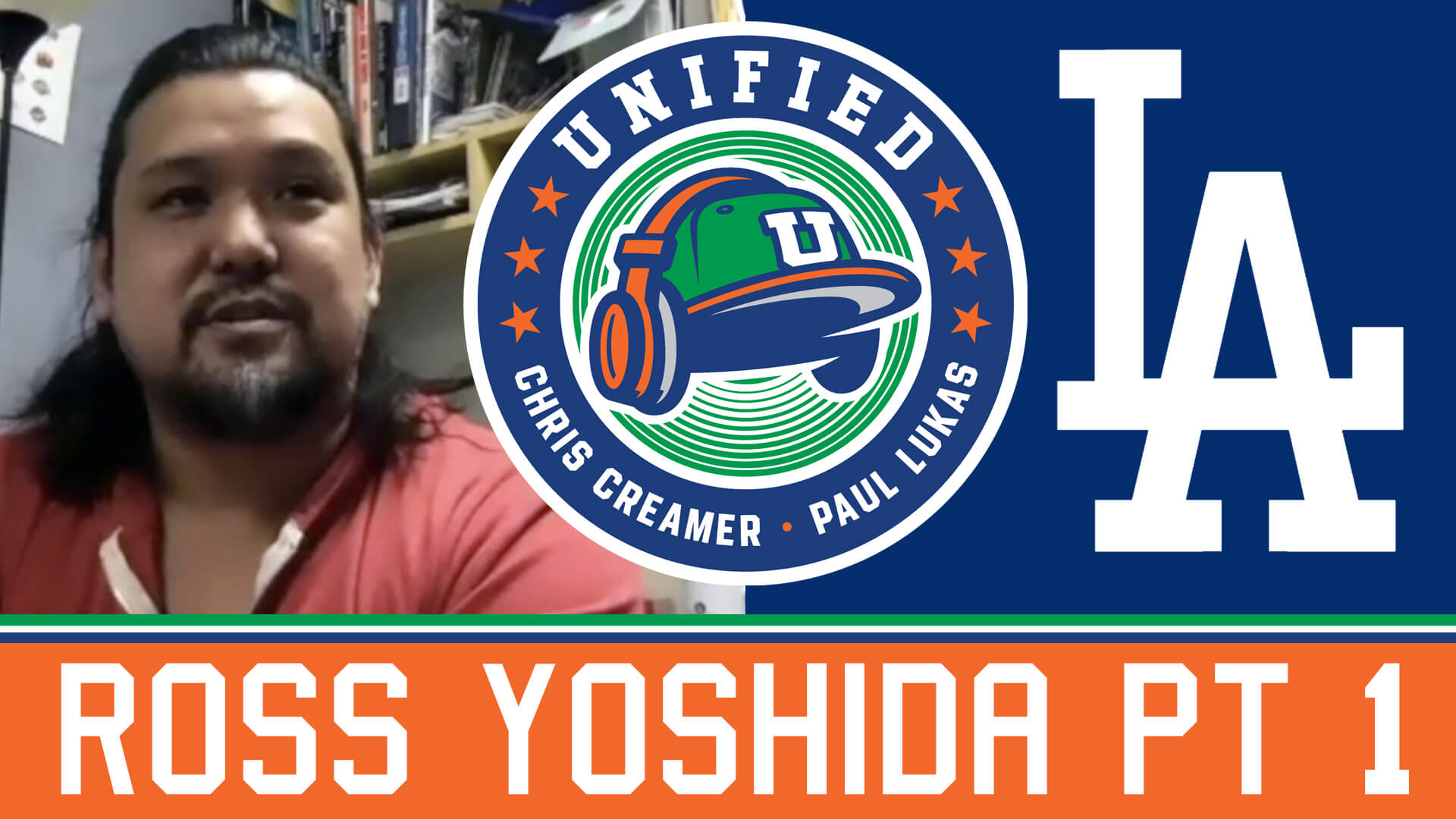 And now a few words from Paul
Hi there. Happy Easter weekend! A few things to let you know about:
1. In case you missed it on Thursday, the new episode of Unified features an interview with Dodgers design director Ross Yoshida for this week's episode of Unified — our first guest! You might think he doesn't have a lot to do, since the Dodgers' visual identity is so traditional and static, but he's designed lots of the team's sleeve patches, fixed their iconic script after it somehow got altered, and a lot more. This is the first installment of a two-part interview with him, which we think you'll really enjoy.
As always, you can listen to us on Apple, Google, Stitcher, TuneIn, and Spotify, or just use the player below:
The show notes from this episode, which include photos of many of the things we discussed, are here. Those photos (and some additional ones) also appear in the video version of the episode, which you can see here:
Please consider supporting this episode's advertisers, Oxford Pennant (get 20% off any order with checkout code UNIFIED), Ebbets Field Flannels (10% off, except on NFL items, with checkout code UNIFIED), and Tokens & Icons (free shipping by checking the "For Office Use Only" box and then entering the checkout code UNIFIED).
2. In case you missed it on Thursday, our April pin has a golf/Masters theme: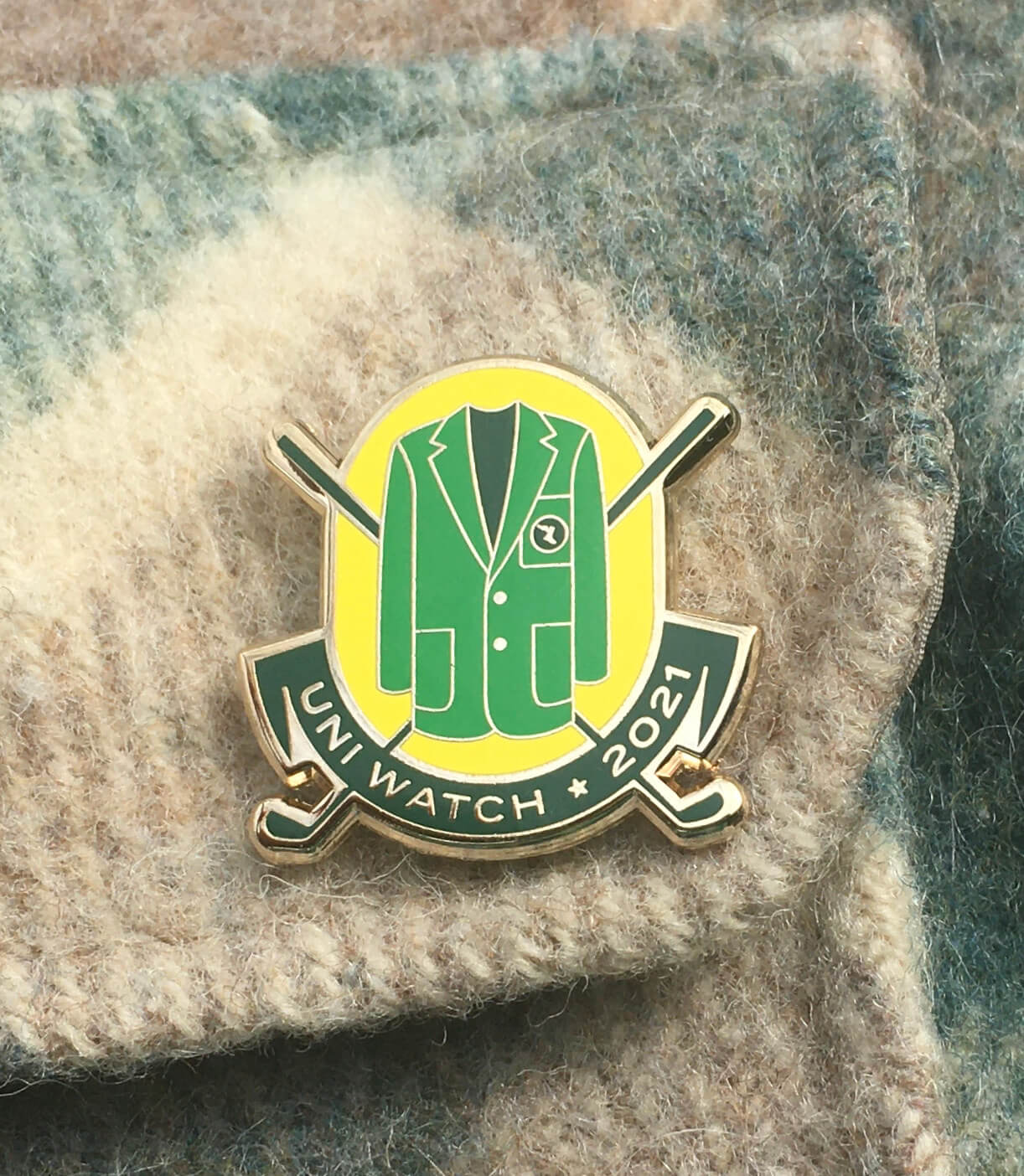 It's a numbered edition of 200, with each pin individually numbered on the back, and more than half have already been sold. It's available here, and we're donating all the profits from this one to Fair Fight. You can learn more about why we've chosen to do that here.
3. Todd and I are down to the last few of our museum-quality "Rain Check" prints, produced in a numbered edition of 150 and signed by each of us at a Brooklyn diner back in 2018. As I recently mentioned, we thought we had sold out but recently found a stash we had set aside and then forgotten about. If you want one, they're available on Todd's website until we run out, which will probably happen this weekend. Update: Now sold out!
That's it. Now back to Phil.


The Ticker
By Anthony Emerson


Baseball News: Cubs IF Eric Sogard wore faux-stirrup high socks on Opening Day (from Pablito Soto). … There are a ton of players in MLB this season wearing No. 0, maybe the most ever. … The Tigers' computer-generated batters in the MLB At-Bat app are still wearing the team's old jerseys (from Gary Hunter). … Boston Mayor Kim Janey wore No. 21 as she dealt the first pitch at Fenway yesterday. 21 has been unofficially retired for the Red Sox since Roger Clemens left the team in 1996. I have no idea what the 21 was referencing (from Lance Harris). … The Somerset Patriots, the new Double-A affiliates of the Yankees, unveiled their new uniforms on Thursday (from Kary Klismet). … Kabuki actor Ukon Onoe II threw out the first pitch of the Hanshin Tigers' season, marking a rare occasion of full stage makeup on the field (from @inisbeags). … Marcus Stroman is yet another Met who can't wait to wear a black jersey. … Trevor Bauer was still wearing his old Reds red glove in his Dodgers debut. He mentions not having the correct Dodgers glove yet (from Jakob Fox). Also from Jakob, Bauer wore a jacket while on base and the MLB logo sharpied over. "I've noticed other managers jackets have this on the logo too," he adds. … Dodgers hurler David Price has begun the season with his squatchee still in place (from uɐʎɹ sı ǝɯɐu ʎɯ).

NFL News: Eagles announcer that QB Jalen Hurts has switched from No. 2 to No. 1, among a host of other number announcements (from multiple readers). … According to this piece, at one point in 2020, the Chiefs ran out of usable uni numbers, which explains their new rule proposal loosening positional number restrictions (thanks, Phil). … One blog has listed 10 better names for the Bills' stadium than the new corporate one they just announced (from Kary Klismet).

College/High School Football News: Florida State has unveiled plans to update Doak Campbell Stadium (from Kary Klismet).
.

NBA News: Here's an article grading the NBA's "earned edition" unis (thanks, Phil). … Joe Ingles honored World Autism Awareness Day with custom sneakers featuring his son Jacob (from Timmy Donahue).

Soccer News: Paul, shield your eyes — English second division side Barnsley donned purple socks and warmup shirts to support a local charity (from our own Jamie Rathjen). … Also from Jamie, Museum of Jerseys has a new post covering Manchester United's 1994-95 jersey, which included a sublimated design of the team's stadium, Old Trafford. The design was removed for Champions League matches though, as it also included an Umbro logo, and UEFA has stricter rules on the number of maker's marks a jersey can have than the Premier League did at that time.

Grab Bag: John F. Kennedy was the first president to go almost exclusively hatless in public — leading to these great letters from hat companies begging him to wear a hat more often (from Matthew Algeo). … Miami of Ohio's new field hockey unis includes a design element inspired by the Miami Tribe (from Mike Brueseke). … Sonic released a line of 46 individually designed T-shirts — one for each state with a Sonic restaurant (from John Cerone). … The Brazilian men's volleyball team Sada Cruzeiro "signing Wallace first with infinity and then his number 8" (from Jeremy Brahm).


And finally… that's all for today. Everyone have a good Saturday — enjoy the Tourney, baseball (well, except for Mets and Nats fans), hockey, hoops or whatever it may be you're watching or doing today. I'll catch you back here tomorrow.
Peace,
PH