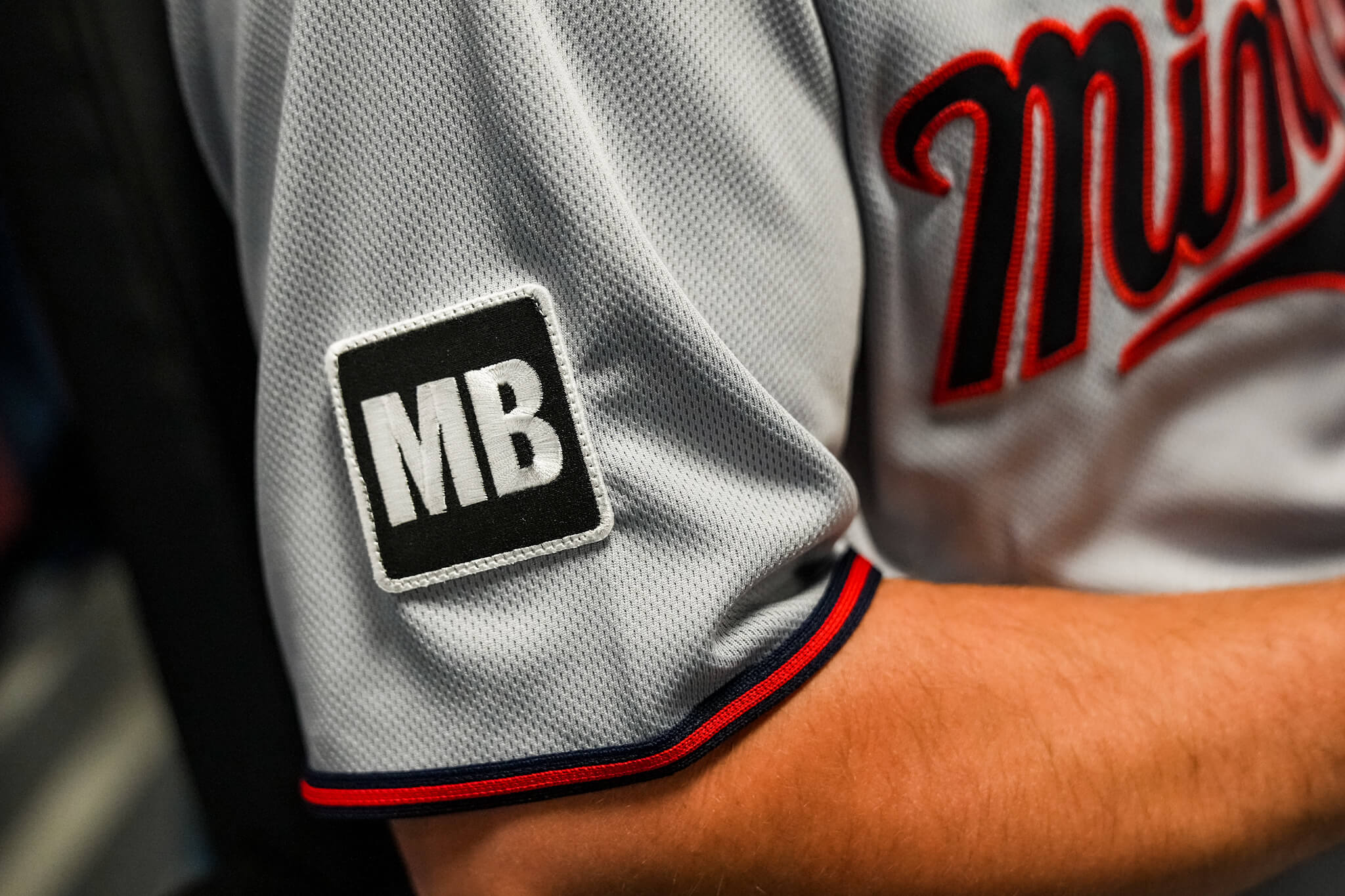 Surprise move yesterday by the Twins, who waited until shortly before the start of their season opener to announce that they've added an "MB" memorial patch for bench coach Mike Bell, who died last week. The design is straightforward enough, but it's interesting to see a square memorial patch, right? An uncommon approach (well, except for umpires, which we'll get to in a minute).
That was one of several uni-notable developments from yesterday's Opening Day games. Here are some more:
• We finally got to see the Phillies' memorial patch for Dick Allen, which was announced in early March but not shown until yesterday's home opener: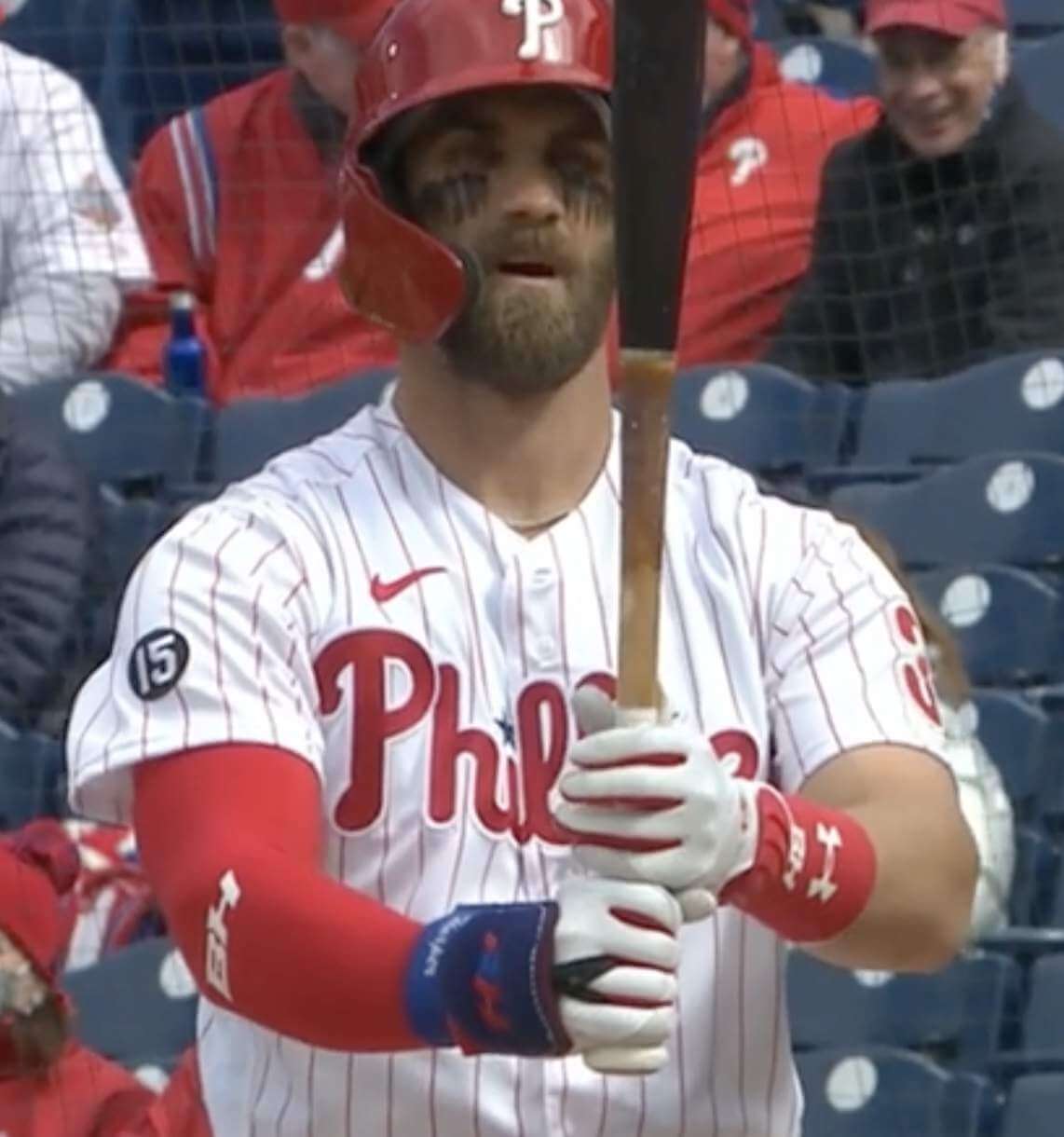 • In yet another memorial-related item, we got our first real-life look at the Cardinals' patch for Bob Gibson. We had previously seen the digital version, but yesterday's game was the first appearance of the patch itself:
• Getting back to the Phillies, maybe someone gave pitcher Aaron Nola a Uni Watch seam ripper, because his cap was gloriously, beautifully maker's mark-free: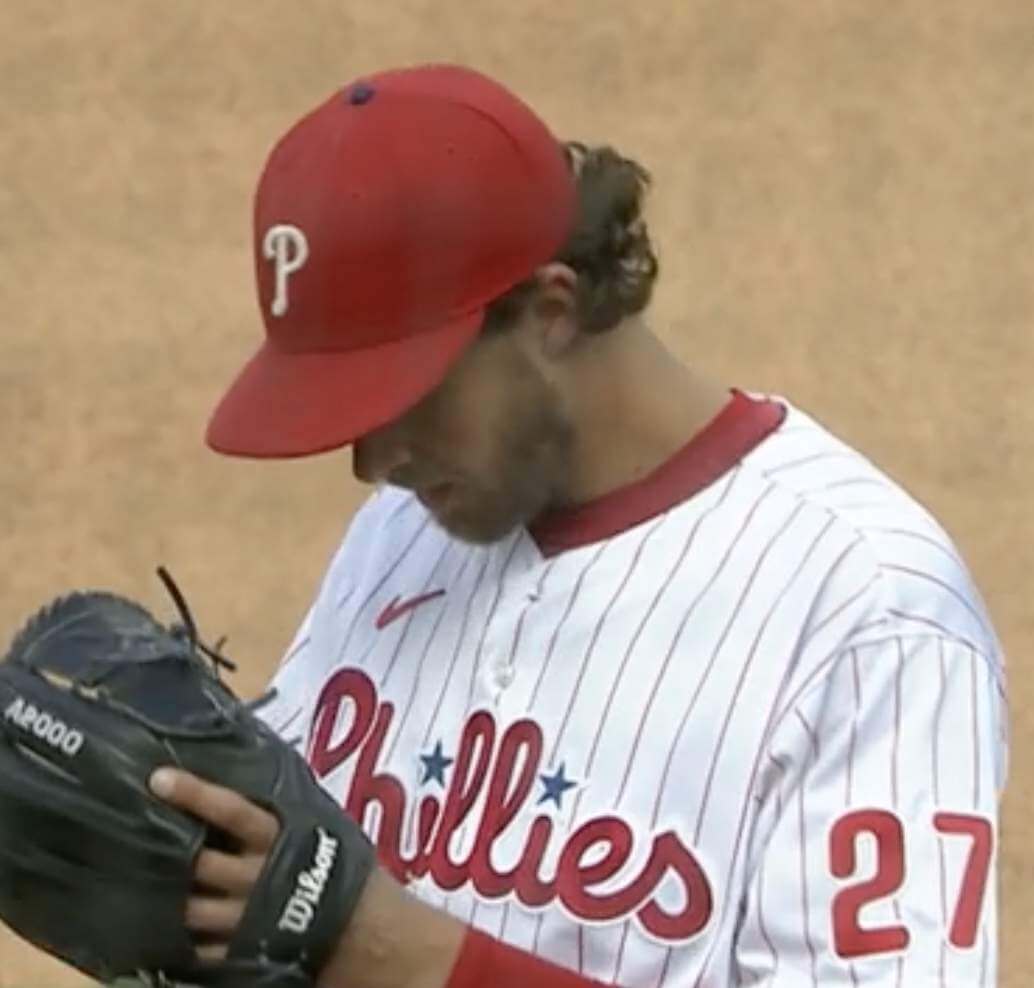 • Part of the Tigers/Cleveland game was played in a brief snow squall:
Miggy's back, tell a friend.#DetroitRoots | #OpeningDay pic.twitter.com/XB0WEK319b

— Detroit Tigers (@tigers) April 1, 2021
• Brewers outfielder Lorenzo Cain, who played in five games last year before deciding to opt out for the rest of the season due to the pandemic, returned to action but wore a mask while playing: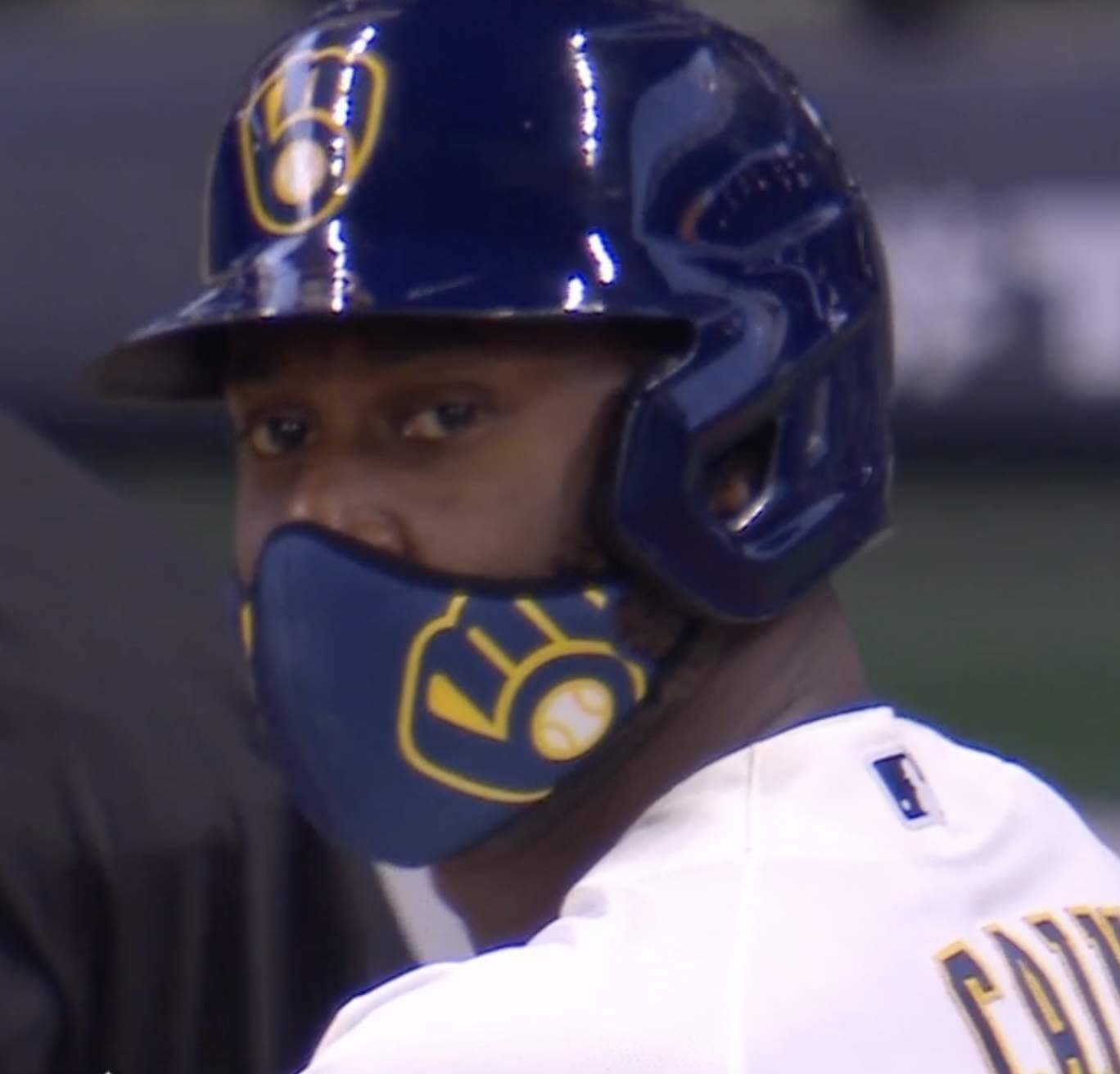 I'm not aware of any other players who masked up on the field yesterday. Anyone..?
Update: Phillies shortshop Didi Gregorius also wore a mask: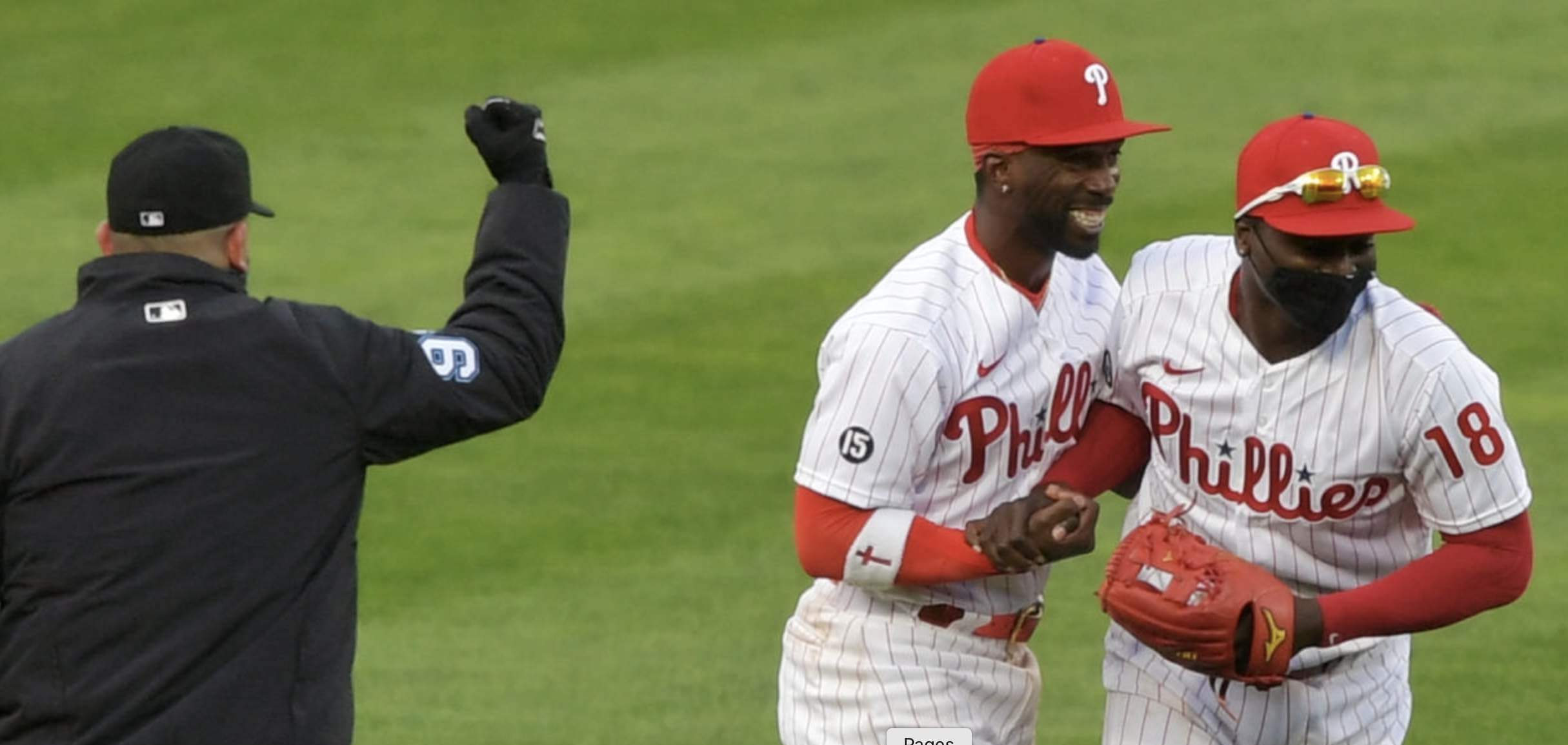 • Speaking of the Brewers, their ballpark now has a sculpture of the team's ball-in-glove logo made out of beer cans:
If you're heading out to @AmFamField don't forget to check out the new artwork on the @MillerLite landing! How cool!!! @CBS58 #ThisIsMyCrew #BrewCrew #OpeningDay pic.twitter.com/7NGVoOOmMp

— Pauleen Le (@PauleenLe) April 1, 2021
• And in yet another Brewers item, their TV network apparently forgot catcher Omar Narváez's uni number: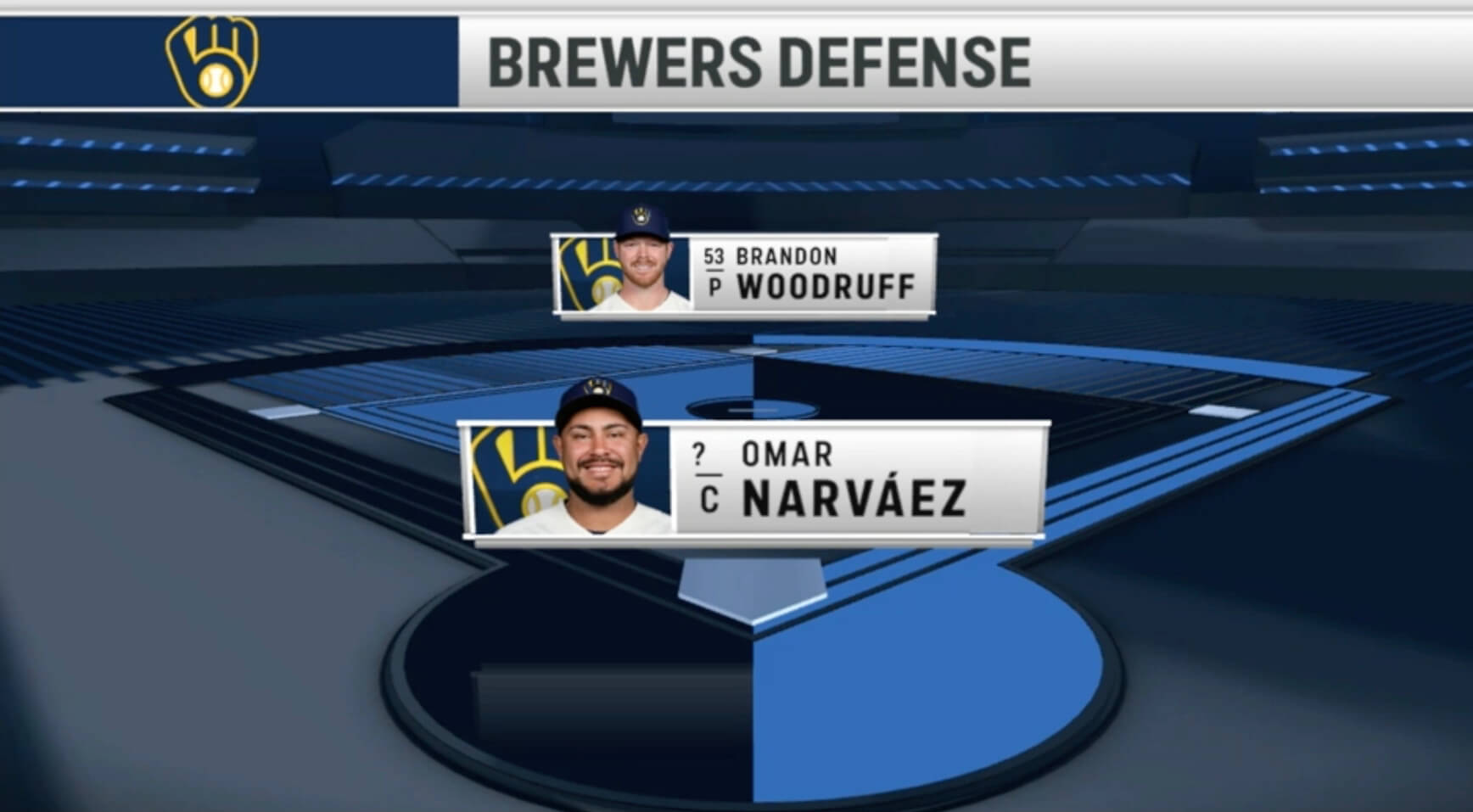 • Twins coach Bill Evers was wearing the team's spring/BP cap, instead of the proper game cap: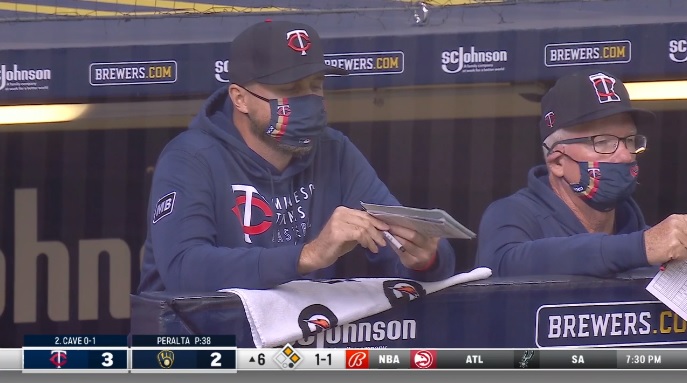 • Angels skipper Joe Maddon, instead of wearing his mask straps around his ears, had little buttons added to the sides of his cap (he was apparently doing this in spring training as well, but I wasn't aware of it until just now):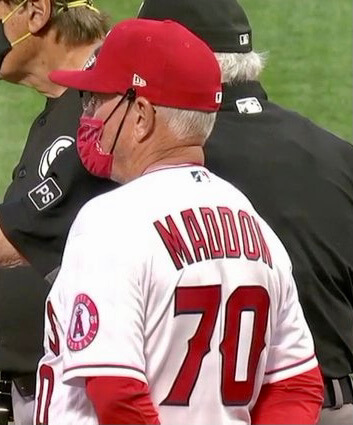 • There was a great moment in the Giants/Mariners game, as Seattle reliever Will Vest made his MLB debut and faced Giants batter Brandon Belt, creating an all-uni matchup — Vest vs. Belt!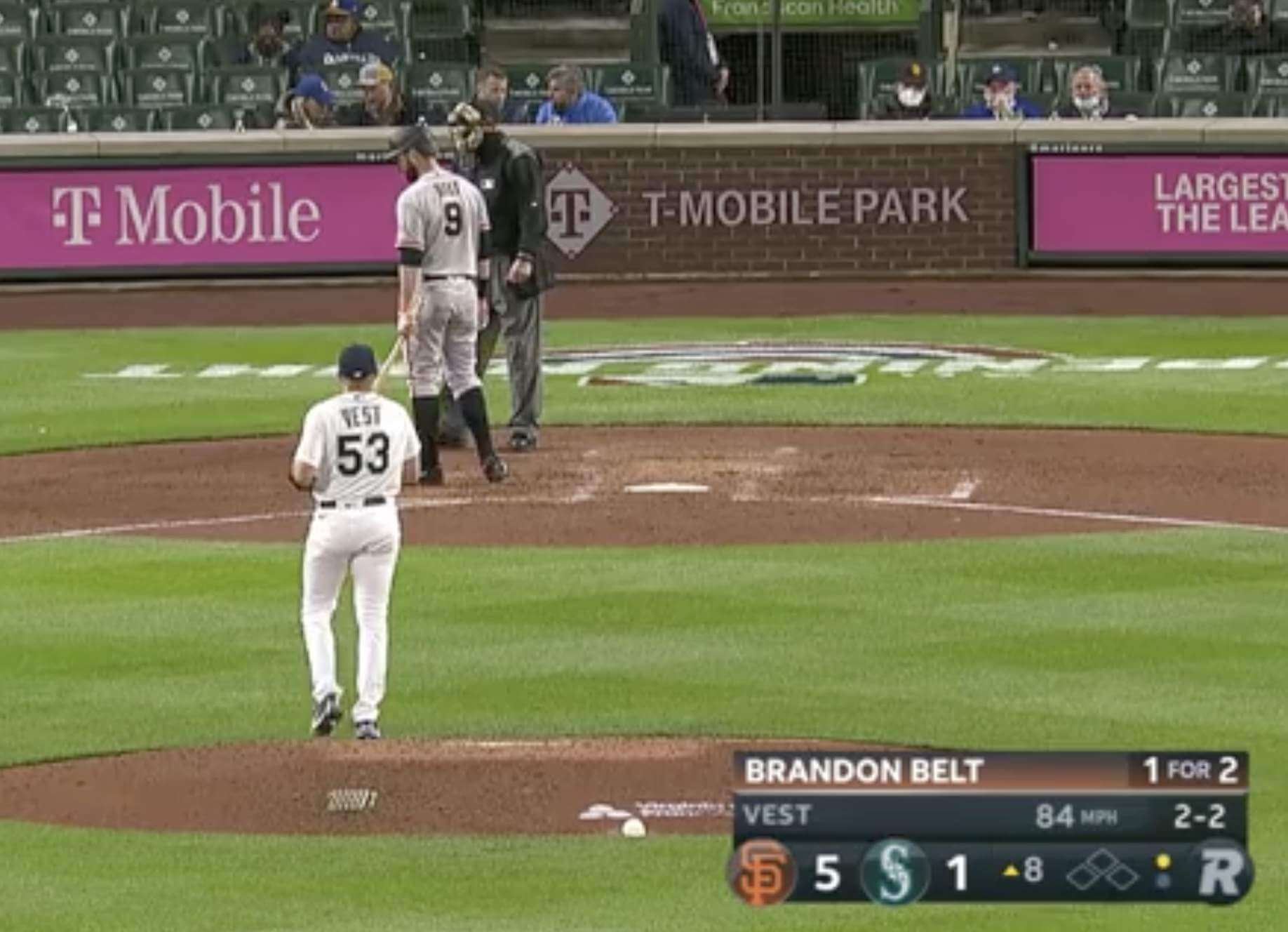 • Cubs outfielder Jayson Heyward (who looks Just Right in a uniform — one of my favorite-looking ballplayers!) took the field while carrying a Chicago flag, but it wasn't a proper Chicago flag. Compare the Star of David-like stars on Heyward's flag to the pointier stars on the official flag design: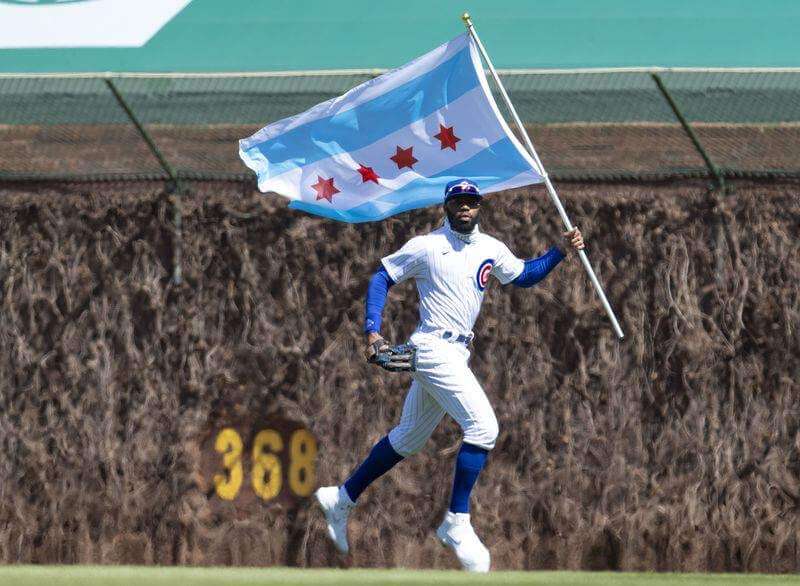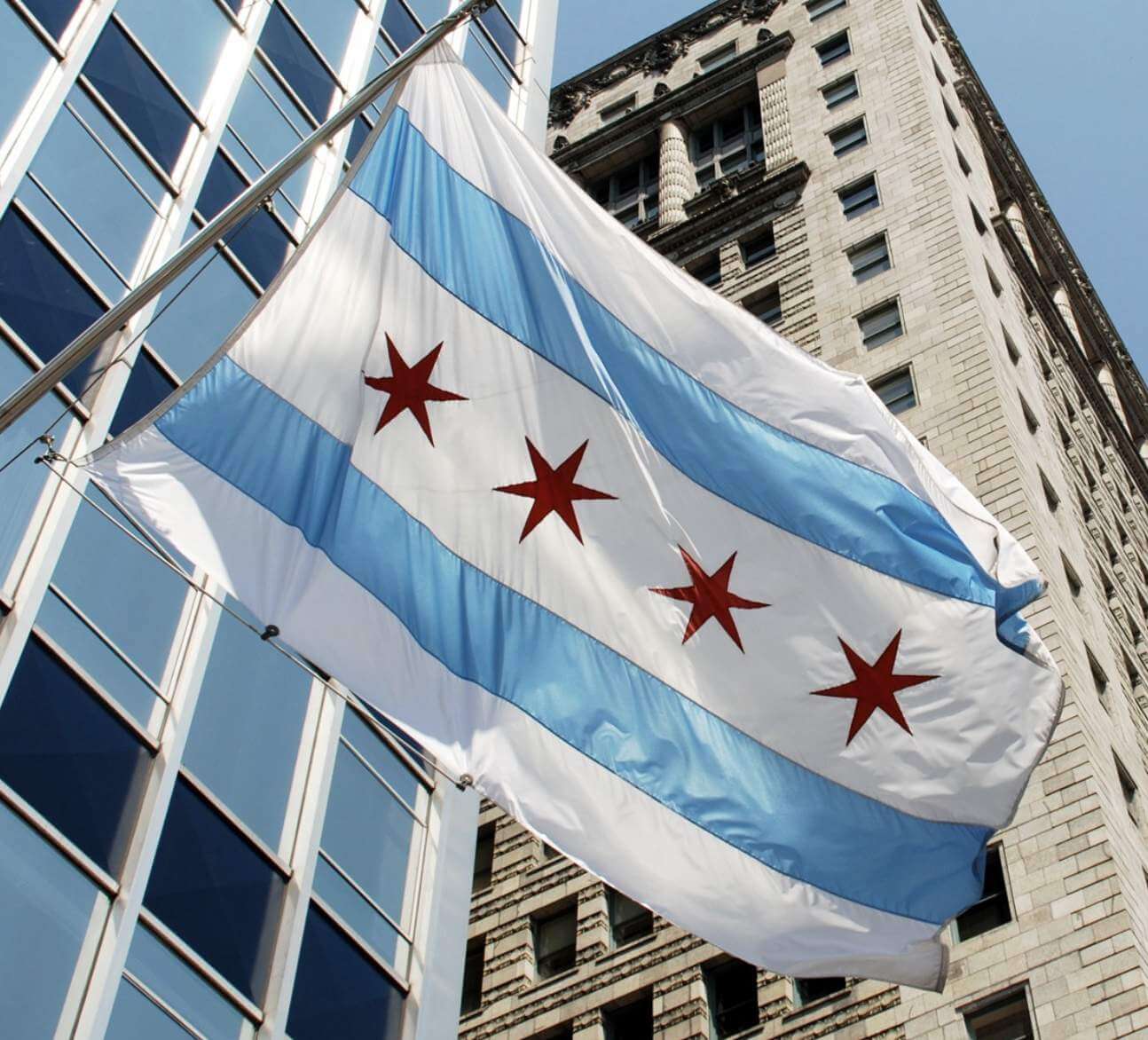 • White Sox players signed a jersey for outfield Eloy Jiménez, who suffered a possibly season-ending injury last week, and brought it out onto the field during the pregame lineup introductions: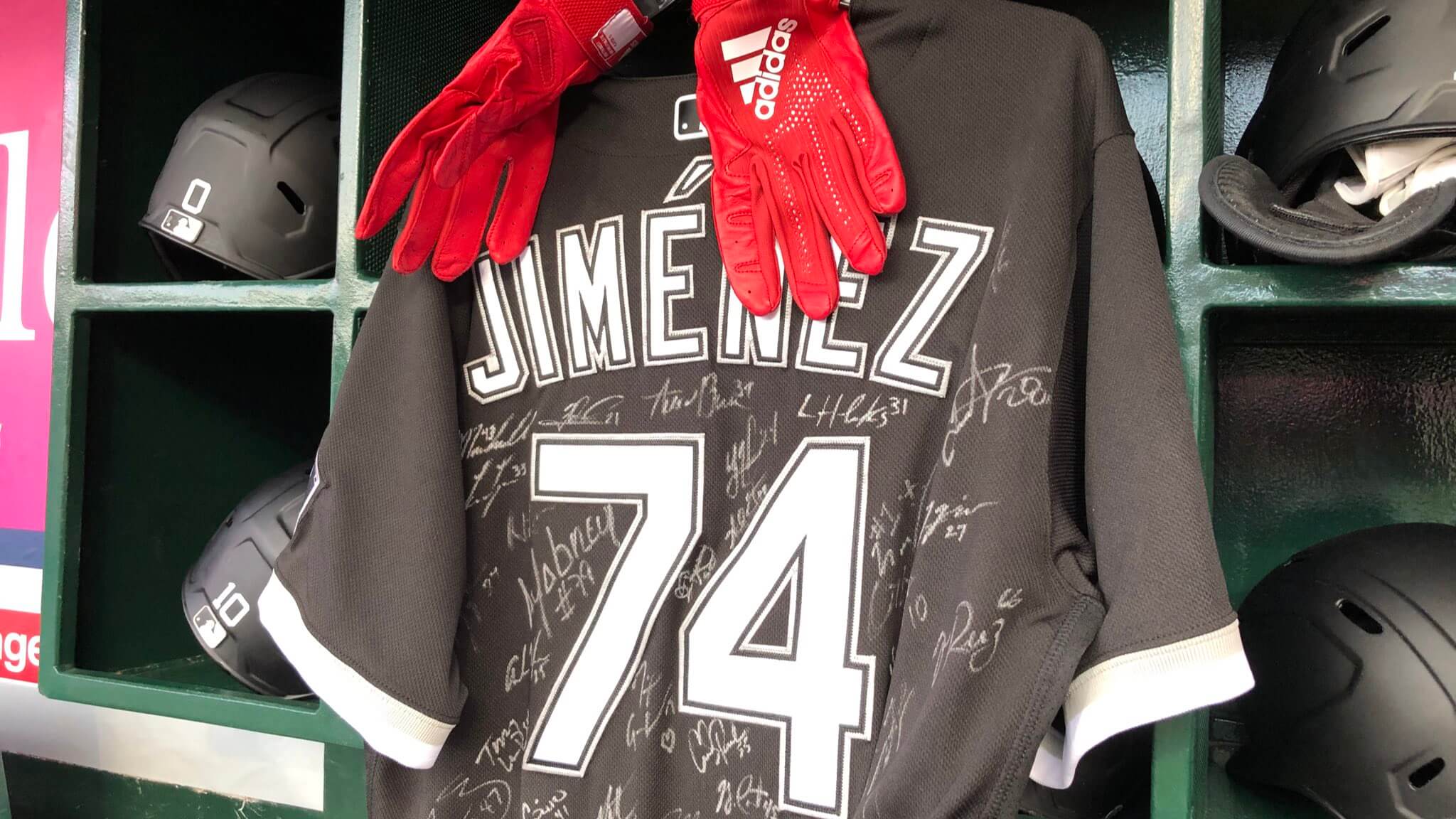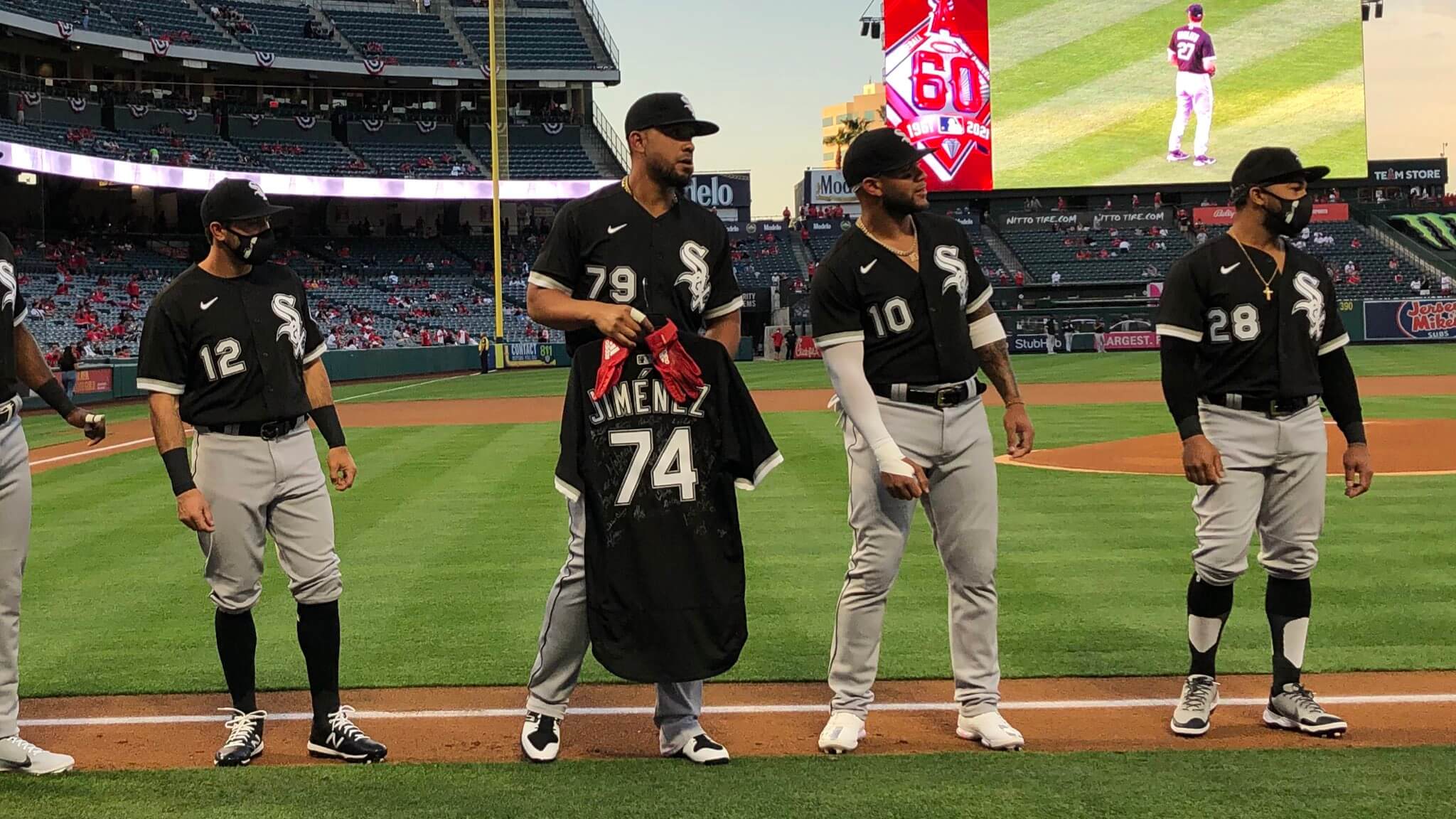 • Bear with me while I explain this one: The home team provides the batboys for both the home and visiting teams. Normally, they also provide the proper road uniform for the visiting team's batboy. So, for example if the Blue Jays are playing in DC, the visiting batboy suits up in a Jays road uni, so he'll match the visiting team's unis (and then he'll change to a Yankees road uni when the Yankees come to town, etc.). Last year, however, in order to cut down on uni changes during the pandemic, visiting batboys wore the road uniform of the home team. So when the Blue Jays played in DC, the Jays' batboy wore a Nats road uni. Based on what I saw yesterday, it appears that visiting batboys have gone back to wearing the visiting team's uni — but they're also wearing masks supplied by the home team, which is how we ended up seeing a batboy in Cincinnati wearing a Cardinals road uniform and a Reds mask: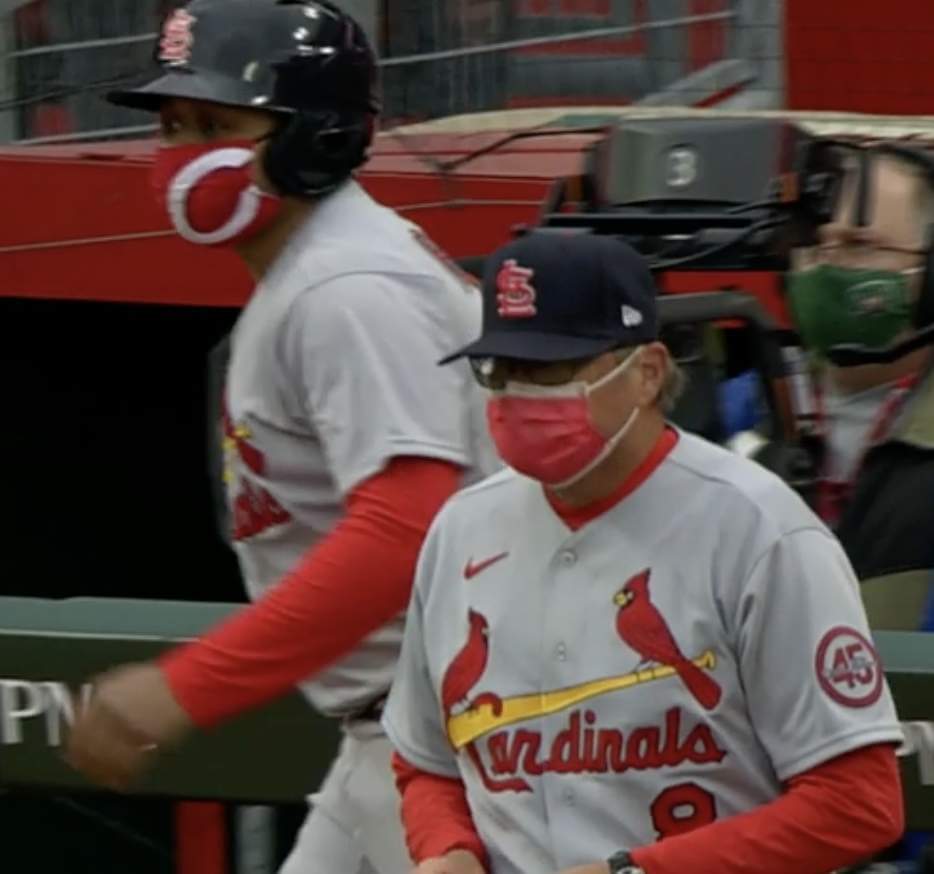 • Umps are wearing two (square!) memorial patches this season — "DC" for Darryl Cousins (died on Oct. 20; they also wore a patch for him for the final game of last year's World Series) and "PS" for Paul Schrieber (died Nov. 12):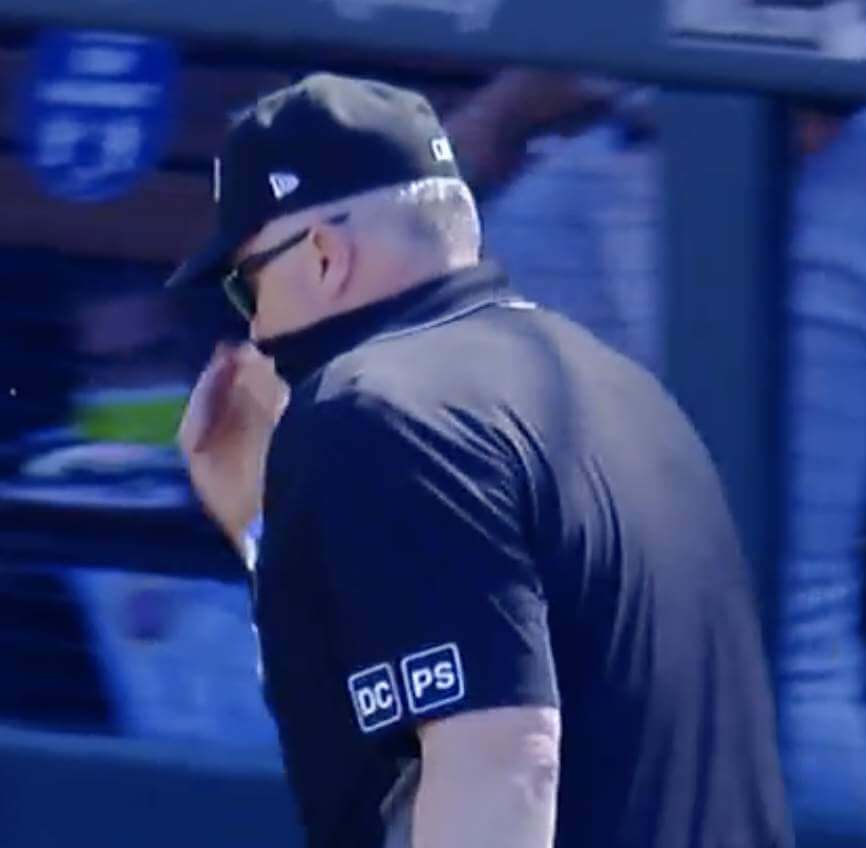 • As is proper on Opening Day, every home team wore white. Most road teams wore grey; the exceptions were the Diamondbacks, White Sox, Rays, Cleveland, and Atlanta, all of whom wore softball tops, and the Blue Jays, who wore their powder blue alternates. (It's also worth noting that the Dodgers wore their alternate "Dodgers" greys, not the "Los Angeles" primaries.)
• In a disappointing development, ads are once again appearing on the back of the mound (so much for "just one year," eh?). Some of the ones I saw yesterday were clearly digital projections, but others looked like they were real:
• The Mariners had a big "2021" on the back of the infield: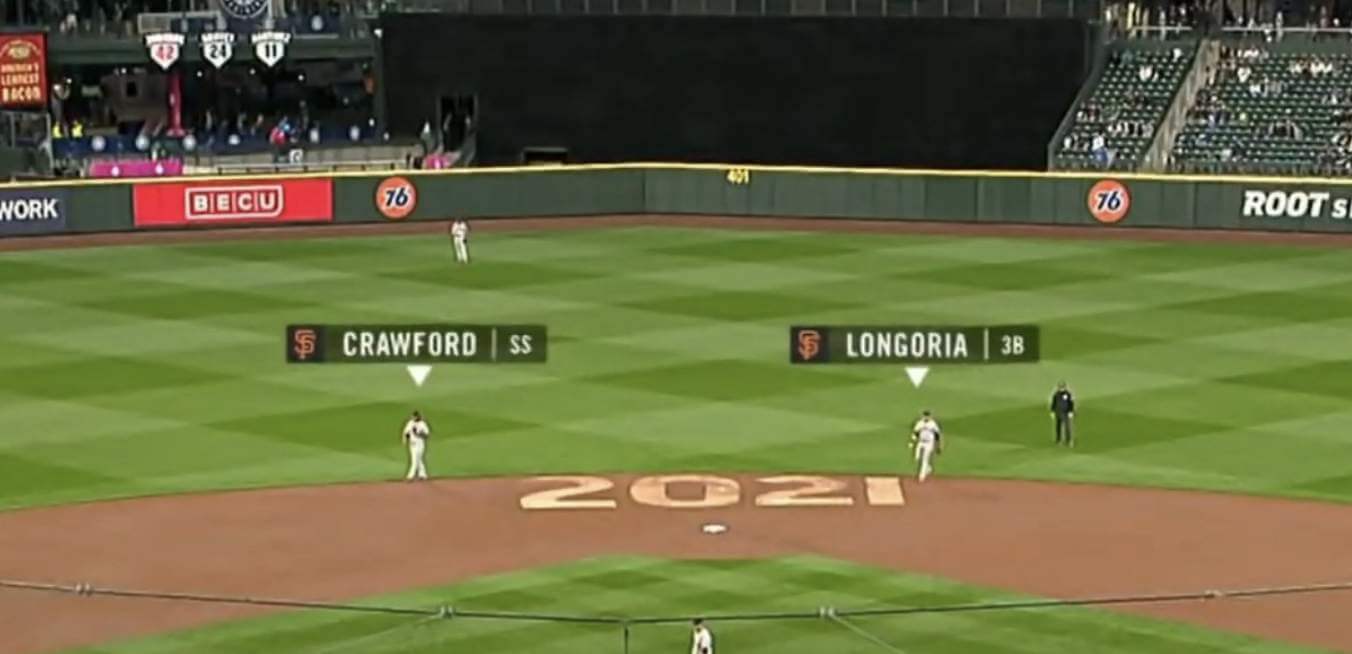 • Finally, while not uni-related, there was a bizarre play in the Dodgers/Rockies game that seems worth mentioning, as Dodgers first baseman Cody Bellinger hit an apparent home run but then was called out for inadvertently passing teammate Justin Turner on the bases. Turner was scampering back to first base because he mistakenly thought the ball had been caught:
One of the craziest moments you'll see at a baseball game

Cody Bellinger hits a two-run home run, but with Justin Turner running back to first base and Bellinger passing him, it officially becomes a single instead and Bellinger is out pic.twitter.com/dzB9yIHghZ

— Blake Harris (@BlakeHarrisTBLA) April 1, 2021
————
Whew — I don't mind saying that that's some very thorough Opening Day coverage!
Unfortunately, the team I root for was unable to play and won't be playing today either. But even so, Opening Day calls for a hot dog, so I made one (with capers and toasted panko breadcrumbs, natch):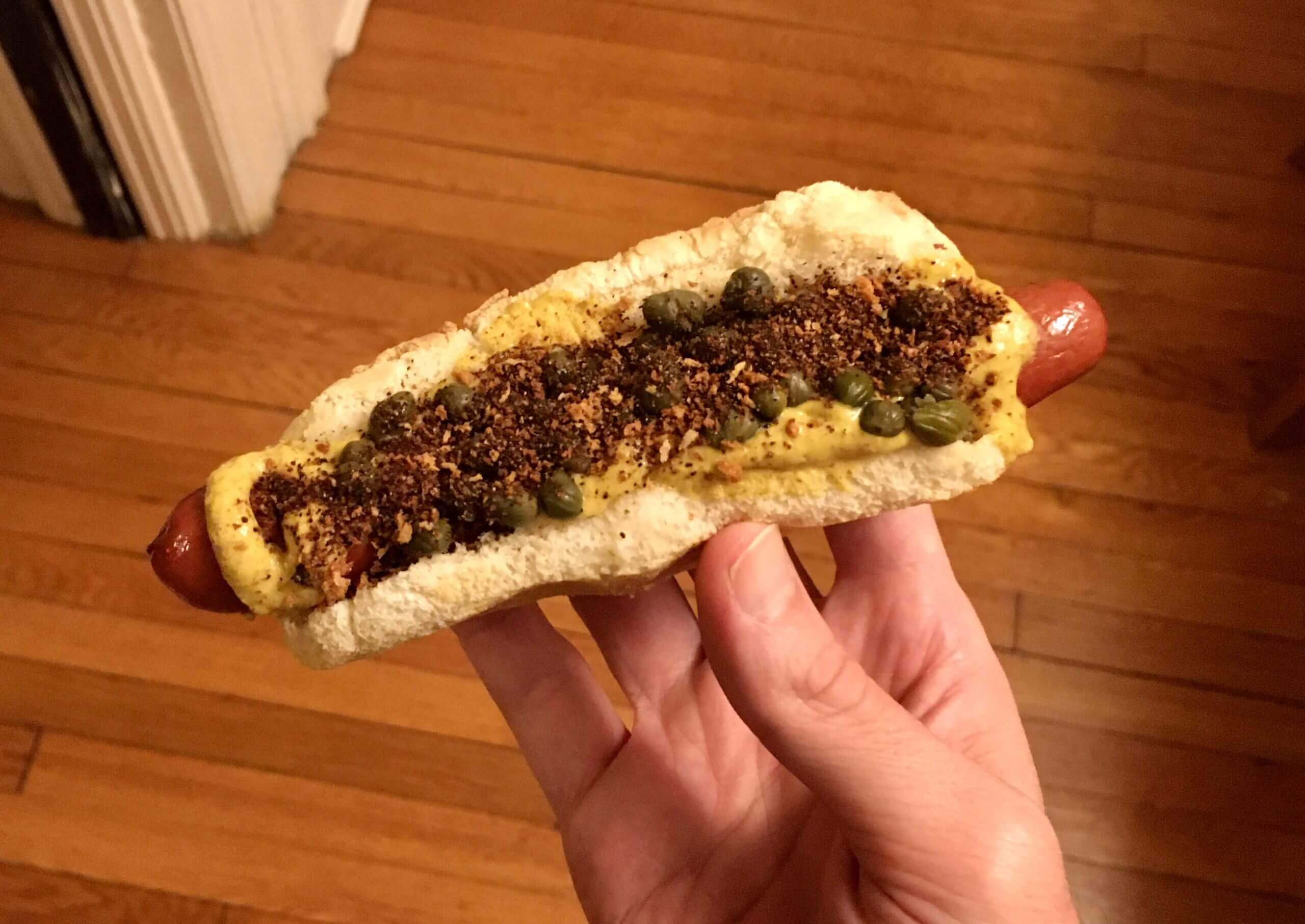 Not bad at all. Also, the Yankees are in last place, so there's that.
(My thanks to all contributors, including Ken Chia, Steven Luft, Joe Nash, John Oliver, Chris Sykes, Korey Traynor, Jared Tuwalski, @bullyday, @ki_ul_press_lee, and our own Brinke Guthrie.)
• • • • •
• • • • •
It's official…

Coming this season. #BillsMafia pic.twitter.com/XQNVELjOmS

— Buffalo Bills (@BuffaloBills) April 1, 2021
April 1 recap: Lots of teams posted April Fool's Day pranks yesterday. The most amusing one, at least to me, was the video shown above — maybe a better example of sarcasm than a prank — in which various Bills players pretended to love the team's grey facemasks. A few hours later, the team announced — for real this time — that they're actually changing to white masks:
SIKE. 😎

White facemasks are here to stay. #BillsMafia pic.twitter.com/ySmE8aNBDu

— Buffalo Bills (@BuffaloBills) April 1, 2021
Now that's a good way to leverage April Fool's Day!
Here are some additional pranks that were making the rounds yesterday:
🚨 JERSEY UPDATE 🚨

We're excited to announce that the next time we hit the ice, we will be wearing letters instead of numbers on our jerseys!

We saw an opportunity to be trailblazers in the sports community and we're excited to be the first team to do this.#GoFrontsGo pic.twitter.com/YboqaIg2Ky

— Kingston Frontenacs (@KingstonFronts) April 1, 2021
We have been hard at work to come up with a new helmet for 2021 @AuburnFootball @CoachHarsin #WarEagle pic.twitter.com/vVVvWCz6yf

— Auburn Equipment (@AuburnEquip) April 1, 2021
Lovin' our new digs.#LimeTime 🟢 pic.twitter.com/g9ALTbS22s

— Chicago State Athletics (@ChiStateCougars) April 1, 2021
We're excited to announce we'll be wearing the infamous Cooperall hockey pants made popular in the 1980's for a special #ThrowbackThursday against the @WHLPats tonight!

More 👉 https://t.co/hMQlBPQO92#BWK 🌾👑 pic.twitter.com/atRLzlSOUD

— Brandon Wheat Kings (@bdnwheatkings) April 1, 2021
A step-by-step outline of our new logo pic.twitter.com/fJpOCBcNSA

— Charlotte Checkers (@CheckersHockey) April 1, 2021
It's lit. 🌵#GoCoogs x #hoUSton pic.twitter.com/Z1mQ6hdzrC

— Houston Football (@UHCougarFB) April 1, 2021
🚨NEW UNI ALERT🚨@BG_Football is gonna look 🔥🔥🔥 this year! pic.twitter.com/E9pKujMExN

— BGSU Athletics Marketing (@BGScreechTeam) April 1, 2021
Today seems like a good day to give you a sneak peek of our future City Edition jerseys 👀🔥🎸 pic.twitter.com/B4mfCD7qIS

— Cleveland Cavaliers (@cavs) April 1, 2021
(My thanks to all contributors, including Andy Carges, Russell Flynn, Chuck Graves, Wade Heidt, John Muir, Ignacio Salazar, Patrick Schroeder, and Luke Wachob.)
• • • • •
• • • • •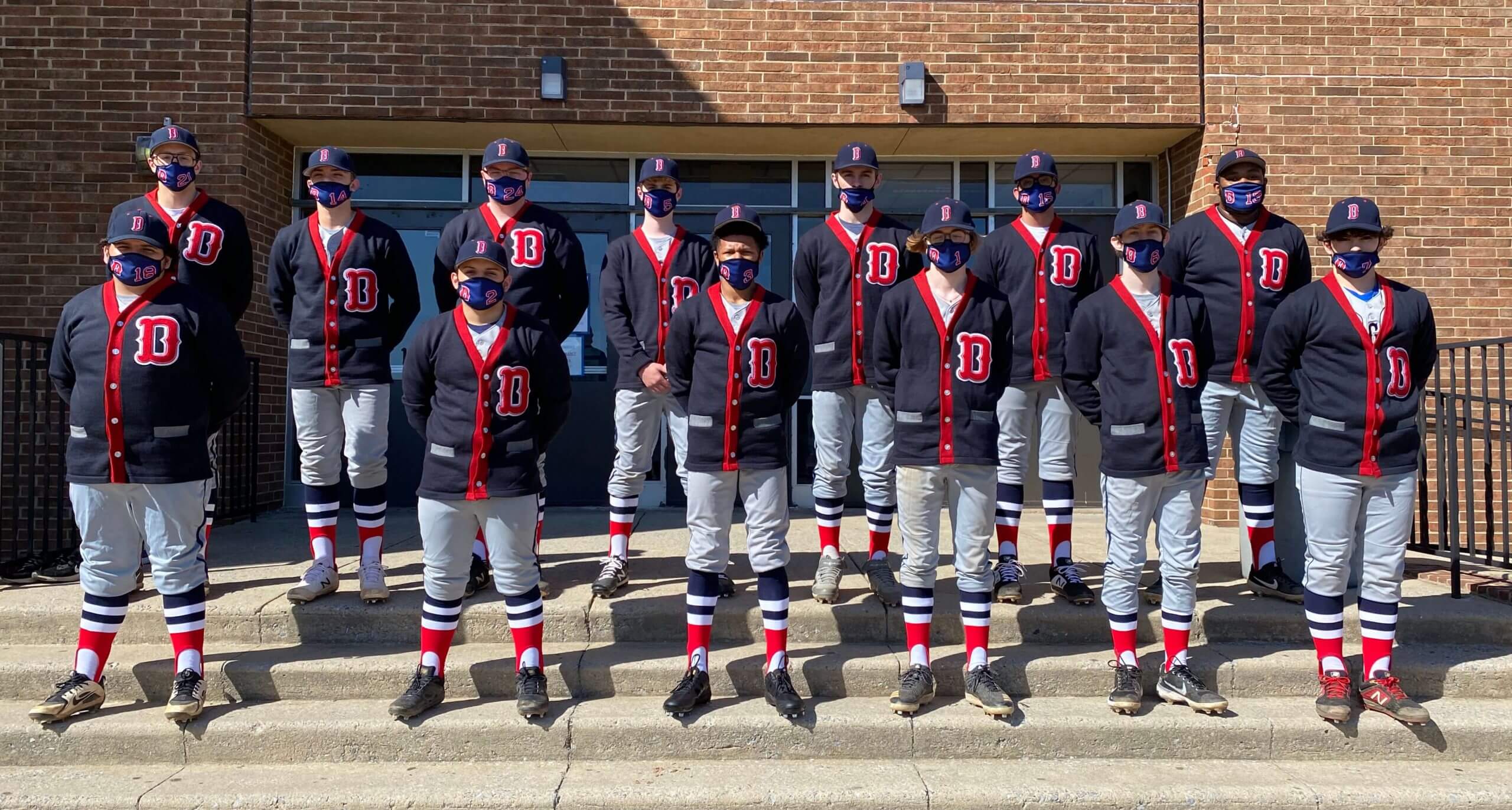 Click to enlarge
Holy moly: Behold the baseball team at Delcastle Technical High School in Delaware. Obviously, the stirrups and cardigans are uni-notable, but don't overlook the uni-numbered masks! (As an aside, the sight of spikes on concrete always makes me itchy.)
The photo was sent to me by the team's longtime coach, David Battafarano. He says he has lots of additional photos and info to share with me, so we'll be hearing more about this team soon. Stay tuned.
• • • • •
• • • • •
Membership update: Another batch of designs has been added to the membership card gallery. That includes Scott Rothbart's card, which is based on the fairly amazing jerseys worn by the 1987 Cleveland Force. Yowza!
Ordering a membership card is a good way to support Uni Watch (which, frankly, could use your support these days). And remember, a Uni Watch membership card entitles you to a 15% discount on any of the merchandise in the Uni Watch, Uni Rock, and Naming Wrongs shops, plus the discount also applies to our Uni Watch Classic Cap. (If you're an existing member and would like to have the discount code, email me and I'll hook you up.)
As always, you can sign up for your own custom-designed card here, you can see all the cards we've designed so far here (now more than 3,100 of them!), and you can see how we produce the cards here.
• • • • •
• • • • •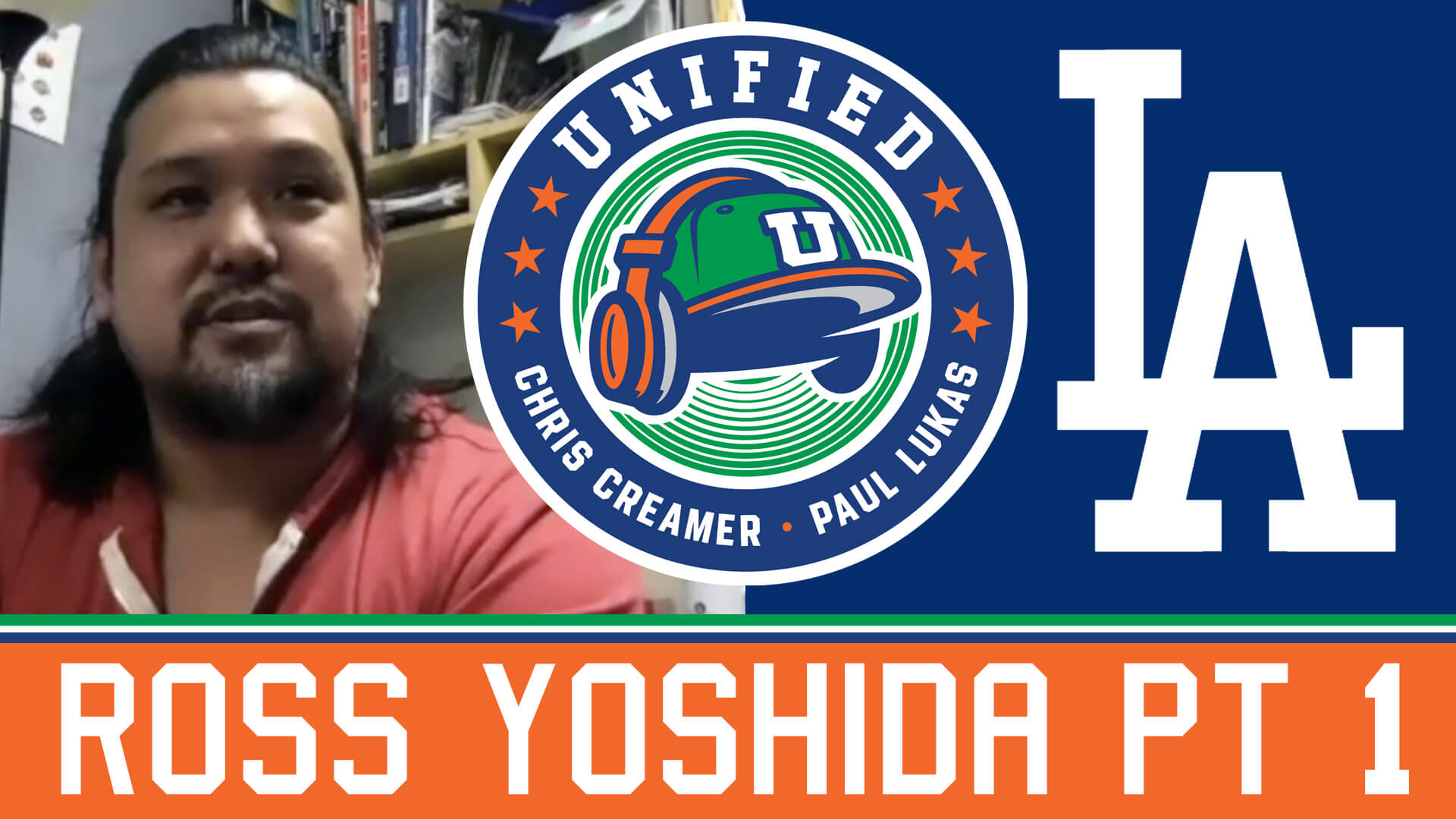 Podcast reminder: In case you missed it on Thursday, the new episode of Unified features an interview with Dodgers design director Ross Yoshida for this week's episode of Unified — our first guest! You might think he doesn't have a lot to do, since the Dodgers' visual identity is so traditional and static, but he's designed lots of the team's sleeve patches, fixed their iconic script after it somehow got altered, and a lot more. This is the first installment of a two-part interview with him, which we think you'll really enjoy.
As always, you can listen to us on Apple, Google, Stitcher, TuneIn, and Spotify, or just use the player below:
The show notes from this episode, which include photos of many of the things we discussed, are here. Those photos (and some additional ones) also appear in the video version of the episode, which you can see here:
Please consider supporting this episode's advertisers, Oxford Pennant (get 20% off any order with checkout code UNIFIED), Ebbets Field Flannels (10% off, except on NFL items, with checkout code UNIFIED), and Tokens & Icons (free shipping by checking the "For Office Use Only" box and then entering the checkout code UNIFIED).
Enjoy the episode, and thanks for listening.
• • • • •
• • • • •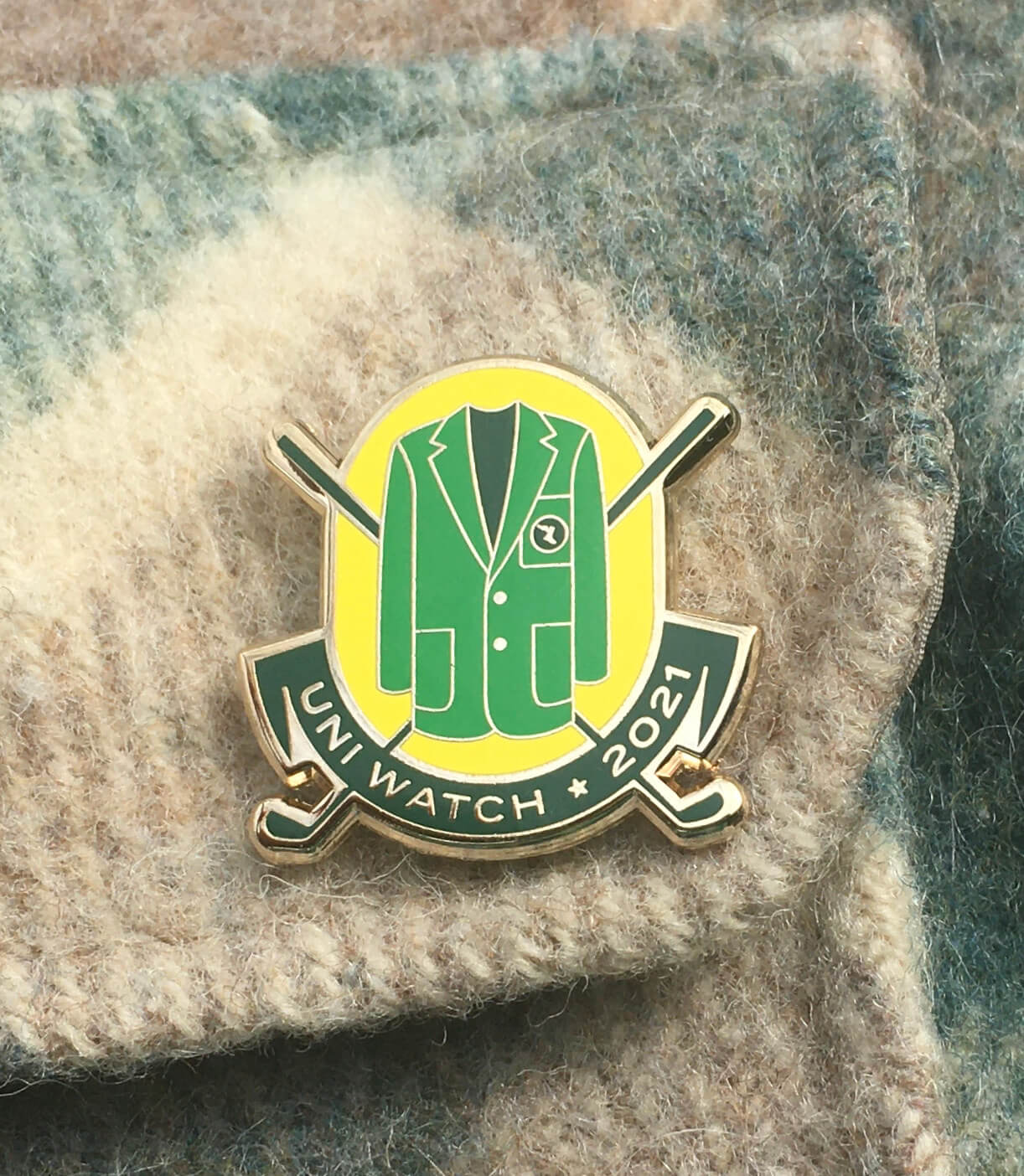 Click to enlarge
Pin Club reminder: In case you missed it on Thursday, our April pin has a golf theme. It's a numbered edition of 200, with each pin individually numbered on the back, and we sold through about half of them yesterday. It's available here, and we're donating all the profits from this one to Fair Fight. You can learn more about why we've chosen to do that here.
My thanks, as always, for your consideration of our products.
• • • • •
• • • • •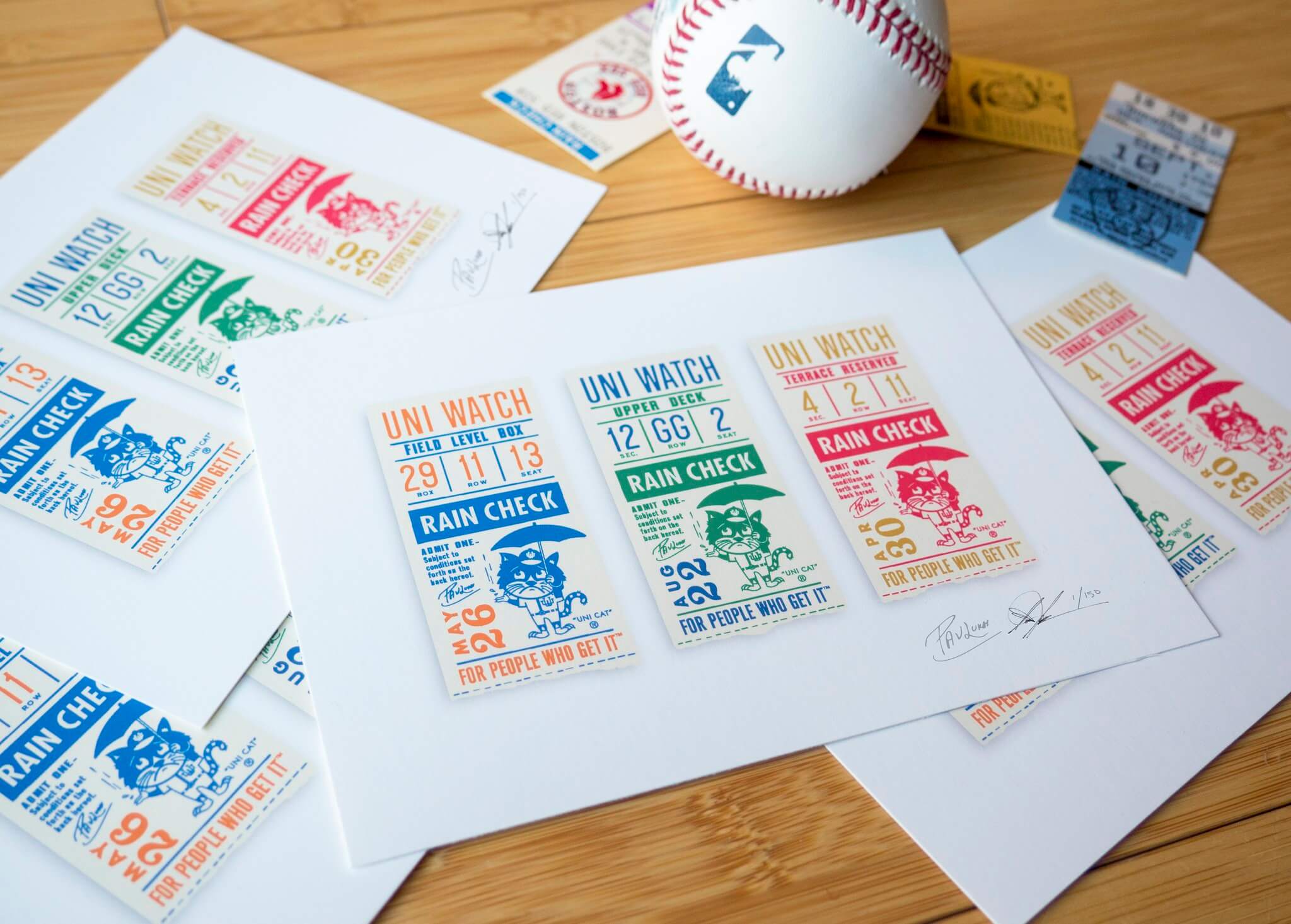 Click to enlarge
Going, going…: As of this morning, Todd and I were down to the last eight of these museum-quality "Rain Check" prints, produced in a numbered edition of 150 and signed by each of us at a Brooklyn diner back in 2018. As I recently mentioned, we thought we had sold out but recently found a stash we had set aside and then forgotten about. If you want one, they're available on Todd's website until we run out.
• • • • •
• • • • •
The Ticker
By Anthony Emerson

Baseball News: Rand McNally used to make an official atlas of MLB ballparks in the 1990s (from William F. Yurasko). … The much-maligned new Bally Sports Net score bug is completely obscured by the MLB Network news ticker during live look-ins (from @rjviking). … Nike went ahead and Nike'd up Oregon's baseball unis.

NFL News: The Chiefs have proposed a new rule that would loosen restrictions on positional uniform numbers in the NFL. Wide receivers, tight ends, running backs, defensive backs, and linebackers would be allowed to wear the numbers 1-49, and quarterbacks could wear numbers in the 20s (from multiple readers).

Hockey News: New mask for Islanders G Semyon Varlamov. … The Senators announced the signing of draft pick Jacob Bernard-Docker with a photo of him wearing the team's old logo (from @anthonypeacock_).

Hoops News: New Bucks PG Jeff Teague will wear No. 5 (from Etienne Catalan). … Also from Etienne: new Pacers F/G Oshae Brissett will wear No. 12. … UNC men's lacrosse coach Joe Breschi wrote UNC hoops coach Roy Williams's initials on his cap after Williams announced his retirement yesterday (from James Gilbert).

Soccer News: The USMNT gave Northern Ireland MF Steven Davis a No. 126 shirt to celebrate his new record of becoming the most-capped British men's player of all time (the previous record-holder was Peter Shilton, who had 125 caps for England). Davis actually broke the record in Northern Ireland's next match against Bulgaria, but it's a nice gesture nonetheless (from our own Jamie Rathjen). … With the rise of NFTs in the art world, Football Shirt Collective asks what NFTs could mean for soccer jerseys (from Ed Żelaski). … Also from Ed, Cork City FC of the League of Ireland unveiled their new GFGS change kit. … USL Championship side Real Monarchs unveiled their new kits yesterday (thanks, Phil).

Grab Bag: The classic menswear brand J.Press has a line of vintage-inspired letterman-style sweaters and jackets (from Matt Schudel). … The Canadian Armed Forces have a new camouflage pattern (from Kary Klismet and Timmy Donahue).
• • • • •
• • • • •
• • • • •
Today is Good Friday — my best wishes to all who are observing today, and likewise for a happy Easter. Enjoy Phil's weekend content, and I'll see you back here on Monday. — Paul