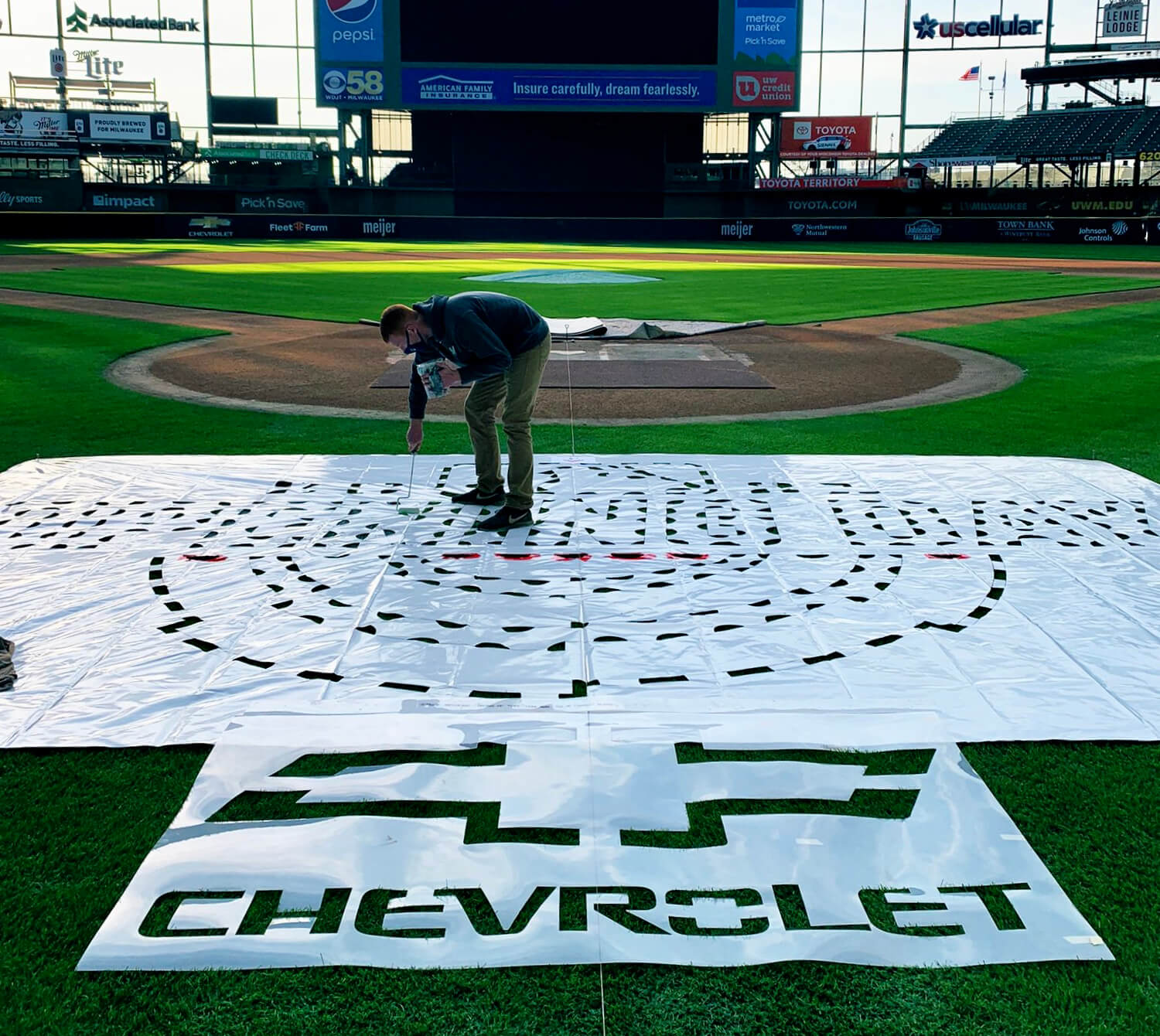 The photo shown above was tweeted yesterday morning by Ryan Woodley, head groundskeeper for the Brewers. As you can see, their "Opening Day" logo behind home plate will be supplemented by an ad. I've seen that same ad in the same spot on another field (sorry, can't recall which one). Sigh.
It's not appearing on every field, however. In Seattle, for example, there's no ad behind home plate — but there are ads along both of the baselines: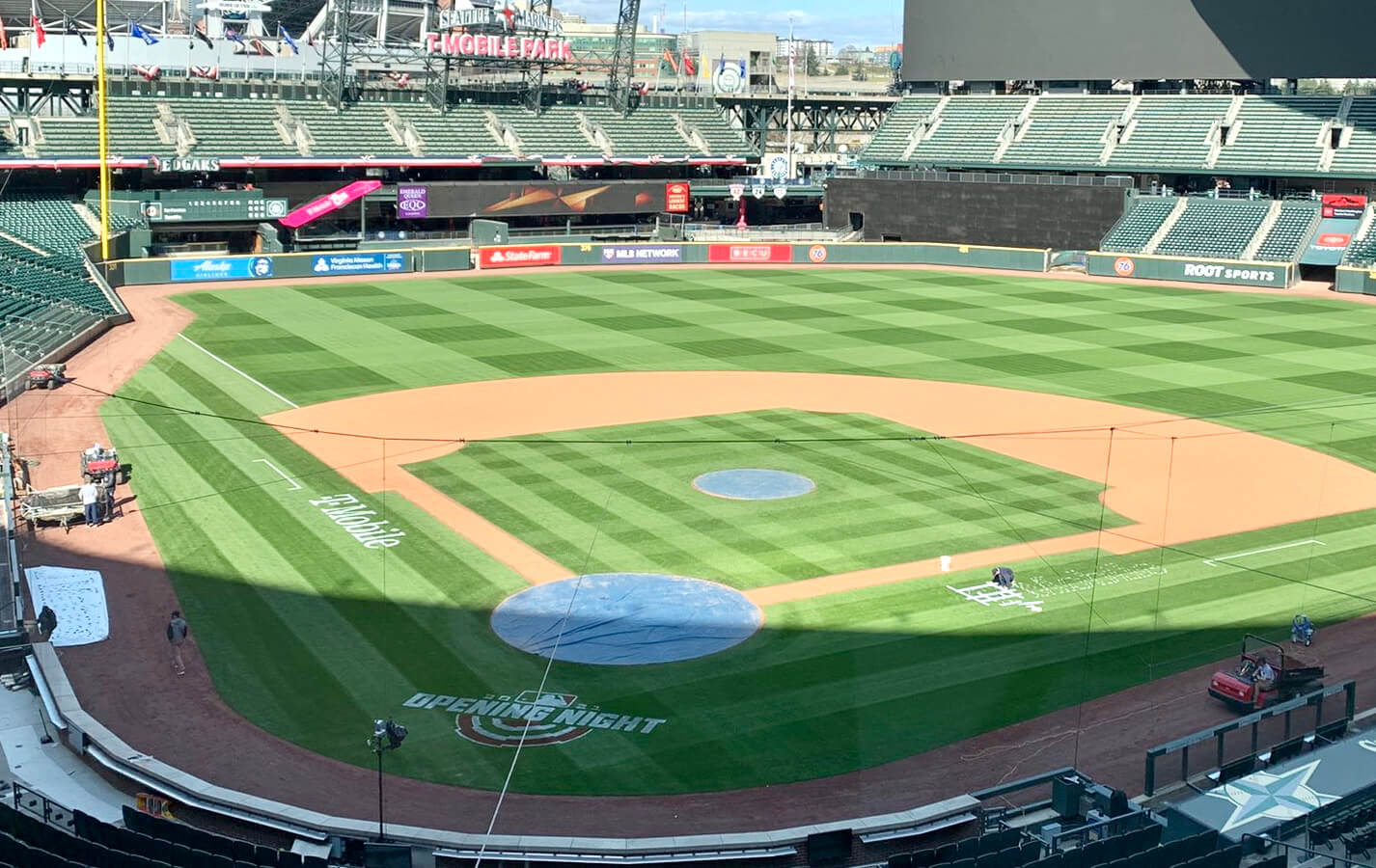 No ad behind the plate in San Diego — and no "Opening Day" logo either — but massive ads along the baselines: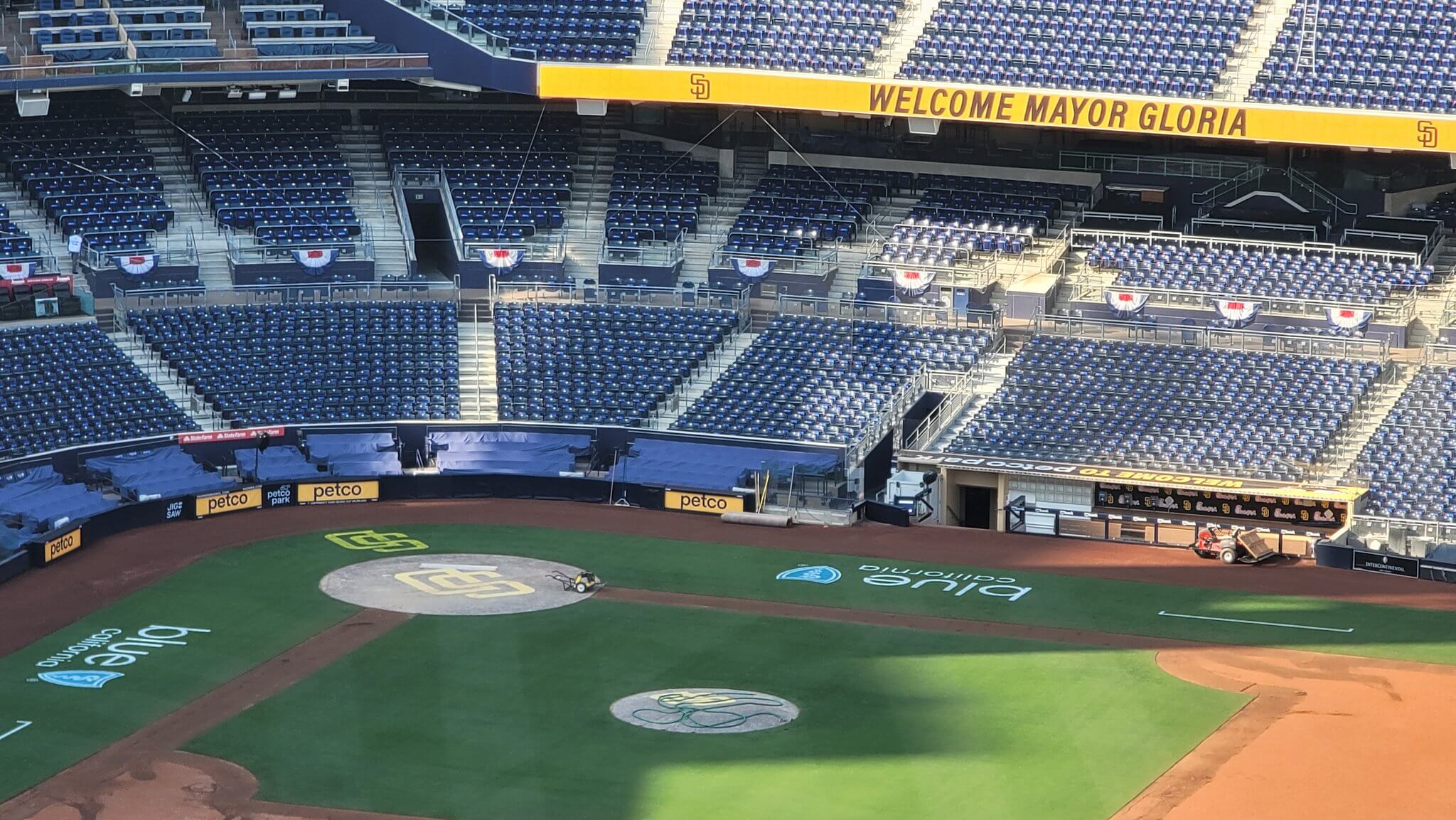 Perhaps unsurprisingly, the Yankees appear to have no field ads at all, at least so far — not behind home plate, not along the baselines, not anywhere: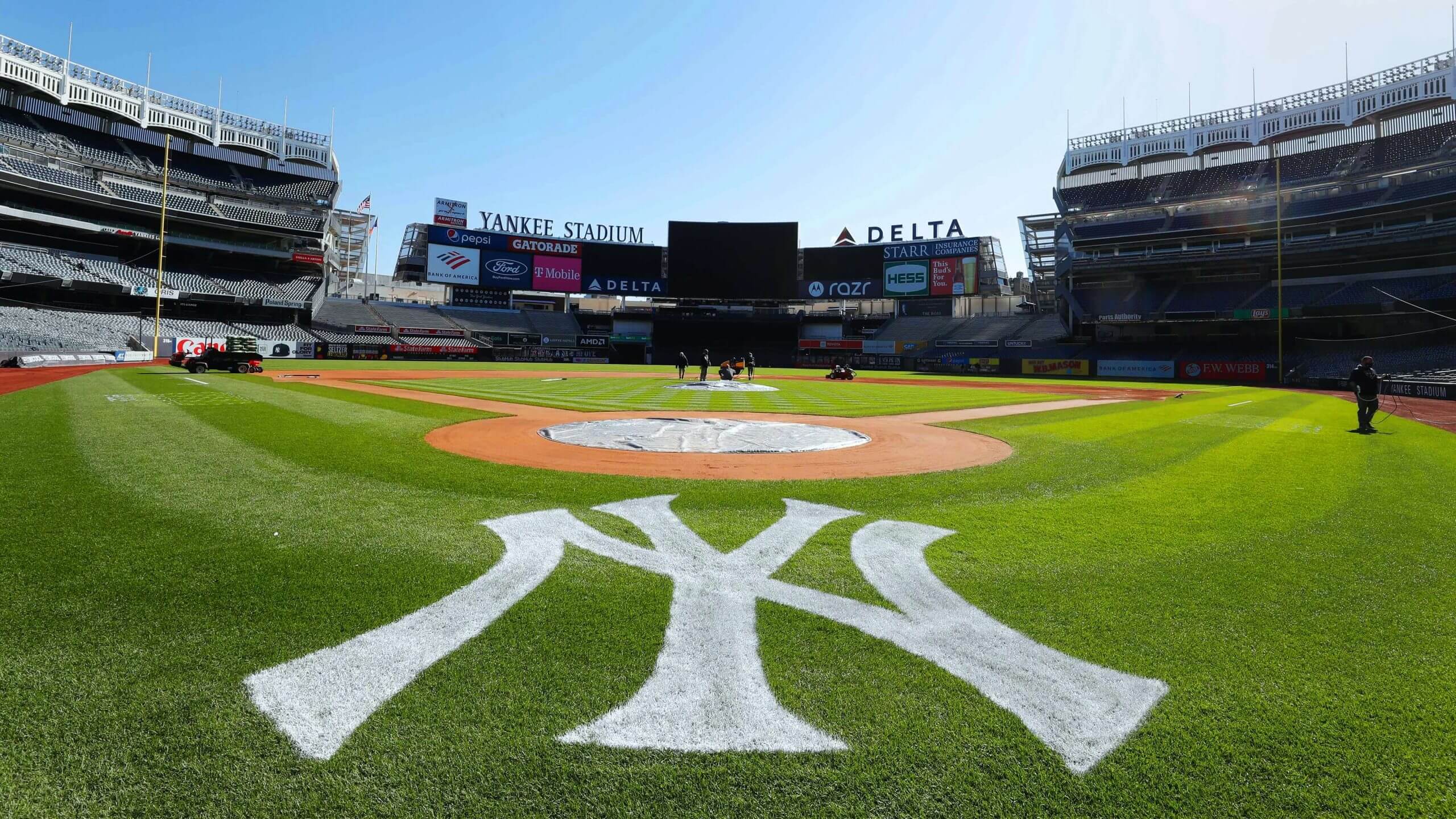 Check that — the Yankees have ads along the baselines:
Aaron Hicks in against Jordan Montgomery pic.twitter.com/ucHIMEh4Xu

— Brendan Kuty (@BrendanKutyNJ) March 31, 2021
I know, I know — pandemic, something-something, lost revenue, something, just for one (more) season, something-something.
Field ads or no field ads, these photos are all signs that Opening Day is fast upon us — and that means it's time for the 23rd annual Uni Watch MLB Season Preview. You may be thinking, "Eh, there are barely any uni changes this year anyway" (which is true), but this year's preview nonetheless runs over 3,000 words, and I found at least a little something to say about every single team. I know many of you look forward to this column all winter (so do I!), so go ahead and get your fix over on InsideHook, where the preview is now available for your enjoyment.
(My thanks to everyone who shared field pics with me yesterday, and especially to John Okray for the Brewers photo.)
• • • • •
• • • • •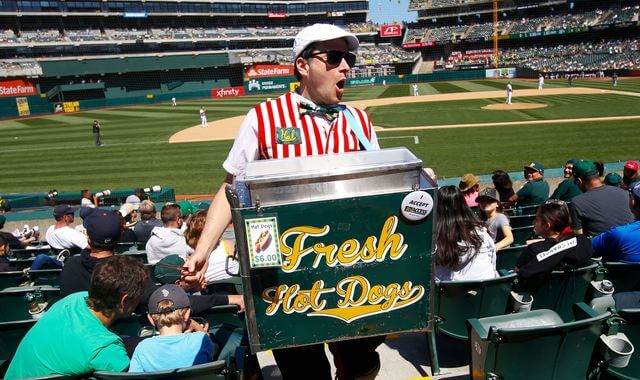 Meanwhile, out in Oakland…: What's the latest from our friend Hal the Hot Dog Guy? As you may recall, last year he was raising money for his fellow unemployed vendors. But what about this year — will he be vending again?
Here's what he told me last night:
I am very excited for Opening Day. My wife and I have tickets, which is maybe the first time we have gone to a game together, because I always work.

For the first half of the season, the team is only going to have app-based food sales. So vending is sort of possible, but we would really be more like restaurant runners. I might try it a couple of times, but mostly I am excited about July or so, when we are hoping to be back to normal.

Can't wait for that. It's been a long 100 years since the AL Wild Card game in 2019!
As we all know, the passion, spirit, and creativity that Hal brings to his work are very, very special. Here's hoping he's able to resume vending this summer.
• • • • •
• • • • •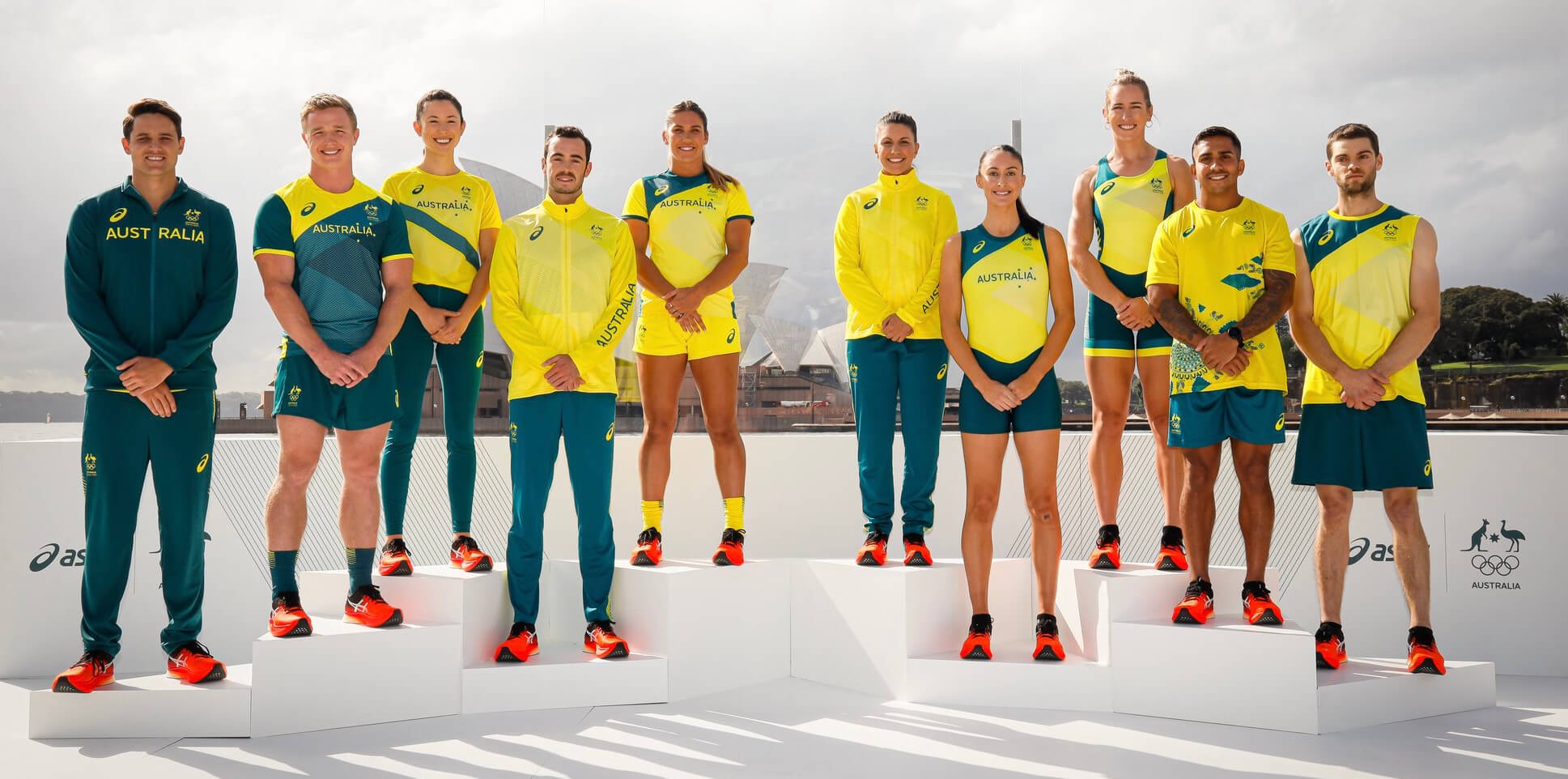 Click to enlarge
Tokyo preview: Don't look now, but the 2020 2021 Summer Olympics in Tokyo are now less than four months away (or at least that's the current plan), so countries are starting to unveil their togs for the games. Australia — always a Uni Watch favorite because of their green/yellow color scheme — revealed theirs yesterday. Not bad, right? Well done, mates!
(Thanks to Phil for this one.)
• • • • •
• • • • •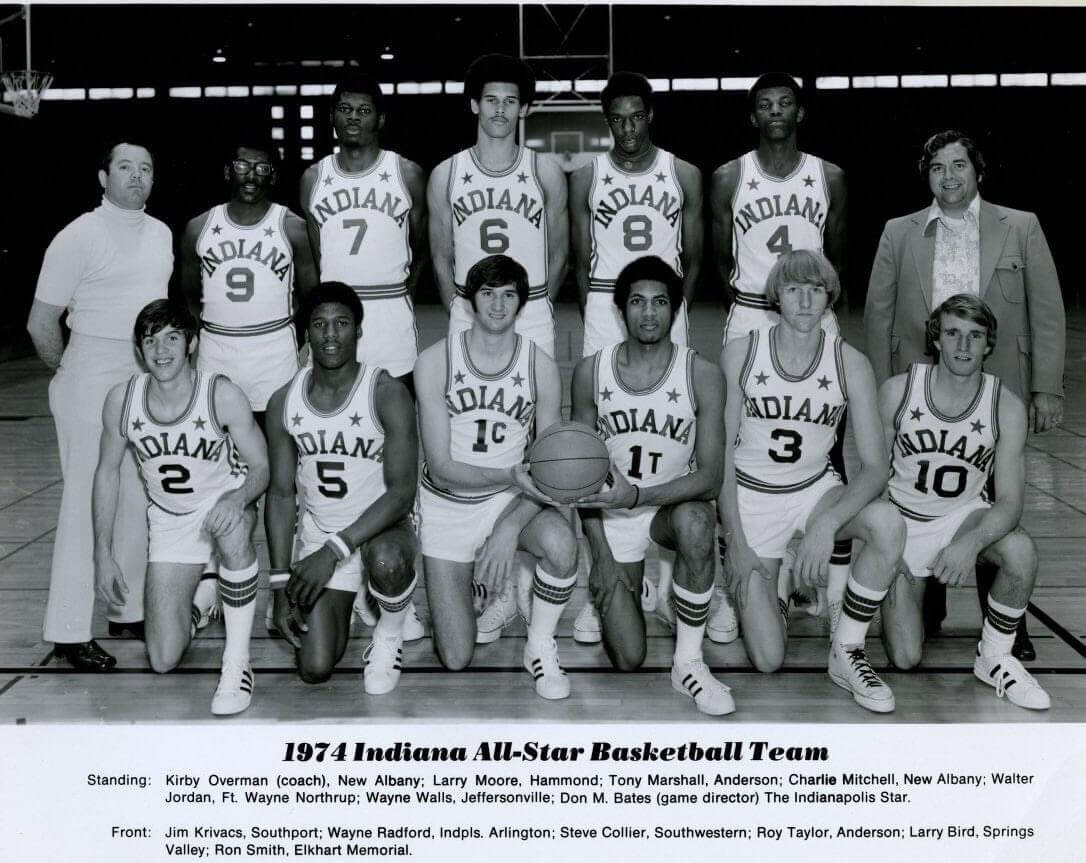 Click to enlarge
Too good for the Ticker: Check out this team portrait of the 1974 Indiana high school all-star hoops team. Yes, that's a young Larry Bird in the front row, second from the right, but I'm more interested in the two guys to the left of him who are wearing Nos. 1T and 1C — never seen that before!
According to the caption, those two players are Steve Collier (No. 1C) and Roy Taylor (No. 1T), so the letters apparently referred to their last initials. I'm guessing that they both wore No. 1 with their respective high schools and this was a way to let them both keep that number. Weird!
Update: Several reader/commenters have provided the backstory here. As DanN explains: "Steve Collier and Roy Taylor tied for Mr. Basketball (top player in state). Mr. Basketball is given No. 1 on the roster. Since they tied, both got to wear No. 1, but with their initial added. The same thing happened in 1987 when Jay Edwards (1E) and Lyndon Jones (1J) tied."
(Big thanks to Corey Burnett and Jeremy Snyder for additional assistance.)
• • • • •
• • • • •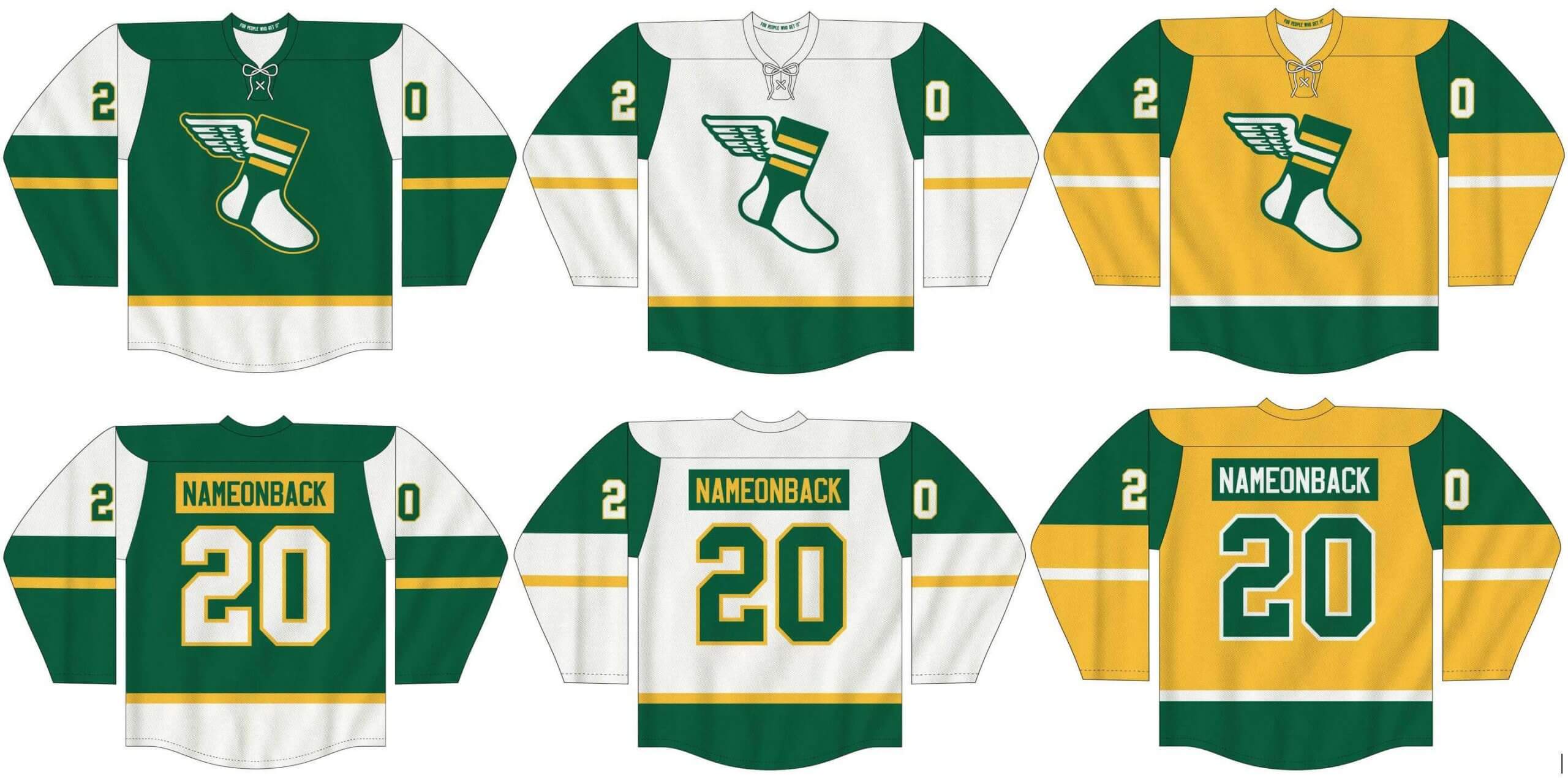 Click to enlarge
LAST CALL for the latest merch: Today is the final day for you to place your pre-orders for our new Uni Watch hockey jerseys (customizable with your choice of number and NOB, of course), socks, and stirrups.
In order to get in on these items, you must place your pre-order by today. You can do that here. We expect the finished product to ship out by the end of April.
My thanks, as always, for your consideration.
• • • • •
• • • • •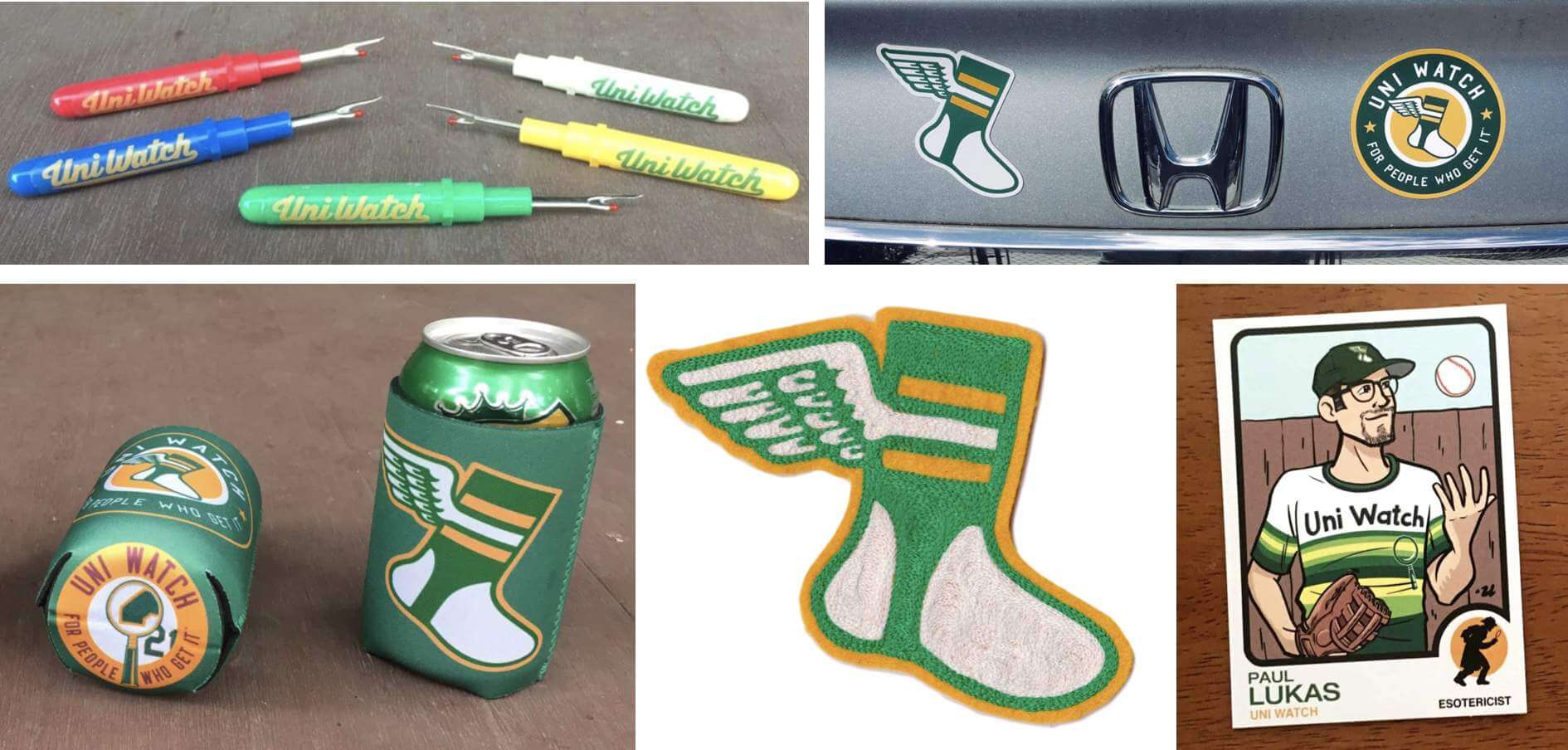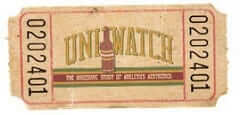 ITEM! Merch raffle: Reader Michael Brantner has generously donated $25 that a lucky reader can put toward any of the merchandise that ships out directly from Uni Watch HQ. That includes our seam rippers, koozies, magnets, chain-stitched patches, trading cards, and membership cards, and I'll also allow this to be put toward a Uni Watch Classic Cap.
This will be a one-day raffle. No entry restrictions, but shipping to a non-USA address will likely eat up much of your prize credit. To enter, send an email to the raffle in-box by 8pm Eastern tonight. One entry per person. I'll announce the winner tomorrow. Good luck!
• • • • •
• • • • •
Uni Watch Hit Parade: Bachelor, an indie-rock duo featuring Jay Som and Palehound frontwoman Ellen Kempner, have a new song called "Stay in the Car," and it's a monster. Completely Pixies-derivative, and I mean that as a compliment. Can't stop playing it over and over. Gonna be the song of the spring, at least here at Uni Watch HQ. Enjoy.
• • • • •
• • • • •
The Ticker
By Lloyd Alaban

Baseball News: We'll still call it Marlins Park. … Yesterday's Twins/Pirates spring training found both teams wearing their road grey pants (from Ted Starkey). … Cardinals P Jack Flaherty wore cleats yesterday paying tribute to Cardinal greats Bob Gibson and Lou Brock (from Erik Spoonmore). … The Reds are pushing digital tickets, but you can still get a commemorative paper ticket for $5 plus shipping (from Patrick O'Neill). … New unis for SSG Landers of the Korean league (from our own Phil Hecken). … One more from Phil: Take a look at the Padres' uniform history. … Wisconsin Gov. Tony Evers used a Topps baseball card-style graphic to explain his state's broadband access plan (from @barrelman_mke). … The New York Post photoshopped two tickets on their latest cover — a Mets one from 2014 and a Yankees ticket circa 2011. Obviously, the Marlins logo shown on the ticket didn't yet exist in 2014 and SS Francisco Lindor wasn't yet a Met (from Ryan, who didn't give his last name). … The Mariachis, a Mexican League expansion team, have revealed their new uniforms (from Hector Miramontes). … New alternate uniform for the Orix Buffaloes. It will be worn nine times this season (from Jeremy Brahm and @bigdaddy45_1969).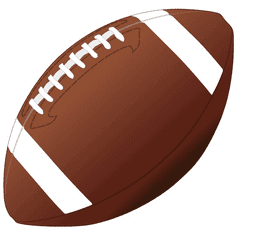 Football News: True to his word, Buccaneers head coach Bruce Arians went ahead and got the Super Bowl logo tattoo he promised he would get if the Bucs won the title (from @ScootersGhost).

Hockey News: LGBT-themed pregame sweaters for the Sharks tonight (from our own Phil Hecken). … Here are the logos for the next three World Junior Hockey Championships (from Wade Heidt). … Shameful: The name of the AHL's Henderson Silver Knights' new arena will be an ad for a predatory payday loan company.

Basketball News: Here's our first look at the Final Floor (from Dave Ciskowski). … Good work by Austin Pendergist, who has come up with reimaginings of Clemson's basketball uniform for each NBA Eastern Conference team. … Former Nuggets coach George Karl was spotted wearing a Shawn Kemp dunk hoodie (from Jorge Cruz). … Burger King is appealing to basketball fans in Spain by turning a court in the NBA 2K21 video game into a "menu" where they can score to win free food items. "Gives new meaning to the term 'product placement,'" says Shawn Hairston.

Soccer News: The NWSL has a league-wide sleeve ad deal again. The previous one ended with the 2019 season (from our own Jamie Rathjen). … Also from Jamie: New shirts for Montserrat and Anguilla. About half of Montserrat is uninhabitable because of volcanic eruptions starting in 1995, hence the volcanoes in the design. … New crest for Inter (from Trent Lowe). … A sportswriter has ranked all of the Orlando Pride's shirts (from our own Phil Hecken). … Also from Phil: New shirts for Celtic and also for Manchester United. … Leicester City's new shirt has leaked. … MLS ranked its top 10 best-dressed coaches (from Wade Heidt).

Grab Bag: Australia's Super Netball's Adelaide Thunderbirds have a new kit (from our own Jamie Rathjen). … Fans have chosen the logo for the 2026 Winter Olympics, to be held in Milan, Italy (from Jeremy Brahm). … New logo for Black Hills State (from Dan Brookens). … New logo for MSNBC. … Gonzaga President Thayne McCulloh has a jacket with his office's coat of arms on it (from Benjamin Thomas). … The U.S. Olympic and Paralympic Committee says that kneeling and raised fists during the national anthem will be permitted during Olympic trials.
• • • • •
• • • • •