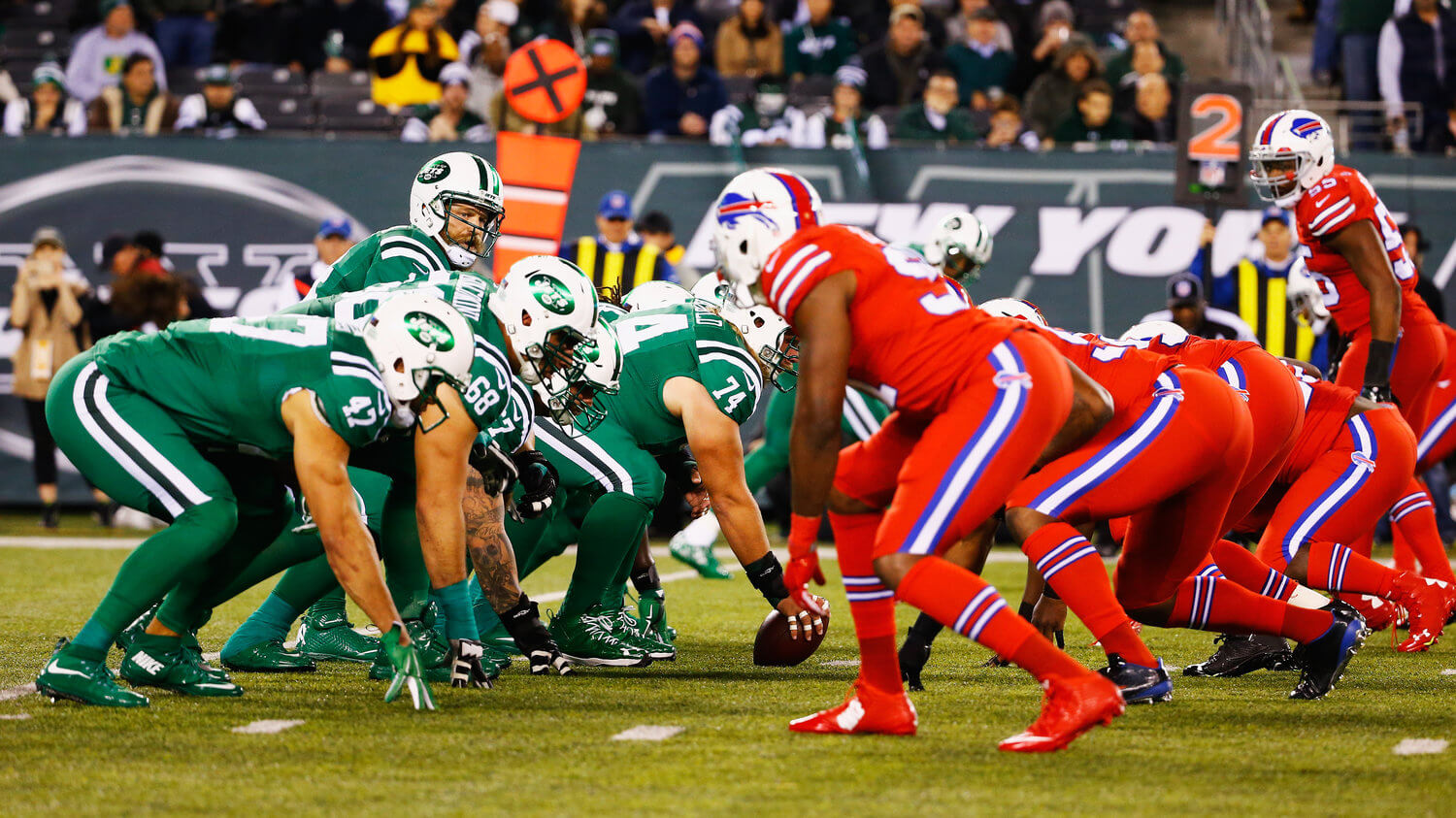 In the last week's episode of Unified, Chris and I briefly mentioned the famous 2015 Jets/Bills game in which the teams went mono-green vs. mono-red, thus creating serious visual problems for fans with red-green colorblindness. That prompted a note from listener/reader David Versel, who happens to be colorblind himself. He's written a really interesting and educational guest entry about what it's like for him to watch sports. Take it away, David.
On Being a Colorblind Sports Fan
By David Versel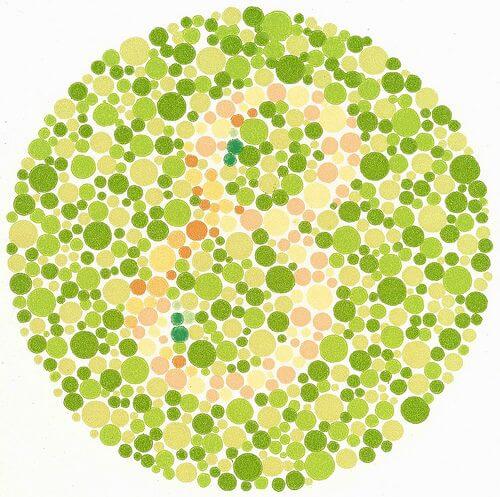 I have what is called red-green colorblindness. It was diagnosed in first grade via an exam I was given at my school, which involved looking at a series of circular dot patterns showing a numeral of one color overlaid on a background of different-colored dots [like the example shown at right — PL]. This test, known as the Ishihara Color Vision Test, revealed that I had trouble differentiating certain colors from others.
Over the course of my life, my colorblindness has mostly been a minor nuisance, and also a way of entertaining people who are curious about my condition. For the record, I do not see the world in just black and white or shades of grey. I can see the entire spectrum of colors and have no trouble identifying colors that are bold and bright, and I can easily differentiate between highly contrasting colors. But when I have to pick out muted, neutral, very light, or very dark colors, that can be challenging for me.
Interestingly, the famous Jets/Bills game wasn't all that difficult for me, at least in terms of colorblindness. Yes, the game was a visual disaster, but each team was wearing a bold and bright color, so I was able to differentiate the teams. I also found it helpful each team was wearing the same color from neck to ankle. For some reason, the larger the "swatch" of color, the easier it is for me to identify it.
My greater struggles have come with trim colors or colors that only appear in small fields. For example: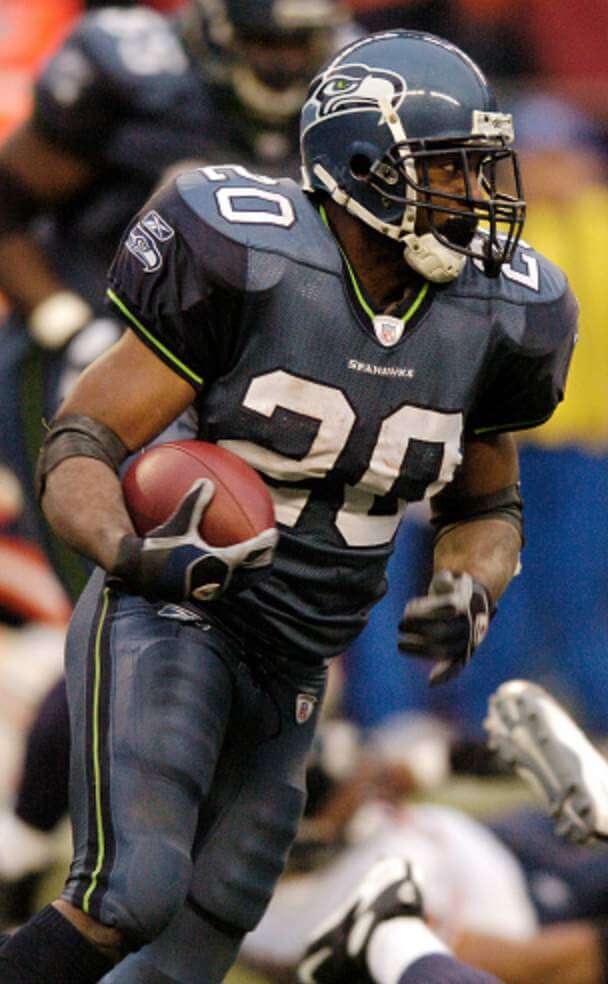 • When the Seahawks changed their uni set in 2002, I thought that the contrasting trim color was yellow, not neon green. It wasn't until they brought out their neon green jerseys in 2009 that I realized my error.
• I always thought Clemson's colors were orange and blue. I didn't realize that the blue was actually purple until they started wearing purple alternates.
• During the Bills' early-1990s heyday, when they wore primarily white and blue, I thought the red helmets and red trim were actually orange. Looking at this now, I'm still not convinced that it's red!
• Until Uni Watch came along, I thought the Yankees' main color was black, not midnight blue. I realize many others think the same thing, but to this day I still have a hard time telling their extremely dark blue from black. [I think this one is very common, as photos and TV sets often don't capture the nuance between almost-black and truly black. — PL]
I also have trouble with neutral colors, especially grey. I frequently confuse different shades of grey with adjacent shades of green, brown, or blue. This has historically been less of a problem as a Uni Watcher and more of a problem in my daily life: Out of necessity I wear a lot of white, black, and grey clothing, but I have mistakenly purchased colored apparel, thinking it was grey. The one neutral-color problem in the uni-verse that stumps me is that I've never been able to differentiate between the Cowboys' two shades of silver pants, even though most other fans can tell them apart.
My biggest challenge in recent years has been the explosion of grey as a primary uniform color and the use of GFGS uniforms. For example, when the Vegas Golden Knights first unveiled their uni set, I thought their colored sweater was green, not grey. The carousel of NBA alternate uniforms has also presented some tricky situations, such as a recent Nets/Rockets game that found the teams going grey vs. light blue.
One out of every 12 males is born colorblind (compared to just one out of every 200 females). Statistically speaking, that means there are probably thousands of competitive athletes out there who struggle with this condition. I wonder if the increasingly complex designs and frequent color clashes that seem to be happening more and more are impacting in-game performance by some of these players. For example, I found an article about Australian cricketer Matthew Wade, who apparently struggled to pick up the sport's pink ball, but so far I haven't found anything similar about any North American athletes.
I had my own brush with this phenomenon when I played on a soccer team that wore dark blue jerseys and we had a team in our league that wore purple. I often found myself inadvertently passing the ball to the other team. I told our coach about this and he shrugged it off, I guess because it wasn't a problem for him.
I am grateful that my colorblindness isn't a life-altering issue for me as it was for my grandfather (who was an aviator in the 1930s but was denied admission to the Army Air Corps due to his colorblindness). But I do hope that sharing all of this is enlightening for people, and that it will help raise awareness so that people in the sports design world will ensure that the action on the field, court, or ice is able to be fully processed by all fans. Even better, teams and leagues should consider having colorblindness consultants — I'm definitely available for that gig!
———
Paul here. Really interesting stuff, right? Please join me in thanking David for sharing his insights with us.
For another fascinating read about how sports can look different for certain fans, check out this 2017 piece written by a Uni Watch reader who has synesthesia.
• • • • •
• • • • •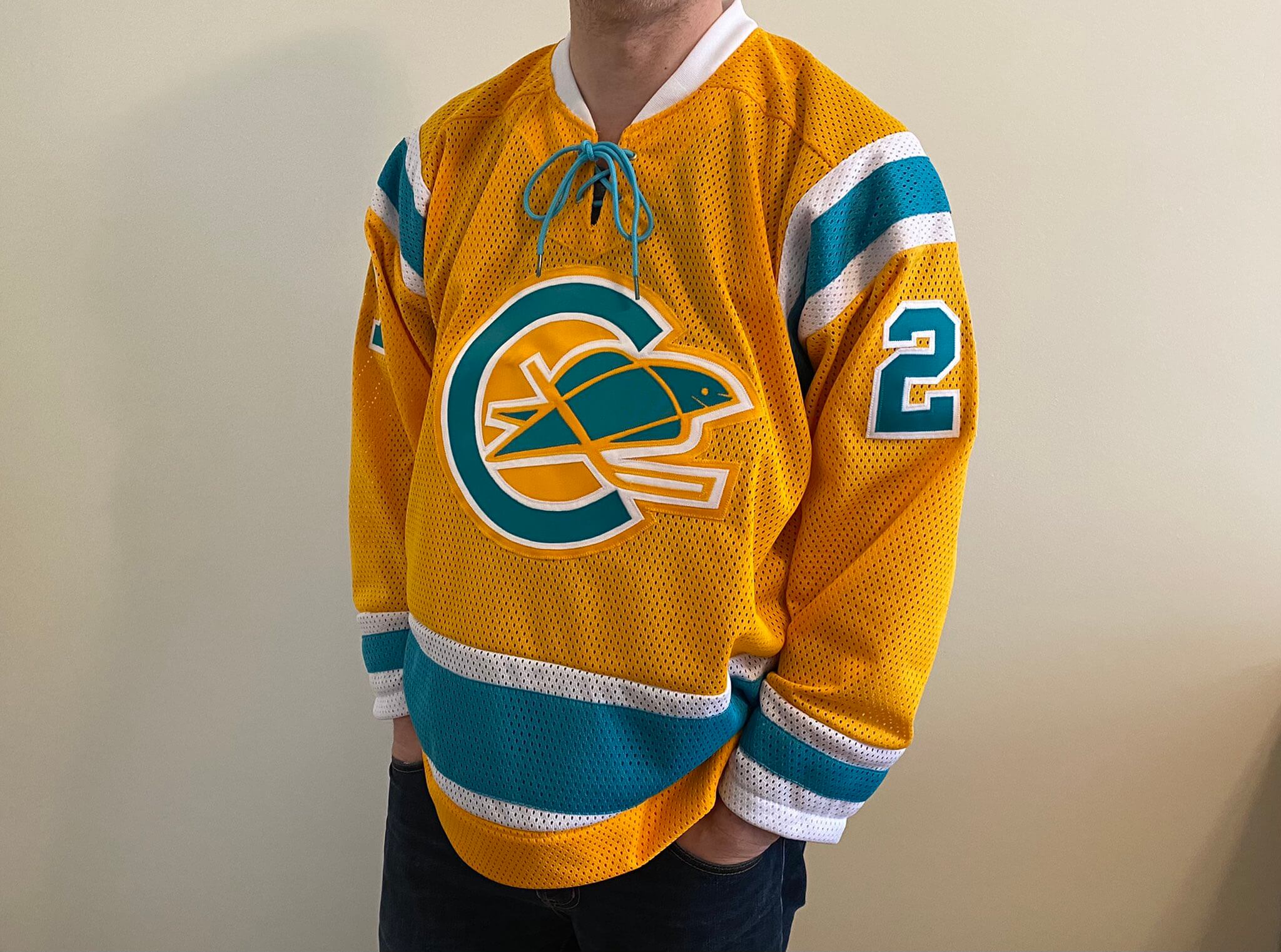 Click to enlarge
Oh. My. God. I know I tend to go on a bit about the remarkable talents of DIYer extraordinaire Wafflebored, but he's outdone himself again. Behold — a California Golden Seals ЯR jersey, using elements from various eras of the team's history. Genius!
Here's how it looks from the back: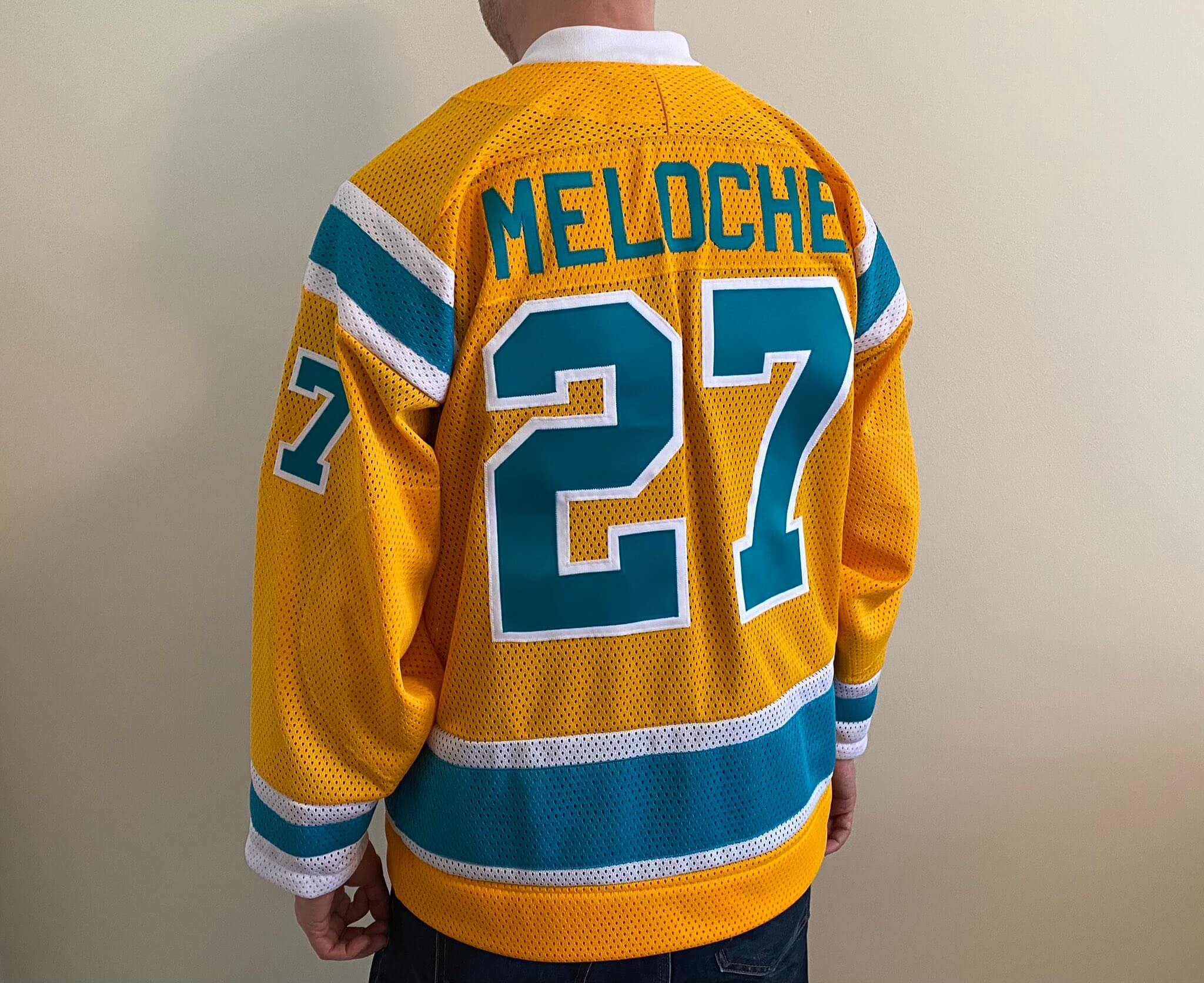 That, my friends, is a spectacular work of art. Let's take a moment to ponder and appreciate the greatness that is Wafflebored, a giant who walks (and sews) among us.
• • • • •
• • • • •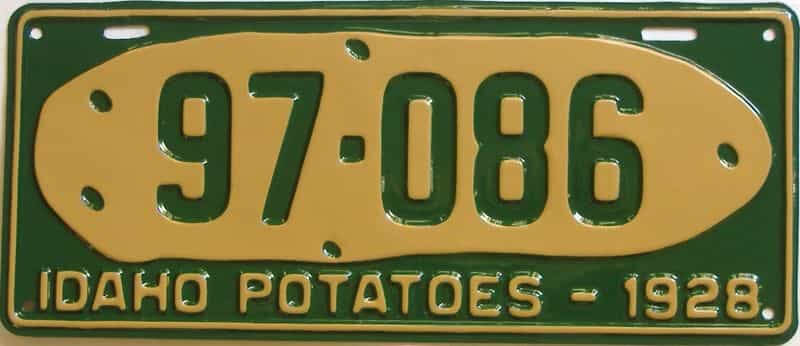 Click to enlarge
A potato on a plate: Did you know that this 1928 Idaho license plate with a depiction of a potato was the first example of a promotional design on a license plate? I didn't, until I listened to the new episode of the great design podcast 99% Invisible, which provides an interesting and entertaining look at the history of license plate design. It's really, really good, and you can listen to it here.
• • • • •
• • • • •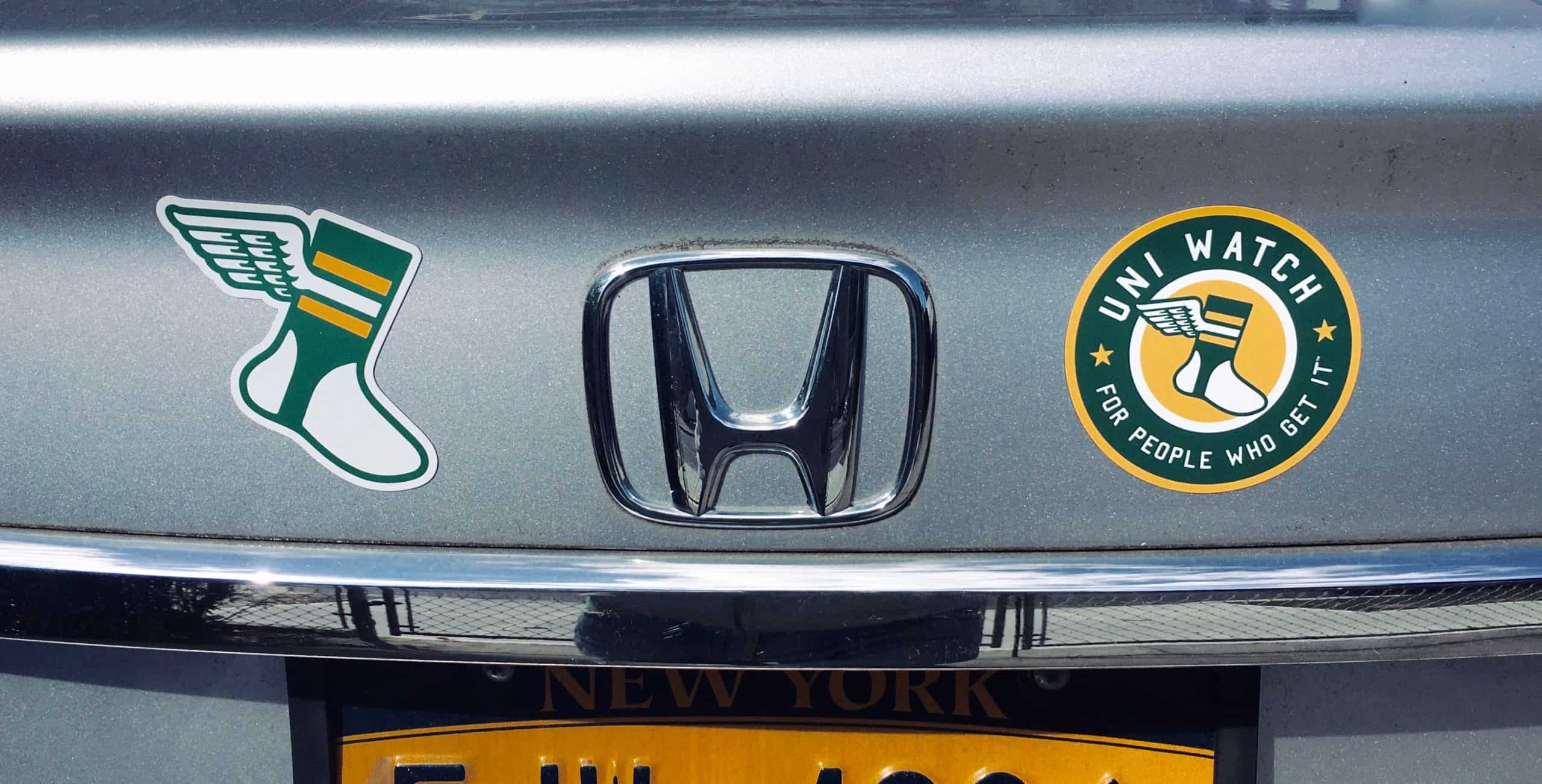 Click to enlarge
ITEM! Round magnets back in stock: I'm happy to announce that our round Uni Watch magnets are now back in stock — and I still have some of the winged stirrup magnets on hand as well. Both magnets are available here.
• • • • •
• • • • •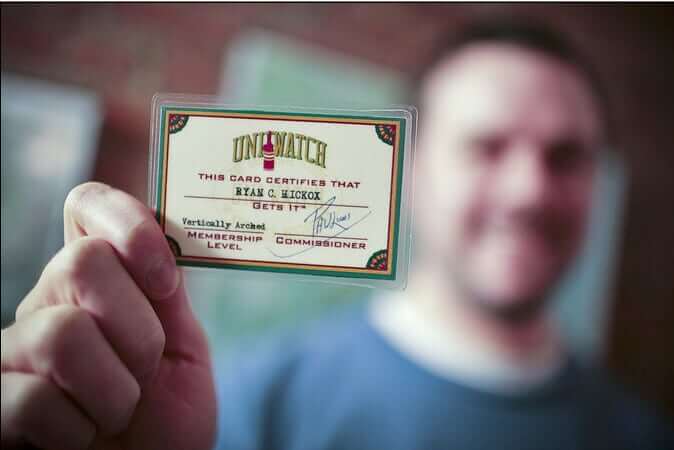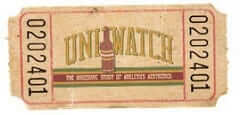 ITEM! Another membership raffle: Reader Ed Hahn recently purchased a membership for me to raffle off, so that's what we're going to to today.
This will be a one-day raffle, with no entry restrictions. To enter, send an email to the raffle in-box by 8pm Eastern tonight. One entry per person. I'll announce the winner tomorrow. Big thanks to Ed for sponsoring this raffle!
Meanwhile, the winner of yesterday's membership raffle was Reid Ostrom. Congrats to him, and thanks to Jarrod Reich for sponsoring that one.
• • • • •
• • • • •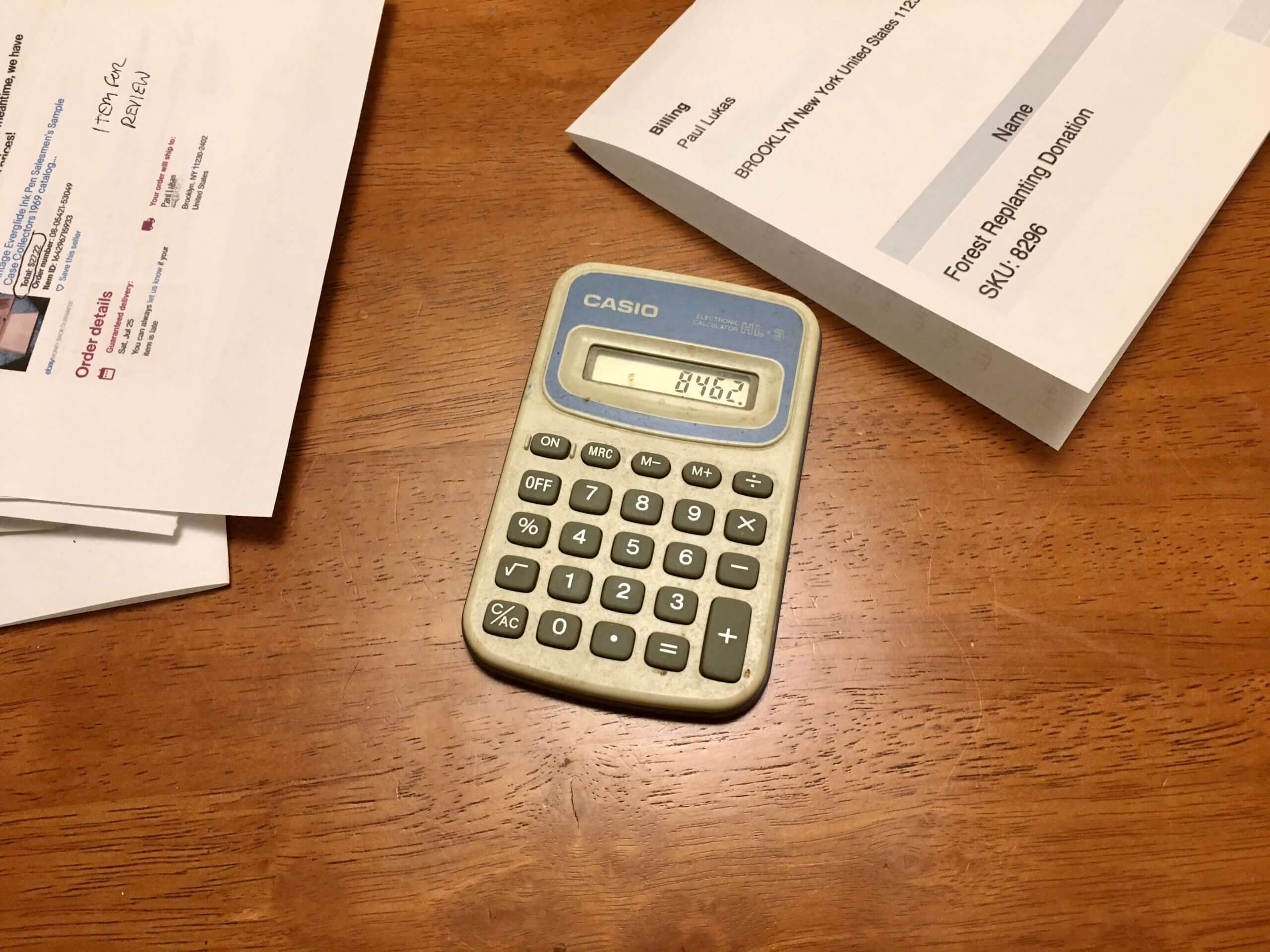 The little gadget that could: I tallied my 2020 tax receipts last night, which means it's time for my annual post about my pocket calculator.
So: When I left my last office job 25 years ago and began working from home, I took a few items with me from my office, including a cheapo pocket calculator that probably cost $1.99 at most. I'd already owned it for at least a year at that point. I've never changed its battery (nor could I, even if I wanted to — it's a solid one-piece case that can't be opened). But it still works.
Granted, I barely use it anymore except for the annual tallying of the expense receipts. Still, it seems pretty amazing that it hasn't died. For years I've been thinking, "Okay, so this is probably the last time I'll get to use it," but it keeps proving me wrong, so now I'm thinking it will probably outlive me. See you back here in a year!
• • • • •
• • • • •
The Ticker
By Lloyd Alaban

Baseball News: The Rays yesterday announced their promotional schedule, which among other things calls for them to wear Devil Rays throwbacks for five Saturday home games (from our own Phil Hecken). … One of the umpires in yesterday's Mets/Cardinals game wore a Jackie Robinson Day patch on his cap (from @_RF30). … Also in that game, Mets CF Albert Almora Jr. wore a mesh-backed cap, something that a handful of Mets have been wearing during spring training (from Beau Parsons). … The Astros will now use QR codes instead of paper tickets at their ballpark (from Ignacio Salazar). … New BFBS unis for the Reading Fighting Phils, affiliate of the Phillies (from Josh Claywell). … A Vanderbilt player wore a football-style cage facemask on his batting helmet last night (from Max G.). … New unis for Charlotte (from @HollarDollar).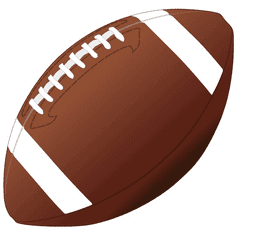 Football News: Here's how the new Vicis Zero2 helmet looks with USF decals (from @SportsPSD). … Here's a great article from 1976 about the equipment manager for the Seahawks and the University of Washington customizing equipment (from Michael Princip). … Virginia Tech just renovated its weight room (from Andrew Cosentino). … A new European football league has reached an agreement with the NFL to use two old NFL Europe team names (from Timmy Donahue).

Hockey News: New mask for Rangers G Keith Kinkaid (from Alan Kreit). … New unis for the Knoxville Ice Bears of the SPHL (from @Jodie2stroke). … A sportswriter believes that helmet ads in the NHL are "likely to persist" after this season. … Lots of uni-related and -adjacent items of interest in this Icethetics interview with Phil Esposito, including the inspiration for the Lightning's name, how Espo didn't want a name that ended in "s," the story behind the victory stripes, and how the lightning bolt on the pants can give the team a slight advantage on the ice (from Trevor Williams). … The NHL is reportedly returning to ESPN.

Basketball News: It looks like the fashion pendulum is swinging the other way, as more NBA players are embracing shorter shorts (from Joel Dunn). … Color vs. color for Elon and Drexel men's last night (from Gregory Zitelli). … Colorado State men's wore warmup jackets with the school's 1966 logo on them (from Rory Roth). … Iowa basketball has apologized to the family of former player Roy Marble for retiring the number of C Luka Garza while Marble's No. 23 still remains unretired. … YouTube TV used Oral Roberts's old logo during the men's Summit Conference Championship Game last night (from Tim Brown). … The Menominee tribe, citing pandemic-related financial distress, is ending its naming rights deal for the D League's Wisconsin Herd's arena (from Brain Kerhin).

Soccer News: The Bundesliga's Arminia Bielefeld will debut a fourth shirt April 21. They're letting fans vote on three messages to put on the front: One translates roughly to "stubborn, persistent, combative," which is a club motto of sorts; another says, "Football lives through its fans"; and the third says "East Westphalia," which is where Bielefeld is located (from our own Jamie Rathjen). … Ukrainian club Balkany ditched its new logo after a day because it's too similar to Polish club Zawisza Bydgoszcz's logo (from Ed Zelaski). … New 120th-anniversary shirt for French Ligue 1 side Stade Rennais (from Germán Cabrejo).

Grab Bag: DC Comics has released Wonder Woman's 80th-anniversary logo (from John Cerone). … In a new memoir, a Vietnam veteran claims to have lived in an abandoned concession stand in Philadelphia's Veterans Stadium for three years (from @PhillyPartTwo). … Amazon founder Jeff Bezos reportedly loved his company's logo so much that at one point he said people who didn't like it must not like puppies either. … The famous MGM Pictures lion is getting a makeover. … New logo for car maker Renault. … Three University of South Alabama professors have been placed on leave after pictures surfaced of them wearing Confederate uniforms and posing with a whip and noose. … Here's an amazing video of a drone flying through a bowling alley. Very much worth watching! (Thanks to all who shared.)
• • • • •
• • • • •