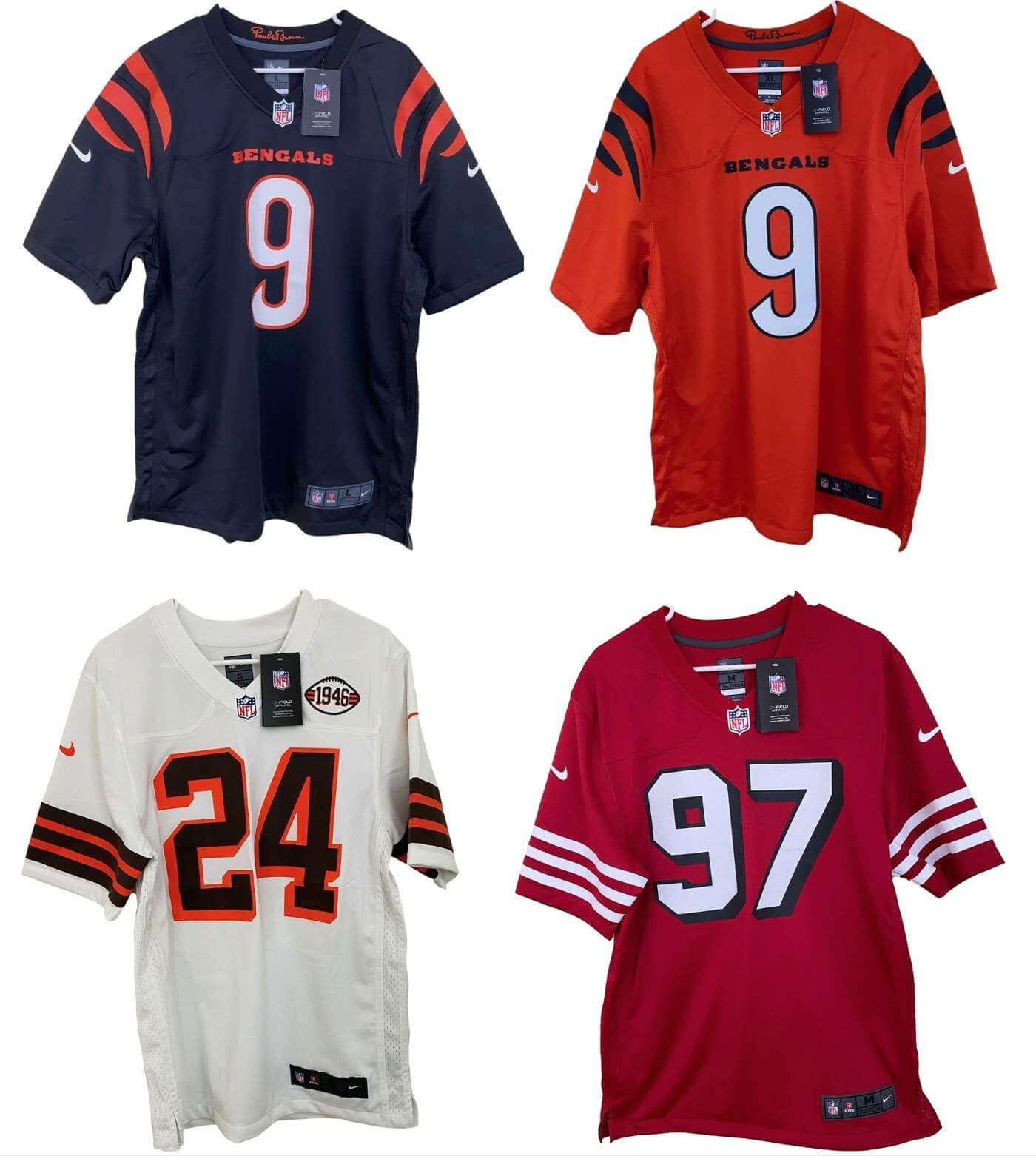 For all photos in this section, click to enlarge
Good morning! Greetings from Uni Watch HQ, where all three inhabitants continue to be safe and well (and where one inhabitant got his first Covid vaccination shot last Friday — more on that later).
Lots of NFL buzz yesterday, as an eBay seller called originaljersey81 began listing what appear to be the Bengals' new black and orange jerseys (no sign of the white version), plus new throwbacks for the Browns and 49ers, all of which are shown above. Shortly after photos of the jerseys began circulating — and after I sent the seller a note asking for more information — the seller took those listings down.
Let's shift into FAQ mode:
Do you know whether these leaks are legitimate?
No.
Then why are you writing about them? I thought you didn't write about unverified leaks.
While we don't know for sure whether these leaks are legit, we do know a fair number of things about them:
• First, we know the source — they all came from that one eBay seller. That seller has over 3,500 customer ratings and a 100%-positive rating over the past 12 months. That doesn't automatically mean that the leaks are accurate, but it at least seems to indicate that the seller isn't just a bullshit artist. He may be selling Chinese knockoffs or something like that, but a Chinese knock-off of a legit design can still tell us a lot. For the purposes of leak assessment, I don't really care about whether the seller's product is authentic or counterfeit; I just care about whether it accurately reflects the real design, and it seems like a seller with a 100%-positive rating probably isn't selling made-up designs. (As I mentioned above, I've also contacted the seller and asked for more info but haven't yet heard back. I'll update this post if I get a response.)
• Second, we know that Joe Goodberry, who formerly covered the Bengals for The Athletic, says the Bengals leaks match the new uni designs that have been described to him.
• Third, we know that these designs are plausible. The Bengals said they were getting a redesign but nothing too drastic; the Browns said they would have a new throwback for their 75th anniversary; and while I hadn't heard anything about the Niners, they've had the white throwbacks for three seasons now, so it makes sense that they'd be swapping that out for the red version sometime soon.
Granted, none of that automatically means that these leaks are legit, but I decided it was enough to make them worth reporting on.
These can't be real because none of them have TV numbers.
Not so fast! For starters, the Niners and Browns throwbacks are both based on designs that didn't have TV numbers to begin with, so it's not surprising that the thowbacks wouldn't have them. Moreover, we can't take NFL TV numbers for granted anymore. The Chargers and Patriots no longer have them, and neither do the Rams' blue jerseys. So if the Bengals are scrapping them as well, that would just be the latest example of this trend.
What do you think of them?
Let's start with the throwbacks, beginning with the Browns. Here's a look at the front and back: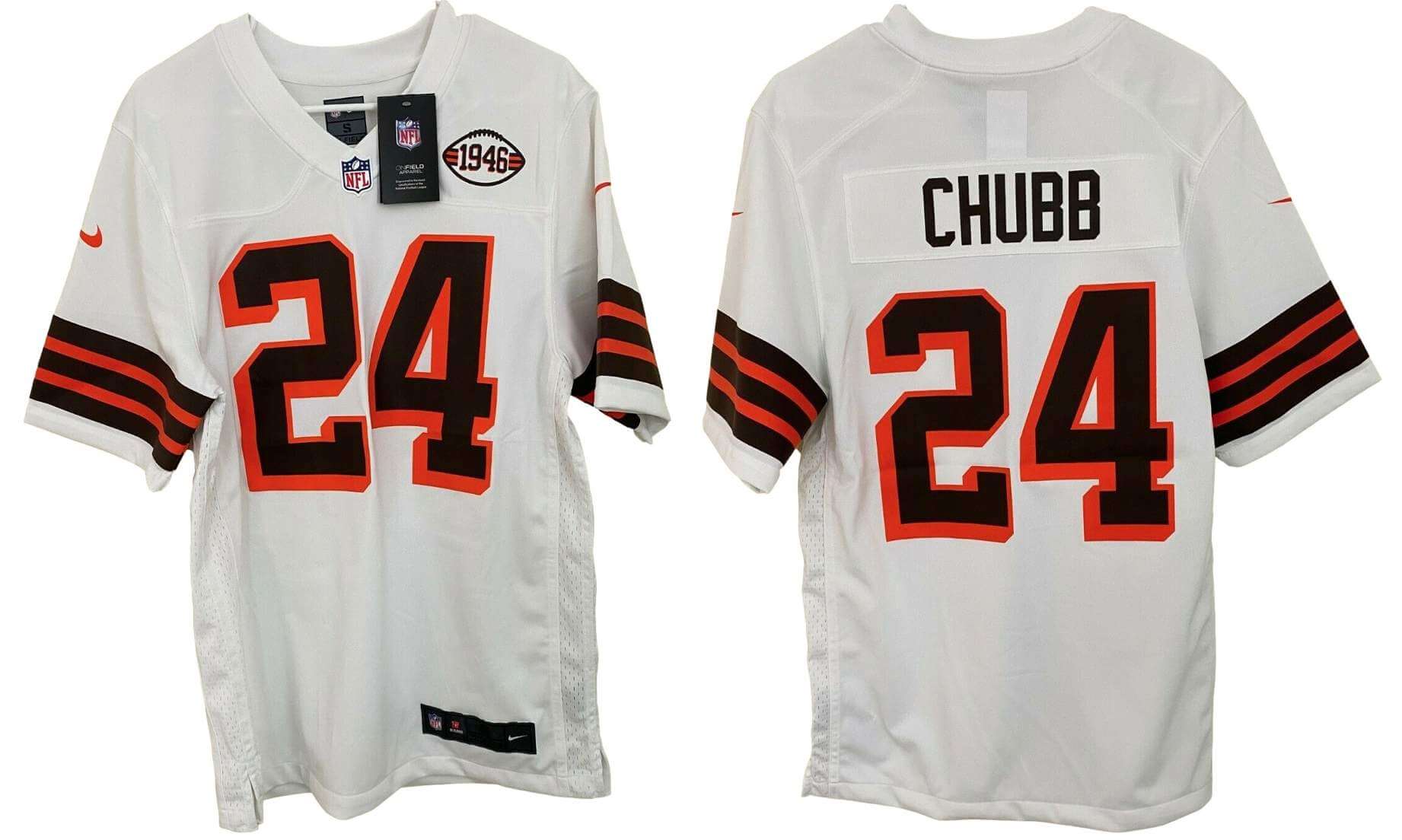 As the chest patch suggests, this design is apparently based on the team's 1946 uniforms. The sleeve striping, the block-shadowed numbers — what's not to like? The real question is whether the one-shell rule will be lifted, allowing them to wear a white helmet. But their current helmet will look fine with this too. A winner.
Next up, let's look at the 49ers throwback: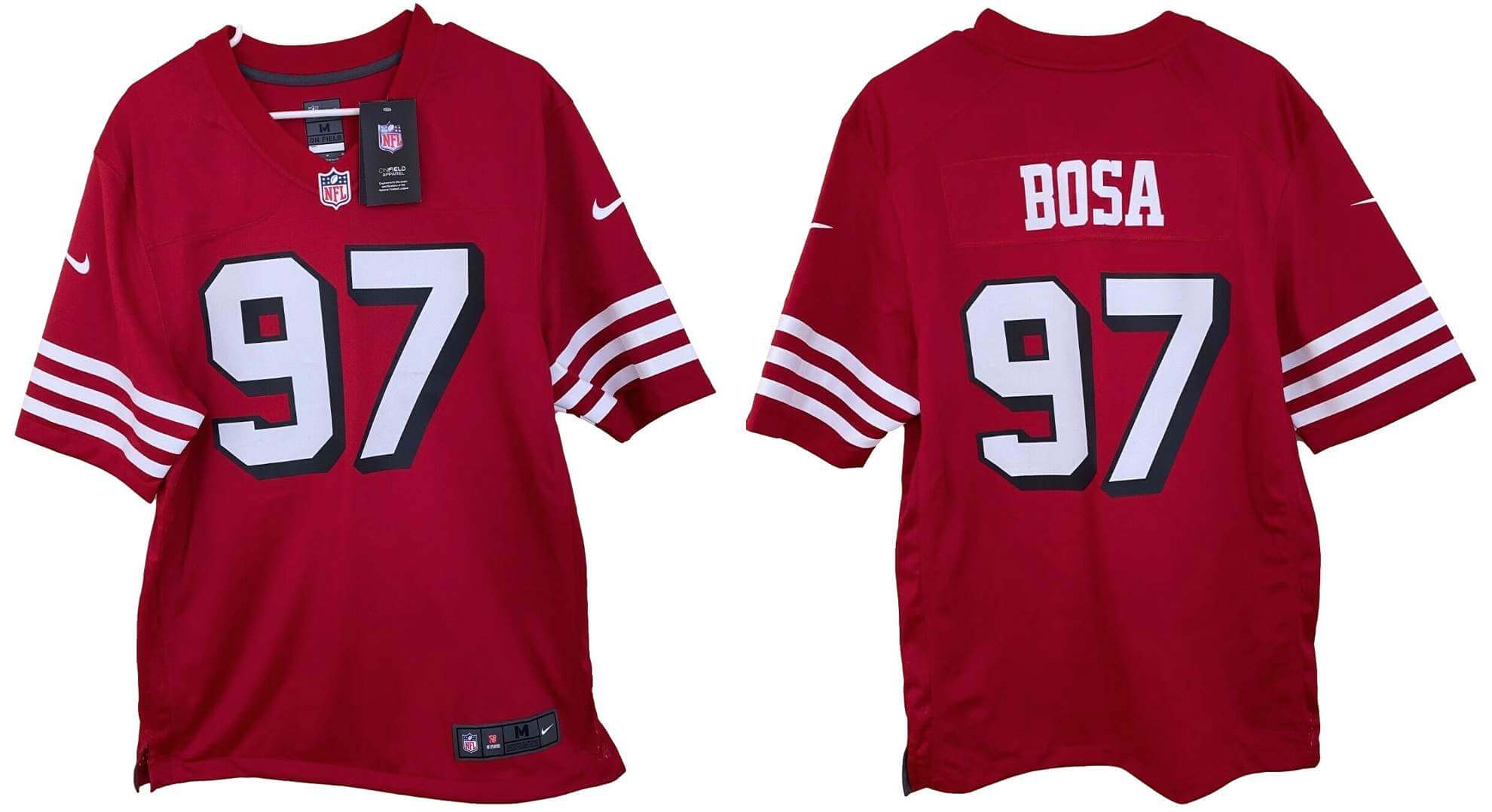 These will presumably be worn with white pants, like throwbacks first worn in 1994 As a Niners fan, I heartily approve.
Now let's get to the most momentous leak — the Bengals: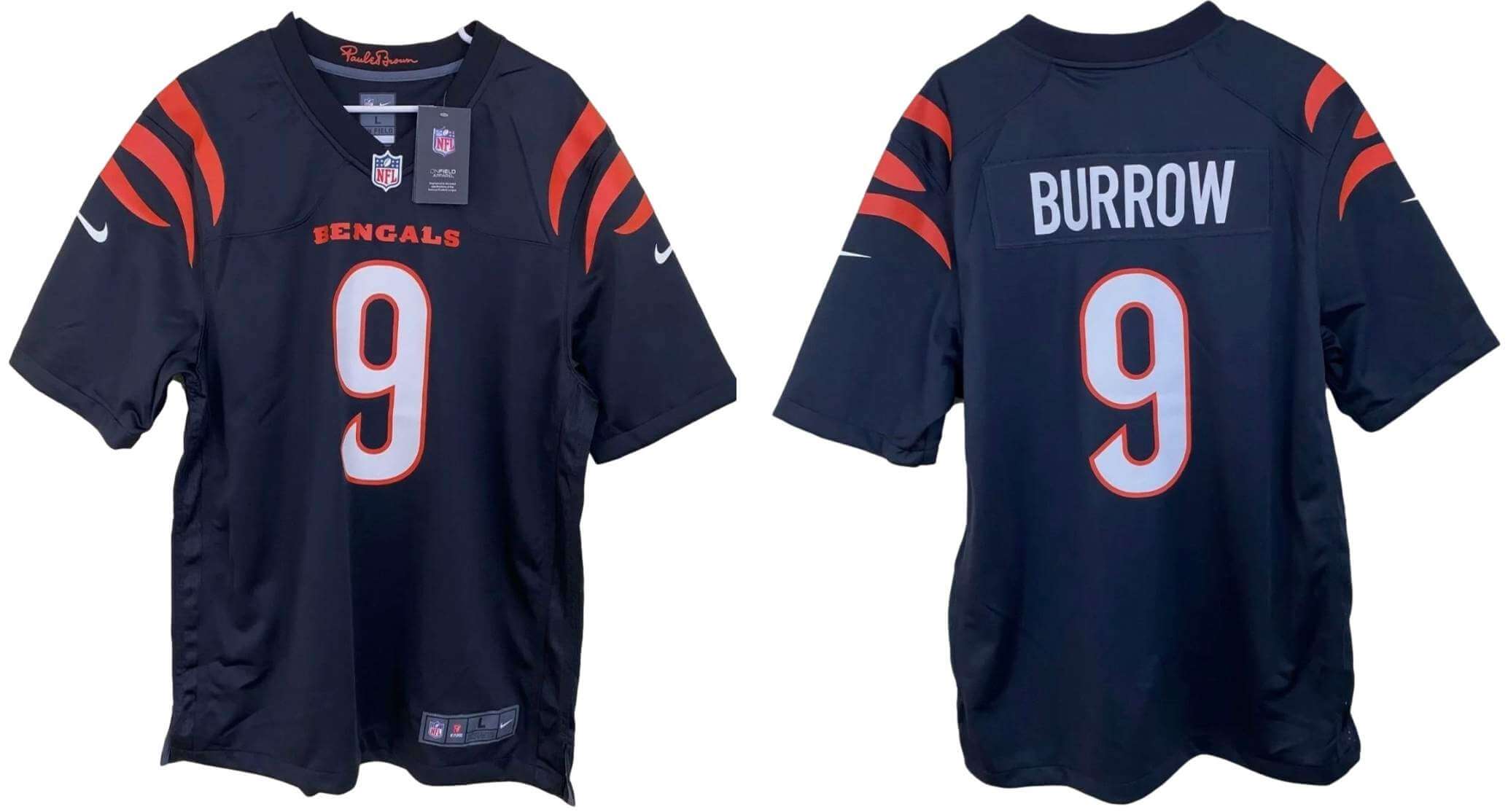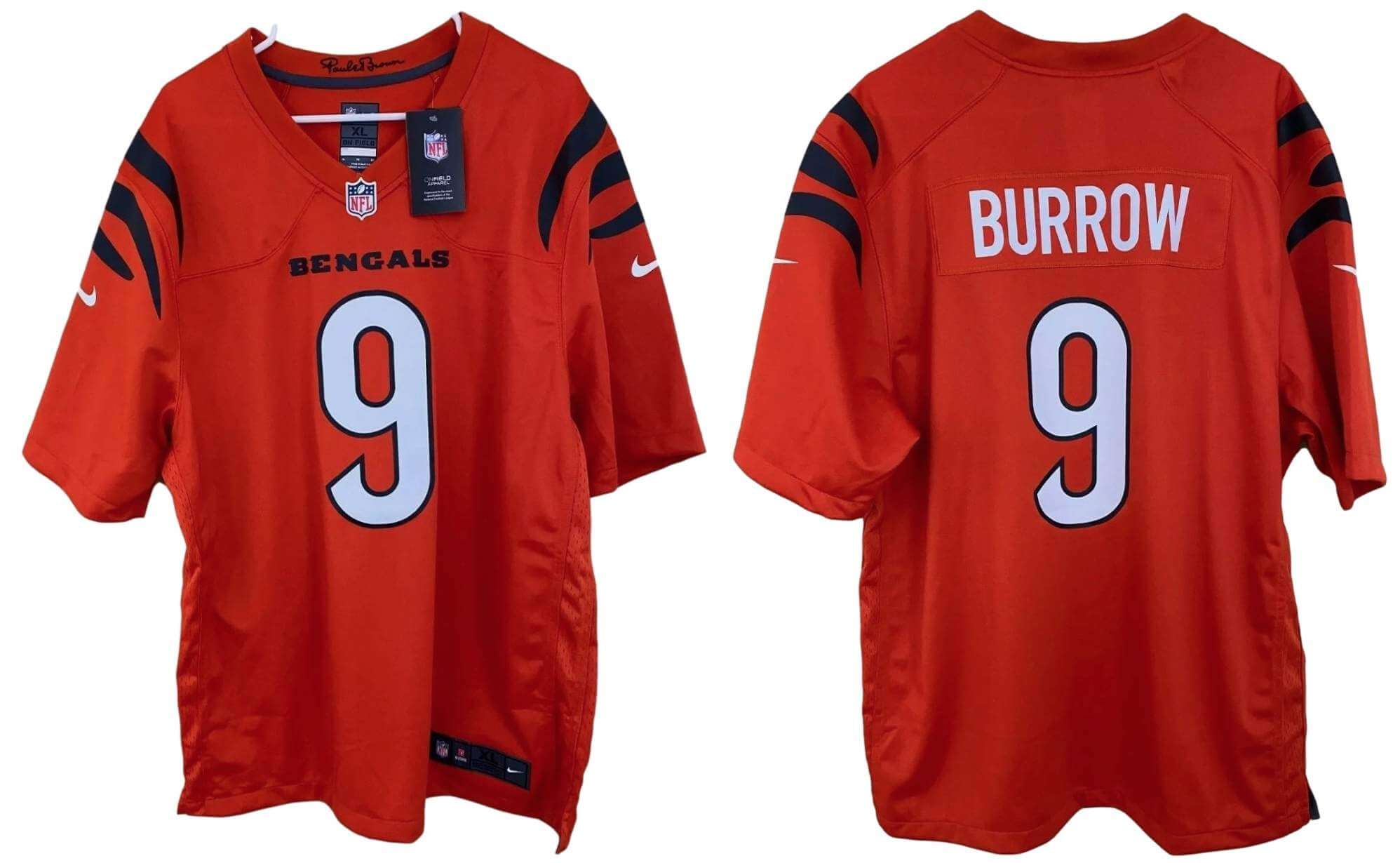 Okay a few thoughts on this one:
• Lack of side panels is an obvious upgrade.
• Tiger striping on the shoulders seems acceptable — like, it's not excessive or overdone, but it's enough to communicate what it needs to communicate — although we'll need to see how it looks over shoulder pads.
• A chest wordmark is always disappointing (at least to me), but that's where the NFL is at these days.
• The number font isn't bad per se, but it looks way too Bears-y, especially given the similarity in color schemes: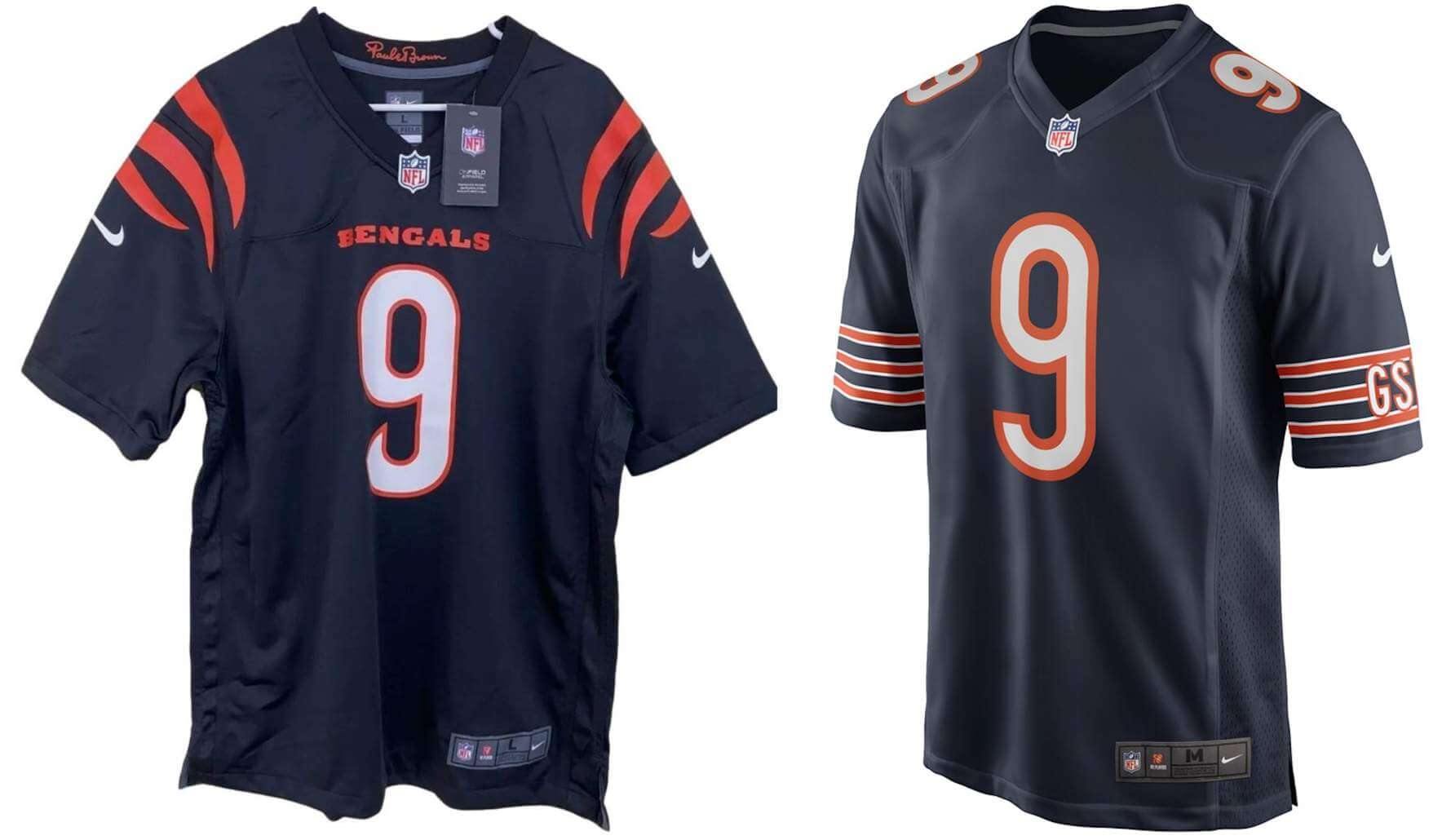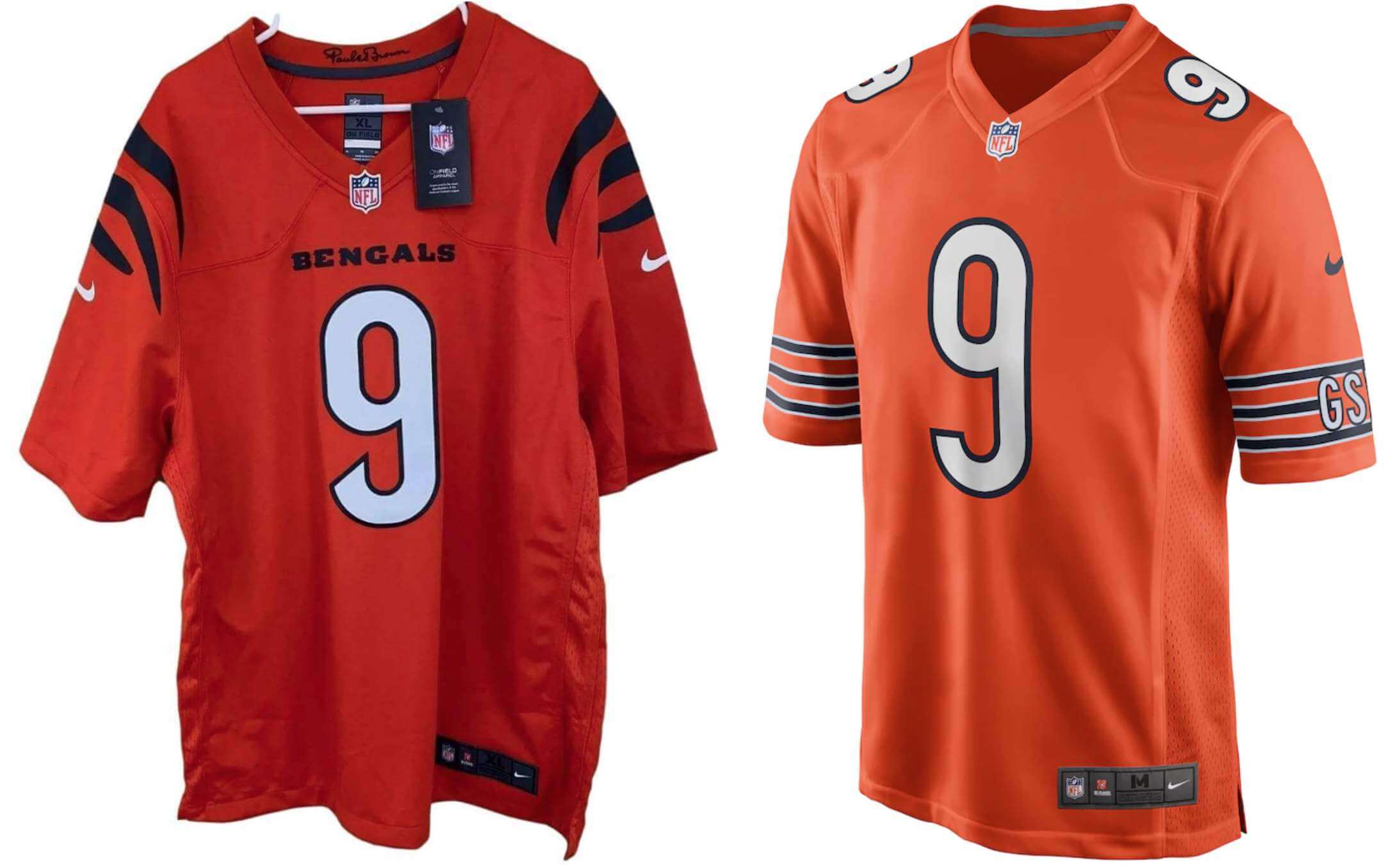 It's worth noting that the Bengals' new number font isn't all that different from their previous one, but that one had block-shadowing, which was enough to differentiate it from the Bears' number treatment. Without the shadow, though, the Bears similarity really comes through.
• It's always better to see the pants along with the jersey, but that goes double for the Bengals, since they'll presumably have tiger striping down the sides, so it's hard to assess these jerseys without seeing the whole package. For now, I'll say they appear to have followed the primary rule of any redesign — "First, do no harm" — although the number font is a bit puzzling.
Anything to add?
Just the usual caveat that we still don't know for sure that these are the real deal. But they're intriguing to ponder.
• • • • •
• • • • •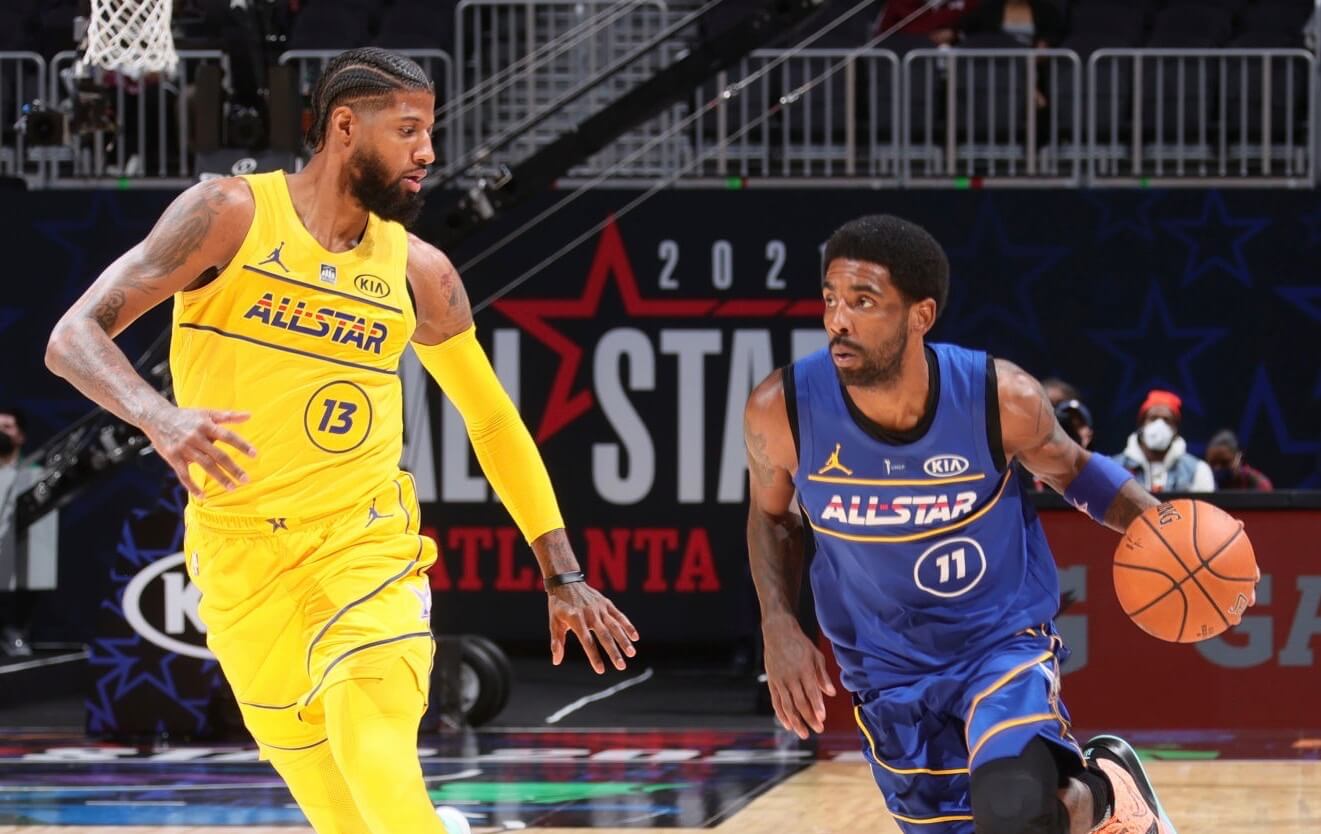 For all photos, click to enlarge
NBA All-Star recap: The off-again/on-again NBA All-Star Game took place last night in Atlanta. As recent leaks had indicated, they went ahead with the Pacers-themed uniforms that had been created for the game when it was originally slated to take place last month in Indianapolis. I heard a lot of negative feedback about these uniforms, but I liked them fine. I just wish they'd let the players wear their regular team uniforms instead, in a color-vs.-white format. (Indianapolis is now slated to host the 2024 All-Star festivities — what design will they come up with for that?)
In keeping with recent announcements about the game benefitting historically Black colleges and universities, Team Lebron wore a patch for the Thurgood Marshall College Fund, and Team Durant wore one for the United Negro College Fund: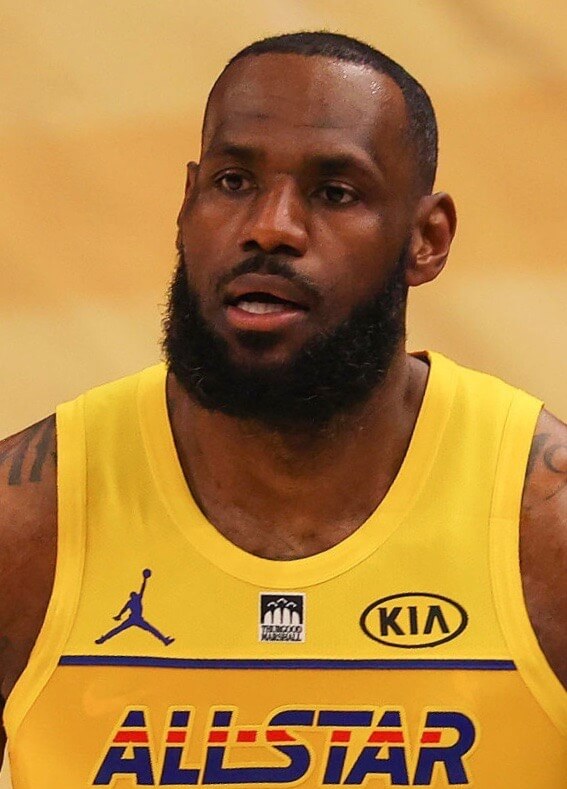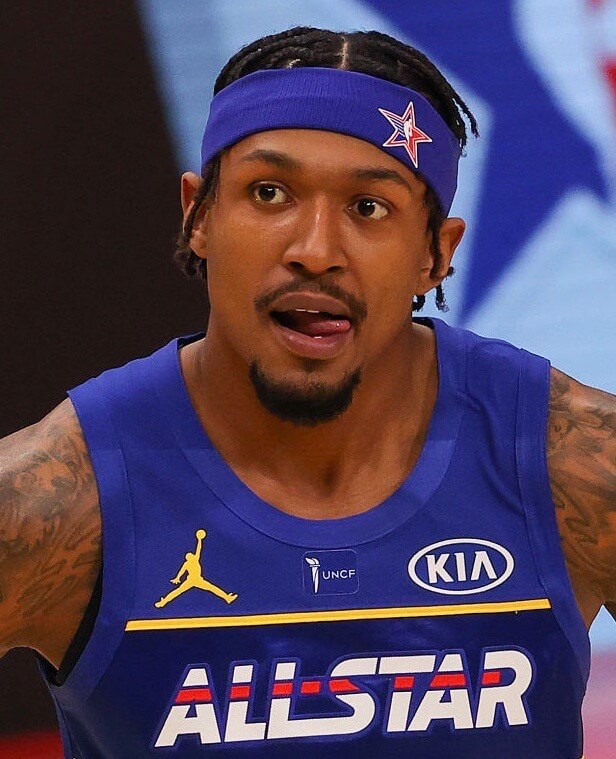 Interestingly, all three refs working the game were HBCU alums, but they did not wear either of the scholarship fund patches: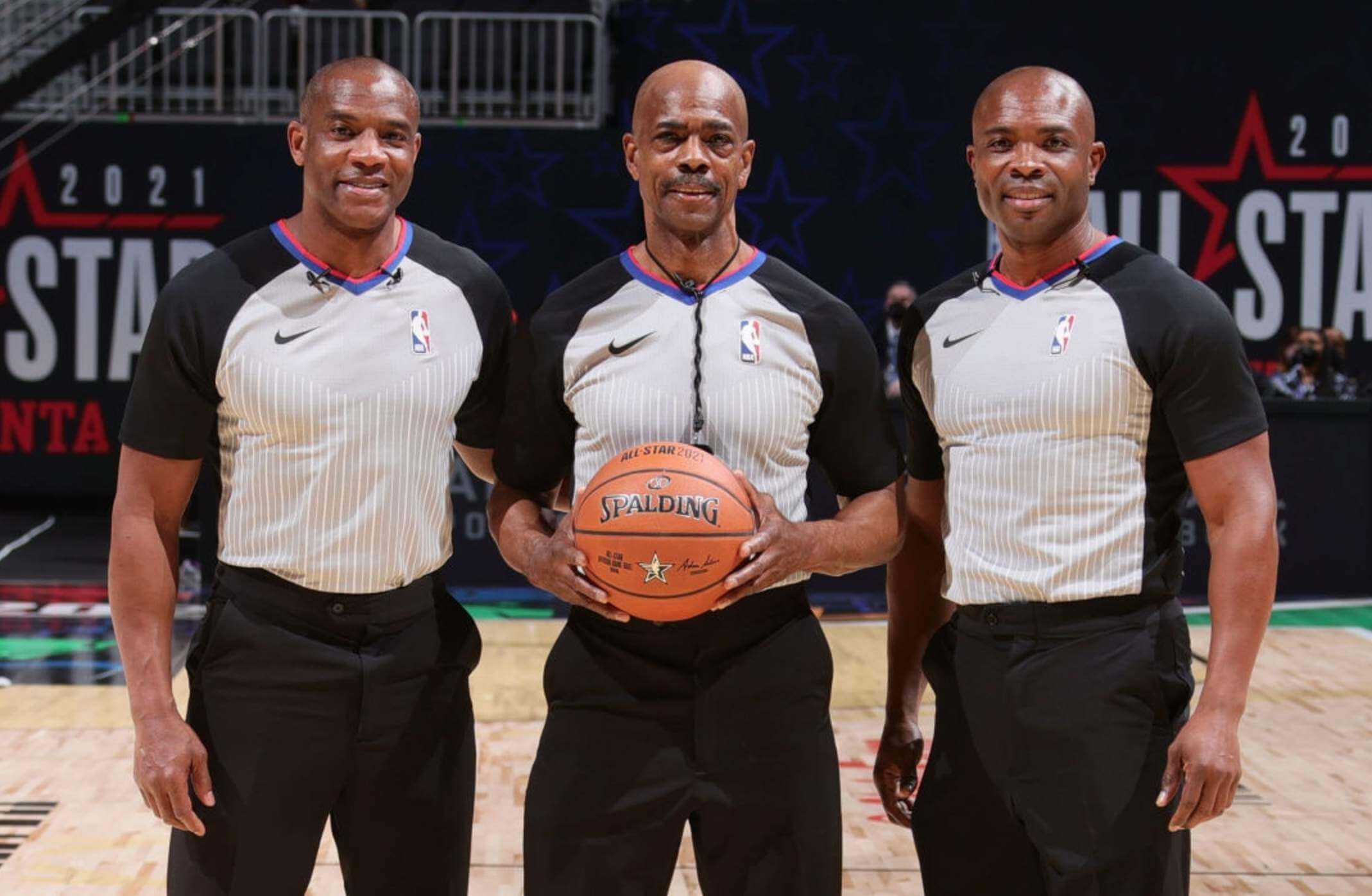 My only real gripe was with the rear view, which was just brutal: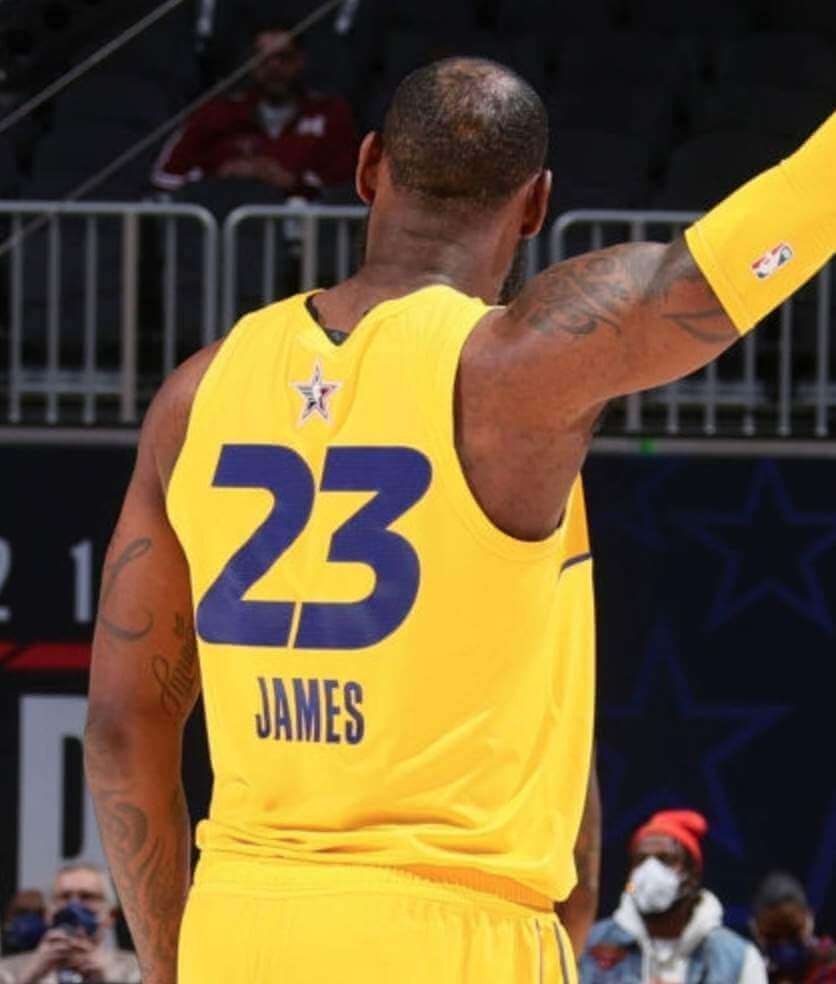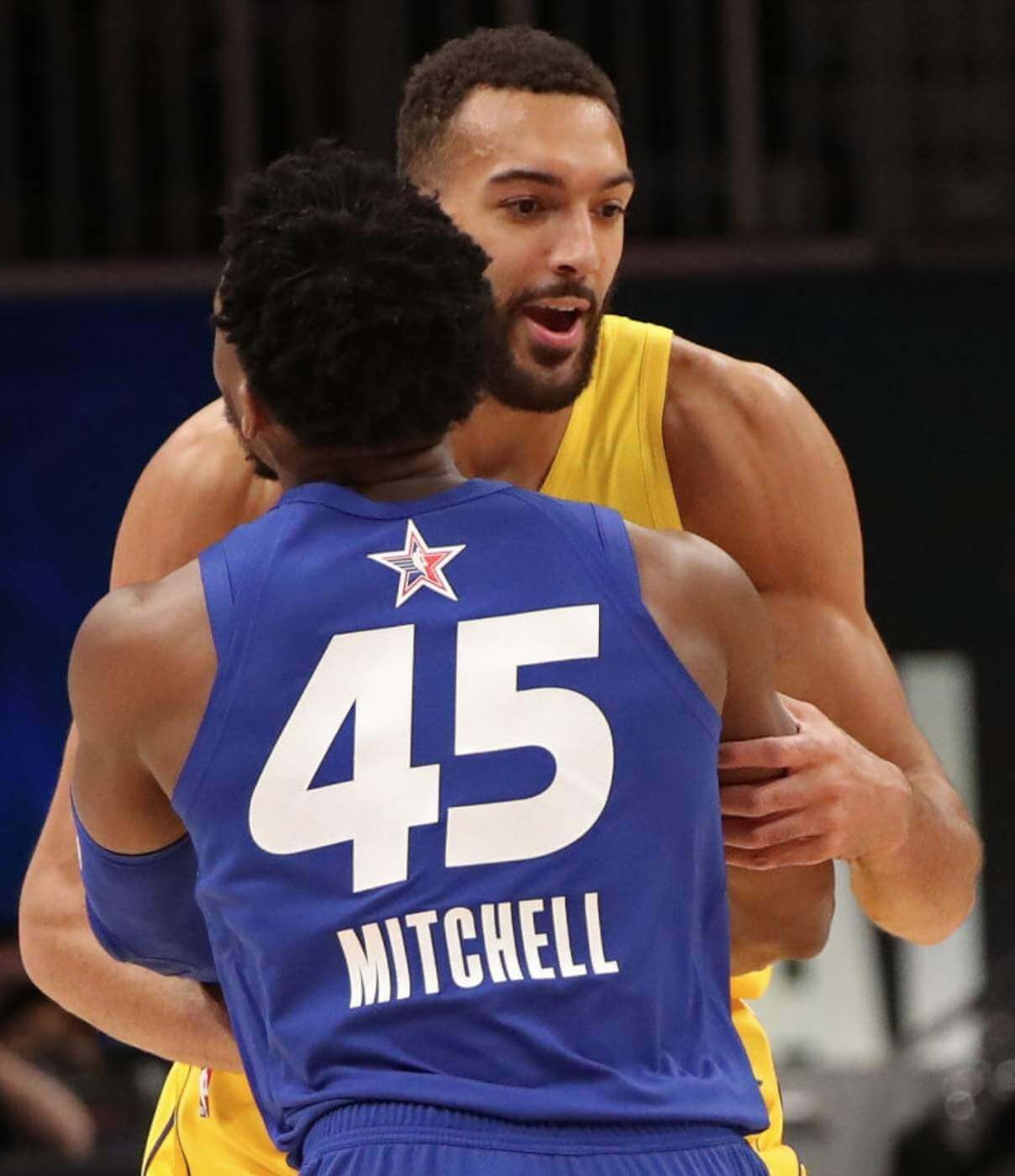 Also: In case you missed it yesterday, Phil had his annual preview of the game's sneakers.
• • • • •
• • • • •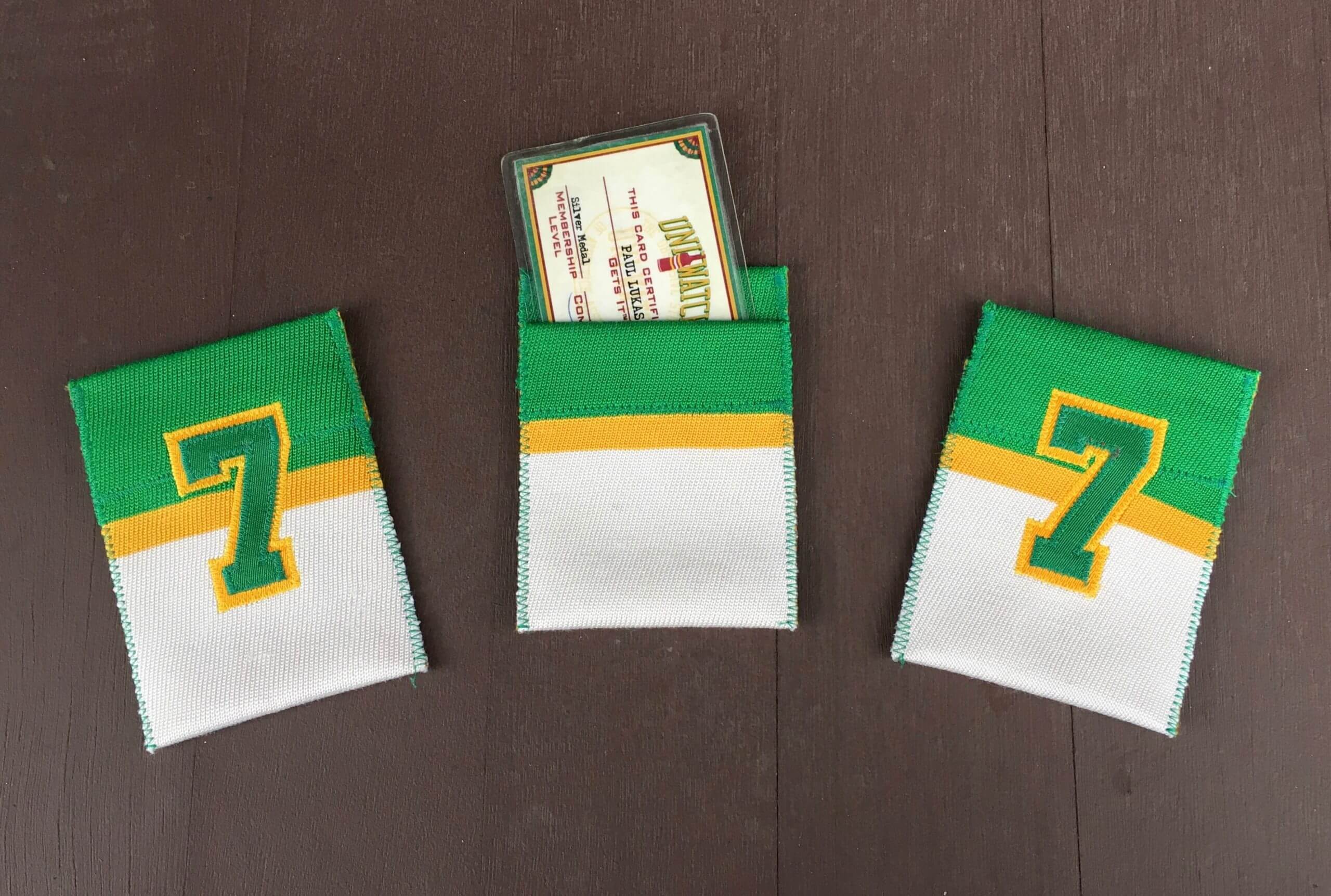 Membership drive update: I'm happy to report that last week's membership drive was a big success, resulting in a whopping 40 orders — thank you! (A bunch of people also purchased memberships for me to raffle off, which I'll be doing in the days to come.) Card designer Scott Turner and I are grateful for all the support.
Out of those 46 new members, I chose three at random, who turned out to be Frank Johnson, Norman Valera, and Alex Raridon. Each of them will receive a hand-sewn card-holder pocket, made by ace DIYer Wafflebored, along with a Uni Watch magnet. All of that will ship out once their cards have been produced.
My repeated thanks to Wafflebored for providing these excellent enticements, and to Chris Hickey for sponsoring the magnets.
If you missed out on the membership drive, you can still sign up anytime, but the price has now been restored to its pre-pandemic level of $25.
• • • • •
• • • • •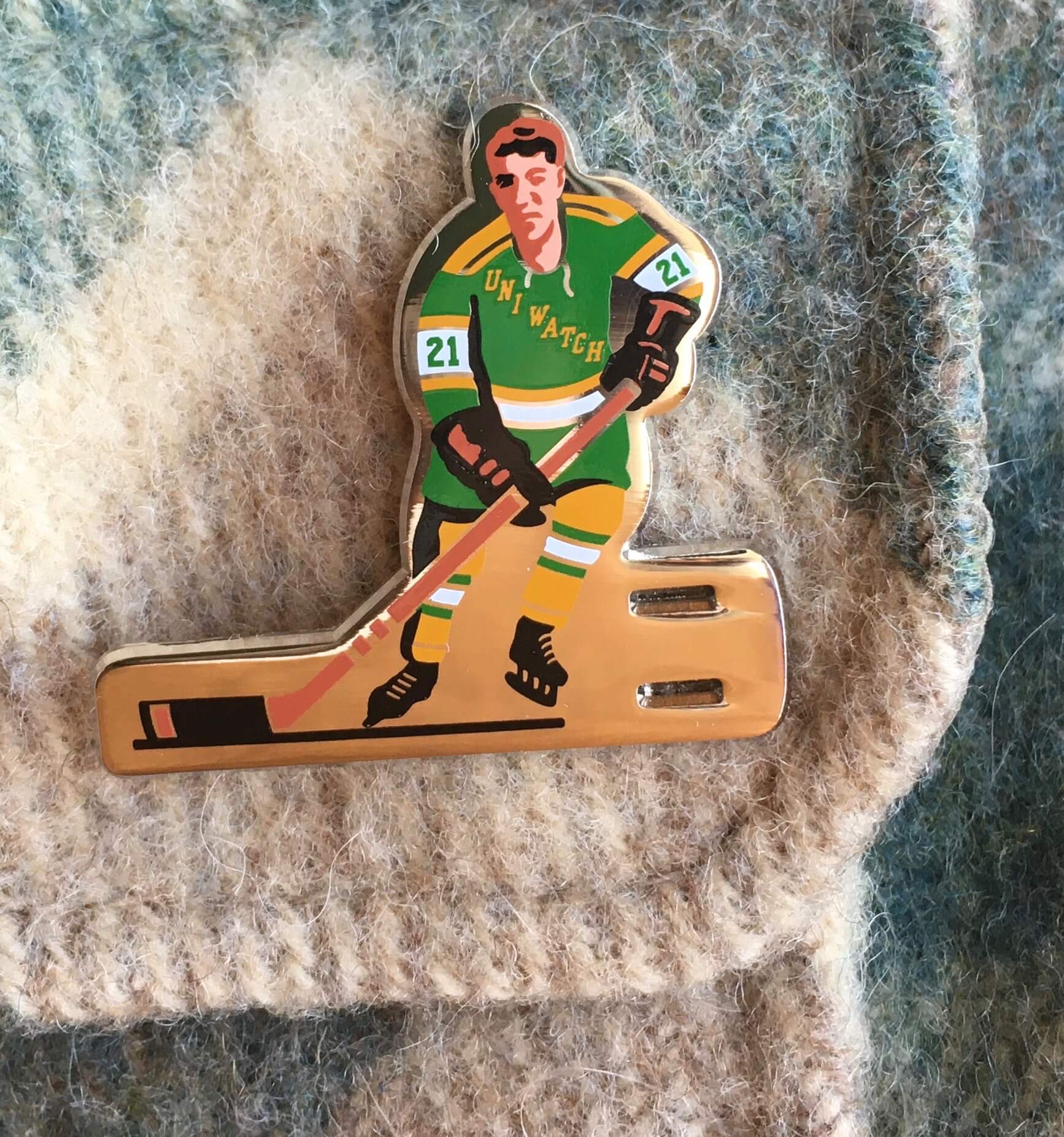 ITEM! March pin now SOLD OUT: When the Uni Watch Pin Club's March design debuted last Monday, I said it was my favorite pin we'd done so far. Lots of you apparently agreed, because the pin has now sold out. Thanks for all the support and enthusiasm — pin designer Todd Radom and I are very appreciative of your support (and I'm kicking myself a bit for not having done a larger quantity on this one, but whaddaya gonna do).
Our next pin will launch on April 1. I promise that there will not be any April Fool's Day aspect to it — we'll play this one straight!
• • • • •
• • • • •
Click to enlarge
ITEM! Gashouse scores again: I've written a few times about Kevin "Gashouse" Cearfoss and the excellent 3D wooden logos that he creates. As you can see, his latest project is a set of Unified podcast logos. Lots of additional photos in this Twitter thread.
• • • • •
• • • • •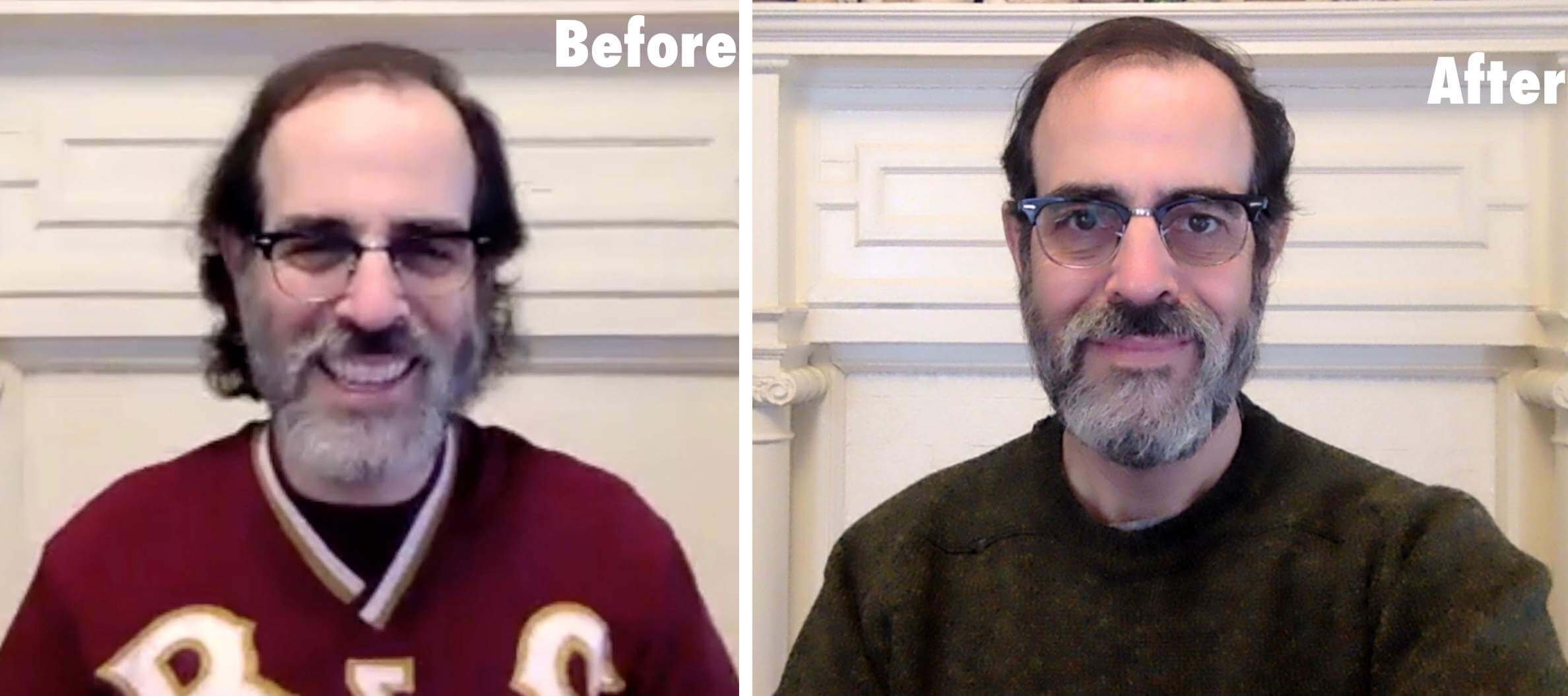 A very eventful weekend: My last pre-pandemic haircut was sometime in February of last year. I enjoyed growing my hair long again — it had been pretty damn long in college — but lately it had gotten a bit out of hand. The Tugboat Captain, who'd been supportive and even enthusiastic about the longer locks, started hinting that maybe it was time for a trim. After seeing myself on the video versions of the new podcast, I had to agree.
Unfortunately, my old pre-pandemic barber has now retired, and I wasn't that comfortable going into a barber shop. But the Captain, who's pretty handy with a pair of scissors, offered to do the honors herself. And as you can see above, she did a pretty good job!
As it happens, we have a barber chair in our house — a vintage 1940s model that I picked up at an antiques shop as a birthday present to myself in 1994 — so that's where I sat. In the nearly three decades I've owned it, it's the first time it's been used for barbering!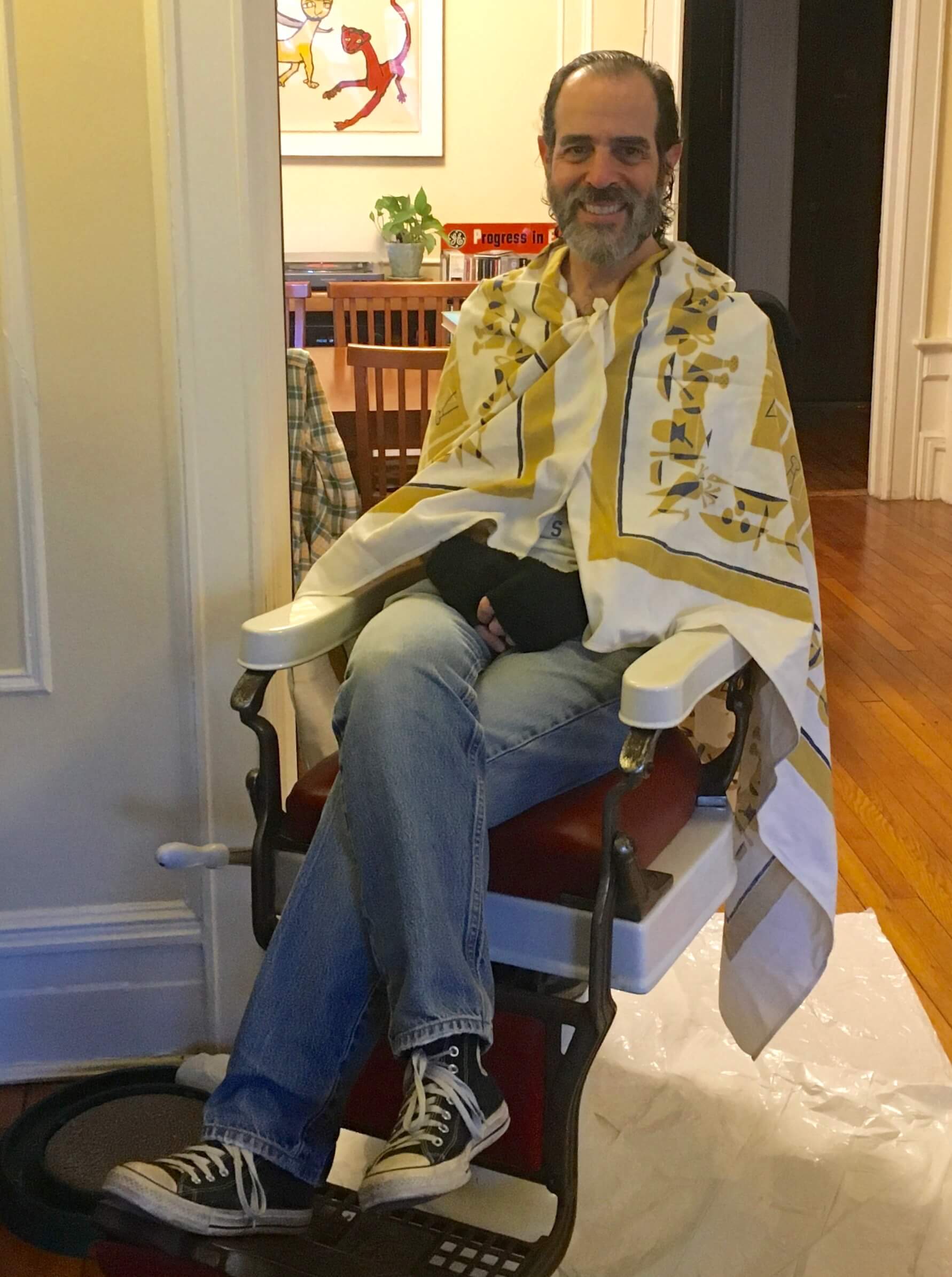 The Captain also had a trusty assistant on hand: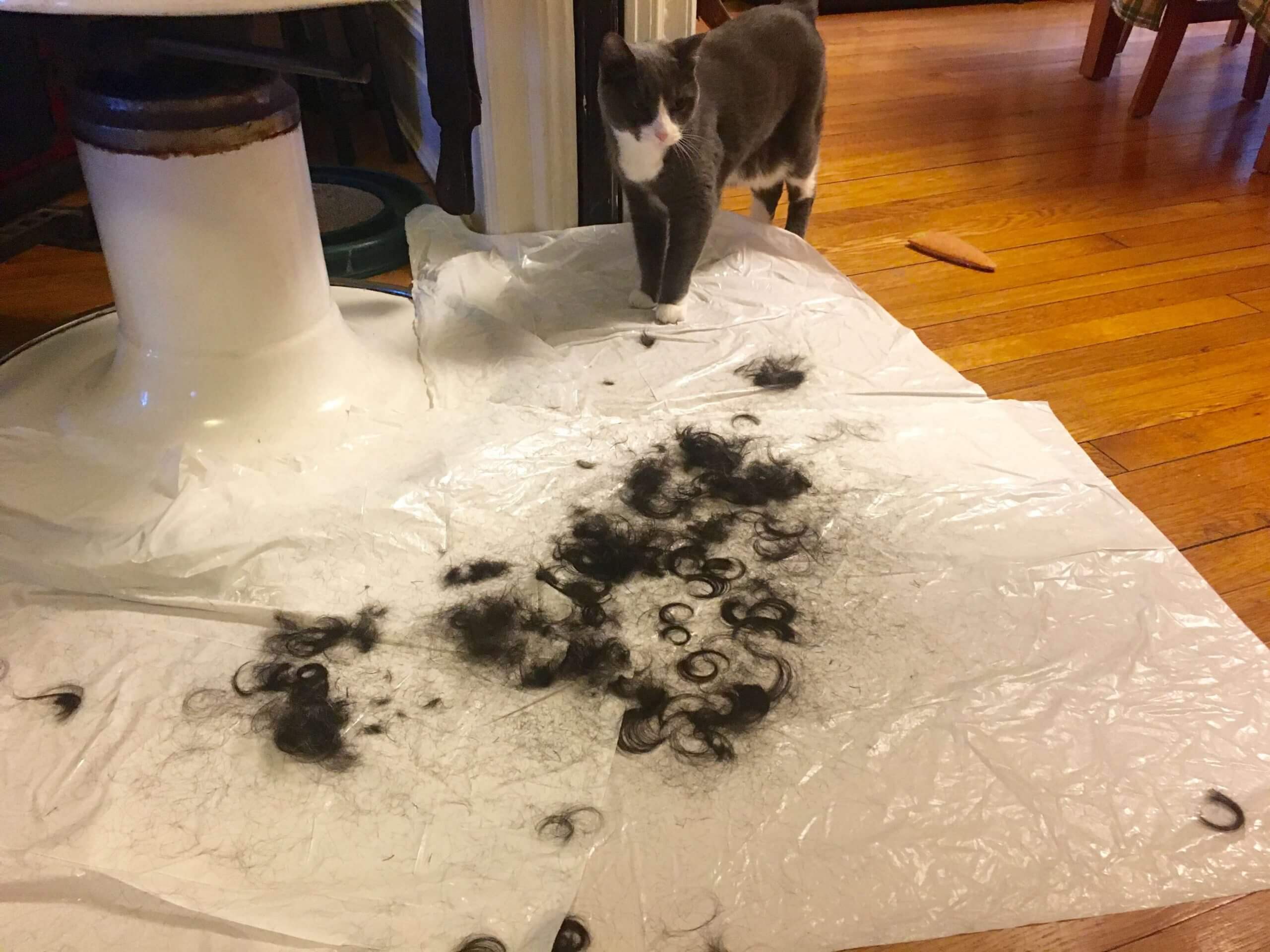 The haircut felt like a milestone of sorts, but the real event of the weekend came late on Friday afternoon, when I biked over to Medgar Evers College and received my first dose of the Pfizer vaccine. (I qualify due to having asthma.) For some reason I was the only person getting vaccinated in a Uni Watch mask (and probably the only one with a Brannock Device tattoo, although I didn't do a close inspection on that):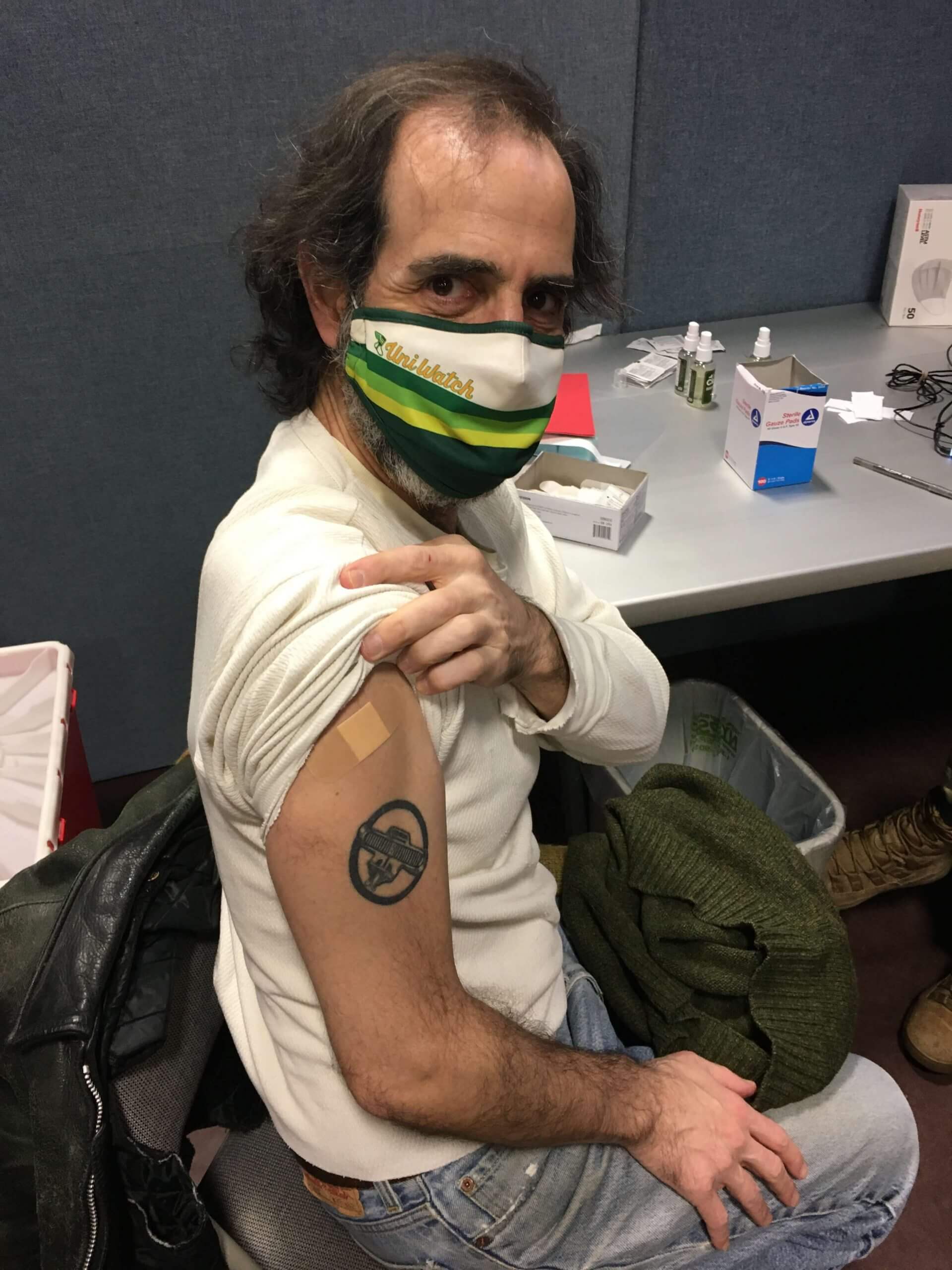 I'll get the second shot in three weeks.
The vaccination and the haircut both feel like good ways to mark the first anniversary of the pandemic lockdown. I'm definitely not letting my guard down yet, and I know we still have a long way to go before we reach herd immunity — but little by little, we're getting there.
• • • • •
• • • • •
The Ticker
By Jamie Rathjen

Baseball and Softball News: A White Sox wore a jersey that was blank on the back yesterday (from Chris Rhode). … In a 1941 spring training game, some Dodgers players wore protective inserts in the sides of their caps while batting, one of the earliest instances of that form of head protection (from Bryan Beban). … Louisiana-Monroe baseball has a new warplane-themed alternate — the P-40 Warhawk gives the school its team name, even though it's not used in their logos (from @tonebone35). … Ole Miss softball has a helmet decal of the new state flag. … The 1972 Cubs' road jerseys are famously notable for having the front uni number centered instead of offset. That design element was discussed on the air during an NBC Game of the Week broadcast.

Hockey News: The Professional Women's Hockey Players' Association, a union whose members don't play in the NWHL and hope to create their own league, is currently playing a series of exhibition games in NHL cities. The five teams are all named and seem to have color schemes based on participating advertisers, but the jerseys all use the PWHPA logo as the crest.

Basketball News: Shaquille O'Neal brought a literal shoe phone to the 2005 NBA All-Star Game (from Mike Chamernik). … The next three items are from Kary Klismet: The Iowa/Wisconsin men's game yesterday was color-vs.-color. … After that game, Iowa said they'd retire Luka Garza's No. 55 (also from Mike Chamernik). … The Iowa departing seniors also got framed alternates from the previous uniform set, which was replaced at the start of last season, but all the seniors would have worn those as none were transfers. … The Japan Women's Basketball League has its own court for the playoffs (from Jeremy Brahm). …

Soccer News: Both of FC Barcelona's teams were uni-notable this weekend, as the men's team wore the annually recurring Catalan flag-themed fourth shirt on Saturday for what appears to be the sixth time this season, but we haven't mentioned it here yet. Meanwhile, both they and the women's team wore warm-up shirts celebrating International Women's Day, which is today. … In Italy, Sampdoria also wore IWD sleeve patches. … Before yesterday's Brighton and Hove Albion/Tottenham Hotspur Women's Super League game, both teams wore warm-up shirts supporting Australia's Leukaemia Foundation, because Brighton's New Zealand international center-back Rebekah Stott was recently diagnosed with non-Hodgkin's lymphoma and is raising money for the charity. The shirts also had Stott's NOB and No. 13. … Elsewhere in England, Sheffield Wednesday center-back Julian Börner tore his shirt after being sent off on Saturday (from Patrick Barnett). … Syracuse's men's team debuted dark blue shirts yesterday (from Jakob Fox). … New home, away, and third shirts for third-tier American side New Amsterdam FC (from Ed Zelaski). … The women's team by Sanfrecce Hiroshima in the WE League will be called Regina (that page translates well). "'Re' is respect, 'Gi' is Girls and 'Na' is Navigation," explains Jeremy Brahm. … Also from Jeremy: Here's a look at the history of the Italian Football Federation crest.

Grab Bag: There are now two different Formula One safety cars with red and green liveries, and the former has ads other than on the hood for what I believe is the first time ever. The car was previously the manufacturer Mercedes's trademark silver (from @_bbbene). … The teams at the Brier, the Canadian men's curling championship, all wear a reference to the host city on the front of their shirts, which this year is a cowboy hat for Calgary. Additionally, it looks like British Columbia, the team pictured, has more than one cap (from Wade Heidt). … The Korea Rugby Union is choosing from eight designs for a new logo (from Sy Hart). … Two fans at yesterday's NASCAR Cup Series race in Las Vegas dressed up fairly accurately as Richard Petty and Dale Earnhardt (from Kyle Dawson). … Australian Football League teams sometimes wear experimental designs for preseason games. Adelaide wore one that wasn't that experimental yesterday, as it was just their normal design in primarily gold instead of blue. … This article looks at how Adidas attempted to enter Gaelic games for more than 20 years starting in the '70s, primarily through outfitting Kerry's county teams. Obstacles included, among other things, the Gaelic Athletic Association's rule that all equipment has to be Irish-made and various times when the maker's mark was either prevented from appearing or those involved felt compelled to hide it. … Amazon shipping boxes apparently now have ads (from Taylor Lanier).
• • • • •
• • • • •
Click to enlarge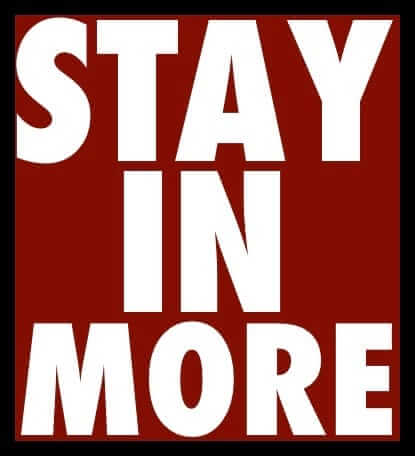 What Paul did last night yesterday afternoon: Fun day yesterday, as the Tugboat Captain and I biked about 20 minutes to another part of Brooklyn, where we met up with our friend Sujan outside of George Motz's house. Motz is probably America's foremost scholar of the hamburger — he directed the seminal 2004 documentary Hamburger America, authored its accompanying travel guide, and has cooked his signature smashburgers all over the world.
Throughout the pandemic, Motz has offered a unique eating experience: He cooks burgers for takeout in his home kitchen, and customers can pick them up by coming to his house and having their orders delivered via a slide that runs from one of Motz's front windows to the sidewalk (so the burgers are literally sliders, get it?). Fun!
We picked up our order and then walked over to Sujan's nearby house, where we enjoyed the burgers on her porch. It was chilly (about 36º) but tasty!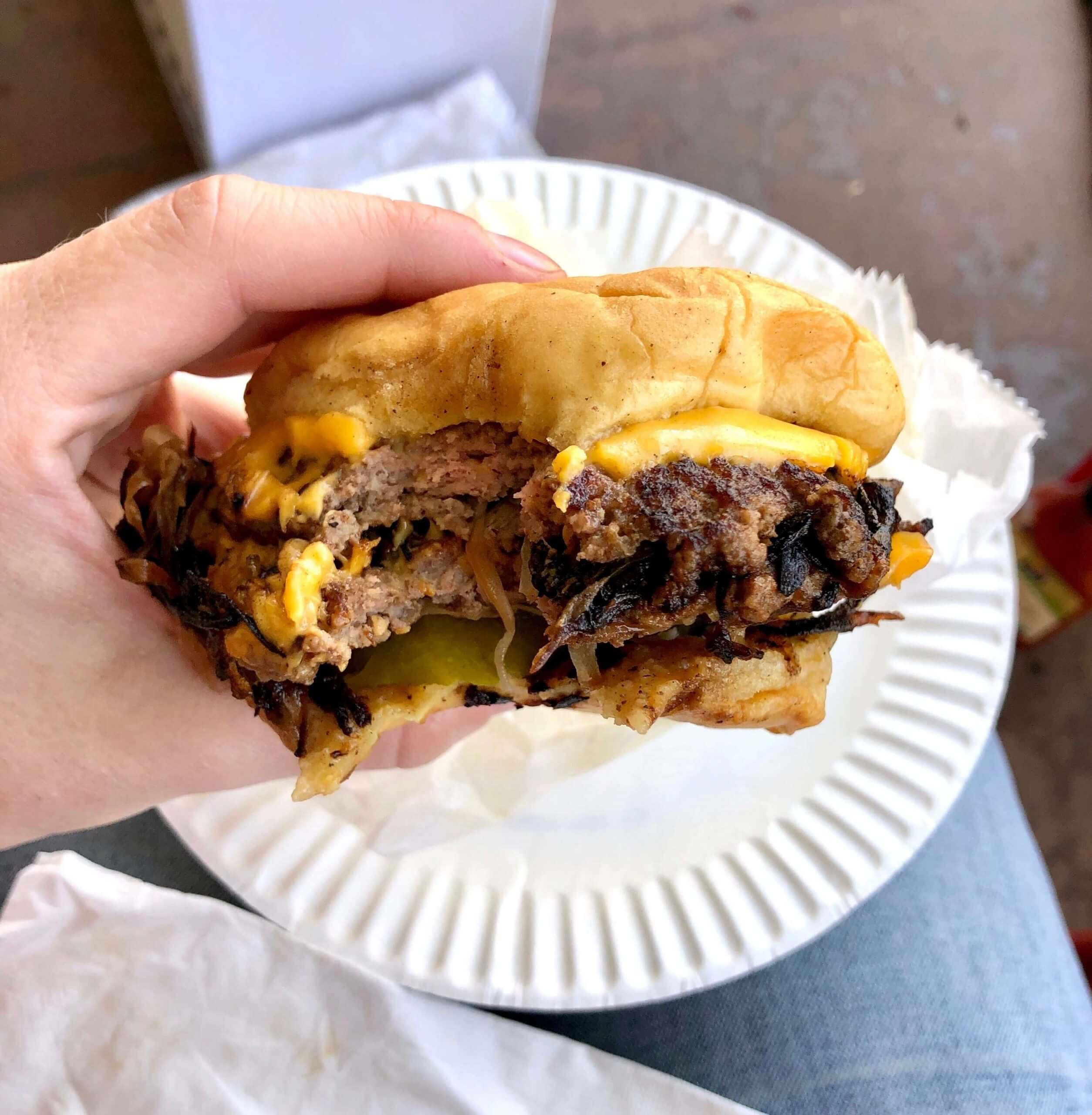 Also: We picked up beers along the way, and I was surprised to see that our local bodega had Bud tall boys in a Nets throwback scheme, complete with Mitchell & Ness logo creep! I assume they have these for most NBA teams, but it was the first time I'd seen it: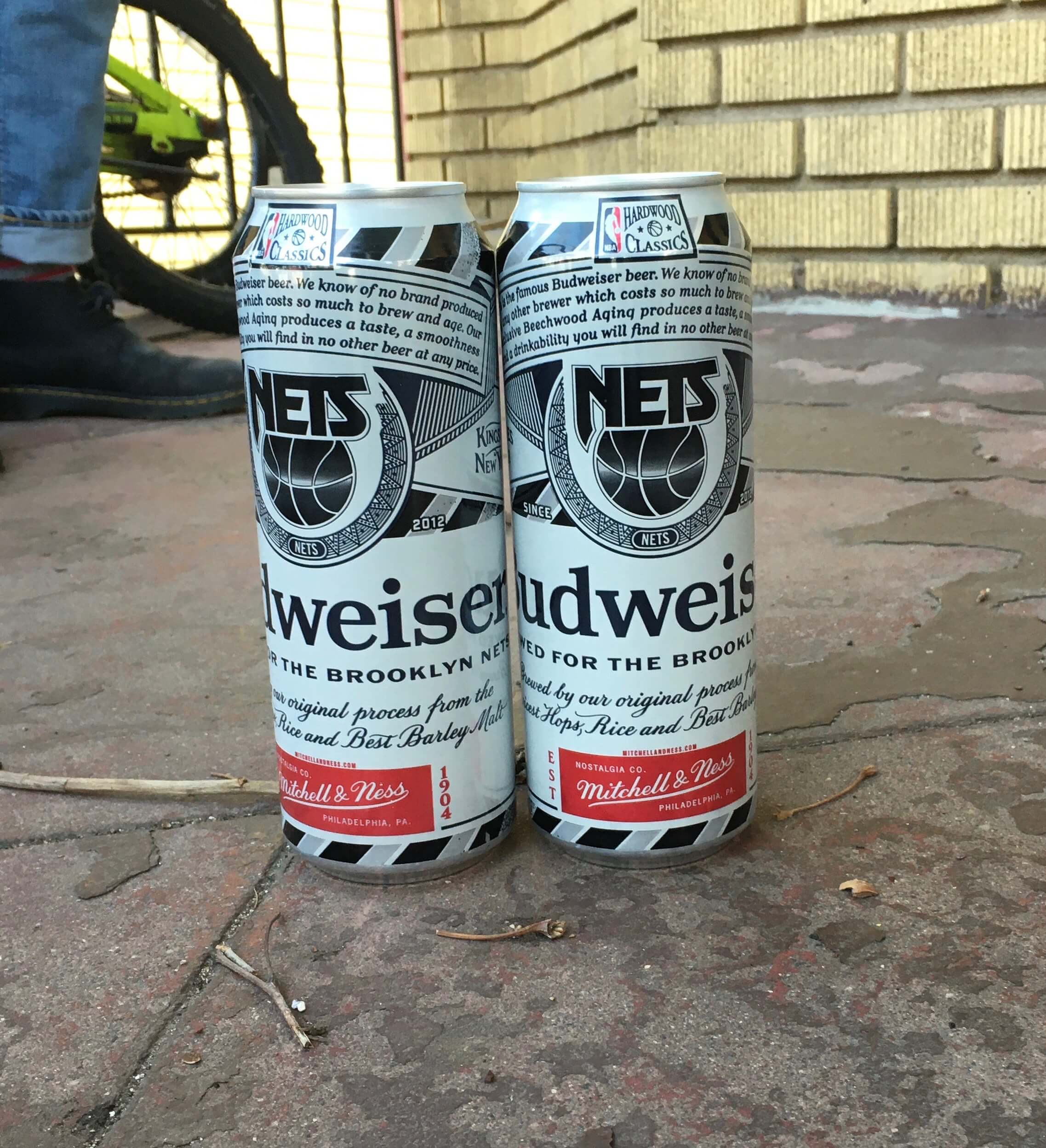 We later had Pandemic Porch Cocktails™ on our own porch, so this was actually a double-PPC™ day.
As always, you can see the full set of daily Pandemic Porch Cocktails™ photos — now almost a full year's worth — here.