Reader Jeff Ingalls recently came across a 10-minute film called Oskee Wee Wee, which is about the local frenzy surrounding the 1967 Grey Cup game between the Hamilton Tiger-Cats and the Saskatchewan Roughriders. The film is fun and worth watching (see embed above), and it's loaded with interesting visuals. Here are some highlights I singled out:
• it was a good-looking game, with both teams wearing excellent uniforms. Naturally, I'm partial to the Ti-Cats' excellent color combo, hoop-striped long sleeves, and gigantic rear helmet numbers, but the Roughriders were no slouches either with their green jerseys, double-striped shoulders and sleeves, and Northwestern-striped socks: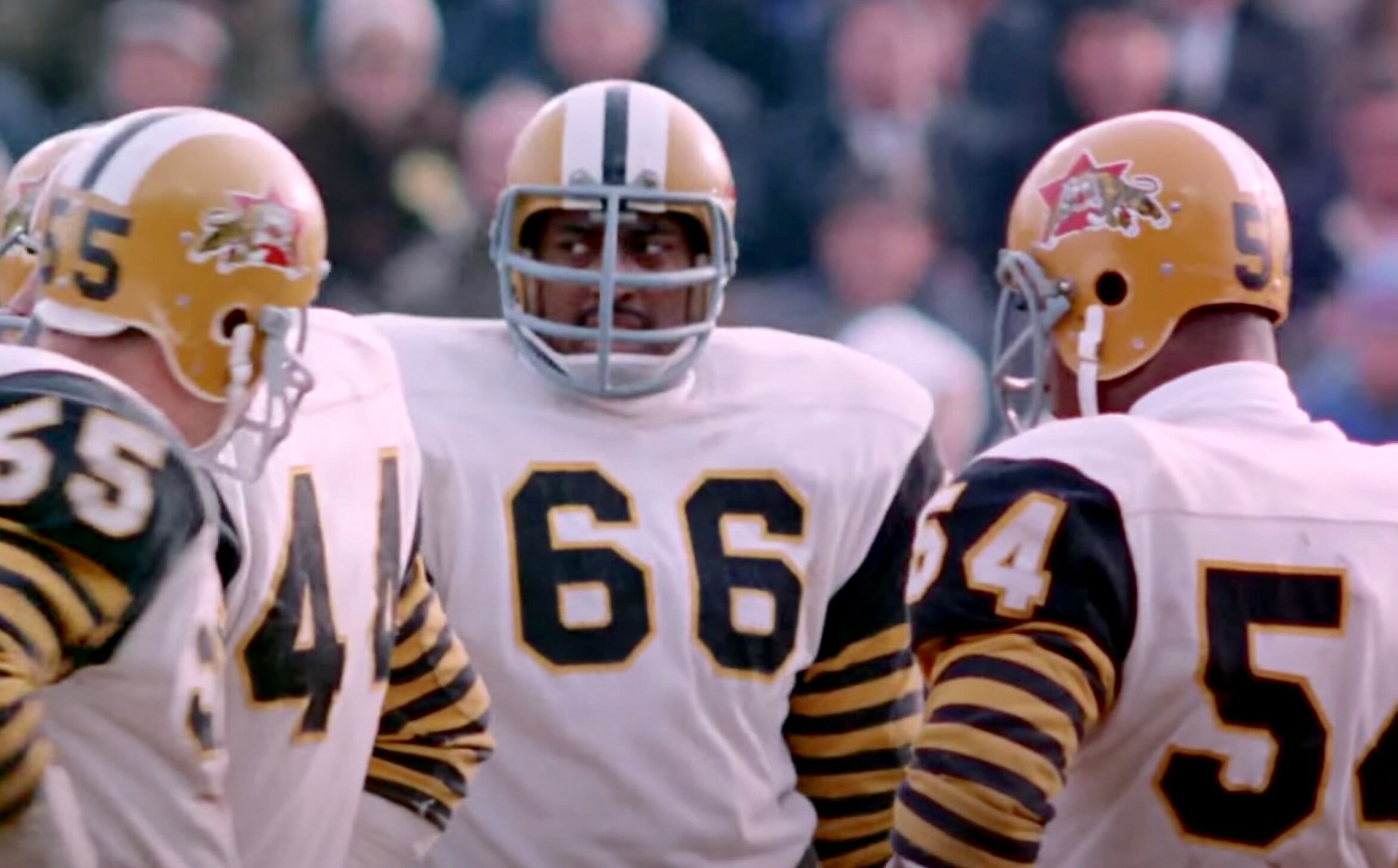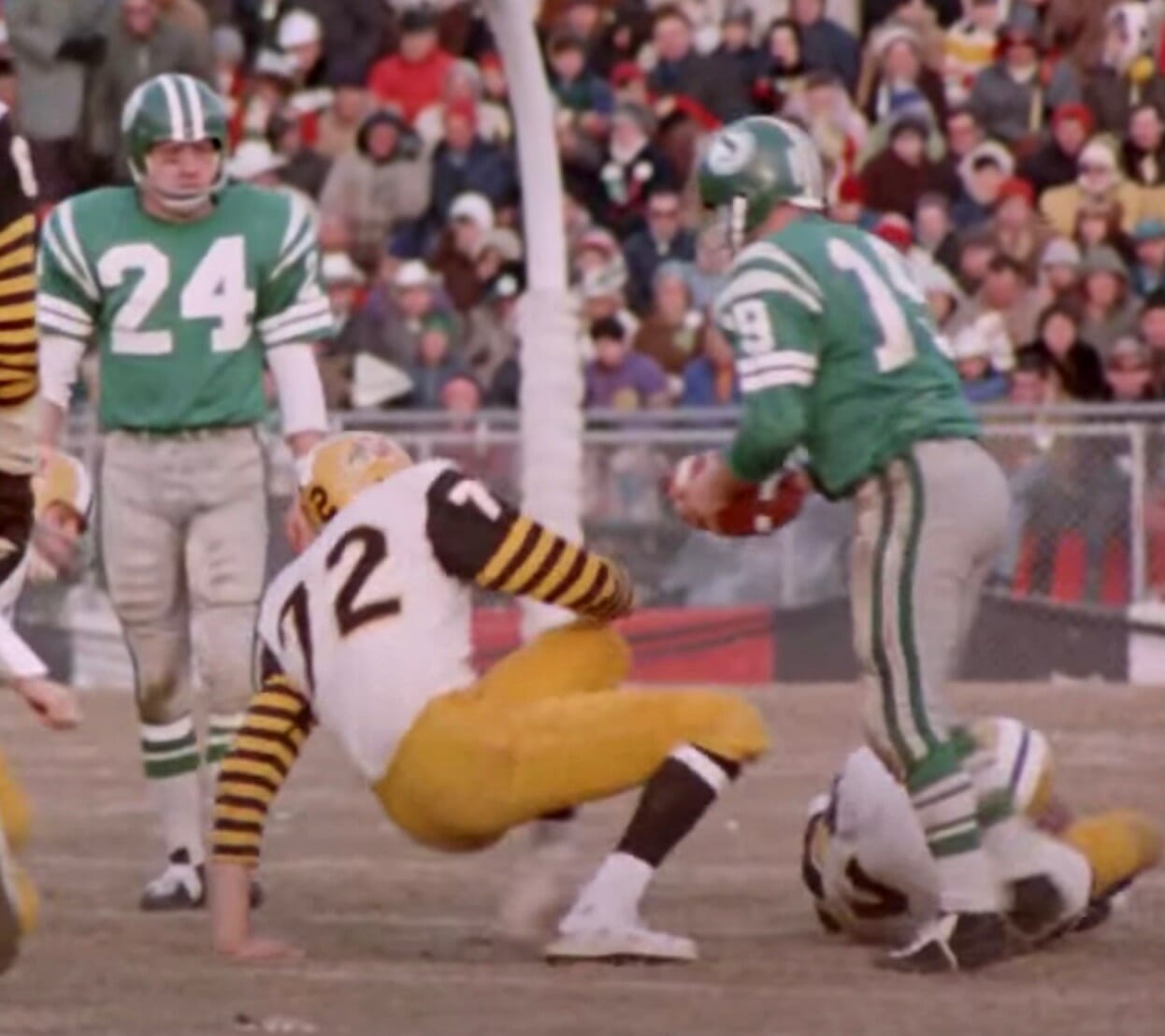 • The Ti-Cats were also celebrating Canada's centennial that season with a special helmet logo. Oddly, they were the only CFL team to do so: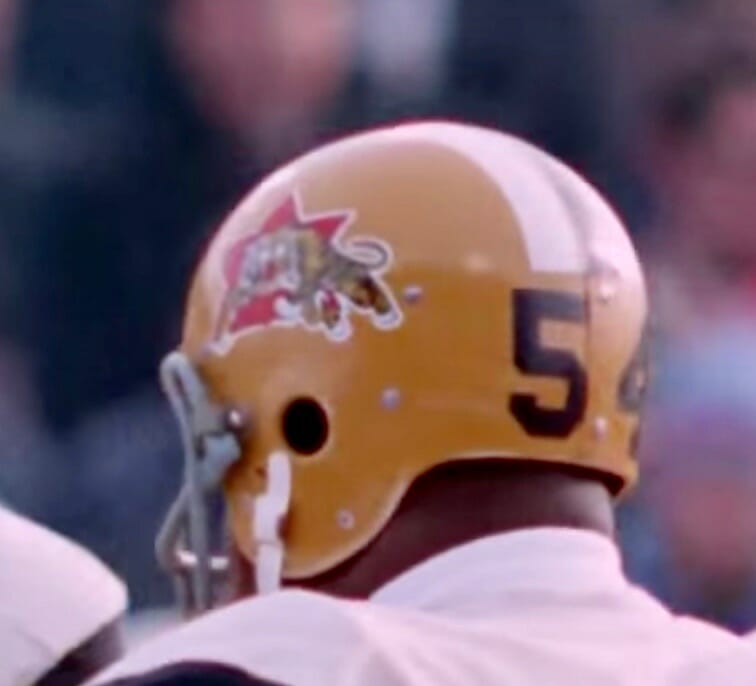 • The officials, unlike their NFL counterparts at the time, did not have exposed stirrups. Also, note that CFL penalty flags are red, not yellow: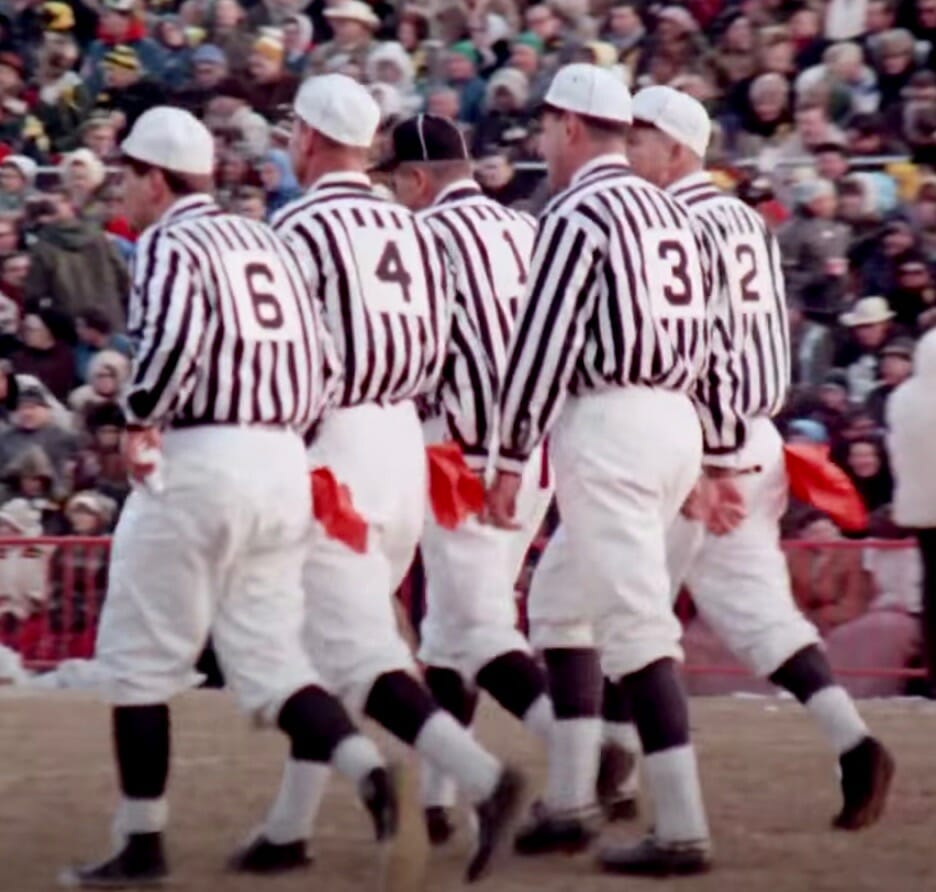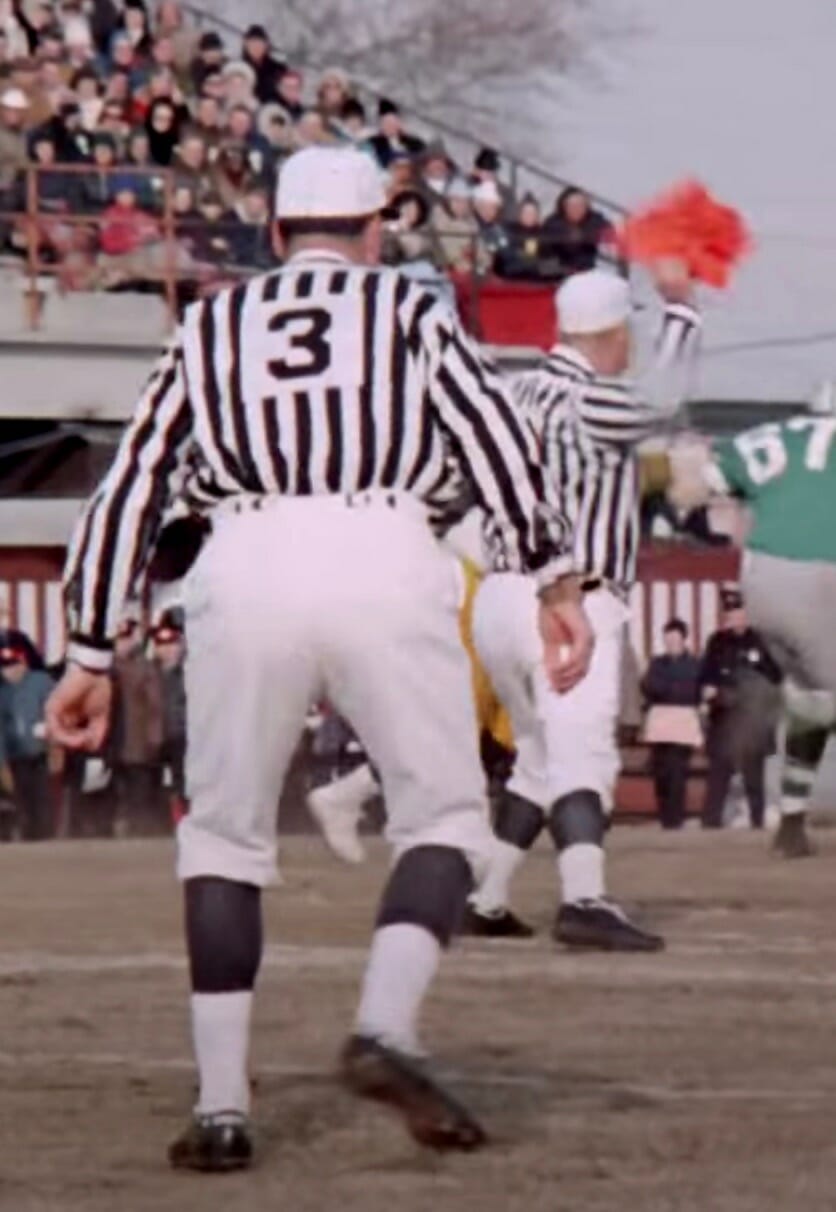 • Another detail about the officials: Their black cap brims featured a curved line of white trim. I love this detail — looks so sharp: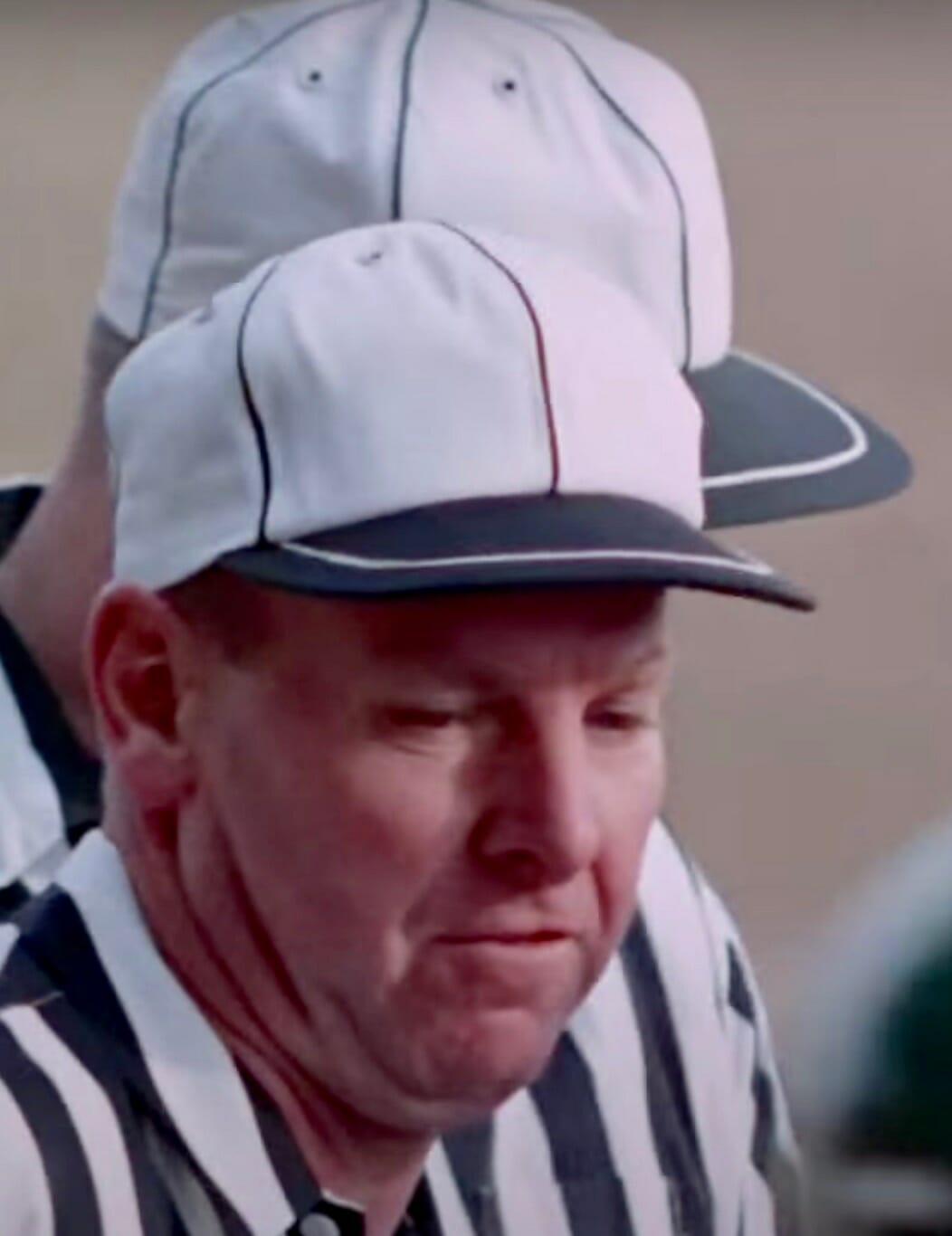 • The CFL ball had odd striping at the time — or at least it seems odd to me: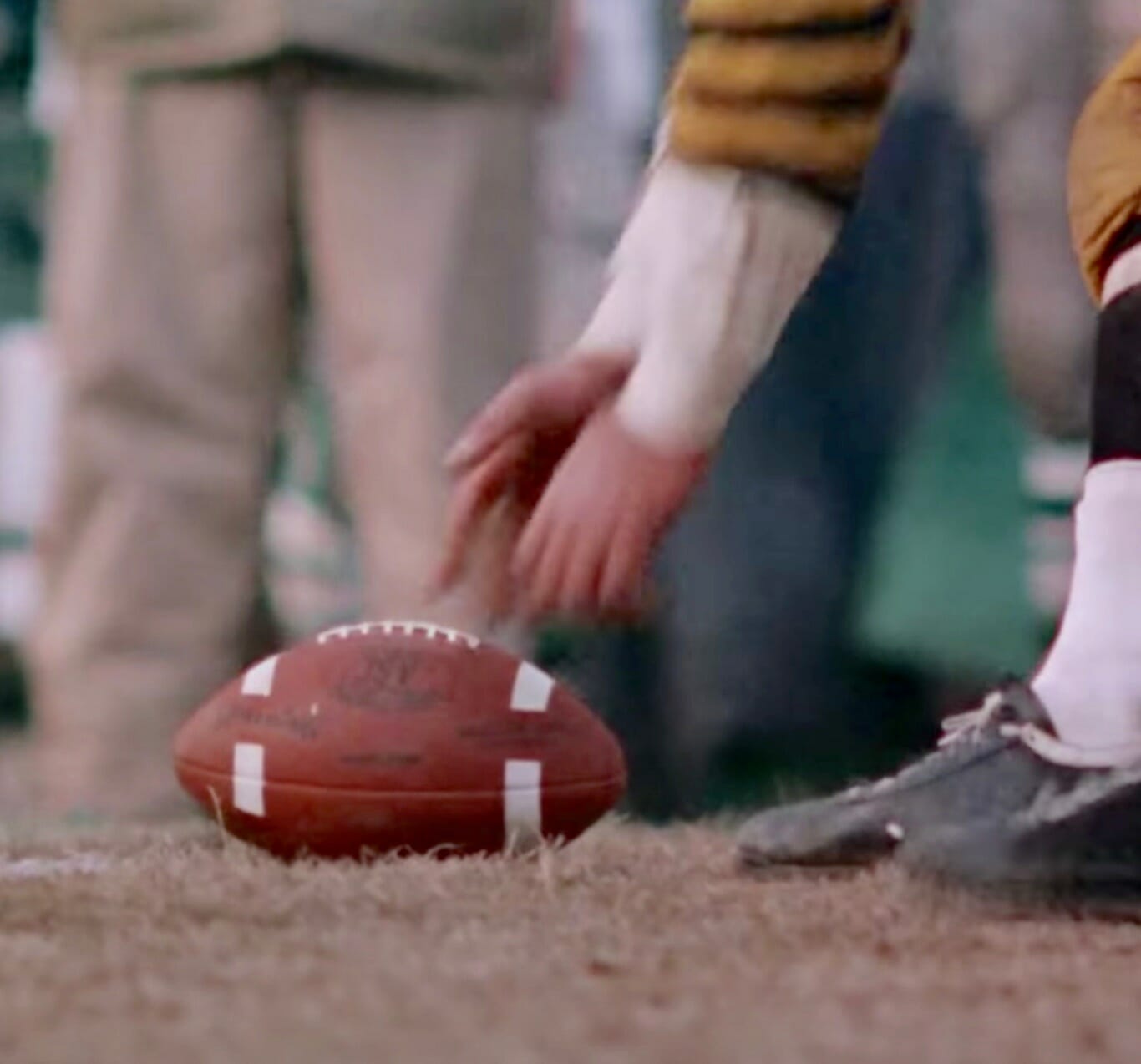 • Rare sight in the crowd, at least for 1967 — a fan wearing a jersey: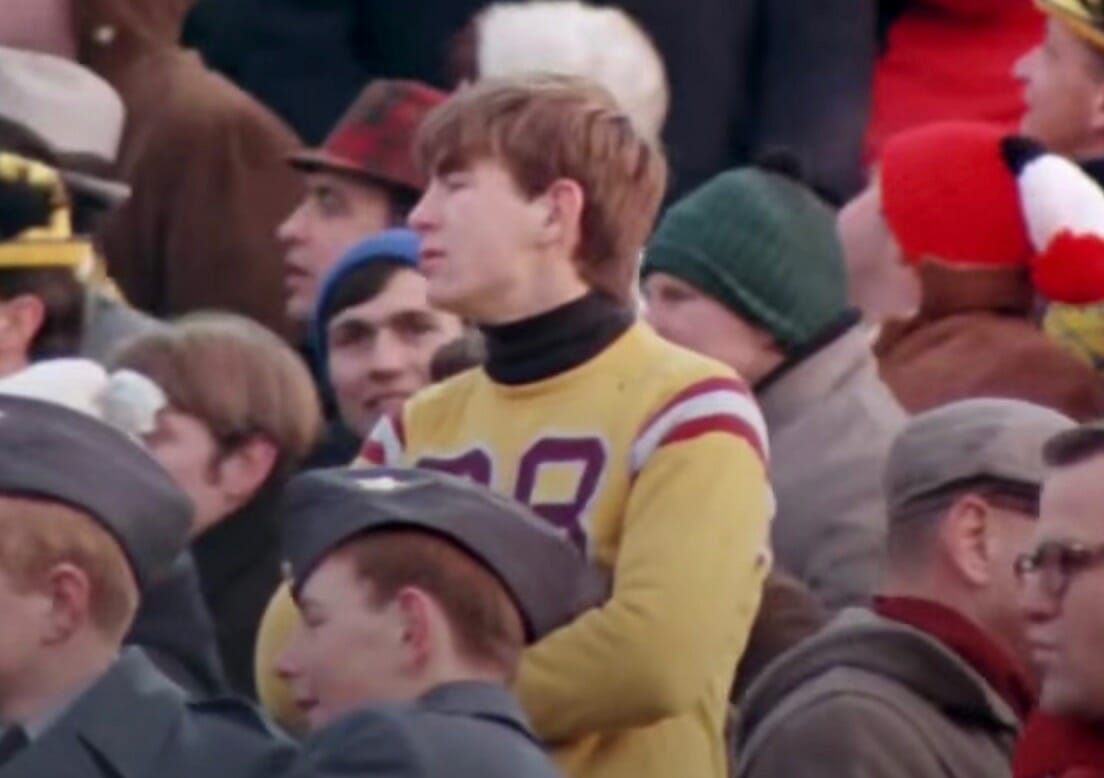 • There's a brief glimpse of the Roughriders' cheerleaders, who mainly looked cold: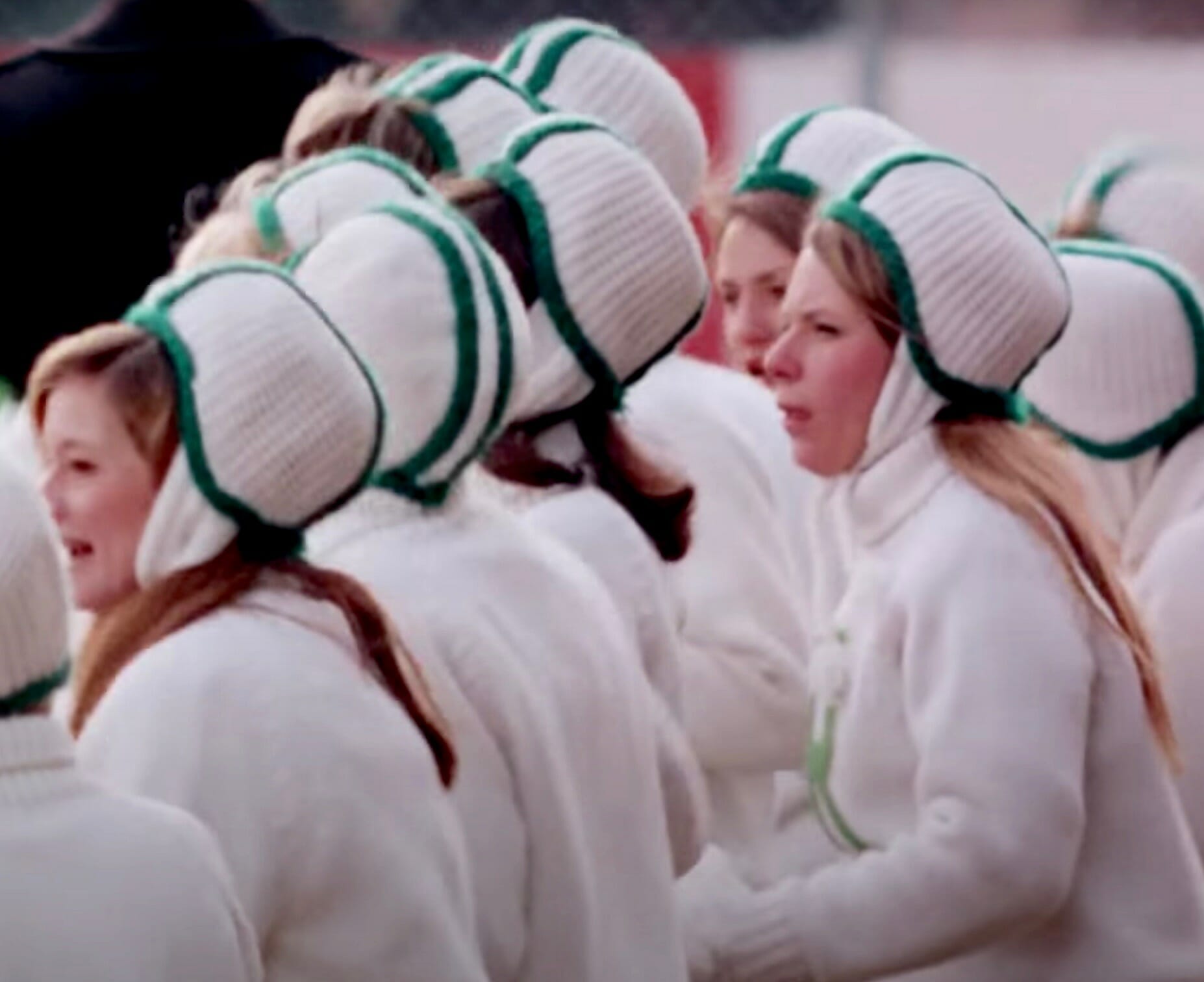 • The movie also provides some footage of a Miss Grey Cup beauty pageant that took place before the game (emceed, I'm pretty sure, by a young Peter Jennings, who isn't identified by name but his voice is easy to recognize). Each CFL team had an entrant: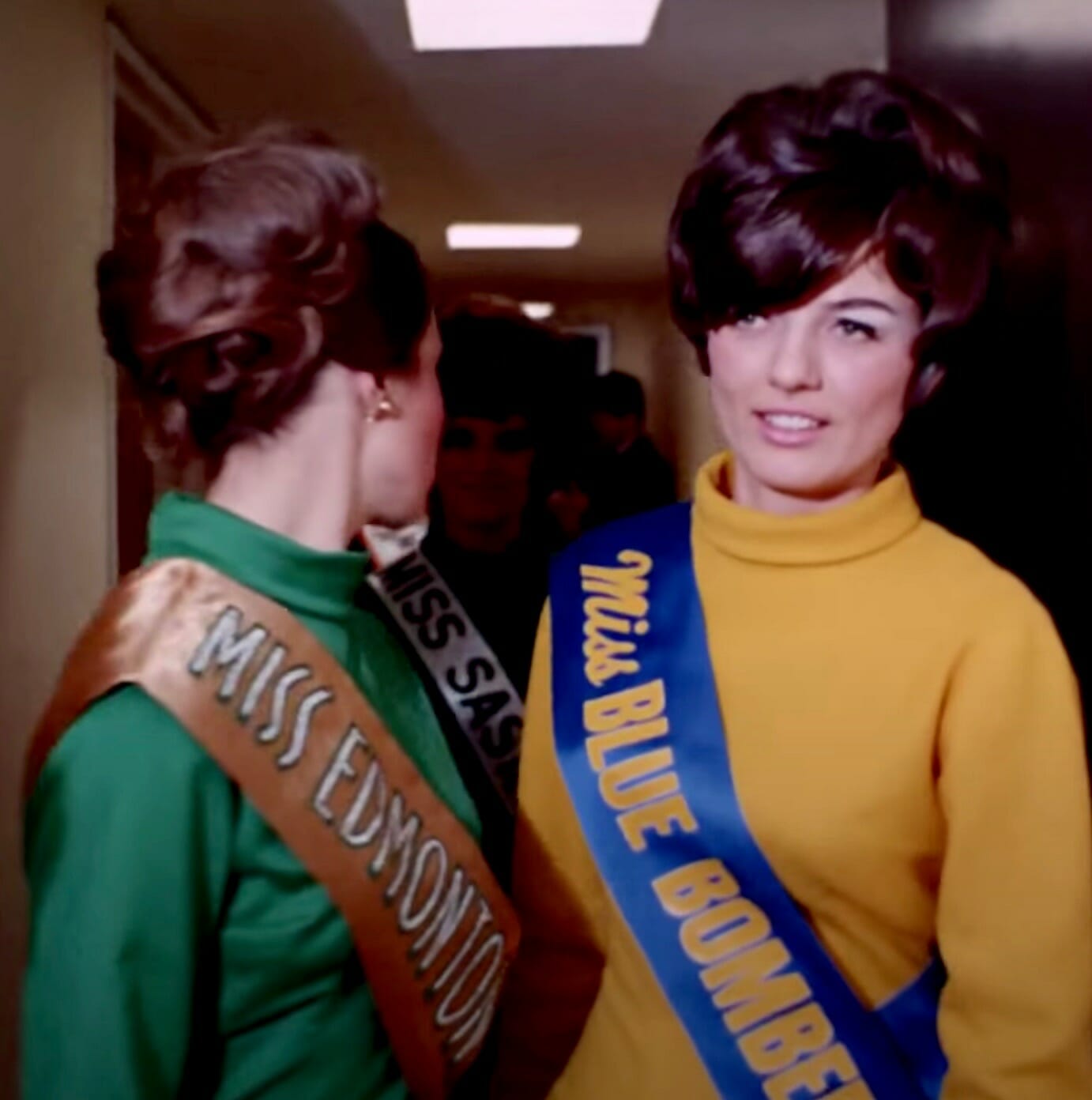 • The CFL was still marking the end of the game by having a guy fire a gun (shooting blanks, obviously). Not sure if the NFL was still doing this in 1967: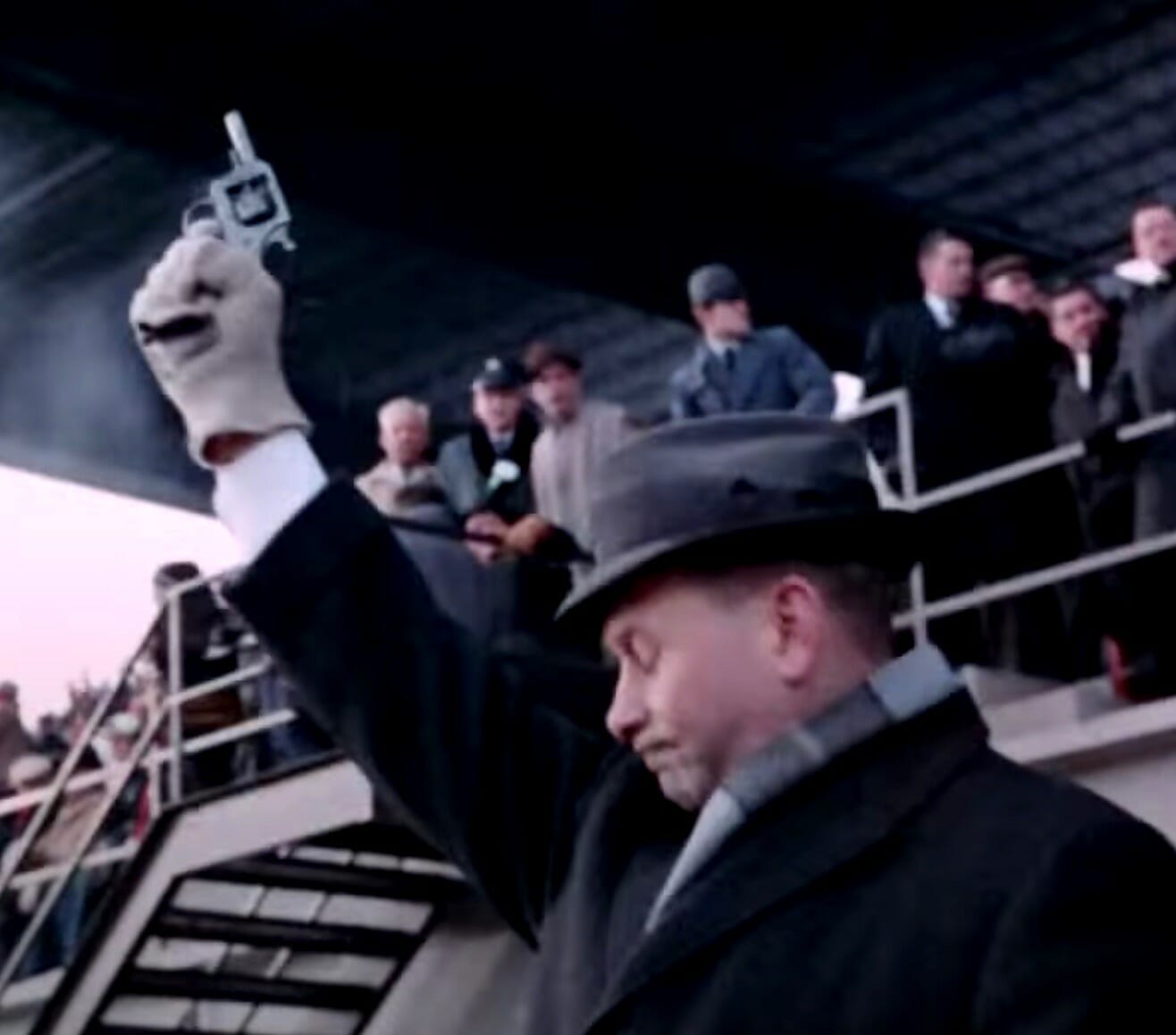 Update: Reader/commenter Tim Brown says the NFL didn't discontinue marking the end of each half with a pistol until 1994. I had no idea the ritual persisted that long!
• Finally, I'm not sure what was going on here, but it's from the Tiger-Cats' postgame victory celebration in their locker room: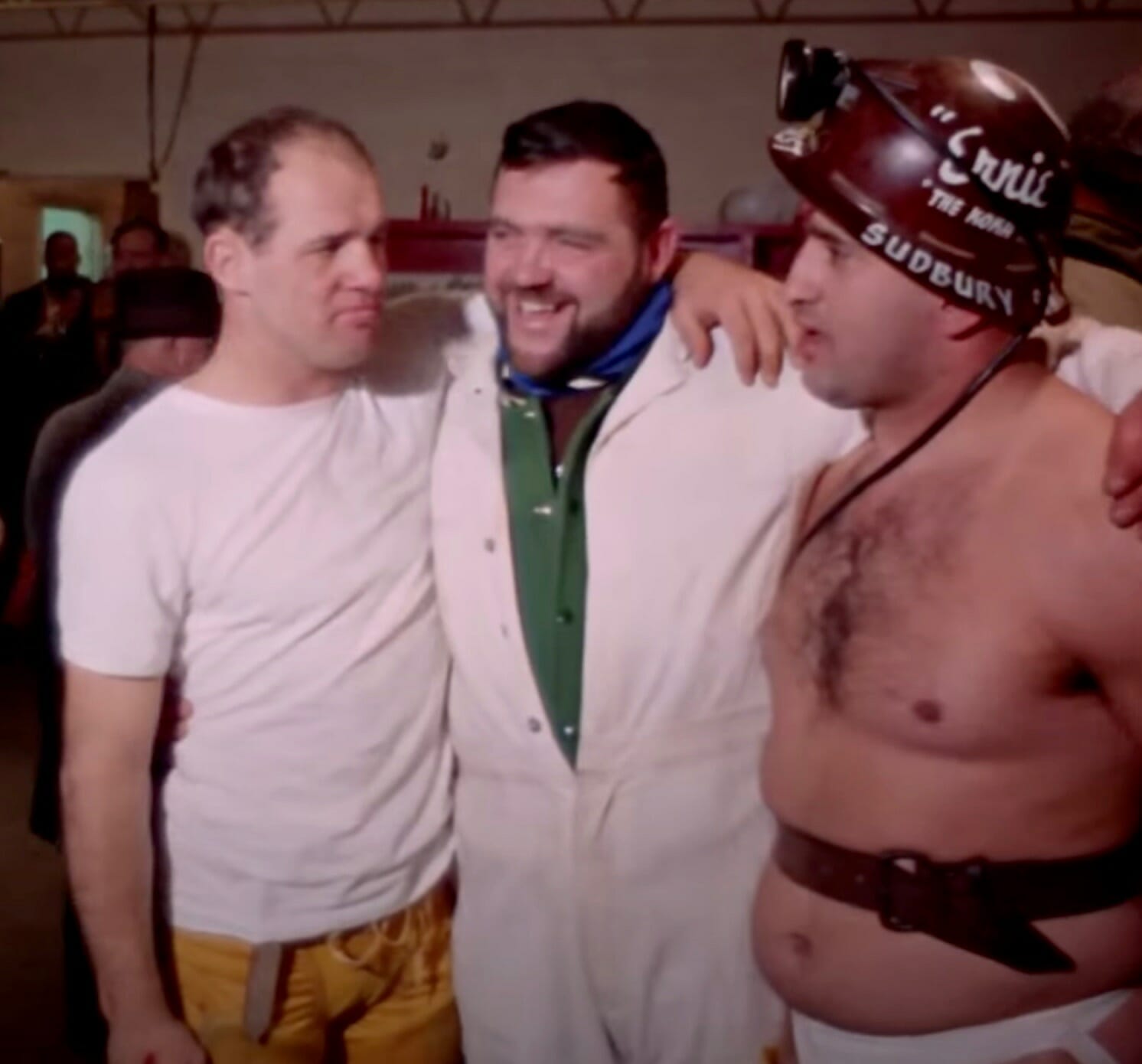 ———
And there's a lot more. I definitely recommend watching the film — it's a fun diversion.
(Big thanks to Jeff Ingalls, who deserves all the credit for this one.)
• • • • •
• • • • •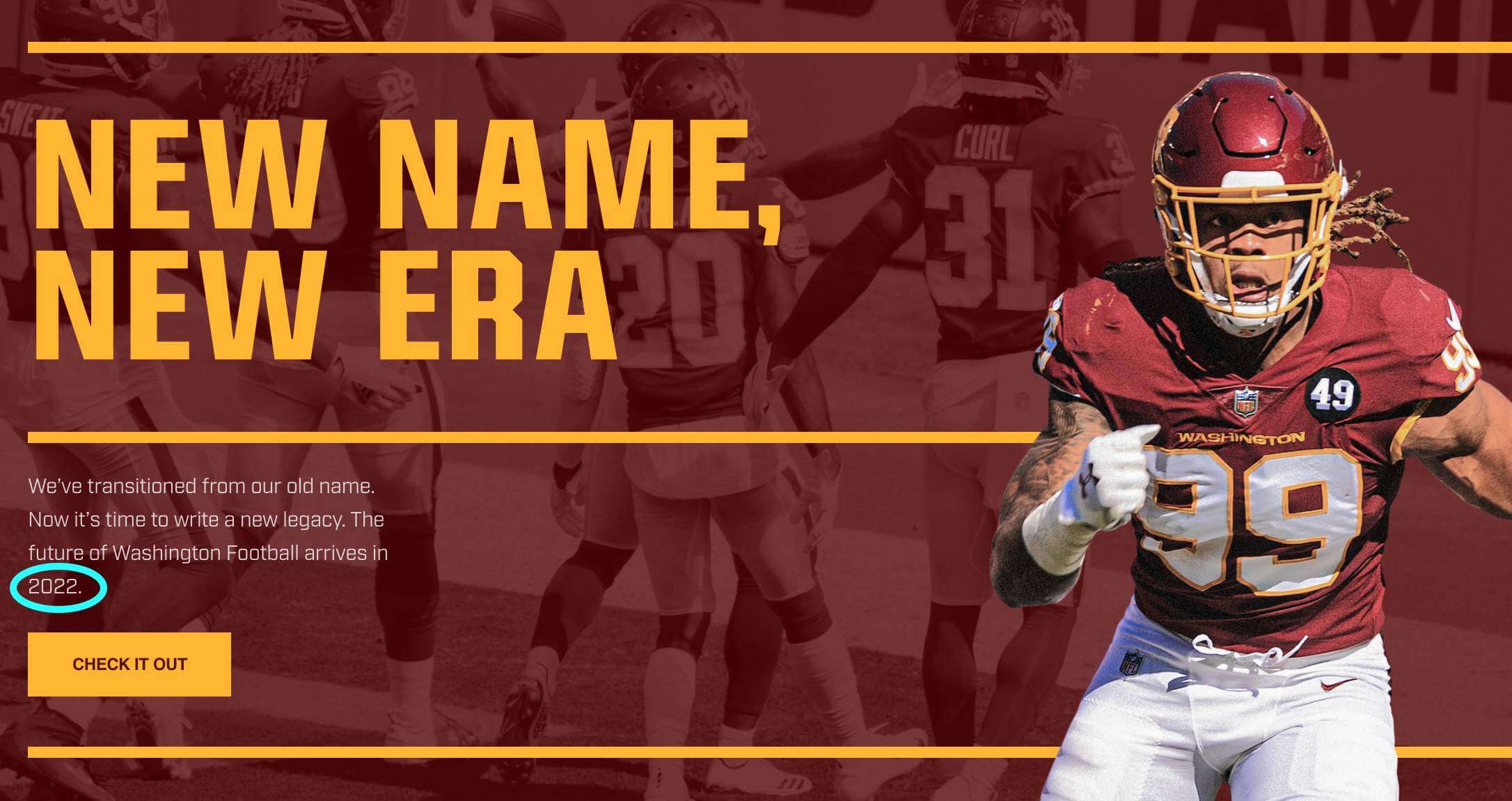 Click to enlarge
Placeholder to stay in place, apparently: The Washington Football Team, like any other NFL team, has its own website. But it also has a separate site devoted to the team's post-'Skins rebranding. A statement recently added to the home page of that site indicates that the team's new identity will not be ready to go until 2022, and the same statement was emailed to fans over the weekend.
So the Washington Football Team will apparently be with us for at least one more season.
(My thanks to Nate Rathjen for bringing this to attention of his brother, Jamie, and to Jamie for then alerting me.)
• • • • •
• • • • •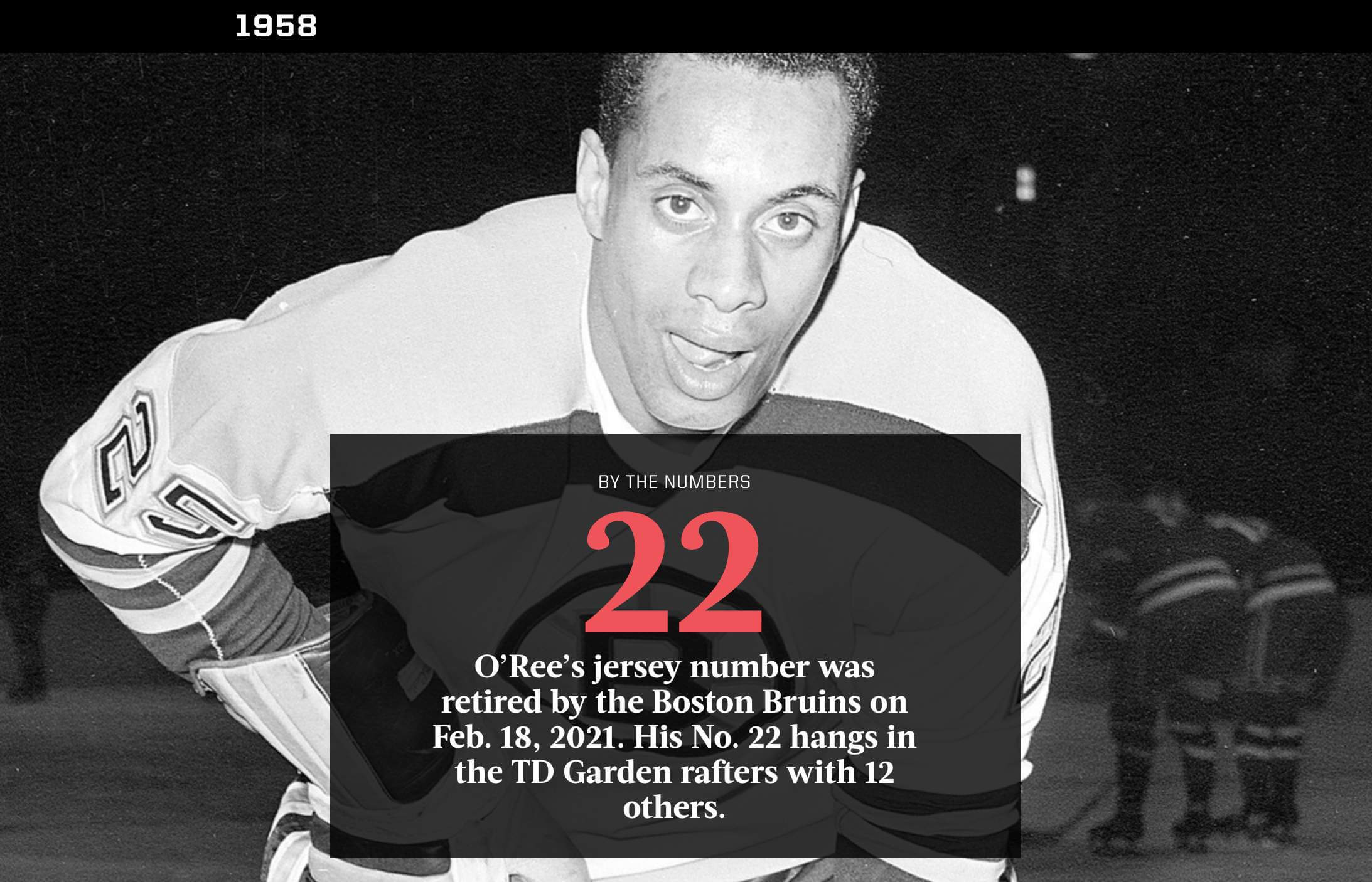 Click to enlarge
Oops and double-oops: The Undefeated yesterday published a big illustrated timeline showing notable moments in the history of the integration of sports. As you'd expect, it includes an entry for Willie O'Ree, the first Black player in the NHL. As you can see above, that entry mentions that O'Ree's No. 22 was retired by the Bruins last week.
Just one problem: The Bruins announced nearly two weeks ago that O'Ree's number retirement was being postponed to next year, so fans could be on hand for the occasion.
For good measure, this item about the retirement of O'Ree's No. 22 is accompanied by a photo of him wearing No. 25 (one of three numbers O'Ree wore during his time with the Bruins). In fact, the timeline includes three photos of O'Ree in which his uni number is visible, and they all show him wearing 25, not 22.
That said, the timeline feature is filled with great photos and good info — worth checking out.
(My thanks to Geoff Poole for this one.)
• • • • •
• • • • •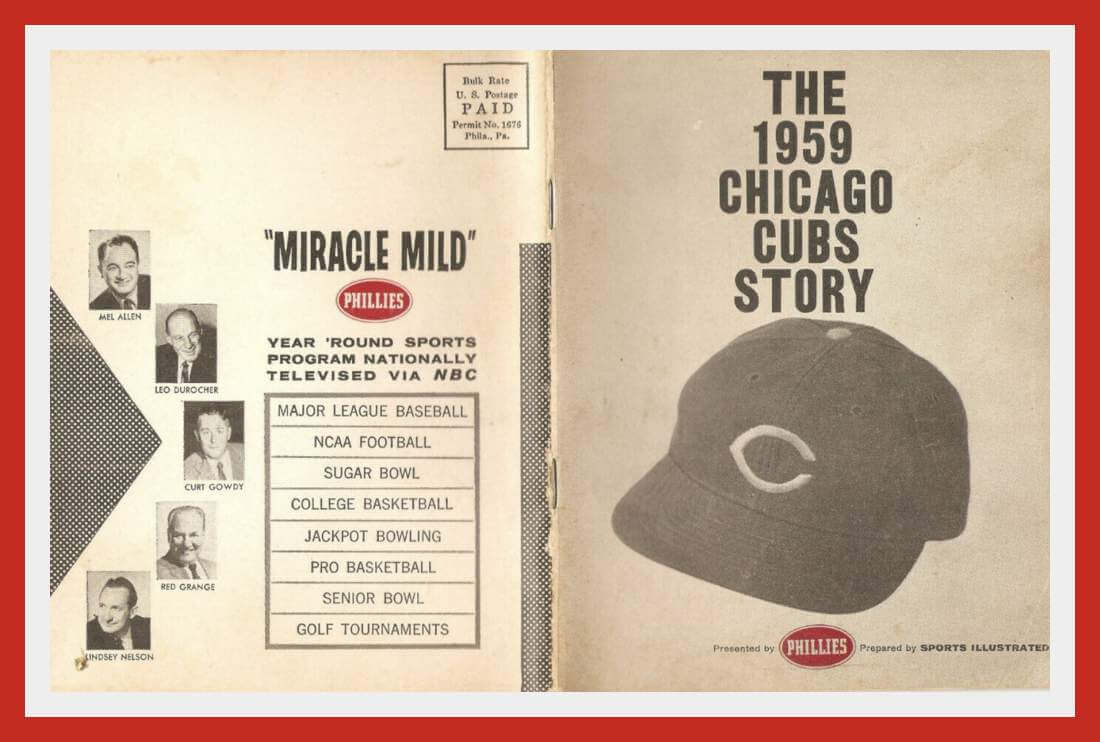 Click to enlarge
Collector's Corner
By Brinke Guthrie
Follow @brinkeguthrie
This is a 63-page booklet called The 1959 Chicago Cubs Story. But what's with that Reds cap on the cover? True, the Cubs did wear the wishbone-C at one point in their history, but not in the late 1950s. How did they get that wrong? And then there's that Phillies cigar logo at the bottom — yet another National League team! What, no Dodgers or Giants references?
Here are the rest of this week's picks:
• Tommy McDonald was the last NFL non-kicker to play without a facemask. Was he also the last to appear maskless on the cover of Sports Illustrated, as shown on this October 1962 issue?
• Got some nice Cincinnati Stingers glassware here. First, this set of four with the team logo and WHA skater logo in team colors, plus another glass that includes the WLW logo — that's the radio station that carried the games.
• Speaking of WLW, they also carried the Reds (and still do). With that in mind, here are some 1970s Nu-Maid cups that include the Reds Running Man listening to a radio.
• One more glass here, but this one is for Yogi Berra's restaurant. The glass includes the famous Yogi-ism "It's Not Over 'Til It's Over," and the inside bottom of the glass reads, "It's Over!" 
• Here's a 1974-75 Buffalo Sabres color pictorial calendar. I like that font a lot — so typical of the mid-1970s.
• Check out the artwork (both teams wearing colored jerseys?) for this October 1942 edition of The Open Road for Boys magazine (more on them here). This issue included "Winning Plays Diagrammed by Big-Time Coaches," and "Army-Spy-Mystery Stories." Just 15 cents at your neighborhood newsstand!
• This is a framed Dizzy Dean kite that the seller considers a "Holy Grail" item. Maybe it is, maybe it isn't. Pretty pricey, in any case, but interesting!
• This card certifies that the bearer is a charter member (No. 7!) of the new 1967-1968 Philadelphia Flyers Fan Club, with all rights and privileges, etc.
• Frank Mahovlich was voted one of the 100 Greatest NHL Players, and is obviously in the hockey Hall of Fame. So when he put his name to this 1970s promo booklet, Hockey Tips: How to Improve Your Game, it's a sure bet he knew what he was talking about.
• Here we have a 1940 hockey game called "Hockey Game." The game maker, Somerville, put a lot of thought into that one!
• Snoopy and Woodstock are featured on this 1970s Denver Broncos sweatshirt. But rather than "Joe Cool," Snoopy's known here as "Joe Bronco."
 
Got an item to include on Collector's Corner? Tweet submissions to @brinkeguthrie
• • • • •
• • • • •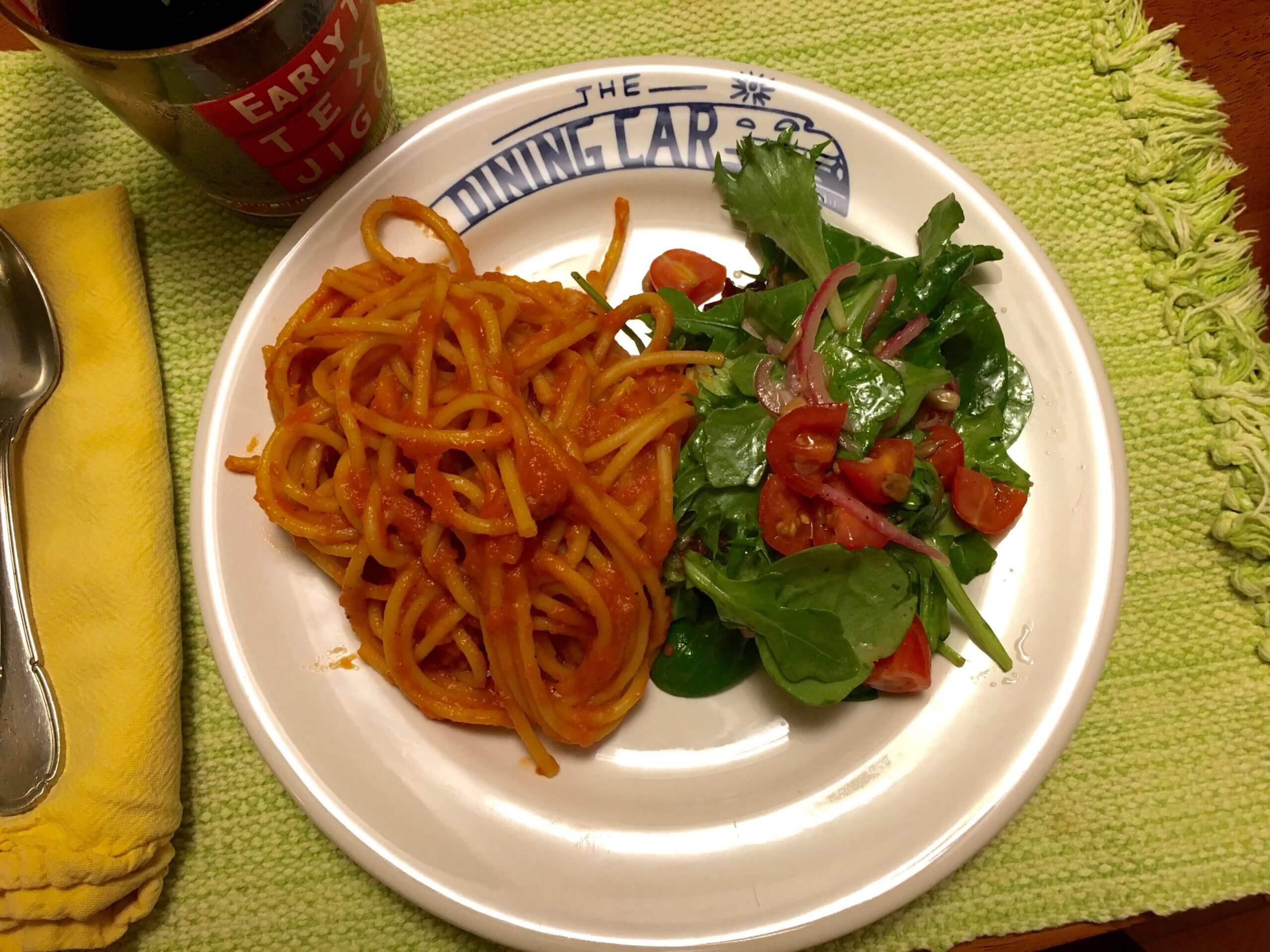 Culinary Corner: I like pasta fine, but I've never been a pasta expert or connoisseur. So I had never heard of bucatini — essentially spaghetti-like tubes with a hole down the middle, like a drinking straw — until two months ago, when I came across a brilliant and highly entertaining article about the "great bucatini shortage of 2020." (I linked to that article here on Uni Watch when it came out. If you haven't already read it, it's the best thing you'll read today — trust me.)
After reading the article, which basically said bucatini was the most awesome pasta ever (assuming you could find any, which was tricky, what with the great bucatini shortage of 2020 and all), Mary and I figured we'd better try it.
After weeks of fruitless searching, we recently located a few boxes of Barilla bucatini (very pleasing to say), which we were excited to try a few nights ago. We didn't want to overpower the highly touted pasta, so Mary made a very nice, very simple tomato sauce, which we figured would allow the bucatini's virtues to shine through.
And it was … fine. Like, there was certainly nothing wrong with it — a very nice pasta dinner! But there was also nothing particularly special about it. The article suggested that the holes running through the pasta tubes allowed the bucatini to achieve great sauce saturation, or something like that, but we didn't perceive that at all.
Are we missing something? Is Barilla an inferior brand of bucatini? Anyone..?
• • • • •
• • • • •
The Ticker
By Alex Hider

Baseball News: New number assignments for the Mariners. Of note, P James Paxton, now in his second stint with the team, is wearing No. 44, as the No. 65 he used to wear is assigned to P Casey Sadler. Oddly, coach Jarret DeHart is also currently assigned No. 44 (from Tim Dunn). … Chipper Jones is working with Atlanta this year as a hitting consultant and will wear his retired No. 10. … Reader Mark Lackinger found these White Sox jersey napkins on eBay. … Ian Frost notes that during the 1998 game where the Diamondbacks famously walked Barry Bonds with the bases loaded, the TV graphics included a misspelling of Mark McGwire's name. … This MLB.com piece has a detailed list of bobblehead promotion suggestions for every team (from Brinke). … New uniforms for NC State (from Kary Klismet). … This FanGraphs podcast opens with a rant on college baseball uniforms and an interesting discussion about the effect of bullpen visibility (from Rob Krosley). … Couple of good-looking color-on-color college matchups yesterday featuring powder blue unis: Ole Miss/Texas and Louisiana Tech/LSU (from Griffin T. Smith and Chris Mycoskie).

NFL News: Reader Luke Larson sent in this hand-drawn mockup for a new Bengals look. … Colts WR Michael Pittman says he won't give up his No. 11 for newly acquired QB Carson Wentz, who previously wore that number with the Eagles (from Mike Chamernik). … Also from Mike: ESPN's Mina Kimes has an opinion on which QB numbers are the best. … Peter King's column yesterday included a photograph that showed a Rams player with what appears to be a cross on the back of his helmet (from Jerry Wolper). … Check out this nice-looking Browns ice sculpture. Big fan of the old wordmark (from  @tonsoffun57).

College Football News: Notre Dame won't be included in the revitalized version of EA Sports's college football game. AD Jack Swarbrick says the school will skip the game until the NCAA establishes ground rules for how players will be compensated for their name, image and likeness. … College football reporter Matt Brown talked about name changes regarding Dixie State University and the Valparaiso Crusaders in his newsletter (from Mike Chamernik). … Deion Sanders, now the head coach at Jackson State, has a bunch of uniform rules for his players (from Ted Taylor).

Hockey News: The Blackhawks have released the days they'll be wearing their ЯR uniforms (thanks to all who shared). … The logo on Golden Knights coach Pete DeBoer's hat was upside down during Saturday night's outdoor game (from Danny Forrest). … The Sioux Falls Stampede of the USHL will play as the Sioux Falls Fighting Wiener Dogs on Saturday in honor of the team's annual wiener dog race promotion. But what's with all the head-on views? If you're going to call yourself the wiener dogs, you gotta show a side view so people can see how long they are! (From Mike Miller.) … Newly acquired Devils G Aaron Dell will temporarily wear this mask design — a vinyl wrap — while his regular mask is being painted (from John Muir).

Basketball News: The Jazz's Earned design has leaked. … Here are the NBA uniforms that are still undefeated thus far this season (from @SacKings_Unis). … This video recaps some of the attire and pieces of equipment the NBA has banned through the years (from Don Martinez). … Hector Cendejas notes that at one point the Lakers' retired number for Gail Goodrich had a vertically arched NOB — a style the Lakers never used on the court. That photo is from 2000, and the Lakers have updated their retired numbers since then. … Rockets C Justin Patton will wear No. 26.

College and High School Hoops: Oregon debuted new green uniforms last night (from Jakob Fox). … During the 2019 NCAA tournament, Fairleigh Dickinson's mascot gained viral infamy when he lost his head during a dance contest. Since then, the student who was portraying the mascot that day has earned a walk-on spot on the basketball team (from Kary Klismet). … Check out the striped socks for the 1946 Lakota High School (Kansas) basketball team! In the front row at far right are reader Richard Catalano's twin great-uncles!

Soccer News: Here's an article that explores why MLS clubs change their team names and badges so often (from John Flory). … Speaking of MLS, FC Dallas has a new jersey advertiser (from Wade Heidt and @profjimmyc). … Also from Wade, Galaxy D Julian Araujo is switching from No. 22 to No. 2 to honor a friend who died in 2018. … Speaking of the Galaxy, they have a new sleeve ad (from Jakob Fox). … FC Cincinnati teased their 2021 home jersey, which will be unveiled on Thursday (from @EvantheGman). … This might be the Timbers' 2021 home jersey (from @bryant_rf).

Grab Bag: The Scotties, the women's Canadian Curling Championship, had some pandemic-related supply chain issues when trying to order stones for this year's tournament (from Mark). … More AFL Women's Indigenous designs, for Melbourne and Brisbane (from our own Jamie Rathjen). … Jamie also sends along something he noticed at work: The French organization that collects social security taxes, Urssaf, has a new logo. This is the new one and this is the old one. … The next three submissions are from Kary Klismet: German beach volleyball duo Karla Borger and Julia Sude will boycott a tournament in Qatar because of the country's ban on athletes wearing bikinis. … The student newspaper for Everett Community College in Washington has celebrated the 79th birthday of the school's Trojan mascot with an infographic showing its evolution over the years. … The city of Bath, Maine, is planning for a new logo and slogan. … Just as Uni Watch covers athletics aesthetics, RT Foote says Liturgical Arts Journal covers the aesthetics of Catholicism. "There's a daily dive into a new, newly discovered, or obscure topic with lots of great pictures and explanations, and links to related pieces." … New F1 livery — barely changed from last season — for Red Bull Racing. … Some Black American troops in World War I were temporarily assigned to fight with the French army and wore a combination of American and French uniforms (from Phillip Tutor).
• • • • •
• • • • •
• • • • •
Our latest raffle winner is John Horn, who's won himself a Uni Watch membership card. Congrats to him, and thanks again to Zach Spencer for sponsoring this one. — Paul