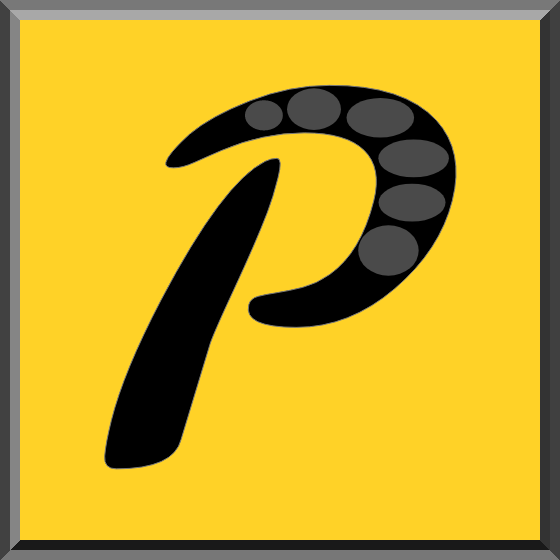 By Phil Hecken, with David Arnott
Follow @PhilHecken

Good Sunday morning, Uni Watchers, and a Happy Valentines Day (to all who are celebrating) as well. I hope everyone had a good Saturday and you're all staying safe and doing well.
Earlier this week, reader David Arnott sent the following e-mail to Paul and me:
Hi guys. I'm launching a writing project that involves a fictional basketball team called the Pittsburgh Pierogies, and my intro shows off the logo, uniforms, and court design I put together. Thought it might be of interest to Uni Watchers.
While it is, at its essence, a bit of a "uni concepts" type of piece, as you'll see, it's much more than that. Now, I'm not a gamer (the last video game I played was Ms. Pac Man or perhaps Donkey Kong), but I know many of you are, and video games today are insanely detailed and immensely popular. David has taken that to the next logical extreme in combining uniforms and gaming. For the rest, I'll let him explain.
• • • • •
The Pittsburgh Pierogies
by David A. Arnott
When I got a copy of NBA 2K21, I knew exactly what I wanted to do: take over an expansion franchise and build them into a champion, at any cost.
Not only is there a global pandemic keeping me home 23.5 hours a day, I recently joined the ranks of the unemployed, and there are only so many job applications I can do, but I'm an experienced sports video game empire builder. In MLB: The Show 20, I won a World Series with the Marlins by 2024, and by 2030, I was a three-time champion. In NCAA 14, I took over the University of Hawaii and after a rocky second season, went undefeated — never punting or kicking a field goal — until I grew weary of winning championships and Heismans 20 seasons later. This won't be my first rodeo with the NBA 2K series, given that I put in more than 1,000 hours on NBA 2K8 to win seven straight championships with the Charlotte Bobcats, and then when I moved on to NBA 2K13, I gave myself the handicap of winning a title using only white American players, which I did with a squad led by Kevin Love and Chase Budinger.
This time around, I'm trying something different. In those other games, I hopped on the sticks and played games myself, but for this franchise I'm the president of basketball operations, with final say over personnel decisions, and letting my AI coaches and players perform on their own. Mostly, I'll be simming games, but I'll also watch games live when I feel like it, and maybe even record them so that you can watch my handiwork. The challenge will lie in building an organization that can win without my in-game influence.
First, I've got to choose my team. It makes sense for the NBA to expand by two franchises, and it's only right one of them should be the Seattle SuperSonics, so that will be one of the new teams in my 2K universe. However, I don't want to control a team with historical baggage. While 2K21 provides a series of pre-built franchises — like the San Diego Surf — I want full control and so have decided to create my own organization from scratch.
There are a whole bunch of cities where I could logically place a new franchise. Chicago could support a second NBA team, as could the Bay Area (for a while I thought I'd create the Oakland Whips). Kansas City had a franchise decades ago, and has an arena. There's always Las Vegas. But those are the obvious locations.
Instead, I'm choosing Pittsburgh, which briefly had an ABA team but is otherwise pretty close to a clean slate when it comes to pro basketball. The team colors, of course, will be black and yellow, and for a team name, I want something regionally appropriate, catchy, and totally unique. I've settled on the Pierogies.
If you're unaware, pierogies are the national dish of Poland and a bit of a specialty in and around Pittsburgh. They're little boiled dumplings filled with whatever you want, and every one I've had is delicious. (Linguistics note: "Pierogi" is already plural, but Merriam-Webster offers "pierogies" as an alternative plural. I prefer -s team names, so that's what I'm using. If I ever speak about a singular player on the Pierogies, I guess I'm going to refer to him as a Pierog.)
I fired up my image editor and created a P logo with stylized dumpling dimples on the curve.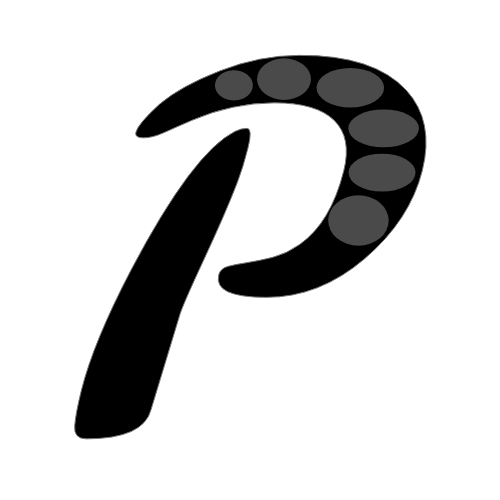 This will be our center-court logo, and it'll also be on our uniforms.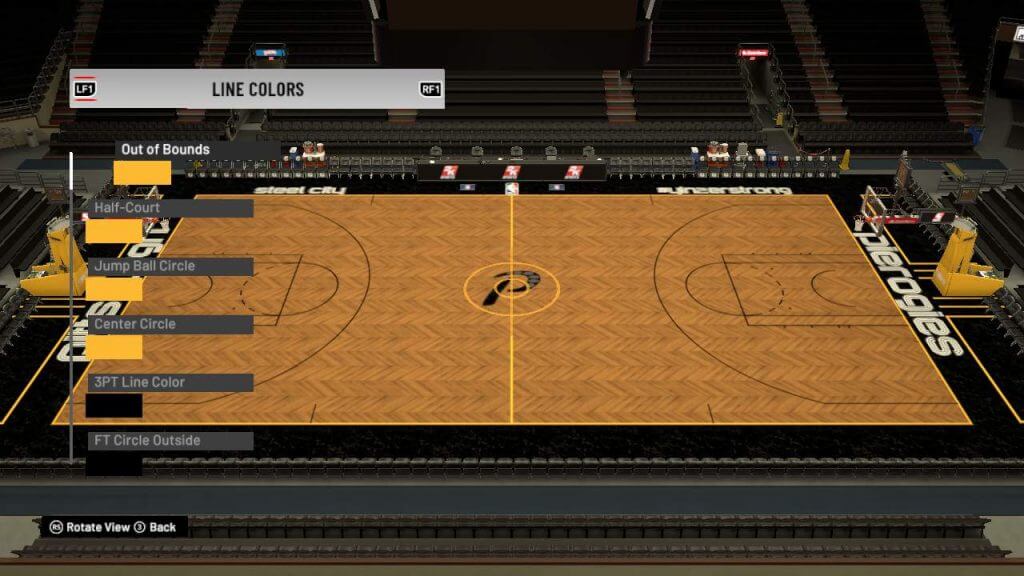 Let's talk about the court. I've assumed the Pierogies will play in the existing PPG Paints Arena, which can accommodate basketball and has mostly black seats. Black and yellow looks great on a darker wood, and while I was tempted to go with parquet, herringbone is classier. I generally don't like filled-in colors on the lane, and with bold colors like black and yellow, it makes sense to let the wood be the visual star and the team colors act as accents. This will also differentiate the court from the Brooklyn Nets' design. For the baselines, 2K21 has a cool 70s-ish font I've used to lay out the city and team name, and on the sidelines, I've used the same font to place bits of marketing-speak: Steel City and #YinzerStrong.
The uniforms are a little reminiscent of the Steelers' bumblebee outfits, but I tried to stay away from directly referencing other Pittsburgh teams' iconography beyond using the virtually-mandatory colors. I also wanted to avoid creating a uniform that was too close to the Pacers' standard look, since they're the one yellow-clad team that uses a dark-enough blue it could look close to a black-and-yellow team, and I tried to stay away from the looks of various other teams that have used black and gold.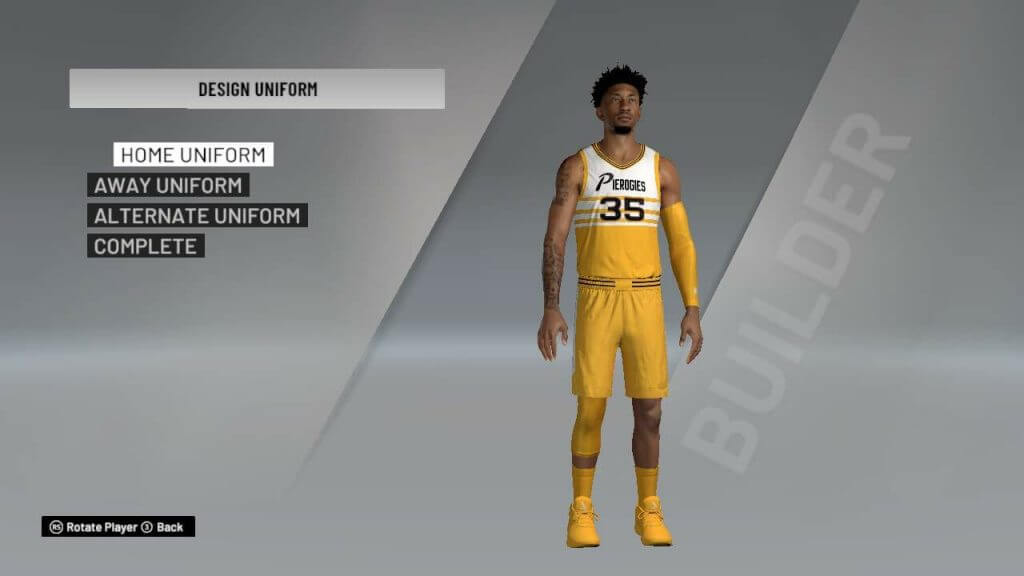 I ended up with a mostly-yellow home uniform with a splash of white up top and black numbers. Check out the P logo on the chest as the first letter in "Pierogies".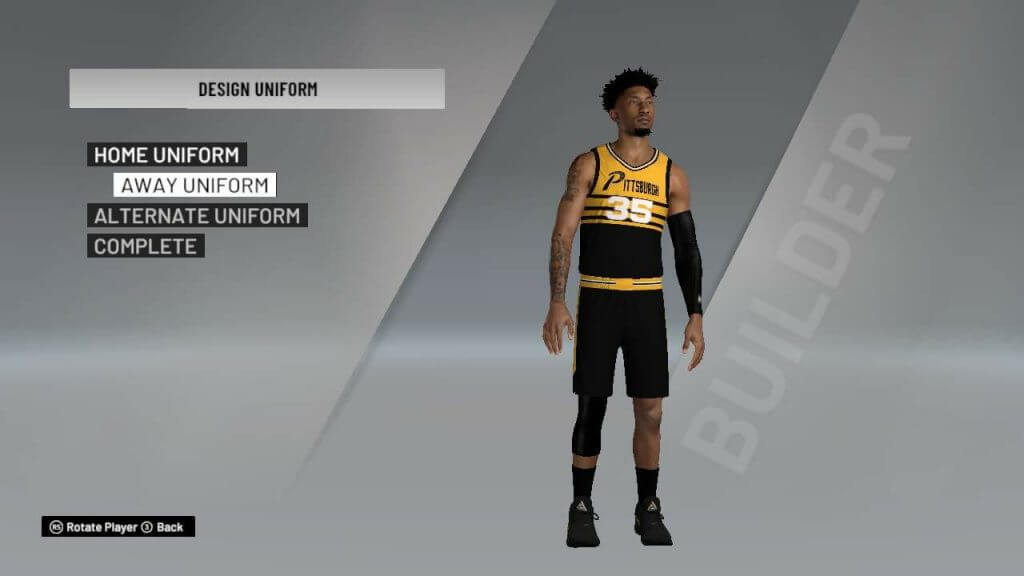 For the road uniform, I copied over the template and made a mostly-black uniform with yellow up top and white numbers, with the P logo leading off "Pittsburgh".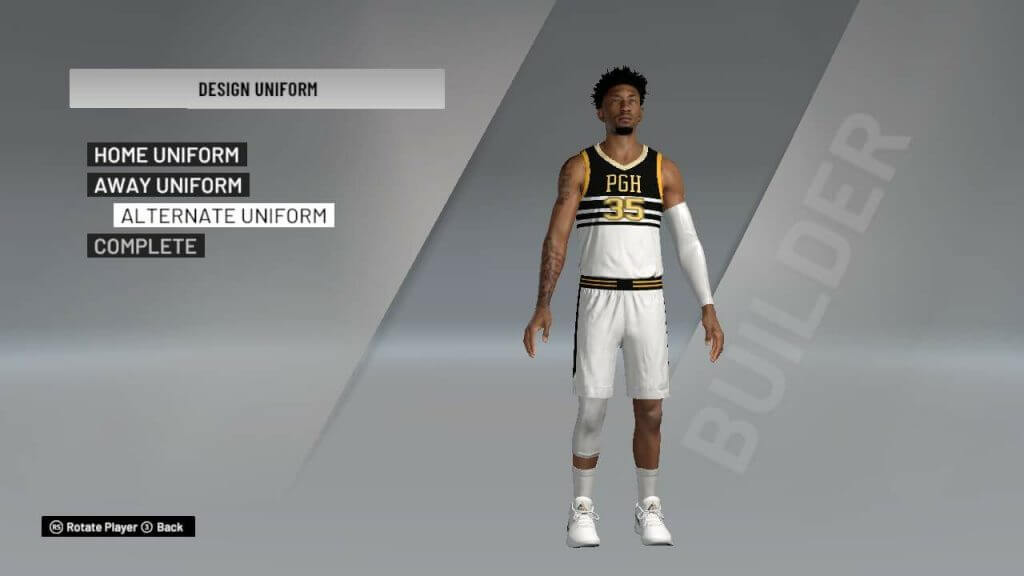 The team needs a third look in case its main uniforms don't provide enough contrast with the opponent. A small voice behind my left ear suggested a white alt, so our final uniform will be mostly white with black up top, yellow numbers, and "PGH" across the chest.
I've started the first season right now, and let me tell you: I can't wait to tell you about everything that's going on.
Here's how this will work. At the end of each season, I'll put together a writeup, include any videos I've made, and share it with you.
Join Pierogies Nation and subscribe now so you catch the future missives, starting with my strategy for the expansion draft, what happened with my first rookie draft, and how the first season went.
Here we go, 'Rogies, here we go!
• • • • •
Thanks, David. Great explanation and look into creating/designing a team (and I must say I'm shocked — SHOCKED — you used black and gold for your colors). But then, what else would a Pittsburgh-based franchise use ;)?
You can see more of David's writing and musings on his blog, 29sunset.net. Readers? What say you?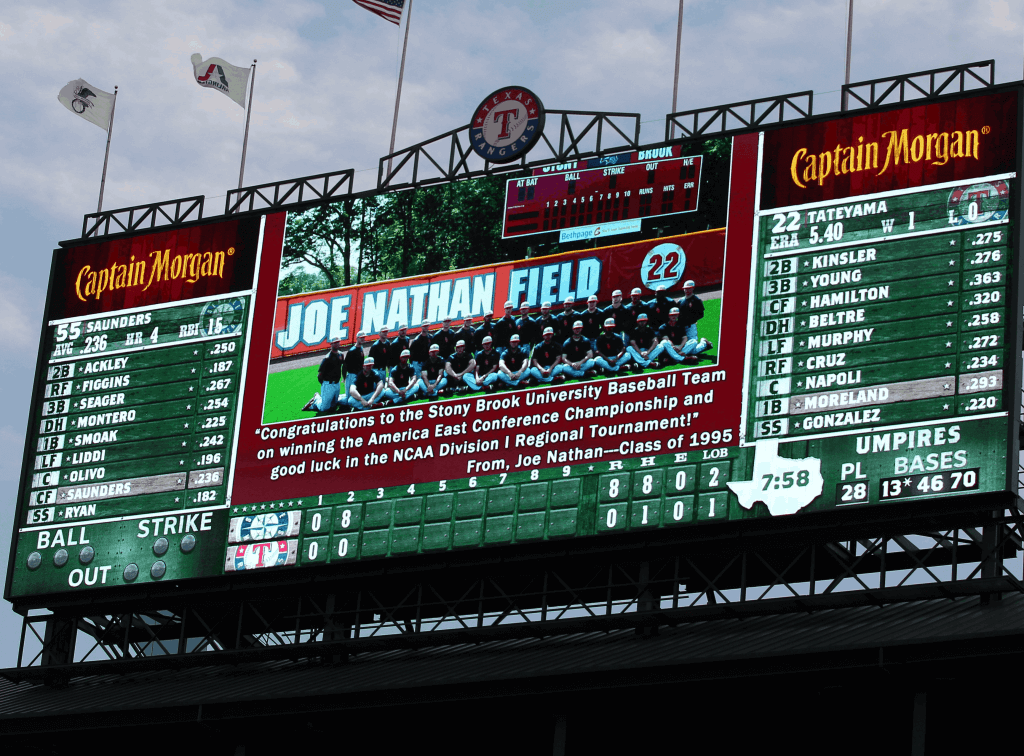 Guess The Game…
from the scoreboard
Today's scoreboard comes from Chris Hickey.
The premise of the game (GTGFTS) is simple: I'll post a scoreboard and you guys simply identify the game depicted. In the past, I don't know if I've ever completely stumped you (some are easier than others).
Here's the Scoreboard. In the comments below, try to identify the game (date & location, as well as final score). If anything noteworthy occurred during the game, please add that in (and if you were AT the game, well bonus points for you!):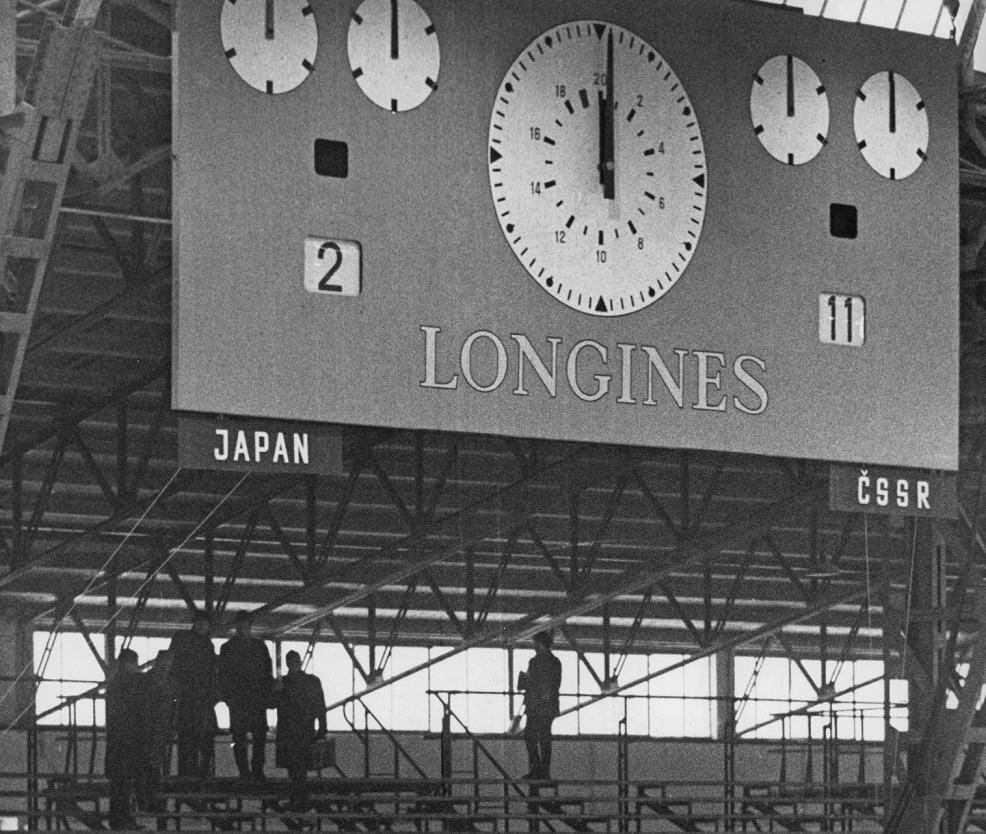 Please continue sending these in! You're welcome to send me any scoreboard photos (with answers please), and I'll keep running them.


The "BEST OF" Kreindler's Korner
Hey guys & gals. You've enjoyed Kreindler's Korner for several years now, mostly on the weekends, on Uni Watch, but with the recent coronavirus outbreak, Graig's time is just too precious and he needs to tend to other things besides coming up with a new writeup each weekend.
So, going forward, for as long as the COVID-19 situation is bad in New York, I'm going to run a few "Best of's" until Graig returns.
Here's today's offering:
• • •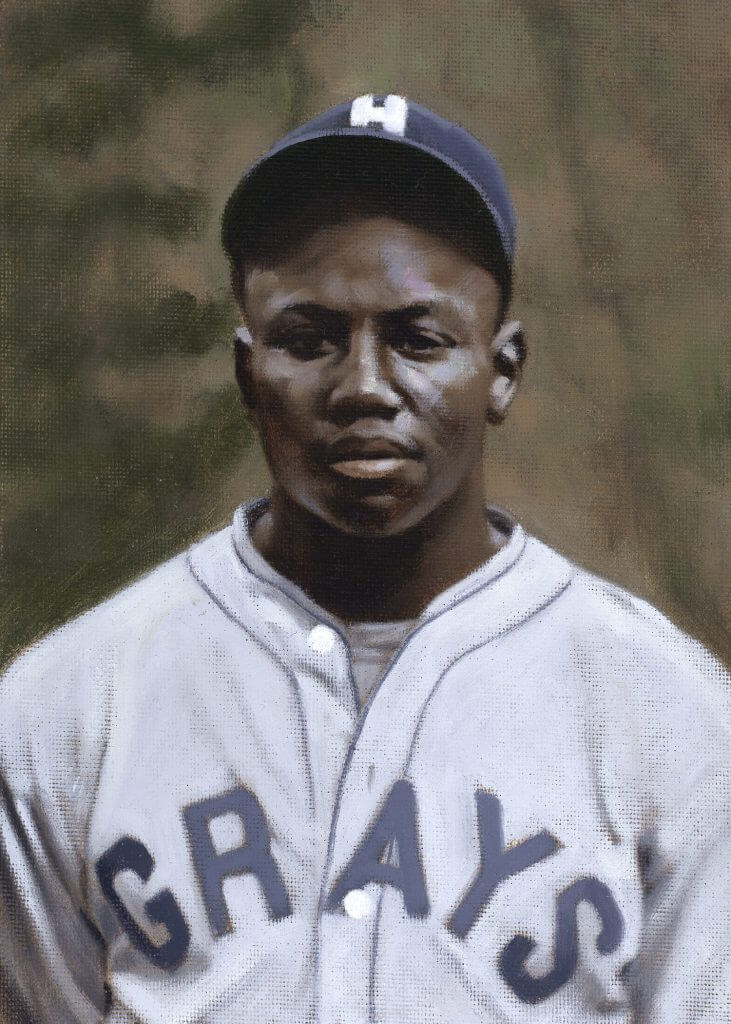 Title: "Josh Gibson, 1931" (color study)
Subject: Josh Gibson, 1931
Medium: Oil on linen mounted to board
Size: 5" x 7"

The 1931 Homestead Grays are considered one of the greatest Negro League teams of all-time. Playing in the American Negro League that year, it's been said that they had a record of 163-23 against all levels of competition. We won't ever know whether those numbers are fully legitimate, but it's very probable that they did dominate their competition – the club boasted the likes of Oscar Charleston, Jud Wilson, Smokey Joe Williams, Vic Harris, Tubby Scales and a young catcher named Josh Gibson.

Many sources credit Josh with hitting 75 home runs that season, though 'officially' he only had 10, while slugging at a .545 clip. Regardless of the actual numbers, the following years instilled very little doubt that Gibson was one of the league's premier sluggers. One of his most famous (and perhaps apocryphal) feats is the ball he supposedly hit out of Yankee Stadium during game action. In an article written by the great Gary Ashwill for his blog Agate Type (which you NEED to follow), he discusses a home run in 1930 that at least one player claimed to have gone out of the ballpark.

This small portrait is one of 200+ such paintings of mine that were on display at the Negro Leagues Baseball Museum in the spring of 2020.
• • •
Thanks, Graig! You can (and should!) follow Graig on Twitter.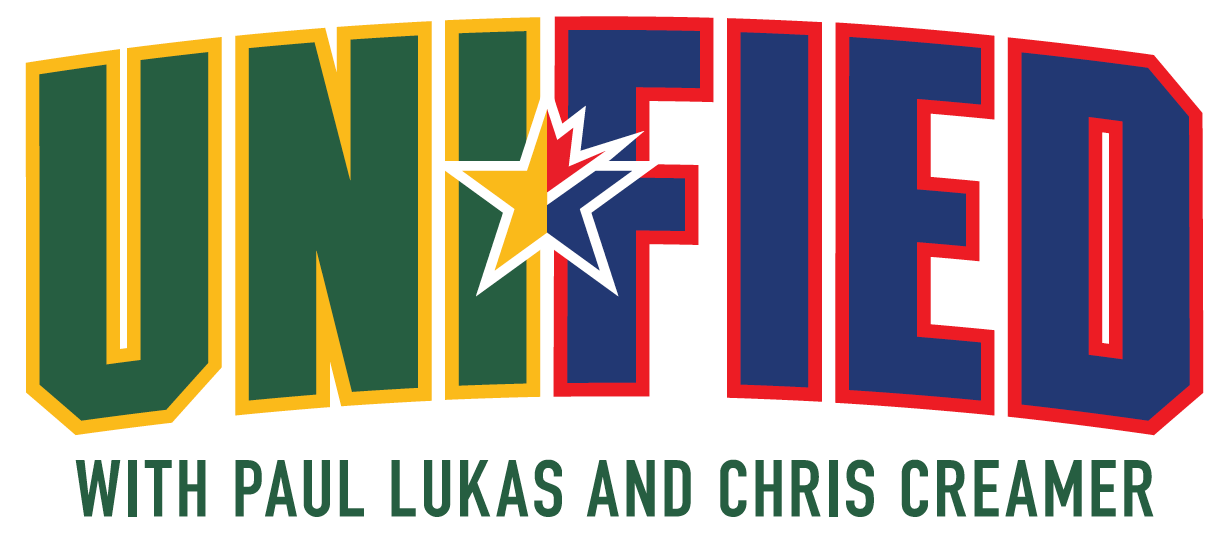 Podcast reminder: Paul here. In case you missed it a few days ago, the second episode of Unified, my new podcast collaboration with SportsLogos.net founder Chris Creamer, is now available. This episode begins with a quick Super Bowl recap and then segues into a discussion of the Browns' new 75th-anniversary logo, which evolves into a deeeeep discussion about the do's and don'ts of anniversary patches. You can listen to it, and subscribe to future installments, on Apple, Google, Stitcher, TuneIn, and Spotify, or just use the player below:
The show notes, which include photos of most of the patches and other things we discussed, are available here.
You can also check out the video version of the episode here:
If you missed our first episode, it's available here. Our next episode should be ready on Thursday. Thanks for checking out the podcast, and for all the great feedback we've gotten — Chris and I really appreciate it.
Okay, that's it for me. Thanks for listening. Now back to Phil.


Uni Watch News Ticker
By Phil

Baseball News: Here are a couple of photos of Darryl Strawberry not quite in his Dodgers uni: Here he's pictured with actor Tom Selleck attending the 35th Annual 'Hollywood Allstars Night' Celebrity Baseball Game on August 22, 1992 at Dodger Stadium in Los Angeles. In this next photo, Darryl Strawberry, Jo Lasorda and Tommy Lasorda attended MTV Rock N Jock Baseball Game on January 11, 1992 at UCS Dedeaux Field in Los Angeles, California (both from Douglas Ford). Anyone know when the "Jordan" logo was first put on clothing? Seems like a very early use, but I could be wrong. … University of Tampa head baseball coach Joe Urso wore his multiple national championship rings when he attended the Buccaneers' Super Bowl parade on Tuesday (from Kary Klismet. Also posted in NFL Football news. … The Florida Atlantic University Owls have a shitload of baseball uniforms (from Max G.). … Also from Max G., take a gander at the Oklahoma Sooners baseball unis (those are crimson & cream). The also have a set of gray unis (from Timmy Donahue). … Omaha and Iowa State softball played a game on the UNI football field (from Joseph Zurek). Yeah, that doesn't look weird or anything. … Here's another look at the softball-on-a-football-field tourney (from Timmy Donahue). He explains the University of Northern Iowa hosts an annual softball tournament, the Doc Halverson UNI-Dome Classic, indoors. "Pretty unique setup in the dome." … Chris Mykoskie points out that, despite throwing a strike, PSU coach James Franklin should not have a Yankees jersey with a NOB (also posted in College football). I pose a question about NNOB's in the College Football section. … Whoa: check out this shot of a former Diablos Rojos MX player in stirrups playing with a mariachi band (from BRF). … Apologies if this has already been tickerized, but the Oklahoma Sooners softball looks to be bringing back the same uniforms as last year, but with updated collar and sleeve striping compared to their previous set (from Timmy Donahue). Also Georgia baseball's unis for 2021. … ICYMI: lots and lots of baseball uniforms for the SDSU Aztecs (from Max G.).

NFL News: University of Tampa head baseball coach Joe Urso wore his multiple national championship rings when he attended the Buccaneers' Super Bowl parade on Tuesday (from Kary Klismet. Also posted in Baseball news. … This article has a (not particularly great) photoshop of JJ Watt in a Browns uni. Pretty sure their numbers are, ya know, brown and not charcoal. … If the NFL's "one shell" rule is ever lifted, the author of this article hopes the Rams bring back their "classic curlicue" helmet. So do I. … Oh, my. The new "Fan Controlled Football" (FCF) league has some interesting uniforms (from Josh Claywell). I mean…just wow.

College Football News: Chris Mykoskie points out that, despite throwing a strike, PSU coach James Franklin should not have a Yankees jersey with a NOB (also posted in baseball). This actually begs a question: If you were ever fortunate enough to toss out a first pitch at a Yankees (or Red Sox or Giants) game, and could select your own jersey, would you definitely go NNOB? I'm assuming Franklin (or anyone wearing a replica) was probably given that jersey to wear…but if you had the option, would you demand NNOB?

Hockey News: The Laval Rocket (Habs AHL affiliate) have given goalie Michael McNiven a most unusual #3. He's previously worn #33 and #40. Says submitter Mike Engle, "Looks so weird!" … The Vancouver Canucks invited fans to drop off signs which could be displayed during warmups. Submitter Wade Heidt adds, "This was first done for Thursday night's game. Signs that are chosen will be displayed against the glass during warmups for the players to see." … More from Wade: Here's the mask Jets G Laurent Brossoit wore for yesterday afternoon's game in Winnipeg. … The Leafs changed their seat coverings to a more familiar blue. They were grey just a week ago (via Paul). … Last night the Arizona Coyotes debuted their Reverse Retro sweaters against the St. Louis Blues.

NBA News: An exclusive pair of Nike basketball sneakers designed in honor of former President Barack Obama were pulled from the luxury auctioneer Sotheby's ahead of their anticipated sale Friday. No reason was immediately given for why (from Jason Hillyer). … The Cleveland Cavaliers will wear four different unis this season, but so far they have performed best in their "rock inspired" unis.

College Hoops News: "NAIA Bluefield College opts to skip anthem to avoid forfeits," writes Timmy Donahue. "A day after forfeiting a game b/c the school had suspended all players for kneeling during the anthem in Jan & Feb the team picked this method so they can continue to play." … In what should come as a surprise to absolutely no one, the Oregon Ducks have introduced a new GFGS hoops uni (from Jakob Fox). … Brian Weingartz notes that Ohio State played Indiana, and how unusual it is to see both teams going NNOB. OSU were wearing throwbacks (I'm not sure about IU). … Oooohhh — check out these (I am pretty sure) gorgeous throwback unis for Drake (from Sean Jankowski). … The University of Texas at Arlington Lady Mavs wore special beat cancer pink jerseys yesterday afternoon (from Jonathan Dodd). … Sideline officials for NC State basketball wore PROTECT THE PACK branded faceshields in the Duke vs. NCS game (from Art of Scorebug).

Soccer News: The LA Galaxy's new alternate uniform is apparently an homage to the club's vertically striped uniforms from the 1990s (from Kary Klismet). … A tweeter who goes by Football, Bloody Hell writes, "Currently watching #Eredivisie highlights from last weekend. A very blue match at Zwolle, where home team PEC chose royal blue, away team RKC Waalwijk donned navy blue, and the refs rolled out the light blue gear." … Here's a look at the new gold 110th anniversary shirt for Hajduk Split (from Ed Żelaski). … To celebrate the Chinese Lunar New Year, Barça players wore special jerseys (via Paul).

Grab Bag: Superior (Wisc.) Middle School has a new logo designed by one of its students (from Kary Klismet). … Also from Kary, there is a new helmet design for driver Andre Heimgartner of Australia's Supercars Championship. … Still more from Kary, who writes, "I came across this article from the University of Iowa's alumni magazine recently. It's about an Iowa student who hitchhiked from Iowa City to Greeneville, South Carolina, and back over a weekend in 1954 to win a bet. While not directly uni-related, I was struck by the photo of the student wearing an Iowa t-shirt with the university seal on it and carrying a duffel bag with an Iowa wordmark." He continues, "I've always thought of fan apparel and merchandise as a fairly recent phenomenon in the grand scheme of things, so I found it fascinating to see evidence that it dates back at least as far as the 1950s. As for that t-shirt, as Jim Vilk would say, "I'd wear that!"" … New uniforms for the Georgetown Hoyas lacrosse team (from Timmy Donahue). … Also from Timmy, after undergoing a rebranding effort, Jefferson County Community College in upstate NY is soliciting the public for ideas on what to name the school's new mascot. … Still more from Timmy: Chinese troops on disputed South China Sea islands get new uniforms. The troops have been given upgraded tropical weather uniforms to make them more comfortable. … Denny Hamlin's 11 FedEx car has an "upgraded look with a nice gradient" (from Jakob Fox). … Jeremy Brahm found these Ohio State pennant volleyball uniforms for Vangard Volleyball. He found a few other uni gems from Vangard, and astutely observes, "I mean this one by Vanguardvball is a player name word search puzzle."


And finally… big thanks to David for the deep dive into creating his NBA franchise through the use of a video game. It was, at least for me, a really interesting and informative piece.
On a bit of a personal note, my old curling rink (well, minus one member unfortunately) — which includes Paul — will be reuniting on the Brooklyn Lakeside Curling Club ice later this evening, with all the COVID protocols in place. Should be fun!
Everyone have a good Sunday (and Valentines Day) and stay well and safe. I'll catch you next Saturday.
Peace,
PH