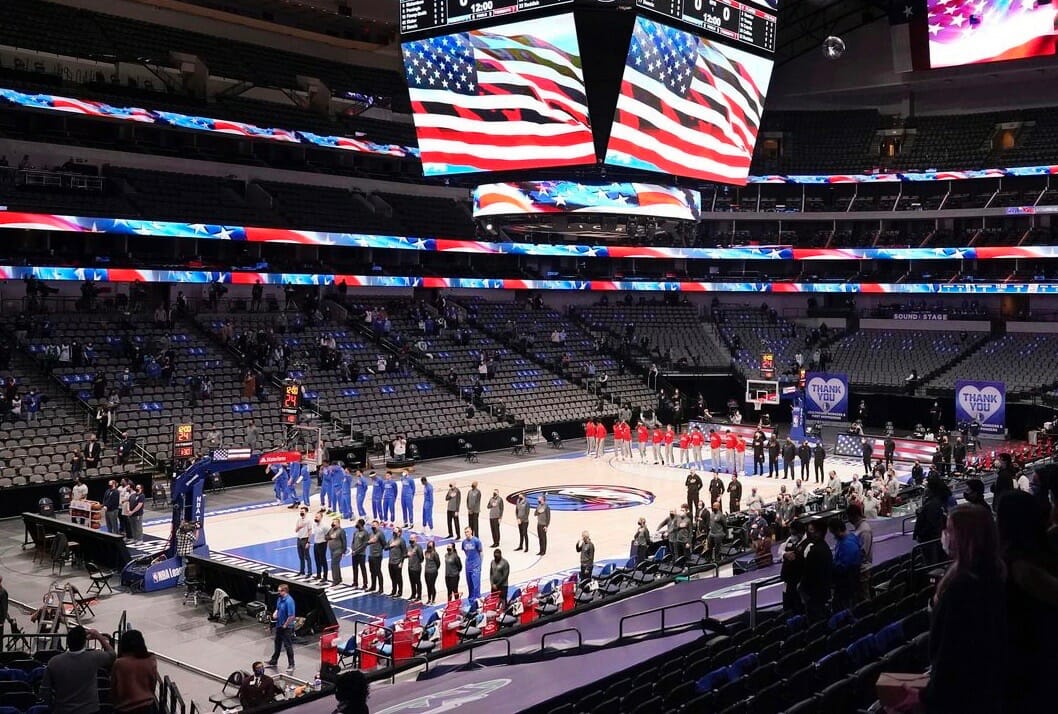 Click to enlarge
I reeeaaaally didn't want to write about the national anthem again today. But this time I'm going to connect it to uniforms — hang in there while I explain.
So: As you're probably aware by now, yesterday — one day after the news broke that the Mavericks hadn't been playing the anthem prior to home games this season, which nobody had even noticed until a writer for The Athletic asked about it earlier this week — the NBA responded by mandating that all teams play the anthem. Mavs owner Mark Cuban confirmed that the team would comply. (The anthem was indeed played prior to last night's Hawks/Mavs game in Dallas, as seen in the photo above.)
I'm not interested in rehashing whether the playing of the anthem is a good thing or a bad thing — we already did that yesterday.
But I've been giving some more thought to something from yesterday's post. As you may recall, I mentioned that one reason I'm in favor of scrapping the anthem at sporting events is that, as I wrote yesterday, "the anthem isn't played before movies, plays, concerts, or other entertainment events, so why do it for sports?"
That got me thinking: Why is the anthem a sports thing but not a movie/play/concert thing? Why did it catch on in sports but not at other entertainment events? I'm aware, of course, of the history of how the anthem started being played at sporting events, but why didn't anything similar happen at other entertainment venues? Music and musical theater events already had bands on hand, so it would have been simple enough for them to play the anthem, even before the advent of recorded versions and high-volume amplification.
The answer, I think, has a lot to do with uniforms.
Let me explain: If you've ever heard me in a radio or podcast interview, I'm often asked about why people care so much about uniforms, and I usually give an answer that goes something like this (if you've already heard me say this, my apologies for the redundancy, but stay with me here — I'll tie it all together at the end, promise!):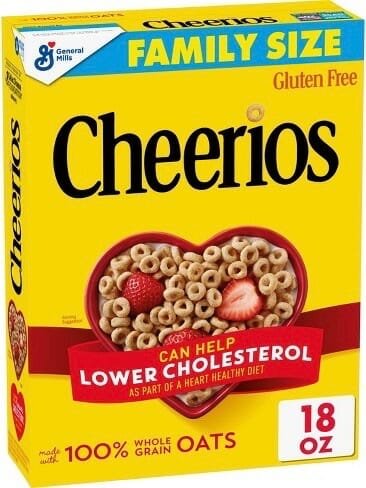 Rooting for a team is essentially a very intense form of brand loyalty, and there's nothing else like it on the consumer landscape. Let me give you an example: Let's say I really love Cheerios, the breakfast cereal (which, in fact, I do). Over the years I've developed a certain emotional connection to the yellow box, the black type, and so on. When I see that box on the shelf in the supermarket, a little button inside my brain gets pushed, like I'm seeing an old friend, a familiar face. This is what's become known as brand loyalty.

But here's the thing: My loyalty is really based on the fact that I like how the product tastes. If they changed the formula — if it didn't taste as good, or if it wasn't as crunchy, or whatever — I'd stop buying it. The yellow box and the little button in my brain can accomplish only so much. This is essentially the lesson that the Coca-Cola people learned with the New Coke debacle. In short, what we usually refer to as brand loyalty is actually product loyalty.

But in sports, the product — by which I mean the roster of players — is changing all the time. Players get traded, they retire, they become free agents, and so on. As a result, the quality of the product is changing as well — your favorite team can be really good one year and really bad the next, which is sort of like your Cheerios tasting really good one week and really bad the next.

But despite those changes, most of us remain loyal to those team colors, that logo, and that uniform, no matter who's wearing it. To give a simple example, let's say I'm a Mets fan (which, in fact, I am), and let's further say that I hate the Yankees (which, in fact, I do). Now let's additionally say that the entire Mets roster is traded straight-up for the entire Yankees roster — 25 guys for 25 guys. If that trade happens today, who do I root for tomorrow? For me, the answer is obvious: I root for the 25 guys who are now wearing Mets uniforms, even if I hated them yesterday.

That makes no sense. It's irrational, illogical, absurd, based purely on arbitrary emotion instead of reason. That, my friends, is the power of a uniform. It's so powerful that it's essentially a package that's more important than the product. And at its most basic level, that power — that devotion to the Cheerios box, even though the cereal inside is constantly being reformulated — is why we convene here at Uni Watch every day.
So that's my spiel — basically a more verbose version of Jerry Seinfeld's famous line that we're all "rooting for laundry." And like I said, there's nothing else like it on the consumer landscape. But I can think of two comparable examples of blind devotion on the non-consumer landscape, however. One is religion, a topic I don't want to get into here (and that I'm not qualified to discuss anyway). The other — and this is where the anthem comes in — is patriotism.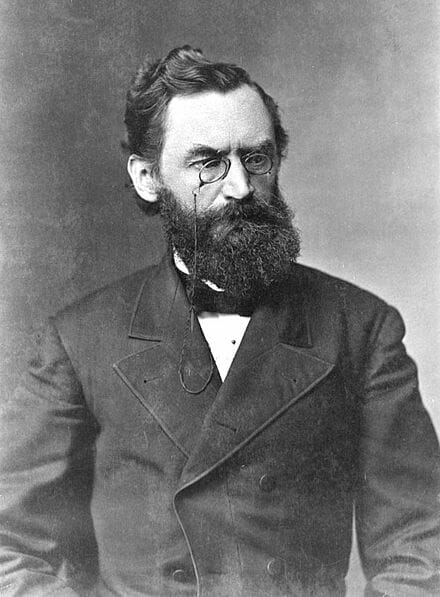 It was the Union Army general Carl Schurz (shown at right) who famously said, "My country, right or wrong." That phrase has been invoked, interpreted, and weaponized in countless different ways and contexts over the decades, but it captures a certain kind of unwavering, love-it-or-leave-it devotion — a certain diehard team loyalty or even brand loyalty, if you will — that seems very similar to sports rooting. Obviously, the stakes are higher in patriotism than in sports (patriotism can lead to war, inspire tremendous sacrifice, and so on), but the sense of emotional identity and intense fidelity, no matter what, strikes me as coming from a similar place.
I think that may be part of the reason why the anthem caught on at sporting events but not at other entertainment gatherings. The idea of "rooting for the home team" can apply just as easily to your country as to your favorite ballclub. It's a similar mindset, or so it seems to me.
And there's more. Uniforms are programmatic classification systems — they create systemic order out of a chaotic world. I think that's at least part of why uniforms appeal to those of us who Get It™ — we find something satisfying and maybe even comforting about the rules and protocols that apply to uniforms. You know what else has rules and protocols? The national anthem: You're supposed to stand, you remove your cap, and so on. And for better or worse, the anthem is strongly associated with the military, which is full of rules and protocols — and whose personnel wear uniforms (which in turn have their own rules and protocols).
So I think all of that is at least part of why the anthem caught on in sports but not at movies, plays, concerts, or other entertainment gatherings. That's not to say it should be played at sporting events — I'm still in favor of scrapping it, for reasons I explained yesterday — but I can understand why the tradition evolved the way it did, and why some people see it as a natural fit.
Finally, here's something I wasn't aware of: In a 1988 episode of the old sitcom Mr. Belvedere, the character played by Bob Uecker suggests that teams should stop playing the anthem due to widespread apathy. Naturally, controversy ensues:
(My thanks to Trevor Williams for the Mr. Belvedere clip.)
• • • • •
• • • • •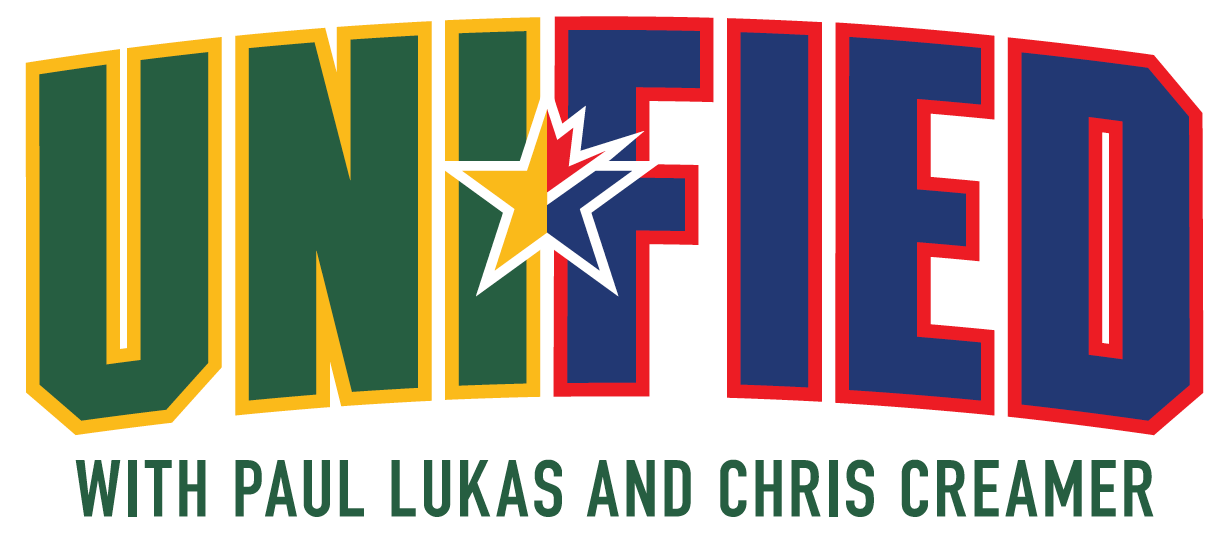 ITEM! New podcast episode: The second episode of Unified, my new podcast collaboration with SportsLogos.net founder Chris Creamer, is now available. This episode begins with a quick Super Bowl recap and then segues into a discussion of the Browns' new 75th-anniversary logo, which evolves into a deeeeep discussion of the surprisingly nuanced world of anniversary patches. You can listen to it wherever you get your podcasts, or use the player below:
The show notes, which include photos of most of the patches and other things we discussed, are available here.
You can also check out the video version of the episode here:
This was our first episode working with our new producer/editor, Chris Frateriggo. We still face a bit of a learning curve in terms of smoothing out certain details, but we're getting there.
One thing: The little animation at the beginning of the video is by Michael Princip. When I read the closing credits at the end of the episode, I didn't realize we were going to use that animation, so I didn't credit Michael properly. Sorry about that, Michael — we'll definitely credit you properly next time.
Thanks to everyone for your support and enthusiasm — hope you'll keep listening.
• • • • •
• • • • •
One shoe off, one shoe on: Funny sequence on Tuesday night in Portland, as Trail Blazers guard Rodney Hood had one of his shoes come off, so he tossed it aside and played some defense in a socked foot before retrieving the shoe at the next play stoppage.
We've seen things like this happen before, but for some reason I never get tired of it — fun stuff!
(My thanks to Mike Chamernik for this one.)
• • • • •
• • • • •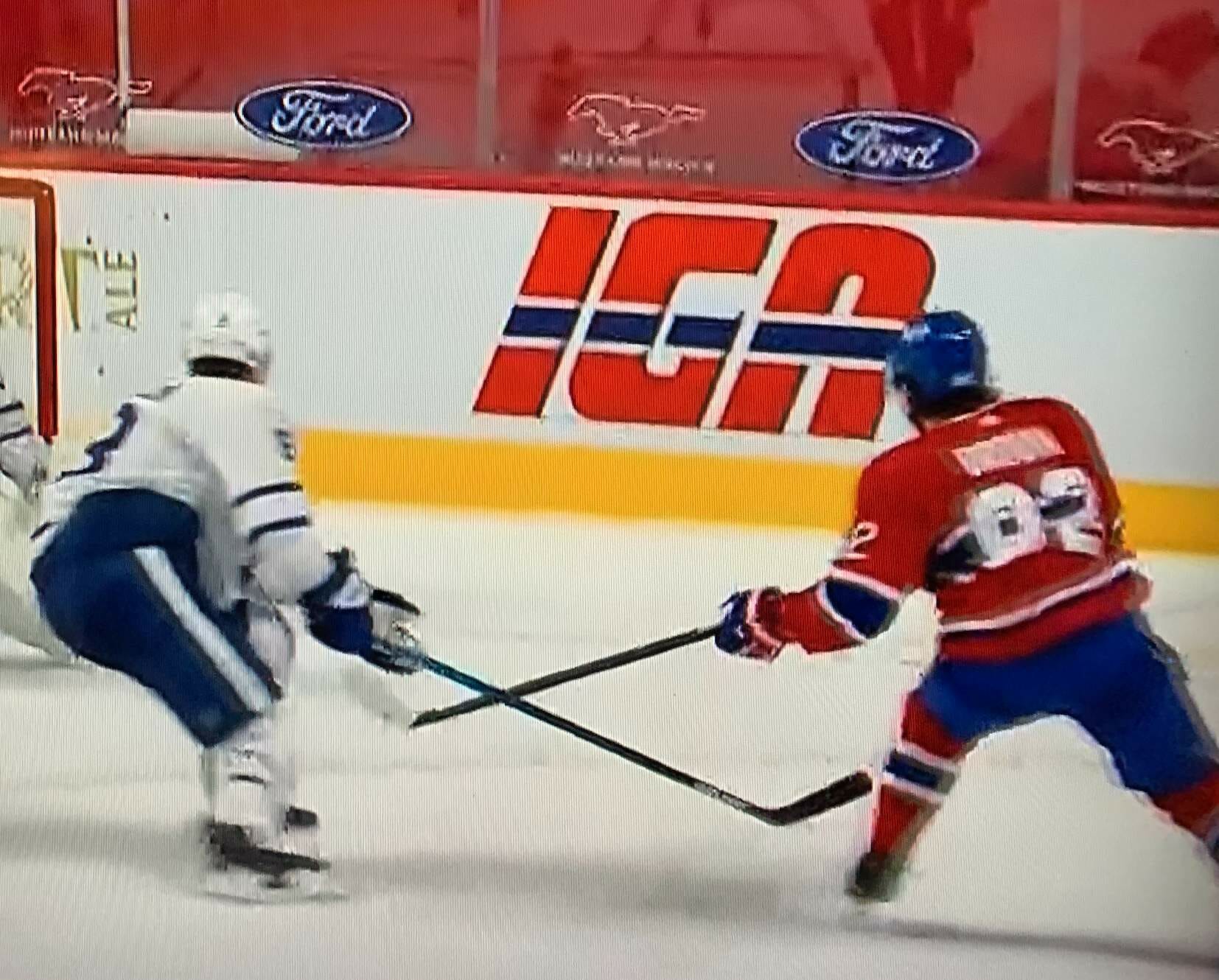 Too good interesting for the Ticker: As we all know, I have some issues with the intersection of uniforms and advertising, but I'm nonetheless intrigued by this IGA ad on the boards in Montreal. Look how the logo, which is usually solid red, has been given a Canadiens-style makeover! That's pretty clever.
(Big thanks to Cino Commisso for this one.)
• • • • •
• • • • •
The Ticker
By Paul

'Skins Watch: North High School in Wichita, Kan., will no longer call its teams the Redskins but is keeping its Native-themed imagery (thanks, Phil). … … Students at Plymouth-Canton High School in Michigan want to change the school's "Chiefs" team name and related imagery (from Craig Barker). … Rutland High School in Vermont, which dropped "Raiders" as its team name and its associated Native American imagery last year, has chosen "Ravens" as its new name (thanks to all who shared). … The rest of these are from Kary Klismet: A move by Barnstable High School in Massachusetts to drop its "Red Raiders" team name, after having previously retired the Native American imagery associated with it, has been held up by one school board member who claims the name originally honored the city's first fallen serviceman from World War II. … State legislators in Washington and Massachusetts have introduced bills that would prohibit public schools from using Native American-themed team names and imagery. … The Olentangy School District in Ohio has unveiled new athletic logos for all five of its middle schools. The new marks remove the Native American imagery associated with the old logos but retain the team names. … The school board in Putnam County, Tenn., has rejected a petition from community members to drop "Redskins" as the team name for a local middle school. … A committee of the Utah House of Representatives passed a resolution acknowledging the harm caused by public schools using Native American mascots and calling on the issue to be considered by the full legislative chamber. … The school board in Atchison, Kan., has decided to revisit the issue of schools in the district using Native American-themed team names and imagery after having previously rejected making a change in 2018.

Baseball News: Monday's Ticker mentioned that this year's MLB spring training caps were essentially the same as last year's — except for the Padres' cap which was updated to avoid the accidental-swastika effect. But John Sabol points out that Cleveland's caps have also changed, so that the stupid "Indians" lettering inside the block-"C" has been replaced by stupid "Cleveland" lettering. … New uniforms — including real stirrups! — for Texas A&M (from Kary Klismet). … New uniforms — with weird, shiny chest lettering, an even weirder-looking buttonless placket, and what appears to be baseball's first sweatback — for Oklahoma (thanks to all who shared). … New softball uniforms for Louisville (from Adam Williams). … After using the same glove for 13 seasons, Dodgers P Clayton Kershaw is finally retiring it now that he's won a championship (from Jakob Fox).

NFL News: The Washington Football Team has chosen a branding agency that will work to create the team's new identity. It's not clear what the timeline will be (from Dan Gitlitz). … In one of the riskier passes of his career, Bucs QB Tom Brady threw the Lombardi Trophy from one boat to another, across open water, during a victory parade yesterday (from Mike Chamernik). … Some pretty cool old photos — including one of Tony Dungy with hair! — in this remembrance of former NFL coach Marty Schottenheimer (from Squish58).

Hockey News: Former NHLer and current broadcaster Mark Parrish says it was an honor to pay Mikko Koivu to give up No. 21 when they both played for the Wild — and then Koivu "admitted that he wanted No. 9 anyway" (from John Muir). … Interesting article about how they're constructing the rink for the upcoming outdoor games at Lake Tahoe (from Wade Heidt). … For a 1971 game, the North Stars had two backup goalies — Gilles Gilbert and Cesare Maniago — both listed as No. 30. I'm assuming only one of them was active and the other was a healthy scratch (from @tierknala). … Penguins director of operations and longtime NHL exec Brian Burke apparently has a "complicated relationship with neckties" (from Chris Weber). … New mask for Seattle Thunderbirds G Thomas Milic (from Wade Heidt. … Also from Wade: A new street in Brandon, Manitoba, home of the WHL's Brandon Wheat Kings, will be called Ferraro Drive, after former Wheat Kings player and eventual NHLer Ray Ferraro. The street sign features a Wheat Kings logo.

Basketball News: Heat PF/C Kelly Olynyk, who is from Canada and also plays on the Canadian national team, has been wearing Canada Basketball sneakers (from Moe Khan). … Milton High School in West Virginia is apparently going with the untucked Marquette look.

Soccer News: "I mentioned in Monday's Ticker that the Netherlands' Vrouwen Eredivisie would be getting an advertiser," says our own Jamie Rathjen. "That deal is now done, and includes the league's name being flipped to 'Eredivisie Vrouwen.'" … Also from Jamie: Pro tennis star Naomi Osaka is now a part owner of the NWSL's North Carolina Courage and wore the new Courage shirt at the Australian Open today. … Inter Milano's new logo has leaked (from Trevor Williams). … New logo and title advertiser for the Belarusian Super Cup (from Ed Zelaski).

Grab Bag: Some great old Navy athletics footage, from a variety of sports, in this 1965 video clip (from Trent Layne). … Male members of New Zealand's parliament will no longer be required to wear a necktie (NYT link). The move comes after a Maori politician was temporarily ejected for wearing an indigenous pendant in lieu of a tie, which led to a reconsideration of the dress code (from Kenny Ocker). … Our own Jamie Rathjen has news on the U.K. Netball Superleague: "The Manchester Thunder have two new kits. They are allegedly suffragette-themed, because they have sashes and British suffragettes who were members of the Women's Social and Political Union wore sashes saying 'Votes for Women' in marches. There's no real time-sensitive reason for it — 2021 isn't the anniversary of anything relevant. It feels like they came up with the design first and the storytelling second, which I've seen happen in soccer." … Chase County High School in Nebraska, whose teams are called the Longhorns, have found a clever way to incorporate their mascot image's horns into their logo (from Austin Meyer). … New A-10 Thunderbolt-themed lacrosse helmets for Air Force (from Billy Snider). … British Columbia Premier John Horgan wore a lacrosse-themed mask at a press conference yesterday (from Wade Heidt). … New rugby union uniforms for Austin Gilgronis of Major League Rugby (from @bryanwdc and Sy Hart). … The rest of these are from Kary Klismet: Danville Area Community College in Illinois has unveiled its new costumed mascot and named it "Mick Jaguar." … Rameses XXI, the retired live mascot for the University of North Carolina, has died. … Here's one writer's choice for the 10 most iconic movie franchise logos. … There's a new book out about the history of workplace dress codes. … New auto racing helmet designs for Bryce Fullwood of the Australian Supercars Championship and NASCAR's Chase Elliott. … Former Jeopardy! host Alex Trebek's wardrobe has been donated to a charity that helps people re-enter the workforce (from Douglas Ford).
• • • • •
• • • • •
• • • • •
I just want to say that I received the March pins from the factory yesterday, and they are so completely amazing! You're gonna like 'em. A lot. — Paul