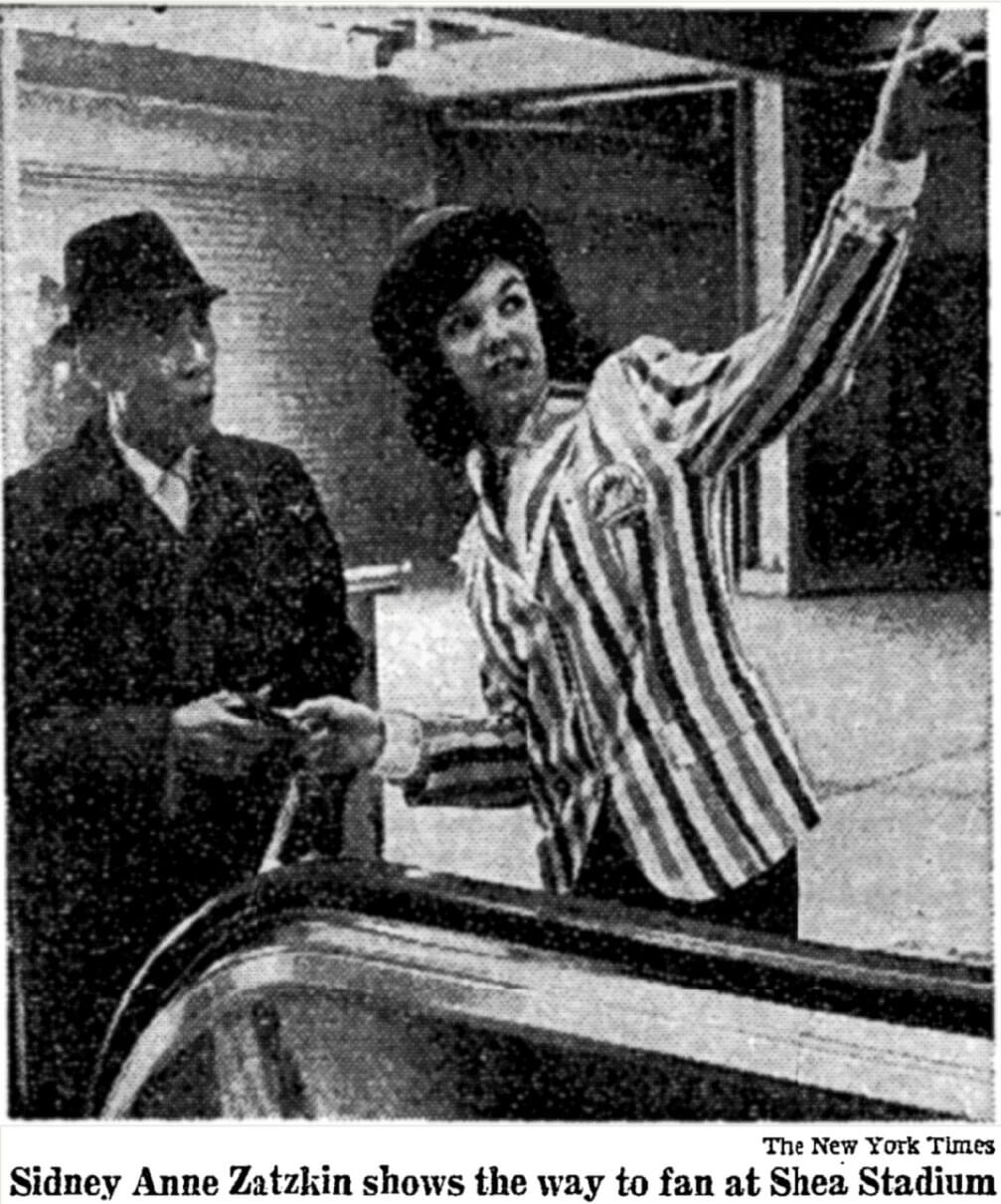 Good morning, and happy February! Greetings from Uni Watch HQ, where all three inhabitants continue to be safe and healthy (and, in one inhabitant's case, insufferably cute). Hope things are good at your home as well.
Last Friday I published an interview with Elaine Goldsmith, the 95-year-old woman who designed the uniforms for Shea Stadium's ushers, ticket takers, and other staff when the ballpark opened in 1964. Lots of you told me that this was one of your all-time favorite Uni Watch entries (thank you!), so I think you're really going to enjoy the follow-up that I have for you today.
Here's the deal: One of the photos I included in Friday's post was of an usher named Sidney Anne Zatzkin (shown at right; click to enlarge). The photo was taken on April 17, 1964 — the date of Shea's first game — and then appeared as part of an article that ran in The New York Times the following day — April 18.
When reader David Landesberg saw that photo in Friday's post, he did what I should have done: He googled Sidney's name to learn more about her. The first thing he discovered — which he shared in Friday's comments section — was that Sidney had appeared on What's My Line?, the old TV game show in which celebrities tried to guess a person's vocation. The episode aired on April 19, the day after her photo had appeared in the Times, so the show's producers must have seen the photo and immediately invited her to be on the show.
One of the celebrities — publishing magnate/humorist Bennett Cerf — correctly guessed Sidney's job after just a few questions, so her segment lasted only three minutes. You can see it here:
Sydneyann (which is how she signed her name on the show, rather than the "Sidney Anne" that the Times used) said during her appearance that she was a freshman at Hofstra. That meant she'd now be about 75 years old. Was she still alive? Landesberg wanted to find out. Women can be difficult to track, because most of them get married and change their surnames. But after some diligent research, Landesberg was reasonably certain he'd located her in South Carolina, where she now goes by Sydney Bozeman. Landesberg even came up with her phone number.
After doing all this legwork, Landesberg generously passed the info along to me. We didn't have an email address for Sydney, so I figured I'd have to cold-call her — a potentially awkward endeavor ("Hi, you don't know me, but if you are who I think you are, then I'm interested in talking about something you did in 1964…"), but I've done it enough times over the years. In this case, it turned out to be easy, because my call went to her voicemail, so I was able to take my time and explain the full situation.
A few hours after I left that voicemail, Sydney called me back (she had been out getting her Covid vaccination — good for her!) and confirmed that she is indeed the former Sydneyann Zatzkin. I sent her the link for Friday's post, so she could see my interview with Elaine, and then asked if I could interview her for a follow-up post. She agreed, so we chatted via Zoom yesterday afternoon. Here's a screen shot of her from that chat, followed by a transcript of our conversation (edited for clarity and length):
Uni Watch: How did you come to be working for the Mets?
Sydney Bozeman: At the time, the World's Fair was going up. So I saw a job listing, probably at my school, to be either a Tahitian on the Bounty — I had long, dark hair — or the Mets. They selected me for both, but I chose the Mets because it was a better fit with my class schedule.
And you know, we weren't really ushers…
UW: No?
SB: They didn't want us in the stands with rowdy fans. So my assignment, as you saw in the New York Times photo, was to be sitting at the edge of the escalator, basically telling people where to go.
UW: More like customer assistance, customer service.
SB: I don't know what they called us, but we were not supposed to be in the stands. And we weren't taking tickets or anything like that.
UW: Were you already a Mets fan at the time, or a baseball fan?
SB: I'd been to a Dodgers game some years prior, but I was not a particularly big baseball fan, no.
UW: How much training or preparation was there for the job?
SB: I think they handed you a jacket and a hat. "Stand by the escalator."
UW: Did they give you a tour of the stadium, so you knew where everything was?
SB: Yes, sure, we did that.
UW: What did you think of the uniforms that were issued to you?
SB: I wasn't particularly thrilled with them. They told me that I looked wholesome, and I wanted to look sexy. So they were really not to my liking at all.
UW: When I interviewed Elaine, I was surprised to learn that the jackets were made of wool, which I imagine would be very warm during the summer.
SB: I don't really recall that. The stadium was dusty, very dusty, maybe because it was new. But I wasn't uncomfortable in the outfit or anything. I don't think it was too warm.
UW: Would you take the uniform home with you, or did you have a changing room? A locker room, something like that?
SB: I really don't recall. Sorry, it's been a while!
UW: The Mets were such a notoriously bad team in those days. Was there any shame or embarrassment for working for them? Did your friends make fun of you or anything like that?
SB: No, they probably could care less.
UW: Do you recall how long you kept the job at Shea Stadium?
SB: I really don't recall, but probably just the one season. We were only there for seven innings. Then we were released, unless there was a second game.
UW: Did you interact with any of the players at any point?
SB: Yeah. And that was interesting, too. They would be in the bullpen and here you have a bunch of young girls or women standing around and annoying them, and they were annoying us. So we were told by management, both us and the players, to leave each other alone.
UW: Shea Stadium opened for that first day, on April 17th, and then I believe it was on April 18th that your photo was in The New York Times. Were you excited to see that?
SB: Yes — and very surprised!
UW: So you didn't know that it was coming?
SB: No.
UW: And then it was the very next day after that — the day after the photo ran — that you appeared on What's My Line? So I assume that a producer from the show saw your photo and contacted you?
SB: Yes — either that or they got in touch with management. I don't remember the details.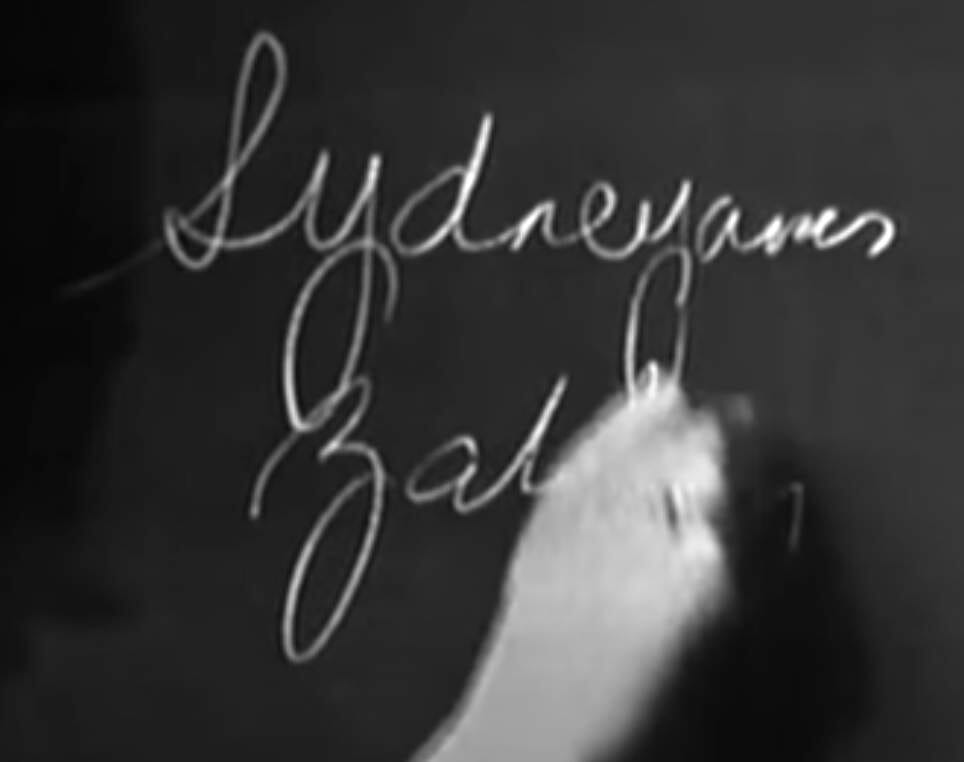 UW: When you signed in on the blackboard on the show, you wrote your first name as "Sydneyann," but the Times had it as "Sidney Anne." Did the Times get it wrong?
SB: Yes, but it wasn't really that important. But here's the funny thing about that: My name was very long, and they didn't allow us to practice on the board in advance. So I'm writing and writing, "Sydneyann Zatzkin" and I started to drift off the end, and I thought to myself, "Dammit, plan ahead!"
UW: You were on the show for only about three minutes, because they guessed your job so quickly. Was that disappointing?
SB: I was so angry! I was supposed to have dinner with my parents and my then-boyfriend [after the show]. And instead I said, "No, I want to go home." But I'll never forget Buddy Hackett.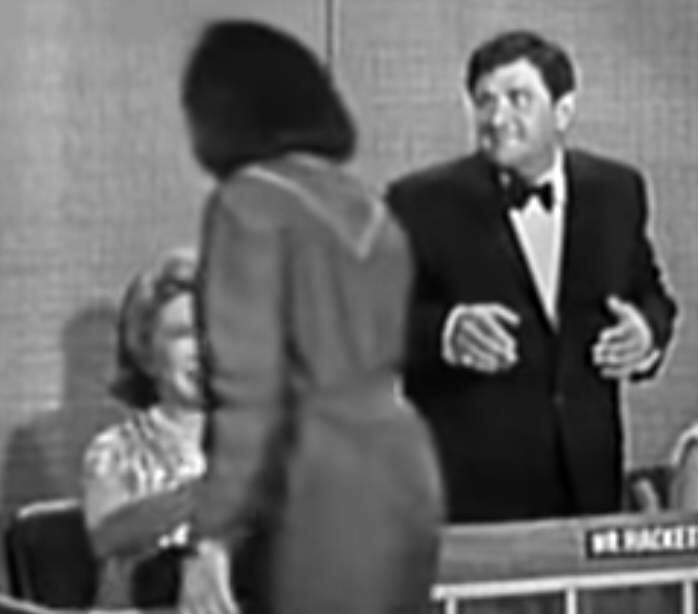 UW: I was actually I was going to ask you about that. Because when you arrived on the show — when you were introduced — there was a lot of whistling. And then, as you left and shook hands with the four panelists, Buddy Hackett sort of leered at you. What did you think of all that?
SB: He made some sort of comment, and I laughed. And it was — it was just fine. I guess I had a lot of presence at 18.
UW: So in the course of two days, you had your photo in the paper and you were on television. What did your friends and family think of all that? And what about your fellow staffers at Shea Stadium — were they jealous that you were getting all this attention?
SB: About the other workers, I don't recall. You know, we didn't have much interaction. But I had an interesting experience with one of my friends. She was a sorority sister who was a budding actress. And when she found out that I was going to be on What's My Line, which happened to have been in the newspaper, she called the young woman who was the associate producer and said I was very ill and wouldn't be able to appear that evening.
UW: Wow — so she was trying to sabotage your appearance?
SB: And she almost did, because the associate producer called and said "I'm so sorry you're ill" and I said, "I'm just fine." A little drama there.
UW: Did this whole experience — the job and the TV appearance — make you a Mets fan for life?
SB: No, but when anybody talks about baseball, I always bring up my 15 minutes of fame. It was exciting when I found the What's My Line? video, probably just about a year ago.
UW: How long had it been since you'd seen yourself in that episode?
SB: Not since it happened. There was no way to get it. I knew which episode I was on, because over the years I've looked it up, but I'd never seen the video of it until about a year ago. Now I keep it on my cell phone.
UW: What about the New York Times photo — did you or your family have that framed on the wall or something like that?
SB: It's never been framed, but I've kept it. It's in a file in my office. All part of my 15 minutes of fame.
———
What a great story! Big thanks to Sydney for sharing her recollections with us.
Three quick follow-ups:
• A follow up article that appeared in the Times on April 21 mentioned Sydney's TV appearance — and this time they spelled her name correctly.
• In 1966, two years after Sydney's appearance, another Shea usher, named Gunnell Bertson, appeared on What's My Line? You can see her segment here. This time the panelists were unable to guess her job (even though Bennett Cerf was still on the panel, oddly), so her segment lasted about eight minutes — Sydney must have been super-envious! (Or she would have been had she seen the segment. She told me she hadn't been aware of it until recently and did not know Gunnell Bertson.)
• Here's a great 1964 shot of Shea staffers, fully decked out in their Elaine Goldsmith-designed finery, posing with Mets skipper Casey Stengel. Sydney isn't in this photo, but it's still a nice way to wrap up our coverage of these Shea Stadium uniforms (click to enlarge):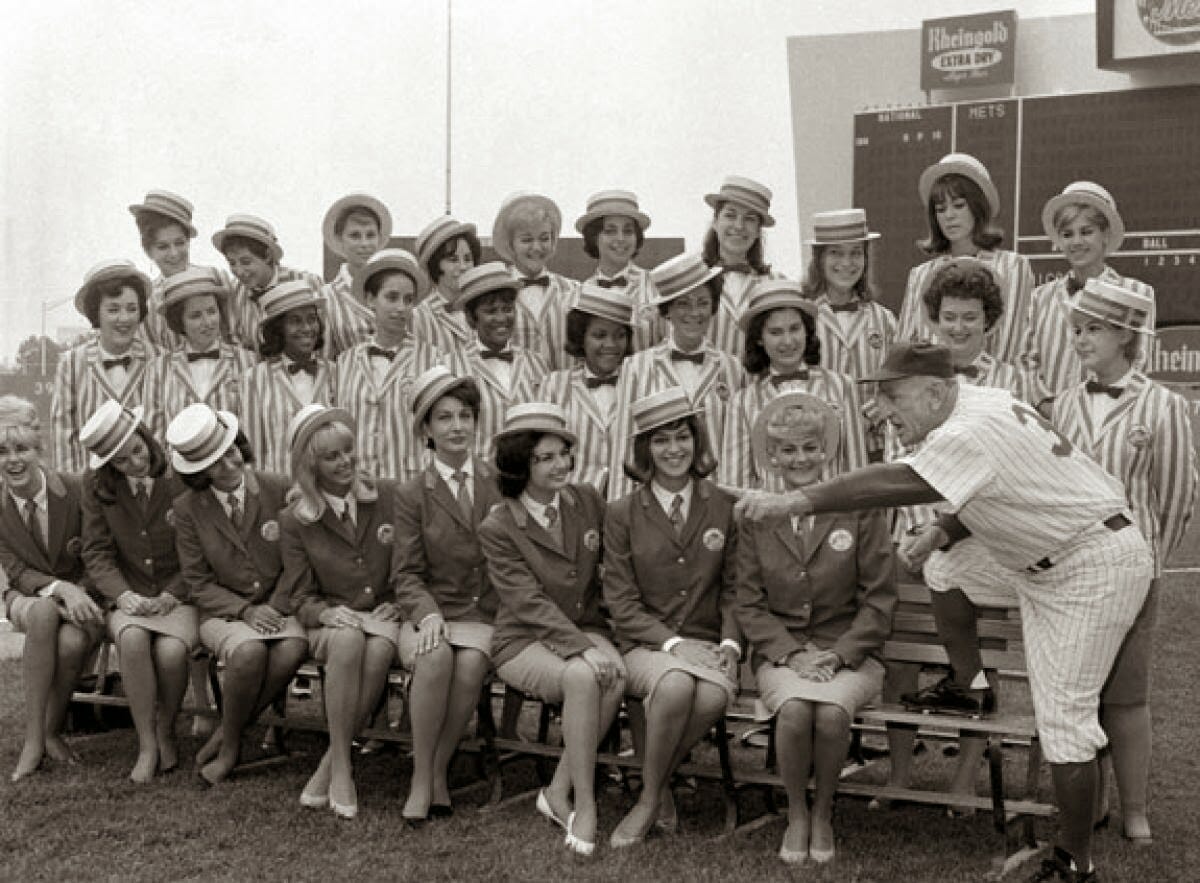 (Special thanks to David Landesberg, without whom today's entry would not have been possible.)
• • • • •
• • • • •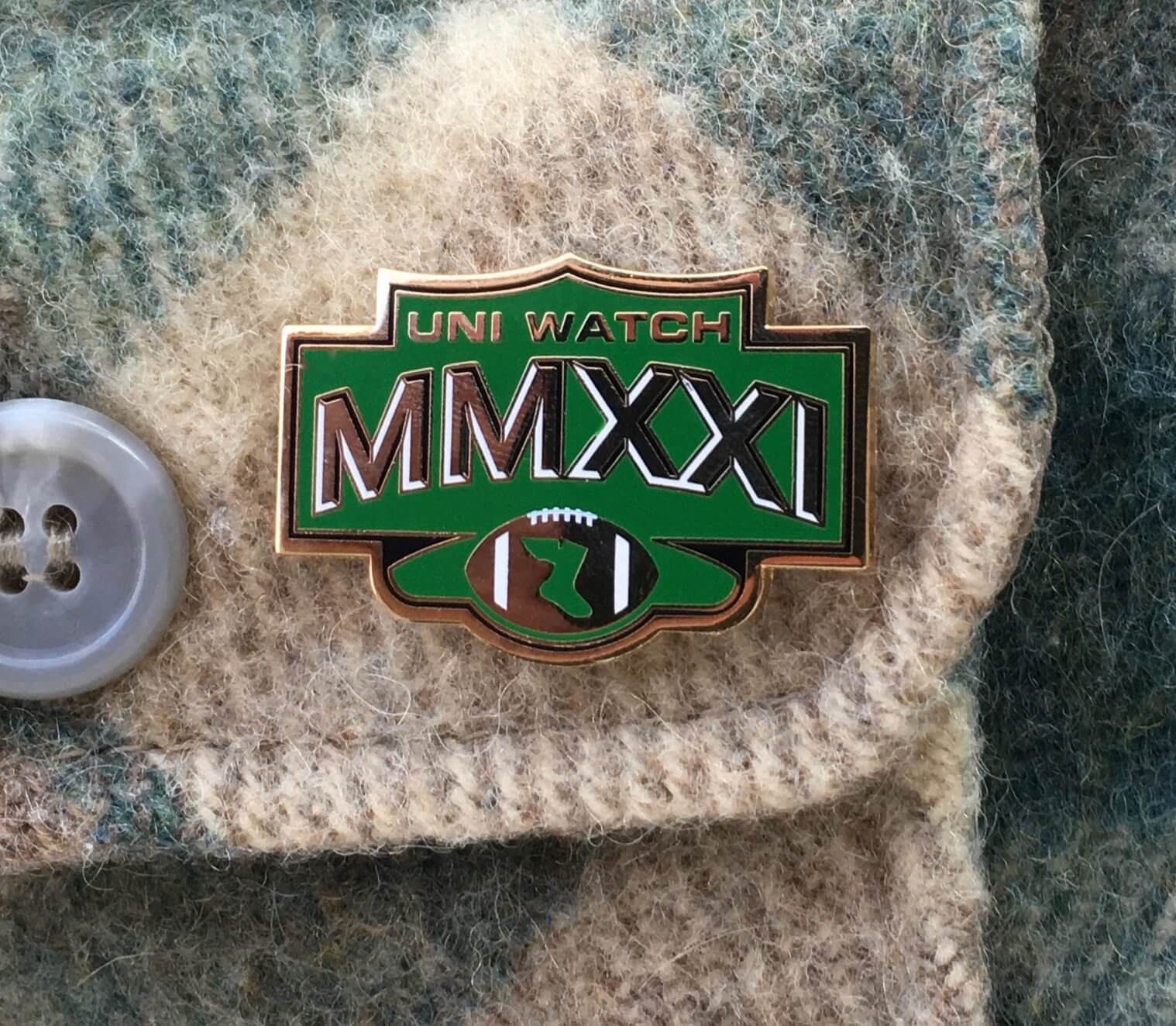 Click to enlarge
ITEM! February Pin Club launch: With the Super Bowl coming up this Sunday, designer Todd Radom and I decided to take a Supe-centric approach to this month's pin, with the year 2021 rendered in Roman numerals. Doesn't that look cool? It's available here.
This is a numbered edition of 200. And because of its horizontal orientation, it has two clasps on the back: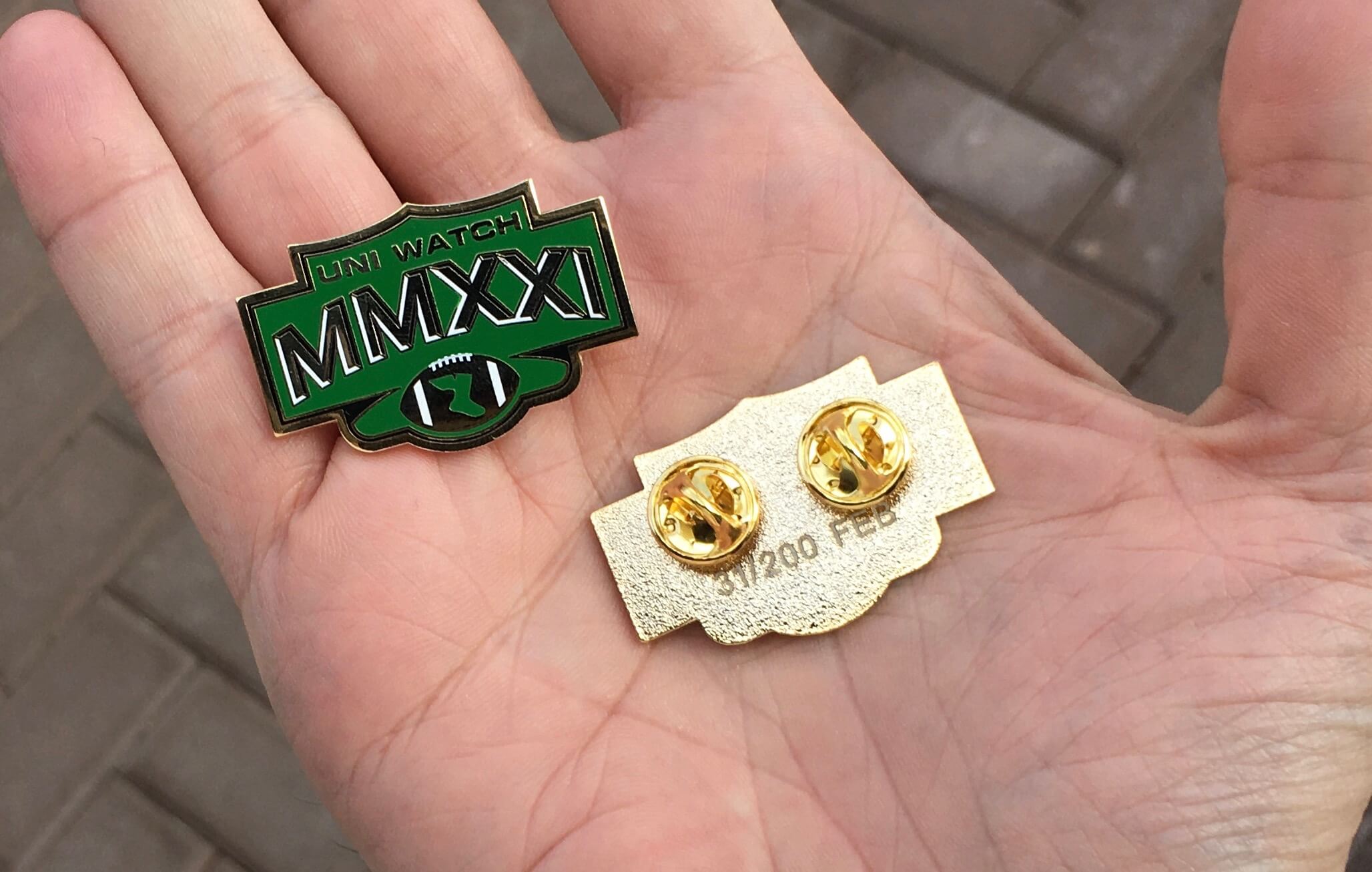 Again, the pin is available here. And because Teespring's latest site-wide sale is still in effect today, you can save 10% by using the checkout code BYEBLUES. This discount will no longer be available tomorrow, so move fast.
While we're at it, that discount also applies to everything in the Uni Watch, Naming Wrongs, and Uni Rock shops. You know what to do.
• • • • •
• • • • •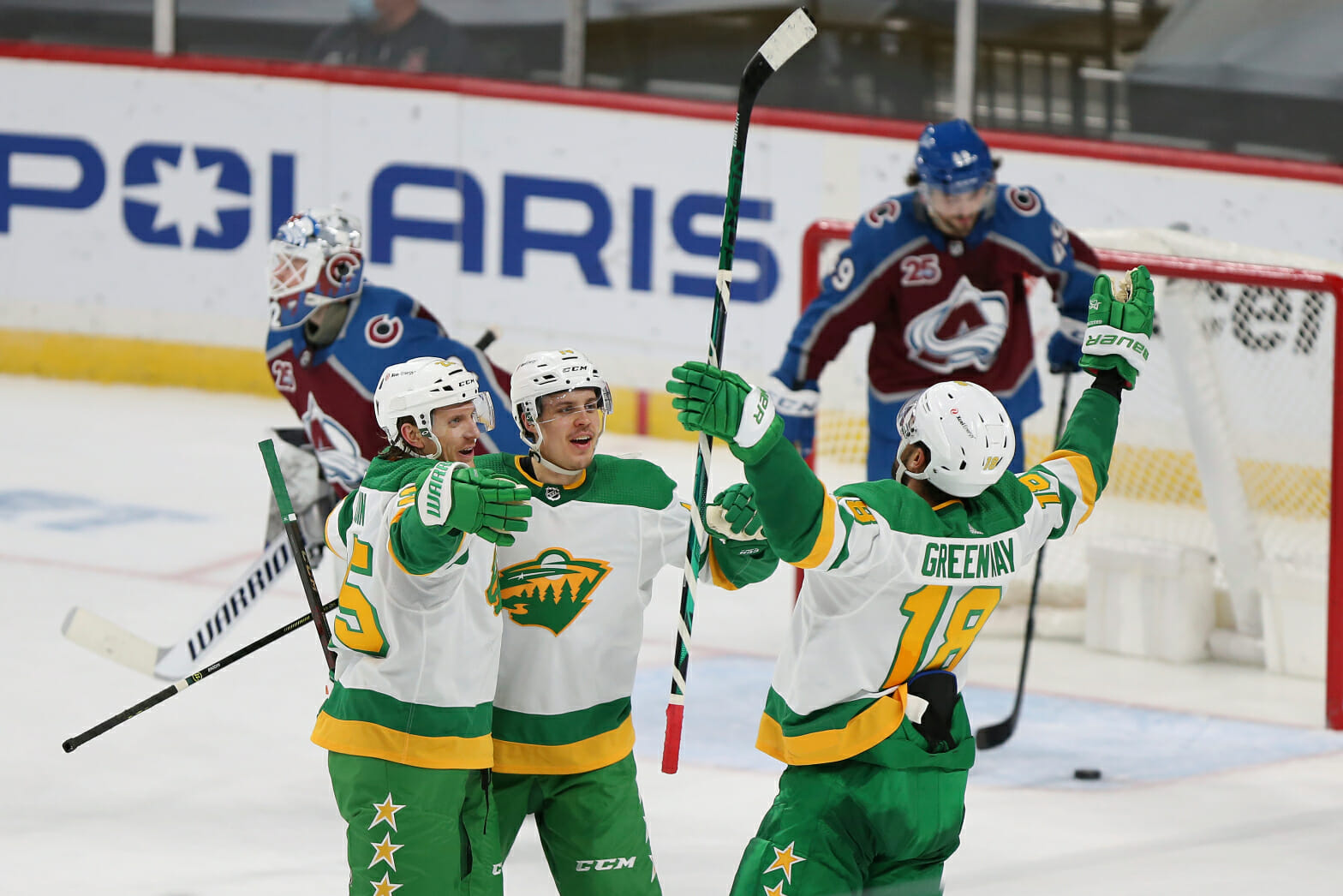 Click to enlarge
Eye candy: The Wild wore their ЯR alternates for the first time last night, and holy shit did they look awesome. Lots of game photos here, and here's a highlight video so you can see these magnificent unis in motion:
If you look back over the past two decades, this team has had very few aesthetic missteps. A model franchise, at least from a visual standpoint.
• • • • •
• • • • •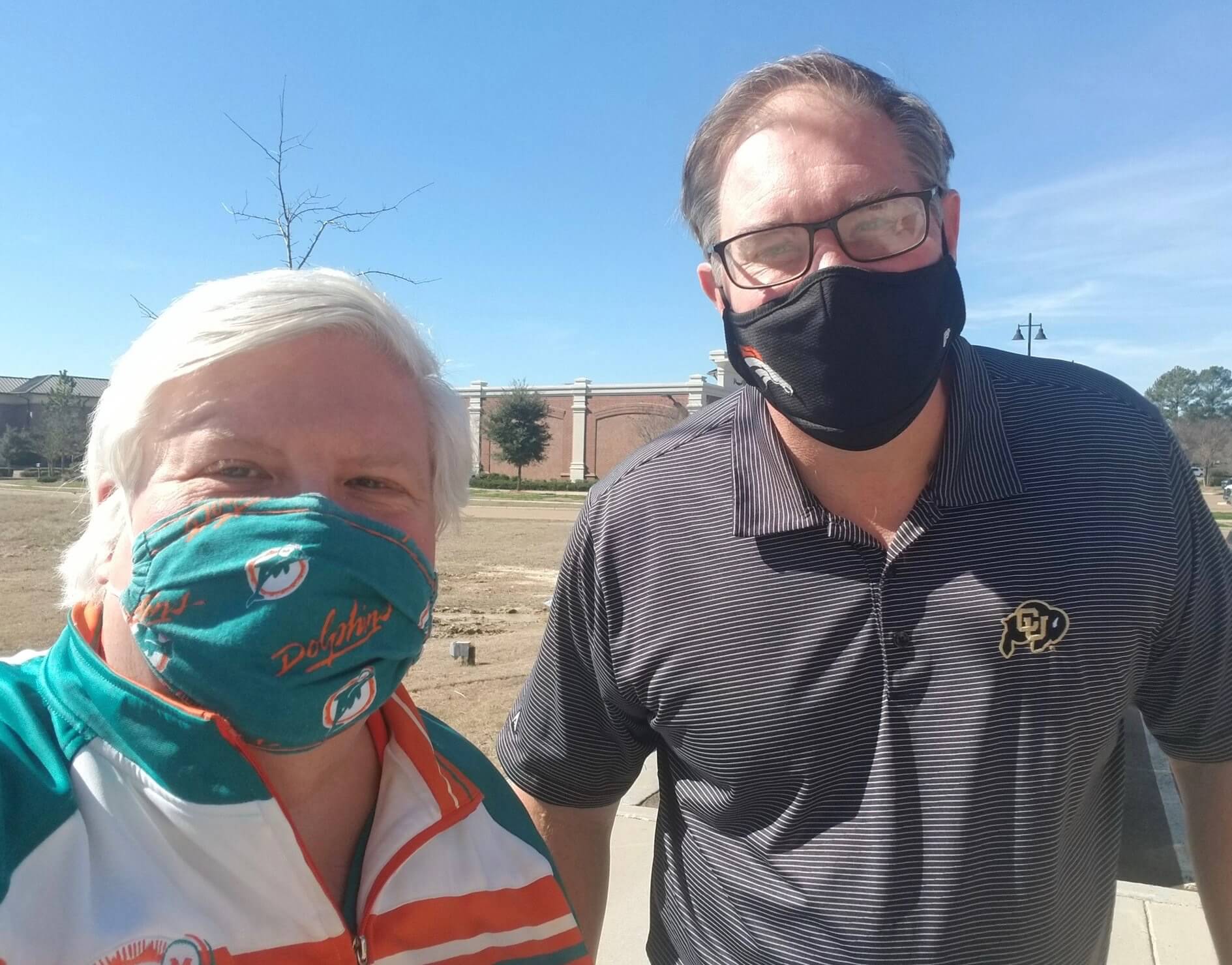 Click to enlarge
Uni Watch — bringing people together: Two of Uni Watch's most enthusiastic supporters over the years — both of whom have been profiled on the site — are Broncos superfan Tom Jacobsen and Dolphins superfan Bill Hetrick. When Tom recently moved from his longtime home in Denver to Mississippi, where Bill lives, I knew the two of them needed to get acquainted, so I put them in touch with each other.
After a few months' worth of emails and texts, Bill and Tom finally had their first face-to-face meeting on Friday. I love how they repped their respective favorite teams on their masks — looking good, guys!
• • • • •
• • • • •
Click to enlarge
Hurry hard liquor: Received a surprise package over the weekend from longtime reader David Sonny. Inside was something very special: a curling-themed novelty decanter of bourbon, bottled in 1976 and never opened. Still has the unbroken tax stamp!
This will come in very handy for Pandemic Porch Cocktails™ — possibly as soon as this evening, because we're currently in the midst of a major snowstorm that rolled in overnight and is expect to last until tomorrow morning, so tonight's porch session will be a doozy. Some curling-themed bourbon might be just what we need!
• • • • •
• • • • •
The Ticker
By Jamie Rathjen

Baseball News: Suspended Mets 2B Robinson Canó is playing for the Dominican Republic's Águilas Cibaeñas in the Caribbean Series and was wearing pants with the MLB logo yesterday, though it's unclear if anyone else also was (from Martin Rivas). … Reader Brad Davis likes to travel around to minor league stadiums and has a collection of caps from each stop. … The Tokyo Yakult Swallows have captaincy patches (from Jeremy Brahm). … The St. Cloud Rox of the Northwoods League have a new 10th-"anniversary" logo, although based on the years it's actually a 10th-season mark (from Kurt Crowley).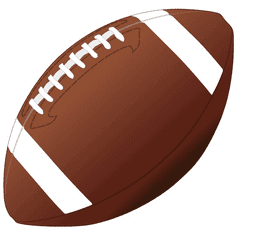 Football News: In 1966, Steelers C Ray Mansfield was apparently missing his helmet decal (from Tom Bierbaum). … The Lions once wore names on one of their blue helmet stripes (from Kurt Rozek). … The Packers team historian attempted to narrow down when the team started wearing facemasks (from Kary Klismet).

Hockey News: The Penguins finally released their uniform schedule — including for the games that have already been played (from multiple readers). … The Kings have been practicing in most of their non-jersey ЯR equipment, but also have matching practice jerseys, and G Jonathan Quick has a matching mask (from Jakob Fox). … The AHL's Providence Bruins might be getting new jerseys (from Jake Martin). … In this circa-1979 picture, Canadiens C Doug Risebrough is wearing a blue and white helmet with a cage mask. "Best guess is that the modified helmet could be used with both the white unis with white helmets and the reds with blue helmets," says Jean Lefebvre. … After Flyers LW Joel Farabee scored a hat trick last night, team mascot Gritty saluted him by tossing his giant ballcap onto the ice, whereupon LW Michael Raffl donned the hefty headwear (from Michael Hochman).

Basketball News: Color-vs.-color college games from yesterday included North Carolina and Virginia Tech's women's teams (from Chris Newbury). … The next two items are from Kary Klismet: The NCAA picked nine of the "most interesting" court designs. … A New York high school has a new arena.

Soccer News: Arsenal wore Chinese New Year-themed warm-up shirts on Saturday, but as the holiday is two weeks away it doesn't look like any of the other usual suspects have done anything yet (from Storm Desk). … Mexico's UANL Tigres have to wear modified versions of their shirts for the rescheduled 2020 Club World Cup, because the competition only allows one shirt ad (from Trevor Williams). … However, the Club World Cup sleeve patch actually has an ad on it — which makes the previous item sort of weird. … Among many ways German clubs adopted a rainbow theme for this year's Holocaust Remembrance Day was that Bayern Munich put a large banner behind one goal with the hashtag "Nie wieder" (never again). … The USMNT wore shirts saying "Be the Change" and "Black Lives Still Matter" before yesterday's friendly against Trinidad and Tobago. As far as I can tell, T&T's black-and-white hooped shirts were also new. … An Austrian team is selling shirts plastered with advertisers' logos, but they're charging extra for that (from Trevor Williams).

Grab Bag: Virginia's men's lacrosse team has new helmets, and here is one of the women's team's new uniforms. … Some AFL Women's teams are wearing new Indigenous designs for all away games this season, including Adelaide and Greater Western Sydney. The league is holding its first Indigenous round this season. … Greater Western Sydney hung a No. 34 guernsey on its bench and put a No. 34 decal above players' numbers in memory of the previous player to wear that number, Jacinda Barclay, who passed away in the offseason. … A Japan men's V.League match between Toray Arrows and FC Tokyo was postponed after a player's Covid test was positive, then negative, which eventually led to the teams playing once instead of twice and all wearing masks (from Jeremy Brahm). … Also from Jeremy: Here are the gold medals for the ongoing men's handball world championships. … Saturday Night Live's Pete Davidson appeared on Saturday wearing a vintage Syracuse sweater (from Michael Hochman and Max Weintraub). … The next three are from Kary Klismet: An Australian rugby league blog picked the best National Rugby League shirts for next season. … A North Carolina high school has to lose its "Rebels" name, and a new Texas middle school has a "Cavaliers" name. … A new Wheaties box honors 1968 Olympian Tommie Smith and his famous Black Power salute (from Jimmy Lonetti).
• • • • •
• • • • •