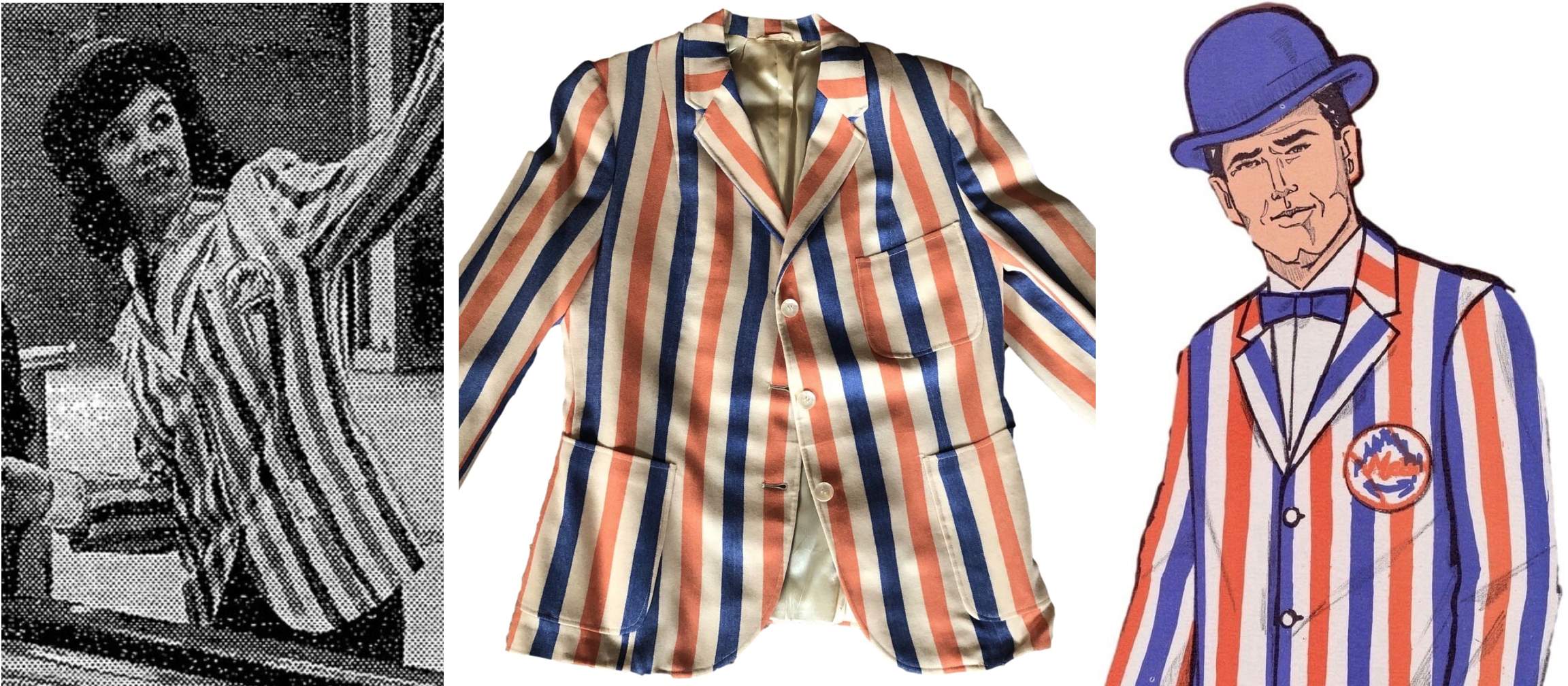 For all photos, click to enlarge
Today we have something very special. Give me a minute to set it up and provide some context.
So: Three years ago, I ran a blog post about a 1965 catalog that had been loaned to me by Uni Watch reader Tom Jacobsen. The catalog was from a New York company called Saxony, which made uniforms for stadium workers. Their big claim to fame at the time was that they had designed the inaugural uniforms for the workers at Shea Stadium, which had opened in 1964:
The Saxony catalog included copies of newspaper clippings about the Shea uniforms, one of which said that the Saxony designer who worked on the Shea project was named Elaine Goldsmith. I doubted she was still alive, plus her name was fairly common, plus-plus Saxony had long since gone out of business, so I didn't spend any time trying to track her down. Just seeing the catalog and getting to write about it was exciting enough for me. (If you haven't already read that blog post about the Saxony catalog, or if you just want to refresh your memory, I suggest that you check it out here before reading further.)
Fast forward to last month: I received an email from USA Today/For the Win sportswriter Charles Curtis, as follows:
Hi Paul!

Charles Curtis from USA Today's For the Win here — been a fan for a long time! Hope you're doing well.

I'm reaching out because of a post you wrote in 2018. You got your hands on a 1965 Saxony Uniforms catalog that had the designs for many of the uniforms worn by employees at Shea Stadium. In there, you'll see a clip from The Long Island Daily Press citing the work of Elaine Goldsmith.

Elaine is my great-aunt, and my family and I were recently doing a Zoom call with her for her 95th birthday. For years, she had spoken about designing those Shea Stadium uniforms, and her daughter pulled one of those blue and orange striped jackets out of her closet, which was incredible.

We then googled to see if we could find any information about her and the uniforms and stumbled on your post. It was INCREDIBLE for her and us to see that catalog and her name in it.

So thank you for bringing some joy and memories to a 95-year-old!

Best,
Charles
As you can imagine, that made my day! How nice of Charles to share that with me, right?
But as a reporter, I couldn't resist the opportunity that seemed to be presenting itself. So after thanking Charles for getting in touch, I asked if it might be possible for me to see some photos of the old Shea jacket that Elaine had saved — and if Elaine herself might be interested in being interviewed.
Inquiries were made, arrangements were arranged, and a few weeks later I had the privilege of interviewing Elaine Goldsmith via Zoom. She was speaking to me from her apartment in Manhattan. Her granddaughter, Dana Bontemps, was there to help out, and Charles was also on the call, from his own Manhattan home. Here's a transcript of our conversation, edited for length and clarity: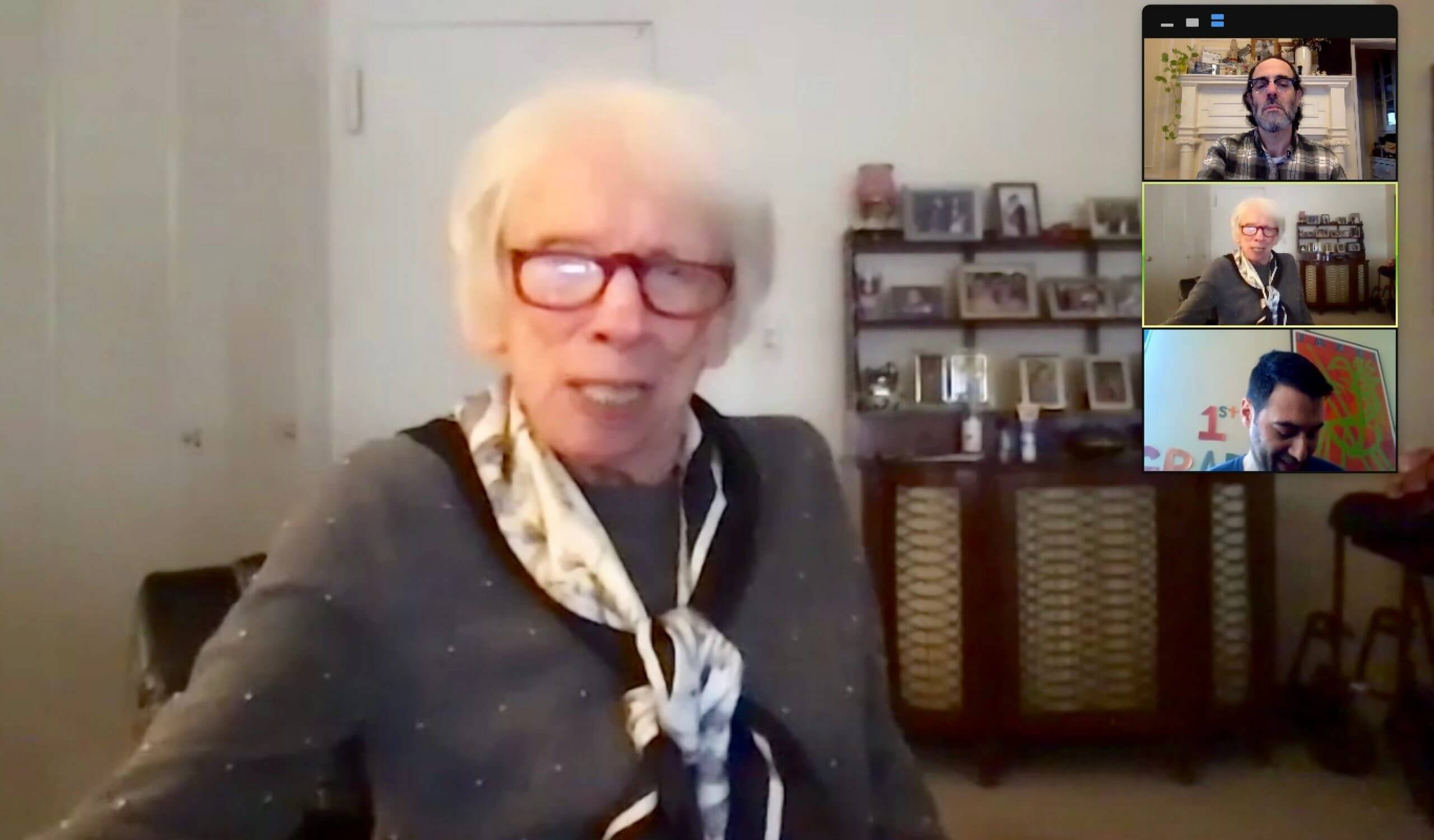 Uni Watch: Elaine, could you tell me when you started working for Saxony? And what sort of design background or education did you have that led you to work for them?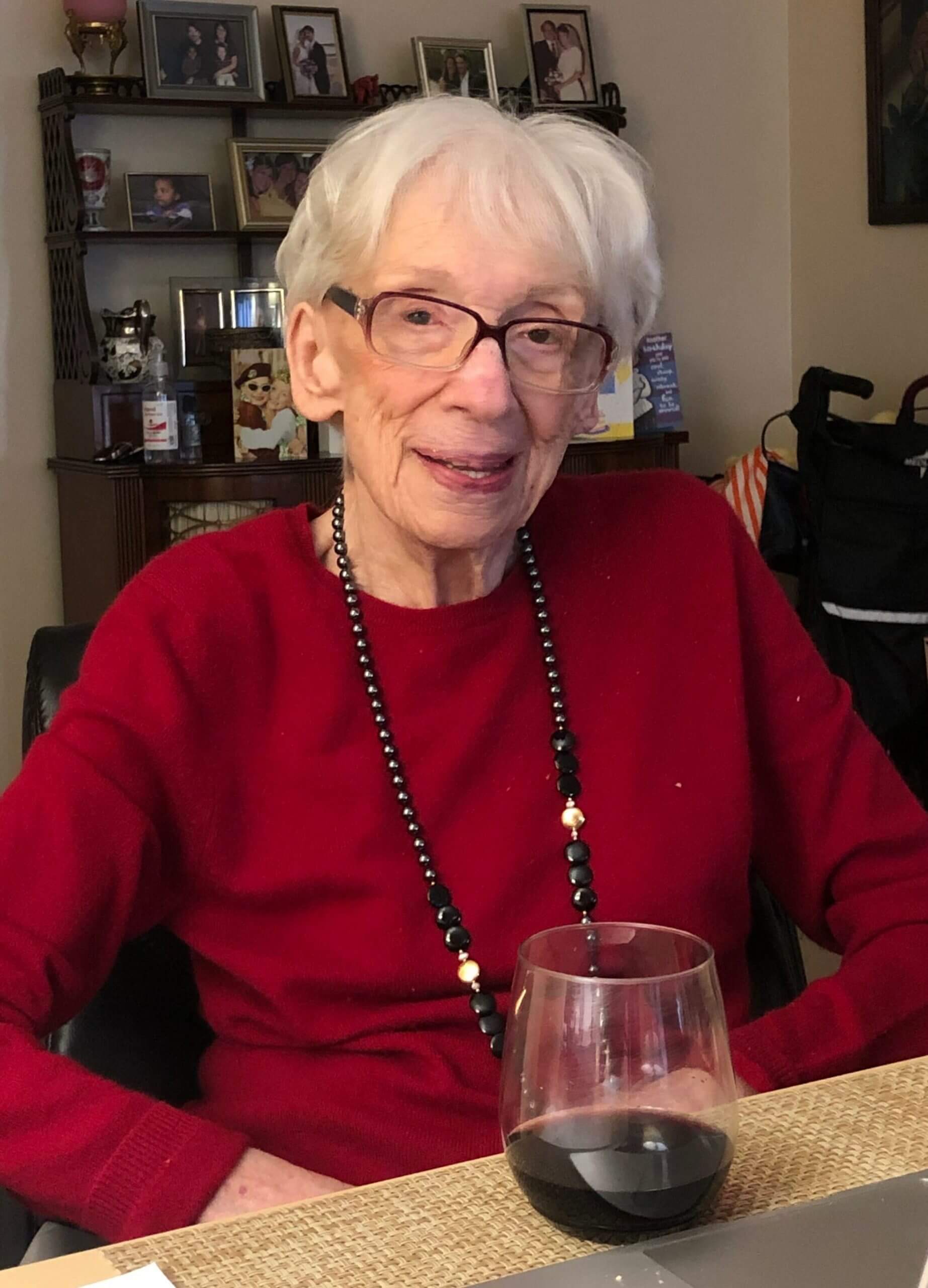 Elaine Goldsmith [shown at right]: It was 1963. I was living in Queens at the time, and I was looking for a job as a designer. So every morning I got up, took my portfolio, and took the bus from Queens into New York to look for work in the Garment Center [the part of Manhattan with lots of apparel manufacturing — PL]. And everyone turned me down, because I had no experience and they never hired women who had children.
And one day, I'm waiting for the bus. And along comes a car with a very nice-looking man. He lived in the same neighborhood, and he said, "Where are you going?" I told him I was going into the city, and he said, "You want a lift?"
UW: Who was that? Who was that person, that driver?
EG: That was Arthur Rubin, and he owned Saxony. We talked about the usual things — how long are you living in this neighborhood, how old are your children. And by the time we got to New York, I said, "Would you like to see some nice sketches?" He said sure. He wasn't sure what this babbling chick was going to pull out of her pocket.
And that's how I got the job. He said he manufactured uniforms. I went to his office, which was on Canal Street. He took me in to meet his brother, Mike, who was his partner, and he said, "Look what I picked up in the rain."
UW: And these sketches you had — had you gone to design school, like the School of Visual Arts or anything like that?
EG: I was a fine arts major at Syracuse. Anyway, they had this dirty loft on Canal Street. He said, "Find a place to sit down." So I was placed in the back, in a bathroom that wasn't being used. "Here, you can have this bathroom to be your office."
UW: At that time, were you a sports fan? Did you know anything about sports and stadiums and that type of thing?
EG: It's an interesting story. Arthur said to me, "They're building a stadium out at Flushing, called Shea. You said you're a designer, so call them on the phone and make a date to meet with" — sorry, my memory's not great, I can't remember his name. Maybe Jim Thomson — I don't know. Anyway, I made an appointment to meet him, Jim Thomson.
Their offices were at — where were they playing then, Yankee Stadium?
UW: At that time, they were playing at the Polo Grounds.
EG: Yes, the Polo Grounds. So I had an appointment with Jim Thomson, to discuss how they would dress the ushers, the ticket takers, and the stadium vendors. And I'd never been in a stadium in my life, and I'd never designed a uniform either. How did they have the nerve to trust me with this? I decided that I needed something to talk about when I got to meet Jim Thomson. So the Mets had a booth in Grand Central Station, where they sold a book with all the players' names.
UW: A yearbook?
EG: A yearbook. So I went home and I studied all the people's names. So I could discuss, I don't know, Marv Throneberry, all of them.
UW: You studied for the test!
EG: Yes, I studied for the test. So now when I met Jim Thomson, I had something to talk about, and we became good friends over a glass of Scotch, I think it was. Anyway, I went back to my office in the bathroom on Canal Street. So now I'm starting with a blank piece of paper in the bathroom, and I'm thinking, "What symbolizes New York? A derby hat." The blue derby symbolized New York, and this is a New York team. So derby hats and striped jackets. A turn-of-the-century look.
And my biggest memory of all this is that on a Sunday morning my daughter came running in and said, "Mommy, your sketch is on the front page of the New York Times sports section!" And that's when I became a designer.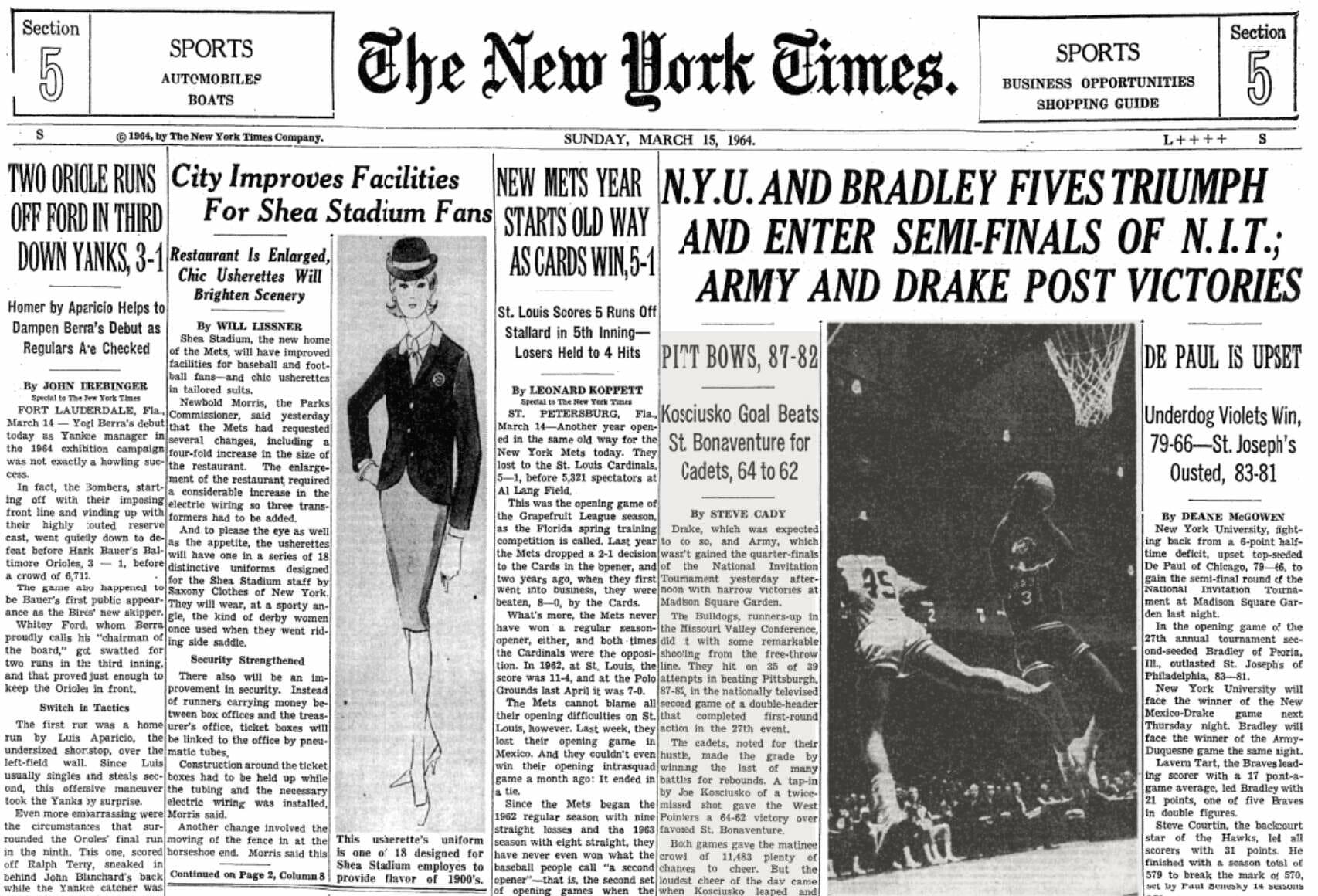 UW: So you felt official at that point? Now you were a real, official designer?
EG: Yes.
UW: Do you recall where these Shea Stadium uniforms were manufactured?
EG: It was a Chinese place that had a manufacturing thing upstairs in this loft on Canal Street.
UW: Oh, so right there in the same building?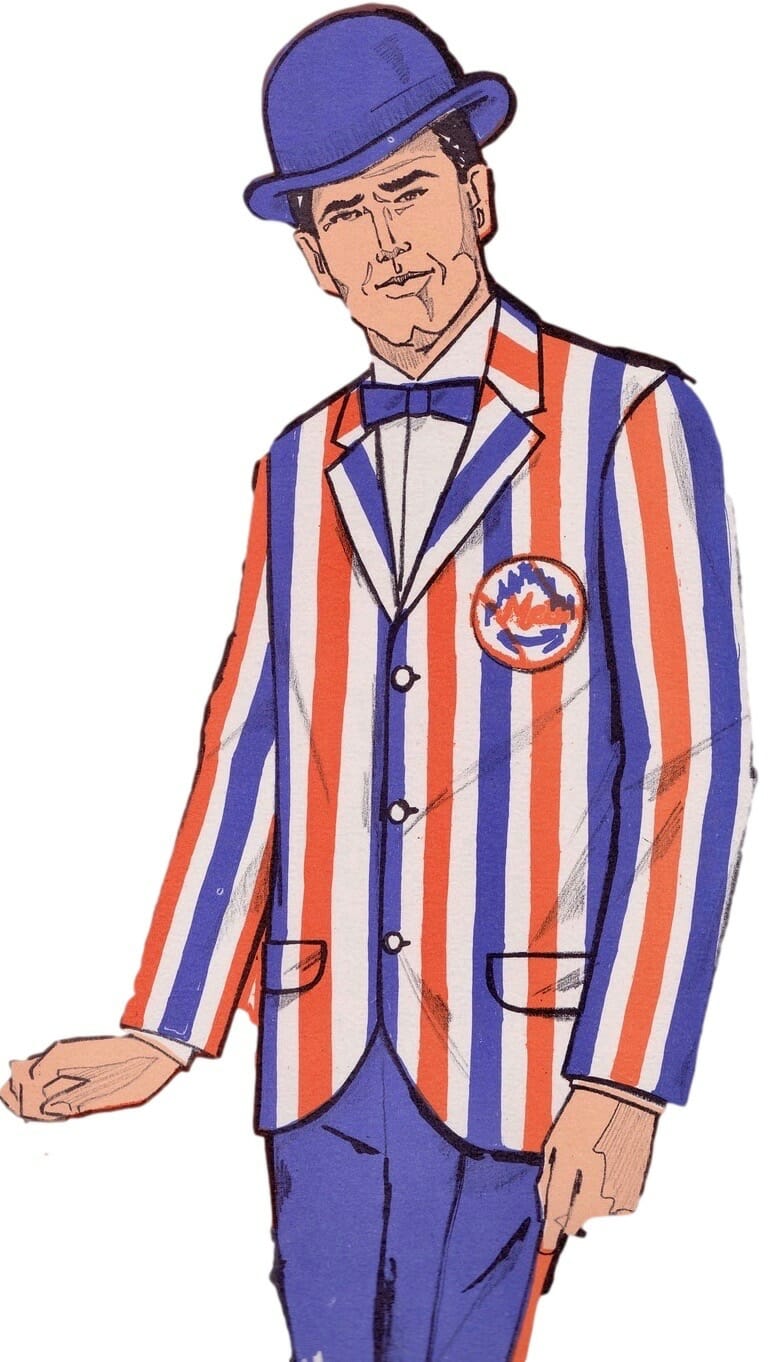 EG: Yeah. But first I had to get the striped fabric. I sketched it when I went the second time to meet Jim Thomson — I sketched a blazer that was striped, and they bought it. So I said to Arthur [Rubin, the Saxony owner], "Where are we going to get this striped fabric? Who's gonna make that?" He says, "I don't know — you drew it, now you make it!" I wanted woven wool. In those days, you could look in the Red Pages for a manufacturer of fabric. And I knew nothing about fabrics, but I found a little weaver someplace. I found all kinds of interesting stuff.
UW: And then you brought the fabric to the place upstairs, the Chinese manufacturer?
EG: Yes.
UW: When the baseball season started and Shea Stadium opened in April of 1964, did you go and see the staff wearing your uniforms?
EG: Oh, sure.
UW: And how did that make you feel, to see these the staff wearing these designs that you created?
EG: I loved it. And after doing Shea Stadium, I said, well, this is easy. So I called Horace Stoneham.
UW: Of the San Francisco Giants?
EG: Yes. So they met me when they came to New York. They invited me out for dinner, and we went out to eat, so I could show them my designs. The sports people were different than the Garment Center people — they were more fun. So, Horace Stoneham brought me to the Plaza Hotel for a few drinks after I made the sale, and we had a lot to drink. And he put me in a cab to send me home. And he called me up the next day said, "I love the uniforms. But which one goes on the girl and which one goes on the boy?"
[At this point we looked through the sketches from the 1965 catalog that I had previously written about. It turns out that Elaine created almost all of the sketches in that catalog, including the designs for the Jets, Yankees, and several others.]
UW: So this catalog, it's called the Saxony catalog, but in a lot of ways it was the Elaine Goldsmith catalog.
EG: I hope you noticed my name isn't mentioned in there.
UW: Well, unfortunately, that was very common, for designers not to get credit for their work. Which is not right, obviously. That's why it's always so exciting for me to help tell a designer's story, like yours. How long did you keep working for Saxony?
EG: Until 1987. And they did some nice things for me. One time they said, "Come on down, we want to show you something." I was out of the toilet now, I had a real office. I said, "I'm busy, I have to finish these sketches today." No, they said, come on down. And there was a nice — now, what was the name of the car? It was a hot little car, that they gave me. It used to fly. A hot little car.
UW: So they gave that to you as a bonus?
EG: Yes, they gave me a present. Because I kept Burger King. The whole country was bidding on the Burger King uniform contract, And we were at the food and hospitality industry convention, and it came out that Elaine Goldsmith got the Burger King contract. By then, I was known among the uniform manufacturers.
UW: With all these uniforms you designed, did you ever have occasion to wear a uniform yourself?
EG: No, I never did.
———
So that was our discussion of Elaine's time at Saxony. (We also talked about her time as an oat-bran muffin pioneer and her founding of a library for underprivileged children. She's had a very interesting life!) When we were done, Elaine's granddaughter, Dana, modeled the Shea jacket that Elaine had saved for all these years, complete with the striped fabric that was made specifically for that design: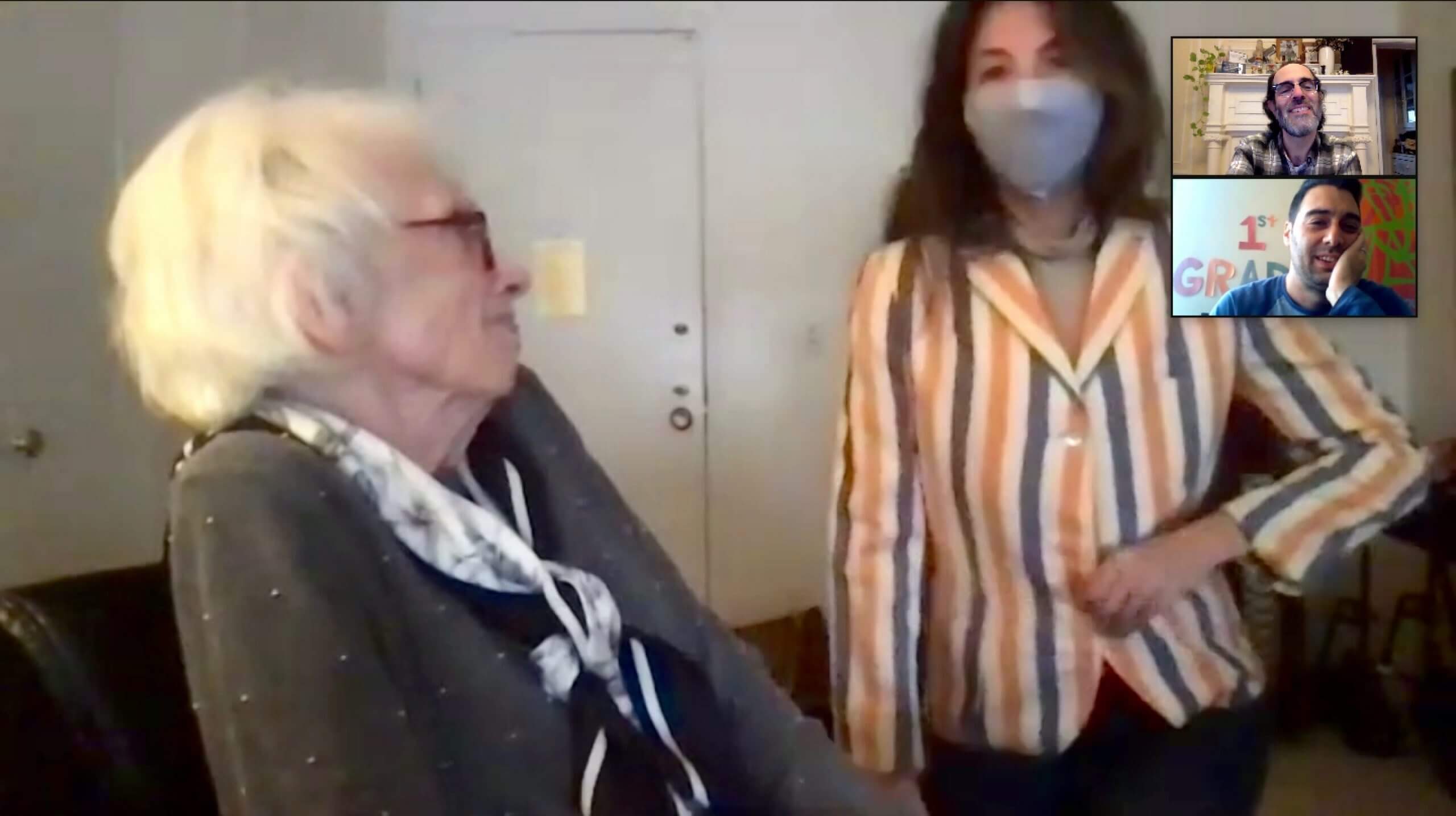 Afterward, Dana took some better photos of the jacket, including a shot of the interior tagging: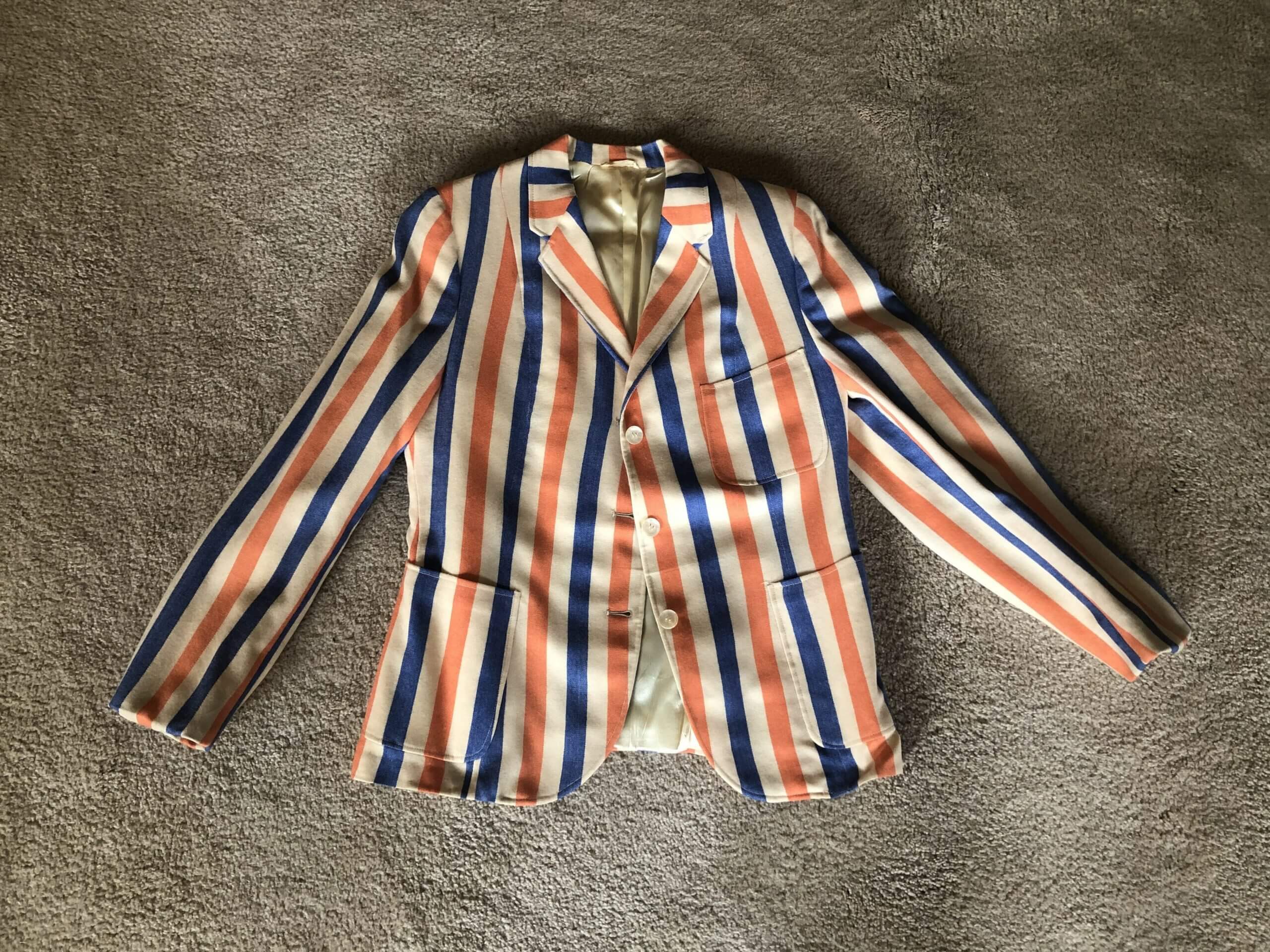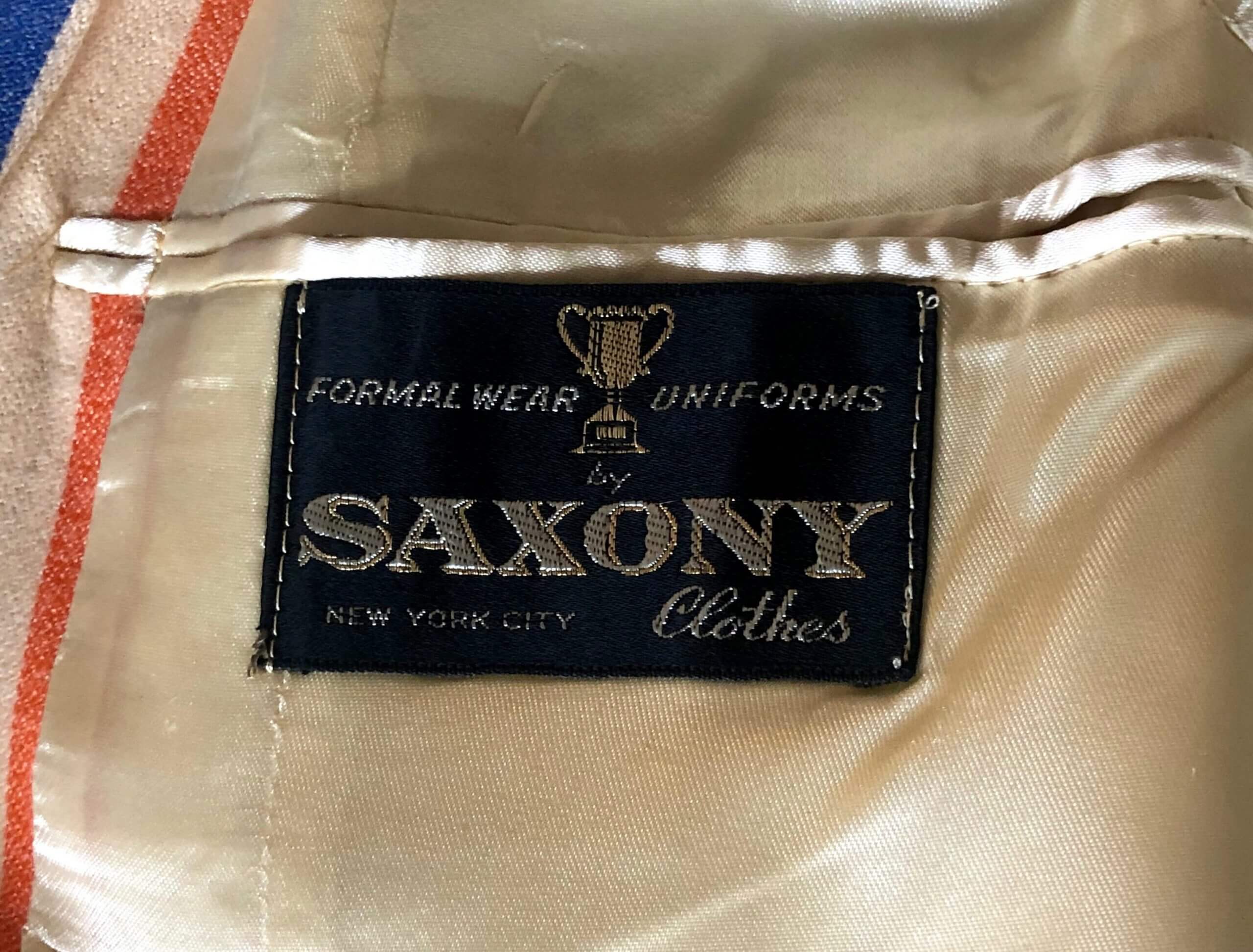 Interestingly, the jacket doesn't include the Mets logo chest patch that the actual Shea employees wore: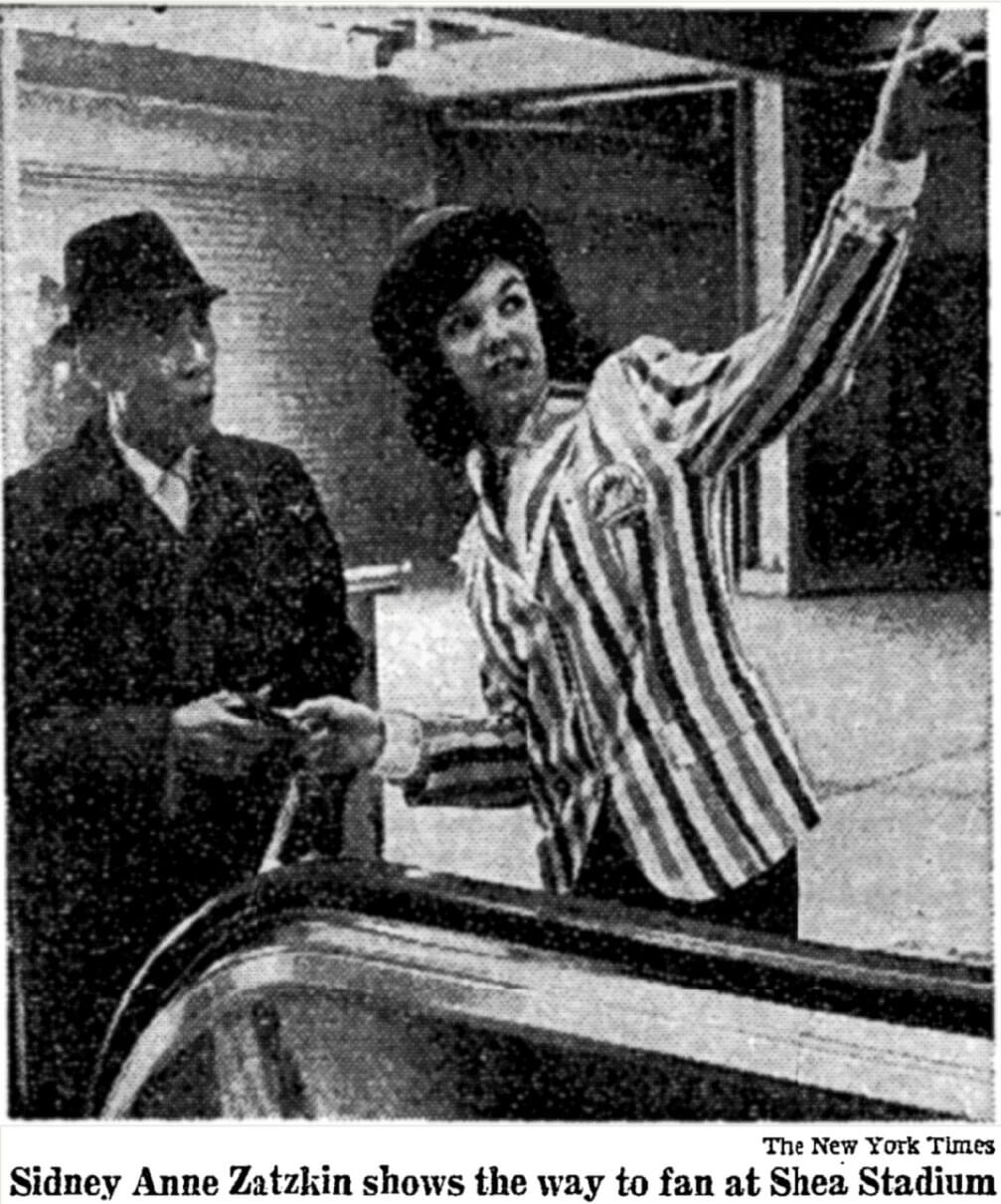 So that was the famous jacket. But there was a lot more — Elaine saved samples of her designs from a bunch of different projects, mostly for restaurant chains. Here, for example, are two aprons and a hat that she created for that coveted Burger King contract:
You can see more of Elaine's uniform samples, including designs she created for Dairy Queen, Nathan's, Orange Julius, and Ponderosa Steakhouse, here.
And there's still more! By the mid-1970s, Saxony had changed its name to Career Uniform Consulting. Elaine has a CUC catalog from this period, featuring designs for a variety of restaurant chains, many of which she created. You can see the entire catalog here.
What an amazing encounter, and what a great addition to the annals of uniform history. I feel very privileged to be able to tell Elaine's story.
It's worth pointing out that there's a tremendous spirit of generosity running throughout this storyline. First, Tom Jacobsen was nice enough to loan the Saxony catalog to me. Then Charles Curtis got in touch to let me know how much his family enjoyed my write-up of that catalog. Then Charles and his cousin Dana Bontemps arranged for me to speak with Elaine. Then Dana took follow-up photos of Elaine's samples and also loaned the CUC catalog to me. And of course Elaine was nice enough to share her recollections with me.
That's a huge amount of goodwill, and I'm incredibly fortunate to have been the beneficiary of it. Please join me in thanking all of these great people for making today's entry possible.
• • • • •
• • • • •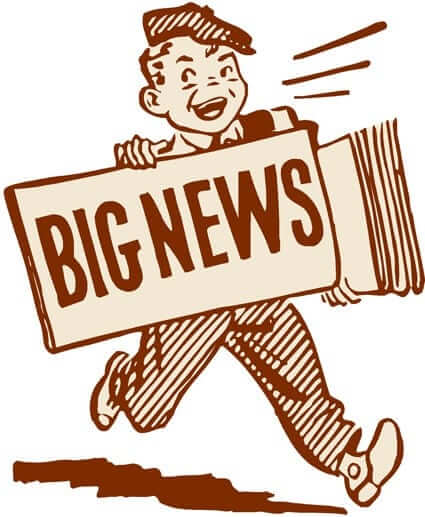 ITEM! New podcast on the way: For a while now, I've been pondering the idea of doing a podcast. But whenever I thought about it, I'd end up having a conversation with myself that went something like this:
"I like podcasts, I like talking about what's on my mind, and people tell me I have a decent voice, so it seems like a good fit."

"Yeah, but talking about aesthetics and design — you know, visual stuff — is a tricky proposition in an audio format. Sure, 99% Invisible is good at it, but it would still be a tough challenge."

"Okay, so how about a podcast where I have guests, and I interview them or talk with them? I'm more comfortable doing dialogue instead of monologue anyway, and there are all sorts of designers, equipment managers, and industry people I could have on the show. That way, the episodes would be more about the discussion and the guests' experiences, so that would get around the visual/audio problem, at least somewhat."

"Yeah, but then I'd end up spending a shitload of time chasing down potential guests, trying to match my available time slots with the guests' time slots, dealing with cancellations and reschedulings, and the whole thing would become a big hassle. Fuck it, I don't want that."
But then, last month, I had another thought: Instead having conversations with lots of different guests, what if I had a regular co-host and had a series of conversations with that person?
I liked that idea, and I knew just who I wanted to do it with: Chris Creamer, the founder of SportsLogos.net. He and I are good friends, and we've wanted to do some sort of collaborative project for a while now. We get along well, our conversations tend to flow freely and easily, we have a lot of things in common, and we also have some interesting differences between us, all of which I thought would make for an interesting show — not just for our audience, but also for us.
So I pitched the idea to Chris, we kicked it around a bit, and now I'm happy to report that the first episode of our podcast has been recorded and should be available for your consideration sometime next week. Here's what I can tell you about it so far (although most of this is subject to change as the project develops and evolves):
• The podcast will be called Unified (or maybe Uni-fied — we're still debating the hyphen). Aside from the obvious uni-related pun, the name also reflects the solidarity between Uni Watch and SportsLogos.net, between Chris and myself, and even between our respective nationalities (he's Canadian, I'm American).
• Episodes will generally be between 40 and 60 minutes.
• We're hoping to have a new episode every week. But we both have busy, complicated lives, so we'll have to see if a weekly schedule turns out to be realistic.
• We'll talk about new uniforms and other news around the uni-verse. But we'll also talk about our work, our websites, and other topics, some of which may not necessarily be uni-related but will usually be at least uni-adjacent. (Example: We will almost certainly do an episode about collecting — something we've both done a lot of. That episode will no doubt include some discussion about baseball cards and other sports memorabilia, but we'll also talk about the general urge or impulse to collect, the difference between collecting and hoarding, and so on.)
• We'll likely have guests on the show now and then, but for now we want to get comfortable doing the show on our own.
• We're recording the episodes via Zoom. You'll have the choice of listening to just the audio (which should be available through all of the usual podcast streaming services) or watching the Zoom video on the SportsLogos.net YouTube channel. The video will show our talking heads — exciting, right? — but will also be intercut with occasional photos or other visuals that show what we're talking about. (Or at least that's the current plan. Chris is doing all the video editing, and I don't want him to be overextended, so we'll see how many bells and whistles he actually has time to include.)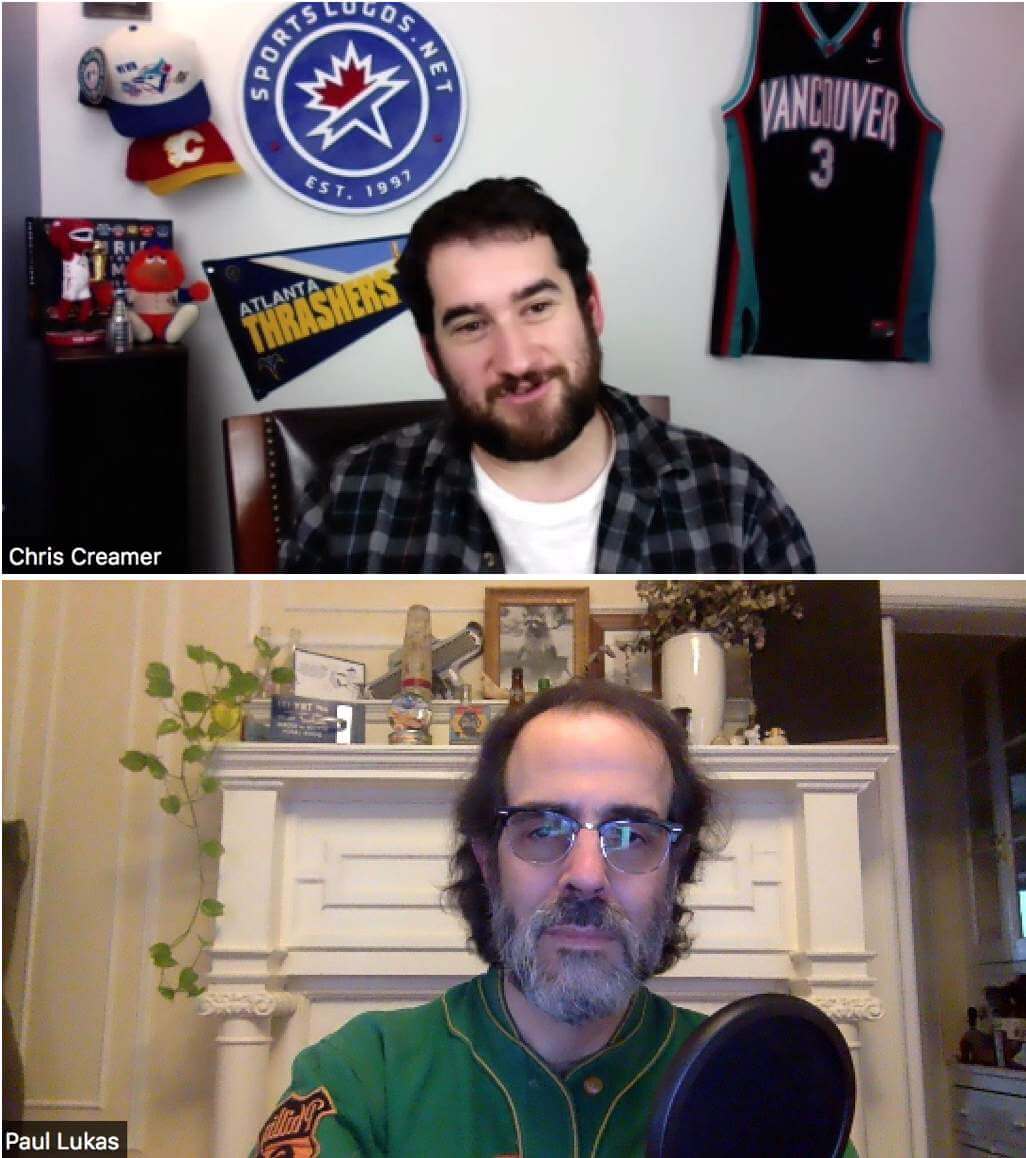 • Feel free to follow the podcast on Twitter at @unifiedcast.
• The podcast does not yet have its own website — but we're working on that.
• The podcast does not yet have its own logo — but we're working on that.
———
I think that's about all the info I have for you at the moment. I'll let you know when the first episode is ready to go.
(Special thanks to Ken Weimer. He knows why.)
• • • • •
• • • • •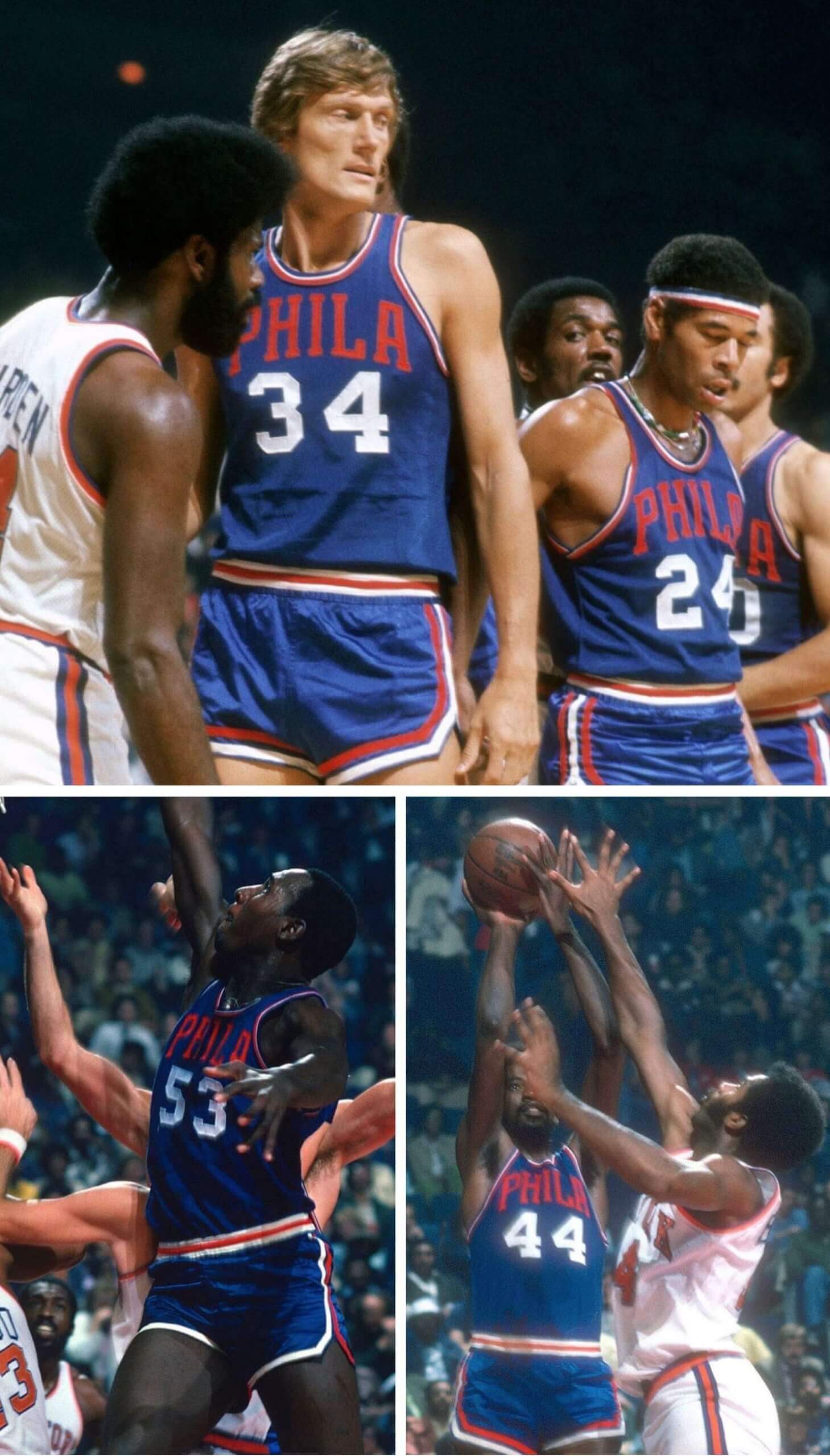 Click to enlarge
History mystery: The photos shown above are from a 76ers/Knicks game at Madison Square Garden. Depending on which maddeningly imprecise Getty Images caption you choose to believe, the game was either "circa 1975" or "circa 1976." Either way, I've never seen that Sixers jersey before.
This discovery was first made yesterday by Pete Stein (he found the photo at lower-left) and was then expanded upon by Jerry Wolper (he found the other photos). Based on the career spans of the players shown, Jerry theorizes that this may have been a preseason game and that the red-lettered Sixers design was an experiment that never made it to the regular season.
A subject for further research!
• • • • •
• • • • •

Screen shots by Cork Gaines; click to enlarge
Passing grad(i)e(ent): Remember our recent discussion of the Heat's ViceVersa court design? I was lamenting that they didn't use a proper gradient in the lane — but now they've updated it! Nice job, Miami — better late than never!
(Thanks to Cork Gaines for spotting the change and taking those screen shots.)
• • • • •
• • • • •
ITEM! Teespring sale: Teespring is running one of its periodic site-wide sales. From now through midnight on Monday, you can get 10% off of anything in the Uni Watch, Naming Wrongs, and Uni Rock shops by using the checkout code BYEBLUES (sorry, I don't pick these code names). The 10% discount will come out of Teespring's end, so you'll save a bit of coin and Uni Watch will still make its full profit — a win-win!
The timing is really good, too, because the Uni Watch Pin Club's new design for February will launch on Monday, and the discount code will still be active that day. So if you're a Pin Clubber, you can save on the new pin, whoop-whoop!
• • • • •
• • • • •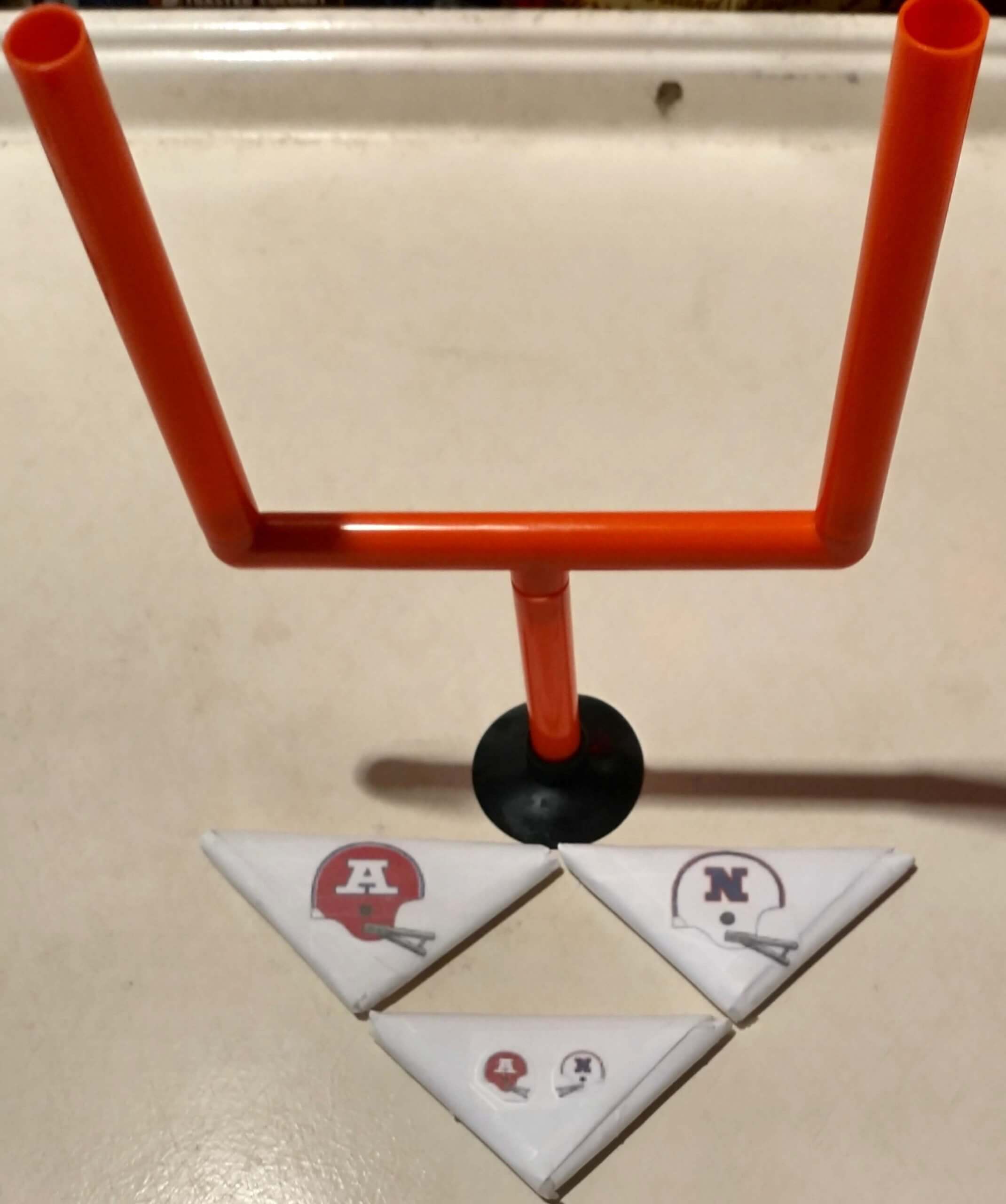 Click to enlarge
Pro Bowl update: The Pro Bowl will take place this Sunday. As you are probably aware, it will be taking place virtually, due to the pandemic — except at longtime reader/pal Jim Vilk's house, where Jim Vilk plans to play a very real, non-virtual Pro Bowl.
"If I can get someone to play, I'll have a paper football game," says Jim. "If not, I'll be both sides in a field goal contest."
Jim says he was inspired by Kevin Cearfoss's team-logo paper footballs, which were featured on Uni Watch back in August. How great is that? Plus it'll probably be more interesting than the real Pro Bowl!
• • • • •
• • • • •
The Ticker
By Anthony Emerson


Baseball News: Arkansas has new uniforms (from Timmy Donahue). … You want a McDonald's softball uniform? Of course you do. … The City of St. Petersburg, Fla., has unveiled a handful of different proposals to redesign the Rays' stadium (from Kary Klismet and Mike Chamernik).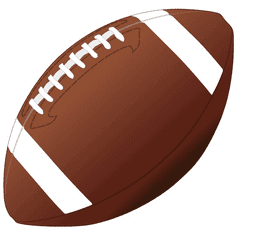 Football News: Here's a look at the Super Bowl end zones. … ESPN has a really cool piece on each and every Super Bowl ring. … Check out this Toledo-area high school ref wearing a striped mask to match his jersey. Once you see it, it seems so obvious — why hasn't this become a standard thing? (From Clint Richardson.)

Hockey News: The Golden Knights' new AHL affiliate, the Henderson Silver Knights, will have metallic-sheen helmets (from multiple readers). … The Stars debuted their black-and-neon alternates alternates last night. Lots of game photos here (thanks, Brinke). … The Capitals now have the National Zoo's pandas as cardboard spectator cutouts (thanks, Jamie). … The Blue Jackets' fan of the day was, literally, a fan — an oscillating fan. … The Bruins hung the jersey of Massachusetts high school hockey player AJ Quetta behind their bench last night. Quetta suffered a serious spinal injury during a game earlier this week. … Longtime reader John Muir has opened up a new front in the remove-ment by removing the annoying Reebok front-shirttail tags from a bunch of his hockey jerseys.

NBA News: An NBA historian is ranking the best jersey matchups of 1990s Eastern Conference Finals (from Mike Chamernik). … Also from Mike: The NBA saw some Kobe Bryant tributes around the one-year anniversary of his death.

College/High School Hoops News: Odd social justice patch placement for Rutgers (from @JTWLPLL). … Southern Miss has nameplates, rarely seen on basketball jerseys. … The Ogden (Utah) High girls' basketball team has unveiled uniforms honoring former coach Phil Russell, who passed away last year (from Kary Klismet).

Soccer News: Bundesliga team VfB Stuttgart will wear rainbow-themed versions of their primary kit for today's match against Mainz (from Daniel Weimann). … Tennis player Naomi Osaka has become part-owner of the NWSL's North Carolina Courage, so they gave her a No. 97 shirt — the year of her birth (from James Gilbert and our own Jamie Rathjen). … French street artist Jean René has painted a mural of a giant eyeball in the stands of Estádio do Pacaembu, a renowned art deco stadium in São Paulo (from Kary Klismet). … Hard to tell who's who in this white-vs-pink Copa del Rey match between Rayo Vallecano and Barcelona (from @StupidTweetman). … Interesting piece about how the lack of crowds, due to the pandemic, has apparently resulted in fewer emotional outbursts by players.

Grab Bag: The New York Times has a fascinating article on the Taliban's white high-top sneakers (from Sharon Lin). … Here's an interesting story about how pandemic-related capacity restrictions have impacted the costumed mascot industry (from Kary Klismet). … Also from Kary: There's a new book out about Wisconsin's high school mascots. … Still more from Kary: The artist behind the Paper Stadiums account has finished his latest work: Madison Square Garden. … A Nashville City Council member thinks it's time for a new city flag (from Kenneth Traisman). … The graphic design firm that worked on Sen. Elizabeth Warren's presidential campaign was inspired by, among other things, Yoko Ono and Spider-Man.
• • • • •
• • • • •
• • • • •
That's a wrap for this week. Stay safe, mask up, enjoy Phil's weekend content, and I'll see you back here on Monday morning. Peace. — Paul