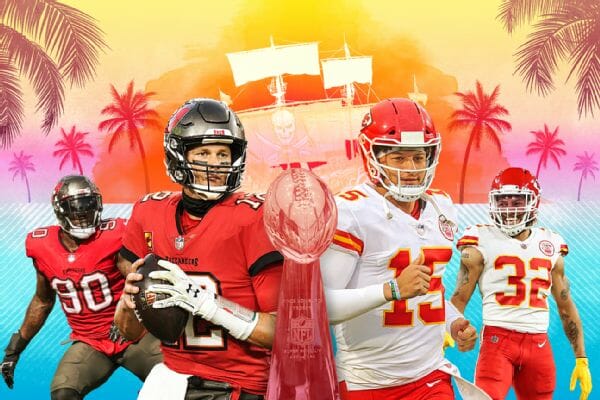 The graphic shown above notwithstanding, we still don't know which uniform combos will be worn in the Super Bowl, because the Bucs — the designated home team — haven't yet announced what they'll be wearing.
But that doesn't mean we don't know anything about the Super Bowl uniforms. In fact, we know quite a bit — or at least Jay Braiman does. As longtime readers may recall, one of our annual Uni Watch rituals is that Jay (who goes by Graf Zeppelin in the comments section) comes up with a batch of insanely and brilliantly detailed uni-related info about the two Super Bowl teams, which he usually sends to me within moments of the second conference championship game ending.
But I didn't receive the usual email from Jay on Sunday night, which was worrisome — had the virus gotten to him? Fortunately, it turned out to be just a tech glitch (his email somehow ended up in my trash folder), so I'm happy to turn the mic over to him today. Take it away, Jay!
Jay Braiman's Super Bowl Preview
By the one and only Jay Braiman
The Buccaneers will become the first team ever to play a Super Bowl game in their home stadium (ironic, given that it's happening at a time when attendance is restricted). Two other teams have come close, playing in their home markets but not at their home buildings: The Rams in Super Bowl XIV played about 15 miles up the 110 from the L.A. Coliseum at the Rose Bowl in Pasadena, and the 49ers in Super Bowl XIX played at Stanford Stadium in Palo Alto, which is about 30 miles from Candlestick Park. The Rams, who were the designated road team against the Steelers, lost; the 49ers, as the designated home team, defeated the Dolphins. The Buccaneers will be the designated home team next month in their home stadium.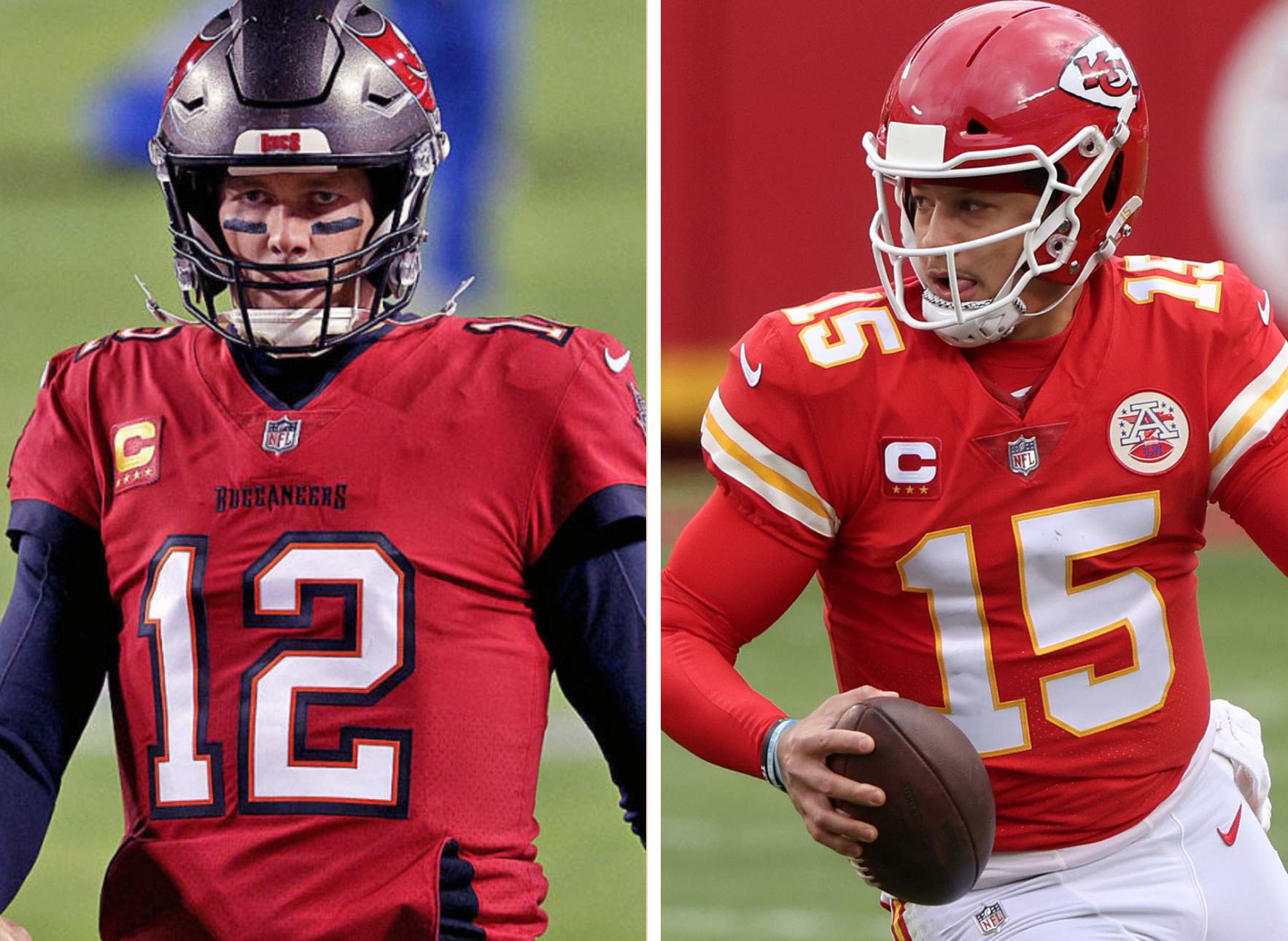 This is the second year in a row that both teams' primary jersey color is red; last year was the first time that had ever happened, so this is our "first time ever" thing for this year. Teams wearing red jerseys are 6-5 in Super Bowls; teams whose primary dark jersey is red, irrespective of whether they wore red or white in the big game, are 11-8. Kansas City has lost once in white and won twice in red; the Buccaneers won their only Super Bowl appearance in red.
This is also the second consecutive year that both Super Bowl teams' jerseys have standard block/varsity numerals (i.e., neither team uses a custom numeral font). That hasn't happened in back-to-back Super Bowls since XXIX (49ers/Chargers) and XXX (Cowboys/Steelers). Only one of the first 30 Super Bowls had either team wearing a custom numeral font (the Bears in Super Bowl XX); starting with XXXI, only three games have not had at least one team in a custom font (XXXVII, Buccaneers/Raiders; XLIV, Saints/Colts; and LIV, KC/49ers). Custom fonts are 9-6 against standard numerals, with six games having both teams in custom fonts.
This is also the second year in a row that all four starting quarterbacks in the conference championship games wore double-digit numbers: Aaron Rodgers (12), Tom Brady (12), Patrick Mahomes (15), and Josh Allen (17). The last time that happened two years in a row was 1975-76 (Terry Bradshaw, Ken Stabler, Roger Staubach, and James Harris all wore No. 12, the only time all four wore the same number) and 1976-77 (Stabler, Bradshaw, Fran Tarkenton No. 10, and Pat Haden No. 11).
From Super Bowls VI through XIV — that's nine consecutive games — every winning quarterback wore #12: Bradshaw four times; Staubach and Bob Griese twice each; and Stabler once. In the 40 seasons since then, only Brady and Rodgers have won Super Bowls while wearing No. 12. Meanwhile, five quarterbacks have lost a total of 10 Super Bowls while wearing that number: Jim Kelly (four times), Stan Humphries, Chris Chandler, Rich Gannon, and Brady (three times).
Brady will become the fourth quarterback to start a Super Bowl for two different teams. He'll be the third to do so after having won at least once with his previous team; the previous two, like Brady, wore the same number for both teams (Kurt Warner No. 13, and Peyton Manning No. 18). The only quarterback to start for two different teams without having won, Craig Morton, wore two different numbers: No. 14 for the Cowboys and No. 7 for the Broncos.
Patrick Mahomes is one of five quarterbacks to start a Super Bowl wearing No. 15. He, Jeff Hostetler (SB XXV, Giants over Bills), and Bart Starr (SBs I and II, Packers over Chiefs and Raiders) were winners. The other No. 15s were Earl Morrall in Super Bowl III, which his Colts lost to the Jets, and Vince Ferragamo of the Rams, who lost Super Bowl XIV to the Steelers.
The Buccaneers are the second franchise, after the 49ers, to overhaul their primary uniform after reaching (and winning) the Super Bowl and then get back to the Super Bowl after reverting to the previous design (or a fair approximation thereof) with a modified helmet logo. The 49ers were 5-0 in Super Bowls before the uniform change; since reverting to the old design, they're 0-2.
The Buccaneers' uniforms have five colors, including white; Kansas City's have a more modest and traditional three (primary, trim, and white). But as we discussed last year, they have a fourth color on their helmets (black) that appears nowhere else on their uniform, and their third/trim color (yellow) appears nowhere on the helmet. Teams with a color in their helmet logo that appears nowhere else on the uniform, are 15-15 in Super Bowls, including both KC and the 49ers last year. Teams with a trim color on the jersey that appears nowhere on the helmet are 7-6.
Teams like the Buccaneers, whose helmet shell color does not appear anywhere on their Super Bowl jersey, are 13-6; the Bucs have one of those wins.
This is the 31st Super Bowl between a team with letters in their helmet logo and one without. Teams with letters in their helmet logos won 16 of the first 20 and are 21-9 overall. Both of this year's teams won their previous matchups — Kansas City over the Vikings in SB IV and the Buccaneers over the Raiders in SB XXXVII.
This is only the seventh Super Bowl in which neither team's helmets have any center striping. Kansas City played in the only one of these to occur in the first 35 Super Bowls (SB IV vs. Vikings), and the only one that did not involve the Patriots.
———
Paul here. I ask you, where else are you going to find info like that? There is nobody — nobody! — who crunches the Super Bowl uni data like Jay does. He's not just the preeminent scholar in this field of study — he is this field of study. Please join me in thanking him for once again sharing his singular genius with us.
• • • • •
• • • • •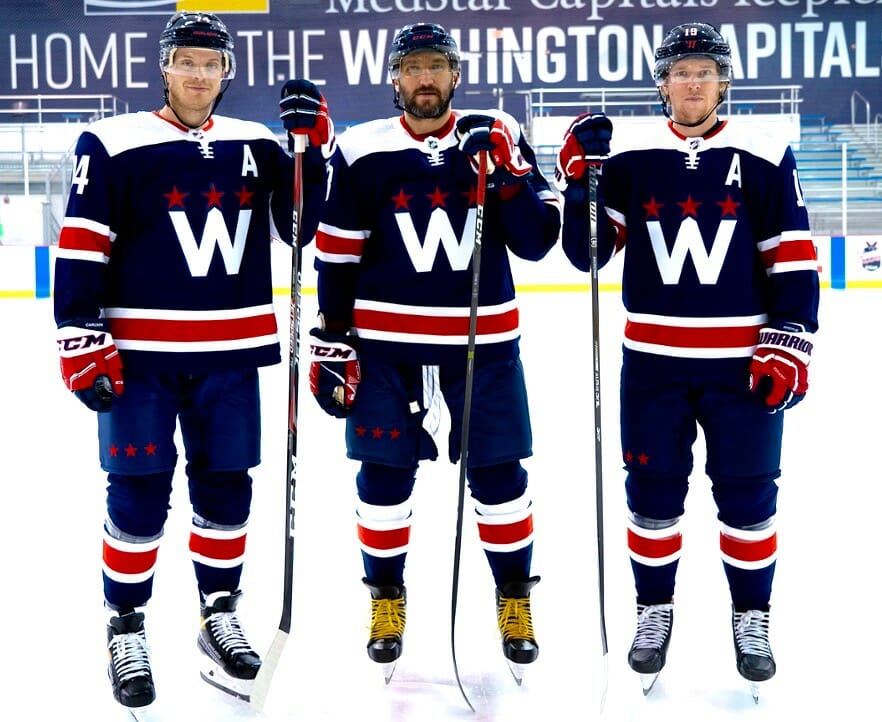 Click to enlarge
Capping things off: The Capitals unveiled a third jersey fourth uniform yesterday. As you can see, they're really leaning into that three-star motif, which they had already added to their pants (and which is based on the District of Columbia flag).
If the crest looks familiar, it's because that "W" logo originally appeared on the Caps' 2018 Stadium Series pants. So nothing here is particularly original, but it's a solid-looking uniform. Odd that they didn't reveal it prior to the start of the season.
Here's the rear view: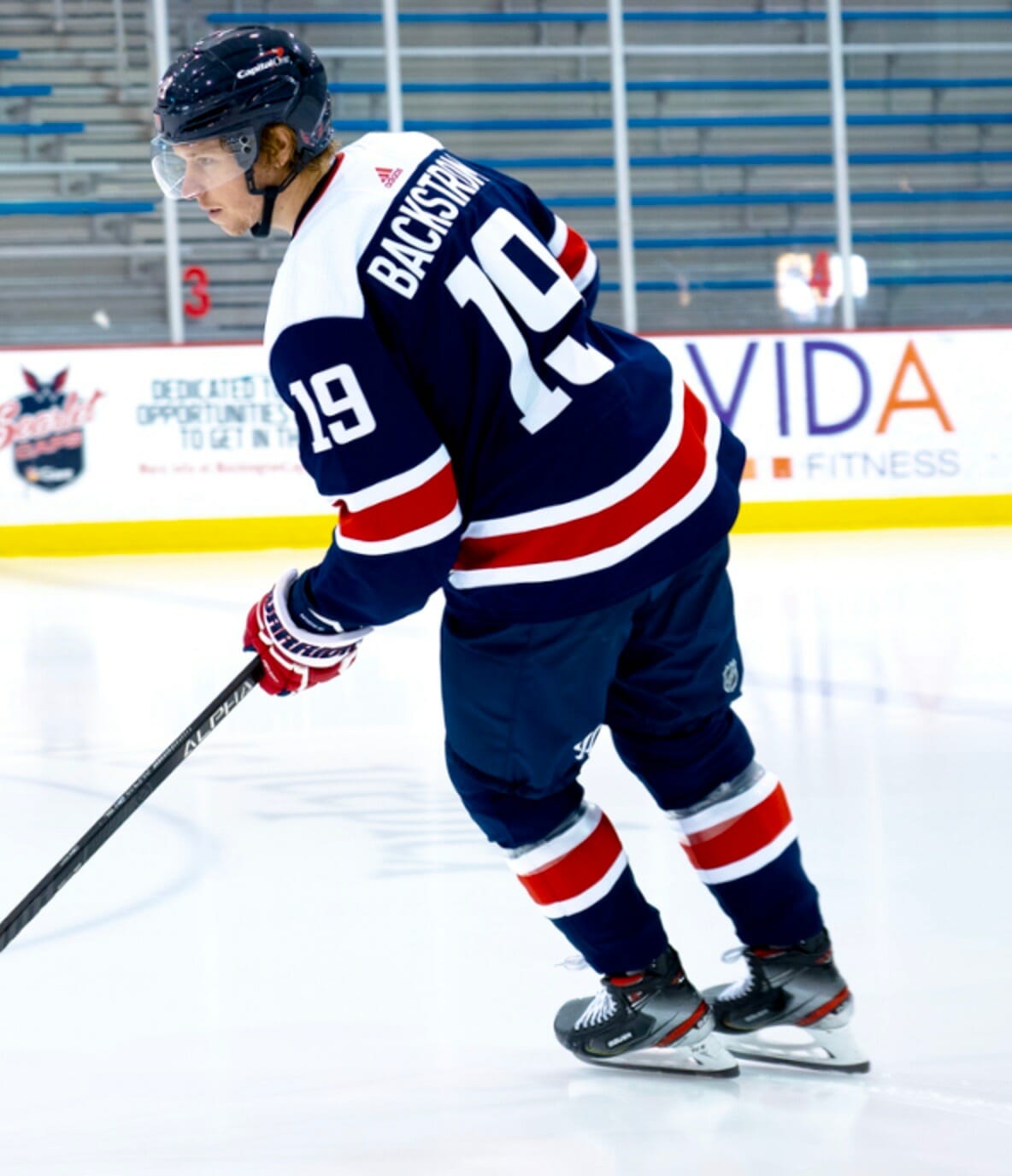 This uniform will make its debut tonight, when the Caps host the Islanders, and will be worn six additional times through the rest of the season. The dates are listed here.
• • • • •
• • • • •
In memory of Hank Aaron after his passing on Friday, I have created an interactive timeline of the Top-10 Career Home Run leaders since the beginning of the Modern Era.

Check out how different players enter and exit through different eras of baseball. #RIPHankAaron ❤️ pic.twitter.com/TIz4WPTM3e

— Greg Harvey (@BetweenTheNums) January 25, 2021
Two minutes well spent: In the wake of Henry Aaron's death, Twitter-er Greg Harvey created animation showing the progression of the top 10 all-time MLB home run leaders since 1900.
The amazing thing is that the list barely changes at all from from 1975 through 2000 — a quarter-century's worth of record-book stasis (until steroids changed everything, obviously). For people who, like myself, came of age during that period, that's why it's so weird for us to see active and recent players like A-Rod or Albert Pujols in the top 10 — we just got used to the list being a certain way for a long time.
I'm a total sucker for this style of animation. I assume there's a name for it, but I don't know what it is. Anyone..?
• • • • •
• • • • •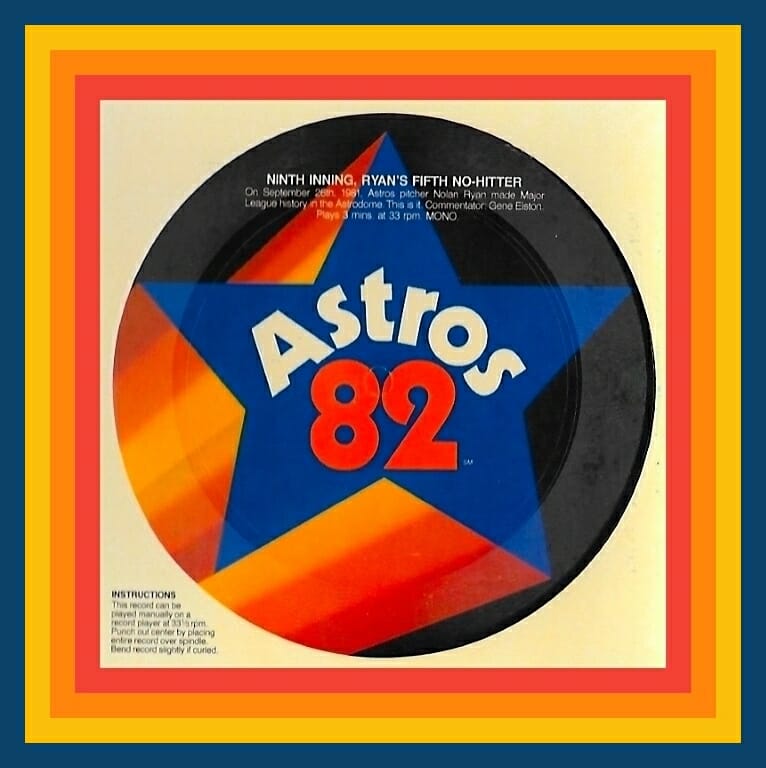 Click to enlarge
Collector's Corner
By Brinke Guthrie
Follow @brinkeguthrie    
Let's start this week by taking a Collector's Corner trip back to Houston for the 1982 Astros season. This seller is offering up an Astros ticket brochure and this great looking "Astros 82" record, which features the ninth inning radio play-by-play of Nolan Ryan's fifth no-hitter (Sept 26, 1981.) The Express would go on to toss two more no-hit gems in his Hall of Fame career, in addition to beating up Robin Ventura.
Now for the rest of this week's picks:
 • I had one of these! Hank Aaron used to have an endorsement deal with Magnavox, which issued these commemorative "715" baseball bats. (Mine hung in my room with similar bats for the 1975 and '76 Reds championships.)
• I've never seen these before! This is a set of plastic NFL trading cards of some type. The 12-card set is for the New York Giants. The seller also has sets for the Bengals and 49ers.
 • This Wilson NFL Football also comes with the logo of Canon cameras.
 • Here's a pass good for admittance to the (Kansas City) A's Room for the 1961 season (writers, announcers and MLB officials only, please). You could use it up to an hour and a half before and after the game. Card No. 60 belonged to Ed Rumill.
 • Even if I were a Ken Stabler fan, I'm not sure I'd want to drink a can of Ken Stabler's Snake Venom Cola, ya know? This auction is for five empty cans from his days as a Houston (Luv Ya Blue!) Oiler.
 • This 1975 San Diego Union-Evening Tribune football schedule has Chargers art on the front but covers several Southern California teams, including USC, UCLA, and San Diego State.
• Some glasses here: Joe DiMaggio from the 1939 World's Fair, and a set of four celebrating the Baltimore Orioles' 1966 World Series title.
 • Let's go Mets! Here's a 1985 Met Mania Trivia Game that was made for "die-hard Mets fans."
 • "Every Card's a Winner!" Maybe that was supposed to be Tony Dorsett on this ad for NFL Action Cards from McDonald's. 
• I can flat promise you that Collector's Corner has never ever featured this type of item before: an NFL Pin and Garter set. Eleven teams, 30 pins and garters!
• And from Will Scheibler in our Canadian Bureau, a cooler shaped like the SkyDome roof. Now that's a nice bit of design, eh?
• • • • •
• • • • •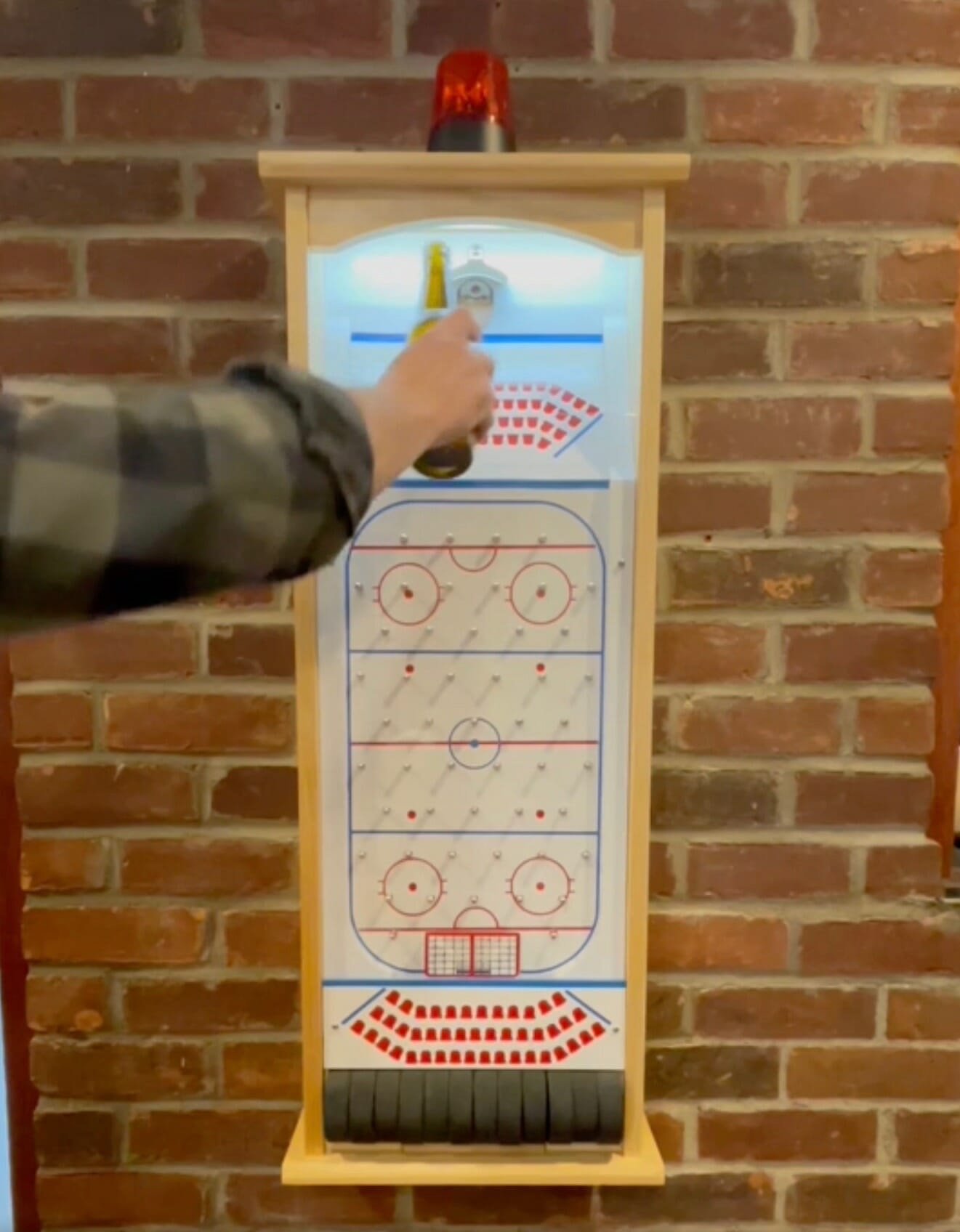 Too good for the Ticker: A Redditor has created an absolutely sensational hockey-themed bottle opener. Trust me when I say you should click here and then click on the resulting 49-second video. Best minute you'll spend all day, I promise.
(Mega-thanks to Tim Johnson for this one.)
• • • • •
• • • • •
The Ticker
By Alex Hider

Baseball News: With Adam Ottavino's trade to the Red Sox, the Yankees no longer have a No. 0 on their roster. If Ottavino wears No. 0 for Boston, he'll be the second Bosox player to do so, following Brandon Phillips in 2018. … Speaking of the Red Sox, Fenway Park will serve as a mass Covid vaccination center (from our own Anthony Emerson). … Several new number assignments for the Tigers (from @vancealot29). … The Wild West League, which formed last year as a summer collegiate wood bat circuit, will be back as a four-team league in 2021. Two of the league's teams, the Portland Pickles and the Gresham Greywolves, will be joined by the Portland Rosebuds (inspired by a Negro Leagues team of the same name) and the Willamette Wild Bills (from Kary Klismet and @StupidTweetman). … Back in the day (1980s?), the Texas Rangers sold their own Gatorade-style sports drink called Ranger Aid. I guess it's not as catchy as "Gatorade" (from Mike Barnes). … This Cleveland Scene piece by former Uni Watch team member Vince Grzegorek takes a look at how recent trademark filings may affect the Indians' impending name change (from @spiders_six). … New uniforms for the University of Texas–Rio Grande Valley (from @SoTxAthletix).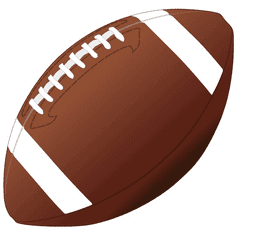 Football News: Back in the mid-2000s, the maker's mark on Bills' QB J.P. Losman's jersey didn't quite fit on his sleeve, so it was pushed up to the navy shoulder yoke on the team's road jerseys (from Samuel Lam). … For the first time in decades, Budweiser will not run a Super Bowl ad this year (from Timmy Donahue). … Alabama won this year's National Championship in Miami, and in a graphic tweeted Monday, they re-colored their commemorative logo to match "Miami Vice" colors (from Dakota Brian Hill). … This is pretty great: The goal line marker at a 1967 Steelers game included an arrow pointing to "Pay Dirt" (from Jerry Wolper).

Hockey News: When the Rangers debuted their "Lady Liberty" uniforms in 1997, they aired a pregame segment that looked at some of the other designs they considered — and some are truly ridiculous (thanks to all who shared). … The Blue Jackets, Lightning and Wild have announced their Reverse Retro and alternate uni schedules (from Sean Thesing). … Flames G Jacob Markstrom has a new mask to match the team's Reverse Retro uniforms (from Wade Heidt). … Scott Stoddard noticed that in this 1924 photo of the U.S. Olympic Hockey team, team captain Irv Small was wearing a "C" patch on his sleeve. " I can find other photos of Small, but none that show the captain's C on his jersey sleeve," Scott said. Anyone else notice this before? … In this classic Kings/Oilers clip, watch as the board signage gets peeled away after a check — and the refs let the game play on! (From @VintageOilers.) … Here's some footage from a 1978 WHA game that shows the entire Cincinnati Stingers team wearing first initials on their NOBs (from Jerry Wolper).

Basketball News: Nets PG Kyrie Irving arrived at the arena last night wearing a Kobe Bryant jersey. Today marks the one-year anniversary of Bryant's death (from Mike Chamernik). … Speaking of Irving, after the game he gave his jersey to Heat F/C Bam Adebayo. Security had stopped those same two players from engaging in a postgame jersey swap on Saturday night (from Mike Chamernik). … Southern Illinois is adding a memorial patch for former coach Rich Herrin, who died in December (from @mrmichael21).

Soccer News: New badge for Belarusian second-division club Belshina Bobruisk (from Ed Żelaski). … Austin FC, slated to begin play in MLS this season, has announced it has sold the naming rights to its future stadium (from Timmy Donahue). … New Swansea ST Jordan Morris will wear No. 11 (from Terry Mark). … We've got a couple of submissions from Kary Klismet: The new third kit for Liga MX team Tigres has leaked, and Princeton University has received approval for a new soccer stadium.

Grab Bag: Back in the 1950s, when Dwight D. Eisenhower began running for president, The New York Times ran into trouble trying to fit his long name into a single page column, so they designed some compressed type just for his surname (from Mike Hillman). … This story notes that the camouflage fatigues worn by North Korea and South Korea are remarkably similar (from Greg Franklin). … Hays High School in Texas has chosen "Hawks" as its new team name to replace the recently retired "Rebels" (from Kary Klismet). … Also from Kary: Rugby league club Huddersfield Giants unveiled a new logo a few months ago. … Table tennis pros can now refine their swings with the help of sensors embedded in their paddles (from Jeremy Brahm). … Plans to have Andrew Jackson replaced by Harriet Tubman on the design of the U.S. $20 bill, which were back-burnered several years ago by the Trump administration, are back on track.
• • • • •
• • • • •