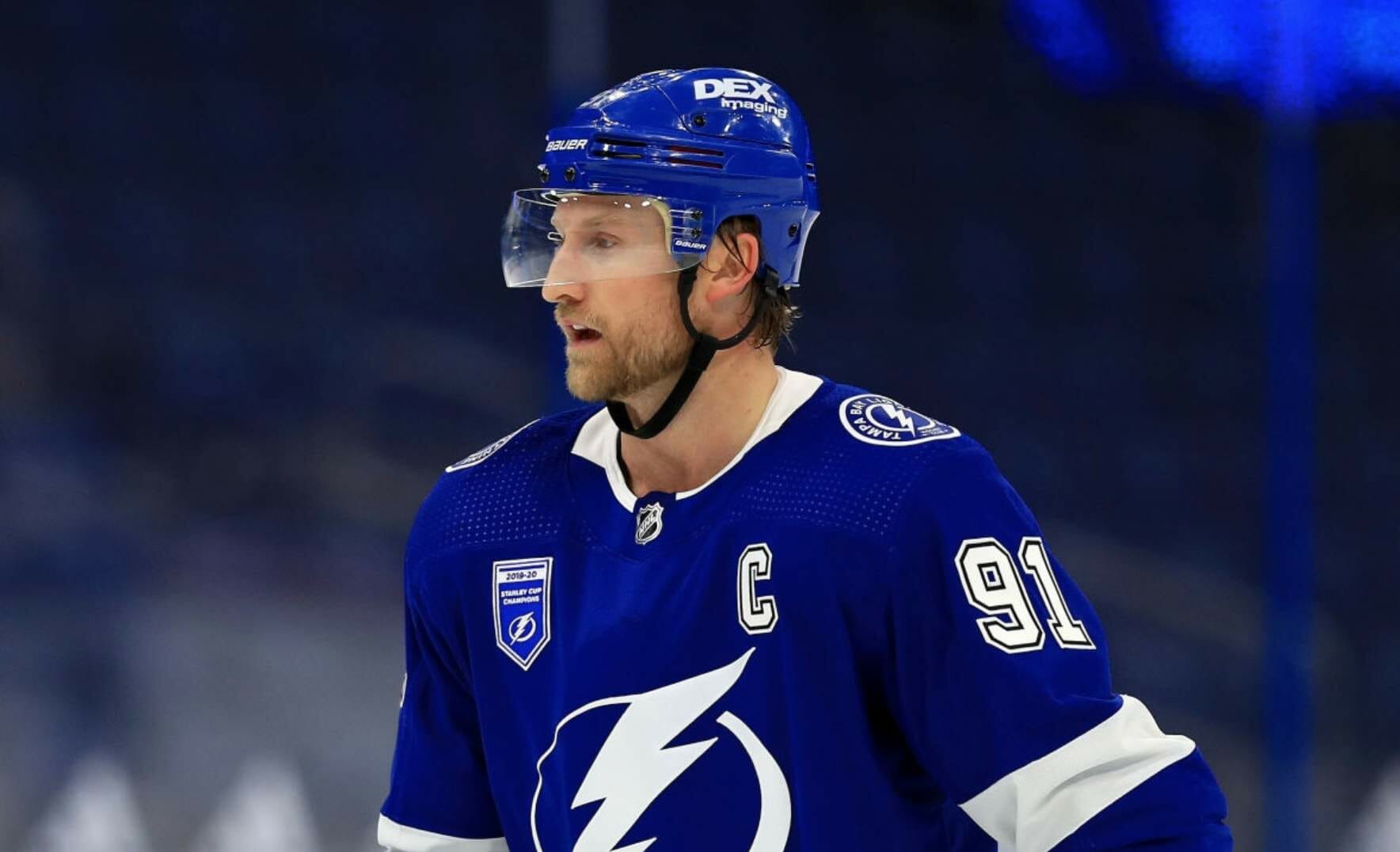 For all photos, click to enlarge
The NHL season finally began last night. In a move that got no advance fanfare, at least that I'm aware of, the defending Stanley Cup champs, the Lightning, wore a championship banner-themed jersey patch for their opening game. I couldn't find a good close-up photo of the patch itself, but it's the same logo shown on this puck: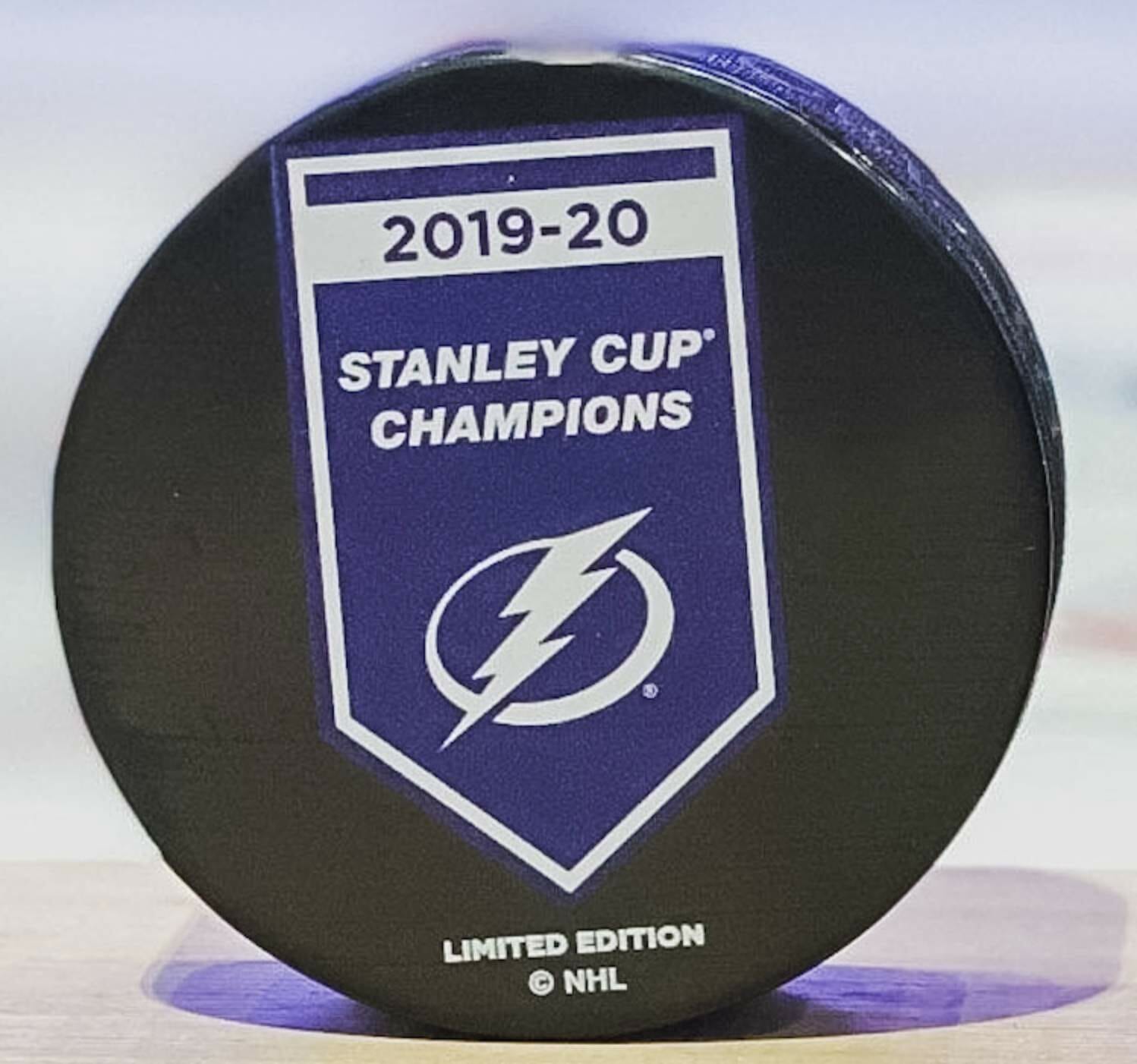 A banner-themed patch for the defending champs is not unprecedented. The Blues wore one at the start of last season, and the Bruins did likewise in 2011.
Speaking of the Lightning, they also added a bunch of Adidas logos to the base of the glass: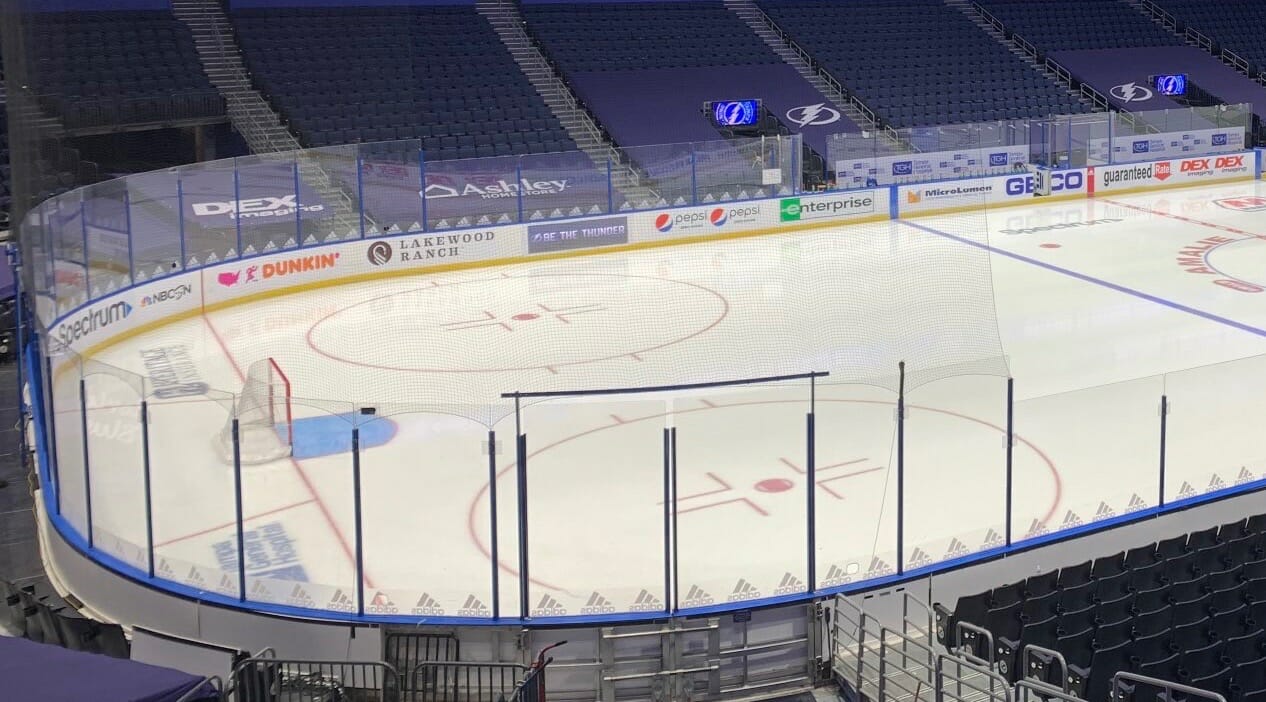 Those were two items from a flurry of uni-related moves that took place on the opening day of the NHL season. Here are some more:
• The Bruins added a memorial decal for Travis Roy, the inspirational former BU player who died in late October (additional info here):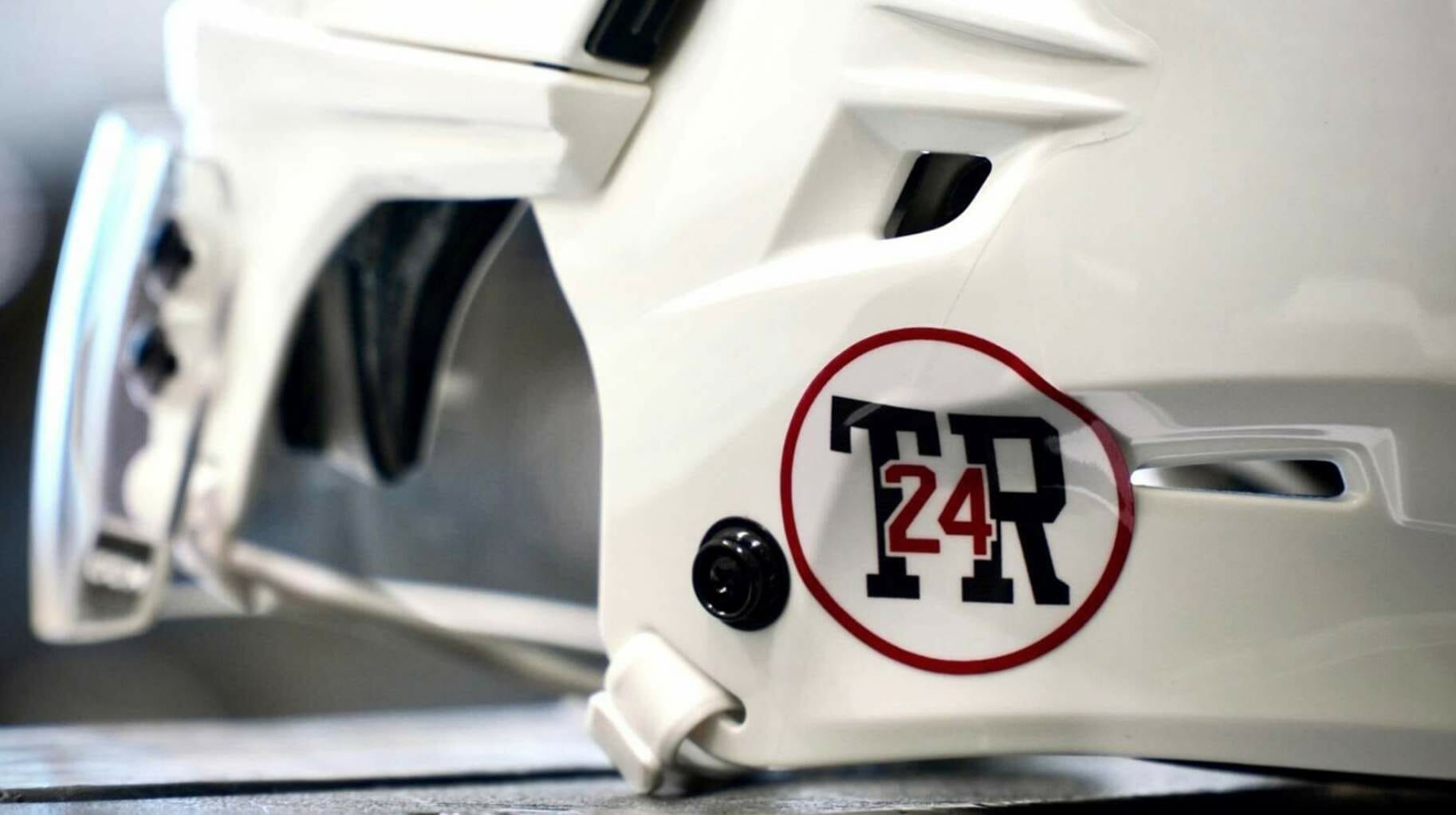 It's an interesting design — you don't see many memorials that feature the deceased's initials and uni number!
• Speaking of the Bruins: With Willie O'Ree's No. 22 being retired (as was mentioned in yesterday's Ticker), newly acquired winger Craig Smith is changing from that number to No. 12. Smith had been assigned No. 22 after signing with Boston as a free agent in October, so he now has the unusual distinction of having been assigned a roster number that he never actually wore in a game.
• The Oilers honored longtime locker room attendant Joey Moss, who died in October, by wearing his NOB during pregame activities, plus they added a memorial helmet decal: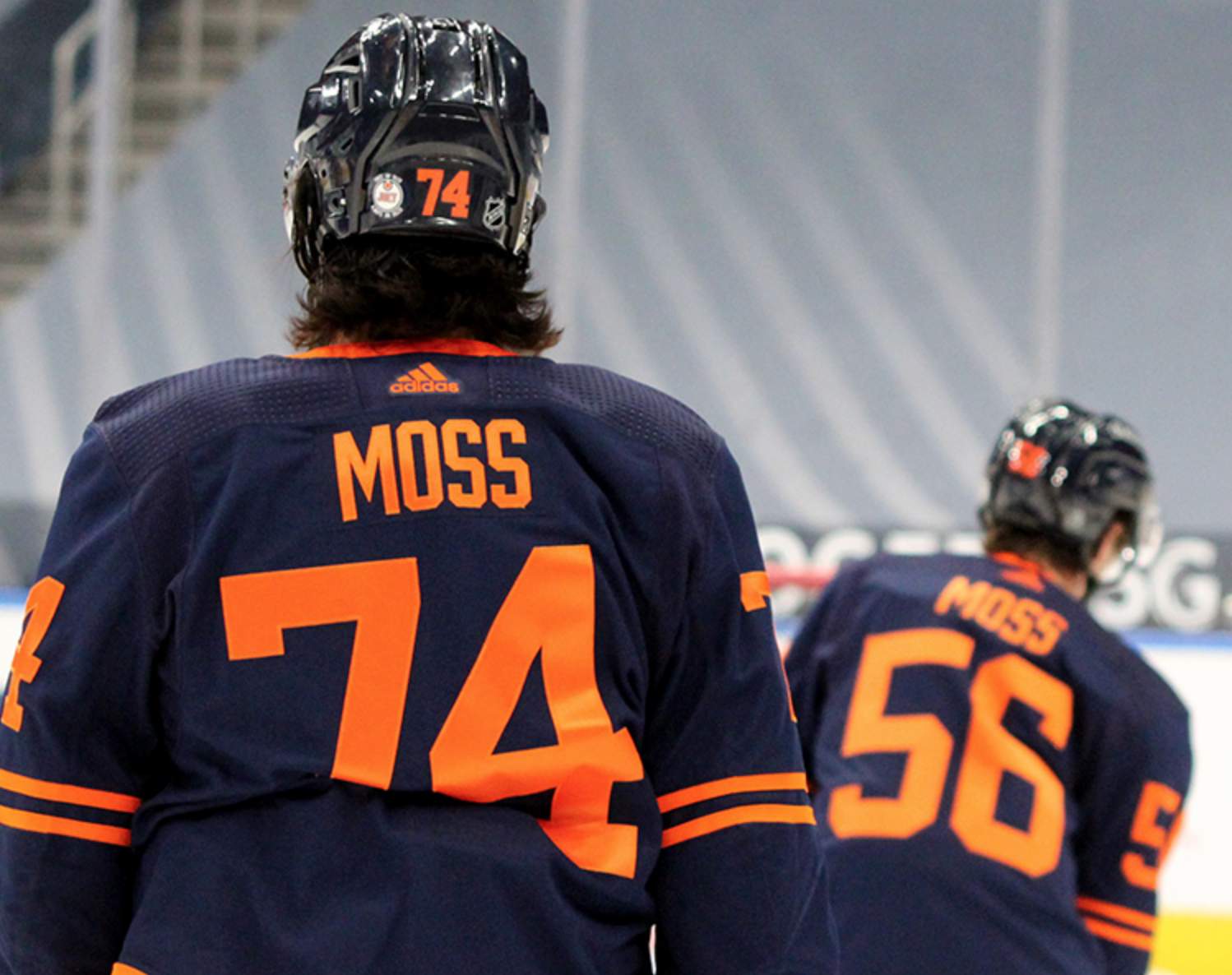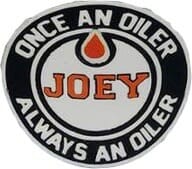 The weird thing about this is that the Oilers had already announced a helmet decal last week for former coach John Muckler — who, by coincidence, had the same initials as Joey Moss. In fact, when photos of the Muckler photo began circulating last week, some people mistakenly thought it was for Moss! No sign of the Muckler decal last night, so maybe the Moss decal was just for the season opener..? We'll find out when the Oilers play their next game.
• Canucks goalie Braden Holtby's chest protector logos were visible through his jersey: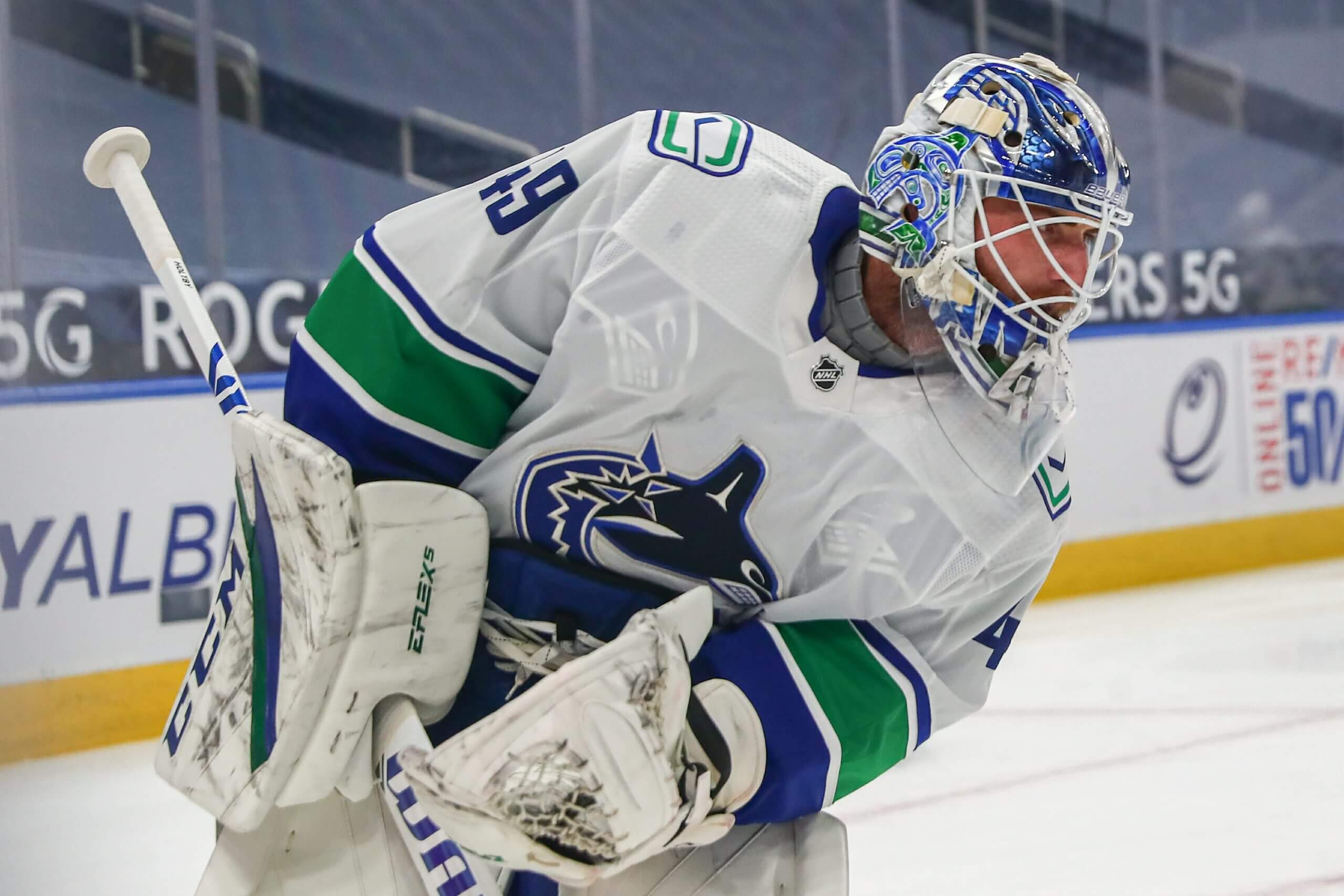 • Several readers got in touch to say that the Avalanche's shade of blue appears to be lighter. But I think it just seems that way because their helmets, pants, and gloves are now blue instead of black: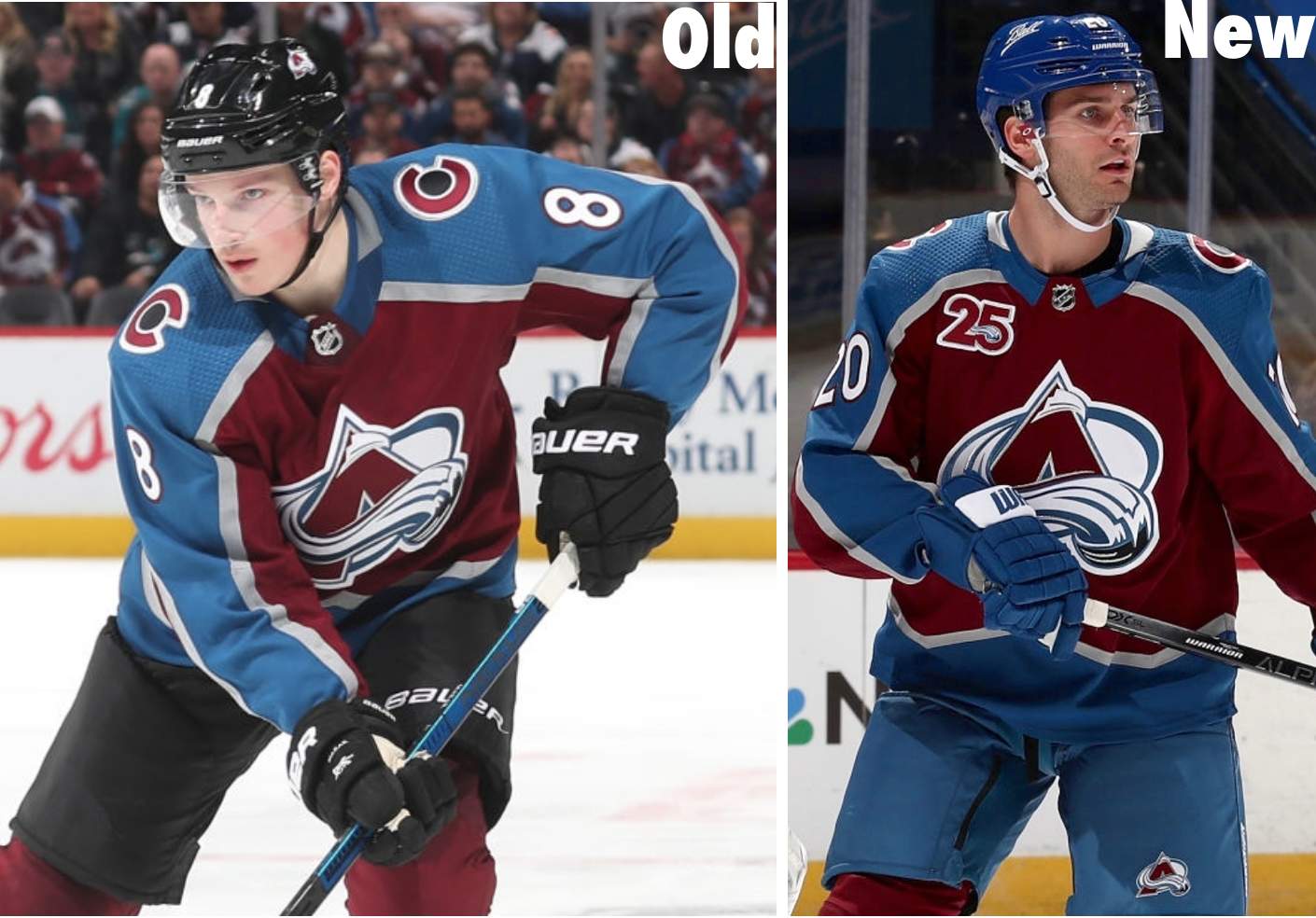 • A bunch of teams waited until Opening Day to announce their helmet ads. I won't mention most of them here because I don't want to give the advertisers free exposure, but the Flyers deserve special mention for the disparity between what they showed in their announcement and what they actually wore on the ice. Here's what they announced: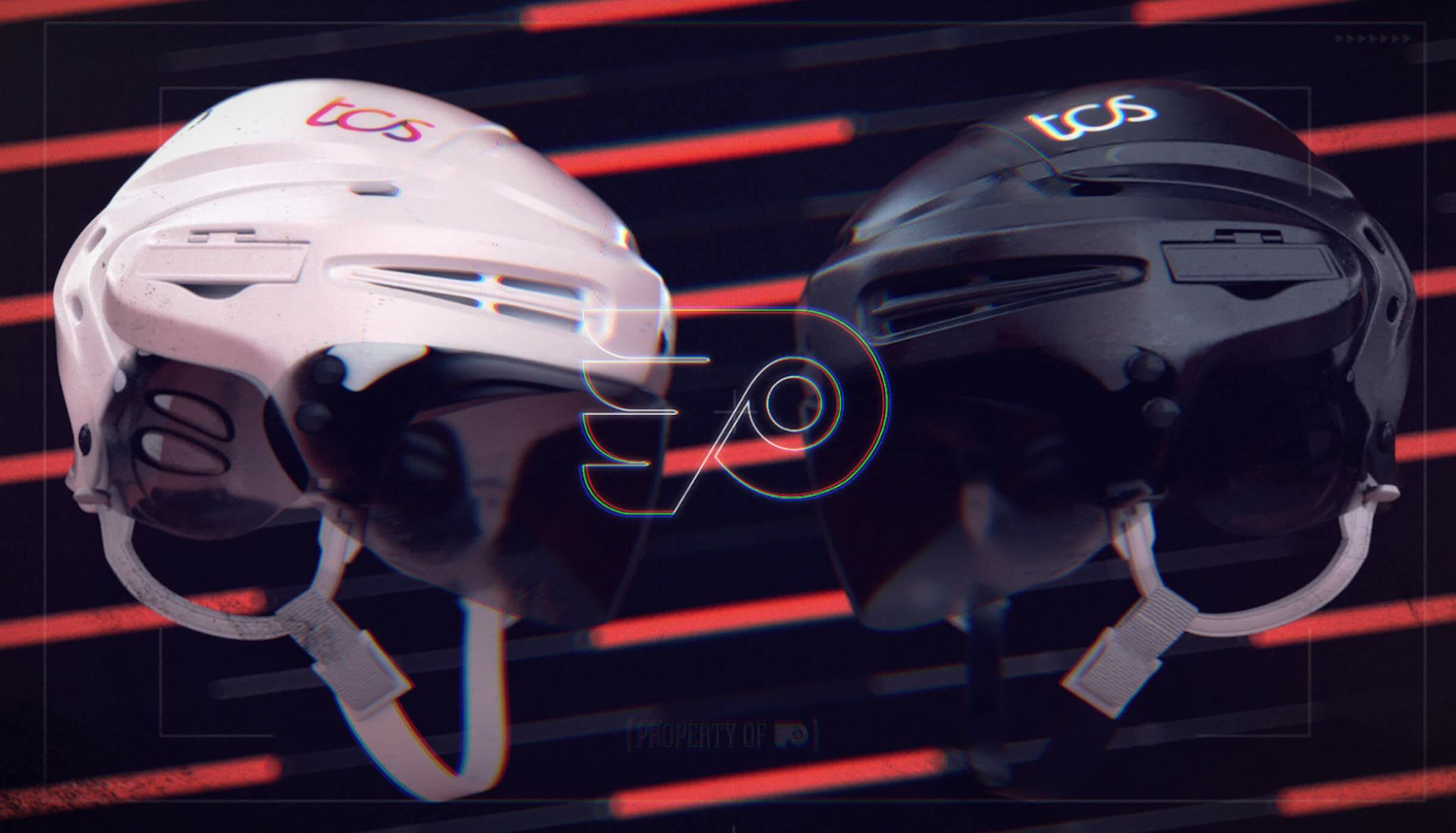 And here's what they actually wore: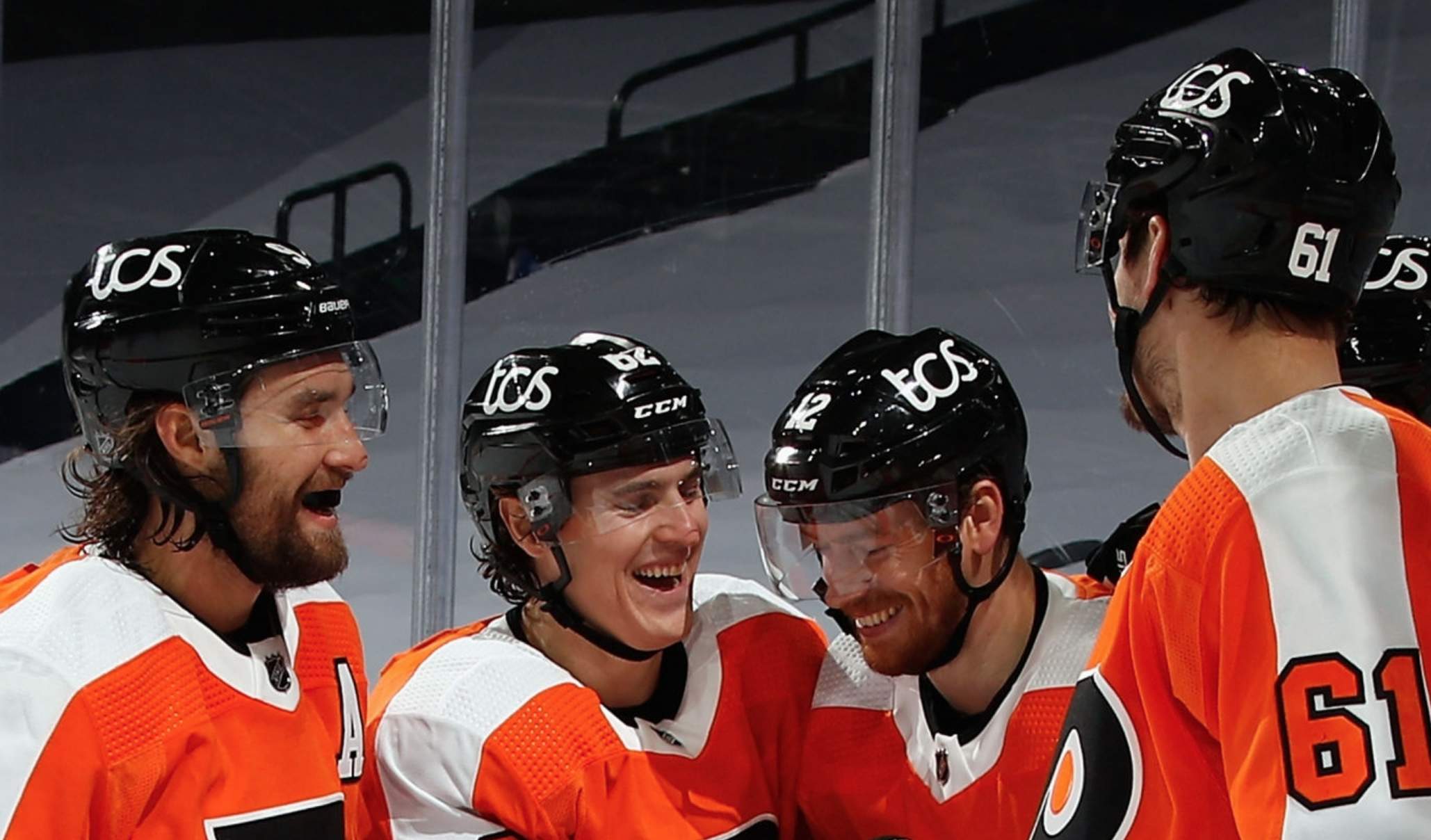 Yeesh — it's bigger than the NOB lettering!
• Speaking of the Flyers, two of their players — winger James van Riemsdyk and center Scott Laughton — wore gloves with the STX maker's mark blacked out, indicating that STX apparently declined to pay a licensing fee this season. If you look closely, though, you can see that they forgot to black out the maker's mark on van Riemsdyk's thumb: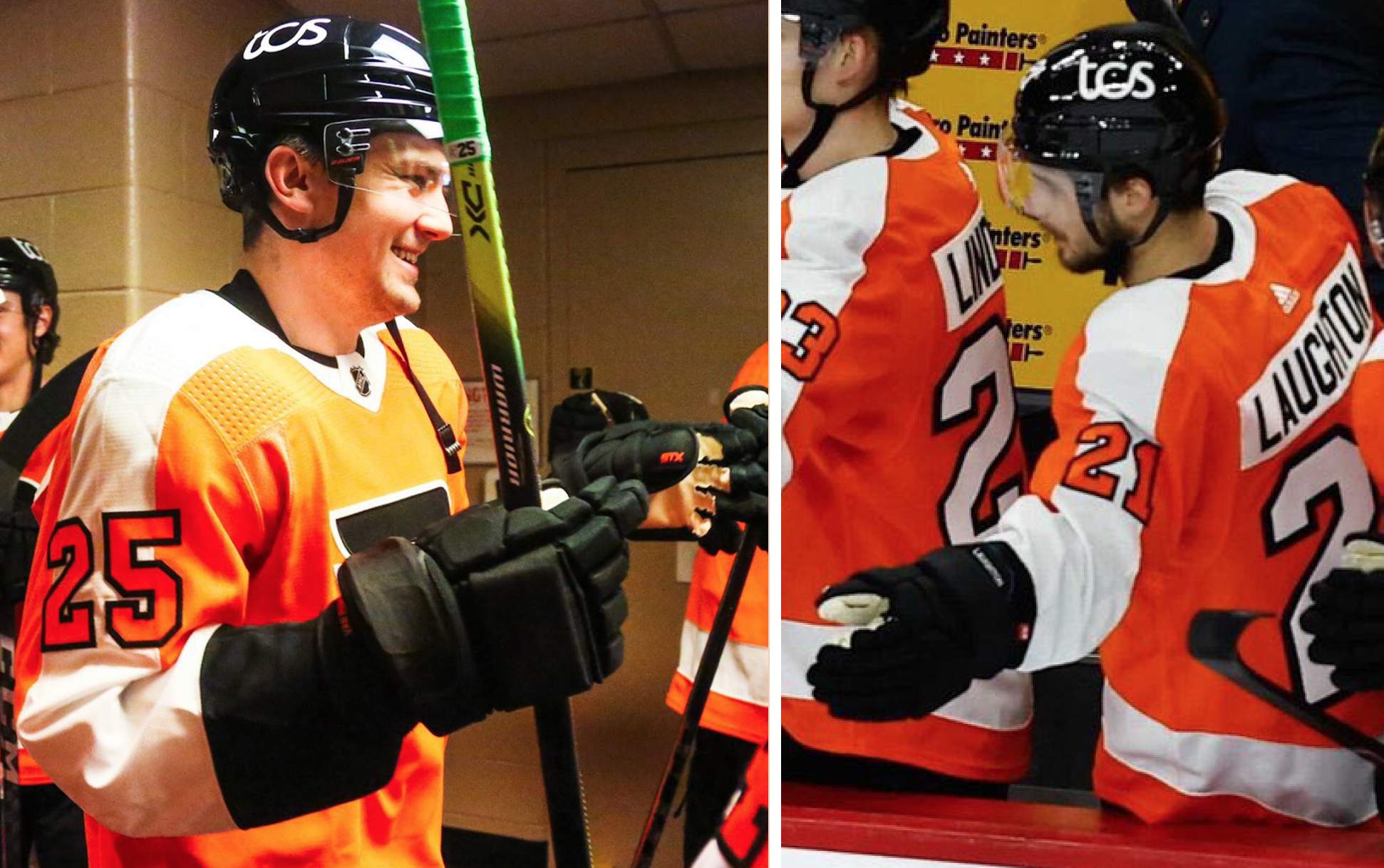 • The NHL added more sponsor inventory advertising behind the benches. How bad is it? So bad that even Darren Rovell, who never met a business-oriented move he didn't like, thinks it's a bit much:
The NHL has approved more sponsor inventory for this season, including expanded dimensions for behind the bench signage.

It just got more challenging to watch my @NJDevils games…. pic.twitter.com/sN2wFxevM9

— Darren Rovell (@darrenrovell) January 13, 2021
• There were also lots of virtual ads projected inside the blue lines:
Looks like @NBCSports is using superimposed ads on the ice beyond the blue line. @UniWatch #NHL pic.twitter.com/WOMXB4dyM4

— TheFaceoff.net (@thefaceoffnet) January 13, 2021
• In a bizarre bit of corporate theater that makes my head hurt, NBC showed the new advertised names for three of the league's four divisions but omitted the fourth one (because it conflicted with one of the broadcast's existing advertisers..?):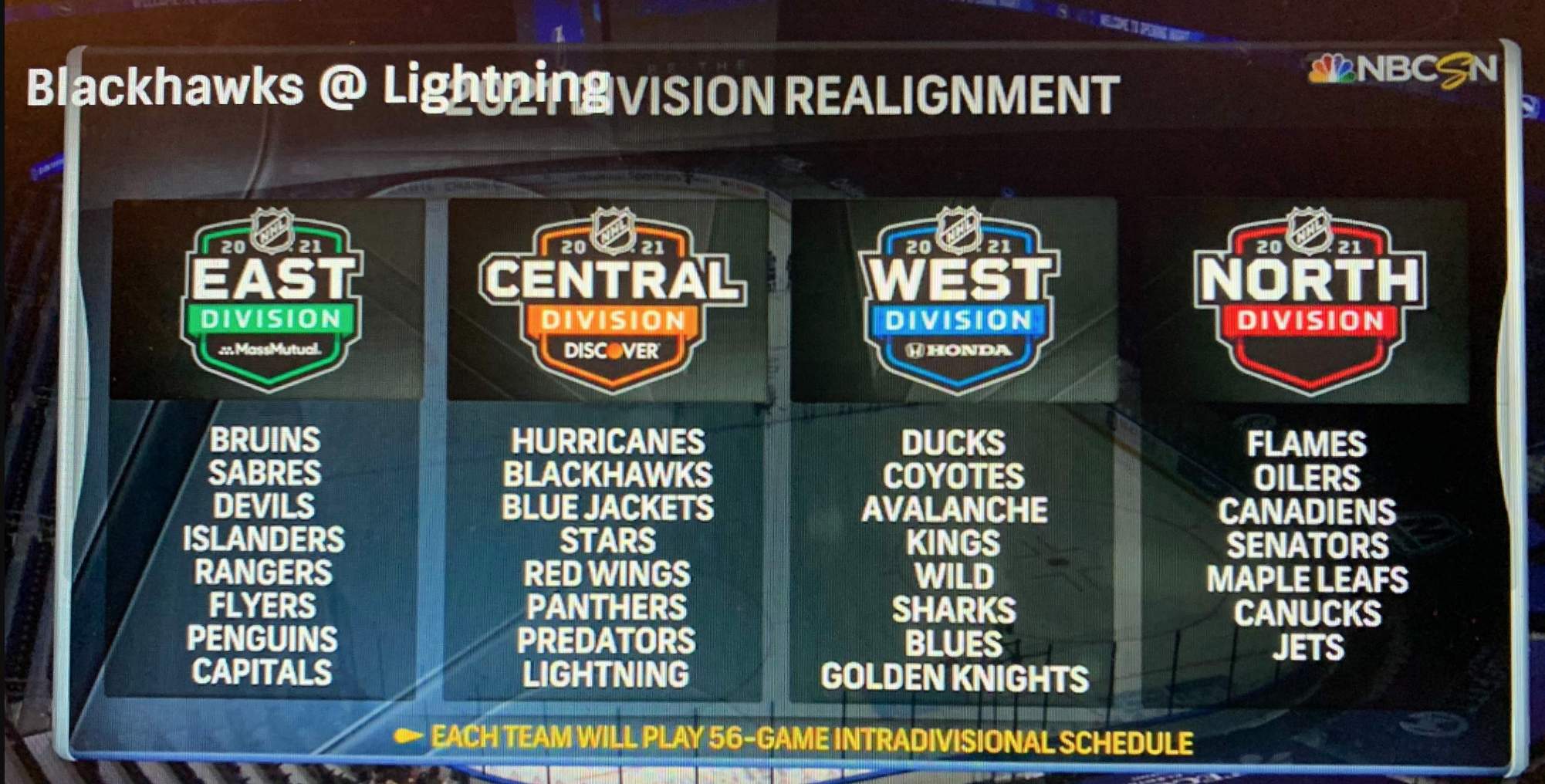 • Two teams — the Coyotes and Jets— announced their uniform schedules for the full season. (The Hurricanes did likewise last week.) Good for them! Why doesn't every team do this?
Want more NHL uni info? Here's my annual NHL Season Preview (which is already out of date due to all the last-minute announcements, but it still covers the vast majority of this season's new on-ice developments).
(My thanks to John Baker, Shane Bua, Wade Heidt, Moe Khan, Jean Lefebvre, Mark Morgan, Alex Smolokoff, @RealNickAngel, @Kurzy17, @jayhod522, and @BigShotJeff for their contributions to this section.)
• • • • •
• • • • •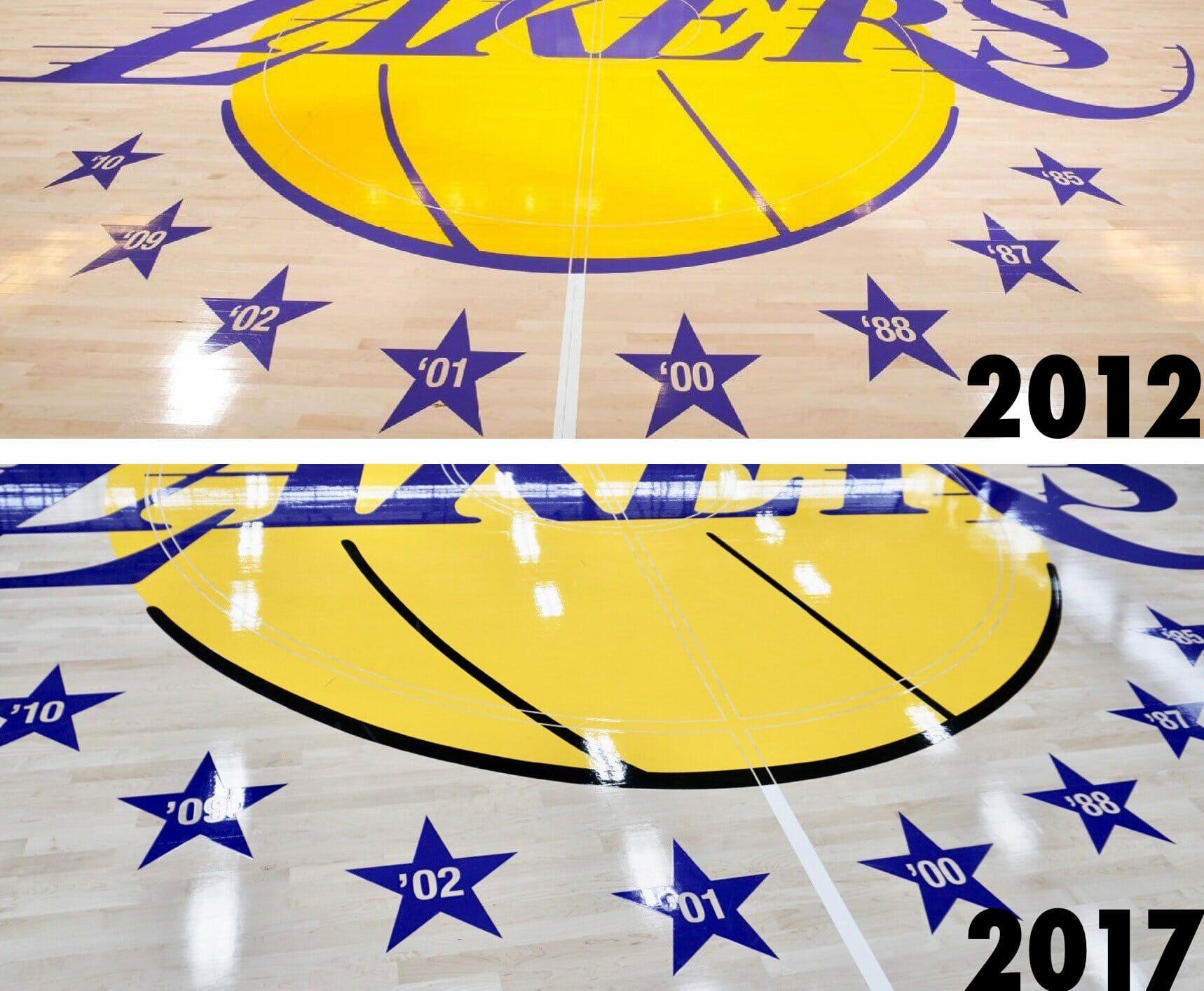 For all photos in this section, click to enlarge
Seeing stars: The championship stars that the Lakers added to their center-court design in 2012 have long been apostrophetically problematic. As you can see above, the stars originally had backwards apostrophes, although the team corrected them in 2017. When they won the title last fall — their first since the stars were added to the court — I wondered if they'd screw things up again when adding a new star to the court.
But then I forgot about it — until yesterday, that is, when reader Rick Ho drew my attention to a new commercial that the Lakers have been running. It's only half a minute long, so check it out:
Here's the commercial pic.twitter.com/Qxxt8jP6fZ

— rick ho (@rickhodesigns) January 13, 2021
Rut-roh — right from the start we can see that they're back to using backwards apostrophes: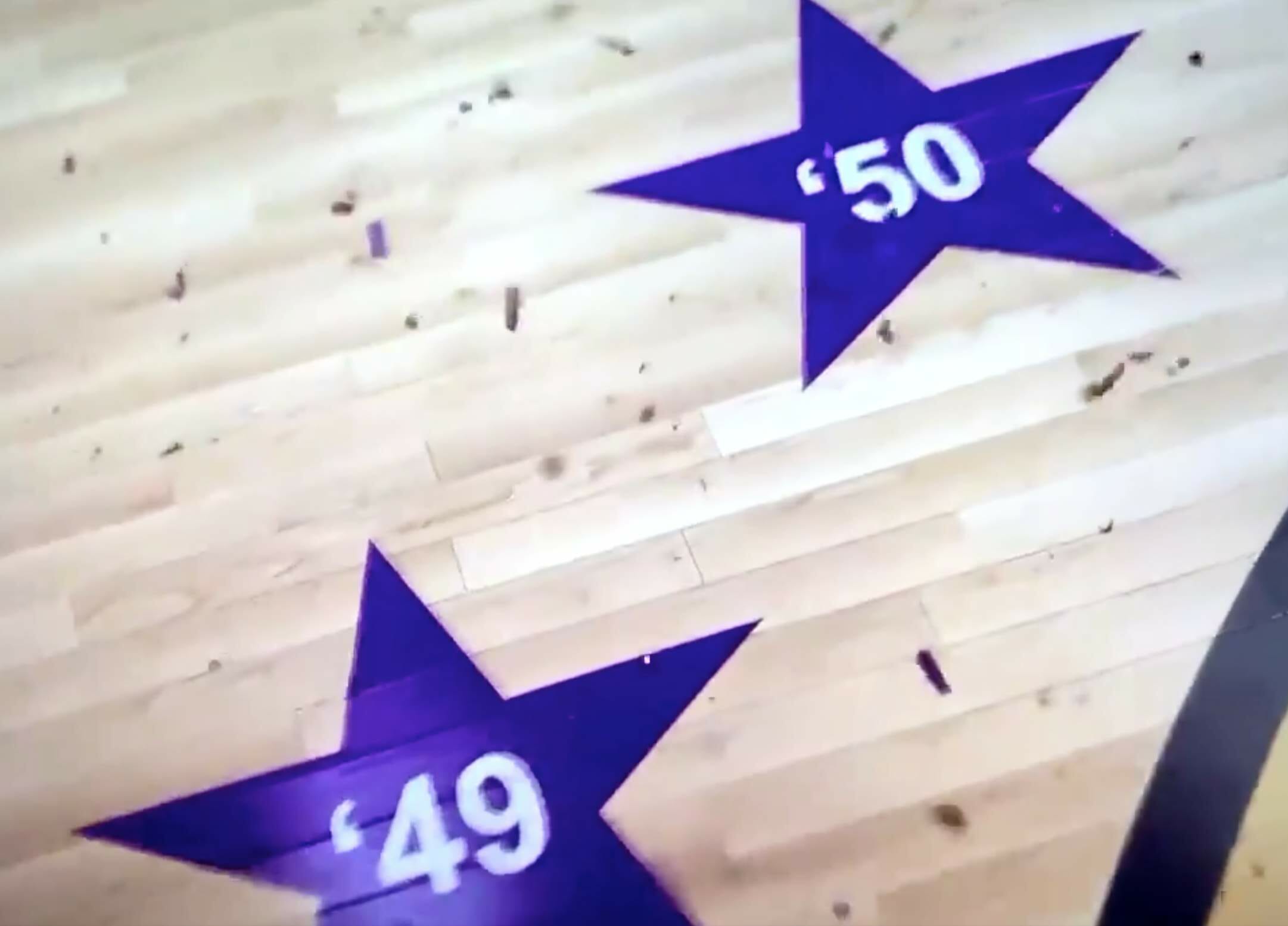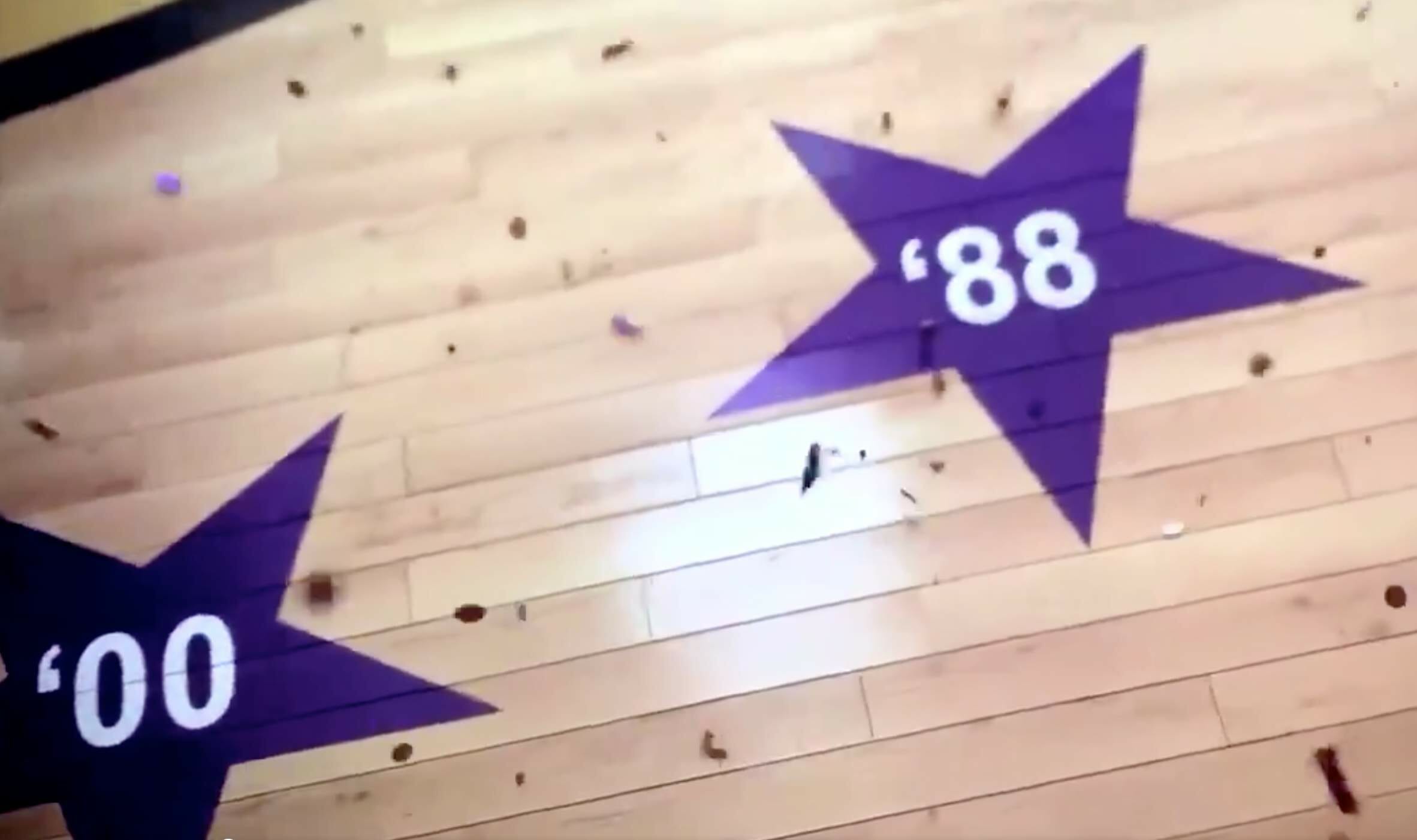 But things get even worse when they show the new star for the 2020 title — it has a straight apostrophe, which (a) is lame-o and (b) doesn't match the other stars!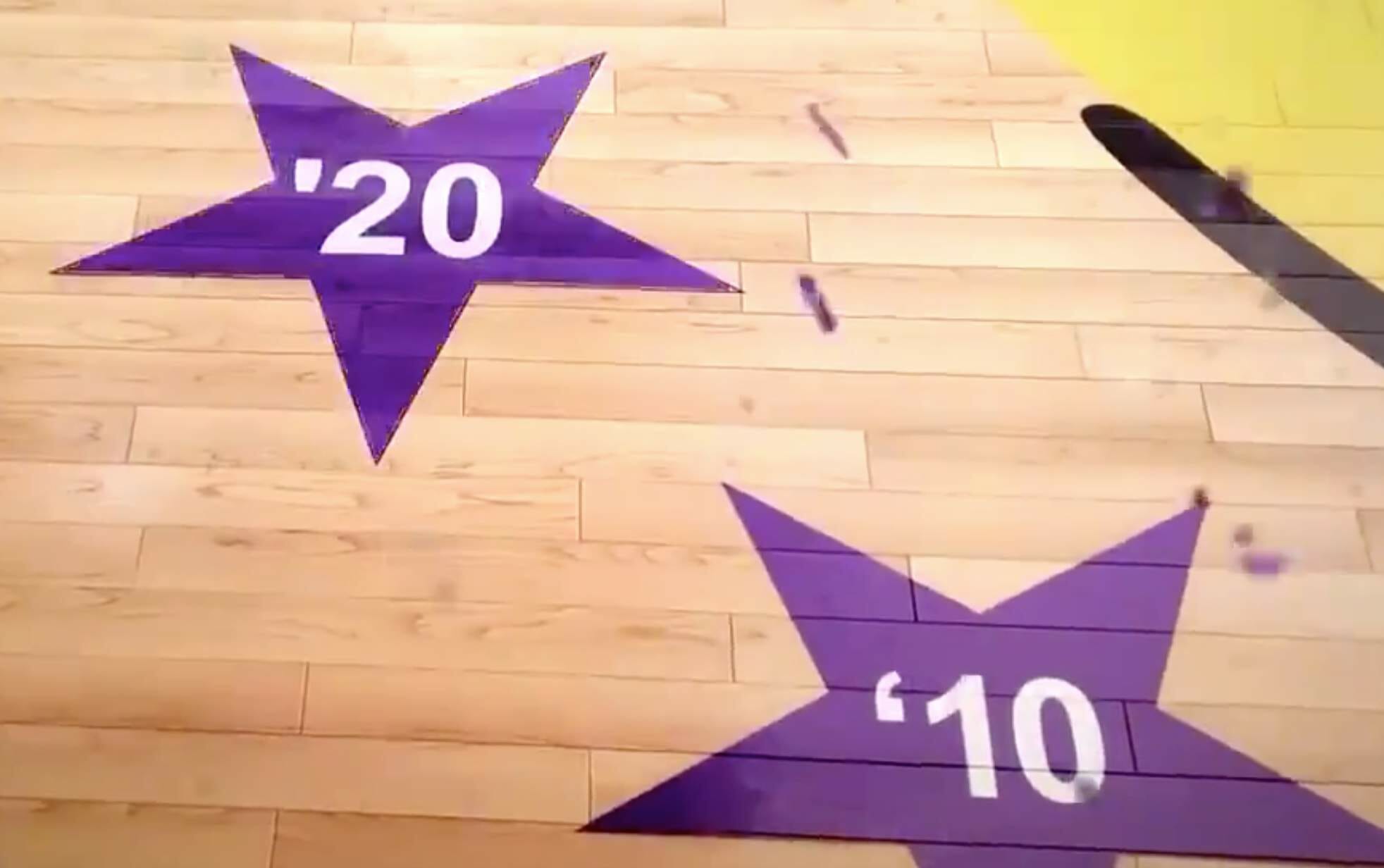 So pathetic — or so I thought.
But then I found a wire photo from Dec. 22 — the day that the current season started — indicating that the stars, including the one that's been added for last season's championship, have proper apostrophes after all: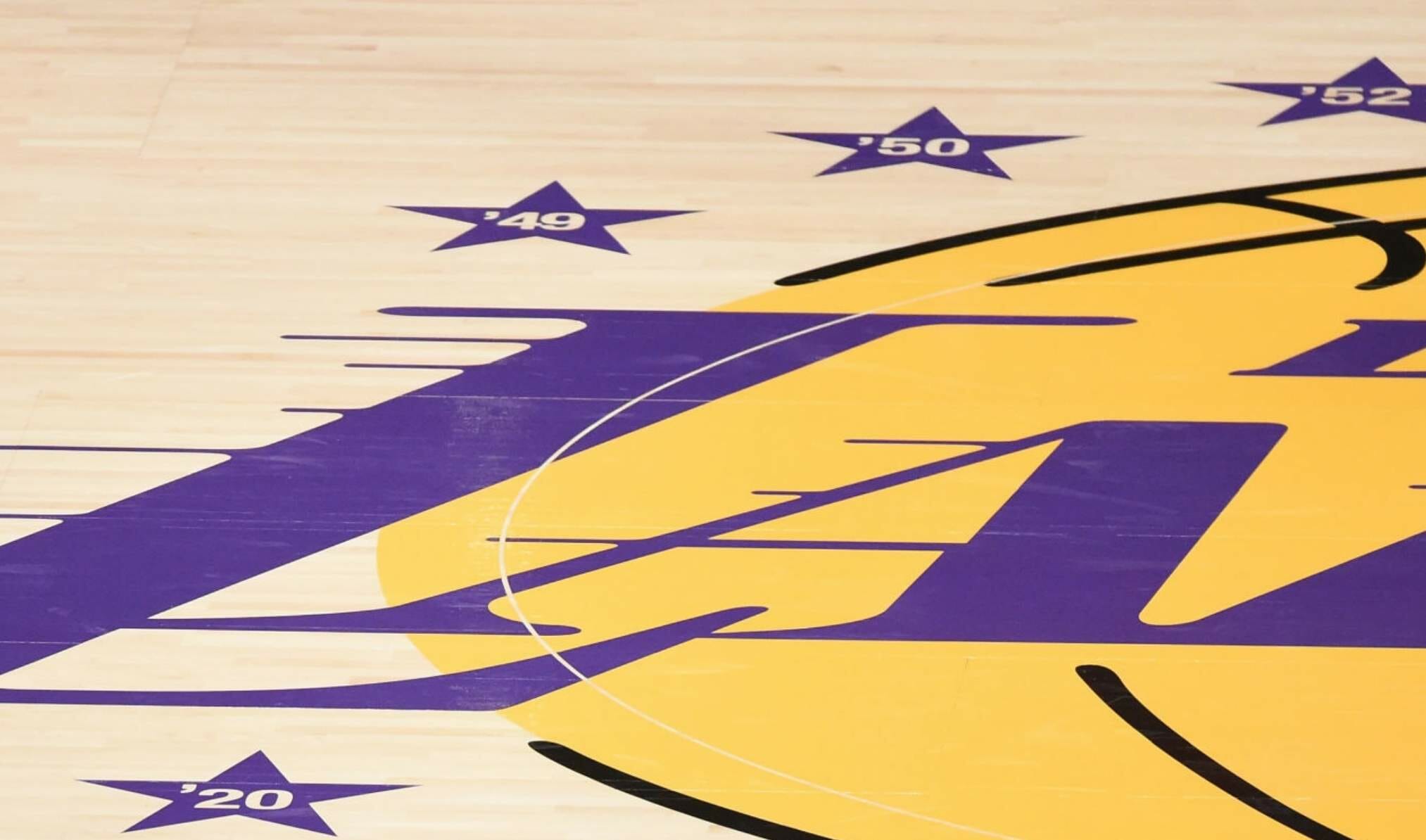 Hmmmm.
And that's not the only thing that's fishy in the commercial. In real life, all of the stars are oriented with their center points pointing straight upward. But in the commercial, the stars along the lower portion of the logo are rotated: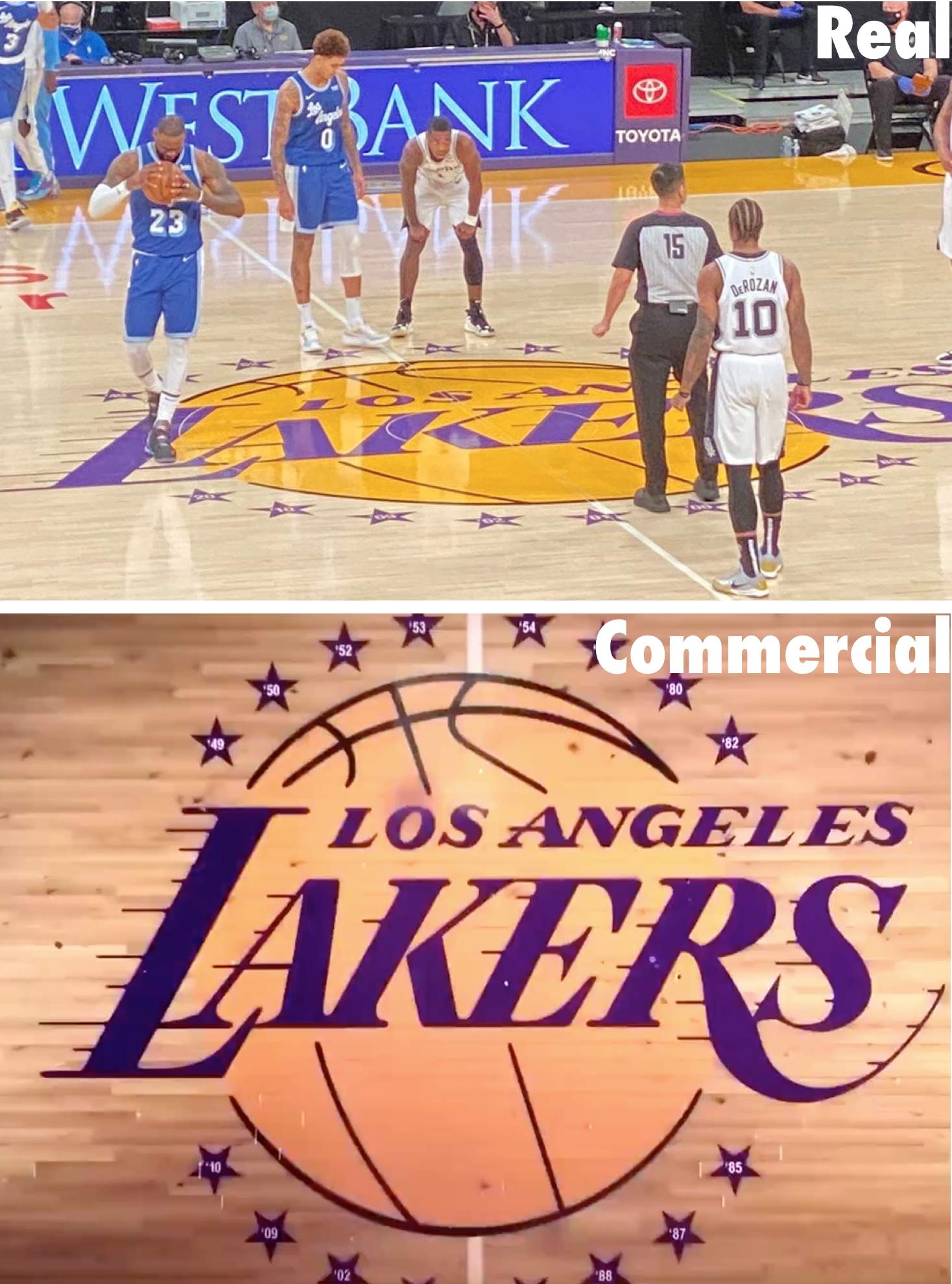 So it appears that the court in the commercial isn't real — it's just CGI, and the ad agency was sloppy about the details. That's pretty bad, but not as bad as it would be if the Lakers had done it on the real court!
Still, the ad is the latest evidence that most Americans have no idea how to use an apostrophe, so we should probably just retire it from our punctuative toolkit already.
(Big thanks to Rick Ho, who deserves all the credit for this one.)
• • • • •
• • • • •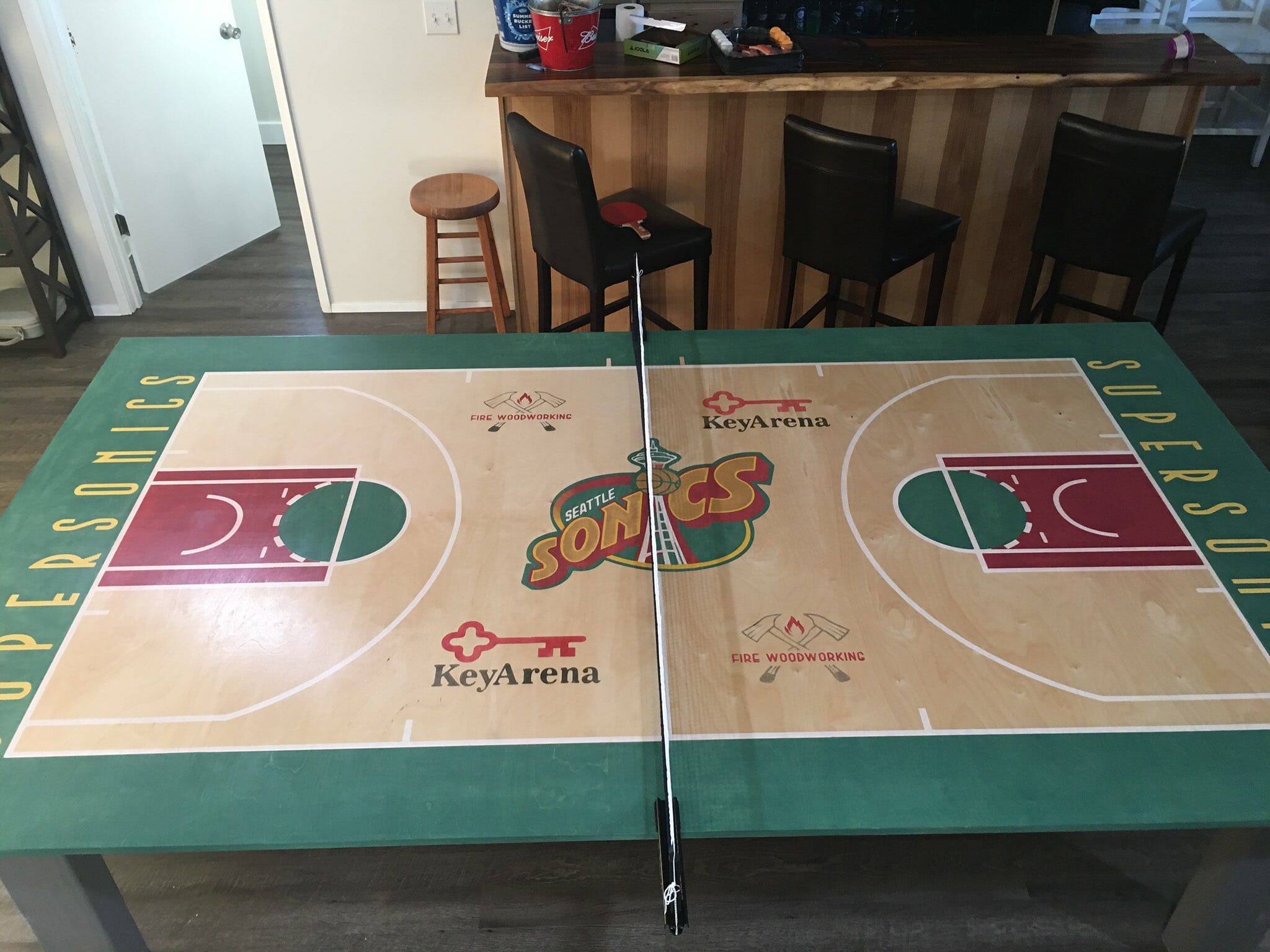 Click to enlarge
Why hasn't this been done before?: Some guy on Twitter DIY'd himself a ping-pong table based on the SuperSonics' old court design. How awesome is that?! And why haven't we seen lots of ping-pong tables based on the designs of basketball courts, hockey rinks, football fields, soccer pitches, and so on until now? We need more of this!
(My thanks to Bridger Deschamps for this one.)
• • • • •
• • • • •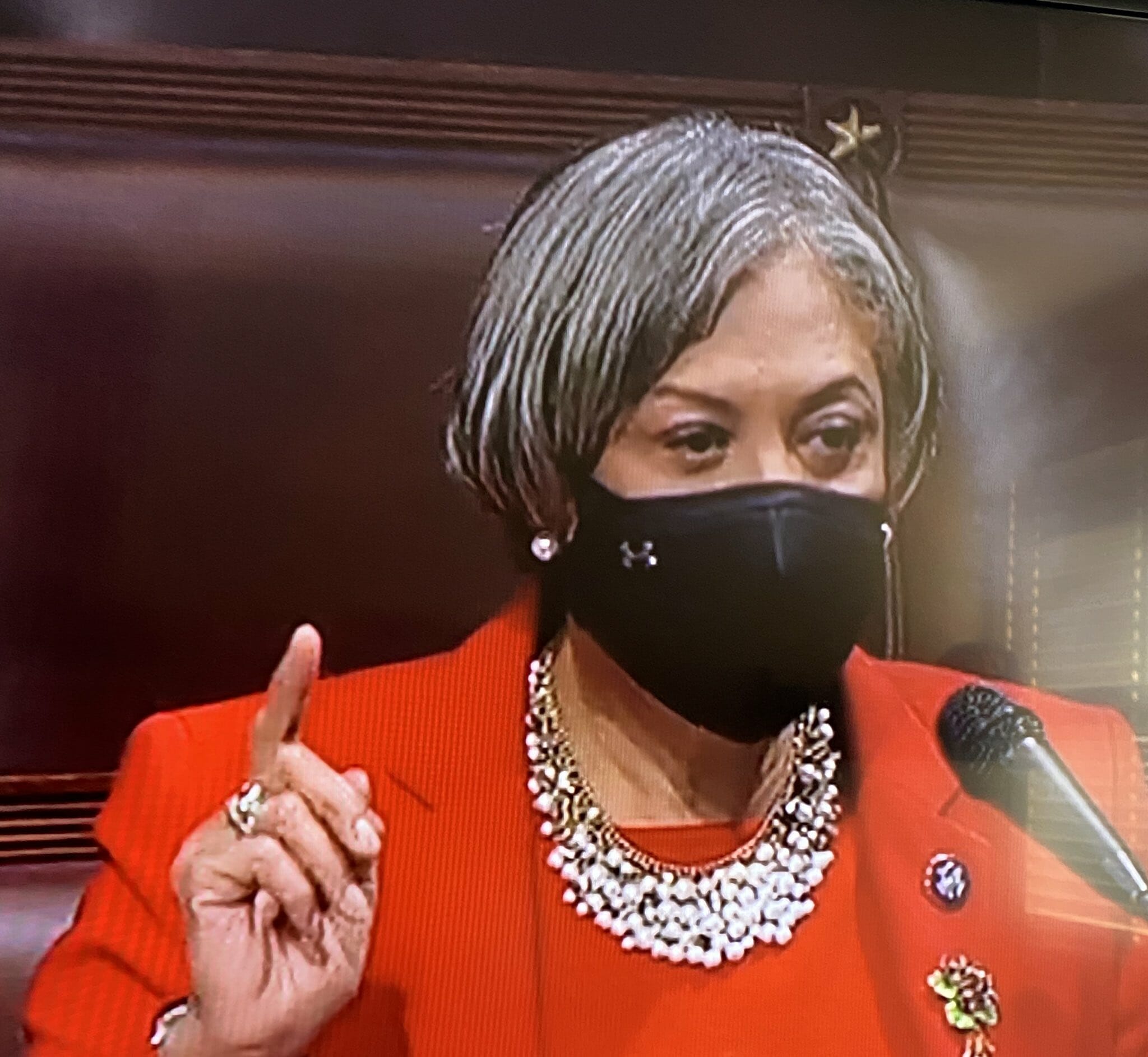 Click to enlarge
We must protect this House (literally): I don't normally like logo creep or referencing corporate slogans, but Michigan Congresswoman Brenda Lawrence wearing an Under Armour mask on the floor of the House of Representatives during yesterday's impeachment debate we almost too perfect.
Lawrence wasn't the only one with a uni-notable face covering:
• Tennessee Congressman Steve Cohen wore a Memphis Grizzlies mask.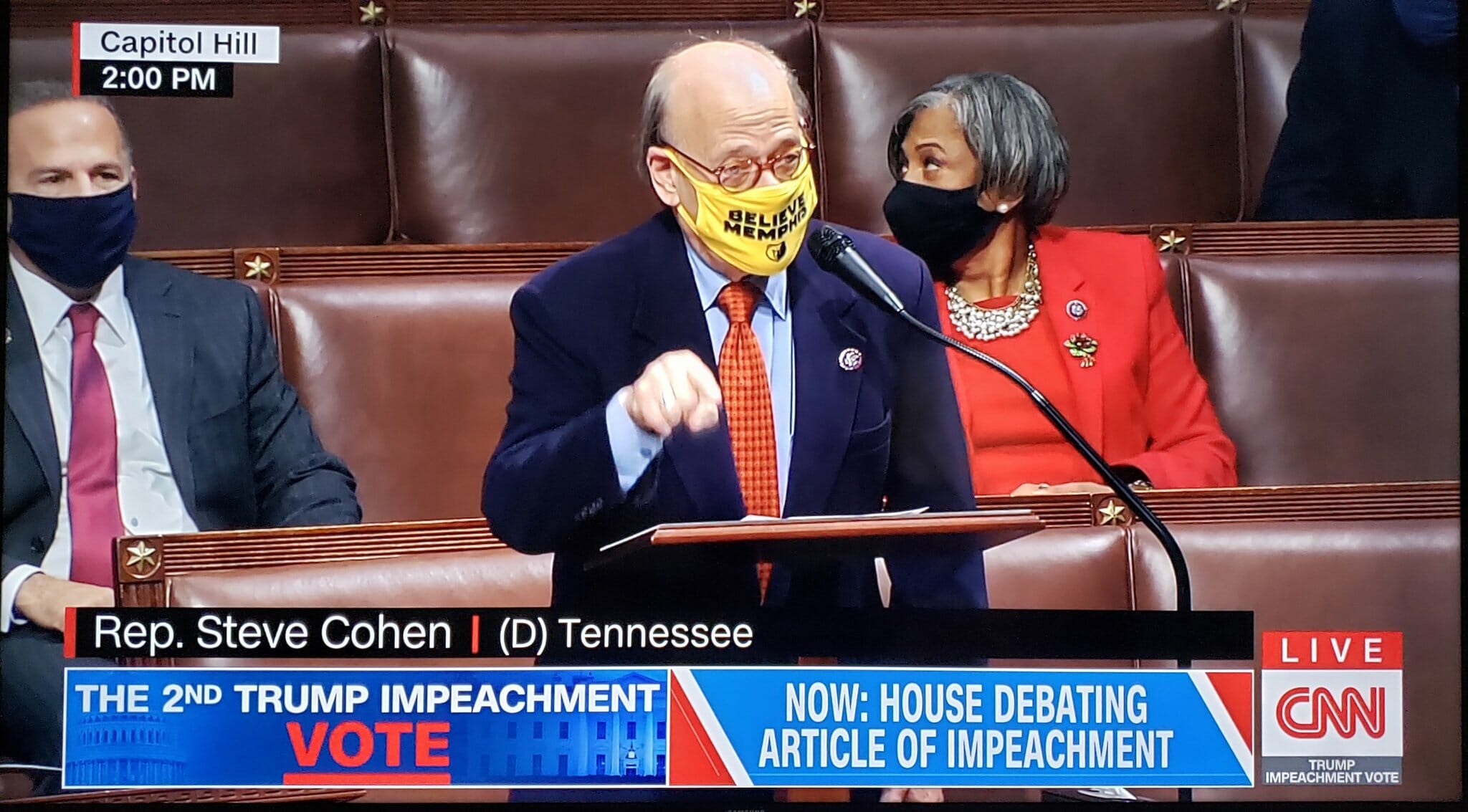 • And Oklahoma Congressman Tom Cole wore an OU mask: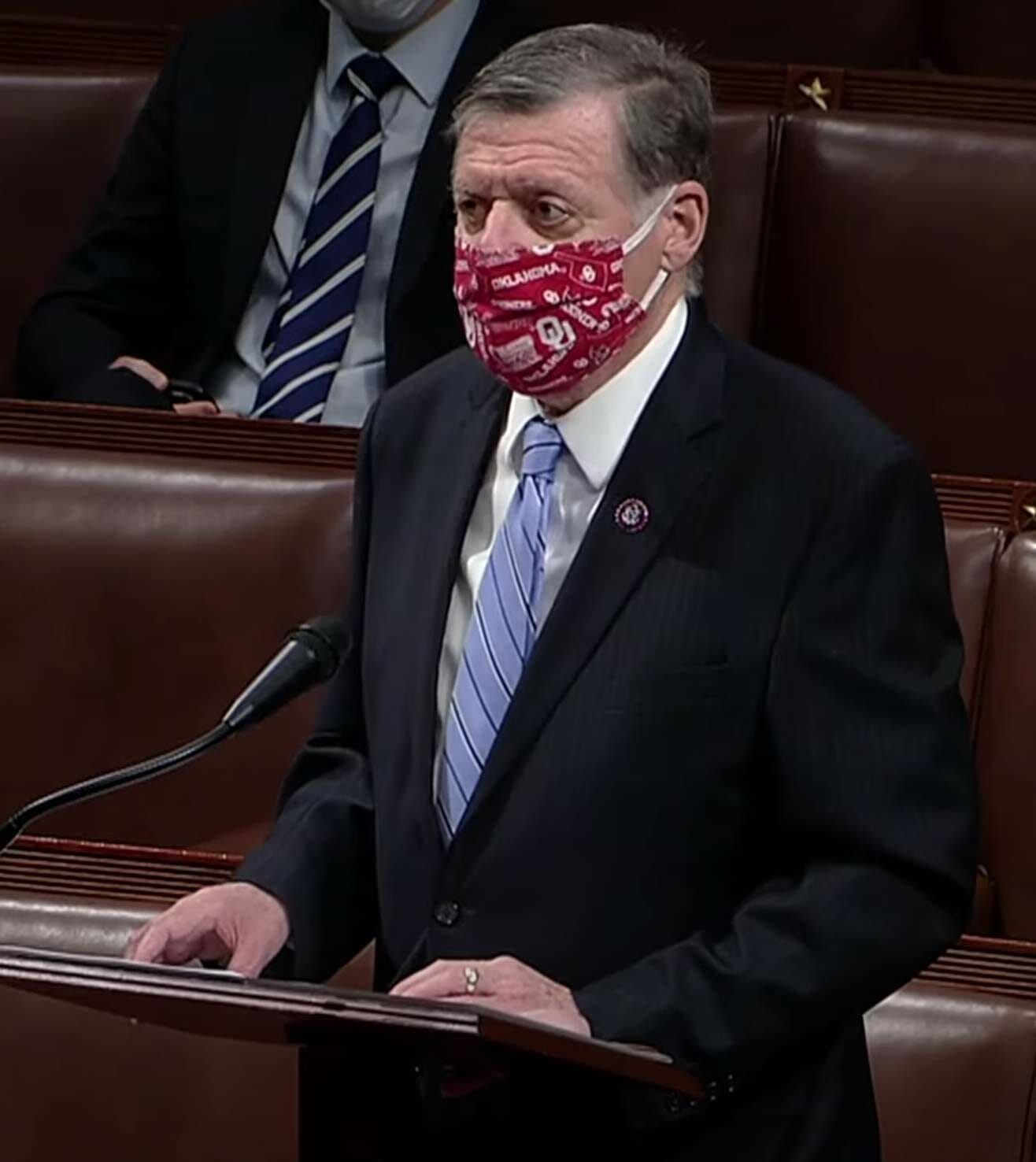 (Thanks to Timmy Donahue, Danny Pedroza, @ChancePlett, and the Tugboat Captain for contributing to this section).
• • • • •
• • • • •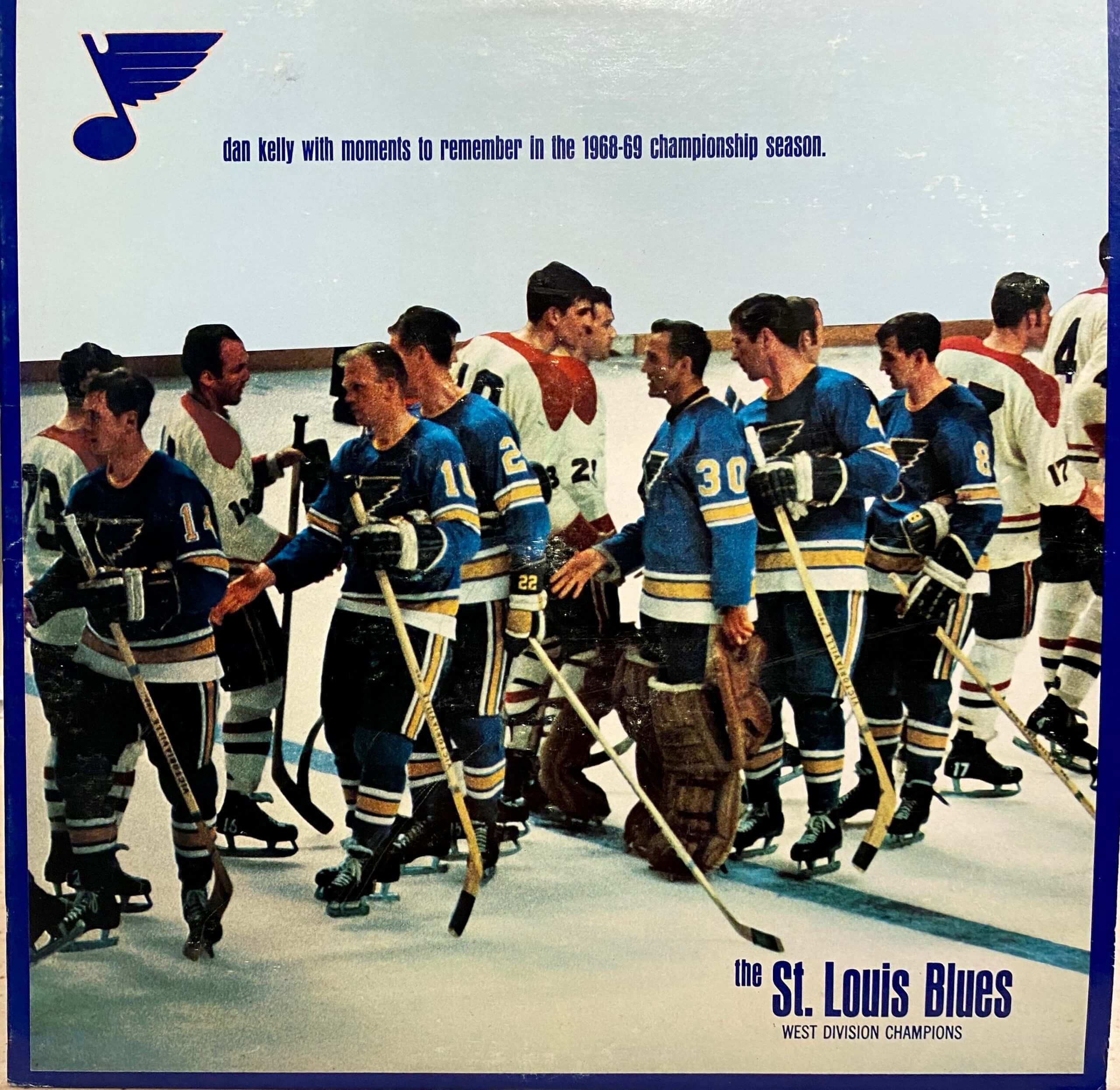 For all photos, click to enlarge
Too good for the Ticker: Cool thrift store find by longtime reader Frank Mercogliano, who found this super-cool-looking LP of 1968-69 St. Louis Blues radio highlights! Here's the back cover: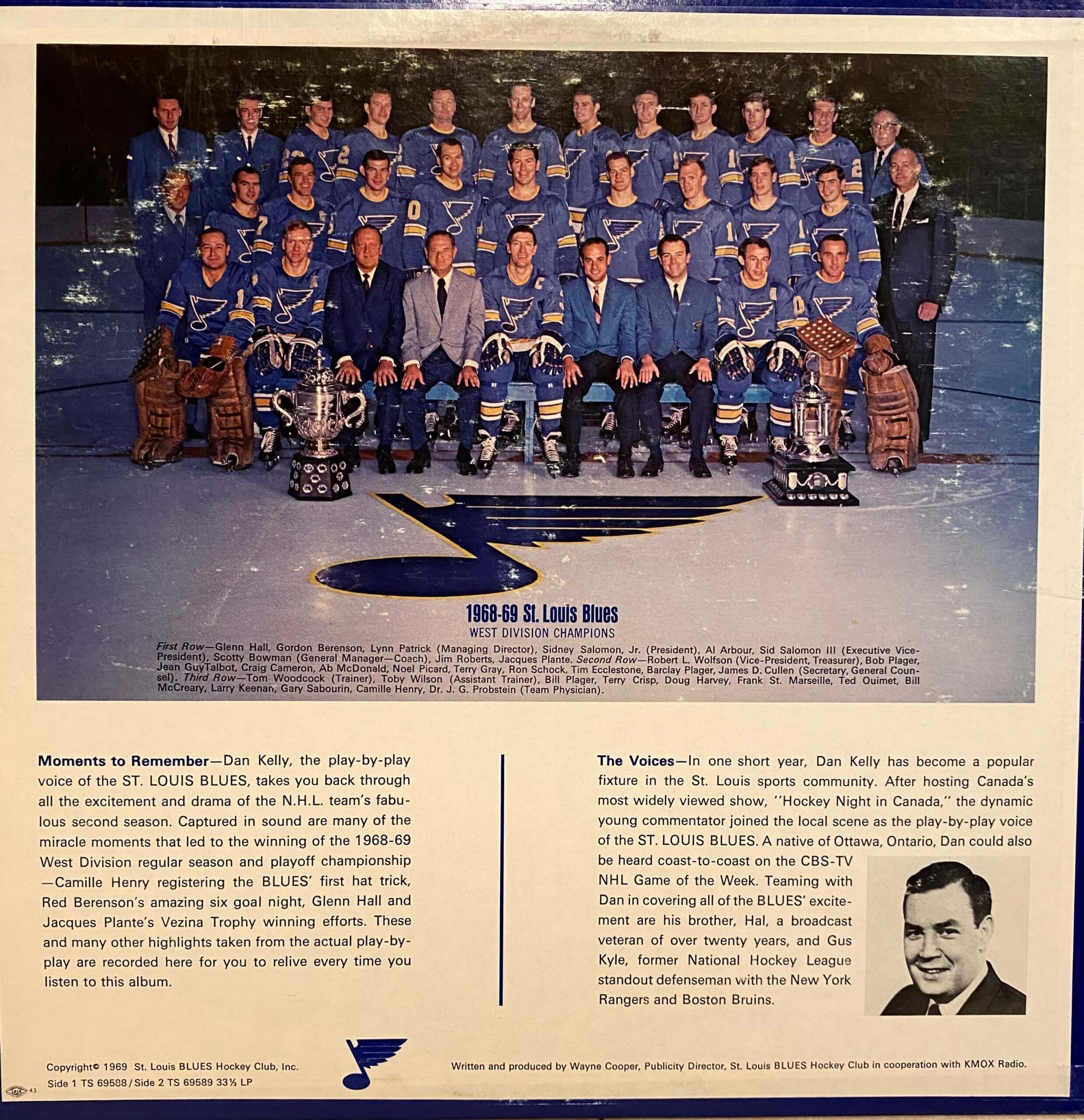 Even better, a letter that came with the album — printed in blue ink on Blues stationery — was still tucked inside the LP cover:
And there's more: Frank also found this LP of the Arizona State marching band playing "Fight Songs of the West." Check out these logos: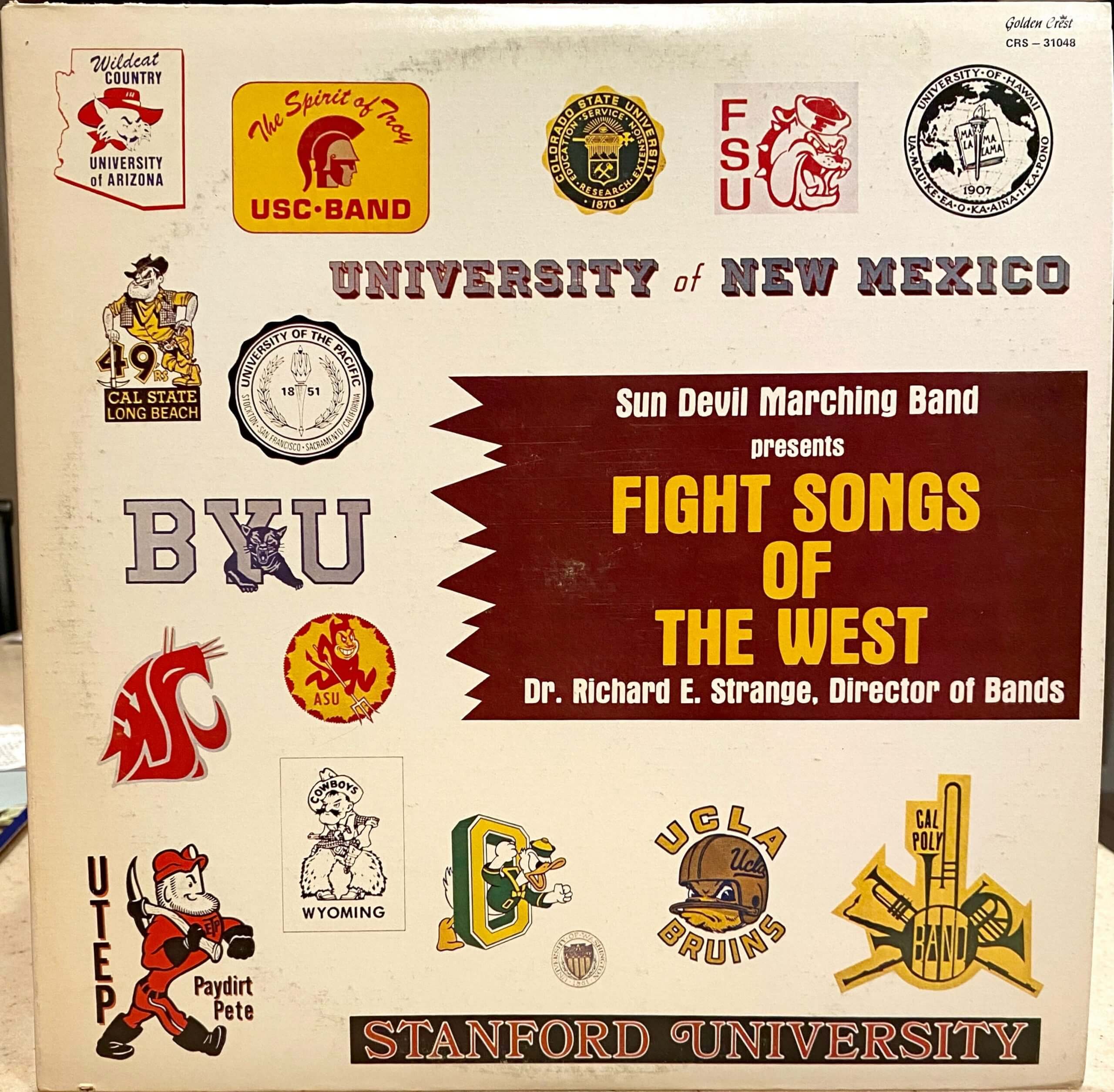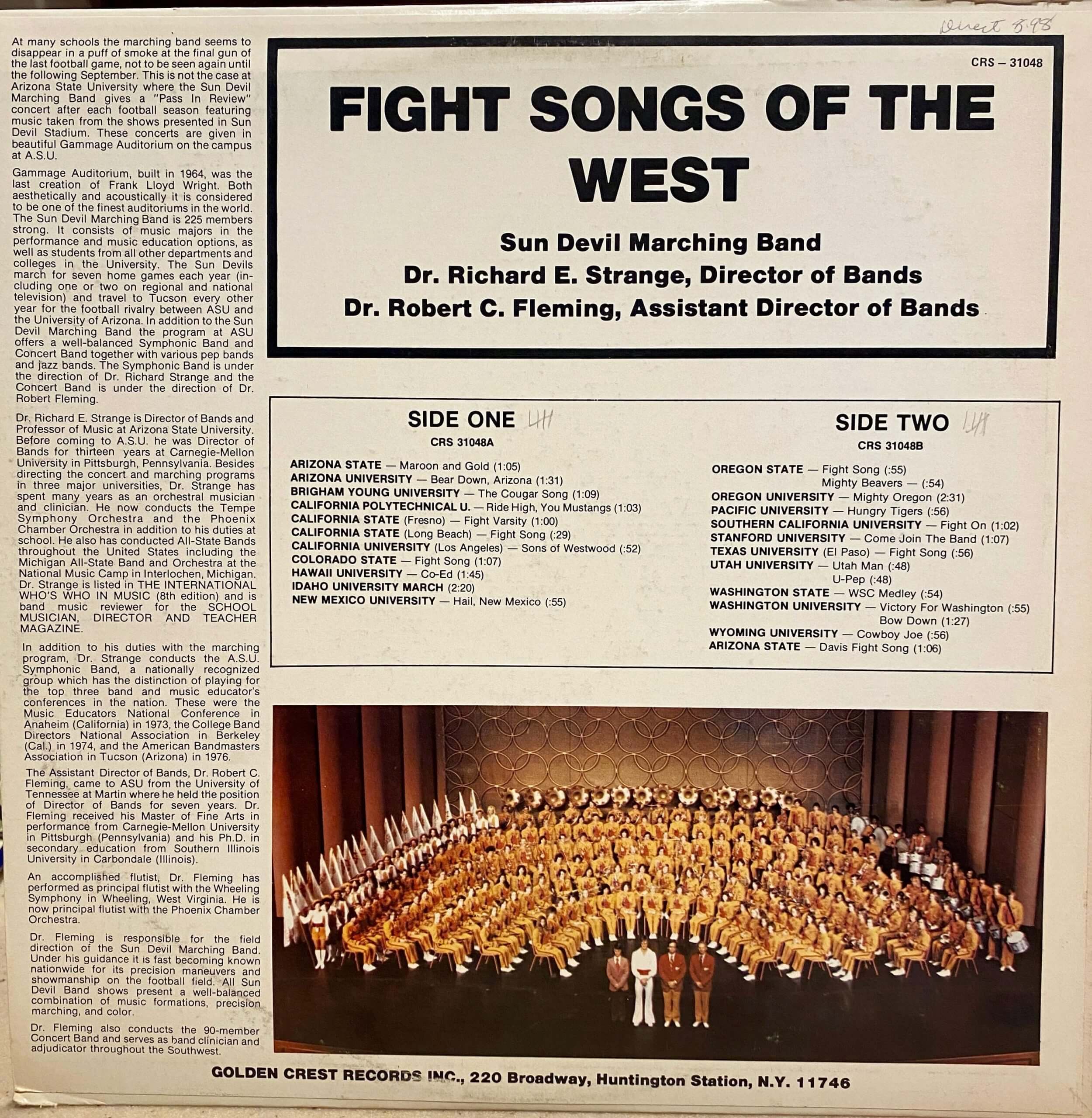 This one also had a treasure tucked inside — a reply card (which the original owner, obviously, never sent in):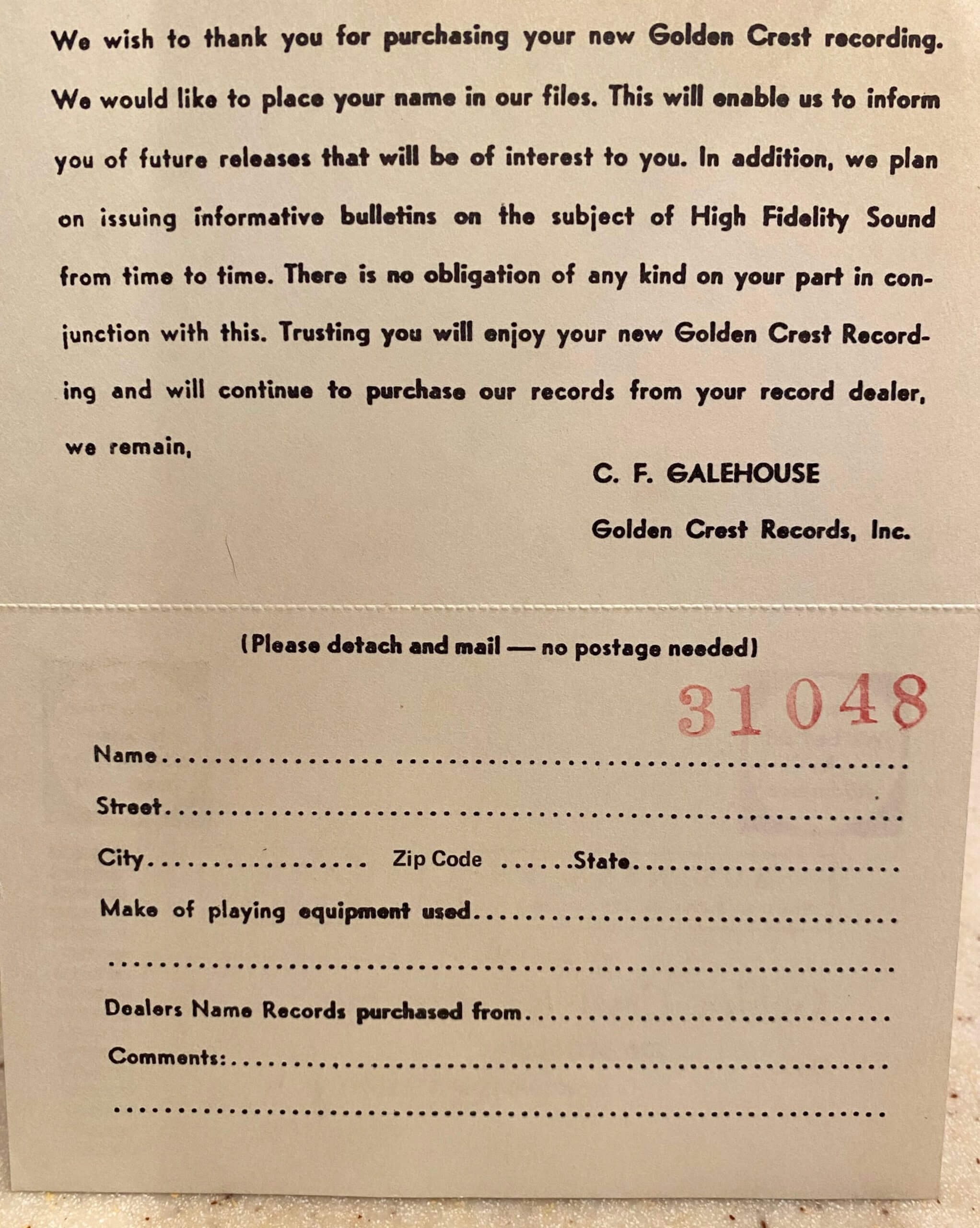 The combined price for these two fine additions to Frank's audio library? Eight bucks — what a score!
• • • • •
• • • • •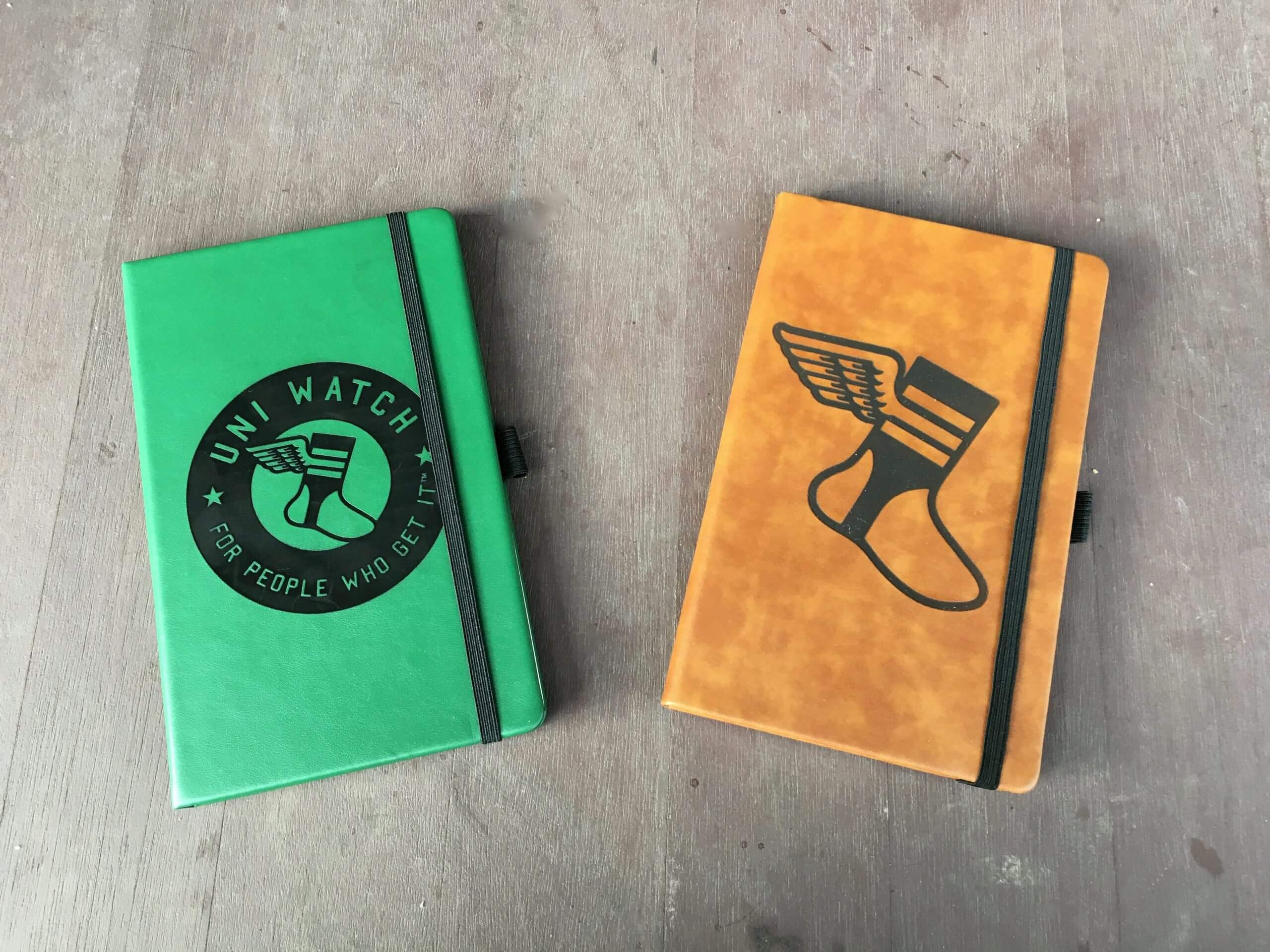 For all photos, click to enlarge
Feedback wanted: A merchandiser who's interested in working with me sent me samples of a few products, including these leather-bound notepads with the Uni Watch logos laser-etched into them. Inside they have ruled paper:
They're very nice — but does anyone still write on paper anymore? Or to put it another way, would any of you actually be interested in purchasing something like this for, say, $15-ish? They can be made on demand, so there are no inventory issues, but I don't want to put a product out there just for the sake of doing it.
My instincts say this isn't quite right for Uni Watch, but my instincts have certainly been wrong plenty of times before, so let me know what you think. Thanks!
• • • • •
• • • • •
The Ticker
By Paul

'Skins Watch: All of these are from Kary Klismet: Here's an interesting feature on Native American activist Ray Halbritter, who's been instrumental in bringing national attention to the issue of Native-themed mascots in sports. … La Veta High School in Colorado has changed its team from "Redskins" to "Red Hawks." … Pocatello High School in Idaho, having retired its old Native-themed identity, is requesting public submissions to help design a logo and mascot for its new "Thunder" team name. … The school district in Port Neches, Texas, has denied a former resident's grievance over the local high school's "Indians" team name but has said it is open to forming a commission to study the issue further.

Baseball News: Here's a video of the Blue Jays' new AstroTurf field surface being manufactured (from James Gilbert). … The latest Atlantic League team will be called the Gastonia Honey Hunters. … In a sadly Idiocratic move, the village of West Milwaukee is keeping the highway name Miller Park Way, even though the road leads to a stadium that is no longer called Miller Park (from Ray Barrington).

NFL News: Never seen this before: The Panthers have a sorta-kinda logo for their GM search (from Mike Chamernik). … Two breweries — one in Baltimore and one in Buffalo — have made a friendly wager on this Saturday's Ravens/Bills game, with the losing brewery to pay for our friends at Oxford Pennant to make custom-made pennants to be hung in the winner's taproom (from Andrew Cosentino).

College Football News: With Aloha Stadium closed because of structural and financial issues, Hawaii has decided to play its home games next season on-campus at the 2,500-seat Clarence T.C. Ching Athletics Complex (from Kary Klismet).

Hockey News: This is pretty awesome: an animated timeline of every NHL franchise's cumulative winning percentage from 1917 through last season (big thanks to Andreas Papadopoulos). … Also from Andreas: Check out this shot of Burton Cummings, former frontman of the 1960s-'70s rock band the Guess Who, in an old Winnipeg Jets uniform. … New mask in the works for Canucks G Braden Holtby (from Wade Heidt). … Check out how the Notre Dame equipment staff packs the team's jerseys — with just the NOBs showing (from Jeff Brown).

NBA News: When yesterday's James Harden blockbuster trade was announced, ESPN Photoshopped Harden into a Nets uniform with last season's ad patch. … Here's a great old Puma sneaker ad featuring Clyde Frazier in a backwards NBA All-Star jersey (from @NFL_Journal).

Soccer News: The New England Revolution are expected to release a new shirt in March. … La Liga side Athletic Bilbao is adding a new chest patch for today's Supercopa de España semifinal against Real Madrid. … Manchester United has somehow managed to wear nine different kit combos in 17 games (from Trevor Williams). … Looks like more dishwater may be on the way in Los Angeles, as LAFC's new "linen" away kit has leaked (from Trevor Williams).

Grab Bag: A cycling fan has a collection of more than 2,300 jerseys. … The Blue Point Brewing Company — a brewery named after my hometown, although it's actually located in the next town over — has a really crummy new logo. … In a victory for press freedom and confectionary justice, a federal appeals court has ruled that The Louisville Courier-Journal can publish the term "Derby Pie" without violating any trademark rules. I've been publishing my own Derby Pie recipe each spring here on Uni Watch for many years and look forward to doing so again in a few months (from Eric Bangeman). … New kits for the the Severn Stars, a team in the UK's Netball Superleague. "This is actually the first time a team in a league has a charity advertiser," says our own Jamie Rathjen. … Also from Jamie: According to this article about the Gaelic Athletic Association's introduction of shirt ads in 1991, the move passed at the GAA congress only because somebody intending to vote against accidentally cast an invalid vote, so the measure reached the necessary two-thirds majority by one vote. … Duquesne has a new mascot logo, the Duquesne Duke (from @talisker66). … A school in London has threatened legal action against the parents of a 12-year-old Muslim student because of her refusal to wear the short skirt that's part of the school's uniform (from Kary Klismet). … Facebook has reportedly told its employees to avoid wearing the company's logo in public. … Very cool story about an archive of Japanese logo designs. … New NASCAR firesuits for Chip Ganassi Racing. "Interesting to see how they differentiate between the two drivers by swapping the placement of the lime green and light blue, and by giving Kurt Busch (right) a faux belt," says Chris Cruz. "Also, Ross (left) includes a watermelon logo, as he's from a family of watermelon farmers and is known as the Melon Man." … New volleyball uniforms for Wyoming (from Darryl Knight). … President-elect Joe Biden will reportedly wear Ralph Lauren attire for his inauguration (from Tom Turner). … New athletics logos and identity for Wake Technical Community College in Raleigh, N.C. (from Kary Klismet). … Also from Kary: New logos and uniforms for esports organization Team Spirit.
• • • • •
• • • • •
• • • • •
Yesterday's post about the Cavs' 1990s and early-2000s uniforms generated a lot of very positive feedback (thank you!). But as some of you are aware, some of the information in that piece is now being disputed. I'm still in the process of looking into this and will have more to say tomorrow. See you then. — Paul