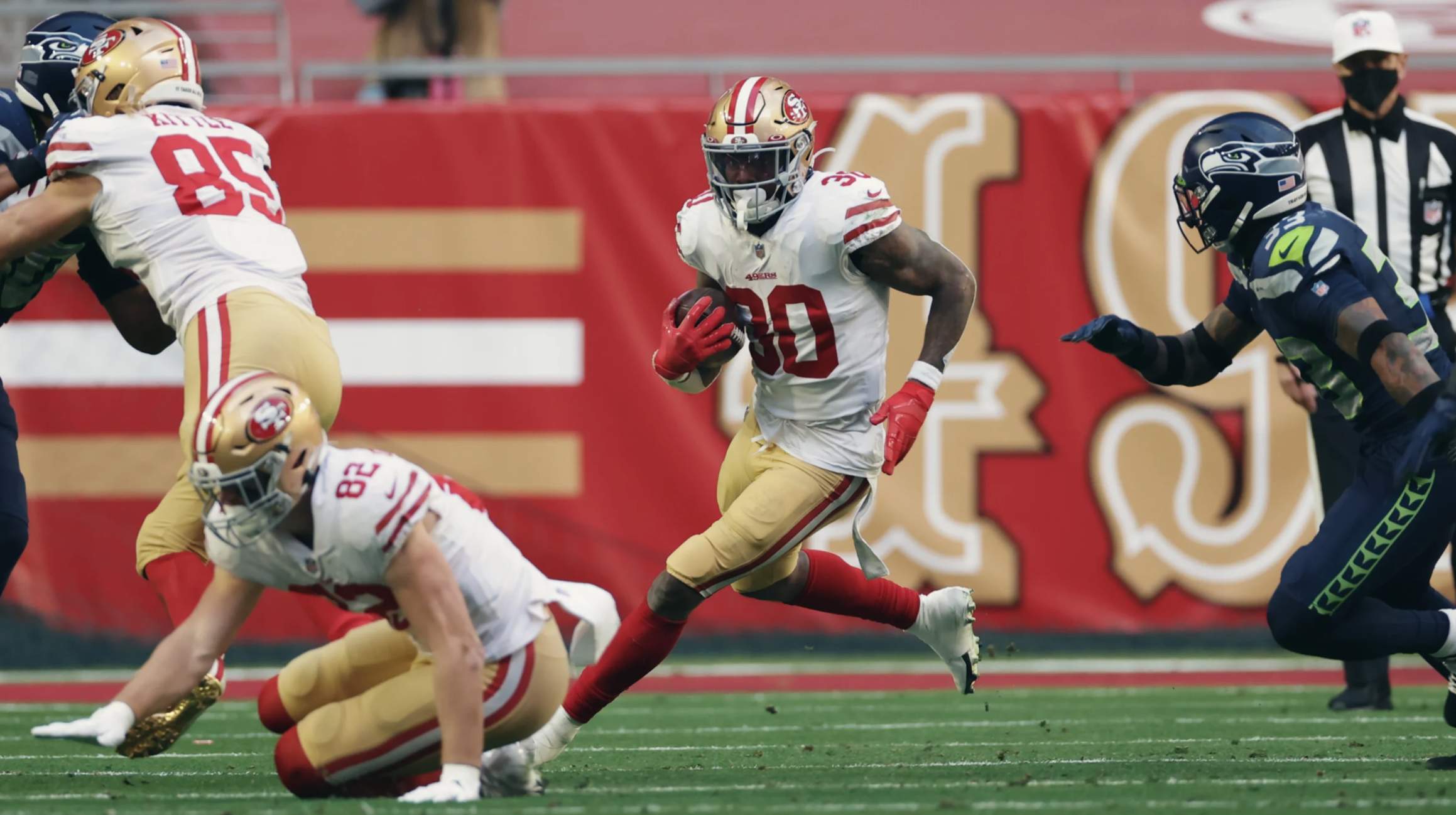 For all photos, click to enlarge
Good morning and Happy New Year! Greetings from Uni Watch HQ, where all three inhabitants continue to be safe and well. Hope the same is true for everyone at your home.
Now then: Unusual uni situation yesterday in Arizona, where the 49ers had a "home" game against the Seahawks. The Niners had originally planned to wear their white throwbacks for this game, but they didn't bring the throwback unis with them when they relocated to Arizona because they thought they'd be back in their home stadium by this point. Since they'd already committed to wearing white, and Seattle had already planned to wear navy, the Niners ended up having to wear their primary white uniforms instead of the white throwbacks. According to the Gridiron Uniform Database, this was the first time the 49ers wore their primary whites (as opposed to a throwback) for a nominal home game since 1979!
In other news from around the league yesterday:
• I've written several times now about how the Bears have inexplicably opted not to wear a memorial patch or decal for Gale Sayers, who died in September. Last week they finally announced that they'd add a Sayers memorial graphic to the field for yesterday's season finale against the Packers. Here's where they chose to put it: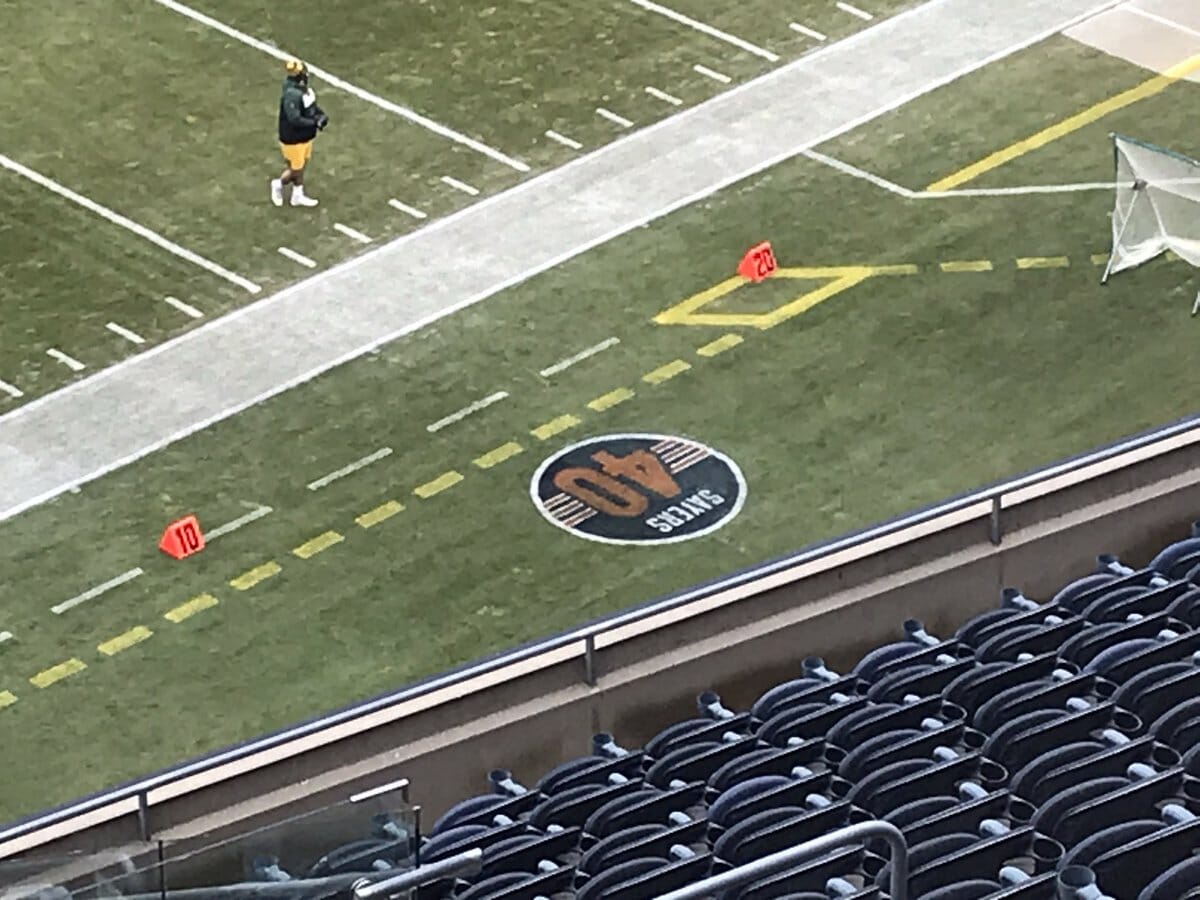 Yeesh. I was willing to give the Bears the benefit of the doubt until now, but this move really feels calculatedly disrespectful. It seems worse than doing nothing at all, like intentionally leaving a 50¢ tip. There must be more to the story that we don't know. Depressing to see it play out like this.
• In a gesture more befitting a Hall of Fame running back, the Broncos added a "44" decal for Hall of Famer Floyd Little, who died last Friday: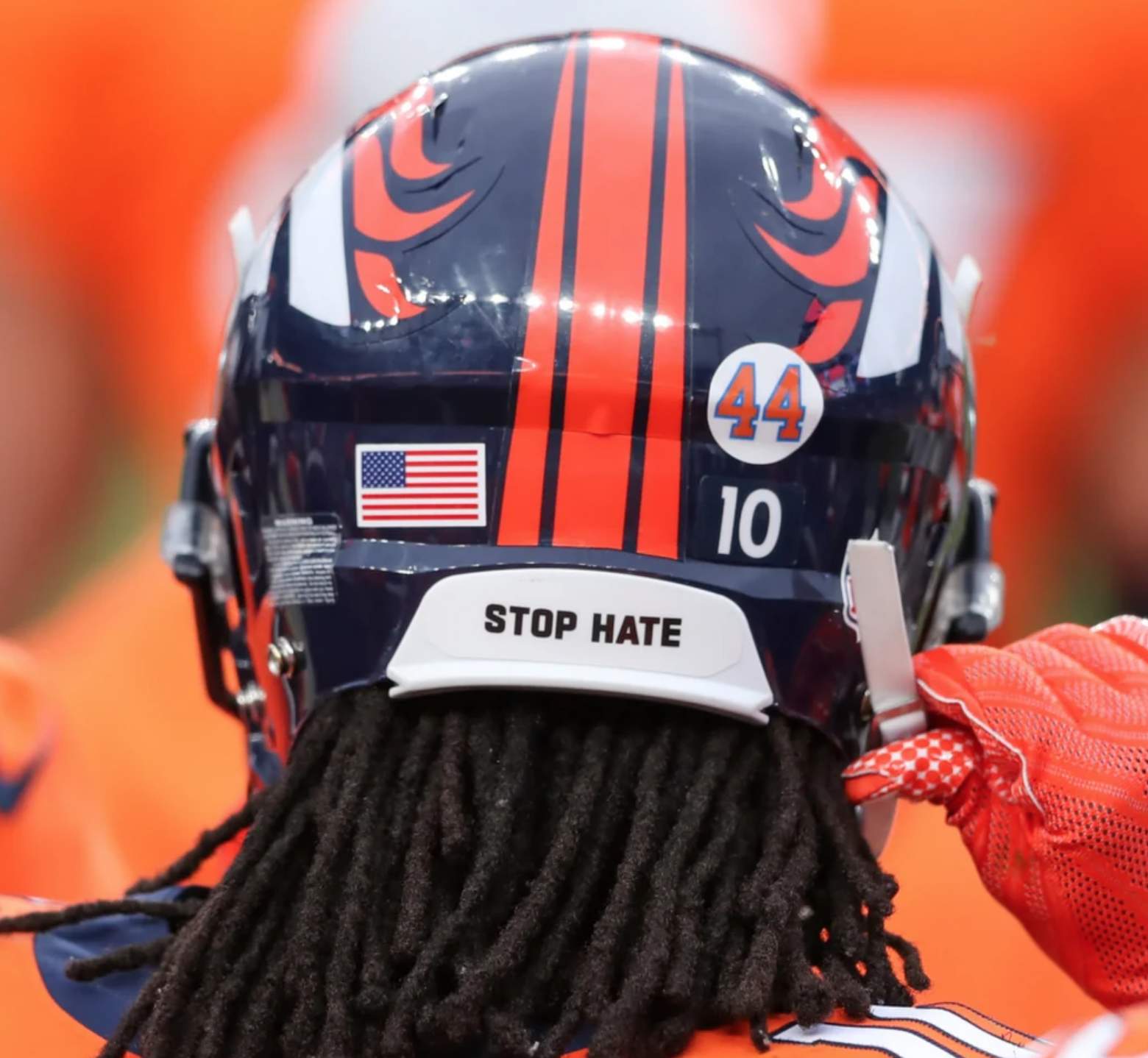 I particularly like that the memorial decal used the Broncos' old shades of orange and blue.
Broncos coach Vic Fangio also wore the "44" graphic on his cap: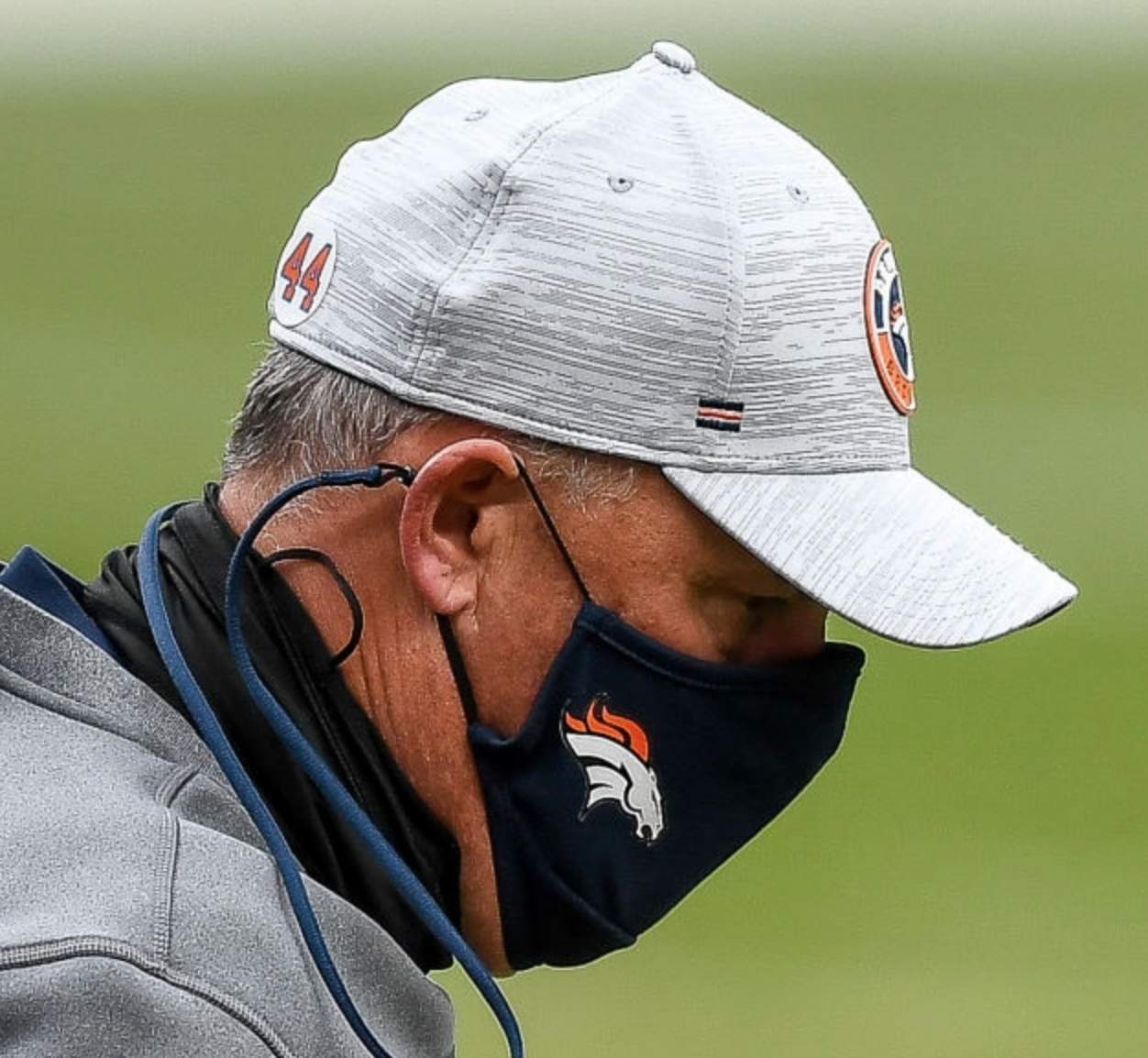 Since the Broncos did not qualify for the postseason, yesterday was probably the only time that this memorial decal will be worn (they could carry it over to next season, but that's uncommon for late-season NFL memorials). And yet the team still went to the trouble of doing it, and got it done within the 48-hour window between Little's death and yesterday's game. Kinda puts the Bears/Sayers thing in perspective, eh?
• In that same game, the cardboard cutouts in the stands at the Broncos' stadium included costumed mascots for Denver's five major pro sports franchises: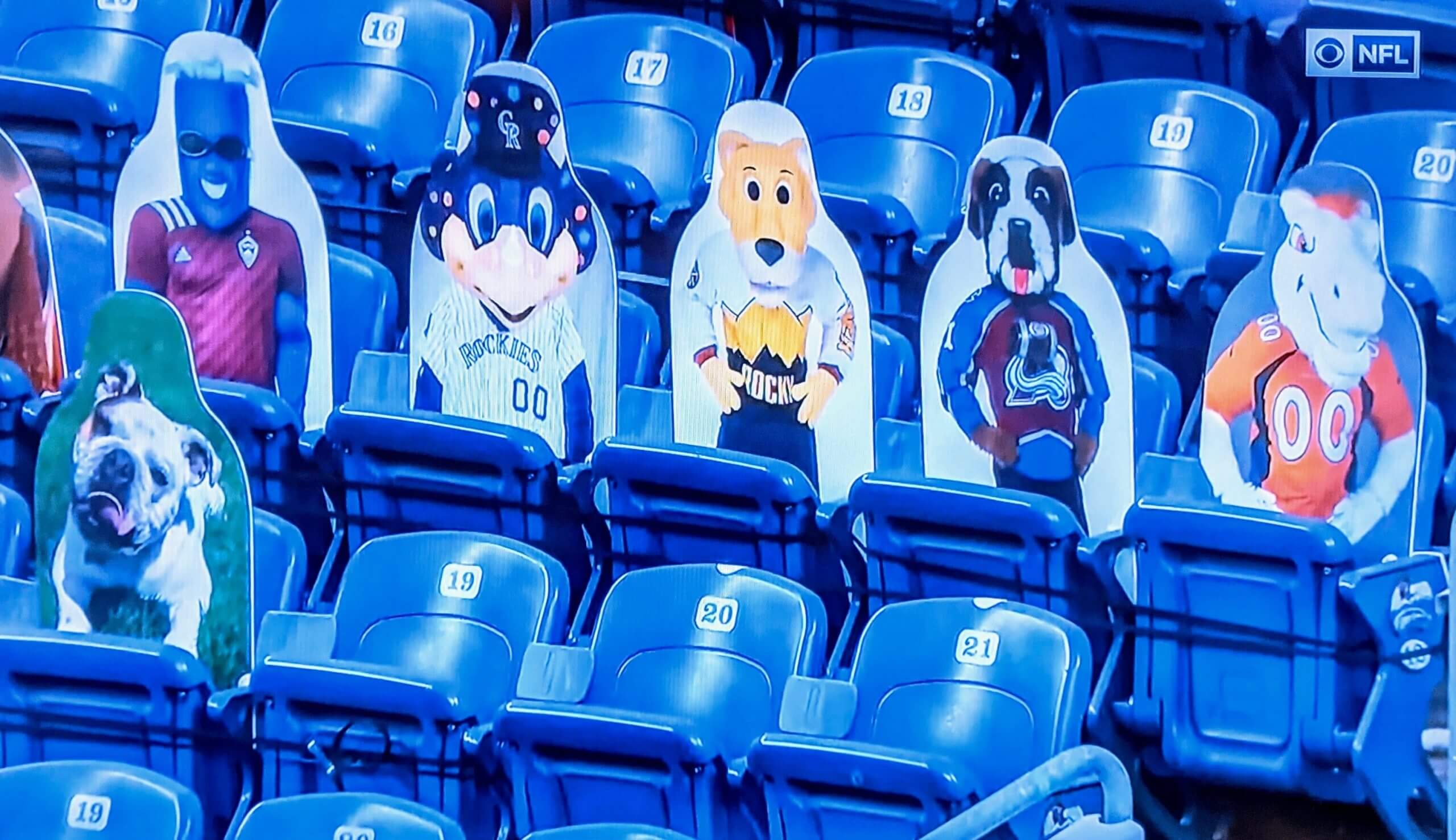 • Best-looking game of the day was in KC, where the Chiefs hosted the Chargers (lots of additional photos here):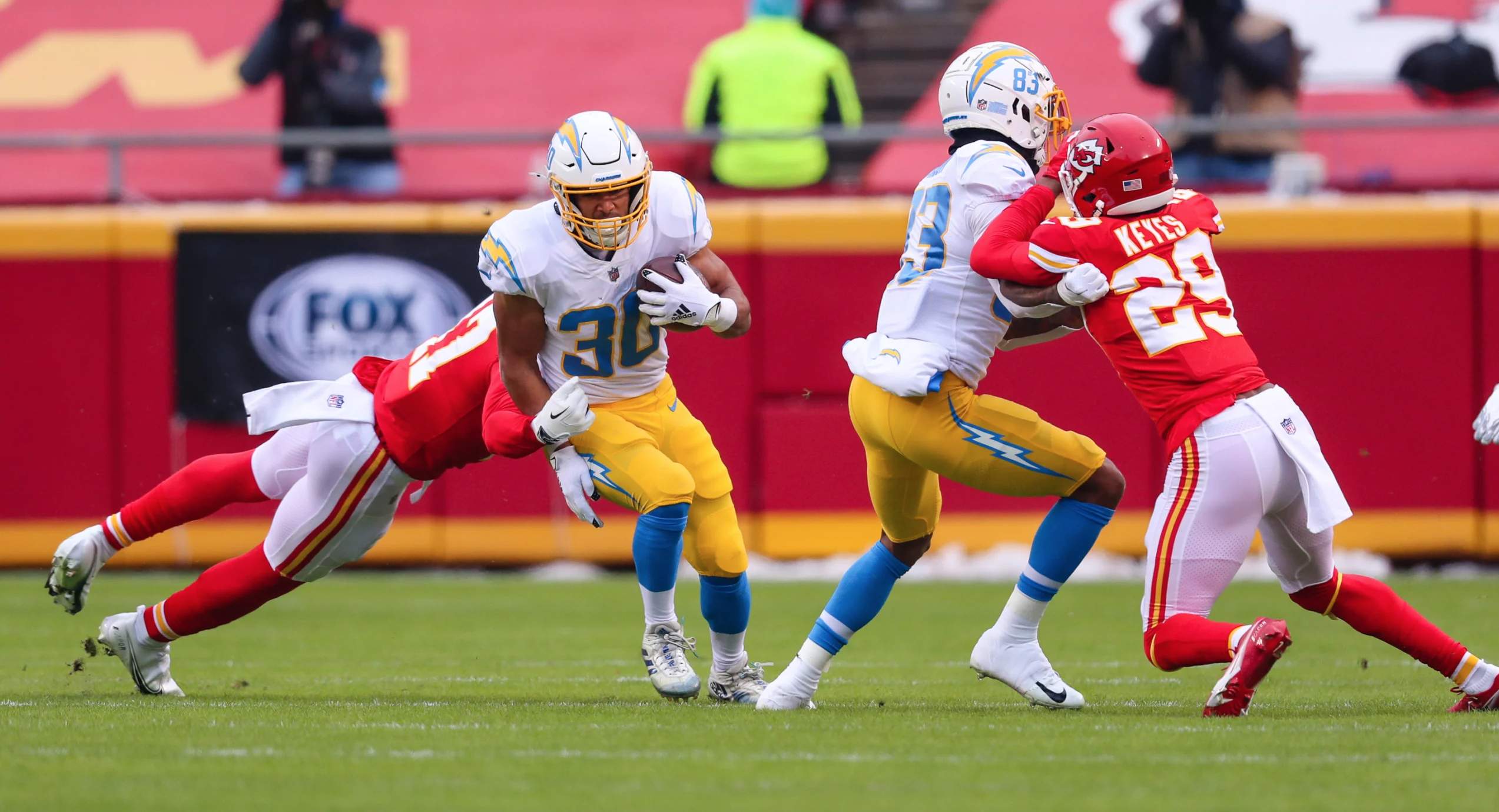 • The Browns were initially slated to wear brown over white, but shortly before the game they announced that they'd go with orange pants instead of white, making for a very nice-looking game against the Steelers: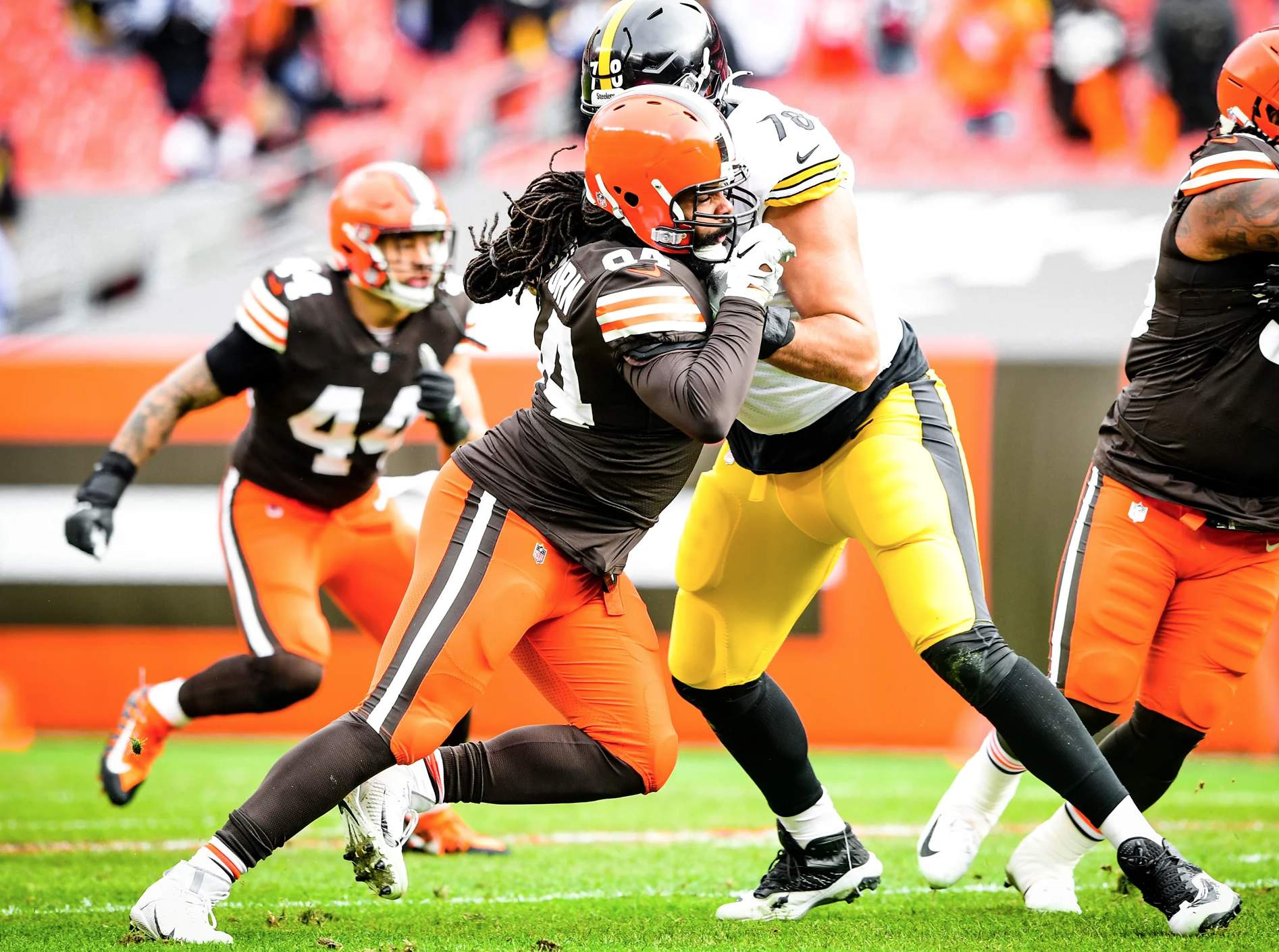 • From that same game: Nobody likes Cleveland's sock/sleeve stripe pattern more than I do, but linebacker Mack Wilson might have taken things a bit too far by putting the striping on his shoes: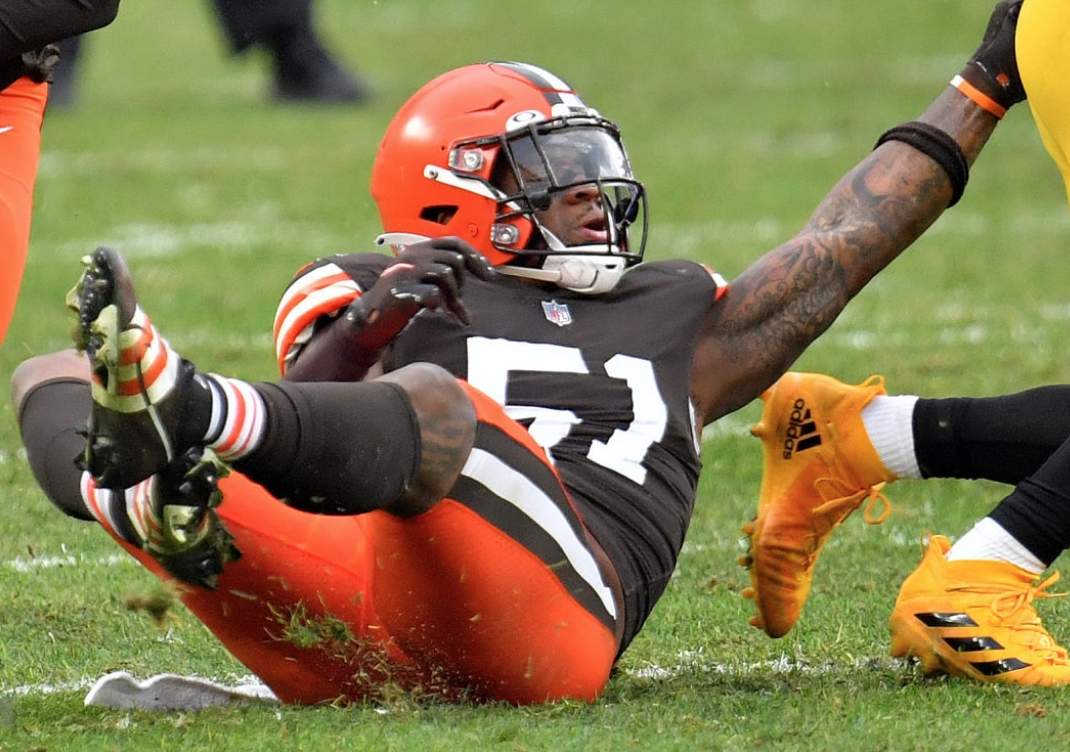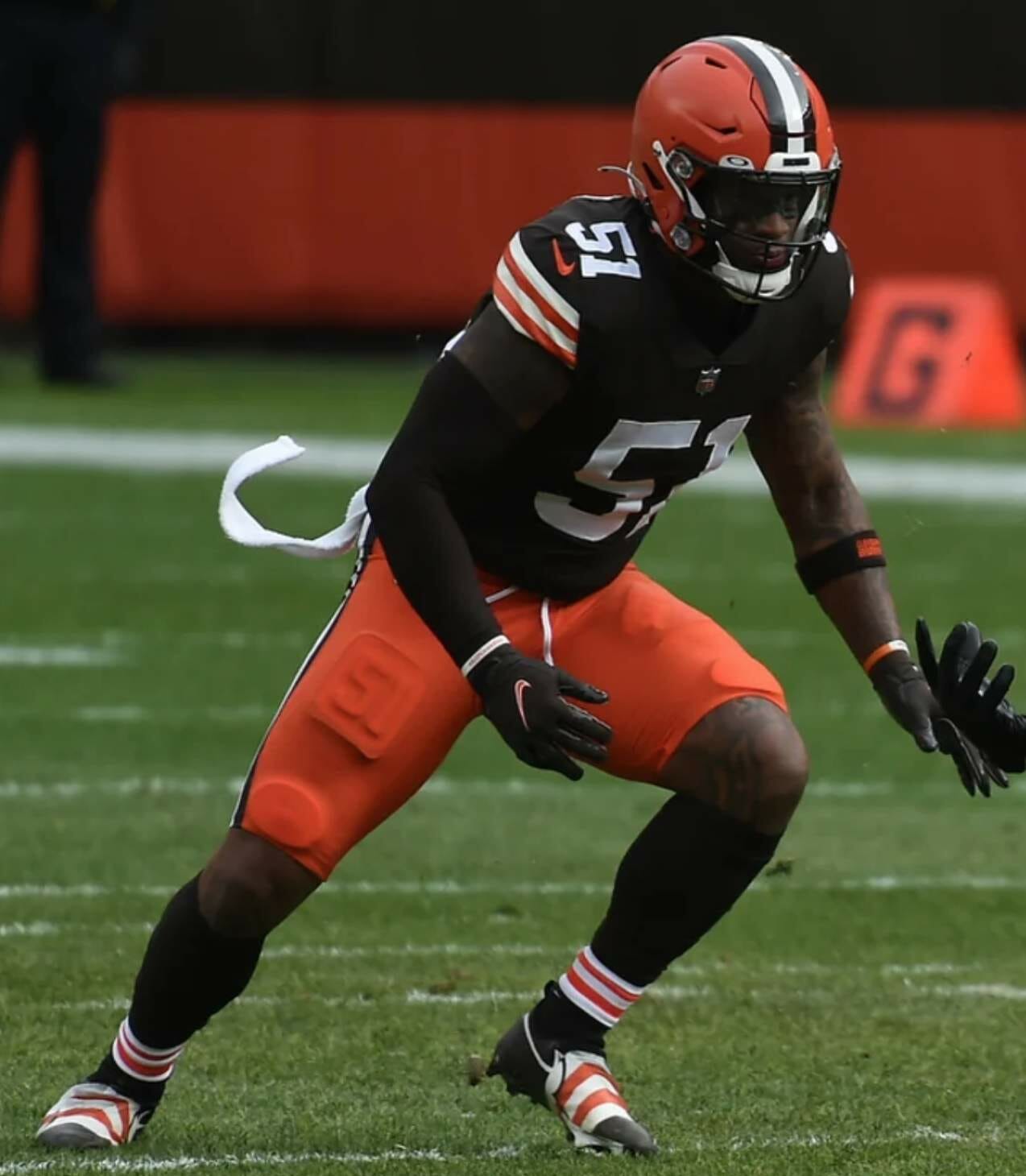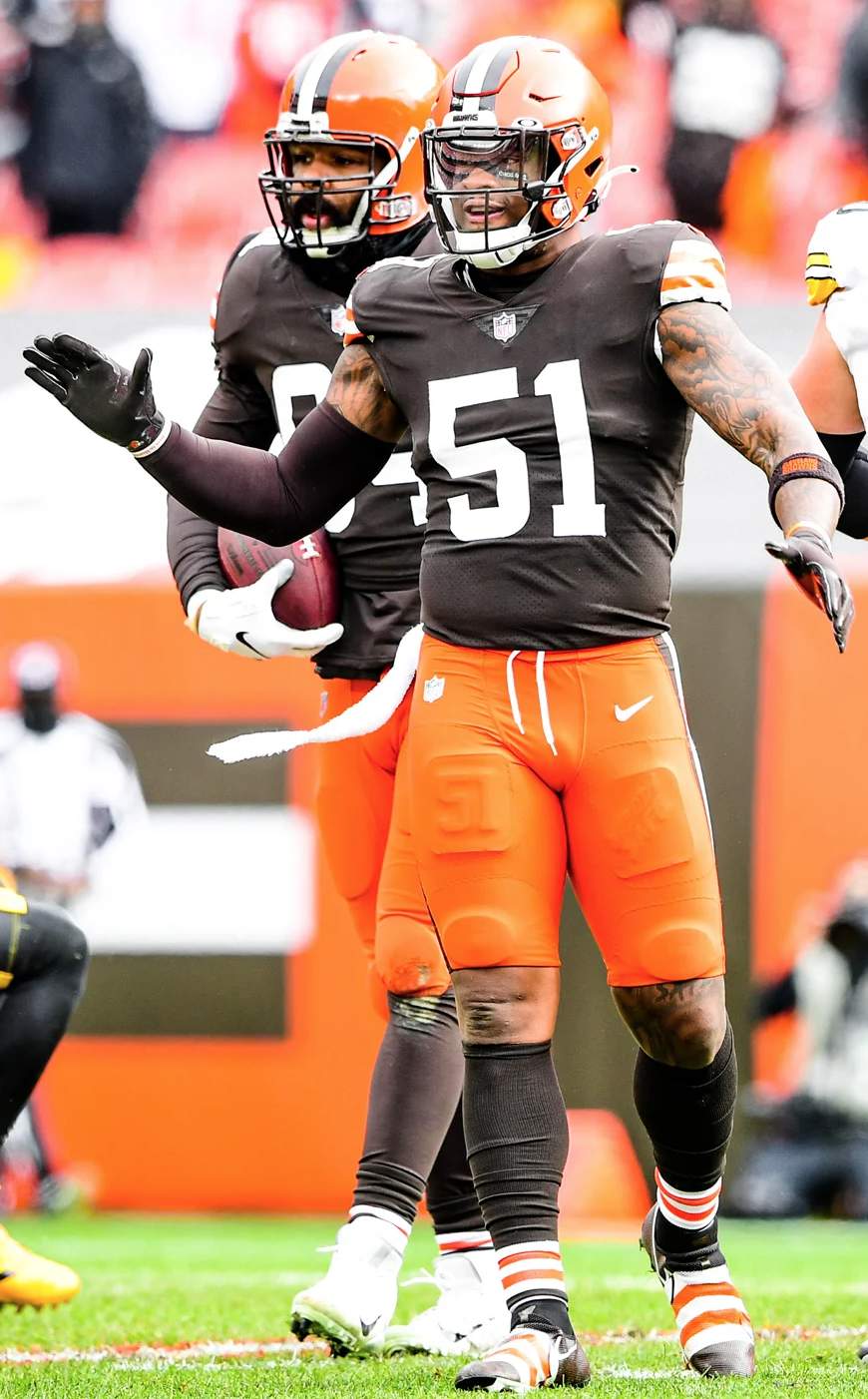 • The Bucs went mono-pewter: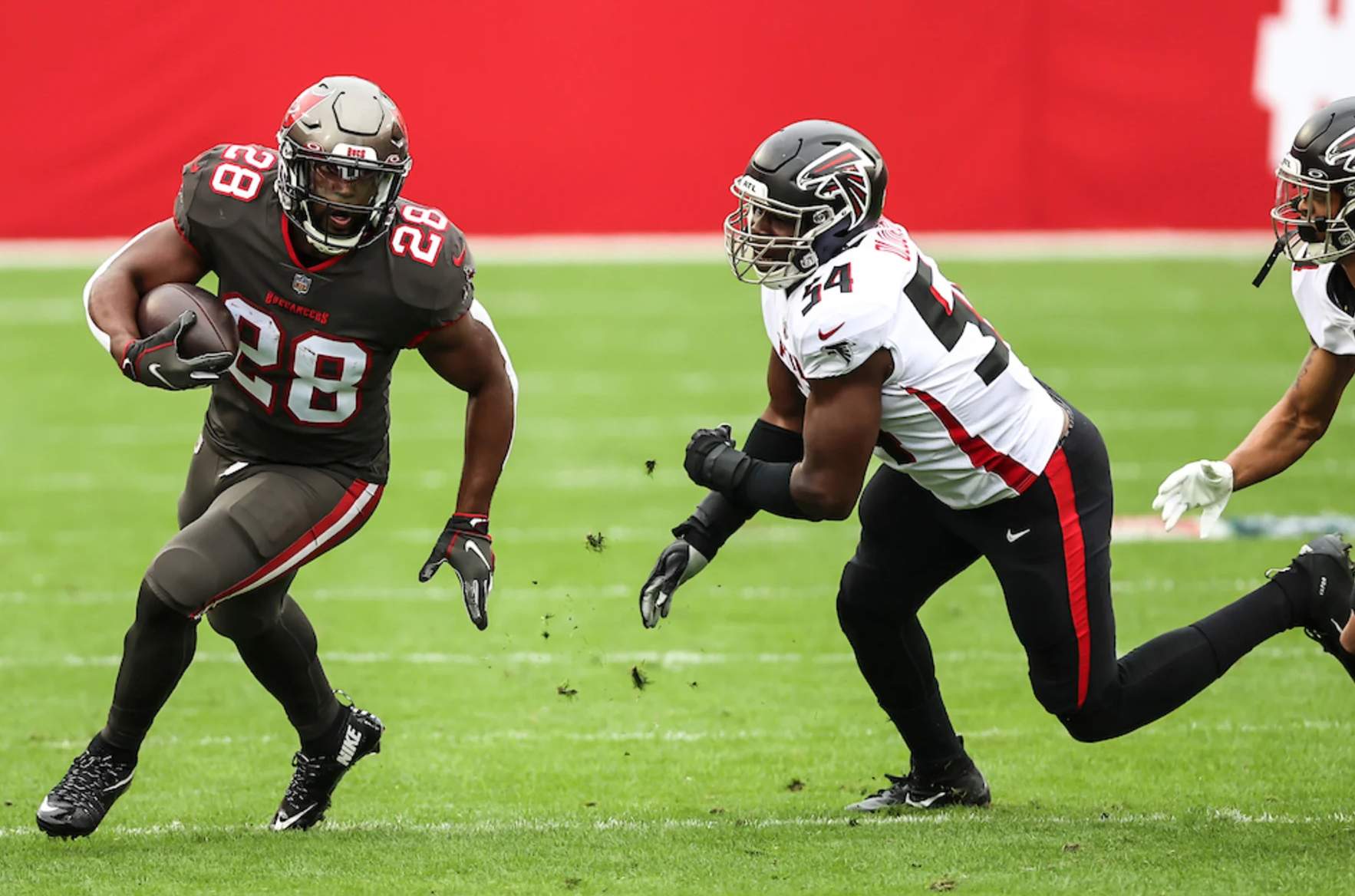 • From that same game: Falcons kicker Younghoe Koo has been pushing the envelope with his pants and socks all season long. But even by his own formidable standards, he really outdid himself yesterday: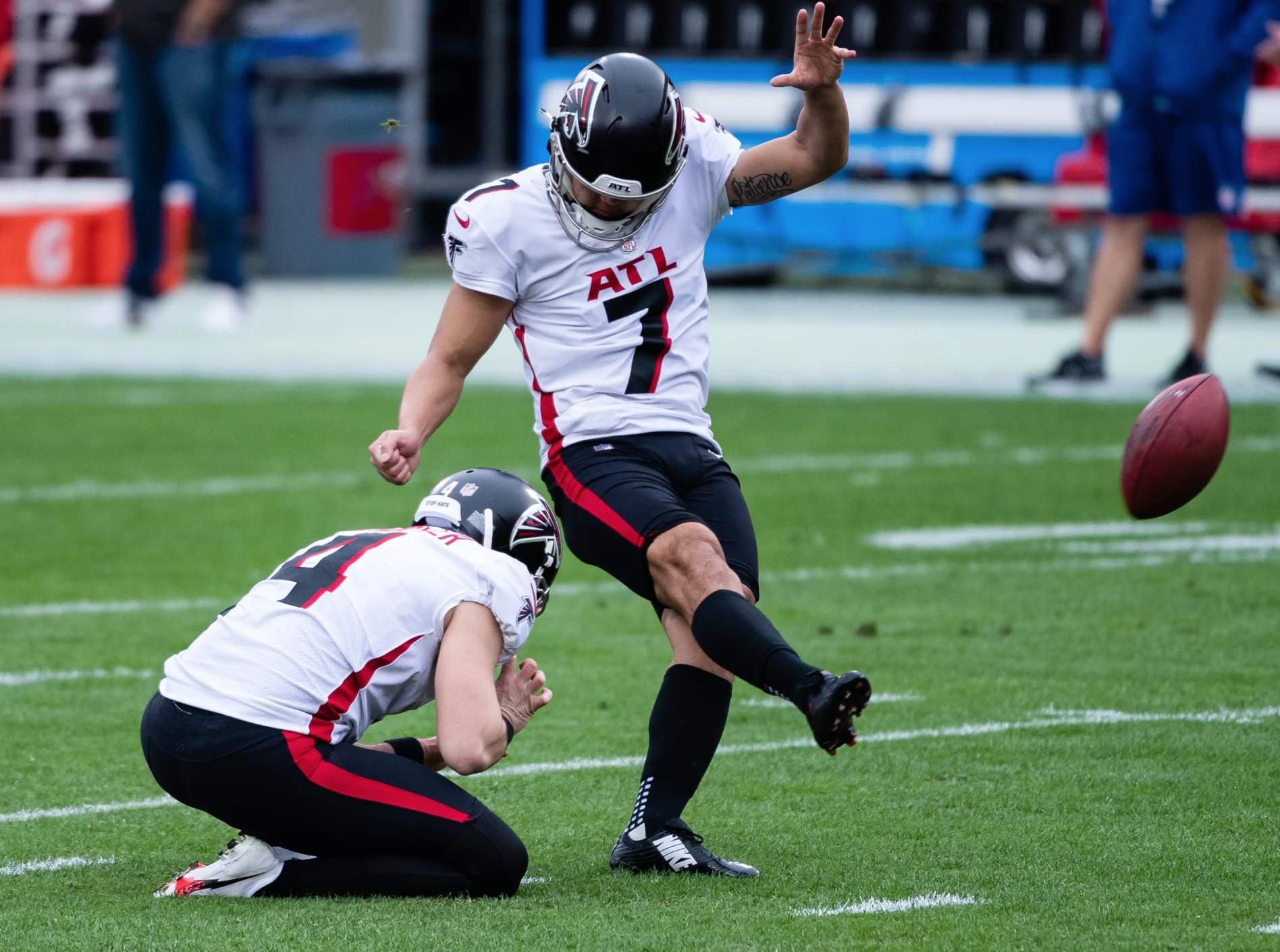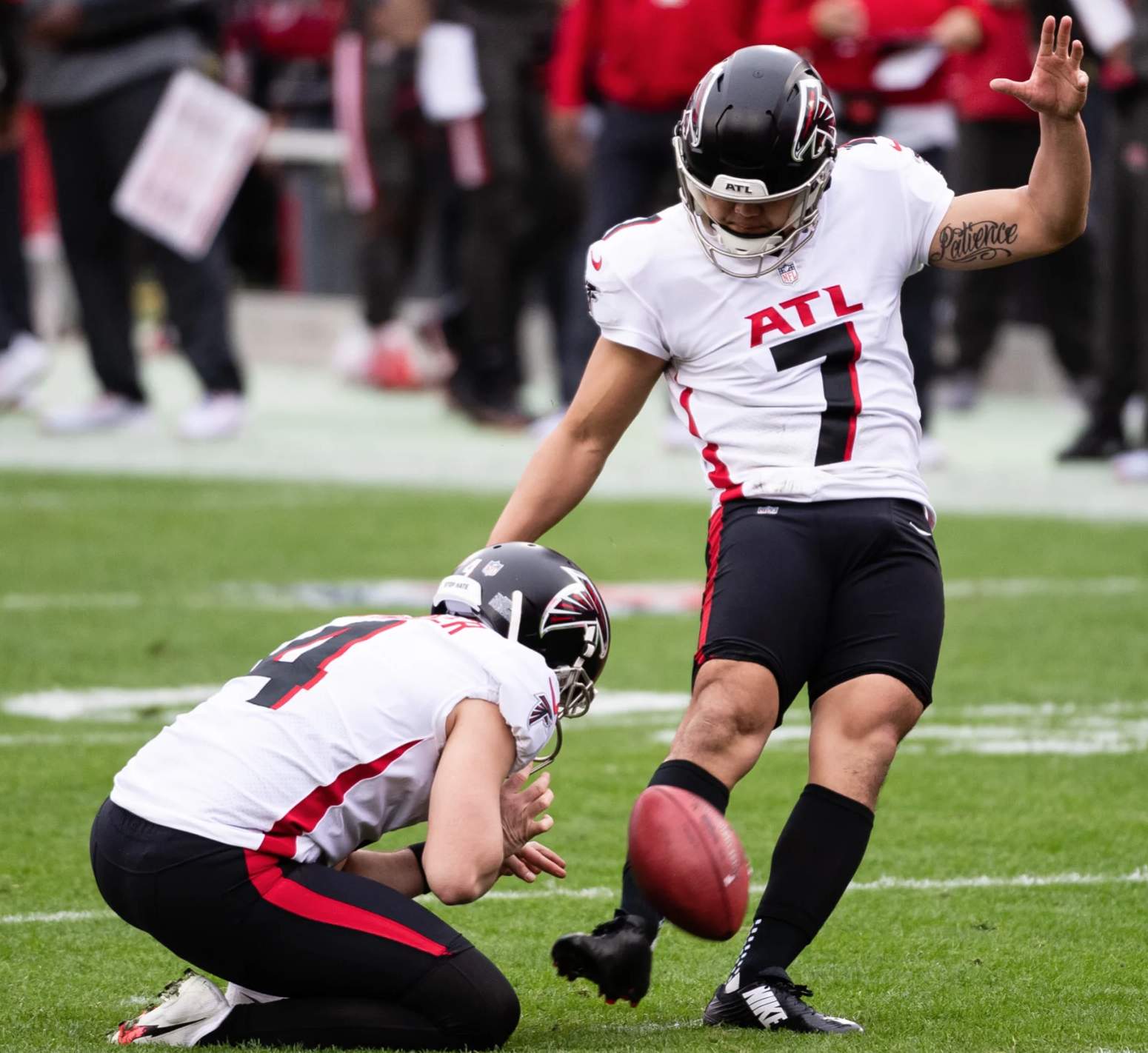 • The Bengals went mono-black: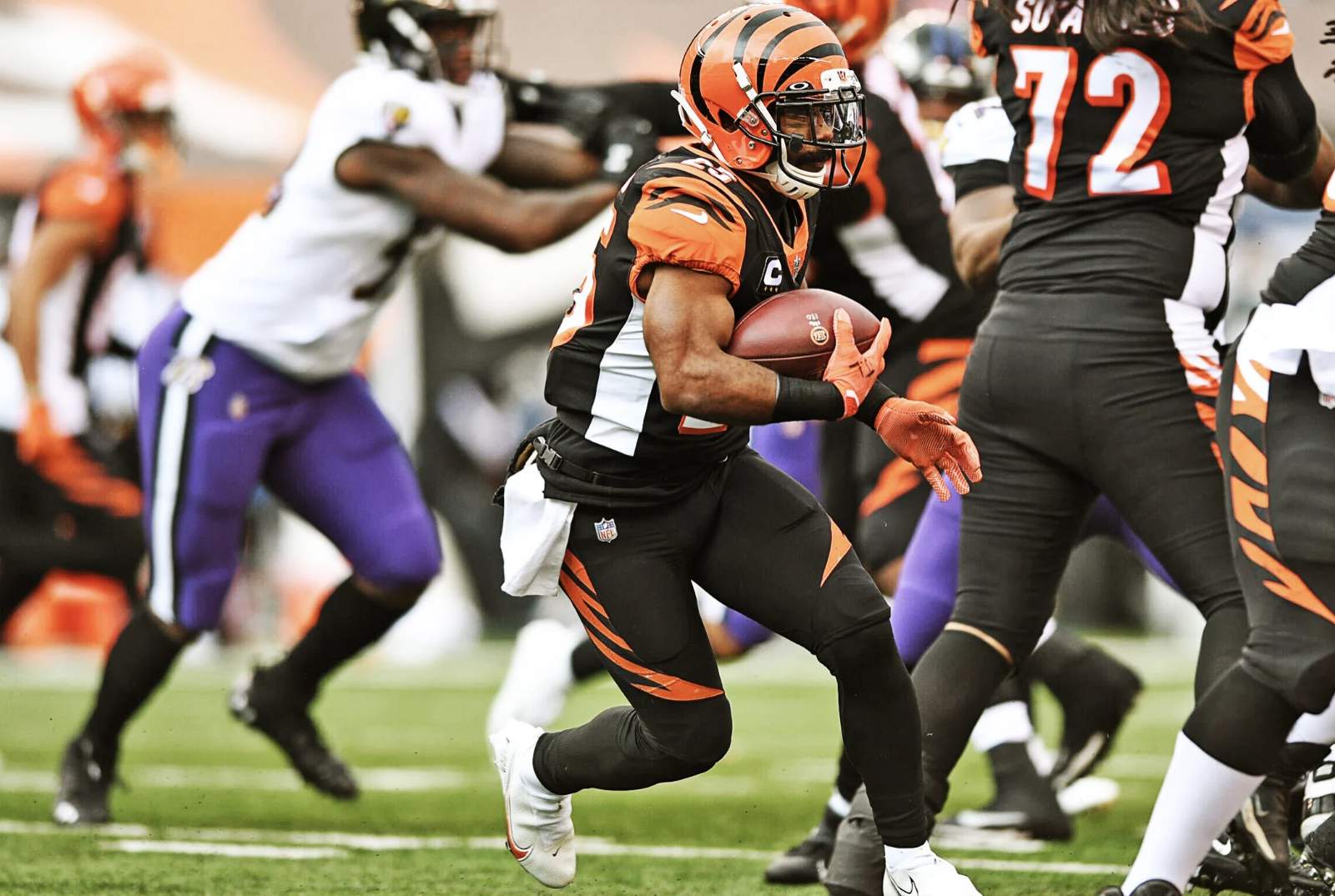 • For the first time all season, the Saints went white over gold: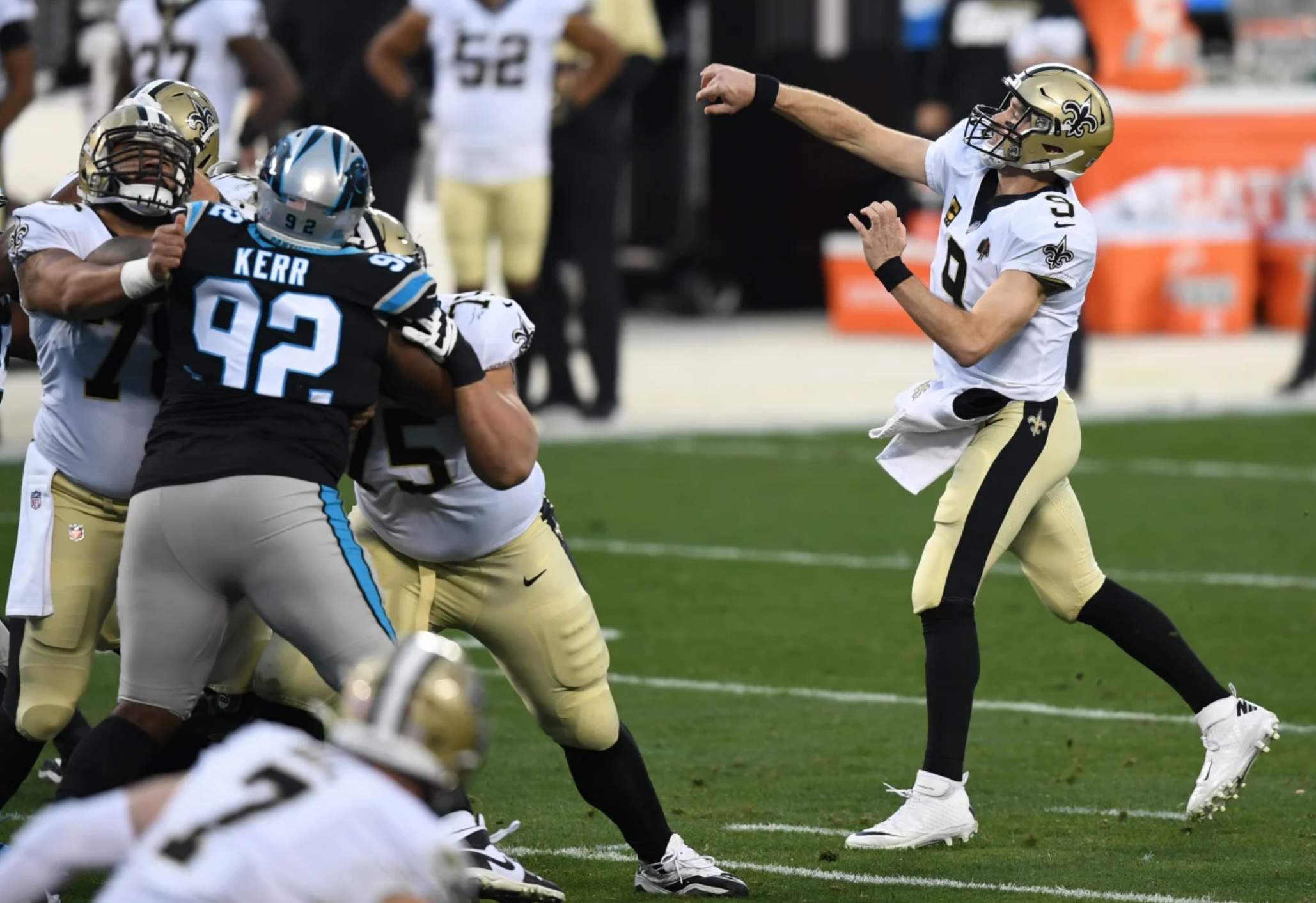 It's such a good look, and so much better than their usual white-over-black road combo. Kinda sad that it's now so rarely seen that it's become noteworthy.
• Speaking of sad, the Texans went mono-navy: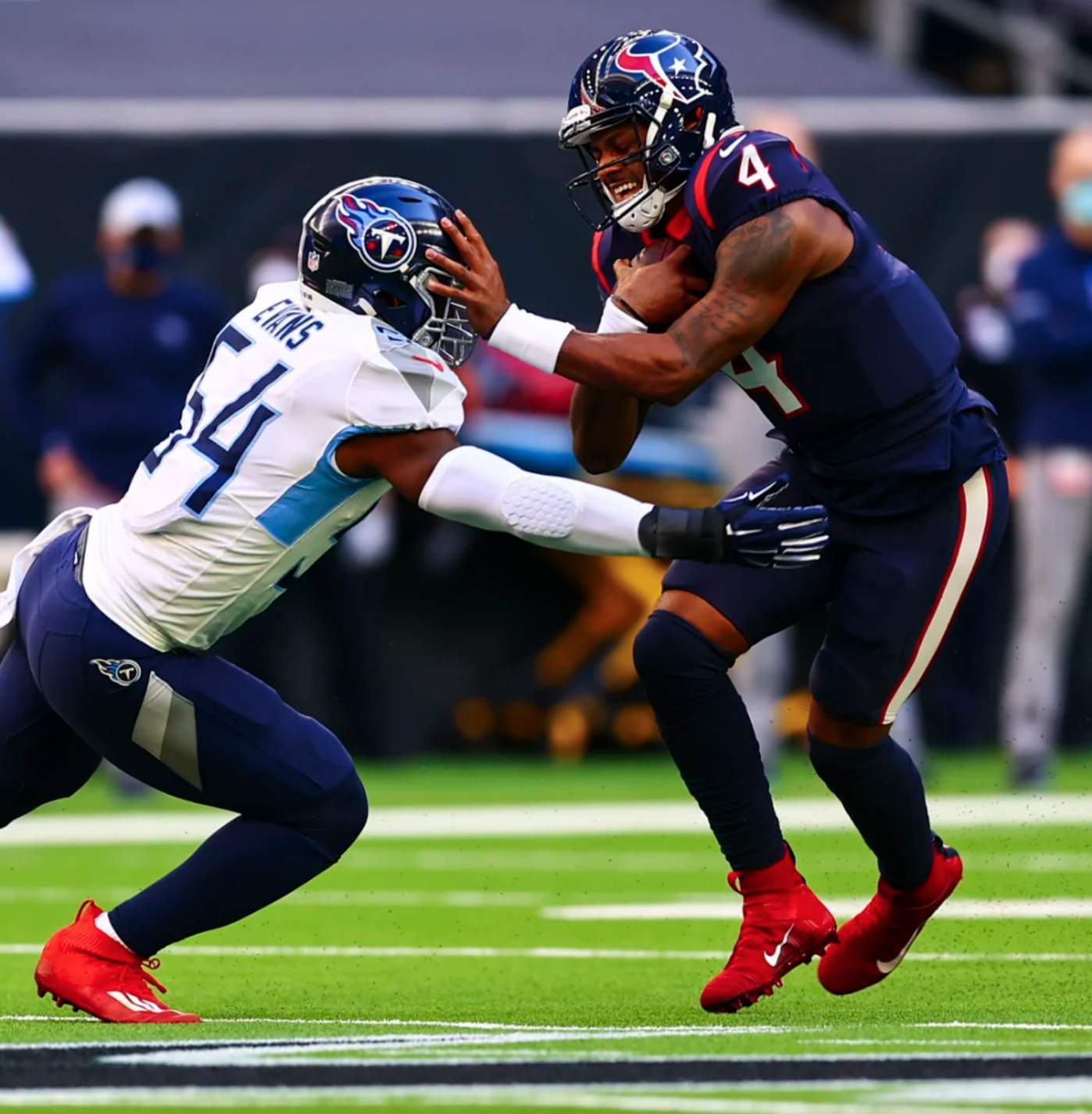 • Gotta hand it to the Patriots, who managed to have various players wearing last year's number and NOB fonts all the way through the final game of the season: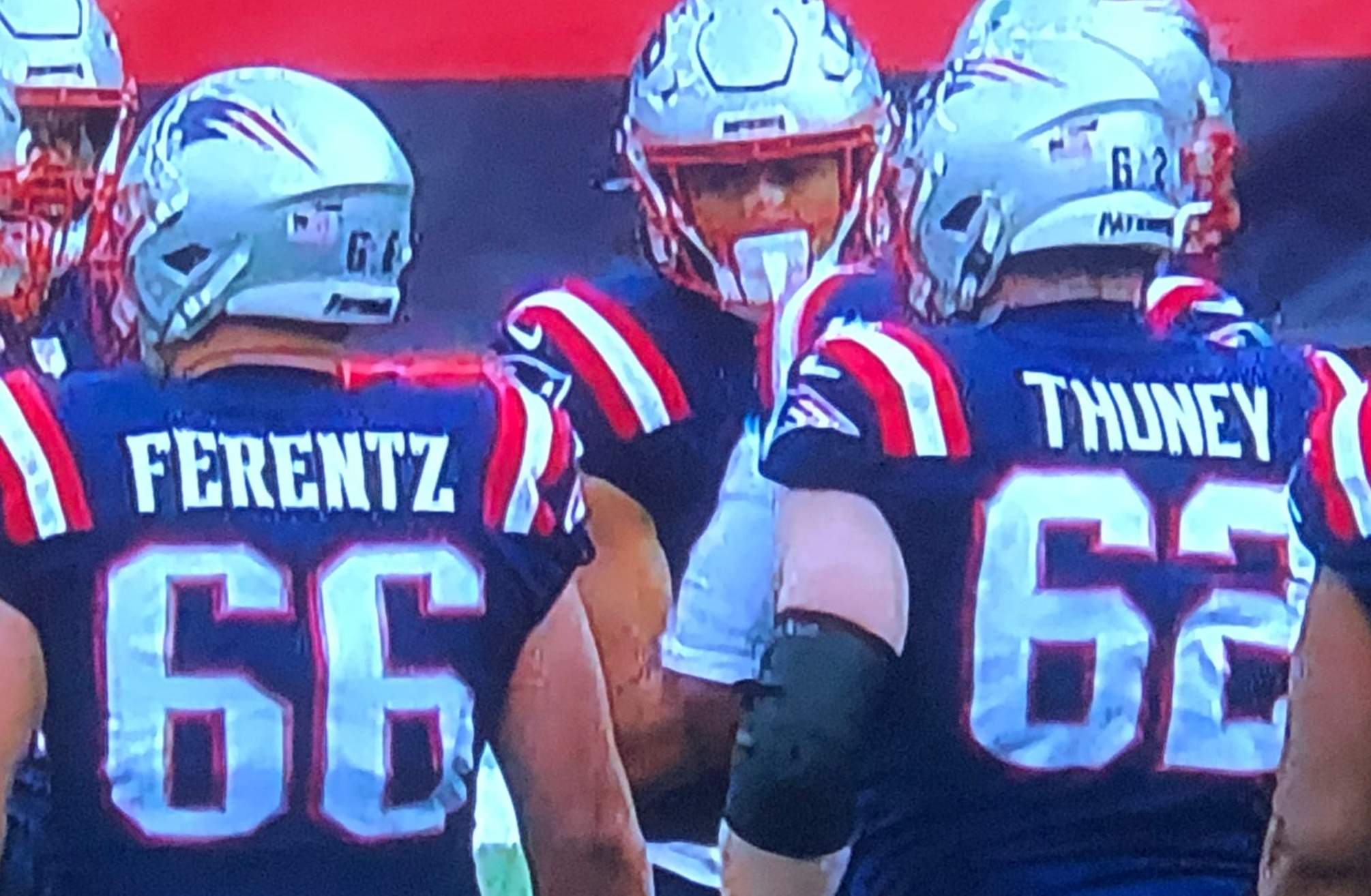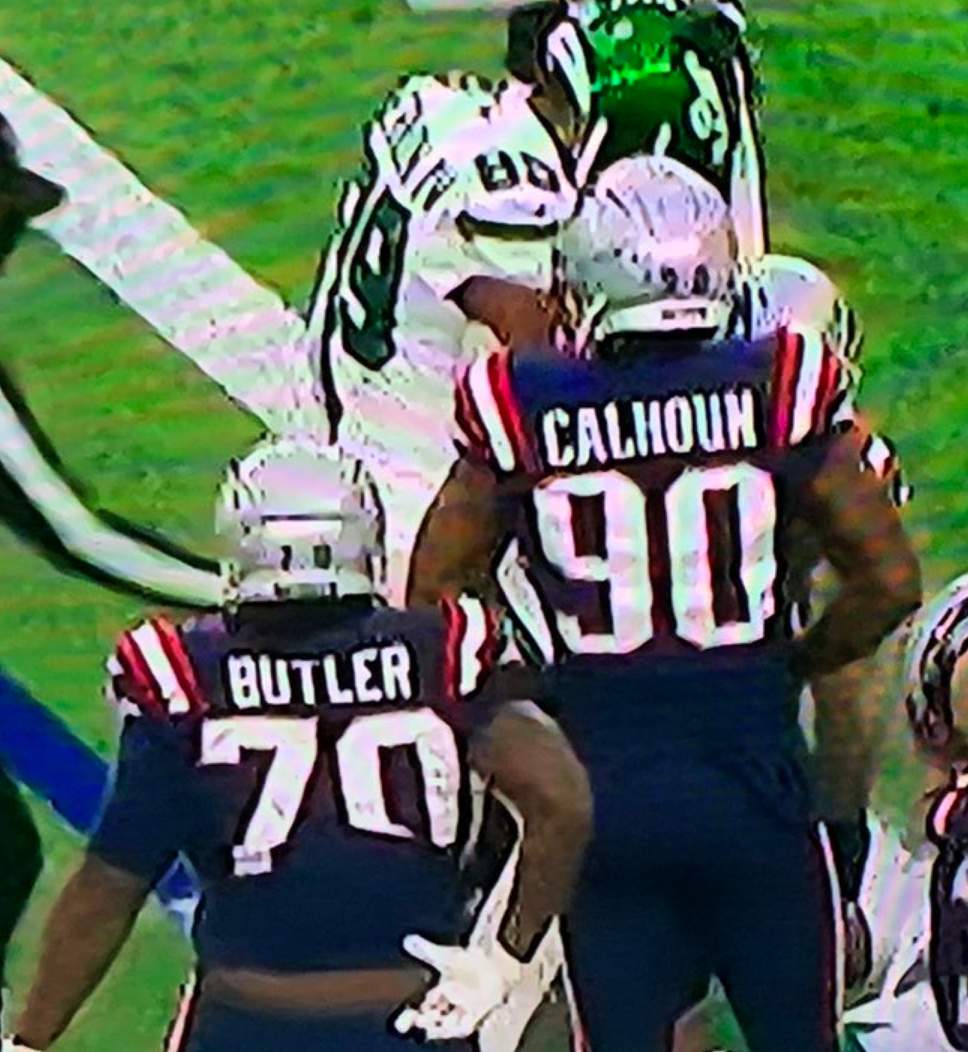 • Panthers coach Matt Rhule had his mask on upside-down: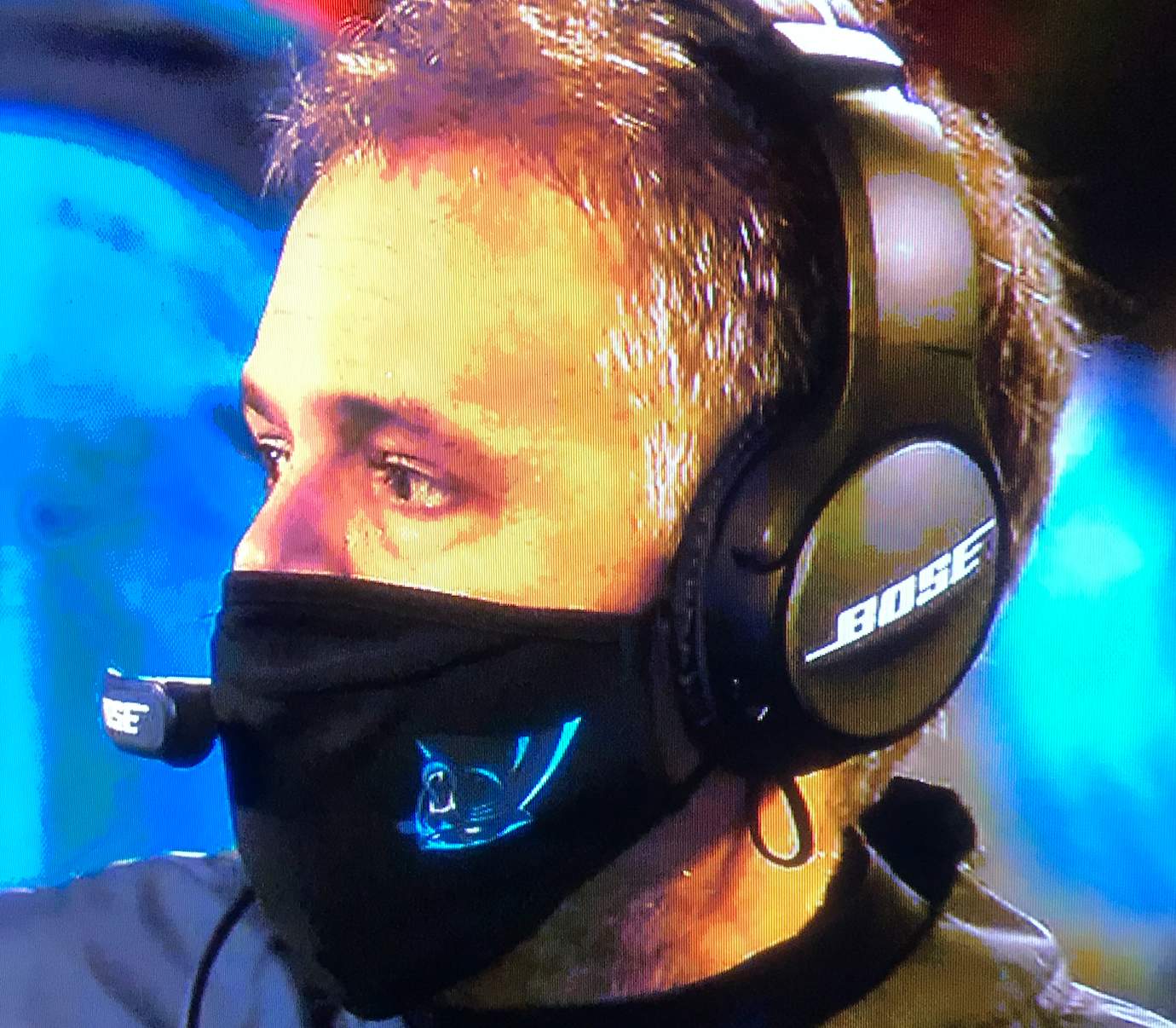 • Speaking of head coaches, Mike McCarthy of the Cowboys wore a cap with the team's old "ride 'em cowboy" logo: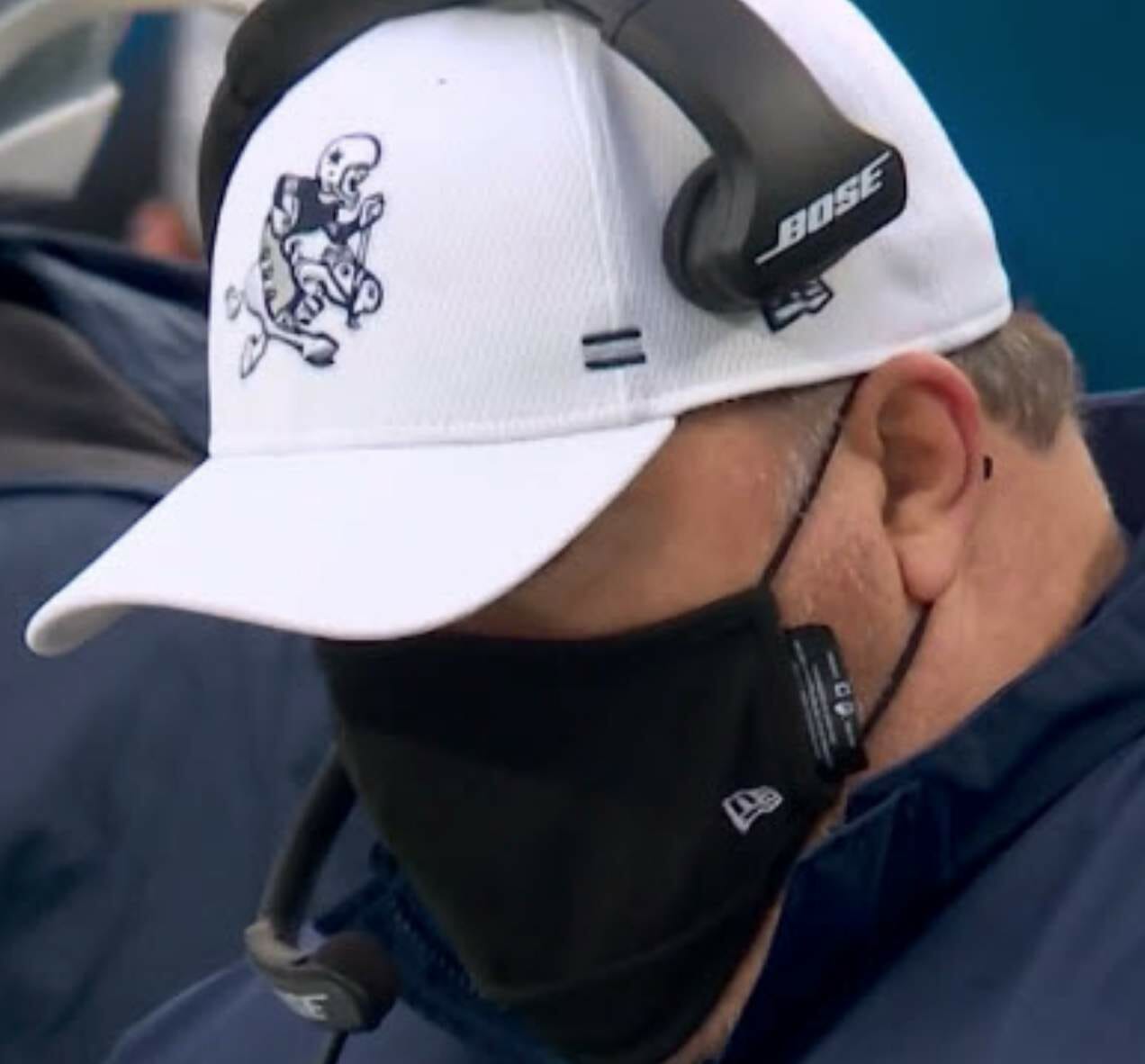 • In that same game, someone on the Giants' sideline — not sure who — apparently had the NFL logo patch fall off of his pants: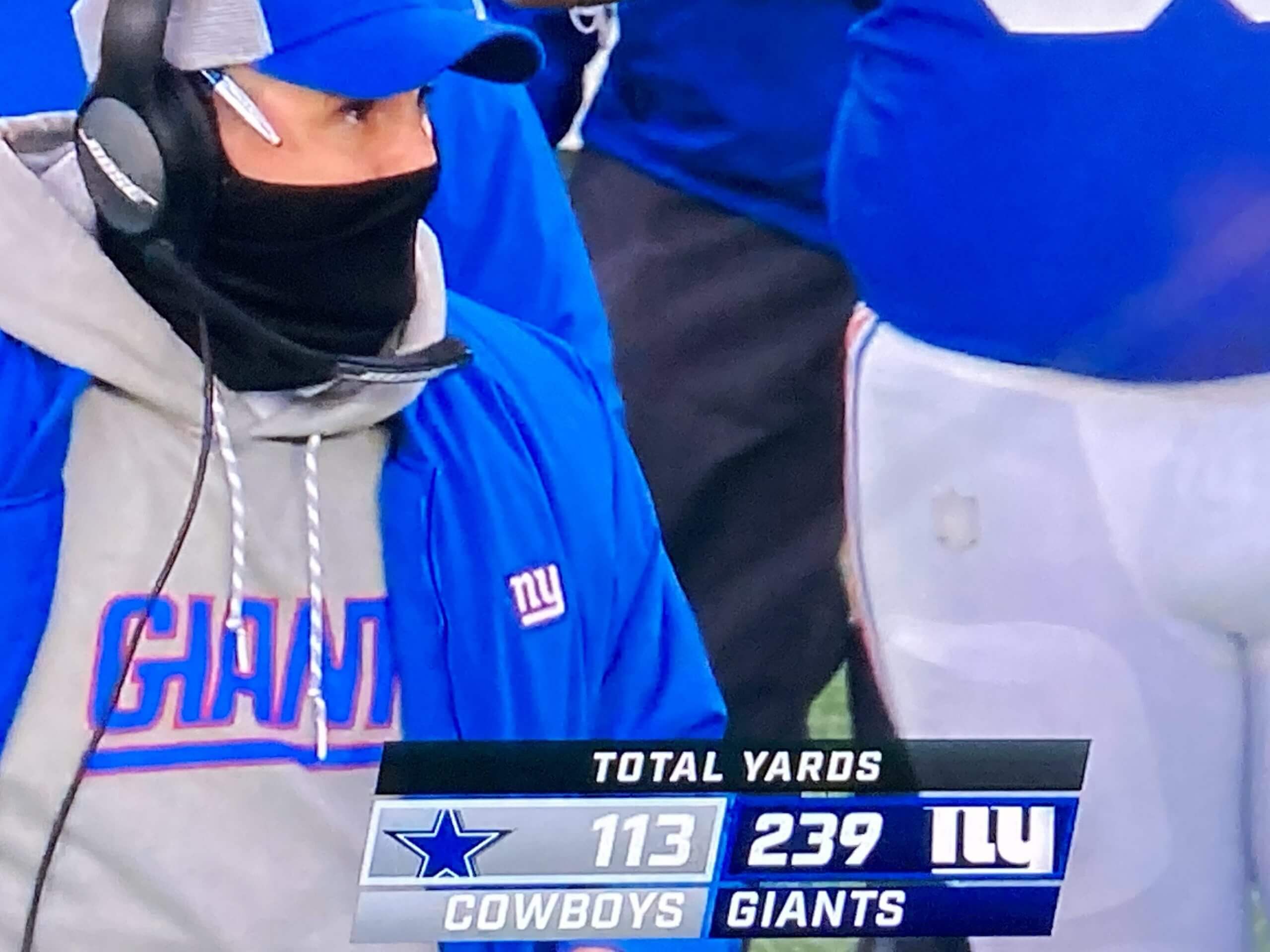 • In a development that you don't see every day, Bills wideout Stefon Diggs was flossing his teeth on the sidelines:
Just when you thought Stefon Diggs couldn't get any more impressive… displaying phenomenal dental hygiene. #Bills pic.twitter.com/q4NWzBTxL9

— Bradley Gelber (@BradleyGelber) January 3, 2021
I can recall only one other instance of that — in 2016, by Cam Newton, who was then with the Panthers.
• Here's something I missed until now: For the past few weeks, Jaguars cornerback Quenton Meeks has been wearing No. 5. I didn't even realize that was a permissible number for a defensive back: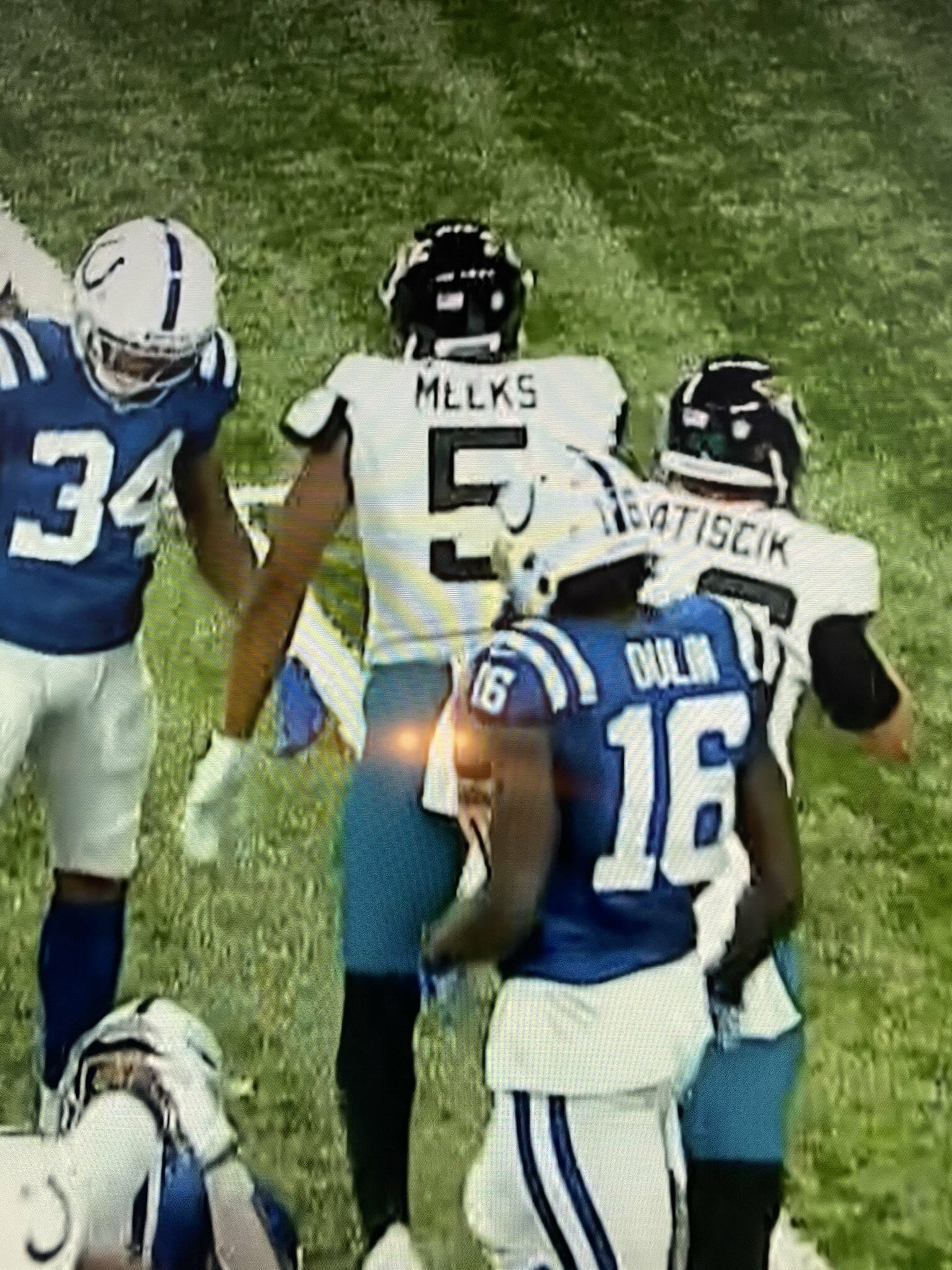 (Update: Reader/commenter Clint Richardson says, "On the Dec. 16 edition of the Jags' Happy Hour show in which they bring on equipment manager Jimmy Luck to unveil that week's uniform combination, Jimmy was asked about the number assignments with the large number of players coming and going due to injury and Covid. He mentioned that they had to receive permission from the NFL to assign players out-of-position numbers, so to speak." Here's that passage of the show.)
• The aforementioned 49ers were the only home team that wore white.
(My thanks to Matt Barnett, Mike Chamernik, Jesse Evers, Joel Everson, Joel Hooper, Kary Klismet, Michael Nowels, Pete Schwadel, @NFL_Journal, and our own Brinke Guthrie for their contributions to this section.)
• • • • •
• • • • •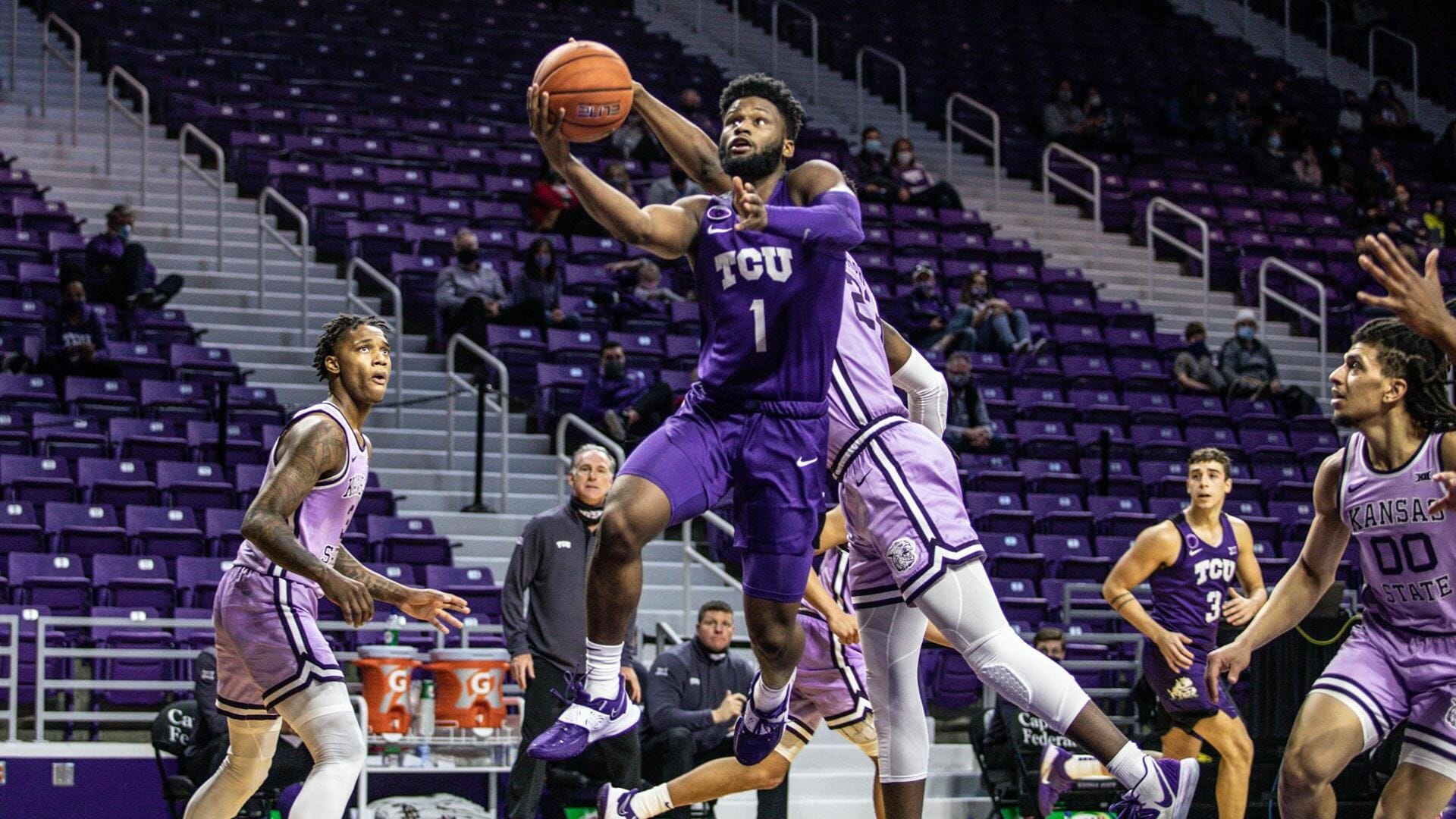 Click to enlarge
Please make it stop: My worst conceivable uni nightmare came to life on Saturday, as TCU and Kansas State played a purple-vs.-lavender game — with a backdrop of empty purple seats to boot (lots of additional photos here, if you dare).
Leaving aside the retina-searing aspect, it's pretty surprising that this color matchup was permitted, no?
• • • • •
• • • • •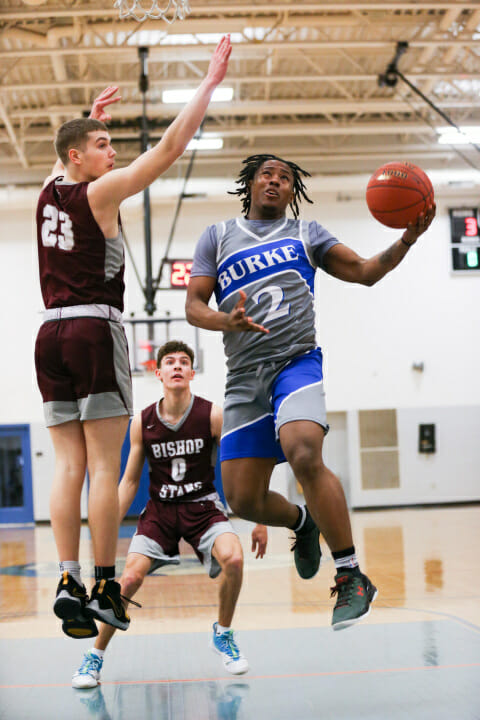 Dominique not unique: As of last February, when this photo was taken, Burke High School in Massachusetts was using the distinctive Dominique-era Hawks diagonal design template for its basketball uniforms. Pretty funny considering that the Hawks wore that design from 1982-1992, long before any of these high school kids were born.
This is the first time I've seen this template knocked off for a high school uni. Has it become a category unto itself, much like the tequila sunrise has for baseball?
(Big thanks to Marc Viquez for this one.)
• • • • •
• • • • •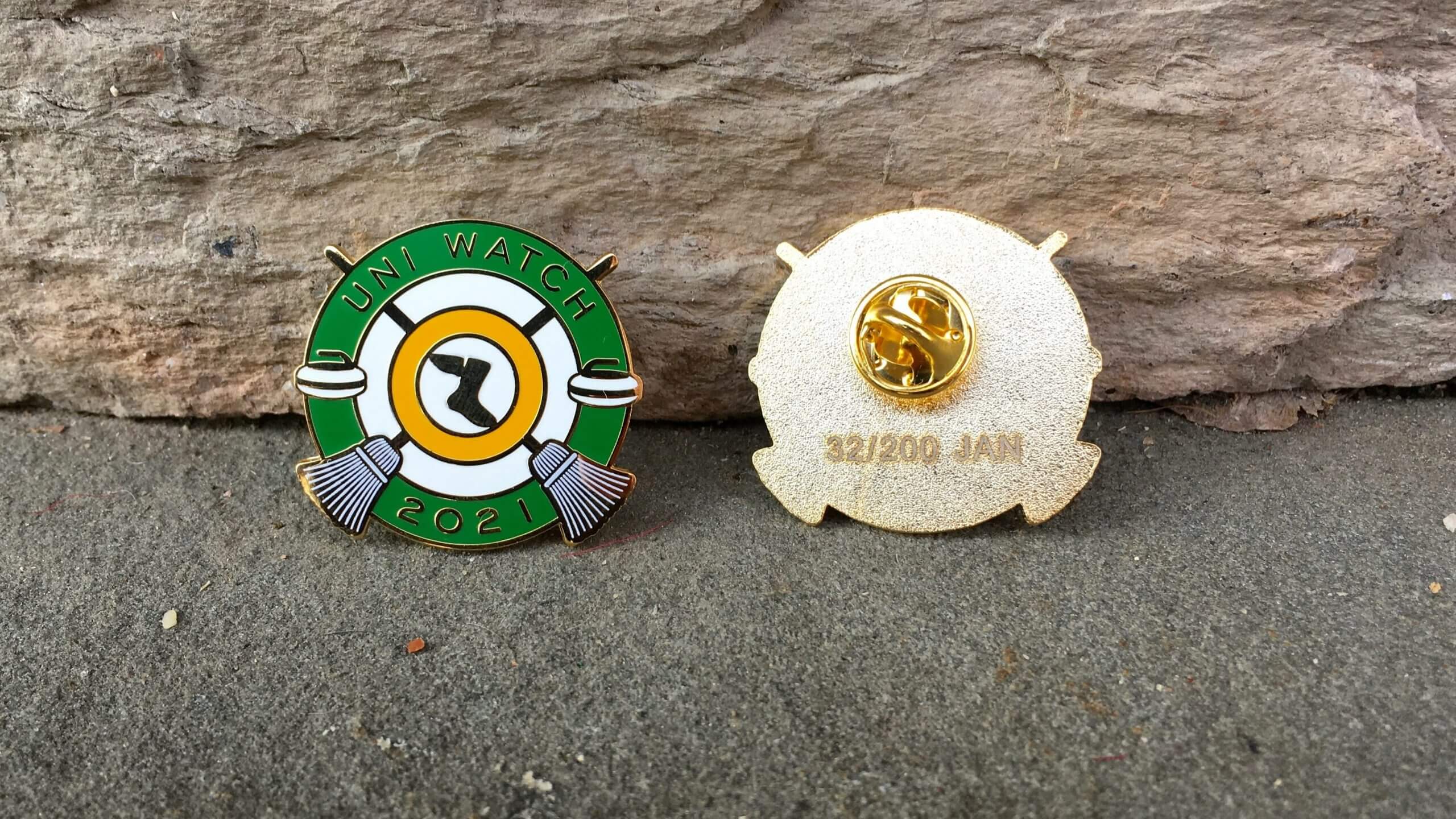 Click to enlarge
Pin Club reminder: In case you missed it over the holiday weekend, the Uni Watch Pin Club's first pin of 2021 is now available. We're going with a curling theme this time around — highly appropriate, since curling has a rich history of decorative pins. Hurry hard!
After I launched this pin on Friday, reader Wade Heidt pointed out that there are at least two Canadian curling clubs — the Saville Sport Centre in Edmonton and the Leaside Curling Club in Toronto — that use Uni Watch colors for their sheets, just like our pin (click to enlarge):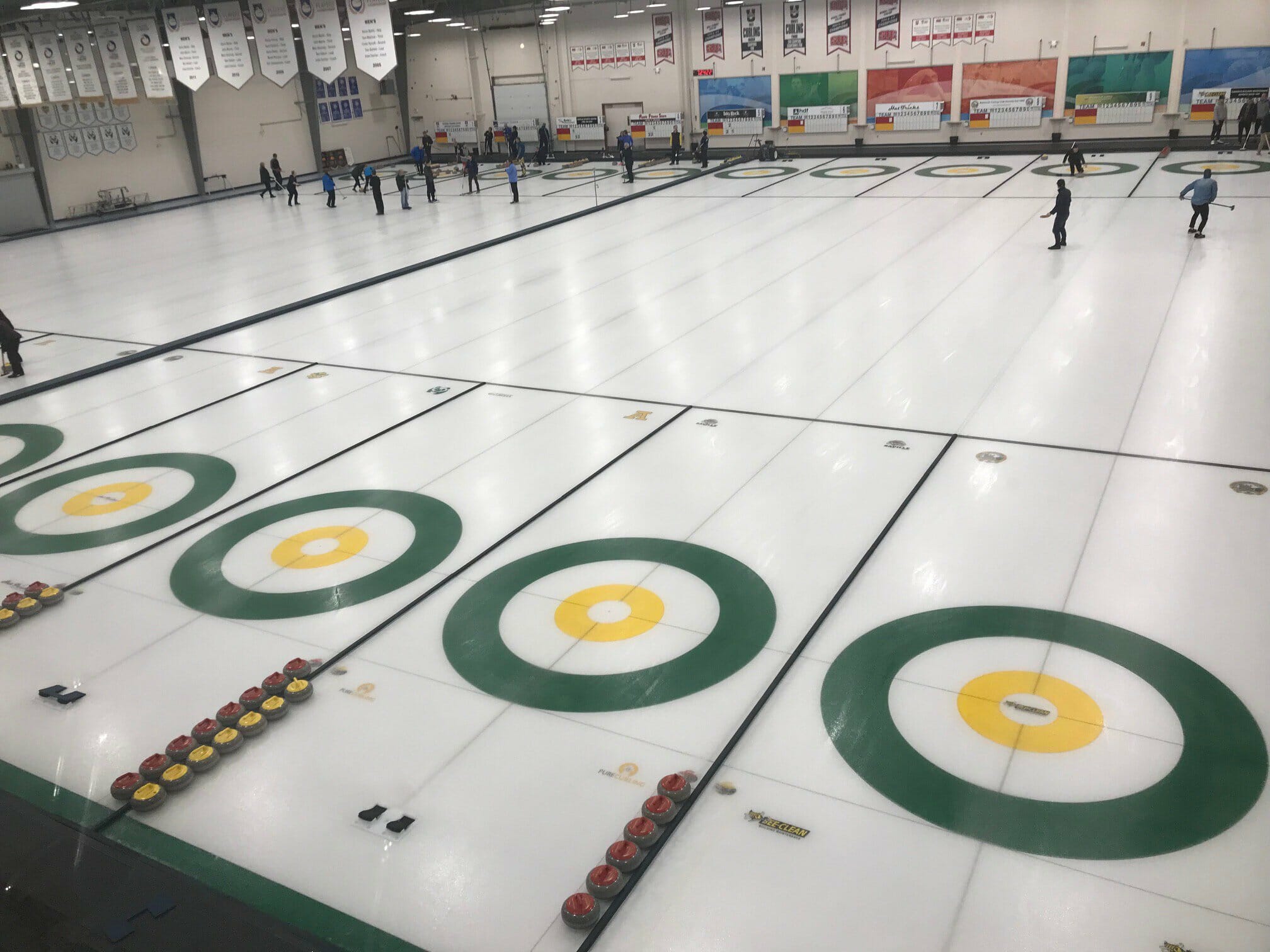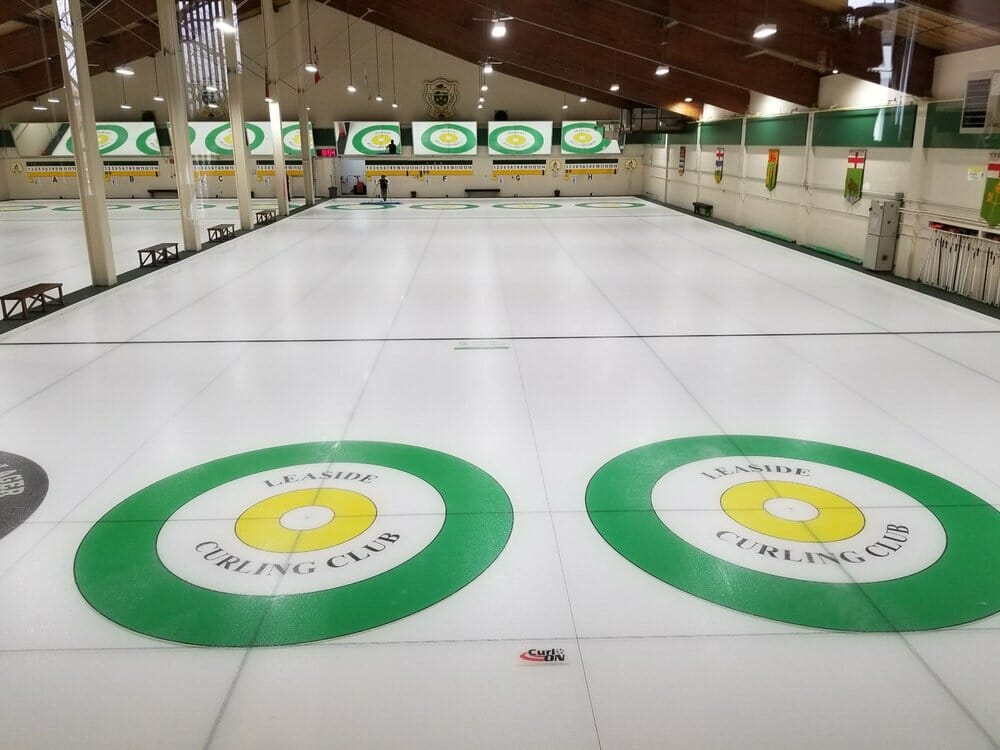 Love to see that — so cool! And then Phil told me that the Bucks County Curling Club outside of Philly also uses those colors: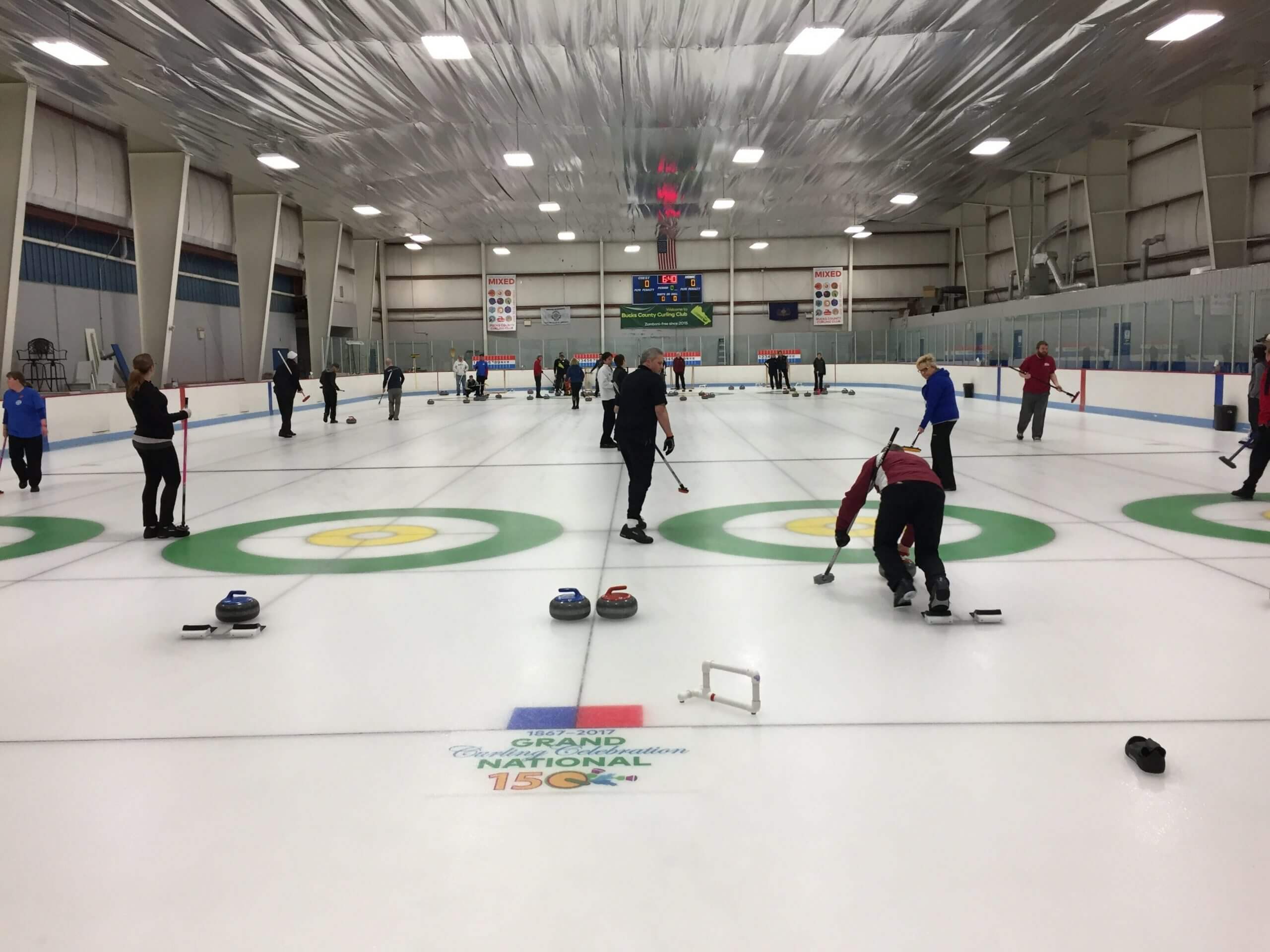 Also: If you look again at the photo at the top of this section, you'll see that this pin includes the words "Uni Watch," but not "Pin Club." That's a change that designer Todd Radom and I have made for this year — all pins will include "Uni Watch" and the year on the front, with the month continuing to appear on the back. The words "Pin Club" will no longer be included on the pins themselves.
This is a numbered edition of 200 pins. As of this morning, we've sold through about half of them. You can order yours here.
Just like last year, we will have some sort of bonus prize for people who collect 'em all. (Speaking of which: If you collected 'em all in 2020, you'll be receiving your bonus pin later this month.)
Finally: All of our remaining 2020 pins have been reduced in price from $13.99 to $9.99. In case you've forgotten what they look like, here's a group shot (click to enlarge):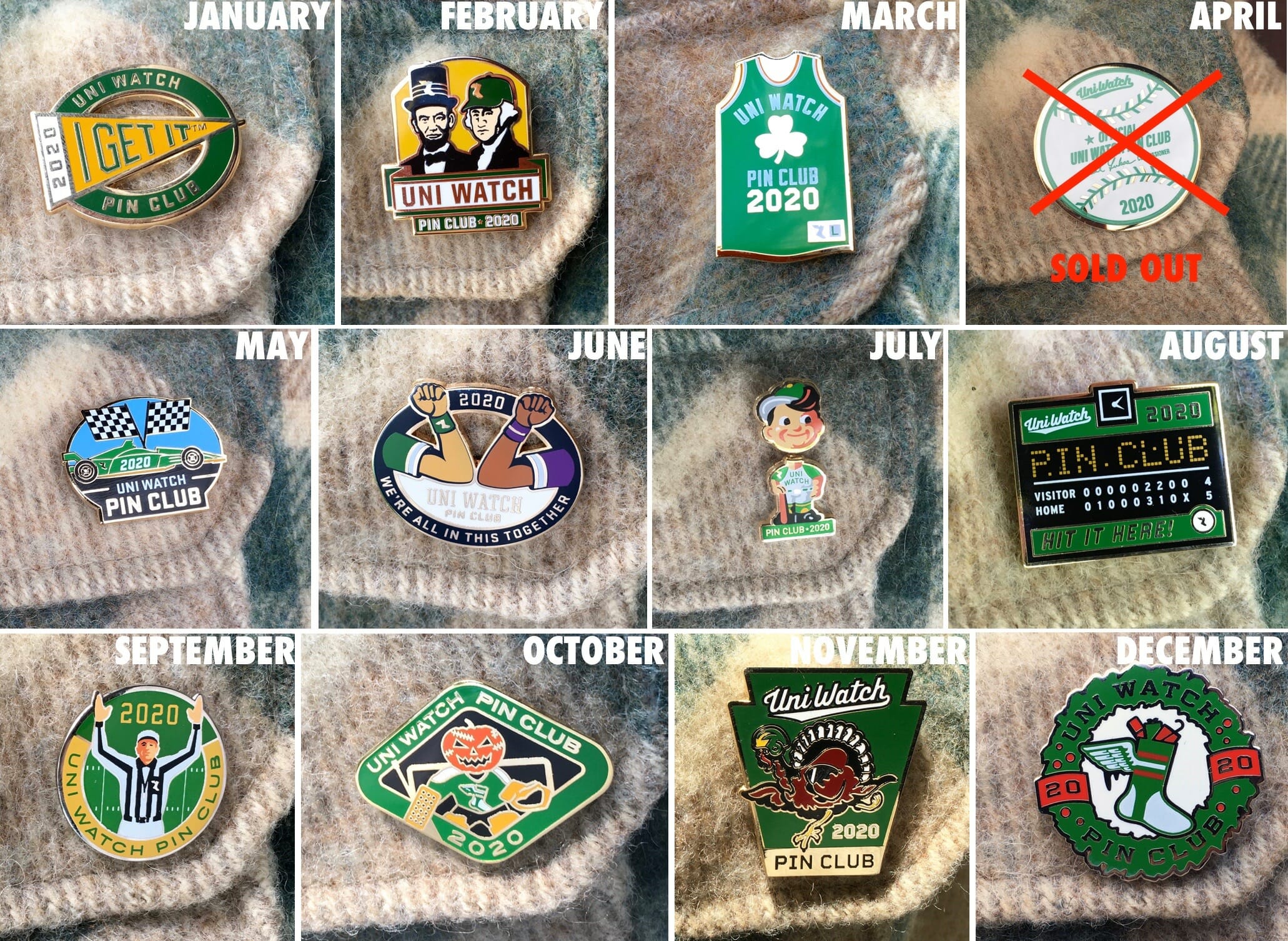 If you need to get caught up on any of those, here are the links for January, February, March, May, June (about 30 left), July (about 15 left), August (about 35 left), September, October (about 35 left), November (about 10 left), and December (about 15 left), along with the 2020 Press Pin (just a few left).
• • • • •
• • • • •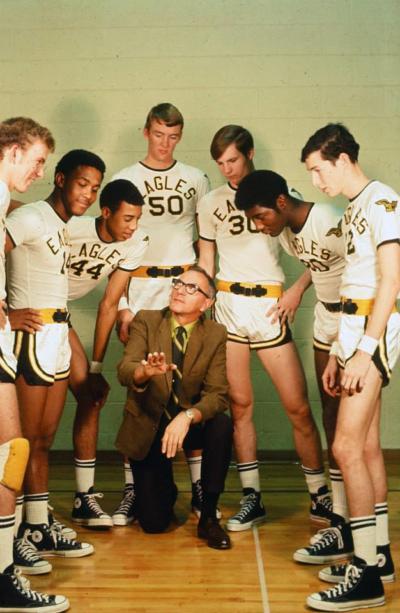 Too good for the Ticker: Oh baby, check out these gorgeous uniforms worn by the 1969-70 Hobbs High School Eagles in New Mexico. Love the colors, the matching socks, the matching Chucks, the belted shorts, and of course the sleeved jerseys. Best of all, they made good use of the sleeves by putting an eagle patch on the shoulders! Sign me up, pronto.
(Big thanks to @retro_70s for this one.)
• • • • •
• • • • •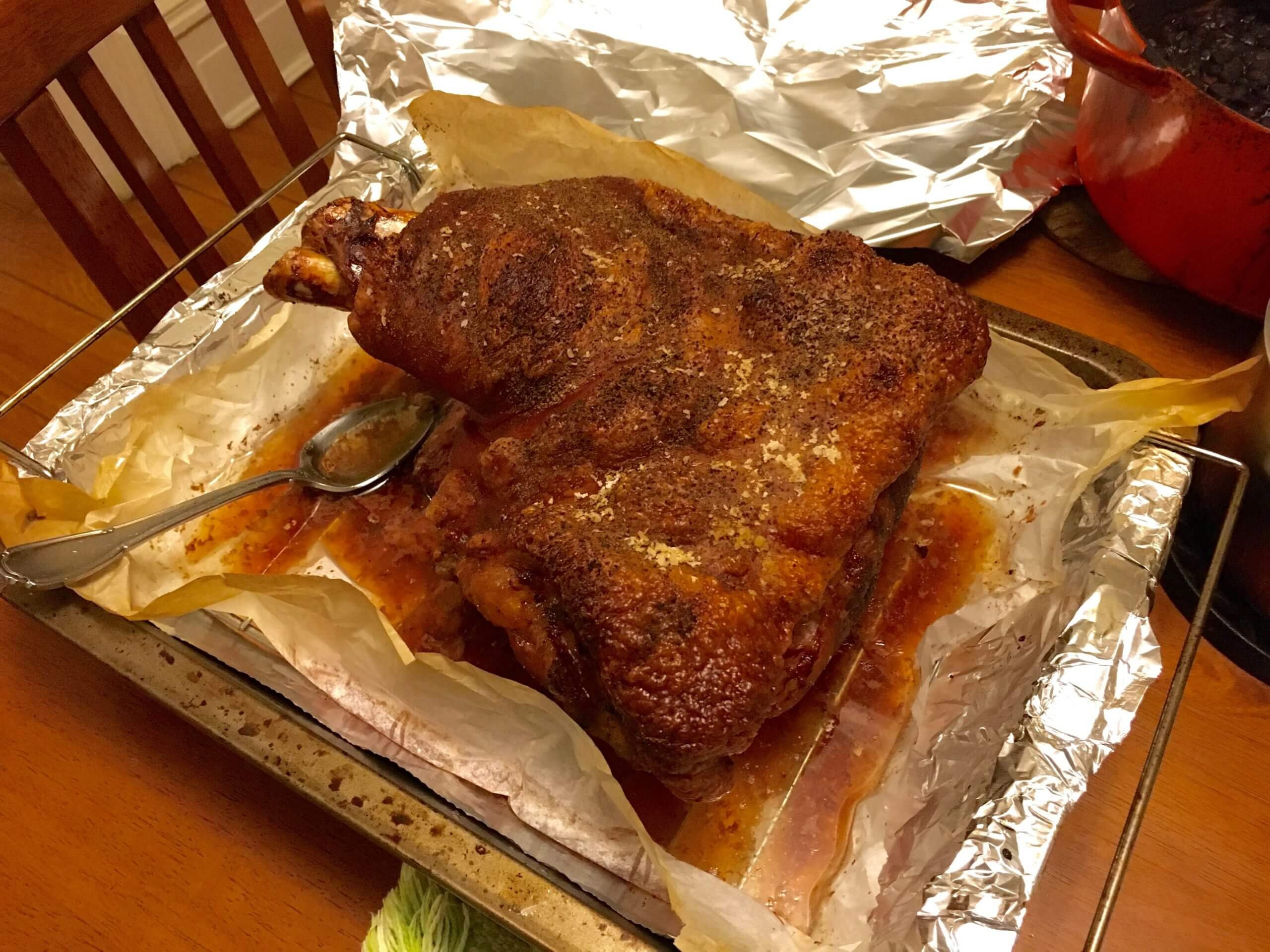 For all photos to enlarge
Culinary Corner: One of our semi-traditions here at Uni Watch HQ is to roast a big ol' pork shoulder on New Year's Day. This year's edition was just just shy of nine pounds. We used this recipe from the great J. Kenji Lopez-Alt, which couldn't be simpler: Season the meat with salt and pepper, stick it in the oven at 250º for eight hours, then give it a 20-minute blast at 500º to crisp up the skin. Works like a charm.
The Tugboat Captain made a great chimichurri sauce to go with the pork, along with some collards. A great feast! Dig: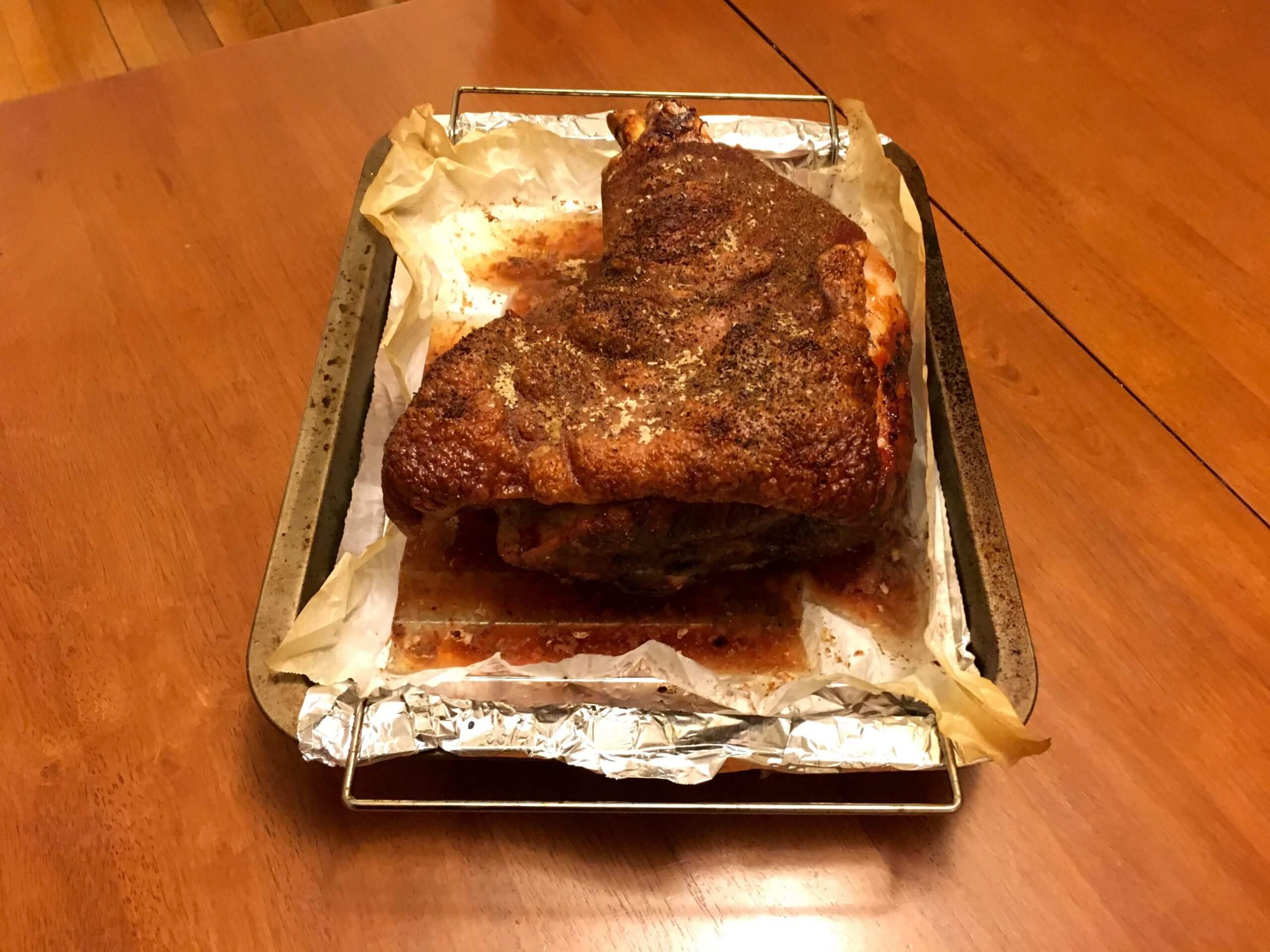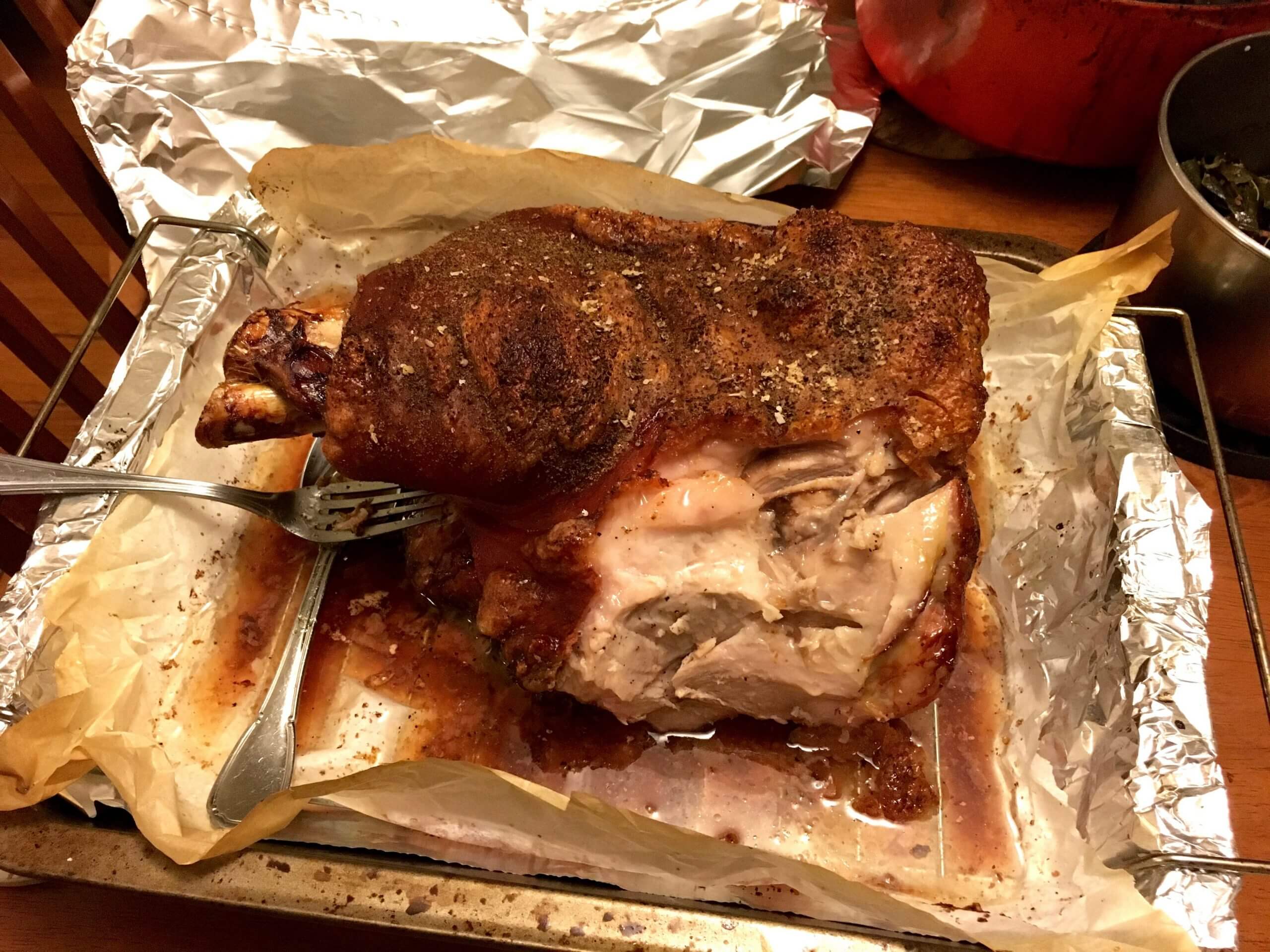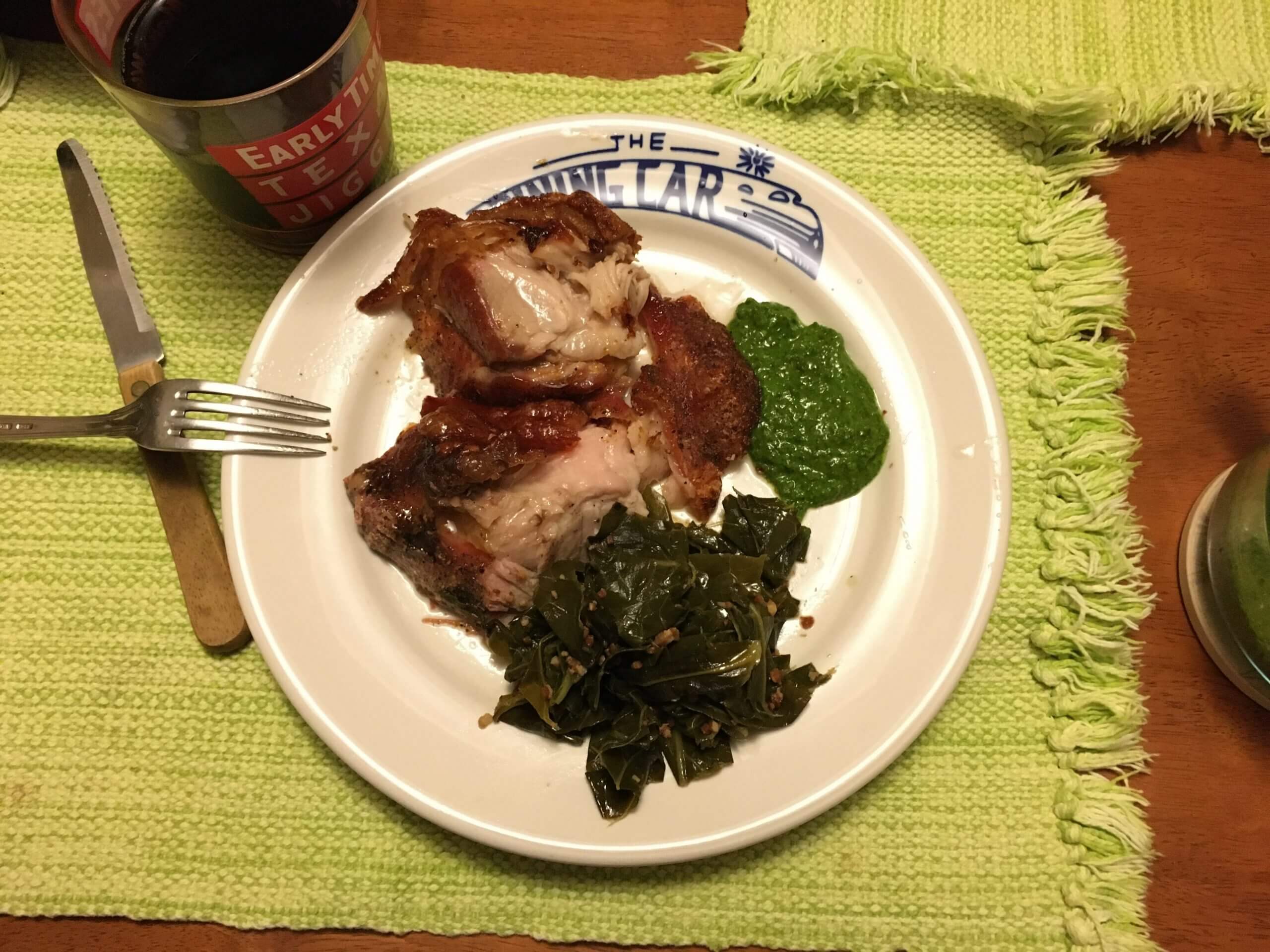 • • • • •
• • • • •
The Ticker
By Jamie Rathjen

Baseball News: Dodgers P Clayton Kershaw's wife commissioned an L.A. artist to make a painting as a Christmas present based on a photo of Kershaw celebrating after winning the World Series (from Kary Klismet). … Here's another one of those "umps lost their luggage" incidents: The umps' gear didn't arrive in time for a 1967 game in Minnesota, so they had to wear usher's pants and Twins jackets and caps (from Jimmy Lonetti).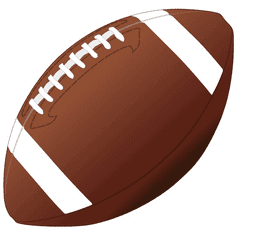 Football News: Washington QB Alex Smith's wife had his leg brace made into something like the Lombardi Trophy (from John Muir). … Left over from Saturday: The oranges in the Orange Bowl trophy were actually from California, not Florida (from Kary Klismet). … The latest CFL.ca piece that is at least theoretically a uniform history is for the Saskatchewan Roughriders (from Wade Heidt).

Hockey News: The Capitals have added the stars from their logo to their pants (from Ryan Burgess). … Here are the numbers for some of the new Caps players. … Here's how the Avalanche's 25th-anniversary logo looks as a jersey patch (from @Hashalanche). … Similarly, here's our first look at the Wild's 20th-anniversary patch (from Maverick Johnson). … Lightning G Andrei Vasilevskiy's new mask glows in the dark in two places on top (from Wade Heidt). … Ben Wright, who was the Atlanta Thrashers' social media manager from 2005-2011. did a Twitter Q&A yesterday. It starts here, and uni-related topics come up here, here, here, here, here, and here (from Michael Rich). … The Huntsville Havoc wore — well, see for yourself (thanks to all who shared).

Basketball News: The Celtics lowered their championship banners so they're right behind the basket (from Mike Chamernik). … Georgia Tech's men's team wore white throwbacks yesterday, a few days after wearing gold versions (from @sonnylax). … Houston's men's team also debuted red alternates (from Ignacio Salazar).

Soccer News: Scottish club Rangers wore memorial text on their shirts for the 50th anniversary of the second Ibrox disaster. … One-third of the Scottish Premiership wore black armbands this weekend for a variety of reasons, including Rangers and Celtic for the aforementioned disaster anniversary, and Aberdeen and Dundee United in memory of former left-back Chic McLelland and former manager Jim McLean, respectively — though United's could barely be seen because of their second shirt's black sleeves. … Some of Scottish manager Tommy Docherty's clubs also wore black armbands in memory of him. He's credited with two contributions to the uni-verse while at Chelsea in the '60s: changing their first kit to the present blue/blue/white and making them one of the first English clubs to wear numbers on their shorts. … New shirts for Argentina's Belgrano (from Ed Żelaski). … Also from Ed: A Polish sports logos website wrote about the trends in recent new club and national team crests and league logos, with some appearances from clubs in rugby union and league as well. … Some animated TV characters' shirts match up well with current or past soccer shirts (from Jeremy Brahm). … The Asian Football Confederation has updated the logos for all its major competitions (from Sy Hart).

Grab Bag: New jerseys for several cycling teams, including Jumbo-Visma, Israel Start-Up Nation, and SD Worx, who were renamed from Boels-Dolmans. … Australian Twenty20 cricket's Perth Scorchers are wearing their Indigenous-designed shirt for all Big Bash League home games this season. It's the same as that worn in the Women's Big Bash League in November, but the WBBL team tucked in their shirts and obscured part of the design. … A Canadian sportswriter is holding a contest for the best logo among Canada's sports governing bodies. The four finalists are basketball, fencing, field hockey, and football (from Wade Heidt). … Spider-Man switched sneakers from a well-known and recognizable pair of Jordans to Adidas in his new video game, a change that both Spider-Man fans and sneakerheads criticized (from Andrew Cosentino). … A proposed redesign of the palmetto tree on South Carolina's flag is going to stay a proposal (NYT link) because it did not turn out well (from Kenny Ocker). … The Japanese Handball Association has struck a new outfitting deal with Hummel for its U-16 through U-24 teams (from Jeremy Brahm).
• • • • •
• • • • •
• • • • •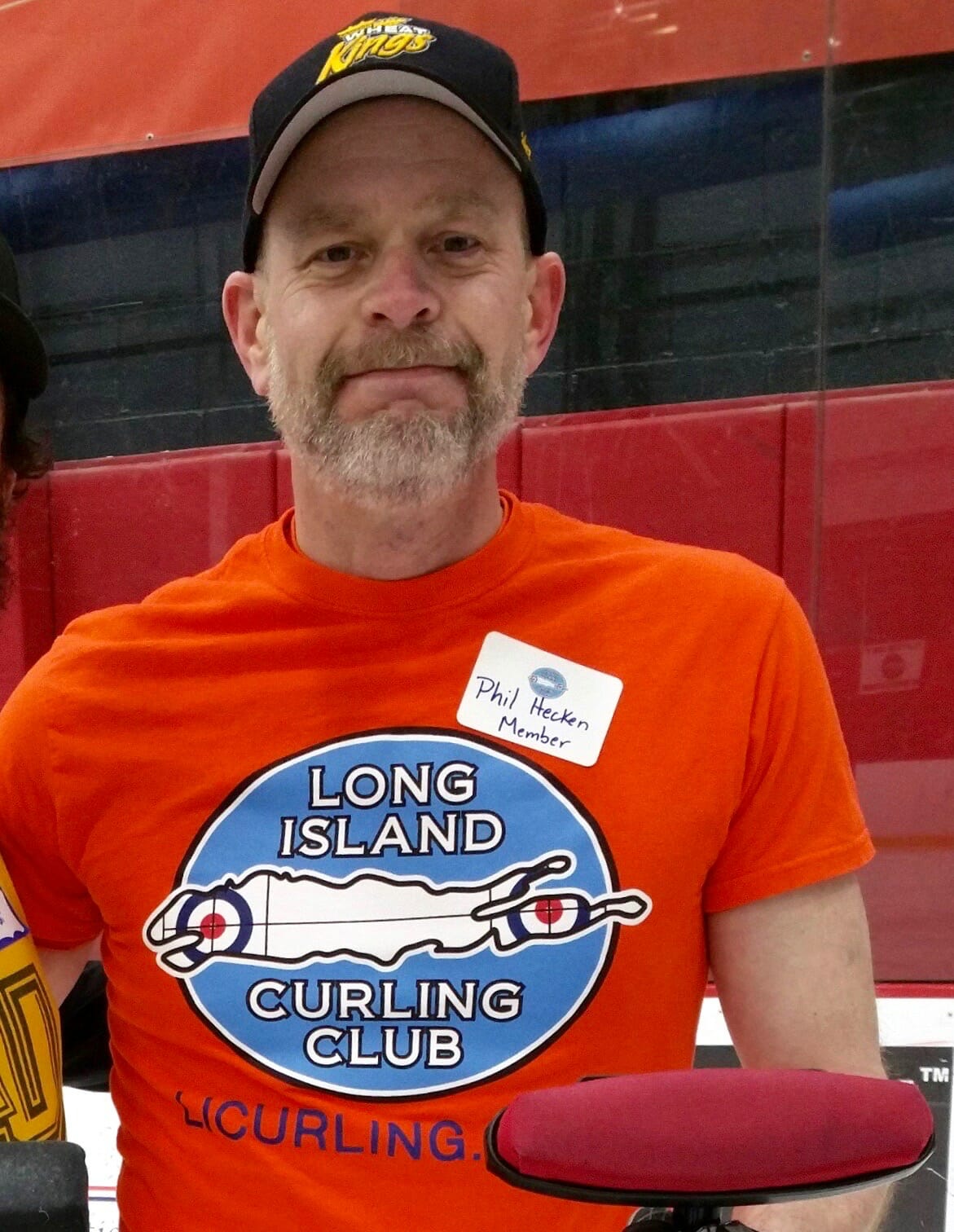 Birthday Boy: Phil was too modest to mention this in yesterday's post, but Sunday was his birthday. Please join me in embarrassing him by making a big fuss over him wishing him the happiest of birthdays and nothing but good things in the year to come. Here's to you, buddy! — Paul