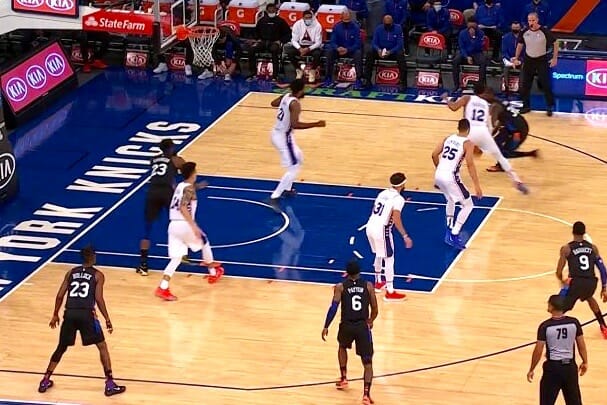 Paul here, making a rare Sunday appearance. Phil has the day off and we weren't planning on having a post today, but something happened last night that was just too good to pass up, so here I am.
So: As you can see above, the Knicks (they're the team in black, wearing those godawful City alternates) had two different players wearing No. 23 at the beginning of last night's game against the 76ers. Those two players were center Mitchell Robinson (whose regular uni number is indeed 23) and forward Reggie Bullock (who's supposed to wear No. 25).
Did Bullock accidentally grab one of Robinson's jerseys? Nope — they both had their proper NOBs, as you can see in this next shot (click to enlarge):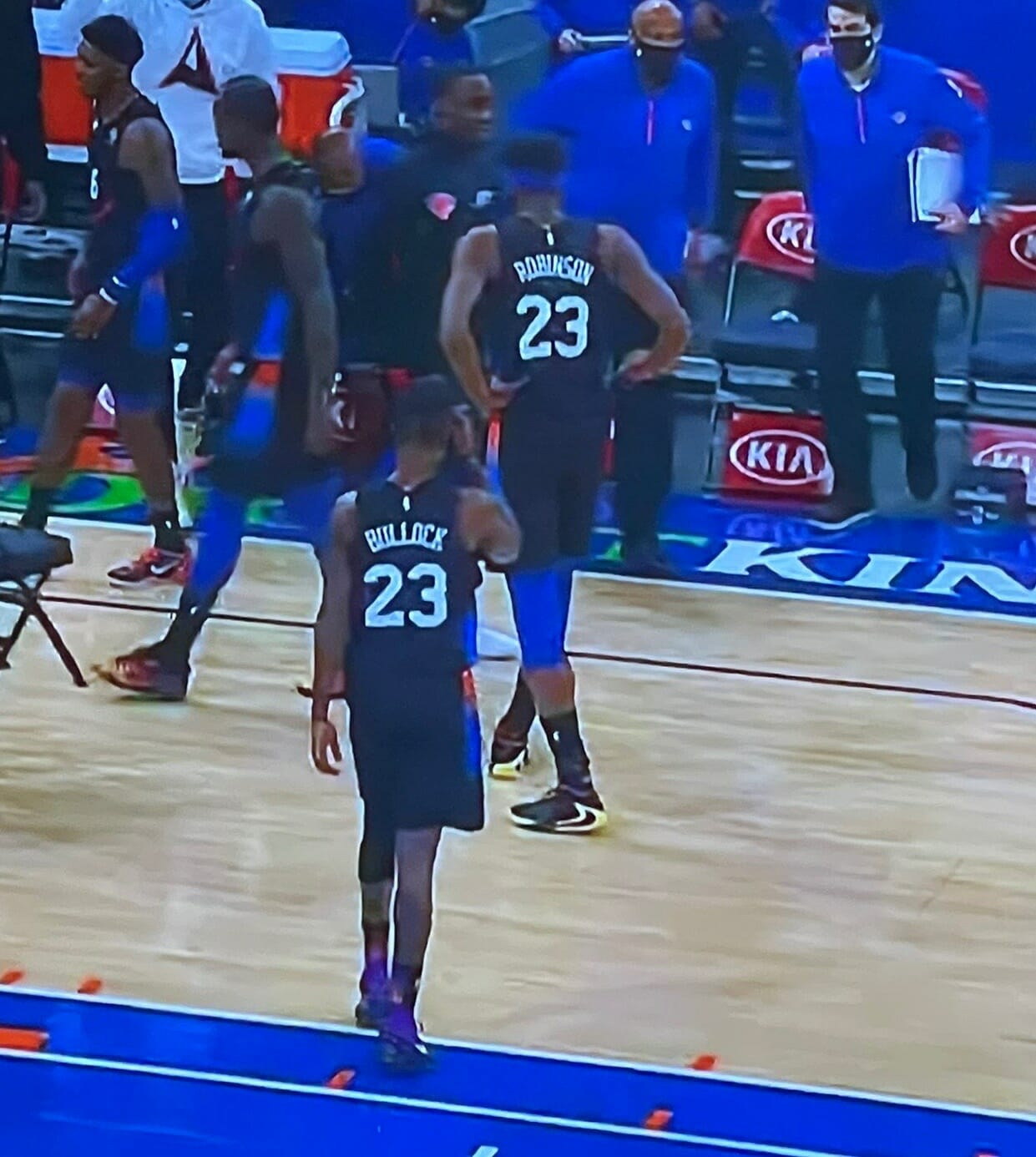 The beauty part is that Bullock had No. 25 — his proper number — on the front of his jersey. So he looked fine from the front but wrong from the back. Uni-aware fans noticed it a lot sooner than the officials did (I got so many emails and tweets), but eventually the game was stopped and Bullock had to change his jersey:
The Knicks' Reggie Bullock had No. 25 on the front of his jersey but No. 23 on the back.

Both he and the ref had to laugh 😅 pic.twitter.com/RABuhsv9TX

— ESPN (@espn) December 27, 2020
Multiple choice — this is:
(a) The most Knicks thing ever.
(b) The most City Edition thing ever.
(c) A very nice gift to the uni-verse, in the spirit of the holiday weekend.
(d) Only the third- or fourth-most problematic thing about these uniforms.
(e) A great relief to Mets fans like myself who can feel safe knowing that the Mets, for all their foibles, will never be the most incompetent franchise in town as long as James Dolan continues to own the Knicks.
(f) All of the above.
That's it for today. See you back here tomorrow for Monday Morning Uni Watch! — Paul