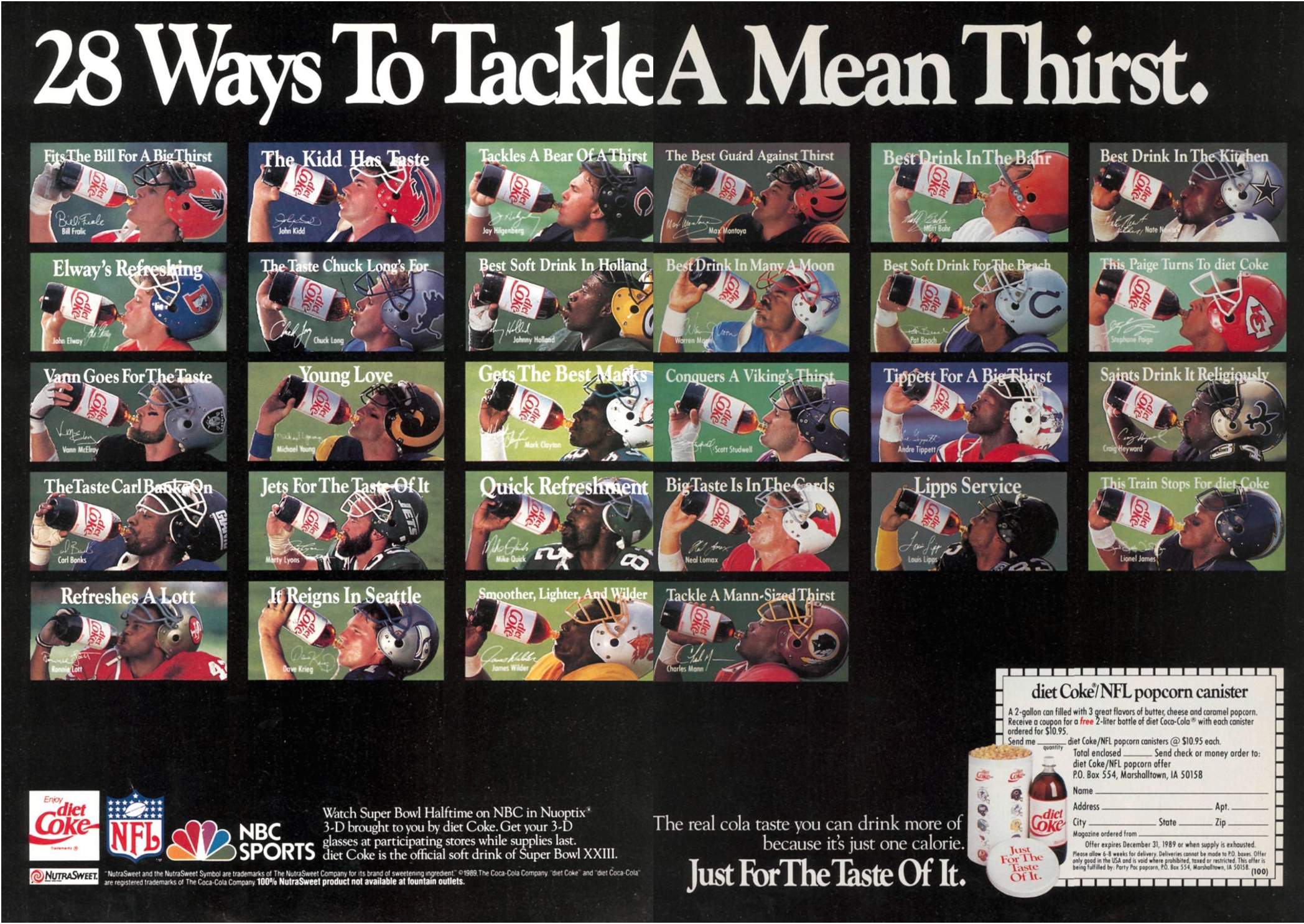 For all images, click to enlarge
Ticker-submission maven Kary Klismet recently pointed me toward a tweet that featured the late-1980s two-page Diet Coke ad shown above. "It opened up a floodgate of memories for me and is too good not to share," he said.
As you can see, the two-page spread features 28 individual ads — one for each NFL team at the time — so let's call it a meta-ad. Looking at the fine print, the meta-ad carries a 1989 copyright date and is promoting Super Bowl XXIII, which took place on Jan. 22, 1989, so I'm figuring that the 28 individual ads ran during the 1988 NFL season, and then the meta-ad ran in January of '89, shortly before the Super Bowl.
I was already a Diet Coke drinker (and, of course, was also an NFL fan and was uni-aware) around that time, so you'd think I'd remember this ad campaign. But for whatever reason, I have no recollection of it — the meta-ad did not open a floodgate of memories for me like it did for Kary. It did, however, send me down a fun rabbit hole, because there's a lot to process here. For example:
• It's fun to see Browns kicker Matt Bahr's single-bar facemask, which looks so odd from our 2020 vantage point and really stands out from all the other facemasks in the campaign. (As an aside, it's also interesting that they chose Bahr to be in the campaign in the first place, since kickers are usually the also-rans of NFL advertising.) (Update: Several readers have pointed out that Bahr's facemask in the ad is grey, even though the Browns had white masks at the time. That was apparently standard for him — he had a grey mask while his teammates wore white.)
• NFL helmets are usually shown facing rightward. But due to the orientation of the type on the soda bottle's label, they were pretty much forced to have the players facing to the left. That in turn forced them to show the blank side of Steelers wideout Louis Lipps's helmet, because the Steelers logo appears only on the right side. But they also shot a vertical version of the ad in which they had Lipps holding his helmet instead of wearing it, and in that one they showed the logo-emblazoned side of his helmet: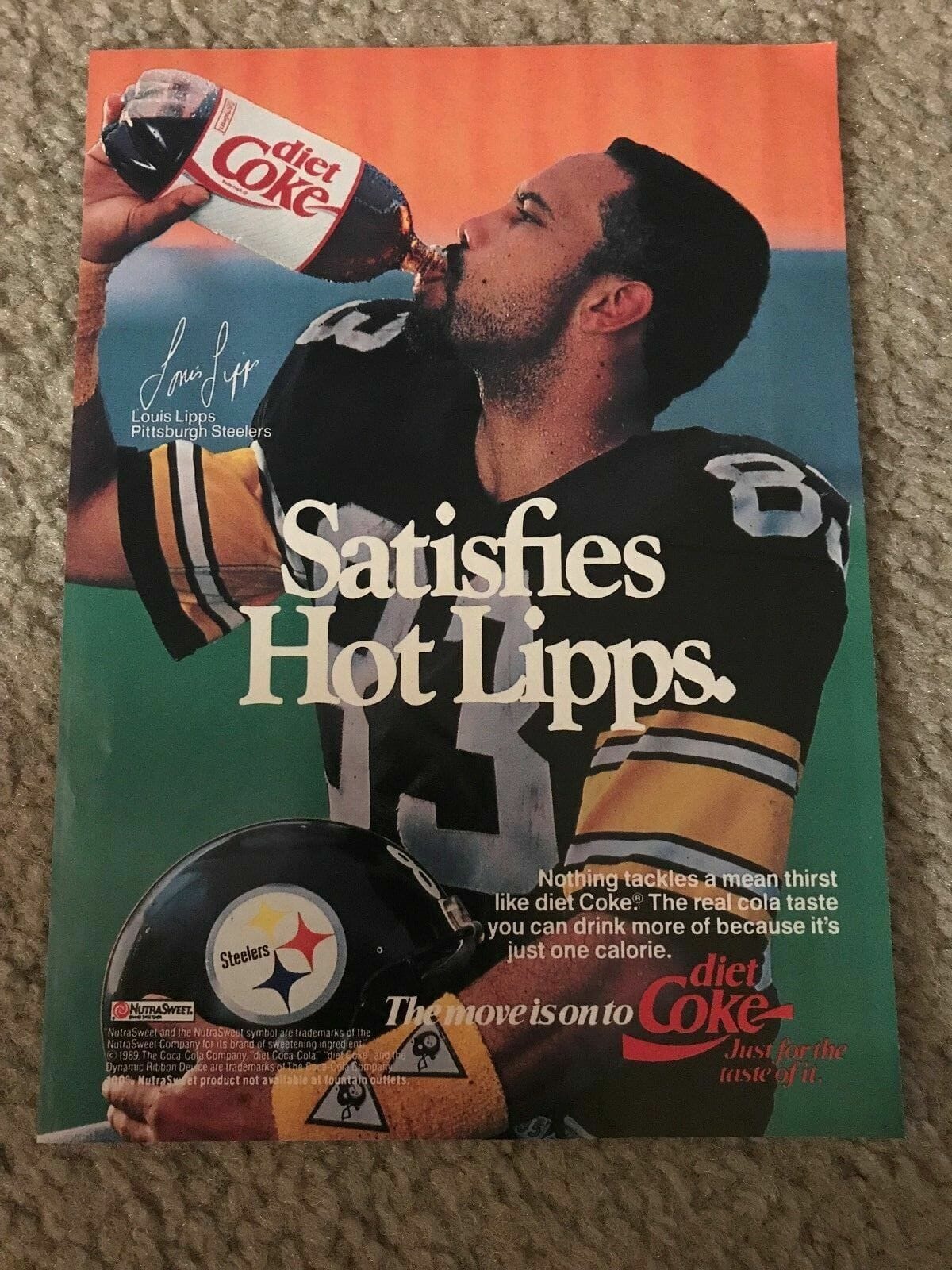 • Every single player held the soda bottle with his right hand — except for Seahawks quarterback Dave Krieg, who for some reason held it with his left hand. And he was a right-handed thrower!
• For the headline of each ad, instead of going with title case (i.e., capitalizing every word except short prepositions, conjunctions, and articles), they capitalized every single word — except for the word "diet" in Chiefs wideout Stephone Paige's headline. That's because Diet Coke was officially known at the time as diet Coke, with a lowercase "d" (as you can also see in the additional copy down at the bottom of the meta-ad). The Coke website explains why:
For many years, the brand name was written and marketed as diet Coke — with a lowercase "d" — to reinforce the positioning of the product. Coke's trademark lawyers wouldn't allow the uppercase "D."

Their reasoning: Diet with an uppercase "D" was a noun, and the use of a noun changed the name of the trademark. Use of the lowercase "d" was an adjective and, therefore, did not alter the legal basis of the trademark.
That article doesn't mention when they eventually switched to an uppercase "D" (or how they convinced the legal department to go along with it). Anyone..?
• They made essentially the same groan-worthy headline pun for Giants linebacker Carl Banks ("The Taste Carl Banks On") and Lions quarterback Chuck Long ("The Taste Chuck Long's For"), but they were inconsistent about the punctuation, improperly adding an apostrophe to Long's headline. (Update: Several readers have pointed out that the apostrophe would be appropriate if you read it as "The Taste Chuck Long Is For," which hadn't occurred to me. Fair enough!)
• Interestingly, they also had a version of the Banks ad with a completely different headline (also, note the "All-American" inscription on his chinstrap):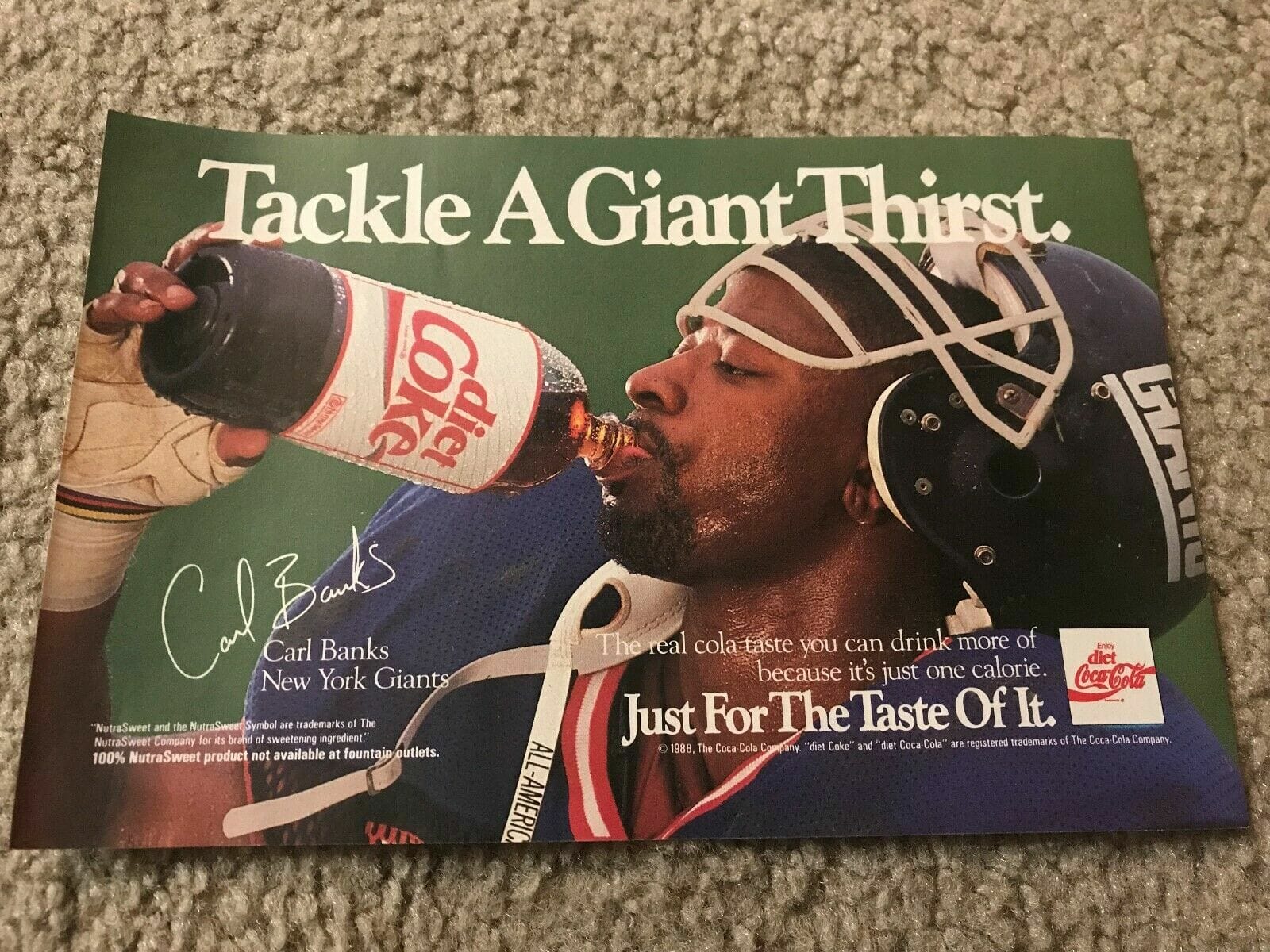 • In addition to changing some of the headlines and the photos, they apparently swapped out some of the players, as seen in this 28-ad poster: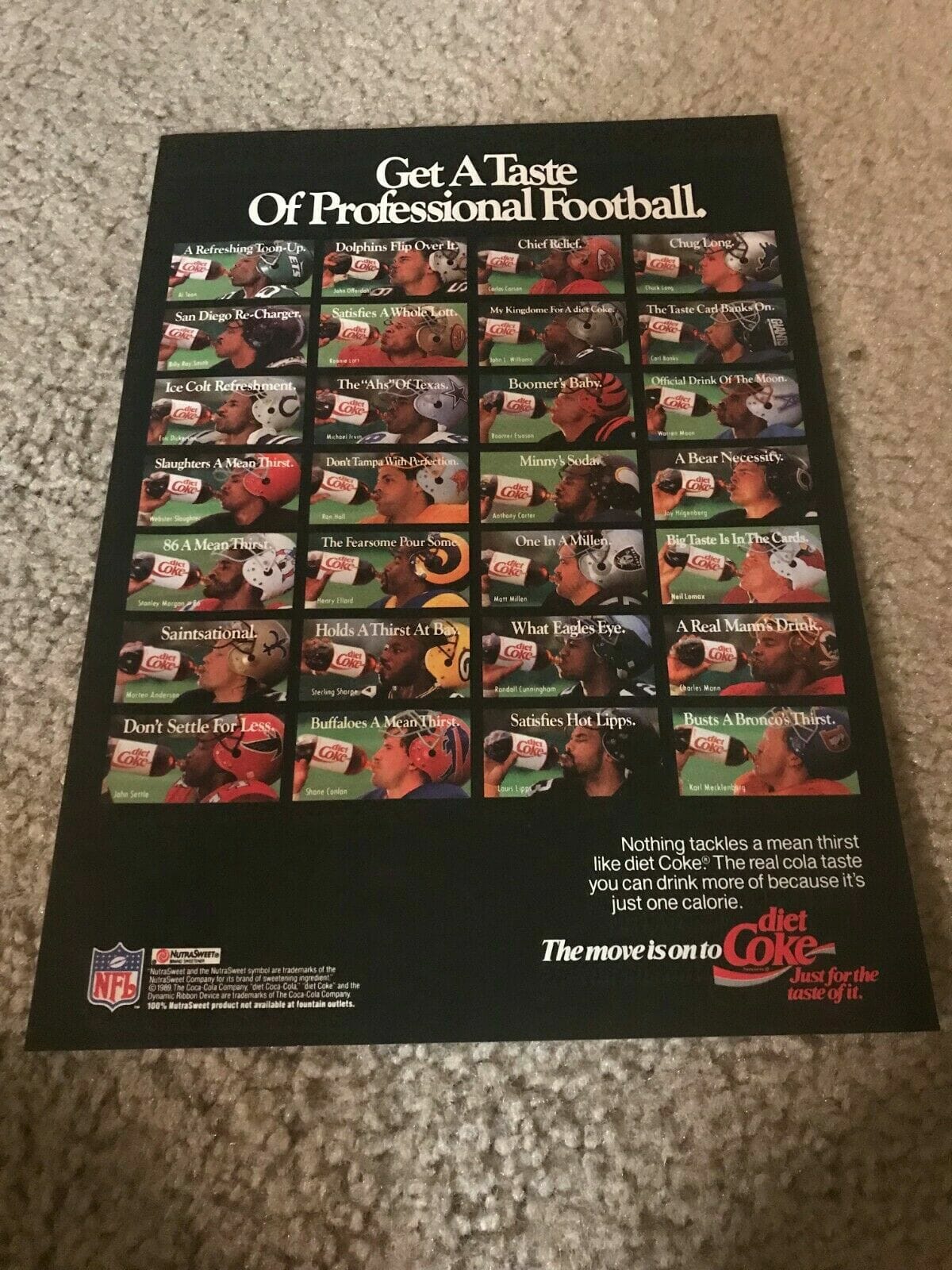 That poster, like the meta-ad, has a 1989 copyright date. But as I've already explained, the meta-ad is almost certainly from January of that year, so maybe the poster is from later in the year, by which time they'd changed some of the players. (Also of note: The meta-ad shows the players' signatures, while the poster does not.)
• The campaign extended at least into 1990. By that time they were riffing on the pose of the player drinking from the bottle, as seen here: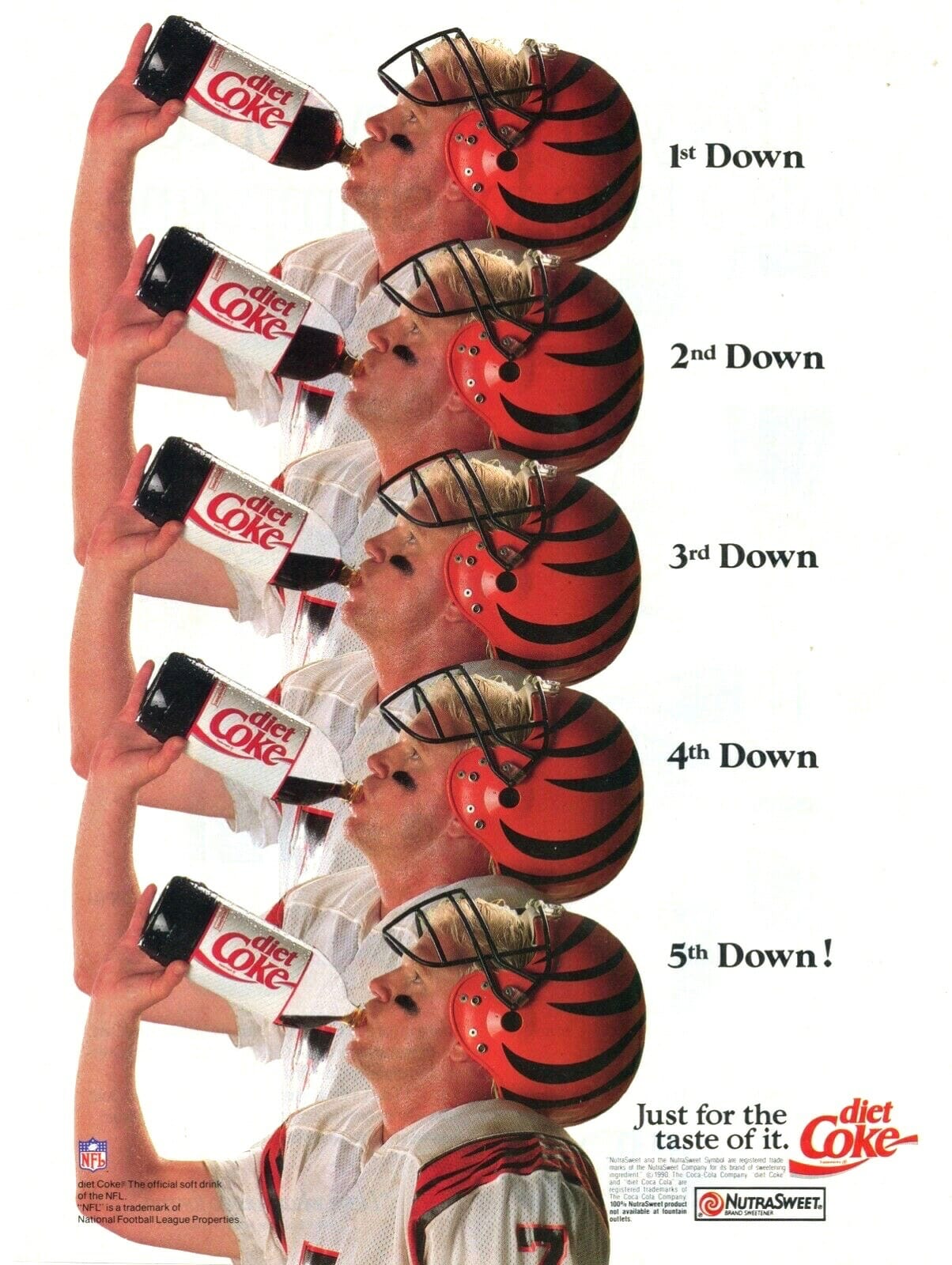 ———
That's a pretty good rabbit hole, right? If it's triggering that nostalgia response for you like it did for Kary, some of the vintage ads are available on eBay.
(Big thanks to Kary Klismet for getting me started on this one.)
• • • • •
• • • • •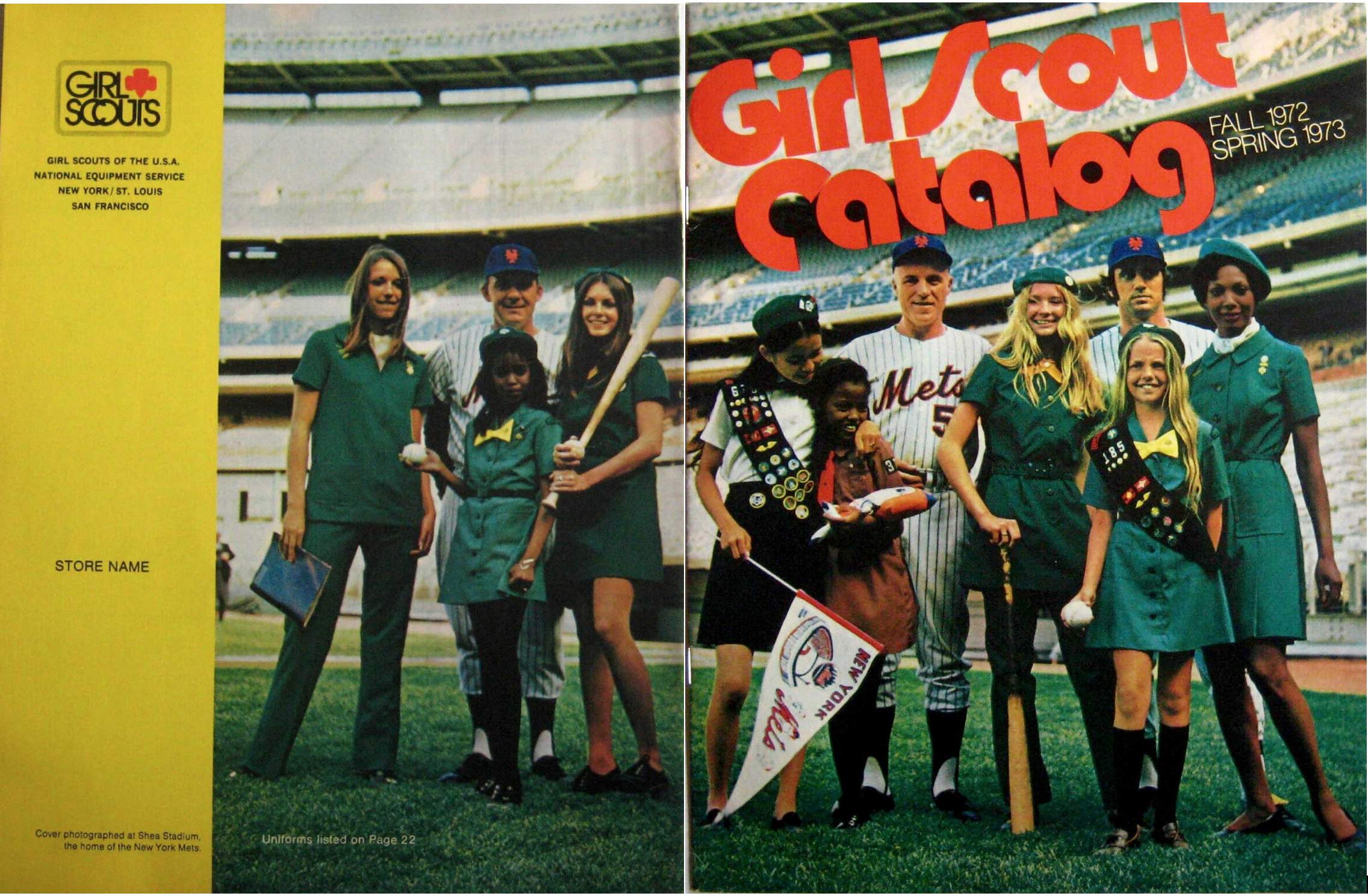 Click to enlarge
Too good for the Ticker (baseball edition): I'm not sure why the Girl Scouts thought it made sense to shoot their Fall 1972 catalog cover photo at Shea Stadium, but it sure makes for a great assortment of uniforms. Spectacular lettering, too!
As for the three Mets, I'm fairly certain that's pitching coach Rube Walker on the left, third base coach Ed Yost in the center, and I think third baseman Jim Fregosi (famously traded even-up for Nolan Ryan) on the right.
Also: See that pennant that the one girl is holding? I had that exact pennant pinned to the wall of my bedroom from 1971 through at least '76, and probably later than that.
Want to own this catalog? There's one available on eBay.
(Big thanks to @retro_70s for this one.)
• • • • •
• • • • •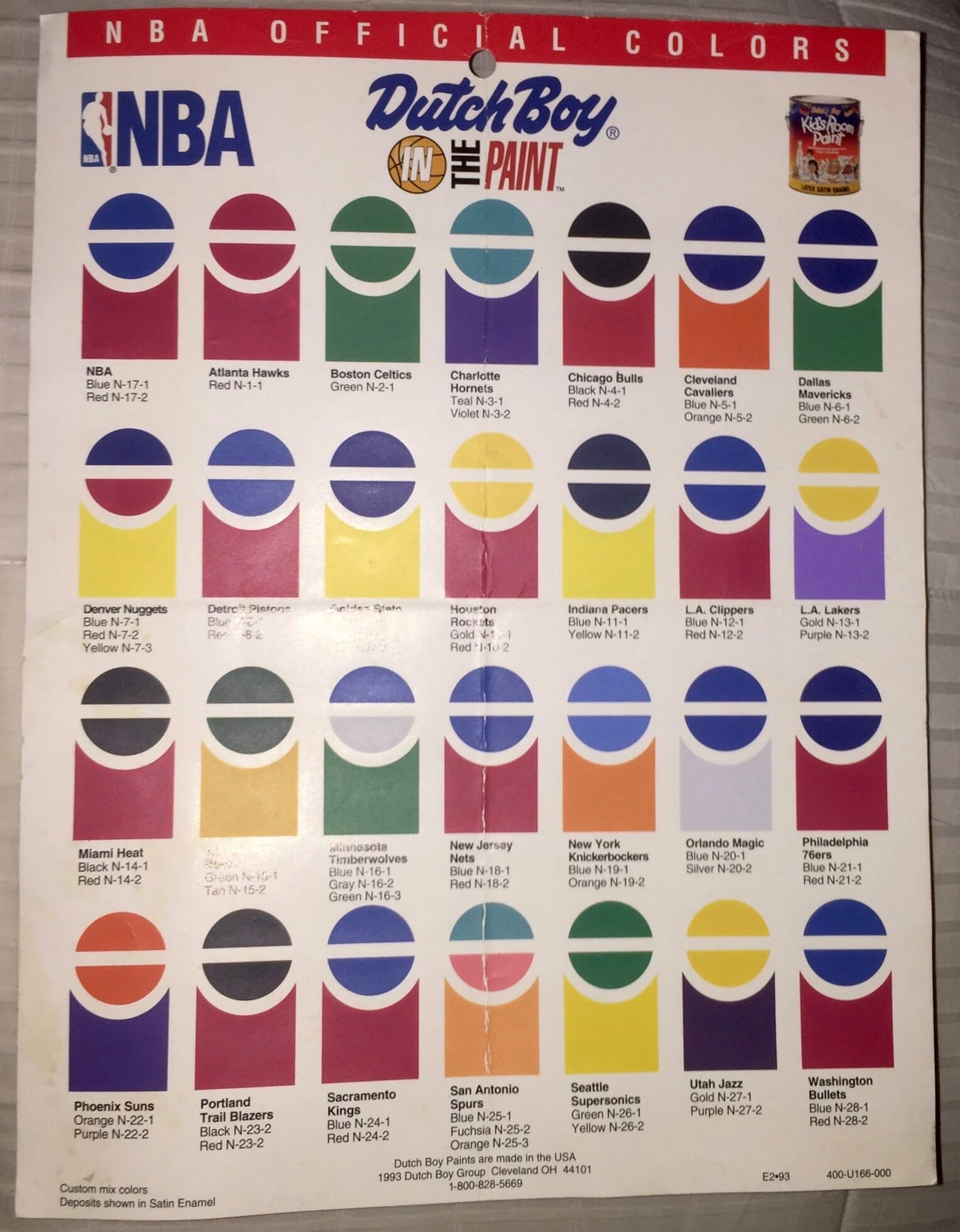 Click to enlarge
Too good for the Ticker (basketball edition): Oh man, how great is this Dutch Boy paint guide, showing all the NBA team colors from 1993? Pushes all my uniform and catalog buttons. Look at those Spurs fiesta colors! Love it.
(Satin-finish thanks to @JohnnyDestiny11 for this one.)
• • • • •
• • • • •
The Ticker
By Paul

'Skins Watch: The Mechanicville (N.Y.) school district has decided to keep calling its teams the Red Raiders but will retire the Native-themed imagery used in association with it (from Kary Klismet). … Also from Kary: North Brookfield High School in Massachusetts is retiring its "Indians" team name and related imagery. … Yet another from Kary, and also from Robert Brashear: Shady Side Academy, a prep school in Pittsburgh, has announced "Bulldogs" as its new team name after retiring "Indians" earlier this year. Key passage from that article: "Despite the increased pushback against Native American imagery in sports, 'Indians' remains the most commonly used nickname among the more than 120 member schools in the Western Pennsylvania Interscholastic Athletic League," with five schools using it. Still lots of work to be done. … There's a lot of debate about high schools using Native iconography in Colorado (from @westhoff7300ft).

Working Class Wannabes™: Illinois athletics director Josh Whitman says the school's newly hired football coach, Bret Bielema, has a "blue collar work ethic and genuine, authentic manner [that] will allow him to form strong connections to his players" (from A. Miller). … Arizona women's hoops coach Adia Barnes says fellow Pac-12 team Colorado is "kind of hard-nosed blue collar team." … CMU football coach Jim McElwain says one of his new recruits is "an old-school, blue-collar offensive lineman who takes a ton of pride in his job." Bingo! … Virginia football coach Bronco Mendenhall says one of his new recruits is "a scholar who is blue-collar and white-collar at the same time," whatever that means. … An article about the Owensboro High School football team in Kentucky begins by stating, "The offensive and defensive lines of a football team are the definition of blue-collar." … An article about Nebraska football player Collin Miller, who recently decided to retire after suffering a spinal injury, says Miller "was a true blue-collar player." … New Kentucky football offensive line coach Eric Wolford says, "Kentucky is blue collar, they are tough, they have pride, they have attitude, and they have discipline." He echoed that sentiment at his introductory press conference, where he said, "I've had a chance to play [against Kentucky] the last four years and I can tell you it's a blue collar, tough, disciplined football team." … An article about West Virginia's newest round of recruits says offensive lineman Tomas Rimac "is a tough, hard-nosed, blue-collar offensive lineman." … Following Saturday's game, USC football coach Clay Helton said, "The thing I love about our football team is no matter what the situation, they come to work every day. They're blue collar." … Baltimore Ravens RB Patrick Ricard says his alma mater, the University of Maine, was a "blue-collar school," which doesn't make even a bit of sense. … Northwestern football coach Pat Fitzgerald says that his team needs to be "the most sound, fundamental, blue-collar football team that there is in the country" in order to win. He also says, "We play with a blue collar mentality and we're gonna fight for every inch on the field." … An article about a new football recruit at Springfield College says he chose Springfield "because the program's family-oriented, blue-collar ethos" reminded him of his high school. … An article about the NHL says the Columbus Blue Jackets "play good, blue-collar hockey." … An article about a new Ohio State football recruit says he's "precisely the kind of blue-collar kind of player [head coach] Ryan Day and his staff were looking to add." … An article about Alabama football says that "the Tide and [head coach] Nick Saban are able to become more blue collar — and less Star Wars — when they have to get crucial yards."

Baseball News: While researching something else, I came across this great late-'70s shot of future MLB skipper Bruce Bochy wearing glasses and an Astros tequila sunrise uni. … Here's something I didn't know: When the Dodgers moved from Brooklyn to L.A., they briefly considered playing at the Rose Bowl, which would have been configured like this (from Kary Klismet).

NFL News: Fans are having fun Photoshopping presumptive top NFL draft pick Trevor Lawrence into various NFL uniforms. … The Titans will wear white over navy for Sunday night's game against the Packers. … Washington QB Dwayne Haskins has been wearing a captain's "C" this season, but he won't be wearing it any longer because he's been stripped of his captaincy after being photographed without a mask his girlfriend's birthday party.

College Football News: From "Roll Tide" to "Gator Bait," lots of schools are discovering that their fight songs and cheers have problematic histories (from Timmy Donahue). … Iowa State will once again go BFBS in the Fiesta Bowl (from Chad Lehman). … Memphis and FAU faced off last night in the Montgomery Bowl but didn't have bowl patches on their jerseys. … No bowl patches for BYU or UCF in the Boca Raton Bowl either (from @couls_kunz).

Hockey News: This season's NHL Stadium Series game, originally scheduled for Feb. 20 in Raleigh, N.C., has been postponed. … In addition to helmet ads, the NHL is planning lots of new ways to impose advertising in front of your eyeballs, including virtual ads on the ice, expanded ad signs around the bench, "edge wrap" ads on the glass, and tarp ads covering empty seating. … At the World Junior Championships, the Bauer logos on the gear the Swedish and Czech goalies has been covered up due to an intellectual property issue.

NBA News: The Celtics added a Tommy Heinsohn memorial band for last night's season opener, and also lowered eight of the championship banners that figured prominently in Heinsohn's legacy (from Matt Rashford). … Here's a piece on NBA players who've had their numbers retired by more than one team. … Here's a look at the City uniform history for each NBA team. … Here's a really good story about what happened when a 14-year-old fan wrote to his favorite NBA and WNBA players in the Orlando bubble and asked them for autographs (from my old ESPN boss John Banks). … Here's a look at the Lakers' championship rings (from Mike Chamernik). … Here's a really fun project to redesign every NBA team. Cool stuff! (From @digitasdesigns, who's also one of the designers on the project.) … Following up on a Ticker item from yesterday, the Bulls have plastered some new ads around their court perimeter. … Looks like the Raptors will also have ads along the baseline, although they haven't been put down yet (from Kary Klismet). … Bucks coach Mike Budenholzer was wearing a team-branded mask upside-down last night. … Pro wrestling ref Aubrey Edwards wore a vintage Sonics jersey last night (from @SteveinLC). … The Pistons have hired rapper Big Sean to be their "director of innovation." His "Don Life" logo will appear on their practice jerseys.

College Hoops News: Boise State debuted new orange throwbacks last night. … Here's an interesting contractual provision: If the NCAA imposes sanctions on Louisville, the school's arena-name advertiser will get to reduce its payments for the naming rights by as much as 30% (from Timmy Donahue). … Creighton players wore "Equality" below their uni numbers for last night's game against Xavier. Additional info here.

Soccer News: New third shirt for Ghanaian side Asante Kotoko (from Trevor Williams). … Two VfL Wolfsburg goalkeepers have been assigned outfield shirts ahead of a German Cup match with SV Sandhausen, due to a lack of outfield players to fill out their bench (from @leaaves). … German side Werder Bremen wore their Christmas tree shirt last night (from Mark Dziak). … Interesting article about a rare, highly collectible 1997 Fiorentina shirt that supposedly had Super Mario on it, but no one can actually remember it being used (from Steve Kriske). … Crystal Palace's women's team wore Christmas-themed outfits yesterday for their final training session before the holidays. "I've seen that before for Halloween, but not for Christmas," says our own Jamie Rathjen. … Sanfrecce Hiroshima FC of Japan's J-League has unveiled a video and renderings of its proposed new stadium (from Kary Klismet). … New kits for Japanese side Yamaga Matsumoto (from Jeremy Brahm).

Grab Bag: The Reno County sheriff's office in Kansas has new uniform colors. … A Georgia company that makes nurses' uniforms has done well during the pandemic (WaPo link). … The PGA Tour is marking the 40th anniversary of its logo. … Here's a podcast episode about why athletes want to trademark everything (thanks, Brinke). … Even as Under Armour looks to opt out of apparel contracts with UCLA and Cal, its agreement with Utah appears to be stable (from Kary Klismet). … In an attempt to get around gender stereotypes, a Japanese high school is renaming its boys' and girls' school uniforms as "Type I" and "Type II." … Why do Baltimore and DC look different from space? Because they use different kinds of street lights (from William Yurasko). … New uniforms for the U.S. Nordic skiing team (from Kary Klismet).
• • • • •
• • • • •
• • • • •
My best wishes to everyone for a safe and healthy Christmas Eve. I'll see you back here tomorrow with some holiday thoughts and the winners of the year-end raffle. Peace. — Paul