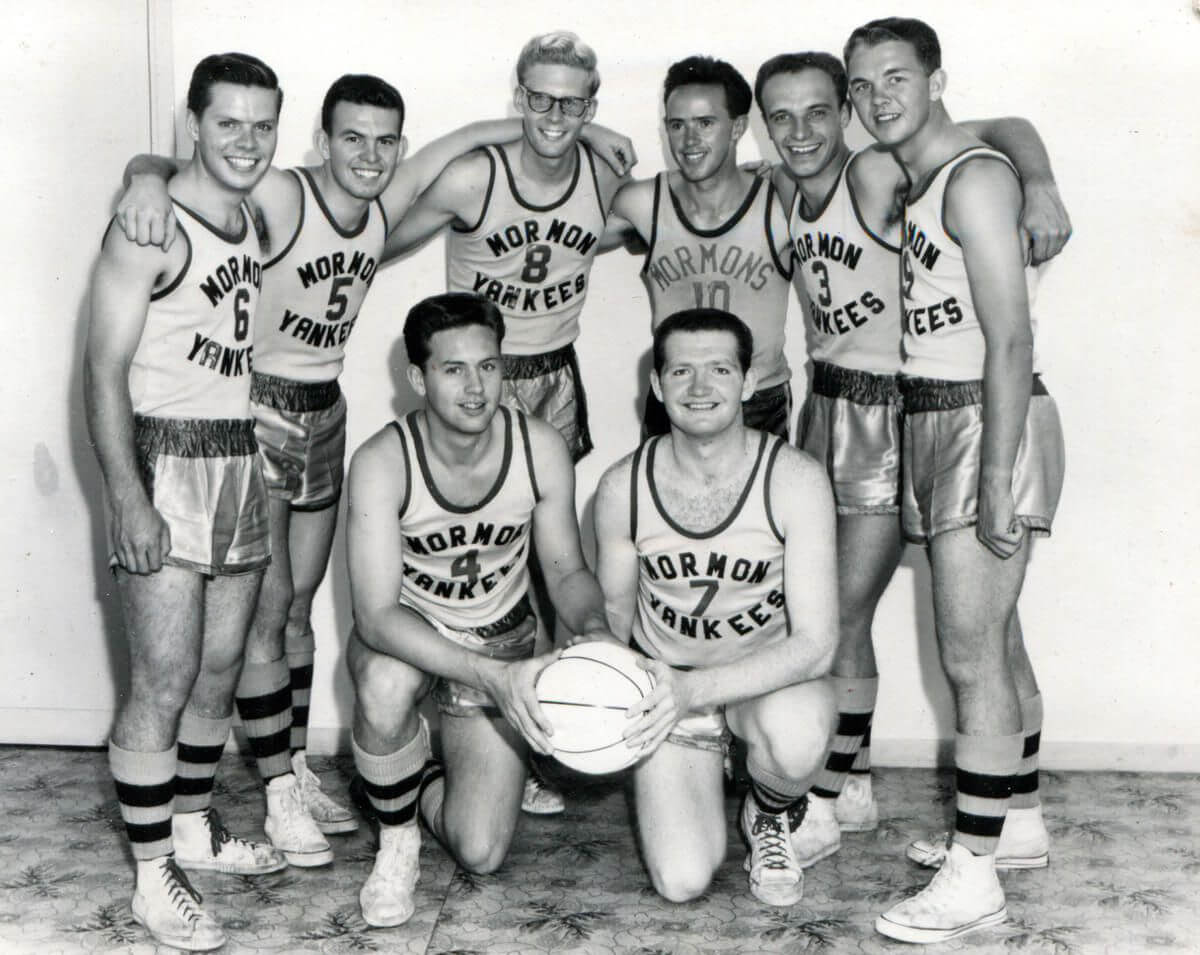 For all photos, click to enlarge
Reader Benji King recently told me something I hadn't been aware of: From 1937 through 1961, missionaries of The Church of Jesus Christ of Latter-day Saints used basketball as a tool to share the gospel in Australia. These missionaries became known in Australia as the Mormon Yankees, and they regularly organized teams to play exhibitions against Australian squads. The Mormon Yankees team photo shown above is from 1960.
In 1956, when the Summer Olympics were held in Melbourne, the Mormon Yankees even helped prep the Australian national basketball team, so the Aussies wouldn't be embarrassed on their home court. That story was the basis for a 2016 Australian movie called Spirit of the Game. I don't recall hearing about it when it came out (I think it may not have gotten much distribution in the States except in Utah), but the trailer shows some interesting period uniforms:
I was intrigued (more by the history than by the movie), so I did a bit of digging and found lots of photos of the Mormon Yankees in uniform. Here they are, chronologically: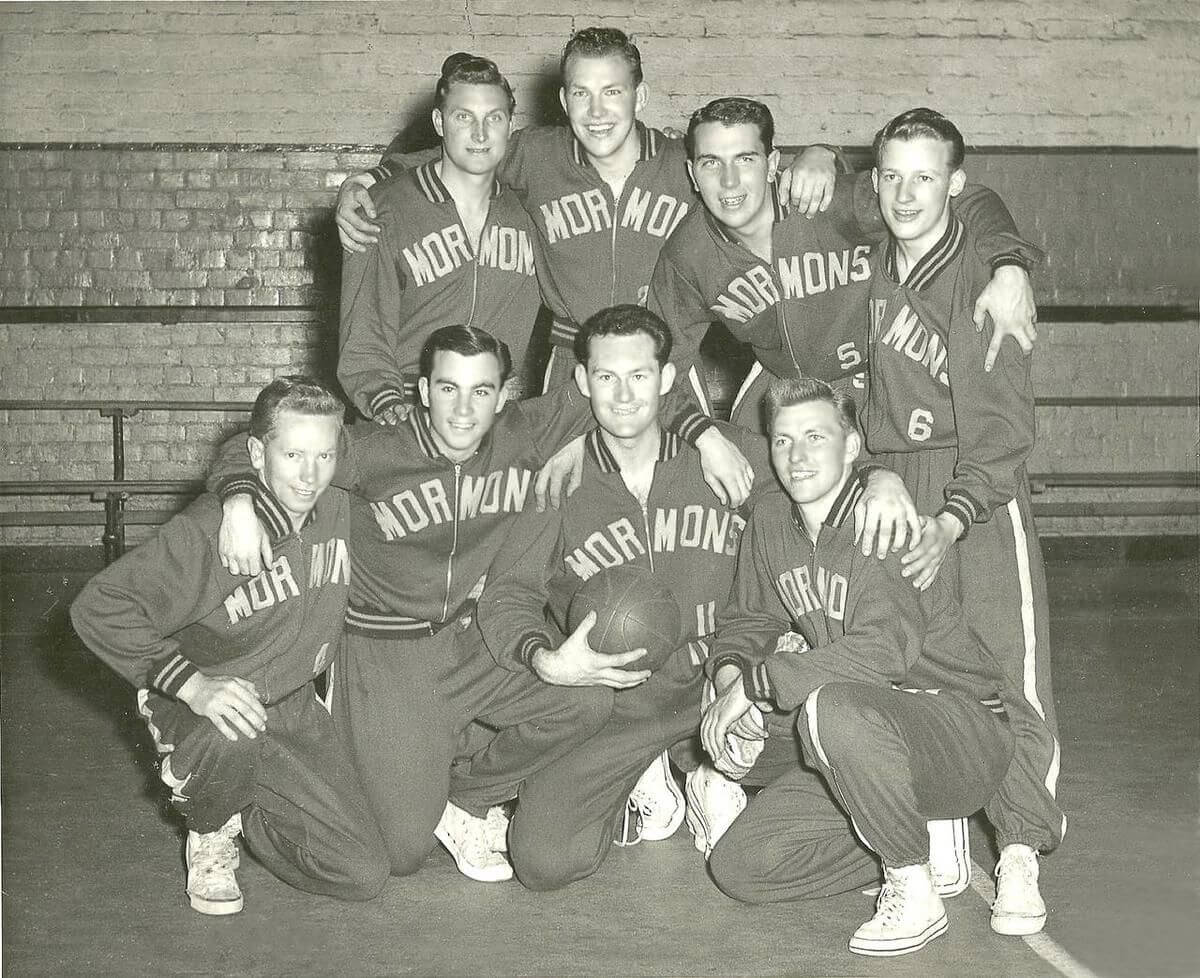 1954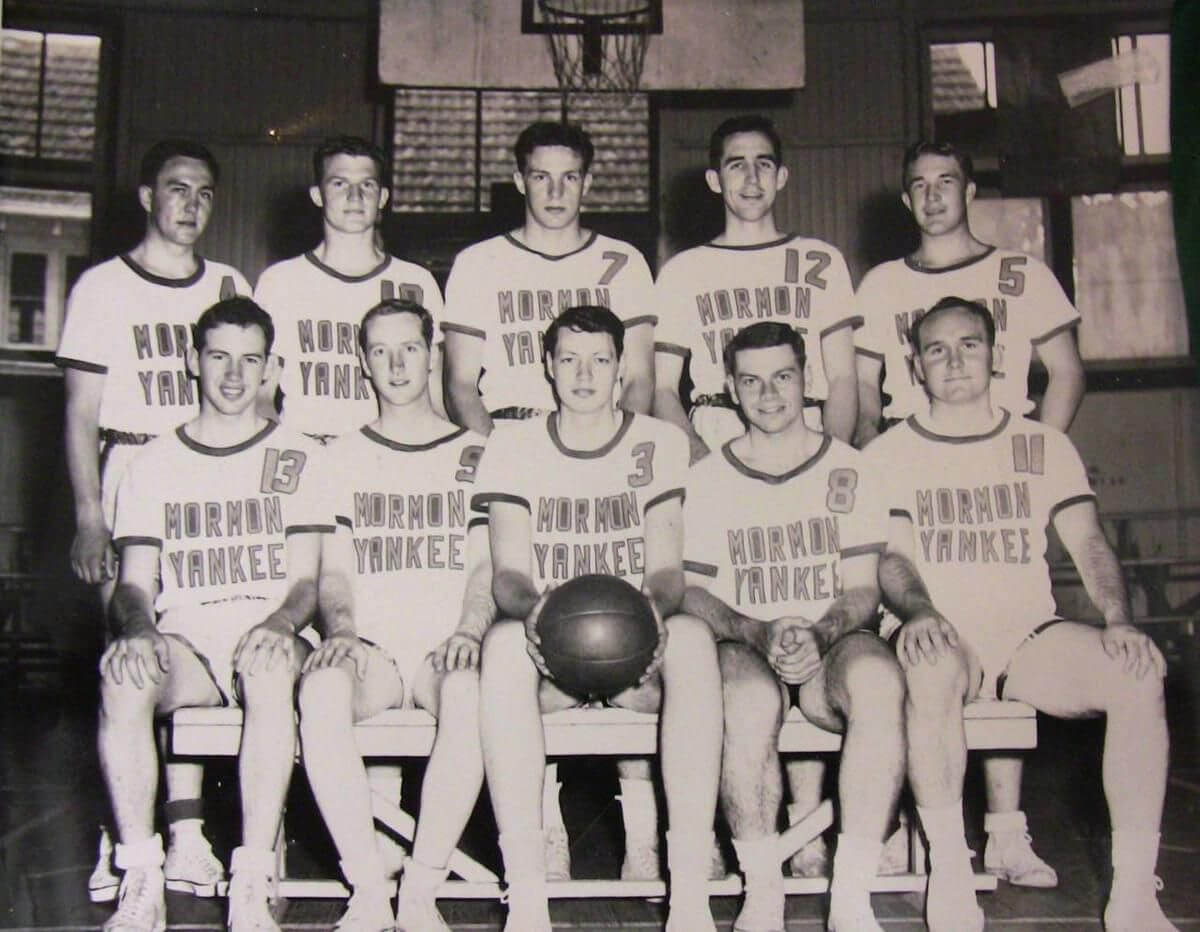 1956

Note that for some reason these jerseys says "Yankee" (singular), not "Yankees." Odd.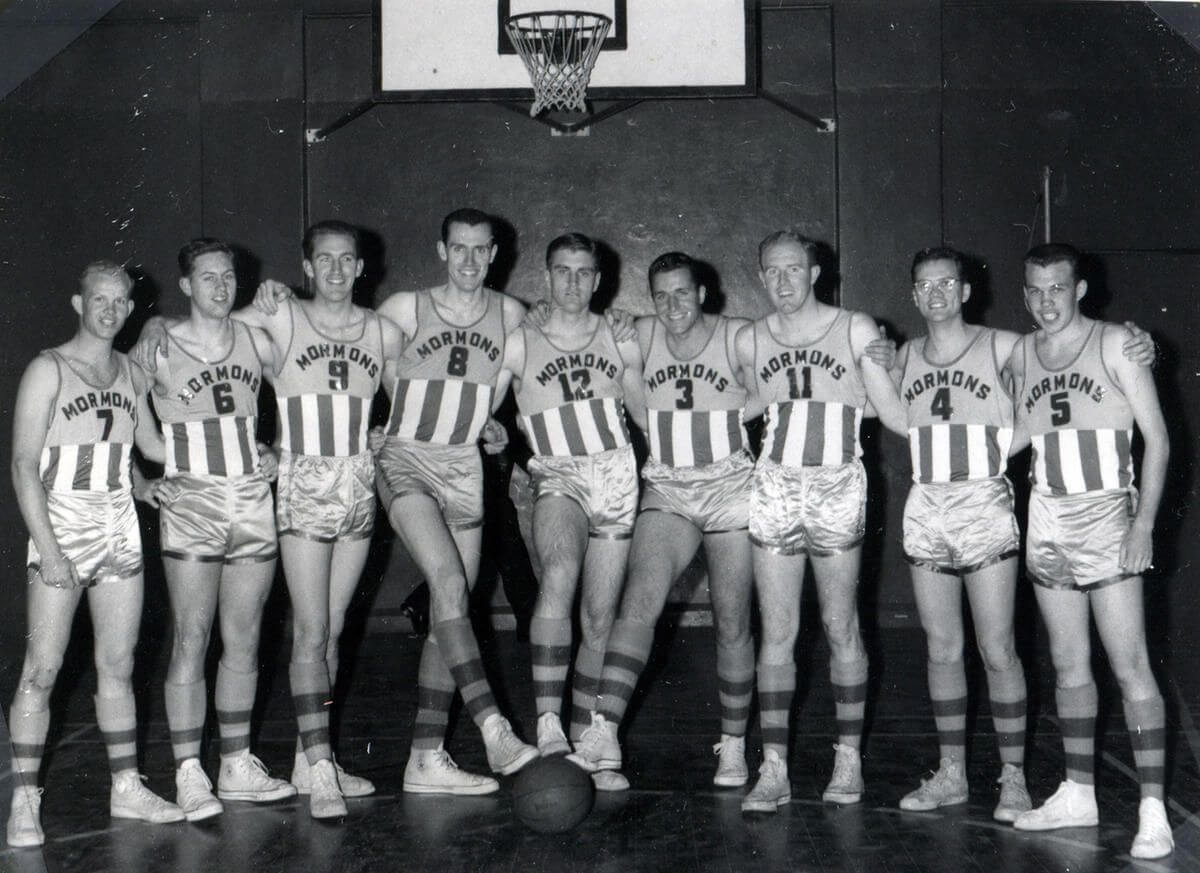 1959

This is the showstopper — what a uniform! Wish we could see it in color.
Update: Shortly after today entry was published, reader Ronnie Poore responded to my request by sending me this colorization: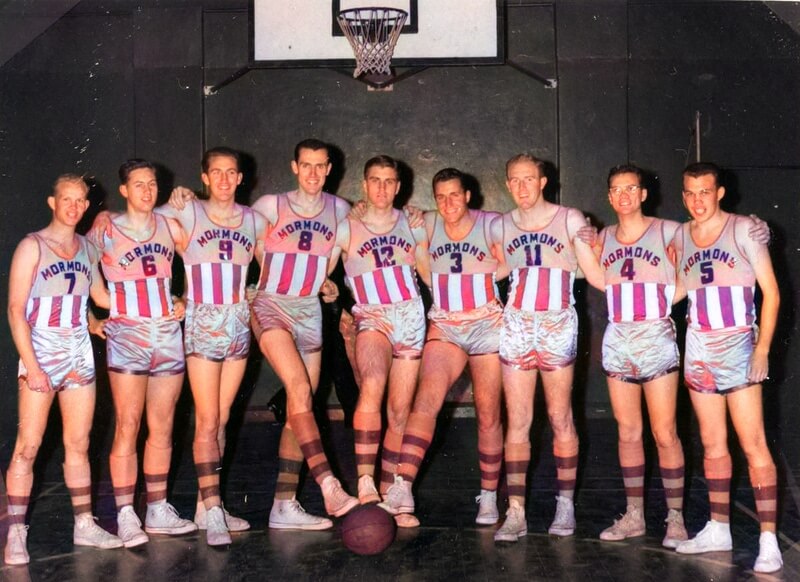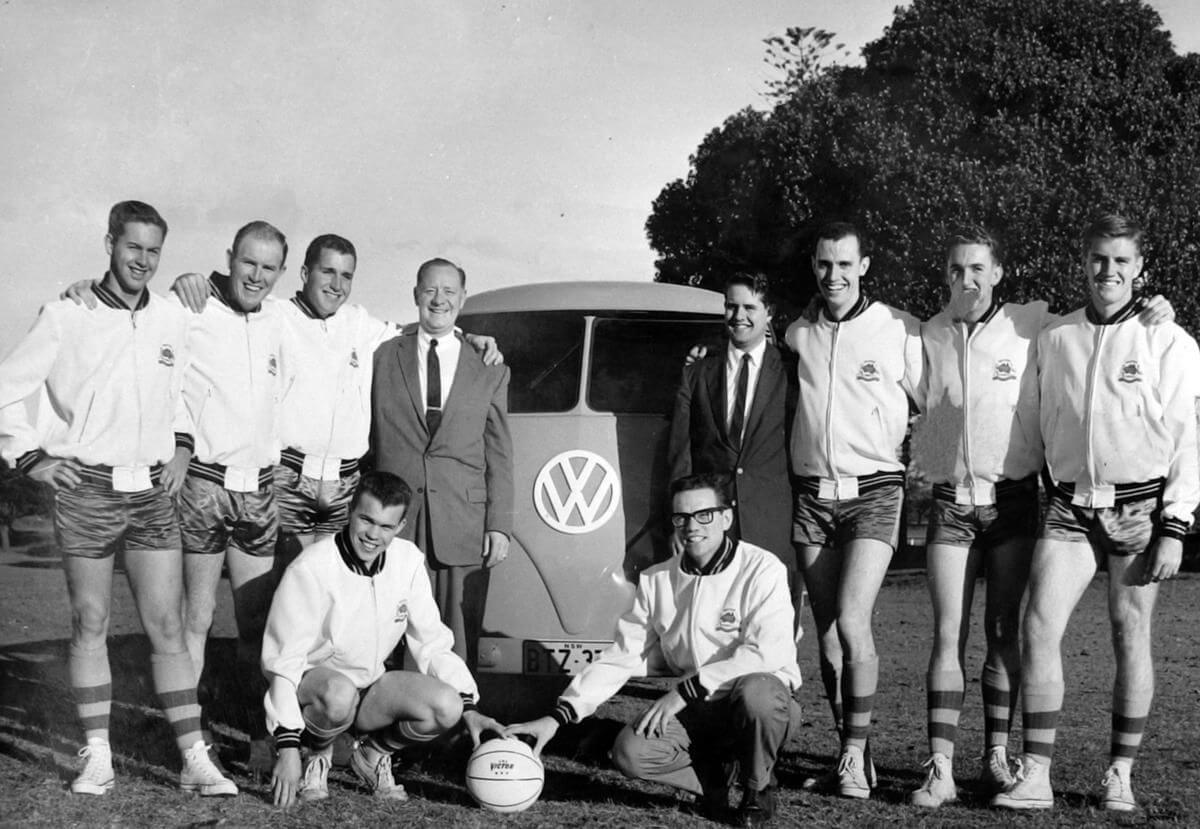 1959 (again)

The shorts in this 1959 shot are clearly different than the ones in the previous photo. Separate home and road designs, perhaps? Same socks, though.
Anyway, the kicker is that I found a 2009 photo showing some of these same players holding their warmup jackets, so we can get an idea of the colors. Interestingly (and very pleasingly), they're green and yellow — the Australian national colors: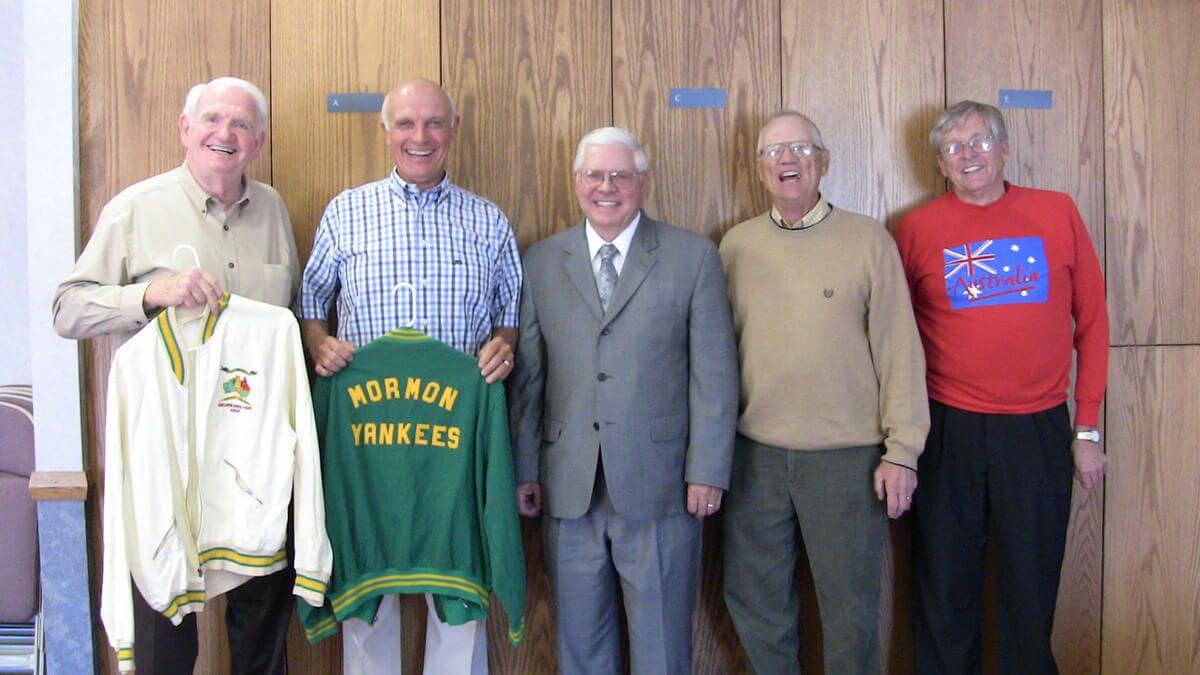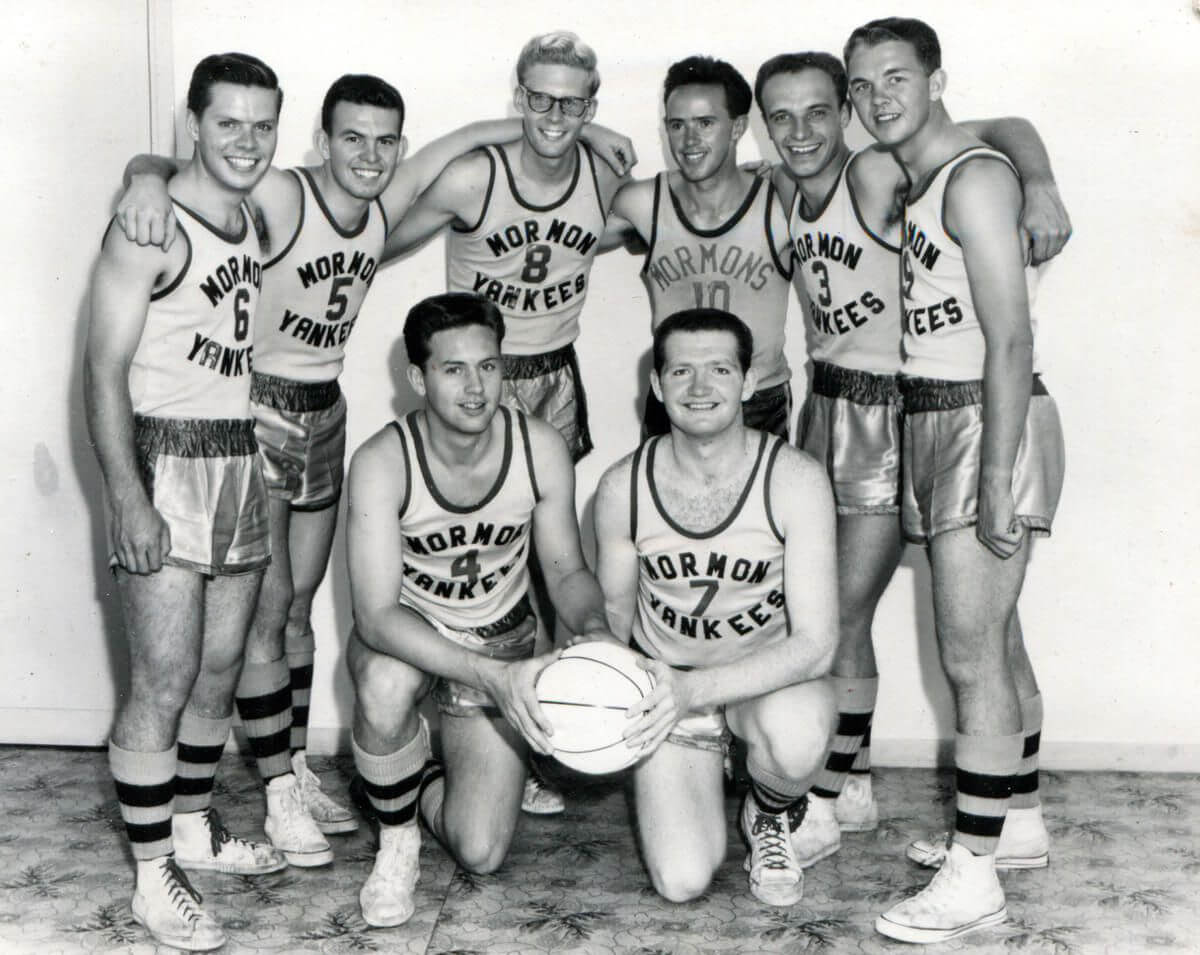 1960

I'm repeating this photo from the top of the entry just to show that they appear to have stuck with the same hoop socks. Also, note that No. 10 was stuck with a non-matching jersey! Also-also, the ball looks very light-colored, possibly even white, but maybe it's just the lighting.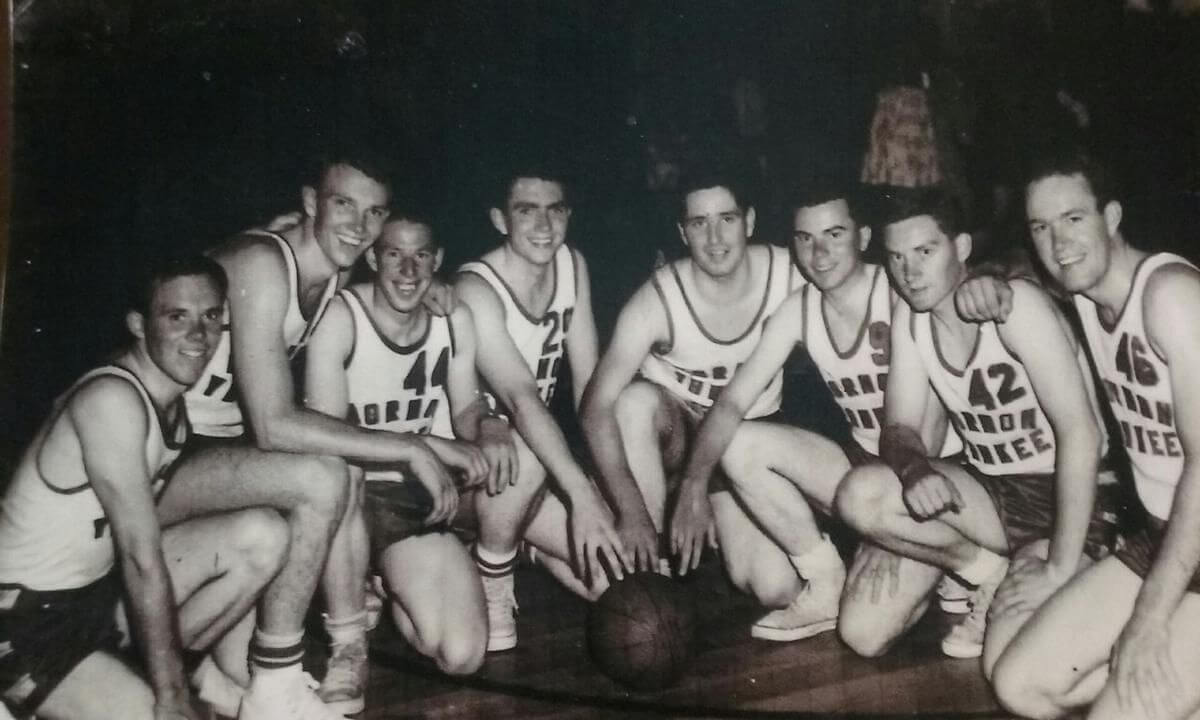 1960 (again)

Another shot purportedly from 1960, but with a different uni design than the one shown in the previous photo.
I also found an undated shot with what appears to be the dark-jersey counterpart to this design: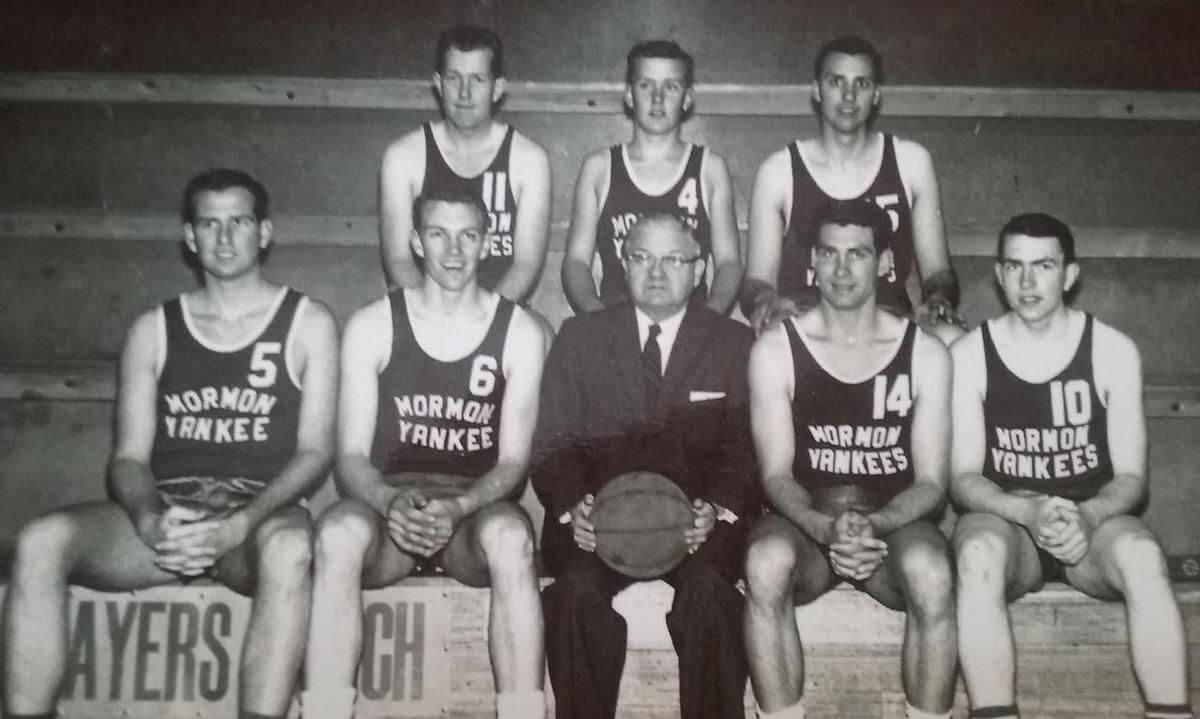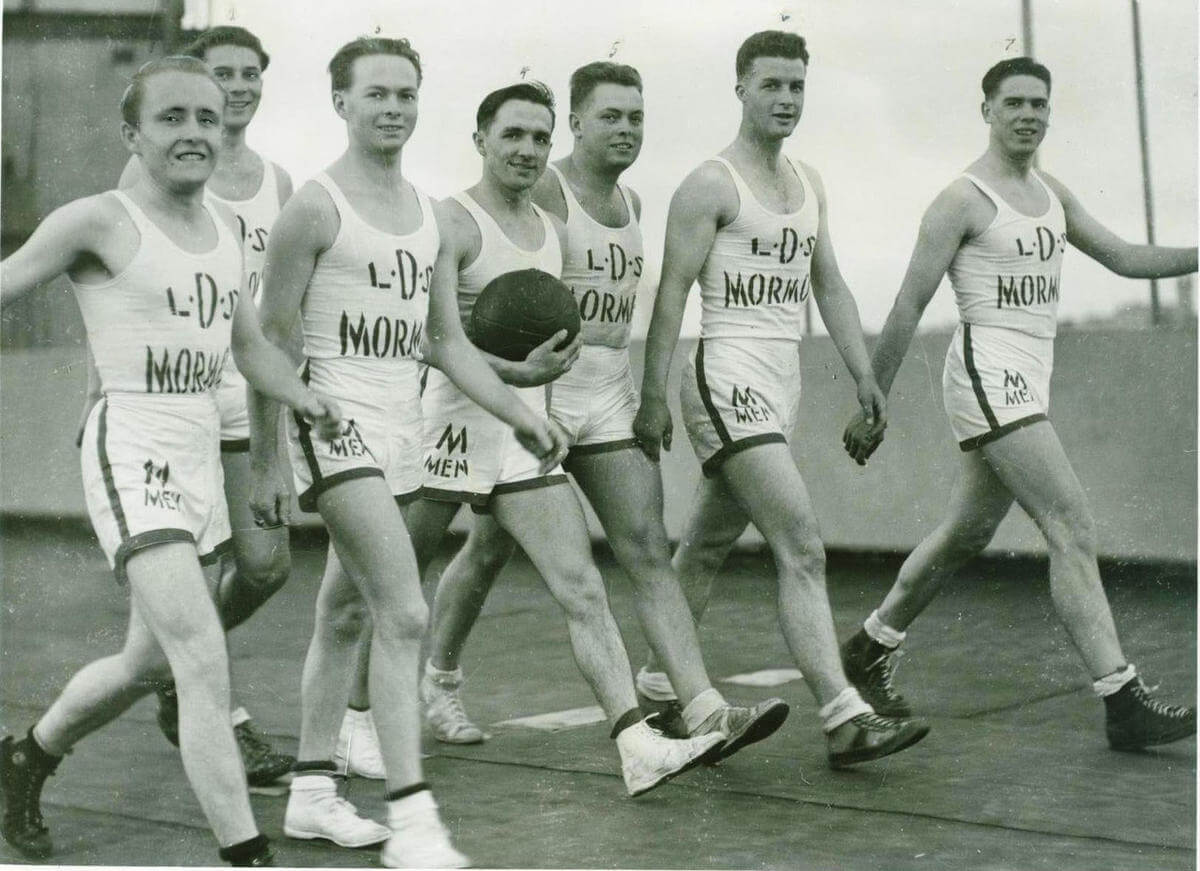 Undated

No date for this one, but everything from the hairstyles to the uni lettering suggests that it's older than any of the other photos shown in this entry. Really love the jersey design on this one.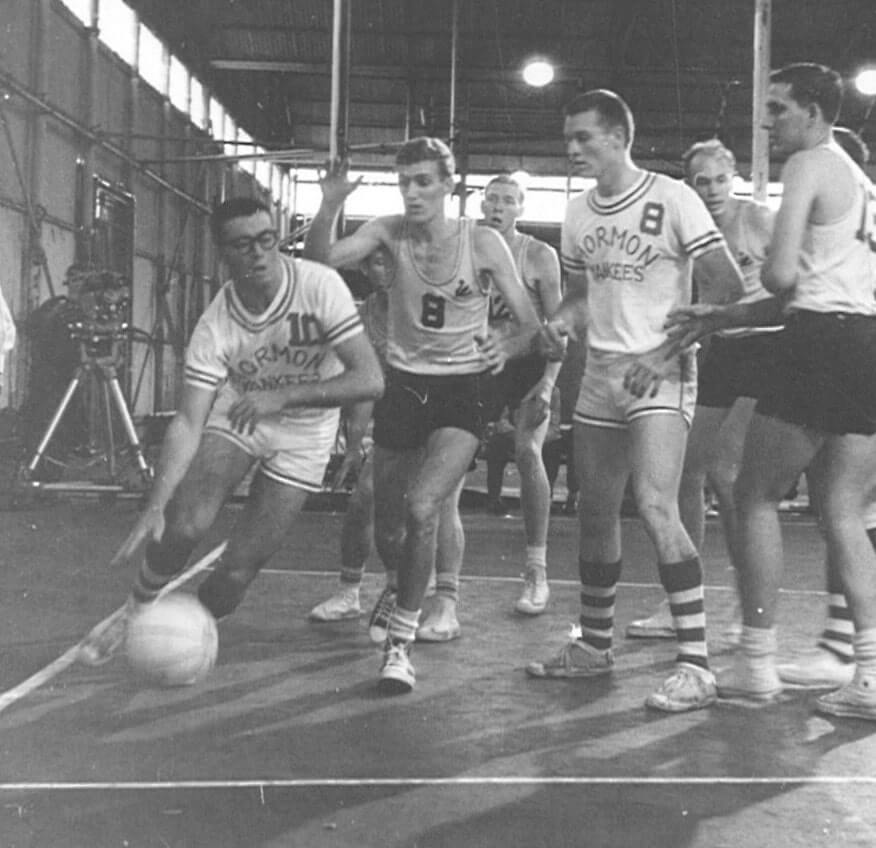 Undated (again)

This is the only action shot I was able to find. No date, but the uniforms are similar to the ones shown in the movie: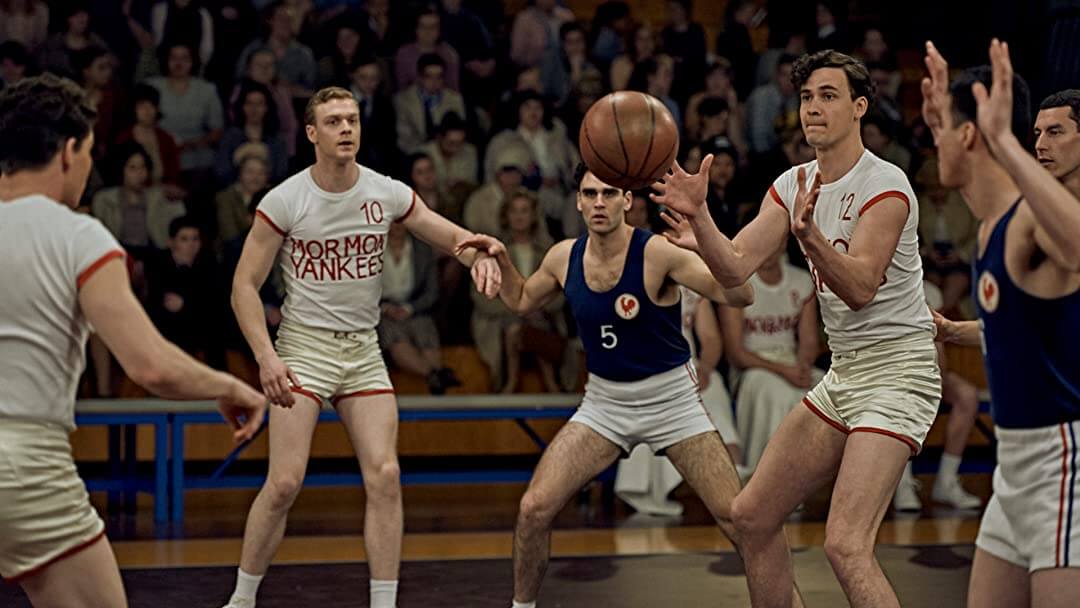 The movie is set in 1956, so maybe that's when the action shot is from.
———
Fascinating stuff — who knew? (Well, maybe some of you knew, but I didn't.) If you want to learn more about the Mormon Yankees, look here, here, here, and here. And if you want to watch the movie Spirit of the Game, it's available on Amazon Prime.
I leave you with this thought: How amazing would it be if the Utah Jazz wore Mormon Yankees throwbacks?
(Big thanks to Benji King for teaching me about this very interesting chapter in uniform history.)
• • • • •
• • • • •
Stroke job: The new video by the Strokes features the band playing baseball (against a team of robots, for some reason) while wearing black tequila sunrise-style uniforms. I don't think much of the song, but the uniforms are pretty good! Worth checking out.
(Thanks to all who shared.)
• • • • •
• • • • •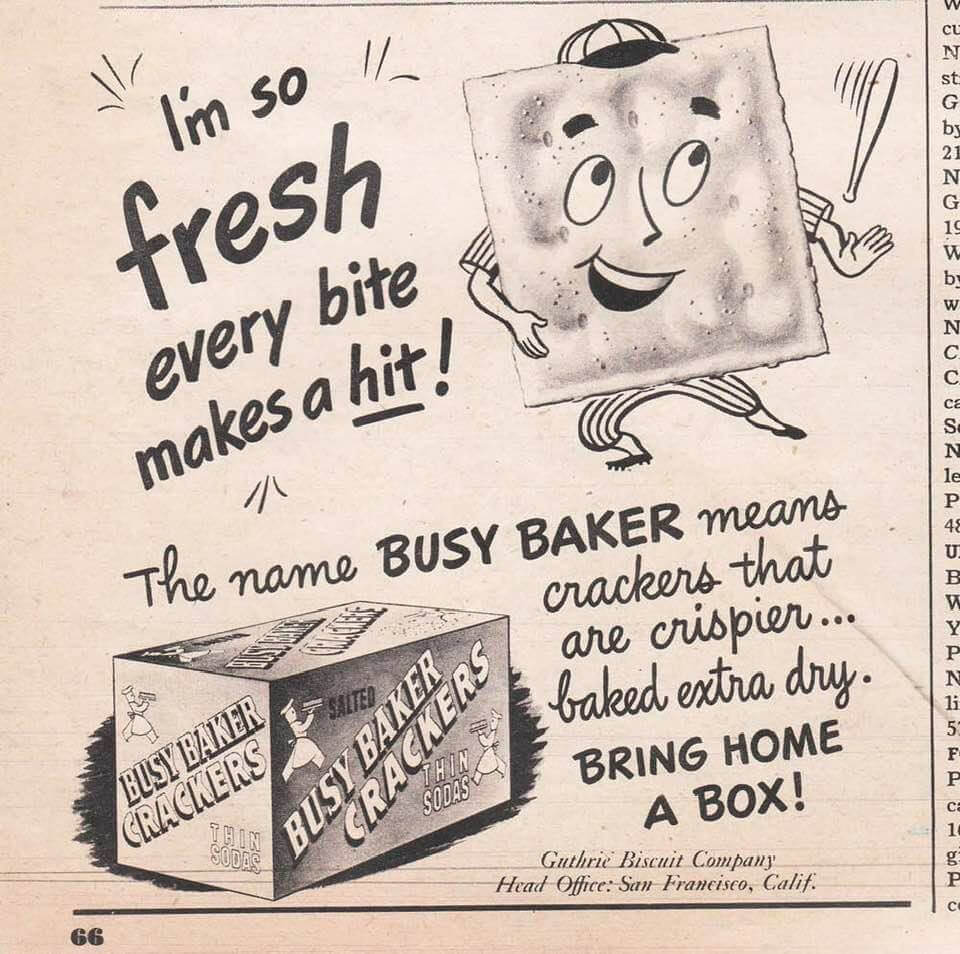 Click to enlarge
Too good for the Ticker: There used to be a minor league baseball team called the Atlanta Crackers, as well as a Negro Leagues team nonsensically called the Atlanta Black Crackers. But I bet not a single player on those teams looked as good in uniform as the cracker shown above.
(Credit one of my favorite Facebook groups, Anthropomorphic Characters in Vintage Advertising, for this one.)
• • • • •
• • • • •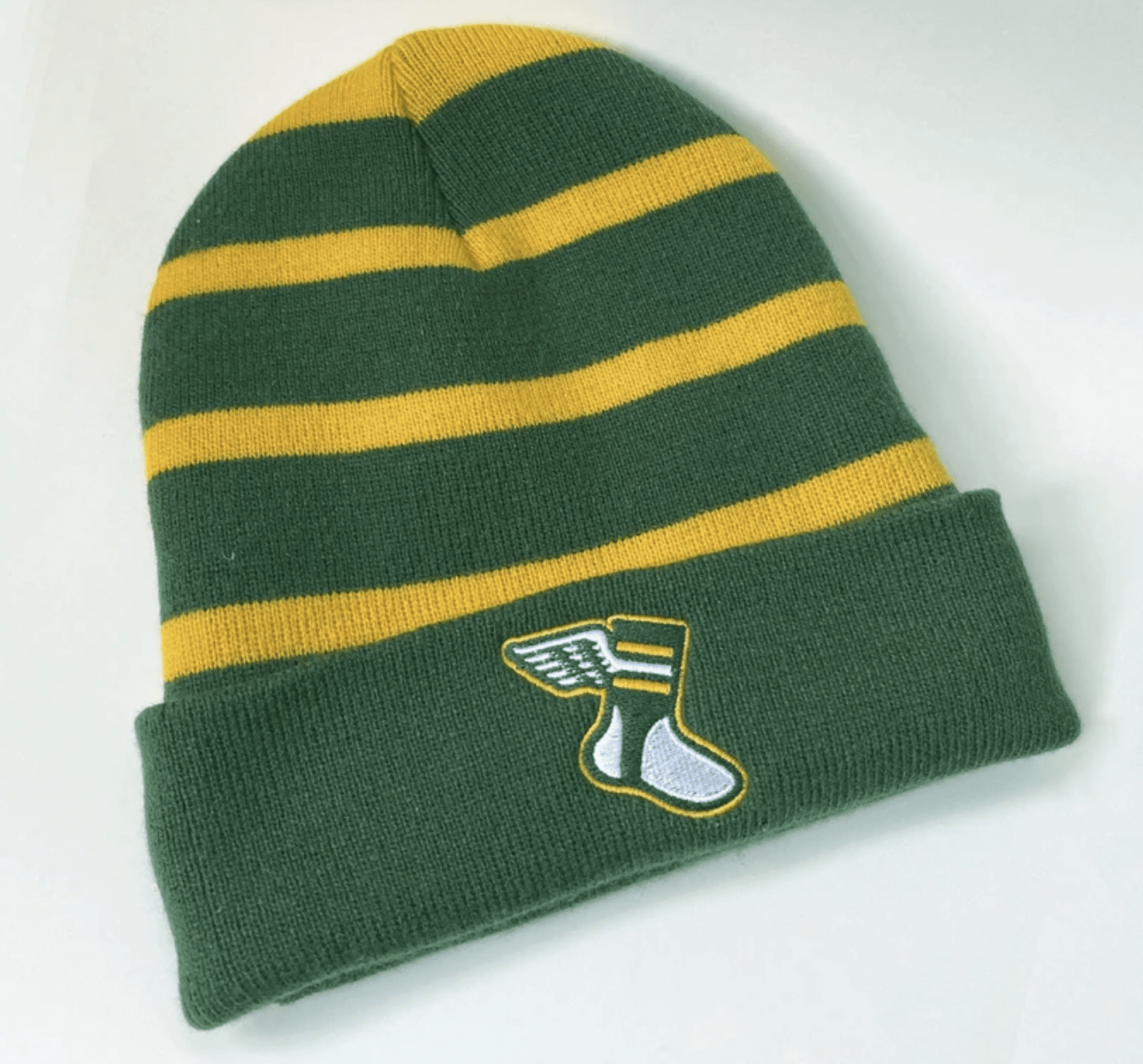 Click to enlarge
ITEM! Headwear bonanza: As you may recall, last year I toyed with the idea of Uni Watch toques, but the prototype samples didn't feel special enough, so I decided not to go ahead with the product (and ended up giving away the prototypes in last year's year-end raffle). A few days ago, though, designer Bryan Molloy — the guy who designed our winged stirrup logo — surprised me with the sample shown above. I love it! The hoop stripes totally make it work, and I prefer it without the pom pom. Chef's kiss!
This toque is available here. We'll sell it throughout the winter, but here are two important things you need to know:
1. If you want it to arrive by Christmas, you must order by this Saturday, Dec. 5.
2. Today, and only today, you can get free shipping by using the checkout code UNICAP. I'm not posting this code on social media — it's just for blog readers.
In addition, we have a bunch of new Color Remix caps available in a variety of autumn and Christmas color combos. Check these out: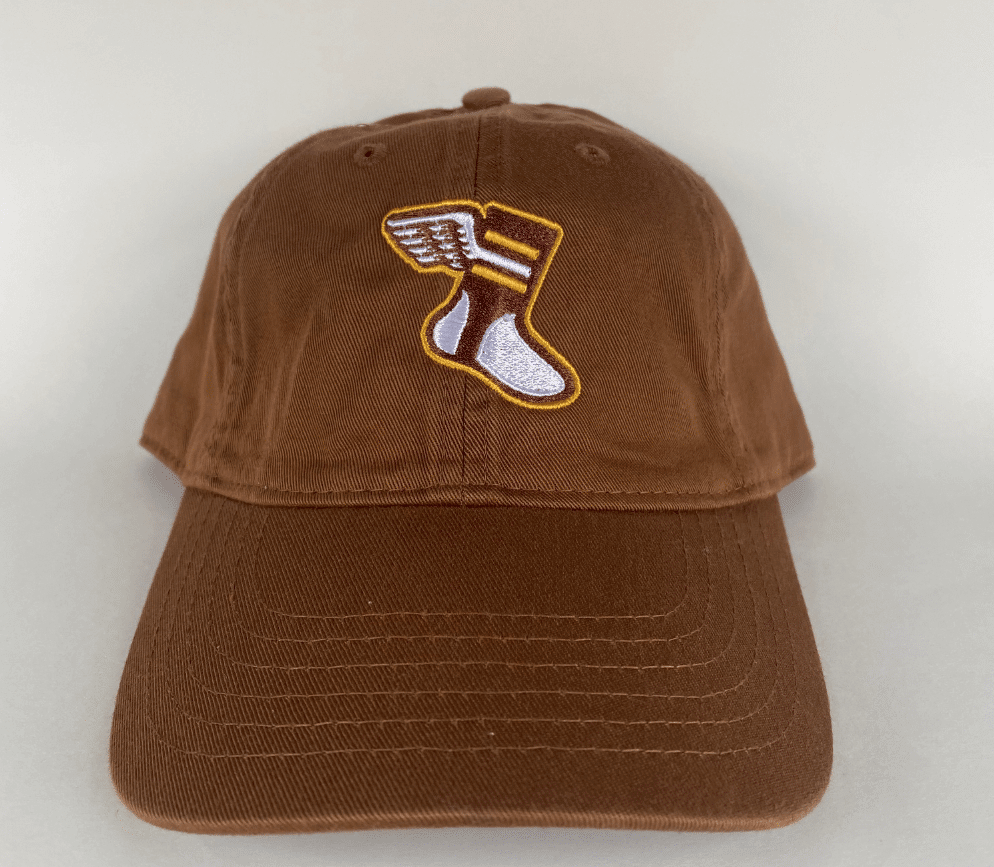 Brown/Yellow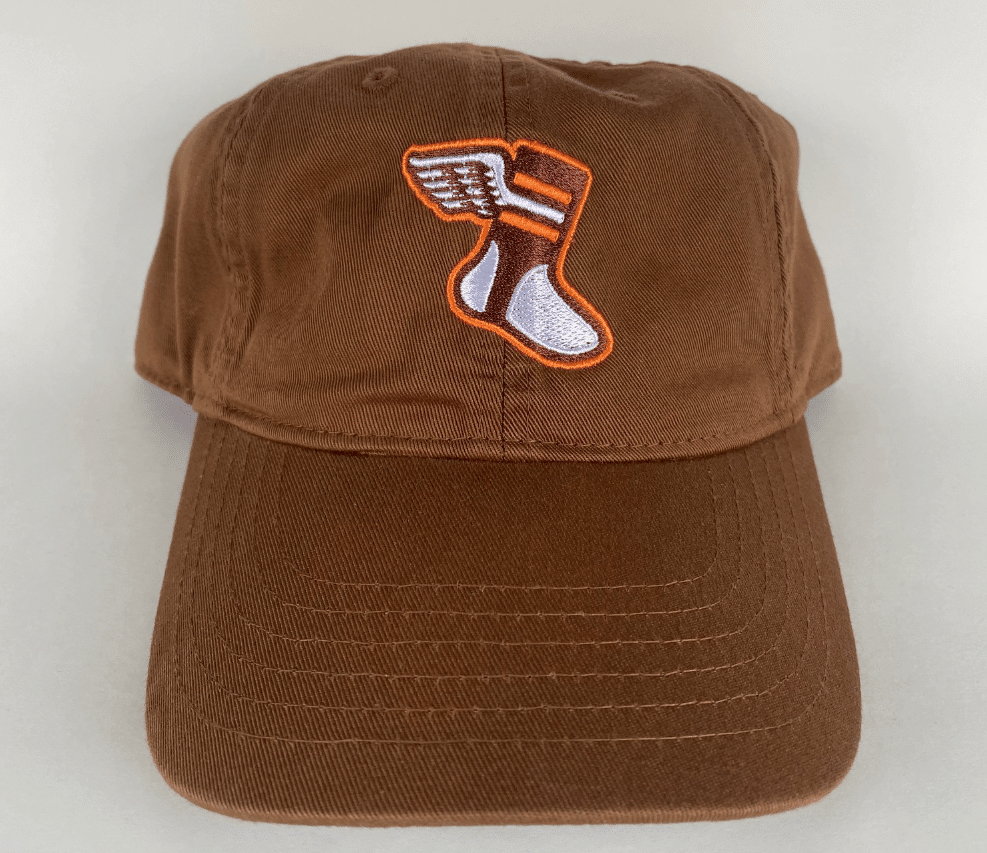 Brown/Orange

Orange/Brown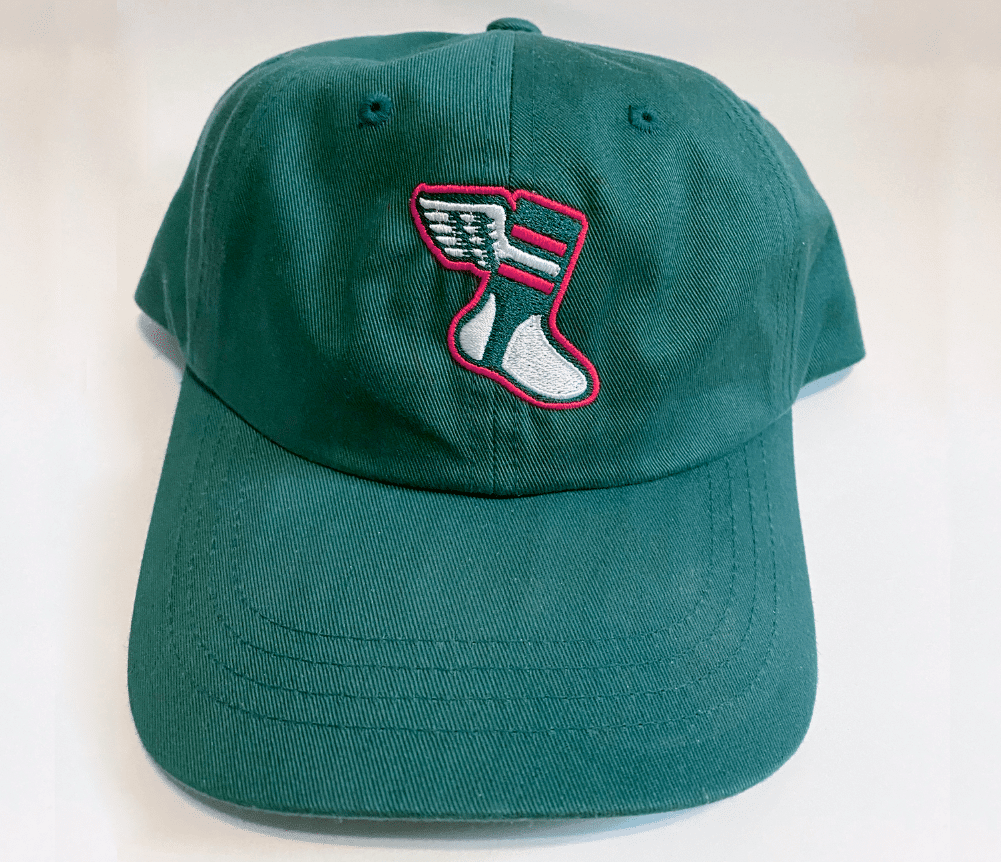 Green/Red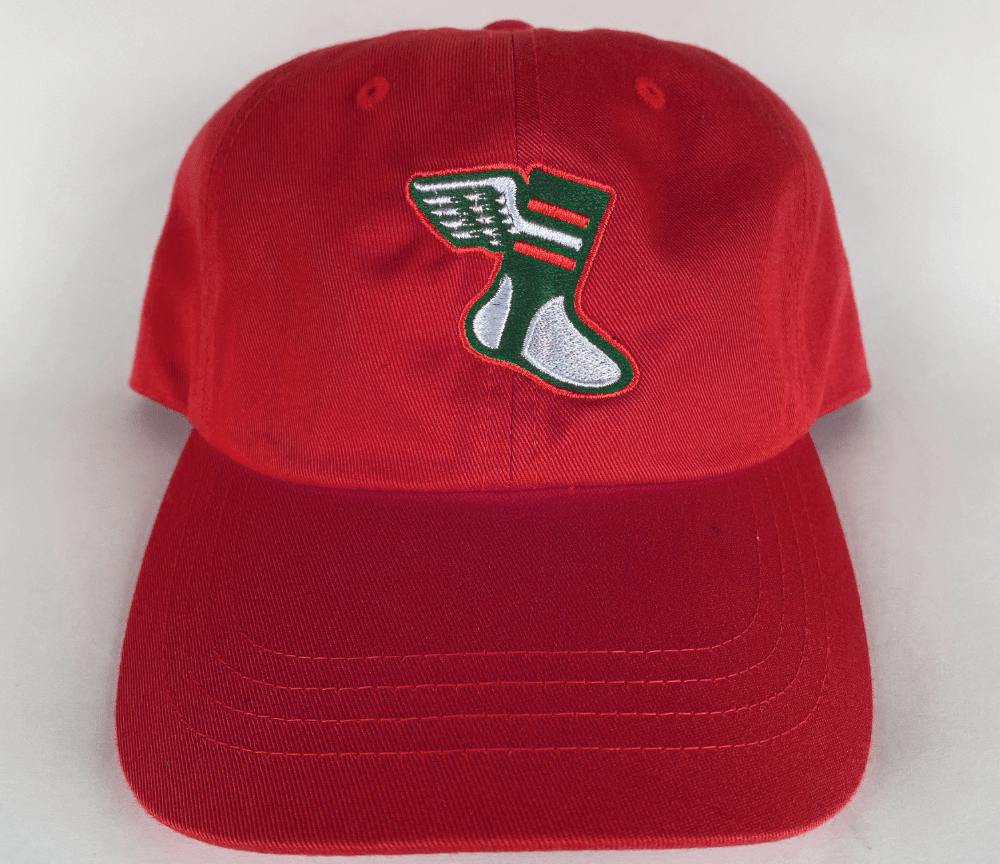 Red/Green

Plus we've brought back most of the previous Color Remix caps. All of them are available here.
Same deal as with the toque: Order by this Saturday to ensure Christmas delivery, and you can get free shipping today, and only today, by using the checkout code UNICAP.
Meanwhile: Remember that we're also taking pre-orders Uni Watch hockey and cycling jerseys.
Thanks!!
• • • • •
• • • • •
Click to enlarge
ITEM! Uni Watch magnets available again: Just got another batch of Uni Watch Winged Stirrup magnets (but none of the round ones, sorry). Perfect for sticking on your fridge, car, file cabinet, locker, or wherever.
Measurements: about 3″ x 3″. They're thin and flexible, so they'll conform to curved surfaces as well as flat ones.
I have 50 of these. Want one? Here's the deal:
1. Price: $3 plus $1 for shipping. Limit two per person. (Shipping price is the same whether you buy one magnet or two.)
2. Send me the proper amount via Venmo (use @Paul-Lukas-2 as the payee), Zelle (plukas64@gmail.com), or Google Pay (plukas64@gmail.com). If you'd rather use Apple Pay or a paper check, contact me and I'll give you the info you need. Sorry, no PayPal.
3. After sending payment, email me with your mailing address.
4. If you're outside of the USA, contact me so I can calculate the shipping charge and arrange an alternate form of payment for you.
5. If you want to combine your purchase with an order for a Uni Watch trading card, a seam ripper, a koozie, or a chain-stitched patch, please email me and I'll give you a price that includes a combined shipping fee for the whole shebang. (Sorry, these are the only Uni Watch items I can combine into one shipment, because our other items ship from separate locations, not from Uni Watch HQ.)
That's it. Thanks!
• • • • •
• • • • •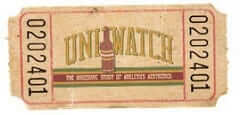 ITEM! NYT raffle: My digital subscription to The New York Times allows me to grant access to two additional people. One of those bonus subscriptions goes to the Tugboat Captain, and every six months I give the gift of journalism to a Uni Watch reader by raffling off the other bonus subscription. The last winner's six months have run out, so it's time to to raffle off another six-month term.
This will be a one-day raffle. Ideally, I'd like this to go to someone who can't afford NYT access on their own, or a teacher who'll use the account for educational purposes, although that's a preference, not a rule. To enter, send an email to the raffle in-box by 8pm Eastern tonight. One entry per person. I'll announce the winner tomorrow. Good luck!
Meanwhile, the three winners of yesterday's koozie raffle are Wes Muniz, Dustin Sullivan, and Matt Mosca. Congrats to them, and thanks to Bob Novotny for sponsoring that one.
• • • • •
• • • • •
Click to enlarge
Pin Club reminder: In case you missed it earlier this week, the Uni Watch Pin Club's design for December, featuring our winged stirrup repurposed as a holiday stocking overflowing with gifts, is now available.
This is a limited edition of 200. As of this morning, after two days of sales, there were 51 left. You know what to do.
Also, important: People who've collected all 12 monthly pins are eligible to get our Uni Watch Pin Club 2020 All-Star pin as a free bonus. If you qualify, you can claim your prize by emailing me with (a) your mailing address and (b) some combination of photographic evidence and/or receipts. For example, if you order the December pin today, you could send me a photo of the 11 pins you've already received plus your email from Teespring confirming that you ordered the December pin. Or you could wait until the December pin arrives and take a photo of all 12 pins. Or you can simply go to "My Purchases" in your Teespring account and take a screen shot of that. As long as you can prove that you collected 'em all, that's what I'm looking for. Thanks!
Also: If you want a 2020 Press Pin, there are now just five remaining.
• • • • •
• • • • •
The Ticker
By Paul

'Skins Watch: Thousands of students and alumni at Shawnee Mission North High School in Kansas have signed a petition calling on the school to stop calling its teams the Indians (from Kary Klismet). … MLB's Atlanta Braves are apparently launching a new merch line featuring the language of the Eastern Band of the Cherokee Indians (from Travis Highfield). … Bountiful High School in Utah will no longer call its teams the Braves (from Christopher Jones). … The CFL's Edmonton Football Team, formerly the Eskimos, has released a list of 10 most popular fan submissions for the team's new name, all of which start with the letter E. "The team has ruled out using 'Empire,' although it made the top 10," says Wade Heidt (who's on record as rooting for "Elks"). … Here's a weird one: While other teams are moving away from using Native imagery, the SPHL's Knoxville Ice Bears will wear Knoxville Cherokees throwbacks for Thursday home games this season. The Cherokees were an ECHL team that played from 1988-1997 (from Taylor Crabtree).

Working Class Wannabes™: An article about Indiana offensive lineman Luke Haggard says he has a "blue-collar approach." … An article about NHL uniforms says the Islanders "are more of a blue collar team anyway, so it feels fitting that their jerseys aren't overly fancy" (from Phil and @labflyer). … A high school football coach in Oklahoma says one of his team's opponents "is a tough, blue-collar team." … New York Giants defensive back Logan Ryan says, "I'm proud of this blue-collar chip on our shoulder that we have." … An article about Philadelphia Eagles center Jason Kelce says, "Kelce, with his long hair, long beard and flannel shirts, looks like a lumberjack and he fits the image of a tough, blue-collar lineman." … An article about a new writer for Prep Baseball report says that he "prides himself on consistency, dedication and a blue collar work ethic." … An article about Virginia Tech basketball coach Mike Young says that "there's nothing more Hokie than a guy that wants to get the hell home and celebrate a blue collar win with a cold beer." … Tennessee associate basketball coach Mike Schwartz says one of his new players brings "extreme blue-collar toughness" to the team. … An article about last weekend's U. of Georgia football game says running back Zamir White gave "another blue-collar effort." … An article about the Nebraska football team says, "If the last couple of days have taught us anything, it is that the blue-collar players may be a better option for the program in terms of recruiting direction."

Baseball News: Yesterday I mentioned a paywalled Sports Business Journal article that talked about MLB's continuing exploration of uniform ads, but I couldn't link to the article. Now I can, and I definitely recommend reading it. As I suspected, it suggests that MLB uni ads are unlikely to happen in 2021, but 2022 is a real possibility (big thanks to Scott Musa and John Gogarty). … Here are the inaugural logos for the Columbus (Ga.) Chatt-a-Hoots, a college wood-bat team that will begin play in the Sunbelt League this summer (from Jack Patterson). … Free agent P Sean Gilmartin, uni-notable for his excellent stirrup stylings with the Mets, Orioles, and Rays, now has a new sartorial distinction: He refused to wear a mask yesterday, despite a rule requiring him to do so, during a news conference held by his wife, White House press secretary Kayleigh McEnany. … If you have a spare 20 grand burning a hole in your pocket, there's a genuine 1990s Brewers racing sausage costume looking for a taker (from @kreeke39).

NFL News: The Bills are apparently going with white facemasks, instead of their usual grey, for Monday night's game against the 49ers (from Steve Schiefer). … Here's former NFL QB Kurt Warner talking about his Iowa Barnstormers uniform from his old arena football days (from K.C. Kless). … The Steelers finally wore their mono-black alternates yesterday against the Ravens. The game was originally scheduled for Thanksgiving but was then moved to Sunday Tuesday yesterday due to the Ravens' Covid outbreak. … The Titans will go mono-blue this Sunday (from Trevor Williams, who also notes that "Code Blue" indicates an emergency within a hospital — maybe not the best wording to promote a uni combo, especially in 2020).

College Football News: UNC punter Ben Kiernan, who's from Ireland, wore "Comhionnanas" — that's Irish for "Equality" — as his NOB last weekend (from James Gilbert). … Also from James: Here's a video of UNC coach Mack Brown talking about how the team's uni combos and nameplate messages are chosen. … Here's a deep dive on the development of SMU's "Unity" social justice patch (from Kary Klismet). … Blackout uni this weekend for Iowa State (from Chad Lehman).

Hockey News: The NWHL has a commemorative logo for next season, which is being played in a bubble at Lake Placid (thanks, Jamie). … The Wild's Twitter account posted a wallpaper design featuring a new team wordmark yesterday. Remains to be seen how else, if at all, it will be used (from Nas Leafeon). … Here's a 1994 video clip that shows some uniform and logo concepts that the Sabres were considering for their then-upcoming move to their new arena (from Mike Monaghan).

NBA News: The Rockets' incredibly boring City alternate, which leaked a few days ago, has now been officially unveiled. … Lots more NBA uni number news on Ettienne Catalan's Twitter feed.

College and High School Hoops News: New uniforms for the girls' team at Mitchell High in North Carolina (from Kary Klismet). … Also from Kary: New Mexico State unveiled their championship rings for winning last season's WAC championship. … New home whites for Oregon (from Jakob Fox).

Soccer News: Diego Maradona's son would like all the teams that his late father played for to retire his number (thanks, Anthony). … Here's an old Adidas kit catalog, in Spanish, promoting their 1994 World Cup teams (from Germán Cabrejo). … Renderings have been unveiled of the winning design for a new 63,000-seat soccer stadium in Dalian, China, that will host matches for the 2023 Asian Cup tournament, and also for the new stadium for St. Louis's MLS expansion franchise (both from Kary Klismet).

Grab Bag: A native of Albany, N.Y., has proposed a new flag for the city, citing the current flag's association with Dutch slave-trading, white supremacist groups, and generally bad design (from Joe Makowiec). … A Japanese man was arrested for stealing a high school girl's uniform from her locker room. … New logo for German car maker Opel. … Tennis pro Roger Federer has reacquired his "RF" logo for use by Uniqlo (thanks, Brinke). … The Jamaican Ministry of Culture is holding a logo-design contest to commemorate the 60th anniversary of the nation's independence. … The Scottish netball team and the Strathclyde Sirens, the Scottish franchise in the UK's Netball Superleague, are now being outfitted by Nike (thanks, Jamie). … New logo for the Women's Tennis Association (from Kary Klismet). … New package designs for Pringles, with mascot Mr. Pringle also getting a "new range of emotions" (from Timmy Donahue). … The navy in India is getting new camouflage uniforms. … Taiwan has introduced a new logo to inform customers if restaurants and other businesses are using domestically produced pork, and the logo is so good! Additional info here.
• • • • •
• • • • •