The 2020 year-end holiday season, like everything else this year, is probably going to be unlike anything we've experienced before. Despite that — or maybe because of it — people tell me that they still want to send gifts to their loved ones.
With that in mind, all year long I've been dutifully bookmarking items for my annual Uni Watch Holiday Gift Guide. Here are the best and most interesting items I've found, any of which would be good for that uni-obsessed person on your gift list — or just for yourself (for almost all of the images, you can click to enlarge):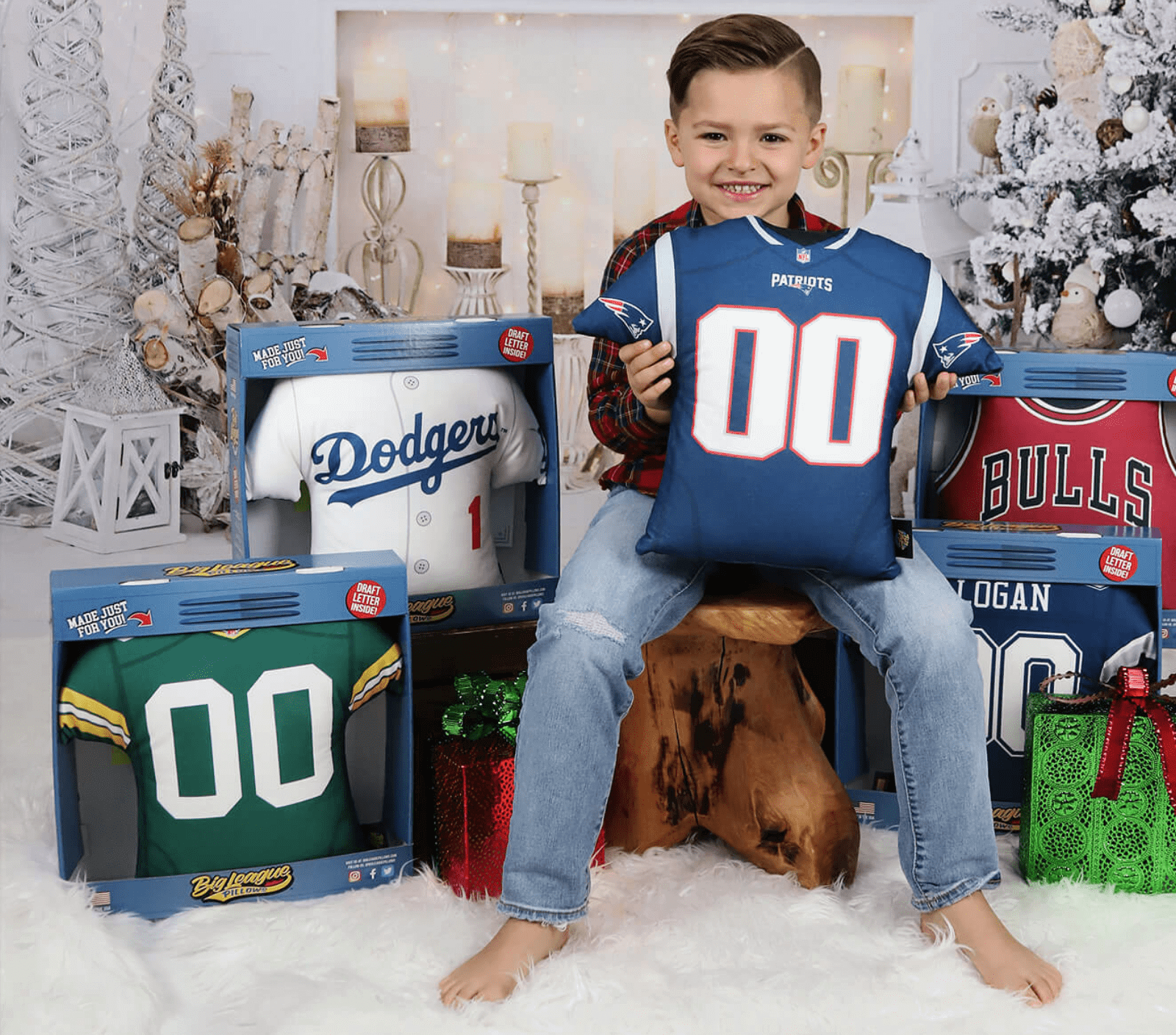 Sports Jersey Pillows

Why sleep with something special under your pillow when the special thing can be your pillow? Very cool concept, and customizable with your choice of number and NOB to boot! Available here.
---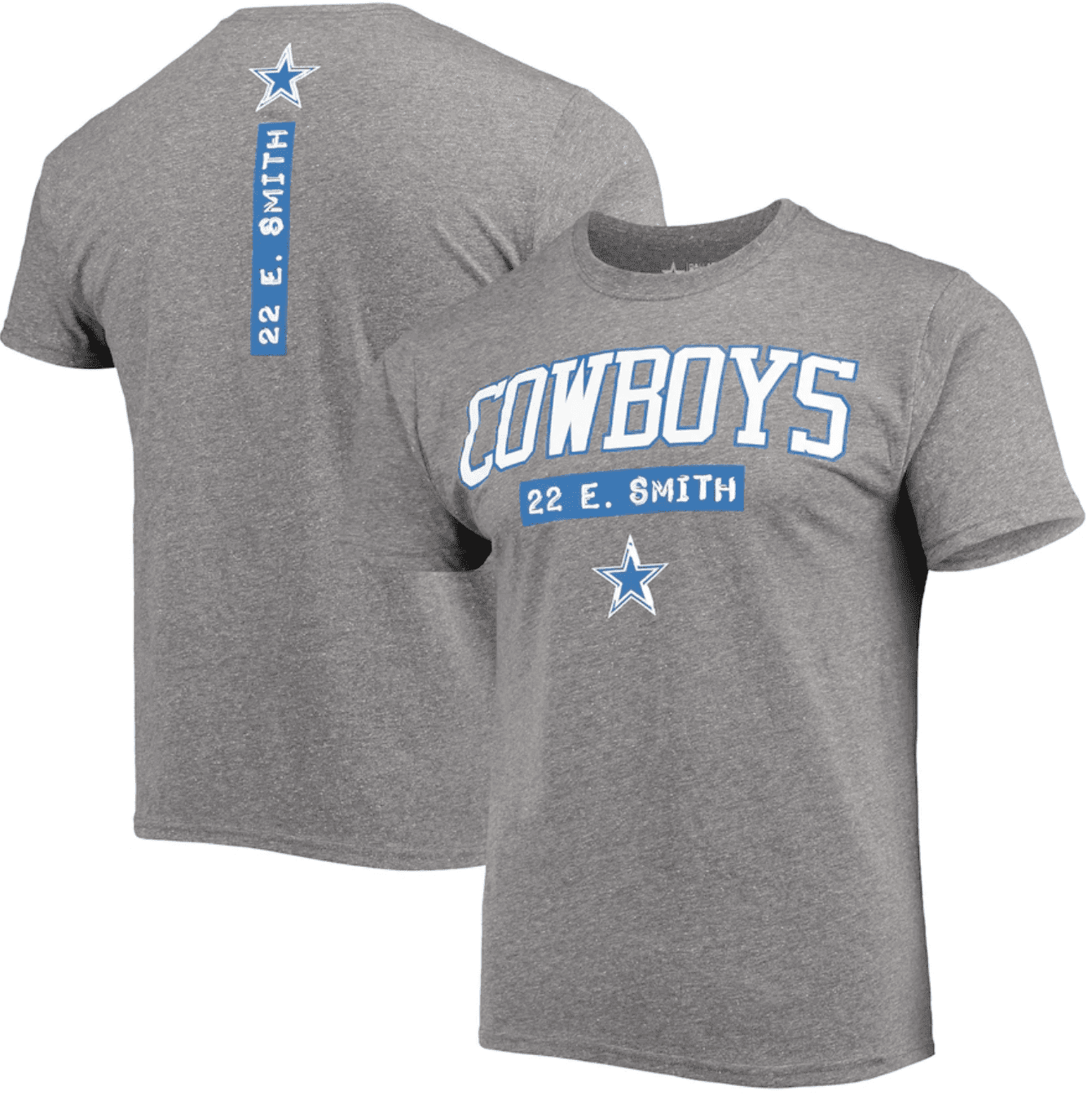 Cowboys Dymo Tape T-Shirts

I've hated the Dallas Cowboys for half a century now. But I love their longstanding use of Dymo Tape labels on the back of their helmets, so I can totally get behind this Dymo-themed line of tees. In an era when so many team T-shirts are just cookie-cutter templated slop, it's great to see something so team-specific. Available here.
---
Tequila Sunrise Golf Head Cover

Ah, the classic tequila sunrise design — is there anything it can't do? Apparently not, judging by this golf head cover. I don't even play golf myself, but I might have to rethink that now! Available here. (And the same company that sells this also sells a line of NHL-themed head covers.)
---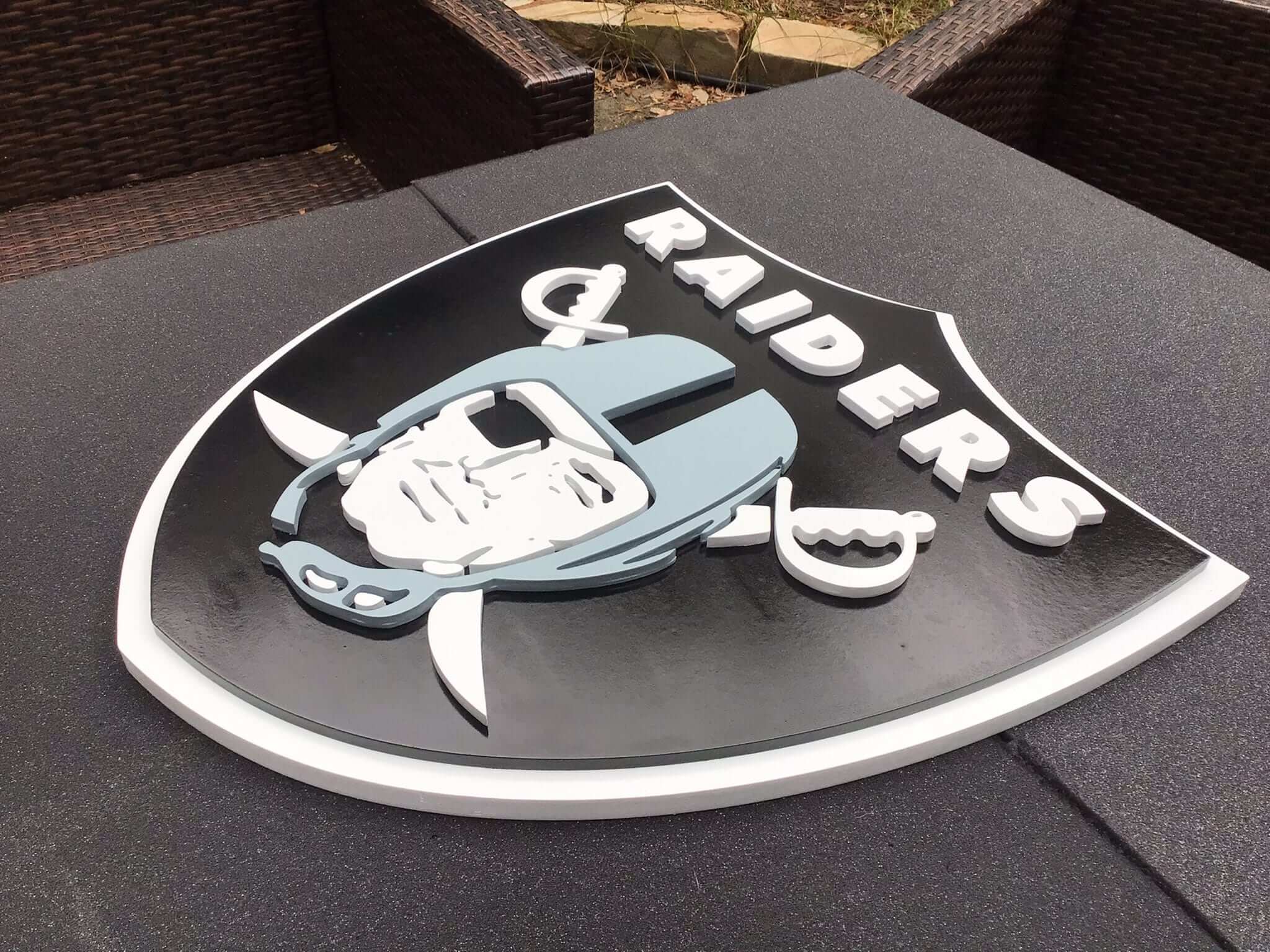 3D Team Logos by Kevin Cearfoss

Kevin Cearfoss's custom-made 3D team logos were featured on Uni Watch back in July. He can do pretty much any logo (including the winged stirrup!). To discuss possibilities with him, check him out on Twitter or Instagram and shoot him a DM.
---
Goalie Blocker-Style Key Rings

The great Wafflebored tipped me off to this one (of course). If you're a fan of the old-style waffleboard blockers, you can't go wrong with these key rings — brilliant idea, excellent execution. Available here.
---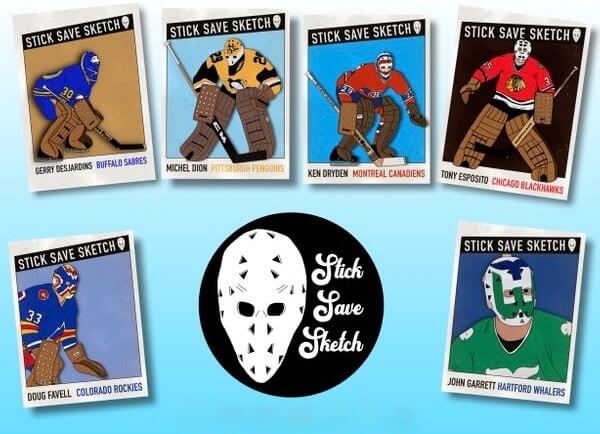 Hockey Goalie Cards by Stick Save Sketch

Speaking of hockey goaltenders, Canadian artist Jason Raso, operating under the name Stick Save Sketch, has created a bunch of very cool 5″ x 7″ NHL goalie trading cards, plus he also sells his original goalie artwork. Available here.
---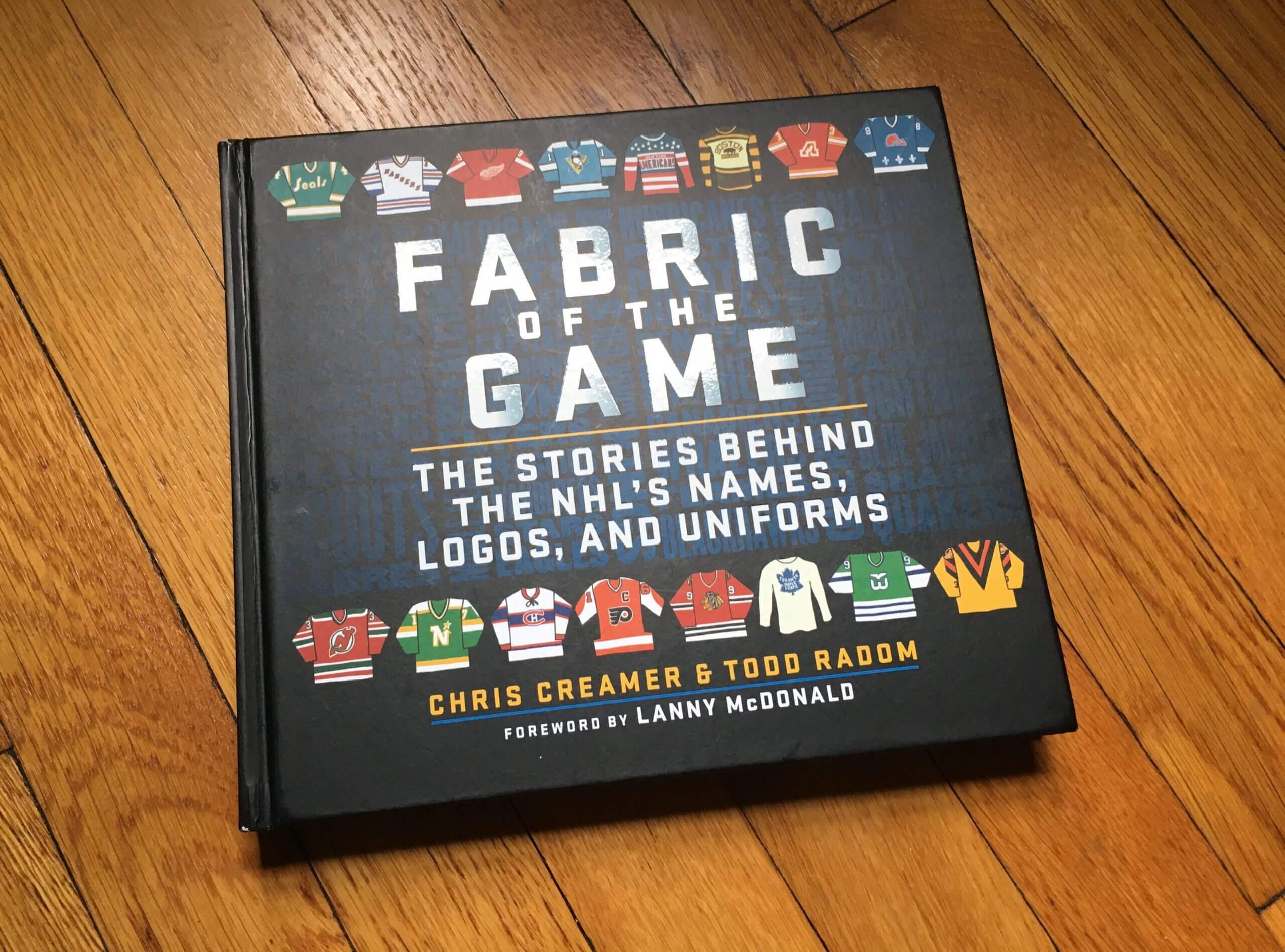 Fabric of the Game, by Todd Radom & Chris Creamer

As I've already already said, Todd Radom and Chris Creamer's new tome about the history of NHL team names and uniforms is the essential uni-related book of the season. Not to be missed! Available here.
---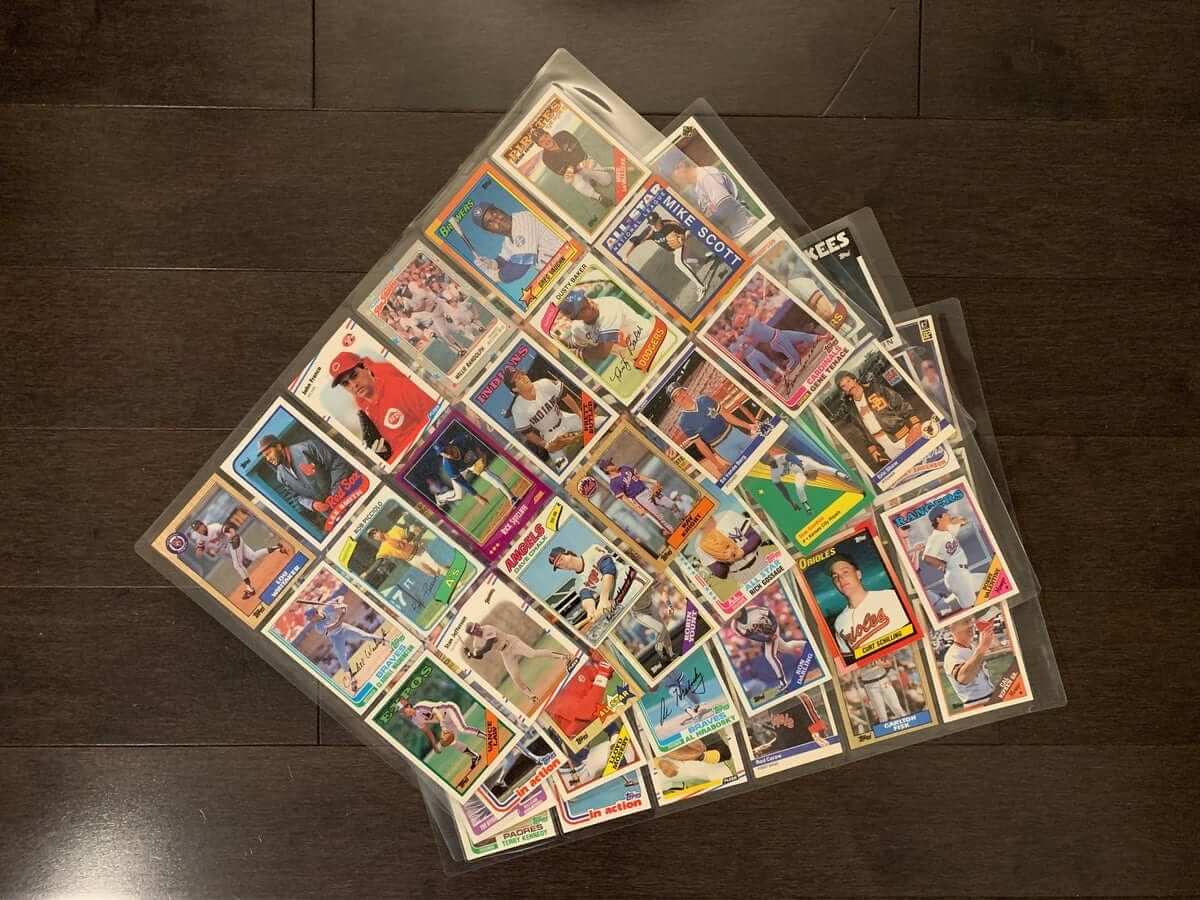 Baseball Card Placemats

Now you can have your cards and eat off of them too! Enjoy the photos on the front or the stats on the back. Available here.
---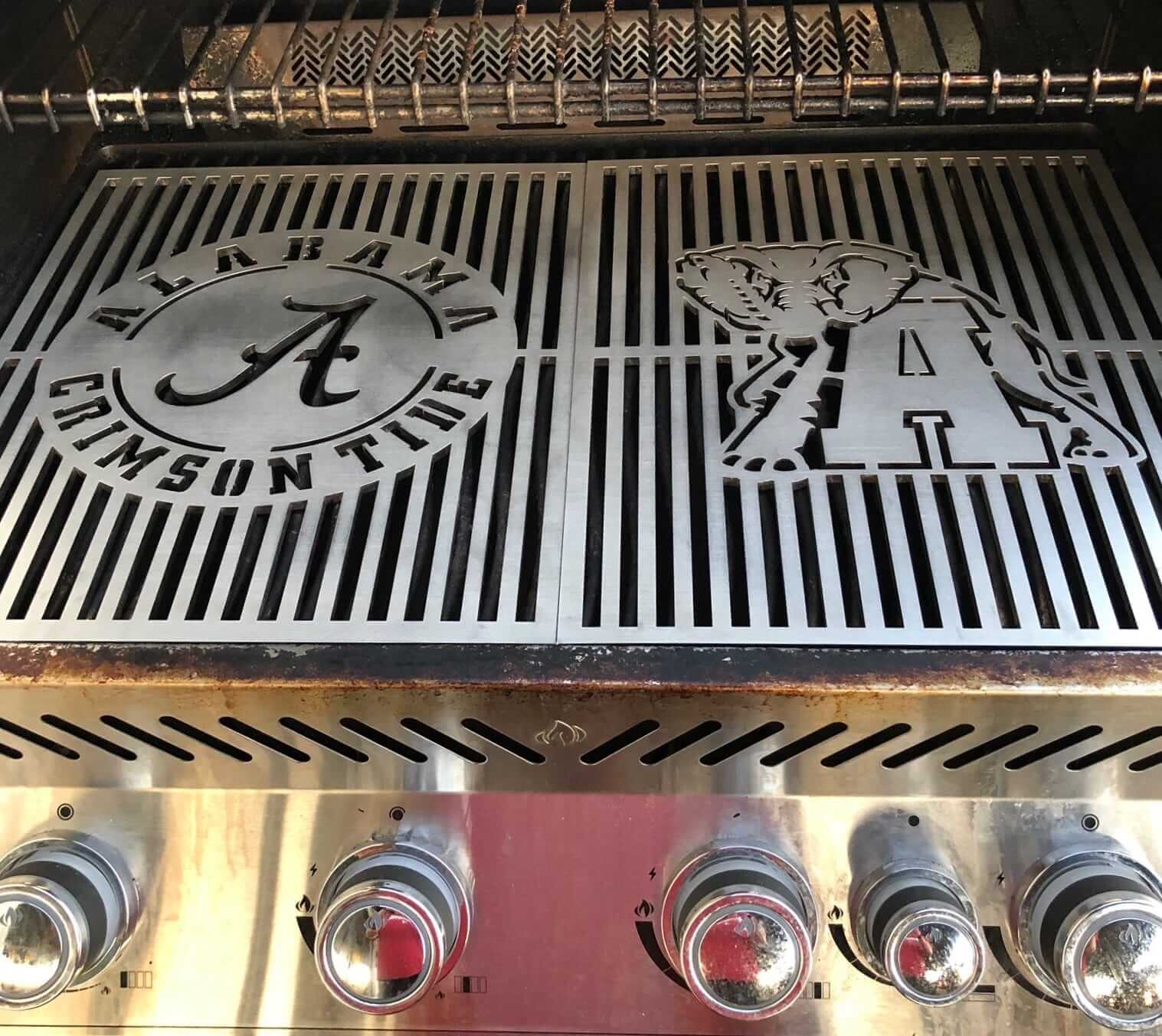 College Football Logo Grill Racks

Want to sear your favorite school's logo into your steak? That's pretty fucking weird Well now you can! Thirteen schools available, each in a variety of sizes and configurations. Available here.
---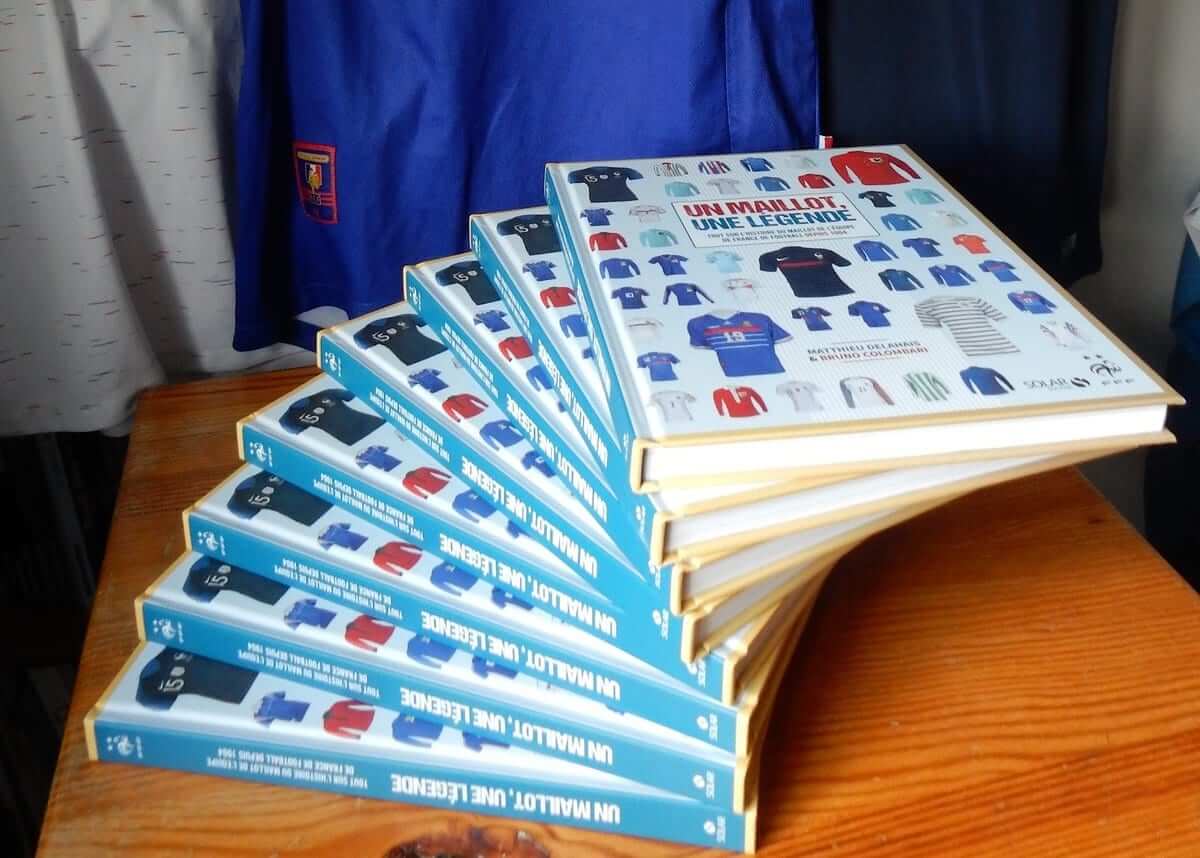 Un Maillot, Une Légende, by Matthieu Delahais

Okay, so I don't speak or read French. But if you do, and if you're interested in the history of the French national team's blue jersey, I'm told that this book delivers the goods. Additional info here, and the book is available here.
---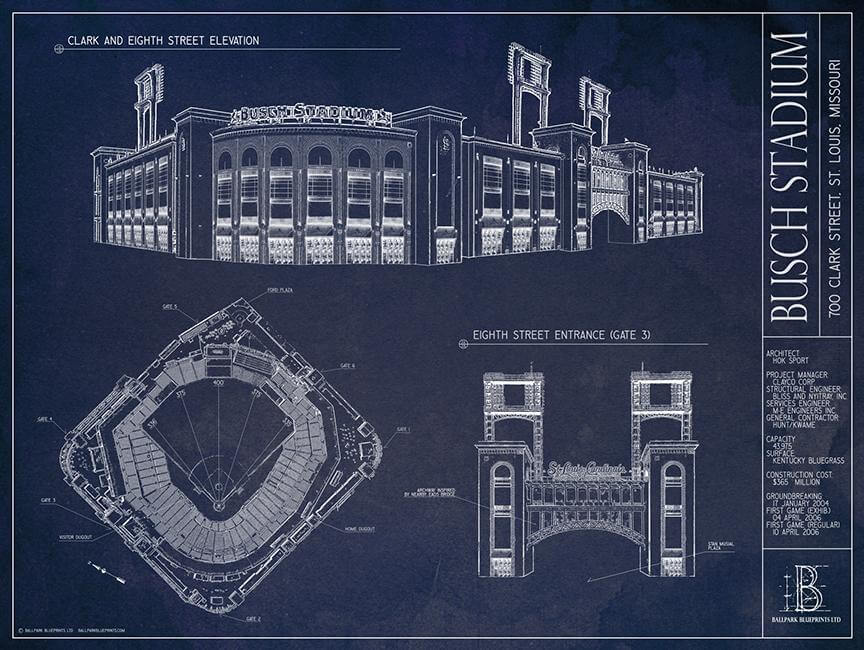 Stadium and Arena Blueprints

If you're an architecture buff, these blueprints of notable sports facilities should be right up your alley. Golf courses, too! Available here.
---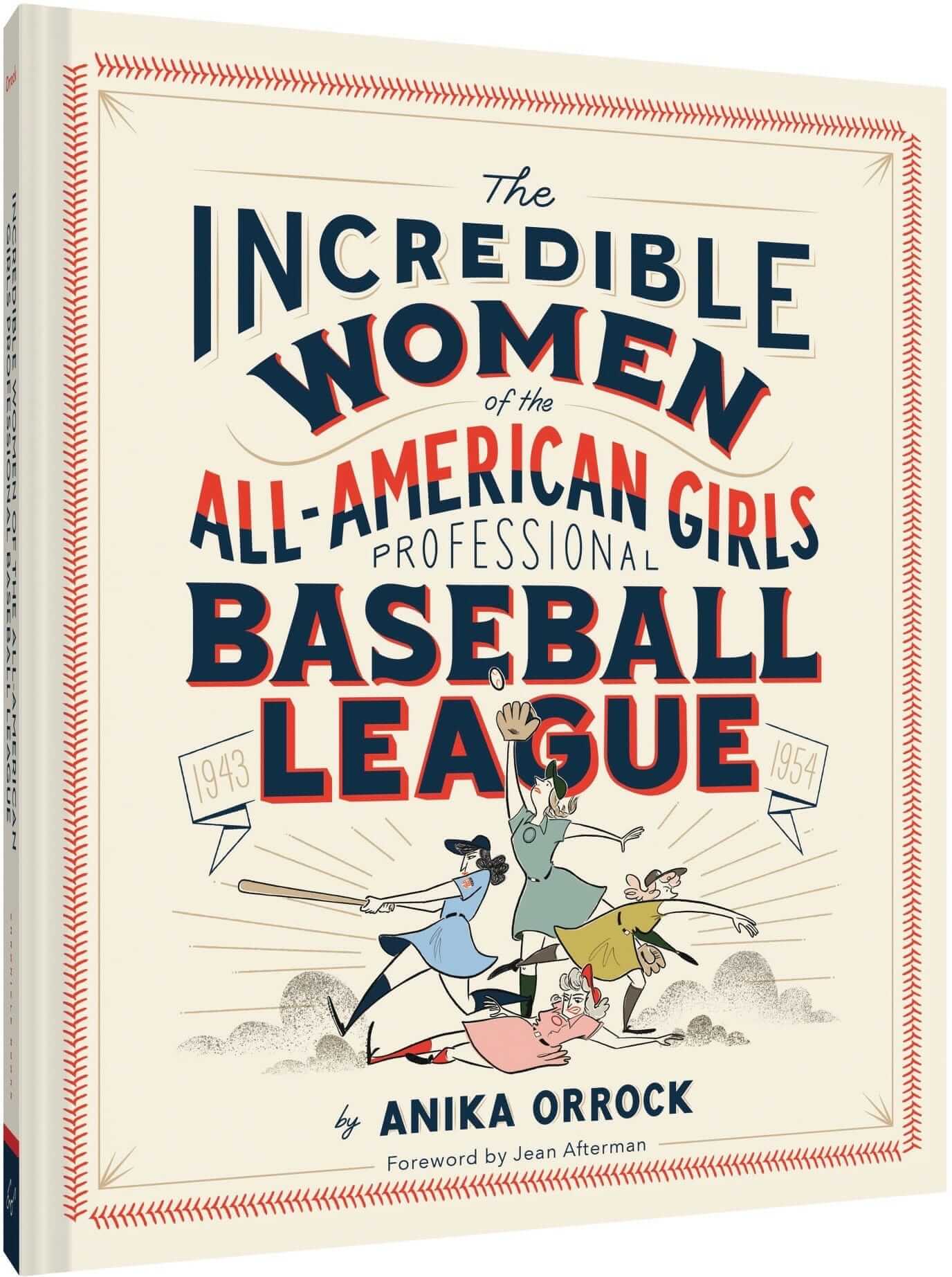 The Incredible Women of the All-American Girls Professional Baseball League, by Anika Orrock

This isn't a uni-related item per se, but it features absolutely spectacular artwork by the great illustrator Anika Orrock (who was profiled on SportsLogos.net earlier this year). Very solid historical info, too. Appropriate for kids or adults! Available here.
---
The 99% Invisible City, by Roman Mars

This one isn't even sports-related, much less uni-related. But this guide to small design details lurking in the urban environment, and the stories behind them, fits perfectly with my mindset — and, I suspect, many of yours as well. Additional info here, and the book is available here.
---
Honorable Mentions and Old Favorites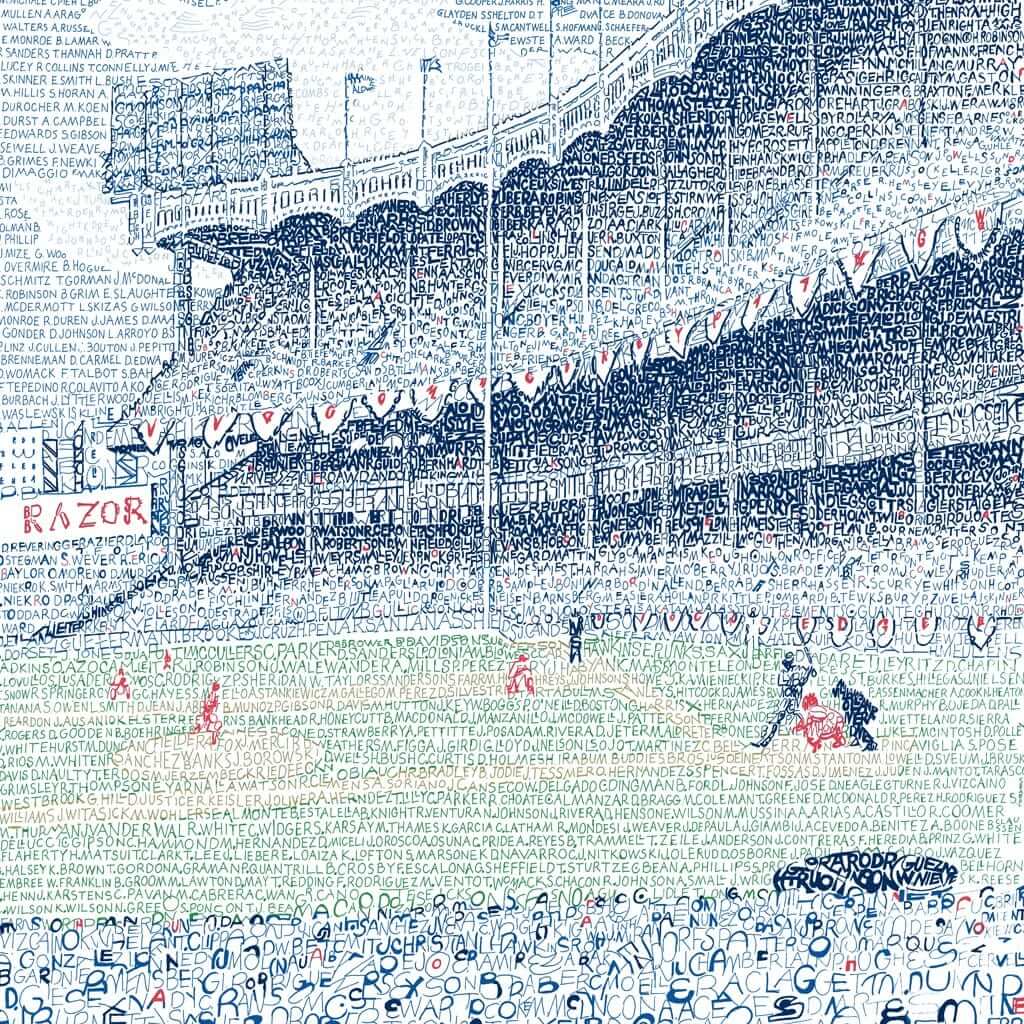 • Want a Gillette razor emblazoned with the logo of your favorite NFL team? You can get that here.
• Old School Shirts sells an astonishing array of T-shirt designs featuring old or retro logos, including a huge slew of sports-themed designs.
• If you're a Wiffle Ball fan, you'll dig these Wiffle tees from Streaker Sports.
• Artist Dan Duffy, who's been interviewed on Uni Watch in the past, created amazingly detailed sports posters that consist entirely of lettering (shown at right; click to enlarge).
• If you're looking for college basketball shorts, 19Nine has you covered.
• Gridiron Memories remains the go-to source for anything involving old-school college football helmets.
• The latest edition of Bill Henderson's Game Worn Guide to MLB Jerseys is an absolutely essential resource that I refer to almost every day. A must for any Uni Watch reader.
• The Mitchell Bat Co. and Pillbox Bat Company turn baseball bats into bold, cleverly conceived conversation pieces.
• And longtime Uni Watch favorite Sean Kane produces spectacular one-of-a-kind artwork on baseball gloves.
———
That should be enough to keep you busy for a bit. And of course, I'd be grateful if you'd also consider some Uni Watch merchandise for your shopping needs. Thanks!
• • • • •
• • • • •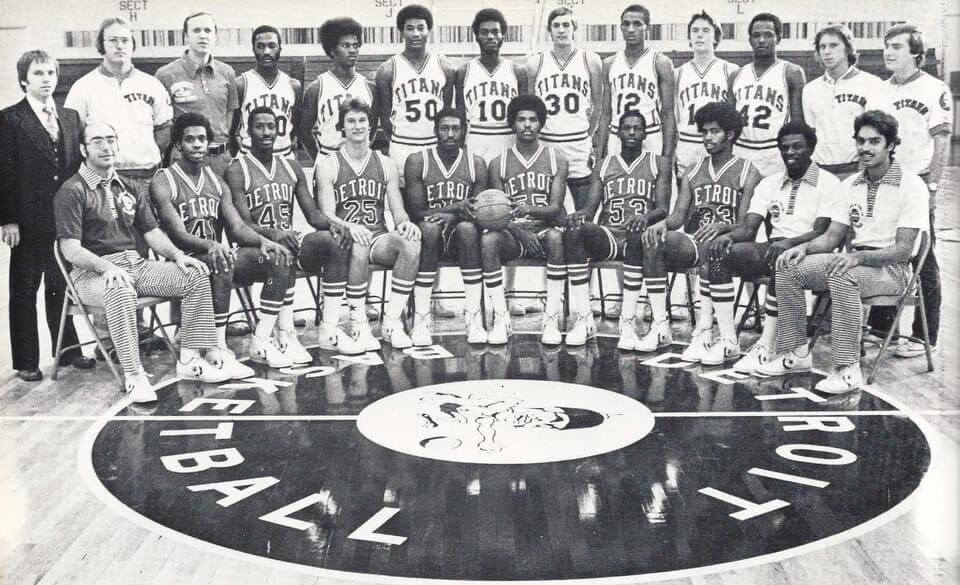 Click to enlarge
Mixed message: This is the team portrait for the 1976-77 University of Detroit hoops team. I'm not sure I've ever seen a team portrait in any sport where half the players wore the home uni and the other half wore the road design! (Update: Reader/commenter Ryan points out that the NHL's San Jose Sharks routinely do this, which I was not aware of!)
And yes, that's a young (or at least younger) Dick Vitale in the front row, far-left.
(Big thanks to Brian Weingartz for this one.)
• • • • •
• • • • •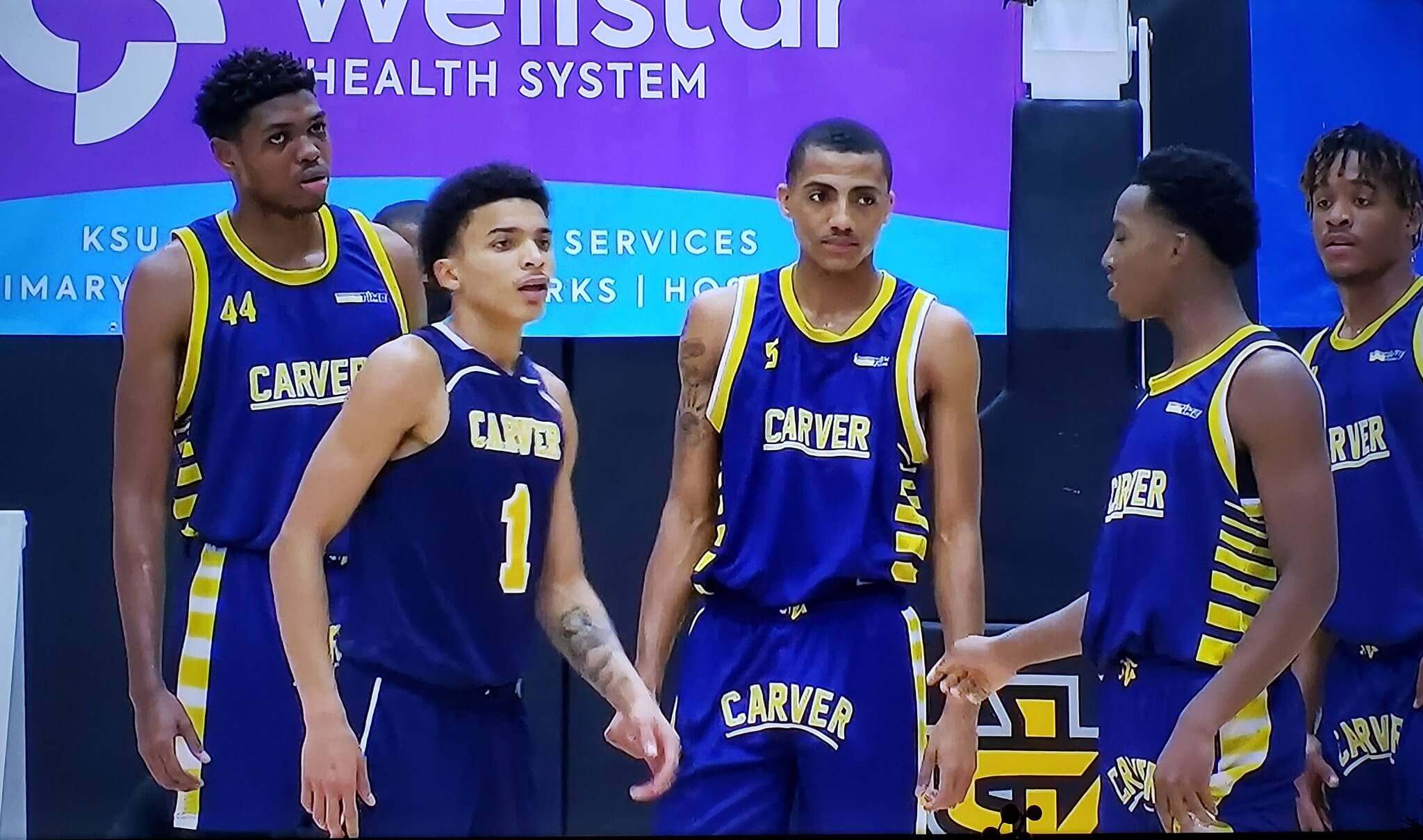 Click to enlarge
Too good weird for the Ticker: Carver Bible College is a school in Atlanta whose men's and women's basketball teams play in the not-a-typo NCCAA — that's the National Christian College Athletic Association.
As you can see above, their men's uniforms are highly unusual, with tiny, oddly positioned jersey numbers and a bizarre crotch wordmark on the shorts. (Well, except for guard Tyler Thornton, wearing No. 1, who has a completely different uniform from everyone else.) Not sure if the logo opposite the jersey number is a maker's mark, a conference logo, or what. Anyone..?
(Big thanks to Timmy Donahue for this one.)
• • • • •
• • • • •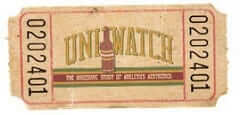 ITEM! New raffle: Reader Carlos Jalife has generously provided funds for two memberships for me to raffle off, with a pair of interesting stipulations: He wants one membership to go to a reader outside the United States, and another to go to a reader who'll choose an auto racing-themed card (like, say, this one or this one or this one).
This will be a one-day raffle. To enter, send an email to the raffle address by 8pm Eastern tonight. Your email should include either (a) your non-USA mailing address or (b) your auto racing-themed card request (keep in mind that we can show the car's number and striping but will not show any ad logos). One entry per person. I'll announce the two winners on Monday. Big thanks to Carlos for sponsoring this one!
• • • • •
• • • • •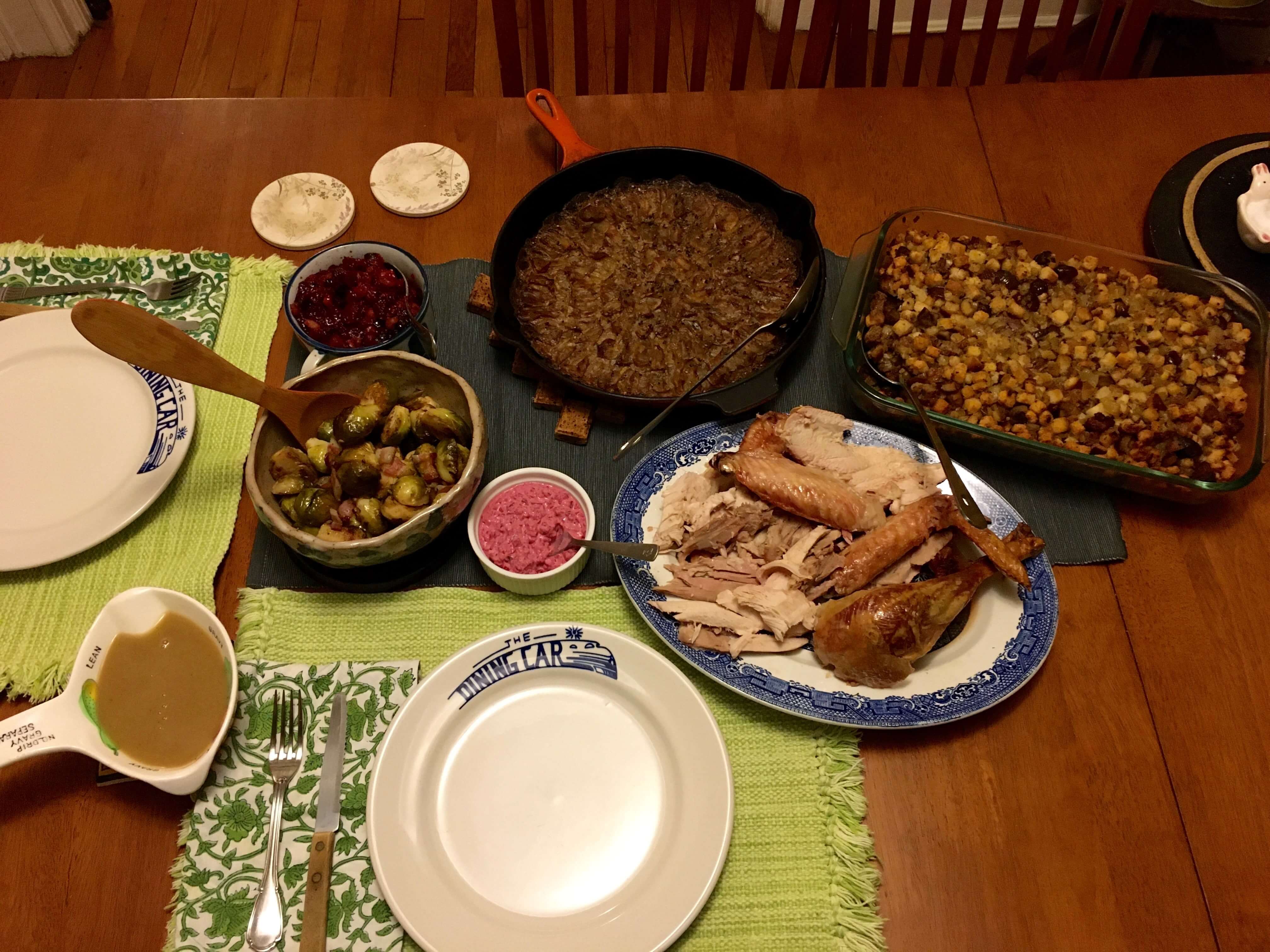 Click to enlarge
If anyone needs me, I'll be eating leftovers: We had an insane amount of food yesterday. Our landlords gave us a goodly amount of their turkey, and then we made stuffing, scalloped potatoes (which for some reason look very dark in the photo shown above, but here's a better view), two kinds of cranberry sauce, Brussels sprouts, and gravy (plus Mary made two pies, although they're not shown in that photo) — all for two people! That should hold us for a while.
Hope your Thanksgiving was as much fun and bountiful as ours!
• • • • •
• • • • •
The Ticker
By Paul

'Skins Watch: Manteo High School in North Carolina still calls its teams the Redskins (paywalled) — and wears Indian headdress-themed helmets! — despite calls for the name to be changed (from Patrick Lasseter and Josh Claywell). … The Des Moines Register is calling on Iowa high schools to stop using Native American iconography (from Kary Klismet). … Also from Kary: The Saanich Predators, a junior hockey team from British Columbia, have unveiled their new logos and uniforms after having switched names from "Braves" earlier this summer. … Raub Middle School in Pennsylvania announced in September that it would no longer call its teams the Indians. Now a new team name has been chosen: the Ravens (from @spiders_six). … A state legislator in Utah is proposing a resolution that would call on schools to retire Native-themed team names, mascots, and logos (from John Ewanowski). … Carthage College in Wisconsin decided in August to retire their "Red Men" and "Lady Reds" team names and have now released the semifinalist choices for their new identity (from Geoff Poole). … The latest episode of the Colorado-centric Lost Highways podcast provides an updated look at the use of Native American-themed team names and mascots by Colorado high schools (Kary Klismet again).

Working Class Wannabes™: A high school football coach in Maryland says one of his former players was a "hardworking, blue collar, smash mouth football player." Bingo! … An article about the Arkansas football team says coach Sam Pittman is "doing a great job of creating a culture of winning with blue collar players," and also says Pittman's staff has built "a tough, blue collar approach to football," and also says the team's success this year "goes back to that blue collar mentality," and also says the coaches "have the defense rolling in the right direction, albeit in their blue collar way," and then concludes by saying, "The blue collar mentality is working in Fayetteville." Someone get that writer a fucking thesaurus already! … Missouri tight ends coach Casey Woods says a team can present sophisticated offensive schemes "while still keeping the fundamental techniques of a blue-collar football team." … Auburn football coach Gus Malzahn says his team needs to play "good, hard-nosed, blue-collar, physical Auburn football." … Marquette women's soccer coach Frank Pelaez says former player Alison Loughrin was "the true definition of a blue collar worker!" … Virginia basketball coach Tony Bennett, discussing his approach for the new season, says, "We always say, blue collar, not blue blood. This is blue collar, in terms of how we have to play." … Mississippi State basketball player Tolu Smith says his teammates are "guys who are just willing to work. Blue-collar athletes. I realized that from the jump. Just people who want to come in and work every day." … An article about last Sunday's Denver Broncos game says, "[Offensive lineman Dalton] Risner revealed after the game that the team's 'lunch pail' mentality and blue-collar work ethic came through in the game plan. '(We) put on the work gloves before we came to work today.'" Bingo! … An article about the Alabama basketball team's season-opening win says, "For the Crimson Tide, it was a successful blue-collar night" and also quotes coach Nate Oats thusly: "All in all, we set a record here for blue-collar points." … Another article about Alabama basketball says the team has a "blue-collar, fast-paced system." … A high school hoops coach in Texas says, ""The kids we've got coming from football are going to bring the gritty football edge with them, that blue-collar mentality that's missing from this bunch." … An article about Oklahoma State basketball coach Mike Boynton says, "Fans appreciate his blue-collar mentality. 'Let's work' has been his mantra." … Virginia Tech women's soccer coach Chugger Adair says one of his new players "has that blue-collar mentality that we like to have on our team" and adds that "she's a hard-nosed player, who's committed to doing the work." Bingo!

Baseball News: New Mets owner Steve Cohen is considering bringing back the BFBS uniforms. … Gross: Here's what the Brewers' ballpark will look like with its new advertised-name signage. … Love the uniforms in this old Life Savers ad that appeared in the March 7, 1937, edition of The Rochester American (big thanks to Joe Werner).

NFL News: Thanksgiving roundup: The Lions wore their throwbacks, while the Cowboys wore the mono-white Rash and added an "MP" memorial decal for strength and conditioning coordinator Markus Paul, who died on Wednesday. … Here's recent postgame footage of Colts DL Justin Houston asking Packers QB Aaron Rodgers for a jersey. … Players on the Giants scout team wore jerseys featuring the numbers and NOBs of the team's Ring of Honor players at a recent practice (from Ryan Kelly). … Texans QB DeShaun Watson and Nike have donated uniforms to police brutality victim George Floyd's former high school.

College Football News: Due to the pandemic, this season's New Mexico Bowl will be played in Texas (from Kary Klismet). … UNC will wear "Equality" NOBs for today's game against Notre Dame (from James Gilbert). … USF will wear "slime green" (their term!) this weekend (from Kary Klismet). … Oregon and Oregon State are going yellow vs. orange today. … Virginia will wear navy-white-navy tomorrow (thanks, Jamie). … Ohio appears to be teasing a 1960 throwback for tomorrow (thanks, Alex). … St. Mary's High School in Arizona has a tradition of wearing gold pants for playoff games (from @GoinRounds). … Texas State will wear gold-maroon-gold tomorrow. … Utah State RB Devonta'e Henry-Cole, who wears No. 7, wore a No. 32 balaclava last night (good spot by Timmy Donahue).

Hockey News: An Ontario art gallery is seeking an artist to create a portrait of Wayne Gretzky (from Andreas Papadopoulos). … New pads for Maple Leafs G Aaron Dell (from Wade Heidt).


College and High School Hoops News: Illinois has added a really great memorial patch for former coach Lou Henson, who died in July (from Ross Drucker). … Julian High School in Chicago had prison stripe-style jerseys back in 2005 (from J.P. Young). … Virginia is the latest school to add "Unity" below the back uni numbers, and Iowa has "Equality" in that same spot. Iowa also has new shooting shirts that say, "Peace Love Equality." Additional info on the Iowa initiative here (from Jamie Rathjen and Kary Klismet). … Syracuse also has "Equality" below the back numbers (from Jakob Fox). … Georgetown, instead of having one message below the numbers, is letting each player choose his own statement to go in that spot (from @bryanwdc). … UMBC, meanwhile, has a variety of social justice statements above the numbers, in place of traditional NOBs, and also has a raised-fist patch on the front. … McNeese State G Ra'Shawn Langston wore a cloth mask on the court the other day (from Eric Jeanneret). … After teasing its new uniforms earlier this week, Wyoming has now officially unveiled them (from Kary Klismet). … Also from Kary: New uniforms for Indiana State women's. … New uniforms for Temple (from @_RF30). … Memphis F D.J. Jeffries entered Wednesday's game against St. Mary's with his jersey on backwards! (From Mike Chamernik.) … Georgetown coach Patrick Ewing wore a Kente cloth-patterned mask on Wednesday (from @bryanwdc). … Arizona has added a memorial patch for former coach Lute Olson, who died in August (from @JayLow32). … Just like with UCLA's football uniforms this season, the basketball team is putting its social justice patch over the Under Armour maker's mark (from Mike Smith). … Absurd color-vs.-color game the other night, as Arkansas and Oral Roberts women's teams went black vs. navy (from @Starkman55). … Purdue has added an "MJB" memorial patch (plus cringe-y slogans) for former athletics director Morgan Burke, who died in June (from @Jffdmrly). … Here's an article about why Kansas players decided to add a "United We Stand" patch this season.

Soccer News: Due to an equipment snafu, a player for the Russian second-division team Fakel had to a wear a shirt with a handwritten uni number (from Ed Zelaski). .. A Welsh soccer fan builds models of English soccer stadiums out of Legos (from Kary Klismet). … SSC Napoli's stadium, Stadio San Paolo, is being renamed in honor of Diego Maradona (thanks, Anthony). … New logo for the Portland Timbers' supporters' club (from Jeremy Brahm). … New third kit for Indonesia (from Trevor Williams).

Grab Bag: DC Comics may sue the neo-fascist group the Proud Boys over a trademark violation. … The designer who created the logos for the TV shows The Partridge Family and The Young and the Restless has died. … Michael Hochman has just discovered the Dallas Box Lacrosse League and really likes their uniforms. … Police officers in the UK county of North Yorkshire may now wear a hijab as part of their uniform. … The city of San Diego is selling seats from Jack Murphy Stadium ahead of the facility's demolition (from Kary Klismet). … New 25th-anniversary logo for Pokémon.
• • • • •
• • • • •