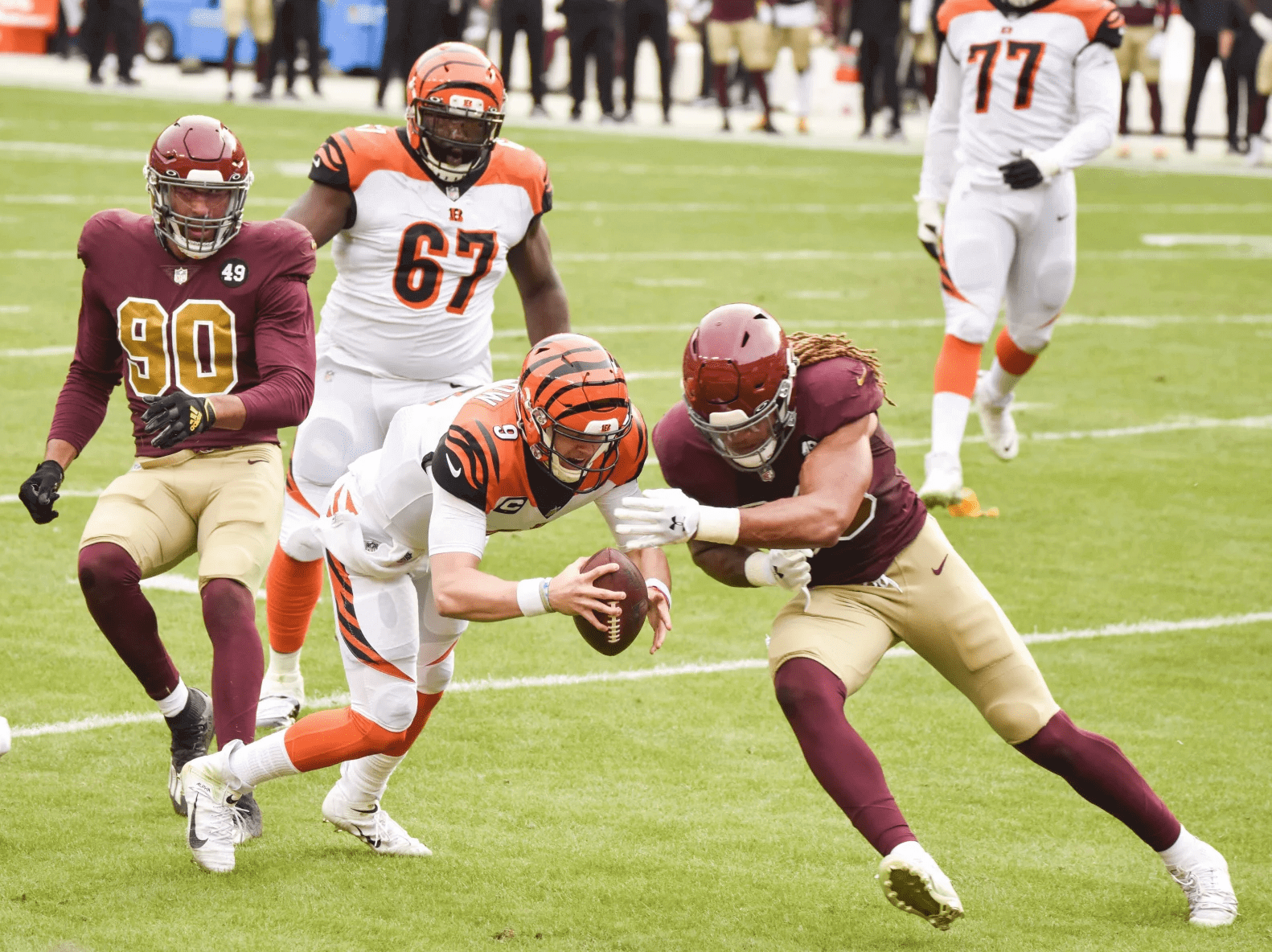 Click to enlarge
Big day today, as we have a major season preview column for your enjoyment. But before we get to that, protocol dictates that we deal with yesterday's NFL action.
So! Interesting move yesterday by Washington, which wore retro uniforms (I don't think we can properly call these true throwbacks). They went with blank helmets — no logo, no numbers, no nothin' — and also removed the Indian head sleeve logos that have previously been part of this jersey design. Here's a comparison: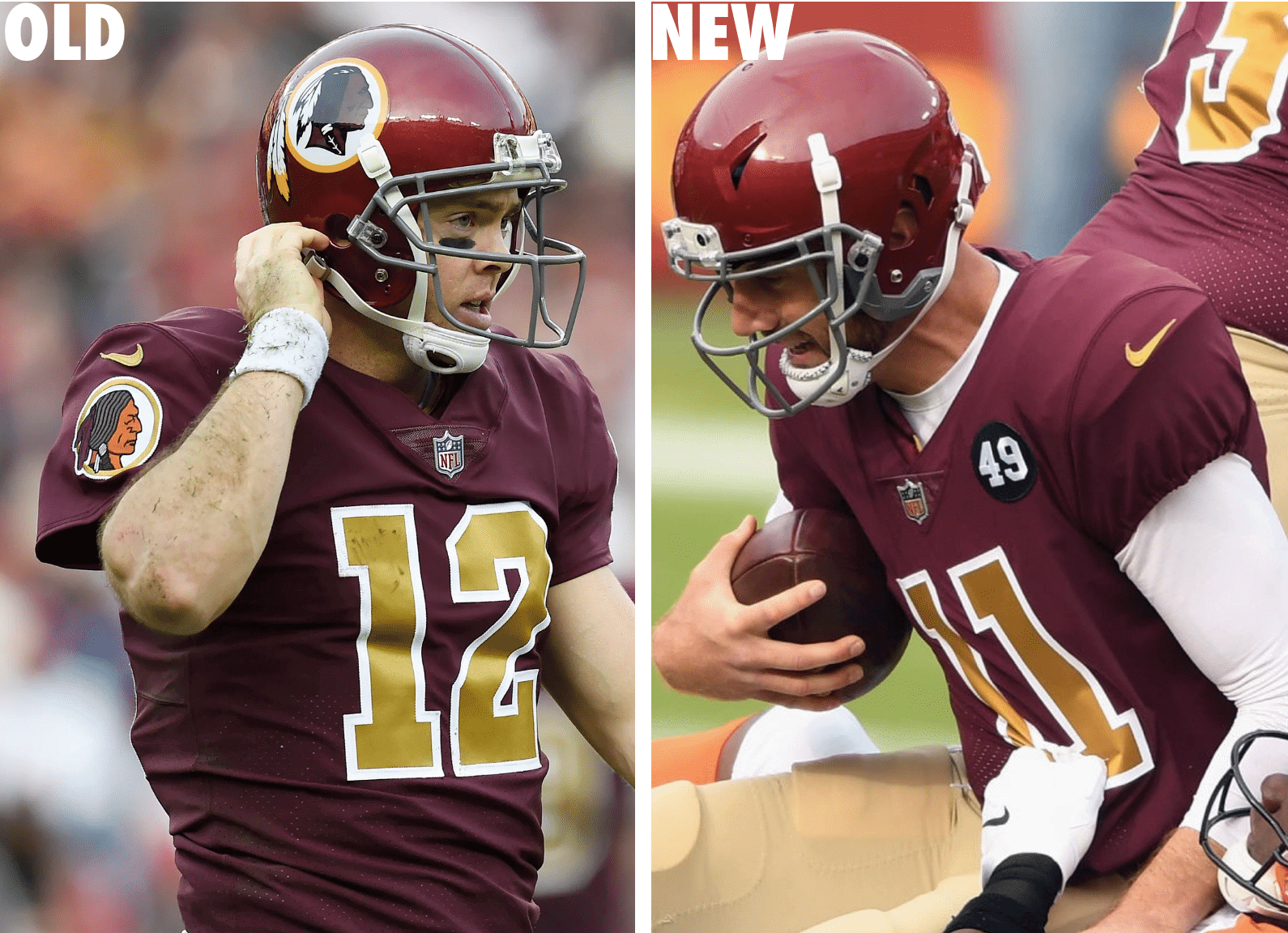 Also: In that "New" photo, see the little grey plastic panel on quarterback Alex Smith's helmet? Those plastic pieces are standard on one helmet model — I think it's the ridiculously named Schutt Vengeance. Most teams have them match the shell color, but Washington usually has them in yellow, to match their facemask color. Since yesterday's retro uni included grey masks, they also used grey for those little plastic panels: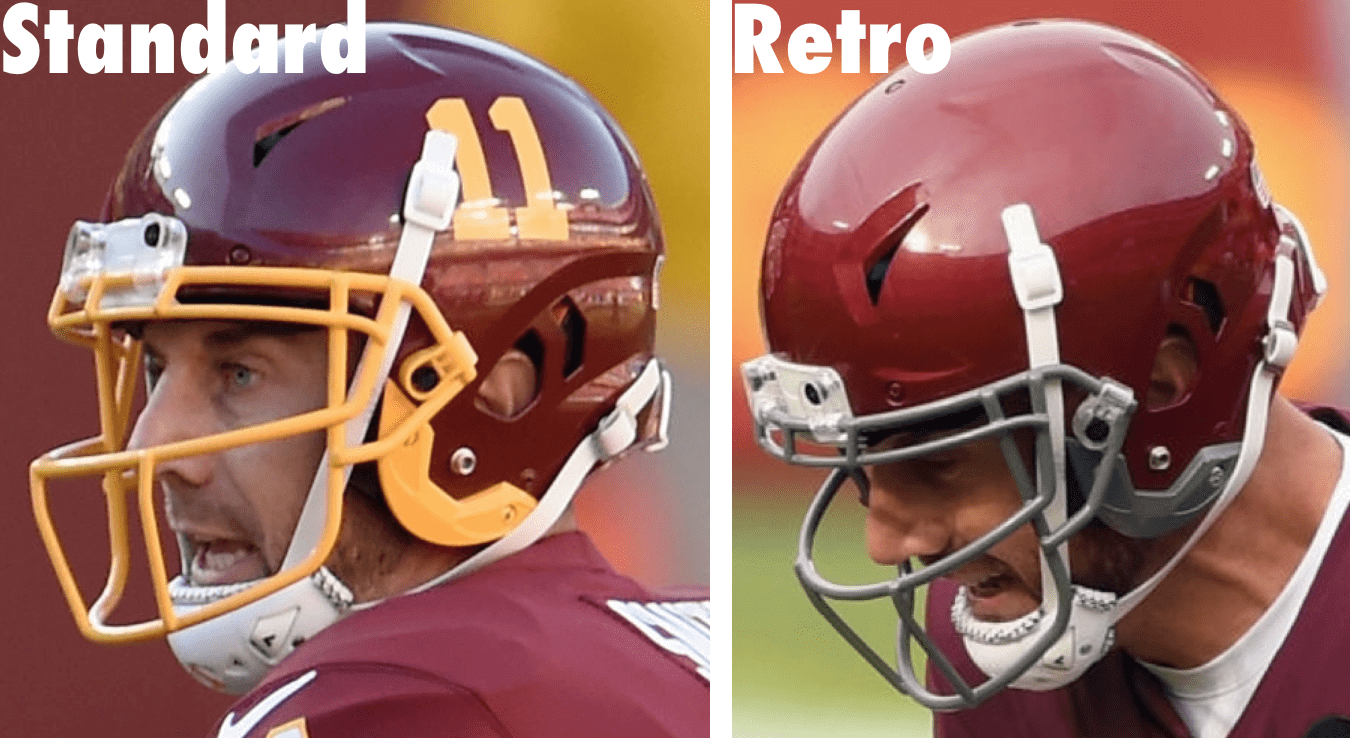 You can see more photos from this game here and here.
In other news from around the league yesterday:
• The Eagles wore their green pants for the first time this season, which helped create a very good-looking game in Cleveland: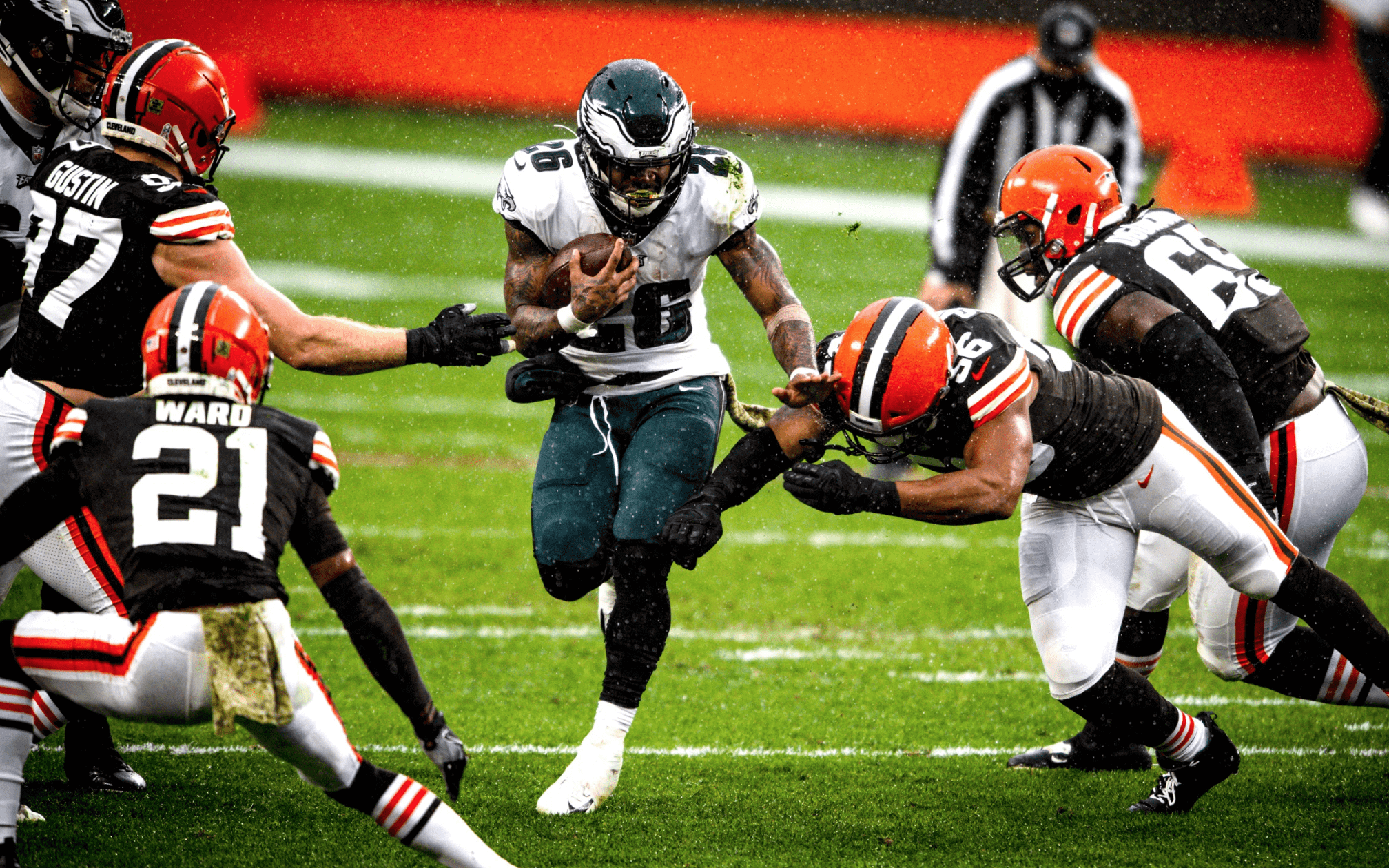 • In that same game Browns wide receiver Jarvis Landry saluted his Philly opponents by wearing cleats featuring former 76ers star Allen Iverson: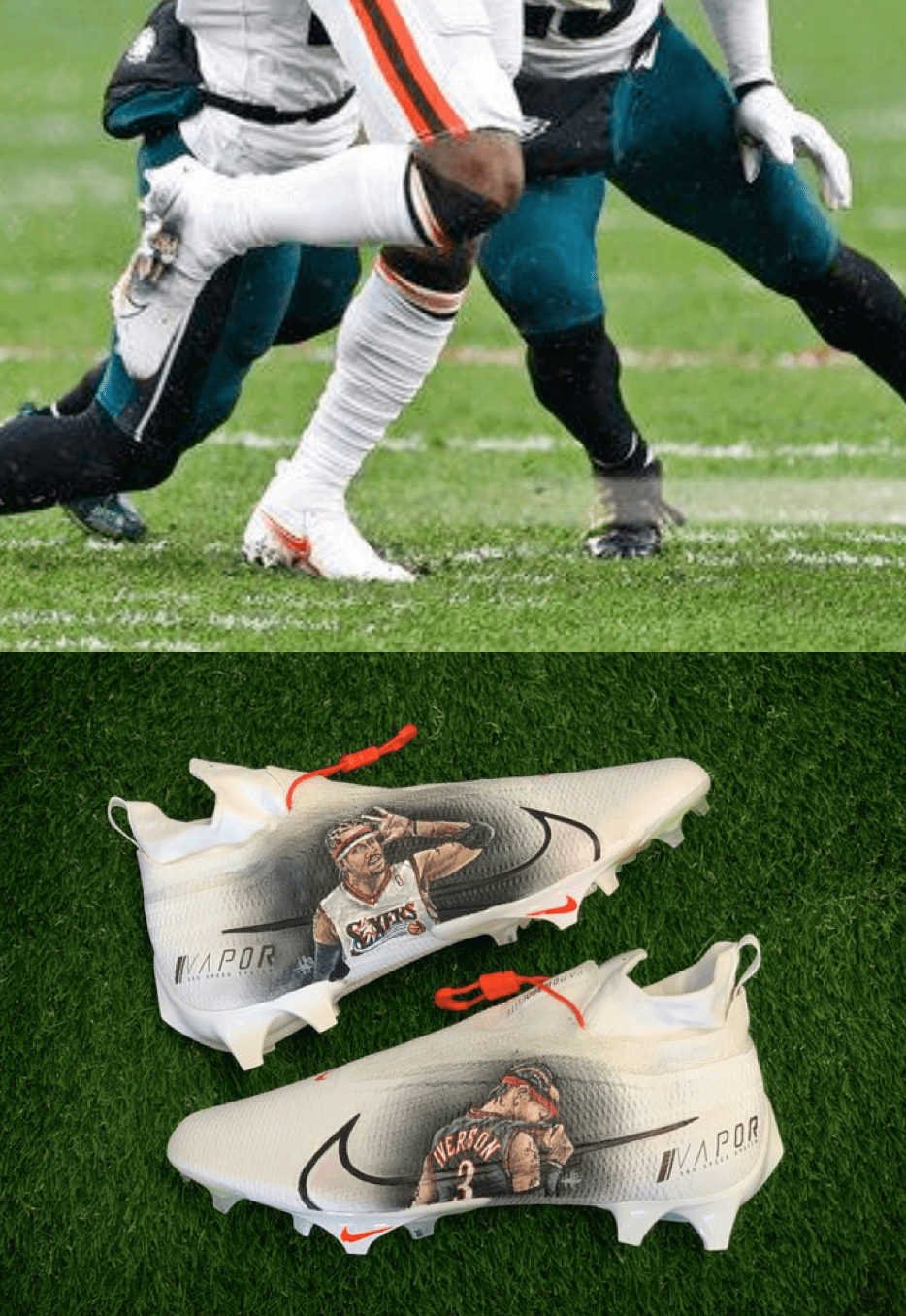 • The Ravens wore their black alternates:
• The Panthers went mono-black:
• In that same game, Panthers linebacker Jermaine Carter made a cross-sport move by wearing Charlotte Hornets-themed cleats (not sure if he wore them in the game or only for pregame activities):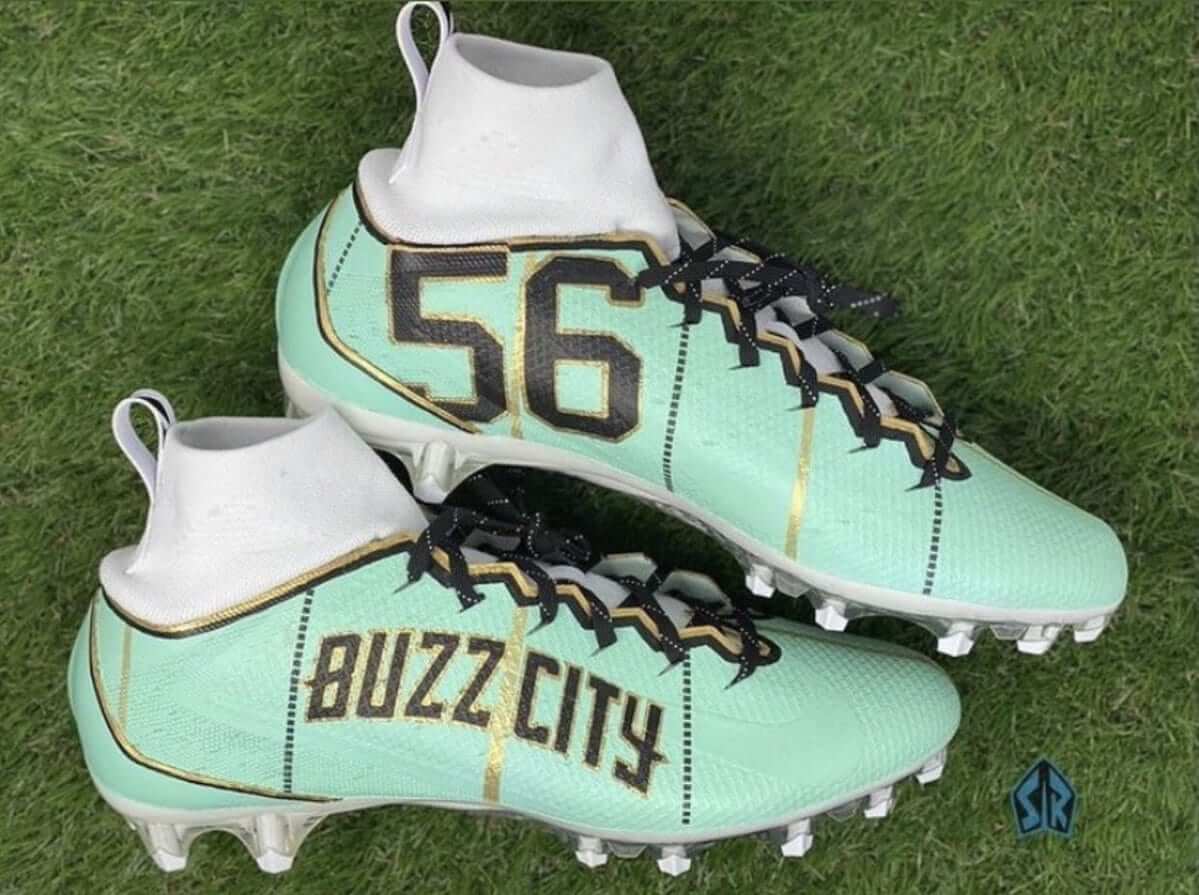 • Sort of a yin/yang game in Houston as the Texans wore navy over white against the Pats, who wore white over navy:
• The Vikings broke out the purple Rash:
• On the last substantive play of that Vikings/Cowboys game (there were two subsequent kneel-downs), one of Vikes wideout Adam Thielen's yellow shoes inadvertently came off, causing many fans and broadcasters to mistakenly think a penalty flag had been thrown: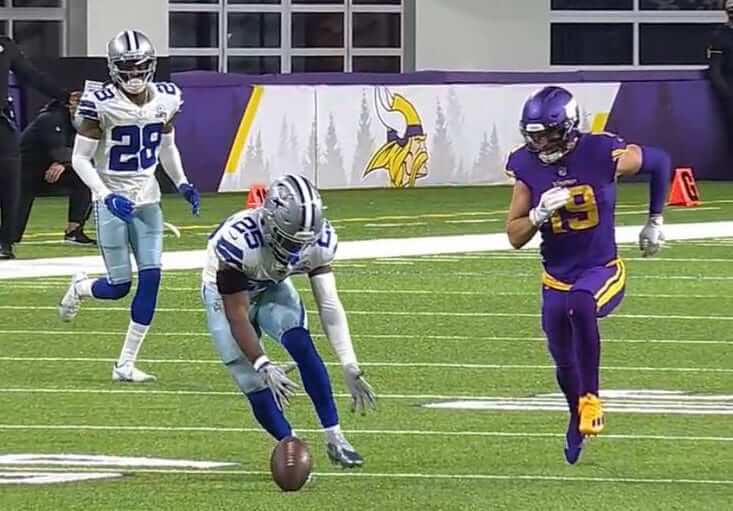 ¿Falta? No. Era el zapato de Adam Thielen 😂

Vía @thecheckdown pic.twitter.com/C440u51wNQ

— Ahora o Nunca ESPN (@ahoraonuncaespn) November 23, 2020
• Something about the Steelers/Jaguars game was really visually discordant. The two teams' color schemes just didn't mesh well at all. If felt like the Steelers were playing in bright sunshine while the Jags had some sort of dark filter: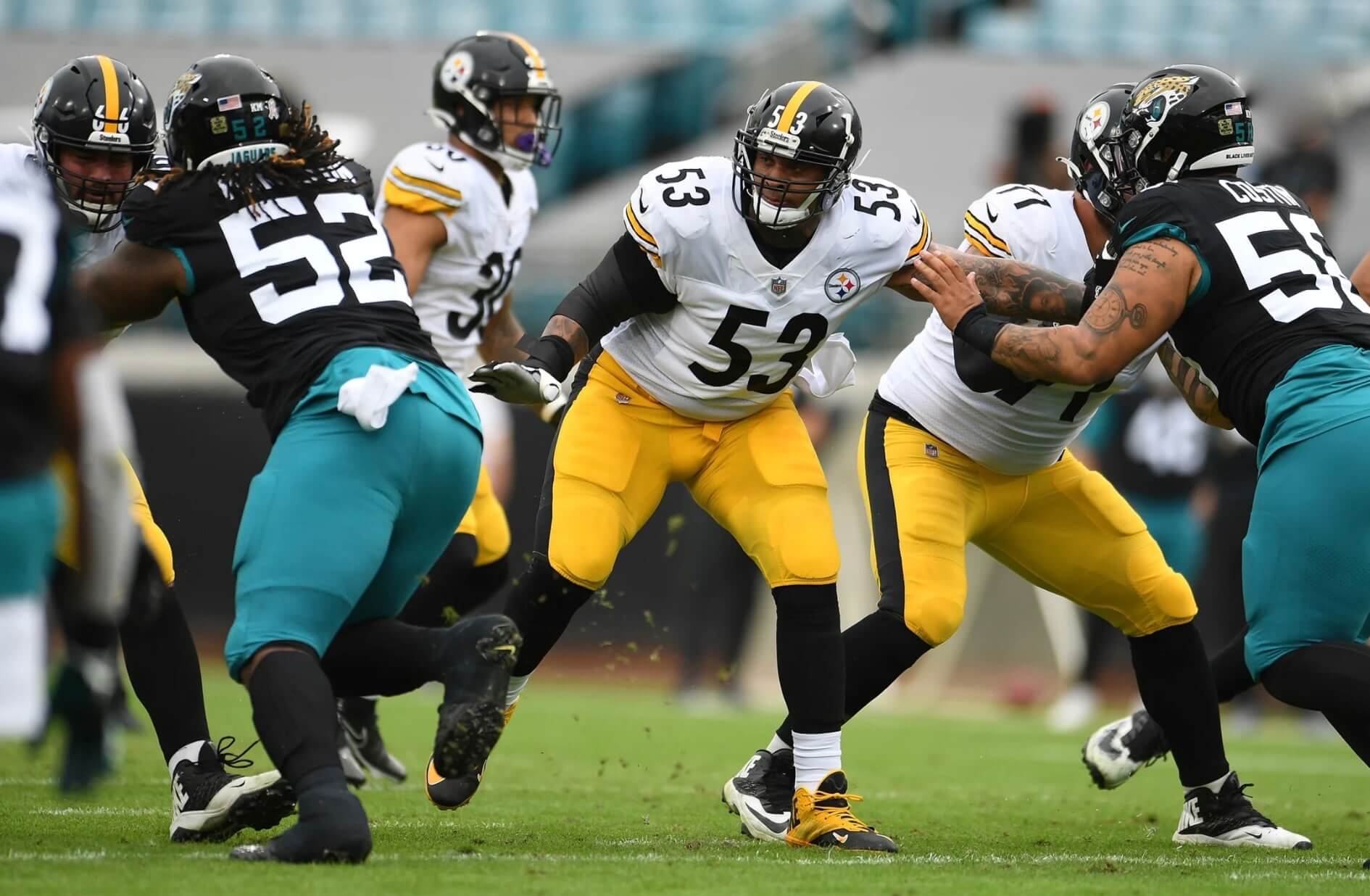 • That Pittsburgh/Jacksonville game had something I don't think I've ever seen before, as Steelers wideout JuJu Smith-Schuster injured his ankle by stepping on a just-tossed penalty flag (additional info here):
What on EARTH just happened here!?!?! pic.twitter.com/6kvK0qDrtv

— Robby Snyder (@RobbySnyder) November 22, 2020
• We've seen lots of players in recent years wearing Tredcals, which are those thigh pads with the player's uni number or team logo in raised relief. But Colts defensive lineman Grover Stewart is the first player I've seen who's wearing one with the Black Power fist: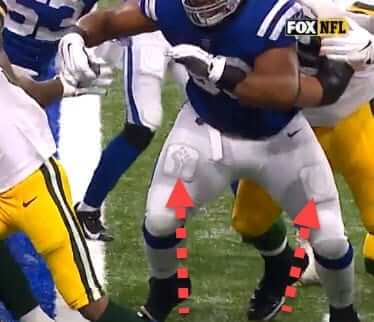 Some quick photo research reveals that he also wore it last week and the week before that, but I hadn't been aware of it until now.
After a few of us discussed this on Twitter, I learned that Steelers defensive back Terrell Edmunds also wore the raised fist yesterday — as well as "BLM" on his other thigh pad: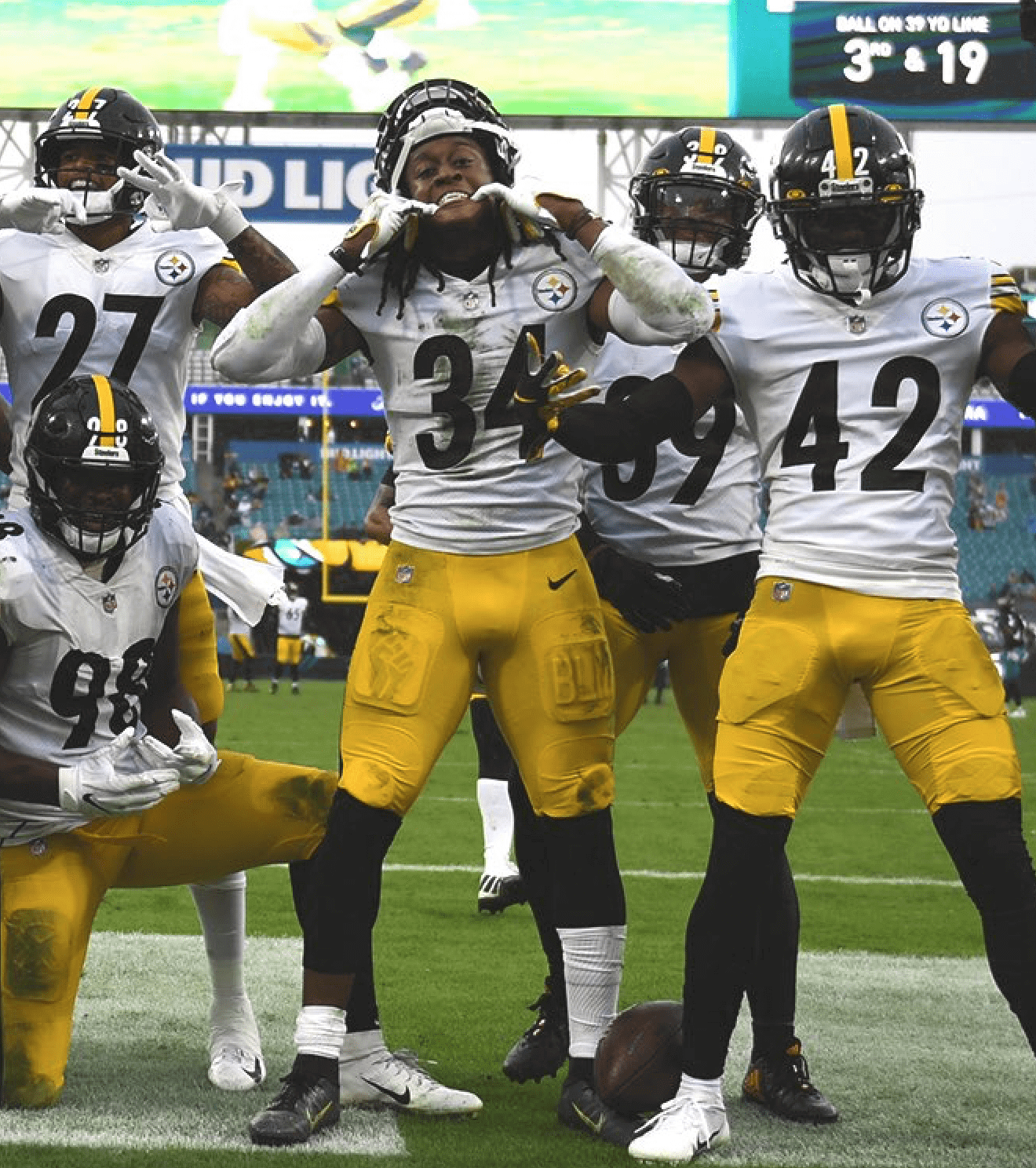 Edmunds has been wearing these pads at least since Oct. 11. Again, I hadn't realized that until now.
• Chargers kicker Mike Badgley arrived for yesterday's game against the Jets wearing a L.A. Kings jersey: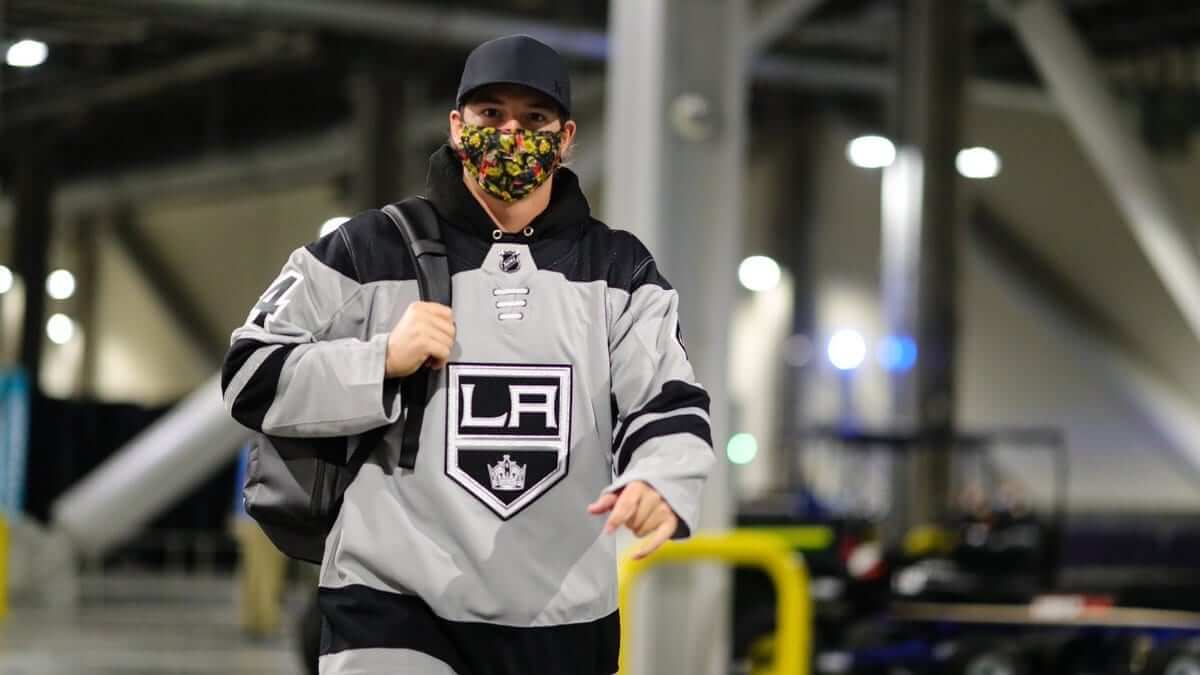 • Not a single home team wore white.
(My thanks to all contributors, including Mike Chamernik, Jakob Fox, Pro Football Journal, @bparras, and @GoinRounds.)
• • • • •
• • • • •
College Hoops Season Preview: Don't look now, but the college basketball season tips off this Wednesday. That means it's time for the annual Uni Watch College Hoops Season Preview, with all the news on this year's new uniforms, logos, court designs, and related issues (including Arizona State's new black alternates, Duke's new "Equality" slogan underneath the back numbers, and UNC's new navy alternates, all shown above).
There are over 350 Division I schools, so this is always my biggest column of the year. My InsideHook editor and I were updating it past midnight last night, so it should be very up-to-date! You can check it out here.
• • • • •
• • • • •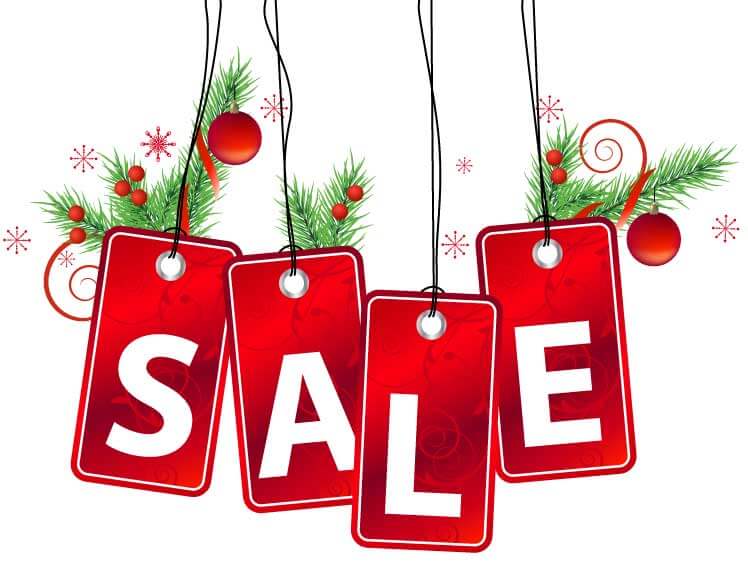 ITEM! Save some money while giving me money: I'm assuming that the holiday shopping season, like just about everything else, is going to be a bit different this year (at the very least, we presumably won't have people trampling over each other at the Walmart entrance on Black Friday). But one thing you can usually depend upon around this time of year is a series of sales, price breaks, and so on. So in the spirit of the shopping season, I'm happy to announce the following:
• The Uni Watch Classic Cap, which normally costs $39.99, is now only $35.99 — a 10% break. All fitted sizes are currently in stock, along with the adjustable strapbacks.
• As I announced last week, I've also reduced the price of Uni Watch trading cards. Full details here.
• And as I mentioned at the end of last week, Teespring is currently offering free shipping on all orders of $50 or more. You can combine items Uni Watch, Uni Rock, and Naming Wrongs shops (or any other Teespring items) to hit that $50 threshold. Use the checkout code FREEOVER50 to get in on the deal, which is good from now through Wednesday.
My thanks, as always, for your consideration.
• • • • •
• • • • •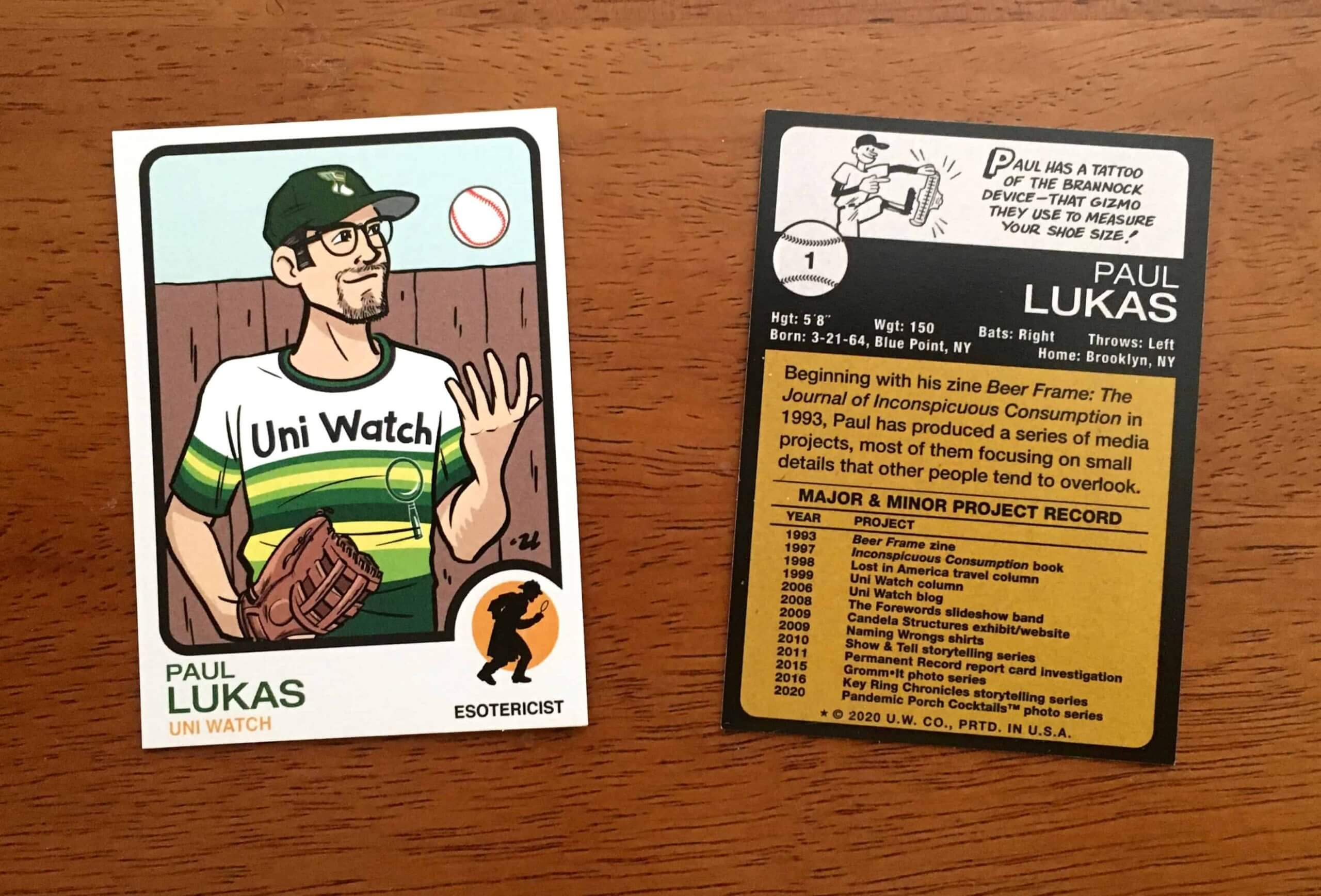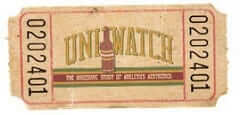 ITEM! Trading card raffle: Longtime reader Gordon Blau has generously purchased five Uni Watch trading cards for me to raffle off, so that's what we're going to do today.
This will be a one-day raffle. No entry restrictions. To enter, send an email with your mailing address to the raffle in-box by 8pm Eastern tonight. One entry per person. I'll announce the five winners tomorrow.
Meanwhile, the winner of the Austin FC shirt raffle is Audra Krake. Big congrats to her!
• • • • •
• • • • •
The Ticker
By Jamie Rathjen

Baseball News: The Japanese Central League's Chunichi Dragons revealed an 85th-anniversary logo (from Jeremy Brahm).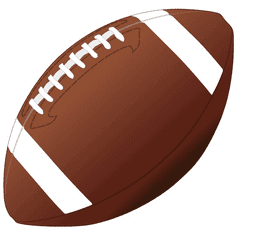 Football News: Pitt added a patch of the athletics program's "United as One" logo, which was released about a month ago (from @MrBudziszewski). … The CFL's Edmonton Football Team wants fans to send in suggestions for a new name (from Wade Heidt). … There may not be in-person NFL jersey swaps this season, but Buccaneers QB Tom Brady still got one in the mail from Cardinals WR Deandre Hopkins for winning a tongue-in-cheek meme contest (from Kary Klismet). … Also from Kary: A California high school is building a new stadium. … The music industry is cracking down on NFL teams for using copyrighted music without permission in highlight and locker room footage.

Hockey News: The K-Pop group NCT has a new hockey-themed music video that shows the band members in custom team uniforms, plus there are retired-number banners and a locker room shot (from Mike Chamernik). … The junior United States Hockey League's Des Moines Buccaneers are building a new arena (from Kary Klismet).

Basketball News: NBA numerologist Etienne Catalan has some more new and changed player numbers. … A high school in Indiana added the initials of its state all-stars to its boys' team's jerseys (from Tim Mangas).

Soccer News: Further memorials for former England goalie Ray Clemence from his clubs, Liverpool, Scunthorpe United, and Tottenham Hotspur, included Spurs' warm-up shirts and black armbands for those three clubs as well as some others. … Liverpool's ad was also replaced with the advertiser's charity, which Premier League teams can do once per season (from Moe Khan). … New shirts for Japan's J2 League's Ventforet Kofu (from Jeremy Brahm). … A new Chicago team in the National Independent Soccer Association is holding a name-the-team tournament — one of the top choices, Chicago Sting, is a reference to the NASL team (from Chuck Nolan Jr.).

Grab Bag: In Australian Twenty20 cricket's Women's Big Bash League, the Sydney Sixers added motivational messages to their shirts in support of young cancer patients. With that, the WBBL has provided us Ticker items for every week of its regular season. … In Ireland, the 100th anniversary of Bloody Sunday was commemorated by the two county teams that played in the associated Gaelic football game, Dublin and Tipperary. Dublin wore sleeve patches on both sleeves and Tipperary wore throwbacks. The commemoration was made possible by the pandemic, because county teams usually play from January to September. … The U.S. Virgin Islands police have new uniforms (from Timmy Donahue). … Meanwhile, most of last week was Transgender Awareness Week, and the U.K.'s South Wales Police could wear associated patches (also from Timmy). … Here is a history of the Lego logo (from Kary Klismet).
• • • • •
• • • • •
Click to enlarge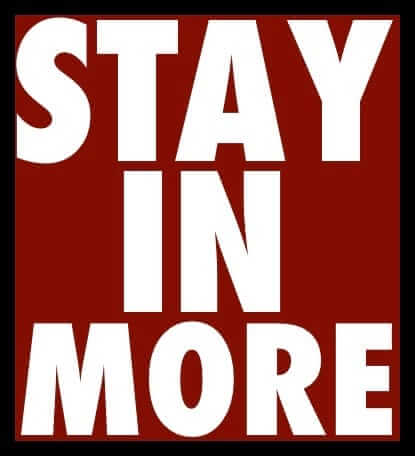 What Paul did last night two nights ago: Saturday's installment of Pandemic Porch Cocktails™ was more festive (and, as you can see, more cluttered) than usual. That's because it was the weekend before Thanksgiving. Ordinarily, that would mean we'd be joining up with our friend Carrie and going down to her dad's place on Virginia's Eastern Shore, where we'd attend the annual Ducks Unlimited Eastern Shore Oyster Roast (I wrote about the 2017 edition of this great event here). Since this year's oyster roast was cancelled due to the pandemic, we all decided to get together on Saturday and eat oysters over Zoom (you can just barely see our laptop in the PPC™ photo — the Tugboat Captain is looking down at it).
Carrie and her parents just slurped raw oysters, but we decided to simulate the oyster roast by grilling ours, so I set up our little kettle grill in front of the house and strapped on my holstered oyster-shucking knife:
We got a bunch of Malpeque oysters and shucked some of them while leaving the others unopened, plus we also got some littleneck clams:
When the fire was ready, we put the unopened oysters on the grill, added the lid with the vent left open, and cooked them for 10 minutes, by which time they had opened and were ready to eat:
Then we put the shucked oysters on the grill and spooned on a mixture of butter, garlic, paprika, and parsley, followed by a topping of breadcrumbs and grated parmesan cheese (this is more of a Gulf Coast thing, not a Virginia thing, but it's mighty tasty). After another 10 minutes they were ready:
It wasn't as good as a real Virginia oyster roast (and our oysters were farmed, not wild, so there were no pea crabs!), but it was a reasonable facsimile — enough to scratch the itch that my internal clock has developed every year around this time. Here's hoping we can go back to Virginia for the real thing a year from now.
As always, you can see the full set of daily Pandemic Porch Cocktails™ photos — now more than 250 of them — here.