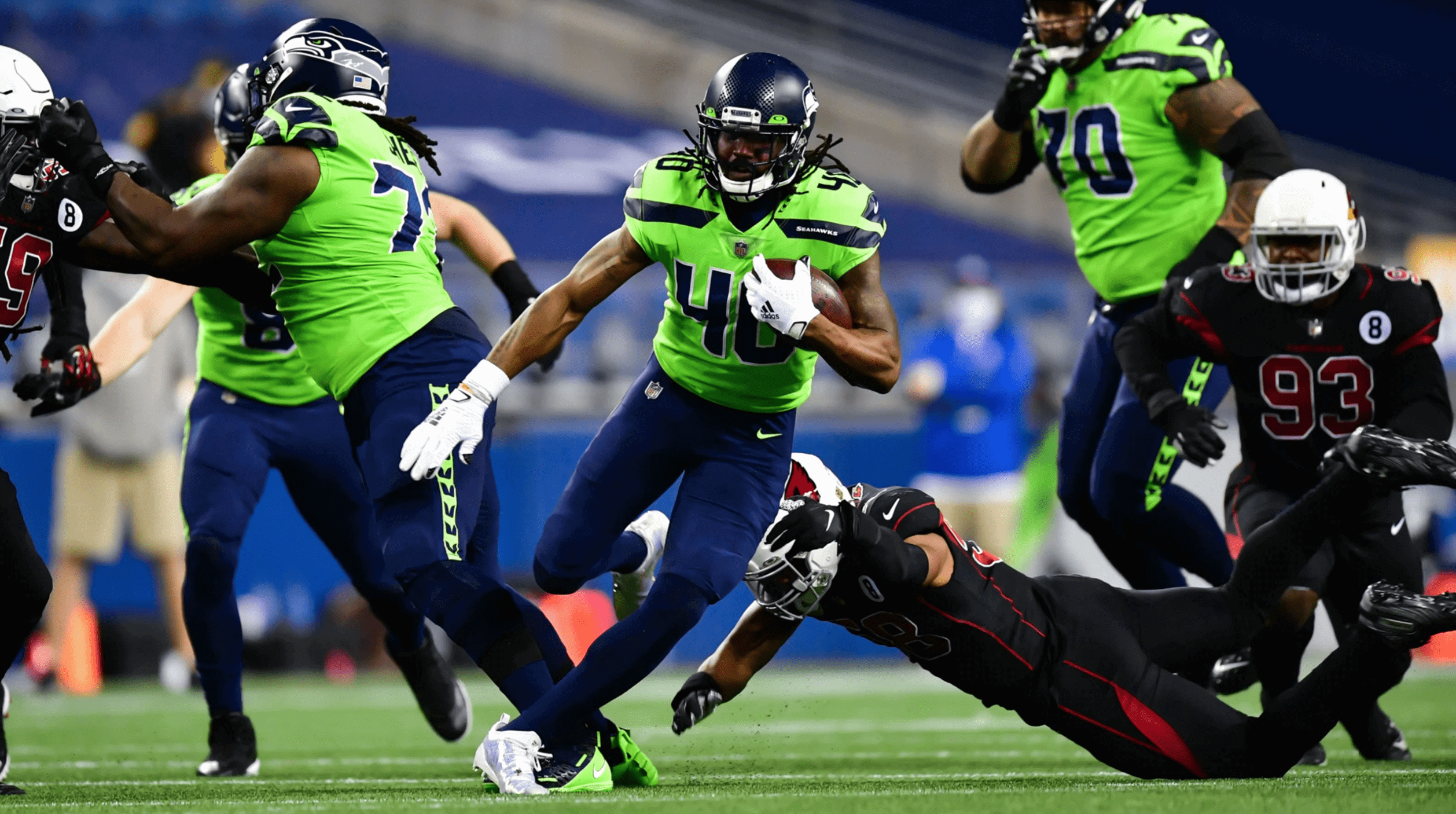 Click to enlarge
Quite the spectacle last night in Seattle, as the neon-clad Seahawks hosted the Magic 8-Balls mono-BFBS Cardinals (lots of additional photos here), creating one of the more entertainingly awful uniform matchups in recent memory.
Seattle and Arizona are in the same division, so they play each other twice a year. Last night's game was their second meeting of this season — the previous one came four weeks earlier. Check out what they wore for that one: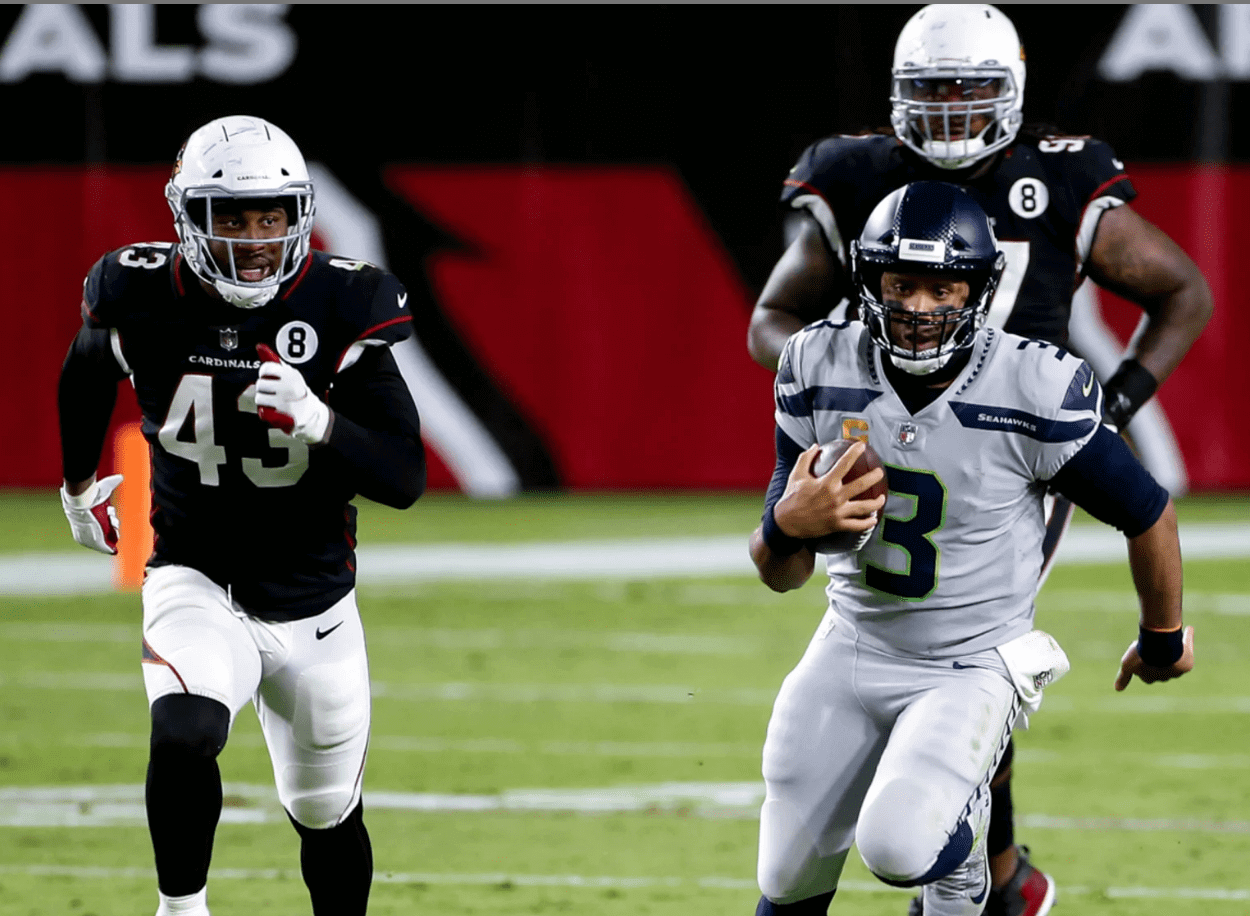 First, note that the Cardinals have now managed to wear two different BFBS jerseys — the "normal" version with white numbers and the Color Rash version with red numbers — against the same opponent in the same season. (Did you even realize they had two different BFBS jerseys?) And second, these two teams have now pulled off the bizarre trick of wearing four different jerseys when facing each other in the same season, none of which are their primary jerseys. This is the world that Nike hath wrought.
And just for an extra dollop of silliness, the Seahawks announced prior to last night's game that their stadium has a new advertised name, wheeee!
But wait, it could be worse — in fact, it was worse in 2017, when the two teams went BFBS bodysuit vs. neon bodysuit: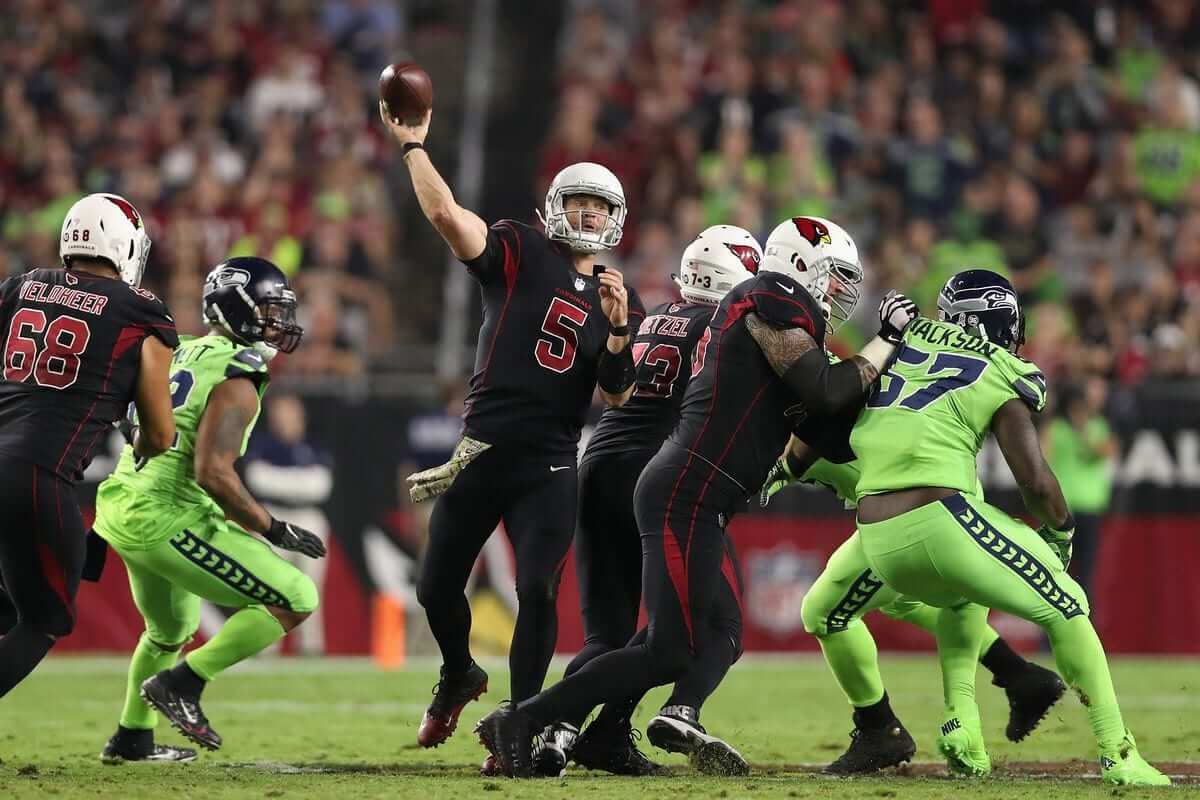 It's easy to make fun of Seattle's highlighter design, but the Cardinals are the real ongoing travesty here. Their uni set has been a disaster for a decade and a half. The embarrassing side panels, the bizarre pants piping, the nonsensical pair of the old-school, grey-facemasked helmet with the new-school jersey and pants — such a mess! There's no other NFL team more drastically in need of a redesign. Come on, Bidwills, do the right thing already!
Finally, if you want to remember how good these two teams used to look when facing each other, there's a nice gallery here.
• • • • •
• • • • •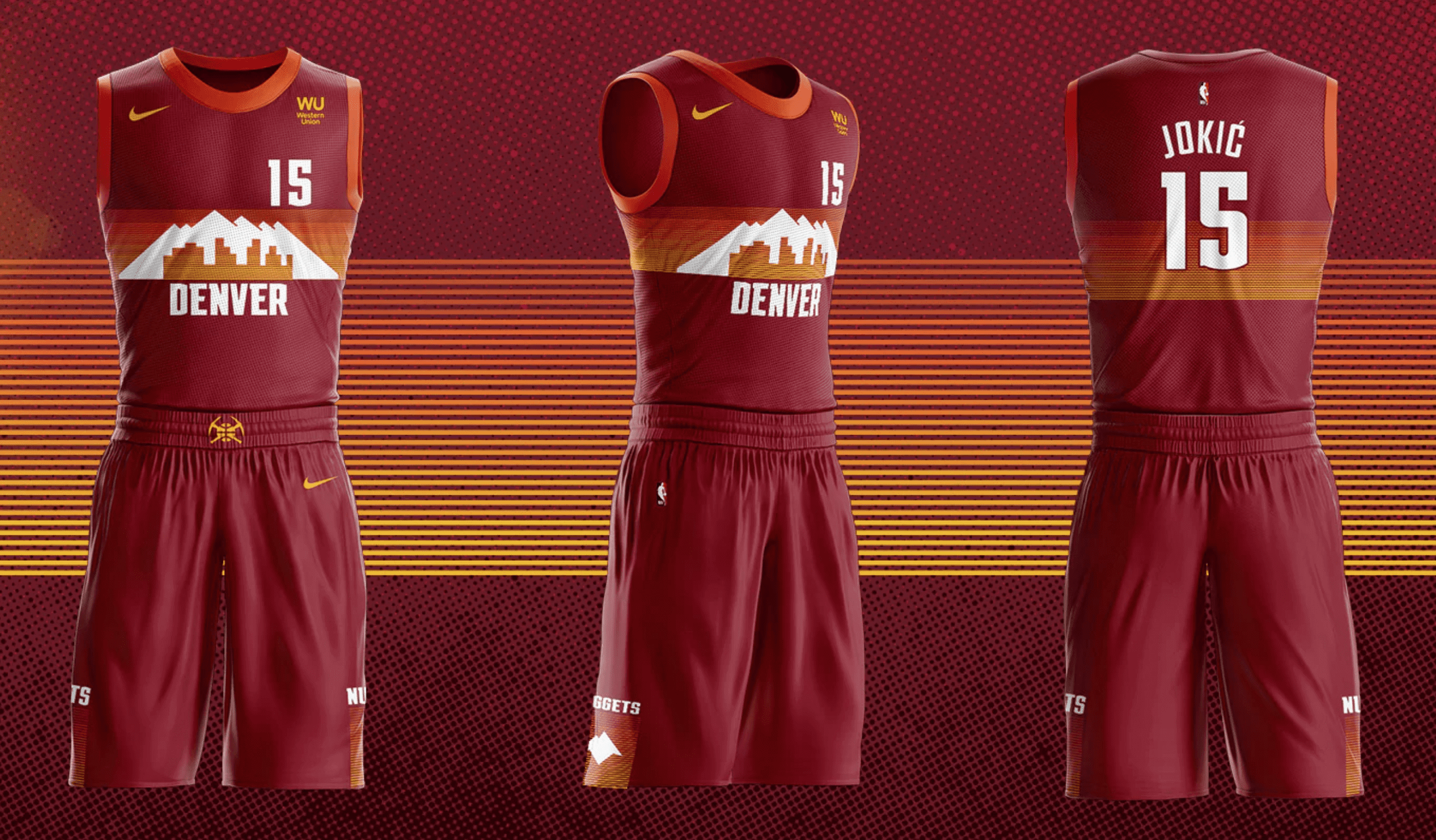 Click to enlarge
NBA update: Holy tequila sunrise, Batman! The Nuggets unveiled their latest skyline alternate yesterday, and this one seems particularly ill-conceived. Why? Well, for starters:
• Color-wise, it doesn't feel at all Nuggets-y.
• Speaking of the colors, it feels a lot like the Jazz's "red rock" design.
• Considering all the problems this year with Colorado wildfires, do you really want a uniform that looks like the city and mountains are ablaze?
Like most of the City alternates, this one fails the most basic test, which is that it has no compelling reason to exist (although it's amusing to see the team try to suggest otherwise). What a waste of space.
• • • • •
• • • • •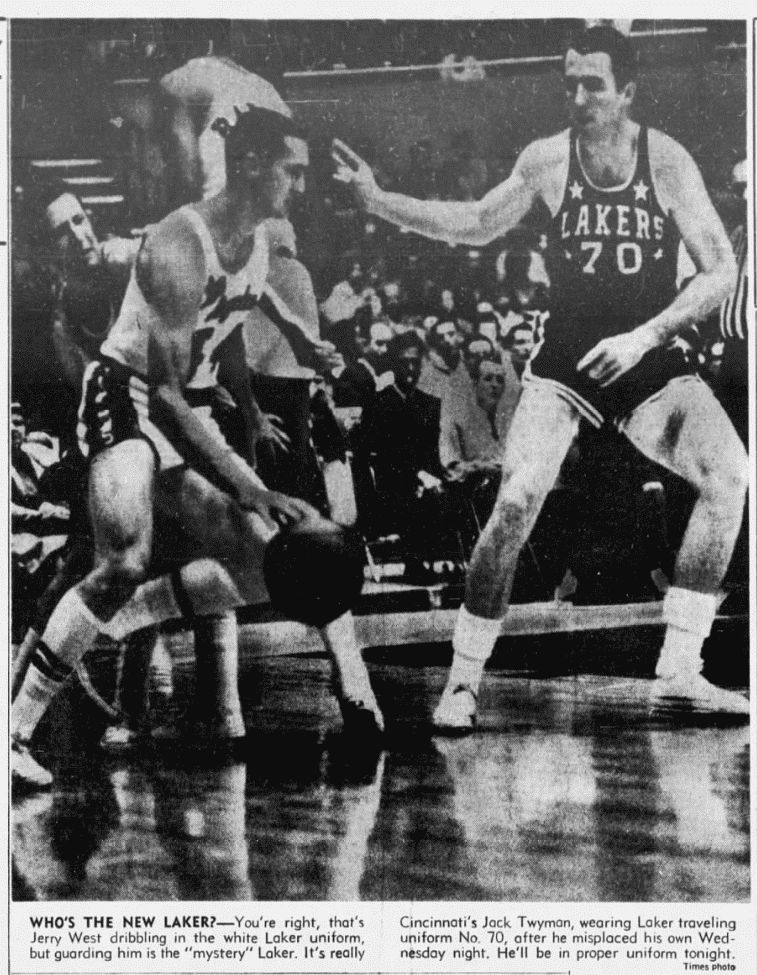 Click to enlarge
Lakers vs. Lakers: The photo shown above ran in The Los Angeles Times on Nov. 20, 1964 — exactly 56 years ago today!
As noted in the caption, that's Lakers great Jerry West on the left, while the player on the right is Jack Twyman of the Cincinnati Royals (forerunner of today's Sacramento Kings), who had to wear an old Minneapolis Lakers road uni — which the Lakers apparently had on hand at their arena, despite having moved from Minneapolis four years earlier — because his own uniform was misplaced.
This is similar to the famous 1978 Sports Illustrated cover shot showing Spurs guard Mike Gale in a Bullets uniform (more info on that here), but I'd never seen this one until Todd Radom sent it to me yesterday. Thanks, Todd!
• • • • •
• • • • •
New day, new drip. pic.twitter.com/Lvc74QgJgh

— Atlanta Falcons (@AtlantaFalcons) April 8, 2020
Hipster dripster: Back in April, when the Falcons unveiled their new uniforms, they referred to it as a "new drip" — not just on Twitter (as shown above), but also on their website. Lots of media outlets dutifully parroted the "new drip" lingo.
I confess that this was my first encounter with the term "new drip." Yes, I realize I was very late to that party. As a geeky, middle-aged White guy with approximately zero affinity for hip hop, I was unaware that a "new drip" referred to a cool new outfit, or that the Atlanta-based rapper Soulja Boy had released the song "New Drip," or that there were countless other "drip"-themed rap songs (although I soon learned all of those things, because I was curious about the use of the term in connection with the Falcons' uniform unveiling and tried to educate myself on what it was all about).
After that, I started noticing the uses of "new drip" in various contexts (it was more prevalent than I had realized, and not just in the uni-verse!). But I did not start saying or writing the term "new drip" myself, because I figure there's nothing lamer than a square, middle-aged White guy adopting Black street terminology.
Yesterday, however, an ever squarer, even older White guy provided me with an opening. And so now, finally, I can say it loud, say it proud, just like the cool kids. Check it out, people — new drip: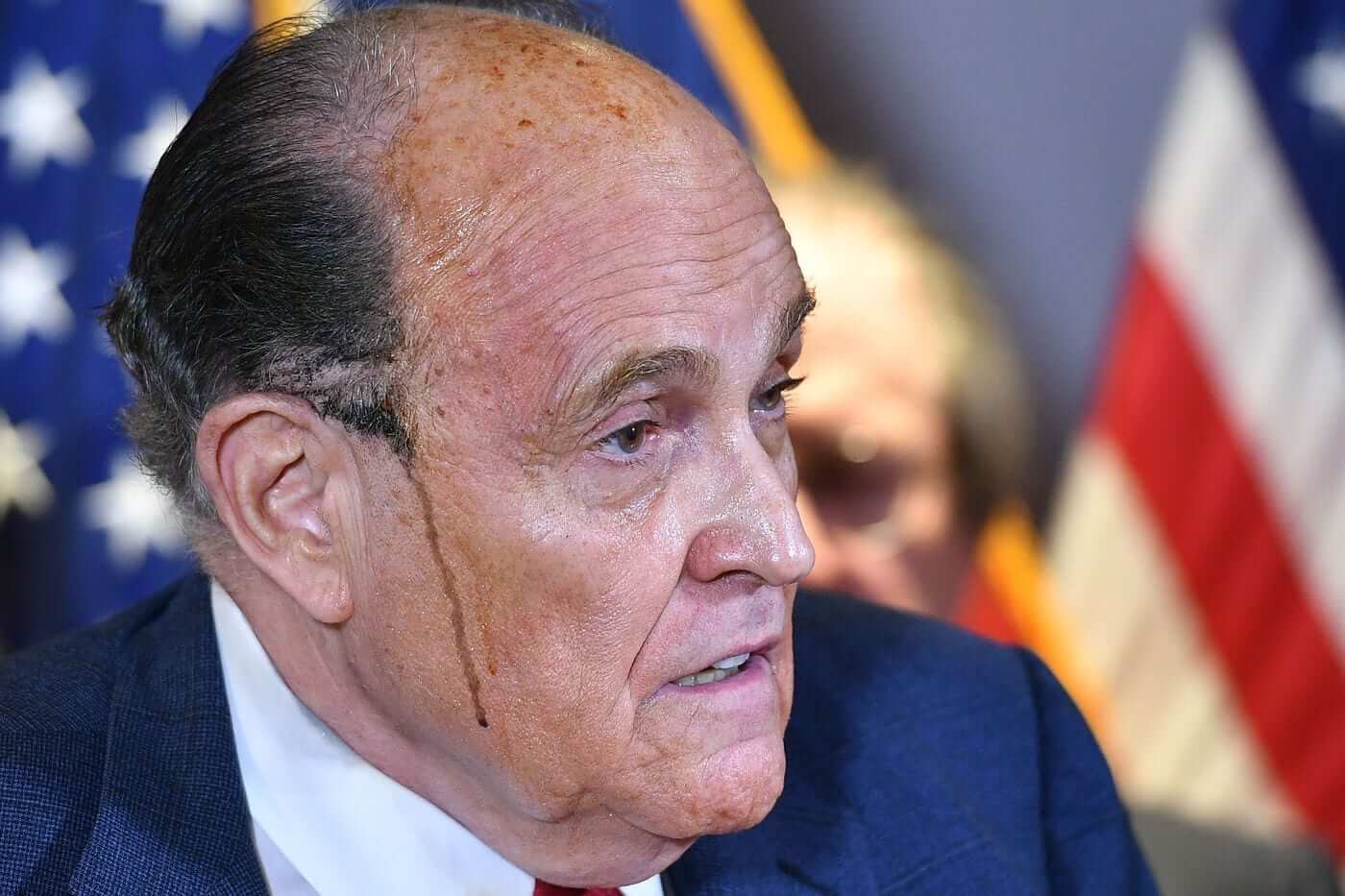 (Footnote: About 10 minutes after I finished writing this section, someone tweeted this at me. Really!)
• • • • •
• • • • •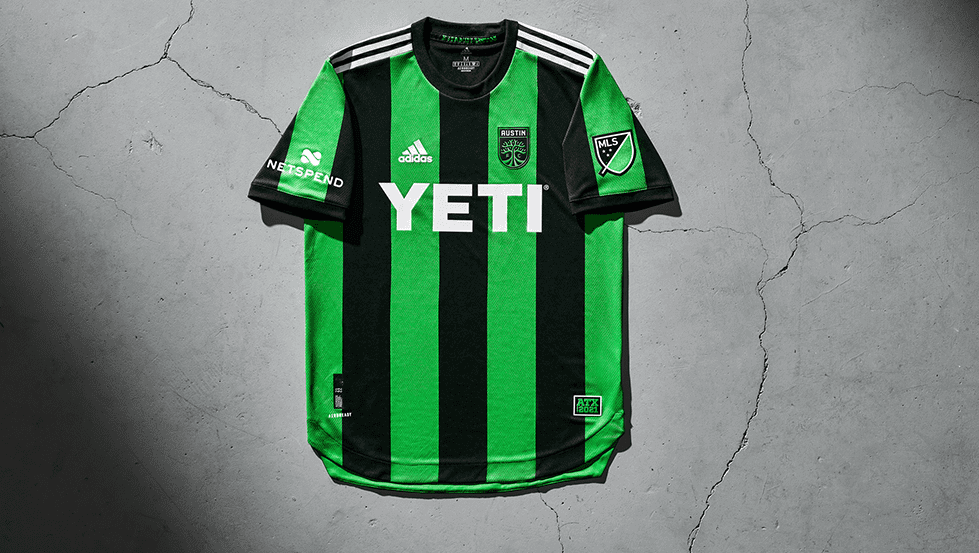 Click to enlarge
ITEM! Austin FC shirt raffle: MLS's latest team, Austin FC, unveiled their inaugural shirt earlier this week, and now a lucky Uni Watch reader will get to win one of those shirts!
This will be a three-day raffle. USA mailing addresses only. To enter, send an email with your name, mailing address, and shirt size, to the raffle address by 8pm Eastern on Sunday. One entry per person. I'll announce the winner on Monday. Good luck!
• • • • •
• • • • •
Membership update: Eight new designs have been added to the membership card gallery, including Chris Pedersen's (shown at right), which is based on the old Edmonton Mercurys. What a gorgeous sweater that was! Great design choice by Chris.
Ordering a membership card is a good way to support Uni Watch (which, frankly, could use your support these days). And remember, as a gesture of comm-uni-ty solidarity, the price of a membership has been reduced from $25 to $20 until further notice, plus a Uni Watch membership card entitles you to a 15% discount on any of the merchandise in the Uni Watch, Uni Rock, and Naming Wrongs shops. (If you're an existing member and would like to have the discount code, email me and I'll hook you up.)
As always, you can sign up for your own custom-designed card here, you can see all the cards we've designed so far here (now more than 3,000 of them!), and you can see how we produce the cards here.
• • • • •
• • • • •
The Ticker
By Anthony Emerson


Baseball News: The Australian Baseball League's Brisbane Bandits announced a link with the Brewers on Wednesday, but used the old Brewers ball-in-glove logo, rather than the updated one, in their announcement (great spot by Chad Lehman).


NFL News: Washington will be wearing throwbacks on Sunday. "Perhaps conveniently [they] did not show the sleeves," says our own Jamie Rathjen, referring to the Indian head patch that has previously been part of that throwback design. The patch will presumably not be used this time around. … Fox's comic-book-style graphics gave Russell Wilson an off-center Nike logo during last night's game (from Brad Boyd).

College/High School Football News: RB Jalen Holston will get Beamer's No. 25 jersey for Virginia Tech, who are going maroon-white-maroon (from Andrew Cosentino). … Oregon will wear Polynesian-themed uniforms tomorrow against UCLA (from multiple readers). … Virginia is going blue-blue-white tomorrow (thanks, Jamie). … Utah is going BFBS but adding social justice statements in place of traditional NOBs (from Cody Pullan). … Appalachian State is going mono-white with a flag-desecration helmet logo (from Sean Welsch and Matt Rashford). … San Jose State is going mono-white tomorrow (from Timmy Donahue). …"Interested in a comprehensive compilation of Mississippi high school football helmet designs? This blog has you covered," says Kary Klismet.

Hockey News: Here's a Flyers uni retrospective (from Kary Klismet). … The OHL's Erie Otters have unveiled their 25th-anniversary logo and an alternate sweater commemorating the anniversary (from Wade Heidt). … Also from Wade: The QMJHL's Tigres de Victoriaville did the pink thing on Wednesday night. … LIU men have unveiled a very nice new sweater (from multiple readers). … New sweaters for Minnesota men, plus a 100th-anniversary patch on both the sweater and the pants! Is this the first time we've seen an anniversary patch or other commemorative logo on hockey pants? (From Nick Hannula.)

NBA News: Anthony Edwards was the first overall pick in Wednesday night's draft, so it makes sense that he'll wear No. 1 for the Timberwolves. Etienne Catalan had that news, and check his Twitter account for all your NBA uni number needs.

College/High School Hoops News: New unis for Idaho men and women (from Kary Klismet). … New unis for Wisconsin-Green Bay men (from Eric Fischer). … Wyoming men have posted new a new uni teaser (from Darryl Knight). … Kentucky has added ugly splotches showing Rupp Arena's new corporate-backed name to their floor. New version on top, old on bottom. … Also from Kary: New floor for Lydon Institute in Vermont.

Soccer News: Colombia's kits on Tuesday were a mashup of three different kits — 2018's shorts, 2016's socks and the current blue shirts (thanks, Jamie). … Also from Jamie, new kits for Australia's Perth Glory. … Hertha Berlin will wear a commemorative shirt honoring the club's supporters this weekend (from Ed Zelaski). … SC Freiburg will also wear a commemorative shirt this weekend to honor the club's supporter group. … Also from Kary: The Cagliari City Council has approved a new stadium for Serie A's Cagliari Calcio.

Grab Bag: The NLL has revealed the logo and name of their new Fort Worth team, called Panther City Lacrosse Club (from Jose Herrera). … British Columbia's The Province newspaper is holding a contest to determine which B.C. sports uniform is its readers' favorite (from Wade Heidt). … Great holiday gift idea: this tabletop curling game! (from Mike Williams). … Kary Klismet sends along this Twitter account for college logos from all levels. … Also from Kary: A few weeks ago we Ticker-linked an item that seemed to indicate the Australian Football League's Sydney Swans were soft-launching a new logo. Yesterday, the Swans formally unveiled it. … The Southern Conference has unveiled its 100th-anniversary logo (from Brandon Keys and Timmy Donahue). … This is so cool: Graphic design titan Paul Rand was commissioned to redesign the Ford logo in 1966, though his redesign was ultimately rejected.
• • • • •
• • • • •
Click to enlarge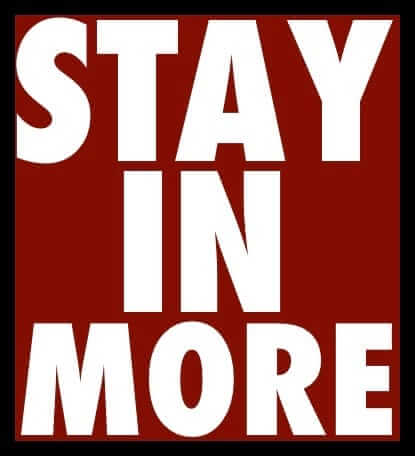 What Paul did last night: There's this guy who often walks by with a baby stroller during our porch sessions. Since it gets dark so early these days, he recently put little lights on the stroller, and it looks so completely awesome. I've been hoping to photograph him for a while now, but he often seems to go by when I'm distracted, or in the middle of a conversation with Mary, or whatever.
But as I was setting up for last night's photo, there he was! The photo doesn't really capture how great the lights look in person, but I'm glad I finally documented Brooklyn's coolest baby stroller.
As always, you can see the full set of daily Pandemic Porch Cocktails™ photos — now nearly 250 of them — here.
• • • • •
Next Monday, in addition to our usual NFL roundup, I'll have my annual College Hoops Season Preview. Until then, stay safe, mask up, and enjoy Phil's weekend content. I'll see you back here on Monday morning. — Paul