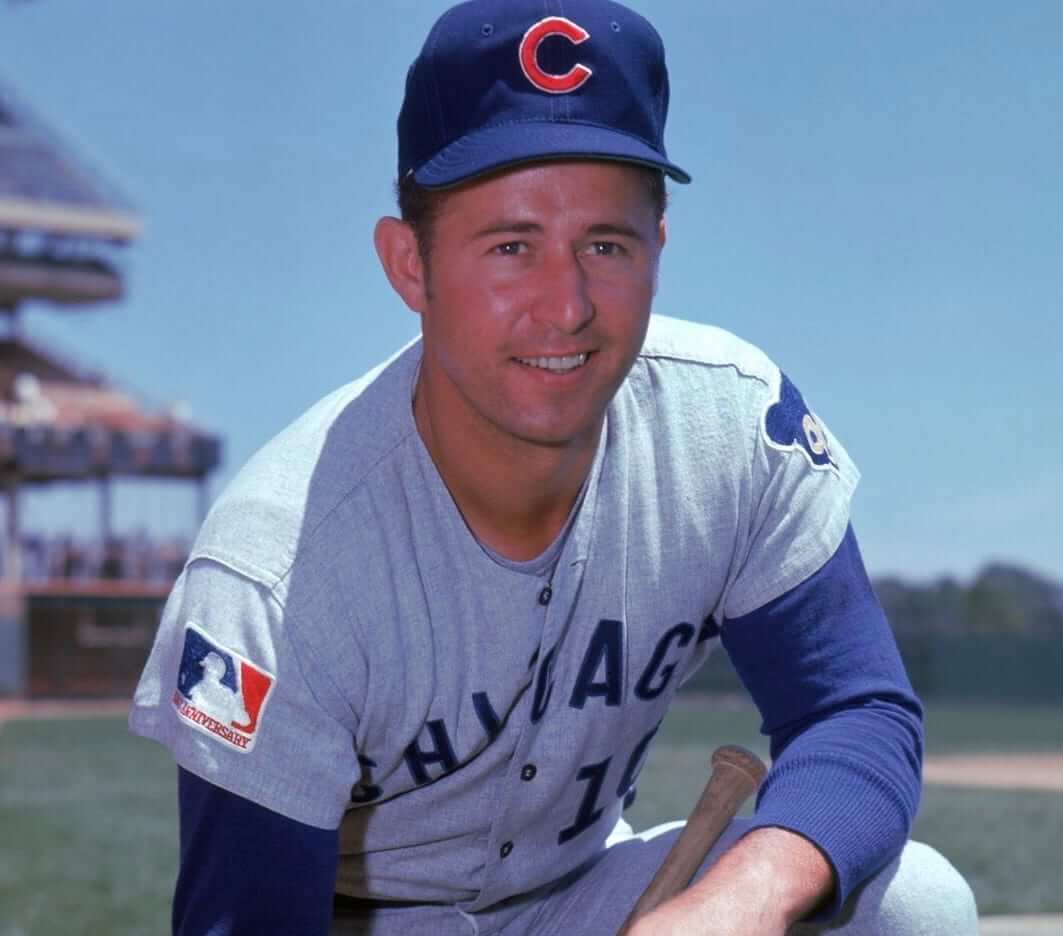 Click to enlarge
Membership card designer Scott M.X. Turner recently gave me an idea for a really fun topic: uniforms or uni elements that were originally intended to appear for only one season but ended up becoming long-term or even permanent fixtures.
The most notable example of this is probably MLB's familiar silhouetted-batter logo, designed by the late, great Jerry Dior. It was created as a centennial logo to be worn as a sleeve patch during the 1969 (see above) but was considered so successful that it was retained and repurposed as a new MLB logo.
Scott and I came up with a bunch of additional examples: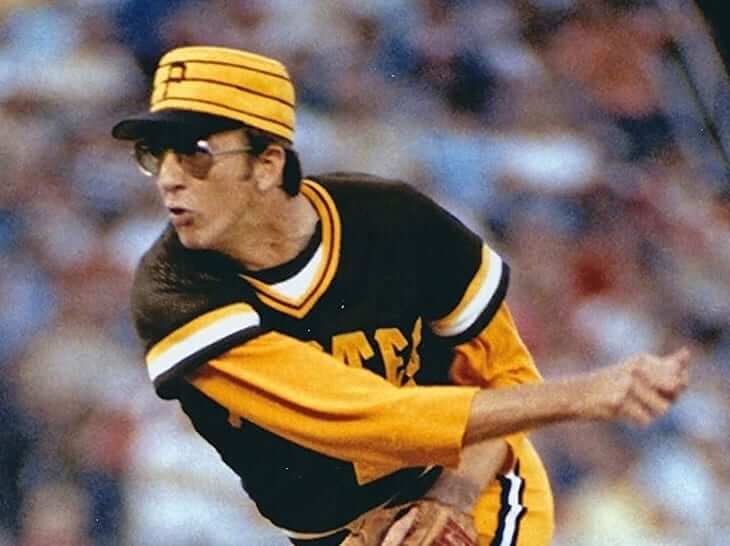 The Pirates' Pillbox Caps

Lots of National League teams wore pillbox caps in 1976 as an old-timey nod to the league's 100th anniversary. The Pirates liked theirs so much that they decided to keep wearing them in 1977 … and '78 … and all the way through 1986!
———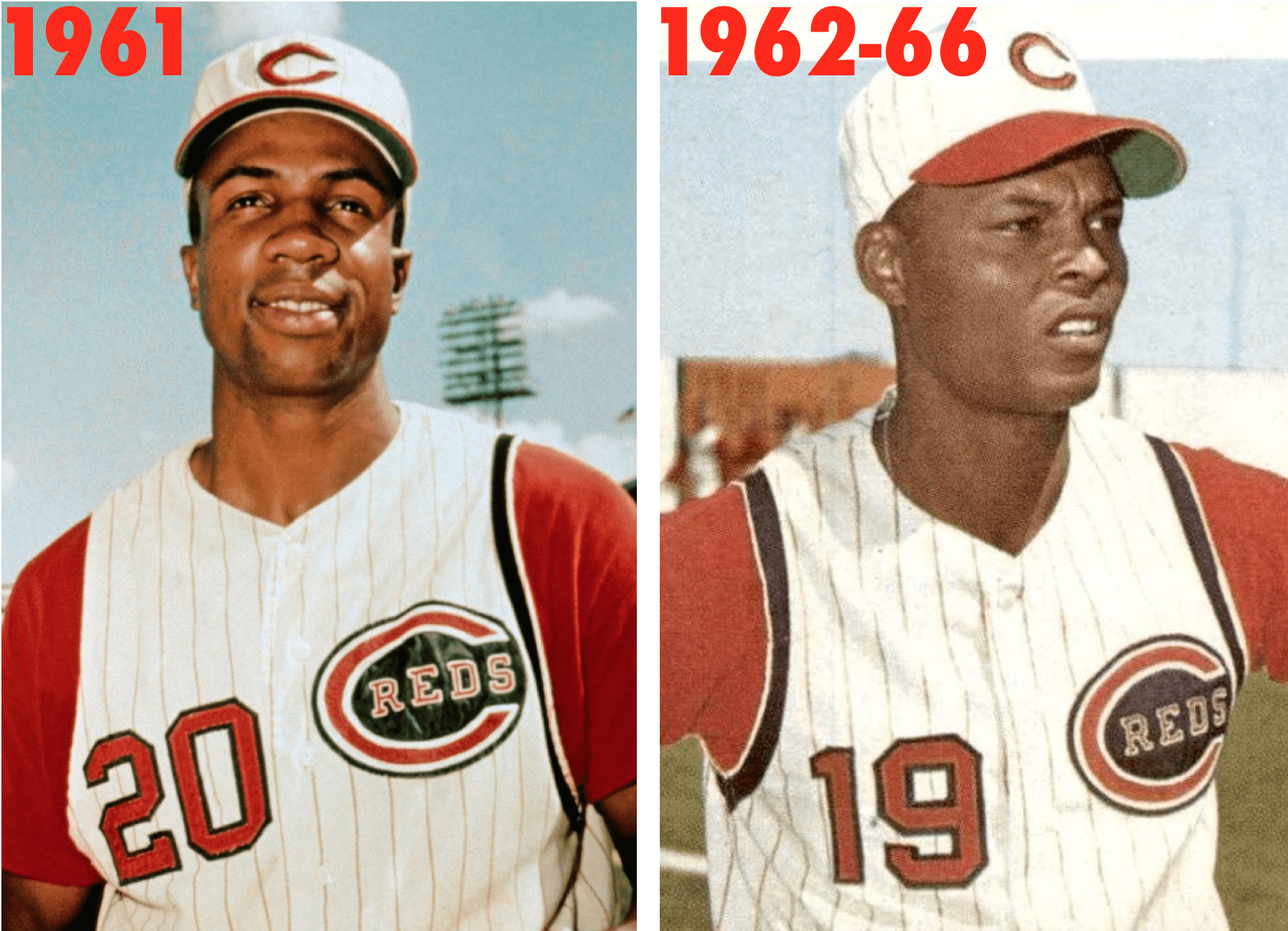 The Reds' 1960s Armhole Stripes

In 1961, the Reds added black piping to their left vest-jersey armholes as a memorial for owner Powel Crosley. They apparently thought the piping gave the vest a sharper look, because instead of removing the left-side memorial the following year, they kept it and added matching piping on the other side, which they ended up keeping for five seasons.
———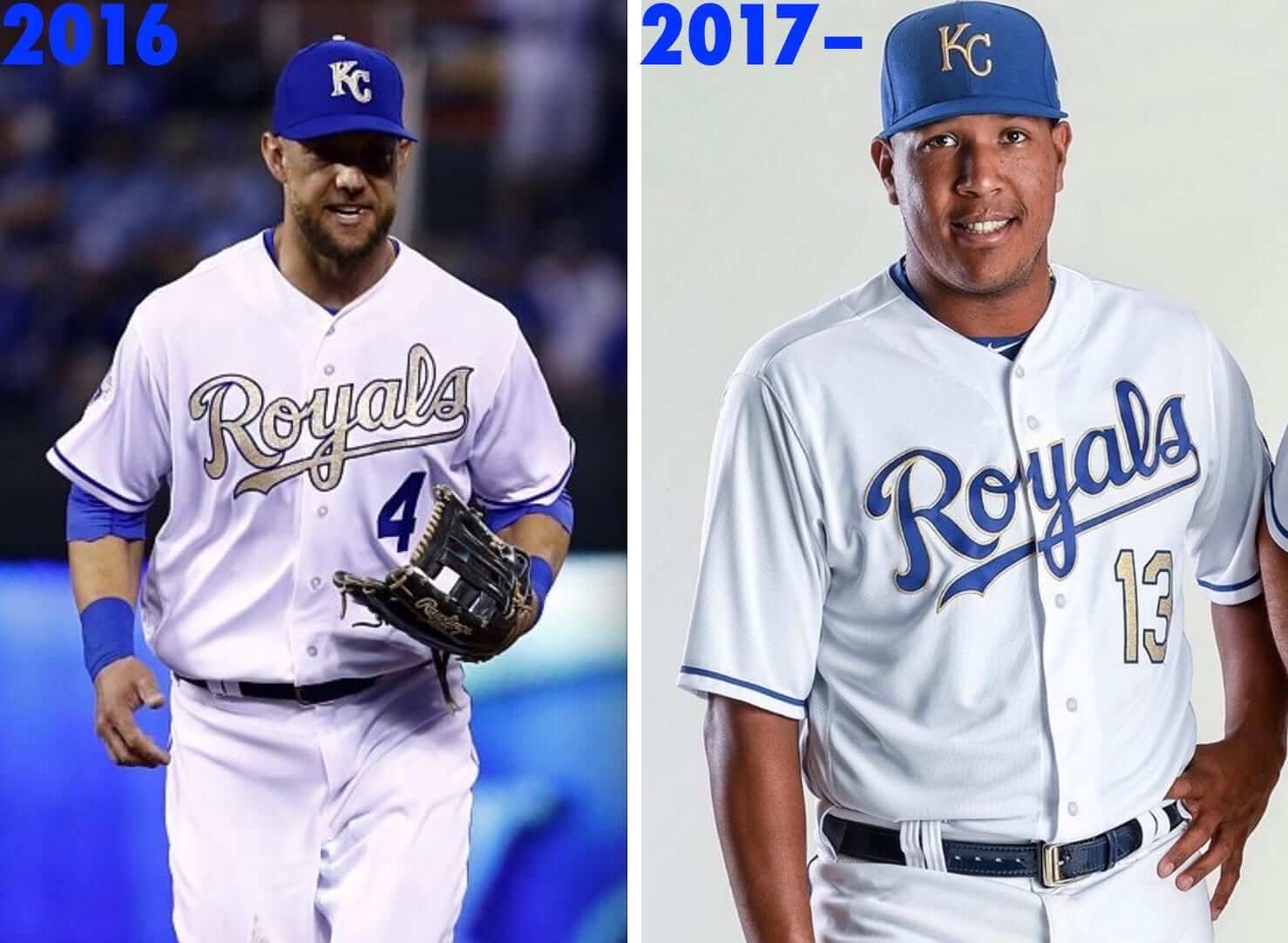 The Royals' Gold-Trimmed Uniforms

After winning the 2015 World Series, the Royals, like most recent MLB champs, opened the following season by wearing gold-trimmed uniforms. They ended up requesting and receiving permission to keep wearing the goldies as a Friday alternate for the rest of that season, and then they came out with a similar gold-trimmed design as an official alternate in 2017. That uniform is still in their rotation today.
———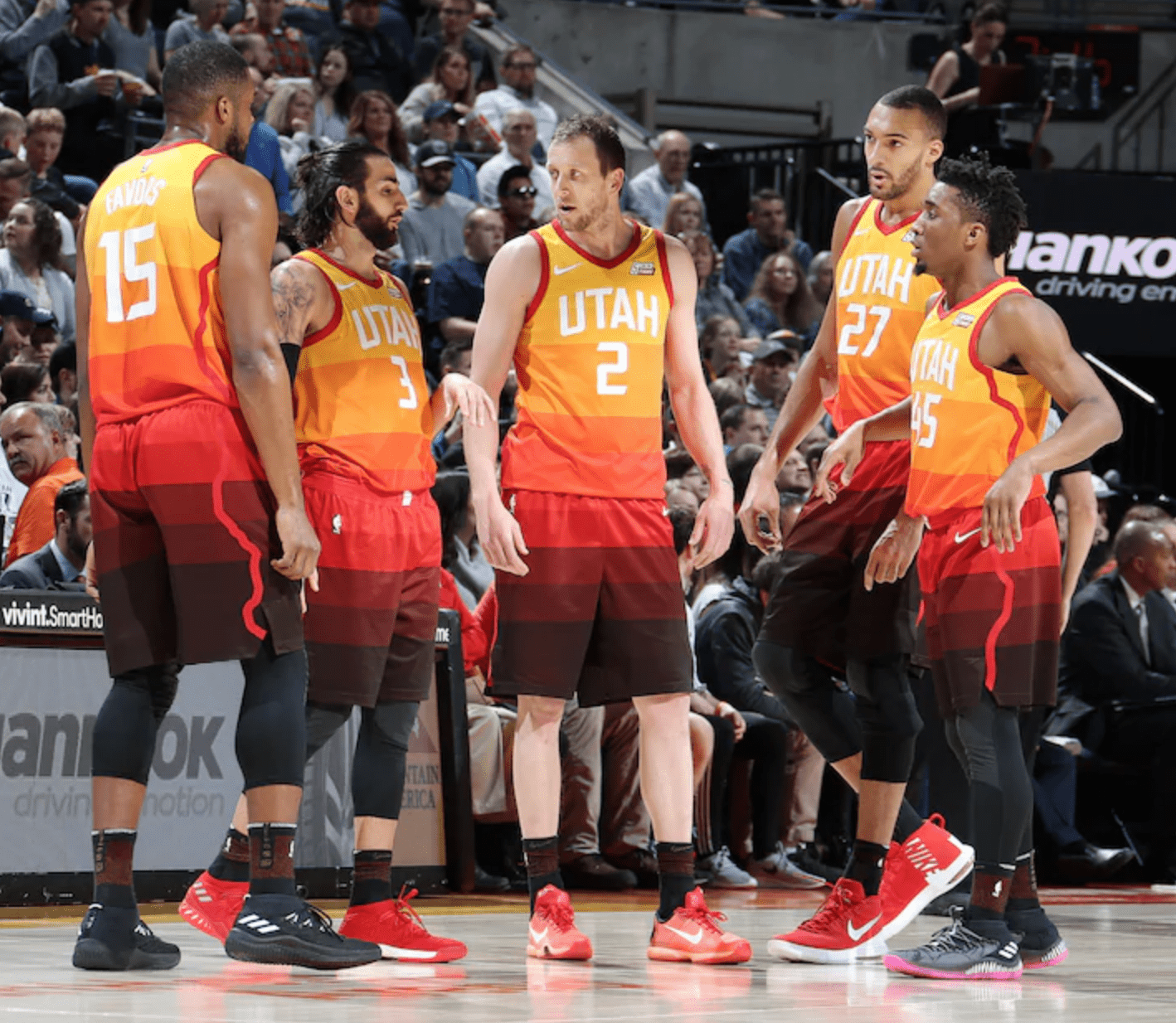 The Jazz's "Red Rock" Alternates

When the NBA's "City Edition" alternate program launched in the 2017-18 season, the idea was that each City design would be worn for only one season. But Utah's "red rock" design was such a hit that the Jazz chose to stick with it for 2018-19 (they were the only team to keep their first City design), and then they kept it again for 2019-20.
———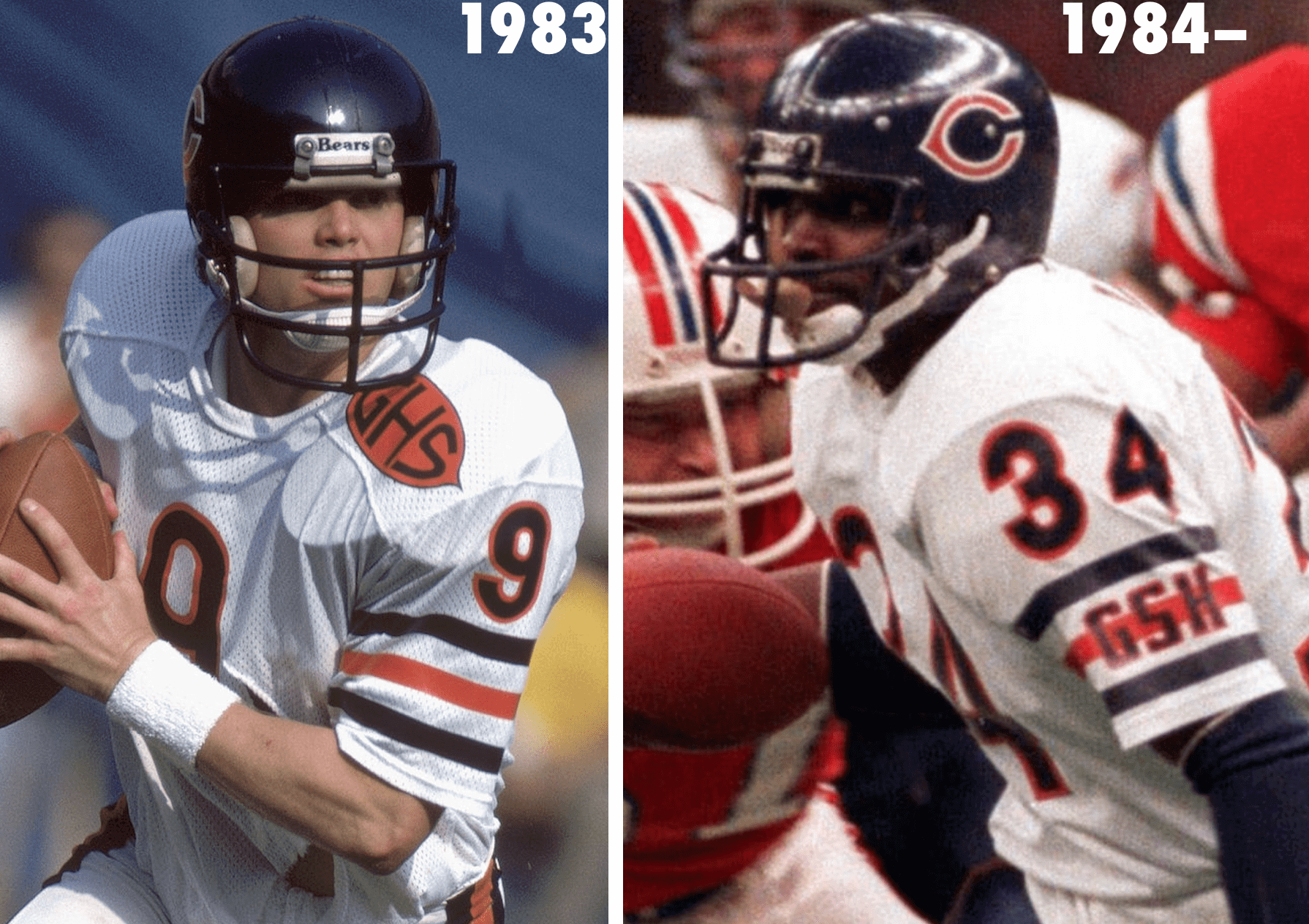 The Bears' George Halas Perma-memorial

After Bears founder George S. Halas died during the 1983 NFL season, the team added an enormous monogram-style memorial patch for him. The following year they decided to memorialize Halas permanently by adding his initials to the left jersey sleeve, where they're still worn today. To my knowledge, this was the uni-verse's first perma-memorial.
This raises the question of whether other perma-memorials (such as those for Al Davis, Lamar Hunt, Al McGuire, William Clay Ford, and Bob McNair, for example) were originally intended as one-year gestures and then got extended, or if they were intended from the start to be long-term uniform elements. Honestly, I'm not sure. Anyone..?
———
I'm fairly certain there are other examples that I'm not thinking of. If you know of any, feel free to post them in today's comments. (Remember, we're not looking for alternates that got redesignated as primaries — we're looking for things that were originally supposed to be for just one season but ended up being extended or repurposed for additional seasons.) I look forward to seeing what you come up with!
(Big thanks to Scott M.X. Turner for coming up with this topic.)
• • • • •
• • • • •
Too good for the Ticker: I don't care about soccer or video games, and I actively dislike advertising on uniforms. And yet I love this video by Uni Watch reader Justin Simmons, which takes a detailed look at the history of video games being advertised on soccer jerseys. Such a specific sub-category! I love the obsessive niche-y-ness of it. Nicely done, Justin!
• • • • •
• • • • •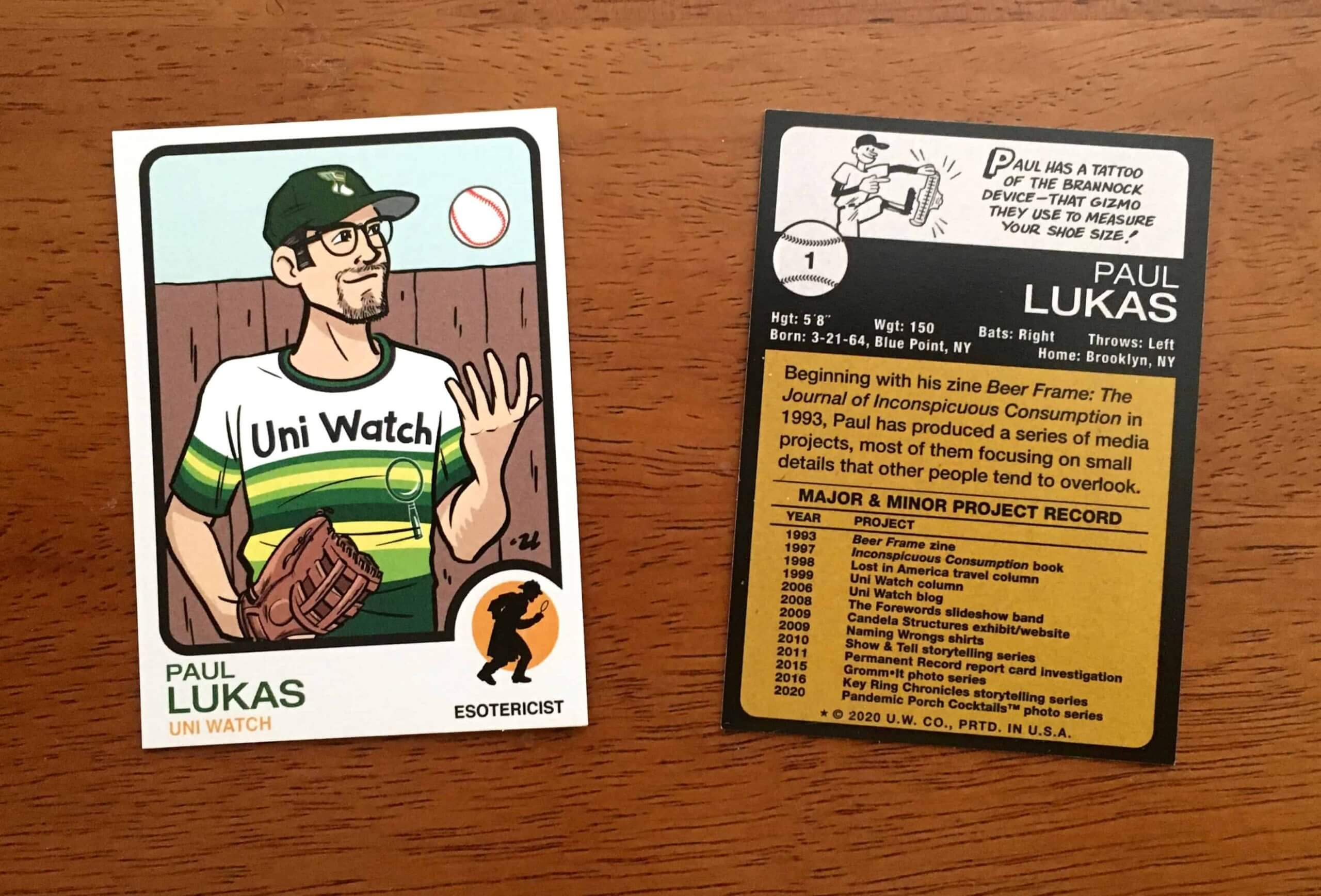 ITEM! Trading card price break: I still have about 150 of the Uni Watch trading cards — including three or four of the numbered/signed ones. These originally sold for $5.99 apiece, but as of today I'm reducing the price to $3.99 for the first card and $2.99 for each additional card.
Just like before, each card comes in a green-bordered toploader and includes a relic swatch of the Uni Watch jersey I was wearing for the photo shoot that served as the basis for the card illustration: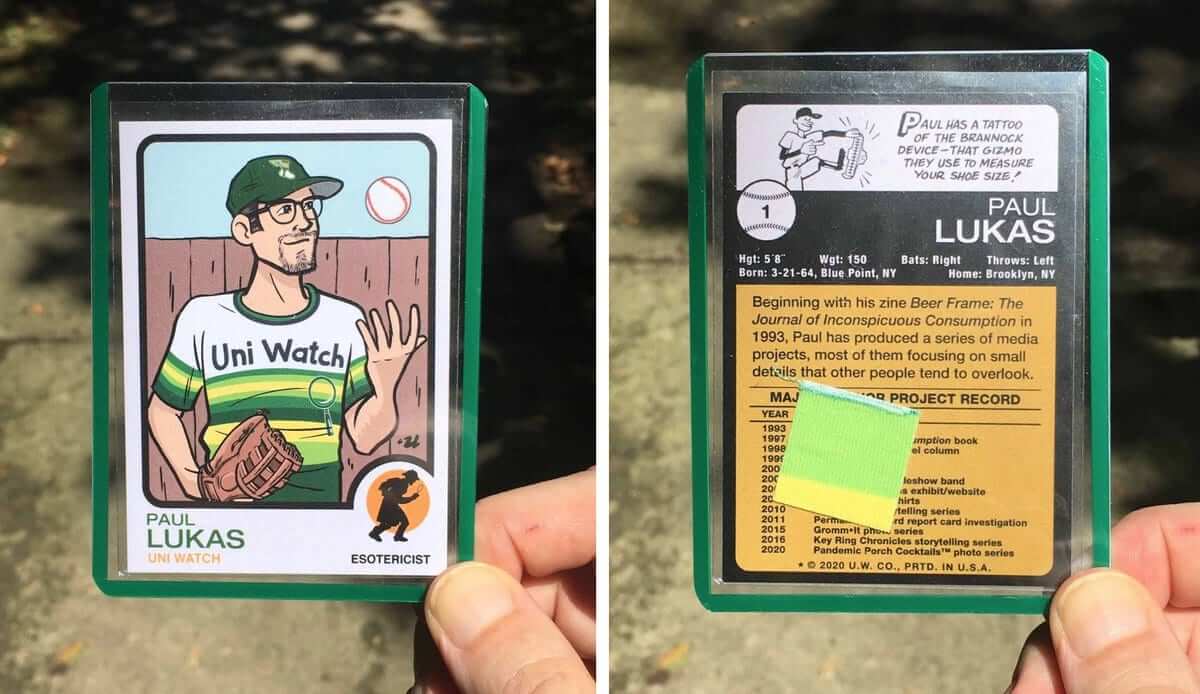 Full ordering details here.
• • • • •
• • • • •
The Ticker
By Lloyd Alaban

Baseball News: Recently, former Red Sox P Rich Hill was on The Bradfo Sho, a podcast about Boston sports. At about the 19:30 mark, Hill and the host started talking about Hill's 2015 shutout win against the Orioles after a long injury recovery. Hill says he would have loved to wear the team's home whites for that game instead of the red alternates the team wore (from Devin Clancy). … The Braves have a new sesquicentennial logo. No word yet on whether it'll be worn as a patch, but that seems likely (from Austin Perry). … The Twins recently decided not to renew their partnership with their Triple-A affiliate, the Rochester Red Wings. So the Red Wings posted a video of their staff removing all Twins-related grapihcs from their ballpark (from Andreas Papadopulos). … Nats OF Victor Robles, currently playing in the Dominican Winter League, has been wearing a surgical mask on the field (from William Yurasko).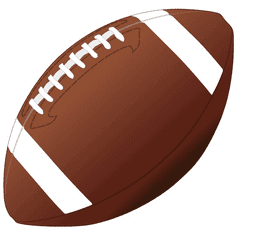 Football News: Steelers WR Chase Claypool has had his helmet fitted with one of those lower-face screens on his helmet (from @MrBudziszewski). … ESPN compiled a visual history of Patriots head coach Bill Belichick's hoodies (from multiple readers). … The Falcons posted an animation of LB Foyesade Oluokun in the team's old uniform. … Idaho teased their new uniforms this week (from Braden Erickson). … University of Buffalo DE Eric Black usually wears No. 94. He wore No. 41 last night in honor of late teammate DE Solomon Jackson, who died in February at 20 (from Moe Khan).

Hockey News: As part of their 100th-anniversary celebration, the University of Minnesota will wear throwbacks this season featuring gold pants and white sweaters with diagonal lettering across the front (from Kary Klismet). … Also from Kary: Sports website theScore has ranked its top 50 NHL logos of all time. … The Kraken aren't able to participate in this season's "reverse retro" program, but that doesn't mean Seattle doesn't have a long history of retro uniforms. … The Avalanche released their 25th-anniversary logo, which will be worn as a patch. That article also includes this news: "The home and away sweaters will now feature the primary color of blue for the shorts, gloves and helmets, while the alternate sweater will have slight modifications to the pants and gloves" (from Andrew Doran). … Here's something you don't often see: orange Cooperalls! … Flyers mascot Gritty won the internet yesterday.

Basketball News: The NBA draft will be held remotely tonight. Top prospects have been provided with gear from 30 teams, so they pose with the proper accessories once they've been picked. … The Nuggets have been teasing a red skyline alternate that will apparently be revealed today. … New jersey advertiser (thanks to all who shared). … Georgia State has broken ground on its new basketball arena (from Kary Klismet). … Also from Kary: Kentucky is now letting fans buy cardboard cutouts to be placed in their arena. … Houston Baptist is adding a "Love Your Brother" patch to its uniforms. Also, the school's "Hustlin' Husky" uniform will be back for one game this season. Date not yet finalized. … Looks like coaches in the ACC will be going Casual Friday every day of the week this season (from James Gilbert).

Soccer News: New crest and colors for the Houston Dynamo and Houston Dash. New alternate shirt for the Dynamo, too. More details here (from multiple readers). … New crest for Louisville City FC (from Josh Claywell).

Grab Bag: New kits for Major League Rugby (from Wesley Eustis). … New two-liter bottle design for Pepsi (from Graham Block). … The new Fort Worth National Lacrosse League team has announced its name and logo (from Wade Heidt). …  New mascot logo for Southwestern Michigan College (from Kary Klismet). … Also from Kary: Japan has a new cartoon mascot to encourage mask-wearing to fight the coronavirus. … Sinclair is considering selling the naming rights to Fox's regional sports networks to a betting company (from our own Alex Hider). … Pictures of the first soldiers to graduate from basic training wearing the Army's new "pinks and greens" uniforms have been published (from Timmy Donahue). … NASA spoke with Richard Danne, the designer behind their "worm" logo (from Joe Gagosian). … Douglas Freeman High School in Virginia has changed its team name from Rebels to Mavericks (from Kary Klismet again). … New racing uniform for the Japanese Ski Federation (from Jeremy Brahm).
• • • • •
• • • • •
• • • • •
Our latest raffle winners are Samuel Woolard and Brent Wilson, who've each won a Uni Watch membership card. Congrats to them and thanks to Chris Pedersen for sponsoring this one. — Paul