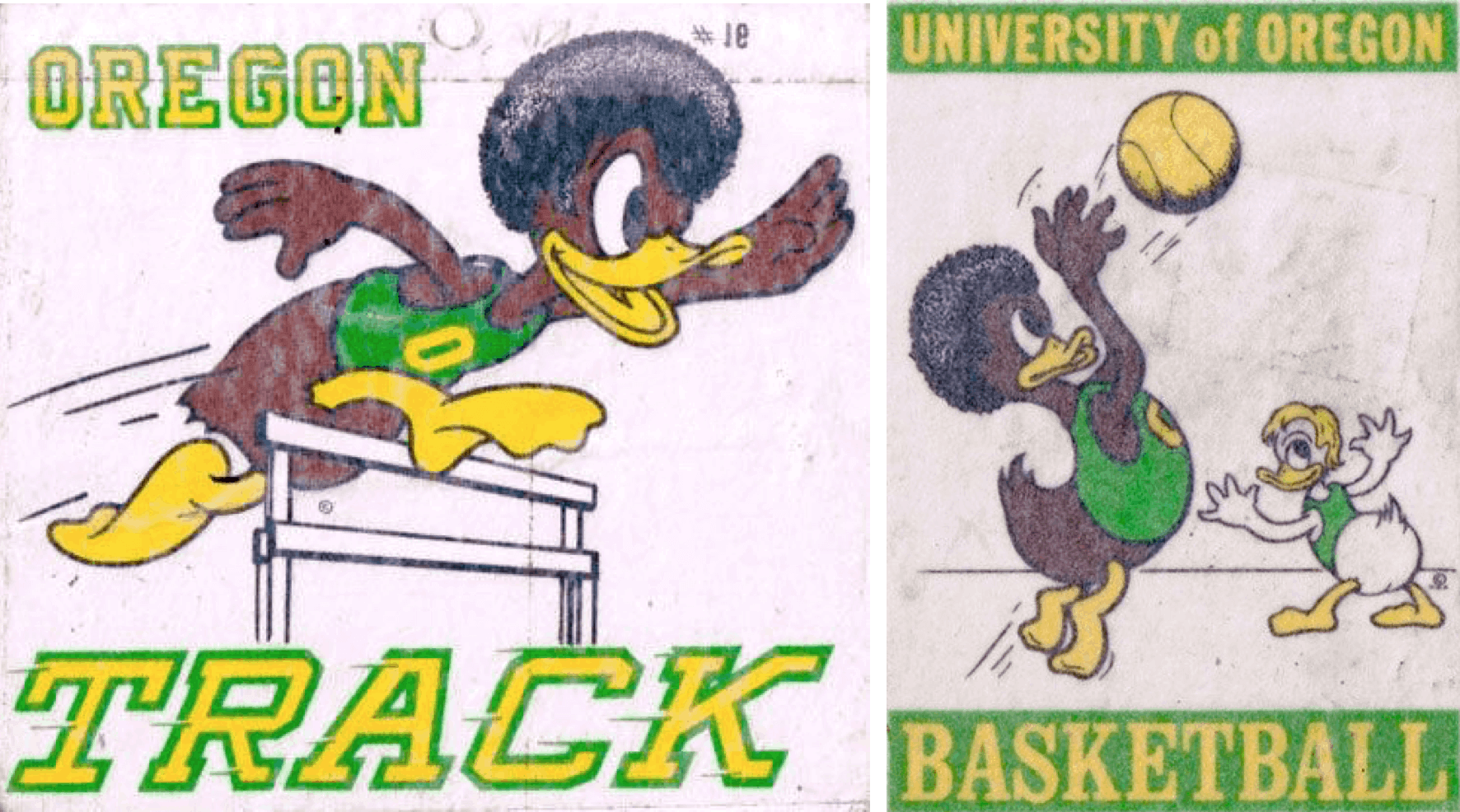 Click to enlarge
I forgot to say this yesterday, so I'll say it today: Greetings from Uni Watch HQ, where all three inhabitants continue to be safe and well.
Now then: Have you ever seen the mascot illustrations shown above, depicting a Black, Afro-clad version of the Oregon Ducks' familiar Donald Duck-style mascot character? I hadn't, until reader Ron Ruelle (the man who created the Brooklyn Branches) recently brought them to my attention.
The character was informally known as both Afro Duck and Soul Duck. Ron learned about its existence when he was working on a research project and stumbled across this item in the May 17, 1971, issue of Sports Illustrated (click to enlarge):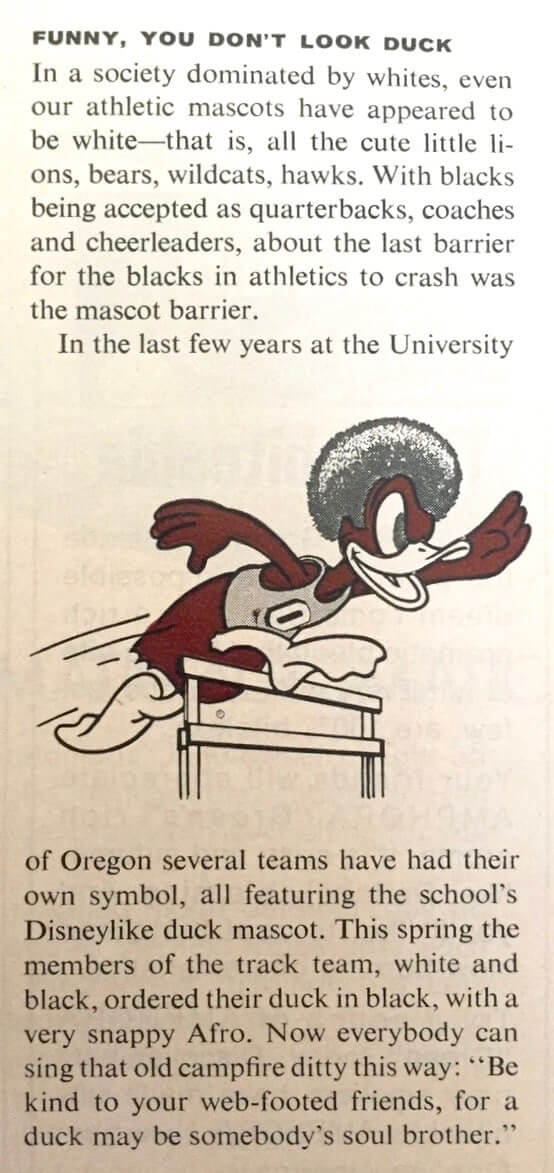 SI probably learned about Afro Duck from an Associated Press piece that ran in many newspapers across America on April 17, 1971. Here's how it looked in The Great Falls Tribune — it's short, so I recommend reading the whole thing (click to enlarge):

Oddly, my research shows that most newspapers ran the AP item without an accompanying visual, which sort of defeats the point. One prominent exception was the University of Oregon's hometown paper, The Register-Guard (click to enlarge):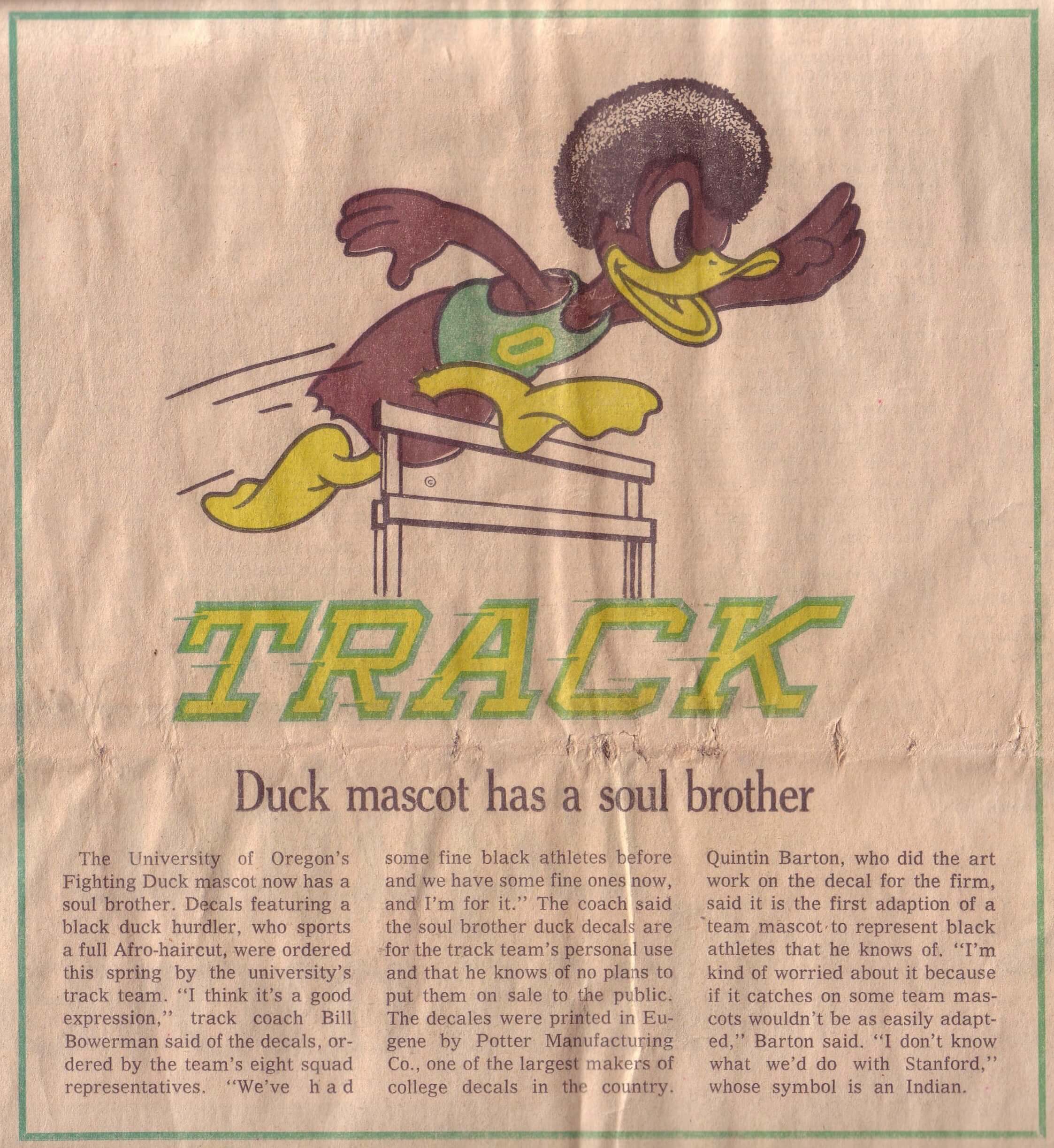 So according to the AP story, the idea for Afro Duck came from members of the Oregon track team, who used the character strictly for their own personal use. Interesting!
The AP item also says the character was designed for the track team by a Eugene, Ore., decal maker called Potter Manufacturing. To my surprise, they're still in business (slogan: "Sticking Around Since 1923"), so I gave them a call and asked, sort of tentatively, if anyone there knew anything about an Afro-ized version of the Oregon Ducks' mascot.
"Oh, you mean Afro Duck!" said the Potter employee who had answered the phone. "Hold on." A few seconds later I was transferred to a gentleman named Dana Csakany, who started working at Potter way back in 1989 and described himself as an art director and project manager.
Csakany said Afro Duck was sort of famous at the Potter company. He also told me the following:
• Quinton Barton, the Potter artist mentioned in the AP story, joined the firm in 1946 as a salesman (he's mentioned in this 1949 article about the company, which provides a good overview of its history) and eventually became the staff's lead artist and designer. Unfortunately, he's now deceased.
• As Csakany recalls it, Afro Duck was "quite popular" and "a big hit."
• Csakany doesn't recall exactly when the basketball version of Afro Duck, shown at the top of this blog post, was created, but it was presumably soon after the track version. He said there may also have been versions of the character for additional Oregon sports.
• Csakany said that after Afro Duck's debut, other universities ordered Afro-ized versions of their own mascots, but he couldn't recall any specific schools that did so.
• He said there are still some old Afro Duck decals floating around the Potter plant. Shortly after we spoke, he sent me this photo of one (click to enlarge):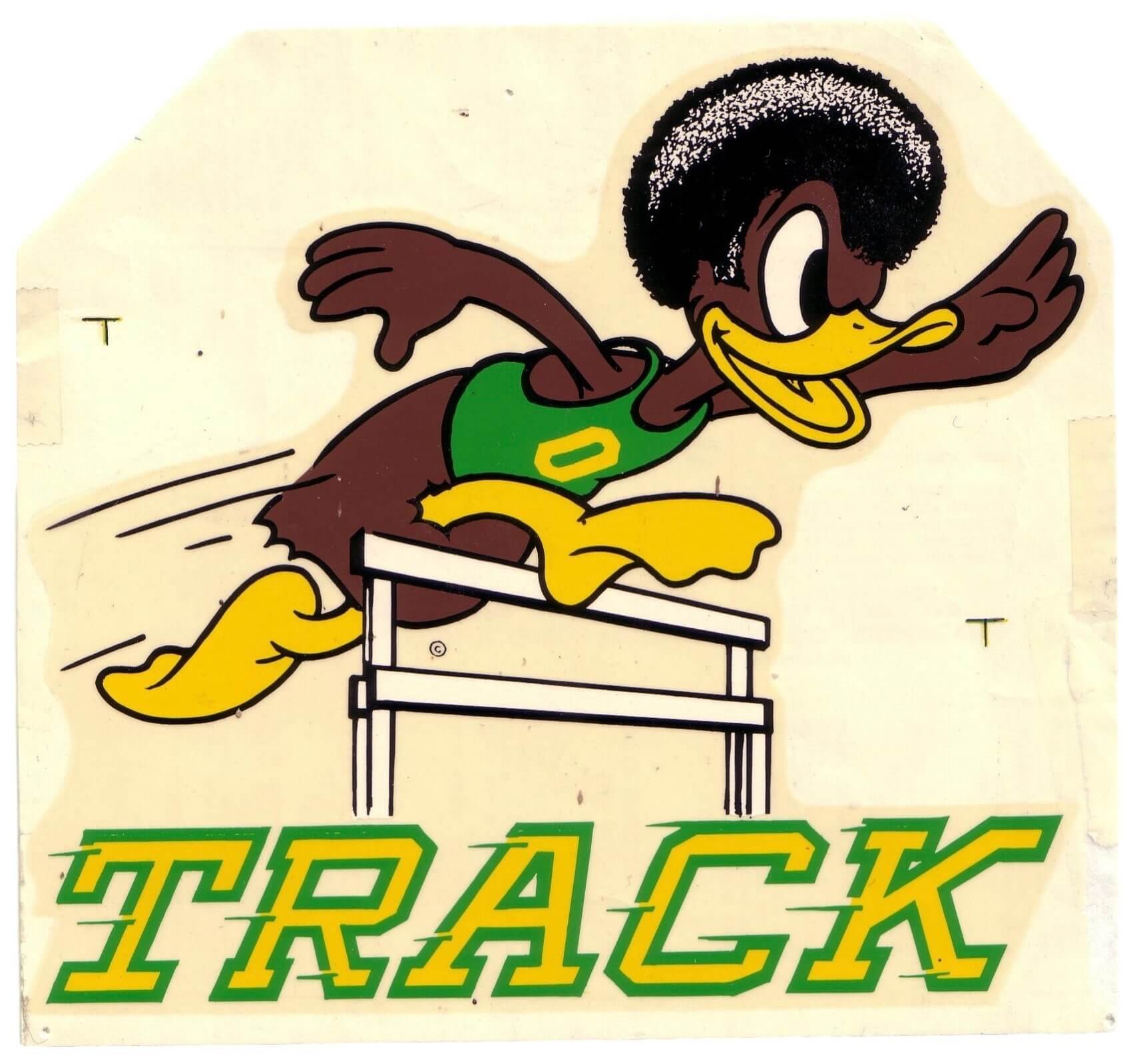 Csakany was going to poke around the Potter files and try to turn up some additional materials, including a photo of Quinton Barton, but he hasn't responded to my last few communiqués (which I don't mean as a criticism — these are obviously stressful, difficult times for everyone), so that's as much as we know about Afro Duck for now. I'll run a follow-up post if I end up learning more.
So what do we think of Afro Duck — commendable symbol of diversity? Unfortunate stereotype? Also, Csakany told me that Quinton Barton was White — does that matter? Should it matter?
I'd be interested in hearing what everyone thinks, but especially our Black readers. Even better, I'd love to find some Black members of the 1971 Oregon track team and learn more about how they came up with the idea for this character, but I haven't had time to do that type of research yet. If anyone wants to jump on that, be my guest!
Meanwhile: Walt Disney could not be reached for comment.
(Big thanks to Ron Ruelle for sending me down this rabbit hole, and to Dana Csakany for his kind assistance.)
• • • • •
• • • • •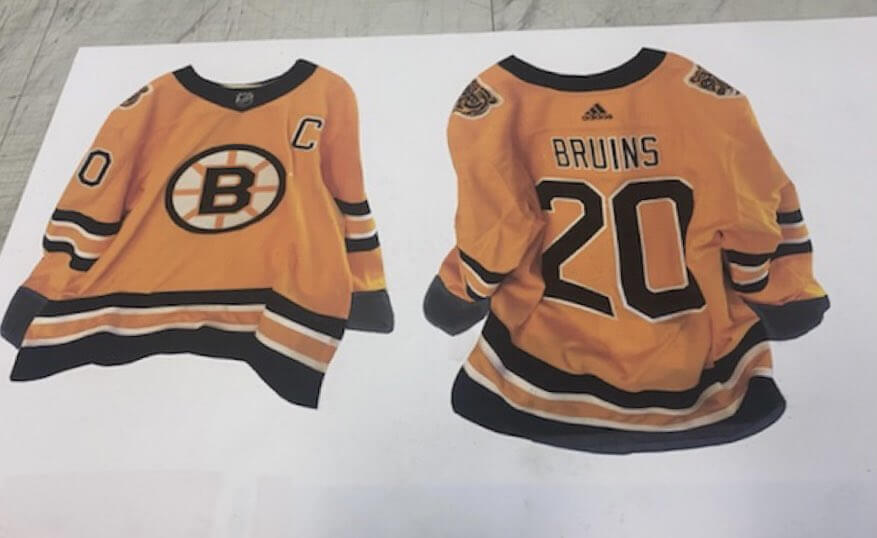 Click to enlarge
Possible Bruins leak: The jersey shown above, which began circulating yesterday, is purportedly the Bruins' entry in the NHL's new "reverse retro" alternate uni program. I do not know if it's legit, but I sure hope it is, because I love everything about it. The base color, the crest, the sleeve stripes, the belly stripes, the shoulder patches — so good! Even the collar is mercifully free of the usual Adidas bullshit (although it does seem to be too thick — a minor quibble). Make it so!
• • • • •
• • • • •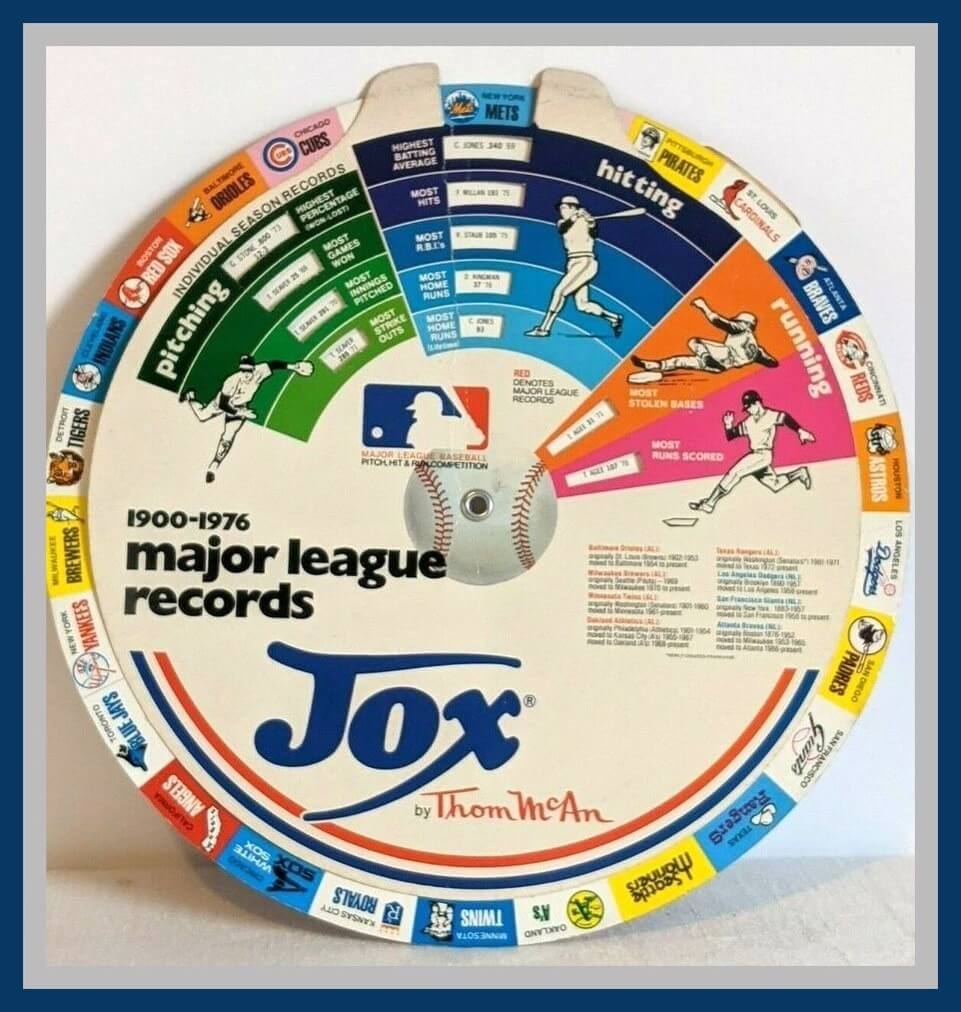 Click to enlarge
Collector's Corner
By Brinke Guthrie
Follow @brinkeguthrie  
Baseball season is over, but anytime's the right time for baseball on Collector's Corner. So we're leading off today with this 1977 "Jox® by Thom McAn Fact Wheel."  You slide it around and line up your favorite team in the right windows, and the respective stats show up. I wonder if announcers used this in the broadcast booth? [As longtime readers may recall, this type of device is called a volvelle. I've never seen this one before, but I love it! — PL]
Now for the rest of this week's picks:
 • This 1960s NFL Rawlings two-tone Rawlings football is still in its original wrapper!
• Sometimes replica NFL helmet makers don't get the details quite right. That's not the case here, as Rawlings definitely got the wings of this Philadelphia Eagles helmet dead on. This one is referred to as "game quality," whatever that means; unknown if this was part of a Rawlings NFL kids set.
• Phillies slugger Mike Schmidt graces the cover of this 1987 Topps Sticker Yearbook.
• This set of 1984 McDonalds Detroit Tigers promo cups has a version of the Tigers mascot that looks a lot like Tony the Tiger. And why is "Bless You, Boys" on there? Glad you asked, and Wikipedia has the answer: "The phrase 'Bless You Boys' was the catchphrase adopted by Detroit sportscaster Al Ackerman for the 1984 Detroit Tigers team that started the year with a 35-5 start." It was also the title of Sparky Anderson's book!
 • At one point back in the day, Indianapolis had the basketball Pacers and the WHA Racers, as shown on this puck. What a terrific logo and tie-in with the city's racing heritage! They played from 1974-78 before folding. The Great One, Wayne Gretzky, and Mark Messier, began their careers here.
 • This 1961 Los Angeles Angels ashtray is in terrific condition.
 • Great design on this 1971 Green Bay Packers puzzle from Springbok, who also used this artwork for posters.
 • Here's a great-looking (empty) Jim Beam decanter featuring the 1973 Big Red Machine and Riverfront Stadium.
 • Oakland A's great Rickey Henderson is the subject of this original oil painting from 1990.
• And from reader Trevor Williams, check out this NFL team logo jacket. Size 6XL!
Got an item to include on Collector's Corner? Tweet submissions to @brinkeguthrie.
• • • • •
• • • • •
Big Baby still got it 💪

(via @jacobryanortiz, @legionhoops) pic.twitter.com/wJxKBz8lra

— Bleacher Report (@BleacherReport) November 9, 2020
Too good for the Ticker: Glen "Big Baby" Davis was playing in a basketball tournament the other day and he still has the moves — even if they didn't have a uniform big enough for him!
(Big thanks to Mike Chamernik and Ivor van Esch for this one.)
• • • • •
• • • • •
The Ticker
By Alex Hider

Baseball News: New uniforms for the Virginia softball team (from our own Jamie Rathjen). … Monday was "glove day" at several college programs, including West Virginia, Maryland and TCU (from Timmy Donahue). … Back in 2006, the Cubs apparently didn't have an apostrophe for P Ryan O'Malley's NOB.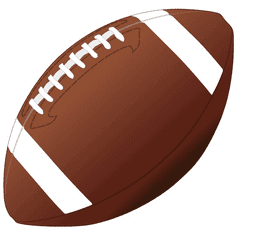 Football News: The Jets wore their BFBS alts on Monday Night Football last night. … The Titans have worn six different uni combinations in their eight games this season, per the Titans Uni Tracker. … We may have covered this before, but Giants DL Oshane Ximines is the first NFL player — and, in fact, the first Big Four pro player — whose surname begins with X (from Fred Shoken). … Northside Christian High School (Florida) uses a North Carolina-inspired logo that appears to incorporate a cross into the upper right ascender of the "N" (from James Gilbert).

Hockey News: The Golden Knights' AHL new affiliate, the Henderson Silver Knights, unveiled their inaugural jersey set, which features a whopping six colors (thanks to all who shared). … Arizona State has approved funding for a new hockey arena (from Kary Klismet). … The Melfort Mustangs of the Saskatchewan Junior Hockey League raised a memorial banner for Dylan Ashe, an 18-year-old defenseman who died in a car accident in September (from Wade Heidt).

Basketball News: The Kings have gone ahead and officially unveiled the new black "City" alternate uniforms that leaked last week. … Speaking of City alternates, the Magic tweeted some teases for their new set yesterday, and it appears they include orange pinstripes. … The Jean-Michel Basquiat-themed Nets alternate design that leaked last week appears to be legit.

Soccer News: Albuquerque has approved a study to scout locations for a stadium for USL Championship club New Mexico United (from Kary Klismet). … SiriusXM FC 157, a soccer-centered satellite radio channel, is running a bracket-style kit competition on social media (from Kevin Bruns). … Here's an interview with Inigo Turner, the Adidas designer who collaborated with Pharrell to design a series of jerseys for several high-profile clubs (from Trevor Williams). … Interesting story on how the Philadelphia Union turned a Captain America costume into a replica of MLS's "Supporters' Shield" trophy, which is awarded to the team with the best regular-season record. The trophy couldn't make it to Philadelphia for Sunday's game because of a shipping delay (from Scott and Jakob Fox). … @jamesesiddall notes that Fir Park, home of Scottish Premiership club Motherwell F.C., had a section of blank cardboard cutouts. Apparently, it's part of a campaign to bring awareness to people who have gone missing in the UK. … Manchester United F Anthony Martial showed off a pair of new anti-racism cleats that he may wear in an upcoming game (from our own Anthony Emerson).

Grab Bag: CNN has a great explainer about the white suit that Vice President-elect Kamala Harris wore during her victory speech on Saturday night (from Jason Hillyer and Timmy Donahue). … If we're talking khakis on Uni Watch, we're typically talking about Michigan football coach Jim Harbaugh. But don't sleep on MSNBC political correspondent Steve Kornacki, who often wears khakis while working the magic wall during election night coverage (from @jabbrewocky). … New band uniforms for Wooster High School in Ohio (from Kary Klismet). … We have a second NASCAR/football uniform crossover concept for driver Danica Patrick (from Luis Fernando). … New jerseys for Nantes, a French women's volleyball club (from Jeremy Brahm). … Twitter user and reader @cdubs271 was reffing a lacrosse tournament and Maryland this weekend and spotted a player whose jersey had an upside-down 1. … This is what golfer Justin Thomas will be wearing at The Masters throughout the weekend (from Griffin T. Smith). … Tennis star Naomi Osaka has a new apparel line launching later this month (from Brinke). … El Camino Real, a charter school in California, will no longer call its teams the Conquistadores (from Jakob Fox).
• • • • •
• • • • •
• • • • •
Our latest raffle winner is Ronald Lizik, who's won himself a membership card. Congrats to him and thanks to Ian Lee for sponsoring this one. — Paul