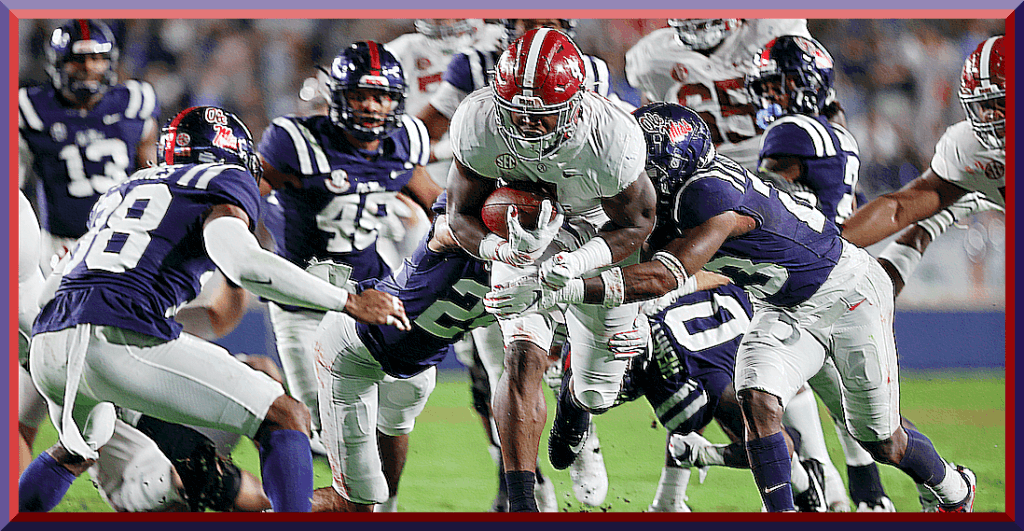 By Phil Hecken and the SMUW Crew
Follow @PhilHecken

Hey everyone, a good Sunday Morning to you all.
Been beginning the process of closing the summer place down, so unfortunately I didn't see a ton of football yesterday. And as I sat down to watch some games last evening, I started with Alabama and Ole Miss … and I never turned it off. It ended up being quite a slugfest (whatever happened to the SEC and defense?), and a very close game until the last minute. Therefore, my intro to TJ will be nice and short.
After two weeks wearing their beautiful baby blue helmets (including an opening week in baby blue jerseys), Ole Miss busted out the navy blue hats & shirts against the Tide, who were resplendent in their crimson helmets and white uniforms. You guys know Alabama is my favorite NCAAFB uni, right? Well, if you didn't, now you do.
Bit of a programming note. The new SMUW feature "What They Should Have Worn" is going on hiatus for a little while, as Logan Patterson and his wife are in the process of selling their house and hunting for a new one — so while that takes place, Logan's going to take a little break from WTSHW. But Memal's back this week with the 5 & 1, so everything else is good to go.
And now to TJ for your…
• • •
Sunday Morning Uni Watch
by Terry Duroncelet, Jr.
Looks like I wasn't the only one who had a busy week. The SEC went all spinny-winny, and the Red River Rivalry was one for the ages (I caught OT #2, #3, and #4 during my lunch break, and BOY, if that wasn't the hypest thing I've seen in a minute…). Wish I could say the same for the uni action, but regardless, we move forward, so without further ado…
From Friday:
• Tulane wore light blue/white/light blue against Houston, and the world was all the better for it. Also –and I'm sure I've said this in the past– Tulane has probably the most underrated color scheme in college football. Angry Wave has never looked better (and that's saying A LOT).
From Saturday:
• Temple played its first game of the season in their new Nike uniforms, and while nothing can ever beat a pair of properly-tiled pants (except maybe diamonds instead of squares), these are solid in my book (as was the general look of the game). Also, like I mentioned weeks ago, there are *fortunately* so many BLM patches amongst the many teams, it would *unfortunately* be considered a fool's errand to track them all in the little time that I have on the weekends, but I at least wanted to highlight Temple's patch (the 'OFJ' underneath the 'BLM' stands for 'Owls For Justice').
• The Western Kentucky Terrapins faced off against the Marshall Thundering Herd. WKU must've been missing Maryland in the college landscape, and given that the B1G isn't starting their season until Oct. 24th, I guess they took matters into their own hands. KILLER socks, though. Oh, and before you ask…
• TCU wore their *ahem* bloody eye uniforms against Kansas State. If nothing else, the Horned Frogs avoided looking like K-State's evil twin brother.
• I don't know if I've seen Pitt in these blue pants before. Not my favorite look for them, but maybe with the white jerseys, it would be a hit.
• Whole Lotta Blue 'n' Orange, Part the 1st: both uniforms by themselves are alright, but as a matchup, there's so much more potential. There's just a bit too much white here. And can we talk about the unsightly scene of white facemasks on white helmets when there's a colored stripe and logo? I could never get down with that look, it always seems incomplete to me, like the Raiders and their silver masks on silver lids (I still long for them to move to black facemasks. And black shoes while they're at it).
• Whole Lotta Blue 'n' Orange, Part the 2nd: this game is a little better than the Duke/Cuse tilt, but given Virginia Tech's gorgeous Autumnal color scheme, the fact that we instead get a whole cavalcade of white — just like the game above — is a letdown. Also just like the Blue Devils/Orange game, VT's helmet is just… pfeh. Car. Blue/Navy/Car. Blue vs. Maroon/White/Orange would've been much better.
• Who had "#36 is picked off by #29″ on their 2020 Is On Some Other Shit bingo card?
That'll do it for Week… is this Week 6? (checks the Mothership) …Yep, got it. That'll do it for Week 6. I'm short on closing words right now, but as always, thank you to everyone who mentioned me on Twitter (especially for the Hilltopper helmet), hope you all continue to stay safe (especially those who are/were in concerning-enough proximity of Hurricane Delta), and I'll see you next week.
• • •
Thanks, TJ! OK, now on to the rest of your Sunday Morning Uni Watch.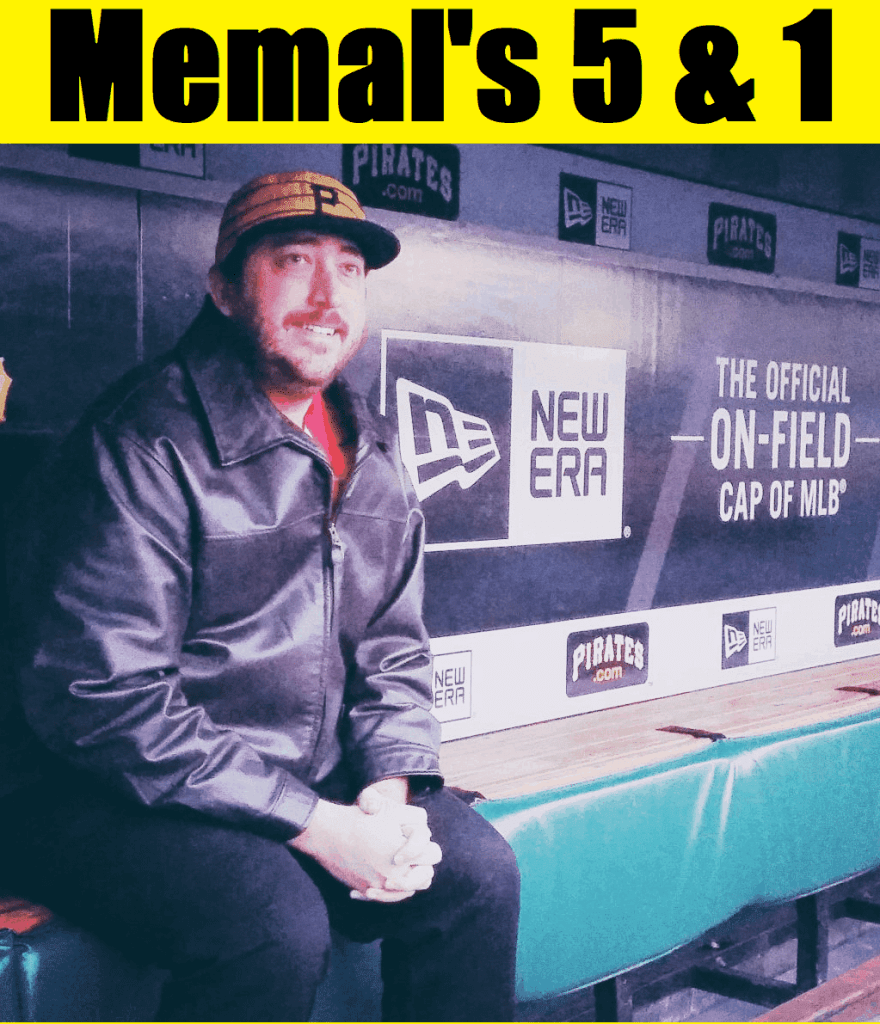 Memal's 5 & 1
Following in the footsteps of the original "5 & 1," Jim Vilk, Catherine Ryan after him, and finally Joe Ringham, in 2019 we introduced a new "5 & 1" (five good looking and one stinker) uni-vs-uni matchups — Michael "Memal" Malinowski. Like Joe, Catherine & Jim, Memal will pick HIS 5 best looking/1 awful matchup, and occasionally have some honorable mentions (both good and bad). You may agree and you may disagree — these are, after all, just opinions and everyone has one. Feel free to let him know what you think in the comments section.
Here's Memal
• • •
Good to be back after a weekend off and taking in a Saturday of great college football action! There were a lot of solid looking uni matchups with a lot of teams making conservative choices with what they wore on the field. For those like me who like it when the football games look like what you expect to see, this was the weekend for you.
__________
Honorable mentions
__________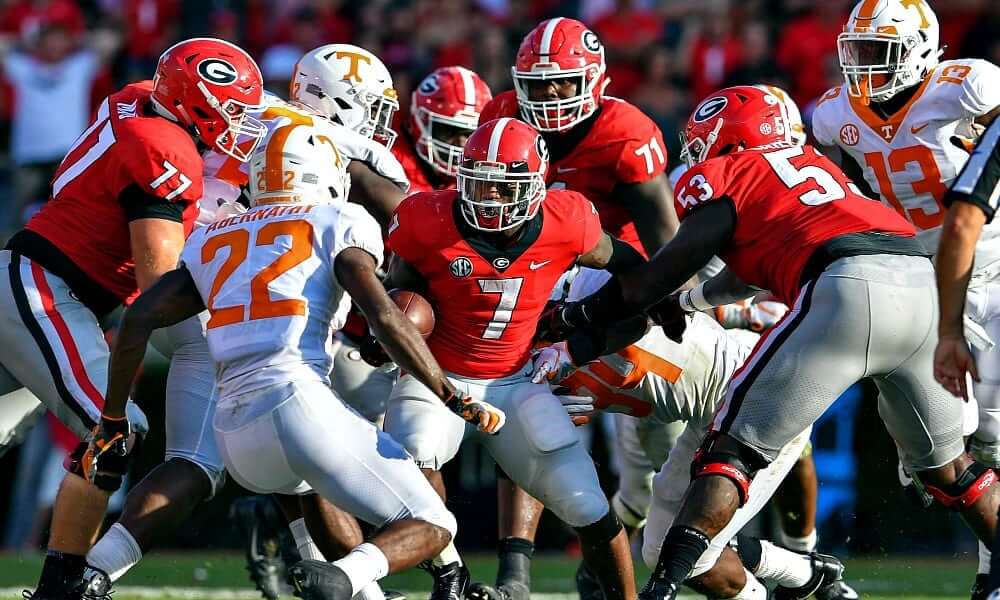 5. Tennessee @ Georgia

Much to my delight, a lot of SEC schools went the traditional route and teams showed up in their standard home and away unis. I chose to feature this one for all the little contrasting elements: plain pants vs one of my top 5 favorite pant stripe patterns; the bright orange of the Vols against the sharp red of the Bulldogs.
__________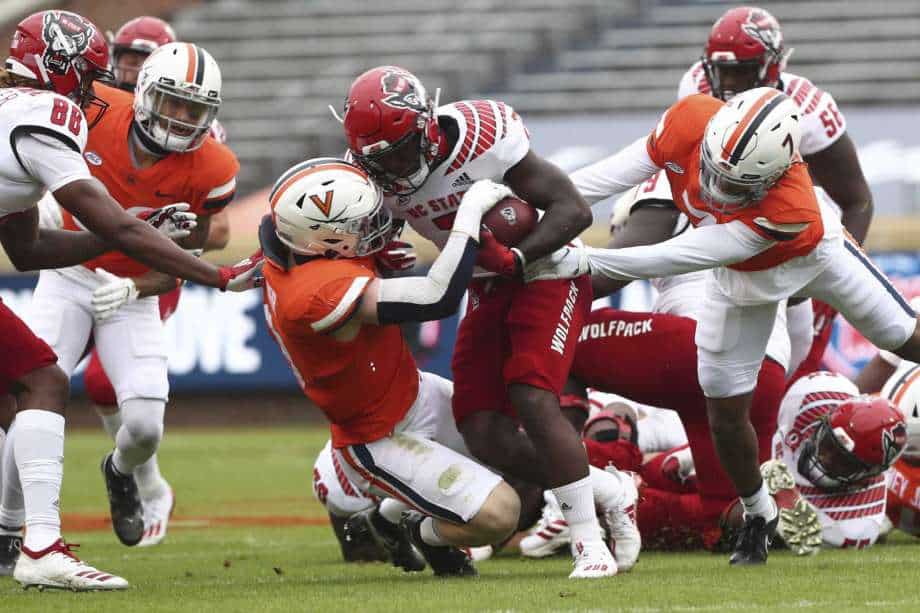 4. NC State @ Virginia

I'm not sure what's going on with the Wolfpack's collar/shoulder design, but when combined with the large wolf head logo on the helmet it doesn't look as out of place as if it might with one of their other helmet logos. And the way their red/white/white combo plays again the Cavs white/orange/white look made this a very colorful and fun game to watch.
__________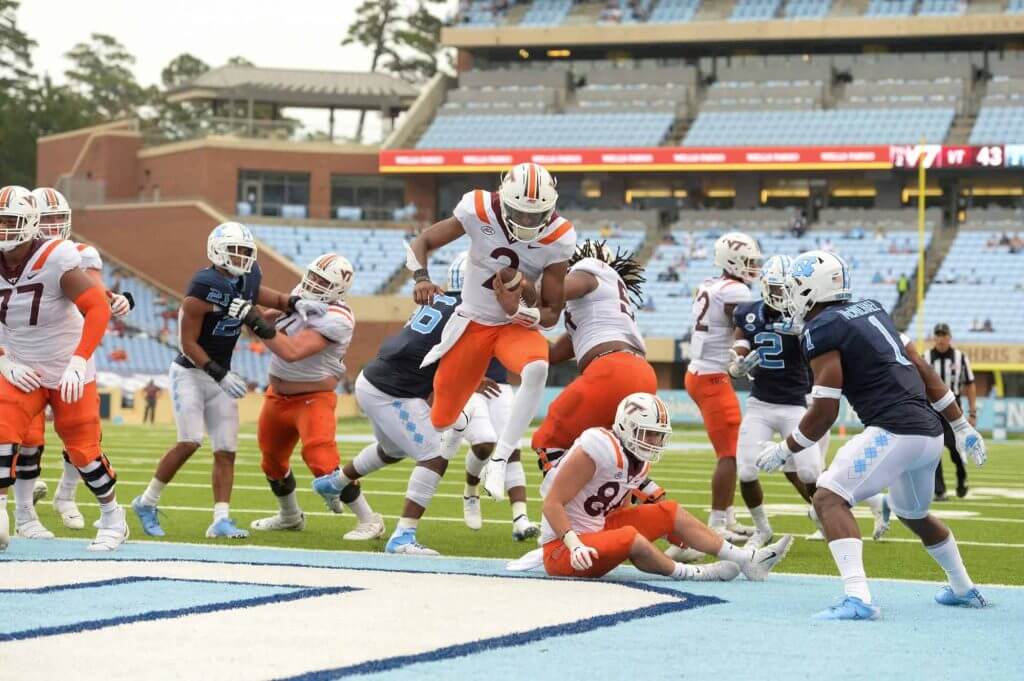 3. Virginia Tech @ North Carolina

I give the Tar Heels a ton of credit for pulling a darker color from their palette to use as an alternate uniform that stays in touch with what the school looks like. In the wrong hands, they would have just gone BFBS. And the way it contrasted against the orange pants of the Hokies and power blue seats of Keenan Stadium made this a wonderfully colorful uni matchup!
__________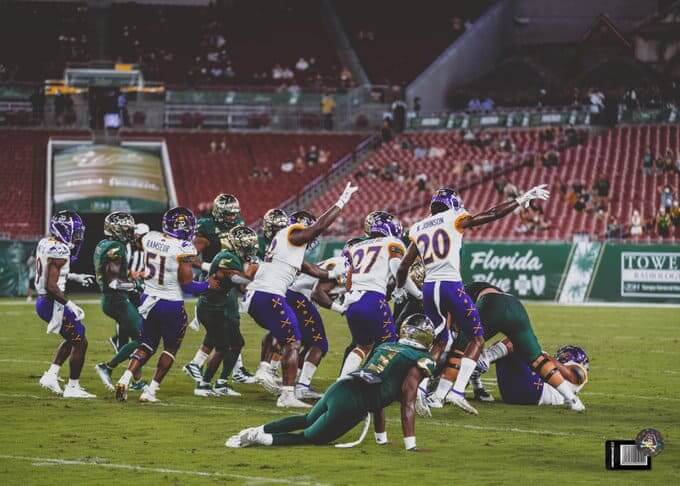 2. ECU @ USF

The comedian Jeff Foxworthy has a bit about how rednecks are attracted to shiny objects and everytime I see a chrome helmet vs chrome helmet uni-match up I'm reminded of that bit because I'm a gigantic fan of the look of two teams with extra shiny helmets going head to head! Pushing this game to the top are the little details on the Pirates uniforms I've detailed before and the great contrast of the Pirates' purple/white/purple combo against the gold/green/green of the Bulls.
__________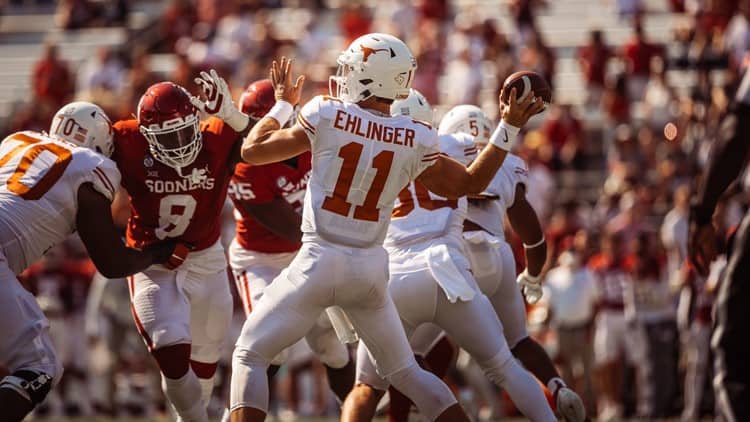 1. Texas vs Oklahoma @ the Cotton Bowl

Saturday morning I wondered if including this game was just a token gesture, because it's two schools with simple, old uniform styles and year after year it's always featured. But then I turned the game on and was reminded of how this is one of those matchups where the crowd, ambiance, and history between the teams adds something to the way it looks and feels. It may not have been the full house with a divide between the fans so sharp they could trim the grass with it that we're used to, but it was still the Red River Shootout, it was still Texas versus Oklahoma, and, as the game extended into multi overtimes, it was as it always is, a sight to behold.
__________
The last week I did this piece, someone in the comments pointed out using the phrase, "…sacrificial lamb…" implies that perhaps the teams weren't deserving of being placed in the &1 section. I've decided to be a little more judicious when using that phrase, a carry over from the fine folks who did the 5&1 before me, and will instead dive right into it going forward;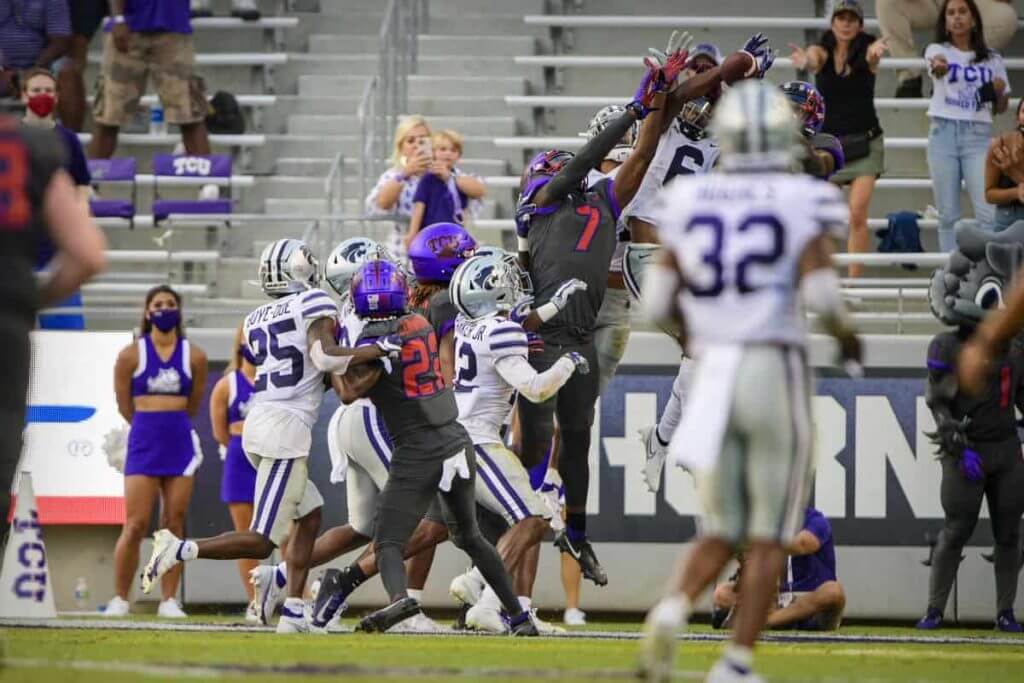 &1 – Kansas State @ TCU

I usually have no dialogue with Phil about what I'm considering for the list, but I emailed him Saturday evening to ask if he thought there was a team or uni-match up more deserving for the &1 than TCU. He reminded me "…last year I praised the uni…while saying it had everything I should HATE in a uni. So, it's got a lot bad going for it." I had to share that quote because I feel the exact opposite! I like most everything about the way the Horned Frogs look from week to week, but the color choice with this alternate set created a grating effect to the eyes, especially with the red accents on the purple helmets and the different colored television and chest numbers.
• • •
Thanks, Memal! OK readers? What say you? Agree or disagree with Memal's selections? Let him know in the comments below.


NCAA Uni Tracking
Uni Watch will again track the uniform combinations worn by the "Power 5" conferences. All of the 2019 trackers are back! Unfortunately, not all of the conferences are back. Here's how the trackers would track, if all the schools were playing:
We've got Rex Henry (tracking the ACC), Dennis Bolt (tracking the PAC-12), Kyle Acker (tracking the Big XII), and Ethan Dimitroff (tracking the B1G AND the SEC). Rex, Dennis, and Kyle and are all returning from 2015, and Ethan is back after joining the NCAA Uni Tracking a couple seasons ago. Ethan continues his dual role of tracking both the B1G and the SEC.
But this year the B1G and PAC-12 aren't playing at all. So we won't have tracking for them this season. UPDATE: Both the B1G and PAC now will try to play in the 2020 season.
Here are the Uni Trackers for the Power 5 Conferences (I've left all the previous tracker info in their usual slots, even if the conferences aren't playing. In case you want to click on any of the links):
+ + + + + + + + + +
Rex is up first today (ACC):
• • •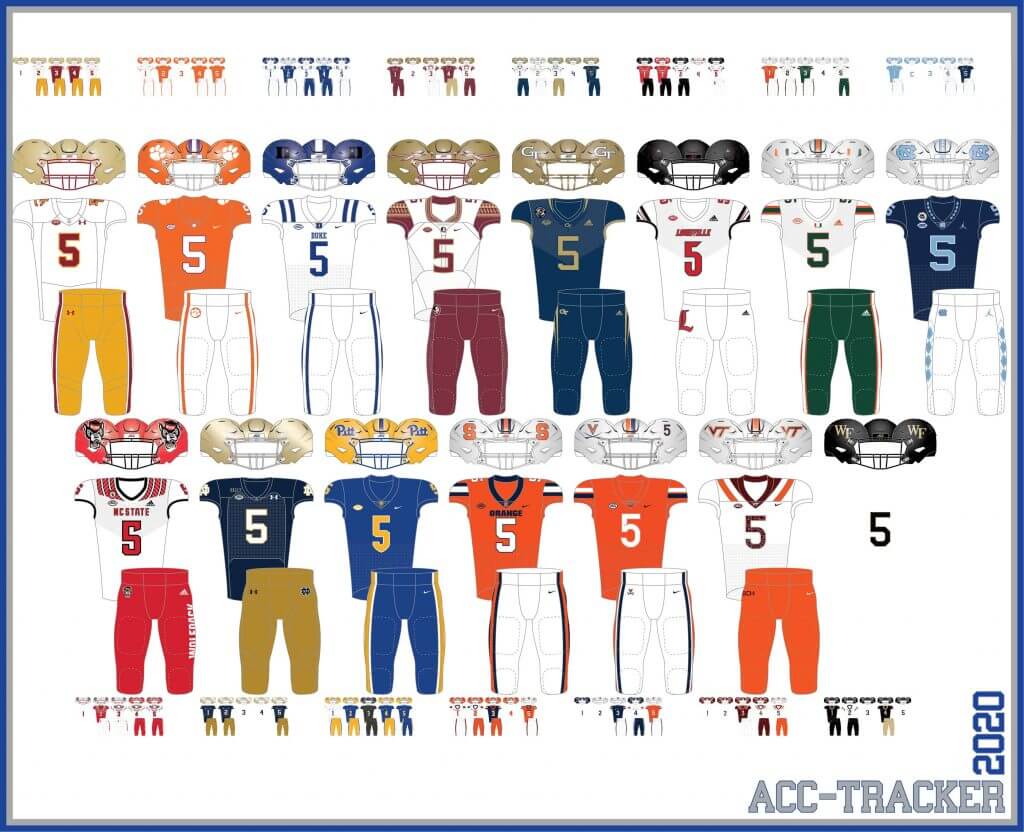 ACC

More Here.
Follow Rex on Twitter here.
• • •
And now, here's Dennis with the PAC-12: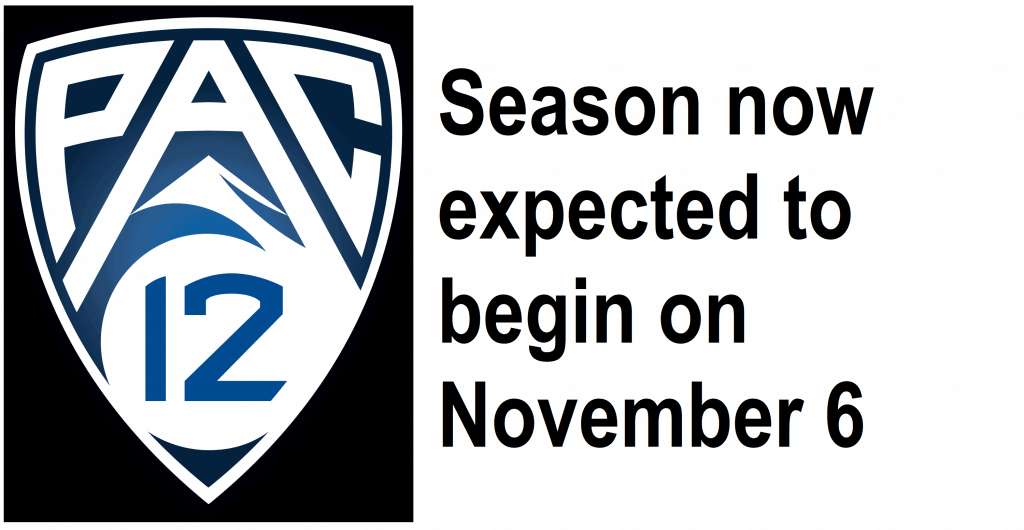 PAC-12

More here.
Follow Dennis on Twitter here.
• • •
And here is Ethan, with the SEC: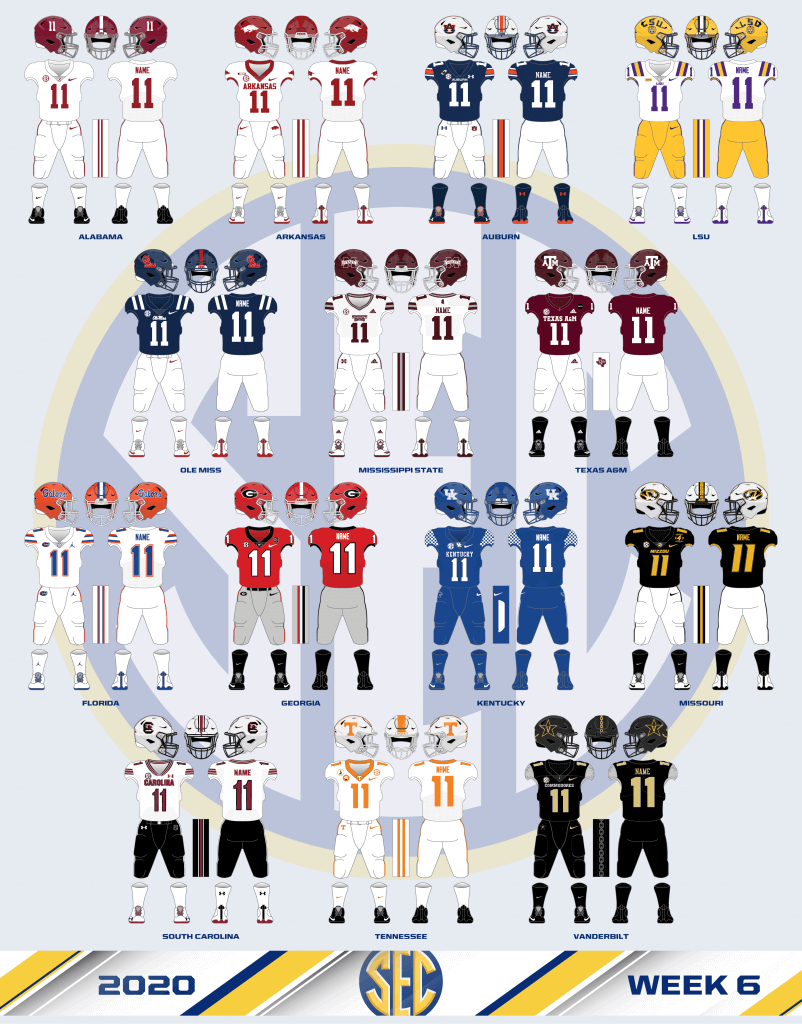 SEC

And be sure to check out Ethan's WVU Mountaineer Tracker.
Follow Ethan on Twitter here.
• • •
And here is Kyle with the Big XII: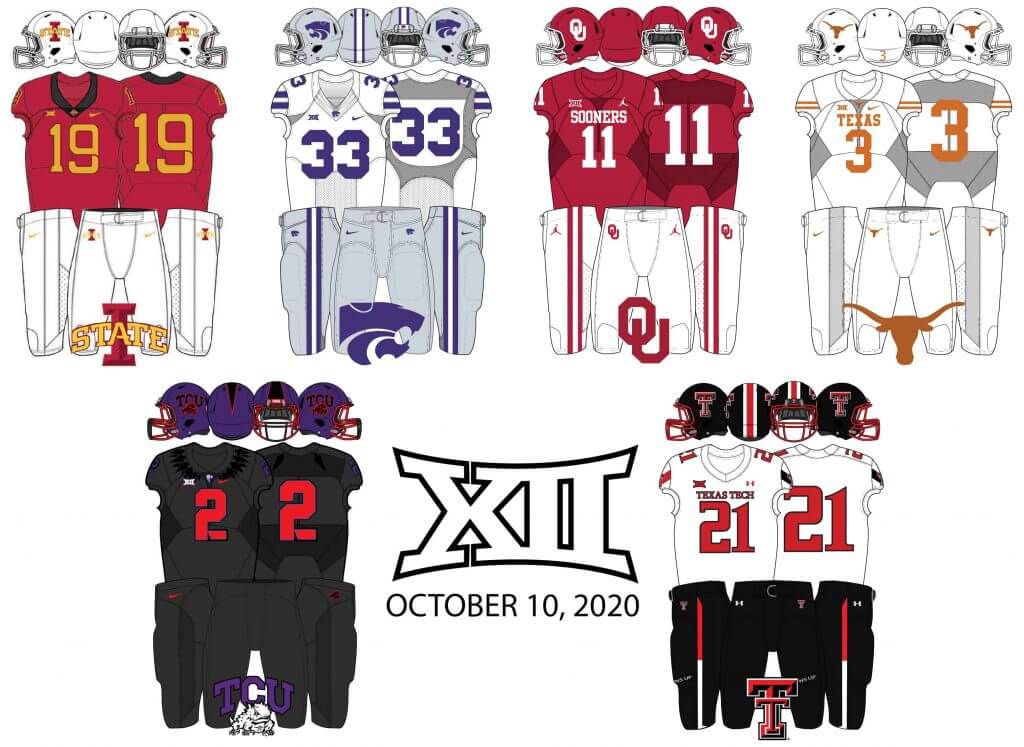 Big XII

Follow Kyle on Twitter here.
• • •
And here's Ethan with the B1G: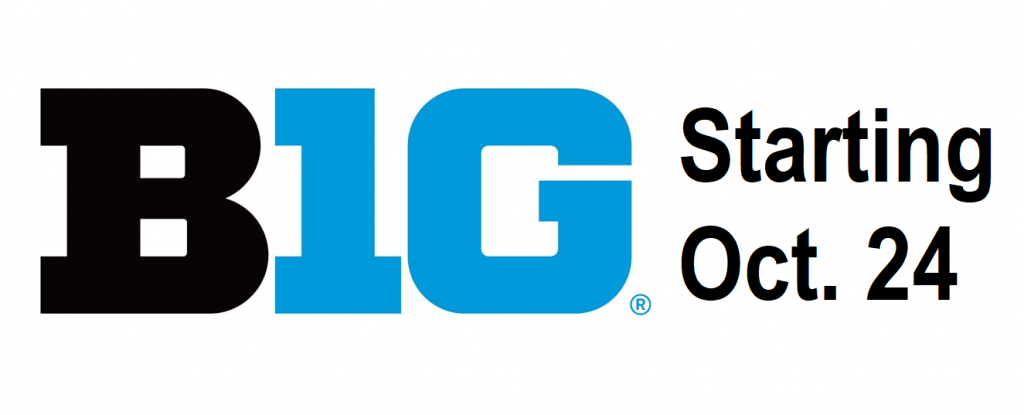 B1G



Meet The SMUW Crew!
I can't believe I haven't done this before, because the entire crew has been doing this for a number of years (some longer than others), and I never really gave them their proper due. Four weeks ago we "met" my Duck Tracker and PAC-12 Tracker, Dennis Bolt (and it now looks like he may end up being busy this season after all), three weeks ago, Memal (who brings you the 5 & 1), two weeks ago it was Terry Duroncelet, who writes most of the main article, and last weekend we met Ethan Dimitroff (SEC & B1G Tracking). Today we'll meet another tracker, Rex Henry, who covers the ACC for us.
So please everyone, here's your official introduction to Rex, along with his photo (click to enlarge) and bio: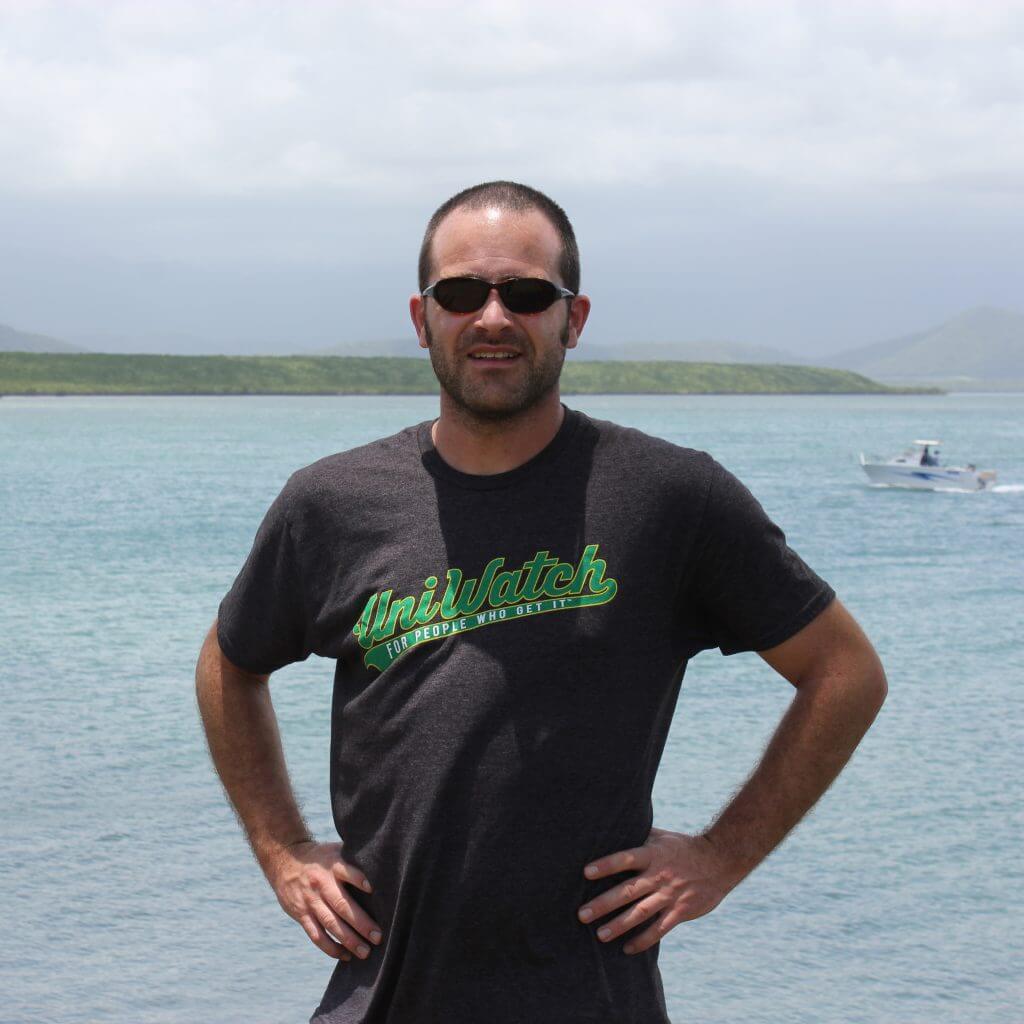 Name: Rex Henry
Current City: Washington, DC

Education: NC State University 2005 (the Philip Rivers golden years [with Nike]), Graphic Communications

Current job: Bartender, always looking for graphics gigs

First Uniwatch correspondence: 2005

Jersey collection: Soccer

Early influences: Charlotte Hornets (see Uniwatch Membership Card), Gumball machine football helmet kits, the glaring discrepancies between replica basketball jerseys in Eastbay catalogs and player versions

Inspiration for website: NFL Cubees. I started off with basic blocks, similar to spreadsheet trackers, added the seams and brands, then the whole outlines, and helmets followed.

I'm always looking for old photos of ACC games, preferably authenticated by date, photographer, and source. If you have any, send them my way.
Thanks, Rex!
Next time we'll meet Kyle Acker, our final tracker!


Uni Watch News Ticker
By Phil

Baseball News: It used to be the Astros would only break out the orange jerseys for Friday night games or Game 7 of a World Series, but they wore them for Game 1 of the wild card and all the way through Game 3 of their Divisional Series against Oakland. Why? Superstition. … The Murray State University Racers had some sharp-looking baseball uniforms in 1965, from the script lettering and zipper front to the fantastic horse head patch on the left sleeve (click on the photo for an expanded view). From Kary Klismet.

NFL News: As you are all no doubt aware, COVID-19 became a problem for the Patriots this week, and despite being allowed back on the field, the Patriots are still taking every precaution they can. Photos from practice showed players either wearing a face shield or masks underneath their helmets. … Brace yourselves: It is color rush week for the Seattle Seahawks which means players will be wearing their action green jerseys against the Minnesota Vikings on Sunday Night Football. … For those of you who care about such things, Tom Brady and Cam Newton have the top 2 selling jerseys. … "When I first saw photos of the Las Vegas Raiders' new Allegiant Stadium, I immediately thought it looked like one of those Roomba robotic vacuum cleaners," says Kary Klismet. "I recently found evidence that I'm not the only one who thinks so." … Ever what it would look like if the Jaguars and Texans both wore white helmets (from Ignacio Salazar).

College Football News: This should be obvious to anyone with eyes, but the Fox Sports crew says Texas football has better uniforms than OU. … ICYMI: The Las Vegas Rebels unveiled new unis earlier this week. Our pal Chris Creamer has a solid review. … As you're all aware, the NCAA began allowing players to wear the number "0" this year, and OSU's Jonathon Cooper will be the first Buckeye to wear that number. … The PAC-12, which originally scrapped play this year, is now starting up next month. Here's a look as some of Oregon's assigned numbers for 2020. … Steve Carter things Arkansas and Oklahoma have very similar unis. He's not wrong.

Hockey News: The Gatineau Olympiques of the QMJHL wore throwback Hull Festivals jerseys yesterday. Submitter Wade Heidt notes that was the "Original team name when started in 1973."
.

NBA News: Kobe Bryant's memory has been motivating the Lakers since January, but apparently, he helped the Heat in Game 5. How so? Since the Lakers had been undefeated wearing the "Black Mamba" jerseys (Kobe helped to design) in the playoffs (going 4-0), the Heat said that gave them extra motivation to beat the Lakers in "Kobe's" jerseys. And lo and behold, they did, forcing a Game 6 tonight.

College Hoops News: Oops! Fanatics has (inadvertently?) leaked the new Marquette Men's Hoops jerseys.
.

Grab Bag: Chase Sexton who is from Illinois and wears #23 wore Bulls themed alpinestars riding gear for the final pro motocross race of the year (from John Flory). … There's beer league bowling, and then there is literally Beer League Bowling (from Scott Rogers). … Jeremy Brahm notes, "SIP Sempetra volleyball really look like Blade Runner with this font for it numbers. Same as the Slovenia men's National volleyball team, SIP is also Slovenian."


And finally… big thanks to the whole SMUW crew!
Yesterday was my final Saturday at the summer place, and after a warm, very windy and sunny day, the evening brought with it a clouds, so, sadly there was no "sunset" to speak of. So I will leave you with this gem from Thursday.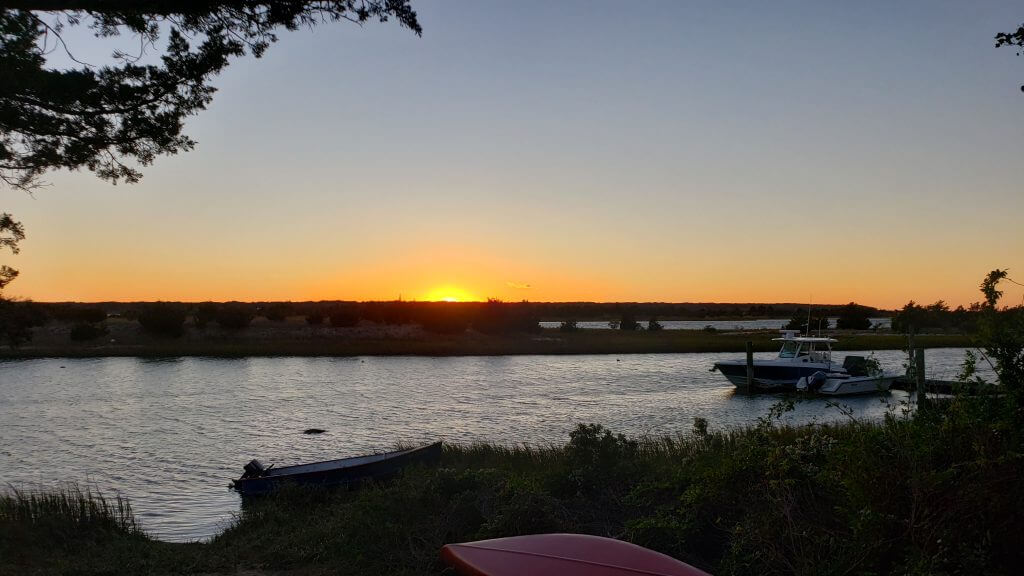 Everyone have a good week and I'll catch you again next weekend, back at "home base."
Peace,
PH