Click to enlarge
Back in April, nine days after the Patriots unveiled their new uniform set, I broke the exclusive news that they had considered adding silver/grey pants as an option to be worn with the blue home jersey (instead of wearing blue pants to go mono-blue). The pants were shown on a Nike mock-up sheet dated October 2019, and then they apparently scrapped the idea for those pants by the time of the April unveiling.
It turns out that they manufactured at least one pair of prototype grey pants (shown above). That pair is now in the possession of Dylan Boulanger, a 22-year-old collector who specializes in game-used and team-issued Pats gear. He posted a photo of the pants in a private Facebook group for Pats collectors, where Uni Watch reader Elijah Betancourt saw the photo and let me know about it. I then got in touch with Dylan to learn more about the pants and how he acquired them. Here's an edited transcript of a phone conversation we had last Thursday:
Uni Watch: How do you usually acquire the items that come into your collection?
Dylan Boulanger: Lots of different ways. It could be directly through the player; it could be through eBay; it could be directly from the Patriots, through the auctions that they host; and through other collectors and stuff like that.
UW: These grey pants, they aren't game-used, of course, because they've never been worn in the game — they're prototypes. How did you acquire those?
DB: I have a source who does giveaways for authentic NFL uniforms with a couple Instagram pages, and he gets a bunch of extras from Nike. And so he will give me first dibs on those. I had requested the Patriots' 2020 uniforms from him, like I do anytime they change their uniform. And he texted me…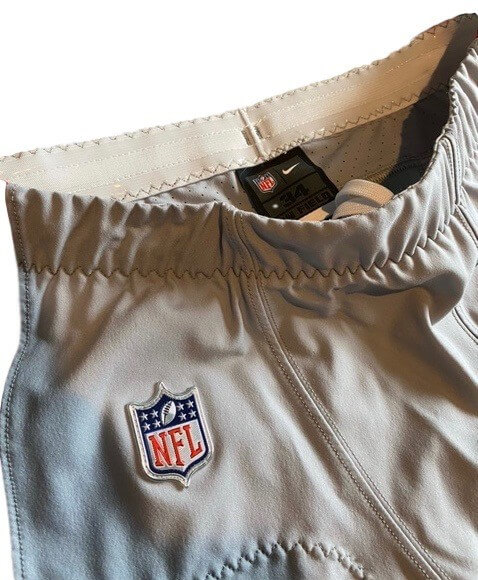 UW: I'm sorry to interrupt, but I just want to make sure I understand this properly. You have a source who has basically some connection at Nike where Nike provides him with things, and then he auctions them off or raffles them off or something like that, and you've developed a relationship with him where you get first dibs on certain things..?
DB: Yeah, so he has to give away a certain amount. And then anything extra, he's allowed to keep, and he can sell. So he sold me these. And he apparently he told me that the way he gets them is, as soon as new uniforms are released, he gets, like, an auto-order. He doesn't have to really do anything and they just ship him this stuff. And he just got these in last week.
UW: So he has like a standing order for a certain amount of anything new? And it just comes in and then he has to give some away and he's allowed to do what he wants with the rest?
DB: Exactly.
UW: I understand you don't want to name him, but is he a retailer? Like, does he run a sportswear shop..?
DB: No. It's kind of hard to explain. He's on Instagram. So, I mean, he's out there, but he doesn't really advertise. He helps out a couple of the bigger uniform Instagram pages, like Uniswag.
UW: So he's like an "influencer" or something like that.
DB: Yeah.
UW: And so he made them available to you. How much did you pay for them?
DB: I paid $1100 for the jersey and the pants, together.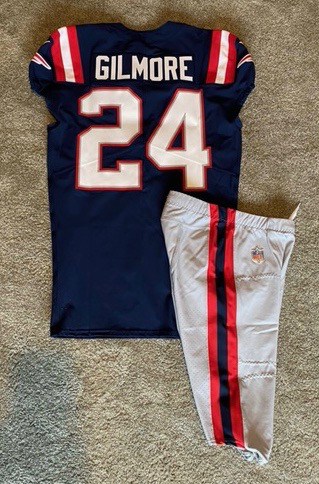 UW: In your Facebook post, you said that when you opened the package, you thought you were getting a pair of the grey pants from the old uniform set and didn't even realize you were getting the new one.
DB: Correct.
UW: But hadn't your source shown you a photo, so you knew what you were getting?
DB: It was a picture just from the front, so it didn't really show the striping on the sides. I just saw, you know, grey pants with flashes of red and I was like, "Oh, those are the 2017 to 2019 version of our grey pants."
UW: Did you not already have a set of those?
DB: I had the 2012 to 2016 model, which is the non-Vapor stuff, but not the 2017 to 2019. Believe it or not, Patriots pants do not pop up much [on the collectors' market].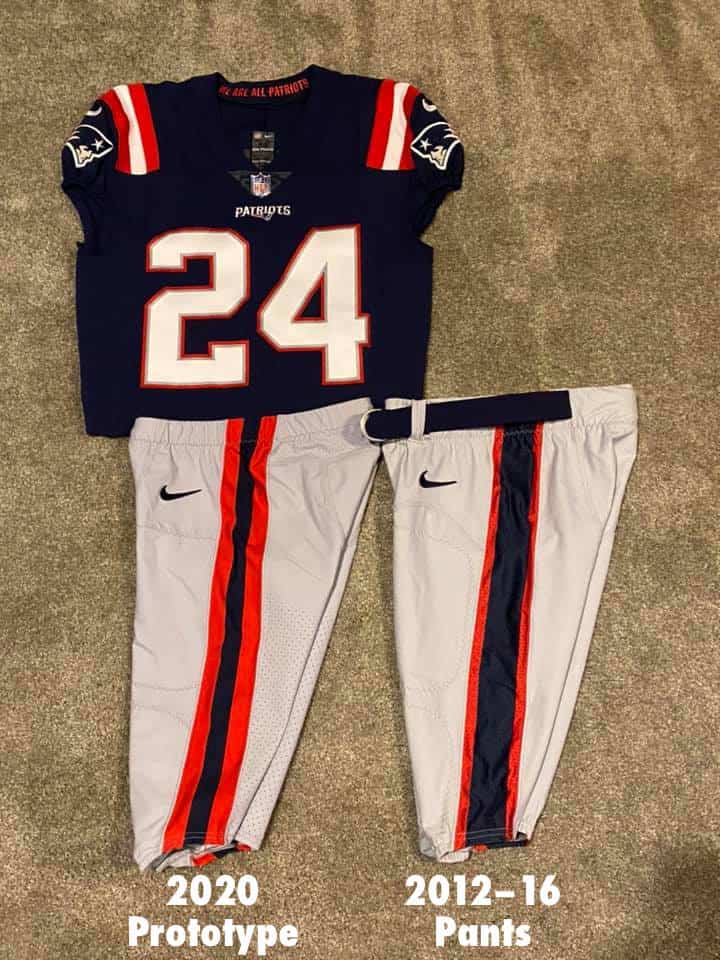 UW: And I guess you still don't have the 2017 model, right? Because it turns out that you bought this prototype model instead, without realizing it!
DB: Yeah, that's still a gap in my collection.
UW: So once you realized that these weren't the old pants, did you check back with your source and say, "Hey, what is this?" Or did you just sort of figure that it was a prototype?
DB: I just kind of just figured it was a prototype and then I messaged another source and said, "Hey, I got these pants, and I think this is what's up with them." And he's like, "Hey, I think I saw those before in one of my PDF templates." And he found a PDF from last October that showed the grey pants.
UW: Did you realize that I had written about the grey pants option back in the spring?
DB: No. I do read Uni Watch, but I must have missed it that day, because I hadn't seen that article until you sent me the link today, when you got in touch with me. But the PDF that my other source found is the exact same document that you ran in that blog post. [We later confirmed that Dylan's source and my source for that PDF are not the same person. — PL]
UW: Did you then check back with the guy who sold you the pants?
DB: Yeah. He said he didn't even know what they were when he sent them to me. He was just like, "This is what I got."
UW: Did he say how many of those he got?
DB: He said he only got the single pair.
UW: And now you have it.
DB: Yes. He's not a collector.
UW: So how do you feel about having what might possibly be literally the only pair of these? I mean, there might be some others that are floating around out there, but it's also possible that you're the only one who has them.
DB: It's kind of crazy, honestly. I mean, I didn't think those would end up in my possession.
UW: Do you do a lot of trading and swapping and selling with other collectors, so your collections have a lot of turnover?
DB: Yes.
UW: Is this the kind of thing you would flip? Or because it's so rare, is it something you'd want to keep?
DB: I would probably hang onto this one for a while.
UW: Do you wish they had gone ahead with these, or are you happy with the solid blue?
DB: I'm happy with the solid blue. I've been a big fan of that. But I'm not a fan of the number font change at all. I liked our old font — it was more unique. The new one is pretty basic and generic. I do wish that they would have done either white pants for the white uniforms, to give us more options down the road, or even white pants with the blue uniform. But I just think the grey didn't tie into anything except the helmet.
———
All very interesting. My thanks to Dylan for sharing his story. The only question now is whether the Pats will spring the grey pants on an unsuspecting world after all, just like the Browns recently did with their orange pants. Personally, I hope so — I hate that mono-blue look.
Two additional things about Dylan. First, this isn't the first time he's been the protagonist in a uni-centric Patriots story. In 2017, he provided the tip that led to the recovery of Tom Brady's stolen Super Bowl jerseys. (He has since taken his step-father's surname, which is why he's referred to as Dylan Wagner in that linked article but Dylan Boulanger in this blog post.) For a young guy, he's certainly become a major figure in the uni-verse of his favorite team!
Also, the grey Pats pants aren't the only notable NFL prototypes in Dylan's collection. Back in 2016, when Nike and the NFL launched the Color Rash program, the Lions were given a mono-black design. They never wore it, because they didn't have any Thursday-night games in 2016, and then they unveiled a new uni set in 2017 (with a mono-grey design instead of mono-black), so the black uni was essentially orphaned. But although the mono-black design was never worn on the field, some prototypes of it were made, and Dylan has one of them (click to enlarge):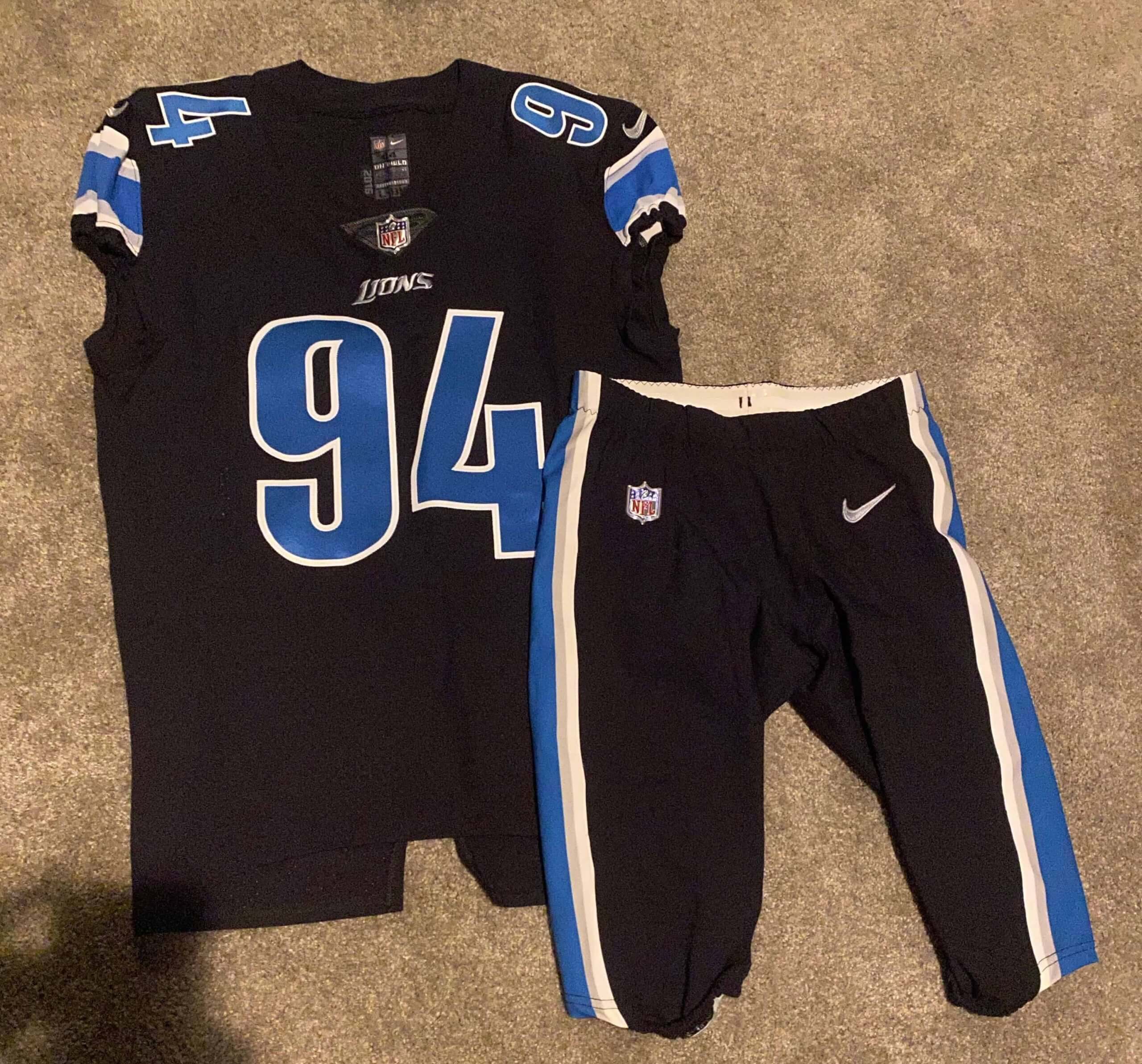 "Those came from the same source, the guy who sent me the package with the pants," says Dylan. "I got that one probably about a month or two ago. He had it for a while — I just didn't realize it. And when I saw that he had it, I was like, "I don't think they ever wore those. They're pretty sweet — I'll take that!"
(Big thanks to Elijah Betancourt, without whom this post would not have been possible.)
• • • • •
• • • • •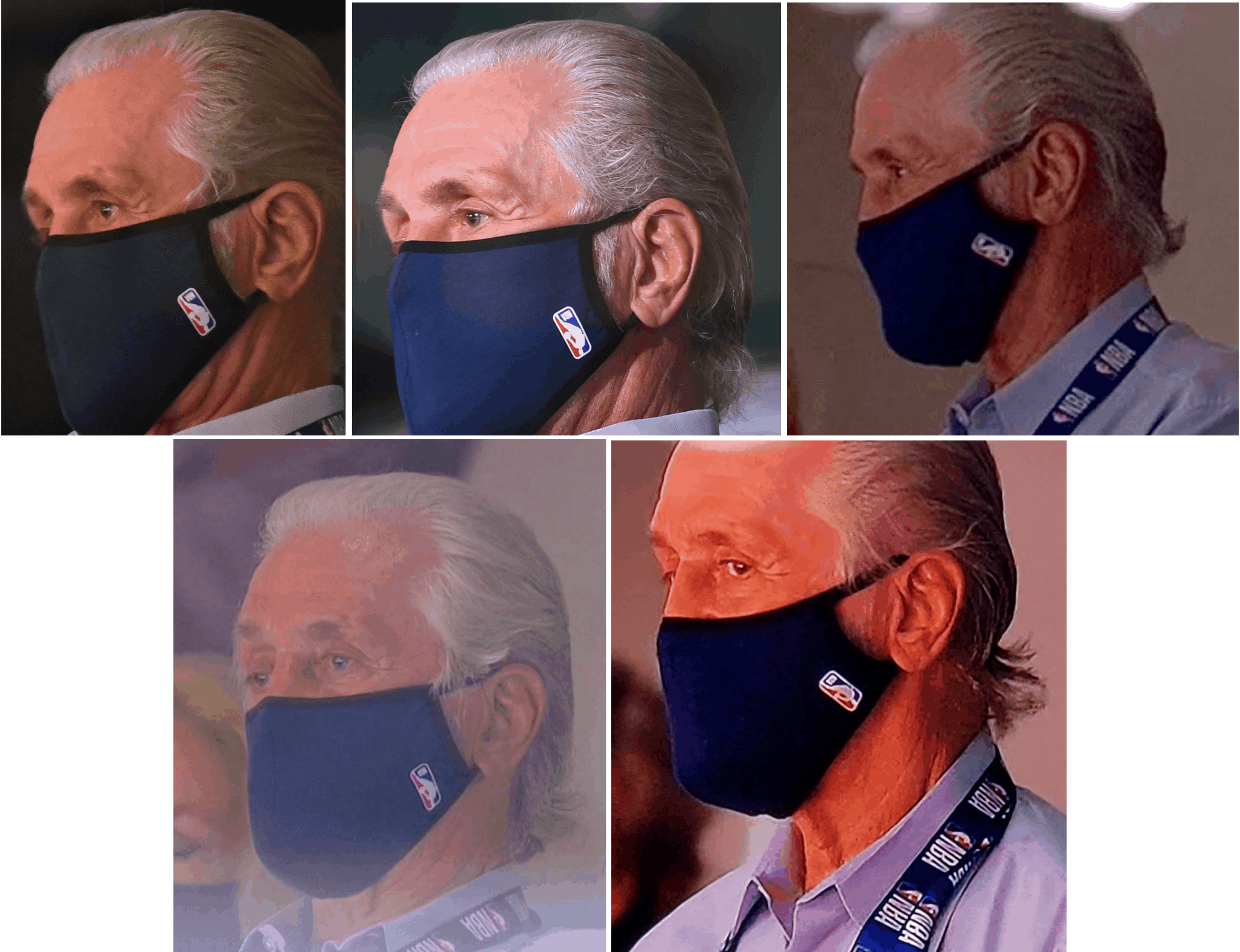 Click to enlarge
The man in the mask: These photos of Miami Heat prexy Pat Riley were are from (left to right, top row first) Aug. 31 and Sept. 4, 17, 19, and 23. What they all have in common, obviously, is that Riley likes to wear his Covid mask upside-down! (He also appears to own only one shirt.)
I assume this is a superstition on his part. Interestingly, some quick Googling suggests that nothing has been written about it. I'll see if I can find out more.
(My thanks to Griffin Smith, Timmy Donahue, and Steve Kriske for getting the ball rolling on this one.)
• • • • •
• • • • •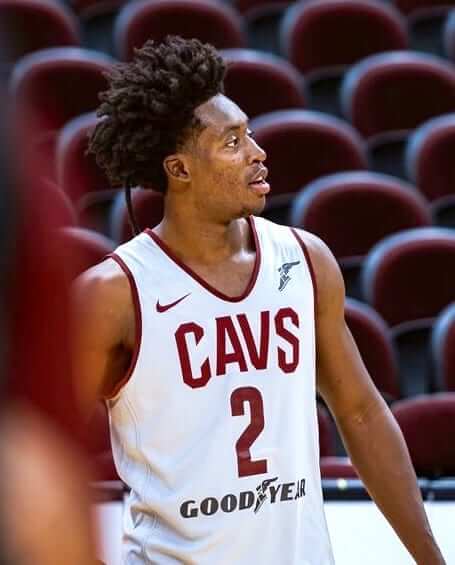 Oh for fuck's sake: We had previously Ticker-reported that the NBA had decided to allow teams to add a second sponsorship asset advertisement on their practice jerseys and pregame gear. In the case of the Cavs, that apparently means that their existing jersey advertiser has added a second ad.
I should acknowledge here that I'm with Allen Iverson. I would happily let practice gear, in any sport, look like European hockey uniforms if they would scrap/preclude uni ads and maker's marks on game uniforms. I'd take that trade every day of the week.
Still, there's something about seeing a second ad for the same company that seems particularly gross, even if it's only on a practice jersey. Come on — your iconic logo by itself wasn't enough? You needed a second ad? Sigh.
(My thanks to Evan Dammarell for this one.)
• • • • •
• • • • •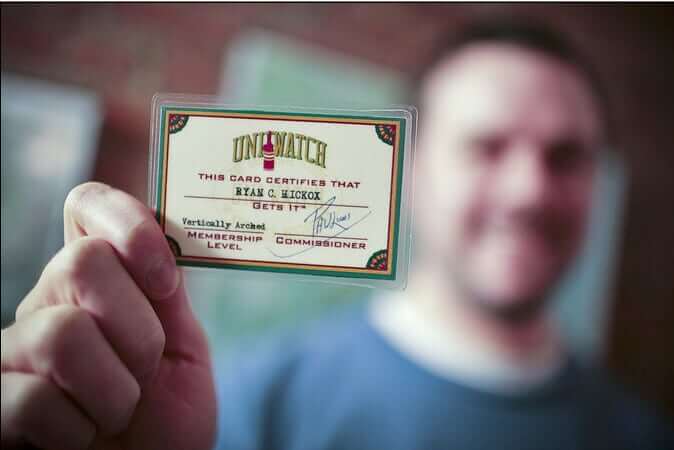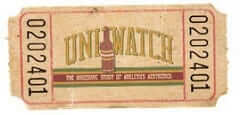 ITEM! Blockbuster membership raffle: Reader Marlon Wright has very generously provided funds for a whopping six membership cards, so we're going to raffle those off today.
This will be a one-day raffle. No entry restrctions. To enter, send an email, to the raffle address by 8pm Eastern tonight. One entry per person. I'll announce the winner tomorrow.
Meanwhile, our latest raffle winner is Brian Renvall, who's won himself a Uni Watch Color Remix T-shirt. Congrats to him, and thanks again to reader Ron Heerlyn for sponsoring that one.
• • • • •
• • • • •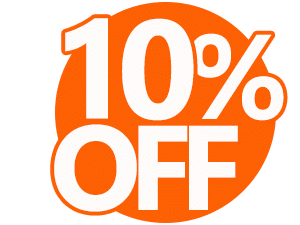 ITEM! Another Teespring sale: Teespring is running another one of its 10%-off sales. That means you can save some coin on Uni Watch merch and we'll still make our full profit — a win-win!
This discount applies to everything in the Uni Watch, Uni Rock, and Naming Wrongs online shops. To claim your discount, use the checkout code GOLDEN for any orders you make now through next Monday, Sept. 28.
My thanks, as always, for your support and consideration.
• • • • •
• • • • •
The Ticker
By Paul

'Skins Watch: Mariemont City Schools in Cincinnati is scrapping its Indian-head logo, although it will still call its teams the Warriors (thanks, Brinke). … With the high school in Nyack, N.Y., no longer calling its teams the Indians, residents have been asked to take a survey to help determine a new team name (from Timmy Donahue).

Working Class Wannabes™: High school basketball star Heather Madrigal's coach says Madrigal is "a very blue collar player." … An article about New Jersey high school football says the Clearview High School Pioneers are a "blue collar team that seems to thrive in the underdog role." … A high school football coach in Michigan says his middle linebacker is "a blue collar football player. He puts you in his sights and goes and gets you." … Another Michigan high school football coach says his team is comprised of "blue-collar, hard-working, football-hungry kids." … A high school football player in Indiana says, "We're a blue-collar team. That's what we pride ourselves on." … University of Missouri tight ends coach Casey Woods says he tries to "present different looks and different plays and different motions while still keeping the fundamental techniques of a blue collar football team." … An article about last Sunday's Colts/Vikings game says the Colts "decided to stick to basics and play blue-collar football." … An article about MLS says the Philadelphia Union are "a hardworking, blue-collar team that can pull off an upset anywhere." … A high school football player who recently committed to Oklahoma State thanked the OSU coaches "for believing in me and seeing the blue collar work ethic in me that makes the Cowboy Culture so great." … An article about Notre Dame football says that the Irish's offense used to be "tough, physical, blue-collar, no frills." … NC State football coach Dave Doeren says Virginia Tech is "a very physical team, they're a blue-collar team, very proud football team."

Baseball News: Really fun article about how some fans have managed to watch live ballgames this year despite not being allowed inside stadiums (NYT link). … An L.A.-area moving company uses a very Dodgers-esque logo — and a dig at the Astros (from Joe Nocella and Jakob Fox). … The Charleston RiverDogs are having an election-themed event in their parking lot on Oct. 17. For $30, fans can drive through the lot and veer left or right to get their choice of a Joe Biden or Donald Trump bobblehead doll. According to the team, Charleston has a history of accurately choosing the winner in the national presidential election. … A sign of the big minor league shakeout to come: The previously independent Atlantic League is now a "partner league" of MLB. … Mariners 2B Dee Strange-Gordon was wearing the Jackie Day cap last night. He's apparently been doing it for weeks, ever since Jackie Day.

NFL News: The Ravens will wear their black alternate jerseys (and presumably their black pants as well, although they didn't specify that, grrrr) next Monday night (thanks to all who shared). … The Bills plan to wear mono-white at home this Sunday, which means we'll get our first look at the Rams' blue jerseys (from @jeffreybigmoney). … After yesterday's announcement of Hall of Famer Gale Sayers's death, the Bears changed their social media avatar to his uni number. It's not yet clear what sort of memorial they'll choose to wear on their uniforms. … The Jags — who, as noted in yesterday's Ticker, will be going mono-teal tonight — have added teal end zones (from Mike Chamernik).

College Football News: Here are this week's uni combos for BYU, Syracuse, South Carolina, and Louisville. … UNC P Ben Kiernan, who's from Dublin, Ireland, wears an Irish flag decal, instead of an American flag, on the back of his helmet (from James Gilbert). … Florida has unveiled its full jersey schedule for 2020. Pants combos will be announced on a week-by-week basis (from Michael Zerbib).

Hockey News: New uniforms for the ECHL's Maine Mariners. … Speaking of the ECHL, the Allen Americans are running a poll to help choose their new alternate uniform (from Wade Heidt). … Here's an article on eight once-popular hockey gear brands that no longer exist (from Wade Heidt).

Basketball News: Nuggets C Nikola Jokić and coach Michael Malone were both wearing outdated gear at a press conference.
.

Soccer News: A uniform advertising deal from Burger King has made Stevenage, a fourth-tier English soccer club, one of the most popular teams in the FIFA 20 video game (from Mike Chamernik). … The new shirts for Scottish side Loch Ness FC has a Loch Ness Monster theme and even a monster-related advertiser (from Pete Clark). … The first uni memorial for Ruth Bader Ginsburg is coming from, of all places, a Scottish women's soccer team. Glasgow City FC will wear Ginsburg's name on their sleeve (thanks, Jamie and Anthony).

Grab Bag: A major equestrian facility in Pennsylvania may have to stop hosting events because the owner refuses to change its name (NYT link) from Plantation Field. … New logo for consumer jams/jellies brand J.M. Smucker (from Timmy Donahue). … Also from Timmy: This article about sports-related trademarks, logos, nicknames, and the like makes my head hurt, but it's a good piece of reporting. … New rugby uniforms for the Italian national team (from Germán Cabrejo). … New volleyball uniforms for French women's team Terville Florange Olympique Club and Japanese men's team Sakai Blazers (both from Jeremy Brahm). … Police found a man wearing a Burger King uniform who had been shot to death in Philadelphia.
• • • • •
• • • • •