Good morning! Greetings from Uni Watch HQ, where all three inhabitants continue to be safe and healthy, and where we had a very nice Laborious Day weekend. Hope you did as well.
Reader Dustin Meador recently let me know about a 1982 Canadian TV documentary special about MLB catcher Gary Carter — then a star with the Expos — visiting Japan and touring that country's ballparks and baseball culture.
The documentary, which is embedded above, is 47 minutes long and worth watching all the way through. Here are some of the more notable uni-related bits I singled out while viewing it.
NPB Uniforms
If you're into Japanese baseball uniforms, or just early-1980s baseball uniforms in general, the movie is a freaking gold mine. Here are some screen shots I took: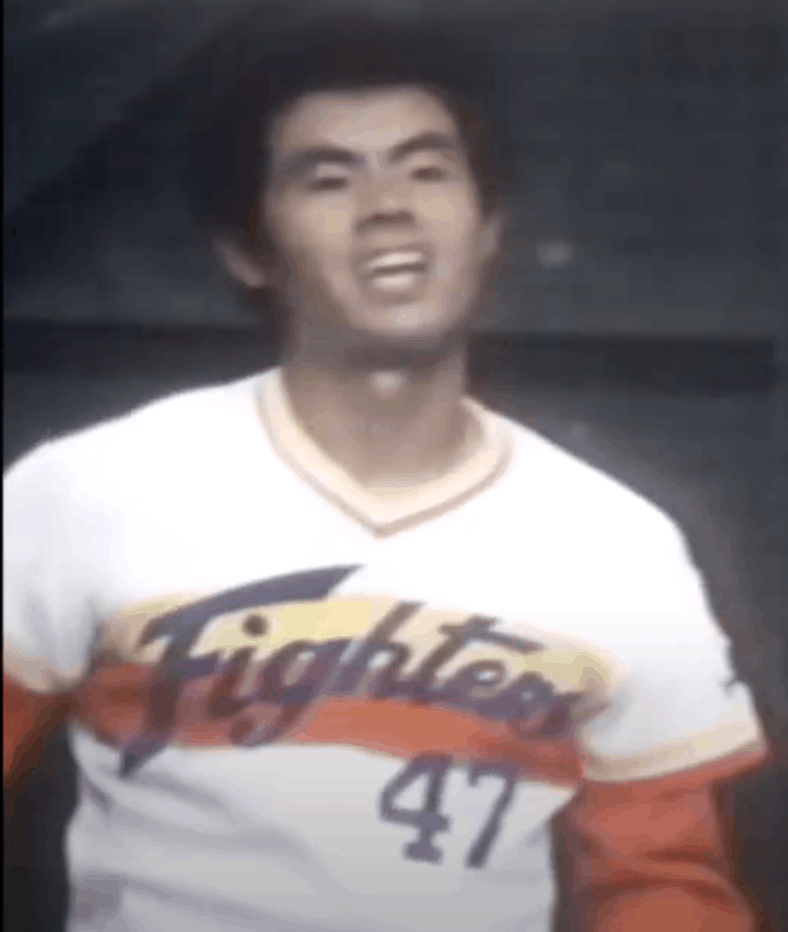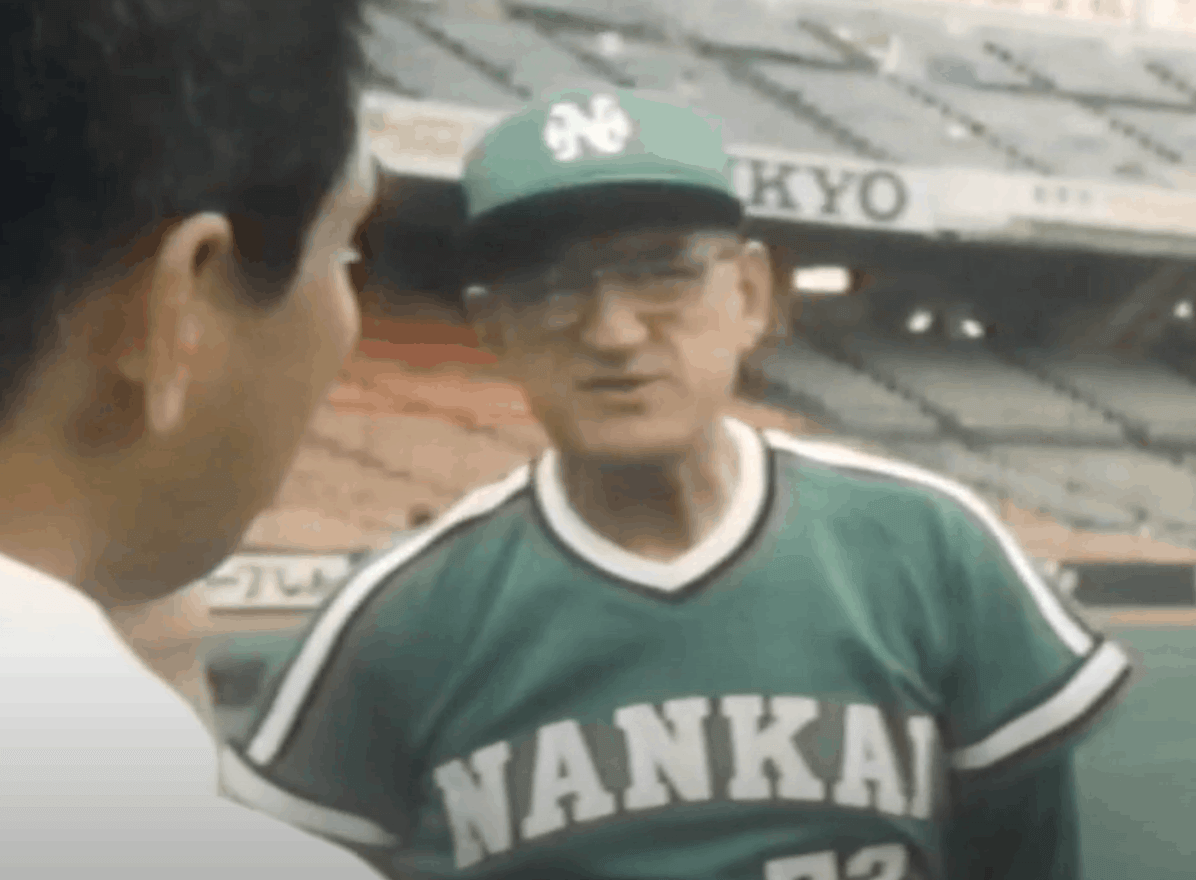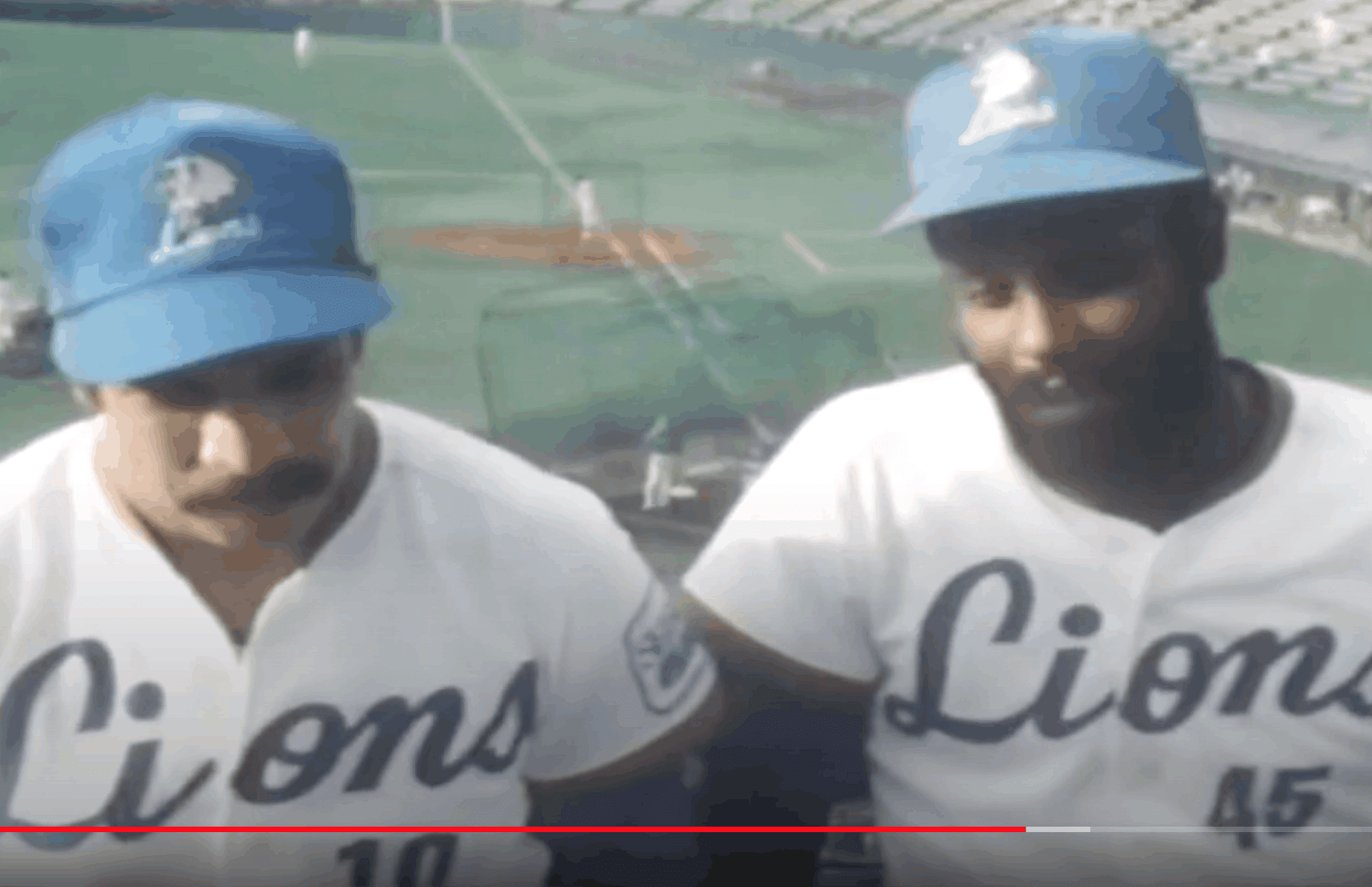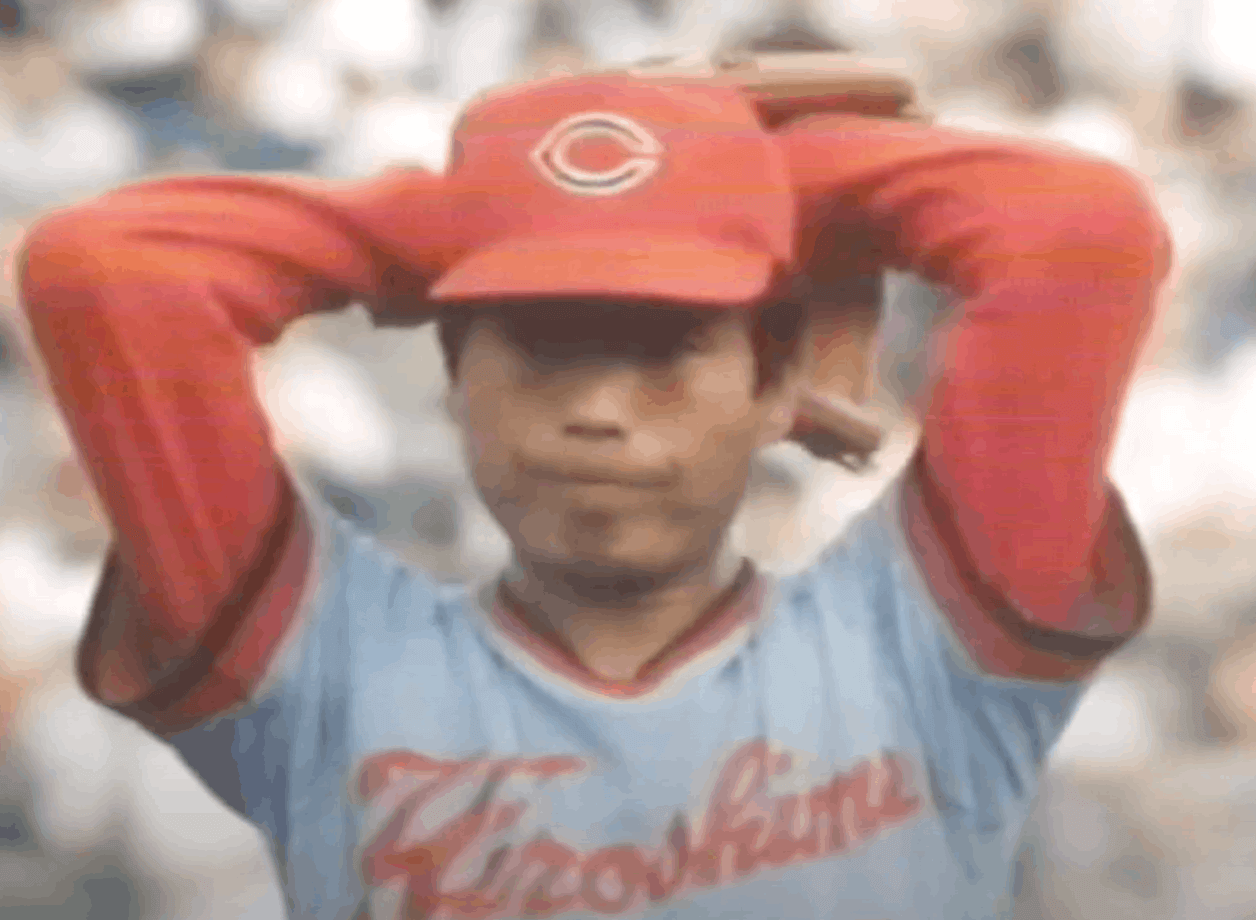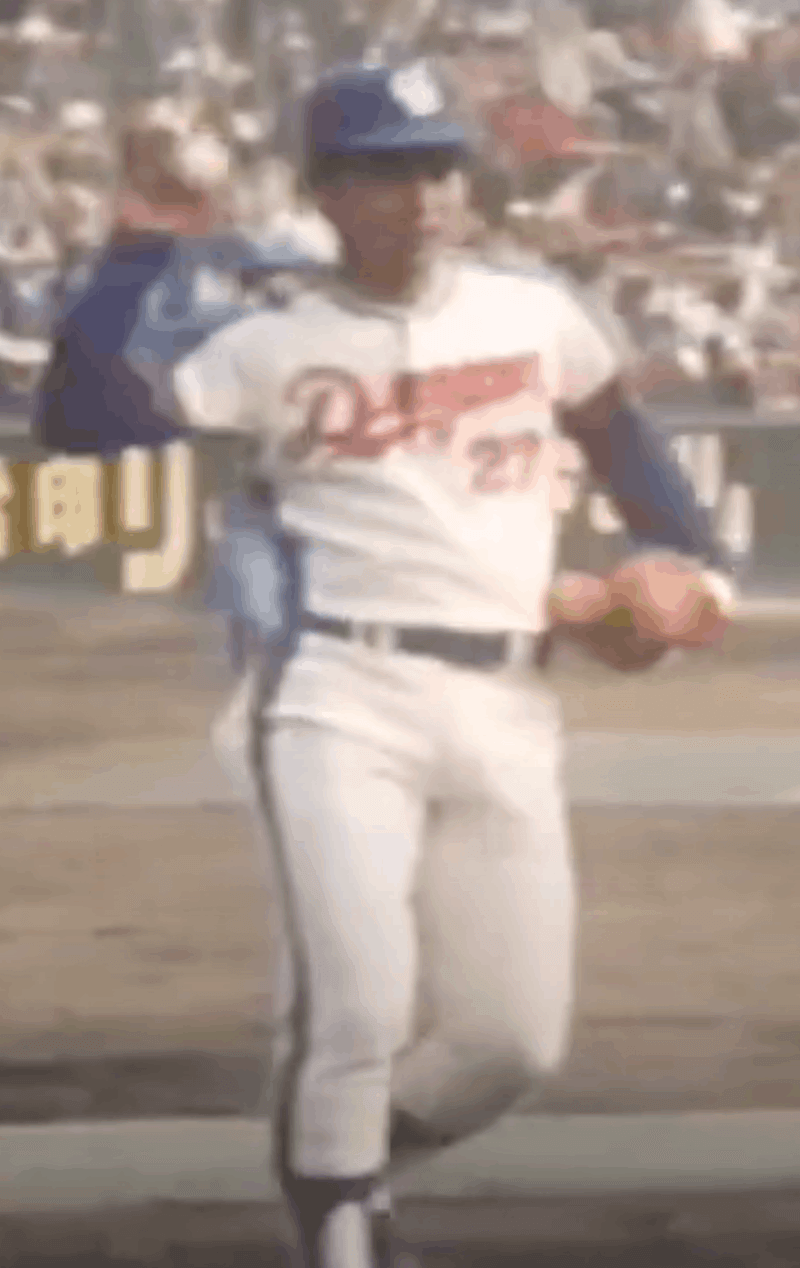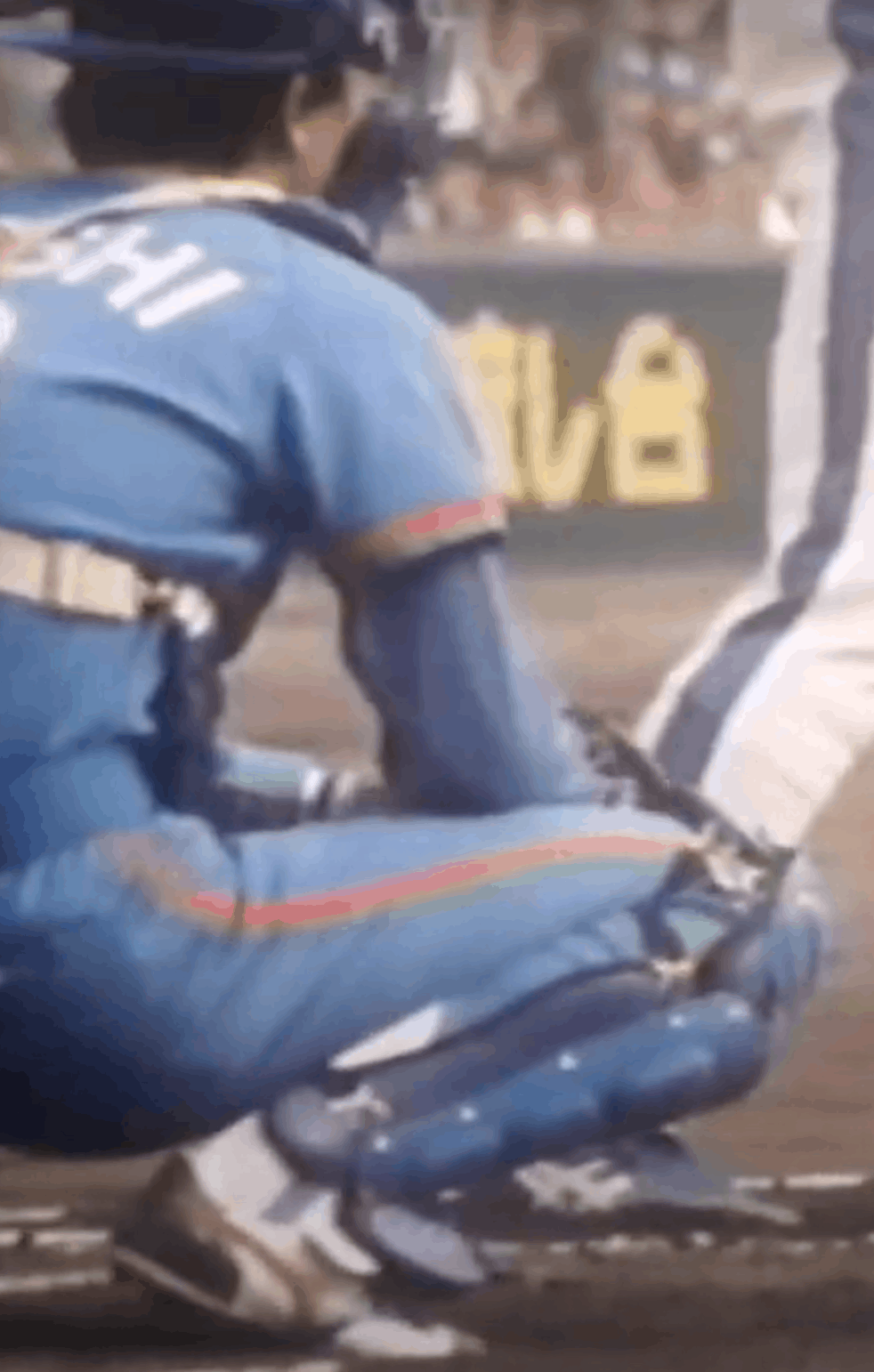 NOBs
• Two of the American players shown in the movie, Steve Ontiveros and Terry Whitfield, have surnames that are difficult for Japanese people to pronounce, so they are simply marketed by their team as Steve and Terry, and that's what they wear on their backs: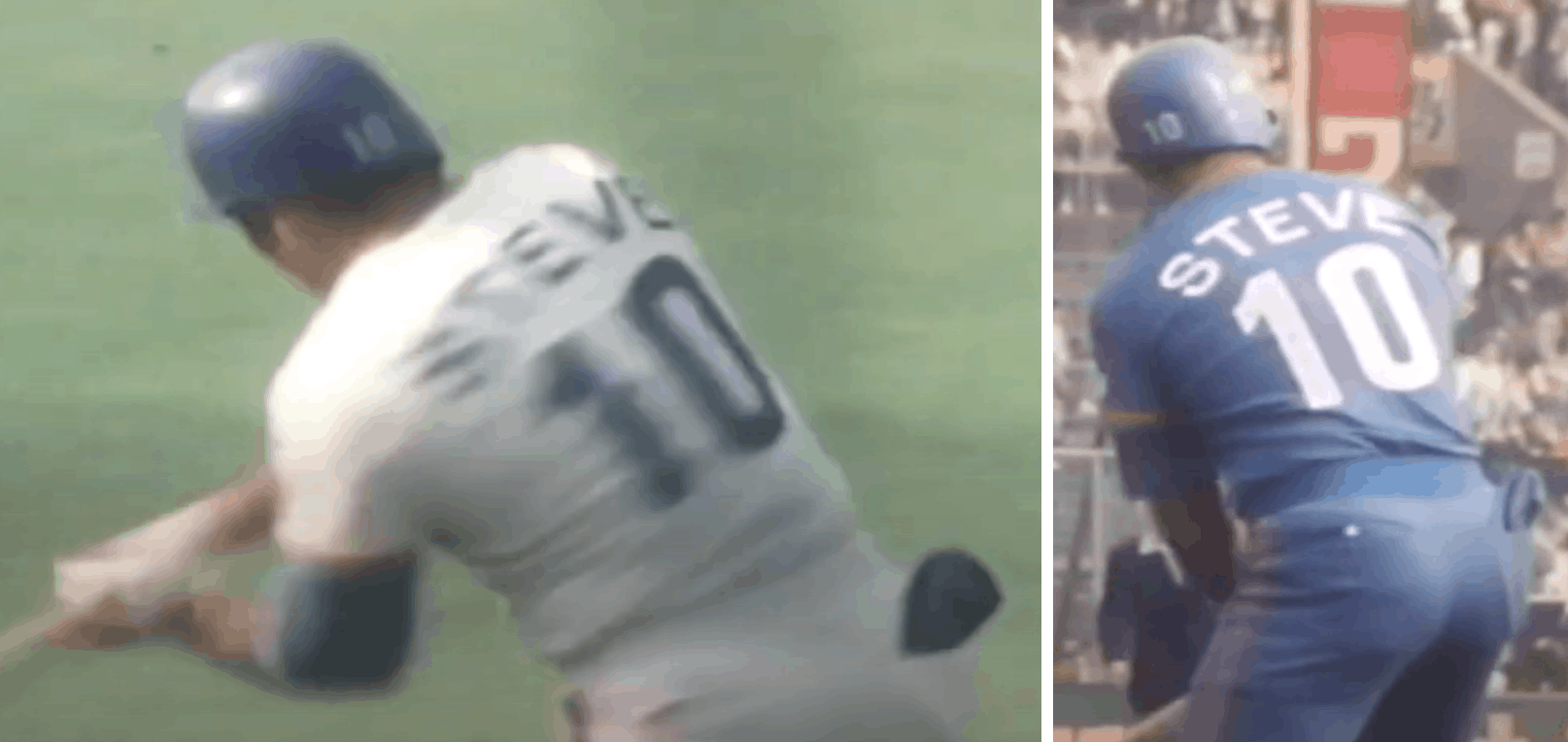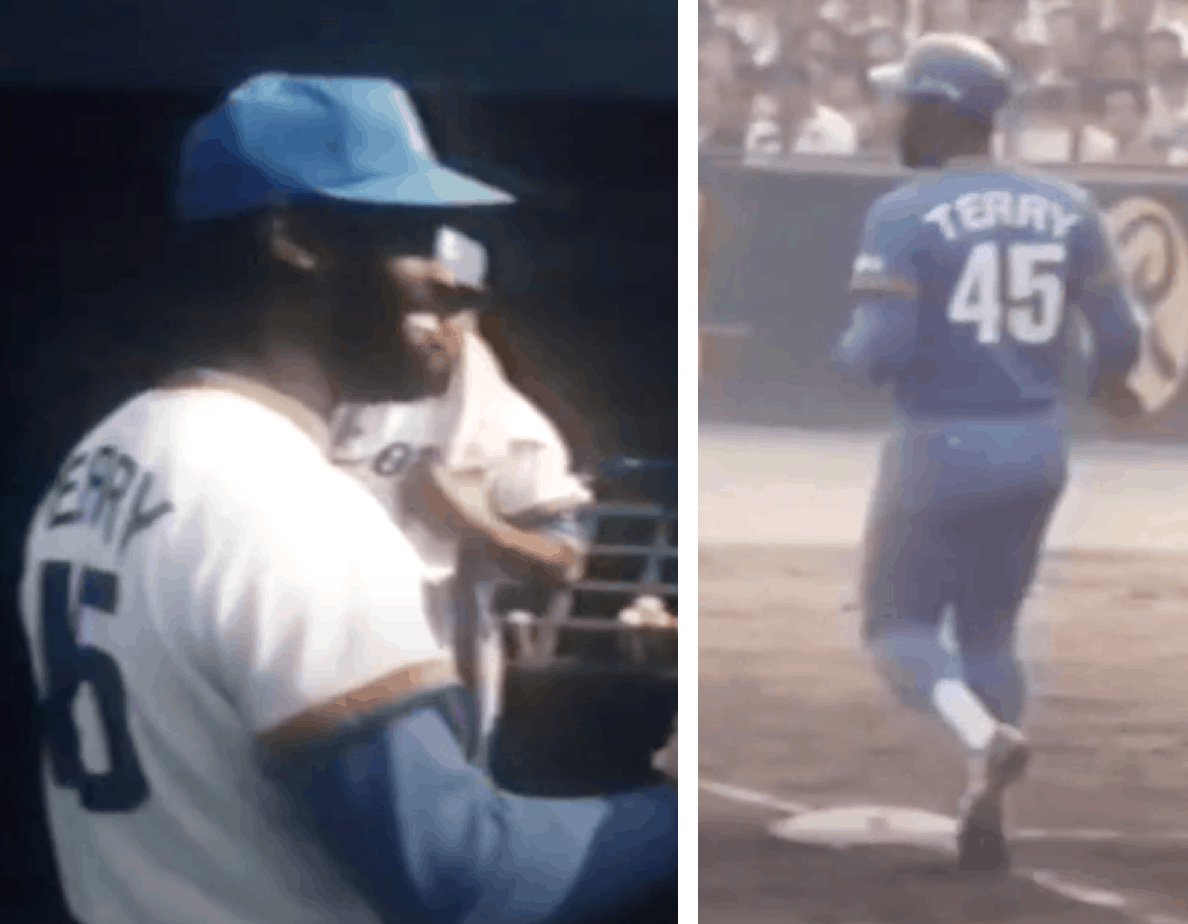 • At one point the movie shows the great Japanese slugger Sadaharu Oh (already retired and serving as a coach by the time this documentary was shot), including a good view of his massive-lettered NOB: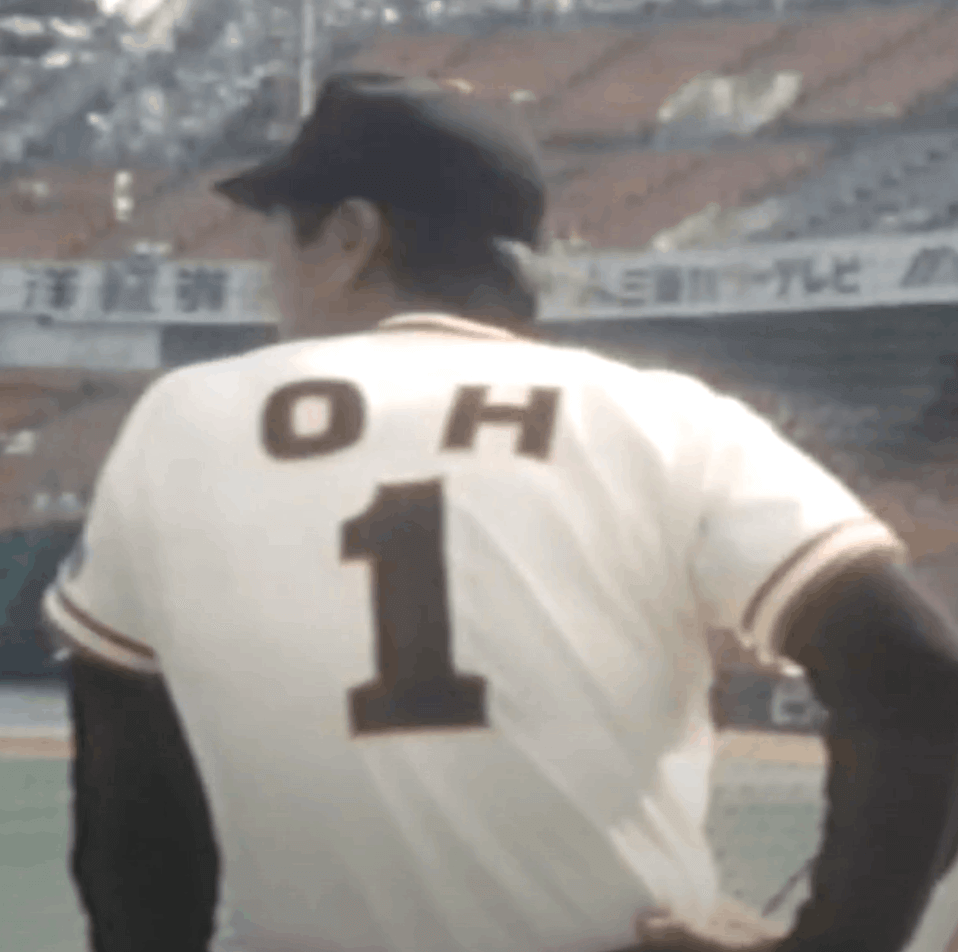 • Rear uni views shown throughout the documentary suggest that it was standard practice for short NOBs to be rendered in large letters, with longer NOBs executed in smaller letters: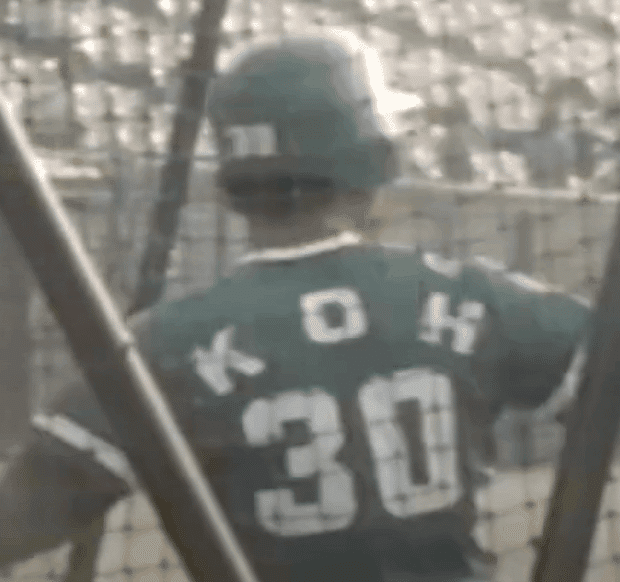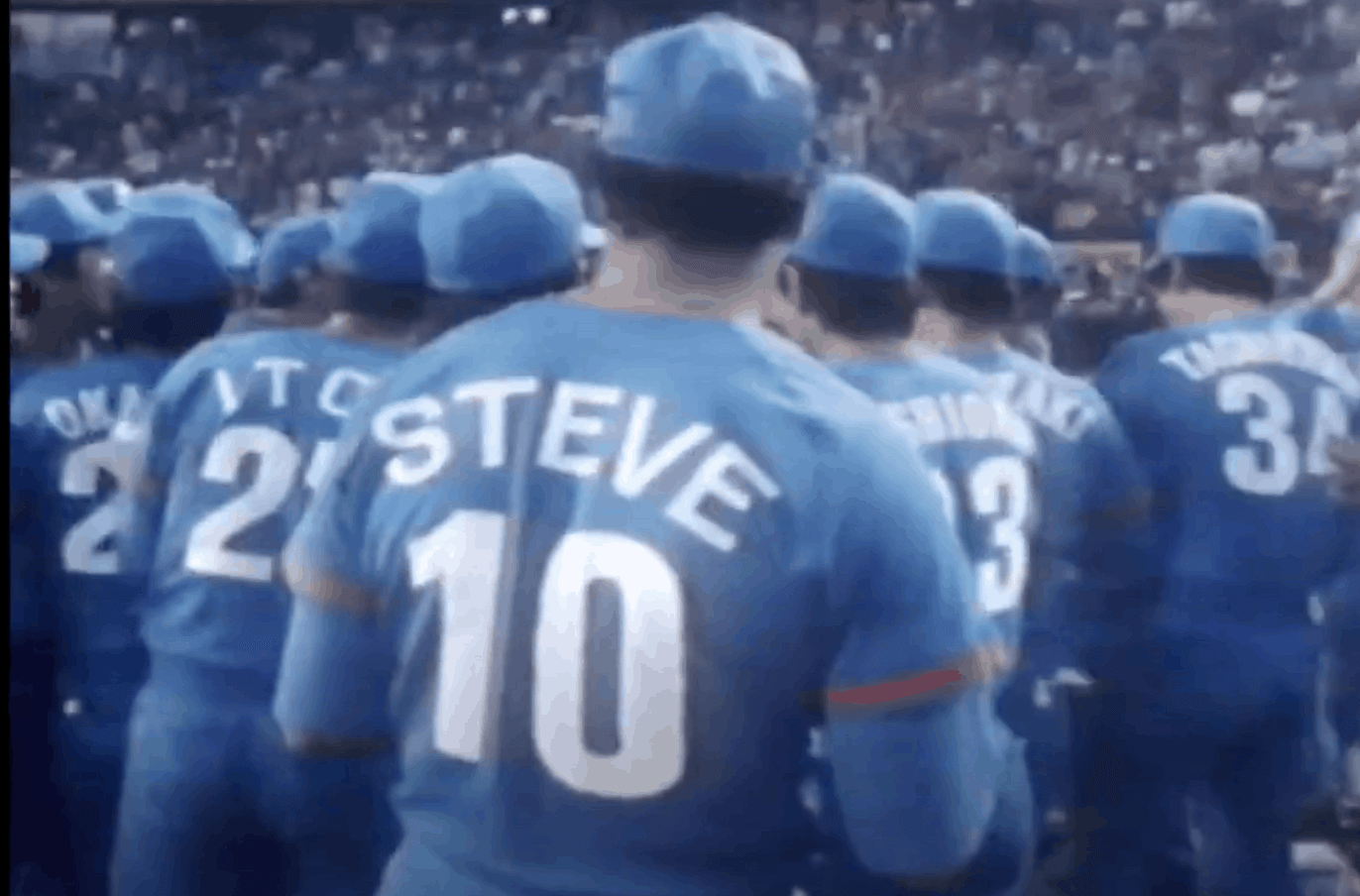 This is similar to how the bumblebee-era Pirates handled their NOBs. And their uniforms at the time were made by Descente, a Japanese company. It all makes sense now!
Umpires
• I ran this screen shot in the Ticker a while ago, but it's worth showing again — an umpire wearing eye black! Never seen that before: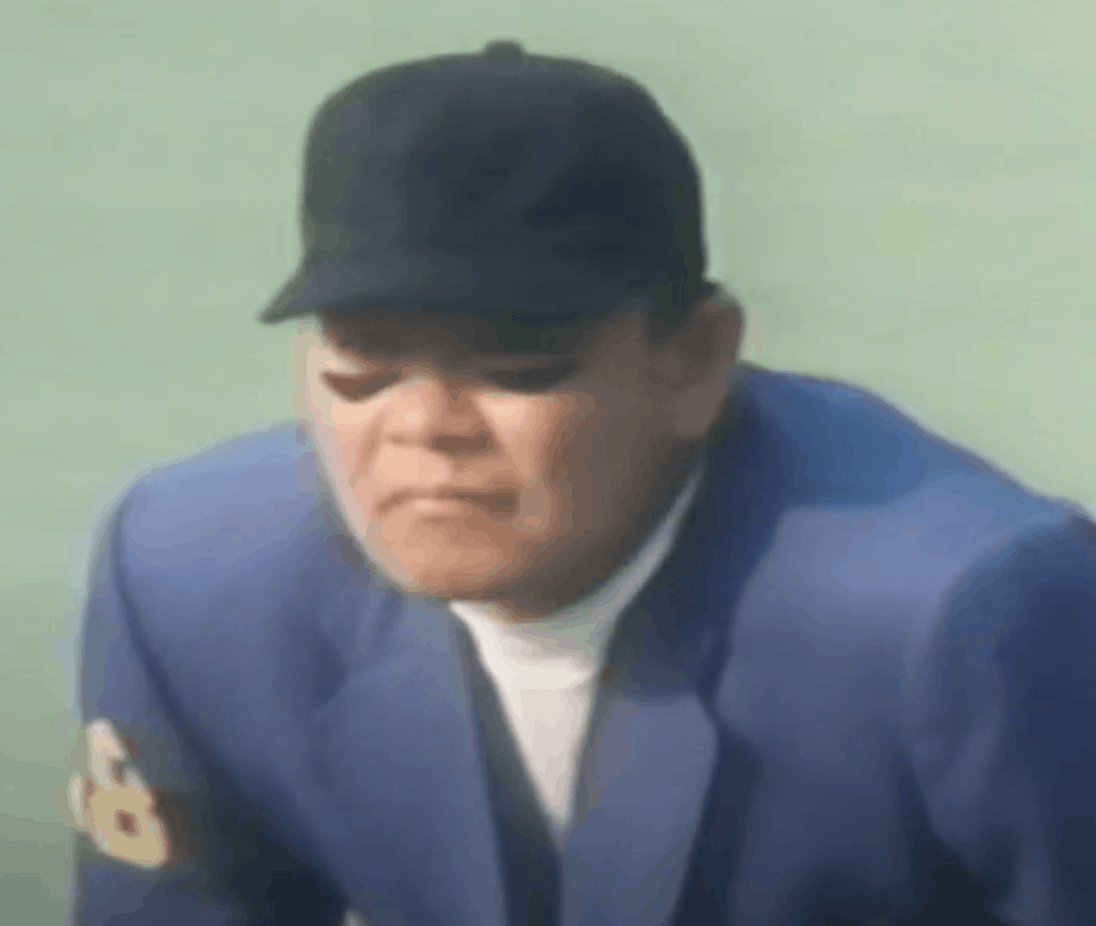 • Something else I've never seen before: an ump wearing a shirt with a contrast-colored yoke!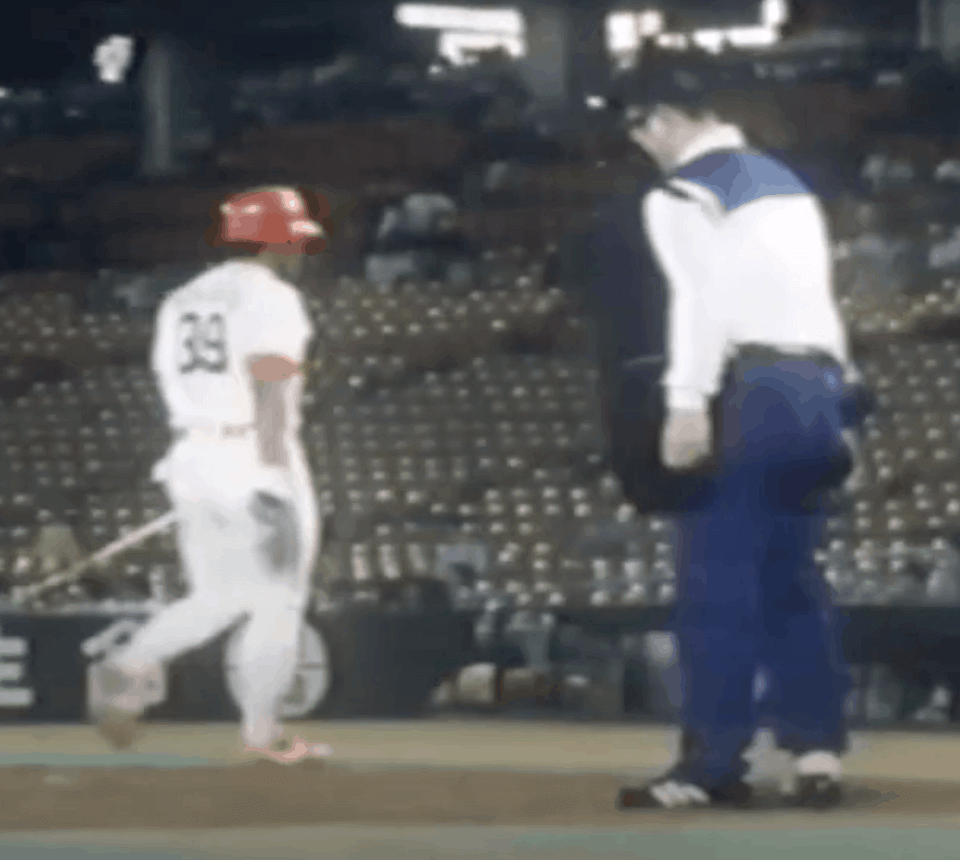 In the Stands
There are some good shots of vendors wearing interesting uniforms as they roam through the crowd, and also a good view of the Chunichi Dragons' costumed mascot: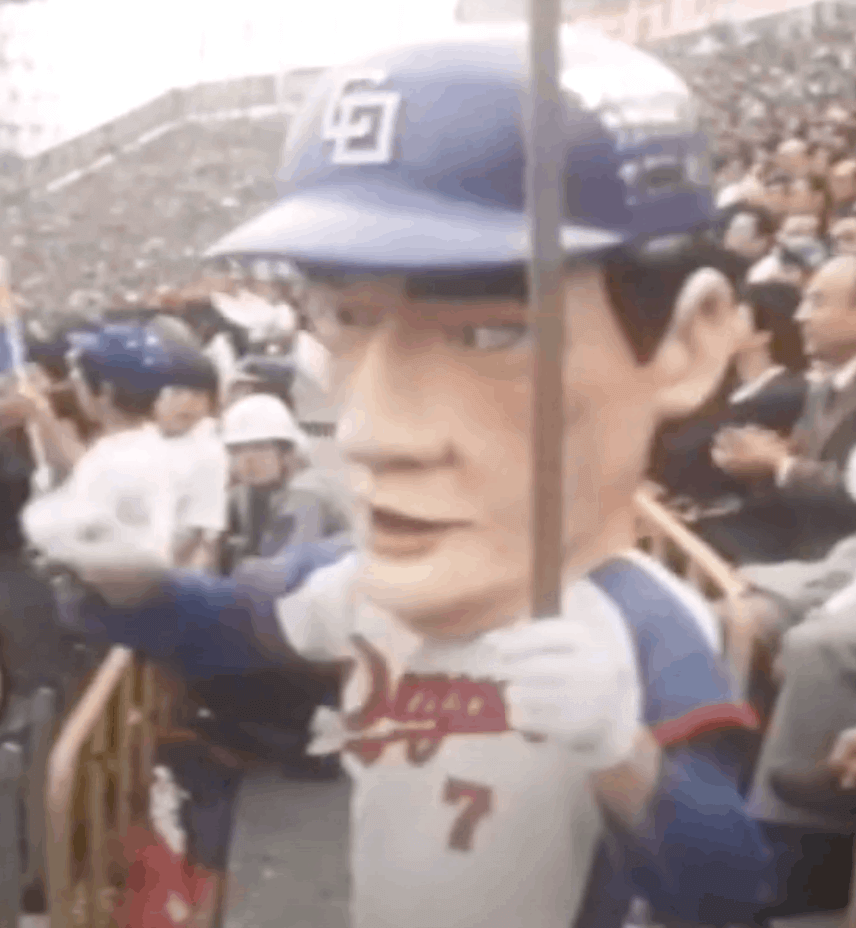 Carter
• Carter makes several promotional appearances in his then-current Expos uniforms — sometimes home, sometimes road. He had an Expos hat with him but apparently neglected to bring his helmet, because at one point they show him participating in a home run derby while wearing his Expos uni and a Seibu Lions helmet: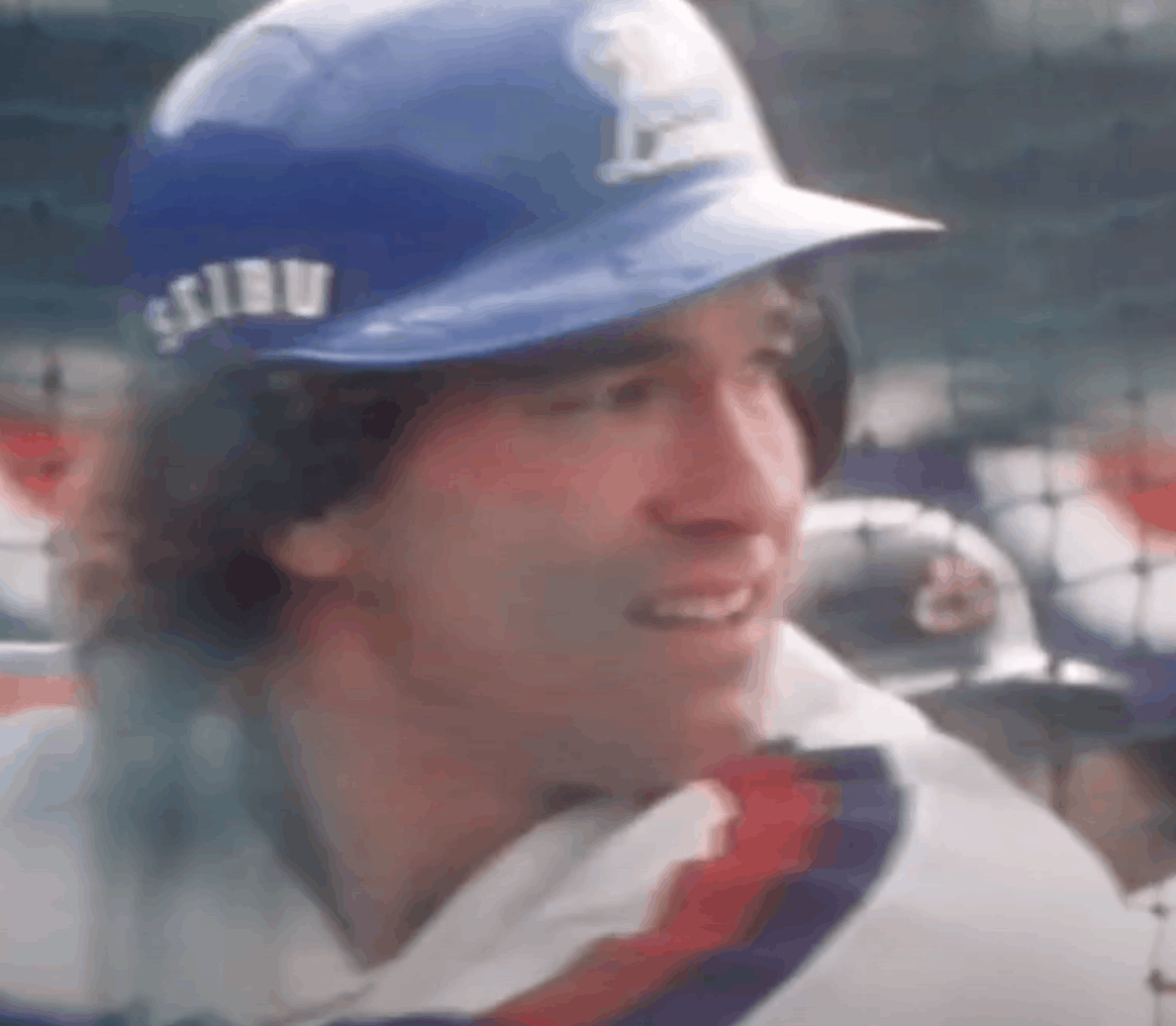 • Carter also appears as a guest star in a Japanese samurai movie and gets the full makeup treatment. Believe it or not, this is him: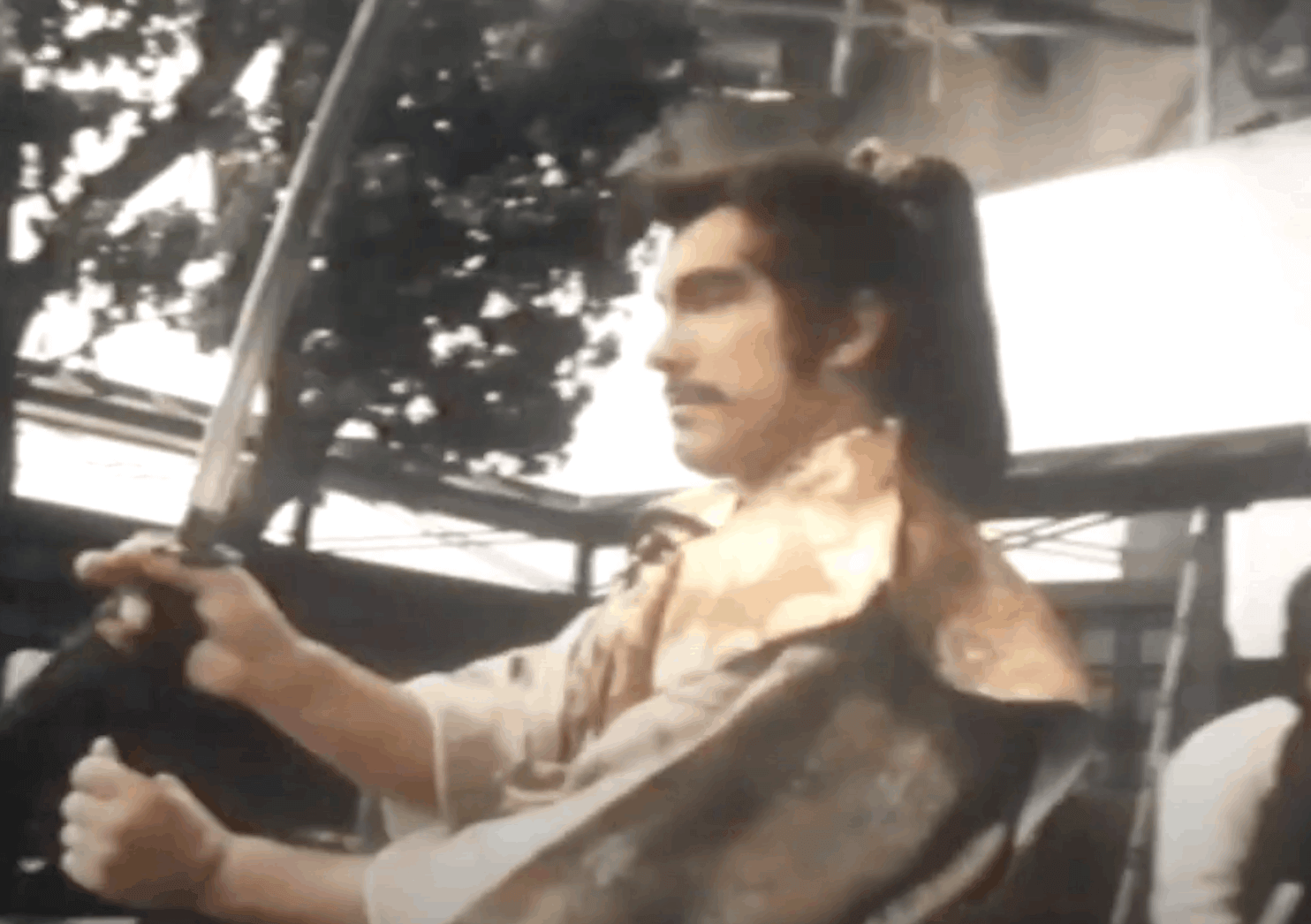 Miscellaneous Stuff
• At one point they show a team taking batting practice. The first weird thing about it is that there's a catcher. The second weird thing is that the catcher is sitting on a little wooden stool. And the third weird thing is that the batter has no uni number! Dig: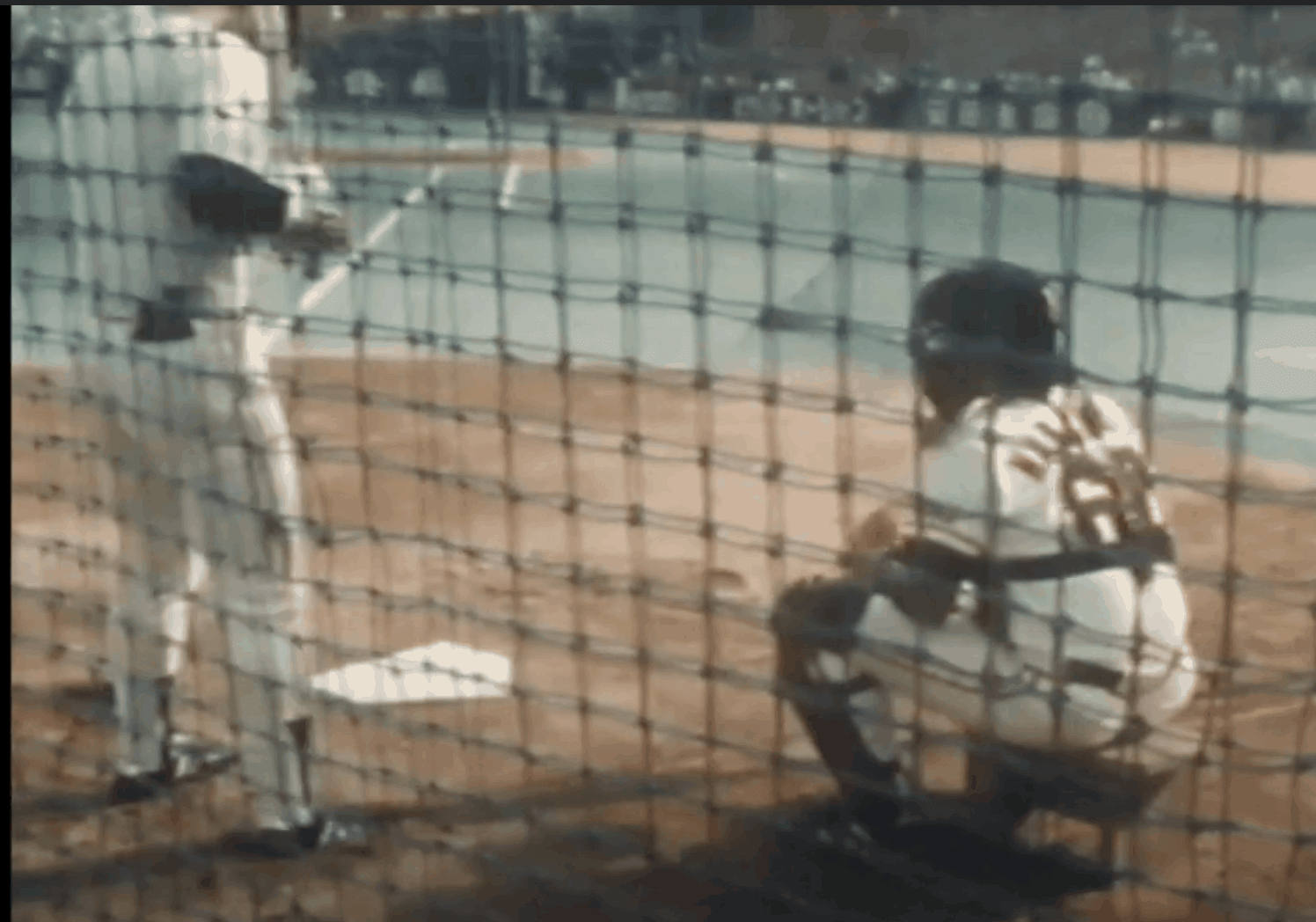 • A scene of a youth league game shows the kids wearing number placards pinned or taped to the back of their jerseys: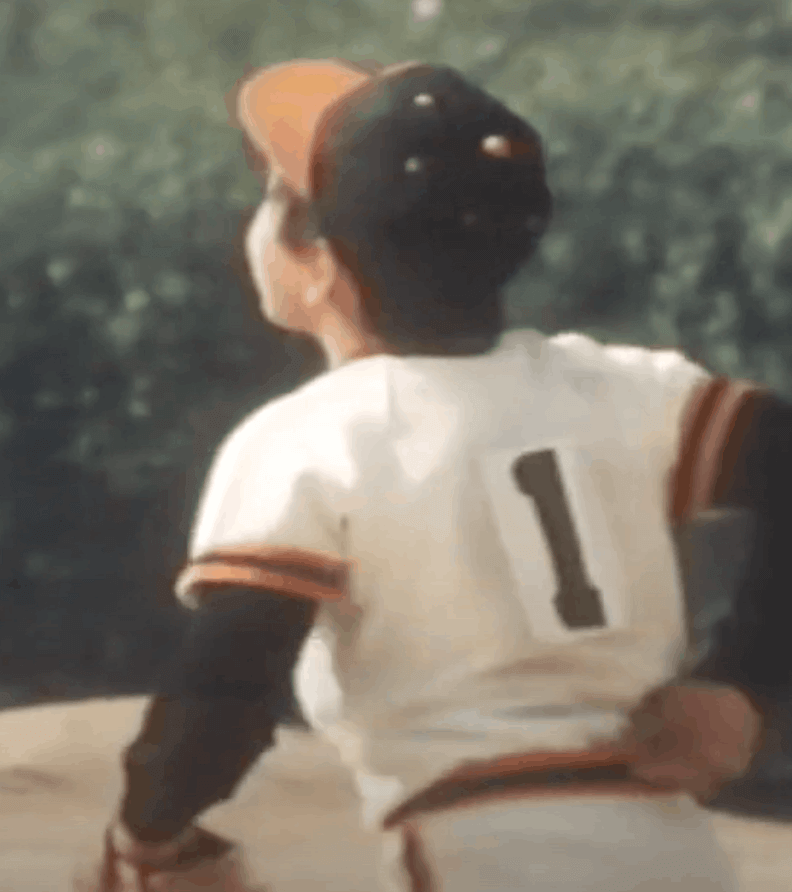 • There's a bit where Carter visits a Mizuno baseball glove factory. They show him the latest innovation they're working on — a push-button pitch-sign system that allows a pitcher and catcher to communicate electronically. I guess that one never quite got off the drawing board: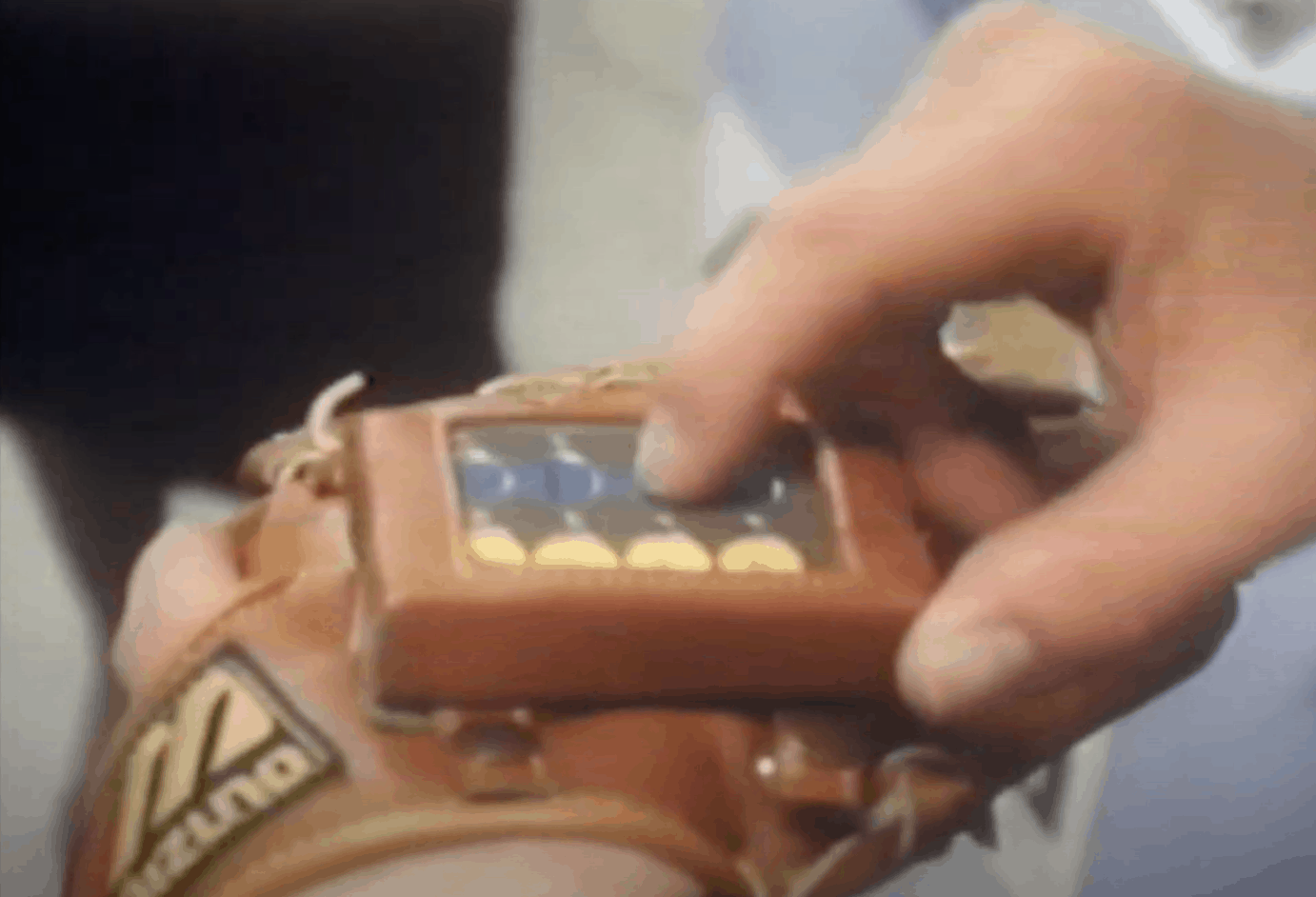 • At one point they show Carter taking part in a photo shoot, and one of the photographers is wearing a United Press International cap. Never seen that before!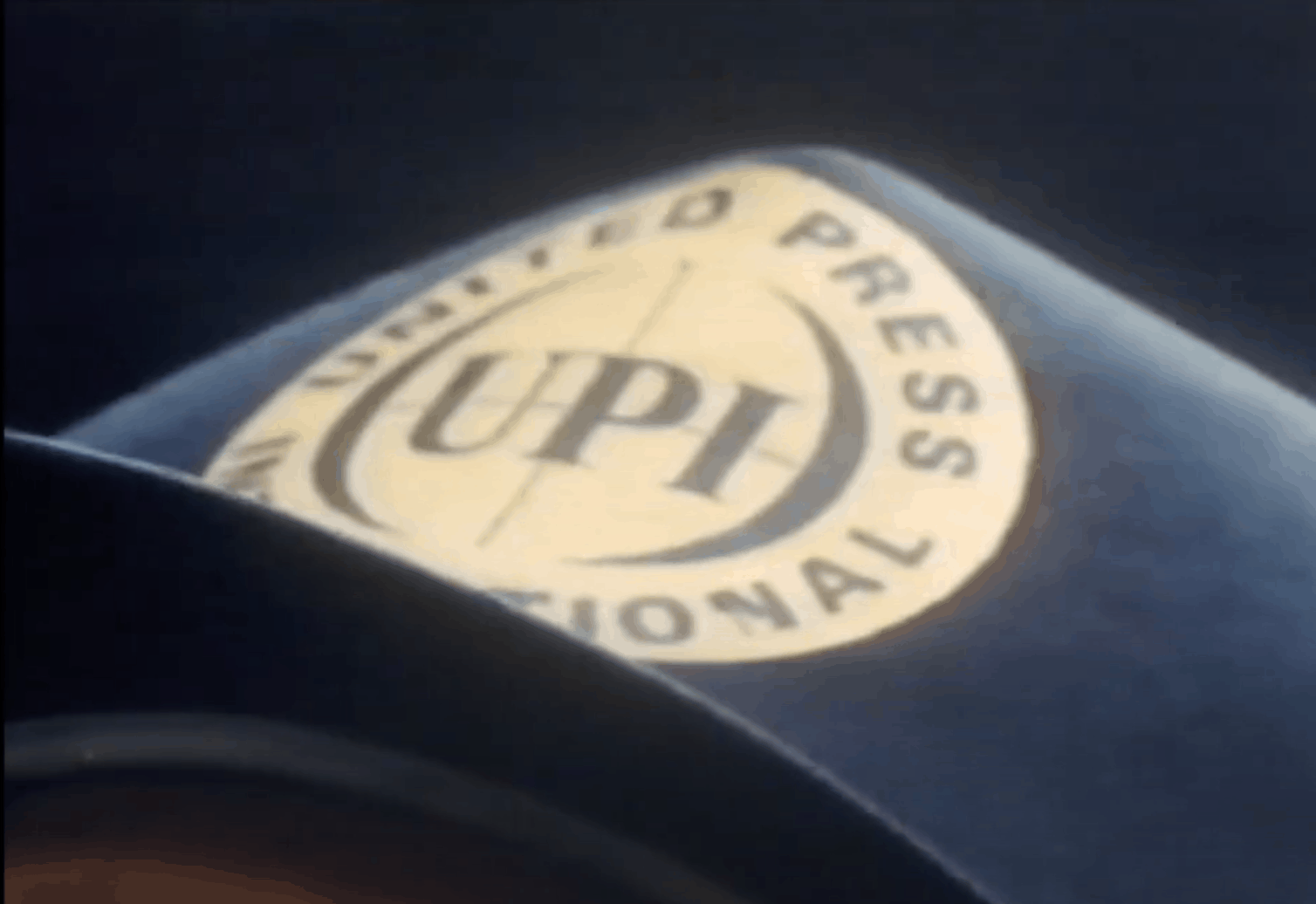 • During an autograph session, someone hands Carter a ticket to the 1982 Japan Series, which was then in progress. Nice ticket design: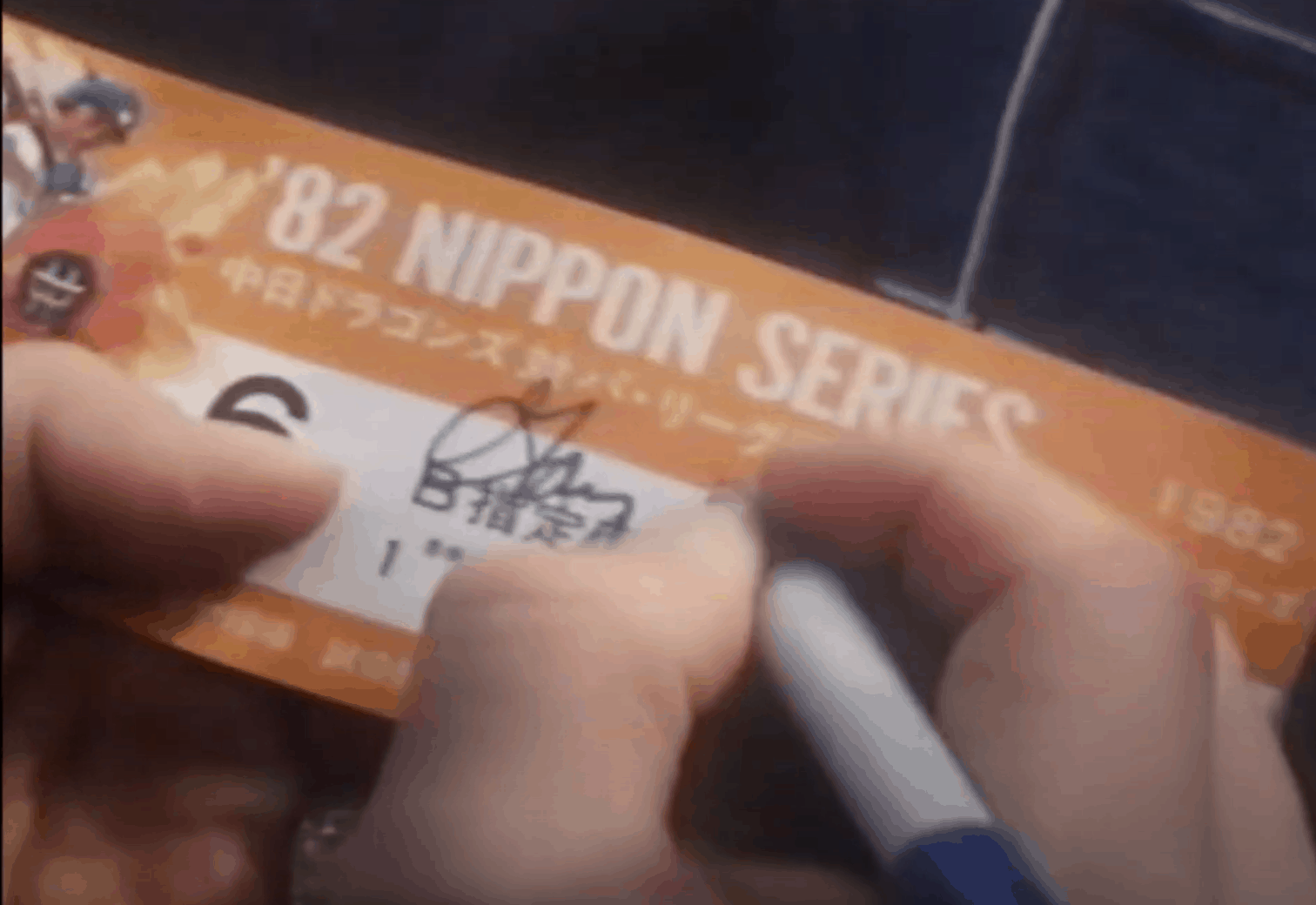 • It's hard to see in this screen shot, but after a player hits a home run and rounds the bases, a girl rushes out and hands him a bouquet of flowers as he trots back to the dugout:
———
There's more — a lot more — but that should be enough to give you the basic idea. You can watch the whole thing here.
Meanwhile, the more music-savvy among you may already have guessed the inspiration for today's headline. Here it is:
(Arigato to Dustin Meador for bringing this great bit of archival TV to my attention.)
• • • • •
• • • • •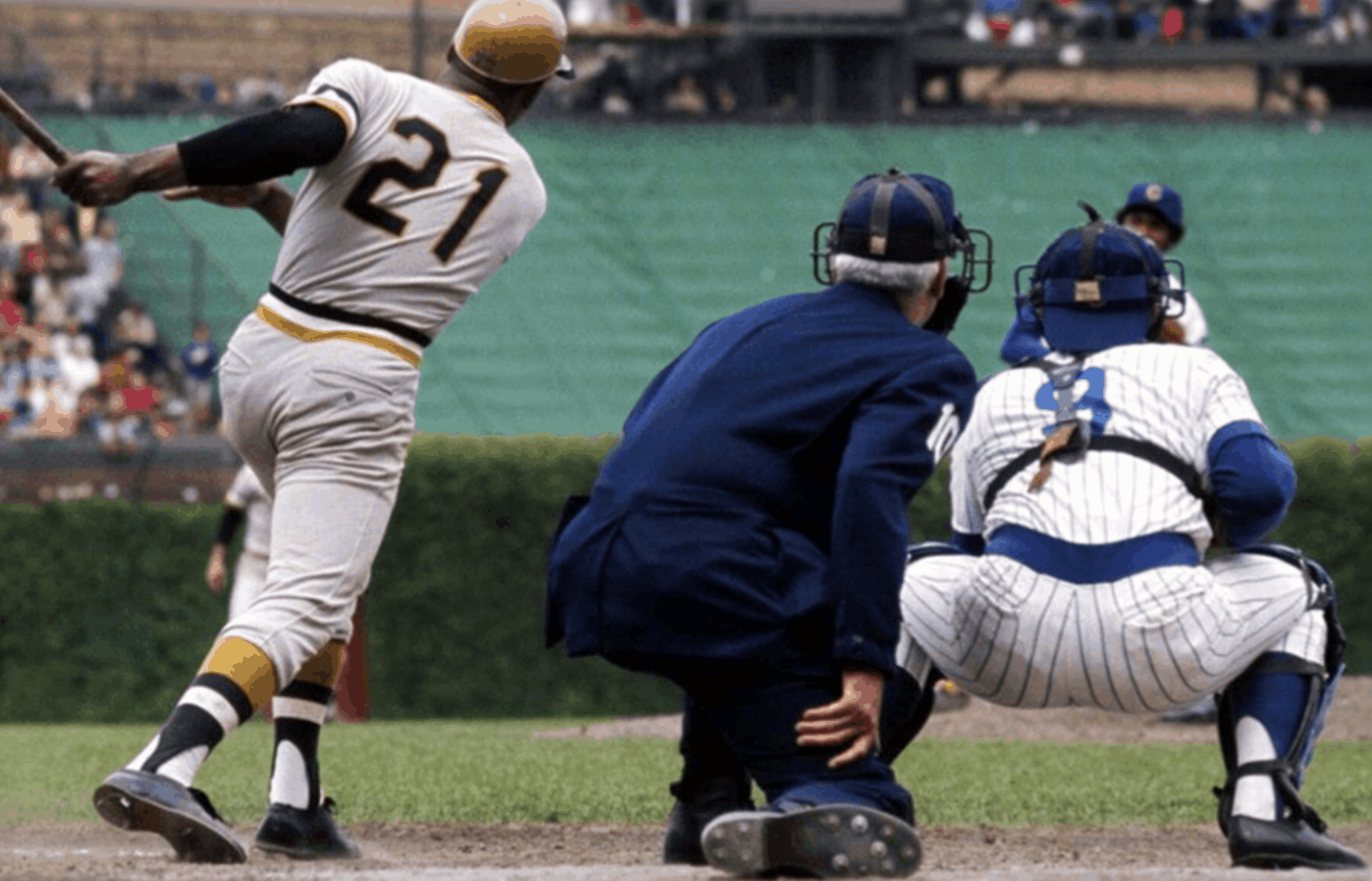 Clemente Day update: It had already been announced last week that the Pirates would celebrated Roberto Clemente Day tomorrow by having all uniformed personnel wear No. 21.
On Sunday night ESPN reported that, in addition, all Puerto Rican-born MLB players (there are currently only 20 of them) will be permitted to wear No. 21. Since three of those players — Cardinals catcher Yadier Molina and Twins outfielder Eddie Rosario and pitcher José Berríos — play for teams that have off-days scheduled for tomorrow, those players will be able to wear No. 21 today.
Moreover, all MLB players will have the option to wear a No. 21 patch.
• • • • •
• • • • •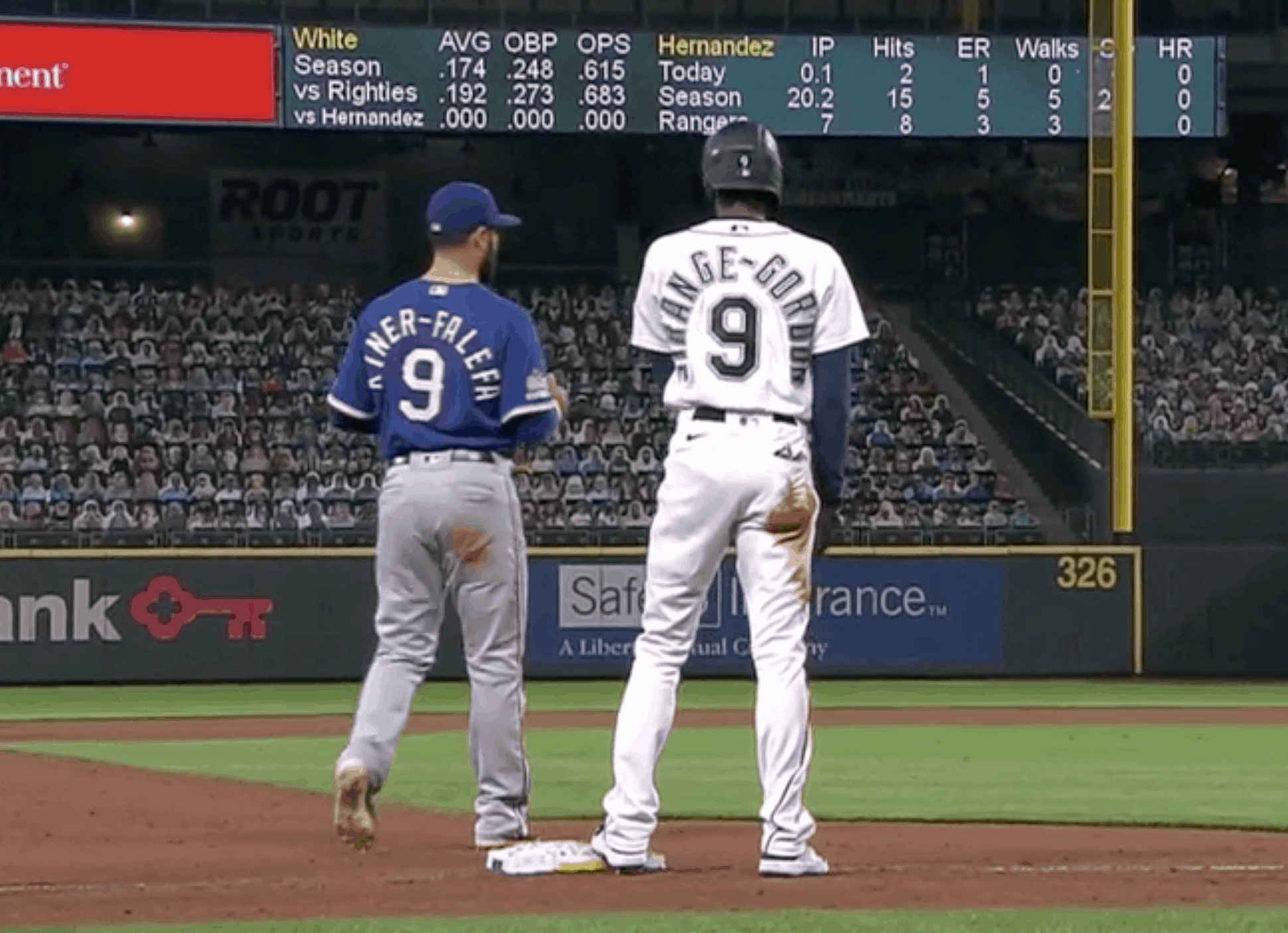 Click to enlarge
Alphabet city: Amazing moment in Saturday's Rangers/Mariners game, as Seattle baserunner Dee Strange-Gordon (who recently changed his surname to honor his late mother) and Texas third baseman Isiah Kiner-Falefa found themselves standing next to each other. Two players with hyphenated NOBs, and both wearing No. 9!
Surprising that the M's are using such large NOB lettering for Strange-Gordon instead of using a compressed version of the font. His NOB is reaching Saltalamacchian proportions. Here's how it looks on his green and navy jerseys: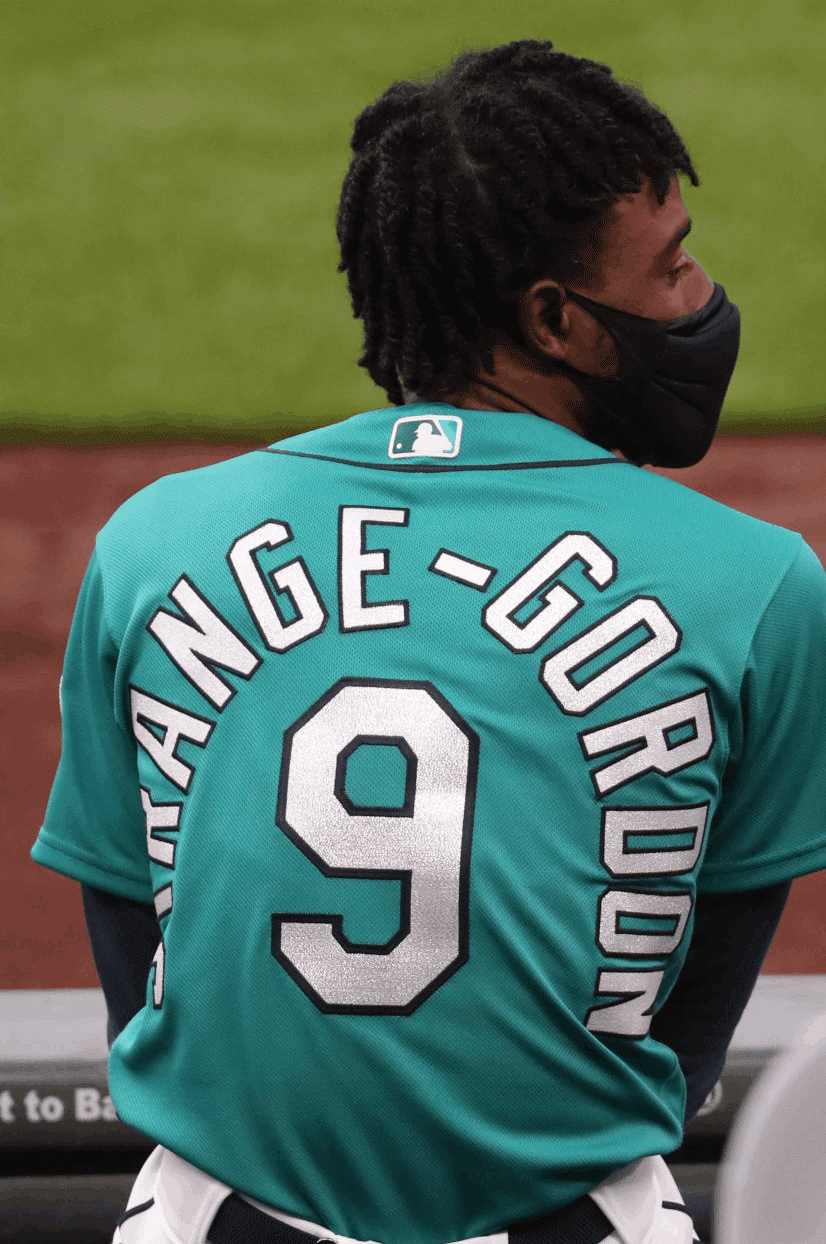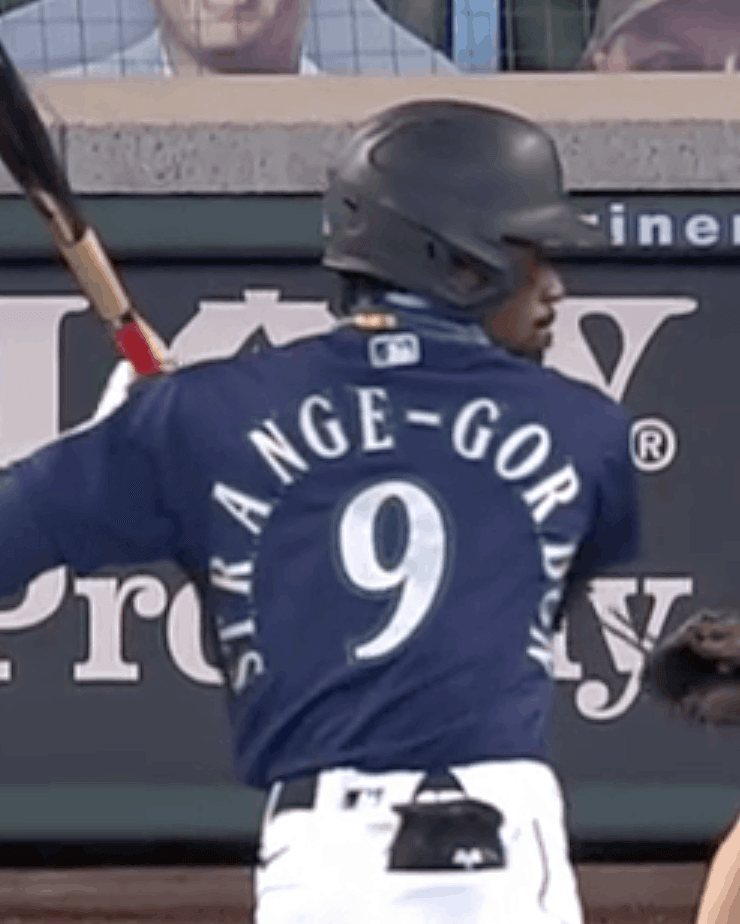 • • • • •
• • • • •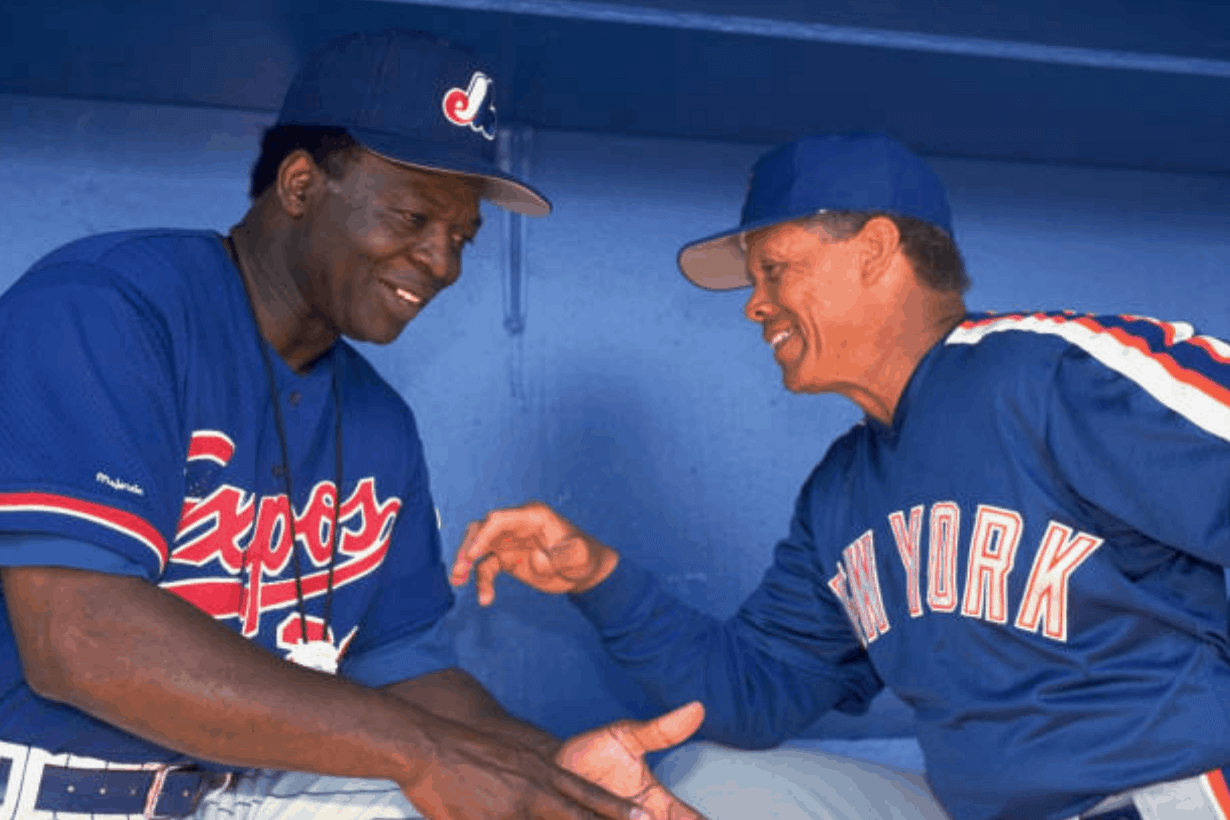 Men of steal: Who's that in the Expos uniform? None other than the great Lou Brock, who was working as a spring training baserunning coach for the 'Spos in 1993. The gent next to him is fellow base-stealing pioneer Maury Wills, who was serving in a similar capacity for the Mets that spring.
As you're probably aware, Brock died over the weekend. I hadn't been aware that he'd ever coached for the Expos until I read about it in one of his obituaries, so I went looking for a photo and found the one shown above.
Brock had similar spring training gigs with the Twins in 1987 and the Dodgers in 1988. Here's a shot of him in a Twins uni — not a great photo, but better than nothing (that's Brock at far-right; click to enlarge):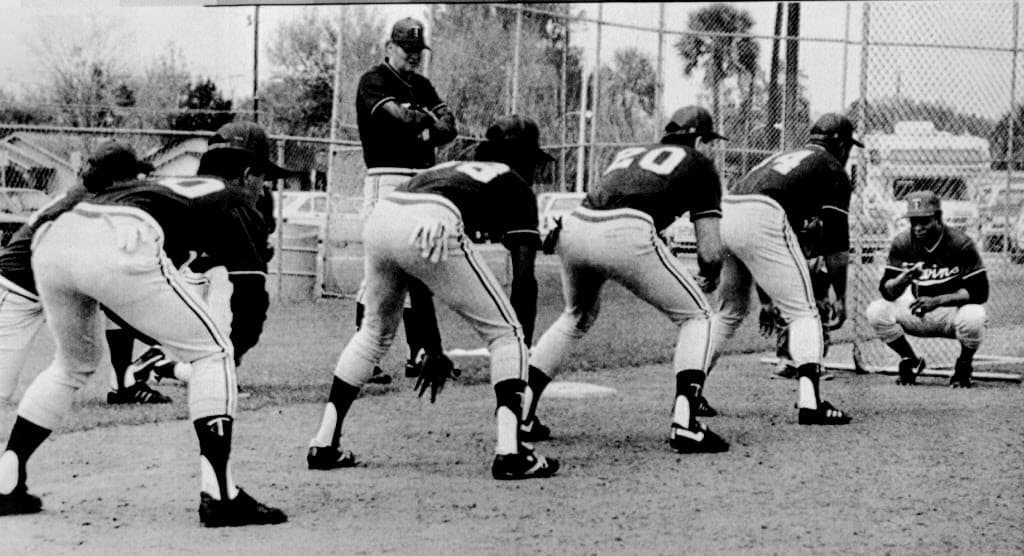 Unfortunately, I haven't been able to find a photo of Brock from his 1988 spring stint with the Dodgers. Anyone..?
• • • • •
• • • • •
ITEM! Color Remix T-shirt launch: A few weeks ago I told you how I was partnering with designer Bryan Molloy on a new project called Uni Watch Color Remix, which will be a series of caps featuring our winged stirrup logo in new color combos (if you missed the announcement, you can check it out here).
The first batch of caps will launch sometime next week, but many of you said that you'd like to see T-shirts included as well, so I've gone ahead and set those up for purchase. Here are the first four designs: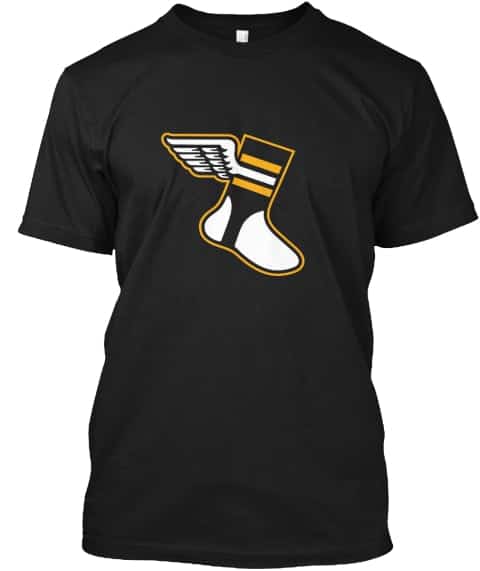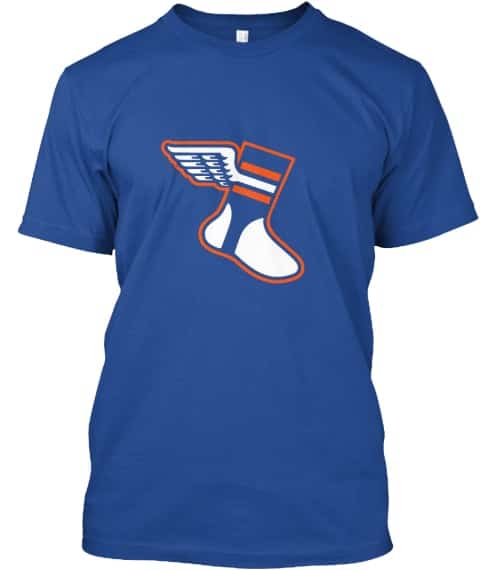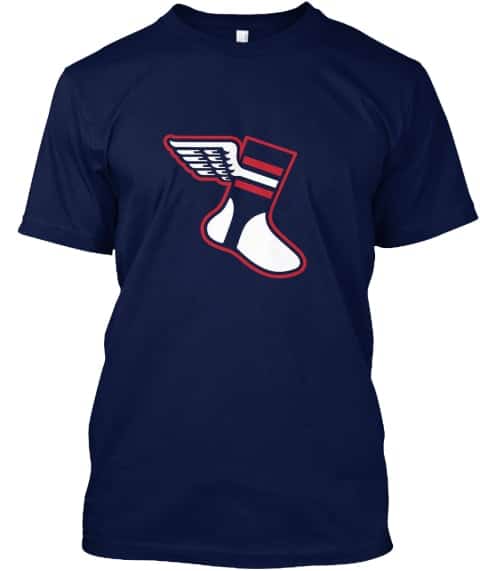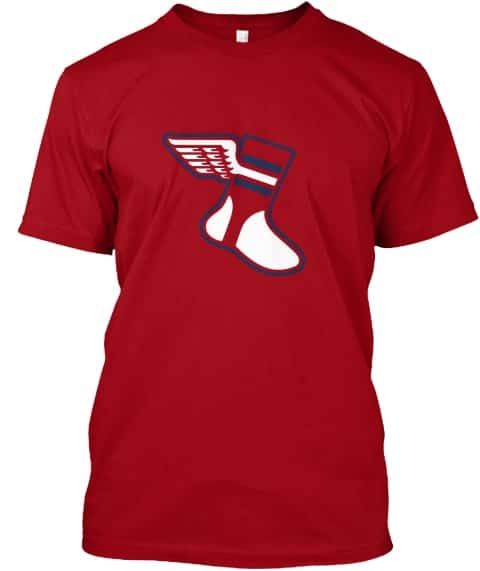 Not bad, right? Here's where you can order the black/yellow, royal/orange, navy/red, and red/navy versions. And for the rest of today, you can save 10% by using the checkout code LABORDAY. (I'll have more to say about that discount code further down in today's post.)
The corresponding four caps will be available next week, and then we'll roll out shirts and caps for three or four new color combos next month, and another three or four in November, and so on.
All of the shirts will remain available indefinitely in our Teespring shop; the caps will be available on Bryan's website for one-month windows, although we'll probably bring back the most popular ones. Thanks for your interest!
• • • • •
• • • • •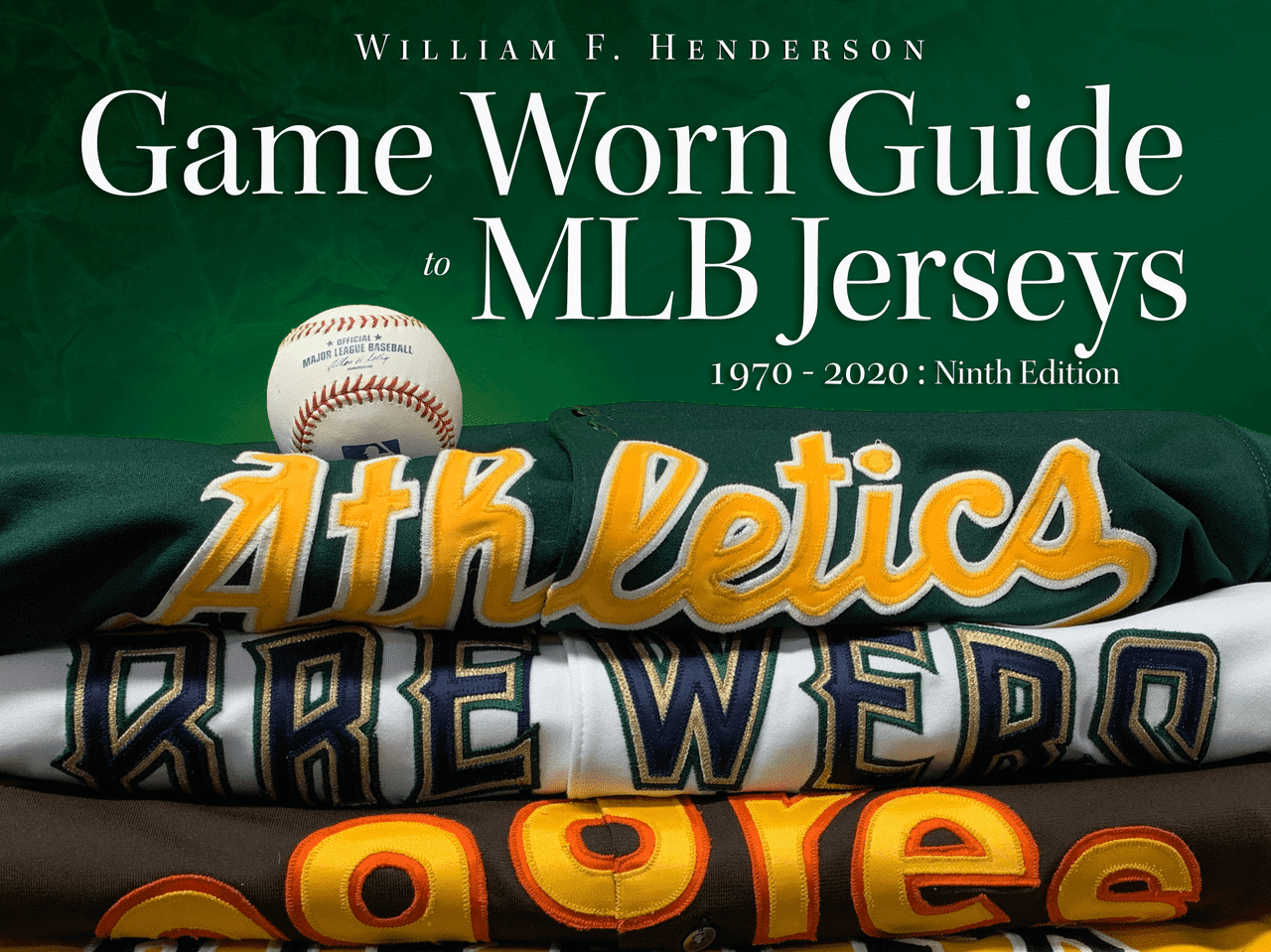 ITEM! Discount for Uni Watch readers: The new ninth edition of Bill Henderson's Game Worn Guide to MLB Jerseys — an essential resource that I find myself referring to literally almost every day — is out now, and Bill is very generously offering a big discount to Uni Watch readers.
If you use this link anytime from now through this Sunday, Sept. 13, you can get the guide for $24.99, instead of the price of $45.95.
I don't receive any royalty or affiliate fee on any of these sales. My only stake in this is promoting a great uni-related product that I strongly believe in. Take advantage of this great discount while you can!
• • • • •
• • • • •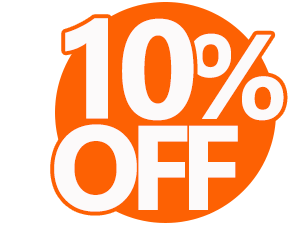 And speaking of discounts…: In case you missed it toward the end of last week, Teespring is running a 10% discount through midnight tonight. That means you can save 10% on anything and everything in the Uni Watch, Uni Rock, and Naming Wrongs shops, but Uni Watch will still get its full cut of the profits.
To take advantage of this offer, use the checkout code LABORDAY by midnight tonight.
• • • • •
• • • • •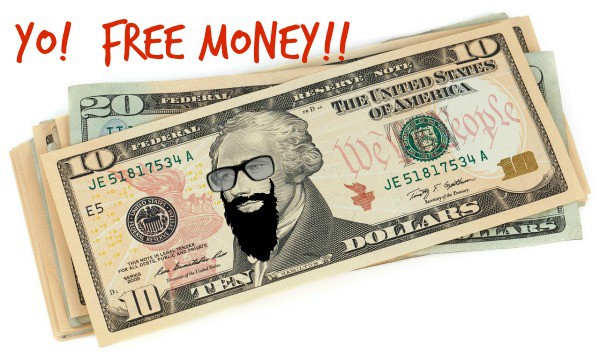 ITEM! Big free-money raffle: In a very generous move, reader James Mellett has donated a whopping $200 that can be spent on Uni Watch merchandise. I'm going to raffle it off to two winners, who'll each get $100 that they can spend on any combination of Uni Watch items.
This will be a two-day raffle. No entry restrictions. To enter send an email to the raffle address by 8pm Eastern tomorrow, Sept. 9. I'll announce the winner on Thursday.
Meanwhile, the winner of last Friday's key ring raffle is Carl Schultz. Congrats to him, and thanks again to Christian Berumen for sponsoring that one.
• • • • •
• • • • •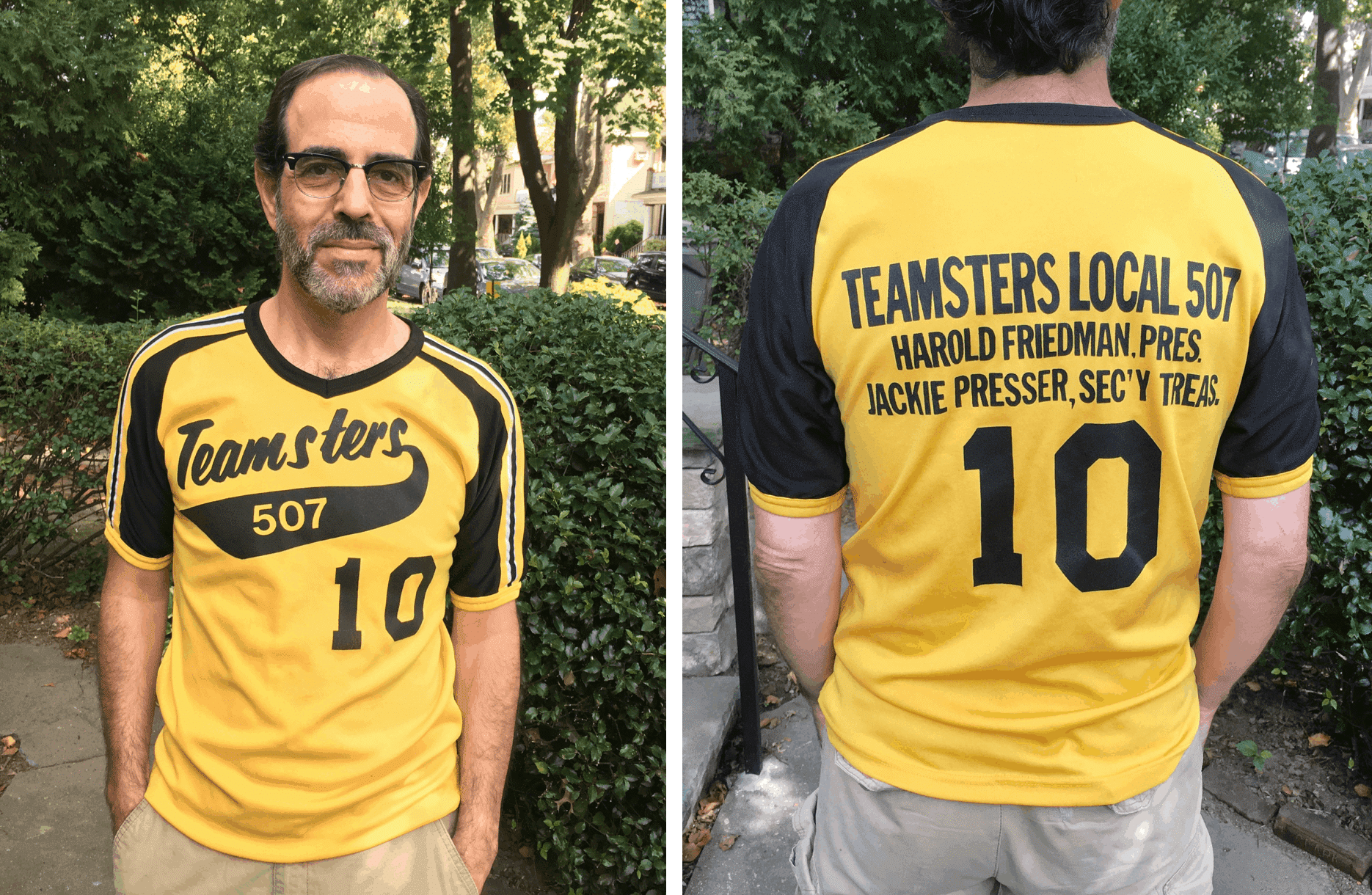 Click to enlarge
Uni(on) Watch: Yesterday was Labor Day, so this vintage jersey from my collection felt like the appropriate thing to wear. (Photos by the Tugboat Captain.)
• • • • •
Sorry, no Ticker today, as the entire Uni Watch team had yesterday off. The Ticker will return tomorrow.
Also tomorrow: The annual Uni Watch NFL Season Preview! See you then. — Paul
• • • • •