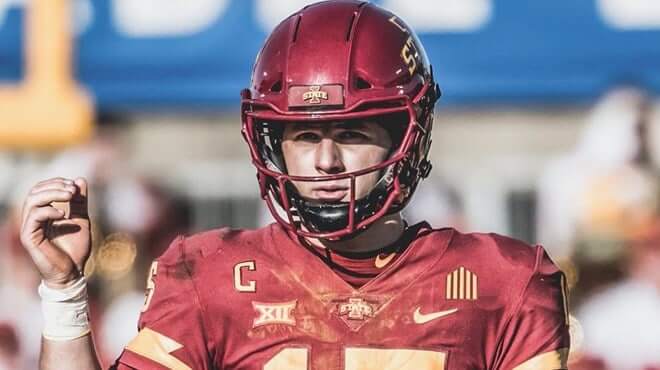 Some late-breaking college football uni news yesterday, as Iowa State announced that the Cyclones will wear a striped jersey patch for former player Jack Trice. It's the patch above the Nike logo in the mock-up shown above. And even amidst the jumble of other patches on that jersey, it looks really, really sharp.
Trice, who played as both an offensive and defensive lineman in 1923 (two-way players were common in those days), was Iowa State's first Black athlete. He died due to injuries suffered in his second game, against Minnesota. The design of the patch, which the school says is being added to support equality, oppose racism and discrimination, and empower change, is based on the uniform that Trice wore while playing for the Cyclones (click to enlarge):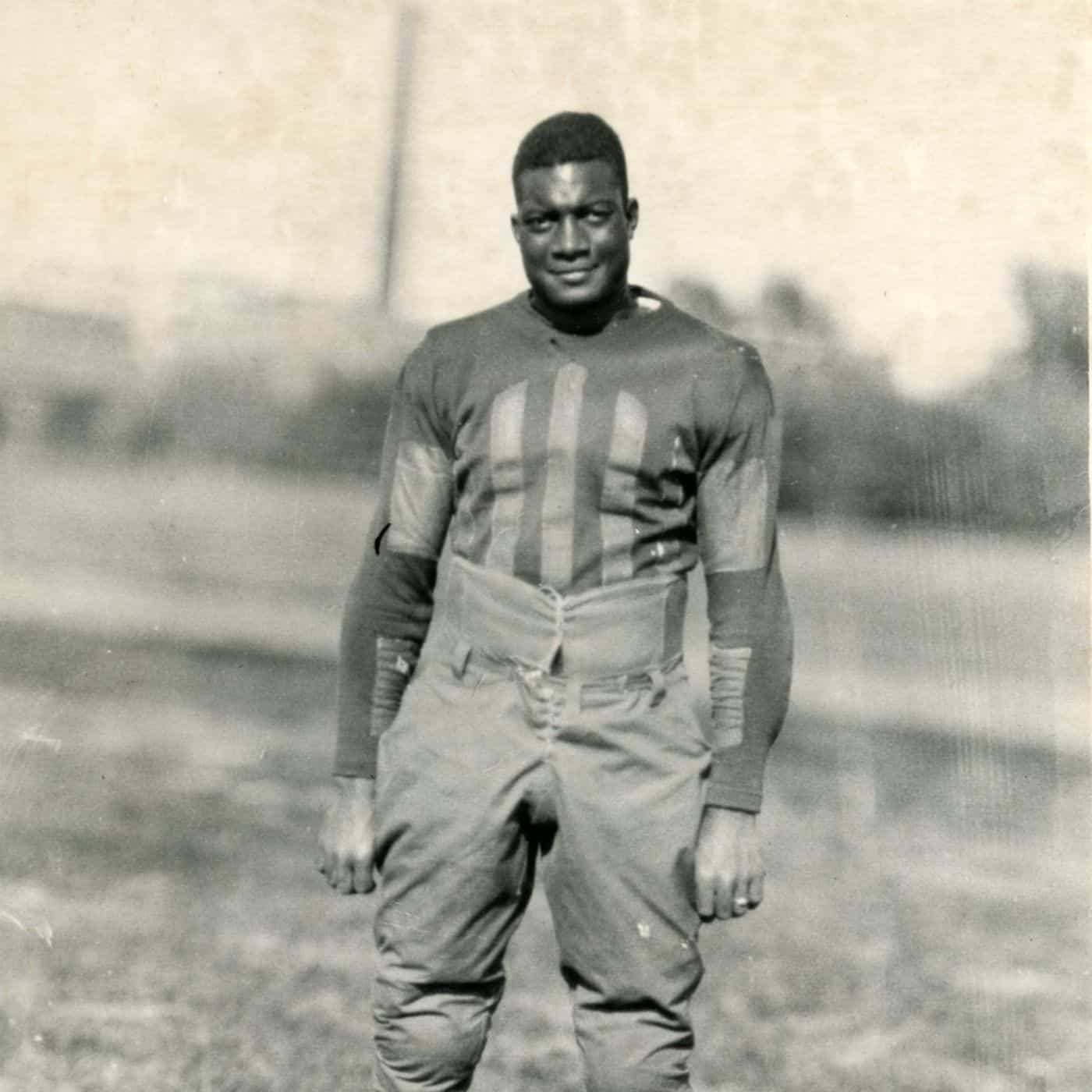 The photo at the top of this page is a Photoshop mock-up, but the school also released photos of the real patch on a real jersey: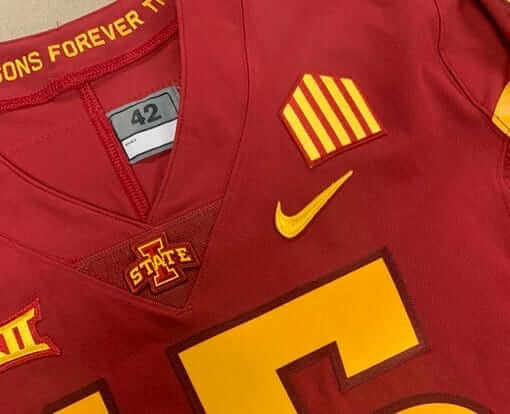 The patch comes in three different versions — one for each of the Cylones' jerseys: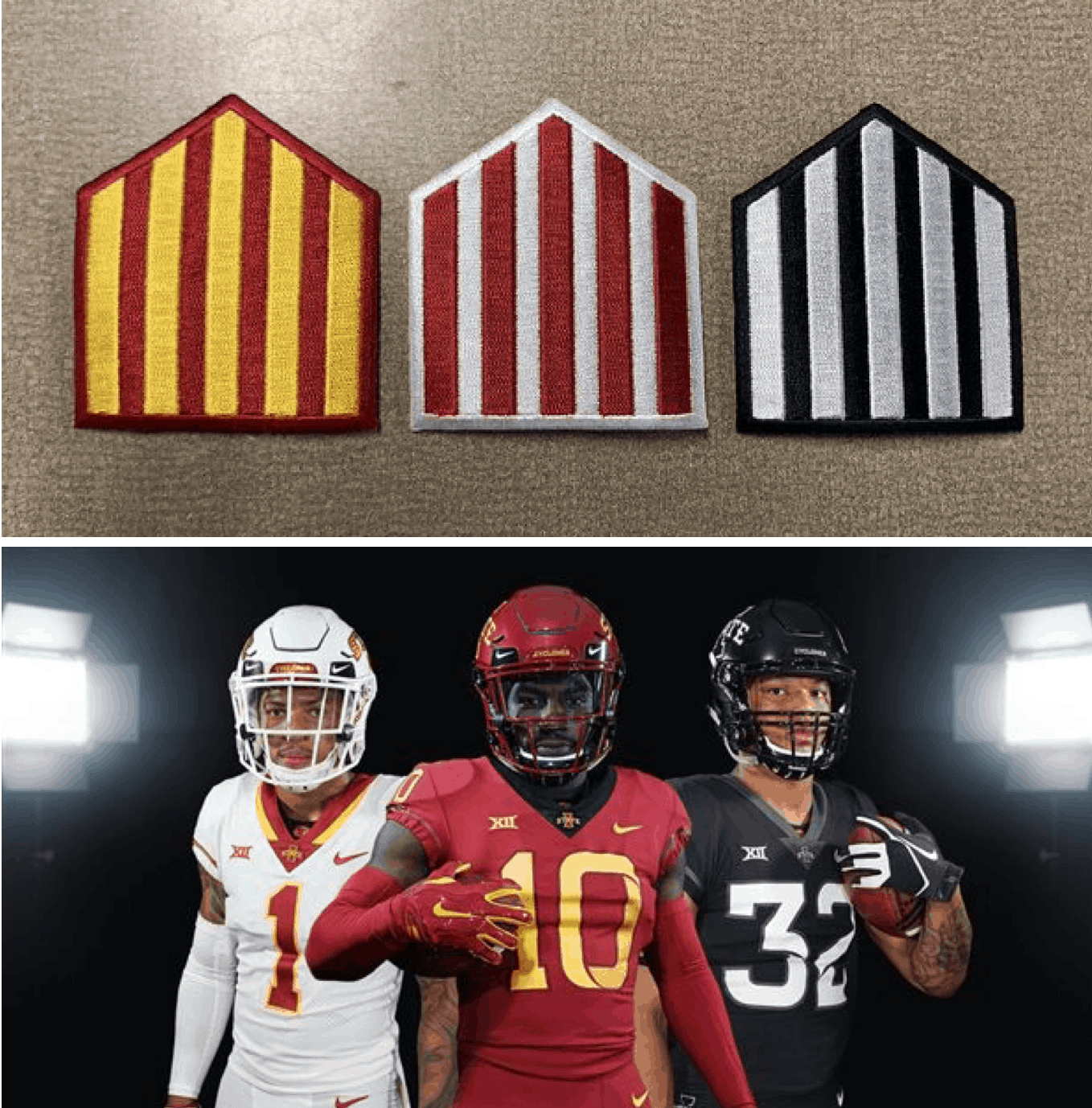 This is hardly the first time Iowa State has honored Trice. They wore Trice-era throwbacks against Iowa in 2013; there's a Jack Trice statue on campus; and the Cyclones play their home games at Jack Trice Stadium — the only FBS stadium named after an African-American.
So with all of that those previous tributes in mind, I suppose you could say they're going back to the same well yet again, or that the Trice tributes are getting trite (or bordering on idolatry), or something along those lines. Still, I really love this new patch. For one thing, at a time when so many teams are using the same slogans ("Black Lives Matter," "End Racism," etc.), it's cool to see a team with its own team-specific approach to that theme. Plus you've gotta love a uniform patch that references an earlier uniform design! (Also, it's a spectacularly good-looking patch, which certainly doesn't hurt.)
The patch will make its on-field debut on Sept. 12, when the Cyclones open their season at home against Louisiana-Lafayette.
• • • • •
• • • • •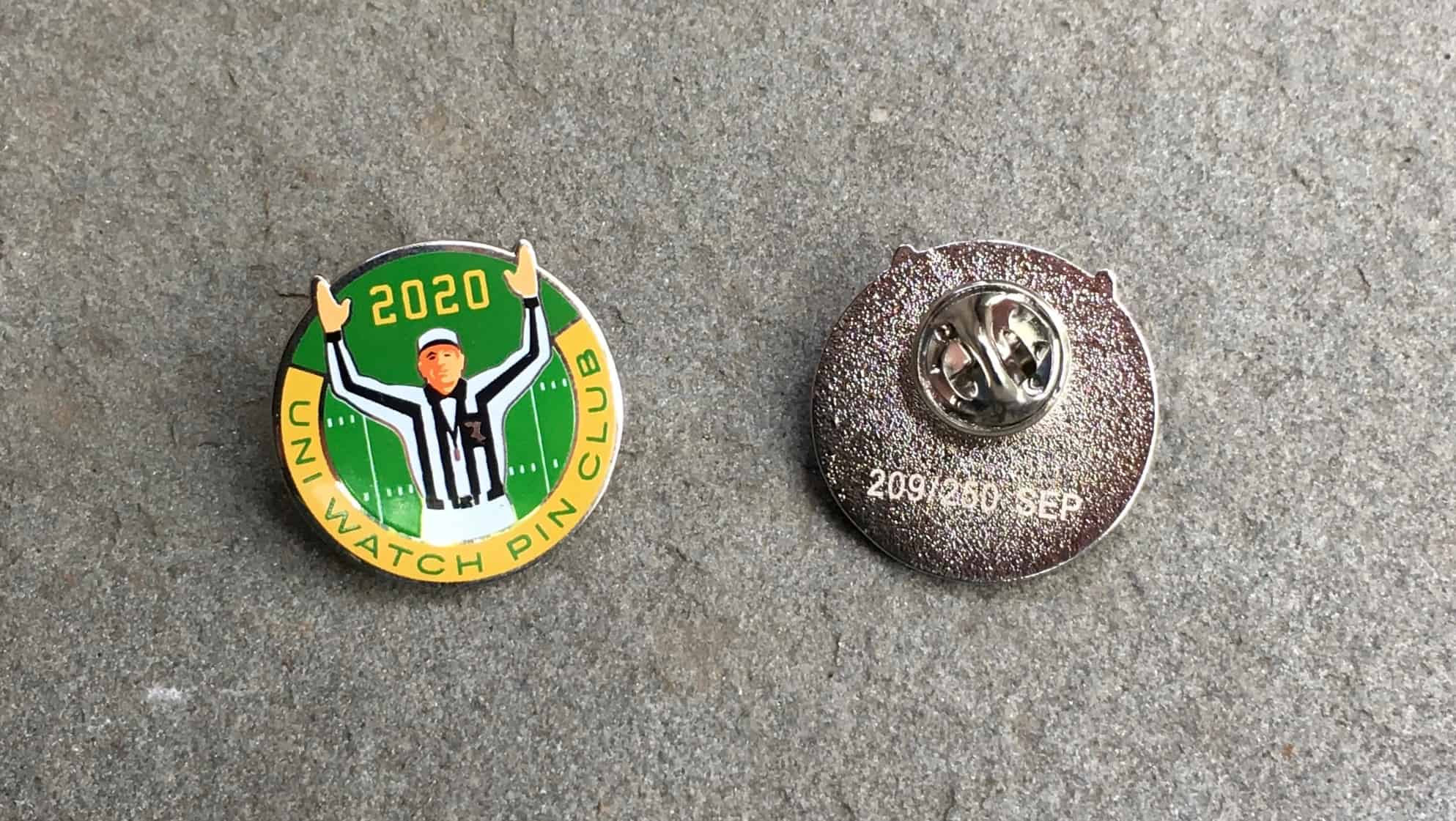 Click to enlarge
Pin Club reminder: In case you missed it on Tuesday, the Uni Watch Pin Club's new design for September — a shout-out to football refs, produced in a limited/numbered edition of 250 (with 106 sold on the first day!) — is now available.
Need to get caught up? Here are our January, February, March, May, June, July (bobble!), and August pins. (Sorry, April sold out!)
My thanks, as always, for your consideration.
• • • • •
• • • • •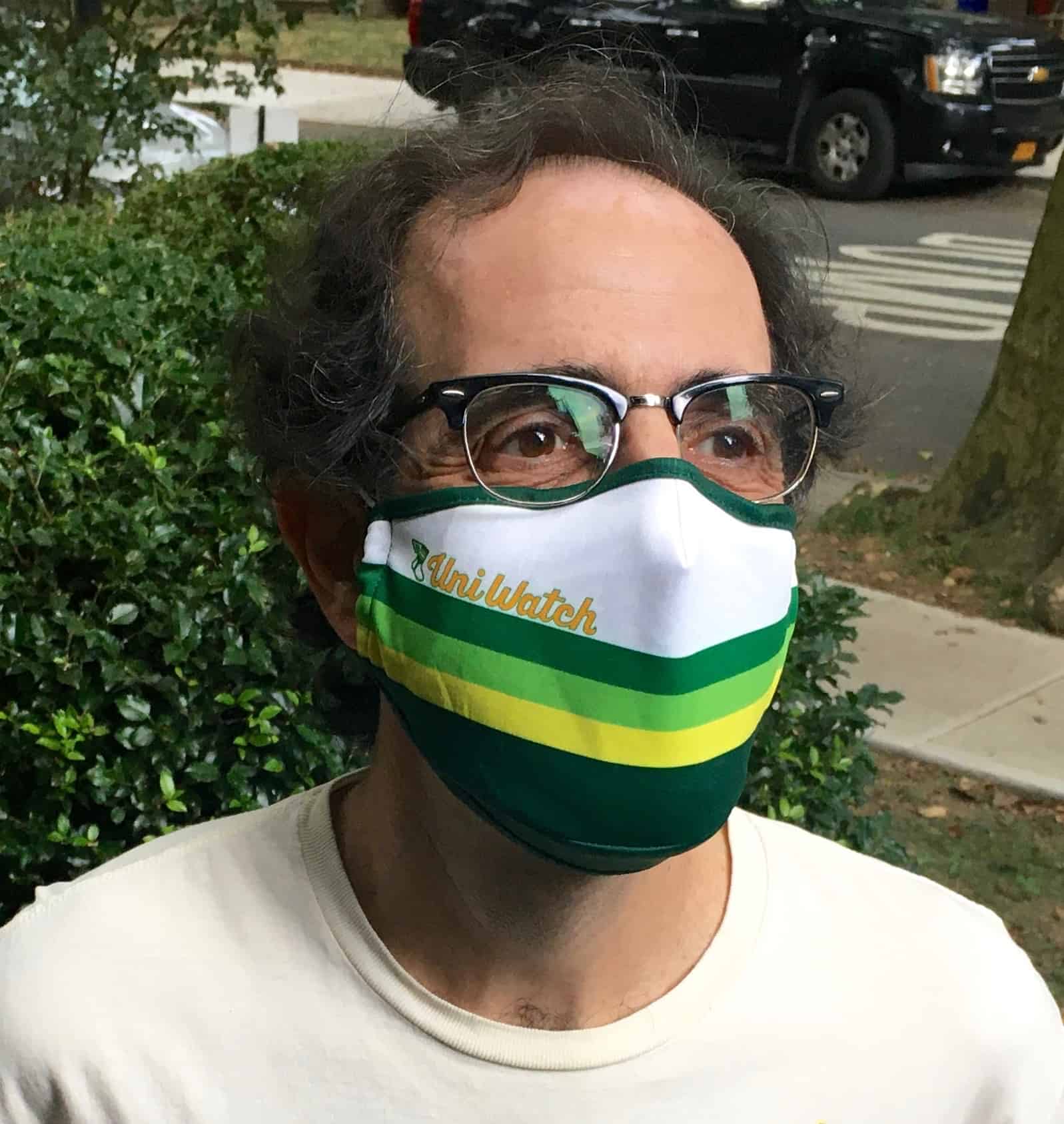 Mask update: We're now down to the last 10 Uni Watch Tequila Sunrise Masks from the original batch of 500 (which means we've raised nearly $2500 for the National Alliance to End Homelessness!), so they'll probably sell out today. They're still available here while supplies last.
These masks were originally available in two sizes — S/M and M/L. The M/L masks are sold out, but S/M size is the same size as a "normal" mask. So unless you have a really big head and/or face, it should fit you fine.
Thanks for supporting all the charities we've been partnering with via your mask purchases!
• • • • •
• • • • •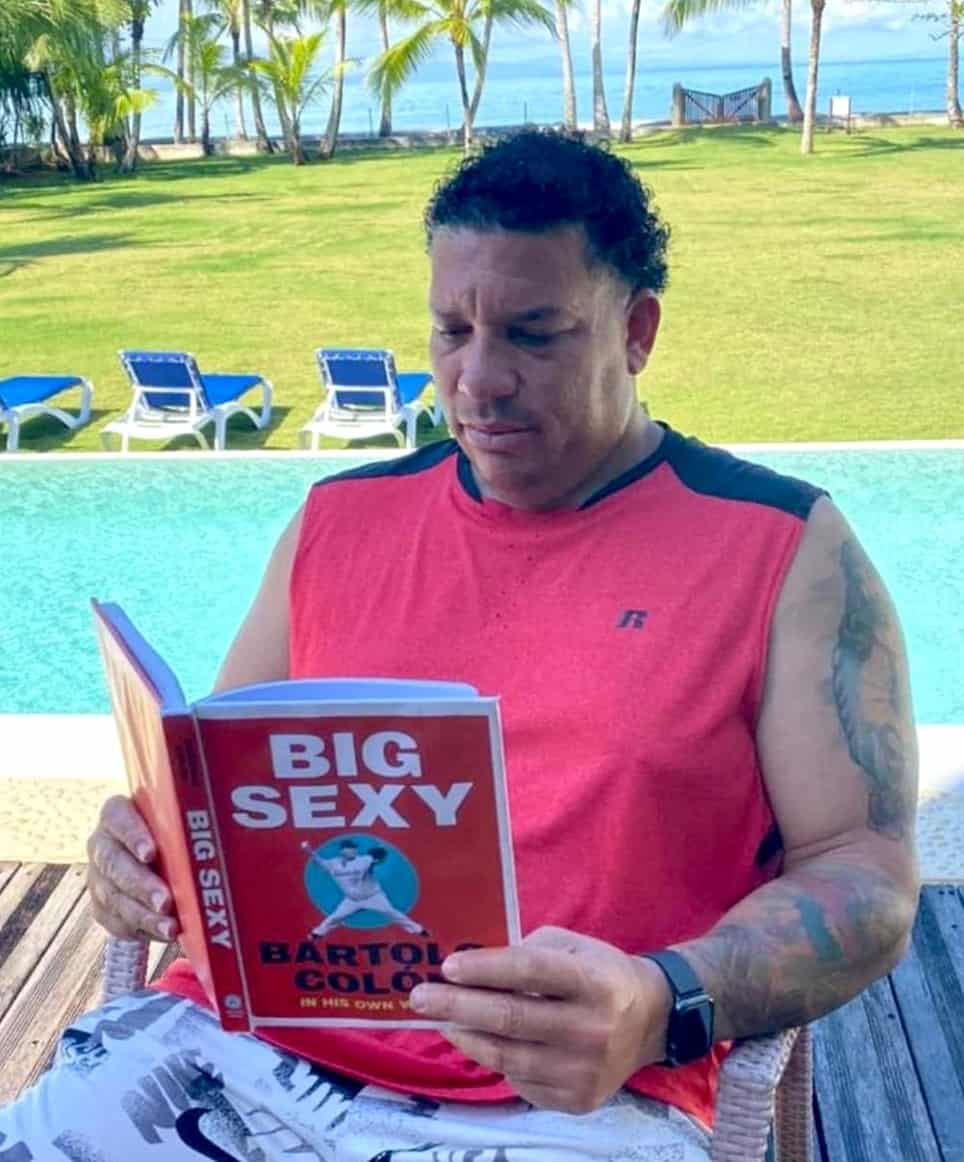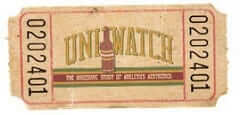 ITEM! New book raffle: Former MLB pitcher Bartolo Colón's memoir, Big Sexy, was published earlier this year. Now the publisher, Abrams, is making a copy available for a lucky Uni Watch reader.
This will be a one-day raffle, open only to people in the USA. To enter, send an email with your mailing address to the raffle address by 8pm Eastern tonight. One entry per person. I'll announce the winner tomorrow. Big thanks to Abrams for doing this!
Meanwhile, the winner of yesterday's raffle is Collin Lehman, who's won himself a Uni Watch membership card. Congrats to him, and thanks to Michael Zerbib for sponsoring that one.
• • • • •
• • • • •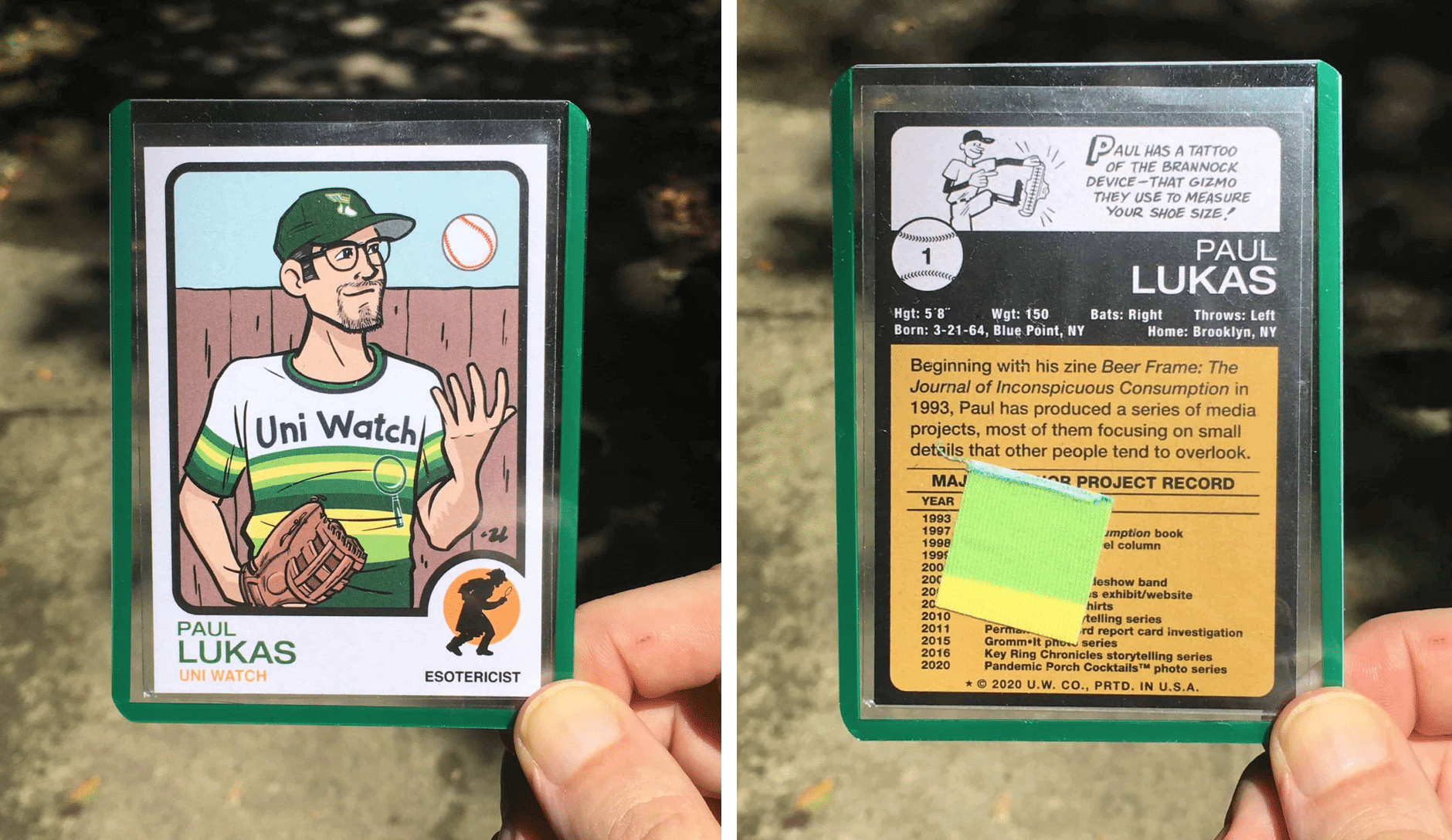 Click to enlarge
Trading card update: Sales of Uni Watch trading cards stalled during my August absence. If we've maxed out the reader interest on these, that's fine — it's been a really fun, successful project! But if you've been considering ordering one (or more), I believe five of the green-signed cards are still available. Full details here.
While you're at it: If you order two or more of any combination of trading cards, seam rippers, key rings (only 15 left), and chain-stitched patches, you can save on combined shipping. Email me for a quote on the items you're interested in. Thanks!
• • • • •
• • • • •
The Ticker
By Lloyd Alaban

Baseball News: According to the Blue Jays' online roster, P Taijuan Walker is wearing No. 0. He wore No. 99 for the Mariners, so he's gone from one uni-numerical extreme to the another (from Jean Lefebvre). … Twins SS Ehire Adrianza wore a glossy helmet last night against the White Sox, instead of the team's usual matte helmets (from Karl Anderson). … Yankees OF Mike Tauchman wore a Star Wars-inspired Luke Voit shirt last night (from Jorge Cruz). … Orioles OF Anthony Santander used teammate Renato Núñez's bat last night (from @JTS65). … The home of the Lansing Lugnuts of the Midwest League has a new advertised name: Jackson Field (from Timmy Donahue). … New Cleveland C Austin Hedges, who was acquired from the Padres at the trade deadline, was still wearing his Padres-colored mask while making his Cleveland debut last night.

NFL News: The Chiefs unveiled their championship rings last night (from Timmy Donahue). … Former Patriots WR Josh Gordon's Super Bowl LIII ring has auctioned for $138,000. Gordon didn't play in Super Bowl LIII because he was suspended by the league at the time, but the Pats gave him a ring anyway. … Washington is renaming two roads around its stadium and practice facility after late former player Sean Taylor and former head coach Joe Gibbs, respectively (from Kary Klismet).

College/High School Football News: It looks like Michigan may have a new jersey template and blue stitching inside their numbers, although that's moot for now, at least until the Big Ten returns to action @1201Main). … Reader Andrew Cosentino, who specializes in Virginia Tech-related Ticker contributions, recently purchased a cardboard cutout of himself to be placed inside the Hokies' stadium.

Hockey News: Approximately 200 Canucks season ticket holders went to the Rogers Arena to paint "Go Canucks Go" on the team's ice (from Wade Heidt). … D Kevin Bieksa, who played for the Canucks from 2005-15, wore a Canucks jacket from the 2014 Heritage Classic merch line last night. Bieksa said he never got to wear the jacket at the time because his father had a heart attack the day of the game (from @jamesesiddall).

Soccer News: New away shirts for Wales (from @AledThomas99). … The Serbia national team teased their new shirts, inspired by Serbian inventor Nikola Tesla (from Bojan Bajovic). … New stadium renderings for the Columbus Crew (from Wade Heidt).

Grab Bag: Pro tennis star Naomi Osaka wore a mask in memory of Breonna Taylor, a Black woman who was fatally shot by police in March, before and after her first-round victory at the U.S. Open. Osaka plans to wear masks honoring a different person for each of her matches during the tournament. … The official logos for the 2028 Summer Olympic Games in Los Angeles have been released. … In 2022, NASCAR will be changing to larger wheels with a single lug nut. The current version is on the left, while the new version is on the right. In addition to speeding up pit stops, it will change the look of the car (from Jim Howicz). … New uniforms for Newman volleyball (from Blake Cripps). … UConn's student newspaper has called out a Florida middle school for using the university's logo without permission (from Kary Klismet). … Spokane, Wash., is soliciting proposals for a new flag design (from Timmy Donahue). … New 45th-anniversary logo for the Atlantic 10 Conference (from our own Jamie Rathjen).
• • • • •
Sorry, no porch photo today. One thing I discovered during my August break was that it made a huge difference to have my evenings free without having to worry about the porch photo and its accompanying write-up. Even if it only took 20 minutes (and it often took a lot more than that), those 20 minutes ended up blowing a hole in the middle of my nights, often disrupting my relationship, and generally eating up mental/emotional bandwidth. And unlike other content, there's no way to stockpile it in advance. Not having to think about it for a few weeks made a surprisingly large difference.
So I'm still taking nightly porch photos (as always, you can follow the photo progression here), but I'm no longer committing to blogging about them every single day. Going forward, when something notable happens, or when I have a porch-related thought that I want to share, I'll still write about it. But sometimes — like today — I won't write anything. Thanks for understanding, and for helping to make Pandemic Porch Cocktails™ such a fun and rewarding project. — Paul