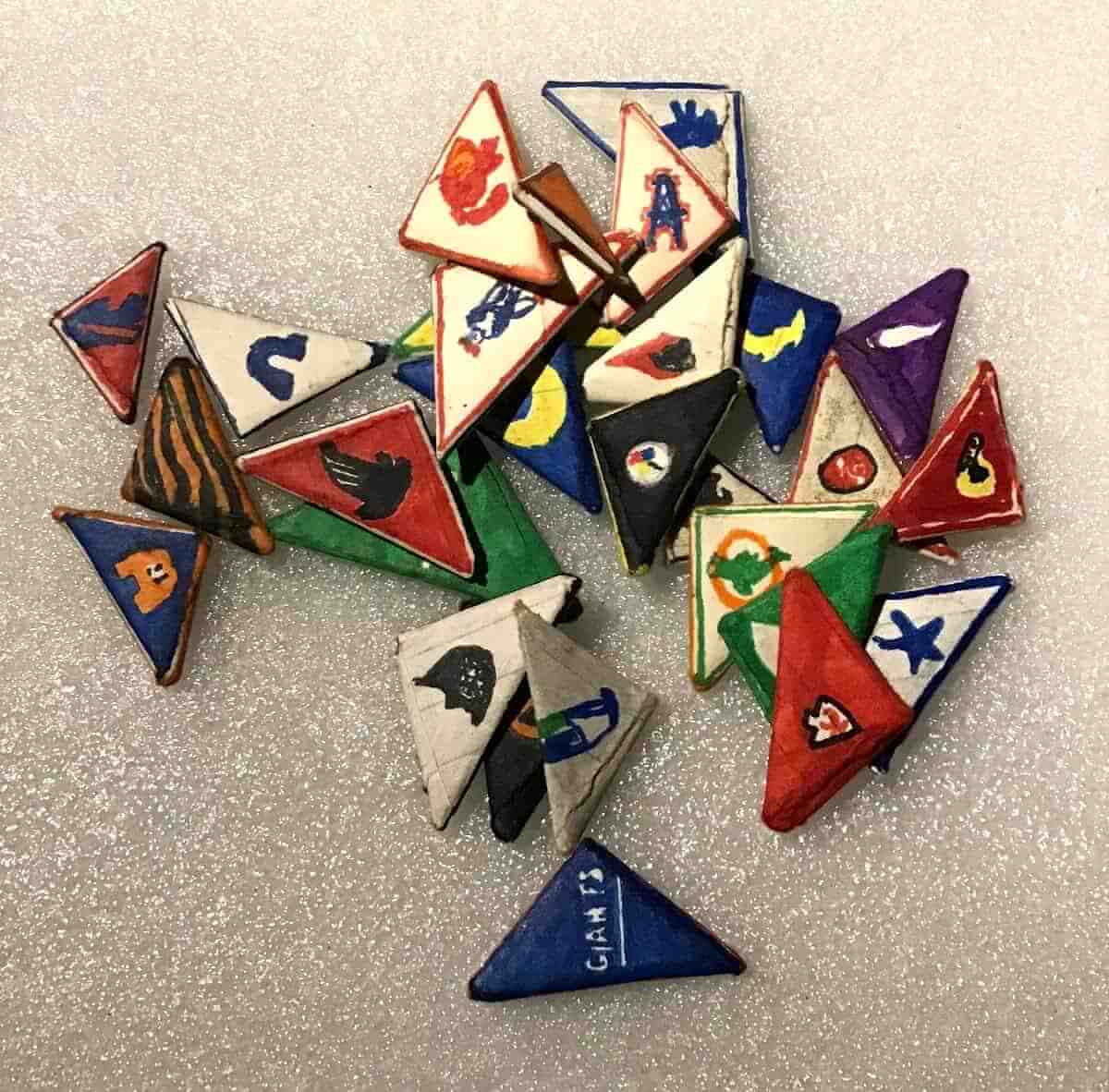 For all photos in this section, click to enlarge
Hello! Paul here, taking a rare mid-August turn at the helm while Phil enjoys a well-earned day off. I'm happy to report that everything remains fine here at Uni Watch HQ, where all three inhabitants remain healthy and well. Hope the same is true for your household.
So: Back in early July we ran a guest entry from DIYer Kevin Cearfoss, who told us how he makes sensational 3D team logos. As Kevin and I were working on that piece, he showed me a bunch of photos of his memorabilia collection, and one of them in particular caught my eye. It was the photo shown above, featuring a bunch of triangular paper footballs adorned with hand-drawn NFL team logos. He told me he'd made them when he was a kid.
I just about flipped. Like a lot of people my age — and, I'm guessing, lots of Uni Watch readers — I spent countless hours playing paper football as a kid, mostly in my junior high cafeteria. My friends and I would play throughout our lunch period. At home, I'd practice making field goals across the length of my bedroom, trying to beat my own record.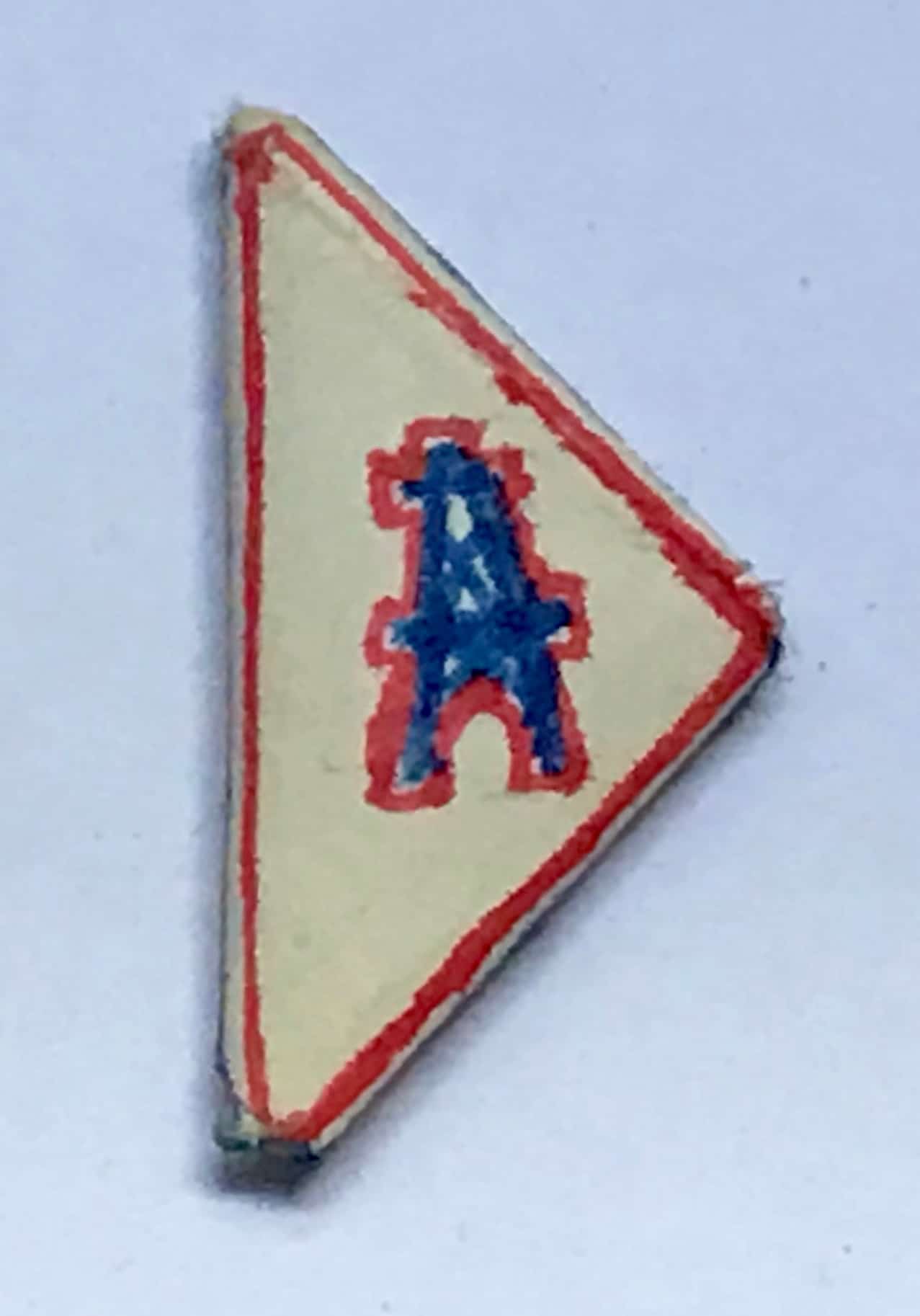 If you're not familiar with paper football, you clearly led a sad, deprived childhood it involves a sheet of paper folded into a triangular "ball" (there's a video tutorial on how to do this here), with a tabletop serving as the "field." There are many different variations on the rules, but the way we played was like this: You and your opponent sit at opposite sides of the table. When you have possession, you have four downs to hit or push or flick the ball down the field (but never slide it — that's not allowed). If it falls off the opposite edge, that's a touchback and your opponent takes possession.
The object is to get one corner of the ball overhanging the edge of your opponent's side of the table — that's a touchdown. Then you get to try an extra point by standing the ball on one of its corners and "kicking" it with your fingers while your opponent forms a set of goalposts with his or her fingers. (Our cafeteria rules also allowed for a player to attempt a field goal on fourth down, although I've since learned that many people played under rules that do not allow that option.)
The game is popular enough to have its own Wikipedia entry, and there are also lots of paper football YouTube videos. This one is short and simple — a good introduction for beginners, or a good refresher/nostalgia lesson for people who haven't thought about this game in a few decades:
I was already fairly into sports logos already around the time I was playing paper football in junior high, but for some reason it never occurred to me to draw NFL team logos (or anything else) on our footballs.
In retrospect, though, it's so obvious and perfect. Some of Kevin's logo renderings were better than others, but they all had that spark of youthful inspiration that makes for a great childhood uni project. I particularly liked how he handled the Bengals, giving the football the same all-over stripe treatment that the team uses for its helmets.
And although I didn't realize this at first, it also turns out that Kevin went the extra mile — or, in the more literal sense, the extra eighth of an inch — by including helmet striping along the edges of the footballs, a brilliant detail that would never even have occurred to me. Check out his Falcons and Dolphins balls, for example: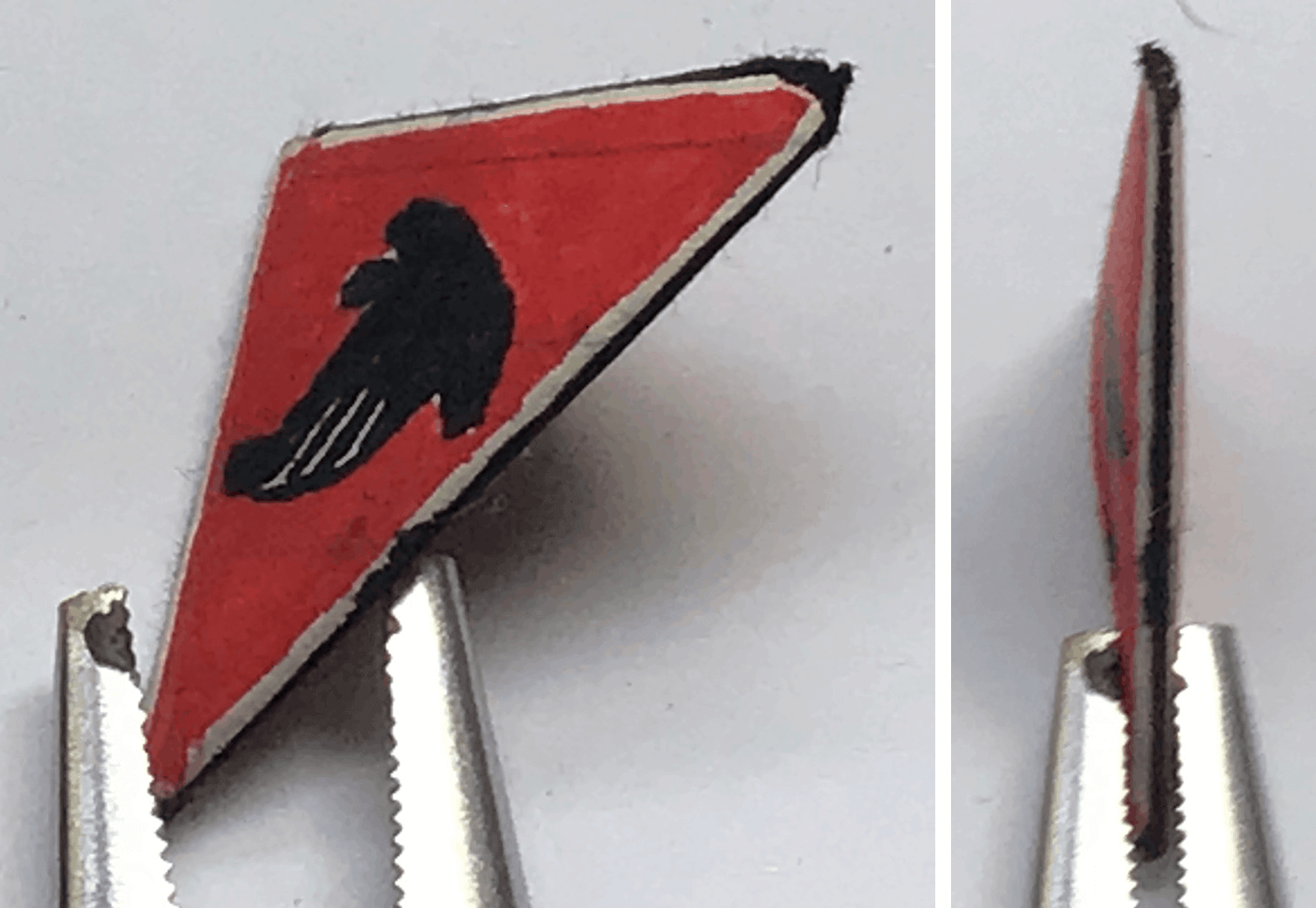 How awesome is that?! He included that same edge detailing for any team whose helmet design included center striping at the time.
I wanted to learn more. So after we ran the blog entry about Kevin's 3D logos, I interviewed him about the paper footballs. Here's a transcript of our conversation, edited for length and clarity:
Uni Watch: Let me start with this: What do you call this game? Like, paper football? Tabletop football? What is your name for it?
Kevin Cearfoss: Paper football.
UW: When did you start playing it?
KC: I would say seventh grade, 1985.
UW: And who would you play with?
KC: Just friends at school.
UW: Were you usually the guy who made the footballs? Or did everybody do that?
KC: I would say everybody did it. I was good at it, but everybody did it.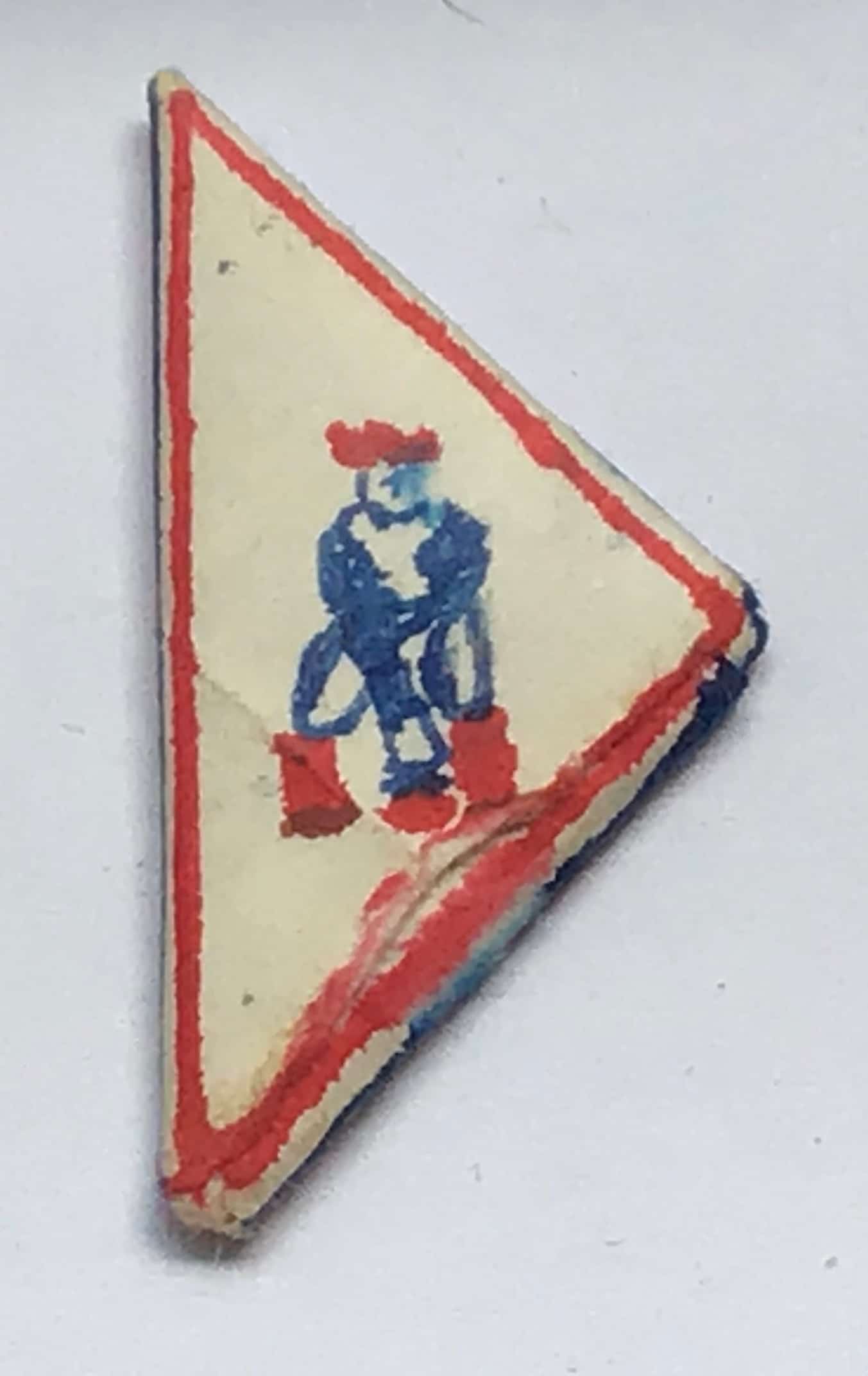 UW: Did you, like, take a certain satisfaction in it? Like, did you have a method of folding it to get it just right, and tucking in the last fold, and all that?
KC: I would say that I preferred a thicker football, as opposed to, you know, a flimsy, taller one. I liked them compact so I could really get a good flick on it.
UW: When you kicked it or flicked it, would you be hitting the broad, flat side of the football, so it was sort of like an arrow pointing down, or would you have it sort of facing forward and hit like the spine of it?
KC: The spine.
UW: So the flat part — the part where you drew the logos — you wouldn't be hitting that part.
KC: I could do that. But I wouldn't do it in game play. I would just do it to show off.
UW: Would you and your friends sometimes have, like, field goal kicking contests, just to see who could do it the farthest, instead of just having a regular game?
KC: Sure.
UW: At what point did you start adding the logos to the football?
KC: I'm not sure how I got started doing that. You know, I just liked to draw logos on helmets and that kind of stuff, and at some point I started doing it on the paper footballs. I'm pretty sure I did it at home, not at school. And I did the full set.
UW: You mean you did all, what was it, 28 NFL teams at that point?
KC: Yup, 28 teams.
UW: What did your friends think when they saw these team-logo footballs? Did they think that was cool?
KC: You know, Paul, I don't know if anyone has ever seen them other than my sister or my mom.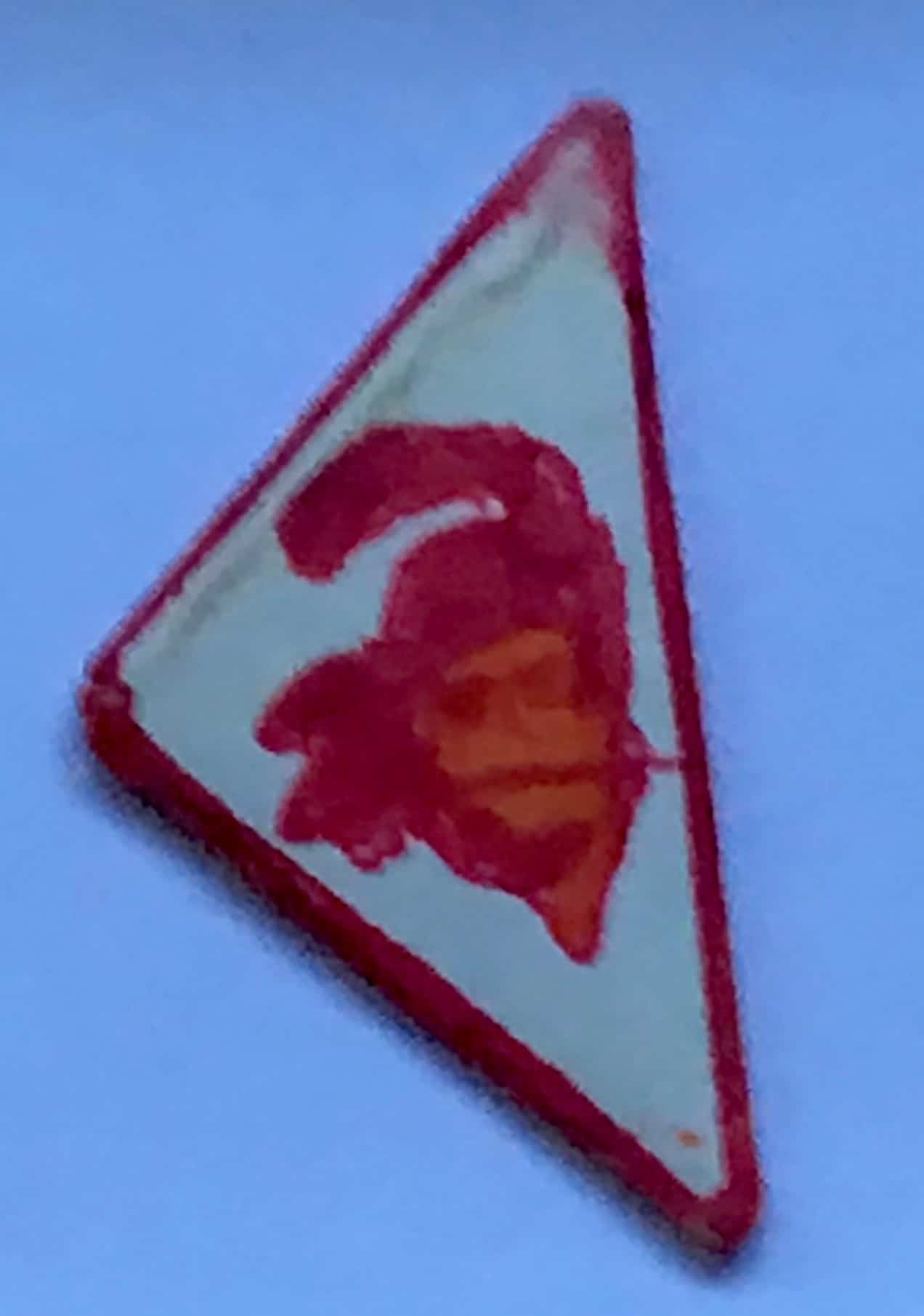 UW: Oh! So you wouldn't like bring them to school to play with them with your friends?
KC: Oh, no.
UW: You say that like you're aghast at the very notion of it! Was it that you didn't want your friends to touch your beautifully rendered footballs? Or were you worried they'd think it was too nerdy and you'd be embarrassed, or what?
KC: You know, I was nervous somebody would clip 'em.
UW: So this was something you kept for yourself, not a show-and-tell kind of thing. Except you mentioned your sister..?
KC: Yep. She's told me that when I die, she doesn't want anything else but those footballs.
UW: What did what did you use as the basis for the logos? There was no internet yet, so did you have books about football that showed the logos?
KC: I would say probably no on the books. Lunch box and school binders.
UW: The binder had helmet logos on the cover of the binder or something like that?
KC: Yeah. So you went and copied those. Or, you know, did your best. I still have my one binder that I used as my fantasy football notebook before the internet. I'd keep all my notes in there.
UW: The paper footballs I'm looking at in these photos you sent, are these the original ones you made in seventh grade?
KC: Yeah, that's it.
UW: Did you ever make more, or was it just this one batch?
KC: Just that one, yeah.
UW: Have any of them ever been used in a game of paper football, like maybe with your sister?
KC: I would say not in a game, but definitely I flicked them. The Browns one can travel. If I had to make a shot, life or death, the Browns paper football is the assassin.
UW: Why do you think that one flies the best?
KC: Don't know. It just does.
UW: But you're not suggesting that it's because it's solid-orange and doesn't have a logo..?
KC: No, no, nothing like that. I hate the Browns, actually. But that stripe on there, that looks good.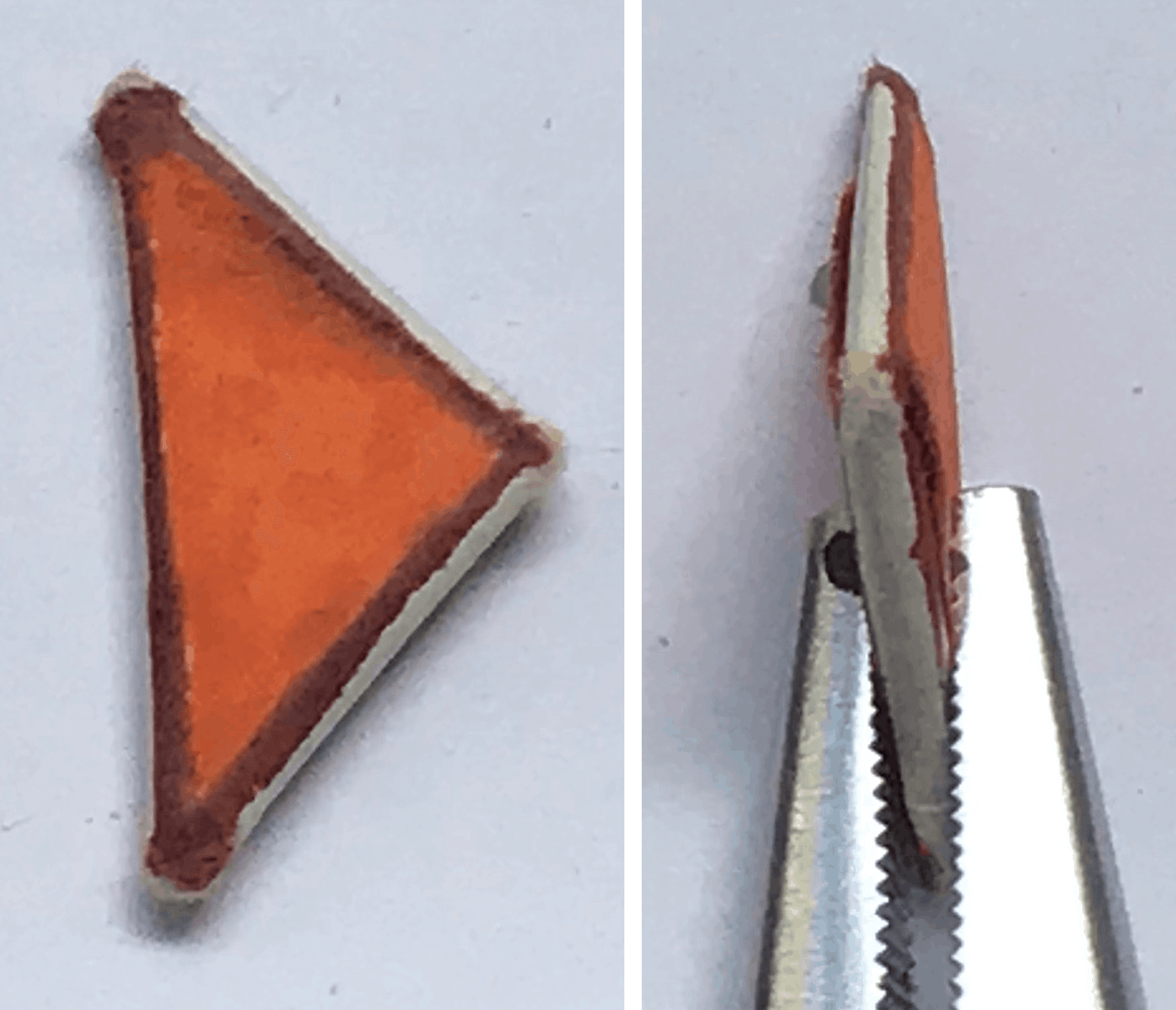 UW: Who's your favorite team?
KC: The Steelers. I grew up outside of Pittsburgh.
UW: Okay, so how do you feel about the way your Steelers football turned out?
KC: It's not my favorite.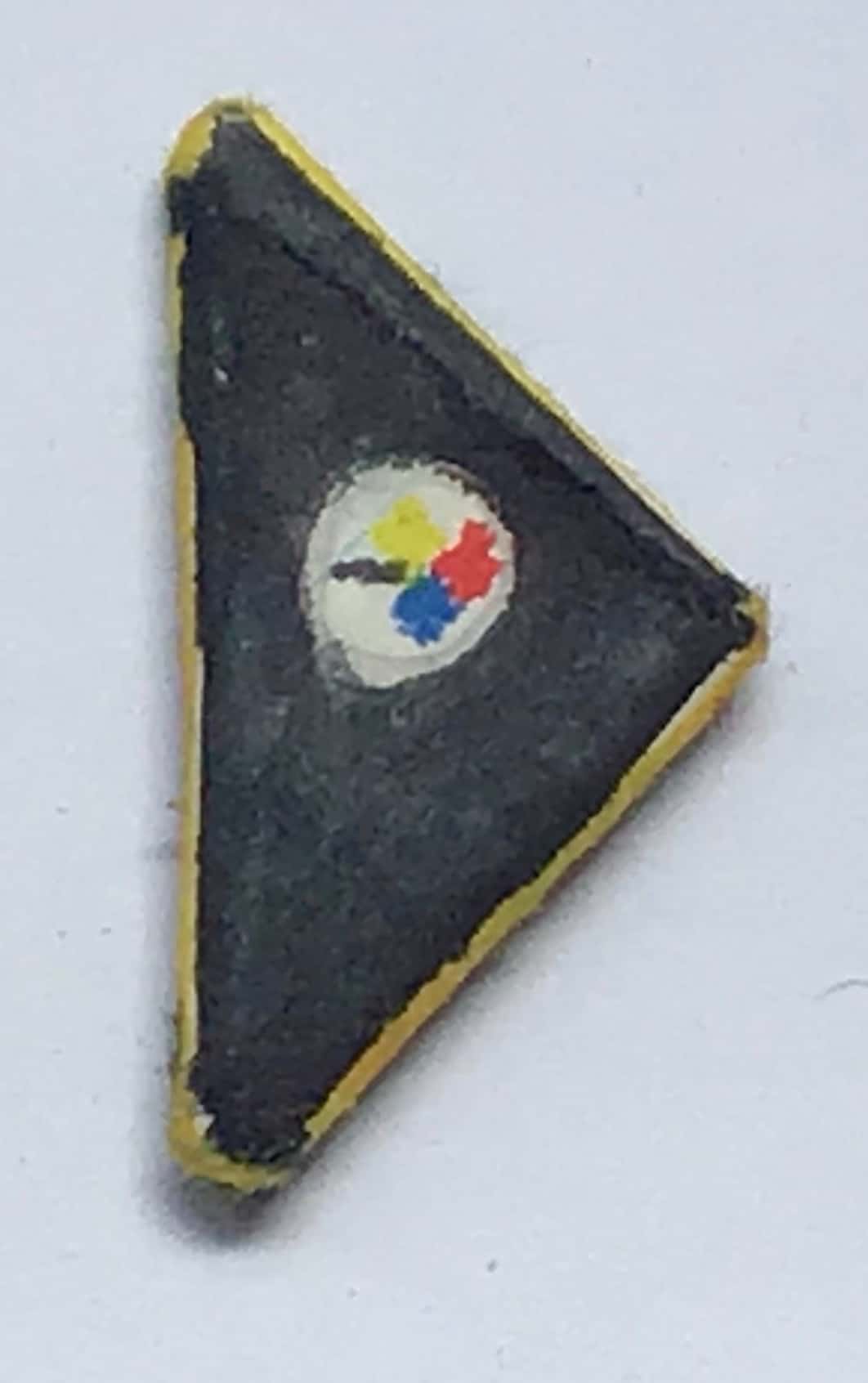 UW: Did you ever have the impulse to do it over? I'm looking at it now, and you didn't give yourself much space to execute the logo there. Like, you could've made the white circle bigger, you know what I'm saying?
KC: Right, right.
UW: But had you never thought, "Let me try that again, start over"?
KC: No. You know, I did it and it was just kind of out of my system and I moved on.
UW: How long would you say the whole thing — all 28 teams — took you?
KC: Couple of weeks. Less than a month.
UW: What sorts of pens or markers did you use?
KC: I think those were Crayola markers.
UW: Are the designs all two-sided? Like, the same thing on both sides?
KC: Yes — other than the Steelers, of course.
UW [cracking up]: Of course, of course. That is awesome. Do you display them in any way?
KC: They're on the mantle with the belt buckles and the helmet phone and the helmet lamps. An active place of honor. But they're not in a shadowbox or anything like that. I do like putting them in the correct divisions. For some reason, I like doing that. I've done that several times.
UW [laughing]: I wouldn't know anything about that kind of impulse myself.
KC: Right, right.
UW: Do you have kids?
KC: I have two step-kids.
UW: Do they play paper football? Are kids still doing that today?
KC: No, they are not. They're not interested in anything like that. It's Netflix or PS4
UW: Now, there are some current NFL teams that did not exist when you originally made these. Have you had the impulse to do one for the Panthers or the Jaguars or anything like that?
KC: Nah. These are the teams they had when I made them.
UW: So they're a product of their era — nice. I think that wraps us up, at least in terms of my questions. I have to say, though, that this is completely awesome. Are you even aware of just how awesome this is? Like, have you ever seen anybody else who did this, who made their own team logo paper footballs?
KC: Nope.
UW: Me neither!
———
That's it — except for this: Shortly after Kevin and I did our interview, I received a thank-you card from him in the mail. Tucked inside were two mini paper footballs for the 49ers — my favorite team: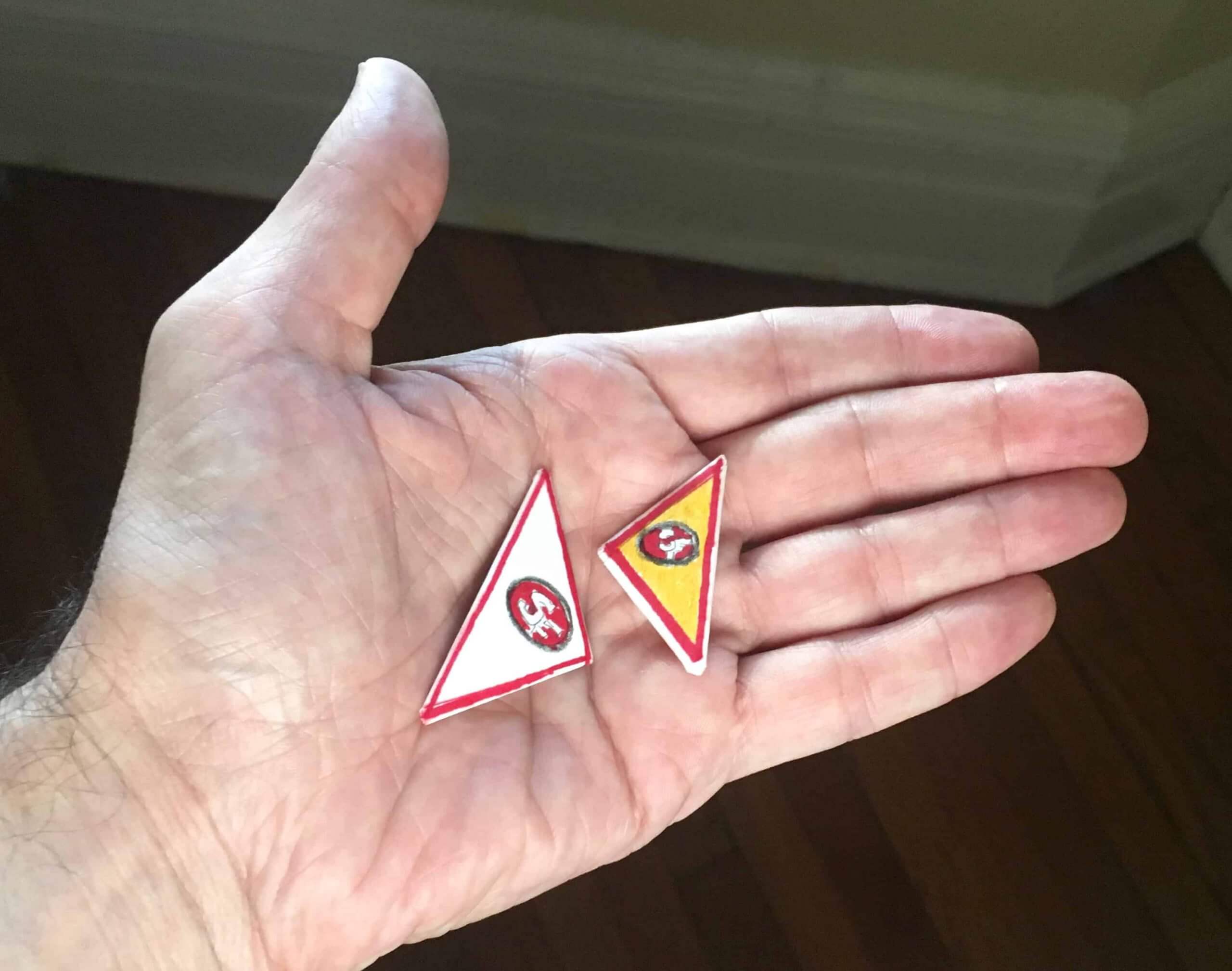 How nice is that? Thanks, Kevin! It's been a privilege to share another one of your projects here on Uni Watch.
• • • • •
• • • • •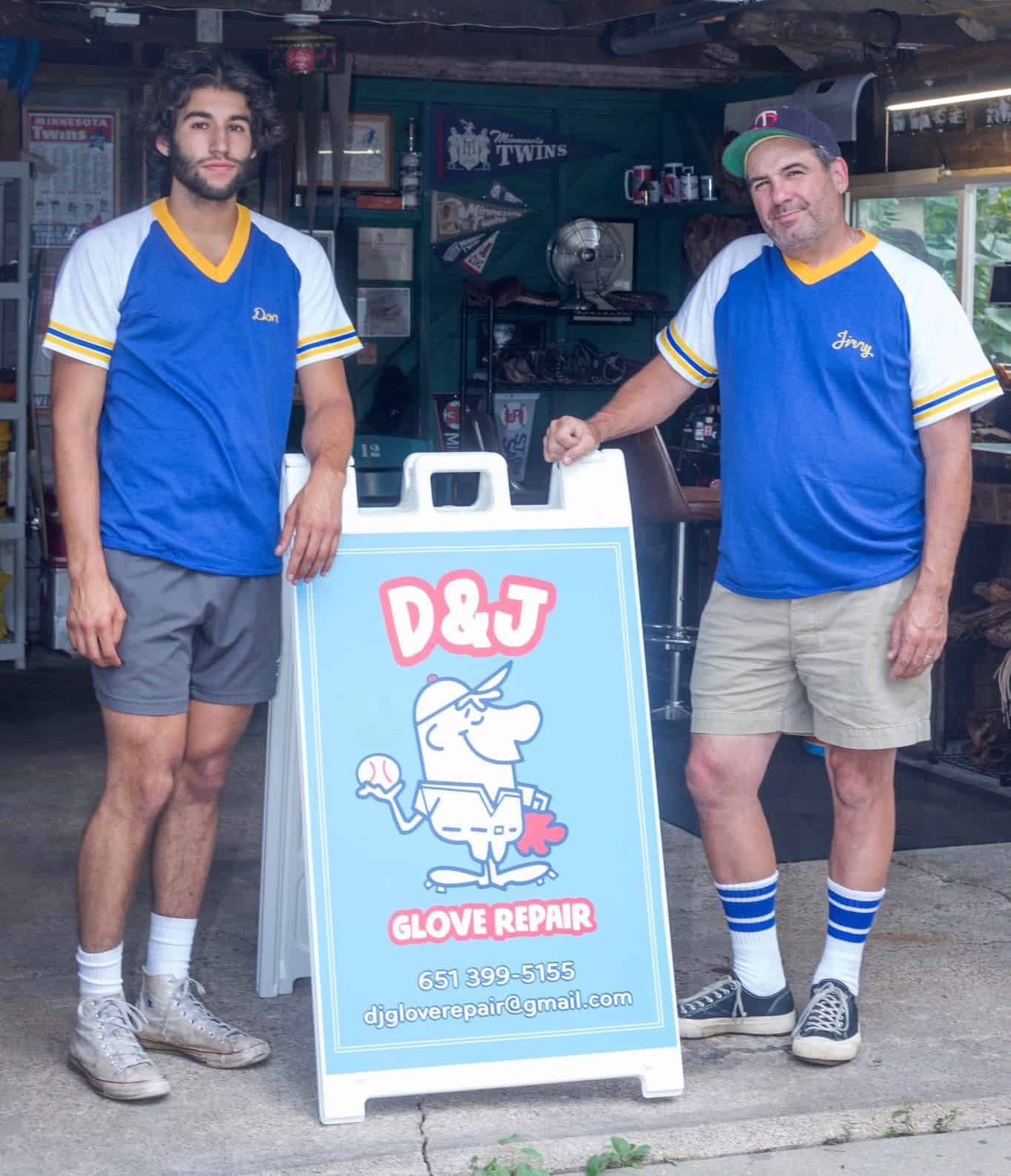 Click to enlarge
Like father, like son: Back in June, I mentioned that I'd picked up this sweet 1970s NOS Majestic jersey on eBay, and also mentioned that the seller had several more available. Longtime reader Jimmy Lonetti, who runs an excellent baseball glove repair operation with his son Don, snapped up two of the shirts and had a local embroiderer do some ace chain-stitching. The names on the front are nice, but wait until you see the back: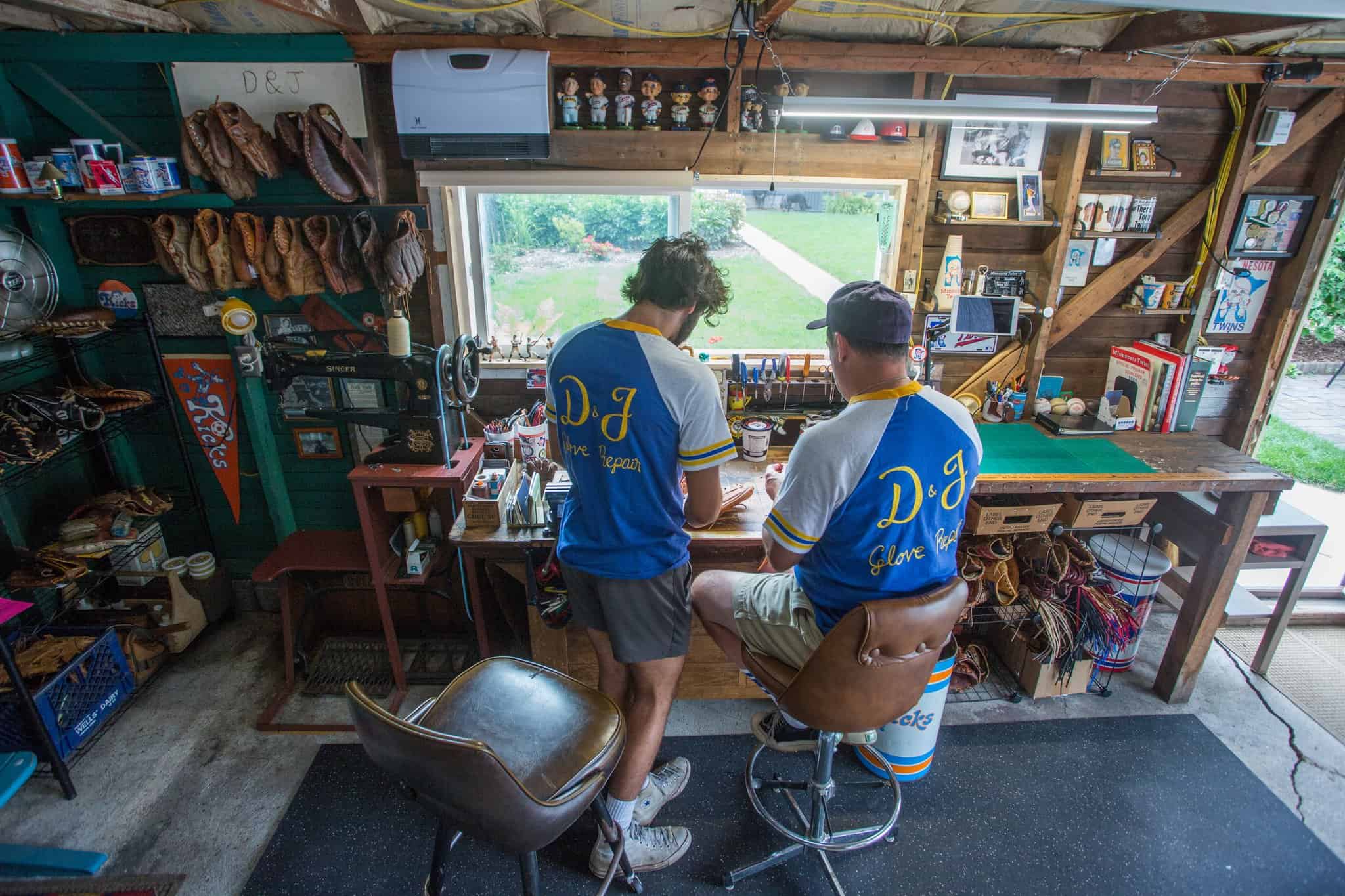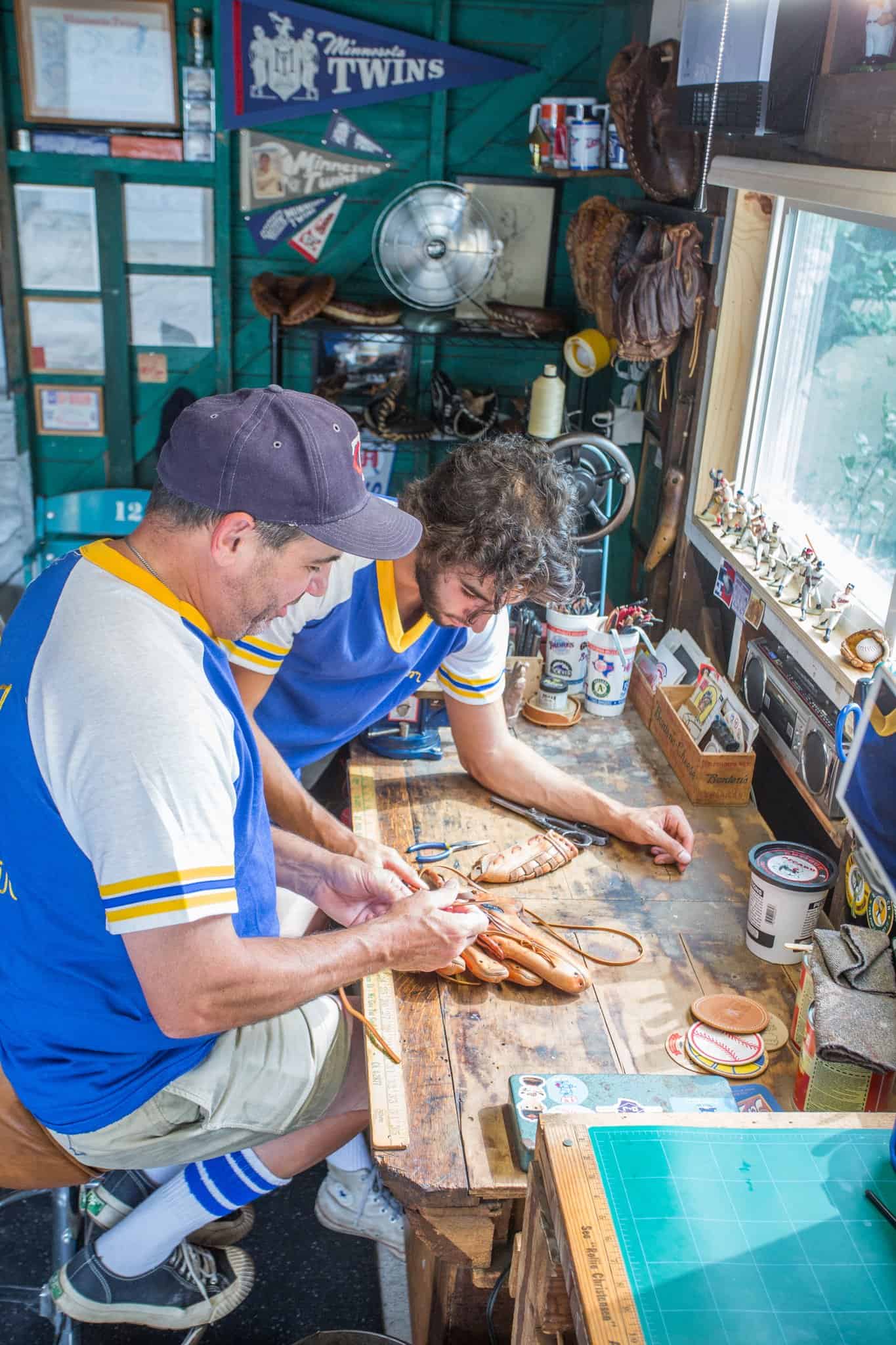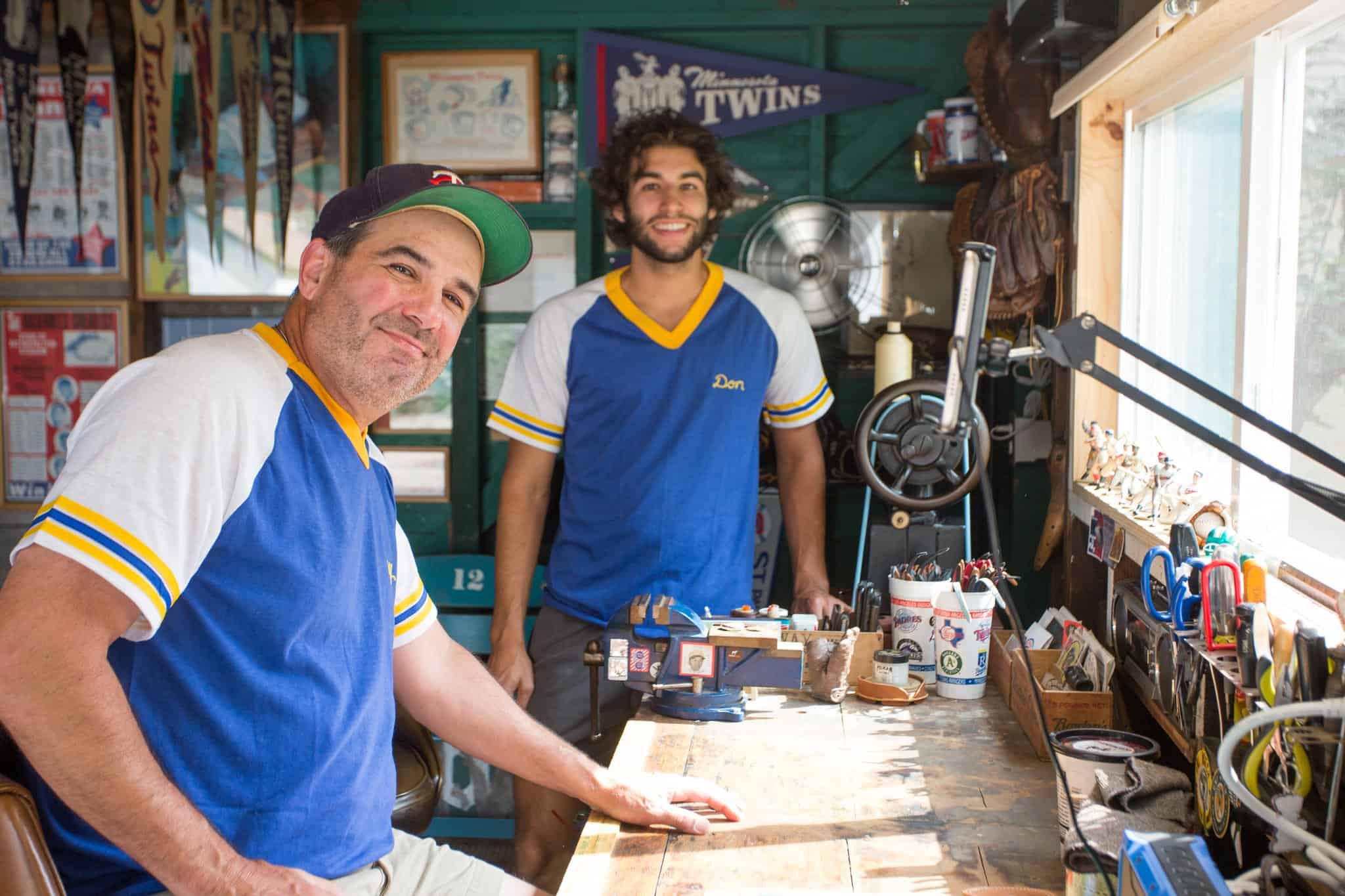 Oh, man — outstanding! And I have to say, those thick yellow collars and generously cut sleeves look a lot better on bigger guys like Jimmy and Don than on a little fella like me. Nicely done!
• • • • •
• • • • •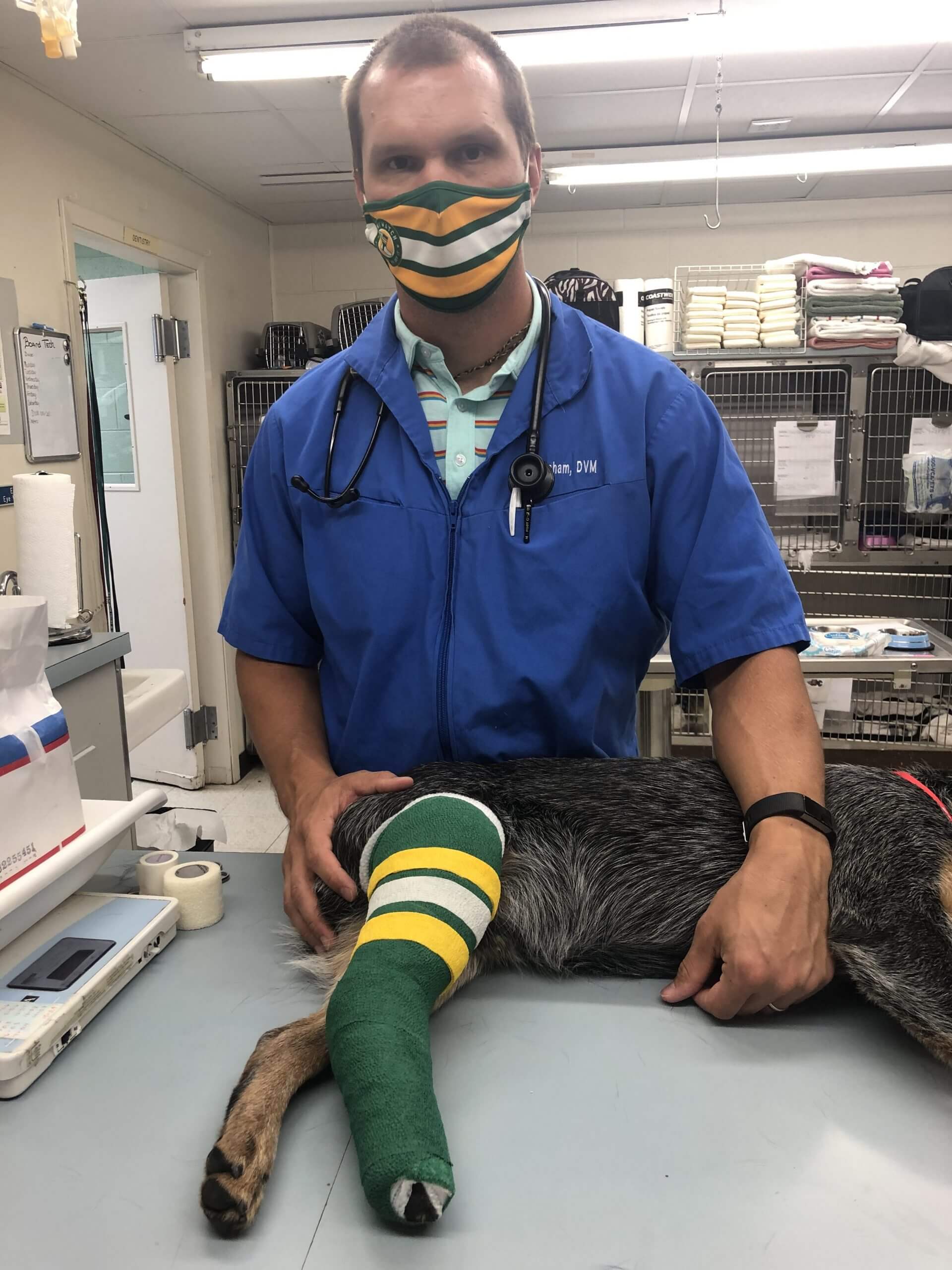 Click to enlarge
Bow-wow-WOW: Reader Jake Graham is a vet. He was wearing his Uni Watch mask to work the other day and decided to spread the Uni Watch love to an accident-stricken pooch. Okay, so the visual effect is more Packers than Uni Watch, but still — very cool. Thanks for taking care of our four-legged friends, Jake!
• • • • •
• • • • •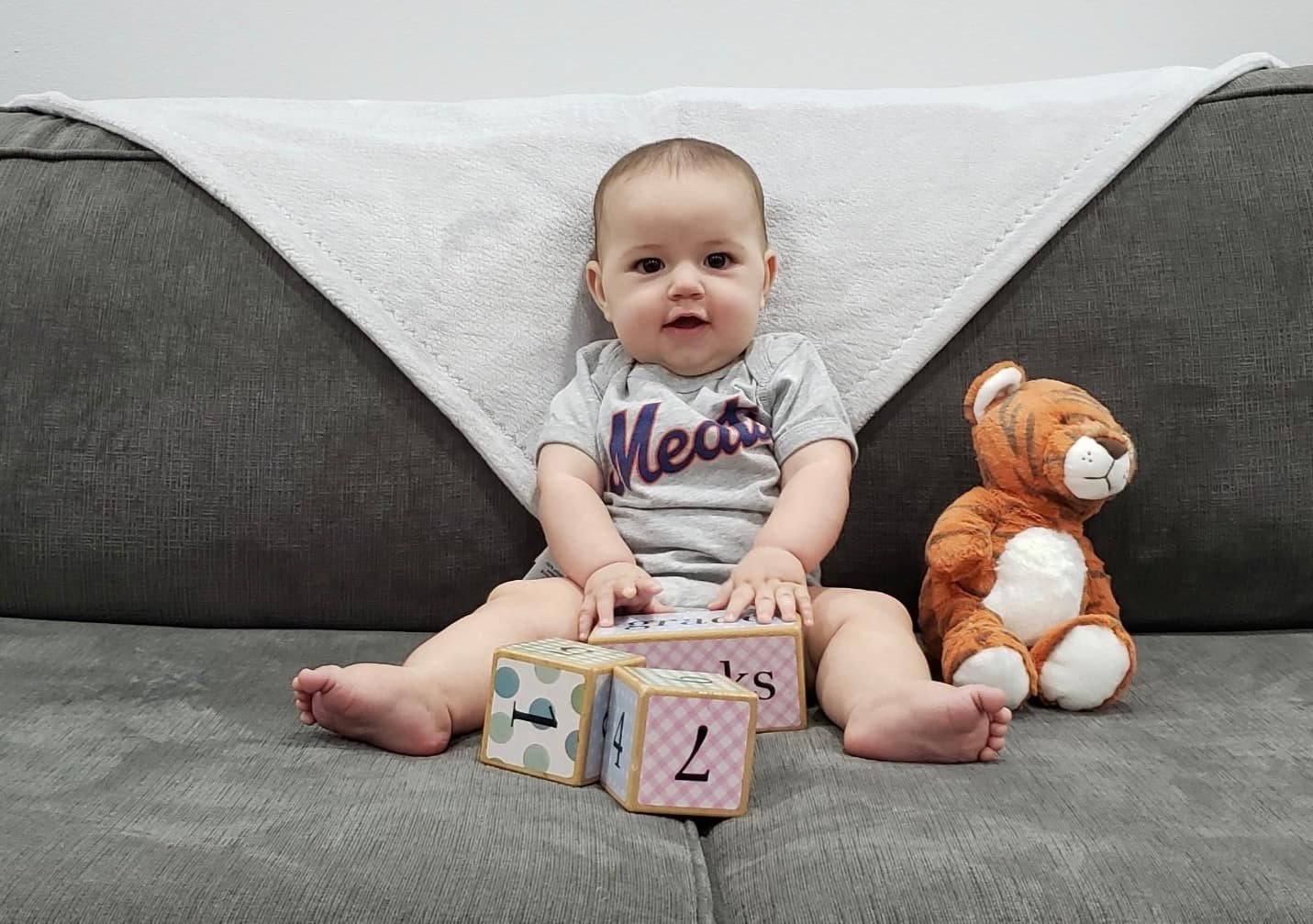 Click to enlarge
Start 'em young: Theoretical T-shirts are one thing, but how about a theoretical onesie? That's reader Timmy Donahue's son, who was born earlier this year. "Perfect for a baby born in Queens," he says.
If you'd like to talk about this — or any of the theoretical adult apparel — shoot me a note. I'm always happy to discuss!
• • • • •
• • • • •
Is that a zucchini in your pocket or are you, like, REALLY glad to see me?: The Tugboat Captain came home from her vegetable garden yesterday with a county fair-worthy zucchini. Amazing! Now if only I liked zucchini….
• • • • •
• • • • •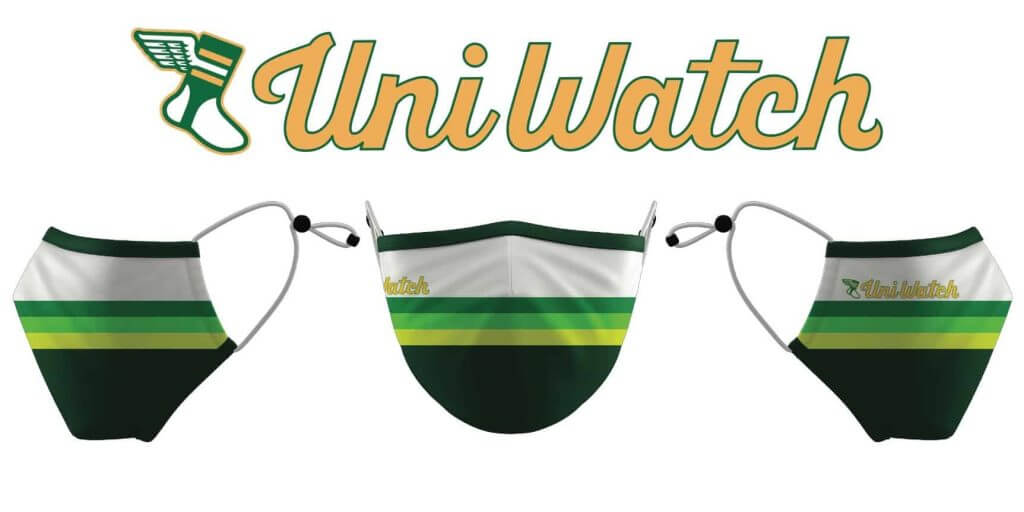 All sorts of updates: The Uni Watch Tequila Sunrise Mask has been a big hit! ProLook Sports made 500 of these masks for us (at no cost!), and this week we've already sold nearly 300 of them, with all Uni Watch proceeds — over $1,500 so far — going to the National Alliance to End Homelessness. Thank you! If you'd like to get one (or more than one!), you can order them here.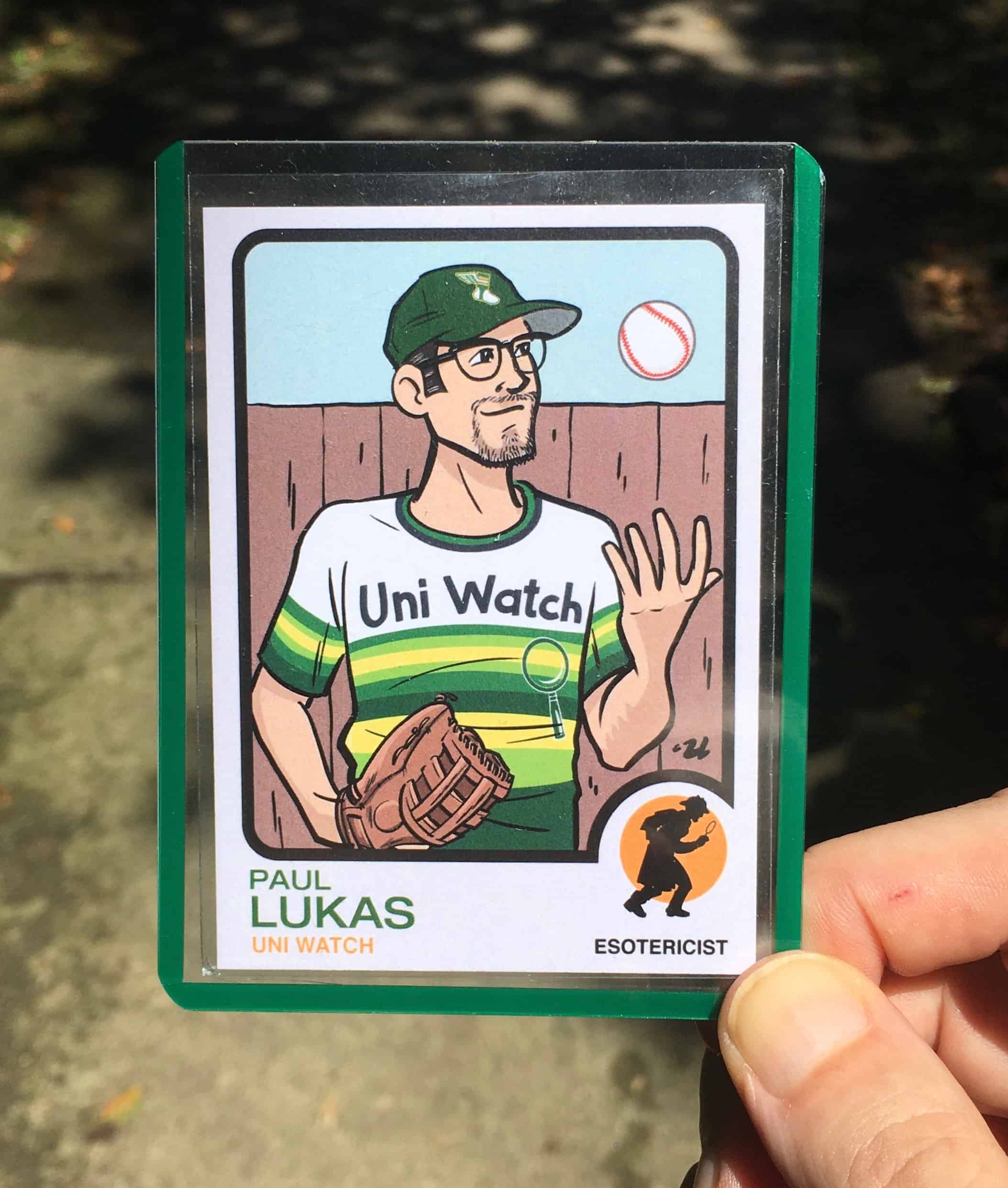 A few other notes:
• We've now sold through about half of the 500 Uni Watch trading cards. Either five or six of the signed cards are still remaining (sorry, I've lost count). You can order yours here.
• I'm once again down to my last chain-stitched winged stirrup patch (at least until I order more). Who wants it? Now sold out!
• We're down to the last 20 Uni Watch Key Rings. I will probably not be restocking these — when they're gone, they're gone. They're available here.
• Speaking of those last few items: If you order any combination of two or more trading cards, patches, key rings, or seam rippers, you can save on combined shipping. Contact me for a quote.
• There are about 50 August pins and about 40 July bobble-pins remaining. (The September pin will launch on Sept. 1.)
• Uni Rock, blah-blah, winged stirrup tee, blah, Brooklyn Branches tees, blah-blah-blah.
My thanks, as always, for your consideration.
• • • • •
[adrotate group="2″]
• • • • •
The Ticker
By Anthony Emerson


Baseball News: Great trivia moment: No. 89 had never been issued to a big league player in a regular-season game — until yesterday, when Yankees P Miguel Yajure suited up in that number. It was the last number from 0 to 99 not to have been issued. Yajure didn't get into yesterday's Yanks/Rays game, so for now No. 89 still has not been worn in a game (from multiple readers). … Last night, Pirates IF Erik González wore socks that depicted the Roberto Clemente Bridge (from Ben Teaford). … Speaking of the Buccos, Pirates P Derek Holland placed cutouts of comedian and actor Rob Schneider throughout PNC Park (from Mike Chamernik).

NFL News: The Chiefs will no longer allow fans to wear Native headdresses or red face paint at home games. They're also reviewing the chop and the pregame beating of a war drum. … The Eagles wore autism-awareness practice jerseys yesterday. They'll be auctioned off in support of the Eagles Autism Foundation (from Jason Morgans and Sam McKinley). … It was reported last month that New Era is pulling out of its naming rights deal for the Bills' stadium. With no new naming partner in sight, the Bills announced yesterday that the facility will now be known as Bills Stadium (from Chris Howell). … Jaguars RB Leonard Fournette seems to be still wearing his LSU pads, and also taped a $100 bill to them (from Mason Cantrell). … Bengals QB Joe Burrow used an NFL100 towel during camp yesterday. Burrow is, of course, a rookie and never played during the NFL's 100th season (from Timmy Donahue). … Here's a cool article about the first time the Packers wore their "G" helmet logo back in 1961 training camp (from Kary Klismet). …  Yesterday, Kurt Rozek said he saw the old Seahawks logo in a burning log. Today, Harry F. Higgins says he sees it in this piece of driftwood. … The NFL and its fantasy partners are updating their terminology to avoid slavery-associated language. … Lions DB Tracy Walker will wear a memorial helmet decal this season for his cousin Ahmaud Arbery, the Black jogger who was shot and killed by two White suburbanites in Georgia earlier this year. Walker will also wear Arbery's name on his cleats (thanks, Phil).

College/High School Football News: Reader @willchitty4 spotted spur merit decals for South Carolina in a hype video for the forthcoming season, but Paul checked with the school and was told that no helmet changes are forthcoming.

Hockey News: Reader Zvi Dubin made a Rangers logo out of jellybeans, and it's now hanging in his living room. Well done!

NBA News: A small adjustment to the Raptors' logo has leaked via an NBA draft cap. … The Clippers are seeking a record price for their new arena's naming rights. … New logo for FIBA's EuroLeague Women competition (from Kary Klismet).

Soccer News: The local authorities in Marseille have banned wearing Paris Saint-Germain's jersey and colors ahead of PSG's appearance in the Champions League Final. Olympique Marseille and PSG are rivals in Ligue 1. … Clean-looking black-and-gold away kits for Dutch giants AFC Ajax. … Bristol City has some pretty bright keeper kits, inspired by Danish keeper kits of the early '90s, also designed by Hummel (from Gabriel Hurl). … Our own Jamie Rathjen provides us with a handful of new kits for English clubs: Queens Park Rangers' new home and away, Watford's away, and Arsenal's seemingly American Psycho-inspired away. … New kits for Slavia Praha (from Ed Żelaski). … New home kit for English third tier side AFC Wimbledon (from Aled ap Harry). … The following are all from Kary Klismet: New kits for Dynamo Kyiv of the Ukrainian Premier League. … Renderings have been unveiled of a new 60,000-seat soccer stadium to be known as the Xi'an International Football Centre in Xi'an, China. … Puerto Rico has revealed a new name and logo for its top-level soccer competition while also releasing plans to build new environmentally friendly, earthquake and hurricane-proof stadiums to help with its goal of qualifying for the 2026 World Cup. Lots of detailed renderings in this link. …

Grab Bag: The University of St. Thomas has a new athletics logo after moving from the NAIA to NCAA Division III (from Kary Klismet). … New logo for Lenoir County, North Carolina (from Andrew Hoenig).
• • • • •
[adrotate group="2″]
• • • • •
Click to enlarge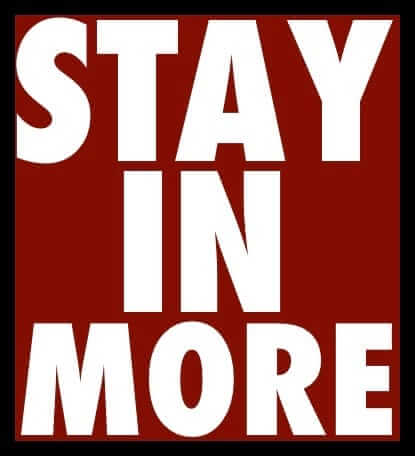 What Paul did last night: Although I've been absent from the blog, the daily Pandemic Porch Cocktails™ ritual has continued apace. Last night was unusual, because the parking spot in front of our house was vacant and remained vacant — like, for at least half an hour. That's unprecedented!
We've noticed that some of our regular characters — people who walk by us on a fairly consistent basis — have started to walk on the other side of the street. Maybe they just want some variety amidst the mind-numbering daily sameness of the pandemic. On the other hand, some of these people have always seemed a little uncomfortable acknowledging us — a forced nod, a grudging wave — so maybe, we speculated yesterday, they're now avoiding us.
If so, I wouldn't blame them. Some passers-by clearly enjoy seeing us each day, just as we enjoy seeing them — there's a nice sense of ritual about it. But I realize that some people may be trying to clear their heads, or they want to be anonymous/invisible, or they're just not particularly sociable by nature, or whatever. For those people, our daily presence on the porch may seem annoying, like we're observing them, or talking about them, or projecting our own assumptions onto them (all of which, in fact, we are).
Just goes to show that even something as simple as sitting on your porch each evening can have some interesting social and emotional dynamics. One more thing that the pandemic has cast into higher relief.
As always, you can see the full set of Pandemic Porch Cocktails™ photos here.
• • • • •
It's been fun to reclaim the site for a day, but Phil will be back at the helm on Monday, and for the rest of the month. I'll still be popping in here and there, and my annual Uni Watch College Football Season Preview will be running on InsideHook next Wednesday, Aug. 26 (assuming that the season hasn't been completely Covid-scuttled by then). Have a great weekend, and stay well! — Paul