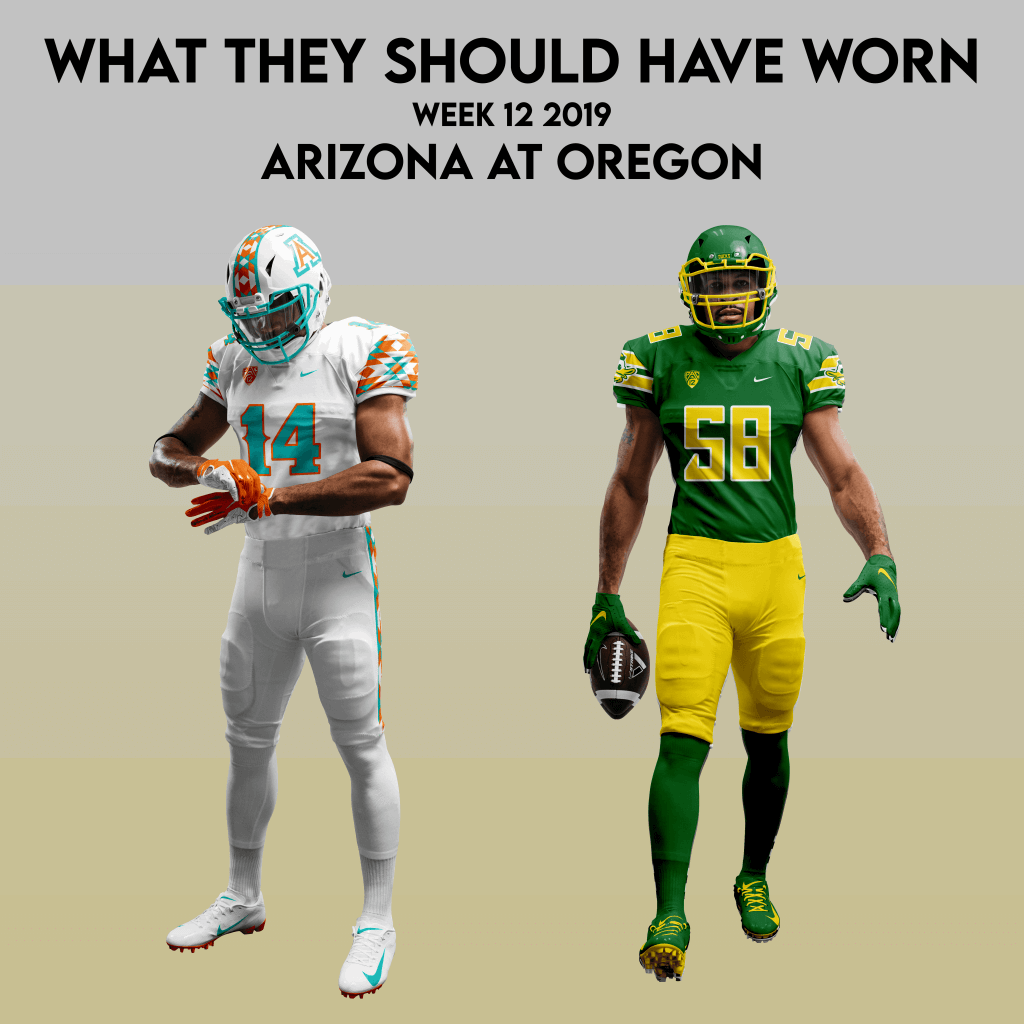 [Editor's Note: Paul is on his annual August break from site. Deputy editor Phil Hecken is in charge from now through the end of the month, although Paul may be popping up here occasionally.]
By Phil Hecken, with Logan Patterson
Follow @PhilHecken

Happy Friday (has anyone ever said it's "Fri-YAY" to you? — yeah, let's not) fellow watchers of unis. I'd say we almost made it to the weekend, but with this COVID-19, time has kinda been warped, at least for me. Hope everyone had a good week and you're all staying safe!
I'm bringing to you today what is the first installment (not sure how many there will be or how long it will run) of what today's guest writer, Logan Patterson, has called "What They Should Have Worn." Like the title implies, Logan will look at a specific college football game and the uniforms worn by both teams, and then offer up alternative looks for one or both teams so that the game would have been, at least in his opinion, much more aesthetically pleasing. It's kind of a brilliant idea — so much so that I may run with it during college football season*.
Today we're going to take a look at a game played between the Oregon Ducks (and you know I love me some Ducks) and the Arizona Wildcats. I'm going to let Logan take it from here.
*Especially if there is no college football season.
• • •
What They Should Have Worn: Arizona at Oregon
By Logan Patterson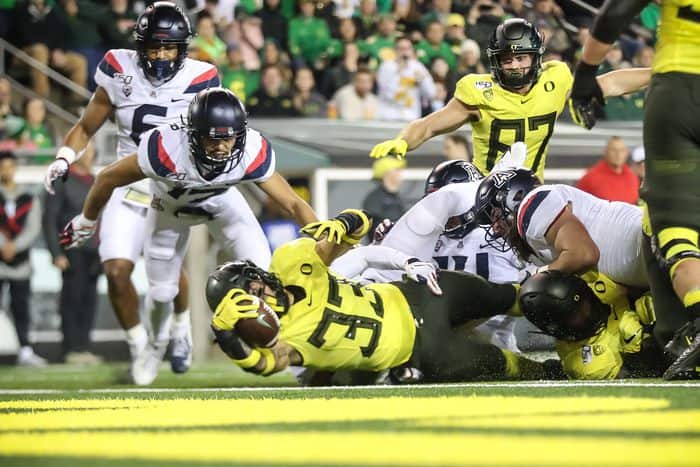 For our installment this week, I'm bringing to the table a couple of redesigns for cross-division PAC-12 foes: Oregon and Arizona.
Let's start with the visiting Wildcats. Arizona's navy and red have never really done much for me. Originally donning sage green and silver, they adopted their current colors in 1900. It's a high-floor low, low-ceiling combo for me – safe, but rarely thrilling. Their current threads feel like a downgrade to their last set, which featured one of the few solid uses of a gradient that I can remember.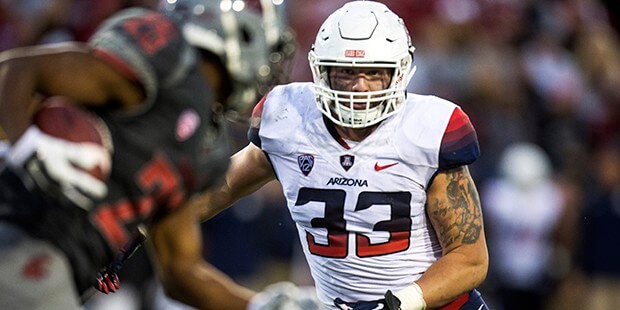 I'm giving the boys down in Tuscon a total makeover. You may have heard the story about how Hayden Fry, in an attempt to pump some energy into his Iowa program back in the late 1970's copied the then-dynastic Steelers uniforms to help make the Hawkeyes "look like winners." Let's pretend Arizona – fresh off four straight losing seasons – beat them to the punch and took on the Miami Dolphins look when new coach Jim Young took over the team in 1973? Teal and orange bring a strong southwestern energy. Here's what I imagine that could have evolved into today, featuring southwestern inspired patterns and a western typeface.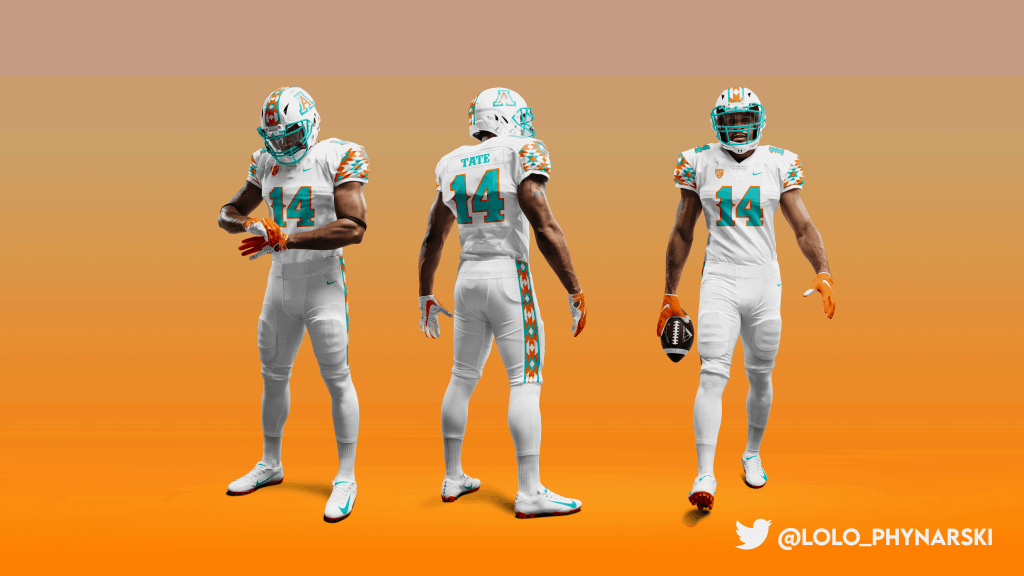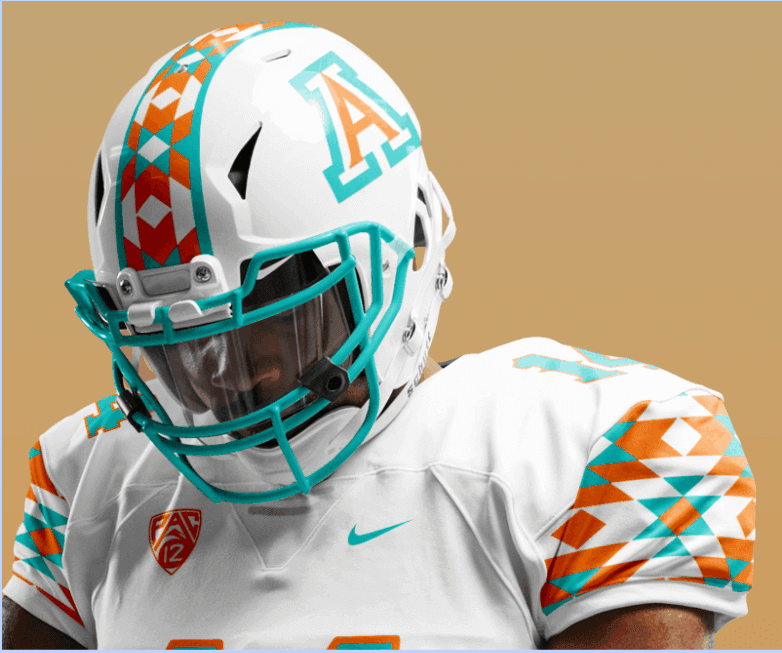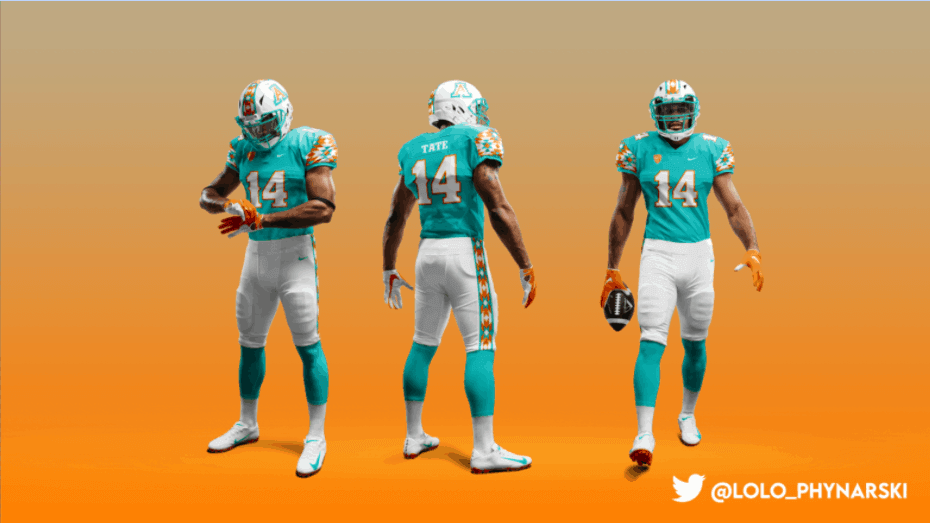 (home version)
For the Ducks, there's a ton to play around with. Over the last decade they've developed a visual identity that usually has a uniform with shade of green or yellow, or maybe it doesn't! It's difficult to think of just one iconic look for them. For much of the latter half of the 1900s they wore something like this: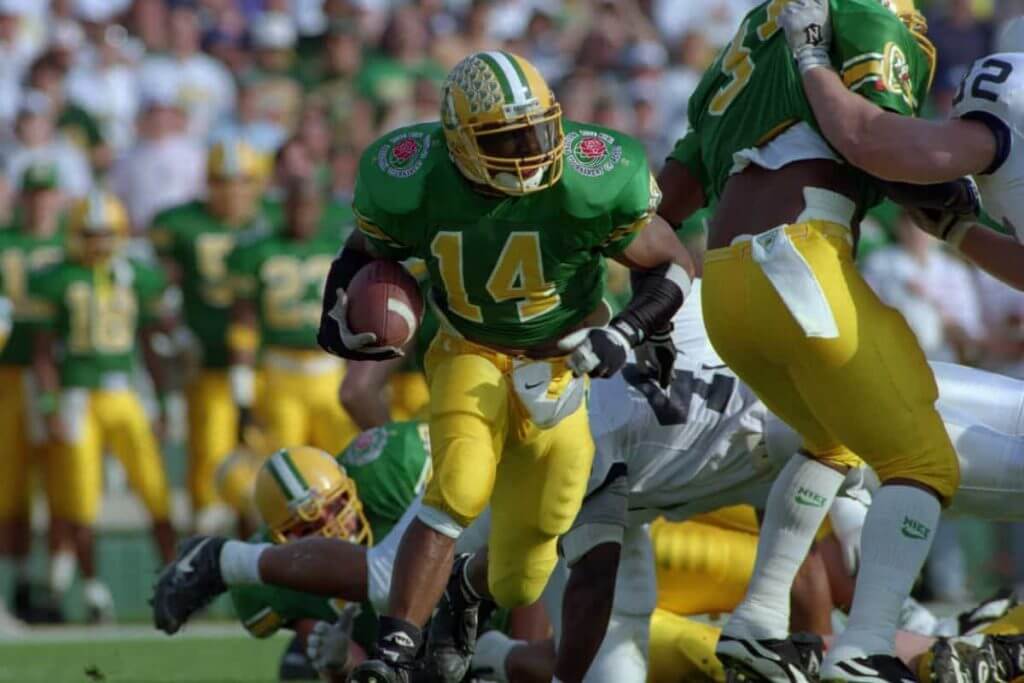 To which they paid homage with these 2014 throwbacks: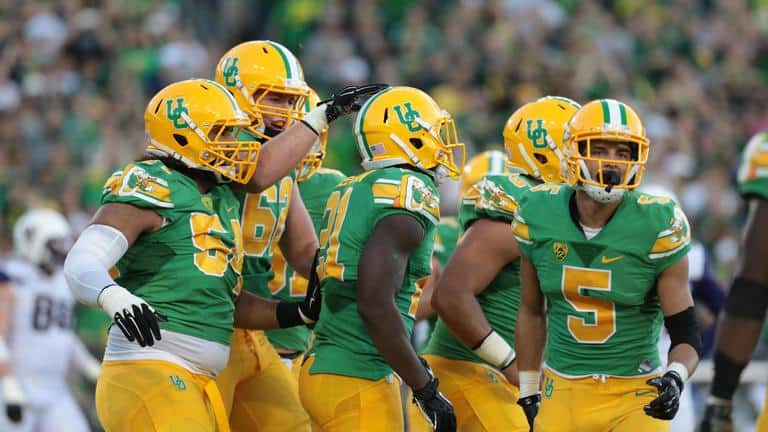 Not wanting to be totally beholden to tradition, I came up with a concept that uses a classic layout, one of Oregon's modern typefaces and their new mascot logo. There were lots of green and yellows to choose from neons to nightmares. I ended up using their academic colors, as they seem to really hit those classic hues.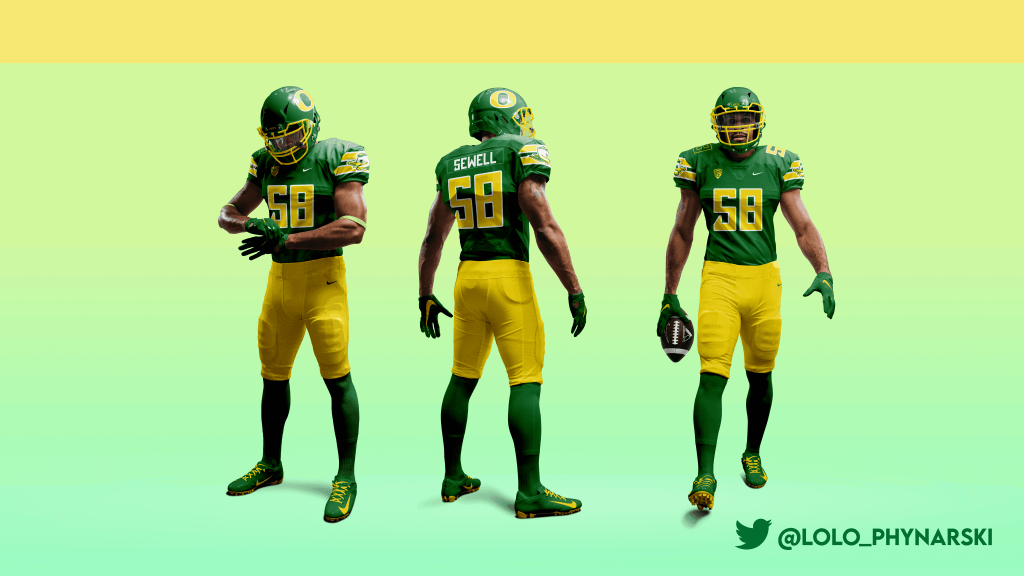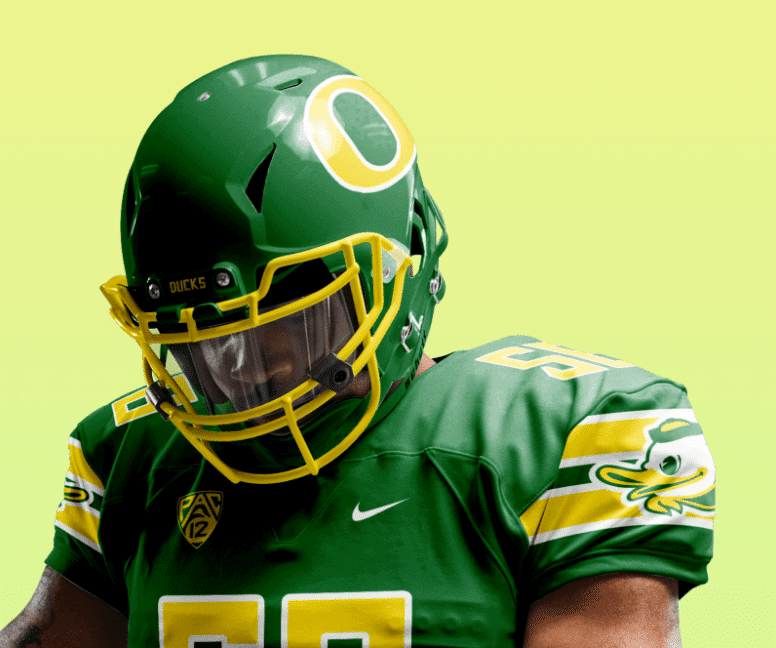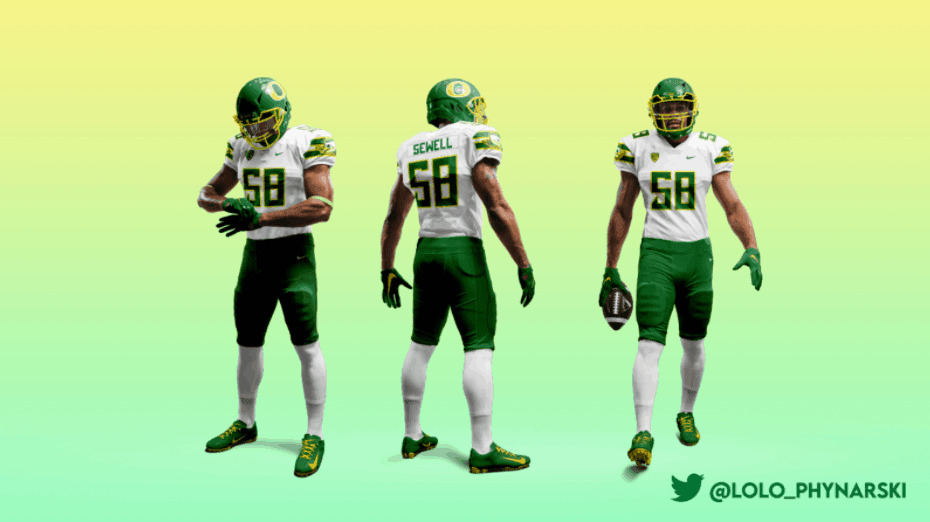 (Road version)
Here's what they should have been wearing last week (if you ask me).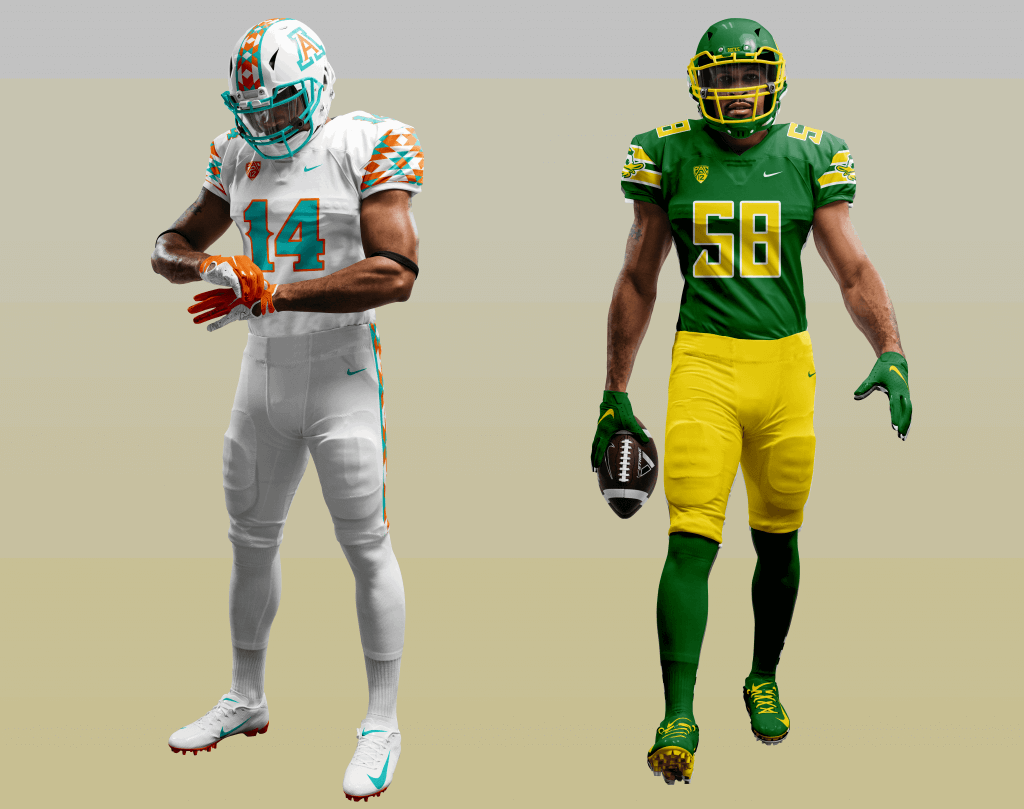 • • •
Wow — that's quite a difference. Love the look for Arizona (copper and turquoise are sorely lacking in sports — even though Logan used orange, it definitely has a bit of a copper feel, at least to me) and that Ducks "throwback" was awesome (although I'm not a big fan of that number font). Great looking matchup you've created, and certainly better than what we saw last season!
What do you think readers?
I'll have another installment of "WTSHW" in the near future!
• • • • •
• • • • •
Baseball In A Bubble
Got an e-mail earlier this week from reader Robert Brashear who recently attended a Minor League game being played during the COVID-19 pandemic, and it's really interesting to see how different leagues are handling social distancing and safe spaces during the coronavirus. MLB stadia may be empty, but there are some teams playing games with (relatively few) fans and spectators in attendance. Here's Robert:
• • •
Baseball In A Bubble
By Robert Brashear
Major league baseball may be playing in empty stadiums and minor league baseball may be shut down but several unaffiliated independent teams have created their own summer "bubbles." I found one near my hometown of Pittsburgh last weekend where the Washington Wildthings of the Frontier League are running their summer series. They created a second team, "the Steel City Slammin Sammies" and partnered with Joe Torre's "Baseball Brilliance" who provided the 'Black Sox"and 'Road Warriors." Tickets have to be bought online and printed at home. Your temperature is taken as you enter. There's only one concession stand open and no draft beer. (Still haven't figured that one out.) There's a special seating section for people "over 50," like me.
A photo display shows "'Things" who made it to the majors. Ironically, in a typical summer, the Frontier League is (maybe) an "A" level league but a quick look at the rosters shows many who played last year at AA or even AAA level in organized ball who with nowhereelse to go, csme here. And at least two former major leaguers including former allstar Brandon Phillips. So this is the highest level of players to perform in this park in front of an Arizona Fall League crowd, mosty up in the shade on a sunny hot day.
Uninoteworthy:
• The Steel City team has Pittsburgh bridges on their sleeves.
• I wanted to want to buy the hat, but the logo was beyond Brandiose.
• The Sox poached heavily from both White Sox (jersey) and Red Sox (hat)
• And best of all, Brandon Phillips wore an Atlanta Braves batting helmet, a team he last played for in 2017. (Watching Phillips reminded me of seeing 45 year old Rickey Henderson playing out the string with the late lamented Newark Bears.)
On Monday, the State police raided the stadium and shut the season down for reasons that are still unclear. Life in coronavirusworld.
__________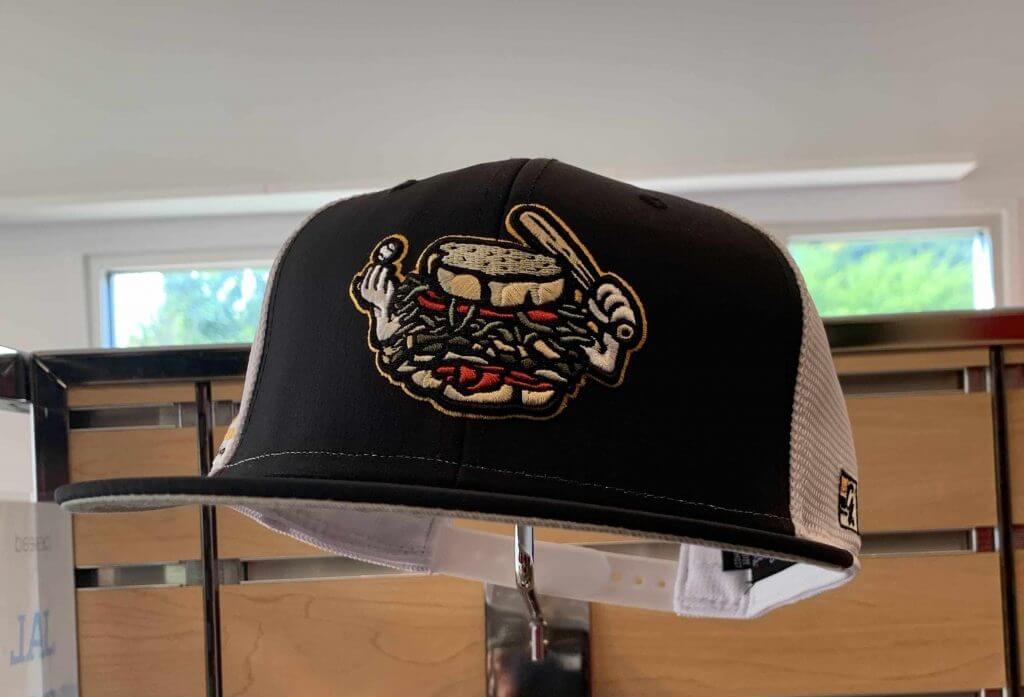 Slammin Sammies hat
__________
What's that font?
__________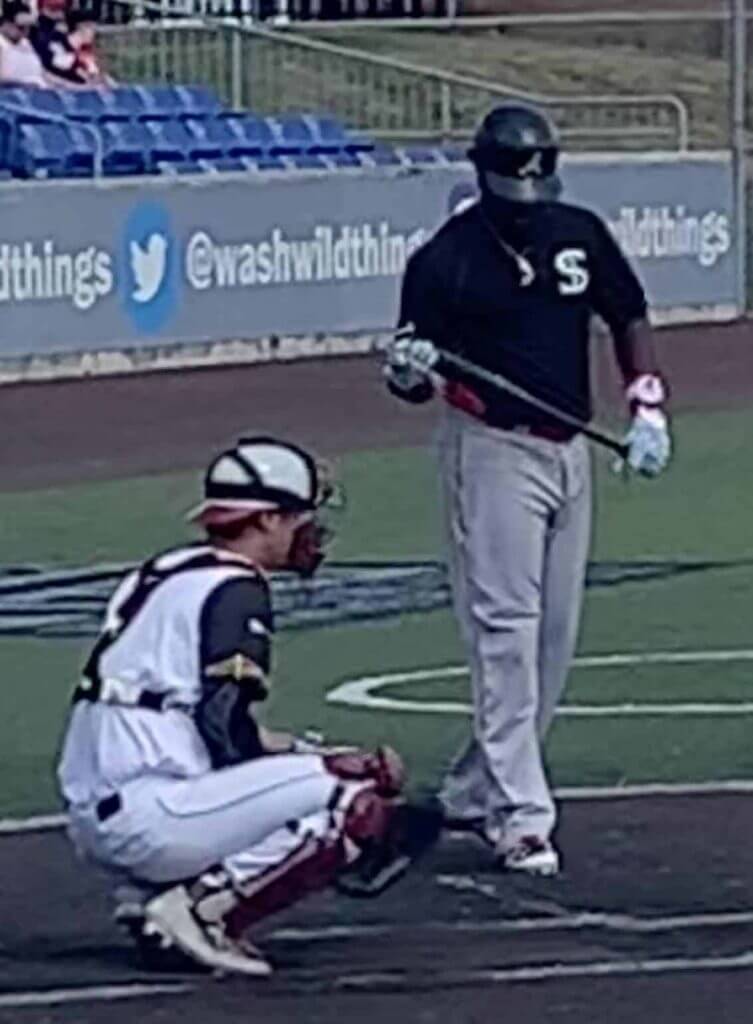 Brandon Phillips and his Braves' helmet
__________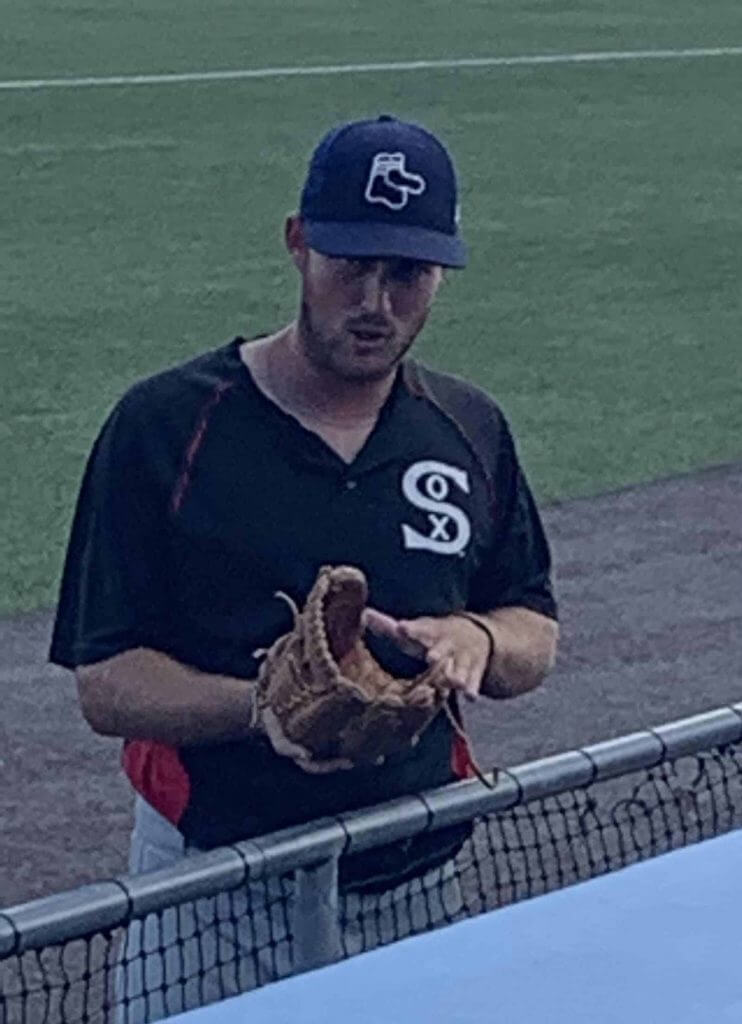 Red Sox, White Sox, Black Sox
__________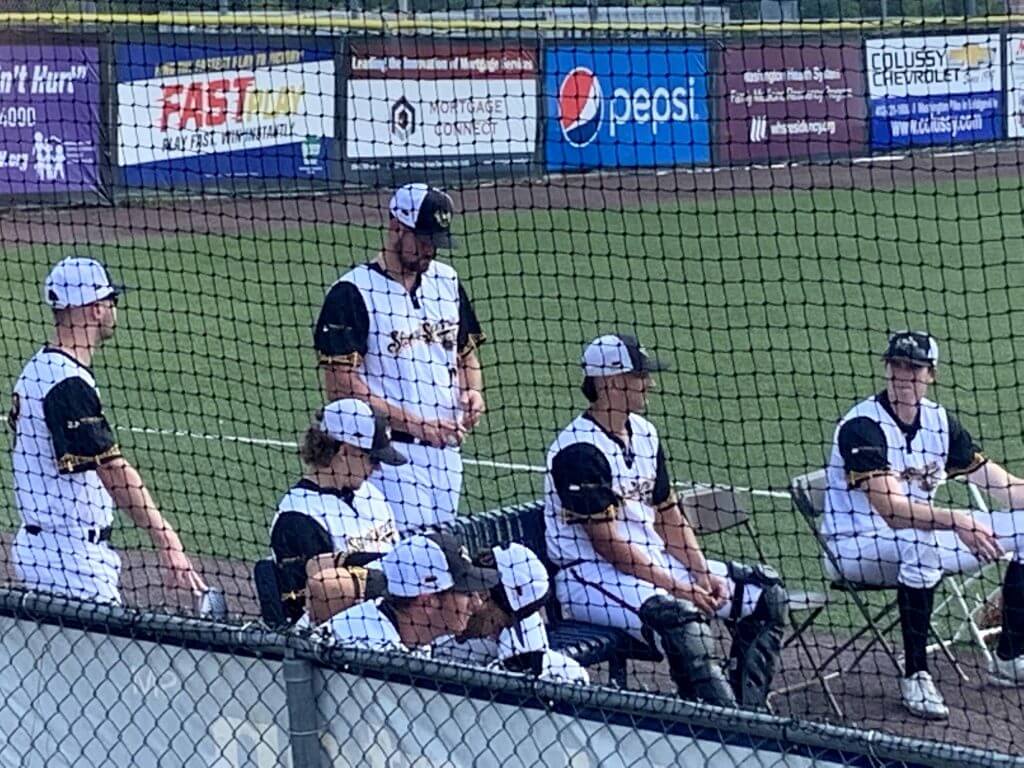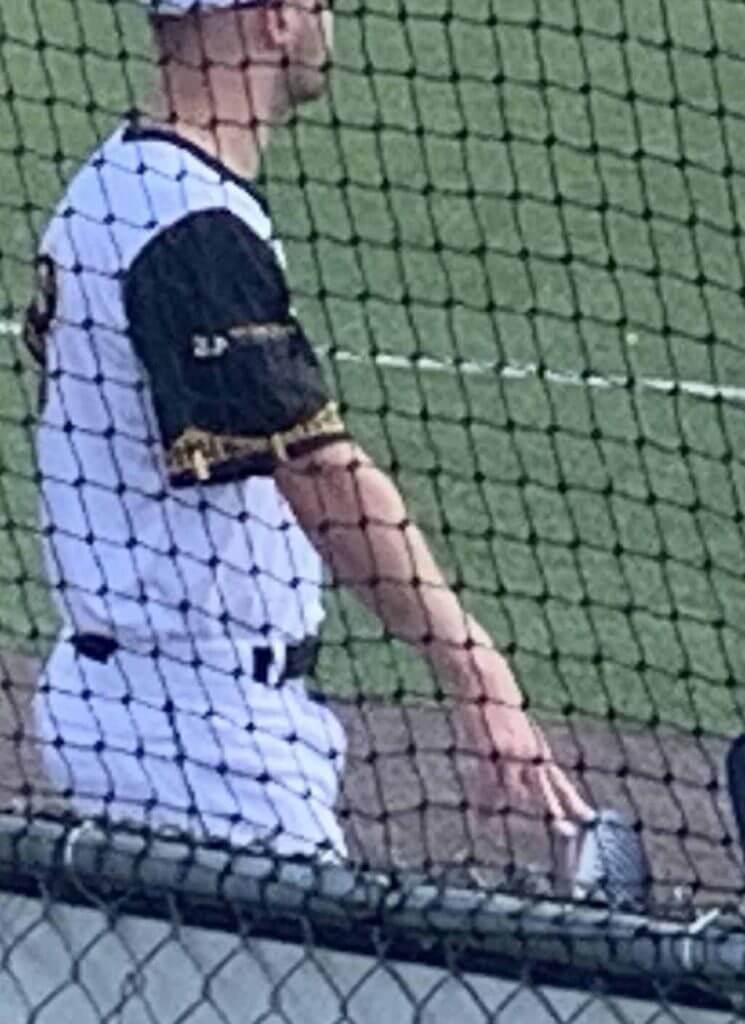 Pittsburgh bridges on the Steel City Sleeves
__________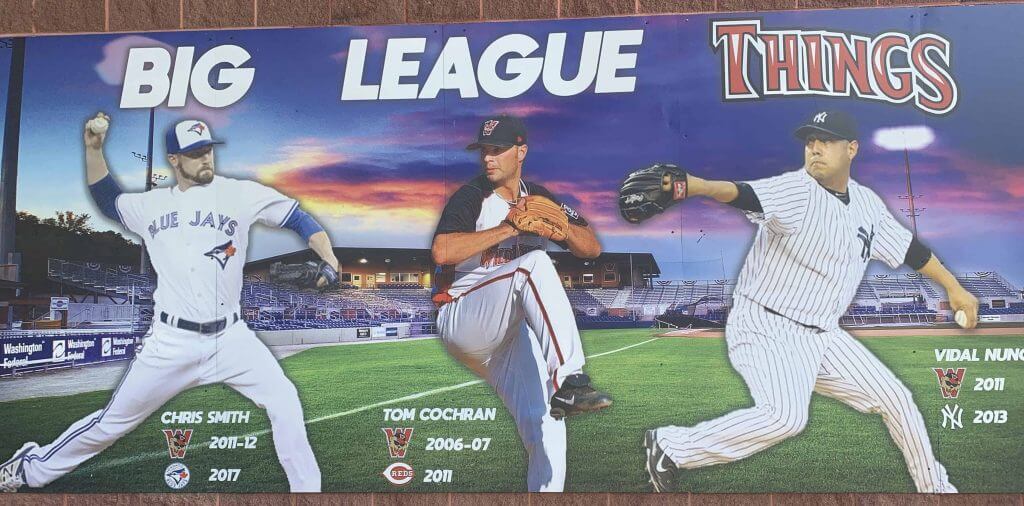 Big League things
__________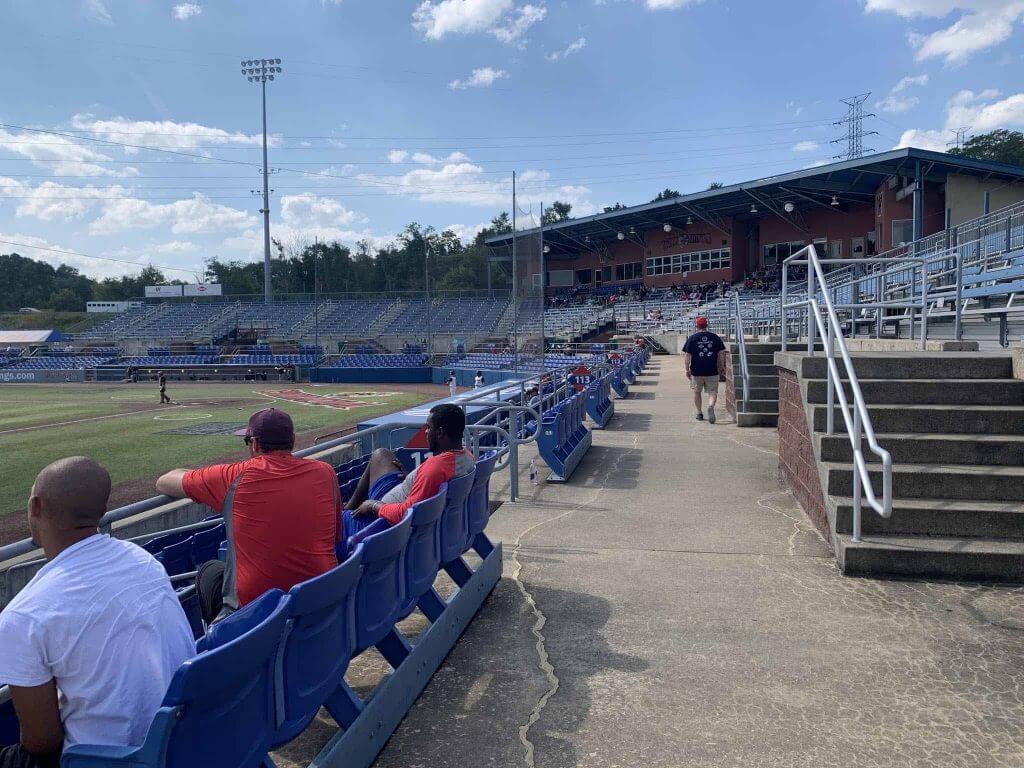 A quiet day at the ballpark…..most in top row
• • • • •
• • • • •
Guess The Game…
from the scoreboard
Today's scoreboard comes from Christopher Hickey.
As you'll see, it's not baseball or football — so that might make it a bit tricky. But I have faith one of you scoreboard sleuths will be able to figure it out.
The premise of the game (GTGFTS) is simple: I'll post a scoreboard and you guys simply identify the game depicted. In the past, I don't know if I've ever completely stumped you (some are easier than others).
Here's the Scoreboard. In the comments below, try to identify the game (date & location, as well as final score). If anything noteworthy occurred during the game, please add that in (and if you were AT the game, well bonus points for you!):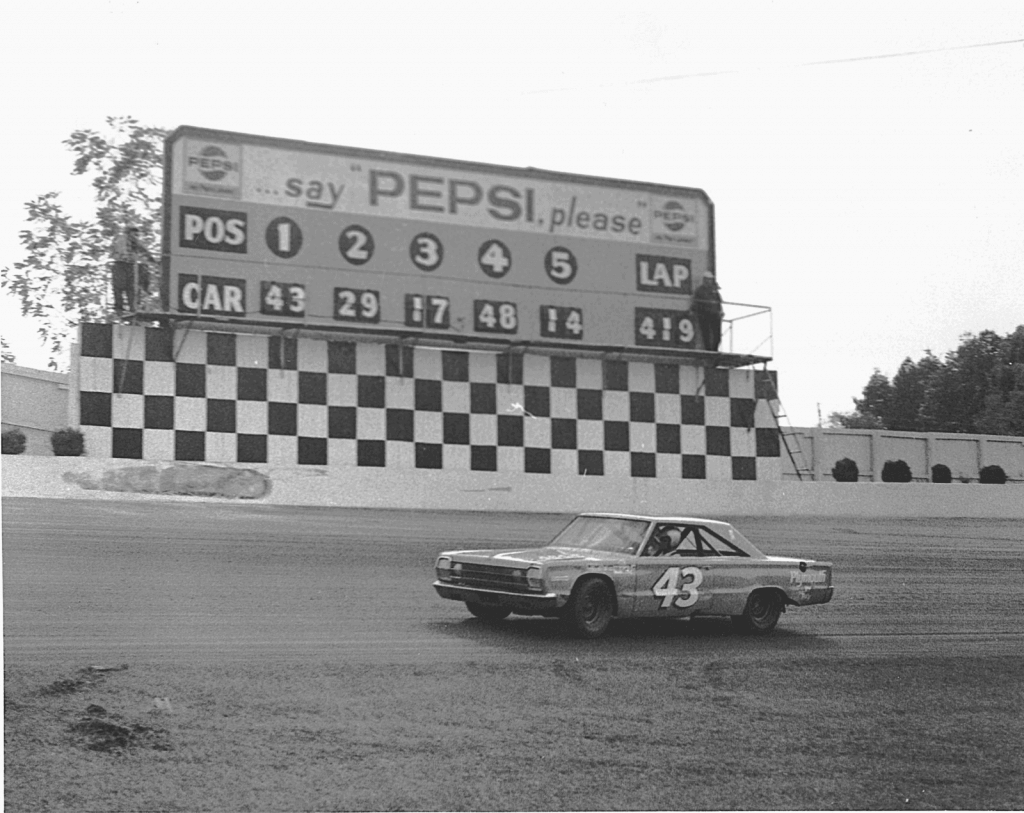 Please continue sending these in! You're welcome to send me any scoreboard photos (with answers please), and I'll keep running them.
• • • • •
• • • • •

Uni Concepts & Tweaks
After being dormant for a while, the Uni Tweaks/Concepts have returned!
I hope you guys like this feature and will want to continue to submit your concepts and tweaks to me. If you do, Shoot me an E-mail (Phil (dot) Hecken (at) gmail (dot) com).
• • •
Today's concept is another rebrand for the Washington Football Team, and it comes from Hunter Mills: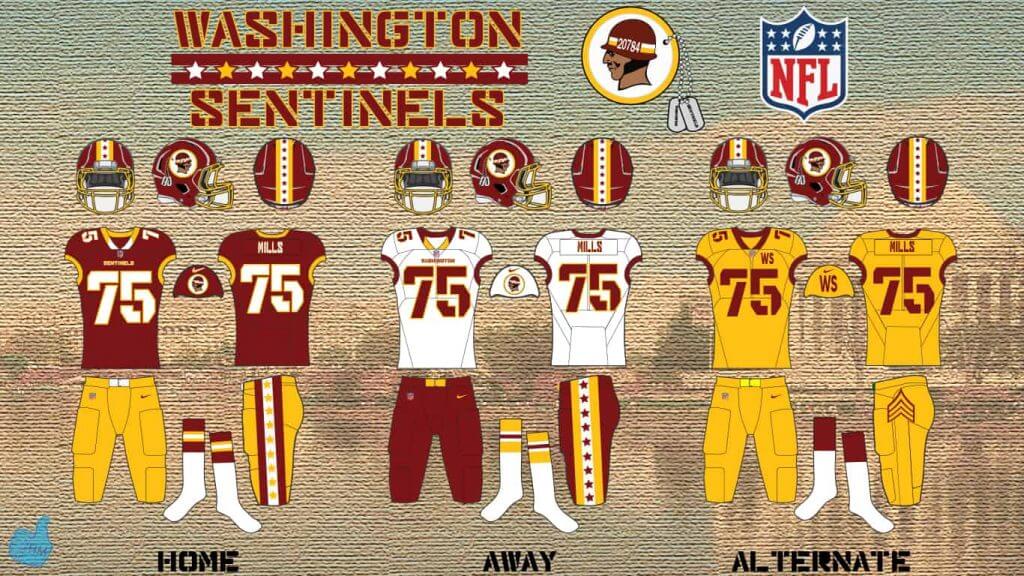 Hello Phil,

My name is Hunter Mills and I live in Missouri. I heard that the Washington Football Team was considering Sentinels as a possible new team name and I wanted to see what that might look like. The word Sentinel is defined as someone who keeps watch. Being that Washington D.C is our capital and therefore has a rich military history I thought of how that would translate. I decided to focus on Military Police or MP's as the basis for the team's Identity. I decided to keep the familiar circular logo but have a soldier in place of the native american man. In place of the feathers is a pair of dog tags with the team's name on them. The number on the helmet refers to the area code of where the team's stadium is located. Thank you for your time and I hope you and other readers enjoy this concept.

Hunter Mills
• • •
Thanks. OK readers, tweeters (and concepters). If you have some tweaks or concepts, shoot 'em my way with a brief description of your creation and I'll run 'em here.
• • • • •
• • • • •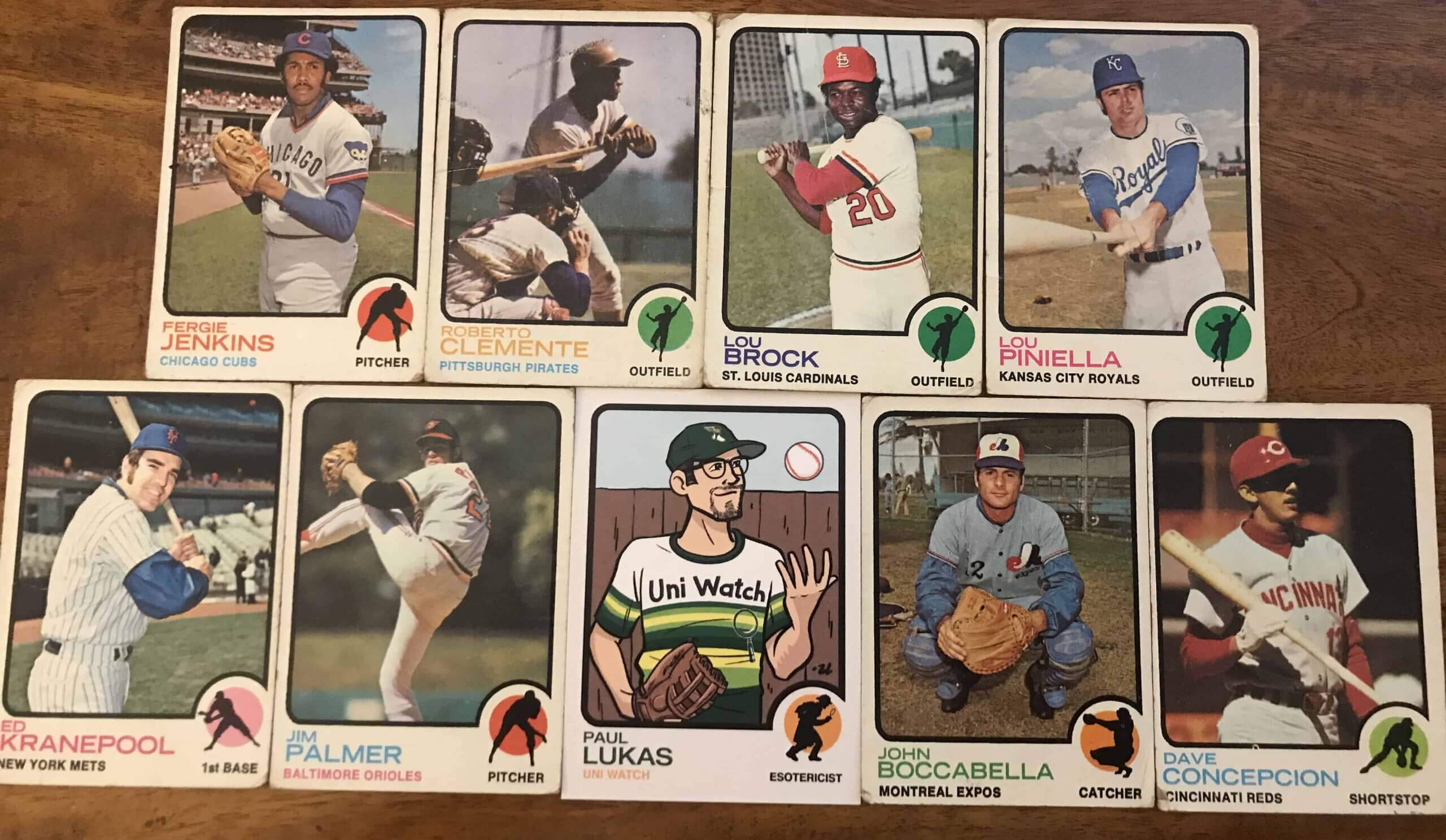 Click to enlarge
And now a few words from Paul
Hello! I received a note yesterday from reader Sam Dolson, who did something very cool: He put his new Uni Watch trading card, which had just arrived in the mail, alongside a bunch of his vintage 1973 Topps cards. Fits in rather nicely, don't you think?
Speaking of the Uni Watch card, two of the signed versions surfaced on social media yesterday:
Limited edition, people! @UniWatch pic.twitter.com/BE5oSfSimo

— Sparky McKnuckles (@sparkymcknuckle) August 13, 2020
@UniWatch woo-hoo! Autographed! #uniwatch pic.twitter.com/Qrlkqax7zr

— Al N Kreit (@tierknala) August 13, 2020
If you want to order a card, you can do so here.
One other note: After a slight delay, the new Uni Watch tequila sunrise mask should be available either later today or on Monday. Just like our previous masks, these were made for us at no cost by the generous folks at ProLook Sports, and we'll once again be donating all Uni Watch proceeds to charity. For our previous two batches of masks, we donated to Doctors Without Borders and Feeding America, and this time we're going with the National Alliance to End Homelessness.
Everyone have a great weekend! Now back to Phil.
• • • • •
• • • • •
Flash Back Friday
Check out the photo below. See if you can guess which UW member that is: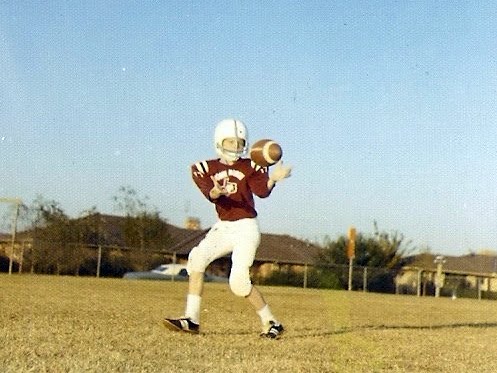 Give up?
.
.
.
.
.
If you guessed "Brinke Guthrie," well, you're a better man (or lady) than I.
Brinke sent me that photo, so I asked him what is/was the story behind it.
Here's what he had to say…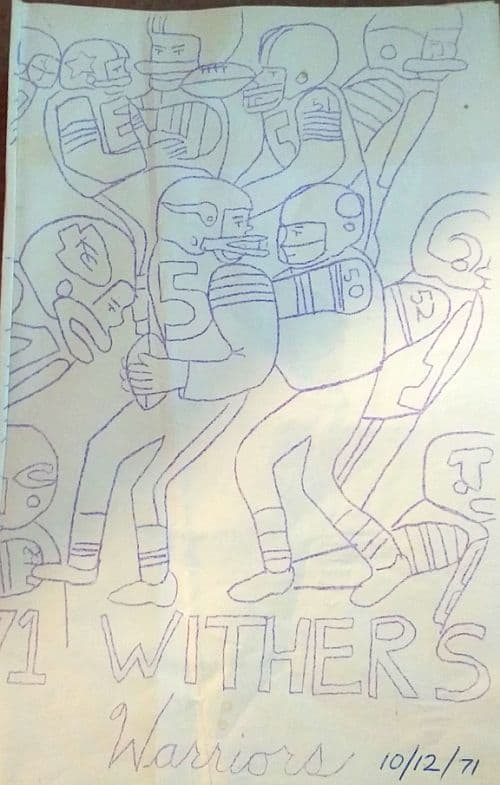 Fall of 71, "Town North YMCA" (for North Dallas) football. Now, this was a school team, Wither's Elementary, and we were, predictably, the Longhorns. I drew the "game program cover," above. "15" for the Vikes was absolutely Gary Cuozzo.
I am not sure why there was the YMCA connection- the same thing happened for spring 72 soccer. Maybe the school and the local Y ran the team jointly, I don't know. Note several things:
• Helmet from Sears with the most common face mask. The stripe down the middle was a Dymo label. There's a small red start to the right of that stripe, that was spray painted on by our coach for our one and maybe only win.
• Shoulder pads from Sears- way too big. Probably got those the year before in Louisville, also a YMCA team/elementary school deal.
• Pants probably from Sears too. Cleats as well- I didn't know about Adidas or Puma…yet.
• There's a small "17" (for the recently retired Don Meredith; I didn't know any other players yet); that was a felt number and letter kit, also from Sears. (Sense a trend?) I believe I had my LNOB as well. I would soon meet Staubach at a department store (Sanger-Harris; had a great NFL shop, rivaled Sears) and Dave Manders appeared at our awards dinner.
• I recall not liking that color at all, it was sort of a maroon/purple. Not exactly Longhorn-y. More photos below.
+ + + + +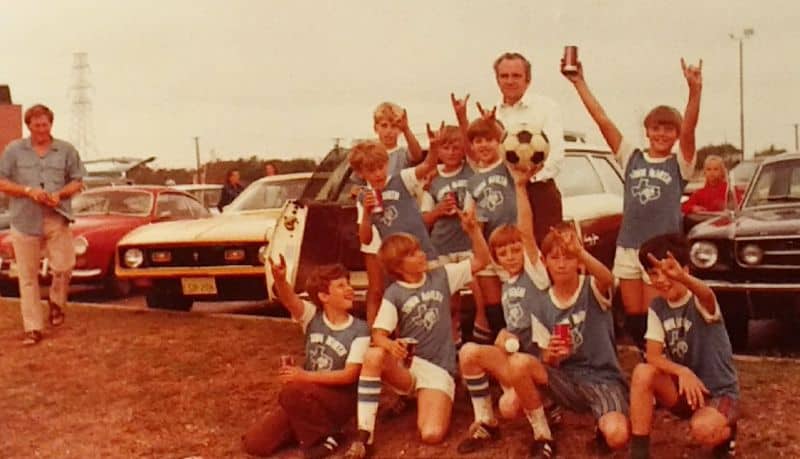 Dallas soccer. [I'm pretty sure Brinke is in the front row, holding up the soccer ball. — PH]
+ + + + +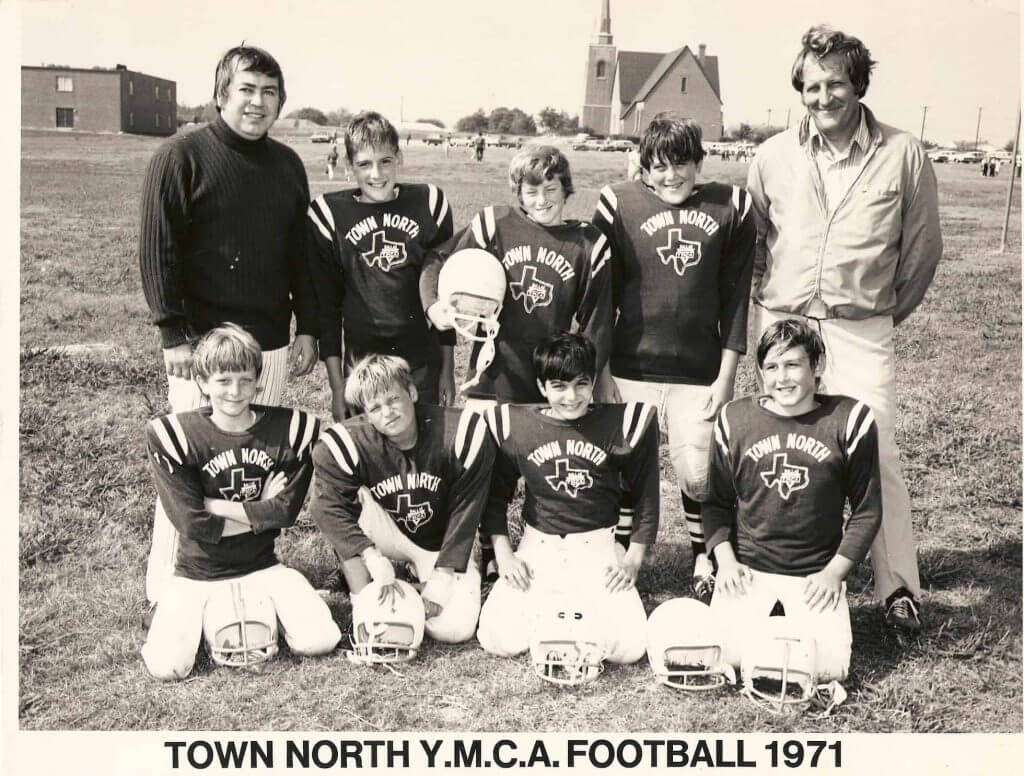 Dallas YMCA, 1971 [And I think Brinke is at the bottom left in this one — PH]
• • • • •
• • • • •
The Ticker
By Anthony Emerson


Baseball News: All MLB teams will wear patches honoring the Negro Leagues on Sunday. Some teams will also be wearing Negro Leagues uniforms — the Marlins have already unveiled theirs. Phil will have more on Monday. … Here's another article confirming the Twins are undergoing a review of "all team branding" (from Steven Lobejko). … Benjamin Dallman noticed Royals P Trevor Rosenthal doesn't have a tiddle over the "i" on his road jersey. … Dick Allen's No. 15 will be retired by the Phillies. "[O]nly the second number 15 retired by any team in MLB. The only other one is Thurman Munson with the Yankees," says Michael Stoudt, while @PhillyPartTwo has some more stats for you. … Barry Larkin is associated with the No. 11, but when he first made his debut, he wore No. 15 because No. 11 was taken by fellow SS Kurt Stilwell. After Stilwell was traded, Larkin snatched 11, and the rest was history. … The Mets have installed a bubble gum dispenser in each dugout, probably to avoid having players touch multiple pieces while reaching into a bucket (from Max Weintraub). … Because it's 2020, the Long Island Ducks had a virtual ceremony for their 2019 Atlantic League championship rings (from Kary Klismet).

NFL News: The Dolphins have unveiled the patch they will be wearing in honor of HC Don Shula, who passed away a few months ago. Another look at the patch here, and an application video here (from multiple readers). … The Patriots' website shows two different fonts for the "1" numeral on their new home unis. The numerals on Cam Newton's and Julian Edelman's jerseys are identical to the numerals used from 2000-2019. However, NFLShop.com shows Newton and Edelman's "1" numerals in the font worn by Deatrich Wise Jr. and Matthew Slater. So I wonder if Edelman is wearing last season's Color Rush jersey in the pictures, and someone screwed up on Cam's. … Speaking of the Pats, twin brothers Devin and Jason McCourty wore matching T-shirts reading "I'm with the birthday boy" to camp. … Someone sent former NFL CB Adam 'Pacman' Jones a box of Steelers Joe Haden jerseys, and he burnt them live on Instagram (from Mike Chamernik). … One more from Mike: Back in the '70s, the NFL had a special football for lefty quarterbacks — the left-handed football had stripes on the opposite panels so the QB's thumbs wouldn't slip on the paint (also from @texastrevor). … New Packers wideout Malik Turner will wear No. 82. That article also has a list of every Packer to ever wear No. 82 (from David Dahl). … Some uni related shenanigans took place with a female visitor wearing Seahawks gear trying to sneak into the team's hotel (from Mike Chamernik).

College/High School Football News: Virginia Tech has added face shields to their helmets (from Andrew Cosentino). … Unicoi County (Tenn.) High showed off its recently renovated football stadium (from Kary Klismet).

NBA News: The Sixers have unveiled their shooting shirt for the playoffs (from John Cerone).
.

Soccer News: The St. Louis MLS team has a name and a crest — St. Louis City SC. Announcement video here. On another note, this is the third "City" club in the MLS after Orlando City and New York City (from multiple readers). … The following are all from our own Jamie Rathjen: Liverpool have finally unveiled their long-rumored and oft-leaked change kit. … Watford, who were relegated from the Premier League to the Championship a few weeks ago, have unveiled their new home kit. … At the other end of the table, newly-promoted Championship side Wycombe Wanderers have a new home kit. The change kit is identical to last season's except for a new ad. … The following are all from Ed Żelaski: New home and away kits for Polish club Górnik Zabrze, and three new kits and plus a new keeper kit for fellow Ekstraklasa side Wisła Płock. … New home shirt for SC Freiburg.

Grab Bag: New logo for North Allegheny High School in Wexford, Pa. (from Kary Klismet). … While watching Top Gun, Michael Cooperman noticed that Goose and Maverick were having helmet sticker issues. I wonder if this was intentional from the filmmakers. … The commission choosing Mississippi's new flag have narrowed submissions down to a final 147. It will further narrow the field down to 5 in the coming weeks (from Timmy Donahue). … Paul, avert your eyes — Jimmie Johnson's new paint scheme is purple and white (from Jakob Fox).
• • • • •
• • • • •
And finally… big thanks to Logan for the "What They Should" series, as well as to Robert for sharing the Bubble Baseball bit and everyone else who contributed to today's post. You guys are all ACES!
As some of you know, I spend a good amount of time in the summer at my family place on the east end of Long Island. The house is located near the end of a road that ends at a harbor, which, oddly for the east coast, faces west, and as such I'm treated to some glorious sunsets (I literally have about 100 or more captured on my phone). I had thought of sharing a sunset photo-a-day, much like Paul has been doing with his Pandemic Porch-tails, but while each one is slightly different, they're still pretty much all sunsets. Still, every so often we'll get a really spectacular one. Yesterday was one of those days — I actually snapped the photo below just after sunset, when the colors seem to be even more vibrant. If you guys want me to post a couple more of the better ones as a post-script, just let me know in the comments below and I'll do so. Anyway, here's what greeted me last night: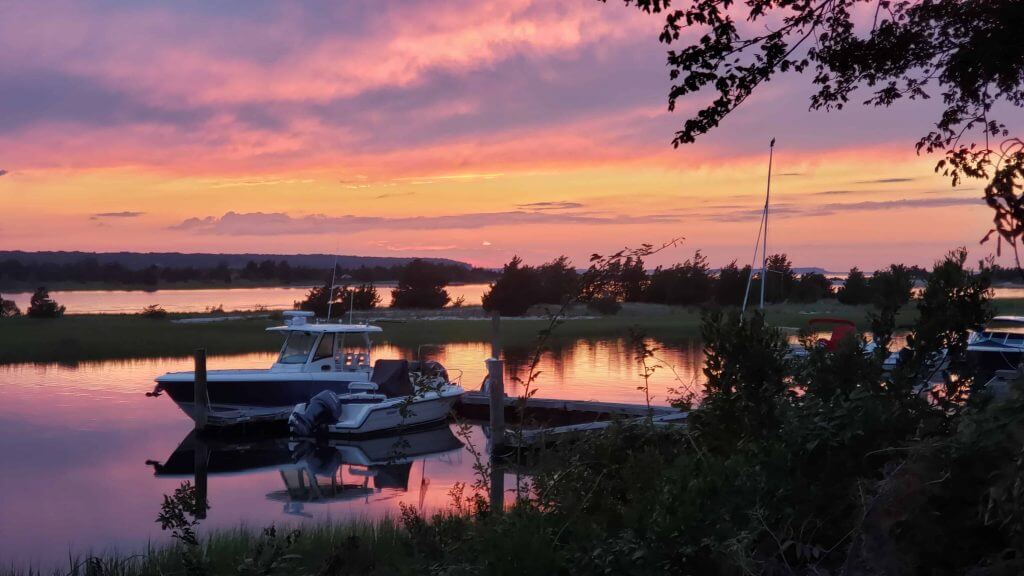 .
Like Anthony noted in the ticker, MLB teams will be wearing Negro League Baseball throwbacks this Sunday, and I'll have coverage of that on Monday. Be sure to watch those games this weekend, if you can. NLB unis are as good or better than almost all the unis worn in the bigs today, and well worth checking out if only for the aesthetic appeal.
Everyone have a great weekend. Unfortunately the blog is on vacation for the weekend, but I'll be back Monday. Stay safe!
Peace,
PH