It turns out that even the mighty Yankee pinstripes are no match for the coronavirus.
Here's the deal: The Yanks and Phils played a doubleheader yesterday in Philadelphia. Game One was a rescheduled game that had previously been postponed. Nothing unusual about that — pretty much every doubleheader in recent years has been the result of a postponement. The difference this time around is that the postponed/rescheduled game was originally supposed to take place in Yankee Stadium, not in Philly. So the Yankees were the designated home team for the opener, even though they were playing on the road.
Since the Yanks were the home team, they presumably wore their famous pinstripes, right? Wrong. In an understandable attempt to keep things logistically simple, the Yanks requested and received permission to bring just one set of uniforms with them — their road greys:
The Yankees requested to only bring one jersey to Philadelphia, so even though the Phillies are the road team in the first game of the doubleheader, Joe Girardi says that the Phillies will wear their pinstriped jerseys in the first game today.

— Tim Kelly (@TimKellySports) August 5, 2020
So for the first game, the Yanks wore their road uniforms despite being the home team, despite being on the road.
And that wasn't the only weird thing about that game. The first game of the doubleheader started at 4pm, and the Phils usually wear their cream alternates for daytime home games. But instead — I guess because they were actually the road team..? — they wore their home-night pinstripes:
And wait, it gets better: Although the Yanks were the home team and the Phils were the road team, the stats will count torward the Yanks' road stats and the Phils' home stats because the rulebook states that the "home team is the team on whose grounds the game is played."
This marks the second consecutive season that the Yankees have worn a uniform contrary to their home/road designation. For last year's two-game Yanks/Bosox series in London, the Sox were the designated home team for both games. But the powers that be decided that they needed to showcase those famous Yankee pinstripes to the overseas audience, so both teams wore home uniforms, even though the Yanks were the road team.
Getting back to last night's twinbill: The Phils were the home team for the nightcap, so both teams wore the same uniforms they wore in the first game — grey for the Yanks, pinstriped whites for the Phils. But just to make things more confusing, Yankees catcher Gary Sanchez (who didn't play in the first game) wore the team's glossy home batting helmet, instead of the matte road helmet:
Gary Sanchez wearing the home (wrong) helmet. Gio Urshela wearing the road (correct) helmet in the background. @UniWatch pic.twitter.com/X1Butb4NIL

— Scotty 🏴󠁧󠁢󠁳󠁣󠁴󠁿🇮🇱 (@Scott________) August 6, 2020
That concludes this installment of "Only in 2020." I'm sure the next installment is being written as we speak.
• • • • •
• • • • •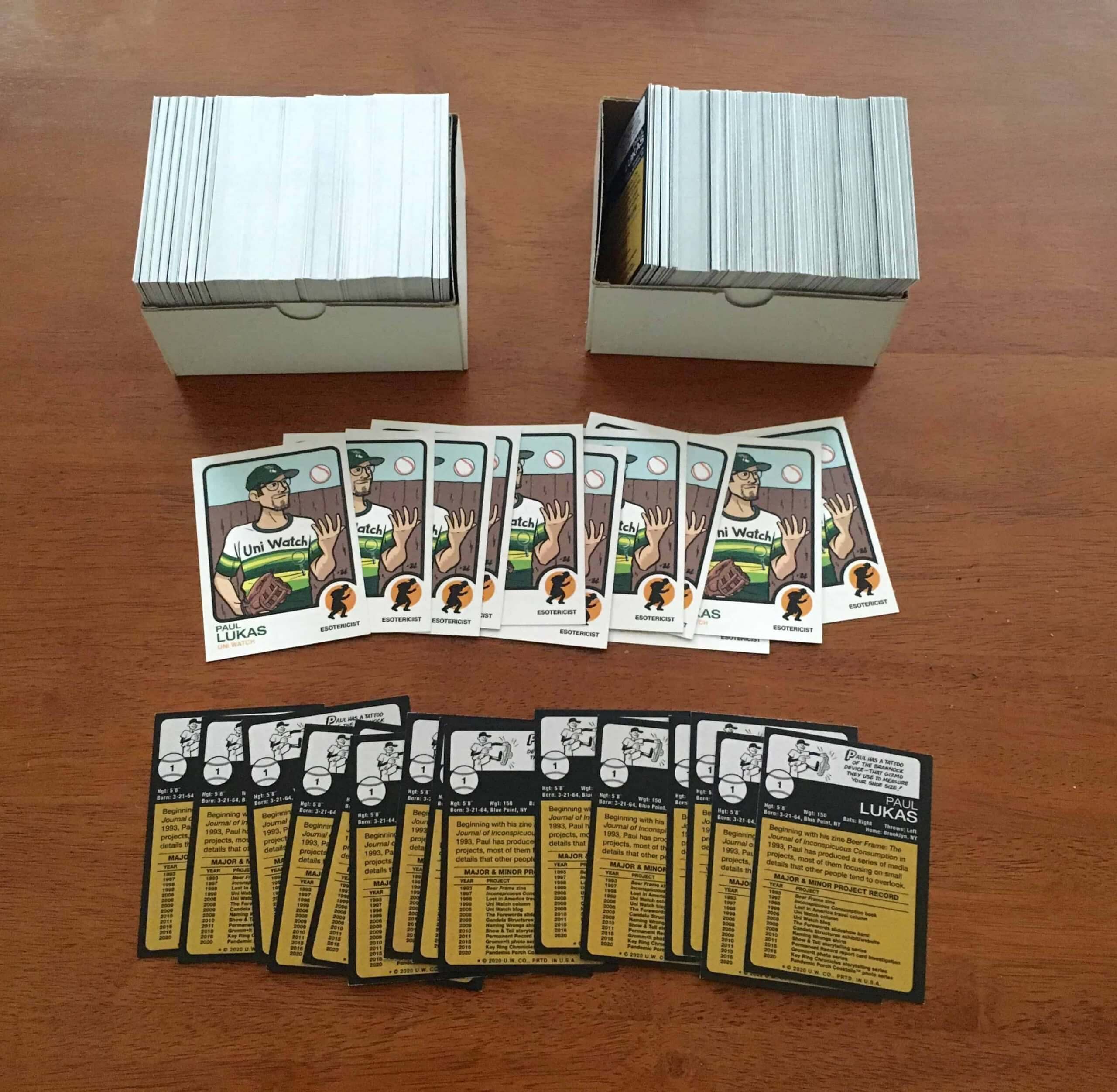 Click to enlarge
Trading card update: The full set of 500 Uni Watch trading cards arrived in the mail yesterday (the ones I showed you earlier were printer's samples). Exciting!
Shortly after the cards arrived, I sat down to sign 11 of them — 10 in green ink, one in purple. It was a bit trickier than I'd anticipated, because the card doesn't have much white or light-colored space, plus it has a lot of green, so I had to pick a spot where the signature wouldn't be swallowed up by the background colors. After practicing a bit on the printer's samples, I went ahead with the real cards, and also numbered each signed card in the top-left corner: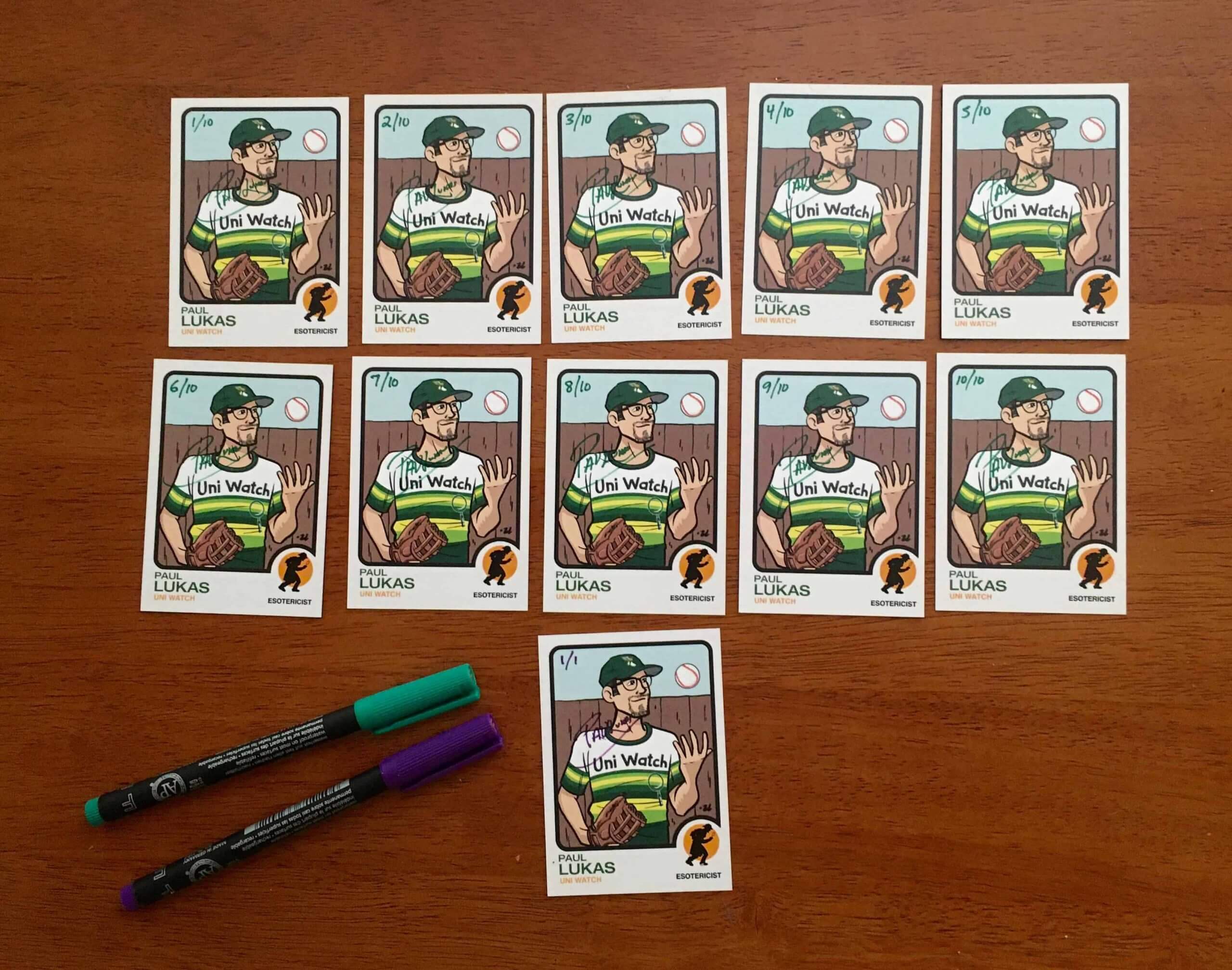 And then I put the signed cards in random spots in the set. Whoever gets them, gets them!
I can't mail out the cards yet because I still don't have the plastic sleeves for them, but those are due to arrive in a few more days, so I should get all the pre-ordered cards out the door by the middle of next week.
Speaking of which: Full details on how to pre-order your own card, along with the backstory on this saga, are available here.
• • • • •
• • • • •
Click to enlarge
LAST CALL for the Branches auction: Today is the final day to submit a bid for the one-of-a-kind Brooklyn Branches jersey, with proceeds going to the Arbor Day Foundation. Full details on the jersey, and how you can bid on it, are available here. I'll announce the auction winner tomorrow.
But wait, there's more. If you can't afford to bid on the jersey, we now have Brooklyn Branches T-shirts available — including a road grey version with a "Brooklyn" insignia (click to enlarge):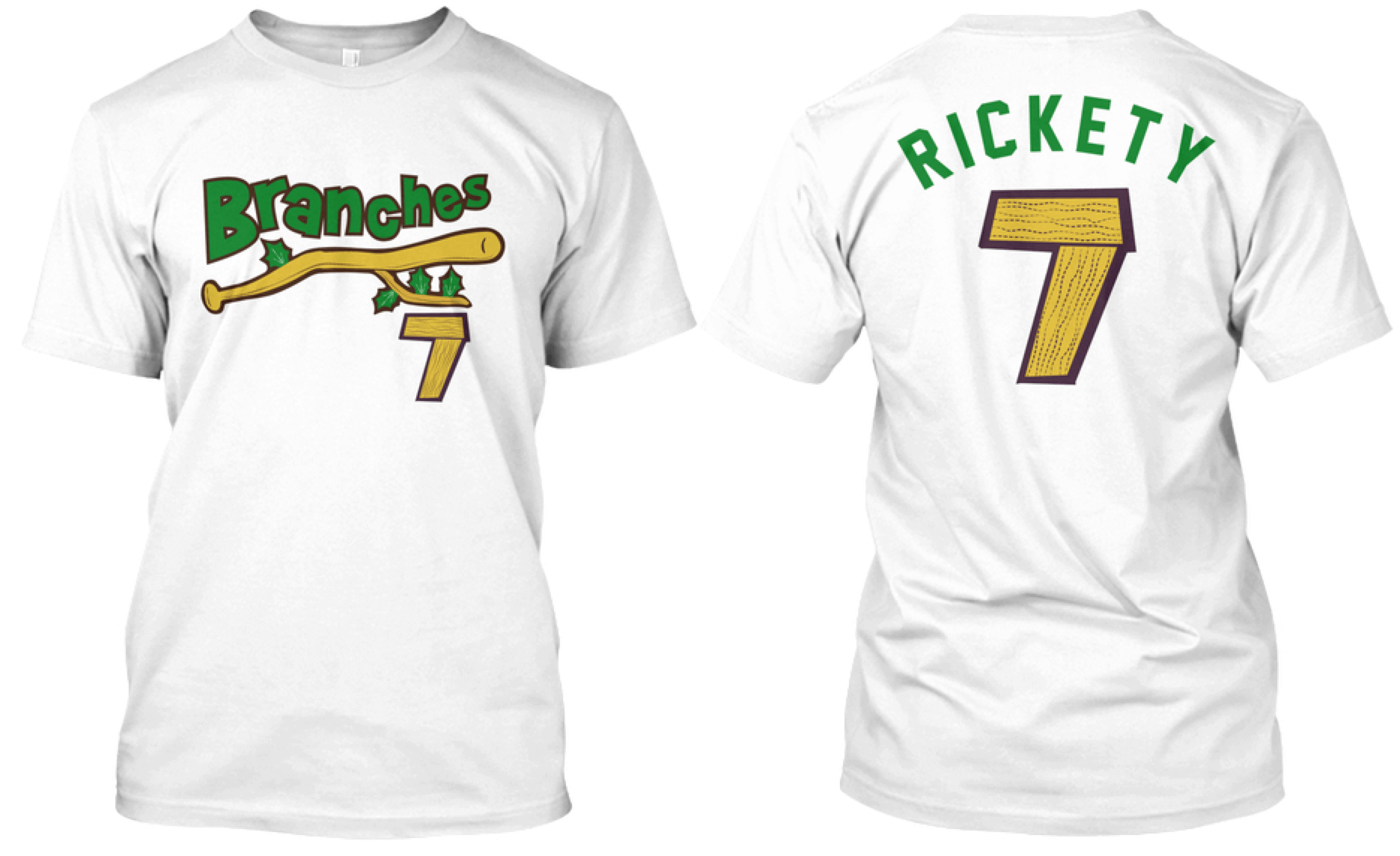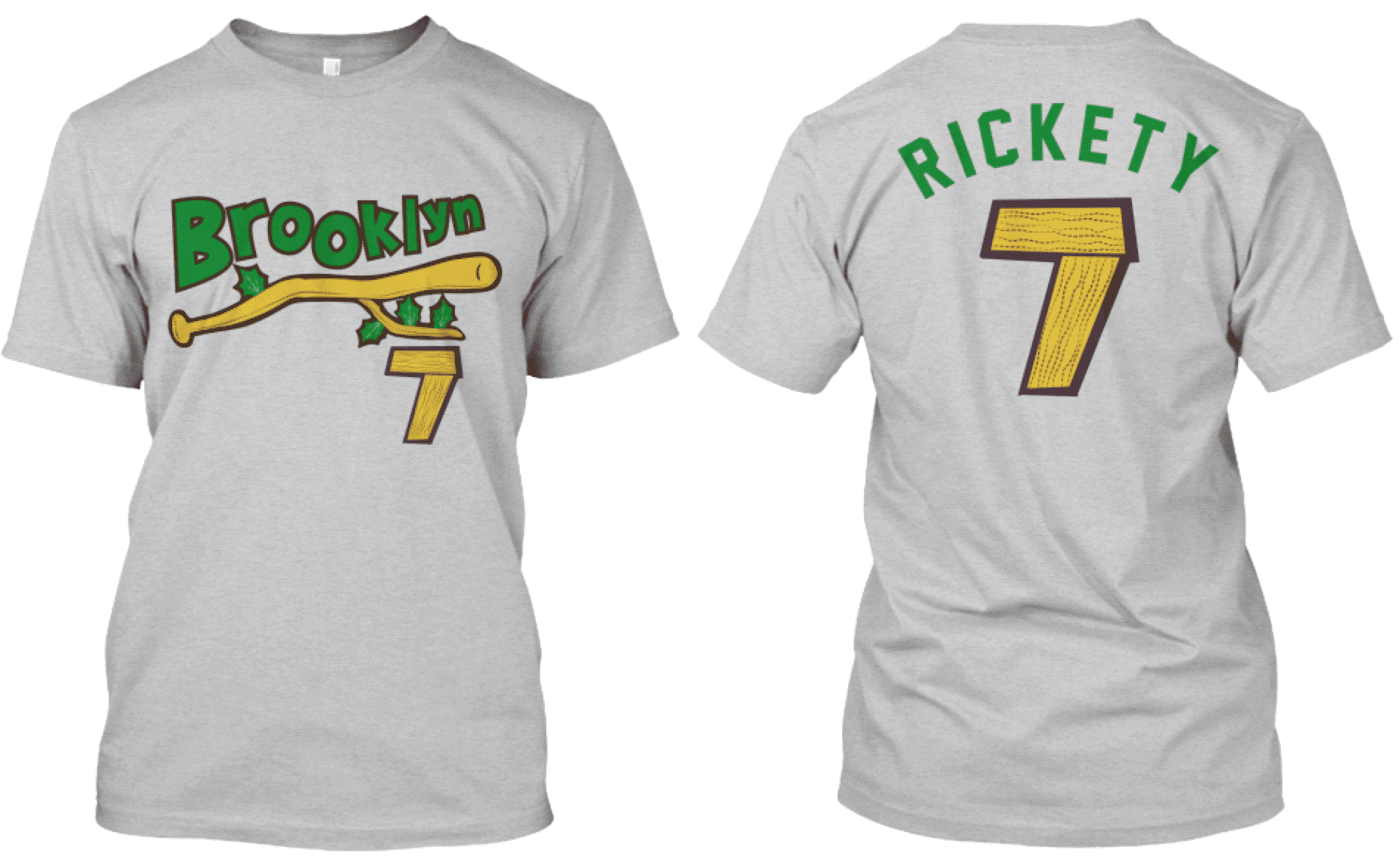 Here's where you can get the home white and road grey versions.
We may also have green and brown alternates — possibly as soon as tomorrow — so stay tuned.
• • • • •
• • • • •
Click to enlarge
August Pin Club update: The Uni Watch Pin Club's new design for August — a salute to old-school baseball scoreboards, complete with a few misfiring light bulbs — is now available. (If you want more info on the line score and the 4:07 time on the clock, there's an explanation here.)
This is a limited/numbered edition of 250. The pin launched a few days ago and as of this morning there are only 73 remaining, so they're going fast. You can get yours here.
Speaking of inventory levels:
• There are now about 45 of the July bobble-pins remaining. Still available here while supplies last.
• There are about 40 Uni Watch Key Rings remaining. You can get yours here.
My thanks, as always, for your consideration.
• • • • •
• • • • •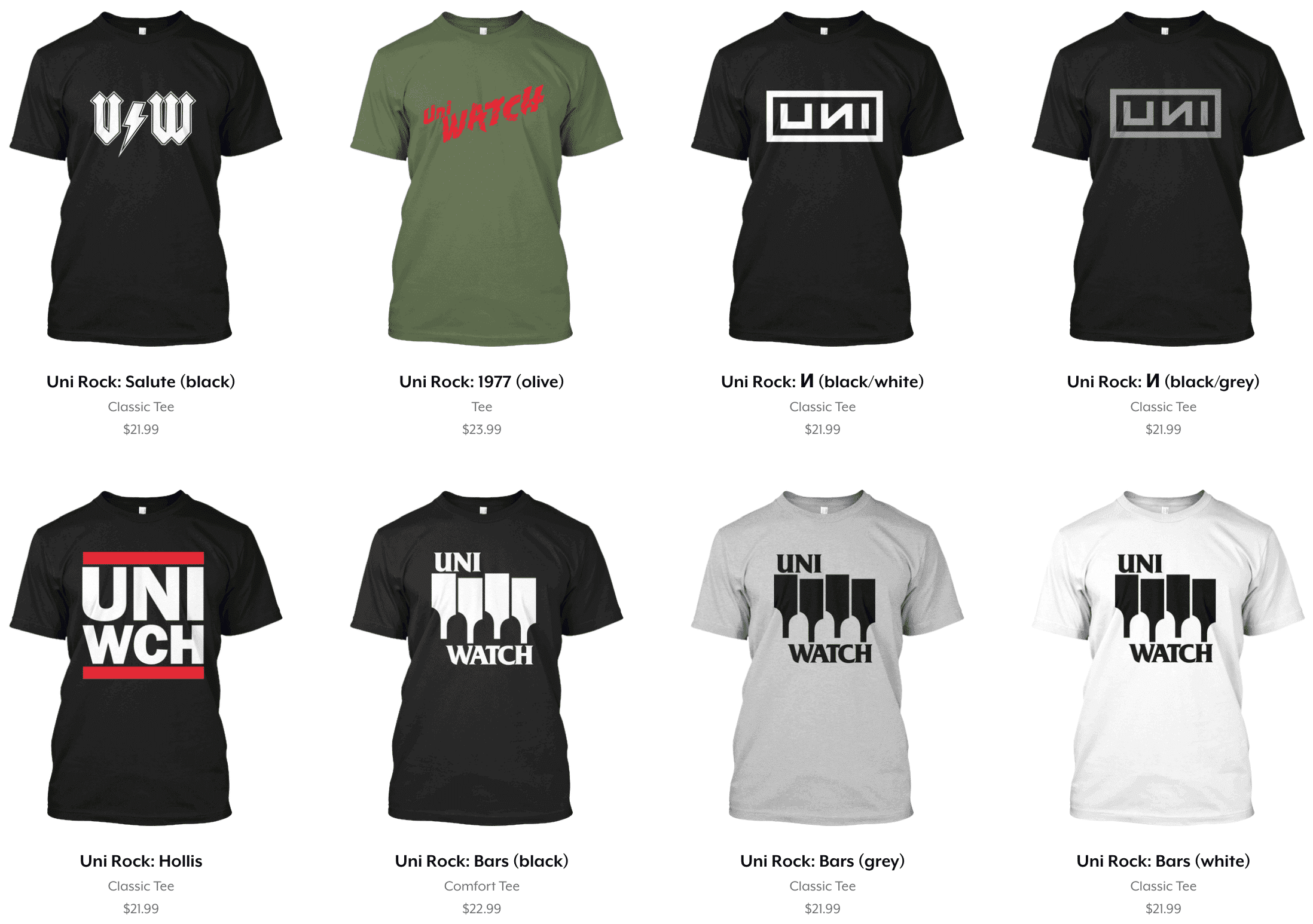 Click to enlarge
Uni Rock reminder: In yet another ICYMI item, a bunch of new designs have been added to the Uni Rock Shop (and if you missed the launch of Uni Rock last Friday, here's an explainer). We'll have more designs tomorrow. You can see the full collection here.
• • • • •
• • • • •
The Ticker
By Paul

'Skins Watch: Lane Tech, a high school in Chicago, is dropping its Native American logo (from Kenneth Traisman). … Cincinnati Country Day School will no longer call its teams the Indians (from Kary Klismet). … Also from Kary: A Pennsylvania attorney has filed a lawsuit seeking to postpone a vote by Unionville High School officials on a measure to stop calling its teams the Indians. … One more from Kary: A descendant of the Wappinger Native American Tribe is urging Ketcham High School in upstate New York to keep its "Indians" team name, conflicting with an earlier call from other Wappinger descendants for the school to retire it.

Working Class Wannabes™: An article by ESPN NHL writer Greg Wyshynski — a smart guy who really ought to know better — said the Blue Jackets have a "blue-collar defense."

Baseball News: An artist named Carl Skanberg has been creating "Scorecard Sketchcards" for White Sox games this season, including some excellent retro-style faux program covers. "He's been doing baseball (mostly White Sox-related) artwork for years, and his Twitter feed is a heck of a rabbit hole," says Eriq Jaffe. Indeed — recommended. … In 1964, KC A's owner Charles Finley challenged the White Sox to make the teams' upcoming doubleheader into a "style show," and urged local newspapers to send their society editors to cover it (from Bob Gassel). … The Phillies have added cutouts of some of their players, in the spots where their home runs landed (from @kodywiddak). … The Nationals have continued to wear their gold-trimmed championship uniforms for all of their home games so far. I haven't confirmed this myself, but @sports_fashion1 says that if they wear their three other white jerseys, they'd be the first team ever to wear four different white jerseys in one season. … Tough night for the Twins batting helmet logos: 2B Luis Arraez's was badly askew and 1B Marwin Gonzalez's was missing altogether (thanks to all who shared). … Anyone else notice that the only distinct or even visible detail on the Marlins' black jerseys is the new maker's mark? (From Bud Parks.) … The collegiate wood bat Souris Valley Sabre Dogs played last night in jorts! (From Seth Hagen.) … We've seen lots of MLBers wearing their uni numbers on their belts, but D-backs 1B Christian Walker's belt has the team's logo on it, and teammate Ketel Marte appears to have some lettering printed on his (good spots by Joanna Zwiep).

NFL News: Raiders QB Derek Carr will wear a compression sleeve this season as a tribute to Kobe Bryant (from Nicklaus Wallmeyer). … Washington posted a video of the new helmet numbers being applied to the shells, along with photos of the new helmet design from various angles (from many readers).

College Football News: UCF's stadium has long been nicknamed the Bounce House. Now that is its official name (from Colin Dilworth).
.

Hockey News: The Coyotes have released a video hyping their Kachina uniform, which they're wearing throughout the current postseason. Incidentally, the jerseys still have the mismatched skate blade colors, a glitch I wrote about back in May (from Alfonso Ferrari). … New logo for the Gillette (Wyo.) Wild, a junior team in the North American 3 Hockey League (from Kary Klismet). … New jerseys for the FPHL's Columbus River Dragons (from Jack Patterson). … Canadiens LW Jonathan Drouin got a pretty serious haircut between Monday's and Wednesday's games. I haven't had a haircut since February, so I'm envious.

Basketball News: Cross-listed from the NFL section: QB Derek Carr of the NFL's Las Vegas Raiders will wear a compression sleeve this season as a tribute to Kobe Bryant (from Nicklaus Wallmeyer).

Soccer News: Wisła Kraków F Rafał Boguski appeared to have a wristwatch on his left arm during yesterday's friendly (good spot by Ed Zelaski). … English club Bristol City's Women's Super League team has moved their home games to Twerton Park in Bath. "That feels kind of weird because they were the only women's soccer team in the U.K. that built their own stadium, although it was smaller," says our own Jamie Rathjen. "Now they share with a local lower-level men's team (in this case, sixth-tier Bath City), like most of the other women's teams do." … Also from Jamie: "Nike's apparently been making more accessible shoes/cleats/boots/etc. for different sports, and just released the soccer version. This story includes an interview with Orlando Pride left-back Carson Pickett, who was born without the lower part of her left arm, so she'd especially benefit from these boots because they're easier to put on." … Interesting piece on three proposed number fonts that were rejected by Serie A (from Ryan Maquiñana). … Here's a list of the most creative team names in American soccer. "It serves as a repudiation of the trend toward simply using 'United' or 'FC,'" says Kary Klismet. … Two more from Ed Zelaski, both about Polish teams: New home kit for Jagiellonia Białystok and Kappa is the new outfitter for Widzew Łódź. … And yet another one from Ed: New kits for French side Red Star.

Grab Bag: Women in the U.S. Air Force can now wear pants, instead of floor-length skirts, as part of their "mess dress" uniforms. … After a wave of criticism, the Dept. of Homeland Security plans to replace the military-style uniforms worn by federal police personnel. … Here's a peek at the new uniforms for the upcoming season of Star Trek: Discovery. … Someone on eBay is selling a bunch of very nice vintage Durene tees, if you're into that kinda thing. … Here's the logo for the NLL's 2020 draft, plus lots of team-specific versions (from @PhillyPartTwo). … "For anyone interested in the history of military uniforms, the Uniform History YouTube channel is a phenomenal resource," says Kary Klismet. "Their most recent video is a deep dive into the story behind the U.S. Army's three-color desert camouflage (aka "coffee stain") uniform." … Also from Kary: Kern High School in Bakersfield, Calif., is soliciting community feedback on whether it should keep calling its teams the Rebels. … The Fort Worth police dept. has suspended "themed dress days" after several 911 employees wore Black Lives Matter-themed attire.
• • • • •
[adrotate group="2″]
• • • • •
Click to enlarge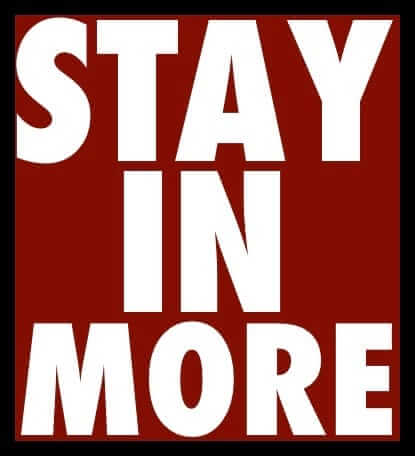 What Paul did last night: Usually I have beer on the porch and Mary has something else. But yesterday she was in the mood for beer, so she ran around the corner to grab a 40 for us to share. And goddamn if it didn't taste better out of that big bottle than it usually does. Sometimes bringing a little festiveness to the occasion makes a difference.
As always, you can see the full set of daily Pandemic Porch Cocktails™ photos here.
• • • • •
Signal flare: Reader Tom Dennis, are you out there? I received you email about shipping a card and key ring to the UK, but when I responded to your Outlook.com email address, it repeatedly bounced. Please give me a shout from a different email address, or DM me on Twitter. Thanks! — Paul