When the Chargers unveiled their new uniform set back in April, all of the "photos" they released were actually Photoshop mock-ups. At the time, I said:
It's unusual for a team to unveil [a new uni set] with nothing but Photoshopped images instead of real photography. I don't mean that as a criticism (we all know the world is complicated right now), but I do mean that there could be certain aspects to these designs, and to how they function in real life, that aren't yet apparent to us. I always say, "Let's see how it looks on the field," but that goes double for this set. I'm sure it'll still look good, but let's keep in mind that what we've seen so far is a simulation, not the real thing.
Three and a half months later, we still haven't seen these uniforms on the field, but we've finally seen real photos of the players wearing them, because the Chargers posted to online photo galleries earlier this week (look here and here). And guess what: The original Photoshop images — the ones that everyone went bonkers over when they were unveiled — aren't quite an accurate representation of the real thing, at least in one key aspect.
To see what I mean, take a look at this side-by-side comparison. The image on the left is from one of the Photoshop mock-ups the team released back in April, and the one on the right is from the photo galleries posted earlier this week (for all images that follow, click to enlarge):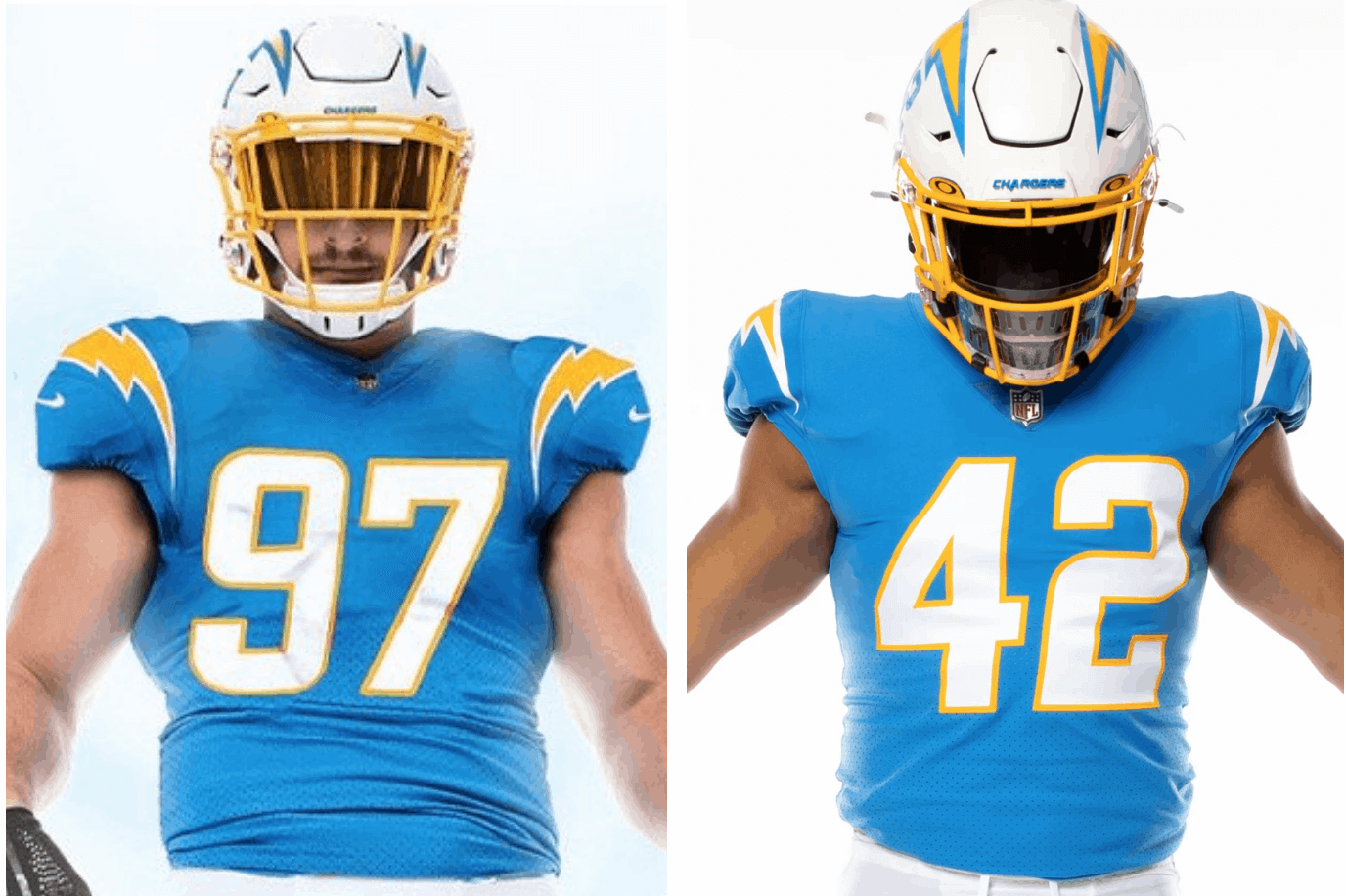 Do you see the big discrepancy? The lightning bolts on the shoulders don't wrap around as much in real life as they did the Photoshopped image, and the bolts' white border is also significantly thicker.
That was a comparison of head-on views. How about a side view? Here — again, it's Photoshop on the left, real photo on the right: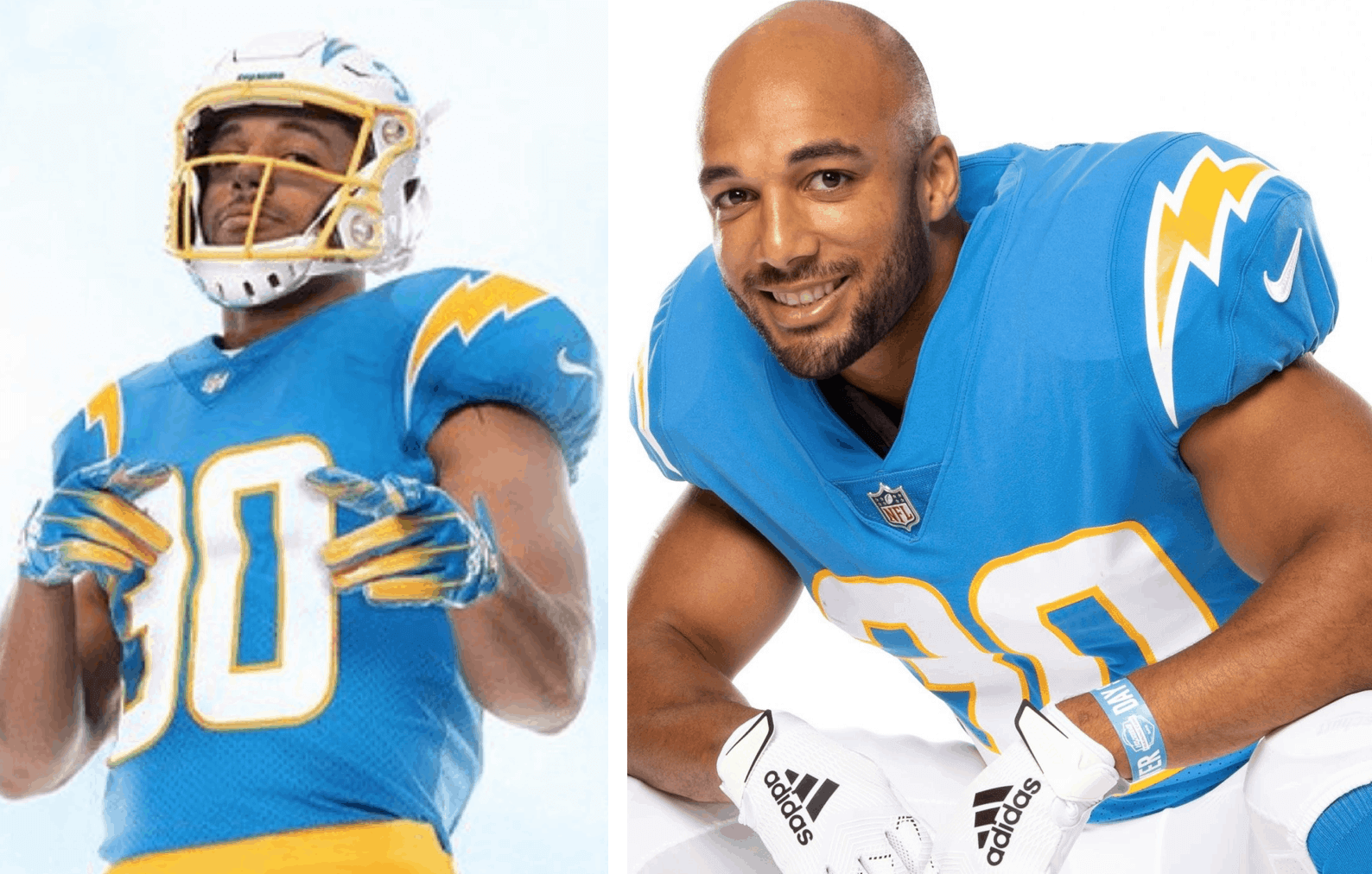 This is a particularly good comparison, because the two models are actually the same player — running back Austin Ekeler. Here you can really see the difference in the bolt's contours and white-to-yellow ratio. You can also see how the bolt in the real photo is positioned more on the sleeve than on the shoulder, leaving an extremely wide gap between the bolt and the collar. It would be better they moved the bolt over to fill the space better. As it stands now, that empty space feels too big, like it's begging to be filled by a TV number.
What about a view from the other side? The photo galleries didn't offer much from that side, but here are the best two comparisons I can provide: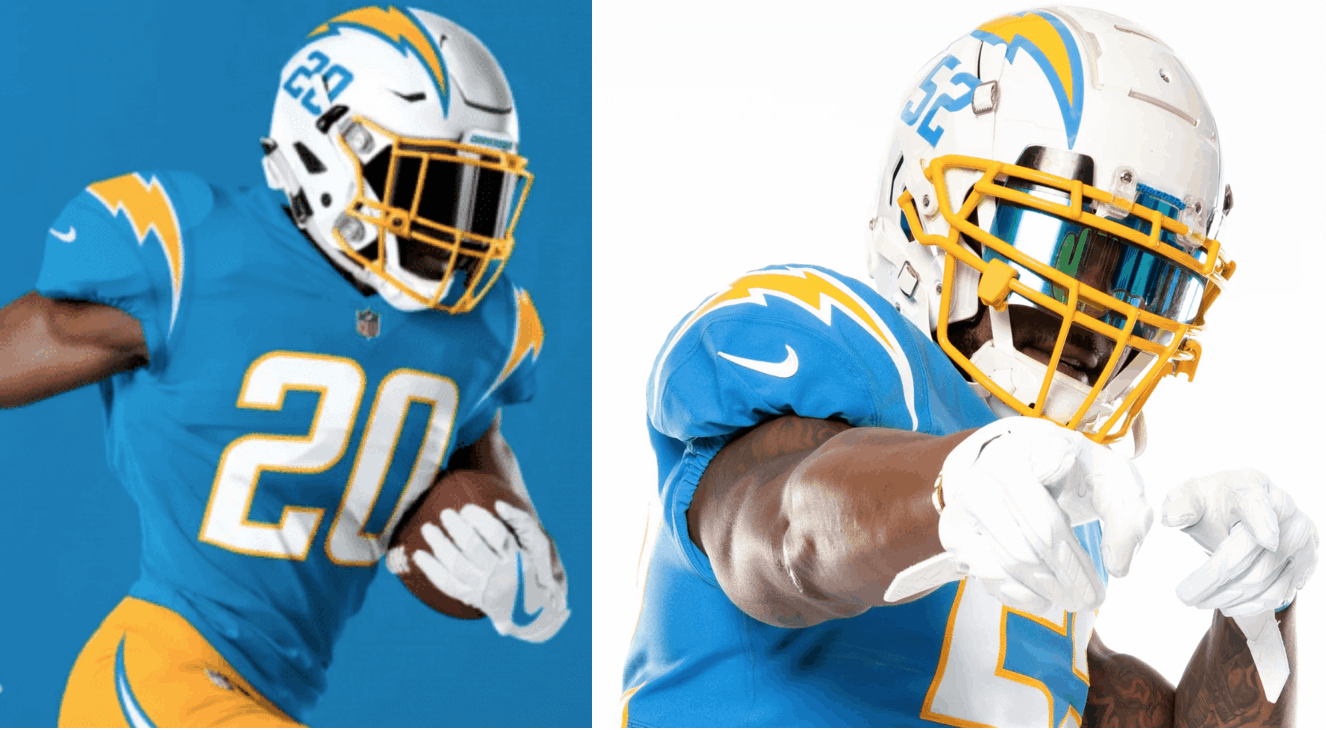 That's enough to confirm what the other two comparisons showed.
There are several different issues here. Let's start with the white-to-yellow-ratio: I much prefer the real life version, which seems truer to Chargers history and is also a closer match to the bolts on the helmet. In fact, one of my few misgivings about the April unveiling, although I didn't fully articulate it at the time, was that the white border on the bolts didn't feel quite right. It looks much better now.
Then there are the issues of where the bolts are positioned and how far they wrap around. For both of those variables, I'd say the real version isn't as good as the mock-ups. The real bolts are positioned too far outside, and they don't wrap around enough. In some of the new photo gallery images, the bolts are barely even visible: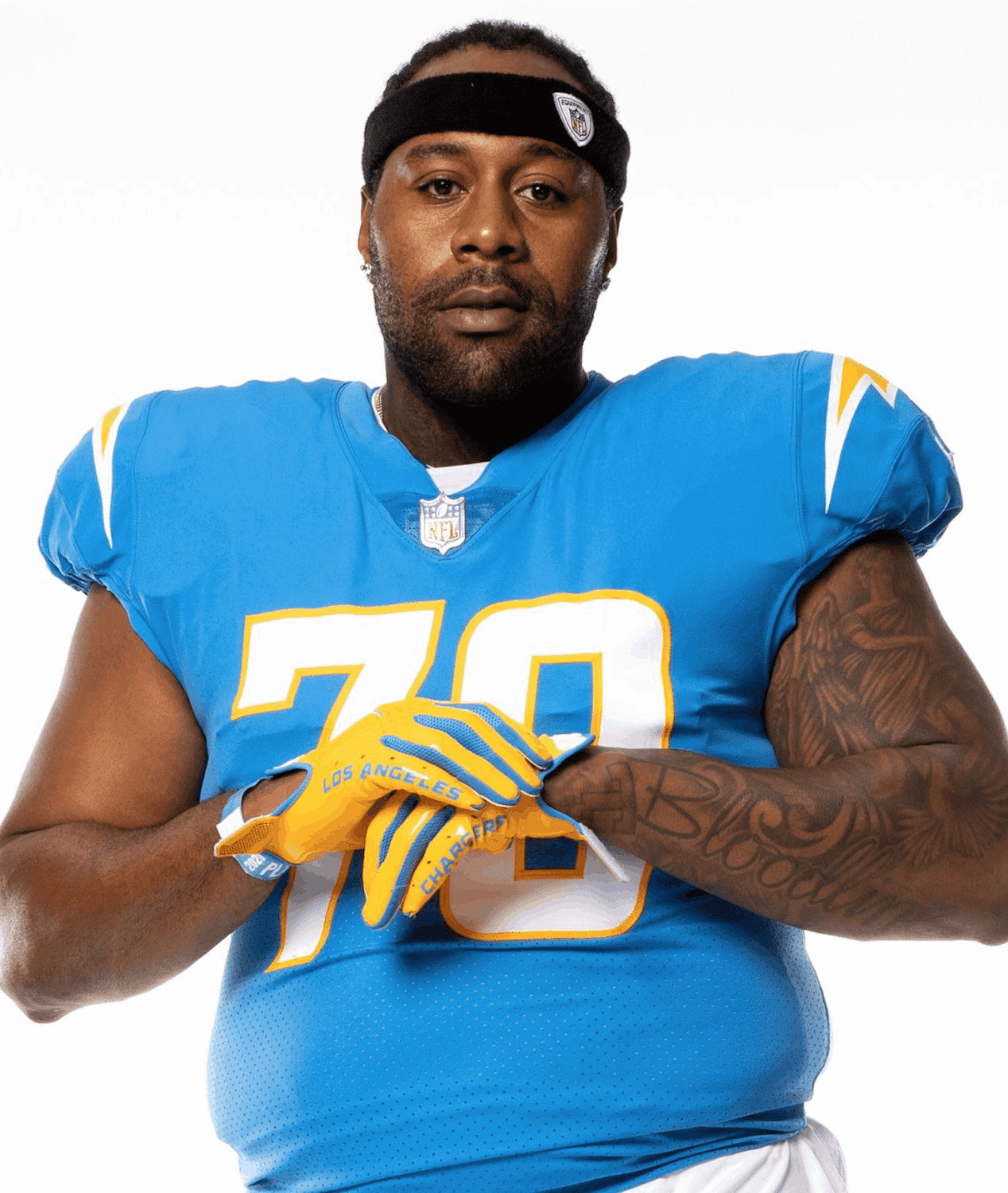 Obviously, I realize there are different tailoring templates for skill position players and linemen, form follows function, blah-blah-blah. But the lightning bolt has been the Chargers' visual signature for six decades now. It's disappointing to see its impact diminished on the new jerseys, and all the more so after the initial mock-ups told a different story.
(My thanks to reader Adam Tow, who brought the bolt discrepancy to my attention.)
• • • • •
• • • • •
Dream and Mercury players are wearing "Vote Warnock" shirts to their game today.

Raphael Warnock is running against Kelly Loeffler for Senate. Loeffler is a co-owner of the Dream and said she opposes the Black Lives Matter movement.

(via @sportsiren)pic.twitter.com/w1INikFQPQ

— Bleacher Report (@BleacherReport) August 4, 2020
Campaign message: Two weeks ago, U.S. Sen. Kelly Loeffler, who's a part-owner of the WNBA's Atlanta Dream, criticized the league's support for the Black Lives Matter movement and the larger issue of mixing sports and politics. Last night Dream players, and players throughout the WNBA, responded by arriving to their games wearing "Vote Warnock" T-shirts — a reference to Rev. Raphael Warnock, who's bidding to unseat Loeffler in this November's election (lots of additional info here).
The sight of pro athletes publicly repudiating their own team owner through their clothing is rare but not unprecedented. Following racist comments by Los Angeles Clippers owner Donald Sterling in 2014, Clippers players wore their warm-up gear inside-out and also wore black socks and armbands.
• • • • •
• • • • •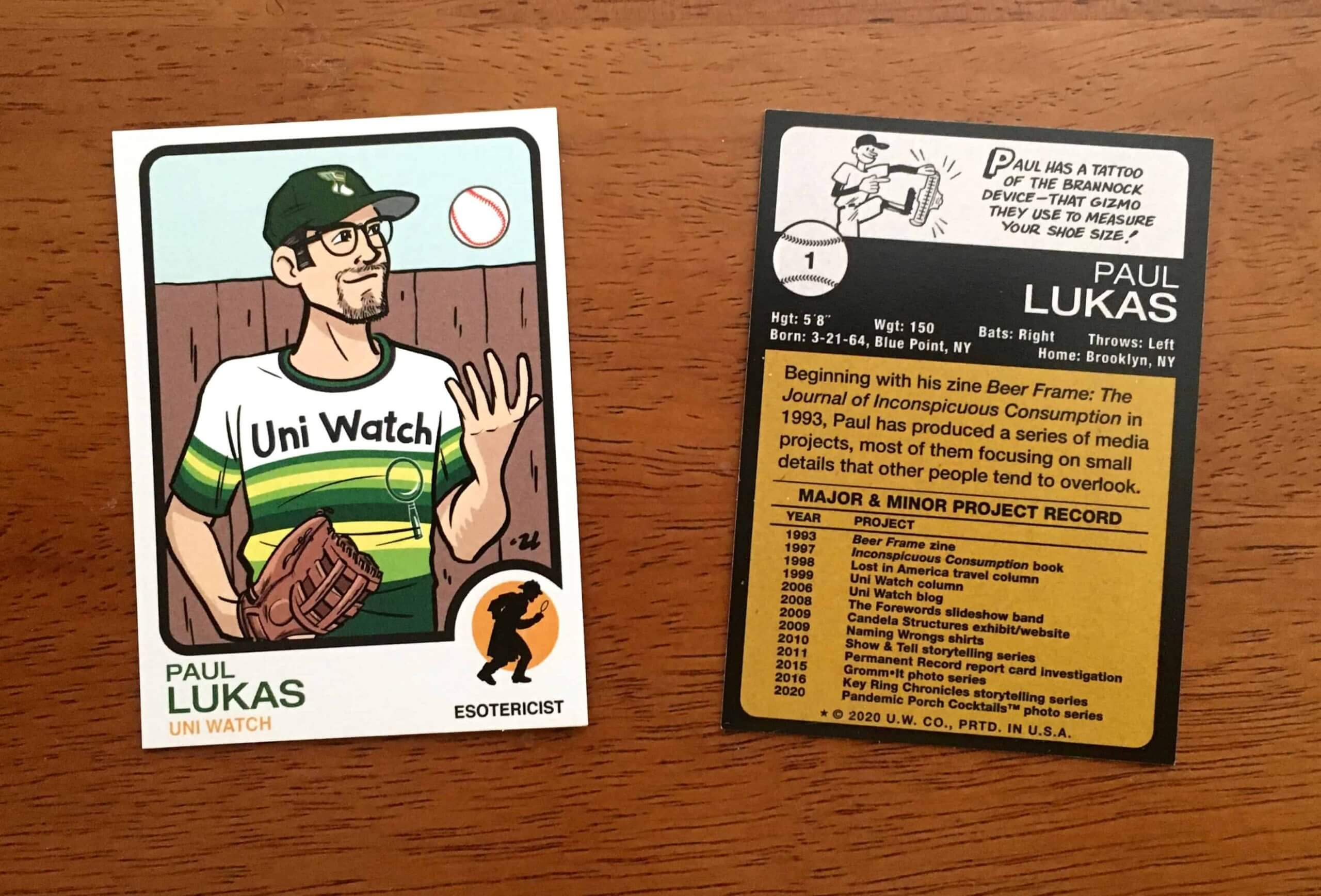 Click to enlarge
Card reminder: In case you missed it on Tuesday, I'm now taking pre-orders on the first-ever Uni Watch trading card, featuring illustration work by the incomparable Rob Ullman! The response yesterday was fantastic, with over 100 pre-orders and lots of enthusiastic feedback. Thank you!
Full details, including how you can order, are available in Tuesday's blog post.
• • • • •
• • • • •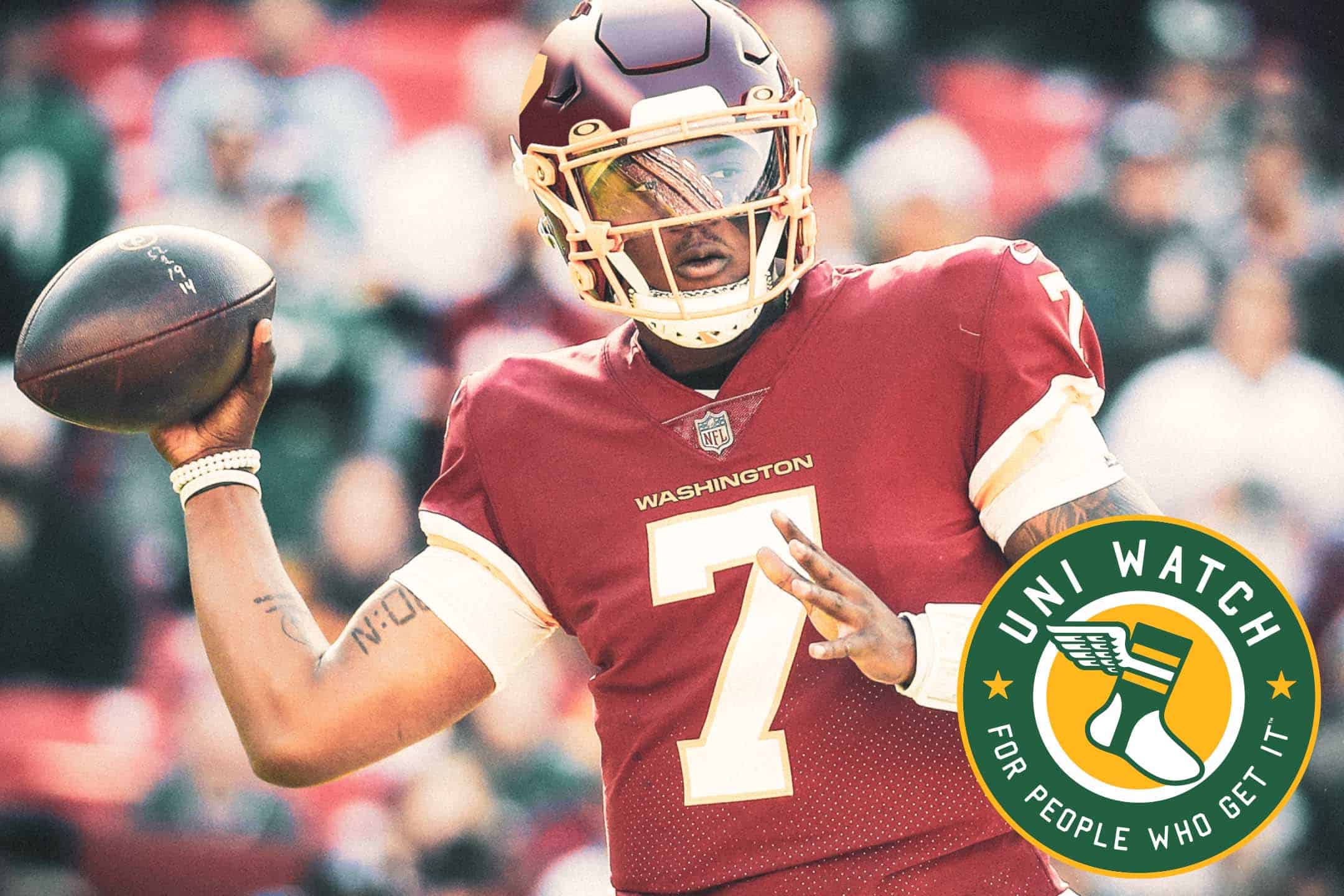 Power Rankings reminder: Also from Tuesday, my latest piece for InsideHook is a new edition of the Uni Watch NFL Power Rankings, with all 32 NFL uni sets ranked and assessed. Check it out here.
• • • • •
• • • • •
Click to enlarge
Auction reminder: In case you missed it on Monday, the one-of-a-kind Brooklyn Branches jersey is now complete (and completely amazing!). We're auctioning it off and donating the proceeds to the Arbor Day Foundation, and today is the next-to-last day to bid. Full details on the jersey, and how you can bid on it, are available here.
• • • • •
• • • • •
Click to enlarge
August Pin Club reminder: Another thing you may have missed on Monday is that the Uni Watch Pin Club's new design for August — a salute to old-school baseball scoreboards, complete with a few misfiring light bulbs — is now available. (If you want more info on the line score and the 4:07 time on the clock, there's an explanation here.)
This is a limited/numbered edition of 250. The pin launched a few days ago and as of this morning there are only 85 remaining, so they're going fast. You can get yours here.
Speaking of inventory levels:
• There are now fewer than 50 of the July bobble-pins remaining. Still available here while supplies last.
• There are also fewer than 50 Uni Watch Key Rings remaining. You can get yours here.
• Blue and green seam rippers are currently out of stock. Plenty of yellow, white, and red. Available here.
• I'm down to my last chain-stitched winged stirrup patch. Who wants it? Now sold out!
• • • • •
• • • • •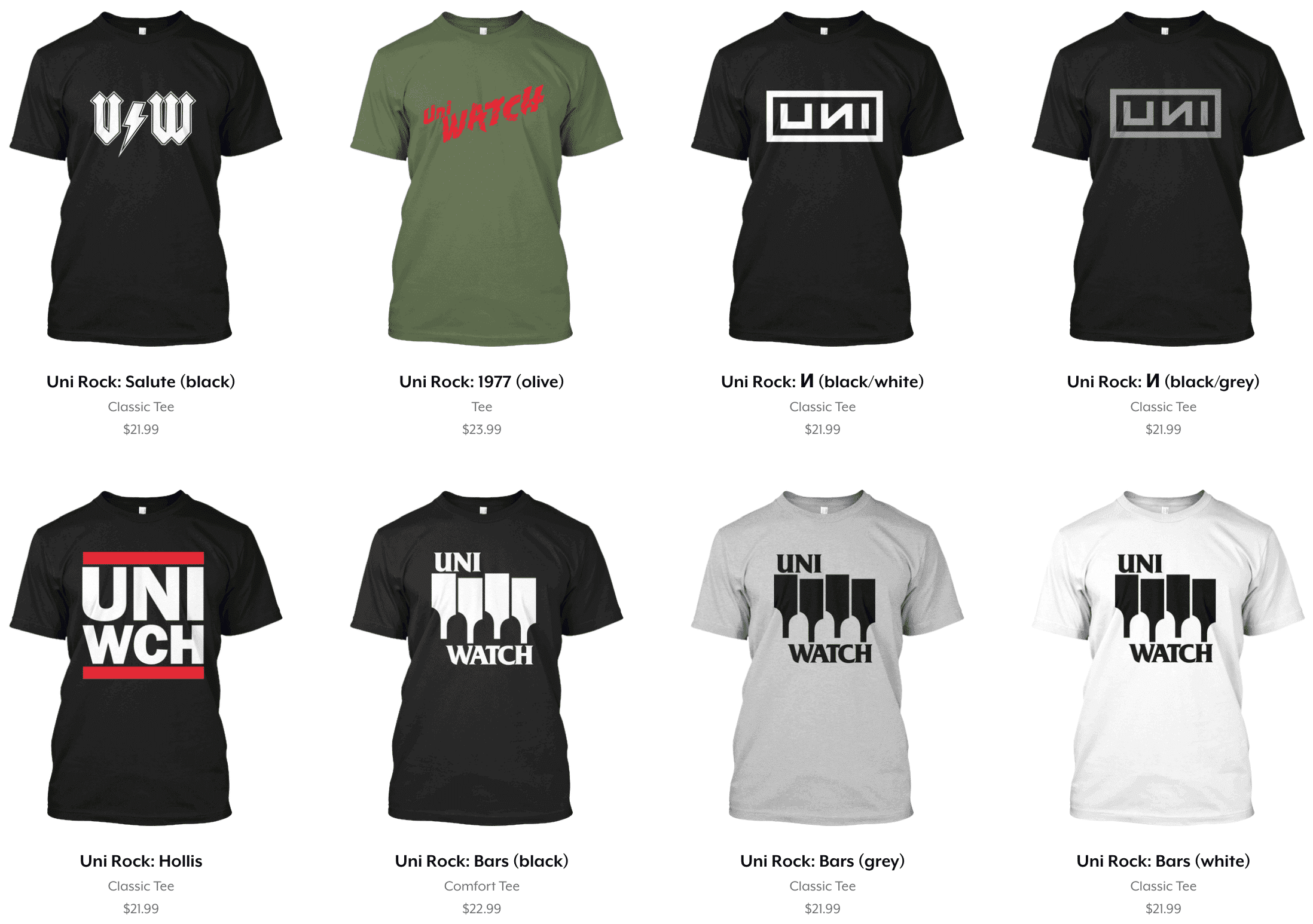 Click to enlarge
ITEM! Uni Rock update: As you can see above, a bunch of new designs have been added to the Uni Rock Shop (and if you missed the launch of Uni Rock last Friday, here's an explainer). These designs have been added to the ones we had last week: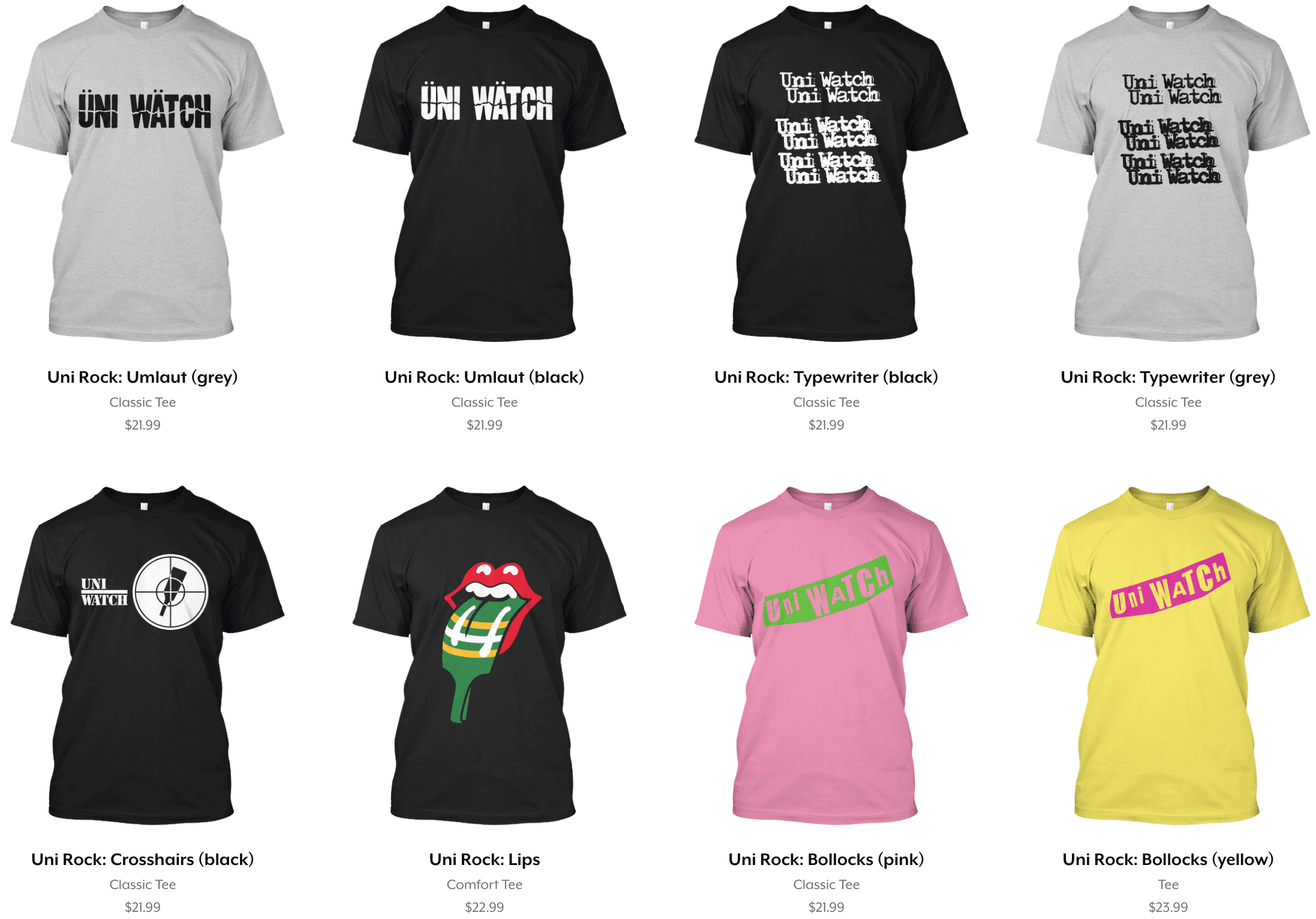 Working on these with designer Scott M.X. Turner has been a hoot. We'll have more designs at the end of this week. You can see the full collection here.
• • • • •
• • • • •
The Ticker
By Lloyd Alaban

Baseball News: Blue Jays OF Teoscar Hernández recently added a accent over the "A" on his NOB. Apparently. he's been doing this since the Blue Jays' home opener (from @jsg15). … The Beloit Snappers of the Single-A Midwest League are soliciting fan submissions for a new team name as they get ready to move into a new stadium for the 2021 season (from multiple readers). … With the Blue Jays getting set to play the remainder of their home games in Buffalo, here are a few photos of the infield at Buffalo's Sahlen Field being replaced in preparation for the big league games (from multiple readers). … Braves OF Ronald Acuña Jr. has his uni number — and maybe his name? — on his bat handle wrap (from Doug Simpson). … Rare situation in the current National League East standings: The Marlins, at 3-1, have a .750 winning percentage and are in first place. But due to the disparity in games played, they're actually a full game behind the Braves.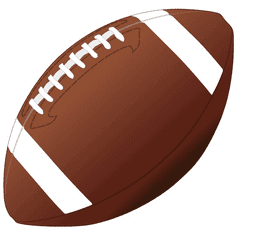 Football News: The Iowa State engineering department designed anti-coronavirus face shields for Iowa State's helmets (from Sean Jankowski). … Arizona Coyotes G Adin Hill of the NHL wore a Seahawks cap while on the bench yesterday (from Randy Policar). … The striping on UVa's navy helmet is now painted on, just like on the white helmet. The navy lid's stripes had previously been applied as tape (from proud UVa alum Jamie Rathjen).

Hockey News: Cross-listed from the football section: Coyotes G Adin Hill wore a Seattle Seahawks cap while on the bench yesterday (from Randy Policar).
.

Basketball News: ESPN's Zach Lowe spoke to NBA coaches about suits vs. polos (from Mike Chamernik). … Scorebug confusion for the Blazers' telecast of their color vs. color game against the Rockets (from Lukas Shaw).

Soccer News: New third kit for German side Arminia Bielefeld (from @yff26). … The English second-tier women's team London City Lionesses have only existed independently for one season after previously being Millwall's women's team, but already switched manufacturers to Kappa from Nike and therefore released a new kit (from our own Jamie Rathjen). … Also from Jamie: Scottish League Two team Queen's Park built and owned Scotland's national stadium, Hampden Park, but completed its sale to the Scottish Football Association and are moving to Lesser Hampden, which is just outside the stadium, once they build some stands for it. Hampden Park holds several attendance records that are currently impossible to break because they were achieved with a stadium of mostly terraces instead of seats. … Górnik Zabrze have left Adidas for Hummel (from Ed Zelaski). … Fulham F Ivan Cavaleiro had some NOB issues yesterday (from Jeffrey Seals). … New outfitter for Italian side Sampdoria, which has inked a six-year deal with Macron (from Ed Zelaski). … New home shirt for English side Nottingham Forest (from @AndrewNewts).

Grab Bag: UCLA is aggressively seeking a new apparel deal after Under Armour pulled out of its contract with the school (from Kary Klismet). … Also from Kary: The Hail State Unis website, which covers Mississippi State uniforms across a variety of sports, has just launched an interactive uniform tracking database. … The No. 77 Spire Motorsports Cup entry is being renumbered to No. 74 in order to obtain film footage for an upcoming Netflix comedy series (from Christopher Hickey). … Ireland and England's men's cricket teams played a One Day International yesterday and wore black armbands in memory of Northern Irish politician John Hume, who passed away recently (from our own Jamie Rathjen).
• • • • •
[adrotate group="2″]
• • • • •
Click to enlarge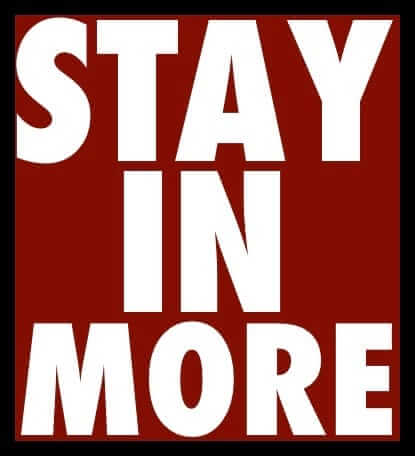 What Paul did last night: Yesterday's storm didn't last long — just a few hours — but it was powerful, causing power outages and one death in our city.
Thankfully, our neighborhood was spared the worst of it. We ended up with a lot of scattered debris, but our landlord had already cleared most of it away by the time porch o'clock rolled around. As you can see, some of our flowers got bent out of shape and a few of Branch Rickety's cousins ended up at the curb, but by that time the storm had passed and it was a beautiful evening, almost like nothing had happened. Weather is so crazy.
As always, you can see the full set of daily Pandemic Porch Cocktails™ photos here.