By Phil Hecken
Follow @PhilHecken

How's everyone doing today? Hope everyone is staying healthy and safe. And once again, to all our readers from Florida up through the Carolinas (and beyond), let's hope Hurricane/Tropical Storm Isaias (which I've heard pronounced at least four different ways — c'mon NHC, pick a name that rolls off the tongue a bit better!) keeps its winds and rains (which will be pretty bad regardless) to a minimum.
Now then. The NHL "restarted" yesterday (with the Playoffs beginning), but the biggest uni news was actually from the NBA, which restarted its own season a couple days ago. Yesterday's moment involved the Miami Heat's Jimmy Butler.
Now, if you've been following the NBA, you know the players have been given the option to wear certain Social Justice "messages" on the backs of their jerseys (words and phrases like "Equality," "How Many More" and "Black Lives Matter"), or their name, or both. Up until yesterday, everyone played along.
But Jimmy Butler wanted a jersey with no name and no social justice message — only his number. As NBA beat writer Marc Stein noted,
Miami's Jimmy Butler wanted to wear a jersey with no social justice message and no name — completely blank except for his No. 22 — as the ultimately expression of equality. The league would not allow it

— Marc Stein (@TheSteinLine) August 1, 2020
Butler had been made aware of this fact well before yesterday, but during warmups against the Denver Nuggets, Butler came on court wearing completely blank jersey.
The NBA had already prepared a statement in anticipation of this:
Displaying no name or message on the back of a player's jersey was not an option among the social justice messages agreed upon by the Players Association and the NBA as modifications to the rules regarding uniforms. Per league rules, the uniform may not be otherwise altered and anyone wearing an altered jersey will not be permitted to enter the game.
Faced with a decision of Seinfeldian proportions, what would Butler do?
I'd love to tell you he stuck it to the man and tried to play with the blank jersey. But alas…
… he wore the ribbon.
Was it an act? Was he making a statement? Well…
"If I wasn't who I was today, I'm no different than anybody else of color," Butler said. "And I want that to be my message, in the sense that just because I'm an NBA player, everybody has the same right no matter what."
Message received.
Hey. This may not be the No Fun League, but in the NBA…
The Puck Drops Here
The NHL "restarted" its season yesterday with playoff games, and there was plenty of action on the ice. Perhaps the most important of all news was the NHL's "END RACISM" and #WeSkateForBLACKLIVES signage on the video screens. Much had been made of NHL players not kneeling during the playing of the US National Anthem, but that changed yesterday as well, as Minnesota's Matt Dumba became the first NHL player to kneel during the Star Spangled Banner when he did so before the opening playoff game between Edmonton and Chicago in Edmonton, Alberta. You can see video of his speech that followed here:
"The Hockey Diversity Alliance and the NHL want kids to feel safe, comfortable, and free-minded every day." – @Matt_Dumba

Hockey is a great game, but it can be so much greater. pic.twitter.com/vz2B1cHZTm

— Hockey Diversity Alliance (@TheOfficialHDA) August 2, 2020
And more here.
The NHL itself made a statement on social justice as well: "Together, we must be part of the movement to end racism. Together, #WeSkateFor Black Lives."
Together, we must be part of the movement to end racism. Together, #WeSkateFor Black Lives. pic.twitter.com/1hakp5oOQE

— NHL (@NHL) August 2, 2020
More from yesterday's "openers":
• It appears that all NHL teams have this "EQUALITY" decal on their helmets with their logo inside (from Jakob Fox.
• Alexander Georgiev will wear this MLK mask for the playoffs then auction it for charity (from Wade Heidt.
• Here's a look at the Edmonton Oilers' Ethan Bear wearing his NOB rendered in Cree syllabics (from Jesse).
• The Blackhawks Corey Crawford wore red socks while the rest of the team is wore their whites (from Mr. Farenheit).
• The Carolina Hurricanes wore their black alternate unis against the Rangers yesterday, and will wear them for all home playoff games.
• Also donning their alternates, the Arizona Coyotes' are wearing Kachina uniforms during home playoff games. Goalie Darcy Kuemper has had a special mask made just for those games.
• The Bruins wore helmet decals to honor the memory of Colby Cave.
• Here's Edmonton Oilers goaltender Mikko Koskinen's tribute to fallen teammate Colby Cave.
• Even though all the games are being played in only two cities, there were still team specific ads on the boards.
• Legendary announcer Doc Emrick won't be broadcasting any NHL games live — due to the COVID, he's calling all games from a studio in Michigan (from James Beattie).
Apologies in advance if there was anything I missed. Feel free to post any uni-observations down in the comments below!
Bowen Hobbs' Defunct NBA Uniform Designs
If you guys read Uni Watch last Sunday or yesterday, you know that designer Bowen Hobbs has redesigned all 30 NBA teams' uniforms (4 for each team, in fact). I mentioned he also redesigned uniforms for five defunct teams as well, and today we'll take a look at those. Click on any image to enlarge. Here's Bowen:
• • •
Kentucky Colonels
This Kentucky Colonels revival uses federal elements around Fort Knox rendered in blues and greens. The subliminal stripes carry over from the logo set to the uniform side panels.
__________
Oakland Oaks
With the Warriors moving back across The Bay, Oakland has an arena just sitting there. Why not bring back the Oaks? My redesign uses an acorn shield with a tree emblem for The Town. An oak leaf-O and a modernized acorn mascot complete the logo set.
__________
Pittsburgh Ironmen
Pittsburgh has had a couple pro basketball teams, though none have really stuck. Instead of designing a concept around Condors and infringing upon the Clippers' mascot, I went with Ironmen. The primary logo consists of a basketball, a gear, and an interlocking PI. The uniforms feature a diamond-plate pattern on the sides.
__________
Seattle SuperSonics
Almost everyone outside of Oklahoma wants the Sonics back. My concept places the Space Needle inside a basketball with sound waves emanating from it. The circular sound wave design carries over to the uniforms.
__________
Spirits of St. Louis
This Spirits of St. Louis concept opts for a 1920s aesthetic featuring a rust orange, black and gold color palette. The logo uses the team name to construct a plane while the Arch stands in as one of the seams of the ball.
+ + +
Thanks to everyone following along. If anyone would like to view my other work, follow me on Twitter (@bowenhobbs), Instagram (@unofficialathletic), or go to unofficialathletic.com.
• • •
Thanks, Bowen! I'll have more redesigns from Bowen this coming month (for other major sports), including a Q&A on what makes him tick! Stay tuned…
Guess The Game…
from the scoreboard
Today's scoreboard comes from Gary Chanko.
The premise of the game (GTGFTS) is simple: I'll post a scoreboard and you guys simply identify the game depicted. In the past, I don't know if I've ever completely stumped you (some are easier than others).
Here's the Scoreboard. In the comments below, try to identify the game (date & location, as well as final score). If anything noteworthy occurred during the game, please add that in (and if you were AT the game, well bonus points for you!):
Please continue sending these in! You're welcome to send me any scoreboard photos (with answers please), and I'll keep running them.
Meet The Condors
Got an e-mail from reader Jon Secrist who has a great little story for you today. Enjoy!
• • •
I've followed you guys for quite awhile.

I've been a collector of baseball uniforms since the 70's.

Attached is a photo from last fall.
I supplied all the uniforms shown for an exhibition game played by California's Moorpark College baseball team.

A great time was had by all. ( including me ) The kids got to see the uniform quality from back in the day as well as the designs and the no belt pants.

As you can see I collect the entire uniform when I can.

Oh, the American team won 2- 0 in a really good game.

My personal claim to fame in baseball is I'm minor league baseball's oldest rookie. I was 44 years old.

I was a knuckleballer for the Saint Paul Saints in 1999. Nothing went right. It was a disaster.

Anyway, the team I ran for 20 years in the semi-pro leagues of Southern California throwing my knuckleball was the Southern California Condors.

The word " Condor" origin I learned was from Indian tribes in California and since the Condor is a prehistoric bird – I used lettering similar to the crooked style from the 70's.

I was at the time the only semi-pro team I knew that had 5 uniform combinations. ( didn't wear the red pants ) Obviously, like many of you, a uniform nut.

I also attached my ripoff or tribute to the Indians of the Condor design. I even had a sleeve patch.
Thanks for your time and I love reading about all the uni's. Keep it up.

Sincerely, Jon Secrist

P.S. – I was way ahead of my time – I had an electric blue jersey 40 years ago. ( but too expensive at the time to mass produce! )
• • •
Thanks Jon! Love that team photo!!!
And now a few words from Paul
Hi there. Just wanted to bring you up to date a few merchandise items, starting with our Uni Watch Key Rings, which launched this past Monday. I made 200 of these are there are now fewer than 60 left. They're available here while supplies last.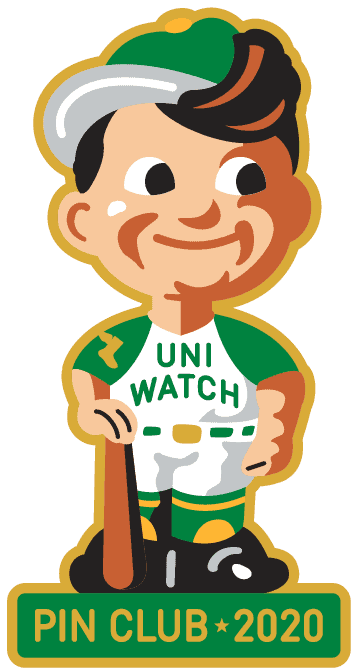 While we're at it:
• There are also fewer than 60 Uni Watch Pin Club bobble-pins remaining. Those are available here. (The August pin will soft-launch this weekend on my Twitter feed, and then I'll give it the full showcase treatment here on the blog on Monday.)
• In case you missed it on Friday, we have a new shirt product line called Uni Rock, which honors classic music logos. Check it out here.
You can see the rest of our current merchandise offerings here. My thanks, as always, for your consideration.

Li'l Help? (Last call!)
Hey guys…
As you're aware, Paul usually takes a month-long sabbatical from Uni Watch during August (sometimes he travels, and the remaining time he spends preparing his massive NFL and NCAA Football previews). This year, however, due to the COVID-19 pandemic, those plans have changed — he won't be taking the entire month off, but will definitely be taking a much-deserved couple weeks off.
For the past four years, I've hosted the Griffins Jersey design contest, and I had hoped to again do so this August, but … also due to the COVID situation, the team will be taking a break from the contest this year (they will return to partner with UW next August). So, while that usually took up a couple of posts, I won't be able to bring that content and contest to you this time around.
So, I will be doing several weeks (Paul and I haven't quite decided on our schedules yet) during August, so without the Griffins contest and also the Olympics (which I'd also hoped to cover), I am in search of content. That's where you guys come in.
I'd love to feature some articles from you, the readers, as I have during past Augusts. So if there is a uni-related subject or topic you feel passionately about, and would like to share with your fellow obsessive students of the athletic aesthetic, give me a shout at Phil (dot) Hecken (at) gmail (dot) com and we can discuss the parameters. Many of you have submitted guest pieces in the past, and some of them have been really outstanding. A couple of you have already contacted me to express interest, but I can always use more — so please HOLLA if you have a uni-related column idea!
OK? OK! Looking forward to running some of your guest entries this month!
Uni Watch News Ticker
By Phil

Baseball News: Someone's gotta teach these kids! "(T)he Ms Brian Shaw with high blue stirrups, NW green stripes…but backwards. Smaller arch should be in front," says Tim Dunn. That happened in Friday night's game, but there have been a couple instances this season (Amed Rosario being another) where guys have sported beautiful hosiery, only to wear their stirrups backwards. … Add to that list Taylor Williams of the Mariners (from Brett Waller). … I'm pretty sure we've seen this before, but reader WK sends in these video stills of Lou Brock with the Cardnals logo on side of helmet at 1975 all-star game. … Different look for Wilson Contreras last night with the royal blue chest protector and gray shin guards (from Gregg Elkin). — Or was it actually light blue? (from Info Pig). There must be more than one. … Reader Tom Pachuta "saw this Mount Union baseball uniform at the historical society in Louisville, OH. It belonged to Harold Wilson, a Mount Union student from 1913-1916." … Craig Hodnik "noticed (last) night that the Pirates patch is different their jerseys. Black alternates have the pirate wearing a yellow bandana, while the grey road uni's have the pirate wearing the tractional red bandanna." … "The i in Pittsburgh:" Adam Steinberg observes, "On (yester)day's Cubs telecast Len kasper noticed that Pittsburgh's Away uni has the T's crossed but the I's are not dotted."

NFL News: The Pittsburgh Steelers have added a video to their website featuring team chairman Dan Rooney discussing the evolution of the team's uniforms over the years (from Kary Klismet). … Here's your first look at Philip Rivers in his Colts uni — a couple people on the Twitter thought he might be in the *old* Colts uni. Not sure if that's the case. … Couple more "first looks": Mekhi Becton (first round pick) in his Jets uni … former Brown Christian Kirksey in a Pack uni … first round pick Jordan Love, also in the green & gold … former Texan DeAndre Hopkins in his new Arizona threads … former 49er Emmanuel Sanders in his new Saints gear. … The Cleveland Browns presented local Ohio schools with more than 350 new Xenith football helmets to advance player safety (from Timmy Donahue). … Brett Brothers writes, "not sure if you've seen this, but this is my first time seeing this 60th season logo." That "sail" font is SOOOOOOO bad. They really should not be using it for an anniversary season logo (or ever).

College Football News: Because everyone gets a ribbon? "The University of Kentucky has unveiled its championship rings for winning the Belk Bowl. Seriously." A stout observation from Kary Klismet. … Texas A&M Football has had the TAM logo on every helmet since they introduced it in '65 with the exception of 2 one-game special helmets: '14 vs Louisiana-Monroe and '16 vs South Carolina (from Blaise D'Sylva). … The Texas Longhorns helmets will be modified with shields to protect against the Coronavirus this season (if there is a season). … Mississippi is another school taking similar precautions. … North Dakota State will also try to protect their players, but they're taking a slightly different approach. … Florida State will also modify their helmets to try to protect the players. … Looks like a possible alternate jersey for Georgia this year when/ if there's a season (From Eric O.).

Hockey News: Next season, 3 NHL teams are likely fully returning to their original looks that they left in the '90s. Nas did the logos before, now here's a handy chart of jerseys comparing the current, the old, and potentially new. … Not sure which is more douche-baggish: taping over an adidas logo because you are have a clothing contract with Nike or just leaving it alone (from Moe Kahn). … Here's a quick look at the Ottawa Senators uni history. … Wade Heidt writes, "Not common to see a hockey team change helmet colour mid-season. The 1987-88 WHL Saskatoon Blades did in days when junior teams had 1 helmet. Switched from white Cooper XL7 to blue SK 2000. Photos from Oct '87 and Feb '88."

NBA News: Reader Adam Twa asks us to check out this Name on Back. A little digging tells us that's Maxi Kleber, a German-born player for the Mavericks, and "Gleichberechtigung" is German for "equality" or "equal rights". … The Indiana Pacers wore special "Am I Next?" shirts after removing their warmups while kneeling for the national anthem last night. Pacers veteran Justin Holiday distributed the shirts to his teammates (from Mike Chamernik). … Here's yet another reason not to wear unis that are the same color as your hard court (from Hit The Glass). … And what about kneepads? (from MMB Sports). … Yesterday, Jordan Clarkson of the Jazz wore his actual NOB above the numbers, which we have seen below when the player opts to not have a social justice message. This is a change from the 1st game when he wore "PEACE." (Good spot by Timmy Donahue).

Soccer News: Here's a closer look at the Aston Villa kit. … Liverpool FC has revealed the new Nike home jersey for the 2020-21 season. … Nw home and away shirts for Zenit St. Petersburg (from Ed Żelaski).

Grab Bag: "I spotted this truck from the local moving company in my neighborhood today," says Kary Klismet, who asks, "Why do I have a feeling that combination of name and logo would raise a few more eyebrows in Brooklyn than it does here in Denver?" … Also from Kary: For that intersection of uni-watchers and Trekkies that he's sure exists out there, this blog has ranked the ten best Starfleet uniforms from the Star Trek franchise. … Santa Fe NM Police Dept is getting rid of 2 military vehicles handed down from the Pentagon, a $658k armored vehicle & a $50k Humvee. The move is "to maintain the trust and confidence the community has for the [SFPD]" (from Timmy Donahue). … Also from Timmy: Chippewa Falls (WI) based Jacob Leinenkugel Brewing Company, better known as simply, Leinenkugel's, will retire the company's Native American logo. … For the 2020 Bob Willis Trophy campaign, Yorkshire's players will be wearing a new logo on their shirt sleeves to promote Yorkshire Cricket Supports Diversity (from Timmy Donahue).
And finally… *PHEW* Deep breath. This was a big one today. No need for more. Paul will be back with a full week of content starting tomorrow, and the following week, I'll be pinch-hitting. So I'll catch ya in a little over a week. Stay Safe everyone!
RIP Pop Fisher.
Peace,
PH