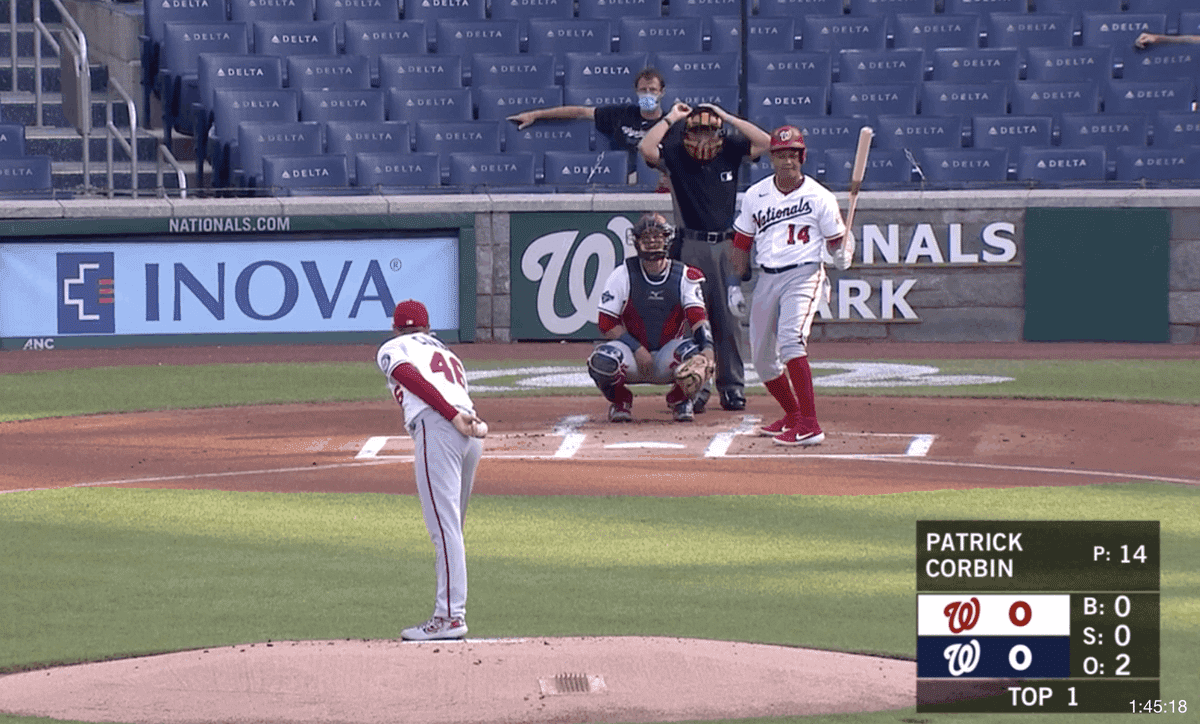 For all photos, click to enlarge
So it turns out that MLB summer camp is waaaaay more uni-interesting than MLB spring training. For spring training games, teams wear lame-o merch-dump apparel that makes my brain hurt. But for summer camp intrasquad games, teams wear, well, all sorts of interesting things!
As noted earlier this week, we've already seen players wearing blank jerseys and makeshift uni numbers made from tape. But the Nationals took things to a new level yesterday by having an intrasquad game with both teams wearing white jerseys paired with grey pants!
It's a little odd that they had both sides wearing the same uni combo. Why not have one team in white/grey and the other in grey/white? Maybe the idea was to avoid wearing the white pants because pants tend to get dirtier than jerseys (sliding into bases, etc.) and white is harder to clean than grey. But even if that was the case, why not have one team in white jerseys and the other in red or navy? I emailed the team to find out more but got no response. (They also never responded to multiple inquiries about the grammatical error on their championship rings.)
At least the Nats had a real MLB umpire for their game. The Phillies appeared to be using a backup catcher to call balls and strikes for their intrasquad game last night: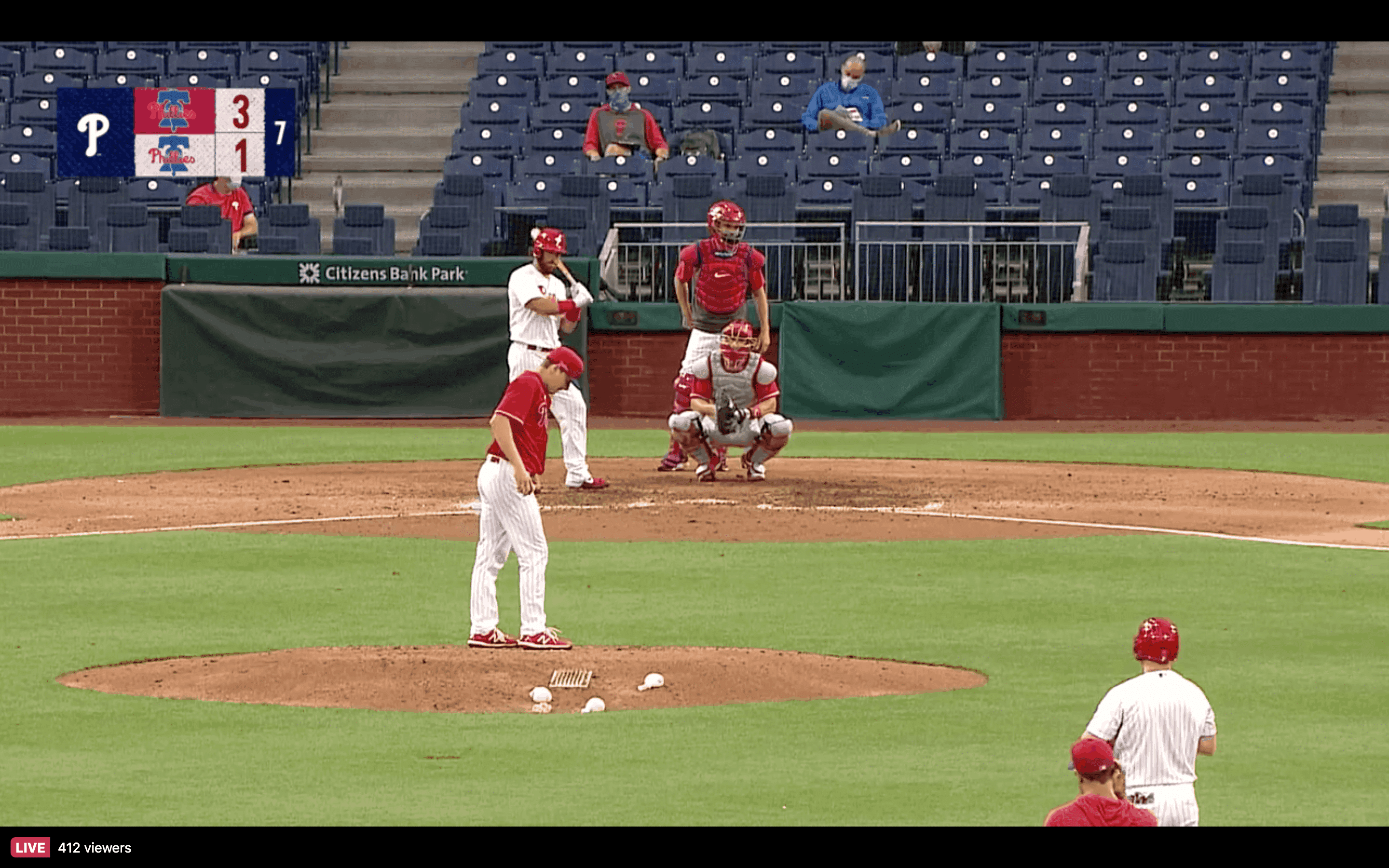 As you can see, the baserunner on second had a blank jersey, and the shortstop for the red-jerseyed team wore a hoodie! Here's how that hoodie looked from the front, along with a look at the second baseman's gaiter mask:
The third baseman was also wearing a hoodie in that same style — red in the back, grey in the front: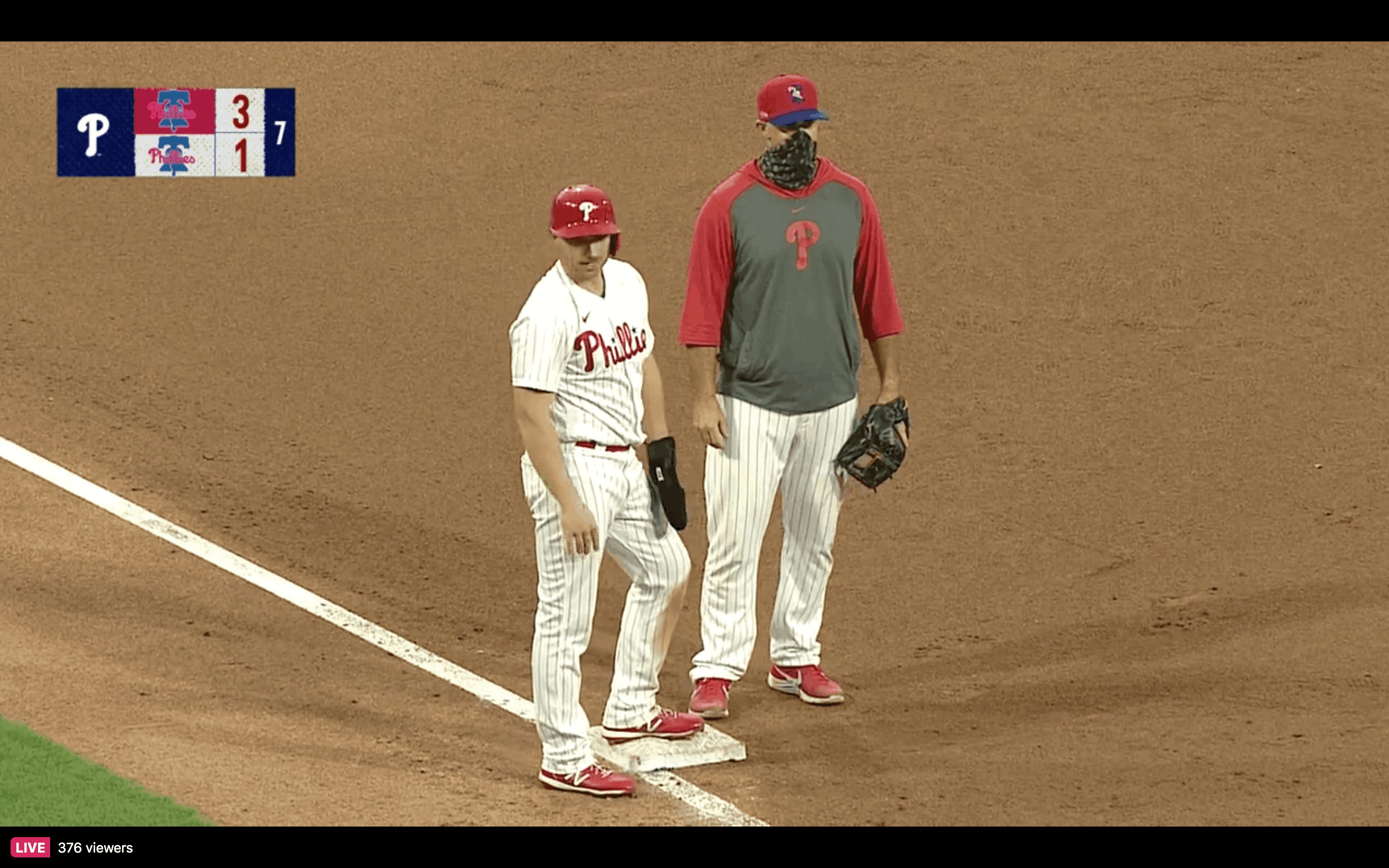 Even the batboy had an unusual uniform: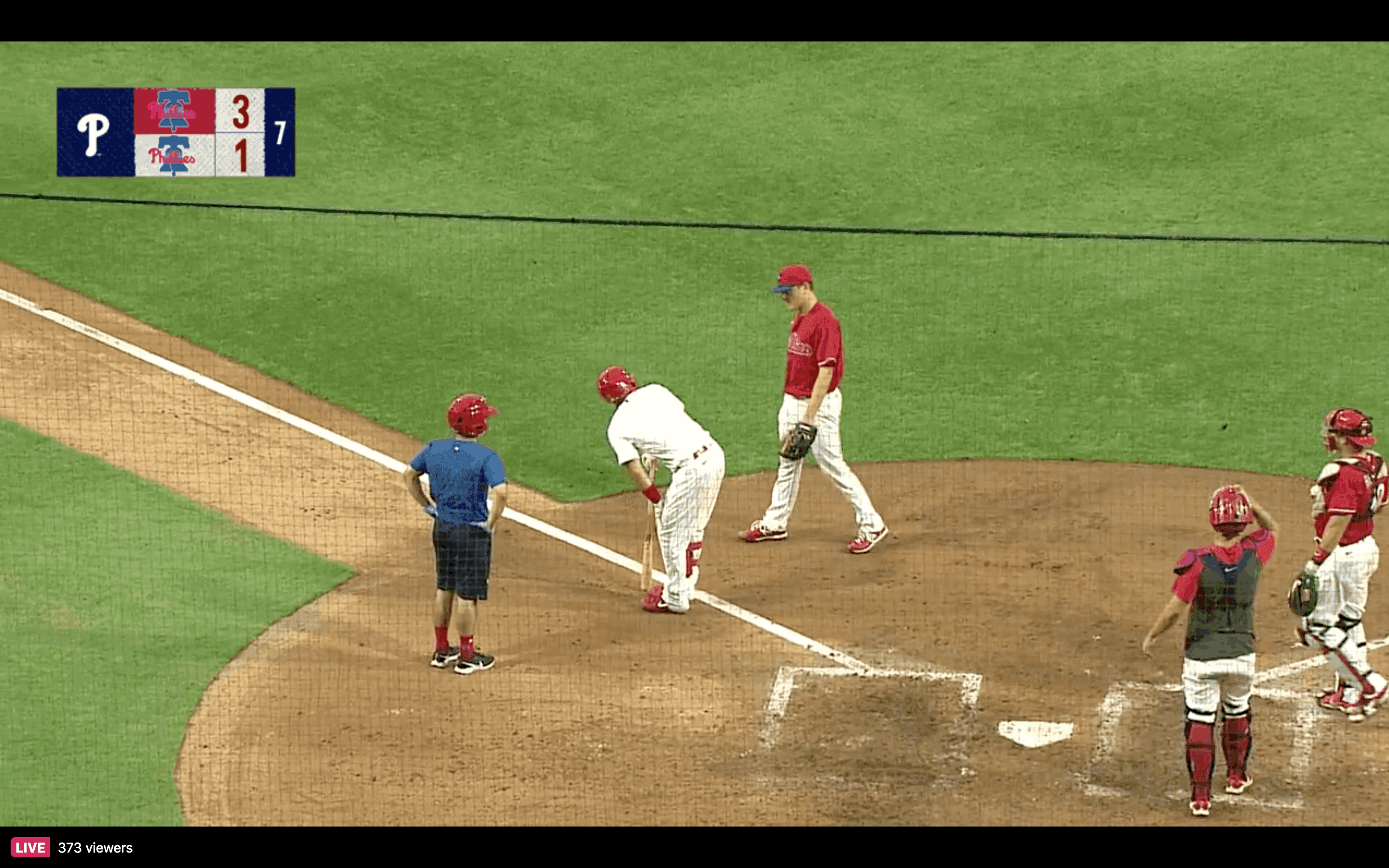 Meanwhile: If you were really missing the Padres wearing brown, you had to like last night's brown-vs.-brown scrimmage — with both teams wearing the espresso road pants!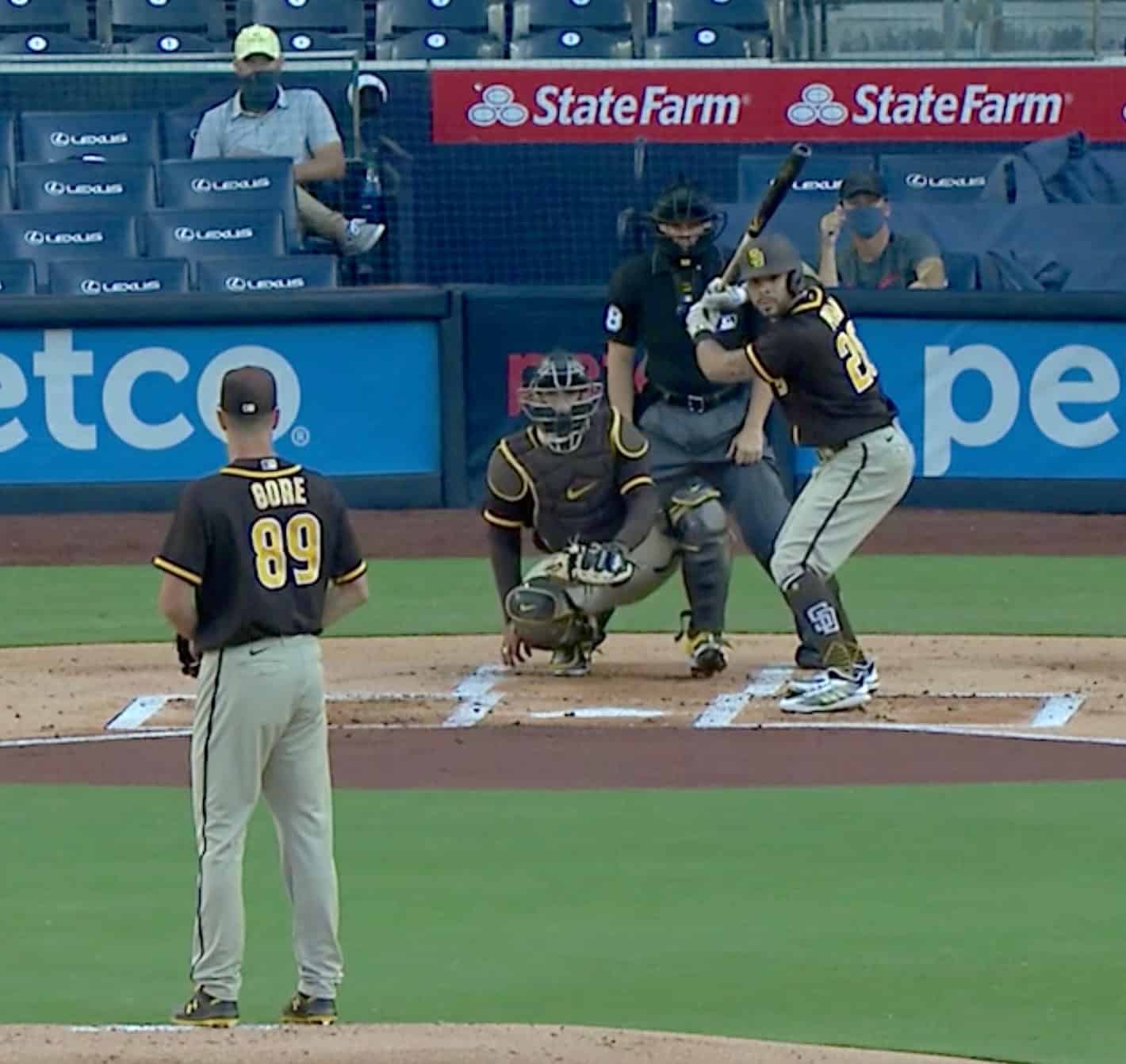 The two sides apparently wore the matching outfits because outfielder Robert Hassell III was playing for both teams:
@UniWatch Padres outfielder Robert Hassell III playing defense for both lineups. Necessitates both squads wearing same uniform set. He's skipped in the batting order when his spot comes up. https://t.co/vWG21BOz3I

— Tim Stoops (@timmer82) July 17, 2020
In Chicago, the White Sox played a game with both teams wearing black jerseys, but with one team in white pinstriped pants and the other in grey pants. It's a little hard to see, but you can get the idea here:
The parrot flew to Chicago for the summer. pic.twitter.com/JhBAeeLJDE

— Chicago White Sox (@whitesox) July 17, 2020
Over in Queens, the Mets had one team wearing the white pinstripes and the opposing side wearing the orange-trimmed home alternate jersey with the grey road pants (a combo that, to my knowledge, has never been used in a regular season game):
It's final from @CitiField. Thanks for watching tonight's sim game. #LGM pic.twitter.com/aIbuz14UZg

— New York Mets (@Mets) July 17, 2020
I'm sure there have been other interesting on-field looks this week. Feel free to post them in today's comments.
Most of what we're seeing here is probably nothing new, because teams play intrasquad scrimmages during spring training too. But spring scrimmages aren't televised or streamed, so these summer scrimmages have given us a window into a corner of the uni-verse that we don't normally get to see. For that matter, I wonder if some of what we're seeing is being driven by the fact that the games are being streamed — in other words, would everyone just wear a mishmash of jerseys, without even a perfunctory attempt at team uni consistency, if the games weren't visible to fans? I wonder.
In any case, I like it. With no fans in the seats, lots of the players wearing masks, and so on, everything already feels weird. Why not have some uni weirdness too?
Speaking of which: Just to add to the visual weirdness, the White Sox (and, I assume, other teams) are adding dugout extensions to their ballpark:
Dugout extensions unveiled. pic.twitter.com/xCJhciAbqL

— Daryl Van Schouwen (@CST_soxvan) July 16, 2020
This is presumably where the non-starting players will sit during games, because only players in the starting lineup will be permitted in the main dugouts, due to spatial distancing requirements. All part of the brave new MLB world — which, in case you haven't been keeping track, is due to start in just six days. Will it actually happen? If it starts, will it run through to its scheduled conclusion? We'll see. But for now I'm enjoying the intrasquoddities.
(My thanks to Ryan Andrew for the Chisox dugout item, to @NYCommenter for the Padres item, to @1NepC for the Mets item, and to everyone else who's been pointing out MLB intrasquoddities.)
• • • • •
• • • • •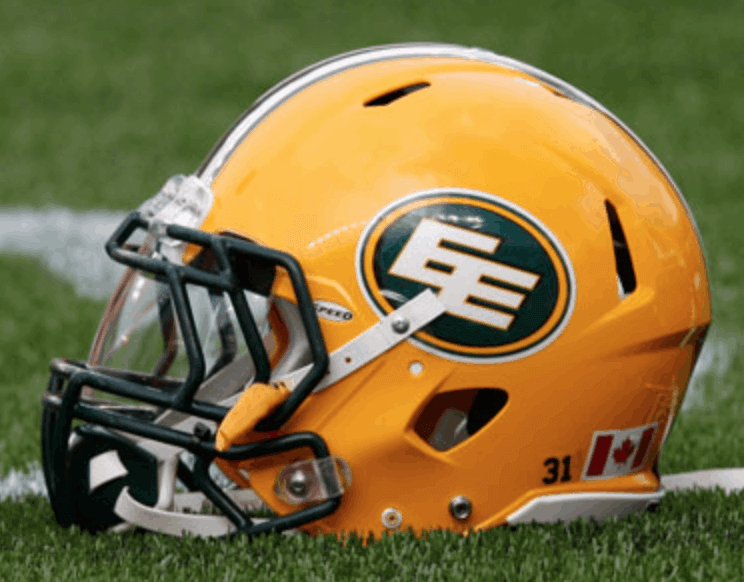 The next domino to fall: TSN — basically Canada's version of ESPN — is reporting that the CFL's Edmonton Eskimos, who've been under pressure to change their team name, will announce a name change shortly.
This move comes mere days after the team dug in and insisted that the name evokes "toughness, hardiness and the ability to perform in cold weather," and that the team's "record of winning Grey Cups in part comes from this toughness" — a statement of such Onion-like self-parodic absurdity that it was probably the final nail in the team name's coffin.
Meanwhile, back here in the States, where a Tuskegee Airmen nonprofit group and the Navajo Nation have both expressed interest in working with the 'Skins on their new name, maybe they might want to think twice about that. It's hard to imagine why anyone with an ounce of self-respect would want to be "honored" by this clearly toxic organization.
• • • • •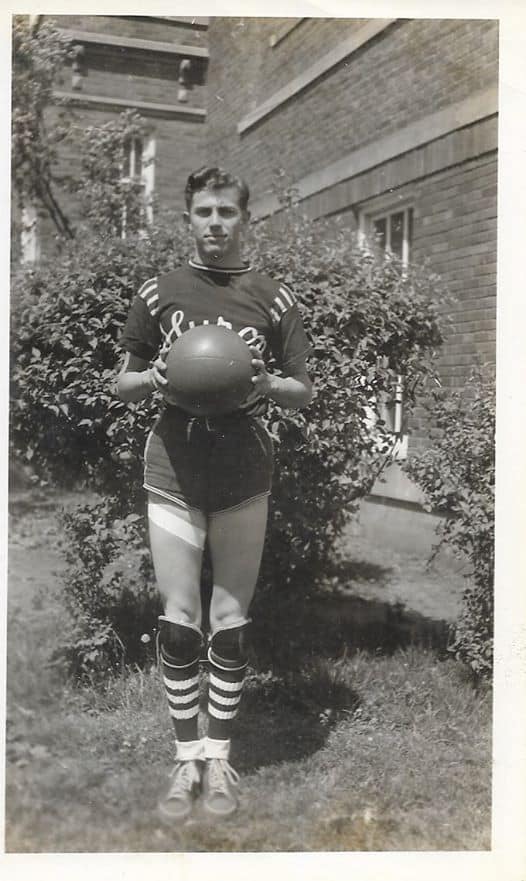 Too good for the Ticker: Reader Dale Allison sent along this 1942 shot of a player from the Huron (Iowa) High School basketball team. It's killing me that the ball is blocking our view of the jersey chest, but you can still tell it's a doozy of a uniform.
Basketball uniform styles have changed just a bit in eight decades, eh?
• • • • •
• • • • •
• • • • •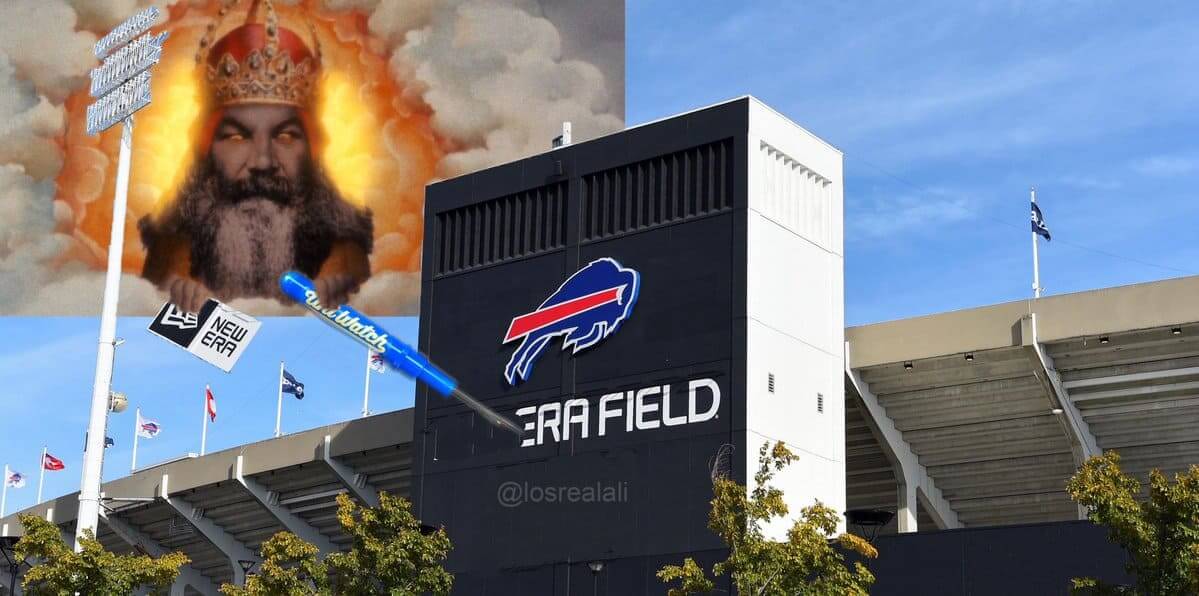 Click to enlarge
I still call it the Ralph: As noted in yesterday's Ticker, New Era is ending its naming rights deal for the Bills' stadium. As the news circulated, several observers joked that they'd need a giant Uni Watch seam ripper to remove the New Era name from the building, and Twitter-er @losrealali decided to create a rendering showing just that! Nice use of the blue ripper — very Bills-appropriate.
(If you want a normal-sized Uni Watch seam ripper, you can get one here. All colors are currently in stock, although I'm running low on green and blue.)
• • • • •
• • • • •
For all pics in this section, click to enlarge
All dressed up with no place to go: I scored this vintage softball jersey on eBay the other day. I love so many things about it — the colors (duh), the script, the texture of the sewn-on insignia, the excellent collar and sleeve trim, the way the star is balancing on one point instead of the more conventional orientation of sitting on the two base points — it's all so good! I suppose it might've been nice to have an odd number instead of an even number, but that's a minor quibble.
Here's a closer look at the chest script and some other details:
And here's the kicker: This gorgeous garment was only 15 bucks — wotta steal!
Now if I could just go out somewhere to show it off….
• • • • •
• • • • •
Click to enlarge
Cycling jersey reminder: In case you missed it on Thursday, Adelph Wear's Nathan Haas and I have come up with a line of new Tour de France-inspired Uni Watch cycling jerseys: yellow (for the overall leader), green (Points Classification leader), and polka dot (King of the Mountains).
Each jersey can be customized with your choice of number (there's a bib-style panel on the back for that) and/or NOB — or you can skip those elements and leave the back blank. Up to you!
We're taking pre-orders from now through July 24, which should allow us to get the finished jerseys to you by Aug. 29 — the first day of the Tour de France.
Full details, including rear views, a sizing chart, and more, here.
• • • • •
• • • • •
Membership update: Every now and then, someone asks for a card based on the number on the side of a NASCAR car. I'm not a NASCAR guy myself, but those card requests almost always turn out looking really good. That's the case with Scott Thomas's new card, which is based on this Kyle Petty car.
Scott's card is part of a new batch that's been added to the membership card gallery. And with that, I'm happy to report that we are now essentially caught up! Two months after the deluge of Purp Walk orders, every single card order but one (we'll get to it soon, Drew) has now been designed and added to the gallery. For a few dozen of you who haven't yet received your card, it either mailed out yesterday or will mail out early next week.
Ordering a membership card is a good way to support Uni Watch (which, frankly, could use your support these days). And remember, as a gesture of comm-uni-ty solidarity, the price of a membership has been reduced from $25 to $20 until further notice.
As always, you can sign up for your own custom-designed card here, you can see all the cards we've designed so far here (now more than 2,900 of them!), and you can see how we produce the cards here.
• • • • •
• • • • •
The @UniWatch Pin Club just went next level. If this isn't the coolest pin I've ever seen I can't recall what would top it. #GetsIt pic.twitter.com/0Zt3NimlP3

— Brett Baker (@BrettSBaker) July 16, 2020
Bobble-pin reminder: People are loving their Uni Watch Pin Club bobble-pins. I'm happy to report that we've now sold through about two-thirds of them, but that means we sill have more than 150 to go. You can get yours here while supplies last.
Speaking of the Pin Club, reader Kevin Seekely has collected all seven designs so far (click to enlarge):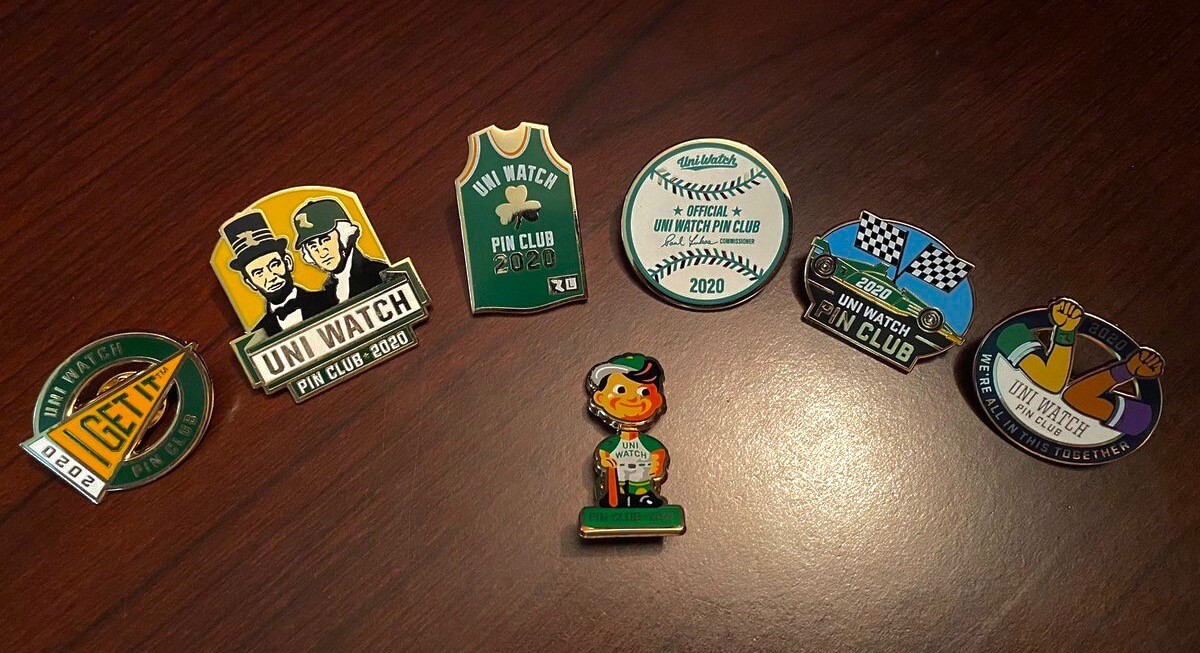 There's something very pleasing about seeing all the designs laid out like that. Thanks for your support, Kevin!
• • • • •
• • • • •
The Ticker
By Anthony Emerson


Baseball News: MLB parks will use crowd noise from the MLB: The Show video game series, in-stadium. In European soccer, broadcasts have been adding crowd noise on the broadcast end, and offering viewers the ability to watch matches without it (from Geoff Poole). … Phillies SS Didi Gregorius says he will wear a mask during games due to a kidney issue (from Mike Chamernik and @PhillyPartTwo). … Most Dodgers players were still wearing the All-Star Game patch during the team's intrasquad game, but not P Alex Wood. Paul says he's been told that the patch will not be worn when the season starts (from Matthew Wolfram). … Mets fan cutouts are being added to the team's ballpark (from Alan Kreit). … The West Coast League's new team, the Nanaimo NightOwls, will play as the Nanaimo Bars during day games, effectively giving the team two identities (from Wade Heidt and Dwayne Stern). … FiveThirtyEight's latest is about how Major League ballparks are shifting away from the retro-inspired design that was prevalent after Camden Yards opened and shifting toward more modern designs (from Andrew Cosentino). … Check out these sweaters Kentucky's baseball team had, c. 1930.

NFL News: Here's a New York Times article about fans who've collected Washington NFL merch for their entire lives (from Tom Turner). … Packers OT David Bakhtiari assisted a fan's marriage proposal by writing the proposal on a jersey he autographed (from @mikeobs).

College/High School Football News: New black-on-black helmet logos for Louisville (from @ACC_Tracker). … Pitt State's new turf will include an on-field advertisement (from Ryan Atkinson). … A deaf senior at Bracken County High in Kentucky will finally be able to play football due to a custom helmet that can fit over his cochlear implants (from Timmy Donahue).

Hoops News: The WNBA's Washington Mystics will join the Washington Wizards in wearing a memorial band for Wes Unseld (from @RealRosebud and @Starkman55). … ESPN has a list of unique items NBA players brought to the bubble in Orlando (from Nicklaus Wallmeyer).

Soccer News: Deutsche Welle has a great (English-language) video on the history of the football jersey, and how changes to jersey design reflected the broader cultural times (from Jonathan Epstein). … Sheffield United keeper Dean Henderson wore a baseball cap on the pitch to keep the setting sun out of his eyes during yesterday's game against Leicester. That's two matches in a row that he's done this (from Colin Dillworth and Josh Hinton). … Manchester City's home kit was officially unveiled yesterday. Hate to admit it, but I actually really like it (from Josh Hinton). … Also from Josh, Paris Saint-Germain's away kit has leaked. I swear they make the ad bigger every year. … Fox Sports 1's digital on-field adverts glitched and leaked onto the field of play. Maybe it's a sign to not do this, Fox (from Jeff Legaspi).

Grab Bag: The city hall of Connersville, Ind., has a mural that depicts the progression of the local high school's band uniforms. Connersville High has the oldest high school band in the US (from Andy Moeschberger). … North Carolina civil rights advocacy group the Union Soldier Campaign is calling on UNC to drop its "Tar Heel" nickname, alleging a connection with Confederate troops (from Kary Klismet). … ESPN's Twitter account posted more of those NBA/NFL uni mashups (from Shaun Rhodebeck).
• • • • •
[adrotate group="2″]
• • • • •
Click to enlarge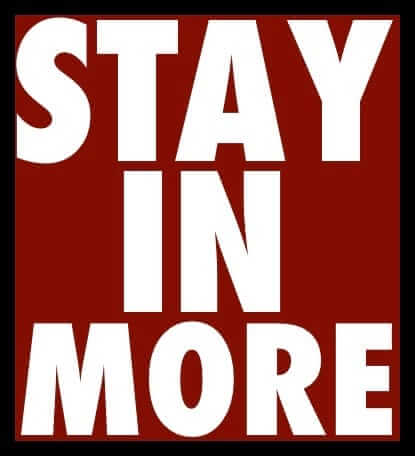 What Paul did last night: Last summer, right around this time, we were hit with an infestation of beetles. We tried traps, an exterminator, training Uni Watch girl mascot President Caitlin to kill them, the works, but they persisted for months until finally dying out in the winter.
The good news is that the beetles haven't returned this summer. The bad news is that we got hit yesterday by a sudden invasion of big, black ants — gross. The only good part about this is that I know from experience how to kill those.
Anyway: The mosquitos and other bugs on the porch didn't seem so bad yesterday evening, because at least they weren't inside our house.
As always, you can see the full set of daily Pandemic Porch Cocktails™ photos here.