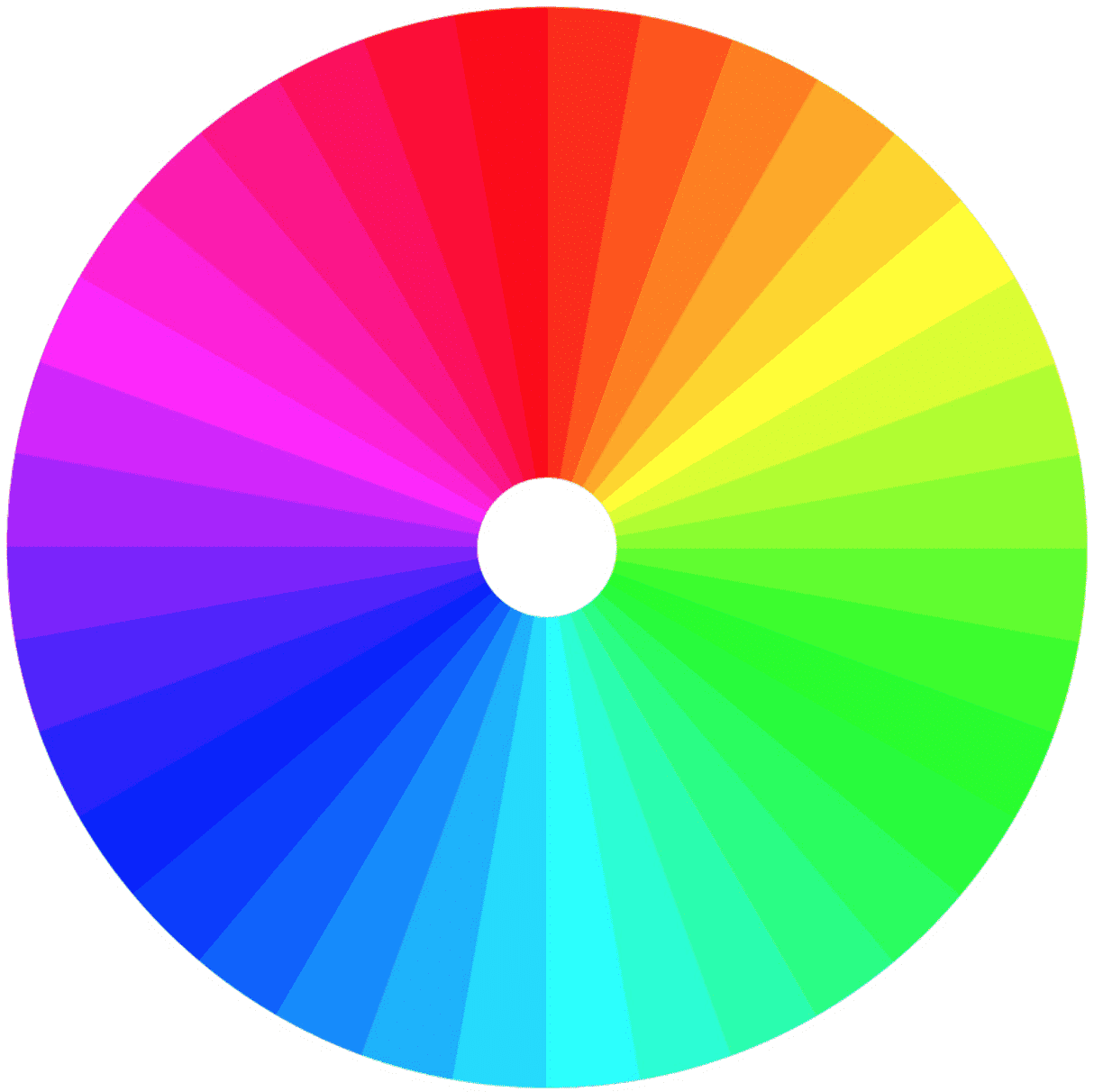 [Editor's Note: Good morning! Today we have a guest entry from Mat Swatek, who's created a project regarding team colors that I'm pretty sure everyone here will love. Enjoy! — PL]
By Mat Swatek
Have you ever thought about how teams in a particular city tend to use similar colors for their uniforms and logos? This is something I've thought about a lot, and some random conversations with friends over the years finally led me to do an actual analysis of team colors within North American cities.
Before getting to the results, I need to briefly discuss the ground rules I set up and the methodology I used.
The Ground Rules
1. The teams in each city have to play within a reasonable commute from the center of that city, although I made a few exceptions. I grouped the Packers under Milwaukee, since I found it to be a reasonable commute to attend Packers games every other weekend. The Bay Area is another oddity, as Oakland, San Francisco, and San Jose are in close proximity and have a bunch of teams between them. I decided not to group all of these teams because ultimately they identify with different cities. New York, on the other hand, has multiple teams in New Jersey but are grouped together because almost every team shares "New York" in its name.
2. To qualify for this analysis, a city had to have at least two teams. This is obviously a small sample size for comparing colors, but I wanted to include as many cities in this analysis as possible to get a true sense of the color-matching landscape. It also didn't feel right to exclude smaller sports hubs such as Buffalo, New Orleans, and St. Louis.
3. To compare team colors within cities, I focused on the primary and secondary colors for each team. When those colors were not immediately obvious, I looked first to the team's uniforms and then to the logo. I also generally avoided any consideration of white or grey, since those colors are present on many uniforms. But again, I made some exceptions to that rule, since some teams are primarily identified with those colors (e.g., the Raiders, Spurs, Yankees, Red Wings, etc.).
4. I aligned team colors within each city by primary and secondary colors. I did a bit of rearranging in some places to maximize the similarity. For example, the Bulls' primary color is red, but that's the secondary color for most Chicago teams, so I flipped black and red.
The Methodology
This gets a little wonky: The first step in making the color comparisons was collecting the RGB color mix for each team. The RGB values represent the full spectrum of colors using a combination of levels of red, green, and blue light (each scaled from 0 to 255). Once I gathered all the color data, I converted it to a slightly more accurate model that uses the CIELAB format, which uses color coordinates denoted by the letters L, a, and b. I used a simple distance formula to determine the difference in each team's colors within each city. To do that, I took the difference in primary colors among all pairs of teams within a city. Then, I did the same for the secondary colors. In the formula below, I'm determining the difference in the primary colors of team1 and team2 [click to enlarge]:

This left me with differences in primary colors among all sets of teams within the city (e.g., the difference between the Cubs' blue and the Bears' blue, as well as the difference between the Bulls' black and the Bears' blue). The primary color score is the median of the differences of the primary colors. I did the same for the differences among secondary colors. Averaging these two scores gave me the overall two-color score, which identified which cities are the most color-cohesive and which have the most differences among their teams.
Version 1 Feedback and Changes Made
I tweeted an earlier version of this analysis in mid-May and I received a ton of feedback. It turns out that people know a lot more about their teams than I do! It was fun learning about the color history of some teams and how well-liked certain uniforms and color combos are. I corrected the errors that people pointed out and also added in WNBA and NWSL teams where applicable, which several people suggested. In almost every case, adding those teams increased the color similarity within cities.
Results
So now you've made it (or just skipped ahead) to the part you care about: Which city is the most color-cohesive? The answer, of course, is Pittsburgh. The primary yellow colors are beaten in similarity only by the blues in Indianapolis; the secondary black hues trail only the blues in St. Louis and the blacks in San Jose. The picture below shows the team logos as well as their primary, secondary, and tertiary colors. (The primary and secondary colors are used in the overall scoring, and I added the tertiary color just for fun.)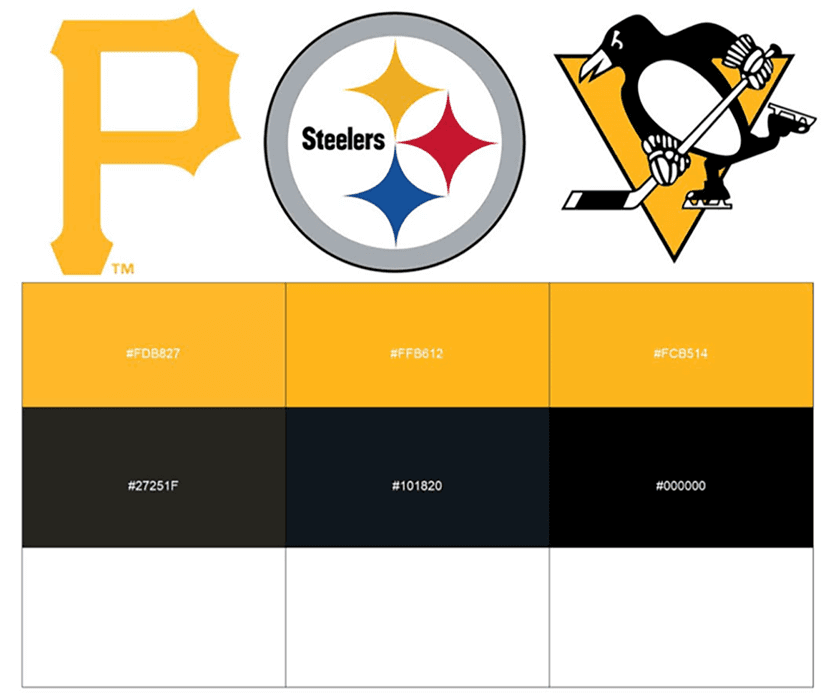 The No. 2 and No. 3 cities in terms of color similarity are Atlanta (with five teams) and New Orleans (two teams):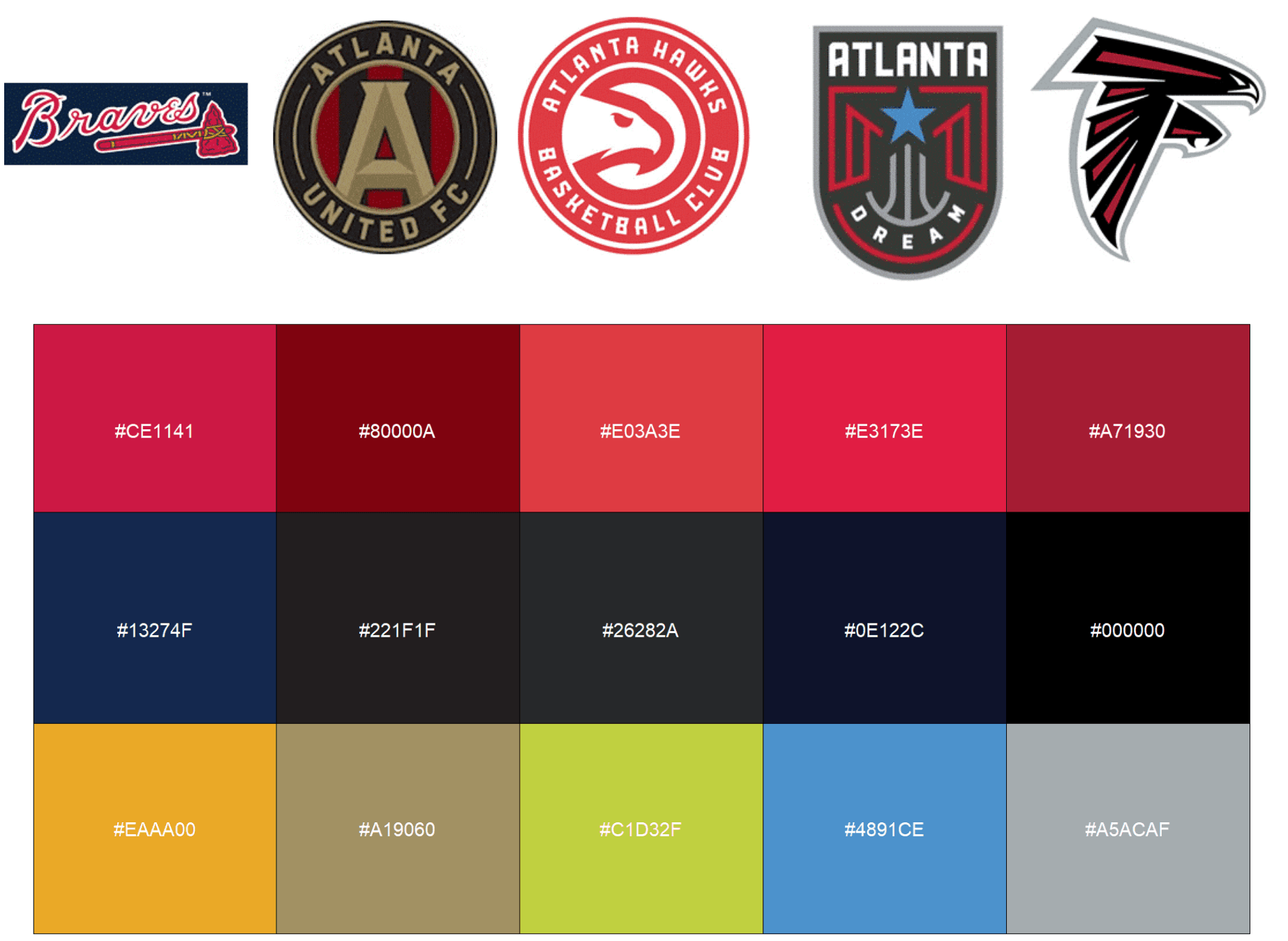 ——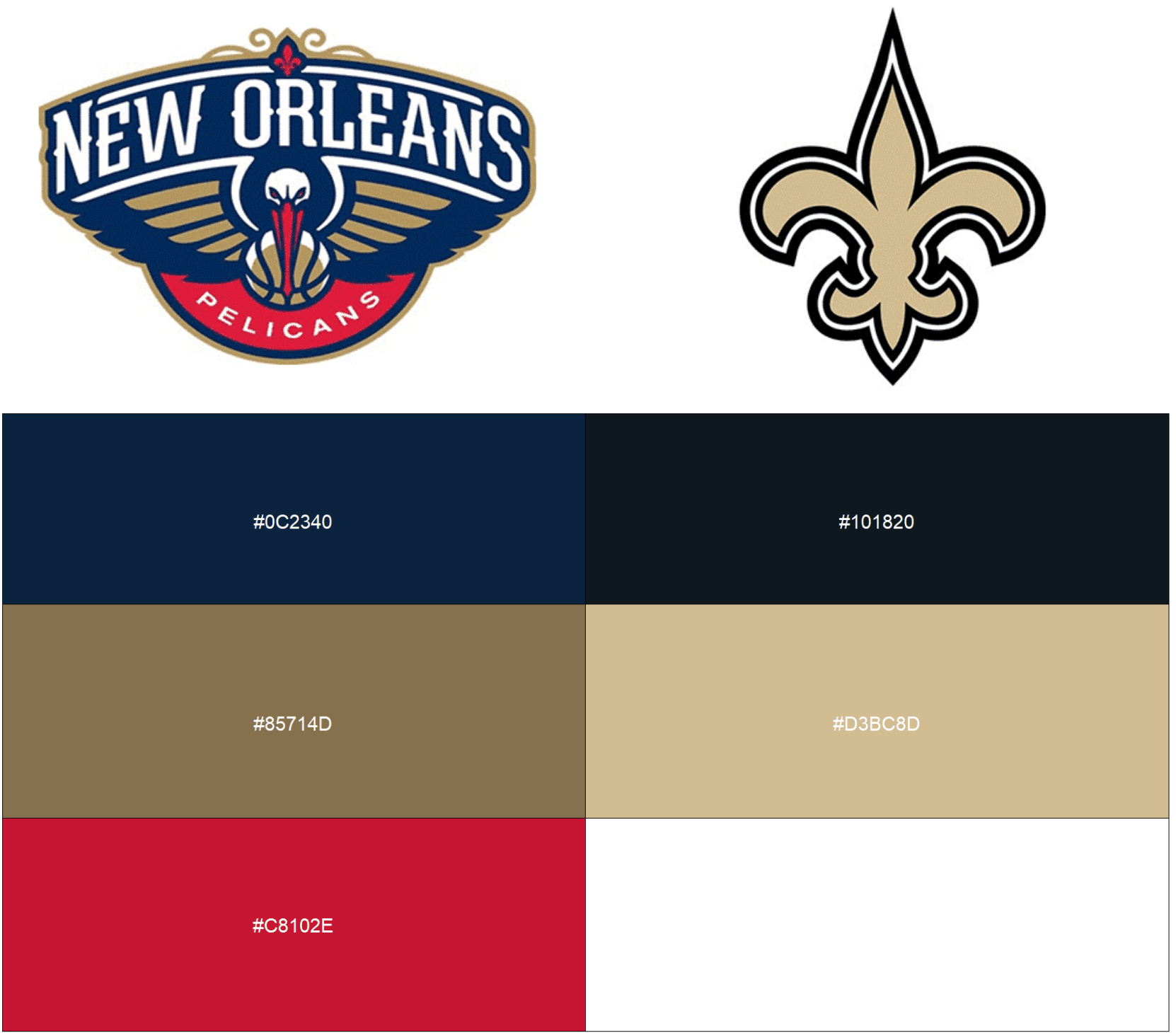 We can just as easily flip things around and look at which cities are the most color-dissimilar across teams. Kansas City has one of the most dissimilar primary color scores, mainly thanks to the red of the Chiefs. KC teams' secondary colors also clash, ranking in the bottom 10 among all cities. Add these two scores together and you have your least color-cohesive city!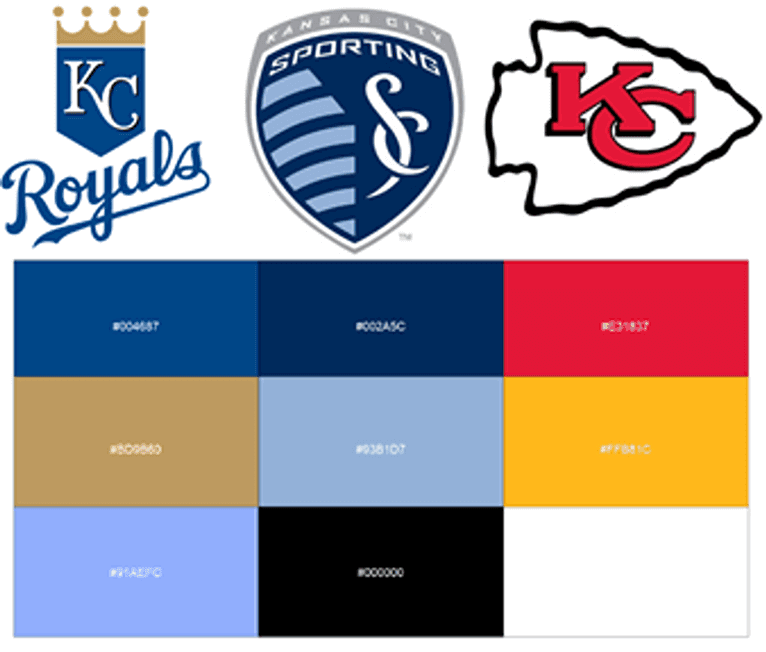 Other cities whose teams have clashing colors are Columbus, San Francisco, Baltimore, and Minneapolis.
To get a snapshot of where each city falls in terms of its two-color score, you can refer to the map below. The size of the dots represent the number of teams in that city while the color represents the overall two-color score. Lighter colors represent cities that are more color-cohesive, like Pittsburgh, while darker colors denote cities that are less so, such as Kansas City: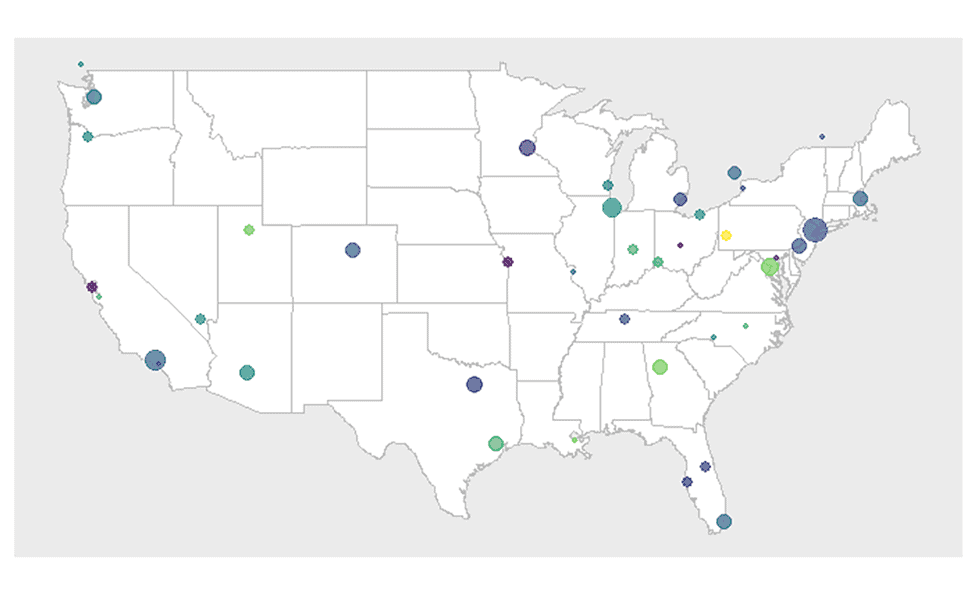 You can see an interactive version of that map, and a whole lot more, on this page, which has the full results of my analysis.
I plan on adding another section for ad-hoc requests. Though I'm no expert on sports fandom in New York, I think its 13 teams could probably be split up several different ways based on natural subsets of fandom or geography. I also mentioned earlier that the Bay Area gave me some trouble, and I am considering grouping all teams in that region and seeing how well they align. If you have a region that you'd like to see expanded or sub-divided, or have any other interesting ideas (e.g., adding college teams to the mix or looking at teams that moved cities or changed colors), then feel free to email me at mbswatek@gmail.com with your suggestions. Thanks!
———
Paul here. What a great project! I definitely recommend spending some time poking around on Mat's site — lots of food for thought from this project. Thanks for sharing it with Uni Watch, Mat!
• • • • •
• • • • •
Click to enlarge
Flames follow-up: Remember my recent interview with Bill Brownridge, who designed the Calgary Flames' "diagonal" uniforms? Reader Dave Turigan found an article about that uni set, including lots of quotes from Bill, in a 1995 Flames program. Good stuff!
The first page of the article is shown above. You can see the rest of the pages here.
• • • • •
• • • • •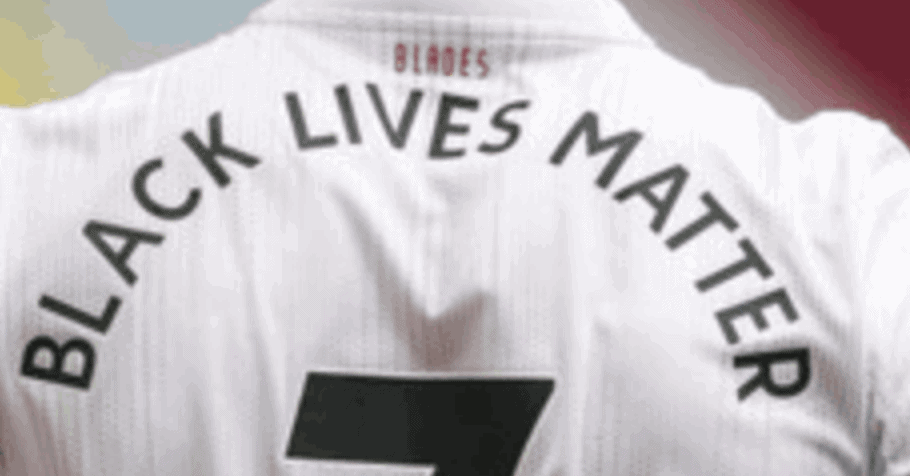 Contest reminder: In case you missed it last week, my latest Uni Watch design contest for InsideHook is to create a logo for teams or leagues to wear in acknowledgment of the current racial justice protests.
We're probably going to see a lot of these logos/patches/etc. when American sports leagues resume (well, if they resume). What should they look like?
Full details over at InsideHook.
• • • • •
• • • • •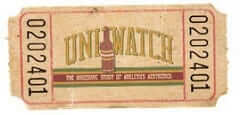 ITEM! Another membership raffle: Reader David Dahl recently purchased two memberships for me to give away, so that's what we're going to do today.
This will be a one-day raffle. No entry restrictions for this one — open to all. To enter, send an email to the raffle address by 8pm Eastern tonight. I'll announce the two winners tomorrow.
As you know, we've had a slew of these donated memberships lately, but this is the last one, at least for now. If you'd like to help support Uni Watch by purchasing a membership for me to raffle off (or by just ordering a membership card for yourself), you can do that here.
• • • • •
• • • • •
The Ticker
By Jamie Rathjen

Baseball News: We've featured Paper Stadiums projects several times recently, and it's now added Shea Stadium to its list (from Mike Chamernik).
.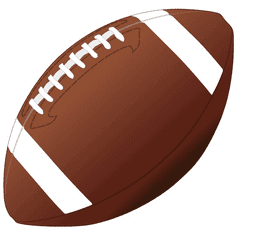 NFL News: Reader Kurt Rozek asked former Bengals QB Kenny Anderson why he often seemed to have a grey facemask with chipped black paint, rather than just a true black mask, and got a great response from Anderson. … In case you missed it, Washington is retiring No. 49 for RB Bobby Mitchell, the team's first Black player, and also named the lower level of their stadium after him. That level of the stadium had been named for the team's racist founder, George Preston Marshall, whose statue outside the team's former home, RFK Stadium, was removed on Friday.

College Football News: Georgia Tech's uniform for the 2009 Orange Bowl was an exercise in one-time use: It was never worn again and also featured the Buzz yellow jacket logo together with the helmet logo on the pants, which apparently has also never happened before or since (from Michael Rich).

Hockey News: A Golden Knights website mentioned the team potentially getting a fourth jersey, but it's not clear if it would be used for warm-ups or games (from Thomas Roddy). … You may have heard that the Sabres fired more than 20 people last week. They have more problems, because they didn't flood their practice facility properly when they shut it down in March, so the rink's boards warped and have to be replaced (from Wade Heidt). … Here's then-Flames C Joe Nieuwendyk wearing an odd facemask in 1992 or 1993, which looks like the full-face masks sometimes seen now in the NHL but not made out of plastic (from Johnny Garfield).

Soccer News: New kits for English League One's Crewe Alexandra, the German Bundesliga's RB Leipzig, and the 2. Bundesliga's Darmstadt 98 (all from Ed Żelaski). … Another from Ed: The Polish third tier's Widzew Łódź wore their white second kit at home. … France's Ligue 1 and Ligue 2 have new logos and number/NOB fonts. … German women's team USV Jena, just relegated from the Frauen-Bundesliga, are to become the women's team for the local men's 3. Liga team, Carl Zeiss Jena (from my brother Nate Rathjen). … In Spain, Celta de Vigo's normal beer advertiser replaced its ad with a charity supporting the hospitality sector. It looks like Deportivo de La Coruña, Real Valladolid, and the Segunda División's CD Lugo might participate as well (from Germán Cabrejo). … English Championship team Swansea City's striker Rhian Brewster celebrated a goal on Saturday by holding up a shirt saying "Our colour is not a crime," while in the same league Wigan Athletic wore Black Lives Matter warm-up shirts. … Liverpool striker Divock Origi's National Health Service patch still had the paper attached to it yesterday (from multiple readers). … In the NWSL, Washington Spirit players and coaches knelt during training on Friday. … Portland Timbers players formed "BLM" during training on Saturday (thanks, Anthony). … Another from Anthony that we've Ticked half of before: in 2006, the players wearing No. 8 for Liverpool and Everton at the time, Steven Gerrard and James Beattie, wore No. 08 because Liverpool had been chosen as one of the EU's European Capitals of Culture for 2008. … Among the banners Premier League teams are using to cover their seats is a rainbow one from Norwich City in memory of former striker Justin Fashanu, who in 1990 became the first player in the sport to come out as gay.

Grab Bag: NASCAR Cup driver Denny Hamlin planned to run a National Civil Rights Museum-themed car for yesterday's race at Talladega Superspeedway in Alabama. The event was postponed to today due to rain, and Hamlin's car will carry added weight given that a noose was discovered in driver Bubba Wallace's garage stall yesterday. Wallace is the Black driver who successfully urged NASCAR to ban the Confederate battle flag at its events (from @texastrevor). … France will allow 5,000 spectators inside stadiums for events starting July 11, while in Australia Queensland is to allow stadiums to fill to a quarter of capacity, up to a maximum of 10,000. … Rider University has a new surface for its soccer and field hockey teams. … Two more schools will no longer call their teams the Rebels: Fairfax High in Virginia and Quartz Hill High in California (the latter item from Erik Bogh). … Minnesota State Patrol officers have been wearing maroon and gold uniforms since 1934, when the change was made to honor one of Minnesota's football national championships (from Kary Klismet).
• • • • •
[adrotate group="2″]
• • • • •
Click to enlarge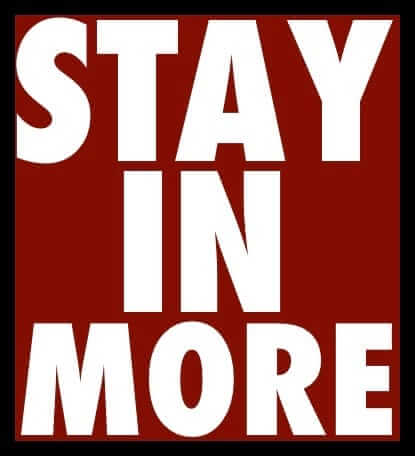 What Paul did last night: Around the corner from us is a street with a grassy median, which is technically part of the NYC parks system and thus open to anyone who wants to hang out on it. Nobody ever did that, at least not that I was aware of, until the pandemic hit, when people got sick of being cooped up inside and started using the median for picnics, yoga, sunbathing, or whatever. The median is nicely tree-shaded and traffic is light because the street is a dead end, so the median has become a convenient option for us when we want to have socially distant meet-ups with friends.
That's what we did yesterday afternoon with our buddy Sujan, who lives a few neighborhoods away. She biked over to our place and then we all walked around the corner, pitched blankets a safe distance apart, and had a nice visit (click to enlarge):
Later on, Mary and I convened on the porch, talked a bit about our fathers (cuz it was Pa's Day and all), and thought about how the days will now be getting shorter. Happy post-Summer Solstice!
The branch is still there.
As always, you can see the full set of Pandemic Porch Cocktails™ photos here.