In the most recent "Question Time" installment, I was asked what team name and color scheme I'd choose if I were granted an expansion franchise in any of the Big Four leagues. I responded, "It's hard to know what the team name would be without knowing which city we'd be located in, but I'd lean toward the Kittens or the Puppies. Our primary color would of course be green."
Reader Matthew Blinco took that idea and ran with it, creating a fictitious team called the Brooklyn Puppies. "I was inspired by the look of the Kansas City Katz logo currently sold by Ebbets Field Flannels," he says. "Something raw with real rough lines."
You can see the mascot icon that Matthew came up with at the top of this post (like all the images in this post, you can click to to enlarge). A cute little beagle — isn't he great? Now let's see how he looks with some lettering added to the mix:
And how would it look on, say, a cap? Let's see:
Now let's see how it would look on a uniform — or, thanks to Matthew's diligent work, on several different uniforms:
———
Some of you are probably thinking, "Pfeh — 'Puppies' isn't a very intimidating team name." True enough! That's part of why I like it — it sounds fun and playful, instead of rough 'n' tough. We have teams named after baby bears (Chicago Cubs), why not baby dogs?
I like Matthew's designs a lot — very old-school, very endearing. But I can also imagine a Brooklyn Puppies team with a more cartoon-ish mascot — maybe an anthropomorphized baseball-playing puppy, or maybe something else entirely. Would anyone like to take a shot at that? Send me your best efforts and I'll feature them in a future Uni Watch post.
(Big thanks to Matthew Blinco for submitting these designs, and for patiently waiting for me to publish them.)
• • • • •
• • • • •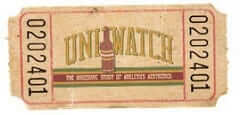 ITEM! Yet another membership raffle: Reader Stan Sulkowski recently donated a whopping five memberships for me to raffle off, so we're going to get that started today.
This raffle will run through the weekend. To enter, send an email to the raffle address by 8pm Eastern on Sunday, May 24. One entry per person. The site will be closed on Monday for Memorial Day, so I'll announce the winners on Tuesday.
Meanwhile, speaking of the membership program, lots of new purple designs, including Dan Morgenthaler's, have been added to the membership card gallery, as we continue to work our way through the Purp Walk onslaught.
Ordering a membership card is a good way to support Uni Watch (which, frankly, could use your support these days). And remember, as a gesture of comm-uni-ty solidarity, the price of a membership has been reduced from $25 to $20 until further notice.
As always, you can sign up for your own custom-designed card here, you can see all the cards we've designed so far here (now more than 2,700 of them!), and you can see how we produce the cards here.
• • • • •
• • • • •
Click to enlarge
ITEM! Cufflinks sale: I know this is gonna sound nuts, but apparently there isn't much demand for formal accessories like cufflinks when people are stuck at home in their sweatpants for months on end. Go figure!
With that in mind, I've reduced the price of our Uni Watch cufflinks from the usual $26.99 to $16.99. You may not have much use for them now, but imagine how good it'll feel to wear them in the post-apocalyptic world that awaits us!
And remember, you can save an additional 15% on that discounted price — and on every item in the Uni Watch Shop and the Naming Wrongs Shop — by using the checkout code COMMUNITY.
While we're at it:
• Supplies of the Uni Watch Pin Club's May design are dwindling, so move fast if you want one. And if you need to get caught up, here are the January, February, and March editions. (April is sold out.)
• I still have all colors of Uni Watch seam rippers in stock, although green is about to run out again.
• I still have Uni Watch caps in sizes 7 and 7-7/8. I'm now hearing that the other sizes and adjustables should be back in stock by early to mid-July.
• And we have lots of other fine items available — check them out here.
Want to help support Uni Watch via a donation instead of a merch purch? Here's how you can do that.
• • • • •
• • • • •
The Ticker
By Anthony Emerson

Baseball News: In 1999, Braves 3B Chipper Jones's NOB was "C. Jones" at home and just "Jones" on the road (from @Keyvon212). … Stephen Krupin noticed that in 1991, the Oakland Coliseum had an anachronistic A's logo on the right field wall. The A's had stopped using a logo with a gap between the crossbar and hairline 10 years prior. … Frank McGuigan noticed that the '93 Phillies had uniform numbers on the right sleeve of their jackets. … Dan Cichalski noticed a whole bunch of MLB ice cream sundae helmets in the background of a shot in the 2018 movie Widows, and went about identifying all of them. … Baltimore's Union Craft Brewing has a new beer named after former Orioles star Eddie Murray (from Andrew Cosentino). … Also posted in the NFL section: The latest episode of the podcast Special Teams ranked the hosts' top MLB and NFL uniforms (from Kary Klismet).

NFL News: Ravens rookie RB JK Dobbins is wearing No. 27 in honor of his father (from Andrew Cosentino). … While watching Bears/Packers highlights from last season, Corey Orehek noticed that one of the mic guys on the sideline was in Bears uniform socks! It's a nice look. … Cross-listed from the baseball section: The latest episode of the podcast Special Teams ranked the hosts' top MLB and NFL uniforms (from Kary Klismet).

College Football News: Alabama coach Nick Saban recorded a PSA in which he scolded the Crimson Tide's mascot for not wearing a face mask.

Hockey News: During Brett Hull's time at the University of Minnesota-Duluth, he and his teammates wore what were called "cat-eye" masks. "The masks were similar to the cat-eye goalie masks and would not be legal in minor hockey even back then," writes Wade Heidt. … Colorado Hockey Hub ranked the top five logos in DIII NCAA hockey (from Paul Friedmann). … The NCAA has released the logo for the 2021 Women's Frozen Four (from Timmy Donahue). … The Premier of Quebec, François Legault, wore a Canadiens mask during a press briefing. The mask was sent to him personally by Habs captain Shea Weber (from Oleg Kvasha).

NBA News: Here's a small clip of an interview with former Mavs PF/SF Eduardo Nájera in which Nájera bashes the Mavs' trash bag unis (from Sam McKinley). … Do you want a few pics of Steve Nash playing hockey in a Suns uniform? Of course you do! Odd that Nash's jersey doesn't have a number or NOB, though.

College Hoops News: Reader Clint Foster tweeted "TCU's basketball uniforms in the late '60s included two-tone pants with belts and zippers and everyone should know this." … Pitt men have revealed the uni numbers for freshmen and transfer players (from @DeadstockDan).

Soccer News: São Paulo FC have unveiled their 2020 away kit, which is pretty sharp (from Josh Hinton). … Also from Josh: the Greek Superleague is finalizing a a corporate naming rights deal. … Can't make it up: FC Cincinnati announced that their coach would be Jaap Stam by using a graphic of a dude who is not Jaap Stam.

Grab Bag: Here's our first view of President Trump wearing a mask, which he donned for part of his tour of a Ford plant in Michigan yesterday. The logo in the corner is the presidential seal. … The New England drive-time radio show Felger and Mazz did almost two full hours on Boston's big four uniforms last week. You can hear those segments here and here (from Jason Tierney). … In The Last Dance, Michael Jordan mentioned that he originally wanted to sign with Adidas, so this blog created Adidas shoes with Air Jordan elements — a cool look at what could've been (from Jorge Cruz). … The University of Cincinnati has a comprehensive online exhibit of the history of the Bearcat logo (from Kary Klismet). … One more from Kary: A graphic designer has attempted to redesign the "world's worst logos." … Paul belongs to a Facebook group where a user posted a bunch of images from a 1929 children's book where there is a race of anthropomorphized golf-ball children. Cute for some, nightmare fuel for others.
• • • • •
[adrotate group="2″]
• • • • •
Click to enlarge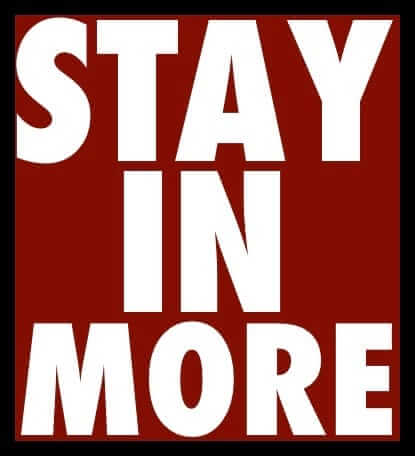 What Paul did last night: For two-plus months now, the Tugboat Captain and I have spent almost every minute of every day together. Sure, sometimes one of us is working in the back room or running a quick neighborhood errand, or I'm on my daily bike ride, but for the most part we've been together 24/7.
But yesterday was different. For the last several years, a neighbor has let the Captain (along with some other people) use her backyard to grow vegetables. So yesterday morning the Captain packed up some seeds, compost, and gardening tools and went over to the neighbor's house, where she spent the entire day weeding, planting, and so on. So I spent the day by myself (which was fine — got a lot of work done and also took a short but very satisfying nap).
So when we convened on the porch a little after 6pm, the chatter was different than it usually is. It was all "How was your day?" and "Not bad, how was your day?" You know, almost like things were normal! It was a really nice change of pace.
The branch is still there.
As always, you can see the full set of Pandemic Porch Cocktails™ photos here.
• • • • •
The winner of yesterday's raffle to share access to my New York Times account is Nicholas Walz. I'm happy to share the gift of journalism with him! — Paul