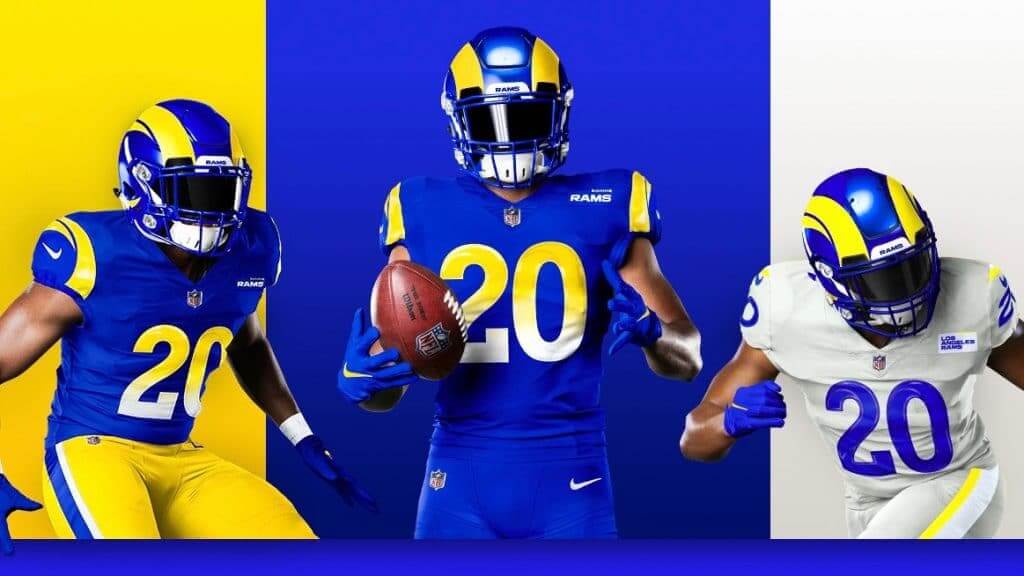 For all photos, click to enlarge
The Rams unveiled their new uniforms yesterday, confirming the leak that had begun circulating several hours earlier.
There's a lot of ground to cover here, so let's get to it. I'll cover the most noteworthy elements, one at a time:
The Helmet
Is it basically okay? Yeah. But is it as good as the previous version? I'd say no. I like the shell color but I think the horn is a downgrade — not because of the segmentation (which I don't love but can live with) but because it doesn't have the curlicue at the end. Here's a side-by-side comparison:
From a visual standpoint, I really miss the curlicue. But as you can see, one advantage of not having the curlicue is that the tip of the horn doesn't get tangled up in the mask and/or chinstrap sockets. Depending on the helmet model, the Rams sometimes had to cut the tip of the horn into a separate piece. That won't be a problem with the new horn design, so let's give them some points for form following function.
Overall: It still looks like the Rams.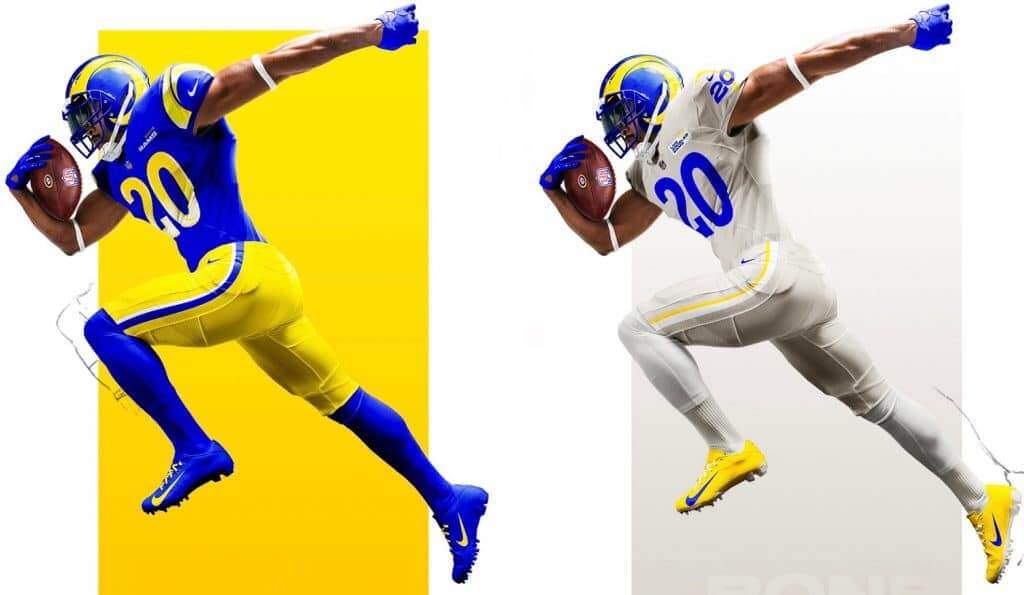 The Fabric Colors

We already knew the shades of blue and yellow that the Rams would be using (those were revealed back in March). What we didn't know was that their white uniform would actually be off-white. They're calling this new color bone, and the "storytelling" rationale for it is that it's supposedly the same color as a ram's horn.
A few thoughts on that:
• Although a ram's horn has bone at the core, the exterior — the part that we see, and the part whose color the Rams are supposedly matching — is not bone. It's actually keratin, which is the same stuff human fingernails and toenails are made of. So this "bone" color name is not only silly, but the stated rationale for it is inaccurate.
• If they're claiming that the color is based on a ram's horn, why aren't the horns on the helmet rendered in that color? Why isn't the horn on the logo rendered in that color? Makes no sense.
• On the field, this color will have the same visual effect as the Seahawks' grey alternates: It'll look like unwashed laundry.
• What's the over/under on how many "boner" jokes there will be when the Rams wear this color?
Obviously, we're going to need a new name for this color going forward, because there's no way I'm going to write "bone" over and over again. Since we're talking about L.A., I was thinking maybe we should call it smog. But then I saw in yesterday's comments that Uni Watch reader/commenter Justin Hicks was referring to it as "dishwater," which sounds about right. Dishwater it is!
Now we get to the really weird stuff. Most NFL teams try to have fairly consistent design themes running through their uniform set, but this Rams set has a split personality, with certain elements appearing on the blue uniforms and others on the dishwater uniforms. That's not necessarily a bad thing, but it's definitely an uncommon thing. Let's start with…
The Uniform Numbers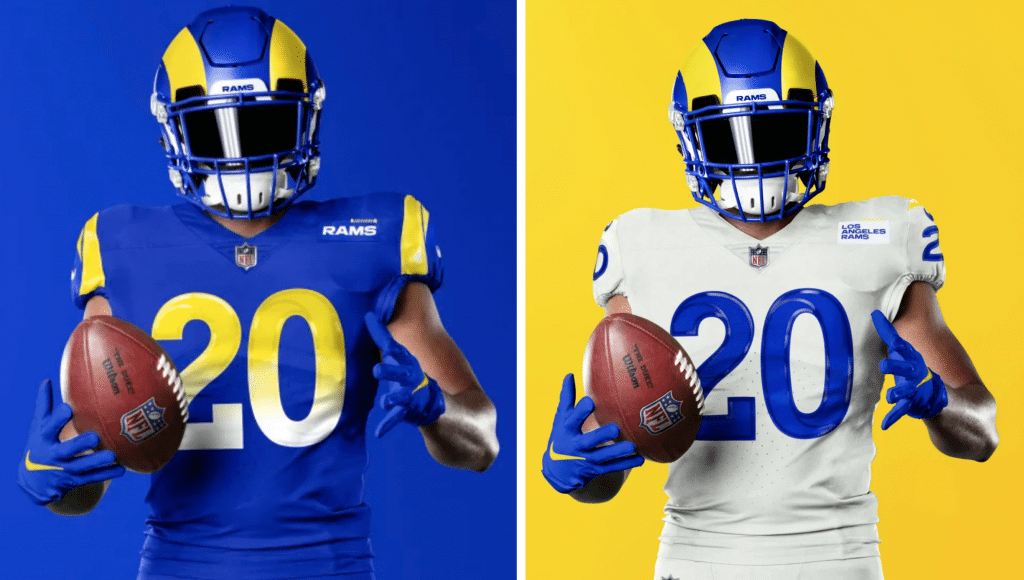 The numbers on the blue jerseys have a color-to-white gradation (more photos here); the numbers on the dishwater jerseys do not (more photos here). So odd to take such distinct approaches on the two jerseys — it's like they couldn't decide which one to choose, so they chose both. Again, there's nothing necessarily wrong with that, but it's definitely atypical for an NFL uniform design.
One thing both both number sets feature is a reflective treatment that you can see more clearly here: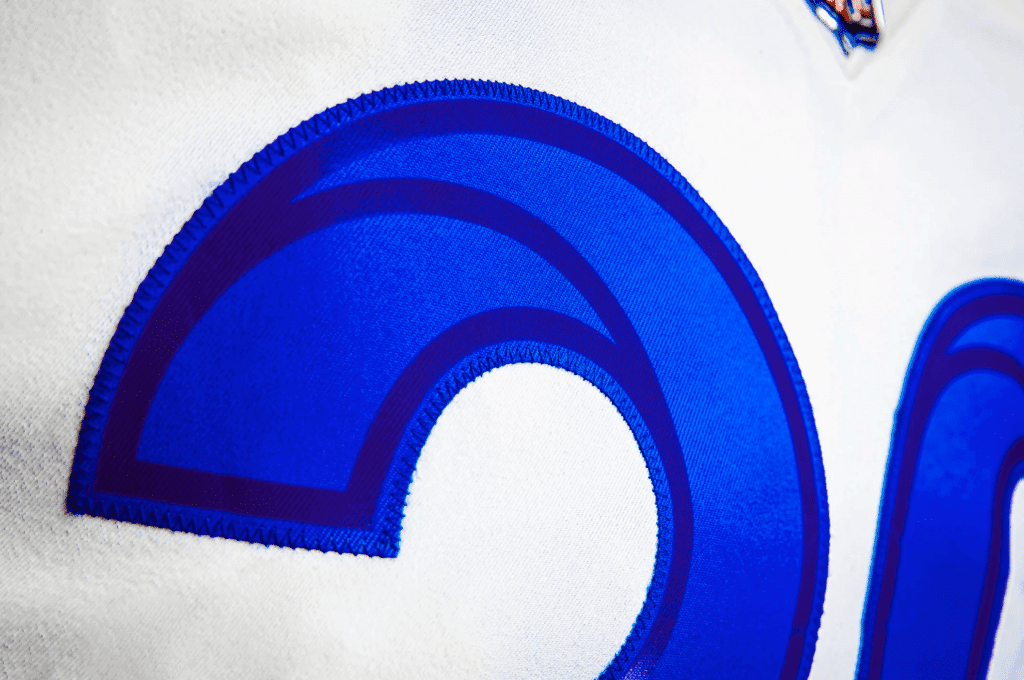 I asked the team for more information on this and was told that they used an application called Framis, which creates reflection and pop in the numbers (and also on the pant striping). I'd never heard of Framis before, so I googled it and found myself at the Framis website, which says, "Framis Italia is the market leader in polyurethane heat-bonding applications for the clothing industry." You can get a better sense of what that entails here. Definitely new to me, and presumably an NFL uniform first. I asked the Rams if they had any photos or video showing how this reflective effect would look under the lights at a night game but was told that no visuals of that sort are yet available.
The Shoulders and Sleeves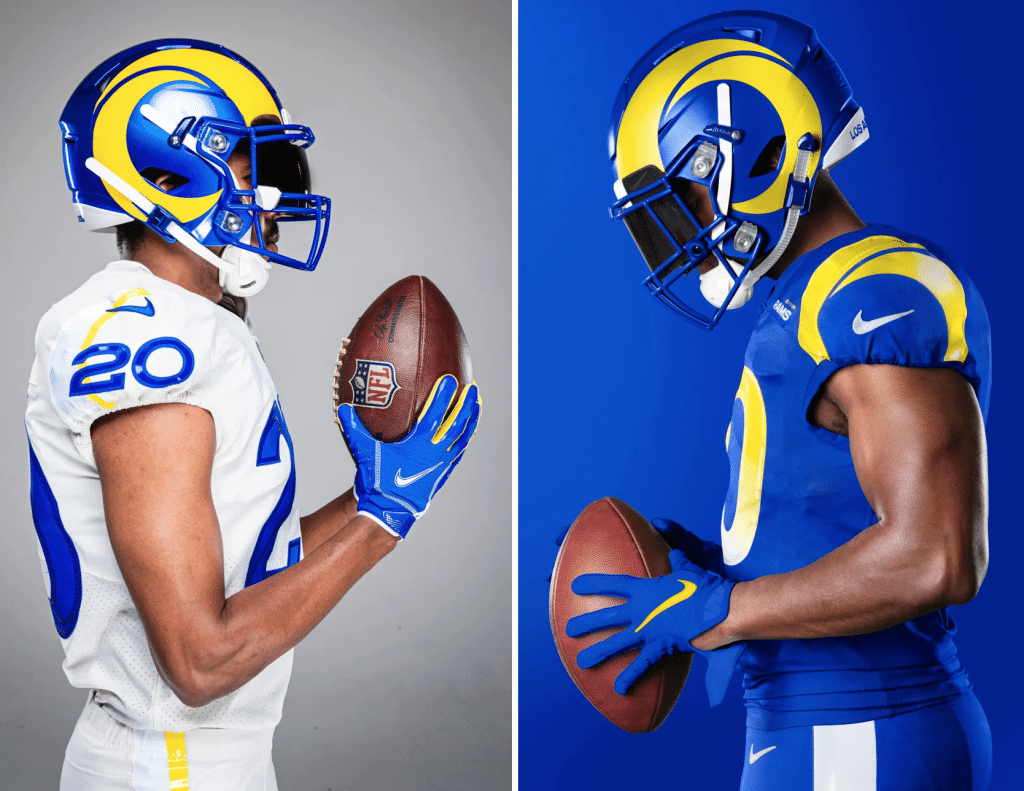 The dishwater jerseys have TV numbers and the blue ones don't — bizarre! Again, it's like they couldn't decide which dessert to order, so they went ahead and ordered both.
Similarly, the blue jersey has a modified horn treatment on the shoulders (ironically, it looks more like St. Louis's Gateway Arch than a horn, because it doesn't do the full wraparound) while the dishwater jersey has a weird little sunburst stripe snaking its way through the number — here's a closer look at that: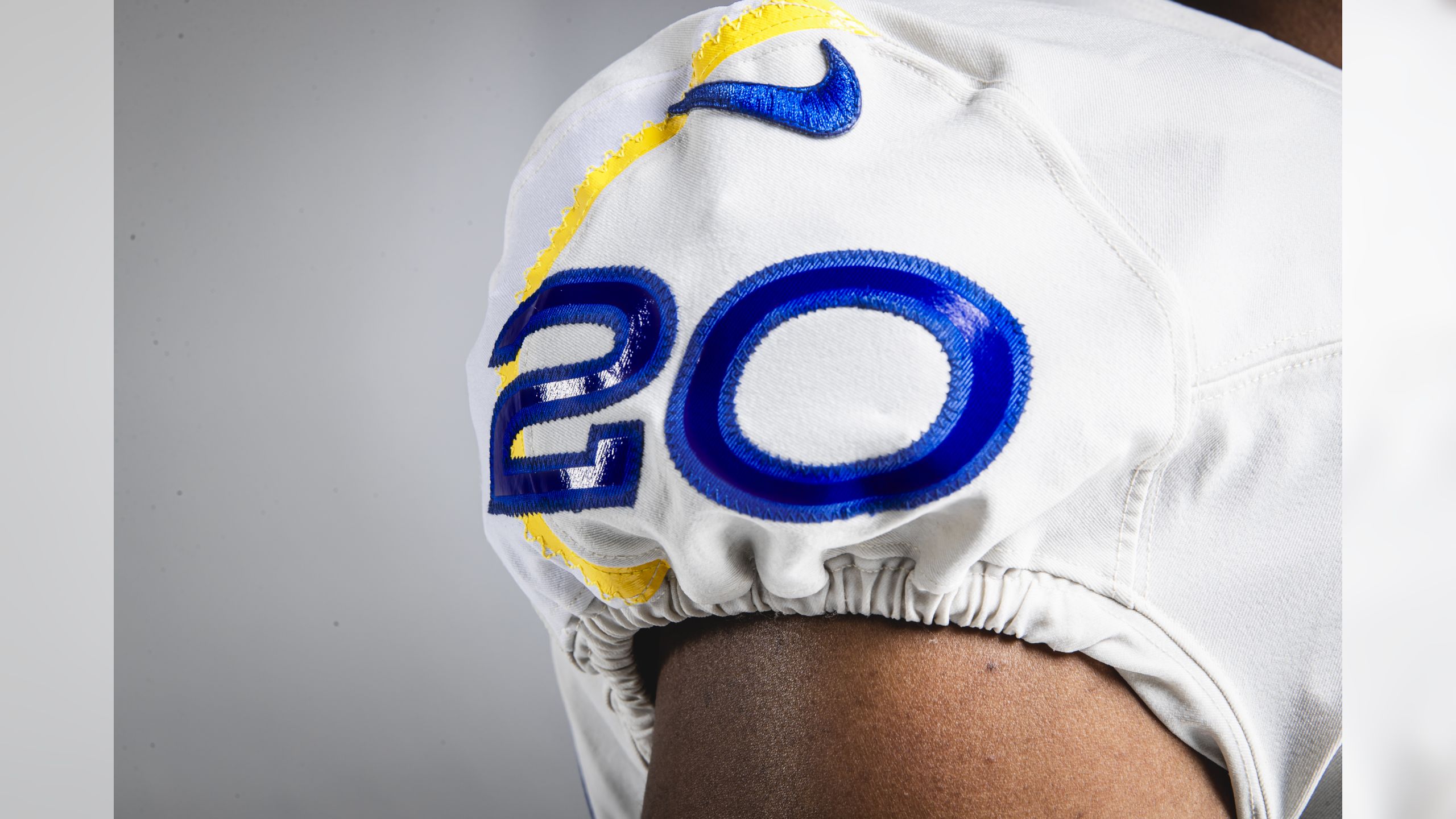 Meanwhile, the proportions of the TV numbers bear no resemblance to the front and back numbers. It all feels like something created in an web-based team-builder app.
The "Hello, My Name Is…" Patches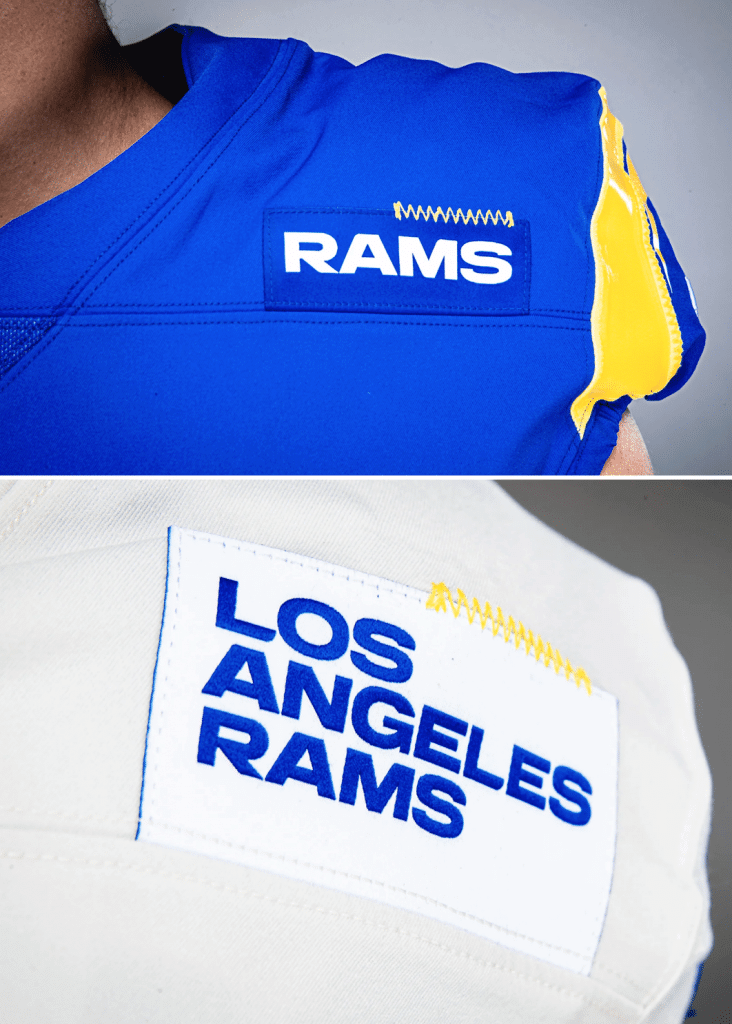 Again with the split personality. The blue jersey just has the team name while the dishwater jersey has the team and city names. Even stranger, the patch on the blue jersey is blue, so it matches the background color, but the patch on the dishwater jersey is white, so it sticks out like a sore thumb, as you can see more clearly here: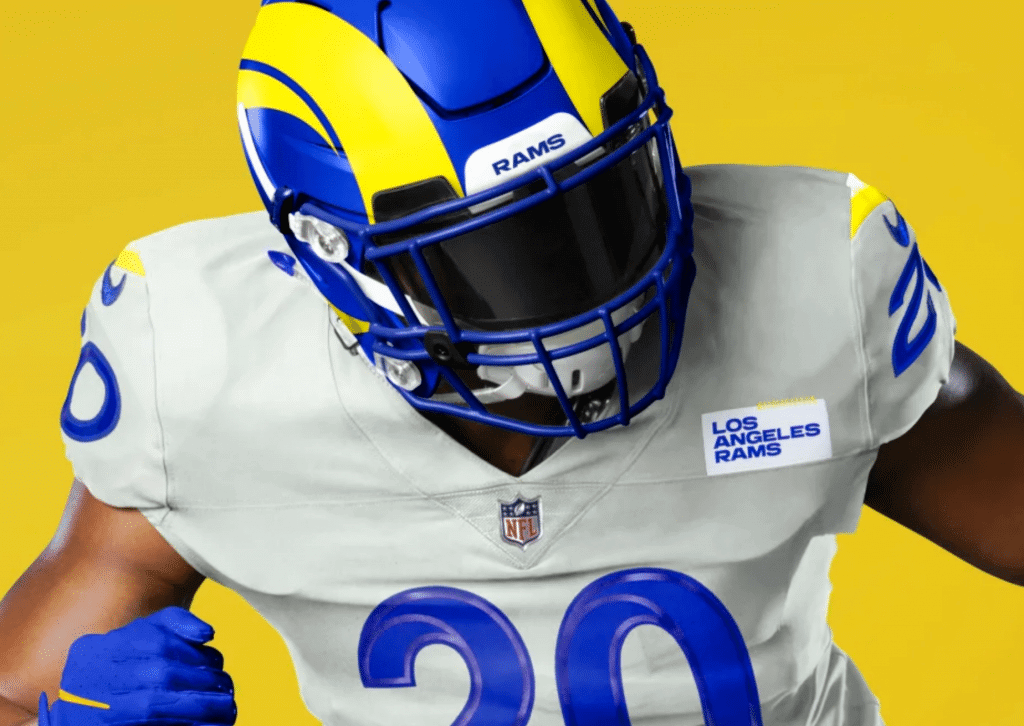 I asked the team about the yellow zigzag stitching along the top edge of both patches and was told the following: "This is a unique design feature that we are excited to introduce. This stitching above the patch is the same stitch used throughout our jerseys — it's a feature we could potentially use across other merchandise going forward." An article posted yesterday on The Athletic (paywalled) added this: "The zig-zagging 'signature stitch' was inspired by some fashion designers' iconic 'mark' on the clothing they create." Oooookay.
(As an aside: Lots and lots of people yesterday — including some in the Uni Watch comments section — responded to these patches by saying, "These are obviously placeholders for the inevitable addition of ad patches!" That is almost certainly not the case. I'll have more to say about it in the next section of today's post. For now, let's keep looking at the Rams' new uni set.)
The Back-Collar Logo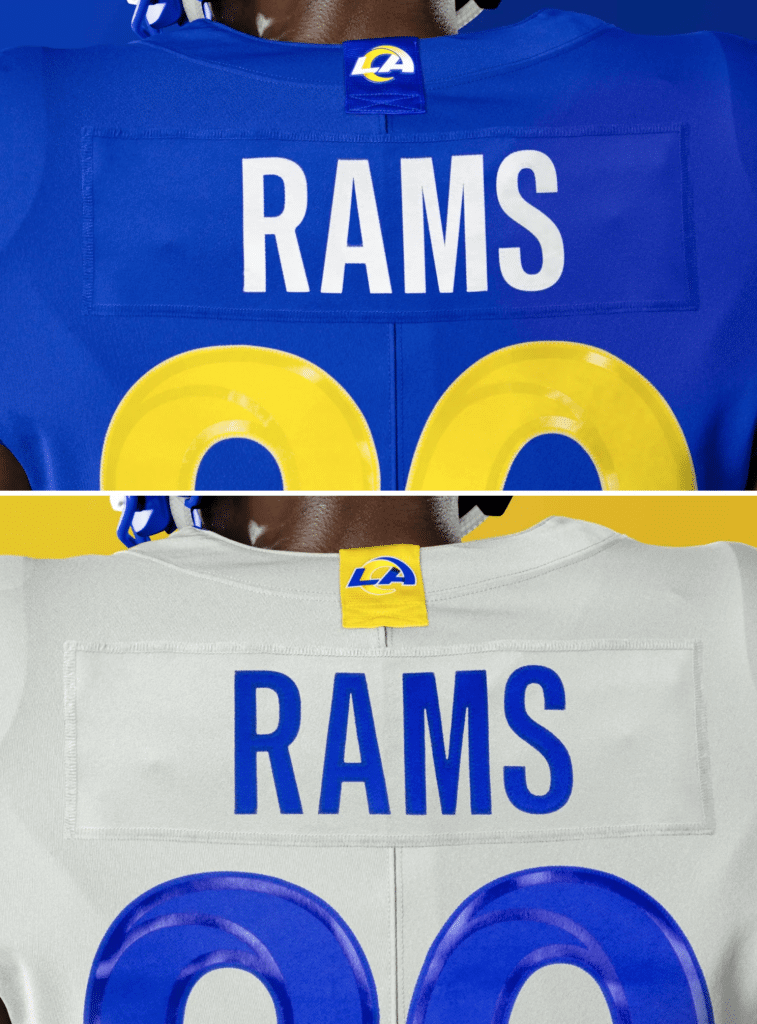 Same as with the chest nametags, the back-collar logo on the blue jersey matches the background fabric, while the one on the dishwater jersey does not — only this time it's yellow, not white (so it looks a bit like the NBA's gold championship tabs — ugh).
Either way, they both look very, very rough.
The Pants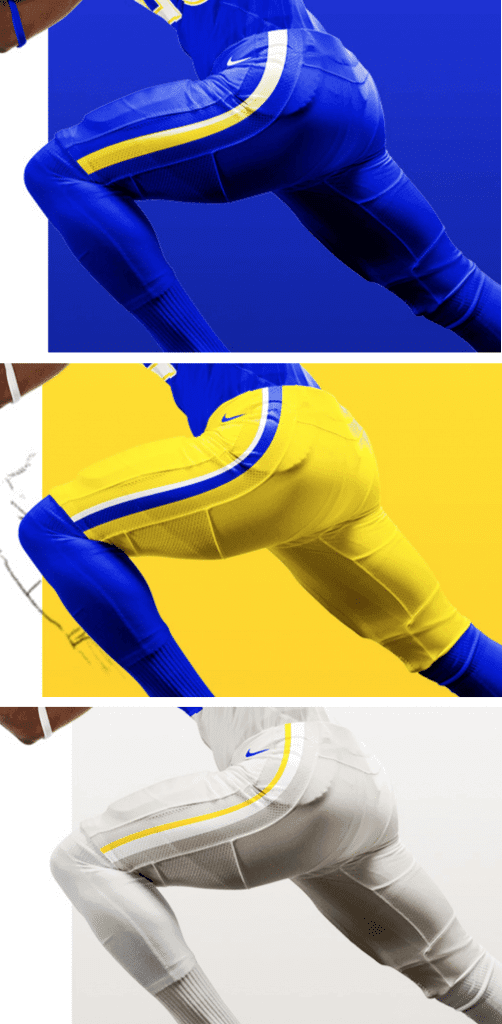 Okay, so the blue ones have a gradation, the other two don't, the stripe widths feel inconsistent — whatever. The pants seem mainly like an afterthought here, which is probably for the best. Also, remember that the pant stripes are supposed to be reflective, so they'll probably look different on the field than they do here.
Those are the major uniform elements. A few additional notes about this set:
• After all the talk about how they held up the release of these uniforms to coincide with opening of the new stadium, I'm surprised there isn't an inaugural-season patch or decal.
• A team spokesperson tells me that the only uni combos in the mix for now are mono-blue, blue over yellow, and mono-dishwater, the latter of which can be paired with either matching socks or blue socks: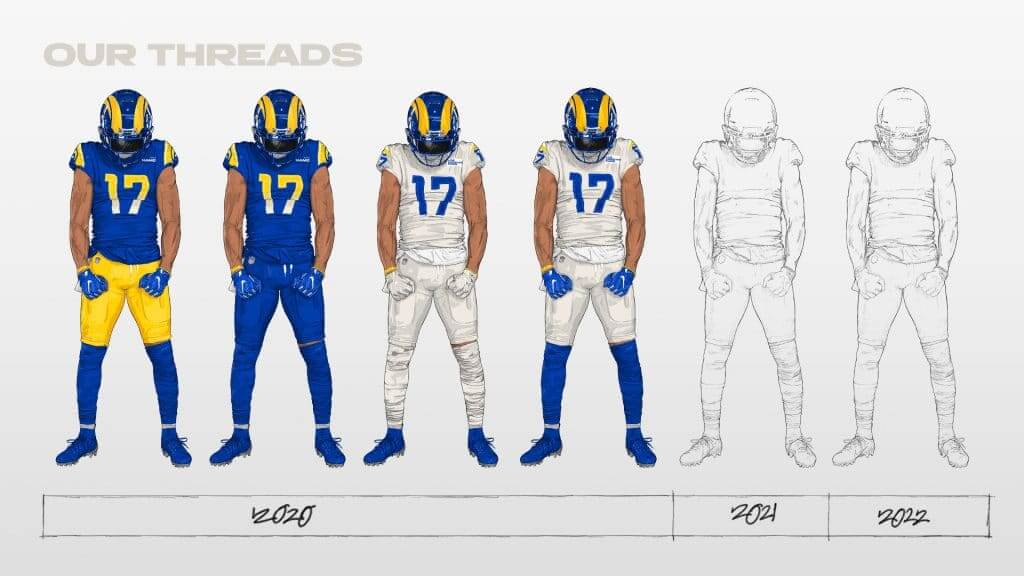 No plans for any other mixing and matching of the jerseys and pants. Also, as you can see in that graphic, they will apparently be adding a new uniform in 2021, and another in 2022.
• I've also been told that there is no designated home or road look, and that any of those basic combos could conceivably be worn at home.
———
I think that covers everything. So what do I think? As I've already said, I think the helmet is fine — not great, but fine. Everything else, though, is a mess. Gradient numbers should be reserved for the Pro Bowl, I don't care at all for the dishwater color, the chest patches are embarrassing and the back patches aren't much better. What a disappointment, especially for a team with such a proud uniform heritage.
Like so many failed uniform sets, this one feels like it's trying too hard to be of the moment. And like most things that try to do that, it will quickly look dated and passé. The only question now, as many people pointed out yesterday, is whether a cancelled NFL season will count toward the league's five-year uniform-change rule, since the Rams definitely won't be wearing these much longer than that.
Finally, I leave you with this:
Los Angeles, this is …awkward. pic.twitter.com/uW8ASBve6W

— Pat Thorman (@Pat_Thorman) May 13, 2020
• • • • •
• • • • •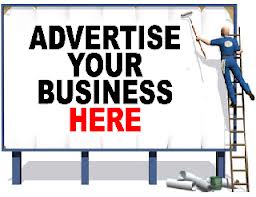 Now about those chest patches: Okay, now let's talk about whether the Rams' new chest patches are really just "placeholders" for upcoming ad patches, as so many people seemed to think yesterday. I want to nip that conspiracy theory in the bud before it spreads too far, because it really doesn't hold up to even a modicum of scrutiny. Here's why:
1. Plenty of NFL teams have put a team logo or wordmark in that same exact spot in recent years, including the Steelers (who've had it there since 1997), Seahawks (since 2012), Jaguars (since 2013), and Jets (1998-2018), plus that's also the spot where the Chiefs wear their Lamar Hunt perma-memorial (since 2007). In all of those cases, the logo or wordmark or patch hasn't been a "placeholder" for anything — it's just been a team logo or wordmark or patch. Now the Rams have put a team wordmark in that same spot — big deal. There's zero evidence to think it indicates anything more than what it is, which is a team wordmark.
2. Seven NFL teams have released new uniforms this spring, and this is the only one that has included a "placeholder" in that spot. If this were really a nefarious plan to foist uniform ads upon us, don't you think at least some of those other six teams — or maybe all of them — would have used similar "placeholders"?
3. The whole "placeholder" notion doesn't even make sense. What would be the point of it — to get people used to the idea of a logo being there? Yeah, that'd go over really well with a potential uniform advertiser: "Don't worry, people won't even notice your logo on the jersey because they're already used to seeing ours." Look, the reality is that there's already a "placeholder" in that spot on most NFL jerseys — it's called blank space. If you really want to put ads there, just leave it blank and it'll be available when you're ready to use it. Simple.
I think the reason so many people tried to connect the dots between the Rams' patches and uniform ads is that these new Rams patches already look like uniform ads — and I agree, they do! But that's not the same as them being part of some secret plot — they aren't.
(As an aside to this aside, there's also been a lot of chatter this week about how leagues can get themselves up and running again and make up for lost revenue by adopting uniform ad programs like the NBA's. That too does not hold up well to scrutiny. I'll have more to say about that tomorrow.)
• • • • •
• • • • •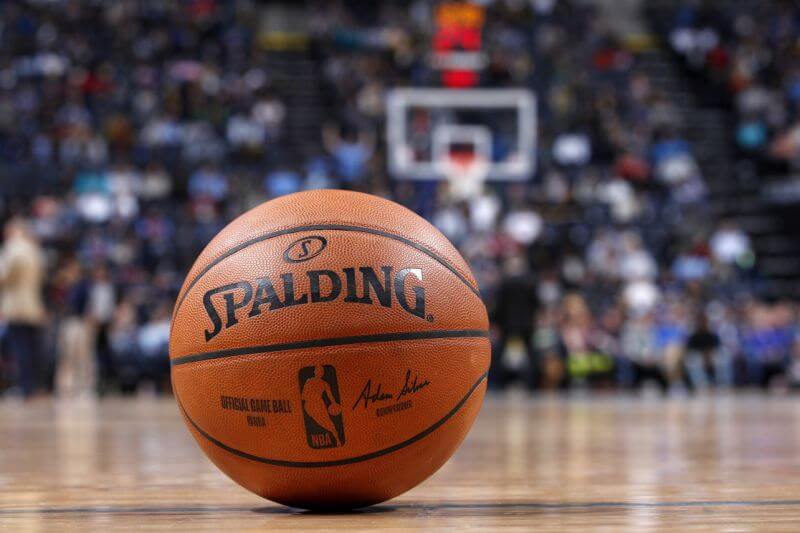 It's a whole new ball(game): Yahoo Sports broke the news yesterday that Spalding will soon stop making the NBA's official basketball. Beginning with the 2021-22 season, the contract will revert to Wilson (which had previously made the NBA ball for several decades before Spalding got the contract in 1983).
Two thoughts on this:
1. I don't find it surprising that the NBA would move away from a legacy sporting goods company like Spalding, which has little to none of the lifestyle appeal that the NBA is all about these days. But I'm surprised that they're going with Wilson — another legacy brand with no lifestyle profile to speak of. I would have expected Nike to take over. On the other hand, Wilson is the official ball of the NCAA tourney and is also, according to the Yahoo article, "used in most high school games around the country," so maybe the move makes sense in that regard.
2. As longtime Uni Watch reader Dan Pfeifer points out, Spalding doesn't just make the NBA's game ball — they also make (and have their logo on) the backboard, rim, and stanchion. It's not yet clear, at least to me, whether Spalding will also be losing those gigs.
• • • • •
• • • • •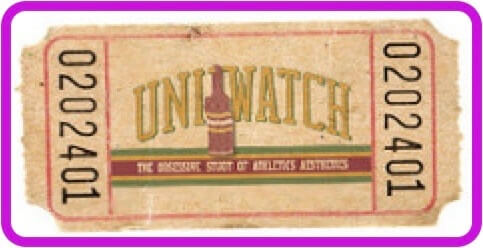 ITEM! Another Purp Walk raffle: Earlier this week I raffled off three memberships for people who can redeem them this coming Sunday or Monday — that's Purple Amnesty Day and Purple Amnesty Day (Observed) — for purple-inclusive membership cards. Today, thanks to a generous contribution from longtime reader Judy Adams, we have two more purple cards to raffle.
This will be a one-day raffle. To enter, send an email to the raffle address. One entry per person. I'll announce the two winners tomorrow. Those winners will only be able to redeem their prizes by ordering purple membership cards this Sunday or Monday. If you snooze, you lose!
Big thanks to Judy for sponsoring this one. We'll have another Purp Walk raffle — but not for membership cards — tomorrow.
• • • • •
• • • • •
Click to enlarge
Who is that masked man? A few people have asked me to make and sell Uni Watch masks, and I've respectfully declined because I have too many projects going on as it is. So Uni Watch reader Bob Andrews decided to take matters into his own hands — tremendous!
• • • • •
• • • • •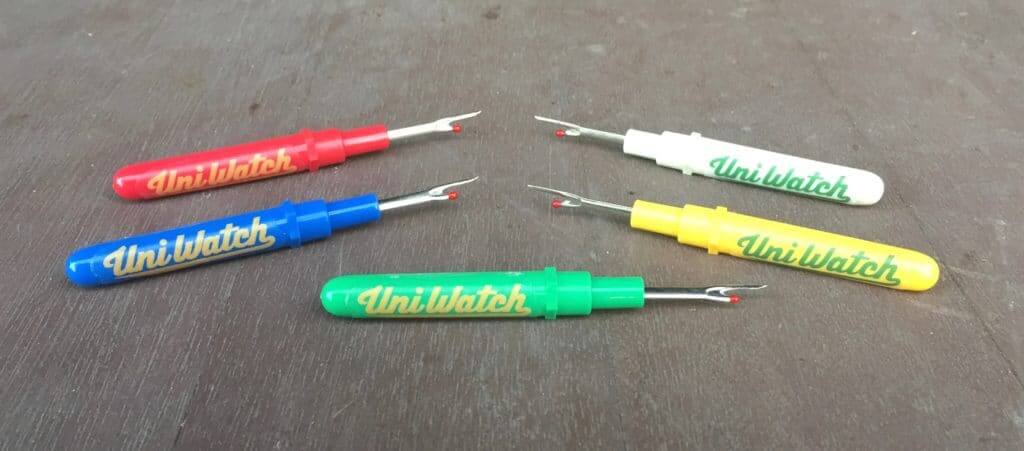 Just give me all your money already: In case you missed it earlier this week, all colors of Uni Watch seam rippers are now back in stock (although green is already going fast). They're available here.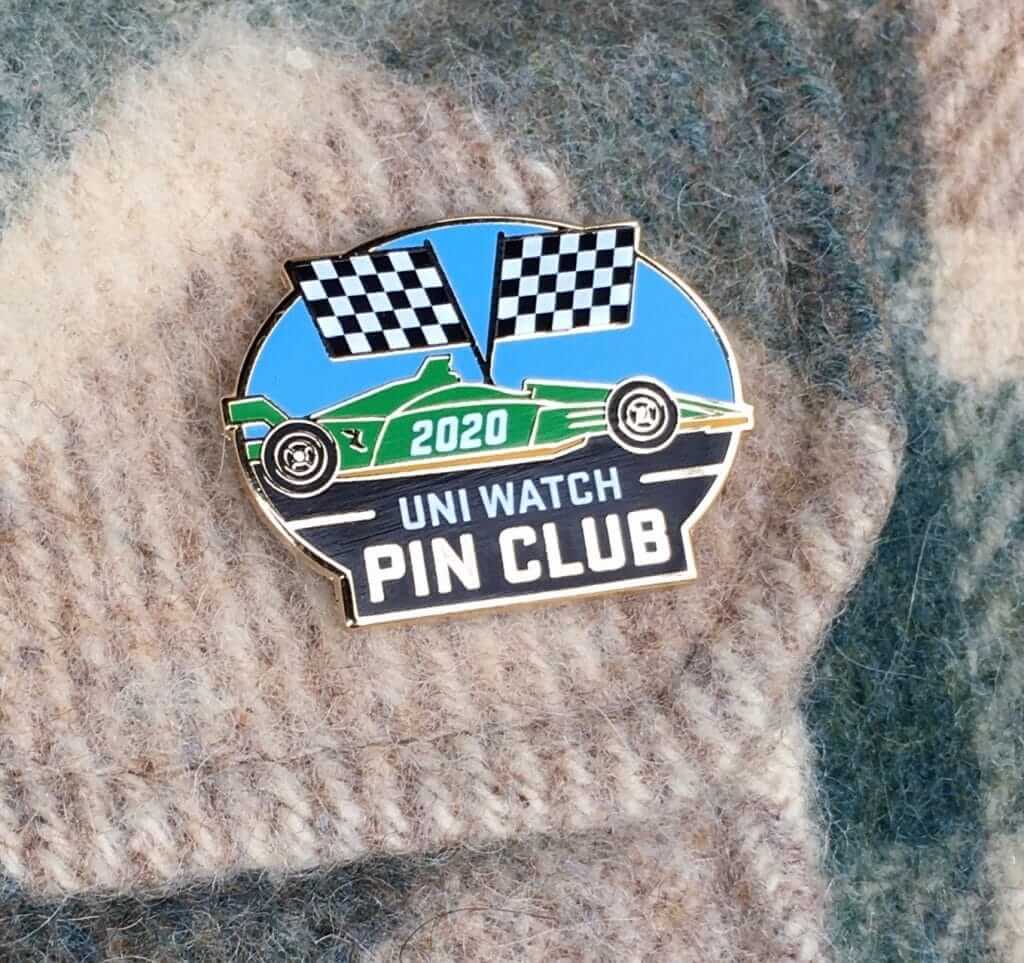 While we're at it:
• Supplies of the Uni Watch Pin Club's design for May, featuring this super-cool auto racing theme, are dwindling, but you can still get one here (plus the January, February, and March pins are also available; April is sold out). You can save 15% on any of these by using the checkout code COMMUNITY.
• That 15% COUMMUNITY discount also applies to everything else you'll find in the Uni Watch Shop and the Naming Wrongs Shop.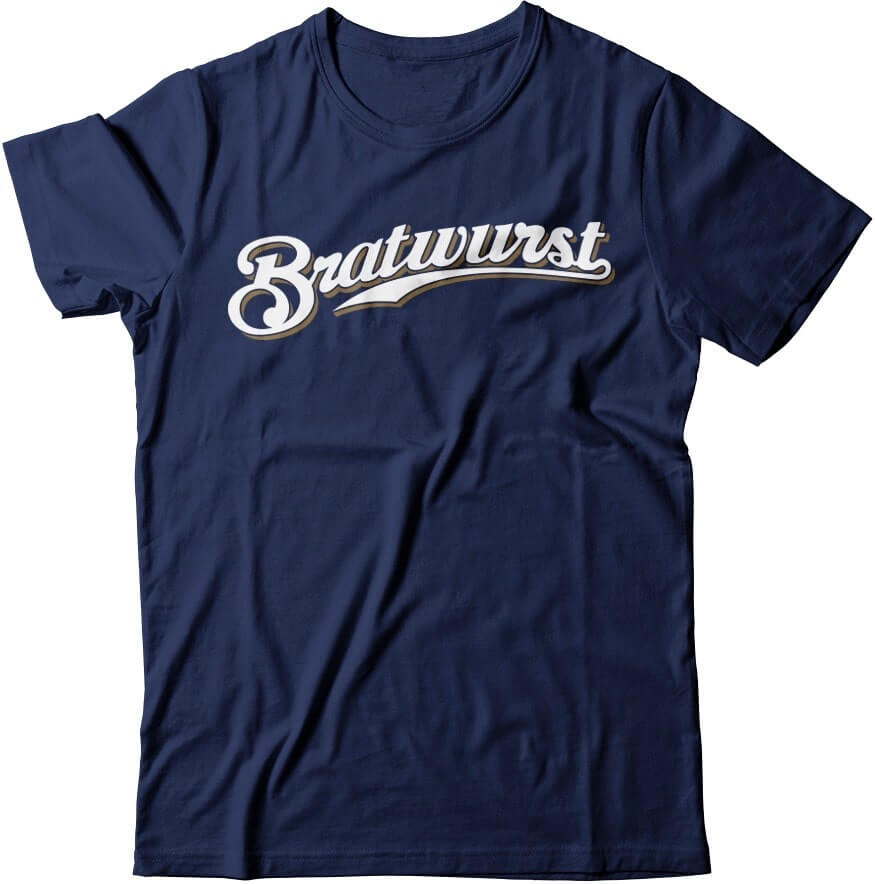 • Wouldn't it be fun, just hypothetically, if this Bratwurst T-shirt actually existed? You know, just theoretically? If you agree, let me know.
• I still have Uni Watch caps available in sizes 7 and 7-7/8. I'm told that we should finally be restocked on all other fitted sizes, and also on adjustables, in about a month.
• Don't forget that we also have beautiful chain-stitched patches, pennants, and stickers and magnets.
• If you'd rather support Uni Watch via a donation instead of a merch purch, here's how you can do that.
• • • • •
• • • • •
The Ticker
By Paul
'Skins Watch: Two items from Kary Klismet: A student at Sanborn Regional High School in New Hampshire has gathered over 400 signatures on a petition to change the school's "Indians" team name, and a columnist for The Middletown Press in Connecticut has challenged his newspaper's parent company to stop using the Native-themed names of local high school teams.

Working Class Wannabes™: Notre Dame football coach Brian Kelly describes one of his former players, DE Isaac Rochell, who now plays for the Los Angeles Chargers, as "just unassuming, blue-collar." … Frostburg State football coach DeLane Fitzgerald says of new recruit Don Woodworth, "Don's personality fits our football program, blue collar all the way." … Fansided's Clemson blogger, Jeff Benedict (a man who uses this as his avatar) says the key game on the Clemson's schedule this fall is the game against Boston College, because "they will still have that blue-collar work ethic that BC teams are known for."
Baseball News: MLB players have approved the use of a DH for all games this season (assuming there is a season). Paul Panganiban points out that this means we won't be seeing pitchers wearing jackets on the basepaths in 2020 (or maybe ever). … Let's hear it for the MLB Draft, which finally fixed the apostrophe catastrophe in its logo! Hey, Orioles: If the draft can do it, so can you! … A Cardinals blogger has sleuthed out that Hall of Famer Rogers Hornsby, who supposedly never wore a number as a Cardinal, actually wore No. 6 (from Perry Sailor).
NFL News: The Ravens have announced the uni number assignments for their draft class (from Andrew Cosentino). … Lots of people have mini-helmet collections, but Christian Zummer has something I've never seen before: an NFL mini-mug collection!
College Football News: Past is prologue: Here's a great shot of fans wearing masks at a Georgia Tech game during the 1918 flu pandemic (from Michael Rich). … Here's an infographic that breaks down Arizona State's helmet, jersey, and pants colors since 2011 (graphic by @JediASU, sent my way by @_mikeylikes_).
Hockey News: Flyers G Neil Little's mask was stolen between Games Three and Four of the 1997 Stanley Cup Finals. For practice before Game Four, he borrowed a mask from Red Wings G Chris Osgood, a good friend of his. "The idea that opposing goalies during the Cup Final would borrow gear is incredible almost unthinkable, even among backup goaltenders," says John Muir. … A Canadian infectious disease specialist says that if the NHL resumes play during the pandemic, all players should wear full face shields and fighting should be banned, among several other recommendations. Don Cherry could not be reached for comment (from Wade Heidt). … Also from Wade: Here are some of the names that have been suggested for the NWHL's new Toronto expansion team. … The New England Senior Hockey League is shutting down after 40 years (from @nhjuangator).
NBA News: Last Friday we Ticker-linked to a bunch of NBA-themed
logos for Australian Football League teams. Now the same designer who produced those logos has come up with basketball uniform concepts for those same NBA/AFL team combos (from Kary Klismet).
College Hoops News: Florida has repainted its basketball floor, which it just renamed in honor of former coach Billy Donovan back in February, to make Donovan's signature larger and put it at center court (from Kary Klismet).
Soccer News: Watford is changing outfitters, moving from Adidas to Kelme. "Provided the Hornets can avoid relegation, this will be the first Premier League side Kelme has outfitted," says Josh Hinton. … Do you want to vote on the greatest soccer shirt of all time? Sure you do (from Rob Matuga). … The NWSL's Portland Thorns will release their new shirts next Wednesday. "But they've already leaked, and the graphics used here line up with the leak," notes our own Jamie Rathjen.
Grab Bag: Here's the best four minutes you'll spend today, guaranteed: Enjoy this great video featuring highlights from the great Saul Bass's movie title designs. Don't miss (big thanks to Adam Herbst). … Japanese women's volleyball player Yurie Nabeya, known for wearing goggles due to an eye injury from practice, has signed a contract with Swans for 3D-printed goggle frames (from Jeremy Brahm). … A Pennsylvania company changed from making jerseys to coronavirus masks, but employees walked off the job, saying that the working conditions were unsafe. … Posh Spice — aka Mrs. David Beckham — is facing criticism for making her daughter wear a school uniform while home learning. … Here's a look at the history of the DC Comics logo. … Mat Swatek has done a deep dive on how teams from a given city do or don't have similar color schemes. Good stuff — recommended. … Military service members are being required to wear masks, but the top military brass is not wearing them, apparently a trickle-down effect from President Trump and some of his cabinet members not wearing them (from Timmy Donahue). … Also from Timmy: New retro-style police badges for Eureka, Calif. … South Africa has enacted a slew of bizarre and confounding clothing rules related to the pandemic (from Max Weintraub). … Milligan College, a private Christian liberal arts school in Tennessee, has unveiled its new logo as it transitions from a college to a university (Timmy Donahue again). … In Korea, baseball broadcasts are showing cardboard cutouts of fans in the empty seats. But American broadcast networks are reportedly considering the idea of "using virtual reality to enhance the at-home viewing experience, by superimposing realistic-looking fans onto screens." … When Richard Nixon was president, he apparently wanted White House guards to wear absurdly gaudy uniforms before dropping the idea due to widespread ridicule (from natteringN).
• • • • •
[adrotate group="2″]
• • • • •
Click to enlarge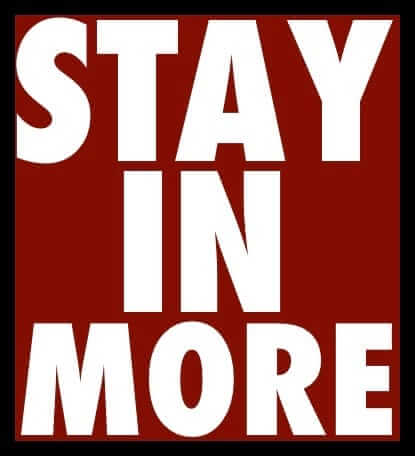 What Paul did last night: I usually try to take our daily photo soon after I've refilled my glass, so the glass looks full or at least full-ish, and ideally it has a bit of a frothy head to boot. But yesterday we were so busy talking (or maybe I was just so worn out from a day of concentrating on the Rams' uniforms) that I forgot about the photograph. At some point Mary said, "Aren't you going to take your photo?" By that time I'd finished my first beer and didn't feel like having a second one, so here's a rare Pandemic Porch Cocktails™ photo in which my glass is empty.
No dogs yesterday. Disappointing.
The branch is still there.
As always, you can see the full set of Pandemic Porch Cocktails™ photos here.