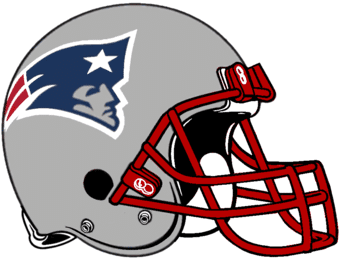 Good morning! When I wrote last week about the Patriots' new uniform set — the set with the navy pants that are apparently going to be worn for all games, even with the navy jersey, creating a miserable mono-navy effect — I included a look at the team's style guide sheet, which was provided to me by a trusted industry source.
Now that same source has obtained and shared with me an earlier version of Nike's cut sheet for the Pats. It's from last October — six months ago — and it's very interesting. Take a look (click to slightly enlarge):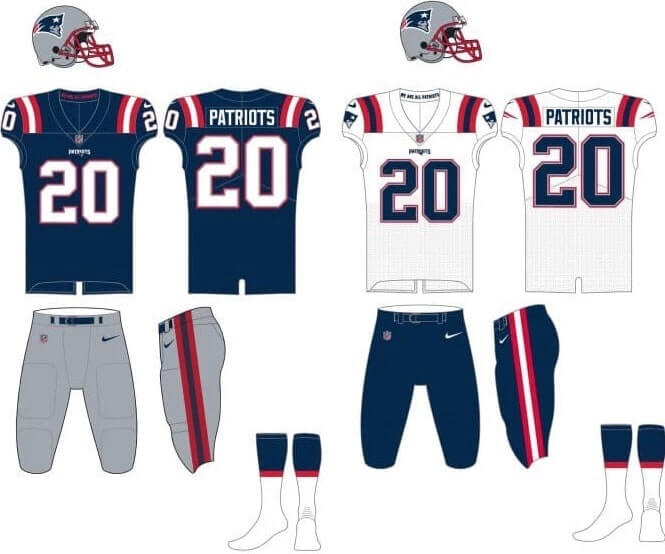 The most obvious thing here is that the Pats were apparently planning, or at least considering, the use of grey or silver pants. Obviously, that would have been a huge improvement for the blue jersey, and would also have provided a mix-and-match option for the white jersey.
The other intriguing thing is that there was apparently at least some consideration to use TV numbers on the blue jersey — but not on the white one! It's odd enough to see a mismatched approach like that, but it's even odder that the one jersey equipped with TV numbers would be the blue one, since that jersey is essentially a carryover from last season's Color Rash design, which didn't have TV numbers. If only one jersey would get those numbers, you'd expect it to be the white one, not the blue one. It's not a huge deal either way — certainly not as much of a missed opportunity as the pants — but it's still interesting.
I'm sure some of you are thinking that this sheet might be a Photoshop job, or a fake, or whatever. It's not — I know where it came from, and I trust the source who shared it with me.
So the questions now are (a) how seriously were the Pats considering the grey/silver pants and the TV numbers, and (b) why did they eventually opt not to go that route?
The Patriots did not respond to a request for comment.
• • • • •
• • • • •
Photos taken yesterday morning; click to enlarge
ITEM! Big Uni Watch birthday day: Uni Watch girl mascot President Caitlin turns 15 years old today! That's about 76 in human years, but you'd never know it from her eternally kittenish demeanor. She's still an inquisitive little monkey, still a chirpy chatterbox, still gets ants in her pants and races back and forth around Uni Watch HQ, still spends a lot of her day upside-down. She's the best!
That little sprig of green near her ear is a clipping of celery leaves. We discovered last year that she really loves celery (which is apparently a thing for cats — we had no idea), so I got her some yesterday and we had a little pre-birthday session: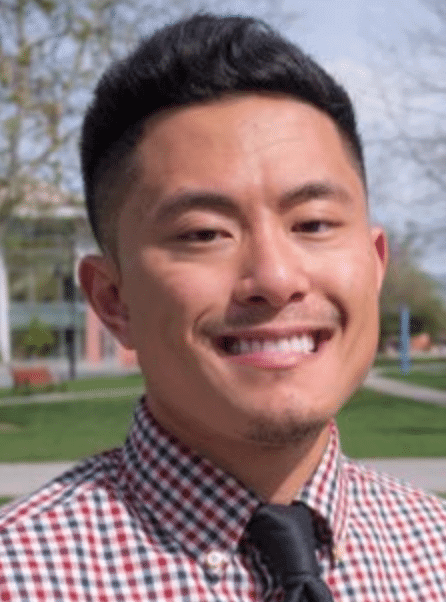 What a cutie! She'll be getting more birthday celery leaves today, along with plenty of catnip and a few new toys.
President Caitlin isn't the only member of the Uni Watch family who's celebrating a birthday today. Lloyd Alaban, who produces the Tickers that run on Wednesdays, is also celebrating another trip around the sun.
Enjoy your special day, Lloyd. It probably isn't going to be the birthday you had in mind, but it'll be one you'll probably never forget! (Also, watch your mailbox — you have a treat on the way. Not celery, I promise.)
• • • • •
• • • • •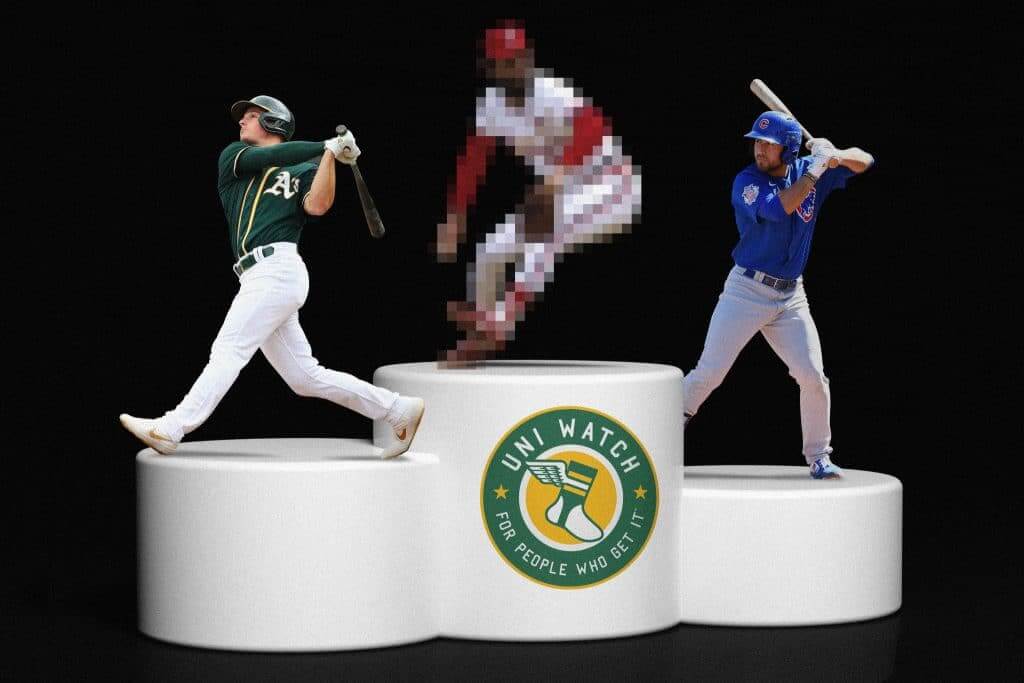 Power Rankings reminder: In case you missed it on Wednesday, the Uni Watch MLB Power Rankings, with a first-to-worst assessment of each current MLB uniform set, is now available for your perusal over at InsideHook. Enjoy!
• • • • •
• • • • •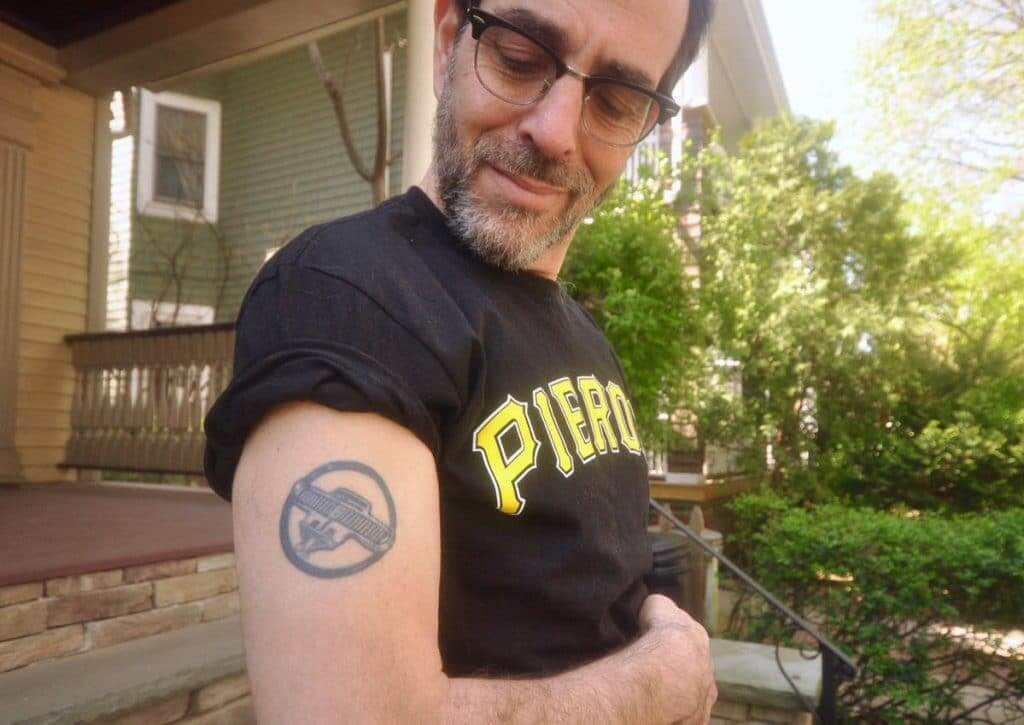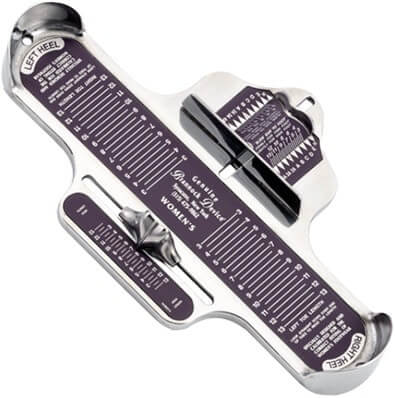 ITEM! Brannock update: I've mentioned several times now that I'm a big fan of the podcast Sidedoor, which is hosted by the great Lizzie Peabody and examines overlooked stories that relate to the Smithsonian's collections.
Sidedoor recently invited listeners to suggest new story topics. I know that a lot of the Brannock Device Company's early files were donated to the Smithsonian, so, ever in Brannock-evangelist mode, I recently emailed Sidedoor to suggest that they devote an episode to Charlie Brannock and his wonderful invention.
The bad news is that they didn't do a full Brannock episode; the good news is that they did do a short segment as part of an odds-n-sods episode that just launched, and I was interviewed for it — fun! You can hear that segment at the 18:14 mark here.
They made a big fuss over my Brannock tattoo and even asked for a photo of it — which they ended up not using on their website. But I liked the way it turned out, so here it is (see above).
• • • • •
• • • • •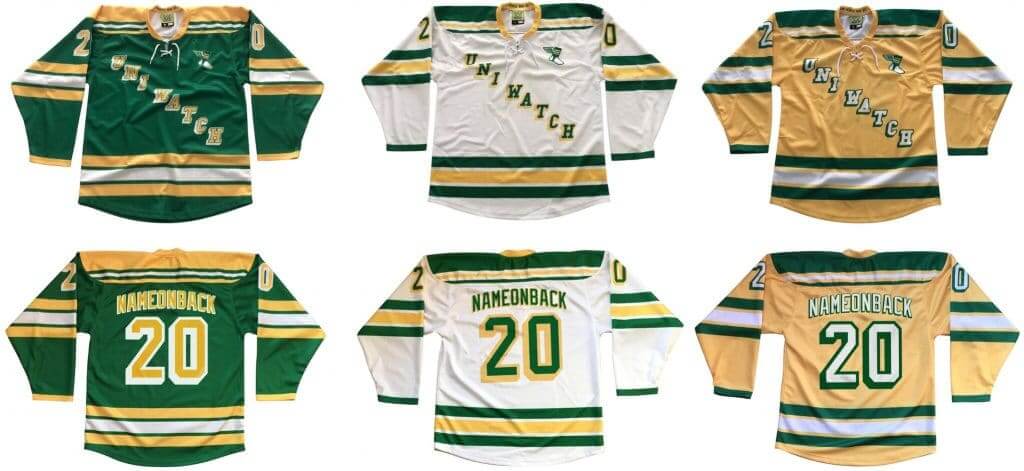 NEXT-TO-LAST DAY: Tomorrow is the final day to get in on the next batch of Uni Watch hockey jerseys. Available in three color options, two tailoring options, and with your choice of number and NOB. Ordering deadline tomorrow — full details here.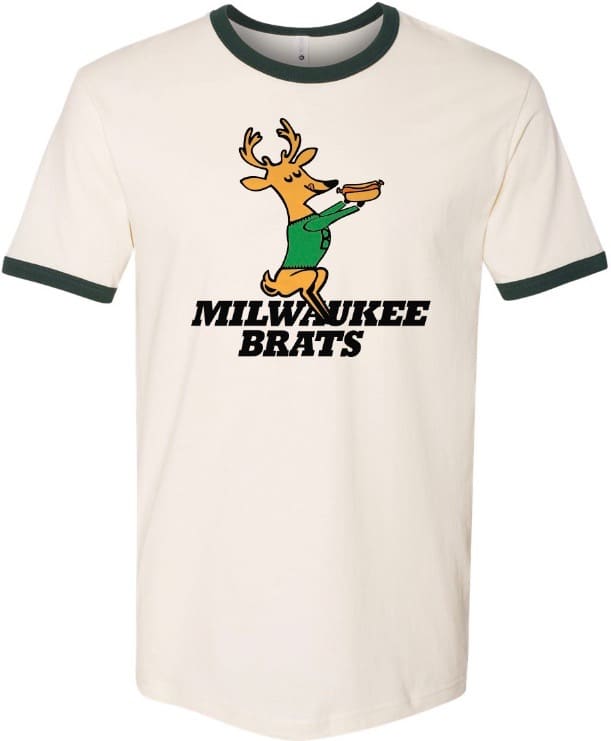 While we're at it:
• Hankering for a nice, tasty brat? Let's discuss.
• You can get 15% off of everything in the Uni Watch Shop and the Naming Wrongs Shop by using the checkout code COMMUNITY.
• I don't often mention this, but you can get lots of cool Uni Watch stickers from our friends at StickerYou.
• It's also been a while since I've mentioned our pennants and chain-stitched patches.
Okay, end of sales pitch. My thanks, as always, for your consideration.
• • • • •
• • • • •
Pin Club update: The Uni Watch Pin Club's May design will launch at midnight Eastern tonight. It will be available at this link, and then I'll have more to say about it in tomorrow's blog post. The April pin sold out in just a few days, so you'll probably want to move fast on this one.
If you want to get caught up, the January, February, and March pins are still available. These all qualify for the 15% COMMUNITY checkout discount.
• • • • •
• • • • •
The Ticker
By Paul
'Skins Watch: As we reported a few weeks ago, Land O Lakes butter has removed the Native American woman from its package design. Now the son of the Native American artist who created the design says the image of the woman was never a stereotype (from @OlegKvasha).

Working Class Wannabes™: An article about Baltimore Ravens fifth-round draft choice Broderick Washington describes him as a "down-and-dirty, lunch-pail defensive tackle" (from Timmy Donahue).
Baseball News: World's greatest vendor Hal the Hot Dog Guy, who I profiled almost exactly one year ago, is doing a fundraiser to benefit Giants and A's vendors and other gameday employees. Donors get one of Hal's autographed trading cards (from Mike Delia). … Here's how players on the Cardinals chose their uniform numbers. … "Here's a deep dive on a Don Mattingly baseball card," says Andrew Cosentino. "The article was sparked by a 1987 Topps card that said, 'Don's birth certificate states he was born in 1962, not 1961 as shown in most baseball records.' There's also a corresponding podcast on the topic" (also submitted by Max Wagner). … I'm quoted in this article about some Mets players wanting to bring back the BFBS alternates. … The 2020 Baseball Hall of Fame induction ceremony, scheduled for July, has been postponed until 2021. … Here's a good look at the Georgia 250th-anniversary patch that the Braves wore in 1983 (from @NFL_Journal). … The Fresno Grizzlies' dentist is making masks from the team's 2018 jerseys (from Johnny Bravo). … Some nice vintage MLB letterhead designs here (from Andreas Papadopoulos). … Former MLB skipper Buck Showalter, who in 2015 mananged the Orioles in the only crowd-free game in MLB history, says playing games without a live audience due to the pandemic would be problematic because players need to feed off the fans' emotions.

Pro Football News: Weird face-protective setup in this 1970s Bengals shot. … Here are the new rookie uni numbers for the Cowboys, Bengals, and Washington (from William Kemen and our own Jamie Rathjen). … The Rams may put their new ram's head logo — the one everyone thinks looks like a penis and testicles — at midfield. … New uniforms for the Columbus Lions of the National Arena League (from Kary Klismet). … Newly signed Saints QB Jameis Winston, who wore No. 3 with the Bucs, says he wants to wear No. 2 in New Orleans (from Mike Chamernik). … Joshua Lefkowitz, an eighth grader who's the son of longtime Uni Watch reader Jason Lefkowitz, has graded most of this spring's NFL uniform redesigns for his school paper. You can see his assessments on the back page of this interactive document.
College Football News: Here's a bunch of Big Ten helmet-redesign concepts (from Kary Klismet). … Also from Kary: Check out the great sweater worn by this Air Force cadet falconer at a 1958 game. You can see more pics from the game itself — a color-vs.-color game against Denver — by scrolling down on that page.
Hockey News: Nice deep dive on the Bruins' very first sweater (from Kary Klismet). … New 20th-anniversary logo for the ECHL's Reading Royals (from Bill McClain). … Here's the story behind the development of the Golden Knights' name and logo (paywalled) (from Thomas Roddy).
College Hoops News: Gross: Here's a video clip on why Arkansas coach Eric Musselman wears T-shirts featuring the logos of corporate sponsors advertisers (from Taylor Crabtree).
Soccer News: USL League Two team South Bend Lions was supposed to start its inaugural season on May 9. Obviously, that won't be happening, so the team is selling commemorative "non-gameday" e-tickets for $1 (from John Flory).
Grab Bag: If you like infographics and data visualizations, it's hard to beat how effective this one is (from the Tugboat Captain). … AirAsia has new flight attendant uniforms that include long sleeves, a mask, and a hood. … Interesting article about the public response to Cadbury's new logo (from Timmy Donahue). … Here's a Twitter-er who specializes in taking photos of people wearing what he considers to be obscure jerseys. … Some designers have created an alternative flag for San Francisco (from @29_sunset). … Some people have issues with UVa's new logo set. "The sabre handles mimic the serpentine walls on the grounds of the school, which were originally structured to hide enslaved laborers from view," explains Timmy Donahue. … I have apparently been quoted on the back of a trading card/sticker thingie about eye black. Scroll down to see the front. … New logos for Montclair State athletics.
• • • • •
[adrotate group="2″]
• • • • •
Click to enlarge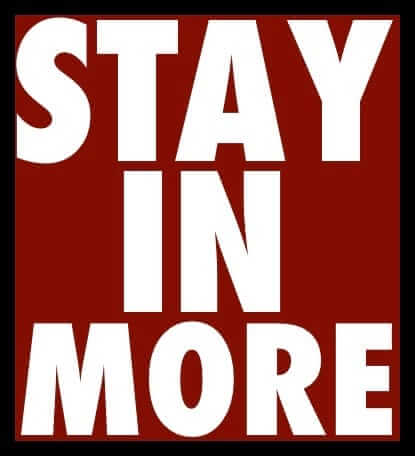 What Paul did last night: Another grey, chilly day (49º at porch o'clock). Negro Modelo for me, seltzer for the Tugboat Captain.
We talked a lot about some TV shows we've been watching, which is odd, because we normally never watch TV (except for sports and reruns of a few favorite old shows). We still don't watch it during the day, but we've started watching a few things at night — some good, some not so good. I'm trying to decide what I think about it. I already spend my entire working day staring at a screen, so I'm not nuts about doing more of that when I'm not working. But TV does have its narcotic atractions.
We met a new dog — Joanna:
As always, you can see all of the Pandemic Porch Cocktails photos — 44 of them now — here.
• • • • •
Our latest raffle winner is Florian Gilleron, who's won himself a Uni Watch membership card (and who lives in France!). Congrats to him, and thanks to Sam Marcheschi for sponsoring this one. — Paul