By Phil Hecken
Follow @PhilHecken

As you guys are aware, for the past several weekends (due in large part to the lack of uni news — thanks COVID-19) I've been featuring some uniform designers and today we'll meet another. What you see above are some of the concepts of Stefan Vasilev, a graphic designer, who was introduced to me by Tom O'Grady. For those of you not familiar with Tom, he designed many NBA uniforms, and was especially prevalent during the 1990's when the NBA added sublimation — and really opened up a new dimension in uniform design. Tom mentioned that Stefan had done some "NBA/NFL crossover" designs (many based on Tom's 90's designs) and thought the readership would love a look. I agreed.
Today, I'm pleased to present those designs. I'll let Stefan take it from here:
• • • • •
NBA/NFL Mashup Designs
By Stevan Vasilev
My name is Stefan Vasilev, and I am a graphic designer and photographer. I specialize in corporate branding, packaging, and print design. I'm an avid sports fan and I've always been fascinated by great sports design. I've designed rec-league logos, jerseys, t-shirts, and other items for fun in the past, but it's never been a serious avenue for me. With the current quarantine situation in the world, I finally had time to dive deep into my passion. I absolutely love the NBA and everything about it. Then a quirky idea about "What if NBA teams played in the NFL" led to a graphic representing jersey designs for some iconic NBA franchises.
I decided to go with three classic NBA Champions as well as three more current ones – The Celtics, The Lakers, and the Bulls, and then The Heat, The Warriors, and The Raptors. Using design principles and visuals from the NBA world and translating them to the NFL uniform platform turned out to be a great design exercise in consistency and branding. And then it just went downhill from there. I started thinking what a full NBA/NFL mashup uniform design could look like and the way my brain works is I just decided to go for the classic design-heavy NBA uniforms of the 90s and the amazing work done by Tom O'Grady and design heads behind the marvelous over-the-top aesthetic of the NBA in the 1990s. I decided to go for a main uniform and an alternate version for each time – the main one focused on a 90s classic design, and the alternate – based on a classic or a personal favorite of mine, representing either a significant era in the franchise's history or something that personally enjoyed in terms of design. I wanted to see if I can translate general design and branding principles to a different design template. Numbers represent a classic NBA player that I think represents the team or the era in the best way. I know I might have made some mistakes, chosen the wrong typeface, or vectorized the wrong graphic, but hey… It's a process, not a final step anyway.
I present to you, What if NBA teams Played in the NFL, 90s Edition! Five teams in the East and five in the West in alphabetical order.
+ + + + + + + + + +
Atlanta Hawks:
Main Uni:
For Atlanta's Main Unis I decided to go with the absolutely iconic spread hawk gradient jerseys, best remembered with Mutombo's wagging index finger. The amazing graphic has become a staple in 90s NBA design, and I wanted to alter it a bit, still representing the overall image but in a clearer way, keeping most of the design – the hawk's wings and the wing-shaped graphic on the shorts. The hawk on the helmets blends in with the graphic on the shoulders of the jersey, bringing it all together nicely. The helmets are the main canvas for the awesome hawk graphic that is the centerpiece of this design.
Alt Uni:
The Alt Uni was a no-brainer for me – I HAD to go with the amazing designs that I remember Dominique Wilkins flying around on the court – the 80s-90s slanted designs. Also, this presented a challenge since asymmetry and diagonal designs in the NFL are almost non-existent. The helmets use a single bold Hawks logo that is strong and doesn't really need anything else in terms of design.
+ + + + + + + + + +
Detroit Pistons
Main Uni:
Another staple of the 90s NBA design was the uniform design for the Detroit Pistons. Finally, someone made the great decision to put some branding efforts into the Pistons name and go all-in on the design. The flames from the logo made for an awesome shoulder graphic for my designs, and if I have chosen to use this design, I definitely HAD TO pay homage to both teal and red designs. The helmet is where I decided to put the flaming bronco secondary logo, used by the Pistons in that era.
Alt Uni:
For the Alt Unis – even tho it's not that design heavy – I decided to use the classic Pistons design from the 80s and 90s since it presented another challenge for creating these – being consistent and recognizable without too much design elements and visuals. The helmets don a huge no-nonsense Pistons logo, I didn't even need to think anymore about that.
+ + + + + + + + + +
Milwaukee Bucks
Main Uni:
If I am doing a 90s themed design exercise – there was no way I could omit this amazing design (even tho it's not really one of my personal favs). This jersey is a legendary design and the challenge was to take it and translate it to the NFL system and make something that I actually liked myself. I even had to make up what a white, home jersey in this design would look like since it ever only existed in dark green.
Alt Uni:
For the alternates I decided to marry the current amazing design used by the Bucks currently in terms of design elements and colors, with that stag-antlers concept from the 90s. Feer The D…eer!
+ + + + + + + + + +
Philadelphia 76ers
Main Uni:
Another MUST from the 90s was the design used by Philly in the AI era. Amazing design, asymmetry, visual goodness, it has it all. And it will always be engrained in my mind anytime I think of Allen Iverson. The all-black version is a special nod to the killer that AI was (Thank you, Tom).
Alt Uni:
The alt unis I went for were the classic 80s Sixers unis, complete with stars and stripes.
+ + + + + + + + + +
Toronto Raptors
Main Uni:
No need to explain this thing here, right? The 90s cartoon-style dinosaur design is an absolute classic, and I just had to include it – stripes, biting dinos, teeth, the whole thing!
Alt Uni:
This is somewhat a departure from the over-the-top design theme of the whole exercise, but I just LOVE these We The North jerseys, the OVO version. So I decided to include it – minimalistic awesomeness all around!
+ + + + + + + + + +
Denver Nuggets:
Main Uni:
Another total classic from the NBA in the 90s was the Nuggets rainbow sky-line design. Bold, colorful, amazing! This one really makes use of the composition of the actual NFL jersey, that I was working with – I used specific pannels to represent the visual style of the Nuggs jersey design.
Alt Uni:
For the alternates, I went for the Melo era, that brought the Nuggets real success in the early and mid-2000s. I absolutely love the colors and the overall design – it lends itself really well to an NFL style uniform and looks really authentic. And I am really happy with how the helmets worked out for this particular design – really bold and powerful.
+ + + + + + + + + +
Houston Rockets
Main Uni:
The main uni for the 90s Rockets was also one of those designs, that really went against the cookie-cutter safe aesthetic of the NBA history. Heavy graphics, bold and busy backgrounds, it had it all. Shame that the Rockets Big 4 of The Dream, Barkley, Drexler, and Pippen never amounted to anything major.
Alt Uni:
The alternates for the Rockets are also one of the designs that are really clean and simple and lend themselves so beautifully to translation. Bright and bold, they bring back memories f that time where we all underestimated the heart of a champion, twice.
+ + + + + + + + + +
Phoenix Suns
Main Uni:
This particular design was the second design I tackled and it was something that I was thinking about the second I started doing these – the 90s Suns' jerseys are one of my absolute favorites (Thank you, Tom)! And also I really wanted to again challenge the symmetry that is so prevalent on NFL designs – what better design to use than this? The shoulder sun graphic really just fell into place and from then on the design was almost set. The bright orange and purple helmets were just the cherry on top.
Alt Uni:
For the alternates I chose the Nash era Suns, which was a great period for the franchise – fast-breaks and dunks galore! And also – I absolutely LOVE the flaming phoenix secondary logo that was used during that period – it just fit perfectly on the helmet!
+ + + + + + + + + +
Utah Jazz
Main Uni:
The 90s just keep on giving – these purple Stockton-Malone era jerseys are iconic (sorry for over-using this word, but I just have to). The purple mountain graphics lends well for football uni design – football players, shoulders like mountains, no…? I'll see myself out 😒 Also – gradients! We gotta have more gradients!
Alt Uni:
These were always a favorite of mine, and I am really happy the Jazz are bringing this design back and using it heavily in recent times.
+ + + + + + + + + +
Vancouver / Memphis Grizzlies
Main Uni:
THIS is where the whole 90s NBA/NFL thing started – the absolutely gorgeous Vancouver Grizzlies design that the franchise wore when it first entered the league. The colors, the tribal trim, the logo, the lettering, the claw-marks, I love everything about this design! Nothing really to explain here, I just had to translate the amazing graphics created by Tom O'Grady to the NFL template. It's just perfect!
Alt Uni:
For the alternate unis, I went for the Beale Street Grizz jersey designs that the team used in more current years. I love the colors and the subtle design elements, and also it let me try and make a more unique football jersey, not really in line with the classic, minimal designs that are mostly found out there.
+ + + + + + + + + +
Acknowledgements: I really want to thank Tom O'Grady and Mike Joseph for all the help and feedback during the design process. I also want to thank Paul Lucas and Phil Hecken from Uni Watch for sharing their stage with me and the appreciation of what I do. Also Todd Radom, Brandon Moore, Ross Yoshida, Eric Bodamer, Ben Barnes, Tyson Beck, and all the known and unknown but hugely inspiring people of Sports Design Twitter, the No Dunks Podcast a.k.a. The Starters a.k.a. The Basketball Jones — Skeets, Tas, Trey, Leigh, JD and Matt — they gave me the inspiration and the themes to do sports designs for quite a while in recent times.
See more and follow me on:
Twitter
Dribble
StefanVasilev.com
• • • • •
Wow! Thanks Stefan! Tremendous job (and writeup) on those concepts! As a uni traditionalist, I'm not sure I'd ever want to see anything like these on an actual gridiron, but as concepts (and the execution), this was an outstanding job!
OK readers? What say you?
Did The Rams New Helmet Leak During the NFL Draft?
We know what the Rams new logo will be (and it's been panned, big-time, by social media and others), but the team still hasn't unveiled their new uniforms or helmets. Or have they?
During the NFL Draft broadcast the other evening, several eagle eyed folks noticed what could be our first look at the Rams new helmet, which you can see in the corner of this graphic.
Others followed:
Did ESPN just leak the #Rams new helmet design during the #NFLDraft2020 ? @sportslogosnet @UNISWAG pic.twitter.com/xaoKHx5lfO

— Anthony Sperando (@APSperando) April 25, 2020
Hey, @CharlesRobinson ask your friend if this was the Rams helmet they saw? And if they didn't see it, would this helmet fit with the rams unis he saw? pic.twitter.com/wXYjpf82z5

— Mike (@mikeishero) April 25, 2020
The great John Turney, friend of the blog and long time reader, writes the "Pro Football Journal" blog, and he took a deep deep dive into the possible leaks and has done some detective work into the graphic(s) shown.
Is this the new Rams helmet? We can't know for sure until it's officially unveiled, but we may have gotten our first look, intentionally or not.
The "BEST OF" Kreindler's Korner
Hey guys & gals. You've enjoyed Kreindler's Korner for several years now, mostly on the weekends, on Uni Watch, but with the recent coronavirus outbreak, Graig's time is just too precious and he needs to tend to other things besides coming up with a new writeup each weekend.
So, going forward, for as long as the COVID-19 situation is bad in New York, I'm going to run a few "Best of's" until Graig returns.
Here's today's offering (click to enlarge):
• • •
Title: "A Giant Killer"
Subject: Chief Bender, October 24, 1911
Medium: Oil on linen
Size: 12″ x 16

The client who commissioned this painting is a big Chief Bender fan. He went after this particular image probably because it's one of the more iconic shots of the Hall of Famer. But also, and perhaps more importantly, that sweater. It was a challenge to make it actually feel like a sweater, and at the same time, bend and fold in space effectively. It had to feel hand-sewn, and noticeably different from the Athletics uniforms, which had to feel different from Bender's skin. It's all a game of relativity that starts with that sweater. I don't think I'm alone in saying that I wish those things would make a comeback.
• • •
Thanks, Graig! You can (and should!) follow Graig on Twitter.
Guess The Game…
from the scoreboard
Today's scoreboard comes from Phil Moreast.
The premise of the game (GTGFTS) is simple: I'll post a scoreboard and you guys simply identify the game depicted. In the past, I don't know if I've ever completely stumped you (some are easier than others).
Here's the Scoreboard. In the comments below, try to identify the game (date & location, as well as final score). If anything noteworthy occurred during the game, please add that in (and if you were AT the game, well bonus points for you!):
Please continue sending these in! You're welcome to send me any scoreboard photos (with answers please), and I'll keep running them.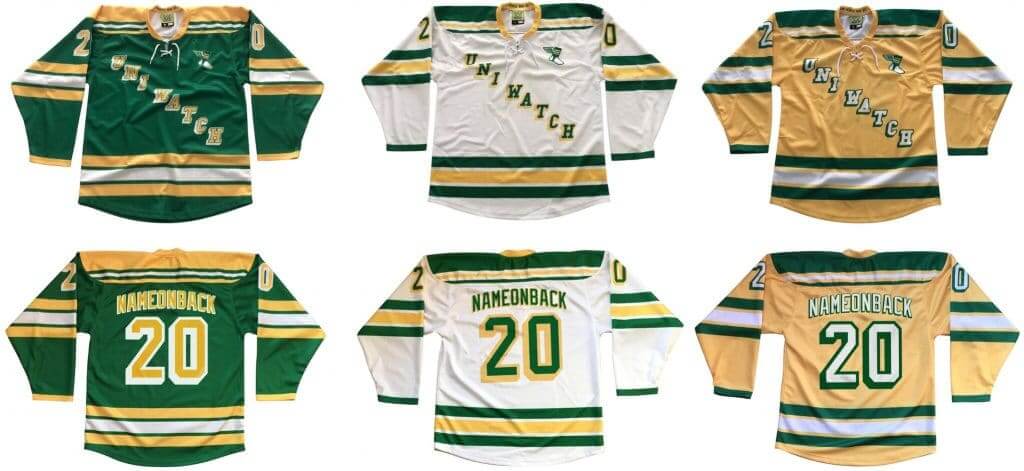 Click to enlarge
And now a few words from Paul
In case you missed it earlier this week, we're now taking orders for another batch of Uni Watch hockey jerseys. Just like before, you'll have your choice of three different colors (see above) and two different tailoring cuts (standard "fan cut" and roomier "game cut," which will fit over pads for on-ice use).
To get in on these, you must order by next Friday, May 1. Full details here.
While we're at it:
• The Uni Watch Classic Cap is still available in sizes 7 and 7-7/8. And remember, the price has been reduced to a pandemic-friendly $35.99. (All other fitted sizes and adjustables are sold out. We have more on order, but our factory is currently shut down, so it will likely take a while. If you'd like to be notified when other fitted sizes and adjustables are back in stock, email me.)
• Uni Watch memberships, which usually cost $25, are reduced to $20 until further notice.
• You can get 15% off of everything in the Uni Watch Shop and the Naming Wrongs Shop by using the checkout code COMMUNITY.
• You can also support Uni Watch by making a donation.
My thanks, as always, for your consideration. Now back to Phil!

Calling all readers…
…in the commUNIty
Got an e-mail in the Uniwatching account yesterday from reader Bill Beebe who has a question for the readership on a jersey he recently purchased.
I'll let Bill take it from here:
Recently the Visalia Rawhide (the Advanced A affiliate of the Diamondbacks) had a sale where they were selling some of their "Mudville 9" merchandise from their "Casey at the Bat" nights. For $150 dollars the package came with a Mudville Jacket (probably game used, it was kinda dirty, beat up, and still had sunflower seeds in it), a Mudville home jersey (again might be game used, they usually don't sell jerseys with numbers on the backs), a new Mudville 9 hat, and an item that I found to be perplexing. It is an Ebbets Field Flannels old style cream colored baseball jersey with red Mudville lettering. It has no number on the back and I don't think it ever did. When I first saw it online I thought it was possibly something the team store sold but when I received the jersey, it was dirty and signs of wear. Also I look up the Mudville 9 jersey on Ebbets Field Flannel's website and that one is a road grey jersey. I think it may have been used in a reenactment but I don't remember the team doing something like that and I can't even find it on google or Ebay. I was wondering if you had anyone in your commUNIty (I love that BTW) that might be able to identified what this jersey was used for. I think it's an amazing jersey and I think the package was cool as well. I won't bore you with too many details but I bought this package because the first Rawhide Game I went to was a "Casey at the Bat" game. Thanks for your help!!
And here are some photos Bill sent of the jersey in question:
Can anyone help answer Bill's question? Thanks!
Happy Half Hundy, Robert!
Please take a moment to join me and the entire UW crew in wishing the one and only "Comrade" Robert P. Marshall, III, a big, fat "HAPPY BIRTHDAY" as he celebrates a half-century amongst us.
Have a great one, Wreck!
Uni Watch News Ticker
By Phil

Baseball News: The Friends of Hamtramck Stadium are selling t-shirts in 5 different logos in English, Arabic, Bangla, Polish, or Spanish. The languages represent the neighborhood's historical demographics. The group is currently restoring the 1930's ballpark that is one of 5 Negro League stadiums still standing (from Marc Viquez). … Before professional sports in 2020 were postponed by the coronavirus pandemic, the Fredericksburg Nationals were planning to pay homage to beloved gorilla Harambe (from Nicklaus Wallmeyer). … MLB.com has a fun story recounting the origins of every team's current mascot (from Kary Klismet). … The following two items are also from Kary Klismet: Check out this amazing footage of the old Astrodome scoreboard. "Today's oversized HD video screens have nothing on this magnificent beauty!" he notes. … "I love this story about how the remnants of Cleveland's old League Park, which fell into decades of disrepair after being mostly demolished in 1951, have been transformed into the Baseball Heritage Museum and a community ball field," says Kary. "For those interested, here are some links to photos of the stadium in its heyday and in 1987, before its renovation (both of which intersperse a few 'after' shots of the current site, too)." … My pal and artist Andy Brown has now begun work on his next project, the Dodgers Dream Team. … I have no idea what this uniform is, but Shawn Hairston noticed it on "Let's Make A Deal" game show from sometime in the 1980s.

NFL News: Here's an intersting article on what NFL Draft 2020 picks are doing with all of their extra hats. Submitter Timothy Dwyer adds, "Love your Insight! Keep up the amazing work!". … Reader Jason Hillyer noticed this "Now outdated Falcons uni, but I don't believe they wore black chinstraps." He adds, "Also, player not holding ball correctly." … If you look closely, you might be able to spot a a white Jaguars mini-helmet on the dining room table (from Josh Fisher). … Tweeter Jake Elman writes, "The awesome Greg with a jersey swap of former FAU TE Harrison Bryant in a Browns uni." … Several readers, including Timmy Donahue, notice that there was a Mike Ditka bobblehead visible in Roger Goodell's basement, and it kept moving throughout the NFL draft. … Here's a Photoshopped Jalen Hurts in an Eagles uniform complete with Jumpman wristbands and undershirt from his days at Oklahoma (from Timmy Donahue). … chinupsports asks, "Since when have the Eagles used this secondary shade in their graphics? Foreshadowing of the long anticipated color change with the jerseys?" … It's bad enough to be "Mr. Irrelevant." It's even worse when the number fonts on the Mr. Irrelevant jersey don't match (from Timmy Donahue).

College/Canadian College Football News: Tweeter Chris Mycoskie asks, "What is this LSU helmet behind Booger??? Never seen a design like this." Anyone? Ted Spahr offers an answer, but I'm not sure it's what we're looking for here. … "The St. Clair College Fratmen football team of Windsor, Ontario, recently unveiled a new logo," says Kary Klismet. "If you're curious about their unusual nickname when the rest of the college's teams are known as the Saints, it's a complicated story that involves St. Clair's Student Athletic Association buying an existing amateur team called the AKO Fratmen in order to bring football to campus." … Imagine if football helmets were clear (from Equipment Geek).

NBA News: Reader Stephen Krupin noted this anachronism in ESPN's Jordan documentary: "Episode 2, recap of 1986 playoffs. There's a graphic of the final regular-season standings that lists the Wizards, a team that didn't exist. Washington's team was still called the Bullets that year and (would be for the next decade)."

Soccer News: Check out these amazingly detailed USWNT jerseys you can ose in the popular game "Animal Crossing." … Looks like we have some new home and away shirts for Amish Country United (from Ed Żelaski). … Also from Ed Żelaski, Cleveland FC has a new equipment provider, new main advertiser, and new uniforms. This was sent in by Rusty Flynn. … If you need something to take your mind off the state of the world this afternoon, you could lose yourself in the Eredivisie Shirt Festival. Literally every shirt worn by any club ever to appear in the Dutch top flight has been uploaded here (from Drake Jesse). … "Reno1868 FC are making their jerseys into masks for charity (hospitals in Reno) and was lucky to pick up 2, and got them in the mail today" (from Jeremy Brahm). … Yet another photo of the 2020-21 Liverpool home kit has leaked, this time showing what the FIFA Club World Champions and Premier League Champions (should they win the Prem) badges will look like on their shirt (from Josh Hinton).

Grab Bag: ICYMI: Here's your first look at Virginia's new uniforms as a part of their identity rebrand with Nike GIG. Brock Brames notes the "Heavy use of the new Cavalier Shield logo. Full unveiling will be closer to start of athletics season." … Timmy Donahue asks out loud what we've all been thinking: "Do you need to wear pants when working from home? One of the great debates of our time." … The ubiquitous Kary Klismet notes New York Post columnist Mike Vaccaro has gone back and critiqued New York's pro sports teams' logos and decreed many of them to be iconic (big shock there!). … Did you ever wonder what the Top 5 ranked jerseys are in Nashville Predators history? Well, wonder no more.
And finally… That'll wrap up the weekend. Everyone stay safe. Everyone stay home (unless of course you're an essential worker, then you do what you do so well — you're the real heroes these days!). Everyone have a good week and I'll catch ya next weekend. And if all goes as planned, I'll have a couple very special posts coming up. Paul's back up doing his thing tomorrow, so everyone have a great … (checks phone) … Sunday!
Peace,
PH