By Phil Hecken
Follow @PhilHecken

[Deputy Editor's note: Today we have a guest column from William "Doc" Ginn, who has a fantastic 1976 Sand-Knit Catalog. Enjoy! — PH]
Submissions from a Uniform Catalog
By William "Doc" Ginn
Hey! It's been almost 11 years since I have submitted anything, but the Coronavirus has prompted me to go through some files that have lain dormant for a long time.
I know you like old catalogs, and especially if the catalogs involve uniforms. My father was a Sand-Knit Manufacturer's Representative in the 60's and 70's. I still have some of his paraphernalia, including this Female Athlete Uniform Catalog from 1976.
Awesome catalog cover!
+++++++++++++++
Seem a little tighter than I remember and the checked shorts are sweet!
+++++++++++++++
Lotta stripes…and the name "Mary Lou" on the headband!
+++++++++++++++
Not sure what they were trying to accomplish with the outfit in the left upper picture. Looks like the outfit a server would wear at the Country Kitchen…
+++++++++++++++
Note the reference to the Houston Astros in the text for the "Sunburst" shirt…
+++++++++++++++
Now THAT is a collar!
+++++++++++++++
Not sure Pat Summit had that Tennessee uni in mind. And notice that the girl at the bottom wearing the "Spikers" shirt is holding a soccer ball…
+++++++++++++++
Really a wide range of colors for the mid-70's don't you think? And the plaid!
+++++++++++++++
Thanks for all you do! Feel free to use any, all, or none of this stuff!
Doc Ginn
• • •
Is that fantastic, or what? Yes, the catalog is 45ish years old and obviously much has changed in those decades, but there is still a certain innocence, a certain charm that pervades it. And while fashion trends come and go, this one may remain a relic of its time (and that's not necessarily a bad thing).
Thanks for sharing Doc! Readers, whaddya think?
Guess The Game…
from the scoreboard
Today's scoreboard comes from Barton Hall.
The premise of the game (GTGFTS) is simple: I'll post a scoreboard and you guys simply identify the game depicted. In the past, I don't know if I've ever completely stumped you (some are easier than others).
Here's the Scoreboard. In the comments below, try to identify the game (date & location, as well as final score). If anything noteworthy occurred during the game, please add that in (and if you were AT the game, well bonus points for you!):
Please continue sending these in! You're welcome to send me any scoreboard photos (with answers please), and I'll keep running them.
New Pats Unis: I Nailed It (sorta) in 2011!
The New England Patriots introduced new uniforms earlier this week (I have thoughts…many of them…on these and the other five teams who've unveiled this month, but I'll save those for another day). Now, the home (mono-blue) is pretty much what the team was wearing for their Color Rash get up the past few seasons, while the white away uni was new (but almost the inverse of the blue uni). Both unis were featured with only blue pants (for now). Whether they will add a set of white (or silver) pants down the road remains to be seen. I'm hoping they'll add a white set.
But waaaaaayyyyy back in 2011, before Nike had unleashed their creative skills on the NFL, I proposed an entire NFL set using my very rudimentary photoshop skills. Here's what I came up with for the Patriots back then:
And here's the set the Patriots introduced in 2020:
OK, there are several differences between the two, but for the most part, I kinda called it. The funny thing is, of the 32 unis I came up with back in 2011, I think I may have been least proud of the design for the New England squad.
Here's what I wrote in this post:
New England Patriots: Home, Road 1 & Road 2. Of all the unis I've done, this is the one with which I am the least happy. I didn't want to put the Pats back in red, so instead I opted for a blue version of the current throwback, which was probably a mistake. I hate their current unis, but I probably could just have tweaked those instead of farting around with a new uni that bears no resemblance (other than a color swap) to anything they've worn in the past. I'll definitely be redoing this one at some point.
If you're interested in seeing the NFC or the other half of the AFC, click here.
Funny how my 2011 funzie post kinda sorta ended up being the uniform the Patriots will be wearing in the post-Brady era.
I also kinda nailed the new Chargers unis (well, they have many combos, but the two I went with are quite similar to two of their new ones):
And here's the new Chargers unis (well, the ones with the gold pants):
Again, like the Pats, there are differences (helmet numbers, different bolt pattern on the pants), but overall, it's pretty close.
Here's how I described my Chargers mocks:
San Diego Chargers: Home & Road. When most people think of the Chargers, they think navy, white, gold and/or powder. But there was a time in the 1960s when the Bolts wore a color closer to royal, and Lance Alworth (among others) did it proud. This is what this set is attempting to recreate. There's nothing really attractive about the Chargers current set, other than the powder alts, but the new lightning and the new age fonts just don't do it. This is how they should begin 2012.
Not too shabby for a non-designer/non-photoshopper over eight years ago (lol).
Speaking of the Pats…
No sooner had the Patriots released their new uniform set than several folks tweeted at me their "fixes." It seems there's no shortage of things the Pats could or should have done with this new set…
First up is Ricardo Guillaume who wrote: "Took a crack at em. We need the silver pants back to break things up. What do y'all think?"
__________
Next up is Bowen Hobbs. He says:
The Patriots: A Modest Proposal
• Keep previous numbers
• Sleeve logo > TV numbers
• Keep the striping red and white (except on red) to mimic US flag
• Pant striping to match jerseys
• Change socks to striped, so each side of player has 13 stripes.
__________
Finally we have NFL Jerseys (who credits "canzman" on the Creamer boards for these):
__________
Interesting. I think we can probably all agree that the Pats need to add another set of pants (if nothing else) to complete their new set. These are some good examples of what could work. Thanks guys!
Not Quite GTGFTS…
Got an email this week from Tom Brennan (addressed to both Paul and myself), which is kinda/sorta part Guess The Game From The Scoreboard and part awesomeness. I'll let Tom set it up:
Phil & Paul – Hope you're both doing well. Below youtube link is to a strange little movie from the 60's that I found. It's an incredibly well preserved document of the old ballpark, particularly cool to see the ticket kiosks and the concourse and ramps.

I found it while looking for images of the exploding scoreboard before they added the pinwheels. The second link below is to a giveaway they were going to have next month of a replica of the original scoreboard. Phil, it appears they used actual scores and lineups from (date of game omitted), game one of a doubleheader vs the Tigers.
First, behold the awesomeness that is this video:
And here's that replica — see if you guys can GTGFTS!
Thanks Tom!

Uni Concepts & Tweaks
Time for more Uni Tweaks from the UW readership.
I hope you guys like this feature and will want to continue to submit your concepts and tweaks to me. If you do, Shoot me an E-mail (Phil (dot) Hecken (at) gmail (dot) com).
• • •
I received an e-mail from Zachary Wooldridge a short while back, who has several concepts for Big Blue Nation…
Hey Phil!

I've been thinking about basketball lately, especially since we didn't get a March Madness this year. So I thought I'd whip up some concepts for my alma mater.

The Wildcats' current checkerboard themed uniforms are pretty divisive among members of the Big Blue Nation. I'm personally not a fan of them so I made a new home and away set that's inspired by, and sort of an amalgam of, several uniforms we've had throughout our history. I'm a big fan of the old arched Kentucky we used to have. I'm also a big fan of our old Power K logo, which fans have also been clamoring for a return of.
I also made some faux-back alternates to commemorate anniversaries that will occur for the 2020-21 season.

It's the 25th anniversary of the 1996 National Championship team, so I made a white set inspired by the icicle/cat-scratch uniforms and a blue set inspired by the infamous denim uniforms.
And it's the 100th anniversary of the "Wonder Team", which won Kentucky's first conference tournament in the old SIAA and featured our first All-American, Basil Hayden.
I hope you enjoy!

Zachary Wooldridge
• • •
Thanks Zach!
OK readers (and concepters). If you have some tweaks or concepts, shoot 'em my way with a brief description of your creation and I'll run 'em here.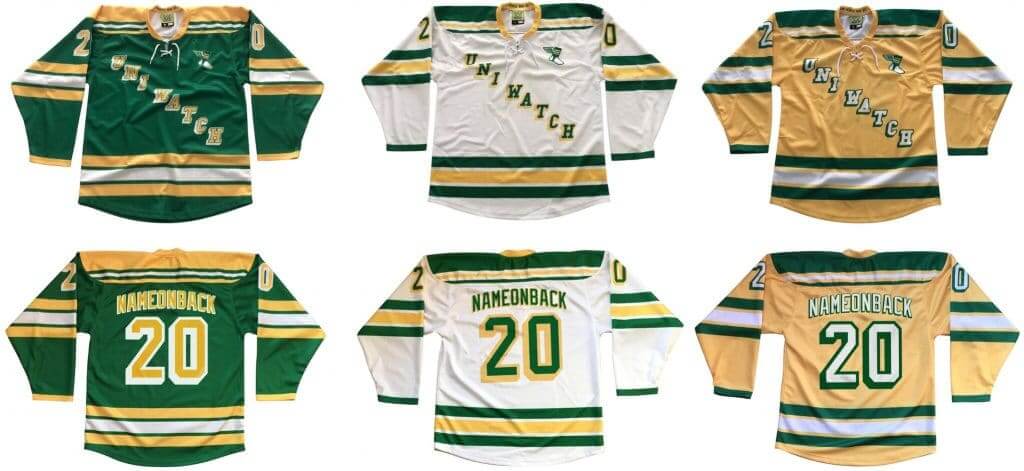 Click to enlarge
And now a few words from Paul
In case you missed it earlier this week, we're now taking orders for another batch of Uni Watch hockey jerseys. Just like before, you'll have your choice of three different colors (see above) and two different tailoring cuts (standard "fan cut" and roomier "game cut," which will fit over pads for on-ice use).
To get in on these, you must order by next Friday, May 1. Full details here.
While we're at it:
• The Uni Watch Classic Cap is still available in sizes 7 and 7-7/8. And remember, the price has been reduced to a pandemic-friendly $35.99. (All other fitted sizes and adjustables are sold out. We have more on order, but our factory is currently shut down, so it will likely take a while. If you'd like to be notified when other fitted sizes and adjustables are back in stock, email me.)
• Uni Watch memberships, which usually cost $25, are reduced to $20 until further notice.
• You can get 15% off of everything in the Uni Watch Shop and the Naming Wrongs Shop by using the checkout code COMMUNITY.
• You can also support Uni Watch by making a donation.
My thanks, as always, for your consideration. Now back to Phil!
The Ticker
By Anthony Emerson

Baseball News: An Astros blog is in the midst of a fairly comprehensive series detailing the team's uniform history (from Kary Klismet). … Tyler Bauer was watching old Cubs games on YouTube and noticed that in this one from 1996, the Cubs raised a blue flag with a white "W", which is of course an inverted version of their regular "W" flag. Wikipedia says the Cubs adopted the white-with-blue-W version in the 80s, but this game is from 1996. Any ideas why this one was used, and for how long?

NFL News: Inspired by yesterday's lede, Andy Meltzer sent us this awesome Lions letterhead from 1941! … Also inspired by yesterday's lede, Paul Ricciardi sent us this 1940 "National League Football" training camp directory. … Reader Nicklaus Wallmeyer has made an extensive Google Doc featuring links to photoshops of draft picks in their new unis. … The Commish had a wardrobe change during the first round of the NFL Draft, starting the night in a blazer and ending it in a sweater (from Chris Rucinski). … The NFL is now selling team-branded facemasks (from Germán Cabrejo). … Adam Schefter's mini-helmet coordination is second to none on TV. … USA Today used various outdated logos in this graphic of first-round draft picks (from John Sabol). … In Sports Illustrated's various photoshops of Joe Burrow in a Bengals jersey, they included a five-year captain's patch (from Marcus Johnson). … Pats head coach Bill Belichick appears to have taped a printed-out team logo over the Apple logo on his laptop. It wasn't there earlier in the night. Apple, of course, is not an NFL sponsor (thanks, Alex). … Ravens draft pick Patrick Queen will wear No. 48 (from Andrew Cosentino). … The Titans posted a video of draft pick Isaiah Wilson in Madden, wearing No. 79 (from Evan Coward). … The Chiefs posted a pic of Clyde Edwards-Helaire's jersey, showing a No. 25 and a tight squeeze with that hyphenated NOB. I imagine when games come around, they'll use the smaller NOB letters like they use for Laurent Duvernay-Tardif (from @jtretakoff, Matt Newberry and @beelze_bubbles). …  A Canadian football blog has put together a list of what they consider the five best unis in Saskatchewan Roughriders history (from Wade Heidt).

College Football News: Lots of people pointed out that ESPN analyst Booger McFarland has what appears to be a bootleg LSU helmet on his bookshelf from his home studio.
.

Soccer News: Danish side FC Midtjylland have released a special shirt reading "Alle For Én" or "All For One". All proceeds will go to providing food for medical workers (from Ed Żelaski).
.

Grab Bag: UVa unveiled a whole new set of athletics logos yesterday (from many, many readers). … Delaware women's lacrosse will have new white unis for 2020 (from @BigginsDE). … Also from @BigginsDE, NBC Sports Authentic posted this video of workers hand sewing masks from old Bay Area sports team T-shirts. … The Mormon Tabernacle Choir has a new logo (from Kary Klismet). … Also from Kary: The Dry Dock Brewing Company has a new logo and packaging.
And finally… Hope everyone is doing as well as can be expected under the COVID circumstances. I had kind of a rough week myself, and am definitely feeling the blahs, and it's also the final week and a half of spring semester of grad school, so I'm busier than normal to boot. Catch you guys tomorrow. BE SAFE!
Peace,
PH