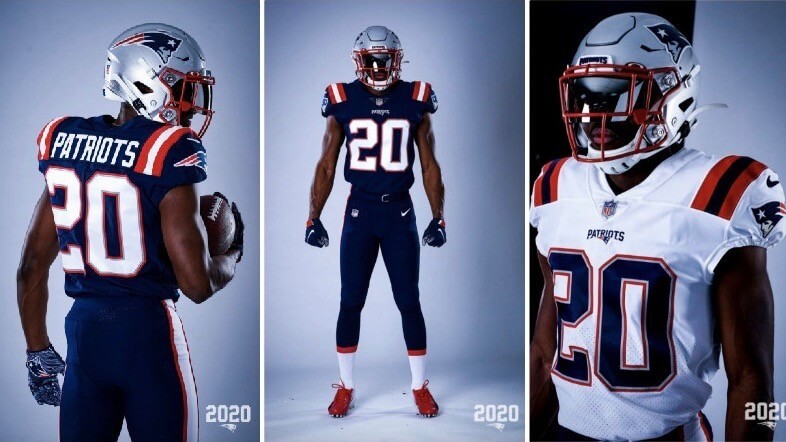 Hello! Before we get started on the topic of the day, it's worth noting that the Chargers will unveil their new uniforms at 9:45am Eastern (a very odd time, especially for a west coast team). I'll add a link here once it's available, and have unveiled their new uniforms. I'll have full coverage of the team's new look tomorrow morning.
Now then: I don't know if it's the virus or what, but this has been a very strange spring for NFL uniform unveilings. We've seen the Colts tweak their helmet logo without telling anyone. We've seen the Bucs and Browns unveil new uni sets that are essentially their old uni sets. And yesterday we saw the Patriots unveil a new uniform set with — get this — the wrong pants.
Although that wasn't immediately apparent. Here's how it played out: At 8am yesterday, just as I was publishing yesterday's blog entry, the Pats revealed their new uni set (more photos here). As many people quickly noted, the home and road uniforms both appeared to be using the same pants from the team's 2018-19 Color Rash set — navy with a wide white stripe, outlined in red.
But then, later in the day, several Pats players began posting Instagram photos of themselves in the new road uniform — and their pants didn't match the ones shown in the unveiling photos. Here's a side-by-side comparison, with an official unveiling photo on the left and running back James White's Instagram photo on the right (click to enlarge):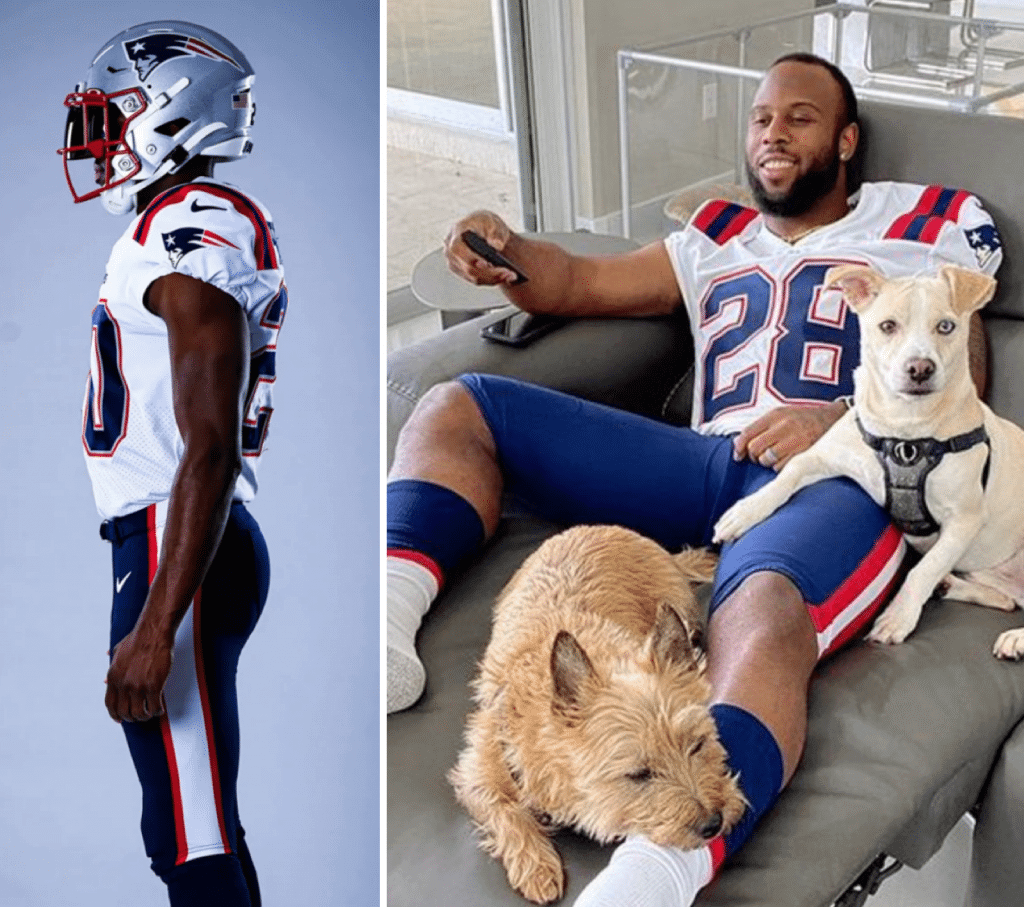 If you can stop staring at those completely adorable pooches, you can see that the pant striping doesn't match. White's pants have a narrow white stripe and thicker red stripes, similar to the stripe pattern on his jersey.
White wasn't the only one whose Instagram pants didn't match the unveiling photos. Cornerback Stephon Gilmore had the same thing:
Looks like Gilmore got pants similar to White's as well. pic.twitter.com/fZrCIWVR1S

— . (@AayCeeBeee) April 20, 2020
I asked the Pats about this yesterday afternoon — no reply as of this morning. But while I was waiting to hear back from them, I heard from a trusted source who has access to the NFL Style Guide. He confirmed that the Instagram pants — the ones with the striping that's similar to the jersey striping — are the real pants that the Pats will be wearing, and he sent me the relevant graphic from the style guide to prove it: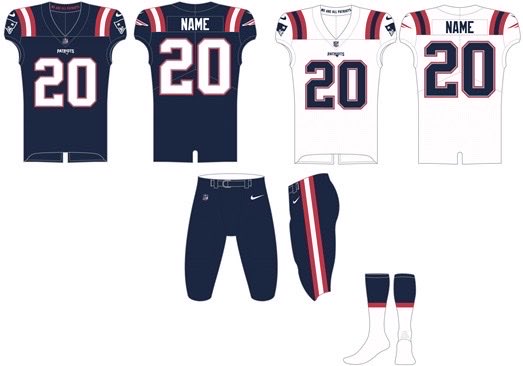 So the Patriots apparently used last season's Rash pants for their unveiling photo shoot, instead of the real pants they'll be wearing on the field.
Now, we all know the world is a complicated place right now, and all sorts of things aren't running like the well-oiled machines they used to be. So I'm not going to criticize the Pats, Nike, or anyone else for not having the proper pants ready in time for the photo shoot. But come on — if your unveiling photos don't show the uniform you'll actually be wearing, why not, you know, tell us that? Or better yet, why not just Photoshop the proper striping onto the photos, like the Bucs did with Chris Godwin's uni number? (As you may recall, the Bucs' photo shoot took place before the Tom Brady signing, so Godwin was still wearing No. 12 when the photos were taken, but they Photoshopped the pics to give him No. 14 by the time the photos were released.)
I imagine some folks are thinking, "It's just the pants, who cares?" But the Patriots themselves apparently cared enough to change the design, so why not acknowledge that? I don't know if they were trying to sneak it by and hoped nobody would notice or what, but the whole thing seems pretty lame-o and unprofessional.
Okay, so aside from that little fiasco, what do I think of the new uniforms? Before I answer that, let's start with some quick context: I know many people didn't like the Pats' outgoing uni set. While I certainly agree that Flying Elvis is a big downgrade from Pat Patriot, I've always been mostly fine with that set. The side panels were awful, of course, but that was really the only thing I didn't care for. I liked the number font, I loved the striped road socks, and I was even okay with the red facemask (although I always thought navy would've been better) and the custom NOB font.
So with that in mind, here are my thoughts on the new set, keeping in mind that the pant striping will be changing (for all photos, you can click to enlarge):
The New Home Uniform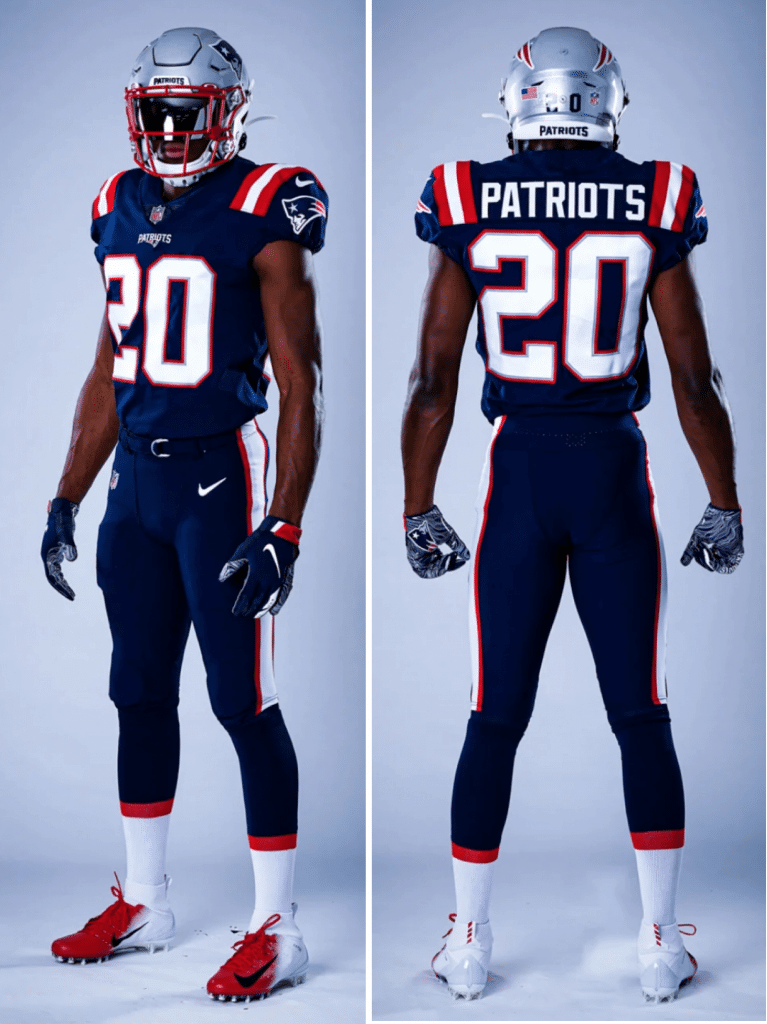 At first glance, it appears that they've just redesignated their Color Rash design as the new primary home uni. But a closer look reveals some differences — here's a side-by-side comparison (old Rash on the left, new home on the right):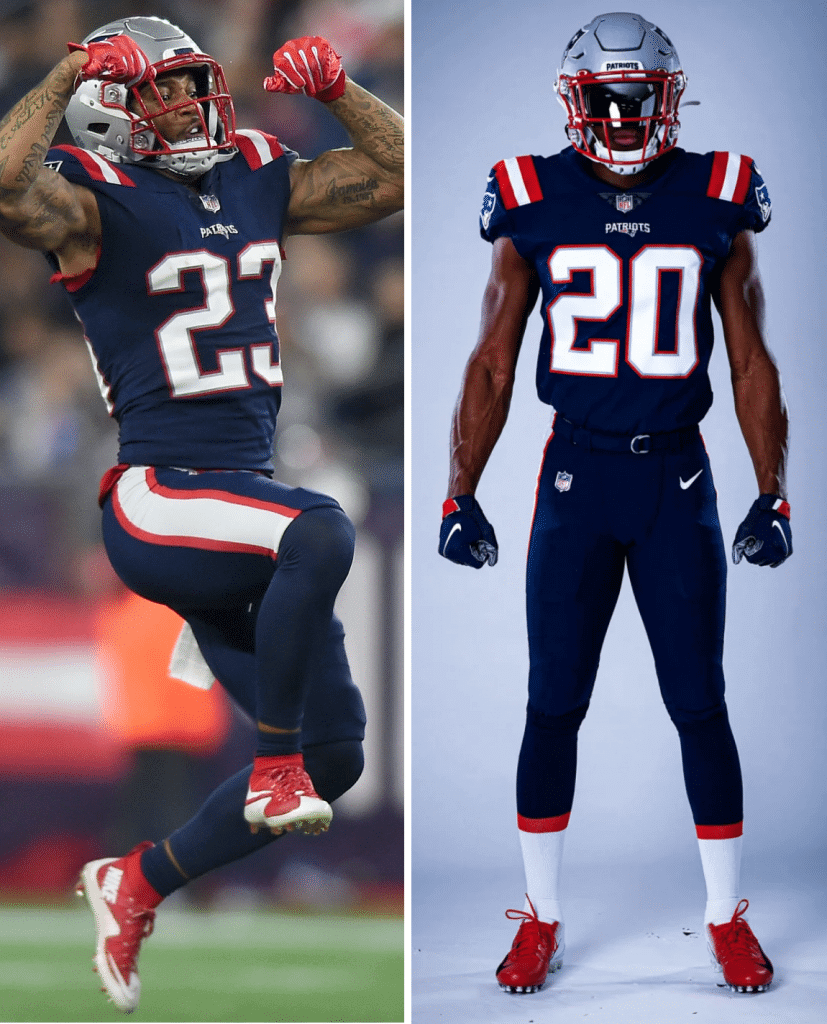 The most obvious change is the socks (although it remains to be seen how many players will wear them as intended, since NFL hosiery is now such a complete free-for-all). They've also changed to a more traditional block number font and a standard NOB font.
Okay, some thoughts:
• I'm astonished that they don't have a silver or white pant option. There are plenty of teams that routinely go monochromatic at home, of course (Seahawks, Saints, etc.), but I believe this set would leave the Pats as the only NFL team that wouldn't even have a non-mono option for its colored jersey. I'm not a fan of NFL teams going mono, so I really, really dislike this move. I asked the Pats if there are any plans to add silver and/or white pants to the mix, but that was before I'd seen the style guide graphic, which only shows the navy pants, so they appear to be sticking with the one pant color for now. (If I hear back from the team, I'll post an update.)
• I usually love UCLA striping, but I've never liked it on the Pats' Rash design and still don't like it here. The striping seems too wide, with the visual result of the red feeling too bold. Instead of changing the pant striping to match the jersey, I would have preferred the other way around.
• It's one thing to not have TV numbers on your throwback or Rash jerseys. But I believe this set will make the Pats the first NFL team without TV numbers on their primary jerseys since the 1979 Bengals. Current NFL uniform regs require TV numbers, so the Pats presumably got a waiver. I've asked the team about this as well and will report back if they respond.
• Personally, I much preferred the old number font, which was distinctive and unique to the Pats but wasn't overloaded with all sorts of macho/primitivist talons and claws and all the other crap so common in most of the custom fonts we see these days. I'll miss it.
• As many folks have pointed out, the whole package feels feels a lot like a low-budget stock design, or something created on a standard-issue team builder web platform:
Revere High School, OH pic.twitter.com/EkgyKluC2h

— Mark Balog (@Mpiece_) April 20, 2020
Overall: I hate it — a huge downgrade. Silver or white pants would help, so here's hoping they add that to the mix at some point.
The New Road Uniform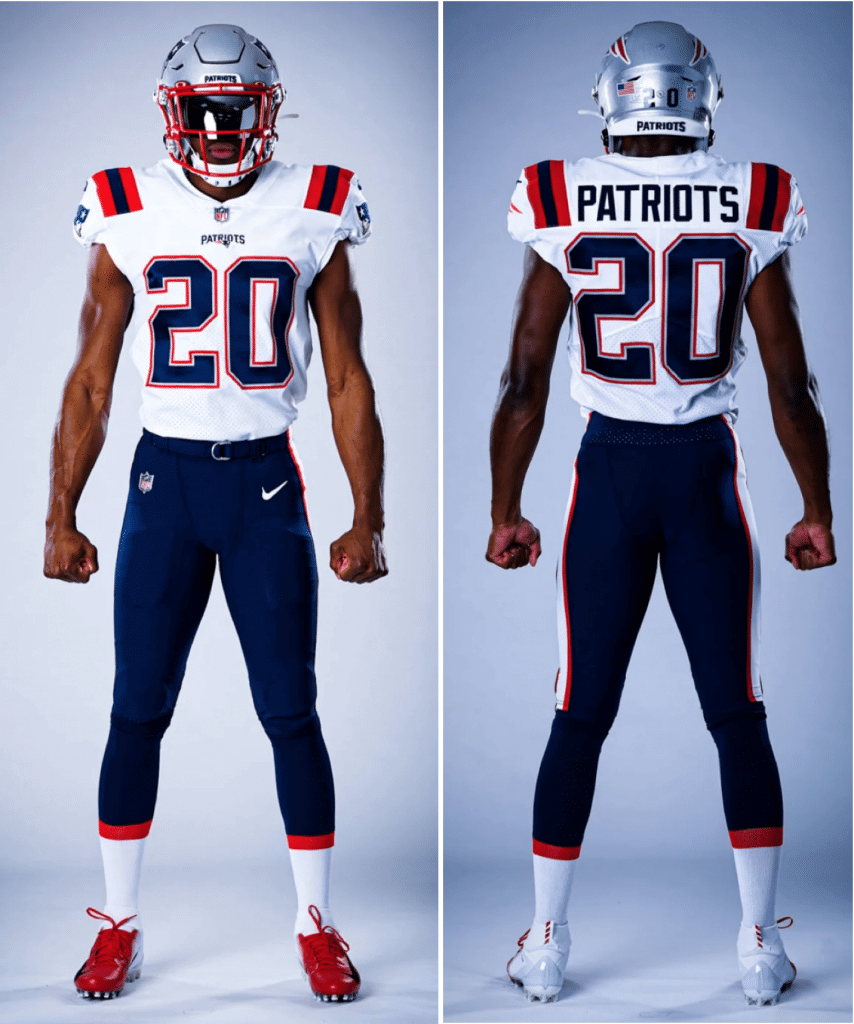 This is better, if only because of the contrast between the jersey and the pants. But the shoulder striping still looks too bold. It would look so much better if they reversed the color sequence on the striping, as you can see in this mockup by Twitter-er @WeberKing — real version on left, @WeberKing's concept on right: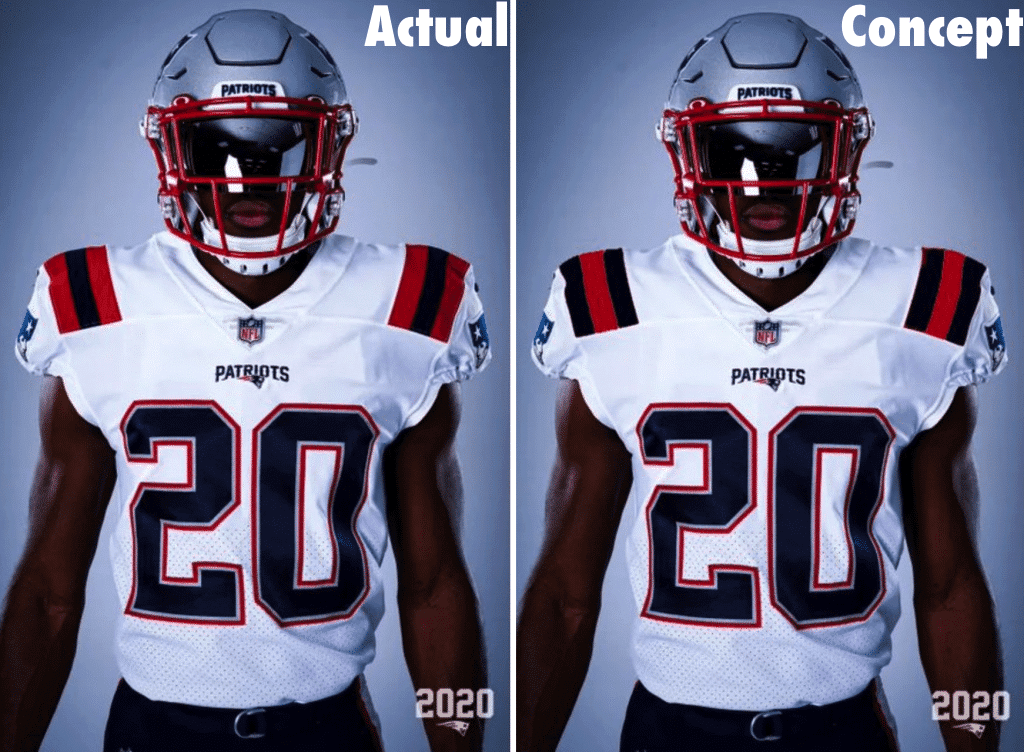 To me, there's no comparison — the more navy-centric concept is soooo much better.
Meanwhile, they've scrapped the triple-striped road socks and are using navy-topped socks with the navy pants. Sigh.
Overall: Better than the home uni, but still a downgrade. I'm not a fan.
I assume we'll see some sort of alternate released later this year, and they're talking about a Pat Patriot throwback if the one-shell rule is ever lifted. Until then, this is what we're stuck with. To me, it all looks very high school. You might say they got pantsed.
• • • • •
• • • • •
Uni Watch Haiku: Here's the latest from the Uni Watch haiku lab:
Rose as an Expo?
I know it really happened
But it still looks wrong

And there's more where that came from.
• • • • •
• • • • •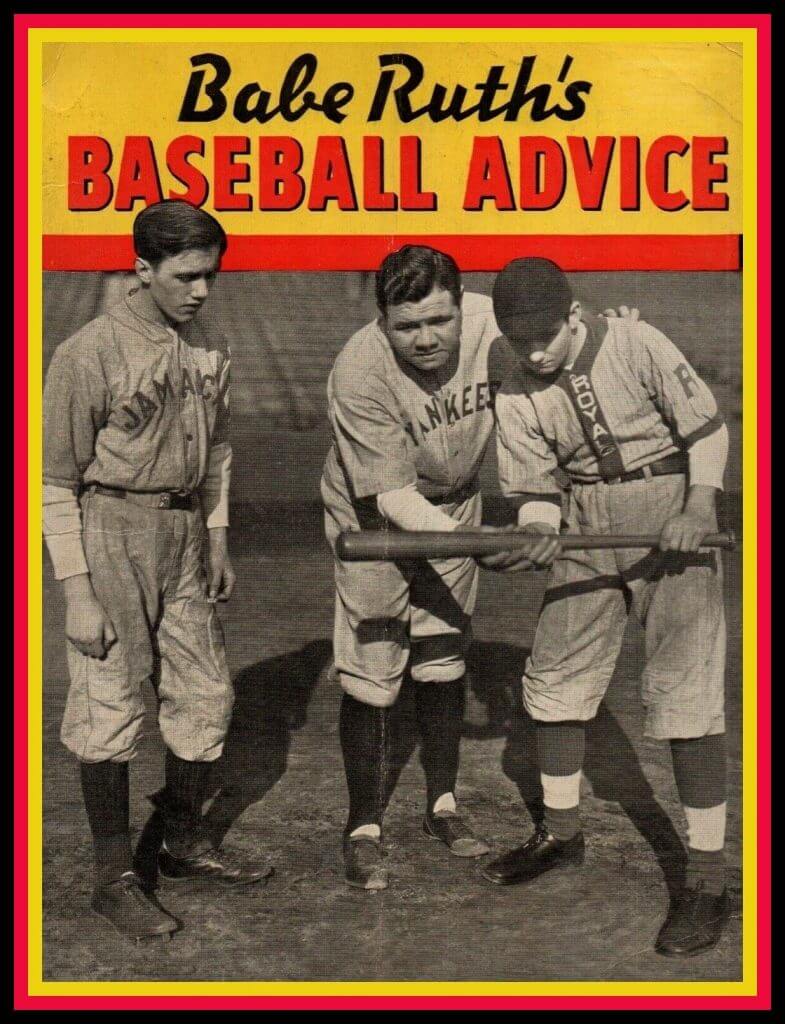 Click to enlarge
Collector's Corner
By Brinke Guthrie
Follow @brinkeguthrie    
Yes, I know we featured the Babe last week, but he's probably the most famous player in history, so that's that. Check this out, Babe Ruth's Baseball Advice from 1936! Thirty-two pages with some great uniform action there on the cover, and does anyone else find it funny Babe Ruth, of all people, is showing a kid how to bunt? I bet he never got a bunt sign in his life (and if he did, he blew it off!).
Now for the rest of this week's picks:
• This Oh Henry! candy bar wrapper is around 100 years old! (Double Dip't and covered with Real Milk Chocolate, mmmm.) The wrapper also included a deal for a Cork Center National League Ball (regularly $1.75) for just 69 cents and seven Oh Henry! Wrappers. Cash or money order only! Don't send stamps!
• With the Los Angeles Chargers releasing their new look today, here is one terrific-looking deep blue team jacket from their San Diego days, made by Felco. Curiously, no logo on the front. This jacket has a quilted lining and the "Chargers" lettering is sewn (not heat-pressed like they do today).
• Check it out — this little booklet is from 1957 and is called Signals…The Secret Language of Baseball in Finger-Tip Movies. Flip through the book and the "animated" coach shows you how to steal, bunt, take, the whole deal (but I still say the Babe would ignore the bunt sign). That coach might in fact be Paul Richards, who managed the Orioles 1955-1961. Brought to you by Gillette!
• Have you ever seen one of these before? This is a 3D Stadium Table. This eBay seller has one for the Cleveland Indians, and you'll notice it's a replica of their stadium that is sunken down into the table top, and even lights up for a night game. The seller also includes a shot of Fenway in there, too.
• The New England Patriots were once called the Boston Patriots, (or more officially the "American League Professional Football Team of Boston, Inc."), and at one point you could buy stock in the team, as shown on this 1960s stock certificate featuring everyone's favorite, Pat Patriot.
• Couple of music-related items from the Cubbies here. Let's start with some 1969 sheet music for the song "Hey, Hey, Holy Mackerel," and then there's also this The One and Only More or Less Official Cubs Party Album and Rally Starter cassette.  Songs include "Men in Blue" and "Andre's Army," and the cassette was from WGN radio.
• This fun-looking Green Bay Packers Snowman and Snowballs set is from 1980, and is done in the proper team colors, but has no team logo. The seller is from Wisconsin, so we're fine with it.
• This NHL California Golden Seals bumper sticker is in good shape. And you can be sure that Paul approves of the colors!
• Great cover art on this 1965 game program.
• Here's a set of (presumably) 1960s Baltimore Colts drinking glasses. That sure looks like Earl Morrall at far right, who played for them in 1968-1971.
• • • • •
• • • • •
Click to enlarge
A glove story: People are starting to receive their Uni Watch hockey jerseys. As you can see above, Paul Ricciardi's goes nicely with his hockey gloves. And fact, all three of the jerseys he ordered pair nicely with those gloves:
Lookin' sharp, Paul! Once you're able to get back on the ice, I hope you'll send us some action shots.
Meanwhile, reader Harvey Lee may have chosen the best possible NOB — check this out:
Love my Uni Watch jersey! Would go great with my old Cooperalls, circa 1981! @UniWatch pic.twitter.com/1nWbK8wRJT

— Harvey Lee (@harvey_yen_lee) April 21, 2020
Nicely done, Harvey!
• • • • •
• • • • •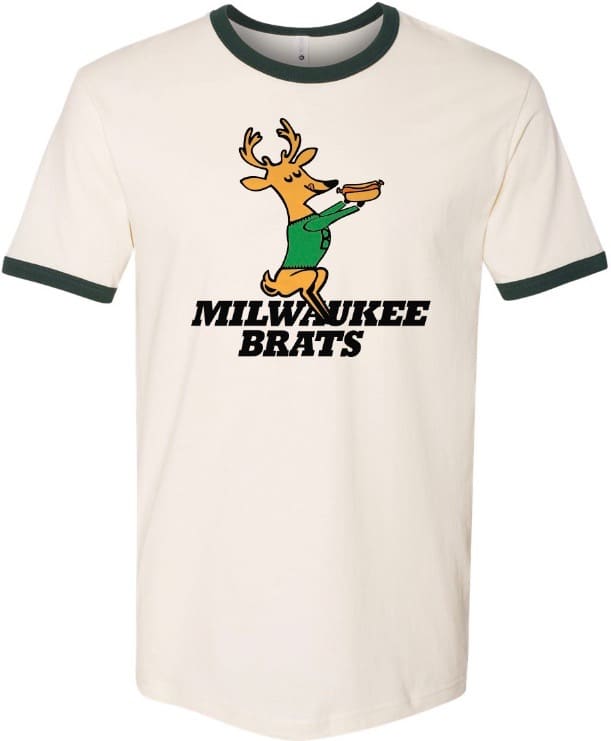 Hypothetically speaking: When you're stuck at home for long stretches at a time, your mind dreams up all sorts of things — like, say, this.
Want to discuss how being cooped up makes a fellow dream up ideas like this one? Drop me a line.
• • • • •
• • • • •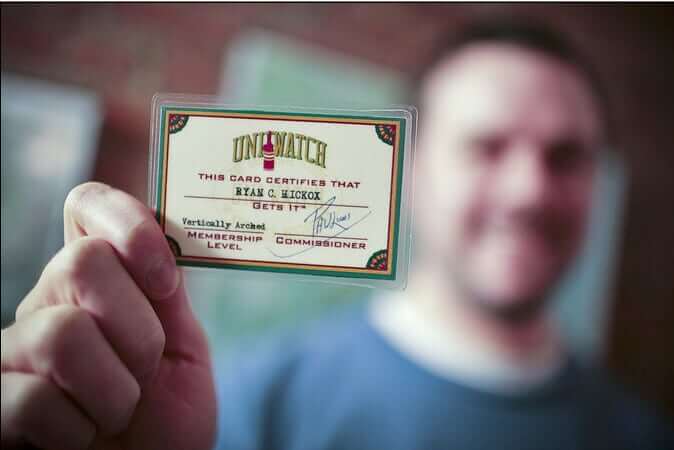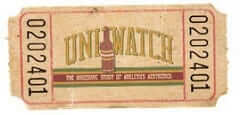 Raffle reminder: In case you missed it on Monday, an anonymous reader has purchased 10 memberships for me to raffle off, with the proviso that this raffle is only open to people are currently working outisde of their homes — health care workers, truck drivers, first responders, grocery clerks, pharmacists, food deliverers, , postal workers, sanitation workers, transit workers, kitchen workers, and so on.
Obviously, there's no way for me to enforce that restriction, but I have enough faith in the Uni Watch comm-uni-ty to believe that we can do this on the honor system. I mean, really, who would cheat on something like this, especially when we have so many other membership raffles that are open to everyone?
To enter, send an email to the raffle address by 8pm Eastern tomorrow, April 22. One entry per person. I'll announce the 10 winners on Thursday. Big thanks to the anonymous reader who sponsored this raffle.
• • • • •
• • • • •
Membership update: Always fun to do a "peyote Coyote" membership card, as we recently did for reader Justin Adler. Another great example of a not-so-great uniform that makes for a sensational membership card.
Justin's card is one of many that have been added to the membership card gallery, as we continue to work our way through the recent spike in orders (thank you!).
Ordering a membership card is a good way to support Uni Watch (which, frankly, could use your support these days). And remember, as a gesture of comm-uni-ty solidarity, the price of a membership has been reduced from $25 to $20 until further notice.
As always, you can sign up for your own custom-designed card here, you can see all the cards we've designed so far here (now more than 2,600 of them!), and you can see how we produce the cards here.
• • • • •
• • • • •
The Ticker
By Alex Hider

Baseball News: The Rockies were supposed to retire Larry Walker's No. 33 last weekend. Even though the ceremony didn't happen as planned, the Rockies unveiled a logo honoring Walker's HOF induction — which appears to be based on a photo of him in a TATC uni! (From Ron Ruelle and Tyler Maun.) … The Nationals won't raise their 2019 World Series banner or distribute rings until they can do it with fans present (from Kary Klismet). … Also from Kary: Baseball blog This Great Game has a series on the history of MLB stadiums dating back to the 1860s, broken down by era. … Former White Sox RF Jermaine Dye said he chose to wear No. 23 with the Sox between 2005 and 2009 because of Michael Jordan. Dye wore No. 24 for the majority of his career (also from Mike Chamernik). … Johnny Garfield spotted someone wearing a white-front Phils batting helmet in this photo of P Tug McGraw during the team's 1980 World Series celebration. Does anyone know anything about it? … Here's what happens to commemorative baseballs for cancelled games (from Eric Abneri). … Great video clip of Giants broadcasters Duane Kuiper and Mike Krukow talking about their all-time ugliest uniforms (thanks, Brinke). … Check this out: mono-blue vs. mono-blue in the 1987 Pan Am Games (from Marc Viquez).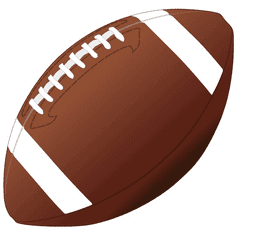 Football News: Former NFL LB Mike Curtis, who played most of his career with the Colts, has died. He was the subject of a 2017 Uni Watch entry regarding his unusual chinstrap habit. … The NFL's annual ranking of helmet safety has been released. Additional info here. … Were the Bucs' "alarm clock" jerseys based on a fast food uniform from the TV show 3rd Rock from the Sun? Sure looks that way! … NFL prospects won't be required to wear suits on draft night, but there is a dress code stipulating what they can't wear (from Chris Ashworth). … Patrick Wieboldt has been replicating on-field helmets. Here's his work on a Ben Roethlisberger Steelers Super Bowl XLIII helmet. … We often bemoan the fact that the league has taken all the fun out of the Super Bowl logos. It turns out, they've done the same thing with the logos for the draft (from our own Anthony Emerson).  … According to Jim Weber, ESPN's Adam Schefter has been rearranging the mini-helmets in his home office to fit the news cycle. He previously displayed Patriots and Bucs helmets to reflect Tom Brady's free agency. Now, he's displaying Cincinnati and Washington helmets for the draft. … @GashouseILM built really cool Chargers and Dallas Texans helmet signs to display in his house. … We've all seen lettermen sweaters for high school and college athletes, but check out these sweaters given to members of a Pop Warner team in Lima, Ohio, in the 1960s. Pretty good get for those kids! (From George F..) … Sauk Prairie High School in Wisconsin is building a new stadium (from Kary Klismet).

Hockey News: So much weirdness going on in this 1978 shot from the Canadiens' locker room. … Speaking of the Habs, Frederick Vinet noticed some crest-positioning inconsistencies in this late-'70s team portrait.

Basketball News: The Last Dance, the docuseries on ESPN about the '90s Bulls, visited Michael Jordan's alma mater, Laney High School in N.C. The school has a framed Jordan jersey in its trophy case that includes two Air Jordan logos and a note clarifying that it is a "replica jersey." No shit (from Robert Kahn). … Lyon College in Arkansas is installing a new basketball court in its home arena (from Kary Klismet). … Missouri did their own "only keep three" meme with historical basketball uniforms (from Landon Daniel).

Soccer News: Manchester United's 2020-2021 primary jerseys have reportedly leaked online (from Jay Stancil). … This is reportedly what French club PSG will wear as their third kit in 2020-2021 (from Josh Hinton). … Bayern Munich signed MF Alphonso Davies to a contract extension. Davies and team officials wore masks for the announcement and made sure to sit far enough apart (from Gabriel Hurl). … Here's a deep dive on the history of Dutch club AFC Ajax's crest (from Kary Klismet).

Grab Bag: Ticketphiles will want to check out this thread — the New York Islanders asked fans to share photos of old tickets stubs they've saved (from @OlegKvasha). … Fort Hays State University in Kansas is holding a bracket-style tournament to determine the school team with the best uniforms (from Kyle Eilts). … Most regular readers are probably pretty familiar with most of these — "25 things hiding in sports logos" (from Jon). … Readers Max Wastler and Micah Smith have designed an Ebbets Field Flannels cap bearing the image of Dr. Anthony Fauci, the Director of the National Institute for Allergies and Infectious Diseases. A portion of the proceeds from sales of the cap will go to Steps of Faith and No Kid Hungry. … This AV Club piece about the staying power of the band 311 mentions that on March 11 (3/11), fans of the band wear sports jerseys customized with No. 311 (from Michael Fender). … Navy veteran Andrea Robinson, who now works for the Marine Corps, has created posters with a nod to the French resistance in World War II to encourage social distancing (from Timmy Donahue). … Speaking of posters, a University of North Carolina professor made an Uncle Sam concert-style poster encouraging the use of masks (from James Gilbert). … More posters: A look at pandemic posters through the years (from Timmy Donahue). … Brian Johnson's Twitter thread explores pro sports teams that appear in TV show intros. … Check out this old "Building for Lease" sign in Detroit with the word "for" styled like the Ford logo. Was that a common Motor City thing? (From Sean Butler.)
• • • • •
[adrotate group="2″]
• • • • •
Click to enlarge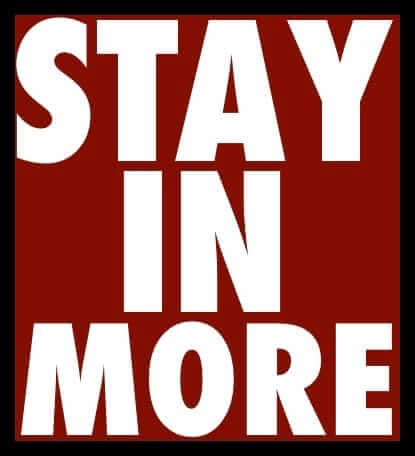 What Paul did last night: One nice thing about being on our porch each evening is that we've become much better acquainted with the local dogs, many of which take their people for walks during our porch sessions. We don't know the people's names, but we say hi to the dogs. There's Hector, and Sebastian, and Tillie, and yesterday there was this beautiful greyhound we've seen before, but we couldn't remember his name, so we asked. Baz — his name is Baz. I need to remember that.
Normally we'd get up and go pet the pooches, but we're not doing that now. Sigh.
Anyway: Brooklyn Brown Ale for me yesterday, and seltzer for the Tugboat Captain. The leftover barbecue afterward was very, very good.