By Phil Hecken, with Matthew Drake
Follow @PhilHecken

Greetings from New York, where we continue our fight against the COVID pandemic (but where it also looks like we may be slightly turning the corner — or passing the apex — to better things). Thanks to our social distancing we have been having success! I hope you and yours are holding up as well.
Two weekends ago, I introduced you to the design concepts of Matthew Drake (AL East & NL Central Editions). If you missed that post, pretty much everything you need to know is explained there. Last weekend, we showed Matt's AL Central and NL West concepts (click here for those). And today, we finish up with the AL West and NL East.
As I explained at the time, with all the designs and writups, it's probably too lengthy and unwieldy to include every concept from each league, as I usually do when showing off league-wide redesigns. What I've decided to do, then, is to break these out into the six different divisions, and I'll run two divisions each time.
Here's Matt:
• • • • •
Here are the AL West designs:
+ + + + + + + + + +
Houston Astros

I went with a 3-stripe "gradient" from orange to yellow on the sleeves, pants, and socks, based on the tequila sunrise design. I also added a shooting star with this design, once again inspired by @SFGiants58. As a small tweak, I also removed the beveling from the "H-star" logo.
_______________

The orange alternate now has a white wordmark to better match the cap logo, and the navy alternate now just has white letters with no outline.
_______________

An orange cap, socks, and undersleeves option is added to be worn on occasion at home.
_______________

The Cooperstown Collection is based off of the Tequila Sunrise, and the Spring Training jersey has the H-star logo and a new cap.
+ + + + + + + + + +
Los Angeles Angels

Yellow is embraced in this set, so as to separate from the other red & navy teams. I removed the spikes in the font in order to look less like the Rangers. The single stripe on the socks is meant to represent a halo.
_______________

When worn at home, the red alternate can be paired with a white cap.
_______________

The Cooperstown Collection is based off of the PCL Angels, complete with UCLA stripes and a wordmark from @SFGiants58. The Spring Training goes all-in on yellow.
+ + + + + + + + + +
Oakland Athletics

I went back to the kelly green, specifically the shade used on the new alternate. I added a simplified striping pattern inspired by the old Northwestern stripes. The number font is based on the font in the team's primary logo.
_______________

The gold alternate stays, and the green alternate is modified so the yellow & white don't touch.
_______________

The Cooperstown Collection retains the brighter kelly and gold letters from the Kansas City Athletics. The Spring Training jersey is a different green top, with a white cap that has the elephant logo.
+ + + + + + + + + +
Seattle Mariners

I went back to the original wordmark font, with the original away uniform striping, while emphasizing the iconic teal. The "M" returns as the cap logo, without the middle trident spike.
_______________

Teal and navy variations on the primary uniforms.
_______________

A teal alternate cap to pair with the home jerseys.
_______________

For the Cooperstown Collection I went with a cream uniform inspired by the original Pilots uniform. The Spring Training uniform prominently showcases the new "M" logo.
+ + + + + + + + + +
Texas Rangers

Overall, I think the Rangers' new uniforms are an upgrade, but I kept the old "Rangers" script and the double outlines on the numbers. The cap also has a double outline and a red bill to balance the two colors effectively.
_______________

Red and blue variations on the primary uniforms. The red jersey is based on the 80's Rangers alternate.
_______________

The Cooperstown Collection uniform is based on the prior Washington Senators, which the Rangers threw back to in 1994. The Spring Training uniform utilizes a modified state outline logo with just the standalone "T."
+ + + + + + + + + +
And now we wrap things up with the NL East:
Atlanta Braves

Not many changes to the classic primary uniforms, beyond removing the tomahawk from the jerseys.
_______________

The striping on the alternates now matches the primaries, and the navy alternate now has white letters with a double outline to better match the iconic cap.
_______________

The Cooperstown Collection throws back to the 70's Braves but with the modern colors. The Spring Training set offers a navy version of the same set.
+ + + + + + + + + +
Miami Marlins

Marlin blue is reemphasized in this color palette, and "caliente red" is replaced by a more magenta-pink shade. After all, since the team was almost originally going to be the Florida Flamingos, it only makes sense!
_______________

A Marlin blue alt enters the rotation full-time (as it should be), and the black alternate has Marlin blue letters for improved readability.
_______________

Here are some alternate cap options, such as a white front-panel to add to the 80's vibe, and a Marlin blue crown cap to mimic the original road uniform.
_______________

The Cooperstown Collection is based on the original home uniform with the classic teal, and the Spring Training embraces the pink a little bit more.
+ + + + + + + + + +
New York Mets

The home jersey is perfect and stays the same, beyond the change to a number font more fitting with the script and cap logo. The away has a modified script logo designed by @SFGiants58, with sleeve and pants striping reminiscent of the 80's racing stripes.
_______________

The royal alternate now has striping that mimics the away, and I added a snow white alternate to be worn on Sunday afternoons.
_______________

The Cooperstown Collection is based on a uniform the Mets threw back to in 2009, and the Spring Training uniform emphasizes orange and the Mr. Met logo.
+ + + + + + + + + +
Philadelphia Phillies

I added a blue brim to the cap to be unique in a league that has the Reds and the Cardinals. The away also has blue outlines now, similar to the 1940's uniforms.
_______________

The red alternate is now in the rotation full time, and the cream alternate stays for Sunday afternoon games, with more blue accents.
_______________

The Cooperstown Collection of course goes back to the beautiful maroon and powder color scheme, while the Spring Training focuses more on blue, like the team used to do.
+ + + + + + + + + +
Washington Nationals

The home uniform is based on the uniform the team has worn during Spring Training, which in my opinion is superior to the regular primary. Also, the interlocking "DC" logo replaces the curly W on the cap & primary logo.
_______________

The red alternate features the "DC" logo, and the World Series-winning navy alternate remains relatively the same.
_______________

The Cooperstown Collection is a fauxback to the racing stripe, pinwheel cap Expos. The Nationals are also the only team to utilize a white uniform for Spring Training, which features the interlocking "DC" logo.
• • • • •
Thanks, Matt! Some of those "Cooperstown Collection" (and BP/SP uniforms) are pretty interesting. Readers? What do you think? I want to again thank Matt for sharing these with us.
And we may be done with this collection, but we're not done with Matthew's designs. I'll be back with him again in the not too distant future (and a "get to know you" interview) as we look at another interesting twist he has envisioned for MLB uniform design!
Teambrown Apparel is stepping up to the plate
Earlier this week, I got a DM from Rob Brown, who runs the awesome Teambrown Apparel site (devoted to, among other things, awesome Negro League and AAPGBL ephemera), with a question/offer:
I am working with a company that is bringing PPE (masks, gloves and working on other things) to bring into US from China. Do you know anyone in NY that may be interested if I can get them good pricing?

We just got an order for 6 million units from a large retailer back east and expecting another 21 million units for masks.
Obviously here in New York (and now, throughout the country) we're in dire need of all PPE and I know many of the places around my neighborhood either don't offer them, or are trying to acquire them, or — and there are a few unscrupulous ones — offering these items at gouging levels. And while I don't know any specific places, I told Rob I'd run his offer on Uni Watch, if there are any places looking to stock up on reduced-priced PPE.
I asked Rob to give me a quick writeup and a link.
• • •
Teambrown Apparel is stepping up to the plate to offer "PPE" (Personal Protective Equipment) to those in need. Everyone is impacted by the COVID-19 pandemic and Teambrown Apparel wanted to find a way to help. With most states requiring masks, even for people that are asymptomatic, this is going to be a part of our lives for some time.
Teambrown Apparel activated their partners and network to utilize their purchasing power and production facilities both domestically and internationally to be able to source PPE for those in need. We are also working with partners that will be donating to underserved communities and organizations to make sure everyone is protected. For more information please check here.
• • •
How great is that? Thanks, Rob! And thanks to everyone who is stepping up to help fight the COVID pandemic!

Uni Concepts & Tweaks
After being dormant for a while, the Uni Tweaks/Concepts have returned!
I hope you guys like this feature and will want to continue to submit your concepts and tweaks to me. If you do, Shoot me an E-mail (Phil (dot) Hecken (at) gmail (dot) com).
• • •
Occasionally I'll have some concepts tweeted at me. This one comes from Joseph Guzman, who has a couple New York Football Giants ideas:
• • •
Thanks. OK readers, tweeters (and concepters). If you have some tweaks or concepts, shoot 'em my way with a brief description of your creation and I'll run 'em here.
The Beginnings of Candlestick
Every so often a great tweet generates a bunch of really great, historical replies.
Late this week, my pal Ron Bolton (who posts as @OTBaseballPhoto) tweeted this photo of the ballpark known as "Candlestick":
San Francisco, March 4, 1959 – The day before this photo was shot the Giants choose the name "Candlestick Park" for their new home. The bottom bowl of the ballpark is now done on the 205th day of construction and they're still 405 days away from its first game on April 12, 1960 pic.twitter.com/CwW6HninSs

— Old-Time Baseball Photos (@OTBaseballPhoto) April 16, 2020
Now you guys know I love stadia, so this alone was interesting to me. But it turns out I'm not alone and several follow up relies showed the ballpark and area in which it's located, in various steps of development.
Sometimes, Twitter is really good.
aerial shot of Candlestick Point ( it was named for a rock formation in the bay off the point) https://t.co/gTMR9eTgul

— David Gallagher (@DavidGallagher) April 17, 2020
most of the area where the ballpark was built was filled tidelands on the bay. There was excavation on the western side. https://t.co/PWV5FX1Kz1

— David Gallagher (@DavidGallagher) April 17, 2020
And one more from about the same direction. 1959, during late stage construction https://t.co/lhfn6pfYey

— David Gallagher (@DavidGallagher) April 17, 2020
If you go back to Ron's original tweet, there are also lots of good historical facts and nuggets (like, for example, the ballpark was named "Candlestick Park" because it was built on a piece of land known as "Candlestick Point.") But seeing the ballpark and area in various stages of construction was the gem of that thread. Definitely worth a read through if you have a couple minutes.
Guess The Game…
from the scoreboard
Today's scoreboard comes from Wade Heidt.
The premise of the game (GTGFTS) is simple: I'll post a scoreboard and you guys simply identify the game depicted. In the past, I don't know if I've ever completely stumped you (some are easier than others).
Here's the Scoreboard. In the comments below, try to identify the game (date & location, as well as final score). If anything noteworthy occurred during the game, please add that in (and if you were AT the game, well bonus points for you!):
Please continue sending these in! You're welcome to send me any scoreboard photos (with answers please), and I'll keep running them.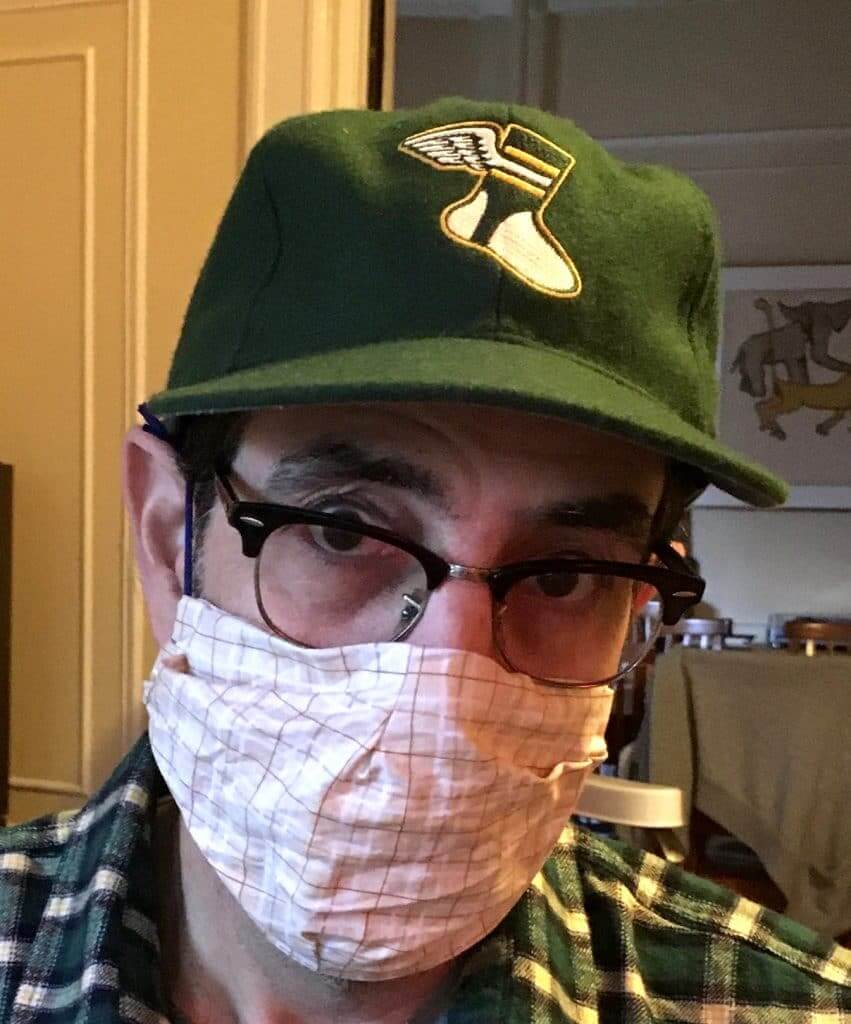 And now a few words from Paul
Hi there. First and foremost, I hope you're staying safe and (relatively) sane, as I'm doing my best to do.
Second, please join me in thanking Phil for the epic work he's been doing during the pandemic. He's been juggling some family stuff, some grad school stuff, and all the other stuff we've all been dealing with, but he's still been doing a great job with the Uni Watch weekends — thanks, buddy.
Now then, a few merchandising notes:
• If you want a Uni Watch Classic Cap (which, as you can see, pairs nicely with a homemade mask), I have ample supplies of sizes 7 and 7-7/8, and two of size 7-1/4. Everything else is sold out. I have orders in place for new inventory, but Ebbets Field Flannels' factory is currently shut down, so there's no telling when those orders will be filled. If you want one of our remaining sizes, you can order here.
• As of this writing, I have one red seam ripper and two white seam rippers. Everything else is sold out. I ordered 100 new rippers a month ago, but they're coming from China, so who knows when they'll arrive. If you want one of the ones I still have on hand, you can order here.
On the plus side, Teespring continues to operate normally, so everything in the Uni Watch Shop and the Naming Wrongs Shop continues to be available. And remember, you can save 15% on anything in those shops by using the checkout code COMMUNITY.
And of course you can always support Uni Watch by ordering a membership card or making a donation.
Thanks, and stay safe! Now back to Phil.
In Case You Missed It
On Thursday, I appeared on TSN (The Sports Network — roughly the Canadian equivalent of ESPN) radio 1260 with host Dave Jamieson. Paul posted it in yesterday's post, so apologies to any who saw (and hopefully listened) to it then.
I've done a bunch of radio (and many podcasts) over the years, but I thought this one went really well — it's about 9 minutes, so if you didn't listen, it's pretty short. Dave was an excellent interviewer and obviously a huge fan of Uni Watch (and Paul as well as all the contributors) so it was a pleasure to speak to him.
Love to hear any thoughts you guys have. While the sports world may be shut down for now, there's still lots of uniform talk to be had! If anything good comes from this awful COVID situation, at least us uni folks have plenty to discuss.
The Ticker
By Anthony Emerson

Baseball News: Kurt Rozek noticed that the 1982 Brewers batting helmet logo did not have a yellow outline, contrasting with the official logo of the time. Hmm. … Here's a shot of then-Reds IF José Peraza wearing a modified Gucci belt on the field. Here's hoping he brings the style to Fenway this year. … Brandon Chase reminded us that when Red Sox 2B Dustin Pedroia first broke into the big leagues in 2006, he wore No. 64, and would've kept wearing it had he not been convinced to switch to a lower number by teammates, as revealed in the 2007 Red Sox World Series DVD. … At about the 2:45 mark in this compilation of old Volkswagen commercials, we see a commercial shot in Shea Stadium. Neato! (from Keith Goggin). … A Reddit user has compiled a whole bunch of weird baseball field dimensions into a cool poster design (from Mike Chamernik). … I wish baseball teams would bring back the collars, like Syracuse University had in 1898 (from J. Max Weintraub). … Washington, D.C. Mayor Muriel Bowser wore a Nationals cap during her COVID press conference yesterday, and it appears to be a Nationals cap without a maker's mark. Good job, Madam Mayor! (from @NatteringN).

NFL/CFL News: The Patriots will finally release their new uniforms on Monday. The video seems to imply that some sort of throwback will be on tap, long rumored to be the team's 1995-1999 design, but that isn't happening (from many, many, many readers). … Browns owner JW Johnson says the team will "get to work" adding orange pants (from Bob Moon). … Here are a few screengrabs from an early-'90s Cowboys game with OL Tom Rafferty wearing a jersey with serifed uni numbers when all his teammates had gone sans-serif. … The New York Times has an interesting article about the company behind electronic football scouting (from Adam Hebst). … The Calgary Stampeders seem to have accidentally leaked their number font. They are yet to unveil their new unis (from Wade Heidt).

College Football News: Interesting article from the Seattle Times on how Photoshop and design play a role in college football recruiting at Washington (from Dustin Jensen).

Hockey News: A blog has ranked the five goalies with the worst equipment style since 2000 — the real highlight of that piece, however, is a shot of Tim Thomas in a Stars uni with Panthers pads and mask! (from Wade Heidt).

NBA News: The NBA and WNBA will sell team-branded facemasks, with proceeds going to hunger relief programs in communities hit especially hard by COVID (from Mike Chamernik). … In last night's WNBA Draft, Gianna Bryant, Alyssa Altobelli, and Payton Chester were all selected as honorary draft picks (from James Gilbert).

College Hoops News: New corporate name for Virginia Wesleyan's basketball arena (from Kary Klismet). … Fansided ranked the 15 best college hoops unis (from Adam Childs).

Soccer News: The Eredivisie, the Dutch top league, is holding a contest that allows voters to pick their three favorite shirts in the entire history of the league, since 1956. What are you waiting for? Go vote! (thanks, Jamie). … Belarusian second division side Dnepr Rogachev's new kits feature a math problem on the back. My degrees are in English and political science, so I'll let someone else solve it (from Ed Żelaski). … Real Madrid has released new renderings of how the Santiago Bernabéu Stadium will look after renovations (from Kary Klismet). … Also from Kary: Chinese side Guangzhou Evergrande have started constructing a 100,000 seat stadium, which would be one of the largest in the world upon completion.

Grab Bag: A Hoosiers blog has released a ranking of 16 failed mascots in IU history (from Kary Klismet). … Also from Kary: the city of Manchester has released plans for a 23,500 seat arena, which would be the largest indoor arena in the UK. … Here's a cool article about how infectious diseases inspired American bathroom design (from Ted Arnold).
And Finally… Hope everyone had a good week — or at least as good as can be expected under the circumstances. Things are getting better (or at least, it appears so) here in Nassau County and New York, and it's due in large part to everyone doing their part with social distancing — and of course also due to the heroic efforts of our doctors, nurses, medical staff, etc. and everyone who is an essential worker just making it better for us nonessential types. Let's not fuck this up by letting down our guard now. Until we have a cure or a vaccine — this will never really be over. What we do want to do is crest this thing and be smart about it. Thinking it's over before it is could lead to a second or third wave, and cost us any gains we've made. Yeah, it sucks. Spring is here and in one month the entire world has been turned upside down.
We're all in this together. Together we'll get through this!
See ya tomorrow,
Peace
PH