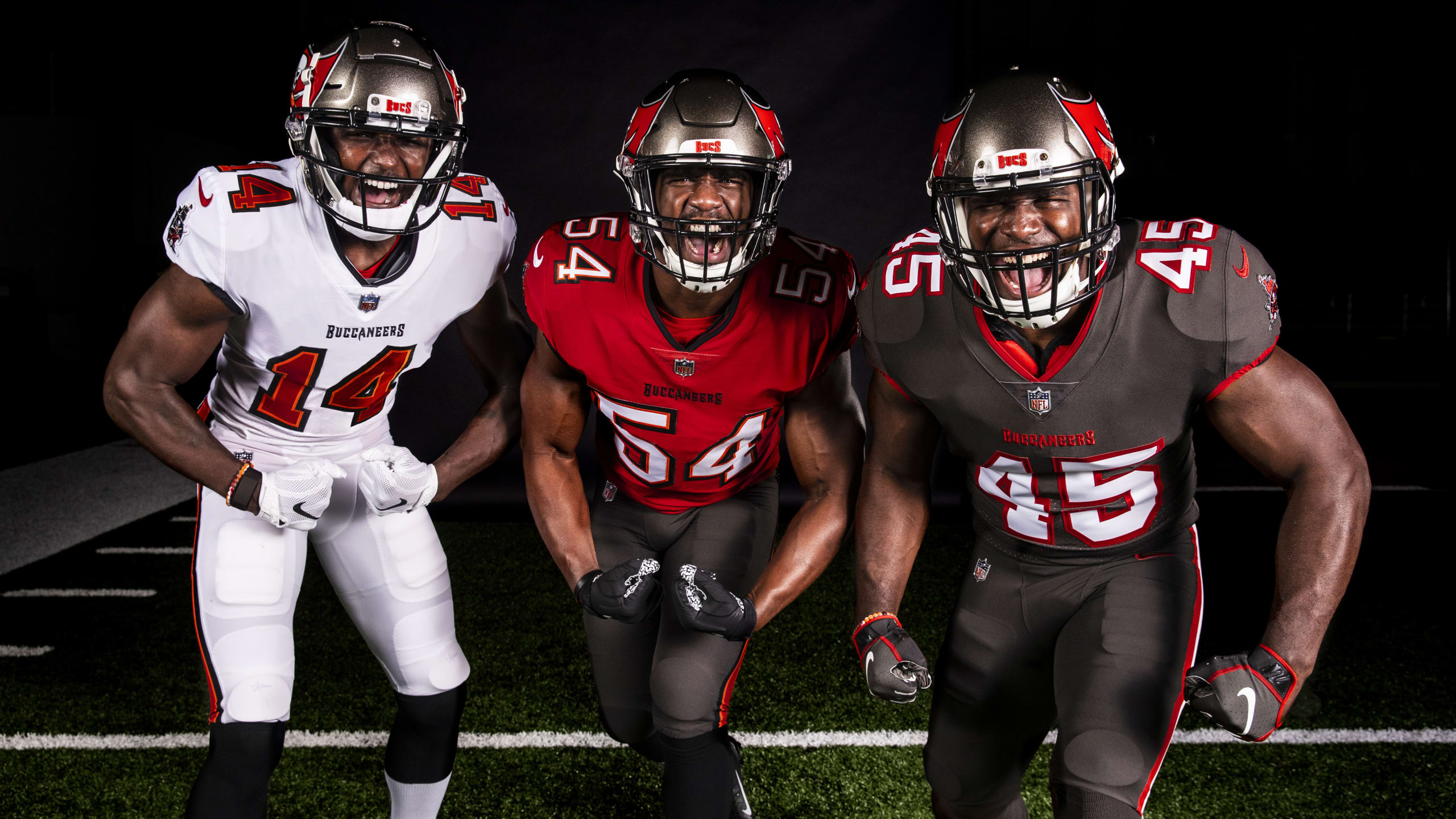 Click to enlarge
The pandemic may have slowed down everything else, but the NFL uni-verse is as active as ever. Yesterday we have the Buccaneers' long-awaited unveiling along with some Falcons leaks — a crazy day!
Let's start with the Bucs. Their new uni set (shown above, with lots of additional photos here and here) is pretty much what we expected: a return to their 1997-2013 look, with a few tiny tweaks. Let's handle this one FAQ-style:
You said there wouldn't be orange, but these uniforms include the orange trim on the numbers and pants piping!
Actually, what I said — twice, in fact — was that there was no orange trim "at least that I could see." I was specifically hedging on that point, because the visuals I was shown weren't 100% conclusive. But I'm glad I was wrong — I much prefer the orange-inclusive design, plus orange is part of the team's aesthetic heritage.
What about the rest of what you reported last month?
My source and I pretty much got it right: black wordmarks on the chests of both primary jerseys, the modern ship logo on the sleeves, oversized helmet logos, black facemasks, black-topped socks, and a mono-pewter alternate.
One thing we missed, because it wasn't clear in the visuals: The two primary jerseys have black trim on the collars and sleeve cuffs.
Any subtle things that might not be immediately apparent?
According to this article:
While the Buccaneers are going back to the darker red of their previous [1997-2013] uniforms, they are retaining the shade of pewter used in the most recent [2014-2019] version. The team explored going back to the original pewter pants, but the fabrics used by Nike today are completely different than in the 1990s and therefore it was impossible to re-create the historic pewter color in today's textiles.
That page also says that the size of the helmet logo "has been reduced to ensure the sword is visible on all helmet types used by players." So while the helmet logo is still oversized, it's apparently not quite as oversized as before. Honestly, I can't tell the difference, but reader Kyle Brenzel says the logo is 13% smaller, based on his analysis of official NFL style guide sheets (which I don't have access to, but Kyle apparently does). Here's his comparison of the helmets, along with some color comparisons to boot — new version on top, old version on bottom:
I know it doesn't sound like much, but a 13% reduction in @Buccaneers helmet logo size is a huge deal. Looks WAY better now @UniWatch. pic.twitter.com/gUZvdcisWj

— Kyle Brenzel (@kbrenzel) April 7, 2020
Anything other notable details?
The NOB lettering on the white jersey is black. Back in the day, it was red. (My mock-ups from last month didn't show the back of the white jersey, because the visuals I was shown didn't include a rear view of that jersey.)
Can the primary jerseys and pants be mixed and matched?
The photo gallery that the team released yesterday includes a shot showing the white jersey with pewter pants, so that's definitely an option: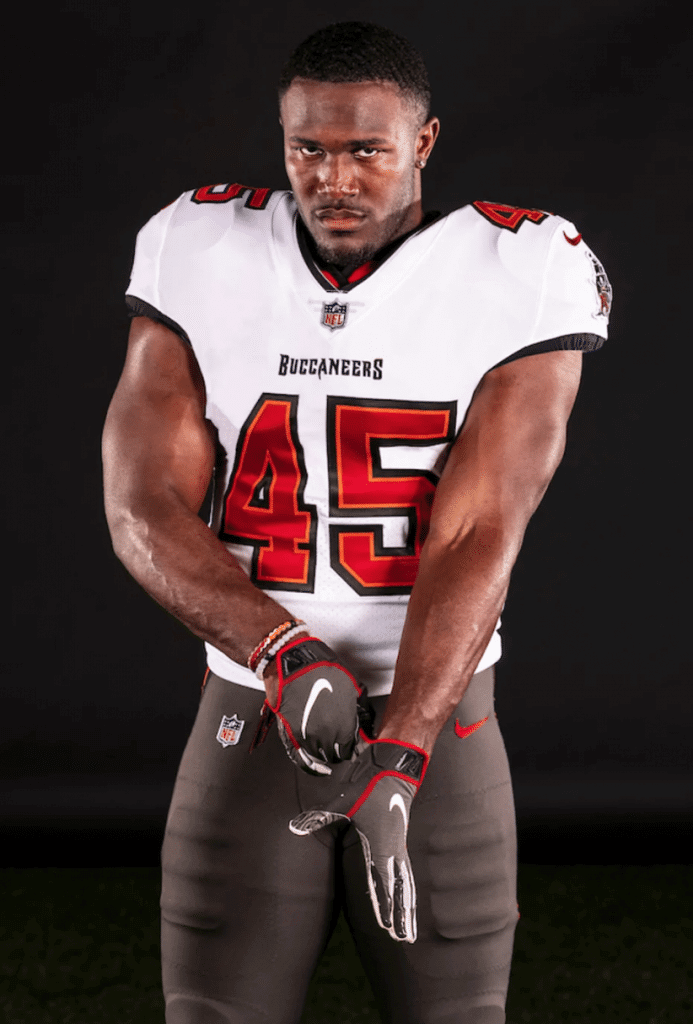 There are no photos of the red jersey with the white pants, so it's not clear if that's an official team-sanctioned option. But they occasionally wore that combo back in the day, so I expect they'll do it again this time around.
Isn't it weird that they're using two different sets of pewter pants?
Anyone else find it odd (disturbing?) the new #Buccaneers unis have two different sets of pewter pants (cc: @UniWatch) pic.twitter.com/pQgqA262A6

— Phil Hecken (@PhilHecken) April 7, 2020
The Color Rash era has resulted in several similar situations. The Browns, for example, have two different sets of brown pants; the Texans have two different sets of navy pants; and so on. I agree that it's odd and feels like overkill.
No Bucco Bruce throwbacks?
They can't wear the Bucco Bruce design — at least not with its original white helmet — because of the one-shell rule. If the league lifts the rule in 2021, as has been hinted at, I'm sure we'll see Bucco Bruce back on the field sooner than you can say, "Creamsicle."
The photo at the top of today's page shows wide receiver Chris Godwin wearing No. 14 — the number he took after giving his No. 12 to Tom Brady. So the photo shoot must have been done very recently, right?
They apparently did multiple shoots. The first thing the Bucs released as part of yesterday's unveiling was this video, which showed Godwin wearing No. 12. When people pointed out that 12 is no longer his number, the Bucs followed up with a disclaimer/explainer tweet:
*Disclaimer: Video was filmed before WR Chris Godwin changed numbers.

— Tampa Bay Buccaneers (@Buccaneers) April 7, 2020
But the photos shown here and here show Godwin wearing No. 14, so they were apparently taken at a later date. The Bucs announced Godwin's number change on March 31, which means the pics were presumably taken within the last week or so. The disturbing thing about that is that several of the pics show Godwin and teammates Lavonte David and Devin White all horsing around in close proximity to each other — a bad violation of social distancing protocols. Update: The Bucs have just informed me that the video and the photos were all done at the same time, in early March, before social distancing practices became common. Godwin's jersey number was Photoshopped in the photos (honestly, they did such a good job of it that I couldn't tell), but they couldn't change it in the video — that's what accounts for the discrepancy.
So what do you think of this uni set?
I'm fine with the primary uniforms. I've never been in love with this design, but it's obviously way better than what they've been wearing for the past six seasons. It looks like a football uniform, not a costume. I particularly like the white-over-pewter combo, so I hope they wear that a lot. Overall: This returns the Bucs to aesthetic respectability, but I wouldn't rank them any higher than the middle of the NFL uni pack.
The mono-pewter alternate is pretty wretched, but whaddaya gonna do.
Any other thoughts?
With the Bucs basically hitting CTRL-Z on their Nikefied look, and with the Browns apparently poised to do the same, this all seems like an unmistakable repudiation of Nike's approach to NFL design.
How long until we see the alarm clock design come back as a throwback?
Ha! Give it a decade or so. By that time they'll have appeared on lots of "Worst Uniforms Ever" lists and we'll all be able to have a nostalgic laugh about seeing them on the field again.
———
Okay, now let's turn our attention to Atlanta. A bunch of photos began circulating yesterday — an apparent leak. Ordinarily, I'd be at least somewhat skeptical, especially since I haven't been able to pinpoint the source of the leak (everyone keeps saying, "My friend sent the pics to me" or "I saw it on a message board," that kind of thing).
However…
In this case, it turns out that a source showed me a photo of what appeared to be one of the Falcons' new uniforms a few weeks ago. I was not permitted to share the photo or even mention that I'd seen it. But I can now confirm that this photo I was previously shown matches what's shown in the photos that began circulating yesterday. So either yesterday's leak is legitimate, or else there's a hell of a coincidence involving two illegitimate leaks that happen to match. I'm pretty sure it's the former, not the latter.
Here are the photos that were making the rounds yesterday (for all of these, you can click to enlarge):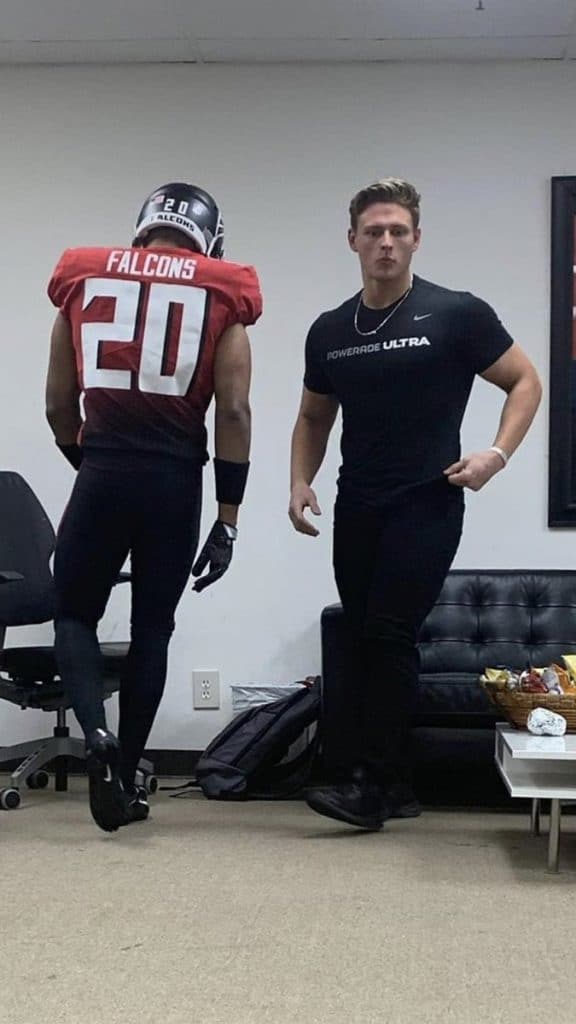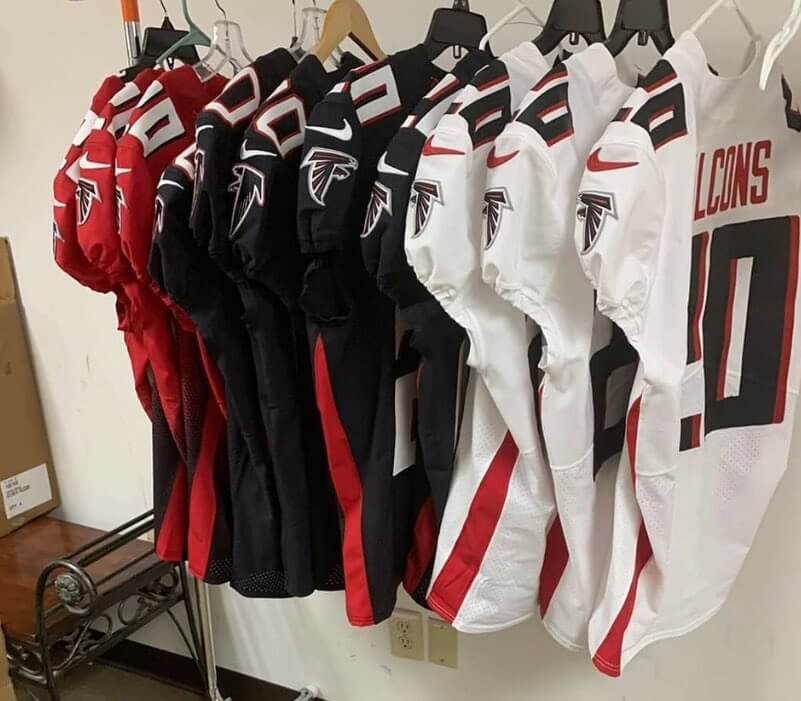 Okay, what can we glean from these photos? Here are a few thoughts:
1. Side panels? In 2020? You've got to be fucking kidding me.
2. A red-to-black gradient jersey with black pants? Ugh.
3. I hate uni numbers where the shadow just goes to the right, instead of down and to the right. In this case, it's compounded by a brutal number font.
4. If you look closely at the first photo, there's a helmet sitting on a desk. It appears to have a matte shell and a chrome mask: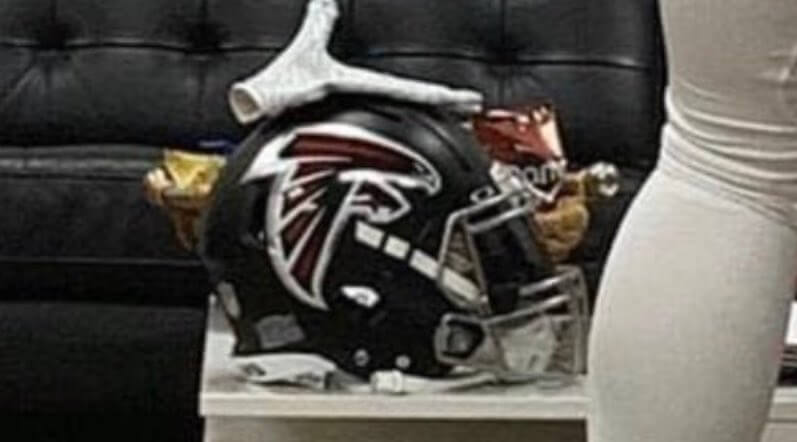 5. If you take a closer look at the jerseys hanging on the rack, they appear to have some black throwback jerseys mixed in with the new black jerseys — note the differences in the sleeve logos and the TV numbers: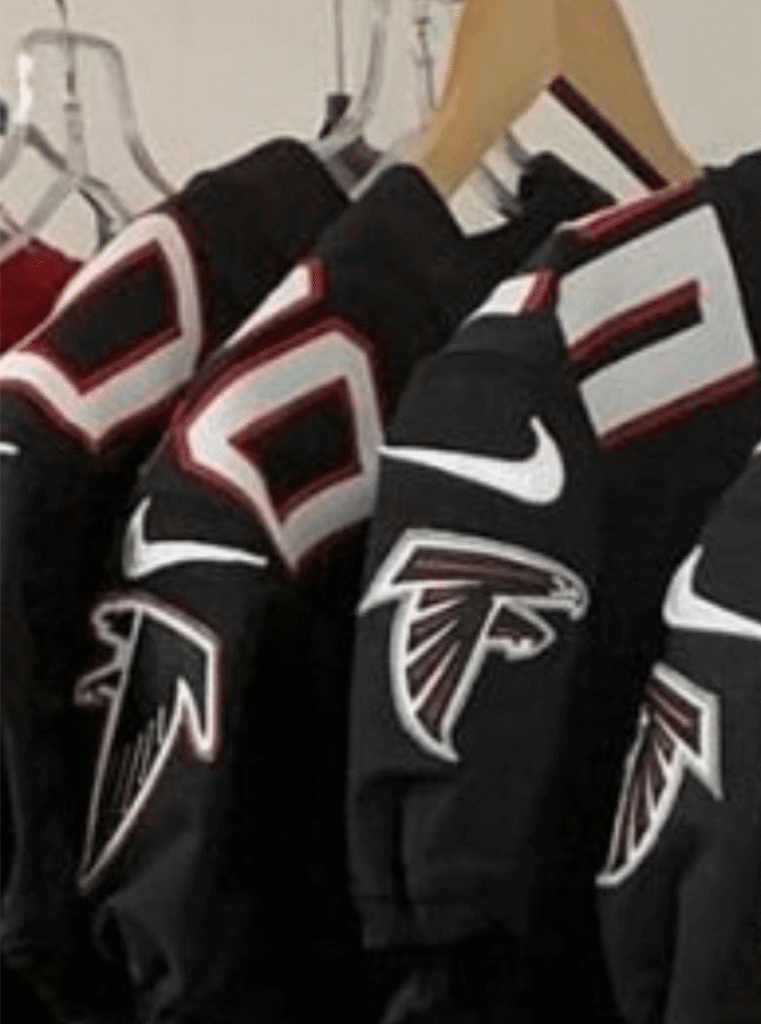 So apparently throwbacks will be part of the mix.
6. You may be thinking to yourself, "Hmmm, these newly leaked photos don't provide a front view of any of the jerseys." True enough. But another photo leak began circulating last night, and this one does show the front — or at least it purports to: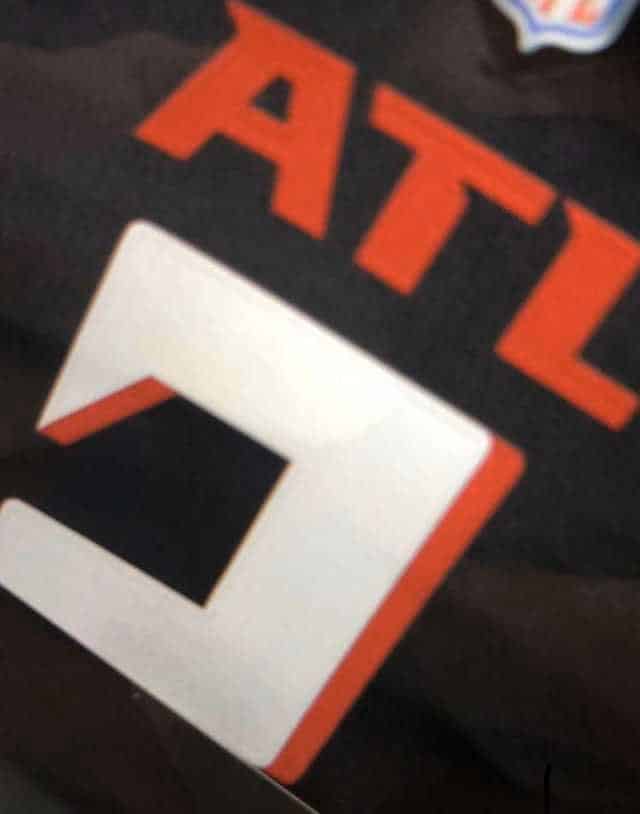 Once again: Under normal circumstances, I might be skeptical. But in this case, this front-view photo matches what I was shown a few weeks ago. Or to put it another way: Yes, it appears that the Falcons will become the first NFL team to have a giant three-letter airport-style city abbreviation plastered on their chest, just like NBA teams were doing eight years ago. Now there's a distinction to be proud of!
7. On the plus side: No more clown sleeves, thankfully.
All in all: What a disaster. I didn't think the Falcons had anywhere to go but up, but they proved me wrong.
Of course, there's always the slight chance that these leaks do not show the real uniform. Shortly after today's post went live, reader/commenter Patrick offered this analysis:
To me it looks like this could be from a [Nike] presentation to the Falcons with possibilities. First, "Falcons" on the nameplate, not current players. Second, clearly Nike models — NFL tends to use real players. Third, no team socks. I know the rule has changed, but it seems with all new reveals they at least have a sock option and then in games players go tights.
That is all very plausible. It's not conclusive, of course, but it presents a reasonable alternate explanation for these photos' existence. Let's hope Patrick's right. Otherwise, we'll be hearing a lot of "They play in a dome, so it makes sense that they look like an arena league team" jokes. Either way, we'll find out next Tuesday, April 14, when they're due to unveil.
It's interesting that the Bucs (and, by all appearances, the Browns) are recovering from the Nike virus, while the Falcons may just now be getting infected. This curve isn't steep, but it's long. Teams do tend to recover from the infection, but it takes a while. Now if we just had a vaccine…
UPDATE: The leak was accurate, and the Falcons have gone ahead and released the full uni set:
For our team. 
Our fans. 
⁰Our city. pic.twitter.com/15e5ZX6EtE

— Atlanta Falcons (@AtlantaFalcons) April 8, 2020
Here's some additional info and a big photo gallery. I'll have more to say about these uniforms in tomorrow morning's post.
(My thanks to Luke Easterling for pointing out the black NOB on the Bucs' white jersey.)
• • • • •
• • • • •
Click to enlarge
Pin Club update: Blake Pass is the latest Uni Watch reader to create a custom display this year's Pin Club pins. Looks sharp, right? If you want to use the same design, you can download it here.
Meanwhile: The April pin sold out yesterday (in less than a week!), becoming the first of the Pin Club designs to do so. Todd Radom and I are super-happy about the response to this one — thanks so much.
If you want to get caught up, we do still have inventory for the the January, February, and March pins. Remember, you can save 15% by using the checkout code COMMUNITY.
I'm expecting the May pins to arrive from the factory today or tomorrow, so that design will launch on schedule next month. And then we have something very special planned for June — stay tuned.
And remember, the following pandemic discounts remain in effect until further notice:
• The Uni Watch Classic Cap, usually priced at $39.99, is now $35.99.
• Uni Watch seam rippers, usually $6, are now $4.
• And custom-designed Uni Watch membership cards, usually $25, are now $20.
If you'd rather support Uni Watch via a donation, here's now to do that.
My thanks, as always, for your consideration and support.
• • • • •
• • • • •
Now we just need a big one for Flavor Flav: Longtime reader and all-around swell guy Tim Cox (who actually flew out from Colorado for last summer's Uni Watch 20th-anniversary party in Brooklyn and then flew back that same night, like a rock star!) has just become one of the very few people on the planet to own a Uni Watch watch. I don't even have one myself! I've had three different watches available on Zazzle for years (in addition to the design that Tim got, there's also this one and this one), mainly because I think the term "Uni Watch watch" is inherently amusing. They're listed on our merch page, but I think only one person has ever purchased one before now. "Study, and high-quality materials too!" says Tim. Well, he'd know better than I would — enjoy, Tim!
• • • • •
• • • • •
LAST CALL for the Vintage Brand raffle: Our longtime advertiser Vintage Brand is back with this month's raffle. The lucky winner will be able to choose any item from the Vintage Brand site (including this Bucks T-shirt with history's greatest NBA logo).
To enter, send an email to the raffle address by 8pm Eastern tonight. One entry per person. I'll announce the winner tomorrow.
• • • • •
• • • • •
The Ticker
By Lloyd Alaban

Baseball News: Here's a social distancing-themed Cubs logo that also takes a swipe at their archrivals, the Cardinals (from Kary Klismet). … The Brewers have also released a social distancing logo (from @mikeobs). … This Yankees 1B/OF Joe Pepitone jersey from the TV show Curb Your Enthusiasm has two different number fonts (from Deangelo Vickers). … The Chinese Professional Baseball League will start next week behind closed doors. The Rakuten Monkeys will have robot mannequins in the stands, dressed as fans (from Dan Ukrainetz).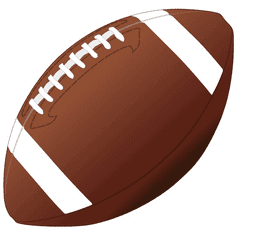 Football News: The Browns' new uniforms will be revealed on April 15 — one day after the Falcons' unveiling (from multiple readers). … Here's a jersey montage of every quarterback that Broncos OLB Von Miller sacked in his career (from Kary Klismet). … As expected, the Rams' new gradient logo is difficult to reproduce in embroidery. … Someone mocked up every single uniform combination North Carolina can possibly use.

Hockey News: Reader Josh Tremblay found this video of a Bruins/Whalers game from March 1996. NHL teams still wore white at home in those days, but the Whalers were wearing blue at home for that game. Anyone know why? … Here is the Sabres' social distancing logo (from Ryan Wetstein).

Basketball News: Xavier is letting fans design their shoes (from Jim, who didn't give his last name). … A sportswriter ranked all the Sixers' uniforms (from Jack Connell). … A grocery store is using the old Charlotte Bobcats logo (from Nick Doffing, who unfortunately didn't indicate where the store is located). … Newly elected Basketball Hall of Famer Kevin Garnett doesn't want the Timberwolves to retire his No. 21 because he's angry with team owner Glen Taylor.

Soccer News: The Philadelphia Union have released a fauxback logo (from John Flory). … Looks like South Korea and Nike are ripping off the 2018 Adidas World Cup Kit font (from Josh Hinton). … For the latest in kit news around the world, follow Josh's Twitter feed.

Grab Bag: Here's a good gallery of all of this season's Formula One helmets (from Kary Klismet). … Also from Kary: Norman, Okla., is inviting the public to vote on the finalists for its new city flag. … One more from Kary: The Ohio State matching band released a video of its members practicing social distancing with a performance over video conferencing. … North Carolina men's lacrosse is donating materials to help manufacturers make more masks. … The Chicago Sun Times changed its masthead to promote social distancing (from Mike Chamernik). … Nike will start making gear for front-line health care workers. … In a related item, here's an article about the various sports companies that are now making medical supplies (NYT link) (from Tom Tuner). … The U.S. Coast Guard has released new guidelines on wearing face masks while in uniform (from @bs_brewer). … UFC is getting around the latest guidelines prohibiting large gatherings by holding an event on tribal lands.
• • • • •
• • • • •
Click to enlarge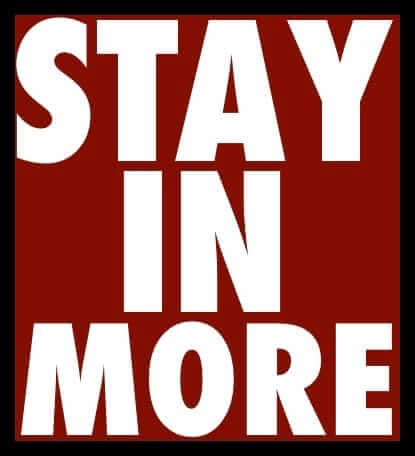 What Paul did last night: As the days get longer and our porch daily Pandemic Porch Cocktail™ sessions include increasing amounts of daylight, it becomes harder and harder to take a decent photo. Since the porch is enclosed but the house across the street is in daylight, it's more or less like taking a photo out a window (which, as anyone who's tried it knows, is tricky). So I'm faced with the choice of leaving the porch underexposed or having the background all blown out. It doesn't help that I'm not a particularly good or sophisticated or patient photographer.
Anyway: Bud for me yesterday, and seltzer for the Tugboat Captain. As you can see in front of my beer, the tulips are coming in quite nicely.
• • • • •
Happy Passover to all who are celebrating tonight. I realize it doesn't seem like the most celebratory time, but let's be thankful for what we still have. Peace. — Paul