By Phil Hecken, with Mark Healey
Follow @PhilHecken

Sometime, a follow-up post takes a week or two. Sometimes longer. This one is over two years in the making.
Readers may recall an article I did with Mark Healey and Todd Radom back in January of 2018 entitled Gotham Baseball Gets a New Logo (if you need a refresher, please take a few minutes to read the lede as it sets up today's post — thanks!). Now then, if you didn't read that, the gist of that post was that my pal (and UW pal) Todd had worked with Mark to design a new logo for Gotham baseball, and left open the prospect that there would be uniforms to be designed and revealed at a later date. Well, the time has now come. It also coincides with the soon-to-be-released book, "Gotham Baseball: New York's All Time Team," which Mark authored (more on that below). There's a lot more too — but let's just get started now, and see what's in store! Here's Mark (click any images below to enlarge):
• • • • •
Gotham Baseball
By Mark Healey
When I decided to write my first-ever book, Gotham Baseball: New York's All-Time Team, I knew that it needed artwork, and that John Pennisi would be the guy to provide it. John's illustrations — I call them portraits — have been a part of Gotham Baseball since the early days.
I'd always been a fan of the old illustrated covers of Baseball Magazine, and John had created a few of those for our magazine, and it was extremely important to me to make sure that John was part of the project,
I also knew I needed something new; this would be the first-ever book that selected the best players from among the ranks of the Mets, Yankees, Brooklyn Dodgers and New York baseball Giants. My mission was to find a way to represent the players and their respective teams, while also creating a Gotham Baseball squad.
Enter Todd Radom. I had met Todd years ago at the Queens Baseball Convention, and over the years we stayed in touch. I was fascinated with his work and truly had no idea why he was so nice to me. One day, after we had exchanged emails about a project we had both unknowingly worked on together, he wrote that he would like to work with me on my next project.
It would more than a year when I had the idea of what that project would be.
I finally realized that putting the players in a Gotham Baseball uniform would be the best way to bring the book together and would give Pennisi a palette to bring the portraits together.
I asked Todd if he would be interested, and he said yes. So I made some crude sketches of what I was envisioning and Todd not only designed one uniform, he designed THREE, with home and road version of each.
I was amazed at how perfectly Todd understood what the Gotham Baseball team should wear:
_______________
The 1950s version:
_______________
The 1980s version:
_______________
2017 or Modern Era version:
_______________
I then supplied Pennisi with the designs, assigned each player a specific uniform, and he did the rest. The gallery of the players is in the centerfold of the book, but here's s sneak preview of Monte Irvin, the Gotham Baseball left-fielder.
While we are not ready to mass-produce any Gotham Baseball gear just yet, Russ Gompers from Stitches did create an amazing prototype:
(photo by Matthew M. Lug)
One last thing, while it's not uniform related, Todd also did the cover. We had talked about different concepts for the cover, I had some ideas, he had some ideas, but then I remembered these works of art he had created that captured the essence of Gotham Baseball's identity.
Needless to say, Todd's cover design was brilliant.
The book will be released on April 6, is published by The History Press, and features a foreword by best-selling baseball author and historian Marty Appel, in addition to the wonderful work of Pennsisi and Radom.
What better way to celebrate Gotham Baseball's 15th Anniversary?
(logo design by Todd Radom, and updated by Mark Hogan)
If you'd like to order a signed copy. please visit Gotham Baseball.
• • • • •
Great stuff! Thanks, Mark. So readers, what do you think of the Healey/Radom unis? And how about that beautiful artwork by John Pennisi? And what better way to use some of your newly-created "free" time than to pick up a copy of Mark's book (and no, he didn't ask me for a plug!)? Even if you're not a fan of New York baseball, this promises to be a great read.

Uni Concepts & Tweaks
Time for more Uni Tweaks from the UW readership.
I hope you guys like this feature and will want to continue to submit your concepts and tweaks to me. If you do, Shoot me an E-mail (Phil (dot) Hecken (at) gmail (dot) com).
• • •
I received an e-mail from Jared Pike a short while back, who has some new ideas for the Washington football team. Here's Jared:
Hi Phil, have an interesting uni concept for you.

I was a huge Washington (')skins fan growing up. It's been sad to see them wither away (thanks more to Dan Snyder than the name controversy, to which I'm largely indifferent.) Either way, I think a rebranding is just what Washington needs, and it might solve multiple issues at once.

So here's what I propose. The Washington NFL team should announce a partnership with the MLS team, and call both teams "DC United." This is common in Europe, where one sports organization fields teams in multiple sports (Bayern Munich has a basketball team, FC Barcelona has a rugby team, etc.) Linking themselves to the multiple MLS champions offers history to one side, and future to another.

Regarding the kit, the DC United football team would keep burgundy and gold, and add black as an accent — so they have the option of looking "traditional" in their home whites, but badass in their new dark colors. Using the DC United's sharp-looking eagle crest on the helmet completely eliminates the Native American imagery once and for all. The soccer team would change their black-and-red to black-and-burgundy, which is just subtle enough to not offend longtime fans. They would also add gold as a new accent color, which their kit desperately needs. I think fans — not just in Washington — would buy both kits in huge numbers (and the organizations would save money by sharing a single marketing team).

It would also positively affect the culture of both clubs. DC United's fanbase has a huge number of Latinos, and DC itself is 50% African American. Replace the oompah of "Hail to the [']skins" with grassroots fan-made chants and tifos, and you've transformed a stagnant NFL stadium into one that opponents actually fear visiting. And if I were in charge, I would have them swap stadiums for a game: give the soccer team 70,000 seats for their biggest rivalry match; and take one of the NFL games to Audi Field, and as a community-building move, sell the 20,000 tickets at low cost to DC residents only.

Examples of cross-team promotions are rare in America; I can think of the Detroit Lions/Tigers, the Chicago Cubs/Bears, and the Pittsburgh teams all using black and yellow (although I can't see the other three DC clubs giving up red white and blue!) Having an NFL team called DC United sends a strong message that their American football team isn't a dinosaur, but a forward-thinking organization that wants to combine the best of all sport for all fans.

-Jared Pike
And here's the concepts Jared sent along — click to enlarge:
• • •
Thanks Jared. Nice writeup as well as concepts!
OK readers (and concepters). If you have some tweaks or concepts, shoot 'em my way with a brief description of your creation and I'll run 'em here.
Putting a Date on a Well-known Baseball Uni
Got an e-mail yesterday from Craig Brown, who you may know runs the absolutely fantastic Threads Of Our Game website, which is devoted to the research and study of 19th century base ball uniforms. I occasionally run sub-ledes from Craig on here.
I'll let Craig take it from here:
Hello baseball historians,

Every once in a while, when a baseball photo get passed down from generation to generation and from historian to historian, the information behind the photo gets lost. This can be said of a well-known image of Cap Anson taken at the end of his career — a picture we've all seen a hundred times. But when was this photo taken? Is this information lost in the sands of time? Threads has discovered an answer to these questions, providing a date for the photo and the interesting backstory behind the image.

Thanks for your time,
Craig
This is a really fantastic writeup on a very controversial figure (if you don't know the story of Anson's fight to keep baseball "white," I encourage you to further explore it). But we're not concerned with any of that — Craig's piece is a great historical deep-dive seeking to date an historical photo.
Well worth a few minutes of your time and highly recommended.
Thanks, Craig!
Guess The Game…
from the scoreboard
Today's scoreboard comes from Shannon Shark (though he didn't submit it as such).
The premise of the game (GTGFTS) is simple: I'll post a scoreboard and you guys simply identify the game depicted. In the past, I don't know if I've ever completely stumped you (some are easier than others).
Here's the Scoreboard. In the comments below, try to identify the game (date & location, as well as final score). If anything noteworthy occurred during the game, please add that in (and if you were AT the game, well bonus points for you!):
Please continue sending these in! You're welcome to send me any scoreboard photos (with answers please), and I'll keep running them.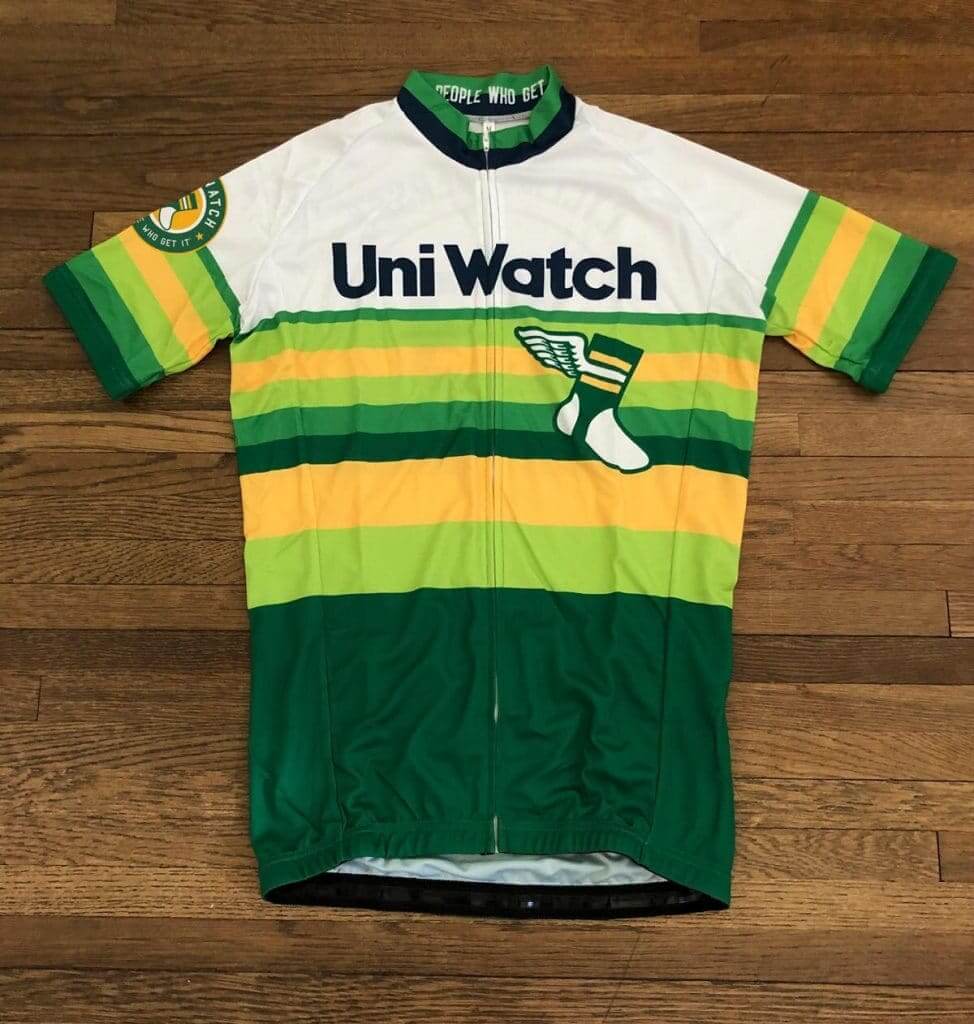 And now a few words from Paul
Hi there. How are you feeling? How are you holding up? I'm hanging in there, and I hope you are too.
I have a bunch of things to tell you about. One at a time:
1. With the weather getting warmer and more people riding their bikes instead of driving because they're staying closer to home, Adelph Wear's Nathan Haas and I have decided to revive the Uni Watch cycling jersey. Just like before, you can customize the back of the jersey with your choice of number and NOB. We're taking orders for one week, and the product should be ready to ship in early May. Full ordering info here.
2. In case you missed it a few days ago, the 22nd annual Uni Watch MLB Season Preview is now available. Just like always, it has info on all of the new uniforms and patches you can expect to see on the field this season — whenever it eventually begins.
3. In case you missed it on Friday, I'm interested in hearing readers' stories about when they first Got It™ regarding uniforms. Was there a formative childhood uni-related moment? Maybe you were watching a game and became fixated on a particular team's logo? Or maybe stumbling upon Uni Watch itself was your formative moment? If you have a good story about how you first knew that you Got It™, write it up (try to keep it to one paragraph) and send it to this mailbox (note that this is not the usual Uni Watch email address). No stories in the comments, please. I'll post the stories here on the site in an upcoming post. I'm looking forward to reading your uni-watching origin stories!
4. You probably know this by now, but just in case: I've lowered prices on a bunch of Uni Watch products, including membership cards, caps, and seam rippers, plus you can get a 15% discount on everything in the Uni Watch Shop and the Naming Wrongs Shop with the checkout code COMMUNITY. You can also help support Uni Watch by (which, quite frankly, could use your support these days) by making a donation.
PLEASE STAY SAFE EVERYONE!
Remember last weekend when I posted the series of daily updates from NY Governor Cuomo listing the number of COVID-19 cases, by state, and I noted the tremendous progression as this pandemic really ramps up? Well, here's the graphic from yesterday:
As you can see, New York has really been hit hard by this, and most of those cases are in the NYC/Metropolitan area. We had (statewide) less than 10K cases a week ago, this week it's over 44,000 (and counting!). You've also, likely, seen or read about the tragic situation at one of our local hospitals (both of those are New York Times' links, but should be free as they're coronavirus coverage). That situation is going to (possibly) threaten every major hospital in the United States, and in short order. I would also like to point out that Elmhurst Hospital is about 15 miles away from where I live.
But it's not JUST New York under threat anymore. We passed 100,000 cases in the US just yesterday. New Orleans (WaPo link, which should also be free), where SMUW honcho Terry Duroncelet lives, and I'm sure many other UW readers reside or have visited, is also facing dire straits. And there are many other major American cities under the gun as we speak:
I'm worried about emerging situations in New Orleans, Dallas, Atlanta, Miami, Detroit, Chicago, Philadelphia, among others. In China no province outside Hubei ever had more than 1,500 cases. In U.S. 11 states already hit that total. Our epidemic is likely to be national in scope. pic.twitter.com/jfN6YYRT07

— Scott Gottlieb, MD (@ScottGottliebMD) March 27, 2020
Nassau County, where I live — just 15 miles away from Elmhurst Hospital — reported (as of yesterday morning) more than 4,500 cases alone (that's more than every other state but New Jersey).
And we're apparently still three weeks away from the apex of the curve, which means that ALL of our hospitals will be overwhelmed with COVID-19 hospitalizations. Despite all the measures we're taking (building new, temporary hospitals, scrambling for PPE's and other vital equipment like ventilators, even taking over dorms for potential hospital beds), we're still projected to be well over capacity when the "wave" hits. We're seeing the strains already. We're in a race against time to avoid unnecessary deaths, due to a lack of beds, equipment and more. The spread needs to be contained as best as possible, and we need to flatten the curve, or it's going to be so bad.
And it won't just be New York. We're simply "ahead" of the rest of the US in terms of infections and hospitalizations, but I can assure you this will happen across the States as the disease transmission progresses.
So, please PLEASE PLEASE! For all those of you who aren't on the front lines of this: Continue to practice social isolation. It is working, but it's got to be continued for as long as necessary.
And to our new and still unsung heroes: especially the doctors, nurses and all health-care workers who are now literally on the front lines: THANK YOU FOR YOUR SERVICE. Thanks also to our first responders: EMTs, police, fire, etc. Your service is especially appreciated these days. Big thanks, also, to everyone else who is keeping everything going (delivery folks, restaurants, pharmacies, any essential stores and their workers, mail carriers, package handlers, etc. — there's too many to mention). They deserve our thanks and gratitude too. If you ordered food for delivery, I hope you gave the guy/gal who delivered it an extra big tip.
Sorry (again) to bring this up, but we can't let our guard down. Don't give up all the gains we've made by breaking the social distancing rules in place. I want all of you here and not sick or worse. We'll get through all of this together, but we have to work together to get through this.
The Ticker
By Anthony Emerson

Baseball News: The Twins posted a pretty awesome .gif version of Minnie and Pete socially distancing and foregoing a handshake (from Mike Menner).
.

Pro Football News: The Colts helmet on the right in this video of Jim Irsay encouraging people to socially distance appears to have a larger, more rounded horseshoe than the Colts usually wear. Hmm (from Tom Ferrer). … These Browns mock-ups were floating around Twitter last night. Definitely more traditional than their current sets, but more modern than their original unis. I guess we'll see if they're real in the coming weeks (from multiple readers). … Jeremy Weber meticulously painted a Buccaneers jersey onto a figurine of Tom Brady, and the results are pretty great. More pics here. … CFL commissioner Randy Ambrosie wore an awesome CFL/LCF sweater during an interview. It was knitted by the mother of a CFL staff member (from Wade Heidt). … Also from Wade, this story implies the Saskatchewan Roughriders will be going retro with their new uni design. … Here's a picture of Broncos legend Rick Upchurch in a blank helmet because the helmet he started the game with cracked on an early hit and replacements didn't have logos (from Matt Willison). … In 1999, Jets P Tom Tupa was drafted into emergency QB duty after Vinny Testaverde tore his achilles. He wore his regular helmet, with a facemask approved only for kickers for the entire game, and finished 6 for 11 with two touchdowns in a narrow loss to the Patriots (thanks, Phil).

Hockey News: Rogers Arena in Vancouver will be lit up pink in honor of healthcare workers, while BC Place will be lit up blue (from Wade Heidt).
.

Soccer News: Nike has "cleared the way" (paywalled) for Liverpool to finish the season in their New Balance kits, should the season ever actually be finished. Nike was to take over from New Balance shortly after the scheduled end of the English domestic season in May (from Moe Khan). … Norway's 2020 kit has leaked and it's, um, interesting (from Josh Hinton). … Also from Josh, Bleacher Report has put together renderings of the new Liverpool and Juventus home kits, giving us our best — albeit unofficial — look at their unis yet. … Belarusian sides Rukh Brest and Energetik Minsk wore shirts reading "We are Playing for the World" — in English — before their match yesterday (from Ed Żelaski).

Grab Bag: O'Neills, an Irish manufacturer of (mostly) GAA jerseys, is switching to production of scrubs during the COVID-19 crisis (from Philip Santos).
And finally… Big thanks (again) to all who sent good wishes to me on my mom's recent health battle. She's been in the hospital since before last weekend, and due to the coronavirus protocol, I haven't even been allowed to visit her. But (fingers and toes crossed!) it looks like she will be released from the hospital (and can return home) sometime today. I could be Sunday, but we're all hoping it will be today. I really appreciate everyone's well wishes and concerns, especially with my area's hospitals about to be overrun with COVID-19 patients. I hope and pray none of you, or your loved ones, contract the virus, even if the odds are increasingly looking like a good number of us (or our families and friends) will, at some point in the not too distant future. To anyone who already has tested positive (or has a family member who has been diagnosed), my thoughts and prayers are with you. And to anyone who has a loved one currently in the hospital but can't see them because of the CV19 regulations, believe me, I feel for you.
Stay safe, everyone. We can get through this together, and we will.
Peace,
PH