For all images, click to enlarge
After a few weeks' worth of drip-drip-drip retail leaks, MLB and New Era finally made it official yesterday by releasing the full slate of spring training/batting practice caps. (You can get a closer look at each design here.)
As the leaks had suggested, they are very, very bad. Like, remarkably bad, mind-bendingly bad.
Normally I wouldn't care. Everyone knows BP/ST caps are just a lifestyle merch program cynically masquerading as an on-field program, and the on-field component is for games that don't even count. Hell, every now and then, sort of like a blind squirrel, they even find a nut! Overall, though, it's just a merch dump, so who gives a shit?
But even by those low standards, these are the cream of the crap. It's not that the logo-within-a-logo format is inherently stupid — it's actually a fun idea. It's easy to imagine a Photoshopper playing around with this approach and posting the results on Twitter or Reddit or the SportsLogos.net forums, at which point everyone would say, "That's a fun idea, but it doesn't really work," and then everyone would get on with their lives.
Instead, MLB and New Era instead decided to go ahead with these. I'm sure someone will try to defend them, but get real — there's nobody who can seriously call this good design. Are there a few that don't suck? Sure — Blue Jays, maybe 'Stros and Tigers (those two work in spite of themselves, because they present simply as striped logos, not as logos within logos). Maybe you don't like those but you like a couple of different ones. Whatever — overall, the full set is an embarrassment. Most of them don't look good up close, and they'll just be a confusing blur or smudge on the field.
There's no point in going through every single one of these, but a few deserve special mention, beginning with the Orioles' design: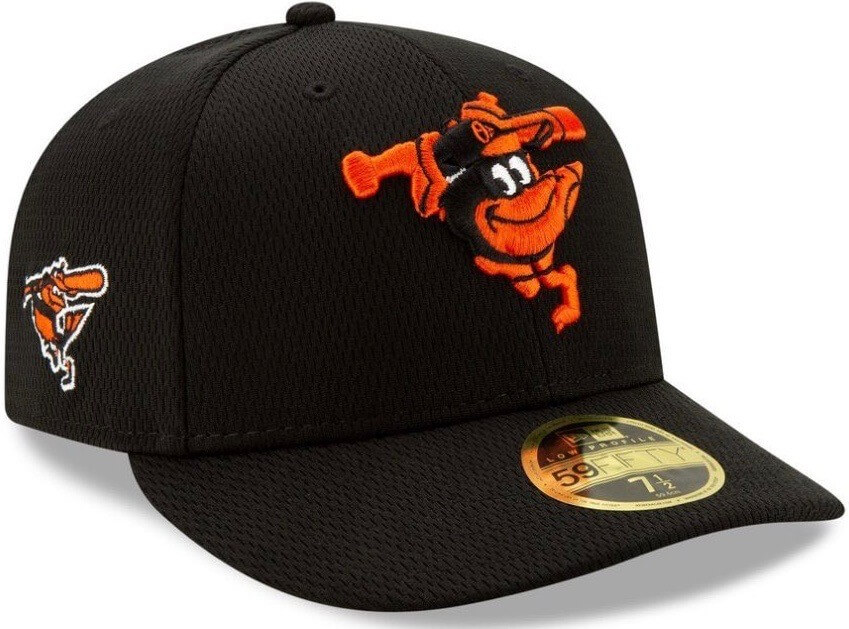 I mean, come on. If you didn't know that was intentional, you'd assume it was a mistake. (Actually, it was a mistake, but not by the factory.) Also, it was brilliant of them to put the real swinging bird logo on the side of the cap, just so everyone can see how good that logo can be — and how bad the hybrid logo on the crown is.
Next: I didn't think it was possible to ruin the Swinging Friar, but it turns out I was wrong: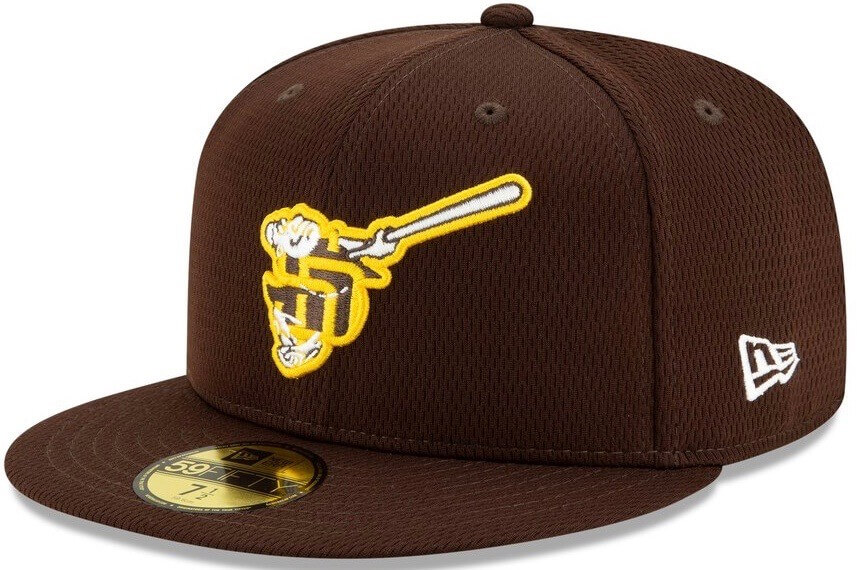 Bulldozing all of the Friar's charm is bad enough. But as many observers quickly pointed out yesterday, the partial "SD" also has the unfortunate effect of looking a lot like a swastika. Good luck un-seeing that one, Padres fans.
I didn't think it was possible to ruin the Brewers' ball-in-glove either. And yet: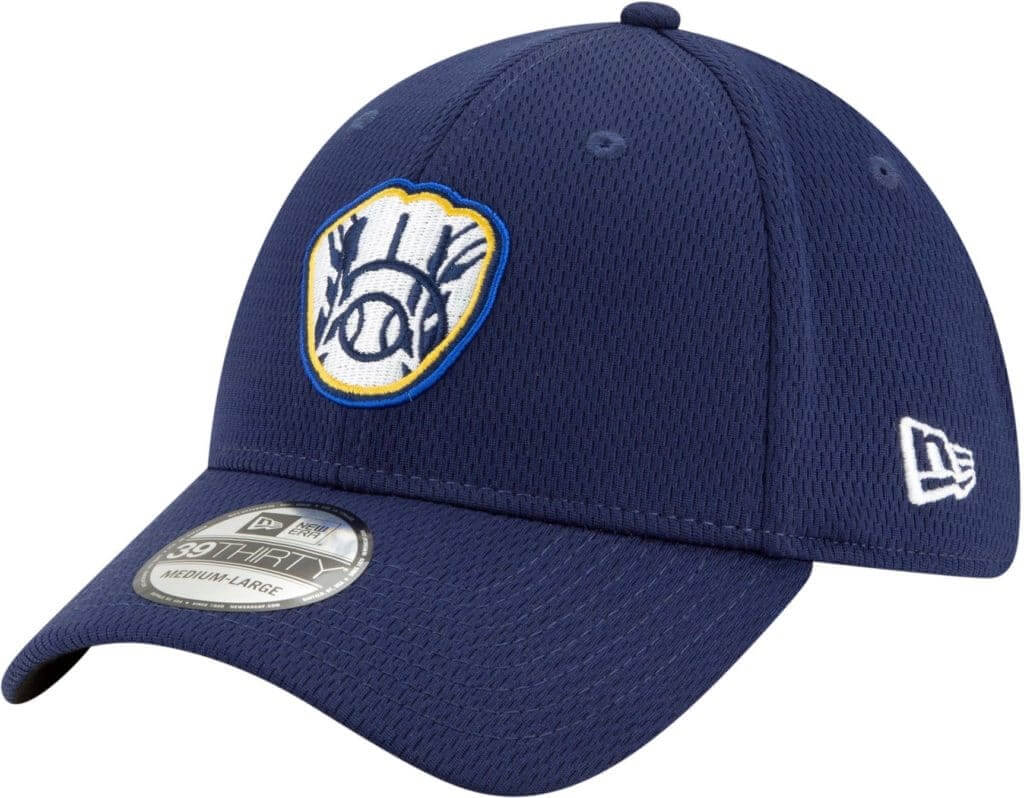 Hey look, a street artist tagged the White Sox's batter logo with some graffiti: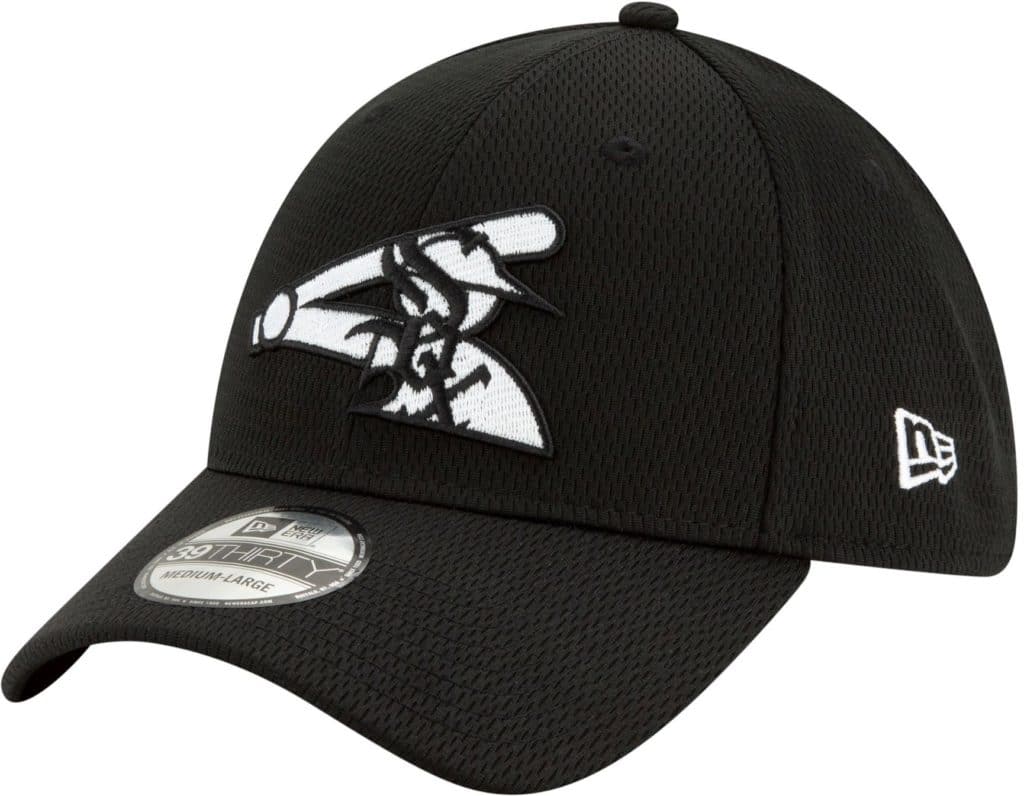 Leaving aside how bad most of the designs are, why is it necessary to shoehorn every team into this multi-logo format? For some teams, like the Yankees, it doesn't fit their visual identity; for others, like the Reds, it just doesn't work from an execution standpoint: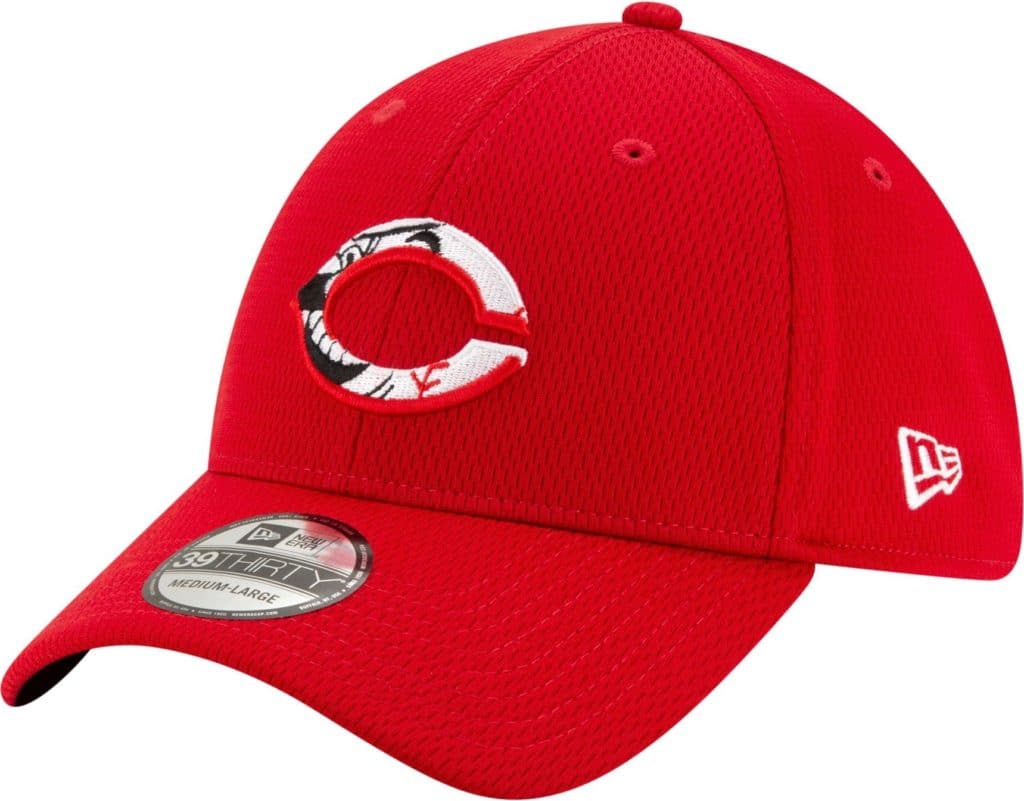 And so on. Honestly, I can't believe I've devoted this much space to this slop. I'm just having a hard time wrapping my brain around the fact that players are actually going to wear these during Grapefruit and Cactus League action.
I'll say this much for these caps, though: For once I approve of the New Era logo appearing on the side. They should definitely have to own this!
• • • • •
• • • • •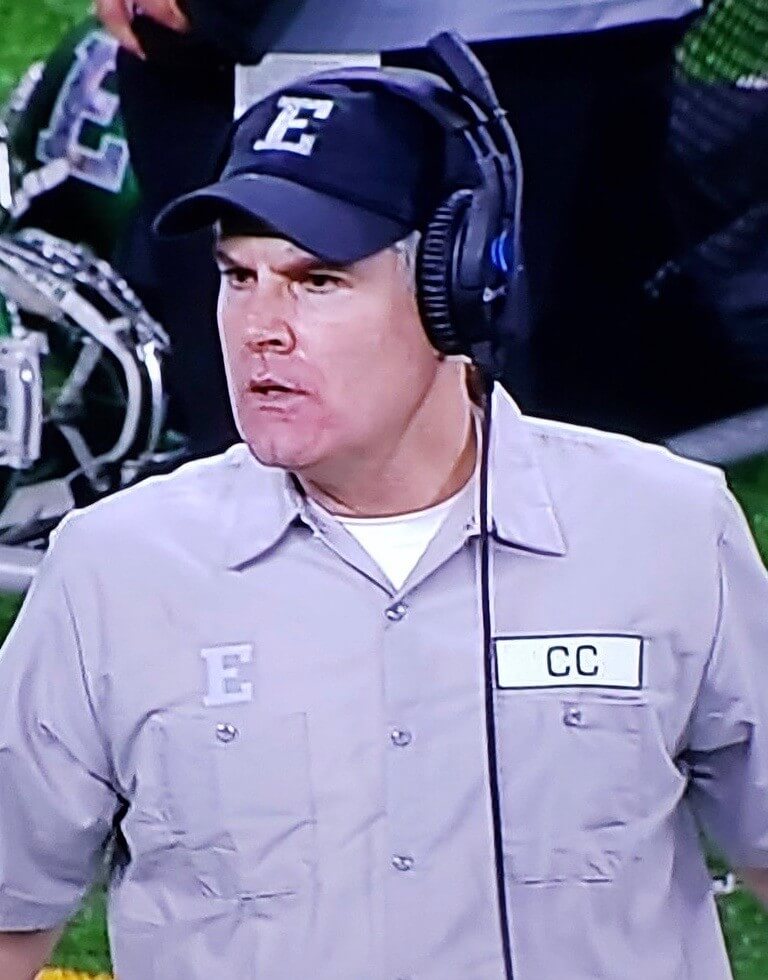 Working Class Wannabes™ update: Had a great time being a guest speaker via Skype yesterday for North Dakota State Professor Justin Walden's seminar class on labor communications, where I talked about my recent New Republic article regarding the sports world's fetishizing of the working class (including Eastern Michigan football coach Chris Creighton's unfortunate decision to dress up like a janitor for the team's bowl game in December).
The students were a mix of communications, marketing, and journalism majors. My session was supposed to last about 30 minutes — roughly half for my presentation and the other half for Q&A — but we ended up going for twice that long, because the students were so engaged (or maybe just because I was so long-winded), which was great. I was really happy with how this article turned out, so it was a genuine thrill to discuss it with a bunch of students and mold their impressionable young minds and have some good back-and-forth with them. A really good experience! Big thanks to Justin for inviting me.
My only gripe: NDSU's school colors are green and gold — my favorite combo — so I was hoping a lot of the students would be wearing green/gold sweatshirts, or caps, or whatever. Turned out there was just one guy in a green/gold hoodie. Dang.
• • • • •
• • • • •
Pin Club reminder: In case you missed it on Tuesday, we've launched the February design for the Uni Watch Pin Club. As you can see, we're going with a Presidents Day-themed design. Note Honest Abe's stovepipe squatchee!
Just like in January, we're doing a numbered edition of 350, with the number and month laser-etched on the back of each pin.
This pin is available here. And if you need to get caught up, here's the January pin (we'll keep selling that one until it sells out) and our basic winged stirrup pin.
My thanks, as always, for your support of Uni Watch — much appreciated.
• • • • •
• • • • •
Click to enlarge
Hockey jersey reminder: You now have less than a week remaining to get in on the first-ever Uni Watch hockey jerseys. You can place your order here through next Monday, and there's more info here.
• • • • •
• • • • •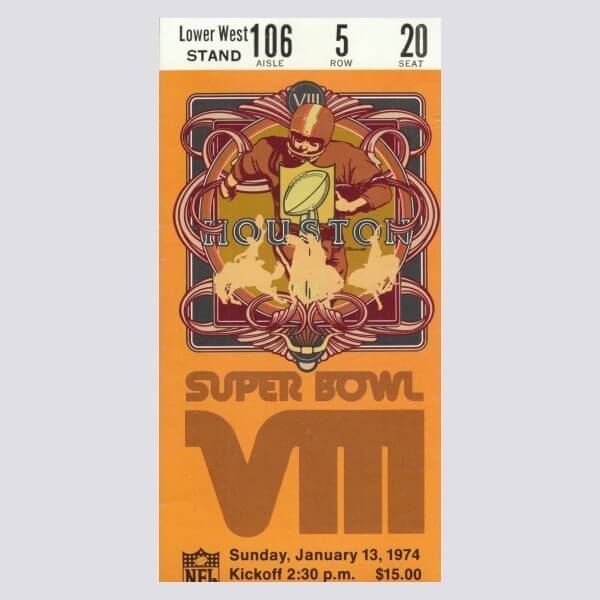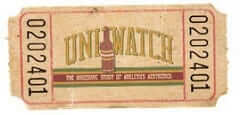 Raffle reminder: Today's the last day to enter the latest raffle from our longtime advertiser Vintage Brand. The winner will get to choose anything from the VB site (including the Super Bowl VIII poster shown above).
To enter, send an email to the raffle address by 8pm Eastern tonight. One entry per person. I'll announce the winner tomorrow. Good luck!
• • • • •
• • • • •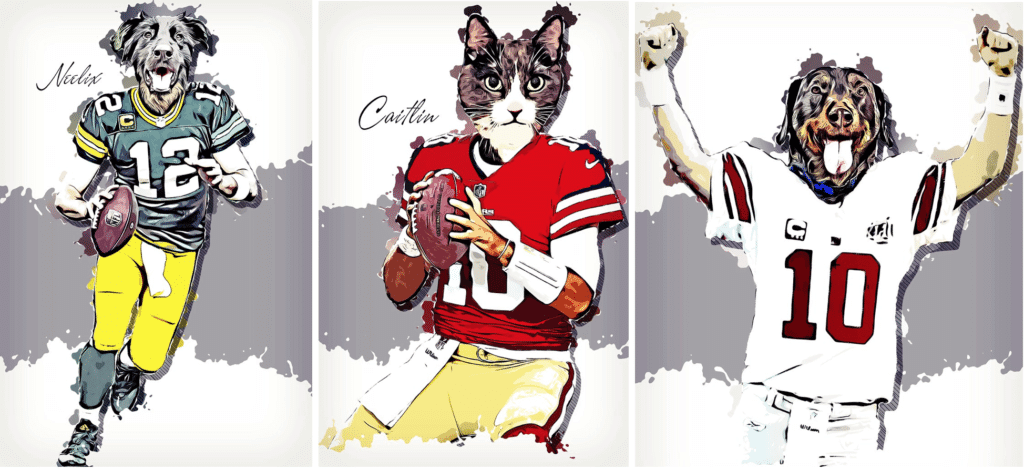 New advertiser shout-out: Remember my recent post about how you can turn your pet into an NFL player (as I did with Uni Watch girl mascot President Caitli, shown in the center above)? I'm happy to announce that the company behind that, Agora Idea, is now a Uni Watch advertiser, as you can see in our right-hand ad sidebar.
My thanks to Agora Idea's Daniel Lim for his support, and my continued thanks to you folks for considering our advertisers.
• • • • •
• • • • •
The Ticker
By Paul

Baseball News: The Phillies will retire Roy Halladay's No. 34 on the 10th anniversary of his perfect game (from Mike Chamernik). … The Blue Jays will wear their new powder blue alternates for their home opener (from Ted Arnold). … Lots of fun promotions this season, including several throwback games, for the Astros (from Ignacio Salazar). … Gorgeous new throwbacks for Oklahoma Baptist (from Brian Dude). … New Latino Heritage unis this year for the Cedar Rapids Kernels (from @MiLBPromos). … New 10th-season logo for the Futures League (from John Cerone). … Arizona appears to have a throwback in the works (from Rocky De La Rosa). … With Red Sox OF Mookie Betts reportedly being traded to the Dodgers yesterday, lots of media outlets Photoshopped Betts into a Dodgers uni, usually with a Nike maker's mark (even though no Dodger has ever worn that on the field yet). ESPN went with a Majestic jersey. And Sports Illustrated really botched things by adding the Nike mark but leaving the Majestic sleeve mark. They also failed to capture the Dodgers' 3D batting helmet logo (from @heyzeusL).

NFL News: Here's a pretty cool NFL helmet digital wallpaper project (thanks, Brinke). … Jets QB Joe Namath once appeared in uniform on The Brady Bunch, as seen here with Bobby Brady. Note that Bobby's wearing Northwestern-striped stirrups, but without the white crew sock over them that most football players wore at the time (from Nash Nunnery).

College Football News: If you were wondering which D2 stadiums were the most scenic, today's your lucky day (from Kary Klismet).

Hockey News: Virtue rewarded: The great Wafflebored DIY'd himself a blue/green version of the Canucks' flying-V jersey, and a local website wrote an article about it. Congrats, buddy — well deserved!

NBA News: Here's why LeBron James decided that his team in the upcoming NBA All-Star Game will wear No. 2. … Mavs owner Mark Cuban supports changing the NBA logo to a depiction of Kobe Bryant. The Mavs also retired No. 24 within a day of Bryant's death. … In a related item, the Lakers' memorial patch for Bryant has been added to the NBA 2K video game (from @DesusBloodyShoe).

College Hoops News: New floor design for Frostburg State. Here's the old one for comparison (from Kary Klismet). … Western Kentucky will go BFBS on Thursday. … Purdue women will wear pink unis this Sunday (from BoilerUniforms). … An Ohio State player — not sure who — suffered a serious jersey tear last night (from Josh Hinton).

Soccer News: MLS teams are slated to unveil their new uniforms this evening. Our own Jamie Rathjen will have coverage tomorrow. … New sleeve advertiser for Atlanta United FC (from Ed Zelaski). … Former Manchester United winger Angel Di Maria — now playing for Paris Saint-Germain — says United gave him No. 7 despite his preference for No. 11 (from our own Anthony Emerson). … Here's our first look at Inter Miami's refurbished stadium. "That's a lot of pink!" says Kary Klismet. … The USWNT will apparently be unveiling something new today (from many readers). … "Monaco are wearing a tight-fitting shirt to celebrate the 20th anniversary of Kappa's tight-fitting Kombat template, first worn by Italy," says Ed Zelaski. … Italian side Fiorentina is changing kit outfitters, switching from Le Coq Sportif to Kappa. … Fans of Bundesliga club SV Werder Bremen came up with a clever way of protesting the sale of stadium naming rights (from @koTenSixtySix and Ed Zelaski).

Grab Bag: A new UK law could save parents money by banning branded school uniforms. … New logo for Marvel Studios. … The city of Chicago has sued an Illinois coffee brand for allegedly poaching the Chicago Fire Department's logo. … The Norfolk, Va., police department has a new mascot and is inviting the public to help choose its name (from Kary Klismet). … Not uni- or design-related, but here's a faaaascinating piece about the guy who invented the five-digit ZIP code (from Jesse Agler). … New logo for Sonic Drive-In (from Mike Chamernik). … Jefferson County Community College in upstate New York is seeking input for a new mascot (from Timmy Donahue). … Also from Timmy: New uniforms for Iberia Airlines. … And yet another from Timmy: The Bermuda Olympic Association has chosen five finalists for this summer's Team Bermuda logo.