Click to enlarge
As I mentioned in December, I will soon be enshrined on an official Topps trading card, which will be part of the company's 2020 Allen & Ginter series. So Patrick O'Sullivan, the brand manager who's handling my card (and who's also the World's Nicest Guy — seriously), invited me up to the Topps offices last week. As you might guess, it's a really fun place, with lots of Topps "heritage art" on the walls, including the classic Wacky Packages that I grew up collecting in the 1970s. (Fun fact: Those original Wacky Packs were co-created by a young artist named Art Spiegelman, who would later go on to produce the award-winning graphic novel Maus, among other career highlights.)
A few updates on the card project:
• As you may recall, I gave them three photos of myself to choose from: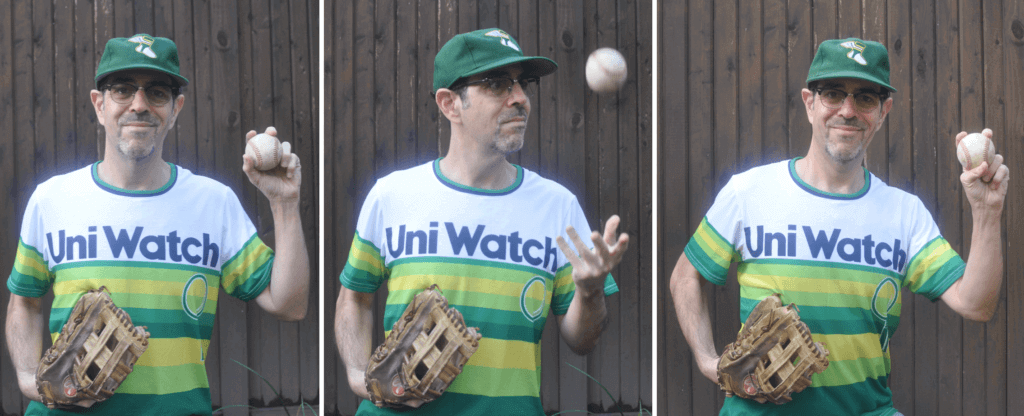 Patrick said they're probably going with one of the ones where I'm holding the ball. I said I was surprised, because I figured they'd use the one in the middle, so he said he'd check to see if there was a specific reason they opted not to use that one and if they might reconsider. But I'm fine with whatever they end up choosing.
• You might also recall that I was trying to decide what term I wanted on the card as my descriptor ("Journalist"? "Writer"? "Uniformologist"? "Minutiae Fetishist"?). I ultimately went with "Esotericist," which I realize many of you will hate, but I feel like it captures the spirit of my life and career — an obsession with esoteric details.
• When I first announced this project, many of you asked if there will be relic cards. Now I know the answer: Yes! I gave them the Uni Watch tequila sunrise shirt I was wearing for the photo shoot, so they'll chop that up into little pieces for the relic cards. Lots of prime real estate there — the lettering, the collar, the spots where two colored stripes abut.
• I'll be signing the autographed cards soon — I think later this month. Several of you suggested that in addition to the usual Topps protocol of signing 10 cards in red ink and the rest in blue, I should also do one card in purple and one in green. I liked this idea, so I asked Patrick about it, and he said they're considering it. They've had similar requests in the past from other card subjects and have usually gone along with it, so Patrick thinks there's a strong chance they'll do so this time as well.
That's it — I think. I'm still very much in the learning phase about the Allen & Ginter line, so it's entirely possible that I've forgotten some important details. If you have any additional questions about my card, feel free to post them in today's comments and I'll do my best to answer.
As for the rest of the Topps offices, I'd been there once before (more on that in a sec) but had forgotten that there's so much cool stuff on the walls. It's all a bit overwhelming, plus I was talking with Patrick and his colleagues and didn't want to come across as rude or unsociable by spending too much time taking photos, but I had to take a minute to photograph this great wall of trading cards (click to enlarge):
One of Patrick's colleagues told me that the wall is always in flux because employees are constantly swapping in different cards — "It's like 'Take a penny, leave a penny,'" he explained. He said that when he's designing on a new line of cards and needs some inspiration, he comes out to the wall and looks at the various designs and templates to help spur new ideas.
"After your card is done," said Patrick, "we'll have to put it on the wall for a bit." How cool would that be?
I also liked these Bundesliga jersey-based pins (click to enlarge):
Topps didn't make those (Patrick said they were a gift from the Bundesliga in appreciation for Topps's involvement on a card project), but I couldn't resist photographing them because they're uni-based.
As for my previous visit to the Topps offices: Back in 2015, a Topps exec named Chris Vaccaro invited me in to discuss a project for the digital trading cards that are released through Topps's MLB Bunt app. (If you didn't realize there's such a thing as app-issued digital trading cards — I certainly didn't until Vaccaro got in touch with me — there's some good info here and here.)
Vacarro explained that they had just issued a small series of "Unique Unis" digital cards, which featured players wearing throwbacks, special-occasion unis, and so on. They even had a card for the Nats' famous "Natinals" fiasco (click to enlarge):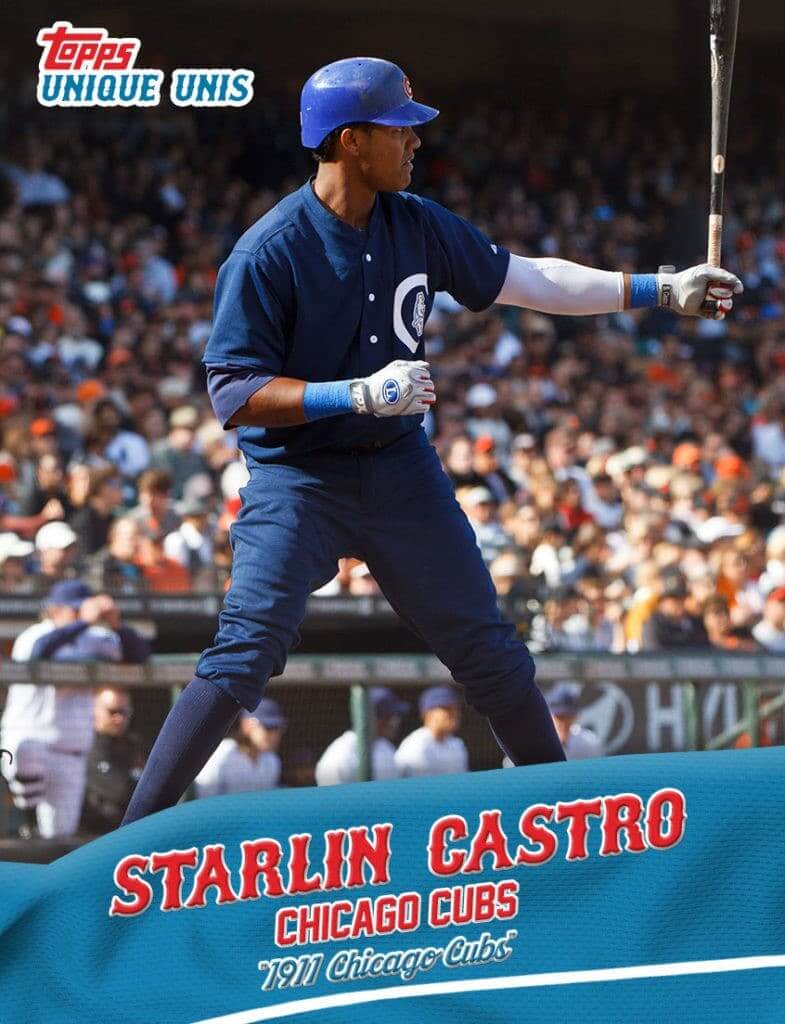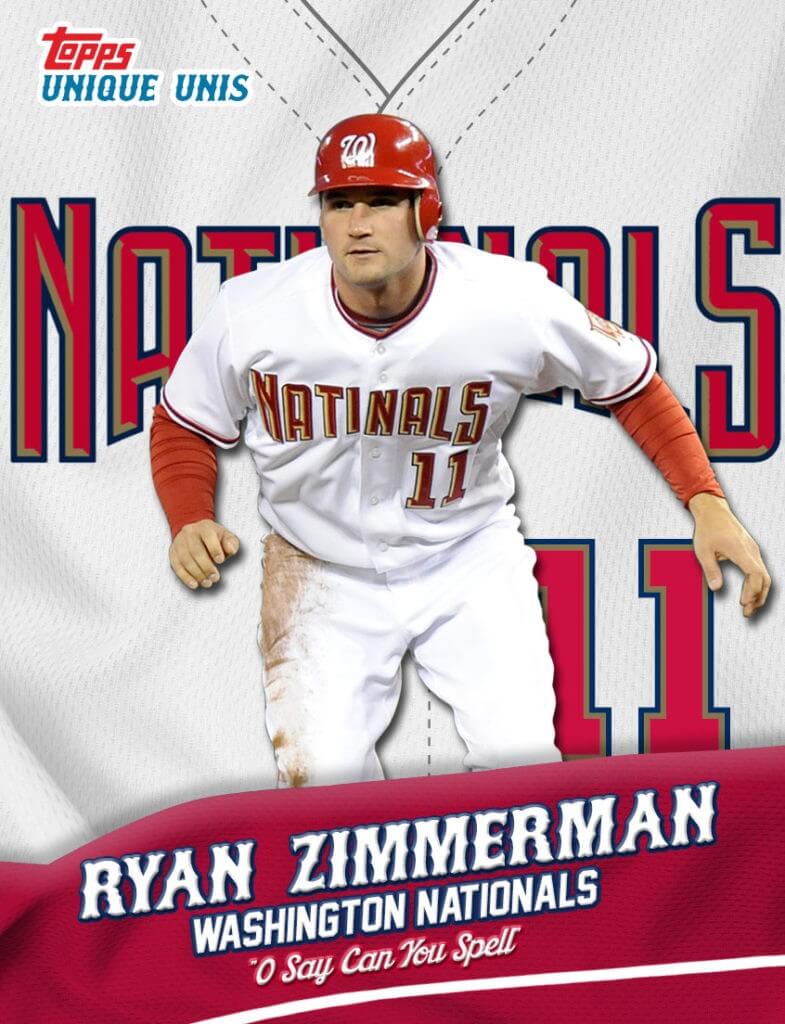 Fun stuff, right? Vaccaro asked if I'd like to partner with them for their next round of "Unique Unis" cards. The idea was that I'd basically be a consultant on the project — I'd curate the set and maybe write the text for the back of the cards. As I recall, there was also some talk about maybe adding the Uni Watch logo to the card designs. I loved the idea and wanted to do it, but my ESPN contract at the time required me to get permission before pursuing any kind of digital sports project, so I ran it by them … and they said no. (This was one of several seemingly slam-dunk opportunities that ESPN vetoed during my time there.) So Topps continued to issue more "Unique Unis" cards without my involvement. By the time ESPN let me go last spring, Vaccaro was no longer with the company.
Now that I'm back in the Topps orbit, could we revisit the "Unique Unis" idea? Patrick said it's a possibility, so we'll see.
• • • • •
• • • • •
ITEM! New Pin Club design launch: Today is the first Tuesday of the month, which means it's time to reveal our latest Uni Watch Pin Club design. Since February is the month for Presidents Day, we went with this (click to enlarge):
Since this is a leap year, I initially thought we should do a leaping athlete wearing No. 29, but pin designer Todd Radom thought that was too high-concept, so we went with Abe and George. Note that Abe has a squatchee on his stovepipe hat!
Just like in January, we're doing a numbered edition of 350, with the number and month laser-etched on the back of each pin (click to enlarge):
The February pin is available here. And if you need to get caught up, here's the January pin (a little more than half of those have been sold so far) and our basic winged stirrup pin.
The March pin is now in production and will launch on March 3. We're also putting the finishing touches on the April design, which I think you're really going to like. Stay tuned!
• • • • •
• • • • •
Super Bowl follow-up: In the wake of Sunday's Super Bowl, reader Tim Shriver has created a spreadsheet that breaks down all the Super Bowl winners by jersey color and end zone color on a cumulative, year-by-year basis. I'll let him explain a few additional details:
For the end zone colors, I added some depth by including columns for primary and secondary colors. (To determine which was which, I used the Trucolor site.) So for each team in the respective year, the first color listed is its primary end zone color, and any other color is secondary.

On both sheets — jerseys and end zones — I've divided the color blue into three shades: navy, royal, and powder. But I also collect them together in one all-encompassing "blues." Despite this, the various shades of red are just all red, including Washington's burgundy shade.

Of course we know white jerseys have enjoyed surprising success since 2005, but white came into that stretch already ahead of color. Following Super Bowl XXXVIII, white's record was at 21-17 and that was following a three-year win streak for color, which hasn't enjoyed such a streak before or since.

On the end zone side, in turns out yellow end zones were quite common in early Super Bowls. In fact, the only team in the first 30 games that had yellow in their color scheme but didn't use a yellow end zone was the Vikings in Super Bowl IV.
Good stuff there, Tim — thanks!
• • • • •
• • • • •
Collector's Corner
By Brinke Guthrie
Follow @brinkeguthrie
Congratulations to the Kansas City Chiefs, winners of Super Bowl LIV. In honor of their achievement, take a look at this 1960s Chiefs bobblehead. Now, I've seen me a ton of bobbleheads in my time, but this is a first. Note the "earpads" and the ridge around the front of the helmet. Have you ever seen one of those styles before?
And as a consolation prize to Niners fans, take a look at this 1950s Hugh McElhenny 49ers gear bag. This one was built to last by King's Canvas of Green Bay, no less!
Now for the rest of this week's picks:
• With Paul visiting the Topps offices, this 1983 sticker album is worth checking out. I like that "Baseball" script on the cover.
• Can't say that I have ever heard of Bubba Winkler of the Packers, but he was big-time enough to get his own autographed mug. It says "NFL Pro-Line Inspector" on one side. No, I don't know what that means.
• This item has been around for quite awhile: an early-1900s wooden necktie holder featuring old-timey baseball players.
• Check out the graphics on this 1969 "Electronic Computer Football Game" box cover, which boasts "A computer-circuit game, programmed for thrills, fun and excitement!" Looks like Bills/Colts on the bottom there, and that's supposedly John Mackey, the Colts tight end. Double stripes on the sleeve bottom don't match the Colts, though, so maybe the artist took some touch-up liberties.
• How about this program cover for the fourth annual 1953 World Series of Basketball! The 1953 "College All-Americans" would take on the Harlem Globetrotters, and notice how the Globetrotter is shown "bursting through" the page. 
• Terrific artwork on this Bernie Kosar/Earnest Byner poster sponsored by WJW TV8. Note the correct Converse!
• A trio of items here for the Great One, Wayne Gretzky. Let's start with this Overtime Hockey game — the rink sides show all the current team logos. The photo shows the Whalers and the Kings, but the seller says the Whalers are no more (as in real life, no?) and have been replaced by the Canadiens. We've also got an NHL Posterbook with Rangers-era Gretzky on the cover. This item includes eight oversized pull-out posters. Finally, here's a 1982 print ad Wayne did for a department store called Simpson's ("[He] doesn't just put his name on just any T-shirt or cap.") Note the designer jeans and feathered haircut! Join the Gretzky Gang!
• Speaking of the Canadiens, one of their players by the name of Bill Hicke got his smilin' mug on a 1961-1962 season Salada Foods souvenir coin. Back then, that was the pinnacle, I bet. And Mr. Hicke played 14 seasons in the NHL, so he had some game.
• And we're in the Great White North for this one, too — but for baseball instead of hockey. This is a great drawing of Expos legend Tim Raines, right down to the Mizuno cleats.
• • • • •
• • • • •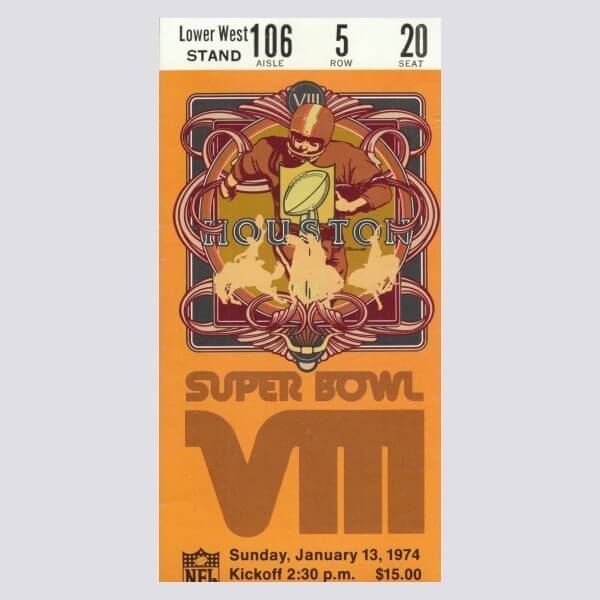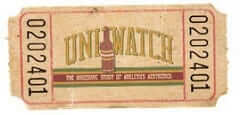 Raffle reminder: We're running another raffle from longtime advertiser Vintage Brand, which means a lucky Uni Watch reader will get to choose anything from the VB site (including the Super Bowl VIII poster shown above).
To enter, send an email to the raffle address by 8pm Eastern tomorrow, Feb. 5. One entry per person. I'll announce the winner on Thursday. Good luck!
• • • • •
• • • • •
Click to enlarge
Hockey jersey reminder: You now have less than a week remaining to get in on the first-ever Uni Watch hockey jerseys. You can place your order here through next Monday, and there's more info here.
• • • • •
• • • • •
The Ticker
By Alex Hider

Baseball News: Ed Henderson, a Disney animator who created the cartoon graphics for the Astrodome scoreboard, has died at age 95 (from Rob Walker). … The Orioles have released their 2020 promotional schedule (from Andrew Cosentino). … The Blue Jays have had an unusually large number of pitchers wearing single-digit numbers. Here's a piece that recaps that phenomenon. … The logo for this Canadian concrete company looks an awful lot like the Cubs logo (from Wade Heidt). … The University of Houston will wear a memorial batting helmet decal for John Altobelli and his family, who died in the helicopter crash that also killed Kobe Bryant and his daughter. Altobelli played baseball for the Cougars in the '80s (from Ignacio Salazar and Michael Dugan). … It appears that Louisiana-Lafayette will wear No. 36 on the front of their caps this season in honor of coach Tony Robichaux, who died last year (from Lendsey Thomson). … New home alternates for the Nippon Ham Fighters (from Jeremy Brahm).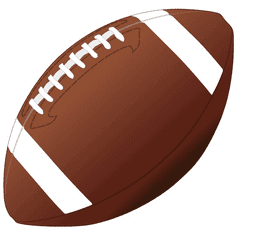 Pro Football News:  Reader Brice Wallace notes that former Vikings QB Joe Kapp wore his chinstrap pushed under his jaw as opposed to directly on his chin. … Kary Klismet sends along two photo-centric ESPN pieces: one about Super Bowl championship rings, and the other about 11 pieces of equipment in the Hall of Fame. These may have been Ticked before, but they're worth a re-visit. … A bowling alley in Virginia Beach hosted "Super Bowling" on Sunday night, complete with Niners and Chiefs logos projected on the lanes (from Kevin Kurz). … Cork Gaines points out that at Chiefs QB Patrick Mahomes's introductory presser following the 2016 NFL draft, he was given a jersey with a "Mahomes II" NOB, but he's never worn the Roman numeral on the field. … The Panthers delivered a set of helmets to local high schools, some of which included Panthers logos on black and blue helmets (from Panthers Uniform Tracker). … Comedian David Letterman sat down for an interview on Showtime talk show Desus & Mero while wearing a Calgary Stampeders hat (from Breakfast Man).

College Football News: New 50th-season logo for NCAA D-II Grand Valley State (from Brenden Children). … Mount Marty, an NAIA school in South Dakota, will again field a football team in 2022 — but hopefully, they get some bigger helmet decals before then (from @VictoryCB).

Hockey News: The Devils celebrated the 20th anniversary of their 2000 Stanley Cup championship during Saturday's game against the Stars. But Steven Woj points out that anthem singer Arlette Roxburgh had a different patch logo on her jersey than the rest of the team. … This piece offers some insight into why Kings D Derek Forbert wears No. 24, and why fellow D Alec Martinez wears No. 27 (from Jakob Fox). … Rough look for the Wisconsin women, whose NOB nameplates bleed onto the contrasting shoulder yoke (from John Muir). … Following last week's discussion about negative space in logo design, Sean Patrick shared this jersey concept he mocked for his beer league hockey team. … The Fayetteville Marksmen of the Southern Professional Hockey League will wear "Miracle on Ice" tribute jerseys on Saturday. Their opponents, the Birmingham Bulls, will play along and dress up as the USSR (from William I. Wells). … I don't think I've ever seen Northeastern abbreviated this way before (from Tony T.). … New Rocky Mountain pads for G Hunter Miska of the AHL's Colorado Eagles (from @OlegKvasha).

NBA News: A landscaper in California used high-tech lawn blowers to create an enormous image of Kobe Bryant in a northern California field (from James Gilbert). … Speaking of Kobe tributes, artist Steven Brundage made a portrait of Bryant out of Rubik's cubes (from Anthony Matthew Emerson). … Hornets G Devonte' Graham wore a jersey from the movie Like Mike before last night's game (from Ace Fuller). … Spurs C Jakob Poeltl tried to check into last night's game without his jersey! He was just wearing his base-layer compression tank (from @OddlyElite).

College Hoops News: UConn women's coach Geno Auriemma wore a Kobe Bryant shirsey backwards under his jacket during the Huskies' game against Oregon last night. Bryant's daughter, Gigi, dreamed of playing for Auriemma at UConn (from Mike Chamernik and Griffin Smith). … In that same game, Oregon included a mortarboard jersey logo for players who've graduated (from Jorge Cruz). … Michigan is doing an arena crowd stripe-out for tonight's game against Ohio State (from Teddy Tran). … Syracuse F Elijah Hughes wore custom shoes with the Benihana restaurant logo on them last night (from Jakob Fox).

Soccer News: New light blue jerseys for NYCFC (from Joshua Resnick). … We have another look of LAFC's new jersey (from Josh Hinton). … New Manchester United signee Odion Ighalo will wear No. 25 (from our own Anthony Emerson).

Grab Bag: The Sturgis Journal in Michigan has a recurring feature about the origins of the local high school mascots. In the most recent piece, they explore the Burr Oak High School Bobcats (from Kary Klismet). … Another one from Kary: Tokyo held a grand opening ceremony on Sunday for Ariake Arena, which will host volleyball and wheelchair basketball at this year's Olympics. … New logo and uniforms for the Fresno State eSports team (from Jared Buccola). … New logo for the 2021 women's Rugby World Cup (from Sara Klein).
• • • • •
Busy day: I'm having breakfast with a friend this morning, and then in the early afternoon I'll be a guest speaker (via Skype) at a North Dakota State class on labor communications, where I'll be discussing the issues surrounding my recent New Republic article on the sports world's fetishizing of the working class. All of which means I won't be able to keep super-close tabs on the site for big chunks of today. Play nice while I'm away, okay? Thanks. — Paul