Where do we draw the line between style and substance? Between endearing and enduring? Between a clever design and a good design?
I've been thinking a lot about those questions after seeing a uniform concept that was recently posted on Twitter by a Minnesota graphic designer named Allan Peters. He said, "To prove what a Minnesotan I am, I've rebranded the Minnesota North Stars." Here's the jersey design he posted (click to enlarge):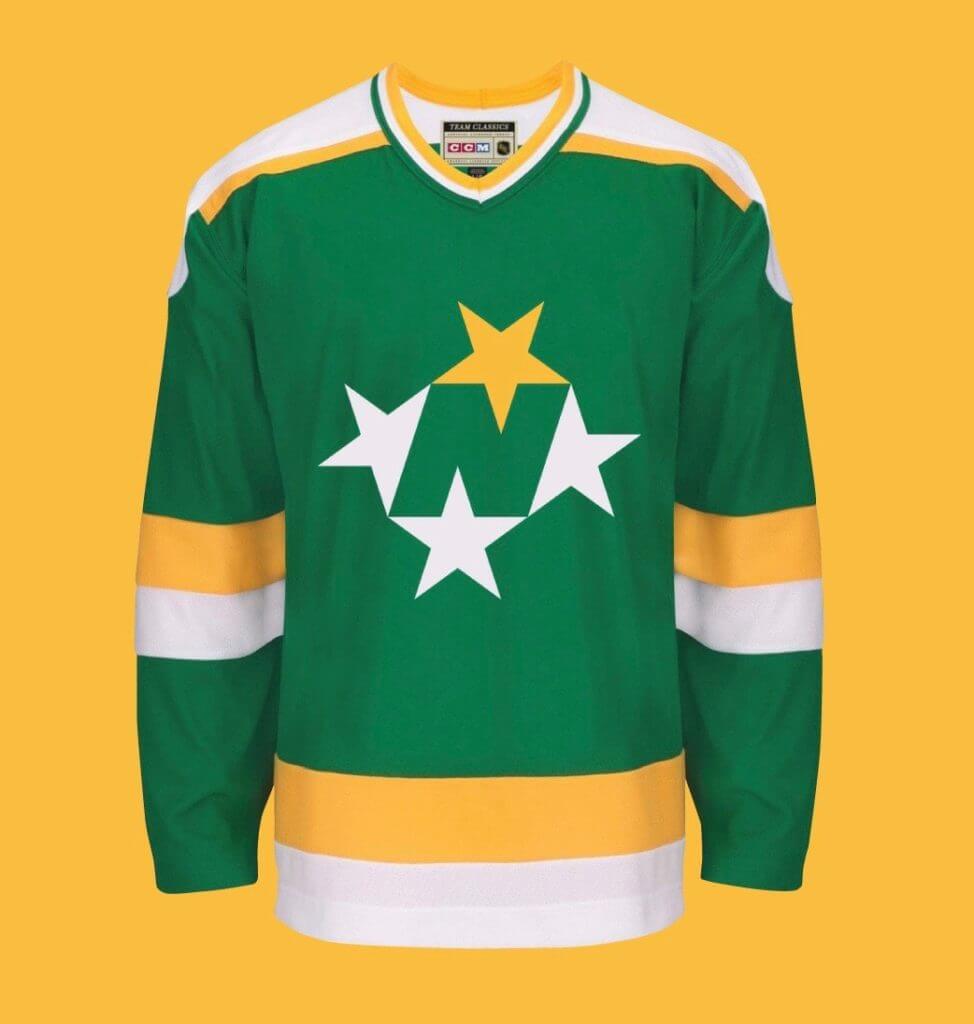 Peters's tweet linked to a page with some additional visuals. But the core of the design is the jersey and its crest.
Obviously, I liked the colors right away. And I was wowed by how the negative space inside the stars formed an "N" — clever! I didn't like it more than the North Stars' original logo, of course — that's one of my all-time favorites — but I still thought it was pretty good. I immediately retweeted the design, with a note of my own: "The Minnesota North Stars' logo is near-perfect. But if it ever needed to be redesigned, this would be a pretty good option."
My retweet got about 900 likes (for context, it's fairly uncommon for anything I post to crack 100), with lots of people commenting on how great the design was and how they liked the use of negative space. It was a pleasure to see so many people appreciating this good piece of work.
The first sign of pushback came from DIYer Wafflebored, who had this to day:
All I see is a cumbersome, unbalanced, and unattractive arrangement of stars forced in place to serve the N. I'm not in favour of anything that sucks the life, uniqueness, and character out of a design.

— Wafflebored (@wafflebored) January 24, 2020
That surprised me. So I looked more closely at the design. The chopped-off stars on the left and right, which I hadn't fully processed before, suddenly jumped out at me. It wasn't that I hadn't previously seen them, but I hadn't really thought about them. They looked weird, wrong.
Wafflebored continued:
Also: it seems like ANY use of negative space gets the "great use of negative space" comment. Has anyone created a logo with negative space where everyone said "that's a bad use of negative space?" Is it always good?

— Wafflebored (@wafflebored) January 24, 2020
That's an excellent point. Using negative space to create a recognizable shape, whether in the FedEx logo or in this North Stars concept, has a certain wow factor. There's that sense of surprise and revelation, that endorphin rush. It's fun!
But is that the same thing as a good design? In this case, is that wow factor worth it if you have to chop off big chunks of those two stars in order to form the "N"? Isn't that really the tail wagging the dog?
Interestingly, Twitter-er Johnny Woods then came up with a more subdued version of Peters's concept:
— johnnywoods (@Johnny_Woods) January 24, 2020
This version is simpler than the original. It doesn't have the same wow factor (although there's still a good negative-space effect). But I'd argue that this one is much better. There's no sense of the tail wagging the dog, no weird elements like the chopped-off stars. I think this one would have a much longer shelf life. By comparison, Peters's original now feels more like a novelty, a circus trick. Or at least that's how it seems to me.
I don't mean that as a harsh criticism — circus tricks are fun, after all (that's why people go to the circus!), and Peters is a pro who's worked with lots of big-name clients and certainly doesn't need my validation. Still, I was curious about what he might think of this critique, so I got in touch with him, showed him what I'd written up to this point in this blog entry, and invited him to share his reaction. Here's how he responded:
For the past week, I've been spending my free time working on a collection of clothing called U.S. Made. While exploring a pattern of stars, I noticed an italic "N" hidden in the geometry. It was there all along and all I needed to do was to chop off the ends of two of the stars. I posted this discovery to Dribbble, Instagram, and Twitter, which started a conversation with a few fellow designers. Fraser Davidson had the idea of connecting the mark with the North Stars, and I thought that was a brilliant idea. That resulted with the most successful tweet I've ever had [the same one I retweeted — PL]. It was very exciting. 

Do I think the logo I created is a circus trick? No. I think it's a smart logo. That's why people have been drawn to it. It combines two juxtaposing elements in a way that seems natural and inevitable. It's one of the best logos I've ever created and I'm very proud of it. It was a passion project for me. 

How do I feel about some people not liking the logo I created? When you have this many eyes on anything, people will have differing opinions. That's just human nature. Logos are subjective. Of course I wish they all loved it, but that's never going to happen.

A brand is so much more than just a logo. It's everything you think of when you think of the brand. With the North Stars, there's so much positive nostalgia attached with the original logo that it's hard to say anything is better. It just feels good when you see the original. It brings back memories of the players and those special moments spent watching their games.
I'm a little disappointed that he didn't address the critique of the partial star, and also didn't say what he thought about Johnny Woods's simpler version of his concept. But I'm nonetheless pleased that he responded to my invitation to share his thoughts (and that he was a good sport about it all). I also really like his description of the logo as seeming "natural and inevitable" — a nice phrase.
Anyway: Lots of good food for thought here. What do you folks think? Discuss.
(My thanks to @CalebTheSpy, who was the first of many people to bring Peters's concept to my attention.)
• • • • •
• • • • •
Kobe memorials, continued: Lots of new uni-related tributes to Kobe Bryant yesterday. Here are the ones that crossed our radar (thanks to all contributors):
Miye Oni (@PrinceOni13) will change from No. 24 to No. 81 for the #Jazz in honor of Kobe Bryant. Emmanuel Mudiay will change from No. 8 to No. 15 for the same reason. #NBA @UniWatch pic.twitter.com/m9nH3xKBt2

— Etienne Catalan (@EtienneCatalan) January 30, 2020
Jahlil Okafor (@JahlilOkafor) will change from No. 8 to No. 9 for the #Pelicans in honor of Kobe Bryant, according to @ShamsCharania. #NBA @UniWatch pic.twitter.com/ZyrWnMgbPS

— Etienne Catalan (@EtienneCatalan) January 29, 2020
Mason Plumlee (@masonplumlee) will change from No. 24 to No. 7 for the #Nuggets in honor of Kobe Bryant, according to @ShamsCharania. #NBA @UniWatch pic.twitter.com/9R9Yls3t5v

— Etienne Catalan (@EtienneCatalan) January 29, 2020
@UniWatch Markieff Morris switching to #88 pic.twitter.com/lnQsxiVRU0

— SMC1174 (@SCline1174) January 30, 2020
@IUP_MBB paying their respects. pic.twitter.com/iK82XJoz8Q

— Indiana University of Pennsylvania (@IUPedu) January 30, 2020
. @UniWatch @RazorbackMBB Arkansas Razorbacks wearing Kobe tribute warmups tonight #MambaOut #MambaForever pic.twitter.com/TIgxkveXdc

— Brandon Cate (@BrandonBCate) January 30, 2020
Here's a look at the warmup shirts Kentucky will wear tonight #BBN #RIP24 #RIPKobe #RIPGianna @UniWatch @PhilHecken pic.twitter.com/bU9k6vR6dC

— Joshua Hinton (@j_hinton859) January 29, 2020
@UniWatch @PhilHecken All of the @LAKings players appear to have entered @STAPLESCenter in current Nike Kobe jerseys pic.twitter.com/e7m94yPlrD

— Jakob Fox (@JakobLFox) January 30, 2020
@UniWatch @PhilHecken the @LAKings hung up two Kobe jerseys in their locker room…I assume these are in Drew Doughty and Derek Forbort's stalls as their helmets are in them and they are both hurt tonight…eerie that they wear 8 and 24 respectively pic.twitter.com/x29AW1XJuK

— Jakob Fox (@JakobLFox) January 30, 2020
@UniWatch @PhilHecken Both of Kobe's jerseys are lit up tonight at the first sporting event @STAPLESCenter since Kobe's death pic.twitter.com/RsCCvfZEXu

— Jakob Fox (@JakobLFox) January 30, 2020
@UniWatch @PhilHecken For the first few minutes of the @LAKings game, the electric boards showed the Kobe/Gigi logo. Here is a better look at the logo too pic.twitter.com/vvSyrQIZeD

— Jakob Fox (@JakobLFox) January 30, 2020
@UniWatch @PhilHecken The @TBLightning will wear the decal as well pic.twitter.com/FuwfT2zHFY

— Jakob Fox (@JakobLFox) January 30, 2020
Kings mascot @BaileyLAKings is wearing a Lakers Kobe Bryant Jersey with 8 and 24. #GoKingsGo #LakeShow @UniWatch @PhilHecken pic.twitter.com/bDCd4vhzIw

— James Beattie (@JamesGBeattie) January 30, 2020
For everyone asking what is on my sleeves. pic.twitter.com/kjAsfwxLeG

— Bailey LA Kings (@BaileyLAKings) January 30, 2020
Hall of fame broadcaster Bob Miller returns to LA to emcee the tribute to Kobe Bryant, his daughter Gigi and all the lives lost in Southern California Sunday ahead of Kings/Lightning. #GoKingsGo #GoBolts #LakeShow @UniWatch @PhilHecken pic.twitter.com/vGsURzS8LE

— James Beattie (@JamesGBeattie) January 30, 2020
John Forslund, Brian Engblom and Jim Fox all wearing Kobe Bryant lapel pins on the call tonight in LA for Kings/Lightning. #GoKingsGo #GoBolts #LakeShow @UniWatch @PhilHecken pic.twitter.com/Dumg1omuPr

— James Beattie (@JamesGBeattie) January 30, 2020
Joe Maddon and the @Angels handle the honorary puck drop before a special tribute to Kobe and Gianna Bryant and the other seven souls lost in Sunday's tragic accident. They will be sorely missed.@AnaheimDucks pic.twitter.com/zN7N9sA3i3

— FOX Sports West (@FoxSportsWest) January 30, 2020
Alex Ovechkin wearing Kobe's number 24 in the warm-up for the @Capitals tonight. He will sign it and auction it off for charity. pic.twitter.com/SPAk0mxDu9

— Bucci Mane (@Buccigross) January 30, 2020
• • • • •
• • • • •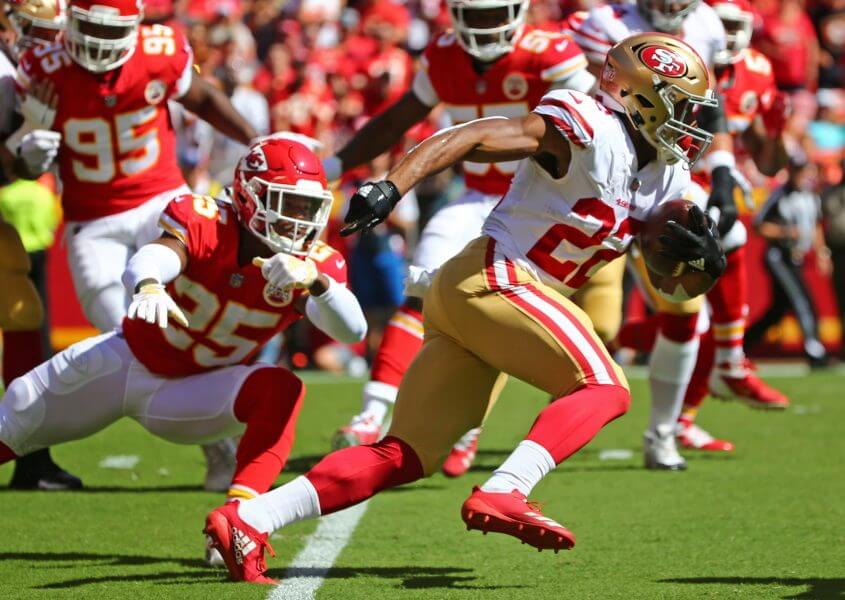 Super Bowl Preview reminder: In case you missed it on Wednesday, the annual Uni Watch Super Bowl Preview is now available over at InsideHook, and it's a doozy. Enjoy!
• • • • •
• • • • •
Click to enlarge
Hockey jersey reminder: We're continuing to take orders over the next week and a half for the first-ever Uni Watch hockey jersey. You can place your order here and get more info here.
• • • • •
• • • • •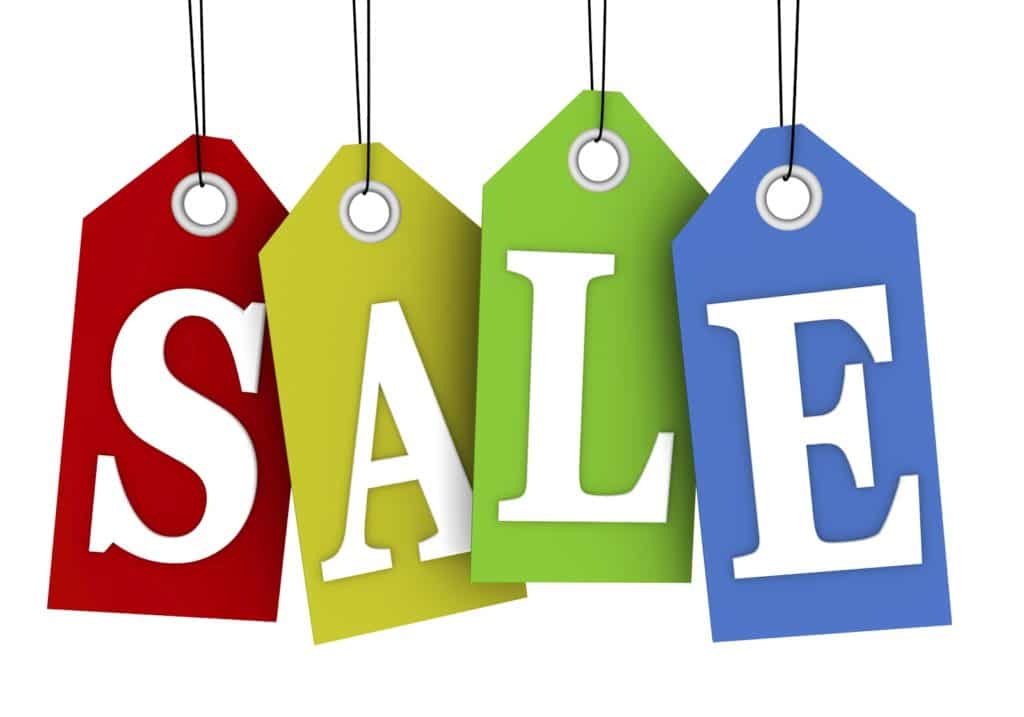 ITEM! Lots of Uni Watch merch on sale: Teespring is running one of its periodic 10%-off sales. From now through the end of Sunday, you can get a 10% discount on anything in the Uni Watch shop or the Naming Wrongs shop by using the checkout code SNOWFLAK3. So if you've been on the fence about the January Pin Club pin (or any of our other products), here's a chance to save a little coin.
I will match this 10% discount on our Uni Watch hats. From now through Sunday, they will be priced at $35.99, instead of our usual $39.99.
My thanks as always, for considering our products.
• • • • •
• • • • •
The Ticker
By Lloyd Alaban

'Skins Watch: The Chiefs' appearance in the Super Bowl is leading to increased scrutiny (WaPo link) of the team's fan base using the tomahawk chop, wearing headdresses, and other forms of Native American cultural misappropriation (from Kary Klismet). … More on that same theme here and here (NYT link). … The Wisconsin Association of School Boards has defeated a resolution that would have required schools to retire their Native American team names and mascots (from GJ Marmet).

Baseball News: Here's our first look at the Giants' jerseys with the Nike maker's mark and ballpark 20th-anniversary patch (from Ryan Chung). … The NHL's Anaheim Ducks wore Angels-themed warmups last night (from Ross Drucker). … The Wisconsin Timber Rattlers, affiliate of the Brewers, will host a Video Game Night on July 8, featuring uniforms adorned with logos and lettering rendered in 8-bit computer graphics style (from Kary Klismet). … Beautiful find on eBay: a Pirates game-used warmup coat from 1905-06, worn by OF/SS Dutch Meier (from Michael Clary). … The KBO League released several of its clubs' spring training logos (from Dan Kurtz). … A few days ago we reported on the George Washington-themed inaugural season logo of the Fredericksburg Nationals, affiliate of the Nationals. Turns out they have a Mary Washington-themed inaugural logo too (from Scott Rogers). … Pitt has revealed their road unis (from Mike Stephens). … The Dayton Dragons, affiliate of the Reds, have a new stadium name/ad (from @JasonRL78). … When the Orioles toured Japan in 1971, they wore their regular NOBs but it looks like they had additional NOBs rendered in katakana added below their uni numbers.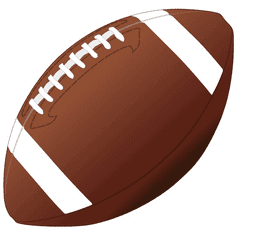 Football News: 49ers QB Jimmy Garoppolo wore a home red jersey with the Super Bowl patch on it for Media Day, instead of the white road jersey his team will wear on Sunday (from Christopher, who didn't give his last name). … Employees at a Kansas City engineering office arranged themselves to look like the Chiefs' logo. … Reps. Eric Swalwell of California and Sharice Davids of Kansas wore 49ers LB NaVorro Bowman and Chiefs QB Patrick Mahomes jerseys, respectively, while challenging each other to a friendly Super Bowl bet (from Adam Franz). … Renderings have been released of three proposed designs for the redevelopment of Hawaii's Aloha Stadium (from Kary Klismet). … Also from Kary: The San Diego City Council has unanimously approved San Diego State University's plans for a new football stadium, but with a condition that 10 percent of the project site be used for affordable housing. … Blaise D'Sylva begins his NFC helmet tour with the NFC East. … Reader Randy Grover found these pictures of the 1894 Oregon medical school football team hanging at the Oregon Health Sciences University Hospital in Portland.

Hockey News: Several news outlets have speculated the new expansion team in Seattle will be called the Kraken, but the league hasn't confirmed that. As you may recall, Paul's Seattle NHL team-design contest last winter had several Kraken-based entries. … The Kings wore these Lunar New Year-themed warmups last night. Cross-listed from the baseball section: The Ducks wore Anaheim Angels-themed warmups last night (from Ross Drucker). … The Minnesota State High School League will allow a local team to wear a patch to honor a local police officer who continues to recover from being shot (from Dan Bodurtha). … The Quad City Storm of the SPHL let fans paint the ice ahead of their Saturday Hockey Fights Cancer game (from Charlie Whiteman). … Reader Aron Burke's nephew had a sweet-looking Golden Knights-themed birthday cake for his birthday.

Pro Basketball News: The National Museum of African American History and Culture in Washington has a Kobe jersey in its collection, but it's not on display. That may change, according to that article. Bryant was one of the first founding donors to the museum, a status that required at least a $1 million donation. … Rock band Thrice had a concert earlier this week and lit the stage purple and gold. Thrice is from Irvine, Ca., where Kobe visited and worked out at the local university regularly (from John Holland). … The Nets and Pistons went color vs. color last night. The Nets wore their City alternates and played on their matching court, producing a jarring black and white effect we've discussed before (from Andrew Cosentino).

College Hoops News: Boston College's NOBs are tiny and had spacing issues (from Matt Fowler). … BFBS for Memphis on the road last night against UCF. The game also featured a confusing scorebug (from Timmy Donahue). … Confusing scorebugs for Dayton/Duquesne, South Carolina/Arkansas, and USF/Tulane, too.

Soccer News: The Columbus Crew is considering changing its colors and name (from our own Alex Hider). … Several MLS clubs' new shirts have leaked. Check them out on Josh Hinton's Twitter feed. … Manchester United are wearing their change shorts at Manchester City to avoid a kit clash in their EFL Cup match. … Man United defender Aaron Wan-Bissaka suffered a torn number. … New shirts for Colombian side Independiente Santa Fe (from German Cabrejo). … Here's a rundown of all the branding updates for 2020 for teams in the USL Championship and USL League One, which are tiers two and three on the US soccer pyramid (from Kary Klismet). … Atlético Madrid has purchased an expansion team for Ottawa in the Canadian Premier League (from Wade Heidt).

Grab Bag: The Austin Herd of Major League Rugby are now the Austin Gilgronis, complete with a new logo, new ownership, and a new home (from Sy Hart). … Popeye's is now selling clothing modeled after its employees' uniforms (from Timmy Donahue). … New marching band uniforms coming for Yorkville (Ill.) High School. Kary Klismet asks, "Is it me, or does the illustration of the new band uniform kind of look like it was drawn by Patrick Nagel? That's an '80s reference that probably none of the younger readers would get — OK, Xer!" … @OlegKvasha found these Omaha Mavericks-themed cookies made for a kid's birthday. … Cook County, Ill., is holding a design contest for a new county flag (from Mike Chamernik). … SUNY Empire State College has chosen the first mascot in school history, Blue the Bluebird. The bluebird is the official New York State Bird. The police department in Brantford, Ontario, is holding a design contest to create a new logo for its canine unit (from Timmy Donahue).
• • • • •
The winner of yesterday's membership raffle is prolific Ticker contributor Kary Klismet. Congrats to him, and my repeated thanks to reader Mike Wissman for sponsoring this one. — Paul