The Pirates are scheduled to reveal some new uniforms this afternoon. But as you can see in the Instagram post above, last night they jumped the gun on their own unveiling by posting a photo of a new black alternate jersey, which features a revival of the team's old 1990s road script.
They also teased the unveiling of their new road uniform:
— Pirates (@Pirates) January 24, 2020
Now, assuming you got past all the Nike close-ups, it doesn't take a genius to see that the new road jersey has a script chest insignia. And it doesn't take even a dullard to deduce that it's going to be the same script shown on the black jersey — anyone can connect those dots.
I've known about these designs for a few months now and haven't said a word. When an accurate description of the designs (but no images) began circulating on Twitter a few days ago and people began tweeting it at me, I declined to retweet it or put it in the Ticker — why ruin the Pirates' unveiling? But if in light of how much the Pirates have already given away here, I no longer have any qualms about showing you this (for this and all subsequent images in this section, you can click to enlarge):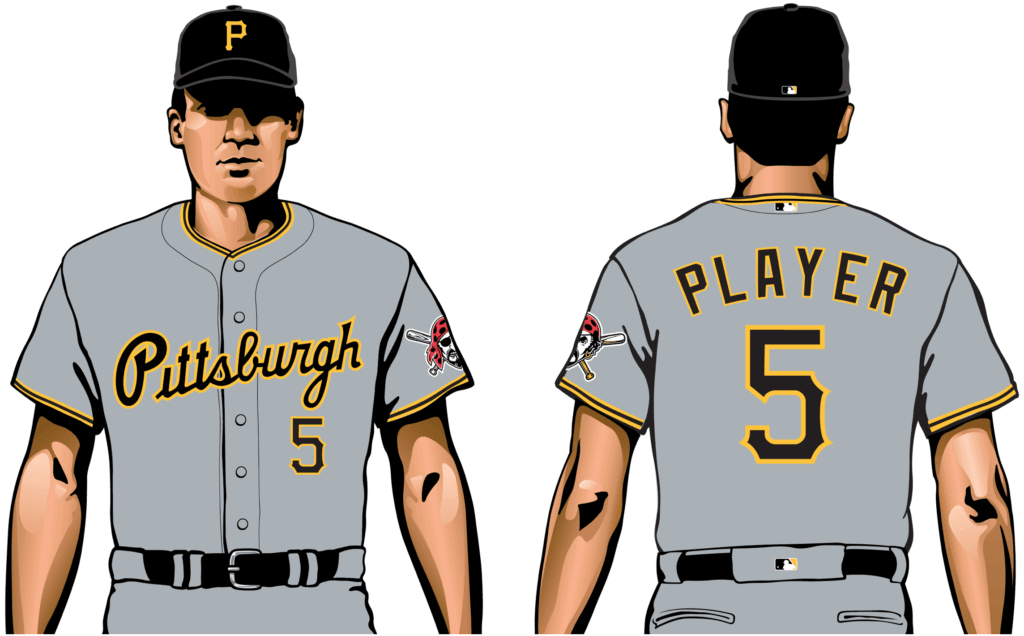 That's the new road uni they'll be unveiling today. And here's a better look at that alternate: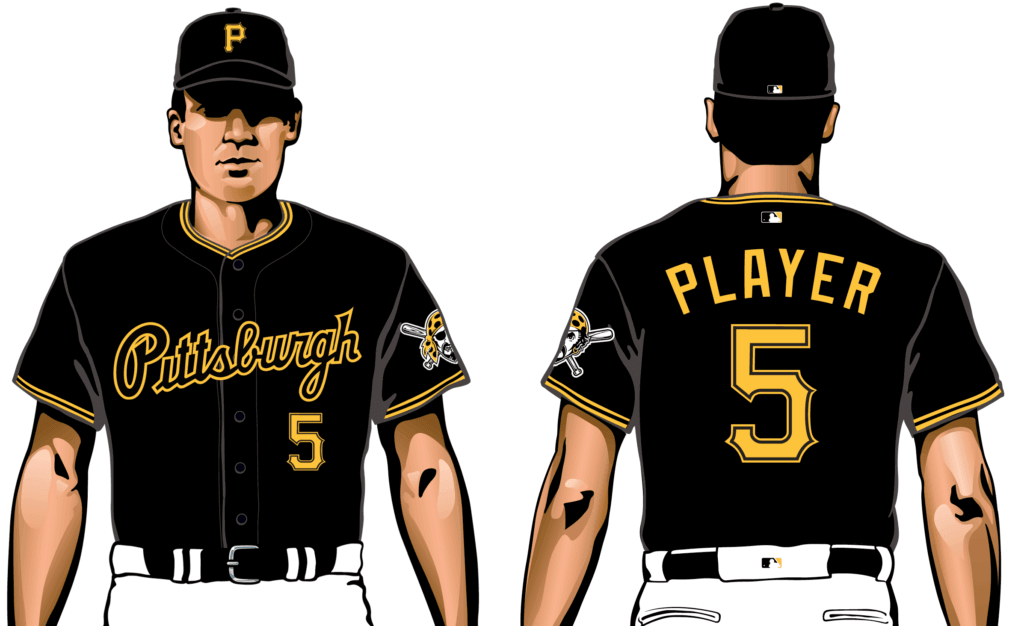 A few quick notes:
• Although that mock-up shows the black alternate being worn with white pants, it's actually listed in the MLB Style Guide as a road alternate. I gather its status will be clarified at today's unveiling event.
• The other black alternate — the one with the big "P" — is being retained. Ditto for the military cosplay alternate and the home whites, both of which are unchanged. The bumblebee throwbacks, however, have been mothballed.
• The script is the same one they wore on their road uniforms in the 1990s — first on a basic grey uni (1990-1996) and then on a pinstriped uni (1997-2000; and yes, they also had a grey road cap at one point):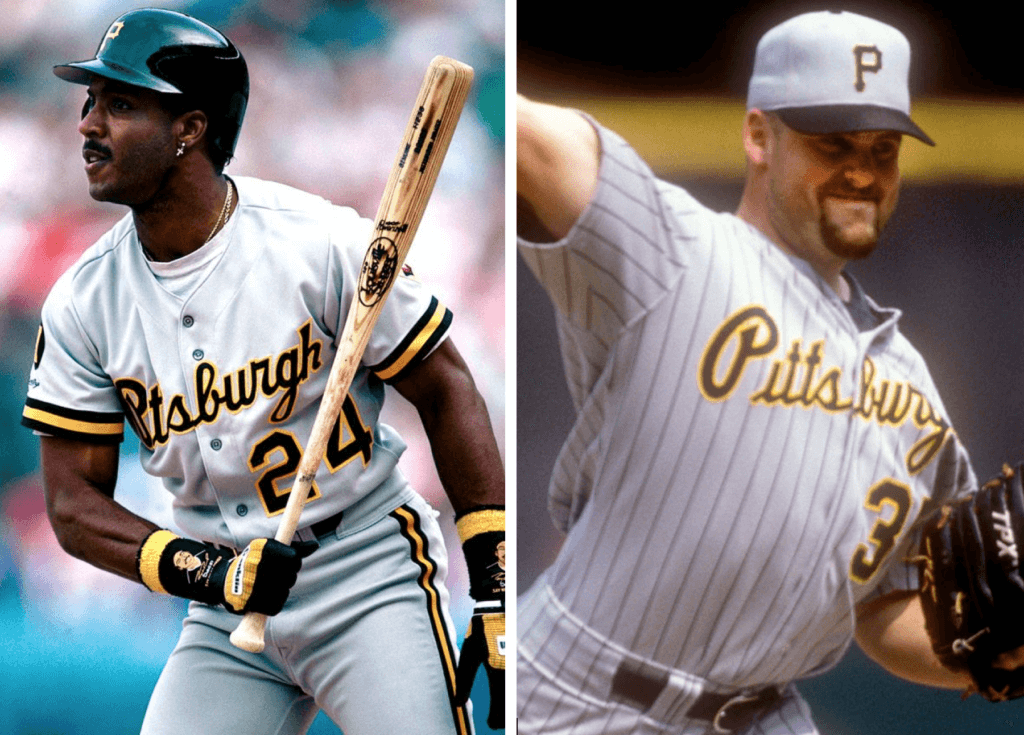 Since that script was designed three decades ago, I wondered if they might have tweaked it a bit — a nip here, a tuck there. But I compared digital versions of the original and revived scripts, and they appear to be identical.
• However! While the old and new script designs themselves are identical, the way they're positioned on the jerseys is not. As you can see in those 1990s game photos, the jersey placket intersected the old script right between "Pitts" and "burgh" — a very natural break. But let's look again at the new script:

That's unfortunate.
• One interesting thing about that script is that there's no dot over the i. That's always bugged me a bit. But aside from that, I'm happy to see it back on the field — a nice move by the Buccos.
Finally, since we're talking about the Pirates, here's a little show-and-tell on something I've been playing around with — a reminder that food and sports, as always, are two great tastes that taste great together:
• • • • •
• • • • •
Click to enlarge
Maybe pitchers and catchers should just stay home: As long as we're talking baseball, spring training caps have started circulating on social media, and apparently they're all going to have this weird logo-within-a-logo format.
Now, I've always said that I don't care about spring/BP caps because they're just a merch program masquerading as a uniform program. And has that ever been more obvious than with these designs? Even if you like them enough to buy them because you think they're edgy or innovative or fresh or whatever (I wouldn't describe them that way myself, but I realize some other people might), I hope we can all agree that they're utter failures as on-field uniform elements, because they'll just look like a jumbled mess, even on TV.
Why does MLB maintain this charade? Why not just market these designs as fashion caps and be done with it?
• • • • •
• • • • •
For all photos, click to enlarge
NBA All-Star uniforms released: The NBA All-Star game is coming up on Feb. 16, and yesterday we got our first full look at both of the uniforms (at least one of the jersey designs had previously leaked). I'm told that they "draw inspiration," as the marketeers like to say, from the transit system in Chicago, where the game will be played (there's more info on that here), but to me they seem both unremarkable and unobjectionable — your basic all-star design that could be from almost any season in the past two decades or so.
Interesting that they added the David Stern memorial band. Here's a closer look at the jerseys:
They also released the uniforms for the other games that are part of All-Star Weekend. Let's start with the Rising Stars game: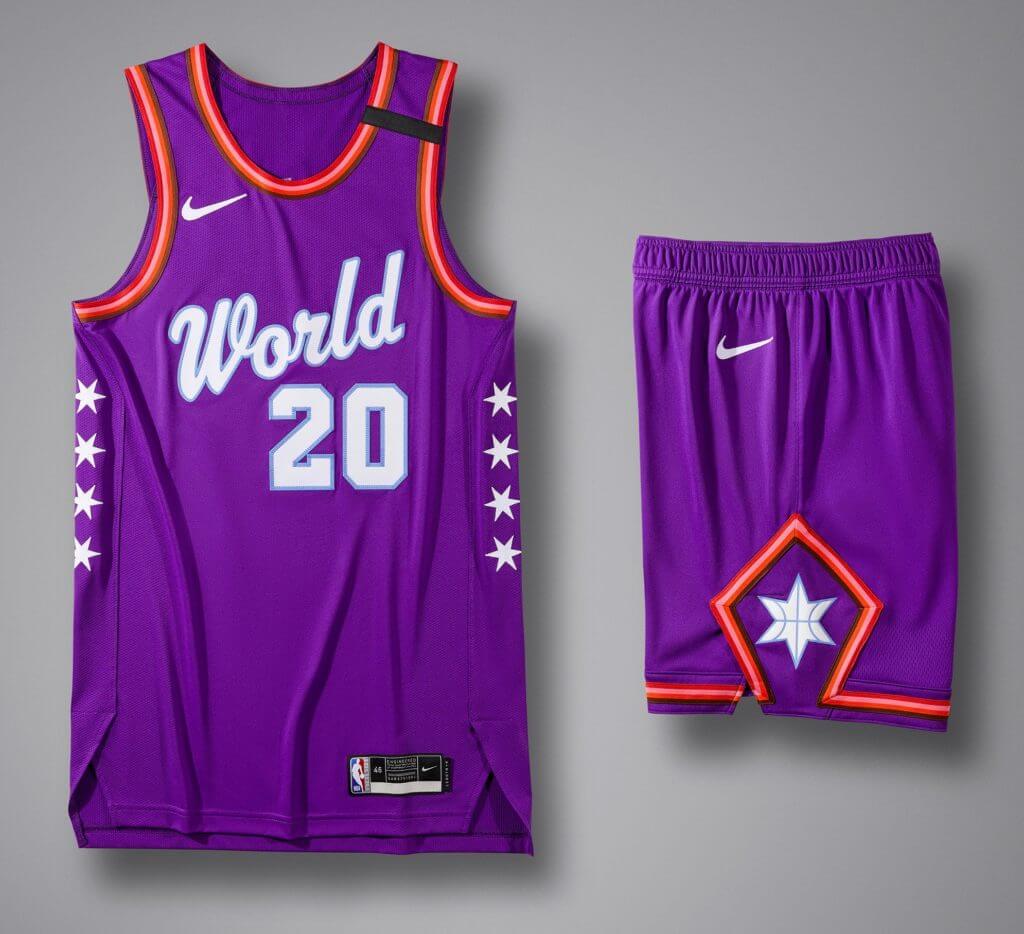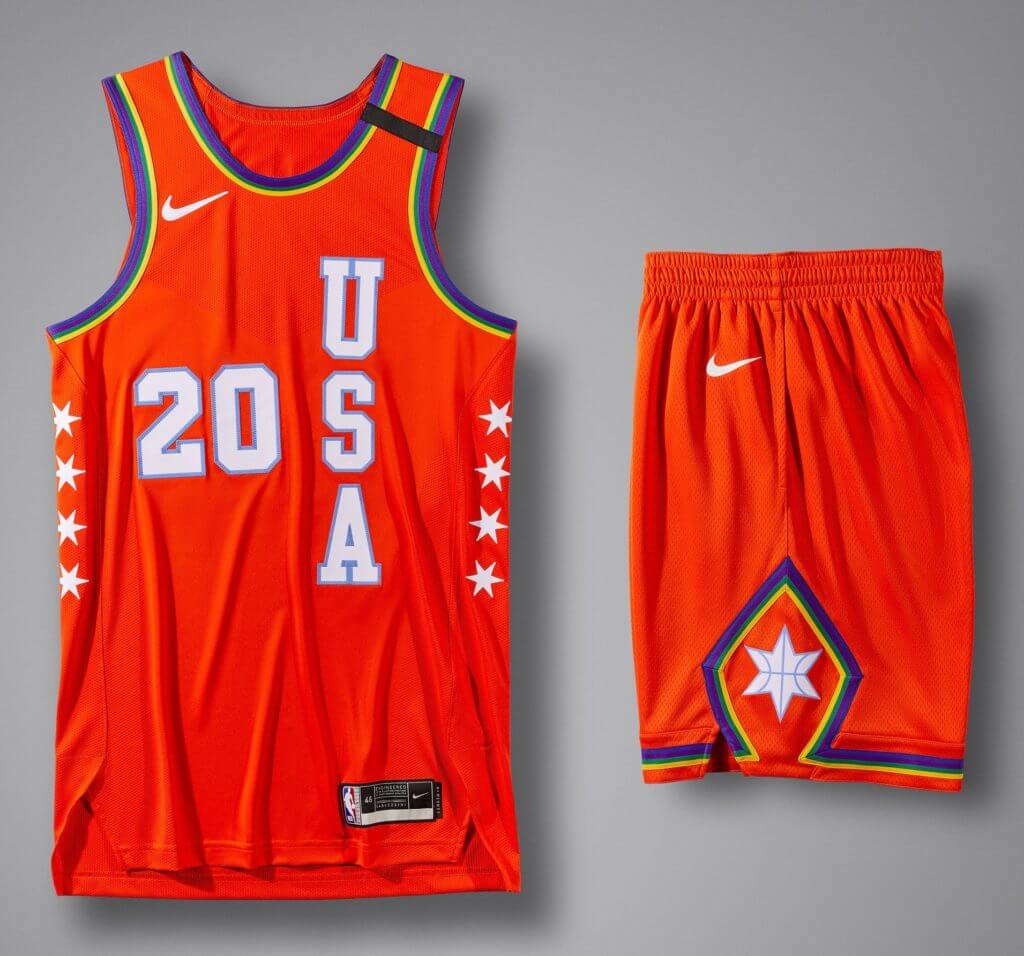 Next up are the designs for the All-Star Celebrity Game: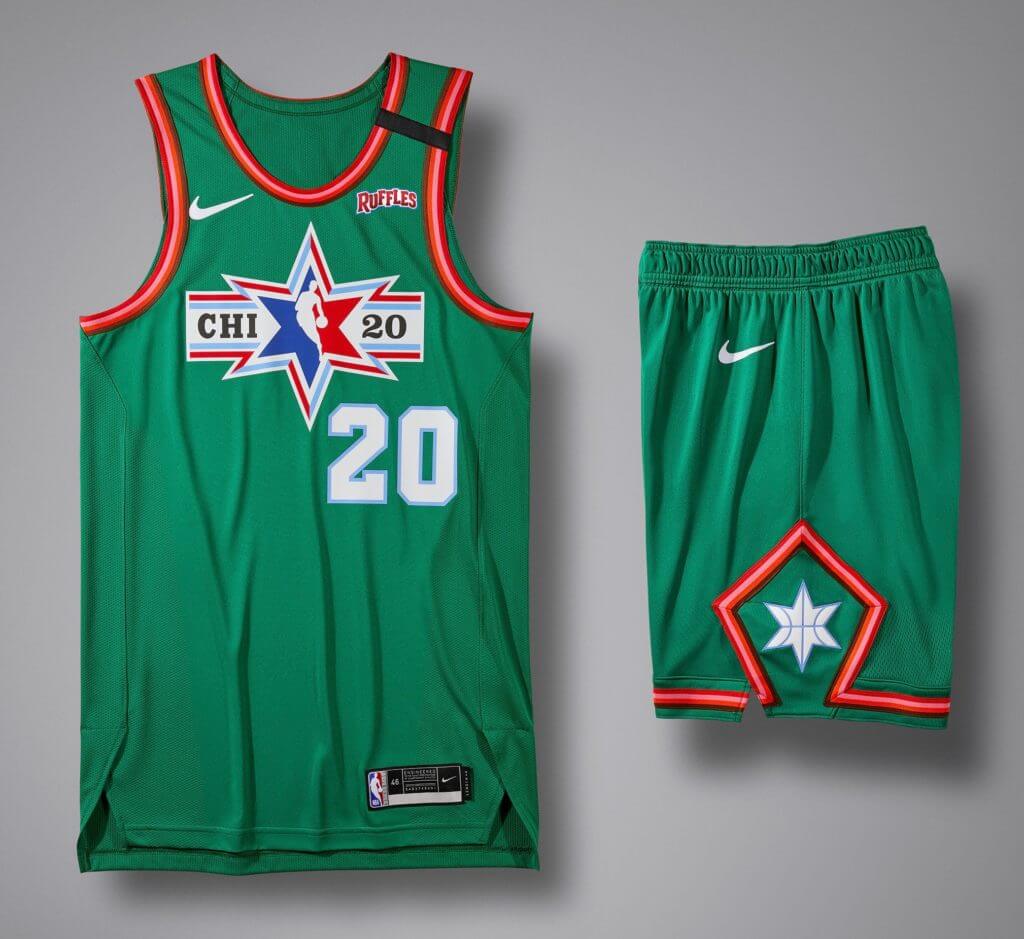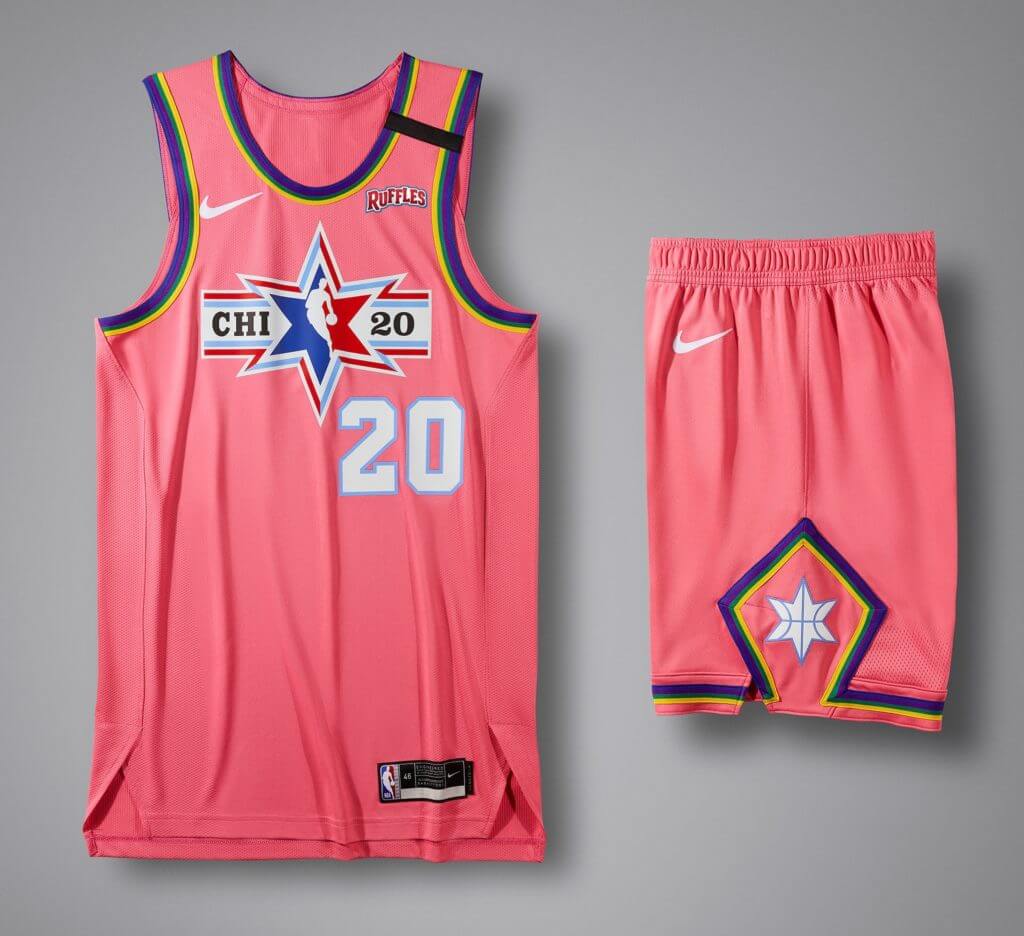 And we round things out with the (deep breath, because this one's a mouthful) NBA Cares Special Olympics Unified Basketball Game: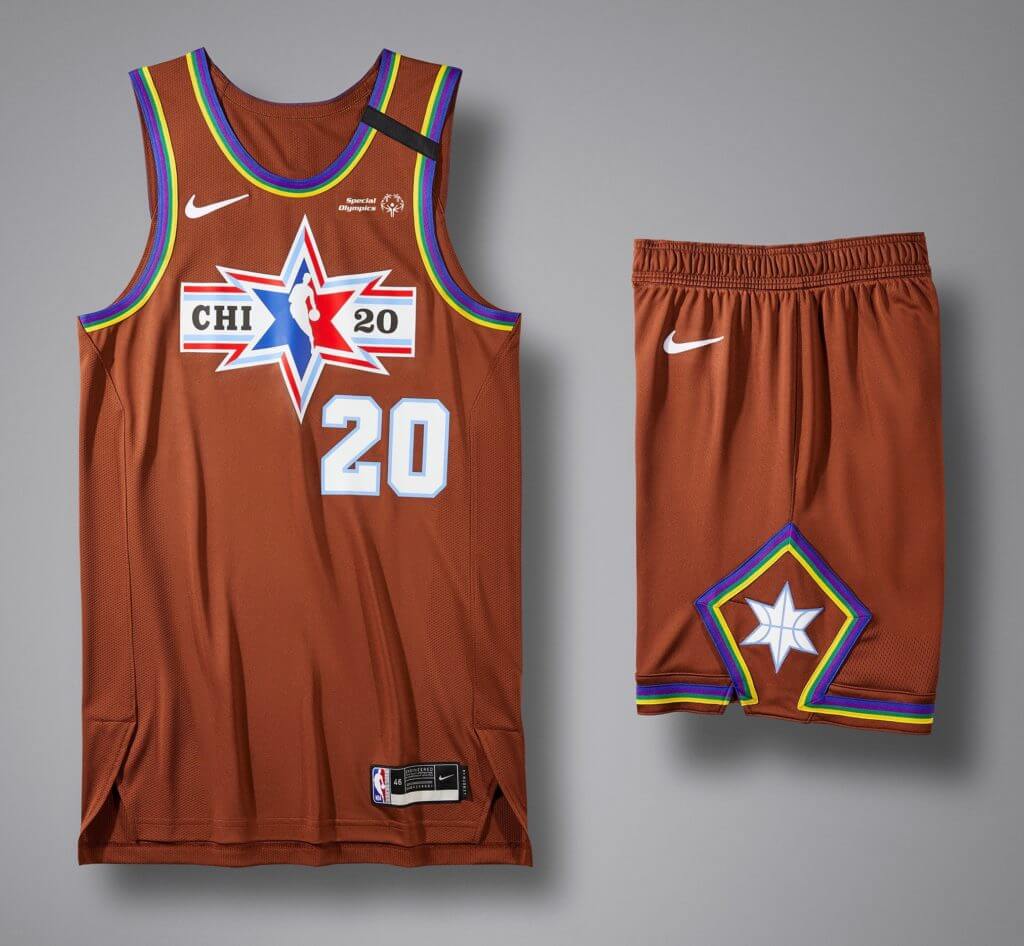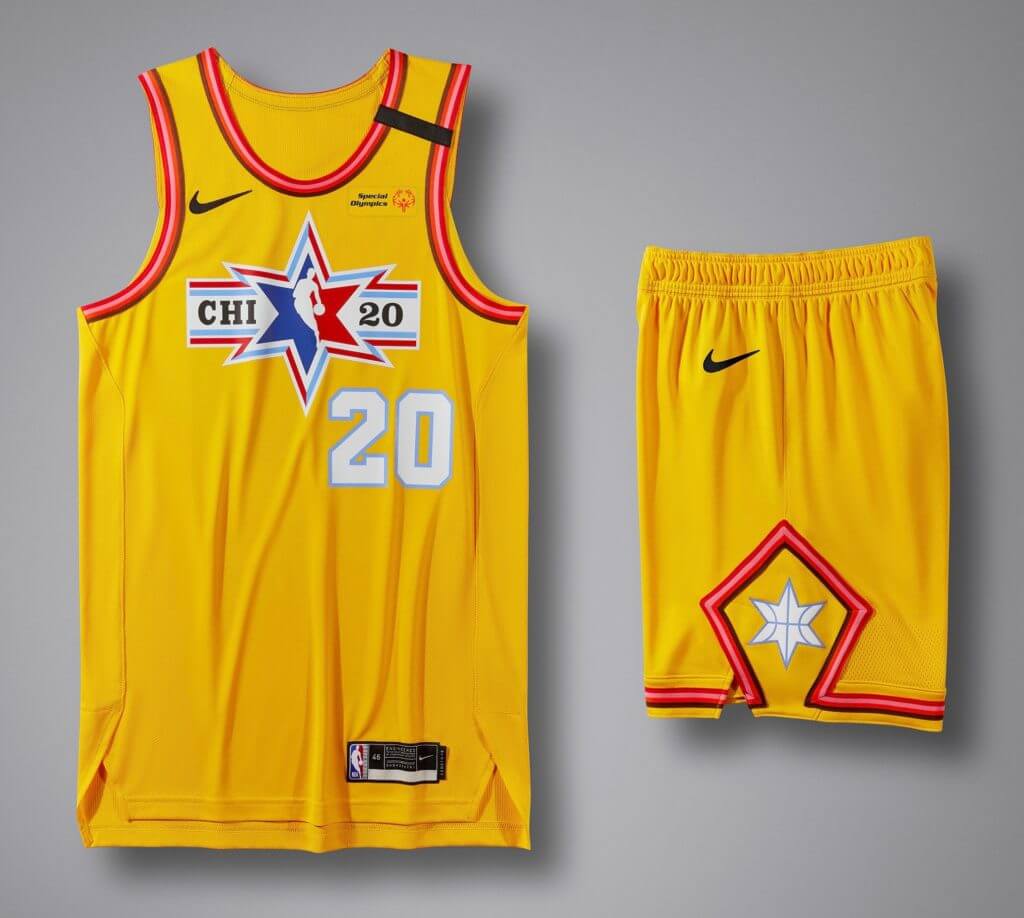 • • • • •
• • • • •
Bron over Kyrie 👀 pic.twitter.com/RSOuQOfnWd

— Bleacher Report (@BleacherReport) January 24, 2020
And speaking of the NBA: This isn't the first time we've seen this, but the combination of the Nets' grey court, the Nets' black/white color palette, and the opposing team's colored uniforms can make for a striking visual effect — especially when the opponent is wearing something bright, as the Lakers were last night. See the video clip embedded above — weird! Twitter-er Ryan Pence described it as being like the 1998 movie Pleasantville, where most of the world is black-and-white but a few things are in color — a really good description.
I don't know if the Nets intended to create this effect with their grey court, but it seems weird to repeatedly amplify the visual presence of the visiting teams, no?
• • • • •
• • • • •
@NBAonTNT had a little segment and I saw the @UniWatch @EbbetsVintage hat. I yelled at the TV, my family was confused. pic.twitter.com/nKknyyTHAR

— shawn baker (@sluggers009) January 24, 2020
ITEM! Most unlikely Uni Watch product placement ever: I've watched TNT's Inside the NBA postgame show exactly (double-checks math, carries the two, solves for X) zero times. So I'm not sure why analyst Kenny "The Jet" Smith's face was Photoshopped onto a screen shot of the great Hal the Hot Dog Guy wearing a Uni Watch cap from last spring, but several people on Twitter told me about it, and reader Shawn Baker got the screen shot of it that you see above.
I asked Shawn if he could provide some context. His reply: "After the Lakers' win at Brooklyn, they showed LeBron talking to President Clinton. The next thing I saw was Kenny wearing the cap. But I was watching with the TV on mute, so I'm not sure what was going on."
Fortunately, reader Ignacio Salazar filled me in: "Charles Barkley was roasting Kenny Smith because President Clinton was at the game and Barkley said Clinton would recognize him and Shaq but would ask Kenny for a hot dog." Ignacio then found video of that exchange, which is pretty funny:
Charles Barkley roasts Kenny Smith "If President Clinton was at the game and he noticed me or Shaq he would come say hello, you can walk by and he might say come bring me a hot dog" pic.twitter.com/Xb2Ljfu0O0

— gifdsports (@gifdsports) January 24, 2020
Okay, so that's why they depicted Smith as a hot dog vendor. But of all the vendor photos to use, why did they use that one? Someone in the TNT graphics department must be a Uni Watch fan and/or a Hal the Hot Dog Guy fan! (If that someone is reading this, I'd love to hear from you.)
• • • • •
• • • • •
Click to enlarge
Pin Club update: The sport with the strongest tradition of commemorative pins is, of course, curling. As a curler myself, I love that reader Tim Wood has chosen to display his January pin from the Uni Watch Pin Club on his curling pin board. It's great to see our pin in such good company, and I'd say it holds its own quite nicely!
If you don't yet have the January pin, it's available here. And if you're not caught up on what the Pin Club is all about, that info is here.
• • • • •
• • • • •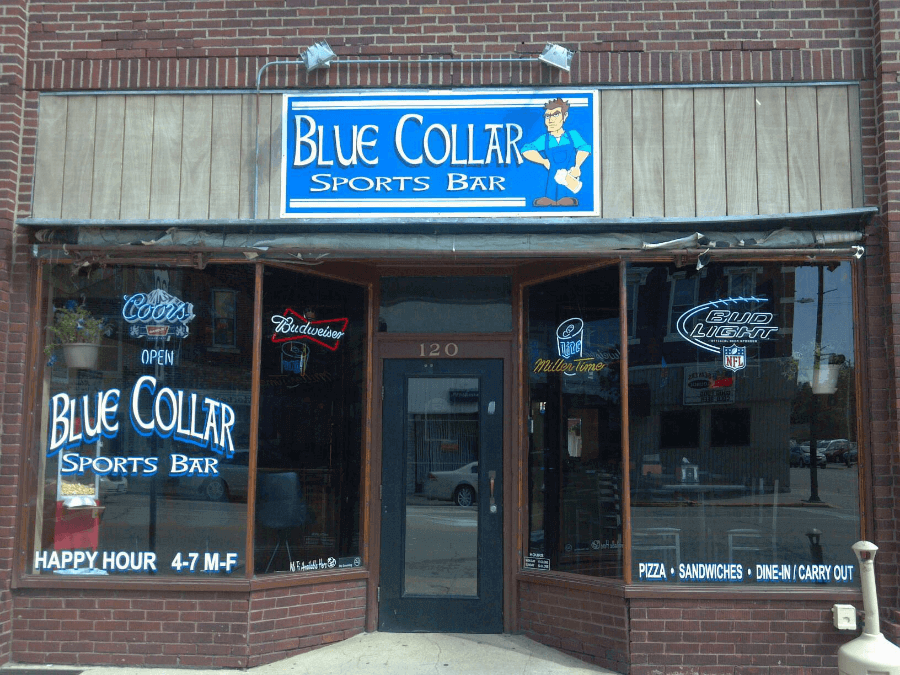 Working Class Wannabes™, continued: As you're probably aware, I've written several times in recent weeks about the sports world's fetishizing of the working class. Now I've expanded upon those thoughts in a new article for The New Republic. You can check it out here.
• • • • •
• • • • •
The Ticker
By Anthony Emerson

Baseball News: The Brewers are going to have five different throwback unis this season, one for each decade of their history (from @JohnnyOeleven). … The Royals have added an extremely nice memorial patch for owner David Glass (from multiple readers). … Here's our first look at the Nike logo on the White Sox home jerseys (from Dylan Bercu). … Larry Walker will be depicted wearing a Rockies cap on his Hall of Fame plaque (from multiple readers). … Did you know old Yankee Stadium had an autograph room under the lower stands? Apparently, you needed a special ticket to get in (from Russ Havens). … Michael J. Miller writes in: "Frank Thomas circa 1992 wearing wristbands around his ankles for whatever reason. Closer inspection shows that he generally wore MimsBandz with his own iconography on both his ankles and wrists. Also seems to have mixed in some Mizuno wrist, errr, ankle bands to pair with his Nike's in his pre-Reebok days." … NBC Sports ranked the names of all 30 MLB ballparks (from @titan4ever2488 and our own Brinke Guthrie). … Mexico has unveiled their jerseys for the Serie del Caribe (from Arty Curry). … The Wisconsin Timber Rattlers, Class A affiliates of the Brewers, will bring back their "Udder Tuggers" promotion in 2020 (from Brian Kerhin). … In the '60s and '70s, Chicago-area children's show host Ray Rayner wore a Cubs/White Sox frankenhelmet while reading out baseball scores (from Tom Ekstrand). … New unis for University of Houston baseball, which include the same Texas flag patch that the Rangers use (from Ignacio Suarez). … New unis for Georgia Tech (from @MistaMaxG). … New uniforms for the Tohoku Rakuten Golden Eagles, who've changed their outfitter from Majestic to Mizuno. They also have new batting helmets made by the Japanese lacquerware manufacturer Tohoku Kogei, including a nanocomposite layer to prevent UV damage (from @bigdaddy45_1969 and Jeremy Brahm).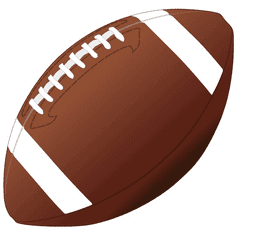 Football News: With the Browns preparing to replace the uniforms they introduced in 2015, here's a breakdown of the team's record by uni combo for that set (from Patrick Gaughan). … The 2020 edition of the CFL's Touchdown Atlantic game will be played in Halifax, Nova Scotia, between the Saskatchewan Roughriders and the Toronto Argonauts. The previous four editions were played in Moncton, New Brunswick (from Wade Heidt). … New unis for McMurry, a D2 school (from Jordan Hofeditz). … Reader Jordan Elo is the latest to perform a successful logo-ectomy, as he removed the New Era mark from his Chiefs Super Bowl cap.

Hockey News: The Sabres seriously messed up their '90s Night jerseys, with misaligned logos and misspelled names for alums (from Kevin Musolino). … The ECHL's Cincinnati Cyclones are having a "wizard weekend" in February, and here are the sweaters (from @labflyer). … EA Sports announced that Willie O'Ree — the NHL's first black player — has been added to the NHL 20 video game, but their announcement depicted O'Ree in a Bruins uni he never wore. "O'Ree played for the Bruins in 1957-58 and 1960-61. The pictured jersey wasn't incorporated until '67," says Kevin Rice. … A Peoria Riverman fan has a collection of 118 of the team's jerseys. "Also that article says Peoria will soon be wearing three different superhero uniforms in one game, changing each period," says Mike Lucia.

College Hoops News: Wisconsin men are wearing 2000 throwbacks on Feb. 9, in honor of their 2000 Final Four team (from multiple readers). … UConn and Tennessee women were color vs. color last night, with UConn in black. The Huskies' unis were auctioned off after the game, with proceeds going to the Pat Summitt Foundation. A rare case of BFBS for good!

Soccer News: PSG has released their new fourth kits (from @mikedfromct). … Macedonian club FK Sileks don't wear Adidas, but their kits are basically a repurposed version of an Adidas template, according to Ed Żelaski. … Manchester City will not renew their kit advertisement deal with UAE airline Etihad, which expires after the 2020-21 season. Etihad has been the primary kit advert for City since 2009 (from Josh Hinton). … Also from Josh, Leeds, currently in the second division of English football, have landed a kit deal with Adidas for next season (from Josh Hinton). … One more from Josh: New Galaxy FW Javier "Chicharito" Hernández is wearning No. 14, which he's worn for the majority of his career, and his nickNOB, which he's worn for the entirety of his career (also from Ryan Bugaj). … Another day, another MLS tease, this time for FC Dallas (from Pete Freedman). … New kits for Phoenix Rising FC of the USL Championship. The sleeves include the names of every city in Arizona (from Josh Pearlman and Jerry Wolper).

Grab Bag: Rich Township High School District 227 in suburban Chicago is consolidating all of its schools' athletics programs into one district-wide program, and they're in the process of choosing a new district-wide mascot (from Kary Klismet). … Also from Kary: The University of Delaware is building an on-campus esports arena. … Alaska Airlines crew members have new uniforms, designed to top safety standards (from Timmy Donahue). … Female police officers in Kalamazoo, Mich., are getting new uniform pants tailored for women (from several readers).