Click to enlarge
In the fall of 1970, when I was six years old, I reached into a box of Kellogg's Corn Flakes and pulled out a 3D football card for a San Francisco 49ers running back named Ken Willard. I'd never heard of Willard (or probably any other football player), and I had only the vaguest sense of where San Francisco was, but at that point Willard immediately became my favorite player and the 49ers became my favorite team. Nearly half a century later, that is still the case. So I'm very excited about the Niners earning a spot in Super Bowl LIV by defeating the Packers in yesterday's NFC Championship Game.
That makes no sense, of course. Willard and all his teammates have long since retired, the roster has turned over umpteen times, ownership has changed, and the team doesn't even play in San Francisco anymore. By any reasonable standard, the team I root for today has little if any relation to the team I first began rooting for as a result of that Corn Flakes card. And yet I feel as passionate about the 49ers today as I ever have.
That, my friends, is the power of a uniform. For 50 years, I have rooted for any and every player wearing that 49ers uniform. It's not rational, it makes no sense, but it's a very powerful thing. It's a great example of how, as I've said many times before, rooting for a team is probably the greatest example of brand loyalty on our consumer landscape.
As for yesterday's games, I thought they both looked great, but I'm not aware of any uni-notable moments from either of them. Fortunately, Super Bowl scholar Jay Braiman contributed the following observation:
All four teams playing on Sunday had letters of the alphabet in their helmet logos, and all four starting quarterbacks wore double-digit numbers. That had never happened before in the Super Bowl era. The only time all four Super Bowl semifinalists had letters in their helmet logos was 1984-85 (49ers, Bears, Dolphins, Steelers), but the Bears started Steve Fuller, wearing No. 4, in the NFC title game. (The other quarterbacks were Joe Montana [No. 16], Dan Marino [No. 13], and Mark Malone [No. 16].) 

The last time all four starting QBs wore double-digit numbers was 1990-91: Jeff Hostetler (No. 15), Montana, Jim Kelly (No. 12) and Jay Schroeder (No. 13). Before that it happened in 1981-82 (Montana, Danny White (No. 11), Ken Anderson (No. 14) and Dan Fouts (No. 14), and fairly regularly prior to that. But those years all featured at least one team that didn't have letters as part of its helmet logo.
 
I'll have more of Jay's wisdom as part of my annual Uni Watch Super Bowl Preview, which will run on InsideHook either later this week or, more likely, early next week. Stay tuned.
Meanwhile, let's start looking ahead to the Super Bowl:
• Some people are making a big fuss about how this will be the first Supe featuring two teams whose primary colors are both red. True enough, although it doesn't mean much, because one team has to wear white. The AFC is the designated home team this year, so it's a safe bet that the Chiefs will wear red and the 49ers will wear white.
• Speaking of which, some people are pointing out that 13 of the last 15 Super Bowl winners have worn white. "So," these people say, "couldn't the Chiefs choose to wear white out of superstition?" Sure, it's possible, but I don't think it's likely. The Chiefs almost never choose to wear white at home, and I don't think they'd let a superstition force them out of their standard home uniform.
• Assuming the Chiefs do wear red and the Niners wear white, the Niners apparently want to wear their mono-white throwbacks, although it's not yet clear if that will be permitted:
Some news: The 49ers will make a push to wear their all-white '94 throwback uniforms in the Super Bowl at Miami. The problem, Richard Sherman tells me, is that the NFL currently won't allow it. The 49ers got an exception to wear these unis Week 17 at Seattle; would like one again

— David Lombardi (@LombardiHimself) January 20, 2020
For this, let's shift into FAQ mode:
The Rams wore their throwbacks in last year's Super Bowl, so why wouldn't the Niners be allowed to wear theirs?
The Rams' throwbacks had become their primary colored uniform and were no longer an alternate design.
The Niners wore throwbacks in Super Bowl XXIX, so why wouldn't they be allowed to wear throwbacks this time around?
The 49ers had worn those earlier throwbacks for much of the 1994 season as part of the NFL's 75th-anniversary program, and the team had requested and received permission from the league to wear them throughout the postseason.
Well, why can't they request permission again?
That's apparently what they're doing, but it's not clear whether the league will approve the request. Remember, they reportedly turned down the Saints' request to wear their mono-white alternates during the Wild Card round.
What would be the rationale for turning down such a request?
One consideration would be whether they have enough of those throwback jerseys in the retail pipeline (so, once again, we see the merch tail wagging the on-field dog). And then there are the league's longstanding concerns about brand integrity, blah-blah-blah. Like most people, I think most of this is pretty silly. On the other hand, I'm glad that the NFL hasn't turned into a revolving carousel of alternates, like the NBA or college football.
Which white Niners design do you prefer?
I like the throwbacks fine, but I prefer the standard white/gold combo and hope they go with that.
• The Chiefs' captains will have a hard time fitting the Supe patch on their jerseys, thanks to the Lamar Hunt perma-memorial: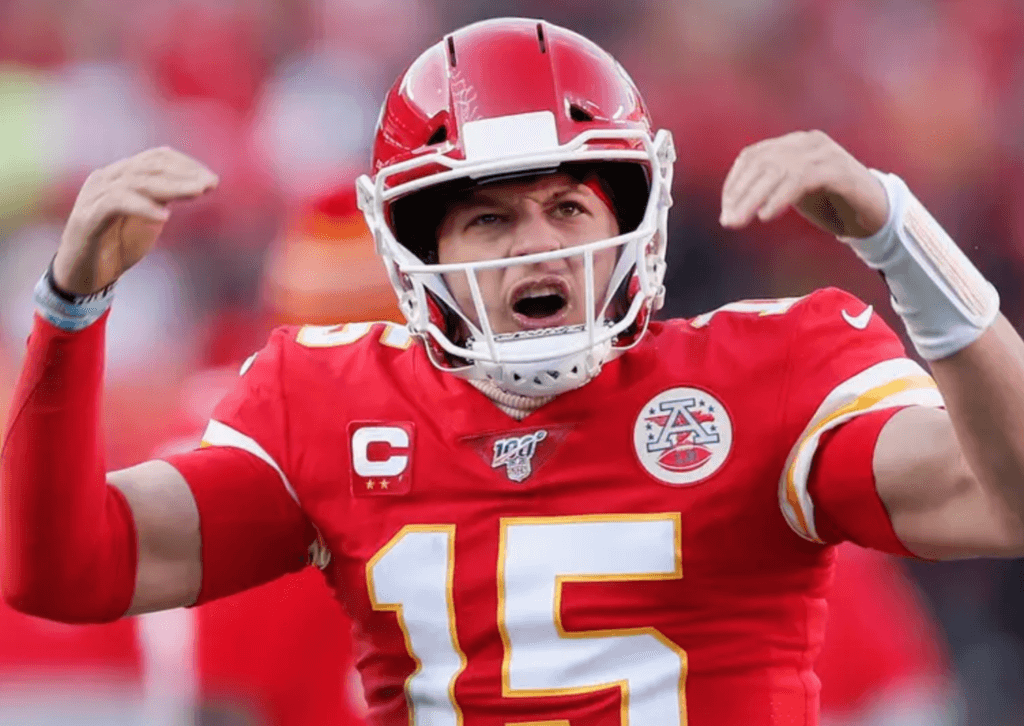 There have been other Super Bowl teams with chest patches, like the Steelers in Supe XLV. But the Steelers don't wear captaincy patches, even in the postseason, so they didn't have a patch-overcrowding issue.
The Chiefs don't normally wear captaincy patches, but they add them for the postseason. Maybe they'll remove them again to make room for the Supe patch.
• As you can see in that last photo of KC quarterback Patrick Mahomes, the Chiefs are one of three NFL teams that have blank nose bumpers (the others are New Orleans and Washington). I haven't yet had time to research how long it's been since we had a blank-bumpered Super Bowl team, but I'm assuming it's been quite a while.
• Finally, there's this: Twitter-er @ryno_82 pointed me toward this uni-history page that was posted on the Chiefs' website in 2008. It includes the following: "[Chiefs owner Lamar] Hunt's inspiration for the interlocking 'KC' design was the 'SF' inside of an oval on San Francisco's helmets." I have never heard that before. Have any of you?
Meanwhile, in case you're wondering: My original Ken Willard card was lost at some point during my youth. The one shown at the top of today's post is a replacement that a Uni Watch reader sent to me some years ago. I'm embarrassed to say that I no longer recall who that generous reader was. If that person is reading this, please speak up in today's comments, and thanks!
• • • • •
• • • • •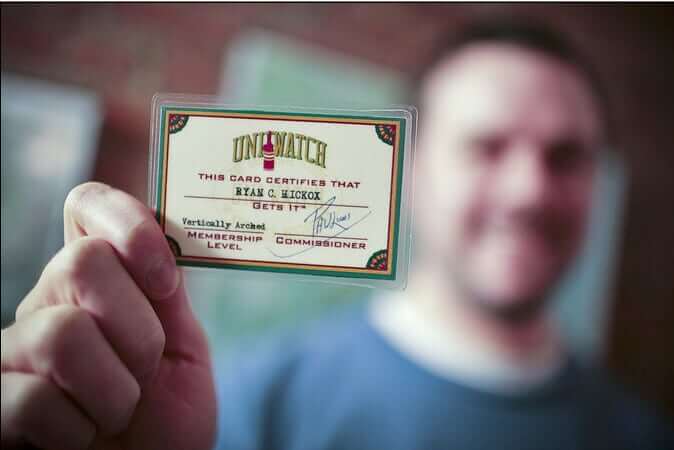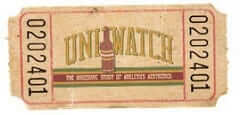 ITEM! Another membership raffle: Reader Rick Cuzzetto has generously purchased a Uni Watch membership for me to raffle off, so we're going to do that today.
This will be a one-day raffle. To enter, send an email to the raffle address by 8pm Eastern today. I'll announce the winner tomorrow. Big thanks to Rick for sponsoring this one!
• • • • •
• • • • •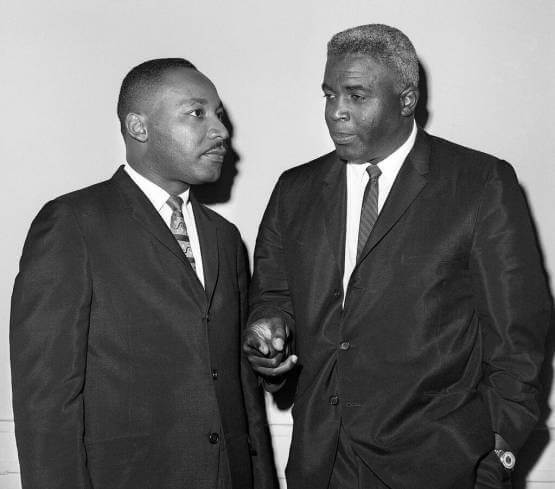 Today is Martin Luther King Jr. Day, the day when we celebrate the life of history's greatest American. The photo above shows him with Jackie Robinson in 1962 — two heroic trailblazers.
King would have turned 91 this year. It's incredible to think he was only 39 — 39! –when he was assassinated in 1968 (or to put it another way, paraphrasing the great Tom Lehrer, when King was my age, he'd been dead for 16 years). Think how much more he could have accomplished, and how different the world might be. What a waste. R.I.P.
• • • • •
• • • • •
The Ticker
By Jamie Rathjen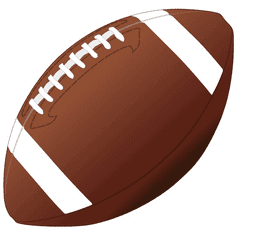 Football News: Texas athletic director Chris Del Conte reiterated his stance on not adding black jerseys for the Longhorns. That's the third time we've had him saying that in the Ticker since May 2018 (from @TheNameIsBenhur). … A designer in Atlanta created logos for NFL and college football teams that are hybrids of the team's name and logo and their city, or their stadium for the college teams (from Willard Kovacs). … Canadian football's Grey Cup has been on a few adventures since the Winnipeg Blue Bombers won it in November: they brought it back to the city broken after their victory and on Saturday it was rescued from a hotel fire.

Hockey News: Blue Jackets G Matīss Kivlenieks made his NHL debut last night in a Joker-themed mask (from Alan Kreit). … Here's every NHL team logo in the style of the Maple Leafs' — that is to say, the team name is written inside the thing the team is named after or an element of its logo (from Mike Chamernik). … We recently mentioned that Canadian WHL teams wouldn't wear jerseys themed after Don Cherry's suits for an annual promotion anymore, with the jerseys instead based on the traditional powder blue Hockey Night in Canada blazer. On Saturday, Edmonton Oil Kings coach Brad Lauer actually wore one of the blazers (from Wade Heidt). … Kary Klismet sent us some renderings of Colorado College's future arena.

Basketball News: Villanova wore warm-up shirts honoring Martin Luther King, Jr. on Saturday. That game was also blue-vs.-blue (from Kary Klismet). … Washington State retired No. 1 for current Warriors SG Klay Thompson (thanks, Brinke). … Columbia wore blue at home Saturday (from James Ketterer). … North Dakota State's women's team debuted gold alternates, and their game against North Dakota was color vs. color … LSU's women's team wore purple at home (from Josh Hinton). … NBA numerologist Etienne Catalan tells us that new Timberwolves SG Allen Crabbe will wear No. 9. … Cincinnati has added a memorial patch for longtime broadcaster Chuck Machock, who died recently (from our own Alex Hider).

Soccer News: Real Madrid center-back Raphaël Varane reached 300 appearances in all competitions for the team and received a No. 300 shirt — with the number on the front as well as the back (from Everard Santamarina). … Here were the shirts worn in this weekend's Premier League games (from Josh Hinton). … The next three items are from the fourth round of the Scottish Cup: Rangers wore black armbands on Friday in memory of former goalie Bobby Brown. … Dumbarton midfielder Callum Wilson was missing his NOB for at least part of their game. … Livingston wore their white second kit at home for no good reason. … In England's League One, Wycombe Wanderers and Rochdale, two teams that combine to wear three shades of blue, both changed to yellow and pink, respectively, on Saturday in order to not wear blue and to support the mental health charity Samaritans.

Grab Bag: A baking group in Sapporo, Japan, has been making "uniform cookies" — with numbers and NOBs! — for several different teams, including the local volleyball team, Safilva Hokkaido, and two NPB teams, the Hokkaido Nippon-Ham Fighters and the Tokyo Yakult Swallows (from Jeremy Brahm). … The Chinese esports team Gen.G got a new NBA 2K League team, nicknamed the Tigers, and is actually the first of 23 teams in the league not affiliated with an NBA team (from Zane Schwartz). … Cal State Northridge and UC Davis both appear to have new athletic logos this school year. Here's CSUN's logo on the men's basketball team, while UC Davis's is more of a secondary/shorts logo on uniforms for now (both from Erik Bogh). … Reader Kary Klismet sent us new school logos for New York's Schodack Central School District and Louisiana's Donaldsonville High School. … The radio show/podcast 99% Invisible used the new Space Force uniforms to look at the history of camouflage (from Kevin Zdancewicz).